February 2, 2023


THE WEEK'S BEST QUOTES. . .
"Laugh if you want to, but people also said Trump himself was too crazy to ever win. The right has fallen so far into extremism, that for many this (Trump and MTG) is the ultimate dream team. The threat is very real." — The Lincoln Project https://twitter.com/ProjectLincoln/status/1618420967482466305
Speaker McCarthy is taking unprecedented actions this Congress to deny some committee assignments to the Minority without proper due process again. As I spoke against it on the House floor two years ago, I will not support this charade again. Speaker McCarthy needs to stop "bread and circuses" in Congress and start governing for a change." — Rep. Victoria Spartz (R-Indiana) in a statement objecting to the "charade" of kicking members off their committees. https://spartz.house.gov/media/press-releases/spartz-issues-statement-proposed-committee-removals-mccarthy-needs-stop-bread
"The plan is to get our Republican colleagues in the House to understand they're flirting with disaster and hurting the American people. And to let the American people understand that as well." — Chuck Schumer, directing his ire toward McCarthy's insistence on spending cuts in exchange for agreeing to raise the debt ceiling. https://www.politico.com/news/2023/01/30/schumer-debt-ceiling-mccarthy-00080025
"I think 'woke' is a very interesting term right now, because I think it's an unusable word—although it is used all the time—because it doesn't actually mean anything." — Linguist and lexicologist Tony Thorne on "wokeness" the word conservatives have blamed for everything from deadly mass shootings to lower military recruitment. https://www.newyorker.com/podcast/the-new-yorker-radio-hour/what-is-woke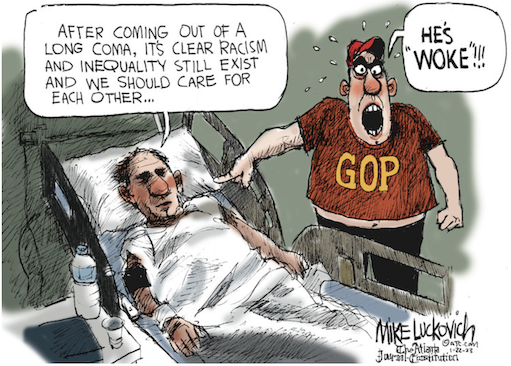 "I don't know that Trump would run a third-party campaign if he lost the Republican nomination. But I do know that if Trump were to lose the Republican nominating contest, he could bring in a lot of money by running a third-party campaign. And if the question is: 'Trump could make a lot of money by doing X; will he do X? 'Well, then the answer is usually: Yes.."— Jonathan Last https://thetriad.thebulwark.com/p/if-trump-goes-third-party-republicans

NY AG Letitia James just asked Judge Engeron to SANCTION Donald Trump, his eldest children, and their attorneys for their allegedly false responses in legal filings. https://twitter.com/MeidasTouch/status/1620460407310946305
VIDEOS
"Holy shit. Top Republican Rick Allen (R-GA) was just recorded saying his party is going after Social Security because people "want to work longer." https://twitter.com/NoLieWithBTC/status/1615080979042893825

How much do you have to lie to be known as "the lying congressman"? — The Daily Show's Leslie Jones takes on George Santos. https://twitter.com/TheDailyShow/status/1615898658599321601

Did you try to overthrow the government? Are you worried that the rule of law is catching up to you? Thanks to Kevin McCarthy, the attorneys at #InsurrectionLLC are standing by and ready to take your call… — Eric Swalwell: https://twitter.com/ericswalwell/status/1618400021732556800

"I think it's a terrible situation. It's very unfortunate. He's told some whoppers. Reminds me of Biden, actually, the closest thing I can think is Biden, because he's told some whoppers." — Donald Trump on Rep. George Santos (R-NY). (Note: Trump's false or misleading claims total 30,573 over 4 years) https://twitter.com/meridithmcgraw/status/1619450284849369088

"I've said, over and over again, that he can't win a general election. That's not speculation. That's based upon the polling that I was privy to pre-the 2020 election, and what we saw actually happen in the 2020 election. And it's only gotten worse since then." — Former New Jersey Gov. Chris Christie told ABC News that Donald Trump "can't win a general election" and predicted the former president will not be successful in his 2024 presidential run. https://abcnews.go.com/Politics/week-transcript-1-29-23-rep-adam-schiff/story

Trump: They are very good fighters, the Taliban but they never fight at night because they don't have binoculars. https://twitter.com/Acyn/status/1619399070740779009

Rachel Maddow shares new video of Republican Rep. George Santos in an interview with a Brazilian media outlet describing being the victim of a mugging and an assassination attempt. https://twitter.com/MaddowBlog/status/1617714847235334144

"I am for Donald Trump because I know what I'm going to get. We need somebody that on Day 1 can get this country back on track, that can secure our border and bring order out of chaos, somebody the Russians and the Chinese fear, somebody that can take the fight to the terrorists." — Sen. Lindsey Graham (R-SC), endorsing Donald Trump for president. https://twitter.com/Acyn/status/1620252230954663936

LITIGATION TRACKER
Pending Criminal and Civil Cases Against Donald Trump.
https://www.justsecurity.org/75032/litigation-tracker-pending-criminal-and-civil-cases-against-donald-trump/
---
IN THIS ISSUE
IN THE NEWS
OPINION
Andy Borowitz: Trump Says DeSantis Lacks the Classified Documents Necessary to Be President
As Ron DeSantis reportedly prepares a White House bid, Donald J. Trump accused the Florida Governor of lacking the classified documents necessary to be President of the United States.

A President needs nuclear codes, weapons designs, top-secret stuff like you wouldn't believe, Trump said. How are you gonna get all that without classified documents? The answer is, Ron DeSantis should not be allowed to run.

Trump predicted that if the F.B.I. raided Ron's house today, they wouldn't find a goddam document. Not a goddam document. This is what makes Ron DeSantis so dangerous, quite frankly.

In perhaps his most damning accusation, Trump alleged that DeSantis never even tried to buy classified documents from me.

I had all these beautiful, gleaming documents for sale, and Ron never picked up the phone and said, 'Sir, I'd like to buy some documents,' he said. Ron DeSantis is a disgrace. https://www.newyorker.com/humor/borowitz-report/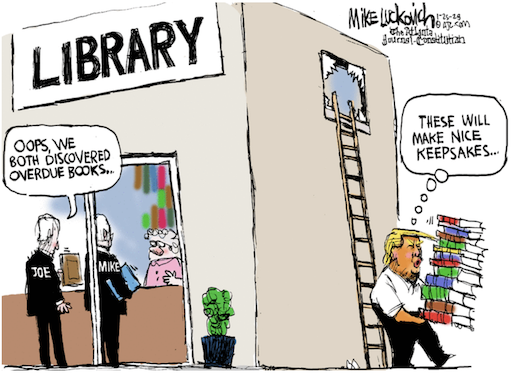 Backlash grows against DeSantis decision to block AP African American studies class
Gov. Ron DeSantis is facing mounting backlash regarding his administration's decision to prohibit an Advanced Placement high school course on African American studies, with Black leaders rallying in the capital, a prominent civil rights lawyer threatening to sue and state lawmakers urging him to reverse the decision.

Attorney Ben Crump accused DeSantis of violating the federal and state constitutions Wednesday by refusing to permit the course. His legal team noted that a federal judge found a 2010 law in Arizona that banned a Mexican American studies program from Tucson schools unconstitutional and officials motivated by racial animus. https://www.washingtonpost.com/nation/2023/01/25/desantis-african-american-studies-black-history/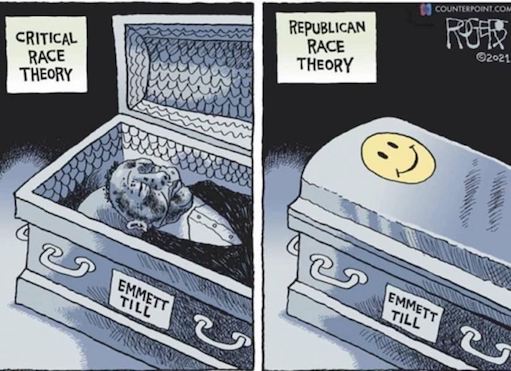 Virginia Democrats Defeat 15-Week Abortion Ban And Glenn Youngkin's Anti-Choice Agenda
Virginia Gov. Glenn Youngkin's (R) push for a 15-week abortion ban died late Wednesday evening when a state Senate subcommittee blocked the ban along with two other restrictions.
https://www.huffpost.com/entry/virginia-15-week-abortion-ban-blocked-youngkin_n_63d2979ce4b01a43638c6382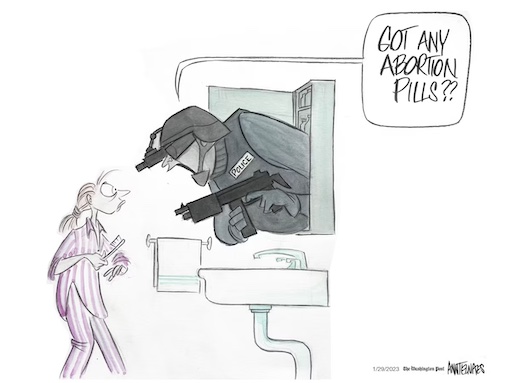 The R.N.C., Remade by Trump, Backs Away From His 2024 Campaign
As Donald Trump prepares for his first public events since announcing his presidential campaign, dozens of members of the Republican Party's governing body are expressing doubts about his ability to win back the White House and are calling for a competitive primary to produce a stronger nominee in 2024.

The 168 members of the Republican National Committee are gathering in Southern California to select their own leader on Friday, and interviews this week with 59 of them — more than one-third of the committee's membership — found few eager to crown Mr. Trump their nominee for a third time. While they praised his policies and accomplishments as president, many expressed deep concerns about his age (he's 76), temperament and ability to win a general election, often in unusually blunt terms. https://www.nytimes.com/2023/01/26/us/politics/rnc-trump-2024-election.html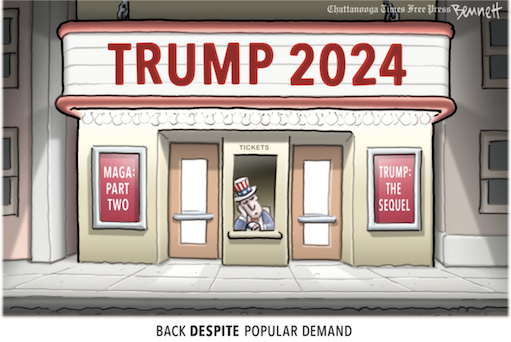 McCarthy's concessions are giving House Republicans angst
Republicans knew he was giving up a lot, and some of those concessions are already causing problems for the House GOP. Three of the 11 bills House Republican leaders promised would go straight to the floor to kick off the year have been pulled back because of opposition within the party — a sign of the growing pains of a new majority.
https://www.washingtonpost.com/politics/2023/01/26/mccarthys-concessions-are-giving-house-republicans-angst/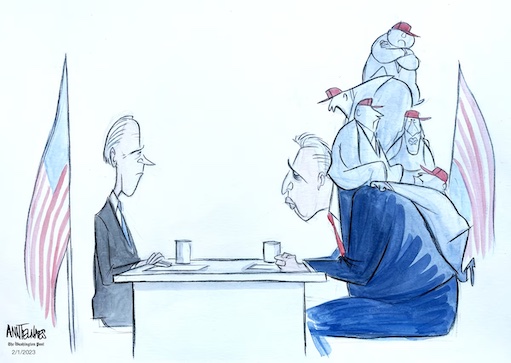 Why This Debt Ceiling Showdown Is Different
Veterans of the 2011 debt ceiling standoff worry that this time feels different because of the slim House GOP majority and the lack of agreement among Republicans on what they actually want out of a negotiation. https://www.politico.com/newsletters/playbook/2023/01/26/why-this-debt-ceiling-showdown-is-different-00079599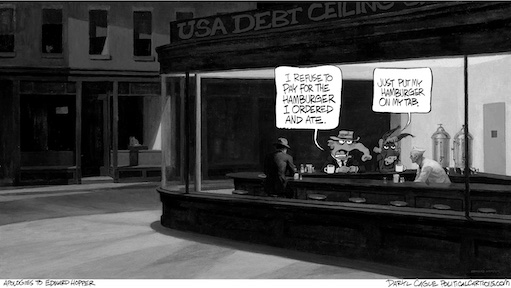 The Not So Shadow Campaign
If there were any remaining doubts about President Joe Biden running for a second term, the president's upcoming travel plans should lay them to rest.
He's running, people. And some Democrats view Biden's pre-State of the Union address calendar, which is starting to take shape, as the soft launch for it. His aides don't even dispute that.
Biden will appear at a fundraiser for the Democratic National Committee in New York City next Tuesday, according to three people familiar with the event. On Friday, he'll deliver a speech at the DNC's two-day gathering in Philadelphia, as will Vice President Kamala Harris, and both will attend another DNC fundraiser there, according to three people familiar with that event.
https://www.politico.com/newsletters/west-wing-playbook/2023/01/25/the-not-so-shadow-campaign-00079525
How George Santos Made Baruch Volleyball Famous
It's one thing to apparently lie about having two college degrees, working at Goldman Sachs and Citigroup, losing four employees in the Pulse nightclub shooting, his grandparents surviving the Holocaust and his mother escaping the South Tower on 9/11. But being a volleyball star at a commuter school in the heart of Manhattan?
https://www.nytimes.com/2023/01/25/nyregion/santos-baruch-volleyball.html
Inside the Democratic 'SWAT Team' Combating the GOP's Biden Probes
Determined to prevent a rerun of the Obama years, top Democrats are standing up a pair of outside groups — the Congressional Integrity Project and Facts First USA — and building them for the sole purpose of running aggressive interference for Biden on the barrage of GOP probes from Capitol Hill.
Staffed by the Democratic Party's masters of the dark arts of opposition research and spin, the groups are promising to apply bare-knuckled tactics in dealing with Republicans.
https://www.thedailybeast.com/inside-the-democratic-swat-team-combating-the-gops-joe-biden-probes
U.S. Rep. Chip Roy says he'll use debt ceiling threat to push through his border security plan
Rep. Chip Roy (R-TX) said he will employ brinkmanship over the federal debt ceiling debate — threatening to allow the U.S. to default on its loans — to push through his border security plan that has been criticized by members of his own party for being too extreme, the Texas Tribune reports.
https://www.texastribune.org/2023/01/25/texas-congress-chip-roy-border-debt-ceiling/
Santos lists new treasurer -- who says he doesn't work for the congressman
On Wednesday, several fundraising committees associated with the freshman congressman from New York filed amendments to their statements of organizations, notifying the Federal Election Commission of a new treasurer.
But the newly listed treasurer, Thomas Datwyler, a veteran campaign finance treasurer who has served on multiple other political organizations, says he does not work for the Santos campaign and that the filings were signed under his name without his consent.
https://www.texastribune.org/2023/01/25/texas-congress-chip-roy-border-debt-ceiling/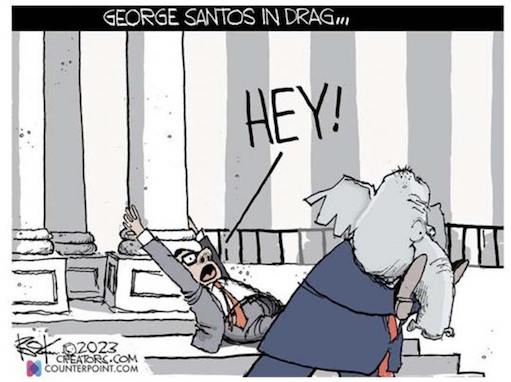 Attorney John Eastman Charged with Multiple Disciplinary Counts by the State Bar of California
The State Bar of California's Chief Trial Counsel George Cardona announced today the filing of a Notice of Disciplinary Charges (NDC) against attorney John Charles Eastman (State Bar No. 193726). The 11 charges arise from allegations that Eastman engaged in a course of conduct to plan, promote, and assist then-President Trump in executing a strategy, unsupported by facts or law, to overturn the legitimate results of the 2020 presidential election by obstructing the count of electoral votes of certain states.
Specific charges allege that Eastman made false and misleading statements regarding purported election fraud, including statements on January 6, 2021, at a rally in Washington, D.C., that contributed to provoking a crowd to assault and breach the Capitol to intimidate then-Vice President Pence and prevent the electoral count from proceeding.
https://www.calbar.ca.gov/About-Us/News/News-Releases/attorney-john-eastman-charged-with-multiple-disciplinary-counts-by-the-state-bar-of-california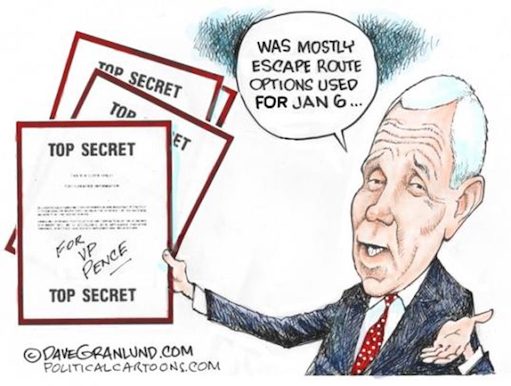 Inside Sundance's Top-Secret Brett Kavanaugh Documentary
A collective eyebrow was raised when the 2023 Sundance Film Festival announced a last-minute addition to the lineup: "Justice," a documentary probing the allegations of sexual misconduct against Supreme Court Justice Brett Kavanaugh.
More than anything Justice feels like a signal flare for future accusers and witnesses of Kavanaugh's alleged sexual misconduct to come forward. The press was informed that the 83-minute version screened at Sundance was not a final cut, and Herdy and Liman told festivalgoers during the post-screening Q&A that they'd received new tips since announcing the documentary on Jan. 19, and that the film — and their investigation — is not yet finished.
https://www.rollingstone.com/tv-movies/tv-movie-features/inside-justice-sundance-top-secret-brett-kavanaugh-documentary-doug-liman-deborah-ramirez-1234665450/
'Trump fatigue' in New Hampshire complicates his 2024 White House bid
In interviews with 10 New Hampshire Republican Party officials and members, some of whom worked on Trump's 2016 primary campaign and all of whom have been staunch Trump supporters in the past, Reuters found only three who were sticking with him this time around - including the state chair, an influential Republican figure who is so enthusiastic about Trump he is stepping down on Saturday to help his campaign.
The rest cited exhaustion with Trump's controversies, exasperation at the constant drama, and a desire to move on from Trump's loss in 2020 with a fresh face who they thought would have a stronger chance of winning in 2024.
https://www.reuters.com/world/us/trump-fatigue-new-hampshire-complicates-2024-white-house-bid-2023-01-27/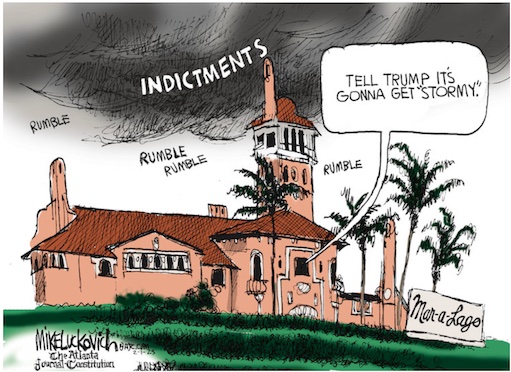 Florida House 'dress code' asks women to cover their shoulders
Republican leadership of the Florida House has posted flyers throughout the Capitol showing what to wear — and perhaps more strikingly, what not to wear.
The flyer breaks down a dress code for three different scenarios — when in the chamber, when Members are in the building, and when Members are not in the building. The required attire is, not surprisingly, most formal when in the House chamber.
What sticks out though, is the requirement that women never show their shoulders when House Members are present in the building, whether in the chamber or not.
https://floridapolitics.com/archives/584005-florida-house-administration-dress-code-asks-women-to-cover-their-shoulders/
Trump secretly donated $1m to discredited Arizona election 'audit'
Trump secretly donated $1m to discredited Arizona election 'audit
One of the enduring mysteries surrounding the chaotic attempts to overturn Donald Trump's defeat in the 2020 presidential battle has been solved: who made a secret $1m donation to the controversial election audit' in Arizona?
The identity of one of the largest benefactors behind the discredited review of Arizona's vote count has been shrouded in secrecy. Now the Guardian can reveal that the person who partially bankrolled the failed attempt to prove that the election was stolen from Trump was… Trump.
https://www.theguardian.com/us-news/2023/jan/27/trump-secretly-donated-1m-arizona-election-audit
Arizona GOP lawmakers OK rules to erase emails past 90 days
"Republicans in Arizona's Legislature have voted along party lines to approve new rules that will allow state lawmakers to destroy emails after 90 days and delete text messages as quickly as they arrive.
https://apnews.com/article/politics-arizona-state-government-katie-hobbs-1bc2978f7b9e44d36321dfbc33f9883d
The Man Who May Challenge Putin for Power
Vladimir Putin, it seems, has finally noticed that the war in Ukraine created a dangerous competitor to his power: Yevgeny Prigozhin, the founder of the private military company, the Wagner group, whose troops fight alongside the Russian Army.
Depending on your point of view, Mr. Prigozhin could be considered either the person of the year or the villain of the year. Mr. Putin is, according to many sources in Moscow, confident that he can weaken Mr. Prigozhin, who has clashed with the military's general staff. However, the effect could be the opposite, with more people seeing Mr. Prigozhin as the most probable favorite to succeed Mr. Putin.
https://www.nytimes.com/2023/01/26/opinion/russia-putin-ukraine-wagner.html
Justice Department asks FEC to stand down as prosecutors probe Santos
The Justice Department has asked the Federal Election Commission to hold off on any enforcement action against George Santos, the Republican congressman from New York who lied about key aspects of his biography, as prosecutors conduct a parallel criminal probe, according to two people familiar with the request.
https://www.washingtonpost.com/investigations/2023/01/27/santos-doj-investigation-fec/
Sharing Biden, Trump Documents Could Complicate Investigations, DOJ Says
The Justice Department told top Senate Intelligence Committee lawmakers that providing nonpublic information to the panel about the classified material that ended up in the personal possession of two presidents could complicate the ongoing investigations into the incidents.
Members of the committee from both parties have been pressing the Biden administration to turn over the classified documents found at President Biden's private home and former office and former President Donald Trump's residence. Intelligence officials have so far declined to do so, citing the appointment of special counsels who are looking into the discoveries of the documents.
https://www.wsj.com/articles/sharing-biden-trump-documents-could-complicate-investigations-doj-says-11675025250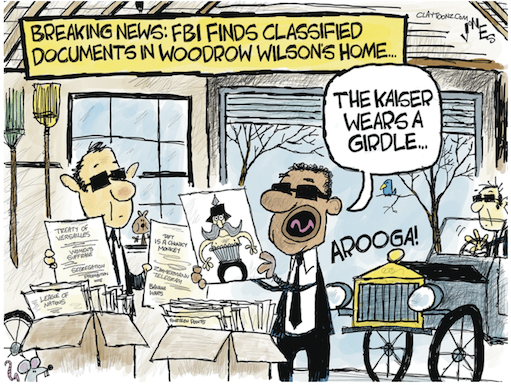 Manhattan Prosecutors Will Begin Presenting Trump Case to Grand Jury
The Manhattan district attorney's office on Monday will begin presenting evidence to a grand jury about Donald Trump's role in paying hush money to a porn star during his 2016 presidential campaign, laying the groundwork for potential criminal charges against the former president in the coming months.
https://www.nytimes.com/2023/01/30/nyregion/trump-stormy-daniels-grand-jury.html
Trump investigations: Georgia prosecutor ups anticipation
Former President Donald Trump and his allies have been put on notice by a prosecutor, but the warning didn't come from anyone at the Justice Department.
It was from a Georgia prosecutor who indicated she was likely to seek criminal charges soon in a two-year election subversion probe. In trying to block the release of a special grand jury's report, Fulton County District Attorney Fani Willis argued in court last week that decisions in the case were 'imminent' and that the report's publication could jeopardize the rights of 'future defendants.' https://apnews.com/article/trump-investigation-georgia-prosecutor-0c62d7884f0150c93f5e555333ae23d2
Putin's War in Ukraine Pushes Ex-Soviet States Toward New Allies
Vladimir Putin invaded Ukraine partly to assert Russia's regional dominance once and for all. Nearly a year on, the Russian president has achieved the opposite — and not just in Kyiv.
Officials from ex-Soviet states in central Asia and the Caucasus say the war has prompted their governments to look for ways to reduce dependence on Moscow by turning to rival powers including Turkey, the European Union and Middle East countries. All spoke on condition of anonymity to avoid antagonizing the Kremlin.
https://www.bloomberg.com/news/articles/2023-01-31/putin-news-war-in-ukraine-pushes-former-soviet-states-toward-new-allies
George Santos Decision Tied to Ilhan Omar Push
Rep. Marjorie Taylor Greene (R-GA) told the New York Times that Rep. George Santos' move to step down from committee was not permanent and said it was made in part because House Republican leaders are trying to remove Rep. Ilhan Omar (D-MN) from the Foreign Affairs Committee, although it is not clear they have the votes to do so. https://www.nytimes.com/2023/01/31/us/politics/santos-house-committees.html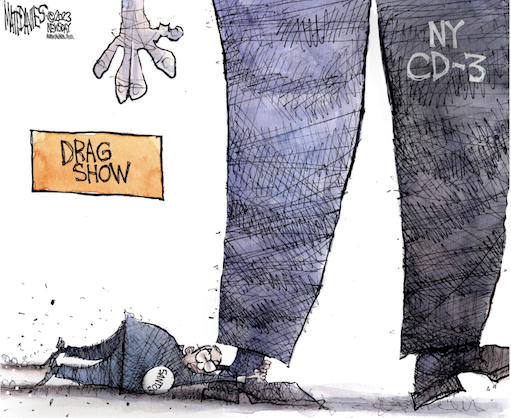 Hide your books to avoid felony charges, Fla. schools tell teachers
Students arrived in some Florida public school classrooms this month to find their teachers' bookshelves wrapped in paper — or entirely barren of books — after district officials launched a review of the texts' appropriateness under a new state law.
School officials in at least two counties, Manatee and Duval, have directed teachers this month to remove or wrap up their classroom libraries.
https://www.washingtonpost.com/education/2023/01/31/florida-hide-books-stop-woke-manatee-county-duval-county-desantis/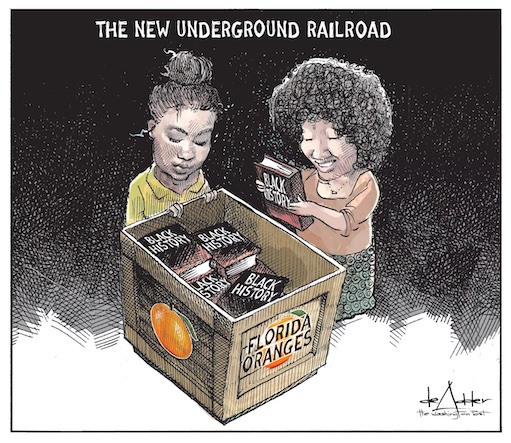 Trump's Well-Worn Legal Playbook Starts to Look Frayed
The expanding legal threats facing former President Donald Trump are testing as never before his decades-old playbook for fending off prosecutors, regulators and other accusers and foes, with his trademark mix of defiance, counterattacks, bluffs and delays encountering a series of setbacks.
In other legal maneuvering and in seeking to shape public opinion about cases involving him, Mr. Trump has experienced regular reversals in court in recent months even as he begins his campaign for another term in the White House.
https://www.nytimes.com/2023/01/31/us/politics/trump-legal-tactics.html
Trump Used Records Requests to Hinder IRS Release of His Tax Returns
Donald Trump demanded reams of information from the Internal Revenue Service as it was preparing to turn over his personal tax returns to a congressional committee, papering the agency with a deluge of Freedom of Information Act requests in search of a behind-the scenes look at its deliberations.
The former president routinely works to drag out any legal challenge to him personally or politically. But this effort took an unusual turn when he filed several FOIA requests during the nearly four years he spent unsuccessfully trying to block his tax returns from becoming public.
Trump's decision to use the public records request law to get information from his own government is unconventional, largely because as commander-in-chief and leader of the Executive Branch he has numerous options to get data from federal agencies that don't require him to use a last-resort tool available to anyone.
https://www.bloomberg.com/news/articles/2023-01-30/trump-used-foia-requests-to-stymie-irs-release-of-his-tax-returns
Biden highlights grant for Hudson tunnel, takes aim at GOP
President Biden is ready to showcase a $292 million mega grant that will be used to help build a new rail tunnel beneath the Hudson River between New York and New Jersey, part of a broader effort to draw a contrast between his economic vision and that of Republicans.
The money is part of $1.2 billion in mega grants being awarded under the 2021 infrastructure law. The Democratic president's trip to New York City comes on the heels of his stop Monday in Baltimore to highlight the replacement of an aging rail tunnel there, where he pledged that government spending on infrastructure will boost economic growth and create blue-collar jobs.
https://apnews.com/article/biden-new-york-city-business-94a9e170a3348c74a3545ece08f15687
Ted Cruz Won't Apologize to Paul Pelosi For Tweeting Hammer Attack Conspiracies
Sen. Ted Cruz (R-TX) is standing his ground, refusing to apologize to Paul Pelosi for sharing conspiracy theories about the hammer attack… even after seeing the shocking police video of what went down. https://www.tmz.com/2023/01/31/senator-ted-cruz-refuse-apologize-paul-pelosi-nancy-attack-tweet/
Hunter Biden's lawyers, in newly aggressive strategy, target his critics
Hunter Biden's lawyers, in a newly aggressive strategy, sent a series of blistering letters Wednesday to state and federal prosecutors urging criminal investigations into those who accessed and disseminated his personal data — and sent a separate letter threatening Fox News host Tucker Carlson with a defamation lawsuit.

The string of letters, which included criminal referrals and cease-and-desist missives aimed at critics and detractors, marked the start of a new and far more hard-hitting phase for the president's son just as House Republicans prepare their own investigations into him. https://www.washingtonpost.com/politics/2023/02/01/hunter-biden-lawyers-urge-investigation-of-critics/
Trump's Financial Situation Is Shakier Than We Knew
When Donald Trump left office in early 2021, he was apparently on much thinner financial ice than almost anyone knew," the Daily Beast reports.

That revelation, which three accounting experts confirmed upon reviewing Trump's 2020 tax return, may help explain some of the financial and political moves the former president has made in the intervening years. Snowballing legal fees, along with other possible legal settlements and judgments, threaten to consume the cash pile he needs to bankroll his business activity, as well as fund a lavish lifestyle and maintain his image of excess—an emperor atop a golden toilet. https://www.thedailybeast.com/trumps-financial-situation-is-even-shakier-than-we-knew
Putin's Former Speechwriter Predicts Coup to Oust Him
Abbas Gallyamov, a former speechwriter for Vladimir Putin, predicted on CNN that a coup to oust the Russian president is a "real possibility" in the next year. https://www.youtube.com/watch?v=KFNf4F9aiIw
George Santos Relative Says They Never Gave $5,800 Reported by the Campaign: "I'm Dumbfounded"
According to Santos' campaign filings with the Federal Election Commission, his recent campaign pulled in more than $45,000 from relatives who lived in Queens. This included a mail handler who gave more than $4,000, a painter who donated the maximum of $5,800, and a student who also contributed $5,800. One of Santos' relatives, who was recorded as giving $5,800, says that they did not make any donation to Santos.

Said one Santos relative: "I'm dumbfounded.. It's all news to me. I don't have that money to throw around!" https://www.motherjones.com/politics/2023/02/george-santos-campaign-funds-donors-scandal/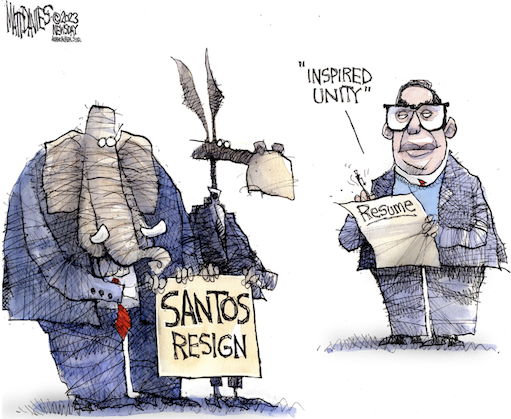 THE DAILY GRILL
Rep. Elise Stefanik (N.Y.), the GOP conference chair, boasted this week that "we passed the most … transparent rules package in history. McCarthy tweeted that the new rules would "increase transparency" and that "Republicans are keeping our commitment to make Congress more open." https://www.washingtonpost.com/opinions/2023/01/13/house-republicans-govern-lie-weaponization-committeee/

VERSUS

"There's also a secret three-page addendum that McCarthy and his allies hashed out during several days of grueling negotiations with the House Freedom Caucus. This pact includes the most controversial concessions McCarthy made in order to become speaker – three seats on the Rules Committee for conservatives, freezing spending at FY2022 levels, a debt-ceiling strategy, coveted committee assignments and more. https://punchbowl.news/archive/1923-punchbowl-news-am/


TRUMP: The mob takes the Fifth. If you're innocent, why are you taking the Fifth Amendment? — Morning Joe supercut. https://twitter.com/BadFoxGraphics/status/1605930703434178560
VERSUS

Trump taking the fifth. https://twitter.com/ronfilipkowski/status/1620578848055382016
Tom Nichols: The GOP Is a Circus, Not a Caucus
Now controlled by its most unhinged members, the Republican Party has returned to power in the People's House. Speaker Kevin McCarthy, the ringmaster of this circus, is happily paying off his debts by engaging in petty payback, conjuring up inane committees, threatening to crash the U.S. economy, and protecting a walking monument to fraud named George Santos, who may or may not actually be named George Santos.

Kevin McCarthy will be fine with all of it, as long as he gets to wear the top hat and red tails while indulging in the fantasy that he is in control of the clowns and wild animals, and not the other way around. https://www.theatlantic.com/newsletters/archive/2023/01/the-gop-is-a-circus-not-a-caucus/672843/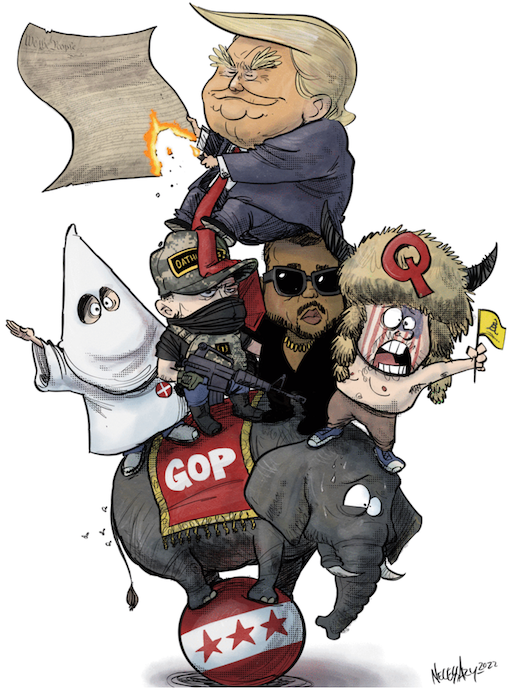 Charles C.W. Cooke: Trump Has Completely Lost His Grip on Reality
Let's check in on the shadow primary for the 2024 Republican nomination. Nikki Haley is putting together a finance committee, and suggested last week that she's 'leaning in' to a run. Mike Pompeo has just published a book called Never Give an Inch, and told CBS yesterday that he'll decide whether to enter the fray over the 'next handful of months.' Governor Ron DeSantis has continued to pick winning fights in Florida since being reelected in a November landslide, and has stayed assiduously quiet about his future.
And then there's Donald Trump, who, despite being the only candidate who has officially announced his bid, is . . . well, ranting like a deranged hobo in a dilapidated public park. No, don't look at him — he might come over here with his sign.
There was a point in time at which Trump's unusual verbal affect and singular nose for underutilized wedge issues gave him a competitive edge. Now? Now, he's morphing into one of the three witches from Macbeth. To peruse Trump's account on Truth Social is to meet a cast of characters about whom nobody who lives beyond the Trump Extended Universe could possibly care one whit. https://www.nationalreview.com/2023/01/trump-has-completely-lost-his-grip-on-reality/
Ed Kilgore: Trump's Terrified 2024 Rivals Show It's His Race to Lose
We are constantly being told by wise insiders that Donald Trump's 2024 presidential campaign is already toast. Without question, he misplayed the midterms by making a series of dubious endorsements and creating a distraction by insisting Republicans accept his 2020 stolen-election fables. And he squandered the advantage associated with being the first candidate in the 2024 field by basically hanging around the house for many weeks.

But if Trump 2024 is indeed the doomed final gesture of an exhausted demagogue whose party and country are thoroughly tired of him, why aren't any of his many potential rivals stepping forward to administer the coup de grâce? Au contraire: As Politico explains, the GOP's other presidential candidates plan to stay on the sidelines because they are afraid of Trump.

For Trump's potential opponents, it may be a matter of self-preservation. Though Trump's support softened following a midterm election in which high-profile, Trump-endorsed candidates flopped, there is a recognition among Trump's rivals that the ex-president — with the benefit of an opponent — can be lethal. He is still polling ahead of potential competitors in national surveys, and no Republican has forgotten his humiliation of low-energy Jeb Bush, little Marco Rubio and lyin' Ted Cruz in the 2016 primaries.

And so, everyone is waiting for the other to act. As another Republican who has spoken with multiple prospective candidates and their teams put it: I think they think a group launch … provides them protection from Trump.

Every day Republicans let Trump stand alone in the 2024 presidential field makes his renomination more likely. And if they're too gutless to take him down, it will be up to Joe Biden to keep him out of the White House again. https://nymag.com/intelligencer/2023/01/trumps-terrified-2024-rivals-show-its-his-race-to-lose.html
Ed Kilgore: Why Republicans Won't Name Their Debt-Ceiling Demands
As the United States lurches toward a possible debt default thanks to House Republican hostage-taking on legislation needed to extend or suspend the debt limit, it's increasingly evident that the hostage-taker is strangely reluctant to name a ransom. Indeed, the initial Democratic strategy in this complicated chess game was simply to force House Republicans to say exactly what kind of spending cuts they propose to make in exchange for allowing a debt-limit measure to wobble its way to Joe Biden's desk.

They say they want to reduce deficits — but meanwhile have ruled out virtually every path for doing so (cuts to defense, cuts to entitlements, wiping out nondefense discretionary spending, or raising taxes). …

Republicans say they want lower deficits — in fact, they have pledged to balance the budget (that is, no deficit at all) within seven or 10 years. But they have not laid out any plausible mathematical path for arriving at that destination. They promise to cut wasteful spending … but can't agree on what counts as waste.

In so quickly reaching this predictable dead end in answering the world's easiest math problem, Republicans have one plausible line of defense: It's how much of the public feels about fiscal matters as well. They really don't like deficits and (especially) debt. But they really don't like the kind of spending cuts that Republicans are talking about either (tax increases, of course, are categorically off the table for the GOP and have been since the George H.W. Bush Read my lips: No new taxes debacle).

The lesson for Republicans is clear: Their crusade for fiscal discipline is popular, so long as it is very general and you exclude higher taxes on the rich as a possible solution. No wonder politicians like McCarthy want Democrats to be the ones who name the GOP's price for letting the U.S. economy get through the year without calamity. https://nymag.com/intelligencer/2023/01/why-republicans-wont-name-their-debt-ceiling-demands.html
Amanda Carpenter: The Democrats' Senate Map of Doom
In 2024, nearly half of the Democratic caucus—23 senators—is up for re-election. Of those, eight are considered vulnerable: five in battleground states (Michigan, Nevada, Pennsylvania, Wisconsin, Virginia) and the other three in solidly red states (Ohio, Montana, West Virginia). Republicans, on the other hand, have only 11 senators up for re-election in the 2024 cycle, and all of them represent states Trump won in 2020…

So even though it's early and elections are unpredictable, the map math is hard to deny: Republicans stand a much better shot of taking control of the Senate than Democrats do of keeping it in 2024. https://www.thebulwark.com/the-democrats-senate-map-of-doom/
Jonathan Chait: Ron DeSantis's Long War on Black Political Power
Last year, DeSantis strong-armed his party into enacting an aggressive new congressional map that dramatically reduced the representation of Black voters. Two districts that had elected Black Democrats to Congress were broken up and scattered. One district, populated by descendants of Black sharecroppers and slaves, was broken up into four pieces, each scattered into a mostly white, heavily Republican district in which the Black vote would have little influence.

It's hardly uncommon for Republicans to reduce the influence of Black voters, but this was not merely a routine party measure. DeSantis had to twist the arms of fellow Republicans to go along with such an aggressive measure. "In meetings, he would just demand, 'Pass my maps! My maps! My maps!' He's just bizarrely obsessed with this," a Republican told Marc Caputo.

DeSantis hadn't denied Black citizens in those districts the right to cast a ballot. They simply no longer had a realistic chance to be represented by a candidate who agreed with them.

Last year, DeSantis formed a new state-police division dedicated to prosecuting voting fraud despite a paucity of evidence it existed. A few months later, he gathered the media, flanked by police officers, to splashily announce a wave of new arrests for alleged voting fraud.

The operation consisted of a series of raids upon shocked, mostly Black Floridians. In the ensuing days, DeSantis's voter-fraud cases disintegrated. The "fraudulent" voters had been told by election authorities that they were eligible to vote.

But the tactic served his purpose anyway. It gave him a hook for another wave of adulatory coverage in the conservative media, which lauded his heroic fight against the specter of voter fraud. And it sent a chilling message to the Black community. Many Black people are afraid of the police and don't trust the government to treat them fairly. DeSantis's message is that voting could cause them to be pulled out of their house in their undergarments and hauled off to prison for casting a ballot — even if they believe they're eligible to vote.

DeSantis's critics have often dismissed his agenda as a "culture war." But his crusade to ban critical race theory is not merely a spectacle designed to get his face on Fox News — it is an attack on a theory that helps explain how, without doing or saying anything racist, DeSantis has systematically disempowered Black people. https://nymag.com/intelligencer/2023/01/desantis-black-ap-african-american-history-poll-tax-gerrymander-voting.html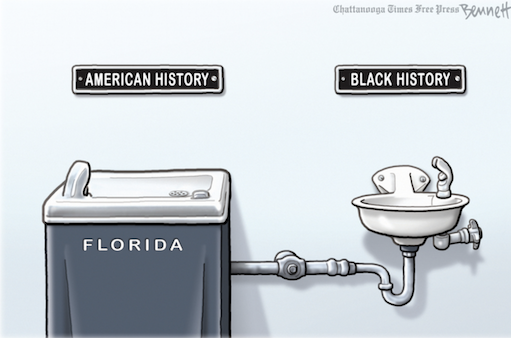 Thomas B. Edsall: The Resentment Fueling the Republican Party Is Not Coming From the Suburbs
Rural America has become the Republican Party's life preserver.

Less densely settled regions of the country, crucial to the creation of congressional and legislative districts favorable to conservatives, are a pillar of the party's strength in the House and the Senate and a decisive factor in the rightward tilt of the Electoral College. Republican gains in such sparsely populated areas are compensating for setbacks in increasingly diverse suburbs where growing numbers of well-educated voters have renounced a party led by Donald Trump and his loyalists.

The anger and resentment felt by rural voters toward the Democratic Party are driving a regional realignment similar to the upheaval in the white South after Democrats, led by President Lyndon Johnson, won approval of the Civil Rights Act of 1964. https://www.nytimes.com/2023/01/25/opinion/rural-voters-republican-realignment.htm
Charlie Warzel: Trump and Facebook's Mutual Decay
This afternoon, Meta announced that it will soon reinstate Donald Trump's account after a two-year suspension from Facebook and Instagram. The former president was deplatformed after his posts were deemed to have incited, or at the very least encouraged, the January 6 insurrection. But according to Nick Clegg, the company's president of global affairs, the public-safety risk that triggered the punishment "has sufficiently receded." The poster in chief can post once again.

And yet there is something underwhelming—stale, even—about the news. The story of Trump's deplatforming feels cryogenically frozen, a 2020 narrative that seems to have lost part of its relevance now that it's thawed out. This is partly because close observers of the story anticipated today's development: In 2021, after a ruling from its independent Oversight Board, Facebook announced that Trump's suspension would be lifted after two years, "external factors" permitting. (The company said at the time that it would assess "instances of violence, restrictions on peaceful assembly and other markers of civil unrest.") And some of the thunder was stolen by Twitter, which reinstated his account late last year, although Trump hasn't resumed posting there.

There is also the mutual decay of both Trump and Facebook. Each thrives by hijacking attention and monetizing outrage, and they've benefited each other: The Trump campaign spent millions of dollars on more than 289,000 Facebook ads over the span of just a few months in 2020, according to an analysis by The Markup. But lately, both appear to have lost the juice. Many people still support Trump, and many people still use Facebook products, but the shine is gone—and that matters. https://www.theatlantic.com/technology/archive/2023/01/meta-reinstates-trump-facebook-instagram-accounts-ban/672845/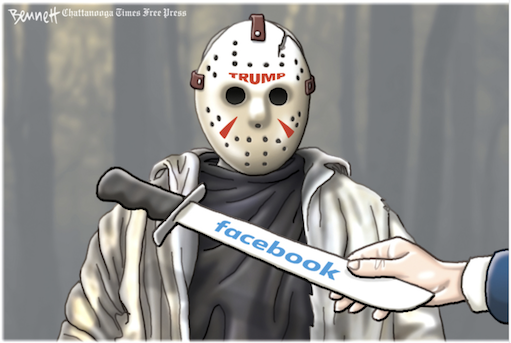 Susan B. Glasser: The Trump Enablers Dance On
With Donald Trump, there is nothing new, only new iterations of old scams. In 2019, the legendary sports journalist Rick Reilly wrote a book about Trump's apparent epic knack for cheating at golf, noting that a plaque at Trump International Golf Club at West Palm Beach listed Trump as having won the club golf championship three times—including in 1999, seemingly before the club had opened. At his New Jersey golf club, Reilly reported, Trump once declared himself the winner of the senior golf championship after playing the "winning" round at a different course, eighty-seven miles away.

This past Sunday, Trump repeated the feat, announcing that he had been victorious in his West Palm Beach club's senior championship over the weekend, despite not playing in the first round. Trump had been in North Carolina that day, but apparently decided to give himself a lead in the tournament anyway by using a score he recorded before the tournament started. In revealing the "win" on his Truth Social social-media network, Trump cited it as proof of the exceptional "strength and stamina" he would bring back to "govern."

This particular bit of absurdist disinformation on a platform that Trump has shorthanded to "TRUTH" struck me as the perfect representation of his so-far shambolic revenge candidacy: puffery combined with fakery and presented to the public with such incredible unseriousness that it's all too easy to forget that he remains the front-runner for the 2024 Republican nomination. Maybe that's why Facebook, like Twitter, announced this week that it has decided to reinstate an unrepentant Trump, two years after suspending him for spreading lies and misinformation about the 2020 election he lost. https://www.newyorker.com/news/letter-from-bidens-washington/the-trump-enablers-dance-on
Philip Bump: The challenge of cutting the federal budget, visualized
The Committee for a Responsible Federal Budget (CRFB) produced an interesting analysis this month looking at how moving certain buckets out of consideration for reductions made the challenge of cutting spending that much more difficult. To balance the budget without increasing revenue — mostly meaning taxes — you'd need to trim the federal budget by 26 percent over the next decade. If you exclude defense or veterans programs from cuts, you need to eliminate a third of what's left. Take out Social Security and Medicare, too, and suddenly you have to cut basically everything. https://www.washingtonpost.com/politics/2023/01/26/house-republicans-spending-debt-ceiling/
Dana Milbank: House Republicans bring the bread and circuses
In an account of the tender friendship that has blossomed between McCarthy and Rep. Marjorie "Jewish Space Lasers" Taylor Greene (R-Ga.), the New York Times had this touching remark McCarthy made to a friend: "I will never leave that woman." (Suggested Swift lyric: Darling, you're the one I want.)

McCarthy has displayed his affection with gifts, seating Greene not just on Comer's Oversight Committee but also on the select committee probing covid-19's origins. Greene already has ideas on the subject: She has speculated that NFL player Damar Hamlin's collapse and the death of Diamond and Silk's Lynnette Hardaway were both vaccine-induced.

"It's time to reveal the truth," Greene tweeted after securing the seat. Once she reveals those, she can probe other "truths" recently floated by Tucker Carlson and the Fox News conspiracy club. Carlson has recently suggested that cigarette smoking is good for you ("nicotine frees your mind"), and that M&M's "spokescandies" were part of a woke plot.

Greene's appointment is part of a wholesale takeover of key committees by the far right. The House Freedom Caucus, about 20 percent of the GOP caucus, now controls 38 percent of the Oversight Committee, 44 percent of the Judiciary and coronavirus panels, and 50 percent of the "weaponization of the federal government" select committee, the Post's Aaron Blake calculates. The far right also has effective veto power over the House Rules Committee, which determines what goes to the House floor.

With so many committees overloaded with loons, it's but a matter of time until things blow up. In an embrace of mayhem, the National Republican Campaign Committee adopted as its new slogan "bring the tiger," Politico's Olivia Beavers reports. That's a reference to a mock lip-reading video of McCarthy's famous fight on the House floor this month with Rep. Matt Gaetz (R-Fla.) in which McCarthy says "I brought the tiger."

Yep. He brought the tiger, and now he must ride it. This is life in the circus. https://www.washingtonpost.com/opinions/2023/01/27/house-gop-taylor-swift-lyrics/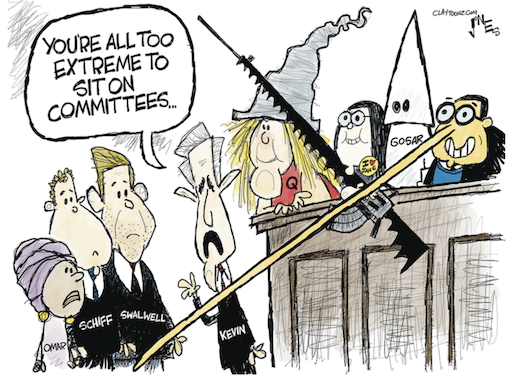 Jonathan Chait: The Durham Probe Was Barr's Witch Hunt A shockingly unethical and failed crusade to vindicate Trump.
There is an enduring pattern in American conservatism in which the right first develops a paranoid interpretation of the liberal Establishment, and then reverse engineers its own version of the monster it has imagined. Conservatives convinced themselves that the mainstream media and universities were mere propaganda organs, then created institutions like the Heritage Foundation and Fox News, warped reflections of their own overheated critique. The January 6 insurrection was, of course, in the mind of its participants, a "response" to the imagined vote-fraud conspiracy and its antifa/BLM shock troops.

John Durham's investigation is a classic episode in this tradition. The American right first convinced itself that Robert Mueller and the deep state, using the cover of dispassionate professionalism, had launched a partisan witch hunt to smear Donald Trump. In response, it created a right-wing mirror image, as fervently partisan and unhinged as they believed their enemies to be.

The New York Times has a deeply reported narrative showing how Durham's counter-investigation of the Russia probe, cooked up by William Barr at Donald Trump's urging, was just as abusive, partisan, and unhinged as Trump's defenders made Mueller out to be.

The paranoid style of American conservatism is imprinted upon the institutions it creates. The Durham probe will go down in history as a monument to the right's fever-dream defenses of Trump's corruption. https://nymag.com/intelligencer/2023/01/the-durham-probe-was-barrs-witch-hunt.html
Charlie Sykes: Trump's 2024 MAGA litmus test - cruelty is no longer enough
For Trump, this is hardly a new theme. His enthusiasm for violence — including torture, extra-judicial murder and shooting both migrants and protesters — has been a consistent feature of his politics for years.

Trump has long cultivated cruelty as a political weapon. But he has not confined his cruelty to mere rhetoric.

As Rolling Stone reported this week, the Trump administration rushed to "execute every prisoner he could" in its last months in office.

As president, Trump not only wanted a border wall but frequently talked about having it electrified, with sharpened spikes on top, and had aides draw up cost estimates for moats filled with alligators and snakes. He publicly suggested that soldiers shoot immigrants who threw rocks, and, when told that would be illegal, "suggested that they shoot migrants in the legs to slow them down." During his first campaign, he urged supporters to beat up hecklers and boasted that he could order the military to commit war crimes, including killing the families of suspected terrorists. "If you were president of United States, and the military declined to carry out an illegal order, what would you do?," Fox News host Bret Baier asked him. "They won't refuse," he replied.

Relevant to the police brutality protests rippling out in the wake of Tyre Nichols' death, Trump has encouraged police to stop worrying about physically injuring suspects during arrests. As unrest spiked after the police murder of George Floyd, Trump tweeted that he had told Minnesota's governor that "the Military is with him all the way."

"Any difficulty and we will assume control," Trump wrote, "but, when the looting starts, the shooting starts." https://www.msnbc.com/opinion/msnbc-opinion/trump-vs-desantis-2024-republican-litmus-test-brutality-rcna67979
McKay Coppins: Republicans' 2024 Magical Thinking
Press them hard enough, and most Republican officials—even the ones with MAGA hats in their closets and Mar-a-Lago selfies in their Twitter avatar—will privately admit that Donald Trump has become a problem. He's presided over three abysmal election cycles since he took office, he is more unstable than ever, and yet he returned to the campaign trail this past weekend, declaring that he is angry and determined to win the GOP presidential nomination again in 2024. Aside from his most blinkered loyalists, virtually everyone in the party agrees: It's time to move on from Trump.

But ask them how they plan to do that, and the discussion quickly veers into the realm of hopeful hypotheticals. Maybe he'll get indicted and his legal problems will overwhelm him. Maybe he'll flame out early in the primaries, or just get bored with politics and wander away. Maybe the situation will resolve itself naturally: He's old, after all—how many years can he have left?

This magical thinking pervaded my recent conversations with more than a dozen current and former elected GOP officials and party strategists. Faced with the prospect of another election cycle dominated by Trump and uncertain that he can actually be beaten in the primaries, many Republicans are quietly rooting for something to happen that will make him go away. And they would strongly prefer not to make it happen themselves. https://www.theatlantic.com/politics/archive/2023/01/2024-republican-primary-donald-trump-deus-ex-machina/672888/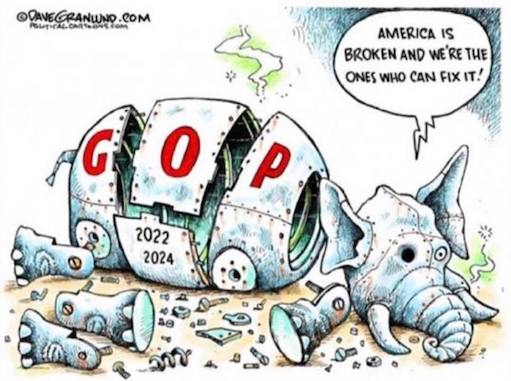 Julia Ioffe: Putin's Plot Against America
From Moscow's vantage point, it isn't simply the gross incompetence of its military and intelligence services that prevented Russia from seizing Ukraine in a flashy blitzkrieg last February. It was the fact that Ukraine was armed with NATO weaponry, its troops trained by NATO advisors, its intelligence services constantly fed information by Western intel agencies. Moscow has made no secret of this frustration or its assertion that the battle for Ukraine was a proxy war against the West, itself.

This is why, from the very beginning, Moscow has framed this war as one not between Russia and Ukraine, but rather one between Russia and what Vladimir Putin and his coterie love to call 'the collective West.' And, according to this consensual ideology, it is this collective West—not the incompetence of any generals or advisors—that has thwarted Putin's aims of swallowing Ukraine and fulfilling his dream of a pan-Slavic super state with Moscow at its capital. https://puck.news/putins-plot-against-america/