May 4, 2023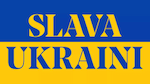 To subscribe to this FREE weekly newsletter simply email jellison@san.rr.com with "subscribe" as the subject.
LITIGATION TRACKER
Pending Criminal and Civil Cases Against Donald Trump

.
THE WEEK'S BEST QUOTES. . .
"Tucker is one of the very small number of political celebrities in this country who has the name ID, the personal wealth, the stature to actually declare and run for president and in a Republican primary run in the same track Donald Trump did: the transgressive, bad boy candidate, the one who lets you say what you want to say, think what you want to think, act how you want to act, no matter how grotesque it is… Among Republicans, he's a beloved figure. He's right now in the Republican universe a martyr – and there ain't nothing they want more than a martyr."— Former GOP strategist Rick Wilson.
https://www.theguardian.com/us-news/2023/apr/27/rick-wilson-tucker-carlson-presidential-nominee-donald-trump-ron-desantis-republicans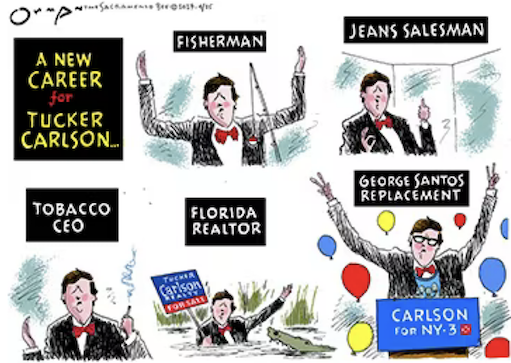 "Trump is embracing a J6 Defendant who called for the execution of members of Congress. To elected Republicans who have endorsed him:  You are endorsing his conduct on Jan 6th and every day since. "The only thing necessary for the triumph of evil is for good men to do nothing." — Liz Cheney.
https://twitter.com/Liz_Cheney/status/1651998887291367437
"He announced that he's running again in 2024, and I think that we can all be very clear and say with a matter of fact that if you vote for Joe Biden you really are counting on a President Harris, because the idea that he would make it until 86 years old is not something that I think is likely." — Nikki Haley.
https://www.cnbc.com/2023/04/27/nikki-haley-biden-will-likely-die-within-five-years.html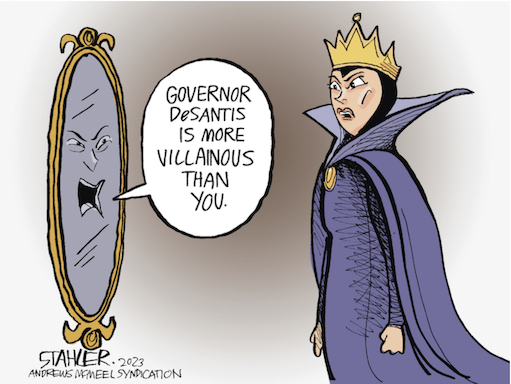 "West Virginia Gov. Jim Justice (R) is a deadbeat billionaire who is delinquent on his financial and moral obligations and an embarrassment to West Virginia." — The Club for Growth, an influential GOP PAC's new TV ad.
https://www.youtube.com/watch?v=Cd5-c73JsLo
"Abraham Lincoln had a civil war going on but Abraham Lincoln was just vilified. Now they say Trump got treated the worst of all." — Donald Trump claiming in a Fox News interview that he's been treated worse than any other president — including Abraham Lincoln, who was assassinated.
https://twitter.com/Acyn/status/1652838361382436866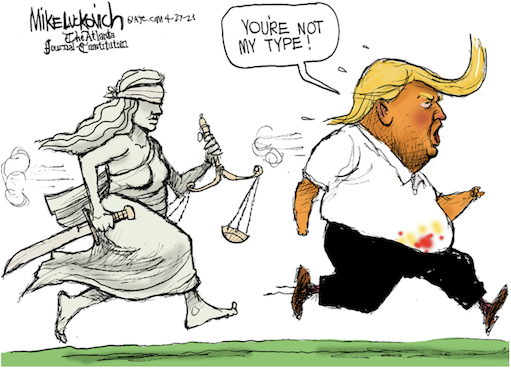 "Many of our candidates across the board refused to talk about it, thinking 'Oh we can just talk about the economy and ignore this big issue.' And they can't.They're uncomfortable but they can't be. You need to say, listen, I'm proud to be pro-life." -- RNC chair Ronna McDaniel
https://www.usatoday.com/story/news/politics/2023/04/30/abortion-gop-republicans-2024-ronna-mcdaniel/11772410002/
"This bill was hastily drafted and forced through the House at a break-neck speed. Not a single Committee of jurisdiction held a hearing or a mark-up on a bill that would fundamentally remake American society. The Senate will show the public what this bill truly is. Beginning this week, our Committees will begin to hold hearings to expose the true impact of this reckless legislation on everyday Americans. On Thursday, the Budget Committee will hold a hearing on the Default on America Act." — Senate Majority Leader Chuck Schumer in a "Dear Colleague letter."
https://punchbowl.news/archive/5123-punchbowl-news-am/
"Did he say I don't support aid to Ukraine? No, I vote for aid for Ukraine. I support aid for Ukraine. I do not support what your country has done to Ukraine. I do not support your killing of the children, either. And I think ... you should pull out. ... And we will continue to support, because the rest of the world sees it just as it is." —  House Speaker Kevin McCarthy responding to a Russian reporter who began his question by stating: "We know that you don't support the current unlimited and uncontrolled supplies of weaponry and aid to Ukraine."
https://twitter.com/therecount/status/1653052864447791105
"A couple of weeks ago, I was watching video of people fighting on the street in Washington. A group of Trump guys surrounded an Antifa kid and started pounding the living shit out of him. It was three against one, at least. Jumping a guy like that is dishonorable obviously. It's not how white men fight. Yet suddenly I found myself rooting for the mob against the man, hoping they'd hit him harder, kill him. I really wanted them to hurt the kid. I could taste it.". — From a text message sent by Tucker Carlson that contributed to chain of events that ultimately led to Carlson's firing on the eve of Fox's billion-dollar defamation trial.
https://www.nytimes.com/2023/05/02/business/media/tucker-carlson-text-message-white-men.html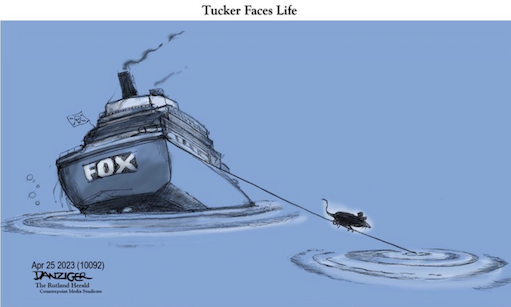 "It is impossible to imagine that someone with more than two dozen accusations of sexual assault would be able to survive in any other realm of American society: business, entertainment, sports, the military, even politics. We save our lowest standards for the presidency." — Charlie Sykes.
https://morningshots.thebulwark.com/p/all-trumps-women
VIDEOS ...
Joe Biden's new, excellent ad - please share!
https://www.youtube.com/watch?v=n2zY3f18Fnc
"People are not affecting climate change. You're going to tell me that back in the Ice Age, how much taxes did people pay and how many changes did governments make to melt the ice?" — Rep M.T. Greene.
https://twitter.com/Acyn/status/1651410740618862592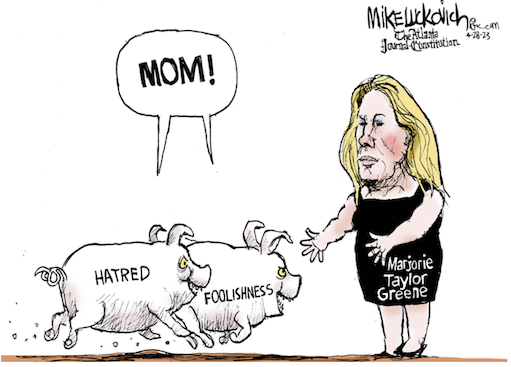 "Do What We Say Or The Economy Dies!" -- Mark Fiore on Vimeo.
https://vimeo.com/821523873
"Climate change will be good for the U.S. because it will be less cold: Global warming will actually be beneficial ... Why wouldn't we take comfort in that? ... Y'know, concerned if you're in the hot region of Africa ... but we're in good shape." — During a meeting of the U.S. Senate Committee on the Budget, Sen. Ron Johnson (R-WI) argued that climate change will benefit his home state of Wisconsin because less people will die from the cold.
https://twitter.com/HeartlandSignal/status/1651253584153935874
Donald Trump campaign video in which he outlines plans to seize the endowments of any college or university practicing affirmative action.
https://twitter.com/TrumpWarRoom/status/1653491448535306245
---
IN THIS ISSUE
IN THE NEWS
OPINION
Andy Borowitz: Tucker Carlson Reportedly Enraged Fox by Saving His Best Material for His Texts
Tucker Carlson sealed his fate at Fox News Channel by saving his best material for his texts, a newly leaked network memo reveals.
According to the memo, written by the Fox News chairman, Rupert Murdoch, Carlson violated his contract by filling his texts with "premium fascist content" that should have been used on his show.
"The cable-news business is more competitive than ever," Murdoch wrote. "Every drop of hatred and venom that our personalities produce must be deployed on their programs."
The memo indicated that Carlson's reckless decision to waste his most vividly racist comments in his texts has resulted in a policy overhaul at Fox.
"Going forward, there will be zero tolerance for any expressions of vile, abhorrent sentiments that Fox is unable to monetize," Murdoch wrote. 
https://www.newyorker.com/humor/borowitz-report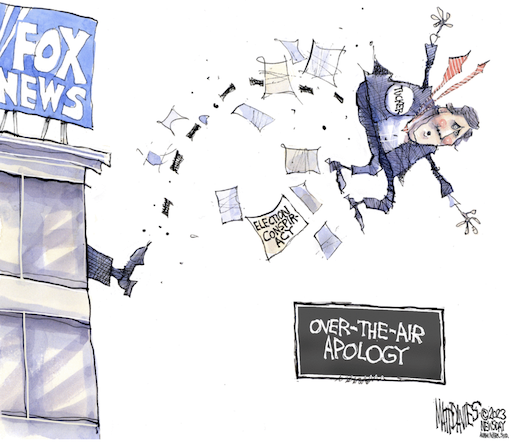 House Democrats Move to Force a Debt-Limit Increase as Default Date Looms
The only clue to the gambit was in the title of the otherwise obscure hodgepodge of a bill: 'The Breaking the Gridlock Act.'
But the 45-page legislation, introduced without fanfare in January by a little-known Democrat, Representative Mark DeSaulnier of California, is part of a confidential, previously unreported, strategy Democrats have been plotting for months to quietly smooth the way for action by Congress to avert a devastating federal default if debt ceiling talks remain deadlocked.
With the possibility of a default now projected as soon as June 1, Democrats on Tuesday began taking steps to deploy the secret weapon they have been holding in reserve. They started the process of trying to force a debt-limit increase bill to the floor through a so-called discharge petition that could bypass Republican leaders who have refused to raise the ceiling unless President Biden agrees to spending cuts and policy changes.
https://www.nytimes.com/2023/05/02/us/politics/debt-limit-discharge-petition.html
Republican-controlled states target college students' voting power ahead of high-stakes 2024 elections
Republican-controlled legislatures around the country have moved to erect new barriers to voting for high school and college students in what state lawmakers describe as an effort to clamp down on potential voter fraud. Critics call it a blatant attempt to suppress the youth vote as young people increasingly bolster Democratic candidates and liberal causes at the ballot box.
As turnout among young voters grows, new proposals that change photo ID requirements or impose other limits have emerged. https://www.cnn.com/2023/05/02/politics/gop-targets-student-voting/
The Ten Commandments could be in every Texas classroom next fall
This month, Texas Senate Republicans passed three bills about religion in schools that have historians feeling déjà vu.
The first, SB 1515, would require public schools to display the Ten Commandments in a "conspicuous place" in classrooms. The other bill, SB 1396, would permit public schools to set aside time for students and staff members to pray or read the Bible and other religious texts. The third, SB 1556, would give employees the right to pray or "engage in religious speech" while on the job. The bills are on their way to the Texas House for approval. These bills follow Texas's SB 797, which took effect in 2021 and requires schools to display "In God We Trust" signs.
The lawmakers see a signal that they can rethink the separation of church and state, the long-standing idea embedded in the First Amendment of the US Constitution, which states that "Congress shall make no law respecting an establishment of religion, or prohibiting the free exercise thereof."
https://www.vox.com/policy/2023/4/28/23699277/ten-commandments-texas-school-prayer-religion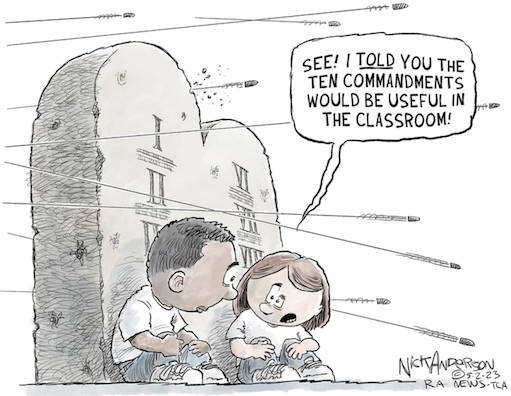 Harris faces new test of political skills in 2024 campaign
Anyone looking for a glimpse of what Vice President Kamala Harris could bring to the campaign trail would have found it this week at Howard University, where she headlined a rally for reproductive rights. After two years of tightly scripted, uneven performances that often dismayed Democrats and cheered Republicans, Harris is looser, more forceful and more willing to speak off the cuff following her trip to Africa a month ago.
"That is the vice president that America is going to get a chance to get to know for the first time," said Laphonza Butler, a former adviser to Harris who leads EMILY's List.
Now Harris, the first woman and person of color in her position, will be put to the test as President Joe Biden seeks a second term. Although vice presidents are rarely decisive in reelection efforts, Harris is poised to be an exception. Not only is she leading the charge on Democrats' most potent issue, the battle over abortion rights, she's the running mate for the oldest president in history, increasing scrutiny over whether she's ready to step into the top job if necessary.
https://apnews.com/article/kamala-harris-vice-president-2024-39248af7a1da76a3f679b1c1c973254e
Just Four True Toss Up States
According to "Inside Elections," four states rated as toss-up are at the epicenter of the fight for the White House: Arizona, Georgia, Pennsylvania and Wisconsin. Biden won all four of them by 1 percentage point or less each in 2020, and either party's nominee will likely need to win three out of the four states in 2024 in order to win.
According to Inside Elections' Baseline metric, Republicans have the advantage in two of the Toss-up states, Arizona (R +1.8 points) and Georgia (R +2.5 points); while Democrats have the advantage in the other two, Pennsylvania (D +4.1 points) and Wisconsin (D +1 point). Baseline takes the trimmed mean of all statewide and congressional results in the previous four cycles.
https://www.insideelections.com/news/article/initial-2024-presidential-battleground-state-ratings
Republicans ramp up attacks on transgender people, in statehouses and on the campaign trail
From statehouses to the presidential campaign trail, Republicans are escalating their political attacks on transgender people – a reflection of what they see as a cultural fight their base is eager to wage.
Despite a poorer-than-expected showing in last fall's midterm elections when various GOP candidates campaigned on anti-transgender rhetoric, many conservatives have only amplified their attacks this year.
https://www.cnn.com/2023/04/30/politics/republicans-transgender-attacks-statehouse-haley-trump/index.html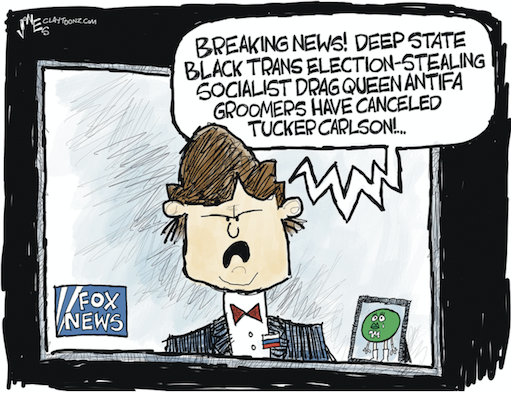 Manchin rails against Biden's clean energy plans as he faces tough political headwinds in West Virginia
West Virginia political observers were not surprised when Sen. Joe Manchin appeared on Fox News on Monday to make a stunning threat: He could be persuaded to vote to repeal his own bill, the Inflation Reduction Act, if the Biden administration pushed him far enough.
The conservative Democratic senator reiterated this to CNN, saying he would 'look for every opportunity to repeal my own bill' if the administration continued to use the Inflation Reduction Act to steer the US quickly towards the clean energy transition and away from fossil fuels.
https://www.cnn.com/2023/04/29/politics/manchin-reelection-biden-climate-agenda/index.html
Montana Lawmaker Suggests She'd Rather Her Daughter Die by Suicide Than Transition
Montana state Rep. Kerri Seekins-Crowe (R), who recently sponsored a bill banning gender-affirming care for minors, suggested that she had blocked the treatment for her own daughter, even as her daughter was suicidal.
Said Seekins-Crowe: "Someone once asked me, 'Wouldn't I just do anything to help save her?' And I really had to think and the answer was, 'No.'"
https://www.thedailybeast.com/montana-lawmaker-kerri-seekins-crowe-suggests-shed-rather-her-daughter-suicide-than-transition
Democrats reconstruct blue wall in lead-up to 2024
Democrats are rebuilding their strength in the 'blue wall' states that former President Trump won in 2016, raising the party's hopes in a region that will prove critical to races up and down the ballot next year.
The party is riding high after key victories in states like Michigan, Pennsylvania and Wisconsin over the past six months, signaling a newfound momentum after Trump's win called into question the party's standing in the rust belt.
https://thehill.com/homenews/campaign/3978800-democrats-reconstruct-blue-wall-in-lead-up-to-2024/
How bad is it for Ron DeSantis? He's polling at RFK Jr.'s level
Harry Enten: Things have gotten so bad for DeSantis that a recent Fox News poll shows him at 21% – comparable with the 19% that Robert F. Kennedy Jr., who has pushed debunked conspiracy theories about vaccine safety, is receiving on the Democratic side.
The Fox poll is not alone in showing DeSantis floundering. The latest average of national polls has him dropping from the low 30s into the low 20s.
This may not seem like a big deal, but early polling has long been an indicator of how well presidential candidates do in the primary the following year.
https://www.cnn.com/2023/04/30/politics/ron-desantis-president-polling-robert-kennedy-jr/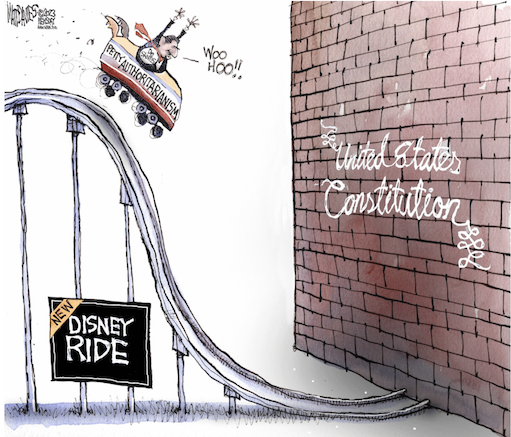 Supreme Court on ethics issues: Not broken, no fix needed
The Supreme Court is speaking with one voice in response to recent criticism of the justices' ethical practices: No need to fix what isn't broken.
Kathleen Clark, a legal ethics professor at Washington University in St. Louis, said in her view the problem is that the justices "have not been subjected to basic accountability that just about everybody else in the federal government has to comply with."
What was striking to her about the statement, she said, was "a failure to grapple with the fundamental problem of lack of accountability." The justices "seem to be utterly clueless about the problem they have ... They're in a bubble apparently. They don't see what a big problem they have with the lack of accountability," she said.
https://apnews.com/article/supreme-court-ethics-clarence-thomas-2f3fbc26a4d8fe45c82269127458fa08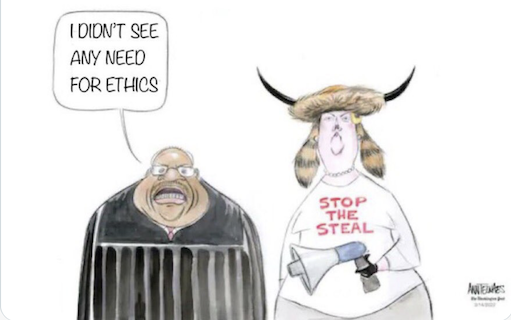 Feinstein's Absence Helped Republicans Overturn a Biden Rule on Truck Pollution
Every single Senate Republican and Joe Manchin voted explicitly to make our air dirtier—and Dianne Feinstein helped them do it.
On Wednesday, by a vote of 50–49, Senate Republicans and Manchin passed a resolution to nullify an Environmental Protection Agency rule that seeks to reduce toxic air pollution from heavy-duty vehicles.
The EPA estimates the rule will prevent up to 2,900 deaths, 6,700 hospital and emergency room visits, and 18,000 cases of childhood asthma. Beyond the vitality benefits, the rule has material ones too: 78,000 fewer lost days of work, 1.1 million fewer lost school days for kids, $29 billion in annual net benefits.
https://newrepublic.com/post/172258/feinstein-absence-senate-republicans-epa-emissions
The GOP wonks trying to get their party not to detonate the debt limit bomb
A small group of conservative budget experts is cautioning House Republicans that brinkmanship over the nation's borrowing limit could lead to economic disaster, warning of severe financial ramifications even as their own party ignores their advice.
In both public and private comments, a handful of GOP budget experts — Brian Riedl, who was an aide to former Ohio Republican senator Rob Portman; Michael Strain, an economist at the American Enterprise Institute; and Douglas Holtz-Eakin, a former director of the nonpartisan Congressional Budget Office — have tried to counter the growing argument on the right that the debt ceiling can be breached with only minimal economic impact.
Conservatives within the GOP have been emboldened by the advice of a competing faction of right-wing policy analysts and economists, who have pushed GOP leaders to stay aggressive. Led by former Trump budget director Russ Vought, these advisers have maintained that the costs of inaction on the nation's $31 trillion debt override the need to ensure the U.S. can pay all its bills.
The fierce — and increasingly personal — split within conservative policymaking circles reflects a broader battle within the Republican Party over spending and deficits and could determine how the current fiscal standoff ends. Congress has until sometime over the next few months to raise the limit on what the nation can borrow, or risk what most economists say would lead to a potential financial crisis and recession. But a growing number of Republicans believe the argument advanced by Vought: that the risks have been massively overstated and can be ignored to secure trillions of dollars in spending cuts.
https://www.washingtonpost.com/business/2023/04/27/debt-limit-gop-policy-wonks/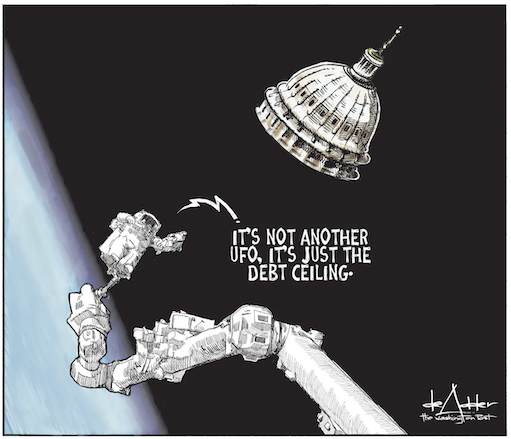 What Are the Odds Biden Will Die in Office?
Nikki Haley asserted that President Biden is likely to die before the end of his second term if he were re-elected in 2024. https://www.nbcnews.com/politics/2024-election/nikki-haley-biden-will-likely-die-five-years-rcna81740
But is she correct?
Mary Pat Campbell, who works as a life insurance actuary, compiles these figures for President Biden, who is 80 years old:
Probability of survival to election (2 years): 88%
Probability of survival to end of second term (6 years): 63%
So, Biden has a better than 50% chance of surviving to the end of a second term, but that's really not a very high survival rate.
And here are the figures for Donald Trump, who is 76 years old:
Probability of survival to election (2 years): 92%
Probability of survival to end of second term (6 years): 74%
With Trump, there's more than a 25% chance of not making it to the end of a second term.
Again, these are broad estimates. The main point is to show the steepness of the mortality curves with old age, especially past age 80.
https://marypatcampbell.substack.com/p/is-joe-biden-likely-to-die-within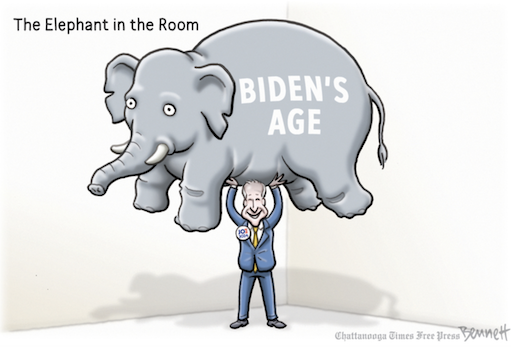 DeSantis's Election Police Are a Bust
One by one, many of the initial 20 arrests announced by the Office of Election Crimes and Security have stumbled in court. Six cases have been dismissed. Five other defendants accepted plea deals that resulted in no jail time. Only one case has gone to trial, resulting in a split verdict. The others are pending.
In its first nine months, the new unit made just four other arrests, according to a report the agency released earlier this year. Critics say the low numbers point to the overall strength of Florida's electoral system and a lack of sufficient evidence to pursue further charges. Nonetheless, as he gears up for a possible presidential run, DeSantis is moving to give the office more teeth, asking the legislature to nearly triple the division's annual budget from $1.2 million to $3.1 million.
https://www.washingtonpost.com/nation/2023/04/30/desantis-election-police-arrests-florida/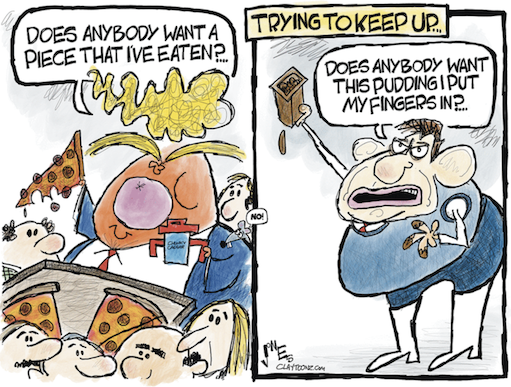 Feds: Hospitals that denied emergency abortion broke the law
Two hospitals that refused to provide an emergency abortion to a pregnant woman who was experiencing premature labor put her life in jeopardy and violated federal law, a first-of-its-kind investigation by the federal government has found, the AP reports.
The findings are a warning to hospitals around the country as they struggle to reconcile dozens of new state laws that ban or severely restrict abortion with a federal mandate for doctors to provide abortions when a woman's health is at risk.
https://apnews.com/article/emergency-abortion-law-hospitals-kansas-missouri-emtala-2f993d2869fa801921d7e56e95787567
White House digs in on debt strategy after House Republicans' passage of their plan
Biden aides strategized Friday over how to use the upcoming congressional recess to hammer lawmakers in their backyards for supporting a bill that would undo Biden initiatives to relieve student debt, support clean energy tax incentives and ramp up IRS enforcement, while strictly limiting growth in most domestic spending programs.
The messaging plan seeks to spell out what the House's proposed spending plan would mean for specific states and congressional districts, through cuts to programs that provide medical care for veterans, nutrition assistance for women and young children, and invest in medical research.
https://www.nbcnews.com/politics/politics-news/white-house-digs-debt-strategy-house-gops-surprise-passage-plan-rcna82185
Texas woman almost dies because she couldn't get an abortion
Amanda Zurawski told lawmakers Wednesday that she received an emergency abortion only after her condition worsened and she went into septic shock – adding that she may have been one of the first patients affected in the state of Texas after Roe was overturned, removing the federal right to an abortion.

"I wanted to address my senators Cruz and Cornyn, neither of whom regrettably are in the room right now, but I would like for them to know that what happened to me I think most people in this room would agree was horrific. But it's a direct result of the policies that they support," Zurawski said. "I nearly died on their watch, and furthermore, as a result of what happened to me, I may have been robbed of the opportunity to have children in the future."
Zurawski is one of five women suing the state of Texas over its restrictive abortion laws, claiming they experienced pain and suffering because they were denied abortion care when they faced emergency complications in their pregnancies. The lawsuit was filed in March by the nonprofit Center for Reproductive Rights.

Texas, which has arguably the most aggressive abortion restrictions in the country, has been the site of several legal battles over abortion since before the Supreme Court overturned Roe v. Wade last June.

The language in Texas' abortion laws is "incredibly vague, and it leaves doctors grappling with what they can and cannot do, what health care they can and cannot provide," Zurawski said, bristling at the implication that her doctors were at fault for misinterpreting the state's abortion bans. "And if they make the wrong the decision, they face up to 99 years in prison and/or losing their license. https://www.cnn.com/2023/04/26/health/abortion-hearing-texas-senators-amanda-zurawski/index.html
U.S. may hit debt ceiling as early as June 1, Janet Yellen warns
Treasury Secretary Janet Yellen warned Monday that the U.S. could be unable to "continue to satisfy all of the government's obligations" by June 1 if Congress does not raise or suspend the debt limit before that time. The warning reduces the timeline in which the Biden administration and House Republicans must come to an agreement to stave off a catastrophic default.
The timeline is further compressed by the fact that the House of Representatives is set to be in session for only 12 days while the Senate is in session for only 15 days in May.
https://www.axios.com/2023/05/01/yellen-debt-limit-treasury-congress
Hunter Biden must answer more questions about his finances and art sales in Arkansas paternity case, judge says
Hunter Biden, will need to sit for a sworn deposition and answer additional written questions about his investments, art sales and other financial transactions as part of a paternity-related case, an Arkansas judge said Monday

Hunter Biden's attorney, Abbe Lowell, told the judge he wanted to refute a recent tabloid article that called Hunter Biden a "deadbeat dad" and that he wanted to "let the world know" that "he is paying Lunden Roberts, the Arkansas woman who is the mother of their four-year-old daughter, what is agreed to.

On paper, the Arkansas case is a basic child support dispute. But it has morphed into a partisan proxy battle. Lunden Roberts' attorneys are outspoken GOP activists, and many of their requests for Hunter Biden's financial records dovetail with what House Republicans are also trying to obtain. https://www.cnn.com/2023/05/01/politics/hunter-biden-deposition-court-hearing/

THE DAILY GRILL

Journalist Kara Swisher: Why hasn't she (Kamala Harris) been able to shake the perception that she's bad at her job? And give me a little more of a nuanced answer. I know sexism and racism are huge problems, but that doesn't explain all the bad press. https://nymag.com/intelligencer/2023/04/on-with-kara-swisher-ron-klain-on-his-years-with-biden.html

VERSUS

Ron Klain, President Biden's former chief of staff: Well, I do think sexism and racism are part of the problem, no question about it. I think she was not as well known in national politics before she became vice-president. And I think that she hasn't gotten the credit for all that she's done. She's done a lot of very hard work and been very successful as vice-president. And I think hopefully during the campaign season, the American people will get more of a chance to see her on the stump and get to know her a little better. https://nymag.com/intelligencer/2023/04/on-with-kara-swisher-ron-klain-on-his-years-with-biden.html
Jonathan Martin: Is Trump Inevitable? Some in the GOP Are Starting To Wonder
Standing before a room filled with lightly interested college students, self-described "political tourists" and even some honest-to-God undecided New Hampshire voters, Chris Christie used a town hall here last week to sketch out the political indictment against the defendant, Donald J. Trump, he thinks Republicans must prosecute to deny the former president his party's nomination.
Yet near the end of his remarks, Christie articulated something more revealing: The sense of fatalism that's fast gripping Republicans of all stripes about the inevitability of Trump again being the GOP standard bearer.
"What you need to decide is: Are we just going to put this race on autopilot, 'he's ahead, let him win, let's see what happens, how bad can it be?'" said the Trump ally turned Trump enemy.
https://www.politico.com/news/magazine/2023/04/27/gop-donald-trump-presidential-race-2024-00094061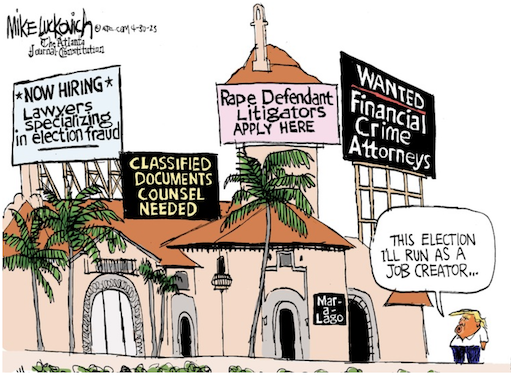 Dan Froomkin: Republicans threaten to tank economy. Media blames Biden
House Republicans are refusing to let the government keep paying its bills unless the Biden administration rolls back some of its signature achievements.
It's a demand that neither the Senate nor Biden will ever agree to.

Raising the debt limit is a procedural move that allows the Treasury to make good on existing commitments. It's not a budget bill.

But House Republicans appear to be ready to default on the debt if they don't get their way. Such a default would be catastrophic for the U.S and world economies, and could permanently damage the dollar's status as the de facto global currency.

Explaining it that way is simply good journalism.

But as usual, extremist Republicans have been enabled by media coverage that tries to split the difference, and treats what is essentially a hostage crisis created exclusively by one side as a normal, two-sided partisan squabble. https://presswatchers.org/2023/04/republicans-threaten-to-tank-economy-media-blames-biden/
Ed Kilgore, Kevin McCarthy's Hollow Debt-Ceiling Victory
House Republicans are celebrating passage by the narrowest margin possible (217-215) of a measure providing a short-term increase in the public debt limit in exchange for deep across-the-board cuts in discretionary spending (details TBD), stepped-up work requirements for beneficiaries of federal programs, repeals of Inflation Reduction Act green tax credits, and a clawback of COVID-relief funds. Since the bill in question is absolutely dead on arrival in the Senate and at the White House, the celebrating is actually about Kevin McCarthy's Speakership surviving for another day, and right-wing members flexing their power.
After scratching and clawing and surrendering to his members' demands, ranging from Iowans demanding biofuel credits and House Freedom Caucus folk wanting to accelerate work requirements, McCarthy got to the starting line of theoretical negotiations with the White House and the Senate. Now he gets to play chicken with Democrats who are entirely united around a demand for a "clean" debt-limit increase or suspension that pays the nation's bills. Failure to pass a debt-limit measure quite soon (perhaps as early as June, depending on the U.S. Treasury's revenue and spending estimates) could pose a catastrophic threat to the U.S. and global economy. So McCarthy, with just four votes to spare, will have to somehow convince the public (and his own party) that his grab bag of random proposals must be imposed on Congress and the White House, lest he drag the whole country into a fiscal crisis. The current celebrations are sure to be brief.
The MAGA folk who hold McCarthy hostage as he holds the country hostage don't care about the ultimate outcome as much as they do about their control of the GOP, as Politico notes:
"Soon after House conservatives extracted enough concessions from Kevin McCarthy to let him claim the speakership, they began plotting their next move: Pushing him as far right as they possibly could on the debt ceiling. …"

"It started in late January, when a group of House and Senate conservatives gathered around Sen. Rick Scott's dining room table to try to solve a seemingly impossible problem. Given McCarthy's slim majority — and the reality that many on his right flank had never voted to lift the debt ceiling — could conservatives write a bill that would unite the party and give it at least a bit of leverage in talks with the White House?"
Well, they did write a bill that united House Republicans. But now the question is who will supply the votes for the inevitable surrender that the GOP's Wall Street allies will eventually insist upon, like a parent telling an unruly child it's time to shut up, cut off the lights, and go to sleep. McCarthy is hoping to avoid both blame for an economic catastrophe, and blame from within his party for caving too easily. If he can do that, his gavel is probably secure for a bit longer. The price his party is paying for his Speakership, however, continues to rise.
https://nymag.com/intelligencer/2023/04/kevin-mccarthys-hollow-debt-ceiling-victory.html
David Frum: The Coming Biden Blowout
The Republican plan for 2024 is already failing, and the party leadership can see it and knows it.
There was no secret to a more intelligent and intentional Republican plan for 2024. It would have gone like this:
(1) Replace Donald Trump at the head of the ticket with somebody less obnoxious and impulsive.
(2) Capitalize on inflation and other economic troubles.
(3) Offer plausible ideas on drugs, crime, and border enforcement.
(4) Reassure women worried about the post-Roe future.
(5) Don't be too obvious about suppressing Democratic votes, because really blatant voter suppression will provoke and mobilize Democrats to vote, not discourage them.
Unfortunately for them, Republicans have turned every element of the plan upside down and inside out. Despite lavish anti-Trump donations by big-money Republicans, Trump is cruising to easy renomination. Rather than capitalize on existing economic troubles, Republicans have started a debt-ceiling fight that will cast them as the cause of America's economic troubles. Worse for them, the troubles are fast receding. Inflation is vexing, but the recession that Republicans hoped for did not materialize: Instead, Joe Biden has presided over the fastest and steepest unemployment reduction in U.S. economic history.
The big new Republican idea to halt the flow of drugs is to bomb or invade Mexico. Instead of reassuring women, Republican state legislators and Republican judges are signaling that they will support a national abortion ban if their party wins in 2024—and are already building the apparatus of surveillance and control necessary to make such a ban effective. Republican state-level voter-suppression schemes have been noisy and alarming when the GOP plan called for them to be subtle and technical.
It's early in the election cycle, of course, but not too early to wonder: Are we watching a Republican electoral disaster in the making?
If Trump secures the GOP nomination to run for a second term in 2024, the conditions are all in place to transfer the title of "worst popular-vote loser of the century" from the great Arizona senator to the putsch-plotting ex-president. Trump's own party is doing its part to deliver this debacle. Soon enough, all Americans will have the opportunity to do theirs.
https://www.theatlantic.com/ideas/archive/2023/04/gop-republicans-2024-election-biden-trump/673856/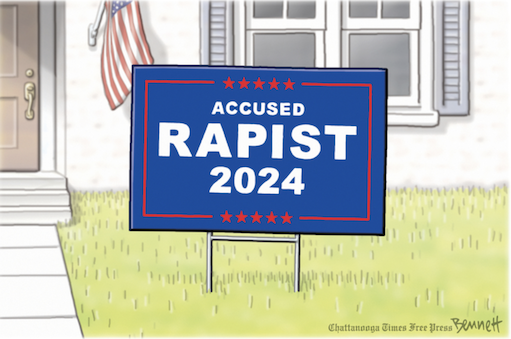 Eugene Robinson: Kamala Harris must keep walking a tightrope for Biden's reelection bid
It is no accident that Vice President Harris appears more than a dozen times in the video kicking off President Biden's reelection campaign. She played a big role in mobilizing the Democratic Party's base in 2020 — and should be expected to do the same thing again in 2024.
As has been the case with virtually every vice president since the nation's founding, Harris gets a bad rap. The first duty of the job is to avoid upstaging the president, which means surrendering any political autonomy and never being out in front of the West Wing on any issue. Recall the way Mike Pence always stood like a hyperrealist statue, mute and expressionless, while President Donald Trump ranted and raved. Somehow, Pence managed to never even lift an eyebrow.
Biden is in good health, according to his doctors, and I know of no reason why he should not be expected to live through a second term. But one of Harris's important tasks during the campaign will be to demonstrate that she is prepared to assume the awesome responsibilities of commander in chief if necessary.
Her other big task will be to energize voters around the issues on which the Republican Party has boxed itself into fringe positions that are rejected by most Americans. Especially on abortion — and the GOP's ongoing attempt to deny women autonomy over their own bodies — I expect her voice to be a clarion call. And, as in 2020, I expect her to inspire and motivate the Democratic Party's most loyal voters, African American women.
As the first woman and first Black and South Asian American to serve as vice president, Harris was destined to be held to an impossible standard. Now, as the reelection campaign begins, she gets to show the talent and drive that got her there.
https://www.washingtonpost.com/opinions/2023/04/27/kamala-harris-role-biden-reelection-campaign/
Susan B. Glasser: The Week the Biden-Trump Rematch Got Real
While Biden's formal declaration of his candidacy was neither surprising nor particularly well timed, it at least laid down a marker for a campaign whose outcome is as uncertain as any I can remember. One theme in particular stuck out: that of Biden as a fighter for "freedom." Four years ago, in his famous "battle for the soul of the nation" campaign-launch video aimed at Trump, Biden never mentioned "freedom." In his new video, it was his opening line and repeated for emphasis five times.
But, if Biden is planning a new campaign theme, so, too, are the Republicans, who also piled on this week not only against Biden but against Kamala Harris, his even-less-popular Vice-President. Nikki Haley, who said in a tweet that the prospect of a Harris Presidency was "scary," was as crass as I've ever heard a politician when she went on Fox and flatly predicted that Biden would likely die in the next five years, thus making support for him in 2024 tantamount to anointing Harris. "If you vote for Joe Biden, you are really counting on a President Harris," Haley said. Or, as Tom Cotton put it, "A vote for Biden is a vote for President Kamala Harris."
In Washington, it is a supposition widely believed if rarely stated explicitly as such that the eighty-year-old President is running again only because of Harris's weakness. This is true, I'm convinced, among many on the left and the right. Is Harris more of a liability than a Party that wants to deny women their reproductive freedom, that spends its time legislating against Mickey Mouse and gender-neutral bathrooms? Than Donald Trump himself? Stay tuned to the circus. 
https://www.newyorker.com/news/letter-from-bidens-washington/the-week-the-biden-trump-rematch-got-real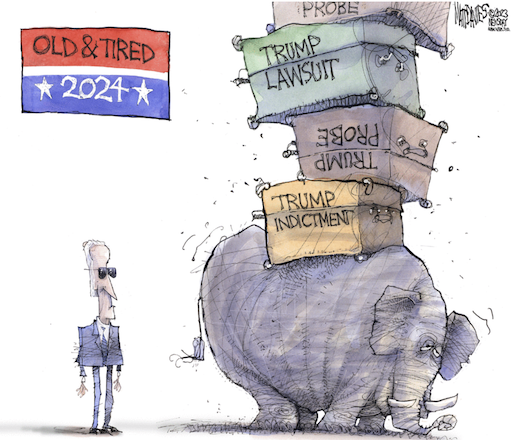 Maureen Dowd: DeSantis's Puddin' Head Campaign
Even in a world made crueler by social media and Donald Trump, DeSantis seems mean, punching out at Mickey Mouse, immigrants, gays and women; pushing through an expansion of his proposal to ban school discussion of sexual orientation and gender identity to include all grades, as well as a draconian ban on abortion after six weeks. He even admonished some high school kids during the pandemic for wearing masks. On Thursday, DeSantis signed a bill cutting the number of jurors needed to give a defendant the death sentence from 12 to 8.
DeSantis seems contrived with Tucker Carlson, weak against Robert Iger, robotic against Trump and inept with potential donors and endorsers. The 76-year-old Trump and the 44-year-old DeSantis can both be nasty, but Trump's base finds him entertaining, with his "DeSanctimonious" and "DeSanctus" nicknames for the rival he deems "dull."
Trump is so eager to trash DeSantis that he jumped in on the side of woke Disney and later posted an MSNBC headline on his social media site, "Ron DeSantis' D.C. charm offensive was a massive failure."
On Friday, speaking at a Heritage Foundation event outside D.C., DeSantis took a shot at Trump, saying he could send Florida workers to finish Trump's wall.
But as Axelrod dryly noted, "If they're going to get into a food fight, Trump always comes with more food."
The bitchy Trump has plenty of ammunition when DeSantis wears white boots redolent of Nancy Sinatra, as Jimmy Kimmel said, to tour Southwest Florida after a hurricane; or when a report alleges (denied by the governor) that DeSantis ate chocolate pudding with his fingers. (Trump backers already have an ad up about that beauty.) DeSantis let Fort Lauderdale go underwater, inundated by flash floods, while he gallivanted around testing the waters.
But as Jerry Brown once told me: "I think we're always judged on likability and I think that's something a lot of politicians don't want to admit. But I can tell you, when they throw you out, most times they didn't like you. They got tired of you."
https://www.nytimes.com/2023/04/22/opinion/desantis-trump-2024.html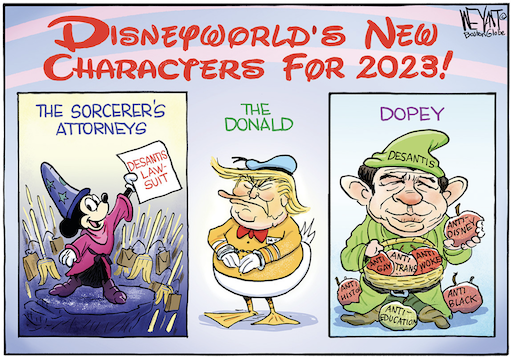 Michael Hiltzik: America vanquished the 'ancient atrocity' of child labor. Republicans are bringing it back
Among the most heartfelt goals and proudest achievements of Franklin Roosevelt's New Deal was the eradication of child labor.
In 1933, in signing a textile industry code that outlawed the employment of children under 16 in sweatshops, FDR crowed that "after years of fruitless effort and discussion, this ancient atrocity went out in a day."
Conservatives and Republicans, who have tried for decades to undo such cornerstones of the New Deal as Social Security, have lately turned their efforts to resurrecting this "ancient atrocity."
This permit was an arbitrary burden on parents to get permission from the government for their child to get a job.
In the last two years, 10 states, mostly Republican-controlled, have enacted or introduced laws rolling back child labor restrictions. Bills to do so have been introduced in six Midwestern states — Iowa, Minnesota, Missouri, Nebraska, Ohio, and South Dakota.
Make no mistake: The rollback of child labor protections isn't a matter of streamlining unnecessary regulations. It's a moral test for America.
The advocates of putting children to work and removing enforcement tools are turning a blind eye to the hazards of child labor. They congratulate themselves for taking government off the backs of working families, but their goal is just to make it easier for unscrupulous businesses to saddle up.
https://www.latimes.com/business/story/2023-04-28/column-america-vanquished-the-ancient-atrocity-of-child-labor-republicans-are-bringing-it-back
Peter Wehner: MAGA Is Ripping Itself Apart
Some of us have spent the better part of eight years warning about the incalculable damage that would be done to the United States, to its politics and culture, and to the Christian witness by those who embraced a Trumpian ethic, defined by cruelty, lawlessness, the shattering of norms and traditional boundaries, and an eagerness to annihilate truth and trust in institutions. Those warnings have been validated, those concerns vindicated. What happened on January 6 wasn't an anomaly; it was an apotheosis.

Now this movement, which has taken such delight in aiming its nihilistic arrows at the Democratic Party and the Republican establishment, at media outlets and scientists, is in the process of devouring itself. A l'exemple de Saturne, la revolution devore ses enfants.

It is a lesson nearly as old as time itself: Those whose passions are inflamed—and Trump supporters are nothing if not perennially inflamed—are drawn to destruction. "Rage and phrenzy will pull down more in a half an hour, than prudence, deliberation, and foresight can build up in a hundred years," the 18th-century conservative statesman and philosopher Edmund Burke warned.

Lack of restraint is the essence of the Trump movement. Shattering guardrails is what they find thrilling. But what MAGA adherents forget is that those guardrails exist to protect not only others, but also ourselves from excess, self-indulgence, and self-harm. There's a reason temperance—self-mastery, the capacity to moderate inordinate desires, balance that produces internal harmony—is one of the four cardinal virtues. https://www.theatlantic.com/ideas/archive/2023/04/trump-e-jean-carroll-rape-case-tucker-carlson-fox/673857/
Adam Nagourney and Jeremy W. Peters: How a Campaign Against Transgender Rights Mobilized Conservatives
When the Supreme Court declared a constitutional right to same-sex marriage nearly eight years ago, social conservatives were set adrift.
The ruling stripped them of an issue they had used to galvanize rank-and-file supporters and big donors. And it left them searching for a cause that — like opposing gay marriage — would rally the base and raise the movement's profile on the national stage.
"We knew we needed to find an issue that the candidates were comfortable talking about," said Terry Schilling, the president of American Principles Project, a social conservative advocacy group. "And we threw everything at the wall."
What has stuck, somewhat unexpectedly, is the issue of transgender identity, particularly among young people. Today, the effort to restrict transgender rights has supplanted same-sex marriage as an animating issue for social conservatives at a pace that has stunned political leaders across the spectrum. It has reinvigorated a network of conservative groups, increased fund-raising and set the agenda in school boards and state legislatures.
The campaign has been both organic and deliberate, and has even gained speed since Donald J. Trump, an ideological ally, left the White House. Since then, at least 20 states, all controlled by Republicans, have enacted laws that reach well beyond the initial debates over access to bathrooms and into medical treatments, participation in sports and policies on discussing gender in schools.
About 1.3 million adults and 300,000 children in the United States identify as transgender. These efforts have thrust them, at a moment of increased visibility and vulnerability, into the center of the nation's latest battle over cultural issues.
https://www.nytimes.com/2023/04/16/us/politics/transgender-conservative-campaign.html
LA Times Editorial: House Republicans want to balance the budget on the backs of America's kids
House Republicans narrowly passed a bill this week that would increase the federal government's debt ceiling in exchange for $4.8 trillion in spending cuts over 10 years that show what the GOP cares about.
It's not our nation's youth. Republicans propose slashing funding for critical education programming that would affect low-income students, students with disabilities and students who need mental health support. These plans would also shrink the Pell Grant program, which helps low-income students attend college. In addition, the bill would block President Biden's student debt relief plan before the Supreme Court has a chance to rule on its legality this year.
Republicans are proposing these cuts at a time when students are still recovering from pandemic-induced learning setbacks and suffering high rates of mental health difficulties.
Thankfully, this bill is not likely to pass the Democrat-controlled Senate, and Biden has promised to veto it if it does. The Limit, Save, Grow Act of 2023, which passed on a 217-215 vote, would also trim funding to programs for veterans, enact work requirements for government aid recipients starting in 2024, rescind funding for 87,000 Internal Revenue Service agents and end tax credits for companies investing in green energy.
https://www.latimes.com/opinion/story/2023-04-28/house-republicans-debt-ceiling-budget-cuts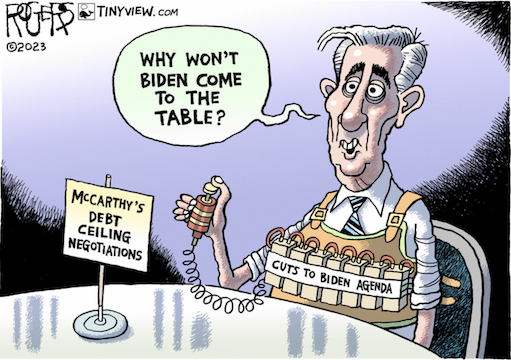 Michelle Cottle: Georgia's Hot Mess Is Headed Your Way
Here's a head scratcher for you: What happens when the leadership of a political party becomes so extreme, so out of touch with its voters, that it alienates many of its own activists and elected officials? And what happens when some of those officials set up a parallel infrastructure that lets them circumvent the party for campaign essentials such as fund-raising and voter turnout? At what point does this party become mostly a bastion of wingnuts, spiraling into chaos and irrelevance?
No need to waste time guessing. Just cast your eyes upon Georgia, one of the nation's electoral battlegrounds, where the state Republican Party has gone so far down the MAGA rabbit hole that many of its officeholders — including Gov. Brian Kemp, who romped to re-election last year despite being targeted for removal by Donald Trump — are steering clear of it as if it's their gassy grandpa at Sunday supper.
Republicans elsewhere should keep watch. Democrats too. What's happening in Georgia is a cautionary tale for pluralism, an example of how the soul of a party can become warped and wrecked when its leadership veers toward narrow extremism. And while every state's political dynamics are unique, a variation of the Peach State drama could be headed your way soon — if it hasn't begun already.
https://www.nytimes.com/2023/05/01/opinion/georgia-trump.html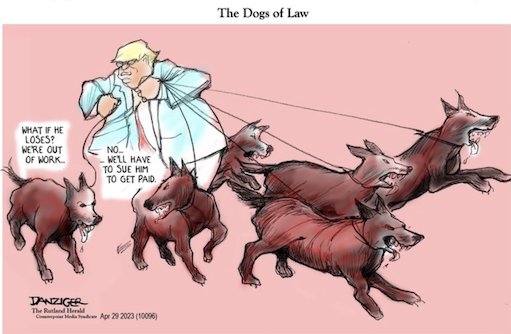 Tom Nichols: The World Awaits Ukraine's Counteroffensive
The democracies face a coming year of decision. In the next 12 to 18 months, we will know whether Americans have the collective will to resist yet another attempt to hand power to a would-be autocrat; as astonishing as it seems, one of the likely presidential candidates in the 2024 election is a man who incited a violent attack against the government and the Constitution of the United States. We will also know whether the free world (and yes, it's long past time to start using that expression again) has the will to resist the onslaught of Russian butchery in Europe.
Without a powerful counteroffensive and eventual victory, there can be no peace in Ukraine, and no stability in Europe or the world. What does "victory" mean? Obviously, the survival of an independent Ukraine is the immediate goal, but a lasting peace has to mean more than living through successive Russian conquests and partitions. The Ukrainians, who have lost so much already, are unlikely to accept such an unjust truce, even if the Russians had any interest in offering one. If the Ukrainians lose sovereign territory, if they are not safe from Russian attack, and if there is no reckoning with Russian war criminals, then any Ukrainian "victory" is just a temporary respite from another round of Russian aggression.
But even more important, any outcome short of a Ukrainian victory would endanger the rest of the world. There is a reason, as Anne and Jeff write, that so many nations, movements, and individuals are waiting to see what happens:
If a Ukraine that believes in the rule of law and human rights can achieve victory against a much larger, much more autocratic society, and if it can do so while preserving its own freedoms, then similarly open societies and movements around the world can hope for success too. After the Russian invasion, the Venezuelan opposition movement hung a Ukrainian flag on the front of its country's embassy hall in Washington. The Taiwanese Parliament gave a rapturous welcome to Ukrainian activists last year. Not everyone in the world cares about this war, but for anyone trying to defeat a dictator, it has profound significance.
Americans can find it easy to forget the war raging across the sea, but Ukraine is approaching a battle for its ultimate fate—as are all of us living in the free world.
https://www.theatlantic.com/newsletters/archive/2023/05/ukraine-counteroffensive-june-cover/673923/
John Cassidy: Joe Biden's 2024 Opening Argument: It's Me or the Abyss
Now it's official: President Joe Biden is running for reëlection. In his opening argument of a campaign that will span the next eighteen months, he portrayed himself as a bulwark against right-wing assaults on freedom, democracy, and social rights. "That's been the work of my first term, to fight for our democracy," Biden said, in a three-minute campaign video posted online Tuesday that opens with footage of Trump supporters storming the Capitol Building on January 6, 2021.
Biden cast the entire Republican Party as an extremist, Trump-dominated organization that is attacking basic American values. Around the country, he said, "maga extremists are lining up to take on those bedrock freedoms, cutting Social Security that you paid for your entire life . . . dictating what health-care decisions women can make, banning books, and telling people who they can love."
Biden's calling card, the one that identifies himself as a Trump-slayer, and an upholder of normality and sanity, remains his biggest advantage going into 2024. He does have others, though. Inside the Democratic Party, he has proved an adroit coalition builder. Much as he's an old-school, Irish-American politician and many of his closest political advisers are veteran, white operatives who hail from the moderate wing of the Party, he nevertheless recognized long ago that his party's center of gravity has shifted, and his Administration has sought to bring on board Democrats who are younger, more diverse, and progressive. This approach is already evident in preparations for the 2024 campaign. On Tuesday, Biden also announced that Julie Chávez Rodríguez, a White House official who is the granddaughter of the labor leader Cesar Chavez, will be his campaign manager, and Quentin Fulks, a thirty-three-year-old Black political strategist, who managed Raphael Warnock's Senate campaign in Georgia, will serve as principal deputy campaign manager.
Though Biden didn't dwell on the details of his policy record in his launch video, he has some substantial achievements to highlight. Under his leadership, the U.S. economy rebounded more quickly from the coronavirus pandemic than many of its competitors, and the unemployment rate is just 3.5 per cent. In the past year, Congress has enacted historic investments in green energy, electric vehicles, and semiconductor-chip manufacturing. These initiatives are already paying off in announcements to build new factories and create new jobs, many of them in purple and red states. 
https://www.newyorker.com/news/our-columnists/joe-bidens-2024-opening-argument-its-me-or-the-abyss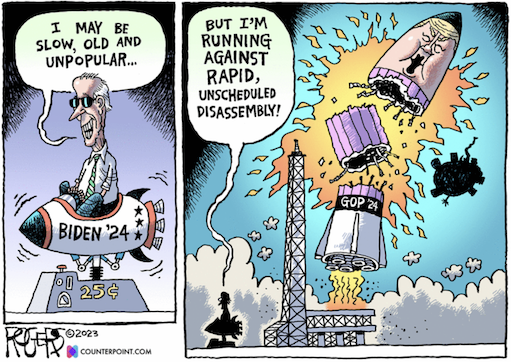 Thomas L. Friedman: Why Kamala Harris Matters So Much in 2024
Biden needs to make the case to his party — and, more important, to independents and moderate Republicans — why Harris is the best choice to succeed him, should he not be able to complete his term. He cannot ignore this issue, because that question will be on the minds of many voters come election time.
At the same time, Harris has to make the case for herself, ideally by showing more forcefully what she can do. One thing Biden might consider is putting Harris in charge of ensuring that America's transition to the age of artificial intelligence works to strengthen communities and the middle class. It is a big theme that could take her all over the country.
Make no mistake, the vice presidency is really going to matter in an election that is really going to matter. Because I don't want Biden to win this election with 50.1 percent. I want it to be a landslide rejection of Trumpism and the politics of division. I want it to send a loud message around the world — to the Putins and the Netanyahus and the Orbans — that there are way more of us Americans on the center-right and the center-left, way more people who are ready to work together for the common good, than there are haters and dividers.
That's an America worth handing over to our children and grandchildren.
https://www.nytimes.com/2023/04/25/opinion/kamala-harris-joe-biden-2024-reelection.html