September 16, 2021
ON THE RECORD. . .
"We've been patient, but our patience is wearing thin. And your refusal has cost all of us." -- President Biden to the unvaccinated.

"Here's a sound bite for you: Bring it." — Rep. Liz Cheney (R-WY), responding to Donald Trump's endorsement of primary challenger Harriet Hageman (R) in which he called Cheney "the Democrats number one provider of sound bites."

The Biden Administration is pushing abortion on demand. That's not going to happen in South Dakota. — South Dakota governor Governor Kristi Noem

I do not believe I should stay on the Supreme Court, or want to stay on the Supreme Court, until I die. When exactly I should retire, or will retire, has many complex parts to it. I think I'm aware of most of them, and I am, and will consider them." -- Supreme Court Justice Stephen Breyer

"There is little cultural overlaps between violent extremists abroad and violent extremists at home… they are children of the same foul spirit, and it is our continuing duty to confront them." — George W. Bush on the threat of domestic terrorism during a speech to mark 20 years since the Sept. 11, 200

"We need to quit wasting our time, our energy, and our credibility on claims that won't ever convince anyone of anything. The party must "face the realities of the 2020 election," discredit the "extremists in our midst" and "renounce the conspiracy theories."" — Former New Jersey Gov. Chris Christie to Republicans gathered at the Ronald Reagan Presidential Library

"Real liberty for all could not exist under the operation of a principle which recognizes the right of each individual person to use his own, whether in respect of his person or his property, regardless of the injury that may be done to others." — Justice John Marshall Harlan, in Jacobson v. Massachusetts, in which the Supreme Court ruled 7-2 on February 20, 1905, that vaccine mandates were constitutional.

"I appreciate the President's continued prioritization of vaccination and the country's recovery as we move forward. As Vermont's experience shows, vaccines work and save lives. They are the best and fastest way to move past this pandemic." — Vermont Gov. Phil Scott (R) tweet

"If Biden's new vaccine requirements slow or halt the spread of the coronavirus, the economic recovery that had been taking off before the Delta variant hit will resume its speed, strengthening his popularity. Those Republican lawmakers furious at the new vaccine requirements are possibly less worried that they won't work than that they will." — Heather Cox Richardson, professor of history at Boston College.

"The Daily Wire does have more than 100 employees but we won't be enforcing Joe Biden's unconstitutional and tyrannical vaccine mandate. That's it. We'll use every tool at our disposal including legal action to resist." - Daily Wire CEO Jeremy Boreing

"My goal today is to convince you that this court is not comprised of a bunch of partisan hacks." — U.S. Supreme Court Justice Amy Coney Barrett, in the wake of a controversial decision on abortion rights.

 "We inherited a deadline. We did not inherit a plan." -- Secretary of State Antony Blinken in response to a question about the Trump administration's guidance for getting Americans out of the country and keeping military equipment out of the hands of the Taliban.

From a conversation about Trump between Speaker Nancy Pelosi and Joint Chiefs Chairman Mark Milley in Bob Woodward and Robert Costa's new book, "Peril."

NANCY PELOSI: If they couldn't even stop him from an assault on the Capitol, who even knows what else he may do? And is there anybody in charge at the White House who was doing anything but kissing his fat butt all over this? You know he's crazy. He's been crazy for a long time.

GENERAL MARK MILLEY: Madam Speaker, I agree with you on everything.

"I have come to realize a majority of Republicans, both locally and in the New Hampshire House, hold values which no longer reflect traditional Republican values." - New Hampshire state Rep. William Marsh on why he left the Republican Party.

"I don't think we've ever been at a point that's been quite this tenuous for the democracy. I think it's a huge danger because it's the first time that I've seen it being undermined — our democracy being undermined from within." — Christine Todd Whitman, a former GOP governor of New Jersey and a founder and co-chair of States United Democracy Center.

"The vote was "rigged … many people are already claiming that when they go to vote, they are told, 'I'm sorry, you already voted.'" — Trump on Tuesday offering evidence-free opinion regarding the recall election.

VIDEOS

At Governor Ron DeSantis' press conference on Monday, a speaker claimed that the COVID vaccines change your RNA. Ron DeSantis did nothing to correct this false statement, one which is prevalent in he anti-vaxx movement.

MeidasTouch: OMG! These GOP Comments Will DISGUST You | #DespicableGOP https://youtu.be/O2Rm05DMBUY
Litigation Tracker: Pending Criminal and Civil Cases Against Donald Trump
---
IN THIS ISSUE
IN THE NEWS
OPINION
Andy Borowitz: California Republicans Flee to Florida and Texas in Search of Dumber Governors

Despondent after yesterday's recall election, millions of California Republicans are fleeing the state for Florida and Texas in search of dumber governors.

The Republicans are choosing to leave their lives in California behind rather than put up with another year and a half of a governor who oppressively follows science.

Harland Dorrinson, a real-estate agent in Orange County, said that he was leaving for a new life in Florida with little more than the Rolex on his arm.

"I looked at myself in the mirror and asked, Can I really live under the tyranny of a governor who blindly adheres to verifiable reality?" he said. "I decided I'd be better off with Ron DeSantis."

Although he is excited about starting over in the Sunshine State, Dorrinson said that choosing between Florida and Texas was "one of the toughest decisions" of his life.

"With Governor Abbott and Governor DeSantis, you really can't go wrong," he said. "Both of them oppose mask mandates. Both of them oppose vaccine mandates. But DeSantis has actually had his videos banned from YouTube for spreading covid misinformation. That was the tiebreaker for me." https://www.newyorker.com/humor/borowitz-report/
CNN Poll: Most Americans feel democracy is under attack in the US
All told, 75% of Republicans say democracy is under attack, compared with 46% of Democrats. Among Republicans and Republican-leaning independents, those who say Trump ought to be the leader of the party are much likelier to see democracy as under threat: 79% in that group vs. 51% among those who say Trump should not be the party's leader.
Republicans who support Trump continue to drive belief in the big lie that the 2020 election was stolen from him. Although there is no evidence of widespread voter fraud in the 2020 election, 36% of Americans say that President Joe Biden did not legitimately get enough votes to win the presidency. That 36% includes 23% who falsely say there is solid evidence that Biden did not win, and 13% who say that is their suspicion only.
Among Republicans, 78% say that Biden did not win and 54% believe there is solid evidence of that, despite the fact that no such evidence exists. That view is also deeply connected to support for Trump. Among Republicans who say Trump should be the leader of the party, 88% believe Biden lost -- including 64% who say there is solid evidence that he did not win -- while among those Republicans who do not want Trump to lead the Party, 57% say Biden won legitimately. https://www.cnn.com/2021/09/15/politics/cnn-poll-most-americans-democracy-under-attack/index.html
Newsom's Anti-Trump Recall Strategy Offers Republicans a Warning for 2022
The first-term Democratic governor will remain in office because, in a deeply liberal state, he effectively nationalized the recall effort as a Republican plot, making a flame-throwing radio host the Trump-like face of the opposition to polarize the electorate along red and blue lines.
Mr. Newsom found success not because of what makes California different but because of how it's like everywhere else: He dominated in California's heavily populated Democratic cities, the key to victory in a state where his party outnumbers Republicans by five million voters. https://www.nytimes.com/2021/09/15/us/politics/midterms-california-republicans-newsom.html
Majority Back Vaccine, Mask Mandates
According to the Monmouth University Poll a majority of Americans support the vaccine mandates announced by President Joe Biden last week amid rising concerns about the chance of catching Covid., the public also supports instituting guidelines for masking and social distancing in their state as well as requiring people to show proof of vaccination for certain activities, such as boarding an airplane or going to the office. The poll finds majority support for nearly all these measures in both blue states and red states, although a significant number of people – mostly Republicans – remain opposed to getting the Covid vaccine. https://www.monmouth.edu/polling-institute/reports/monmouthpoll_us_091521/
Federal judge denies Trump's request to stop E. Jean Carroll lawsuit from moving forward
A federal judge overseeing columnist E. Jean Carroll's defamation lawsuit against former President Donald Trump has denied Trump's request to stop the case from moving forward as they await an appeals court decision. https://www.cnn.com/2021/09/15/politics/e-jean-carroll-trump-lawsuit/index.html
The pandemic marks another grim milestone: 1 in 500 Americans have died of covid-19
The U.S. death toll from Covid-19 has now exceeded 663,000, which means the coronavirus has led to the deaths of roughly 1 in every 500 Americans. https://www.washingtonpost.com/health/interactive/2021/1-in-500-covid-deaths/
Democrats Unveil Details of Sweeping Climate Change Spending Plan
The coming weeks on Capitol Hill will be crucial to President Biden's climate agenda, including whether the president can credibly make the case to the rest of the world that the United States will meet his promise to drastically reduce emissions that are warming the planet.
In Congress, details are emerging of the climate and clean energy policies in a sweeping $3.5 trillion budget package that Democrats are drafting and hope to send to Mr. Biden's desk by year's end.
As progressive Democrats and Mr. Biden envision it, the budget bill, which would include a historic expansion of social welfare programs, would also be the single largest piece of climate legislation to pass Congress.
The most powerful climate mechanism in that bill is a $150 billion incentive and penalty program designed to replace most of the nation's coal- and gas-fired power plants over the next decade with wind, solar and nuclear plants. The program would pay electricity suppliers for increasing the amount of power they produce from clean zero-emissions sources, and fine those that don't.
"Last year alone, our country experienced 22 major natural disasters costing Americans a record-shattering $95 billion in damages — figures that represent more than double the historical average, but which still don't reflect the cost of lost jobs or the trauma of families losing their homes," said Representative Frank Pallone, Democrat of New Jersey, chairman of the House Energy and Commerce Committee, which will draft the central climate provisions of the budget bill. "The climate crisis is here, and the cost of inaction is already staggering." https://www.nytimes.com/live/2021/09/10/us/climate-change#congress-climate-budget-bill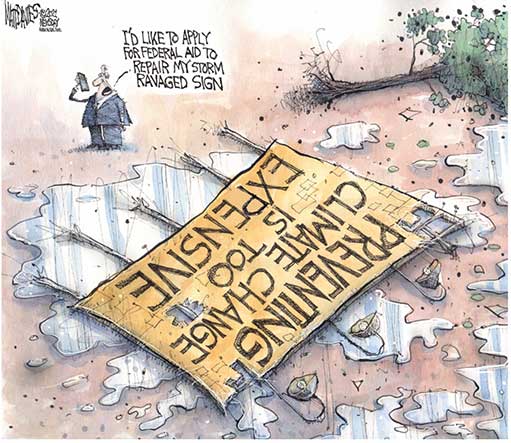 Predictable responses from Republicans to President Joe Biden's vaccination mandates
Texas Gov. Greg Abbott called Biden's vaccine mandate a "power grab" and "an assault on private businesses."

South Dakota Gov. Kristi Noem threatened to take Biden to court to halt the mandates.

House Minority Leader Kevin McCarthy (R-CA) said Biden "has made small business an enemy of his administration" and that his mandate was "flat-out un-American."

Arizona Georgia Gov. Brian Kemp tweeted he would "pursue every legal option available" to stop "this blatantly unlawful overreach."

Arizona Governor Doug Ducey tweeted that the White House was "hammering down on private businesses and individual freedoms in an unprecedented and dangerous way" and that "we must and will push back."

Rep. Dan Crenshaw (R-TX) suggested the vaccine mandates may lead to a "full-on revolt. "Honestly what the hell is wrong with Democrats? Leave people the hell alone. This is insanity."

Oklahoma Gov. Kevin Stitt said, "as long as I am governor, there will be no government vaccine mandates in Oklahoma."

South Carolina Gov. Henry McMaster said the American Dream has turned into a nightmare under President Biden and the radical Democrats. They have declared war against capitalism, thumbed their noses at the Constitution, and empowered our enemies abroad. Rest assured, we will fight them to the gates of hell to protect the liberty and livelihood of every South Carolinian.

J.D. Vance, Republican candidate for the US Senate from Ohio tweeted, "Do not comply with the mandates. Do not pay the government fines. Don't allow yourself to be bullied & controlled. Only mass civil disobedience will save us from Joe Biden's naked authoritarianism."

Sen. Ted Cruz called President Biden mandate to employers with more than 100 workers require COVID vaccinations or weekly virus tests, "utterly lawless."

Mississippi Governor Tate Reeves tweeted: "The President has no authority to require that Americans inject themselves because of their employment at a private business. The vaccine itself is life-saving, but this unconstitutional move is terrifying. This is still America, and we still believe in freedom from tyrants."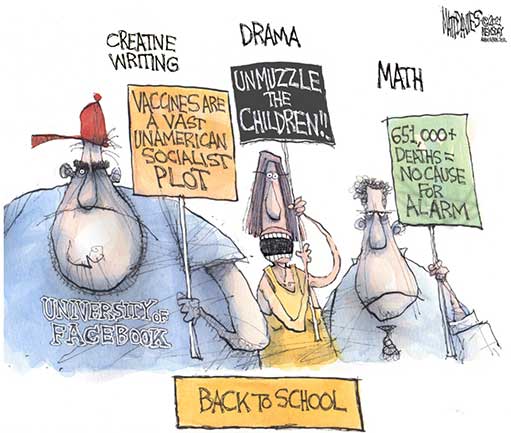 CNN Poll: More than half of Americans support vaccine mandates for workplaces, classrooms and sporting events
More than half of Americans now say they support requiring vaccinations for office workers returning to the workplace (54%), students attending in-person classes (55%) and patrons attending sporting events or concerts (55%), although fewer (41%) support requiring vaccinations for a shopper to enter a grocery store.
Support for these mandates has risen across the board since April, growing 6 percentage points with regard to students, 8 points regarding office workers and event attendees, and 15 points regarding grocery shoppers. https://www.cnn.com/2021/09/13/politics/cnn-poll-coronavirus-vaccine-mandates/index.html
Most Republicans want Trump as the GOP's leader but are divided about whether he'd help them retake the White House
Republicans and Republican-leaning independents say, 63% to 37%, that Trump should be the leader of the Republican Party. But they are about evenly split over whether having the defeated former President back on the ticket in 2024 would be an advantage: 51% say that Republicans have a better chance of retaking the presidency if Trump is the nominee, with 49% saying the party would be better off with a different nominee. That's a very different landscape from 2019, when more than three-quarters of Republicans said their party had a better shot in 2020 with Trump as their nominee than they would with a different candidate.
G.O.P. Seethes at Biden Mandate, Even in States Requiring Other Vaccines
Resistance to vaccine mandates was once a fringe position in both parties, more the realm of misinformed celebrities than mainstream political thought. But the fury over Mr. Biden's mandates shows how a once-extreme stance has moved to the center of the Republican Party. The governors' opposition reflects the anger and fear about the vaccine among constituents now central to their base, while ignoring longstanding policy and legal precedent in favor of similar vaccination requirements. https://www.nytimes.com/2021/09/12/us/politics/vaccine-mandates-republicans.html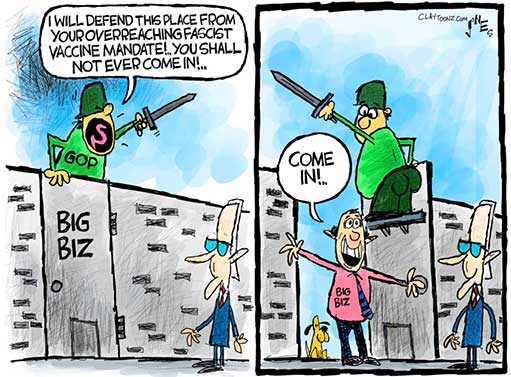 Oklahoma Governor Signs Nine Anti-Abortion Bills
Oklahoma Gov. Kevin Stitt (R) signed nine new anti-abortion bills, following through on his pledge to "sign every piece of pro-life legislation that came across my desk."
Gov. Stitt claims to be "the most pro-life governor in the country." https://www.governor.ok.gov/articles/press_releases/governor-stitt-celebrates-nine-new-pro-life-laws-w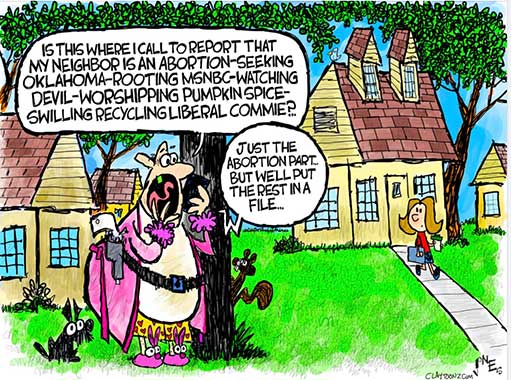 America's civil war of 2021
Top Republicans are calling for a public uprising to protest President Biden's broad vaccine mandates, eight months after more than 500 people stormed the U.S. Capitol to try to overturn the election.
It has been decades since America has witnessed such blatant and sustained calls for mass civil disobedience against the U.S. government. https://www.axios.com/biden-vaccine-mandate-republicans-uprising-b0b2aea2-54f6-4a7b-bc22-089de803b609.html
Two candidates leave House race on day of Trump endorsement
It took only hours for two candidates to drop out of Wyoming's House race after Donald Trump endorsed Harriet Hageman in her bid to unseat Rep. Liz Cheney.
Both Bryan Miller and Darin Smith have ended their candidacies, and said they will commit to backing Hageman. Trump pushed out a third candidate in under a week, further clearing what was a crowded field. https://trib.com/news/state-and-regional/govt-and-politics/two-candidates-leave-house-race-on-day-of-trump-endorsement/article_667d778a-4430-5f74-8fec-a3a266ede310.html
Republican threats to Biden's vaccine mandates unlikely to succeed, experts say
Although nearly two dozen Republican governors, as well as the GOP itself, have vowed to file lawsuits or take other actions to block President Joe Biden's newly announced vaccination mandates, legal experts say they'll have a hard time successfully making their case in court.
Generally speaking, public health powers are delegated to the states, experts said. But the Constitution also gives the federal government broad powers to regulate certain matters when it perceives that states and localities are not able to do so, or are doing so inadequately. https://www.nbcnews.com/politics/politics-news/republicans-threats-biden-s-vaccine-mandates-unlikely-succeed-experts-say-n1278936
Banned from Alaska Airlines, state Sen. Lora Reinbold asks to be excused from votes at state Capitol
Alaska State Sen. Lora Reinbold (R-Eagle River) has asked to be excused from legislative business in the state Capitol, telling fellow lawmakers that her ban from Alaska Airlines makes it impossible to fly into Juneau.
Reinbold was banned from Alaska Airlines earlier this year for failing to follow the company's COVID-19 rules on mask wearing.
"I believe what Alaska Airlines has done by my political ban, restricting my movement from the state capital as a senator, is unconstitutional," she said by text message on Thursday afternoon when asked whether she is unable to work in the Capitol because of the airline's actions. https://www.adn.com/politics/alaska-legislature/2021/09/09/banned-from-alaska-airlines-state-sen-lora-reinbold-says-she-cant-work-at-capitol/
Salesforce offers to relocate employees and their families after Texas abortion law goes into effect
Salesforce told thousands of employees in a Slack message on Friday that if they and their families are concerned about the ability to access reproductive care in the wake of Texas' aggressive anti-abortion law, the company will help them relocate.
"These are incredibly personal issues that directly impact many of us — especially women," Salesforce told employees in the message, which CNBC obtained. The company did not take a stance on the law. "We recognize and respect that we all have deeply held and different perspectives. As a company, we stand with all of our women at Salesforce and everywhere." https://www.cnbc.com/2021/09/10/salesforce-offers-to-relocate-employees-from-texas-after-abortion-bill.html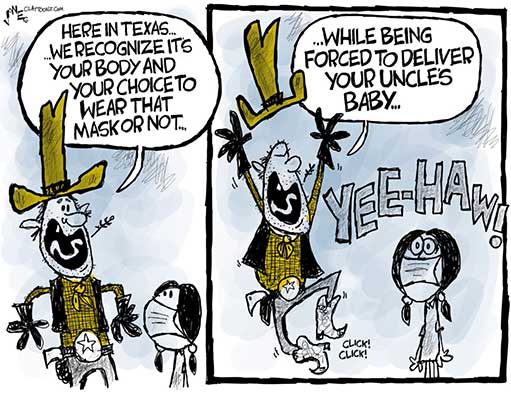 Alabama man dies of cardiac event after 43 hospitals with full ICUs turned him away
The family of a man who died of heart issues in Mississippi is asking people to get vaccinated for COVID-19 after 43 hospitals across three states were unable to accept him because of full cardiac ICUs. 
 
Ray Martin DeMonia suffered from a cardiac event, and emergency staff at Cullman Regional Medical Center had to take him to the nearest available bed, which was nearly 200 miles away at a Mississippi hospital. https://www.usatoday.com/story/news/health/2021/09/10/cullman-al-man-dies-hospitals-full-icus-turn-away-covid/8281712002/
Bush Decided to Attack Iraq Three Days After 9/11
According to Bruce Riedel, former Special Assistant to President George W. Bush when 9/11 attack occured, said that on September 14, just 3 days after 9/11 attack, President Bush told a stunned British PM Tony Blair "We are also going to attack Iraq." https://twitter.com/ShibleyTelhami/status/1436438185035407370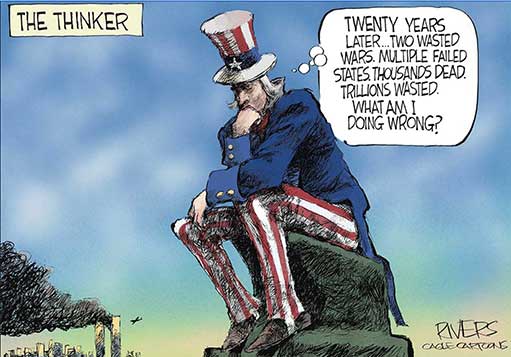 Fate of citizenship for 'Dreamers' currently rests with the Senate parliamentarian
The fate of a pathway to citizenship for millions of immigrants is in the hands of a key Senate staffer who is expected to decide in the coming weeks whether the policy can be included in the Democrats' upcoming $3.5-trillion social spending package.
Democrats hope to enact a pathway to citizenship for "Dreamers," or participants in the Deferred Action for Childhood Arrivals program, who were brought to the U.S. illegally as children. A citizenship pathway would also be offered to three other groups: people with temporary protected status, farmworkers and essential workers.
As many as 8 million people currently in the country could benefit from the proposal, if it is included, delivering the biggest victory for immigration advocates in decades after years of fits and starts in Washington on comprehensive reform.
But because Democrats plan to pass their package by using a special reconciliation process, the immigration policy can be included only if it conforms to a special set of Senate rules and can be shown to be directly related to the federal budget. Democrats are using the reconciliation process because it enables them to circumvent a GOP filibuster.
The Senate's parliamentarian, an unelected staffer appointed to the nonpartisan position, is tasked with making that call. Elizabeth MacDonough, appointed by former Senate Majority Leader Harry Reid (D-Nev.), is the current parliamentarian.
Democrats also argue that they have precedent on their side, pointing to a 2005 parliamentarian's ruling that adding new green card holders could be allowed in a similar kind of bill. At that time, the Senate was controlled by Republicans. https://www.latimes.com/politics/story/2021-09-10/citizenship-for-dreamers-social-spending-proposal-senate-parliamentarian
The Capitol Police Granted Permits For Jan. 6 Protests Despite Signs That Organizers Weren't Who They Said They Were
The chief of the Capitol Police and its top intelligence officer personally approved permits for six demonstrations to be held on Jan. 6, 2021, despite signs that one of the applications was filed for an organization that didn't exist and that five of them were a proxy for a group staging large, violent protests across the country.
Capitol Police documented concerns that organizers had attempted to conceal their affiliation with Ali Alexander, the right-wing activist behind the group Stop the Steal, in a secret effort to coordinate their protests against the results of the 2020 presidential election. Despite those concerns, and COVID-19 policies that capped demonstrations at 50 people each, the Capitol Police force's intelligence assessment said there were "no plans for participants to enter the buildings" and noted "no adverse intelligence related to the upcoming event." It assessed "the Level of Probability of acts of civil disobedience/arrests to occur" during the demonstration "as Highly Improbable." https://www.buzzfeednews.com/article/jasonleopold/the-capitol-police-said-jan-6-unrest-on-capitol-grounds
Vaccination Mandates Are an American Tradition. So Is the Backlash.
As disease and death reigned around them, some Americans declared that they would never get vaccinated and raged at government efforts to compel them. Anti-vaccination groups spread propaganda about terrible side effects and corrupt doctors. State officials tried to ban mandates, and people made fake vaccination certificates to evade inoculation rules already in place.
The years were 1898 to 1903, and the disease was smallpox. News articles and health board reports describe crowds of parents marching to schoolhouses to demand that their unvaccinated children be allowed in, said Michael Willrich, a professor of history at Brandeis University, with some even burning their own arms with nitric acid to mimic the characteristic scar left by the smallpox vaccine.
"People went to some pretty extraordinary lengths not to comply," said Professor Willrich, who wrote a book about the civil liberties battles prompted by the epidemic.
As the coronavirus overwhelms hospitals across the South and more than 650,000 Americans — an increasing number of them children — lie dead, the same pattern is emerging. https://www.nytimes.com/2021/09/10/world/vaccination-mandates-are-an-american-tradition-and-so-is-the-backlash.html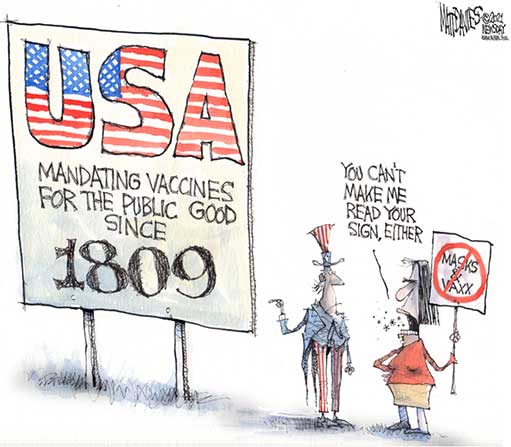 Biden's Climate Plans Are Stunted After Dejected Experts Fled Trump
Trump's battle against climate science continues to reverberate six months into the Biden administration. From the Agriculture Department to the Pentagon to the National Park Service, hundreds of jobs in climate and environmental science across the federal government remain vacant.
Scientists and climate policy experts who quit have not returned. Recruitment is suffering, according to federal employees, as government science jobs are no longer viewed as insulated from politics. And money from Congress to replenish the ranks could be years away.
The result is that President Biden's ambitious plans to confront climate change are hampered by a brain drain. https://www.nytimes.com/2021/08/01/climate/biden-scientists-shortage-climate.html
Scoop: The most dangerous Trump exposé
Former Trump aide Stephanie Grisham has quietly written a top-secret memoir of her four years in Donald Trump's White House, and a publishing source says she'll reveal "surprising new scandals," Axios reports.
Said one former West Wing colleague: "There isn't enough water on earth to contain the fire she could set to all of Trump world, including parts like the first lady's orbit, which not many people are in a position to illuminate. It's hard to articulate how much anxiety this is going to cause." https://www.axios.com/scoop-the-most-dangerous-trump-expose-eb3a05e1-05d8-4b04-be38-a159a4f58713.html
EPA to protect Alaska's Bristol Bay, blocking major gold mine
The Biden administration's move to invoke its Clean Water Act authority marks a major blow for the project, which is near the world's largest sockeye salmon run.
The Environmental Protection Agency said Thursday that it would restore protections for Alaska's Bristol Bay, blocking the construction of a massive and controversial gold mine near the world's largest sockeye salmon run.
The policy shift, indicated in a court filing Thursday in response to a lawsuit filed by the mine's opponents, deals a serious blow to a project that has been in the works for more than a decade and would have transformed southwest Alaska's landscape.
But a coalition of Alaska Natives, environmentalists, fishing operators and recreational anglers — including some prominent Republicans such as Donald Trump Jr. — countered that it was too risky to start a hard-rock mine at the headwaters of a fishery teeming with sockeye, coho, chum and pink salmon that has provided generations with a vital food source and lured fishing enthusiasts from around the globe. https://www.washingtonpost.com/climate-environment/2021/09/09/biden-bristol-bay-gold-mine/
The DAILY GRILL
Look Ahead America, a nonprofit group founded and led by Matt Braynard, a former Trump campaign operative, is planning a "Justice for J6" rally on Sept. 18 to bring its message to Washington. Braynard's followers believe many of the more than 570 people who have been charged with federal crimes in the attack were nonviolent and "reasonably believed they had permission" to enter the Capitol, according to a Jan. 29 letter Braynard sent to the Department of Justice and FBI. Braynard's letter demands prosecutors drop all charges.

VERSUS

"And now these people are coming back to praise the people who were out to kill, out to kill members of Congress, successfully causing the deaths — 'successfully' is not the word, but that's the word, because it's what they set out to do — of our law enforcement." — Nancy Pelosi
Washington Post Editorial: Ron DeSantis reaches a new low of cynicism and recklessness
Gov. Ron DeSantis of Florida, a Republican, has descended to a jaw-dropping level of cynicism. At a news conference on Monday, he announced that if local governments in Florida impose vaccine mandates on their employees, he would fine them $5,000 for every worker. Then he stood silently by as Gainesville city employees made false claims about the mRNA vaccines that have saved countless lives during the pandemic.
Mr. DeSantis harbors national political ambitions. But what he's displaying here is crass opportunism and disregard for the greater good. As he stokes the ignorance and misguided impulses of some in the Republican base, he is acting against the very tools needed to save lives and stop the pandemic. https://www.washingtonpost.com/opinions/2021/09/14/ron-desantis-reaches-new-low-cynicism-recklessness/
Karen Tumulty: California's recall election confirmed everything that is wrong with today's Republican Party
Tuesday's recall election in California was only the latest evidence of how dark and delusional is the place to which former president Donald Trump has led his party.
It was the product of the same undemocratic impulses that have sparked a phony "audit" of the 2020 presidential election in Arizona, which is likely to be soon replicated elsewhere; that have stoked unfounded fears of fraud, undermining confidence in the electoral system; that have given GOP officials cover in states across the map to pass measures that will make it harder for people to vote.
The party seems willing to do whatever it takes to win, with the exception of putting forward a set of palatable ideas that might make more people vote for Republicans.
California Gov. Gavin Newsom (D) easily beat back the effort to recall him, an exercise that cost the state an estimated quarter-billion dollars.
If anything, the lengths to which Republicans were willing to go in their Golden State suicide mission speak to the reality that there is nothing they will not try if it gives them even a glimmer of a chance to regain power. https://www.washingtonpost.com/opinions/2021/09/15/californias-recall-election-confirmed-everything-that-is-wrong-with-todays-republican-party/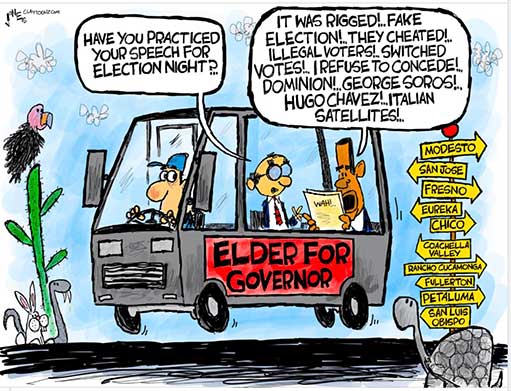 Jonathan Bernstein: California Recall Flashes Danger Signs at Republicans
The recall election says something small and something large about the Republican Party that may affect upcoming elections.
The minor point is that Republicans are still following their 2020 strategy of giving their own voters a one-two demobilization punch. They're still demonizing absentee and other mail-in or drop-box voting, thereby discouraging their own voters from using those methods and making it harder for their own supporters to vote. Some of the recent Republican state laws making voting harder are in part simply a convoluted way of making up for the campaign that's pushed Republican voters away from voting methods they were in the habit of using.
The bigger idea is that Republican claims of election fraud are not only fictional and dangerous for democracy, but also may be sending a message to Republican voters that voting is futile. https://www.bloomberg.com/opinion/articles/2021-09-15/california-recall-election-flashes-danger-signs-at-republicans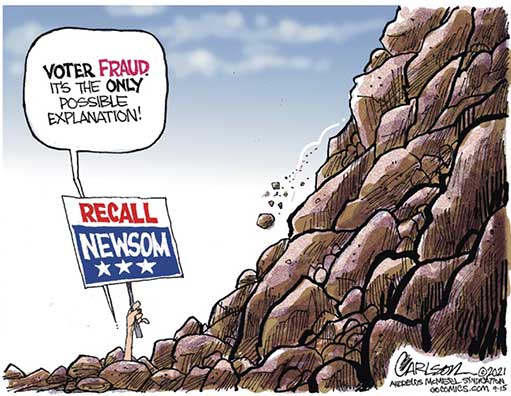 Eric Lutz: The Lesson Of Gavin Newsom's Big Win Is Actually Pretty Simple
There are limits to the lessons that can be drawn from any one race—particularly in California, where Democrats dramatically outnumber Republicans. But Newsom's decisive victory there does suggest that there may be some profit in his party tying GOP opponents to the former president, whose brand may help them with the base, but hurt them with a general electorate that has always, broadly, found Trump to be unappealing. Democrats are trying a similar strategy in Virginia and New Jersey, both of which will also hold statewide elections this year. In some cases, Trump himself is making that easier, endorsing his chosen candidates and bearers of the mantle. "I agree that Trump had been a huge motivator for the last four years, but…he's not off the ballot here in Virginia," governor Terry McAuliffe told the Washington Post. "Very uniquely, of all the races, Glenn Youngkin"—who earned a Trump endorsement—"has inserted Trump back into the race."
Indeed, it's worth remembering that Trumpism has always had limited appeal, not just in liberal California but in the country as a whole, where he was soundly defeated in the popular vote in 2016 and 2020. It can be easy to forget that, amid all the noise about populist backlash against Democratic elites. But in the end, Newsom didn't win because he pulled off a miraculous political high-wire act, CNN analyst Kasie Hunt suggested; he won, simply, because his policies and priorities better reflected the electorate than his opponents' did. That the recall vote happened at all, of course, is a testament to the power of the Trump-era GOP; that Newsom, after all that, brushed it off so easily may underscore its limits. "Gavin may have been on a high wire," as California-based Republican strategist Mike Murphy told the Times, "but he was wearing a big, blue safety harness." https://www.bloomberg.com/opinion/articles/2021-09-15/california-recall-election-flashes-danger-signs-at-republicans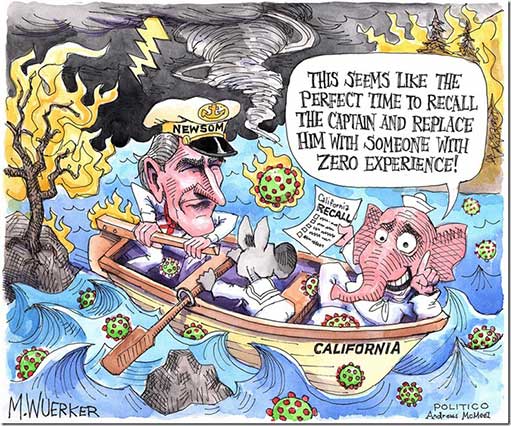 Charlie Sykes: Does the GOP Really Want to Do This Again?
The great political mystery of our time has been the refusal of the GOP to take the many off-ramps from Trumpism.
They could have put the petulant, disgraced, defeated one-term president firmly in the rearview mirror — but, instead, they have embraced their hostage status with an obsequiousness that makes the Stockholm Syndrome seem quaint.
Republicans could have moved on after the election; they certainly could have bailed after January 6. They even had a chance to wipe the slime off during the impeachment process. They could have refused to go along with the Big Lie and easily segued into post-Trumpian oppositional politics.
Instead, they are poised to wear Trumpism like a coat of many colors into the mid-terms; and to nominate him for a second term in 2024, so that he can wage his paranoid revenge campaign against his enemies. https://morningshots.thebulwark.com/p/does-the-gop-really-want-to-do-this
Philip Bump: All of this to keep Trump from getting upset
By now, we've revealed most of the details surrounding former president Donald Trump's last few months in office. We know the broad themes of that period but keep learning new anecdotes that fill in the white spaces. We learn, for example, that Trump's chairman of the Joint Chiefs of Staff, Gen. Mark A. Milley, was so concerned about Trump's stability after last year's election that he proactively soothed the concerns of his counterpart in China and worked to insulate the military against the president's vagaries. That's a big shark that was floating there, undiscovered.
But that story and others from a new book by The Washington Post's Robert Costa and Bob Woodward are still just part of the overall picture, one that we recognized even before we'd added any detail at all. It's an image of a person terrified of being seen as a loser who yanked every available lever of power to keep that perception from taking root. Nothing we've learned since Nov. 3, 2020, has shaken that fundamental image. It's all been detail that presents a fuller, more complete picture, not revelations that shift what we're seeing.
The small detail that jumped out at me from the new reporting is how Trump tried to cajole Vice President Mike Pence into pretending that he could reject the will of voters and halt the final counting of electoral votes. Pence told Trump, correctly, that he couldn't do that.
"I don't want to be your friend anymore if you don't do this," Trump told Pence in response, according to the book.
There are just so many ways in which to interpret that. There's the image of the most powerful man in the country sitting in the Oval Office, the seat of American executive power, threatening to withhold his friendship to get his way. Then there's the idea that Pence would in January 2021 be under any illusion that Trump was his friend in the first place. He endured months of speculation about being replaced on the ticket for 2020, and Trump, only days prior, attacked him during a rally speech in Georgia. Pence had been around Trump long enough to know the value of friendship to Trump, had seen more than enough examples of people loyal to Trump being quickly sliced clean when they became inconvenient, to understand that Trump wasn't going to be loyal to him. https://www.washingtonpost.com/politics/2021/09/14/all-this-keep-trump-getting-upset/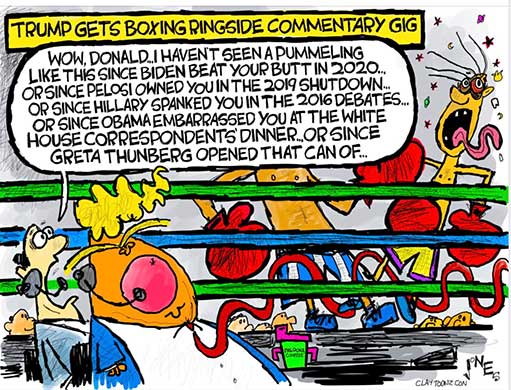 Dana Milbank: This is how a Republican lie is born
This is what happens when an entire political party takes leave of reality.
Sen. Jim Risch of Idaho, ranking Republican on the Senate Foreign Relations Committee, used a hearing intended for sworn testimony from the secretary of state on the Afghanistan withdrawal to allege that President Biden is mentally incompetent.
Risch first devoted his opening statement to continuing the long-running Republican narrative. "We know for a fact the president of the United States is somewhat disadvantaged here in that someone is calling the shots. He can't even speak without someone in the White House censoring it or signing off on it," the senator claimed. "As recently as yesterday, in mid-sentence, he was cut off by someone in the White House who makes the decision that the president of the United States is not speaking correctly. … This is a puppeteer act."
Then, as the first Republican questioner, Risch used his time to elaborate on the slander. "Somebody in the White House who has authority to press the button and stop the president, cut off the president's speaking ability and sound," he told Secretary of State Antony Blinken. "Who is that person?"
Blinken chuckled as he replied that Biden "speaks very clearly and very deliberately for himself."
The episode is worth unpacking because it shows, in miniature, how misinformation infects the Republican Party, rapidly spreads through partisan media and contaminates elected GOP leaders — who amplify and defend the falsehood, even when it's shown to be wrong. This is how lies are born. https://www.washingtonpost.com/opinions/2021/09/14/risch-blinken-hearing-questions-republican-lie/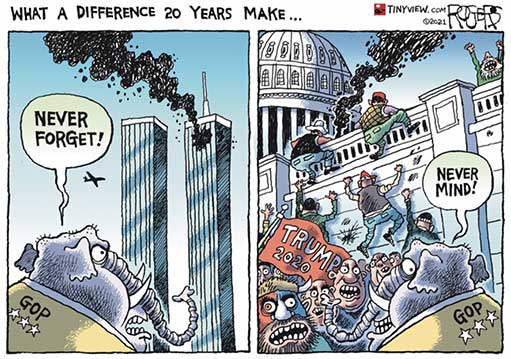 Marianna Sotomayor and Josh Dawsey: Trump endorses Wyoming lawyer to unseat Liz Cheney in biggest test of his ability to purge his critics from the party
Donald Trump announced Thursday that he is endorsing Harriet Hageman to take on Republican Rep. Liz Cheney in a Wyoming primary contest that will serve as the marquee test of the former president's ability to purge his critics from the party, particularly lawmakers who challenge his false claims about the 2020 presidential election.
Trump has vowed to unseat Cheney since she voted to impeach him in January over his role in the Jan. 6 attack on the U.S. Capitol, which was carried out by a mob of supporters who echoed Trump's false claims about the election while seeking to stop Congress from certifying its results and declaring Joe Biden the president-elect.
In a statement, Trump called Cheney a "warmonger and a disloyal Republican," and said, "Unlike RINO Liz Cheney, Harriet is all in for America First," adding that she has his endorsement in "replacing the Democrats number one provider of sound bites, Liz Cheney."
In a quick response, Cheney tweeted, "Here's a sound bite for you: Bring it."
The congresswoman said in a statement that she is proud of her conservative record and looks forward to a debate about elected officials upholding their oath to the Constitution.
"It is tragic that some in this race have sacrificed those principles, and their duty to the people of Wyoming, out of fear and in favor of loyalty to a former president who deliberately misled the American people about the 2020 election, provoked an attack on the U.S. Capitol, and failed to perform his duties as president as the violence ensued," Cheney said. https://www.washingtonpost.com/opinions/2021/08/26/robert-kagan-afghanistan-americans-forget/
Dana Milbank: Robert E. Lee was a stone-cold loser
"If only we had Robert E. Lee to command our troops in Afghanistan, that disaster would have ended in a complete and total victory many years ago. What an embarrassment we are suffering because we don't have the genius of a Robert E. Lee!"
For a point-by-point grading of Trump's history paper, I checked in with Ty Seidule, a retired U.S. Army brigadier general and military historian who is the former head of the U.S. Military Academy history department. Now at Hamilton College, he's the author of "Robert E. Lee and Me: A Southerner's Reckoning With the Myth of the Lost Cause."
Greatest strategist of all? "Well, he's a loser," Seidule responded. "He wasn't just defeated; his army was destroyed. The idea that he's the greatest strategist of all is just ludicrous."
War would have been over in a day? If it had, Seidule argued, then slavery may have survived. Emancipation wasn't U.S. policy until 1863. "So the fact that Lee was able to keep the war going as long as it did helped add to the eventual destruction of that which he fought for."
Lee chose the Confederacy because of his great love of Virginia? Seidule said Lee was one of eight U.S. Army colonels from Virginia at the time of secession in 1861. The other seven remained loyal to the United States — as did Virginian Winfield Scott, the U.S. Army's commander, and 80 percent of all colonels from the South. "Lee's the outlier," Seidule said. That may be because at that level of Army officers "no one benefited from slavery more than he did." Lee ran an enslaved-labor farm — a plantation — from 1857 to 1860. He wasn't even a resident of Virginia for most of his prewar life; Alexandria, his hometown, was part of the District of Columbia until 1847.
Would have won but for Gettysburg? The day after Gettysburg, Ulysses S. Grant triumphed at Vicksburg, giving the U.S. Army control of the Mississippi River and splitting the Confederacy. Lee's army couldn't function without thousands of enslaved people working as servants or in factories and on farms, and after Vicksburg, Seidule said, "they lose all that enslaved labor" as the U.S. Army pushed into the South.
Greatest unifying force after the war? Grant called Lee's actions "forced acquiescence" that was "grudging and pernicious." Though more conciliatory than others, Lee testified to Congress in 1866 that Black residents "cannot vote intelligently" and that "it would be better for Virginia if she could get rid of them." In 1868, Lee joined in issuing the White Sulphur Springs manifesto, which argued that Black people had "neither the intelligence nor the qualifications … for political power." Argued Seidule: "His idea of reconciliation is only if the White South is given complete political control over Black people."
Afghanistan would have been a total victory under the "genius" Lee? If the U.S. military had suffered the same casualty rate in Afghanistan that Lee's army did, 200,000 American troops would have been killed, not the actual 2,400. Some 400,000 would have been injured or captured instead of 20,000 injured. https://www.washingtonpost.com/opinions/2021/09/10/robert-e-lee-statue-richmond- trump-history/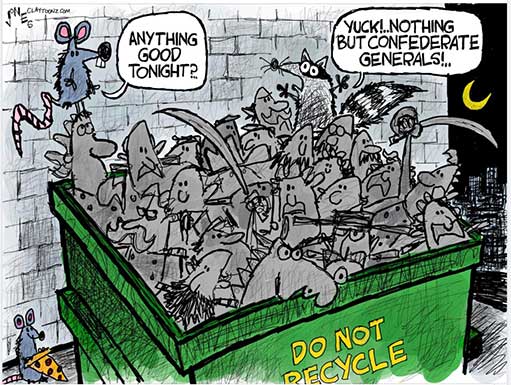 Nate Cohn: How Educational Differences Are Widening America's Political Rift
The front lines of America's cultural clashes have shifted in recent years. A vigorous wave of progressive activism has helped push the country's culture to the left, inspiring a conservative backlash against everything from "critical race theory" to the supposed cancellation of Dr. Seuss.
These skirmishes may be different in substance from those that preceded them, but in the broadest sense they are only the latest manifestation of a half-century trend: the realignment of American politics along cultural and educational lines, and away from the class and income divisions that defined the two parties for much of the 20th century.
As they've grown in numbers, college graduates have instilled increasingly liberal cultural norms while gaining the power to nudge the Democratic Party to the left. Partly as a result, large portions of the party's traditional working-class base have defected to the Republicans.
Over the longer run, some Republicans even fantasize that the rise of educational polarization might begin to erode the Democratic advantage among voters of color without a college degree. Perhaps a similar phenomenon may help explain how Donald J. Trump, who mobilized racial animus for political gain, nonetheless fared better among voters of color than previous Republicans did, and fared worse among white voters. https://www.nytimes.com/2021/09/08/us/politics/how-college-graduates-vote.html
Maureen Dowd: Manning Up, Letting Us Down
Dick Cheney and Donald Rumsfeld wrecked W.'s presidency, with their overweening ideas about big-stick executive power and with their loony plan to establish America as the sole superpower by preemptively striking potential foes. (Cheney, always ready to bomb despite his five deferments during Vietnam.) And of course, there was that most belligerent and shameful act: sanctioning torture.
This unholy pair of consiglieres played into W.'s fear that he would be called a wimp, as his father once was, if he did not go along with the guns-blazing, facts-be-damned case to sideline Afghanistan and invade Iraq, which had nothing to do with 9/11.
Unfortunately, the horrors this "shock and awe" crew unleashed did not shock the country enough to stamp out the mania of this self-defeating streak of hyper-masculinity.
When Trump was running in the Republican primaries, focus groups reported that the quality voters most admired in the reality show star was "balls." (He even referenced his anatomy during a debate.) His fans were posting memes of him as Rambo, quite an upgrade for Cadet Bone Spurs, and Trump himself tweeted a picture of himself as a shirtless Rocky. All this, even though he would later hit the White House bunker during the Black Lives Matter protests.
After riling up his supporters on Jan. 6 to swarm the Capitol, and telling them "we're going to walk down and I'll be there with you," Rambo/Rocky retreated to the Oval Office to watch the chaos on TV.
Trump's faux tough-guy routine led to the lethal political divide on masks, which undermined our ability to beat the virus. When Trump got Covid, he was happy to accept all the special medications he could get from his large team of doctors at Walter Reed. Yet he continued to act as though Covid was a minor annoyance, signaling to his red-state supporters that masks were for wimps.
Never one to miss a cheesy tableau of machismo, Trump is providing ringside commentary on a boxing match on 9/11 at the Hard Rock Casino in Florida between Evander Holyfield, 58, and Vitor Belfort, 44. During a promotional event for the Hasbeenpalooza, the 75-year-old bragged that he'd like to beat up the 78-year-old Joe Biden in the ring, that it would be his "easiest fight" and that Biden would "go down within the first few seconds."
Hopefully, Biden has something better to do on 9/11 than climb into a ring with Trump. https://www.nytimes.com/2021/09/11/opinion/september-11-masculinity.html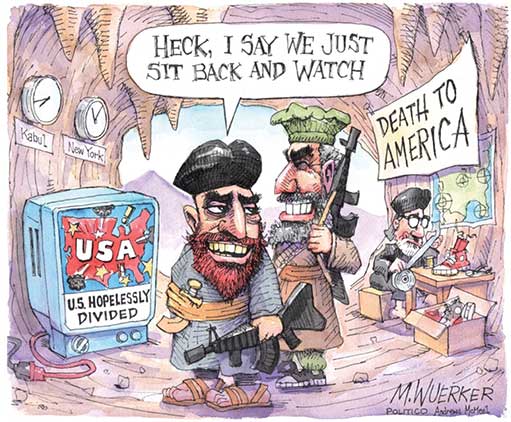 Eric Lutz: Biden's COVID Vaccination Strategy Triggers Full-Scale Republican Meltdown
Let's begin with the obvious: Joe Biden is not a "dictator" for expanding vaccination and testing requirements, nor is he "trampling on civil liberties." None of the steps outlined Thursday to combat COVID-19, which is still rampaging 18 months into the pandemic despite the widespread availability of safe and free vaccines, amount to "tyranny." Those seeking to give you a Pfizer shot are nothing at all like the "gestapo," and Americans should absolutely comply with public health guidelines—regardless of what some hysterical guy standing in a cornfield at night might tell you.
The right-wing backlash to Biden's new efforts to beat back the pandemic is as predictable as it is aggravating. Republicans, particularly devotees of noted public health expert Donald Trump, have already been standing in the way of the long-sought return to post-COVID normalcy, with some on the right apparently eschewing vaccines in favor of an anti-parasitic commonly used to treat heartworm in animals and state leaders like Ron DeSantis and Greg Abbott warring against common sense precautions as caseloads rise. That this lot, already prone to hyperbole, would go absolutely ballistic over the White House's more forceful vaccine push was a foregone conclusion.
And yet, the right's response to the Biden administration's new six-part plan has somehow been even more unhinged than anticipated. Ted Cruz called the updated guidelines "utterly lawless" and applauded the right-wing Daily Wire for announcing it wouldn't comply with the administration's new vaccination requirements—and his was one of the more subdued takes on the matter. Several GOP lawmakers, including Senator Marsha Blackburn and Representative Madison Cawthorn, likened Biden to a "dictator." Senator Josh Hawley, one of the main instigators of the January 6 riot on Capitol Hill, accused Biden of "threatening" Americans. Steve Scalise, the number two Republican in the House, charged that Biden was "abusing power."  https://www.vanityfair.com/news/2021/09/bidens-covid-vaccination-strategy-triggers-full-scale-republican-meltdown
Robin Abcarian: You go, Joe! Thank heavens the president is standing up for science, public health and vaccines
How refreshing to see a defiant President Biden invite Republicans to "have at it" over his aggressive new plan to make sure most Americans are vaccinated against COVID-19. Thursday, he announced that private-sector businesses with more than 100 employees must make sure their workers are fully vaccinated or be tested each week before coming to work.
The order, which also applies to healthcare workers, federal contractors and most federal workers, is expected to affect more than 80 million American adults who remain unvaccinated.
It's about time we had a president who stood up unapologetically for science and the public health, and against those selfish, reflexively anti-communitarian conservatives who think that inoculating themselves against a deadly new virus represents a horrendous trampling of their personal freedoms.
Republican governors are already foaming at the mouth to sue Biden for what they see as unconstitutional overreach. They were already worked up over his directive to the education secretary to use the weight of the federal government against governors who have blocked and intimidated local school officials from imposing mask mandates. (The hysteria on display by mask-hating parents at school board meetings across the country has become a social media genre all its own.)
In response to legal threats by Republican governors like Kristi Noem of South Dakota, Biden was blithe: "If those governors won't help us beat the pandemic," he said last week, "I will use my power as president to get them out of the way."
The refusal of otherwise healthy people to vaccinate is, in fact, a trampling of common sense, decency and the very idea that any of us owes a measure of respect to those around us.
No man is an island, as the poet John Donne wrote, and that sentiment has never been more profound now that the world is in the clutches of a deadly pandemic that has already taken more than 4.6 million souls, roughly 660,000 of them in America.
I am so done with the public servants — especially firefighters and police officers who come into contact with the physically frail and vulnerable every day of their working lives — who believe they have a God-given right to refuse vaccines and still keep their jobs. https://www.latimes.com/opinion/story/2021-09-11/biden-osha-mandate-vaccine