November 7, 2019
ON THE RECORD. . .
"This idea of purity and you're never compromised and you're politically woke, and all that stuff—you should get over that pretty quickly. The world is messy. There are ambiguities. People who do really good stuff have flaws." — Barack Obama.
Proposals pushed by Elizabeth Warren and Bernie Sanders like Medicare for All and a wealth tax play well in liberal enclaves like Pelosi's district in San Francisco but won't sell in the Midwestern states that sent Trump to the White House in 2016. "What works in San Francisco does not necessarily work in Michigan. Remember November. You must win the Electoral College." — Nancy Pelosi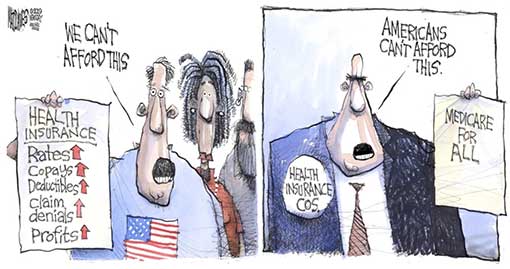 "I wish my name was Hunter Biden. I could go abroad, make millions off my father's presidency. I'd be a really rich guy. — Donald Trump, Jr. in an interview on Fox News.
"And if there's one thing I don't want to see in my lifetime, I don't want to ever have participation in, it's a civil war. Some historian, I don't remember who, said, guns are only involved in the last phase of a civil war." — Rep. Louie Gohmert (R-TX) saying that House Democrats' ongoing inquiry into the president's dealings in the Ukraine is "about to push this country to a civil war if they were to get their wishes."  
"If I was doing the same thing that that family was doing, I'd be in jail. Why is it that every family goes into politics and enriches themselves? We're the only family—we stopped doing deals when my father became [president].... Guess what? All of these kids, they started doing deals when their families went into politics, and it's sickening." — Eric Trump complaining to Jeanine Pirro, AUDIO
"Good riddance. It's not like Donald Trump paid taxes here anyway… He's all yours, Florida." — New York Gov. Andrew Cuomo, tweeting about President Trump changing his legal residence to Florida.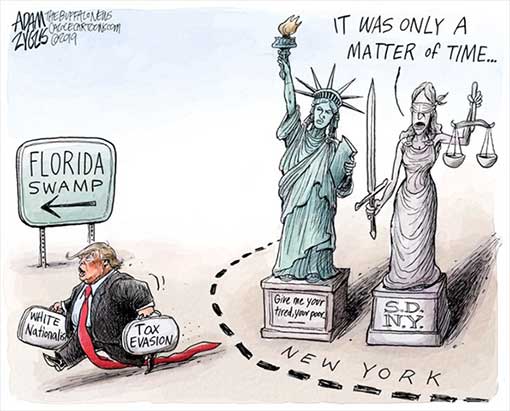 "I'm not a big fan of Medicare for all. I welcome the debate. I think that we should have health care for all. I think the affordable care benefit is better than the Medicare benefit." — Nancy Pelosi
"This is the first instance of which I am aware when a politically aligned publication has published an explicit photo of an opposition politician for apparent political gain. It's both a sign of how ugly the political landscape could become and a reminder of how ugly, for the many ordinary people who have suffered this kind of abuse, the world already is." — Quinta Jurecic on right-wing outlet RedState which published an article alleging sexual relationships between Rep. Katie Hill and two staffers, along with an explicit photograph of Hill.
"If this is such a perfect call, why is everybody going to these extraordinary lengths? Why are people running immediately to the White House counsel? Why is the White House counsel telling people not to talk about it?" — A U.S. official familiar with Lt. Col. Alexander S. Vindman's testimony
For recognizing the difference between right and wrong, and for volunteering to appear before the House Intelligence Committee despite almost certainly being pressured by his bosses at the White House not to do so, Lt. Col. Vindman has had his patriotism impugned. I wonder how many of his spineless Republican critics were awarded the Purple Heart after being injured by a bomb in Iraq. — Eugene Robinson 
"Happy? I don't want to comment on it." — Trump, when asked if he is happy with the job Mick Mulvaney is doing for him.
"You know, you need to go big or go home. You need to, you know, tweet out there that you support the president, and that all these are lies and everything else. It was advice that I did not see how I could implement in my role as an ambassador, and as a Foreign Service officer." — Marie Yovanovitch, the ousted U.S. ambassador to Ukraine, about the advice she received from the U.S. Ambassador to the European Union, Gordon Sondland, when she asked him how to handle an onslaught of criticism from conservative media and Donald Trump Jr.
"This is an absolute shame and I think you've got to call it out for what it is. The Americans who listen to Fox News and conservative talk radio are being lied to and manipulated every day when it comes to impeachment." — Former Rep. Joe Walsh (R-IL)
"When you talk to elected Republicans privately, they can't stand the president. They know the president is a lawless person and basically a criminal." — Former White House communications director Anthony Scaramucci, predicting that GOP lawmakers will pressure President Trump to leave office by March.
"I said that resumption of the U.S. aid would likely not occur until Ukraine provided the public anticorruption statement that we had been discussing for many weeks." — Ambassador Gordon Sondland confirming his role in laying out a quid pro quo to Ukraine that conditioned the release of security assistance on the country's willingness to say it was investigating former VP Joe Biden and other Democrats.
---
IN THIS ISSUE
FYI
OPINION
1. The Borowitz Report: Trump Gets Note from Podiatrist Exempting Him from Impeachment
In a move that raised eyebrows in the nation's capital, Donald Trump on Saturday secured a note from a podiatrist exempting him from impeachment.

The note, written by Trump's personal podiatrist, Dr. Harland Dorrinson, said that the strain of undergoing impeachment could "catastrophically inflame" a foot malady that has bedevilled Trump since the nineteen-sixties.

While the doctor's note drew howls of protests from congressional Democrats, the Attorney General, William Barr, supported excusing Trump from impeachment on humanitarian grounds.

"Given the seriousness of the President's ailment, impeachment is cruel and unusual punishment and therefore unconstitutional," Barr said, adding that the Department of Justice would investigate Representative Adam Schiff and the Speaker of the House, Nancy Pelosi, for "crimes against feet."

Another prominent Republican, Senator Lindsey Graham, of South Carolina, vouched for the fragile state of Trump's health. "I have spent many hours with President Trump," Graham said. "He is not a well man."" https://www.newyorker.com/humor/borowitz-report/
2. U.S. debt surpasses $23 trillion for first time
The federal government's outstanding public debt has surpassed $23 trillion for the first time in history, according to data from the Treasury Department released on Friday.
Growing budget deficits have added to the nation's debt at a speedy rate since President Trump took office. The debt has grown some 16 percent since Trump's inauguration, when it stood at $19.9 trillion. It passed $22 trillion for the first time just 10 months ago.
High levels of debt can push up borrowing costs and interest rates, "crowd out" private borrowing and weigh down budgets. In the 2019 fiscal year, for example, the government had to devote $376 billion just to pay the interest on the debt, equivalent to nearly half the defense budget, and more than the amount spent on the combined costs of education, agriculture, transportation and housing. https://thehill.com/policy/finance/468600-us-debt-surpasses-23-trillion-for-first-time
3. Obamacare is stronger than ever — and a Trump-backed lawsuit could destroy it
Three years into a presidency that promised to kill Obamacare, the health care law has never been stronger.
Millions of people buying coverage during the enrollment period starting Friday will find that average premiums have dropped across the country. When consumers go to HealthCare.gov, they'll be paying 4 percent less on average for the most popular health plans — with six states reporting a double-digit decline.
The years of huge rate hikes and insurers abandoning the markets appear to be a thing of the past as the 10th anniversary of the law approaches next spring. Predictions of the Affordable Care Act's demise — made by President Donald Trump himself and Democrats who criticized administration policies undermining the law — haven't materialized. https://www.politico.com/news/2019/10/31/obamacare-lawsuit-trump-062087
4. The DAILY GRILL
"The economy is in deep trouble." — Trump in 2012 about the GDP of 1.9%

VERSUS

"The Greatest Economy in American History!" — Trump in 2019 about the GDP of 1.9%

 

"When my father became commander in chief of this country, we got out of all international business." — Eric Trump

The family "literally stopped" enriching itself from foreign deals. — Donald Trump Jr.

VERSUS

Some of the company's recent moves abroad may be seen as new "deals" or just hugely ambitious extensions, but either way it's significant. A multimillion-dollar land sale in the Dominican Republic came in 2018, followed this year with the announcement of a Scottish project that would transform the Trump Organization into a mass builder of more than 500 houses. — The Washington Post: Four Pinocchios

 

While Trump may have "wanted a quid-pro-quo policy ultimatum toward Ukraine, he was too inept to execute it." --The Wall Street Journal editorial board

VERSUS

'What are they talking about, if I wanted to do quid pro quo, I would've done the damn quid pro quo,' and … then defended his intelligence and then talked about how 'perfect' the call [with Ukrainian President Volodymyr Zelensky] was."—A source familiar with Trump's reaction to the Journal editorial

 

You can't Impeach someone who hasn't done anything wrong! -- Donald J. Trump @realDonaldTrump

VERSUS

We won't impeach anyone who hasn't done anything wrong. Promise. — Rep. Eric Swalwell@RepSwalwell

 

"Because it's a different form of cutting. You can cut through steel, but you can't through the concrete, and then you can't through the hardened rebar. We got it all." — Trump telling rallygoers on Friday.

VERSUS

"I haven't heard that. We have a very powerful wall. But no matter how powerful, you can cut through anything, in all fairness." — Trump, when asked about Saturday's Washington Post report saying that smugglers "have repeatedly sawed through new sections" of Trump's border wall "by using commercially available power tools."
5. California conservatives leaving the state for 'redder pastures'
Just over half of California's registered voters have considered leaving the state, according to a UC Berkeley Institute of Governmental Studies poll conducted for the Los Angeles Times. Republicans and conservative voters were nearly three times as likely as their Democratic or liberal counterparts to seriously have considered moving — 40% compared with 14%, the poll found. Conservatives mentioned taxes and California's political culture as a reason for leaving more frequently than they cited the state's soaring housing costs. https://www.latimes.com/california/story/2019-11-04/california-conservatives-republicans-leaving
6. Trump lures GOP senators on impeachment with cold cash
Donald Trump is rewarding senators who have his back on impeachment — and sending a message to those who don't to get on board.
Trump is tapping his vast fundraising network for a handful of loyal senators facing tough reelection bids in 2020. Each of them has signed onto a Republican-backed resolution condemning the inquiry as "unprecedented and undemocratic."
Conspicuously absent from the group is Maine Sen. Susan Collins, a politically vulnerable Republican who's refused to support the resolution and avoided taking a stance on impeachment. With his new push, Trump is exerting leverage over a group he badly needs in his corner with an impeachment trial likely coming soon to the Senate — but that also needs him. https://www.politico.com/news/2019/10/31/trump-impeachment-senators-donor-062084
7. From MEDIA MATTERS (They watch Fox News so you don't have to)
The White House press briefing now takes place on Fox News. Since taking the job, White House press secretary Stephanie Grisham has given zero press briefings, even in response to a historic vote on the impeachment process -- but she appears regularly on some of the president's favorite TV shows. https://www.mediamatters.org/fox-news/white-house-press-briefing-now-takes-place-fox-news

RedState's reporting about Katie Hill is an ethical nightmare -- and a warning sign. The saga that led to this week's resignation by Rep. Katie Hill (D-CA) put on full display the vicious, unethical tactics right-wing media figures are willing to utilize to undermine their enemies. It was a test balloon for a new set of media norms, and it should serve as a warning sign of where political media might be headed. https://www.mediamatters.org/red-state/redstates-reporting-about-katie-hill-ethical-nightmare-and-warning-sign

Fox News wants to use the whistleblower's identity to discredit impeachment — but it's not going to work. Let's be perfectly clear at the start: It makes no difference who the whistleblower is. That stopped even being a potential issue weeks ago once the intelligence inspector general validated the report about President Donald Trump's call with the new president of Ukraine. The only reason we're still talking about this at all is because right-wing media are hoping to use the person's identity as a silver bullet to kill the entire Trump-Ukraine scandal that has led to an official impeachment inquiry. https://www.mediamatters.org/martha-maccallum/fox-news-wants-use-whistleblowers-identity-discredit-impeachment-theres-no-reason

Donald Trump could shoot someone on 5th Avenue, and Rush Limbaugh would defend him. Limbaugh's comments on impeachment show that it's bigger than Trump -- it's about ever holding a Republican president accountable for anything. https://www.mediamatters.org/rush-limbaugh/donald-trump-could-shoot-someone-5th-avenue-and-rush-limbaugh-would-defend-himl

Sean Hannity stoked Trump's rage towards Ukraine: In the months leading up to that September 2017 meeting, sometime presidential adviser Sean Hannity was telling Trump and the rest of his Fox News audience that the "real collusion" during the 2016 election had been between Hillary Clinton and Ukraine. https://www.mediamatters.org/sean-hannity/sean-hannity-stoked-trumps-rage-towards-ukraine
8. From the Late Night shows
Hero Dog Press Conference - SNL: https://youtu.be/4Nly3q9K73E

Elizabeth Warren Town Hall Cold Open - SNL: https://youtu.be/CPDr9wGNEfg

Sean Spicer Plays Dirty on "Dancing with the Stars" | The Daily Show: https://youtu.be/UW24yps3Ti4

Republicans Compare Impeachment to "a Horror Movie": A Closer Look: https://youtu.be/EqQ8tDmW4b4
9. The 'Whimpering' Terrorist Only Trump Seems to Have Heard
It was a vivid scene worthy of the ending of a Hollywood thriller, the image of a ruthless terrorist mastermind finally brought to justice "whimpering and crying and screaming all the way" to his death. But it may be no more true than a movie script.
In the days since President Trump gave the world a graphic account of Abu Bakr al-Baghdadi's last minutes, no evidence has emerged to confirm it. The secretary of defense, the chairman of the Joint Chiefs of Staff and the regional commander who oversaw the operation that killed the leader of the Islamic State all say they have no idea what the president was talking about. https://www.nytimes.com/2019/11/01/us/politics/trump-isis-leader-baghdadi.html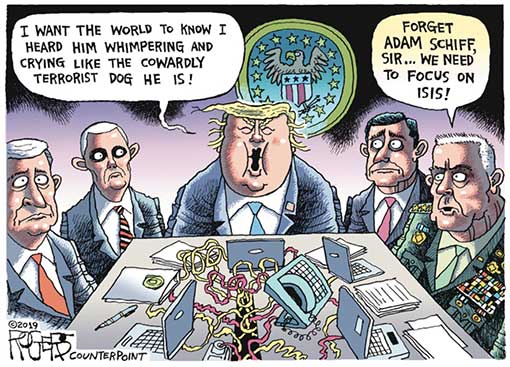 10. More than 11,000 scientists declare a 'climate emergency'
More than 11,000 scientists from 153 countries are sounding the alarm on climate change. In a paper published today in the journal BioScience, they've signed a declaration stating "clearly and unequivocally that planet Earth is facing a climate emergency." According to the scientists, the climate crisis is accelerating faster than most expected and is "more severe than anticipated, threatening natural ecosystems and the fate of humanity."
The paper is an attempt to "tell it like it is" and to provide easy-to-understand indicators to measure the human influence on climate change. It outlines six policy areas that must be addressed to curb global warming.
The paper, "World Scientists' Warning of a Climate Emergency," was released one day after the Trump administration began the formal process of withdrawing the US from the Paris Agreement -- a pact signed by 188 nations to combat climate change. The study stands in stark contrast to the Administration's decision.
Several European cities have declared a climate emergency. New York's City Council and San Francisco have done the same, and bills labeling global warming as an emergency are working their way through the House and Senate. But this marks the first time a large group of scientists from around the globe have declared climate change an emergency. https://www.engadget.com/2019/11/05/climate-change-emergency-global-scientists/
11. One Year From Election, Trump Trails Biden but Leads Warren in Battlegrounds
Despite low national approval ratings and the specter of impeachment, President Trump remains highly competitive in the battleground states likeliest to decide his re-election, according to a set of new surveys from The New York Times Upshot and Siena College.
Across the six closest states that went Republican in 2016, he trails Joe Biden by an average of two points among registered voters but stays within the margin of error.
Mr. Trump leads Elizabeth Warren by two points among registered voters, the same margin as his win over Hillary Clinton in these states three years ago.
The poll showed Bernie Sanders deadlocked with the president among registered voters, but trailing among likely voters.
The results suggest that Ms. Warren, who has emerged as a front-runner for the Democratic nomination, might face a number of obstacles in her pursuit of the presidency. The poll supports concerns among some Democrats that her ideology and gender — including the fraught question of "likability" — could hobble her candidacy among a crucial sliver of the electorate. And not only does she underperform her rivals, but the poll also suggests that the race could be close enough for the difference to be decisive.
In national polls, Mr. Trump's political standing has appeared to be in grave jeopardy. His approval ratings have long been in the low 40s, and he trails Mr. Biden by almost nine points in a national polling average. But as the 2016 race showed, the story in the battleground states can be quite different. Mr. Trump won the election by sweeping Michigan, Pennsylvania, Wisconsin, Florida, Arizona and North Carolina — even while losing the national vote by two points.
Democrats would probably need to win three of the six states to win the White House, assuming other states voted as they did in 2016 — an outcome that is not at all assured.
In contrast to recent national surveys, the Times/Siena polls find that the president's lead among white, working-class voters nearly matches his decisive advantage from 2016. This group represents nearly half of registered voters in these states, and a majority in the Northern battlegrounds that decided the last election. https://www.nytimes.com/2019/11/04/upshot/trump-biden-warren-polls.html
1. Toluse Olorunnipa and Philip Rucker: Trump makes falsehoods central to defense as incriminating evidence mounts
Standing before a crowd of supporters this week in Lexington, Ky., President Trump repeated a false claim he has made more than 100 times in the past six weeks: that a whistleblower from the intelligence community misrepresented a presidential phone call at the center of the impeachment inquiry that threatens his presidency.
"The whistleblower said lots of things that weren't so good, folks. You're going to find out," Trump said Monday at a campaign rally. "These are very dishonest people."
Behind him were men and women in "Read the Transcript" T-shirts — echoing through their apparel Trump's attempt to recast an incriminating summary of his July 25 call with Ukraine's president as a piece of exonerating evidence.
It's a form of gaslighting that has become the central defense strategy for the president as he faces his greatest political threat yet. But the approach is coming under increasing strain as congressional Democrats release transcripts and prepare to hold public hearings presenting evidence that directly undercuts Trump's claims. https://www.washingtonpost.com/politics/trump-makes-falsehoods-central-to-impeachment-defense-as-incriminating-evidence-mounts/2019/11/05/a1fbc382-ffd6-11e9-9518-1e76abc088b6_story.html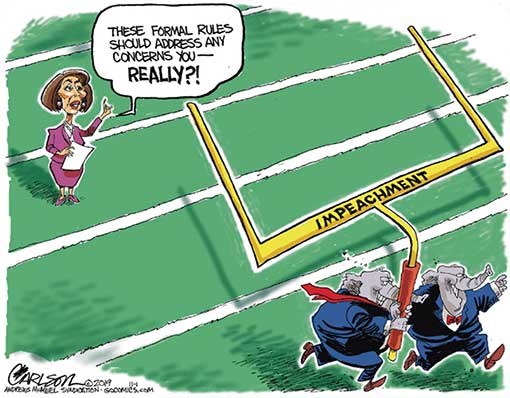 2. Susan B. Glasser: "He's No Mr. Nice Guy": Impeachment Comes for Trump
The signal fact of life in the Trump era: it is exhausting and overwhelming and so filled with outrage and revelation that it's hard to remember events beyond a news cycle or two, no matter how significant or striking. Remember the death of Abu Bakr al-Baghdadi, the world's most-wanted terrorist? That was only announced by Trump to the world on Sunday. In other times, the news would still be exclusively concerned with this development, after years in which Baghdadi's Islamic State wreaked death and mayhem not only across a wide swath of Iraq and Syria but also via isis-inspired terrorist attacks in Europe and the United States. Surely, the Trumpian flourish that led the President to apparently make up his account of Baghdadi "whimpering" and "crying" as he died is not something that should be easily forgotten.
Trump himself has clearly not forgotten, even if the rest of us are having a hard time remembering. On Wednesday night, in the middle of Game Seven of the World Series, the President's campaign ran an ad that somehow managed to mash it all together, attacking the Democrats for impeachment while touting his "obliteration" of Baghdadi and the Islamic State. The ad, I thought, was a true reflection of the Trump of 2019: angry, defensive, a literal killer. It is a dark, menacing ad, for a dark, menacing time. At any other moment, the linkage between the domestic political fight over impeachment and the actual war against the Islamic State would seem bizarre and inappropriate. But not at this moment. In Trump's world, the linkage is simple: it's all about him. So is the ad, which sells his divisive personality as the rationale for his reëlection. This is precisely the case that President Trump will make to the members of Congress who must consider the impeachment charges against him in the coming months, and it is the case that he will make to voters next November. "He's no Mr. Nice Guy," the ad admits, but so what? "Sometimes it takes a Donald Trump to change Washington." In this case, the President is absolutely right. Washington is different than it was before. There is no going back. https://www.newyorker.com/news/letter-from-trumps-washington/hes-no-mr-nice-guy-impeachment-comes-for-donald-trump
3. Jonathan Chait: New Poll Shows Democratic Candidates Have Been Living in a Fantasy World
If you've been relying on national polls for your picture of the race, you're probably living in la-la land. However broadly unpopular Trump may be, at the moment he is right on the cusp of victory.
Biden's paper-thin lead over Trump in the swing states is largely attributable to the perception that he is more moderate than Elizabeth Warren or Bernie Sanders. Three-quarters of those who would vote for Biden over Trump, but Trump over Warren, say they would prefer a more moderate Democratic nominee to a more liberal one, and a candidate who would find common ground with Republicans over one who would fight for a progressive agenda.
There are lots of Democrats who are trying to run moderate campaigns. But the new environment in which they're running has made it difficult for any of them to break through. There are many reasons the party's mainstream has failed to exert itself. Biden's name recognition and association with the popular Obama administration has blotted out alternatives, and the sheer number of center-left candidates has made it hard for any non-Biden to gain traction. Candidates with strong profiles, like Cory Booker and Amy Klobuchar, have struggled to gain attention, and proven politicians like Michael Bennet and Steve Bullock have failed even to qualify for debates.
But in addition to those obstacles, they have all labored against the ingrained perception that the Democratic party has moved beyond Obama-like liberalism, and that incremental reform is timid and boring. The same dynamic was already beginning to form in 2016, though Hillary Clinton overcame it with a combination of name recognition and a series of leftward moves of her own to defuse progressive objections. Biden's name brand has given him a head start with the half of the Democratic electorate that has moderate or conservative views. But it's much harder for a newer moderate Democrat lacking that established identity to build a national constituency. The only avenue that has seemed to be open for a candidate to break into the top has been to excite activists, who are demanding positions far to the left of the median voter. http://nymag.com/intelligencer/2019/11/poll-trump-beats-democrats-swing-state-biden-warren-sanders.html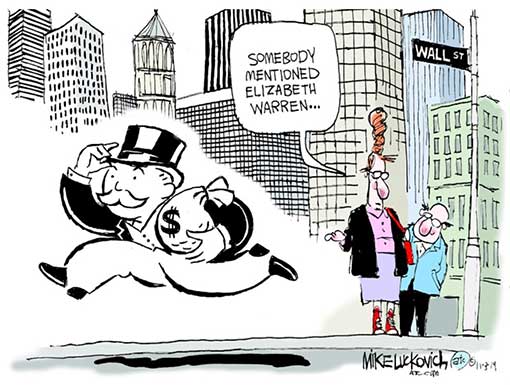 4. Eric Lutz: Trump Is Still Staking His Impeachment Defense On "Obama Guy" Whistleblower
At this point in the Democrats' impeachment inquiry, it's evident that the whistle-blower who first brought Donald Trump's attempts to strong-arm Ukraine to light was far from the only one alarmed by his behavior. A parade of current and former officials have corroborated the original complaint about the president's July 25 call with Volodymyr Zelensky—and provided evidence that his pressure campaign in Ukraine extended beyond that supposedly "perfect" conversation. And if all that wasn't enough, there's the reconstructed transcript of the call released by the White House which, while apparently omitting some key phrases, nevertheless shows Trump asking for the Biden and DNC server probes. Trump himself—along with his lawyer, Rudy Giuliani, and his chief of staff, Mick Mulvaney—has outright admitted to the allegations at the center of the inquiry.
And yet, Trump this weekend escalated his attacks on the whistle-blower, seemingly staking a huge chunk of his impeachment defense on one official's credibility, even as evidence continues to mount against him. "The Whistleblower got it sooo wrong that HE must come forward," he tweeted Sunday, accusing Democrats and the media of protecting the anonymous official to damage his presidency. "Reveal the Whistleblower and end the Impeachment Hoax!" Claiming that the whistleblower is in cahoots with the former administration. "There have have been stories written about a certain individual, a male, and they say he's the whistleblower," he told reporters. "If he's the whistleblower, he has no credibility because he's a [John] Brennan guy, he's a Susan Rice guy, he's [a Barack] Obama guy...and he hates Trump."
It ought to be a shabby defense, considering how far beyond the whistleblower complaint the impeachment inquiry has now gone. But it beats his other arguments, which have been barely-coherent attempts to claim innocence while at the same time suggesting that it wouldn't matter if he was guilty. "False stories are being reported that a few Republican Senators are saying that President Trump may have done a quid pro quo, but it doesn't matter, there is nothing wrong with that, it is not an impeachable event," he wrote Sunday. "Perhaps so, but read the transcript, there is no quid pro quo!" Still, both lines of attack could allow him to turn the narrative away from the obvious wrongdoing Democrats have unearthed. https://www.vanityfair.com/news/2019/11/trump-still-staking-impeachment-defense-on-obama-guy-whistleblower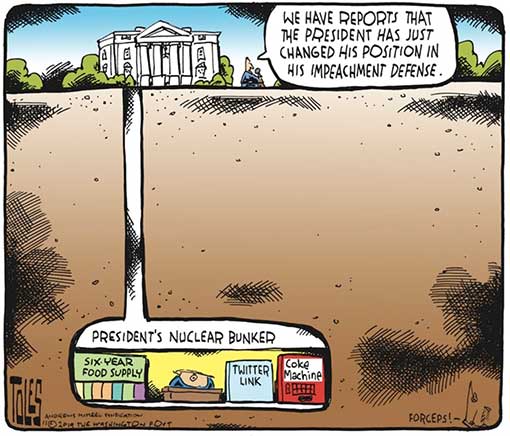 5. Bess Levin: Trump Insists He's Smart Enough To Commit Crimes
Last Wednesday, the Wall Street Journal editorial board ran a unique defense of Donald Trump in which it contorted itself to argue that while the president may have "wanted a quid-pro-quo policy ultimatum toward Ukraine," people should consider the possibility that he "was too inept to execute it." Most individuals facing impeachment would be grateful for this ridiculous theory, especially considering the evidence thus far suggests that Trump did demand a quid pro quo from Ukraine for nearly $400 million in military aid, a fact acting chief of staff Mick Mulvaney just came out and admitted to the press before trying to walk it back after realizing how bad it sounded. But Donald Trump isn't most individuals. Instead, he's an abnormally sensitive lunatic who flies off the handle at the slightest provocation, real or imagined, and would rather people think he's "like, [a] really smart" criminal than dumb and innocent. And we know this because apparently Trump saw the editorial and insisted as much.
A source familiar with his reaction to the editorial told the Daily Beast: "[The president] mentioned he had seen it and then he started saying things like, 'What are they talking about, if I wanted to do quid pro quo, I would've done the damn quid pro quo,' and…then defended his intelligence and then talked about how 'perfect' the call [with Ukrainian President Volodymyr Zelensky] was." Another person familiar with the matter confirmed the account. "He was clearly unhappy," the first source said. "He did not like the word 'inept.'"
While sad and pathetic, the story is not hard to believe. Trump has, of course, famously referred to himself as a "very stable genius," challenged his former secretary of state to an I.Q. test, and claimed to posses "great and unmatched wisdom." In March 2016, he said he doesn't need to consult with experts on foreign policy because he relies on himself and his "very good brain." On one occasion, when asked by a critic to prove his allegedly off-the-charts I.Q., he responded that it was "the highest, asshole!" On another, he literally tweeted, "Sorry losers and haters, but my I.Q. is one of the highest -and you all know it! Please don't feel so stupid or insecure, it's not your fault." So yeah, this anecdote checks out. https://www.vanityfair.com/news/2019/10/donald-trump-quid-pro-quo-defense
6. Robert Gebelhoff: Life on Earth is groaning under the weight of humanity. Do we hear it?
while wildlife populations are supposed to be resilient to shocks in their ecosystems, catastrophic events such as heat waves and major storms are happening on such large scales and so frequently that many species can't recover. Scientists are already forecasting another major marine heat wave to hit the Pacific Coast this winter.
These disasters are happening everywhere: One of the largest emperor penguin colonies in Antarctica collapsed this year after a storm destroyed the sea ice its chicks depended upon. In the Mojave Desert, bird populations have plummeted as they have failed to cope with hotter and drier weather. Off the coast of Australia, back-to-back bleaching events in the Great Barrier Reef led to a collapse of new corals last year, making the reef's recovery less likely.
If you think such collapses don't affect you, think again. Climate change, along with habitat destruction and overconsumption, is eviscerating species that are crucially important to humans. Most insect species are either declining or endangered. Over the past half-century, North America lost a quarter of its bird populations. These are the pollinators, seed distributors and food chain managers that are essential to life on Earth — and, by extension, human civilization.
The media does the public a disservice by almost exclusively focusing on climate change when extreme weather directly threatens people. And even when climate change does take up our news feeds, it seems that the public has become largely numb to the crisis. But climate change never takes a pause; humanity's excesses endanger Earth's biodiversity. It's time we recognized that we're putting ourselves at risk as well. https://www.washingtonpost.com/opinions/2019/10/31/life-earth-is-groaning-under-weight-humanity-do-we-hear-it/
7. Colbert I. King: The McCarthyism of Donald Trump
McCarthyism was on bold display this week as President Trump's right-wing media posse went on the attack against Army Lt. Col. Alexander Vindman, who testified in the House impeachment inquiry. But the stench of McCarthyism was in the air long before this week.
As disgusting as this episode is, it would be delusional to treat the smearing of Vindman's patriotism as something unique.
Branding political opponents as disloyal and un-American is a Trump staple.
He declared that House Speaker Nancy Pelosi (D-CA) "hates the United States of America" because of her impeachment inquiry against him.
He has accused Pelosi and House Intelligence Committee Chairman Adam B. Schiff (D-CA) of "treason."
He called Democrats who didn't applaud him at his 2018 State of the Union "treasonous" and "un-American."
Of Trump's many flaws is his assumption of himself as the nation.
Other countries have gone down that disastrous road. That's not the way we do it. In America, public officials "swear to support and defend the Constitution" — not Donald Trump.
Americans "pledge allegiance to the Flag . . . and to the Republic for which it stands," not allegiance to Donald Trump.
With the mind-set that he, Donald Trump, and the United States of America are one and the same, McCarthyism takes root and flourishes.
This president must learn that our fidelity is to the nation — not to him.
Congress can and should remind him of that. https://www.washingtonpost.com/opinions/the-mccarthyism-of-donald-trump/2019/11/01/38da7c7a-fc0e-11e9-8906-ab6b60de9124_story.html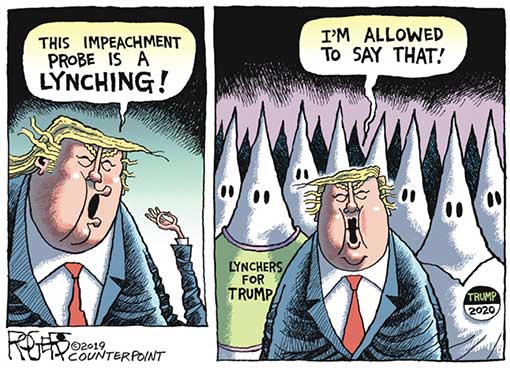 8. Rosa Brooks: Only the scoundrels and weirdos are telling the truth about working for Trump
Most Republicans in Congress reportedly have little love for Trump, but few GOP leaders will have the courage to criticize the president, much less to vote for his impeachment and removal, unless "respected" figures give them cover. If Mattis, McMaster, Kelly and other similar establishment members publicly condemn Trump, their criticism might open the floodgates and embolden other Republicans. But they're too loyal to rigid codes of professional honor to denounce the president — even as he mocks them publicly and tramples upon the very institutions to which they have devoted their careers.
In recent weeks, several civil servants and military officers have provided important evidence buttressing the case for Trump's impeachment. We should be grateful for their House testimony, but let's not forget that few of them (as far as we know, only the anonymous whistleblower and Lt. Col. Alexander Vindman) stepped forward voluntarily. On the contrary, it took congressional subpoenas to get most to speak openly about a president who offers them no reciprocal loyalty.
Only the disgraces are willing to say what the adults in the room all believe to be true: Donald Trump is a corrupt and reckless thug. Perhaps it's time for the mandarins to listen to the disreputable miscreants. After all, it takes one to know one. https://www.washingtonpost.com/outlook/only-the-scoundrels-and-weirdos-are-telling-the-truth-about-working-for-trump/2019/11/01/9e00e5b0-fc1a-11e9-8190-6be4deb56e01_story.html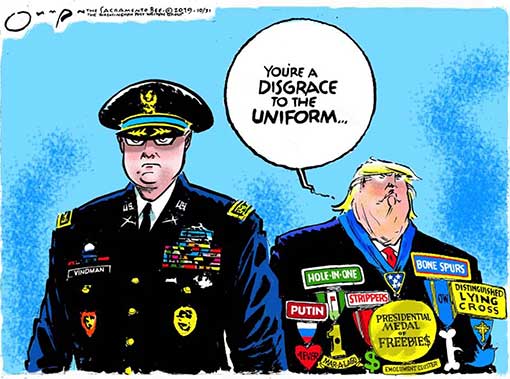 9. Bess Levin: Donald Trump Jr. Is Disgusted By People Who Trade On Their Family Name
At present, Donald Trump Jr., along with his brother Eric, runs his family's business, which was cofounded by his grandfather and is owned by his dad. He's worked there since he was approximately 23, and despite pretty big fuckups like launching Trump Mortgage in 2006, which collapsed less than a year later, his employment status and paycheck have remained steady. As of August, he was reportedly worth more than $150 million, the bulk of which was presumably acquired by virtue of being a Trump. But you know what really chaps Junior's hide? People who profit from their family names, like one Hunter Biden.
Dropping by Hannity on Wednesday night, the elder Trump boy told the Fox News host, "I wish my name was Hunter Biden. I could go abroad, make millions off of my father's presidency—I'd be a really rich guy. It would be incredible. But because my name is Trump, if I took 1.5 dollars from China—not 1.5 billion, like Hunter, but 1.5 dollars—their heads would explode." https://www.vanityfair.com/news/2019/10/don-jr-hunter-biden-nepotism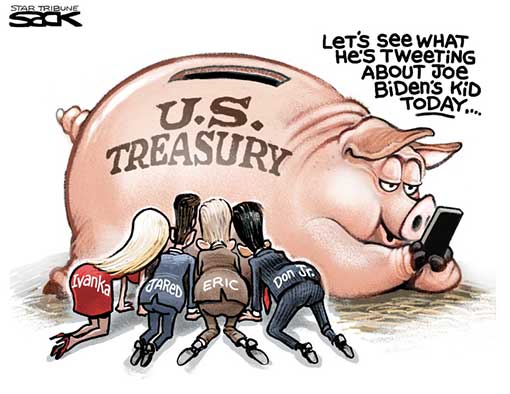 10. Jennifer Rubin: Poll warning for Trump and Republicans: Danger ahead.
The latest Washington Post-ABC News poll should send a shudder through the Republican Party. Only 38 percent of Americans approve of President Trump's performance, while 58 percent disapprove, 48 percent strongly so. The majority of the poll was taken after the killing of Abu Bakr al-Baghdadi (for which a majority gives Trump credit). Trump's approval ratings in battleground states such as Ohio, Iowa, Pennsylvania, Minnesota and Wisconsin (40 to 55 percent) are only slightly better than his overall numbers.
If they drill down on Trump's approval numbers, Republicans might go into full panic mode. His approval numbers are atrocious among women (31/64), white college graduates (38/61), women college graduates (32/67), suburban dwellers (41/56) and independents (38/57). Among suburban women he trails 33 to 63 percent. He is surviving almost entirely on white evangelicals (74/23).
Unless you are a Senate Republican from a state with a whole lot of white evangelicals, association with Trump may be injurious to your political survival. That should leave lawmakers such as Sens. Susan Collins (R-Maine), Joni Ernst (R-Iowa), Martha McSally (R-Ariz.) and Cory Gardner (R-Colo.) from states with less than 26 percent white evangelicals looking to separate themselves from Trump (and consider breaking with him on impeachment).
All in all, if Republicans ever break free of their irrational fear of Trump and his base (whose power is amplified by gerrymandering and the electoral college), they might recognize that saving him is becoming incompatible with saving themselves. https://www.washingtonpost.com/opinions/2019/11/01/poll-warning-trump-republicans-danger-ahead/
11. Scott Shane: How a Fringe Theory About Ukraine Took Root in the White House
"I would like you to find out what happened with this whole situation with Ukraine, they say CrowdStrike … I guess you have one of your wealthy people …," the president said. It is unclear whether the ellipses indicate that words were omitted or that Mr. Trump's voice was trailing off.
Then he added one novel detail: "The server, they say Ukraine has it."
Now, Mr. Trump's call for Ukraine to look into his CrowdStrike story forms the background to the House impeachment inquiry, which is focused on the second request he made: that Mr. Zelensky investigate Mr. Trump's possible 2020 opponent, former Vice President Joseph R. Biden Jr. Mr. Trump has placed a concoction of disprovable claims, of the kind usually found on the fringes of the web, squarely in the middle of American politics and diplomacy.
The tale of the supposedly hidden server may have appealed to Mr. Trump because it undercut a well-established fact that he has resented and resisted for three years: The Russian government interfered in the 2016 election to help him win, an effort thoroughly documented by American intelligence agencies and amply supported by public evidence.
By contrast, there is no evidence to support the president's vague suggestion that Ukraine, not Russia, might be responsible for the hacking, or that CrowdStrike somehow connived in it. But his alternate history has provided a psychological shield for the president against facts that he believes tarnish his electoral victory. https://www.nytimes.com/2019/10/03/us/politics/trump-ukraine-conspiracy.html
12. Michael Gerson: The GOP's defense of Trump has me sinking into cynicism
Only two eventualities might change Republican calculations on impeachment. First, the Republican base might turn against Trump in significant numbers. This is unlikely to the point of impossibility. No matter what the impeachment investigation reveals, Fox News and conservative talk radio will produce an alternative narrative to which partisans can cling. Even if this involves the defamation of patriots such as Vindman. Even if this involves conspiracy theories and massive revisions to reality.
Second, Americans outside the Republican base might turn against Trump so vigorously and completely that the political incentives for Republican officeholders begin to change. What does it profit senators to keep the base if they lose the rest of the electorate? Such a decisive shift in public sentiment also seems unlikely, but who knows what further ethical horrors a corruption investigation featuring Trump and Rudolph W. Giuliani might reveal?
There is, of course, another factor that might change. Republican senators could actually take the deliberative role of their institution seriously. They could recover a proper outrage at public corruption. They could recall why they entered public service in the first place and choose to pay the cost of conscience.
I still want to believe this is possible. But I'm not holding my breath. https://www.washingtonpost.com/opinions/the-gops-defense-of-trump-has-me-sinking-into-cynicism/2019/10/31/e5f9caba-fc03-11e9-8190-6be4deb56e01_story.html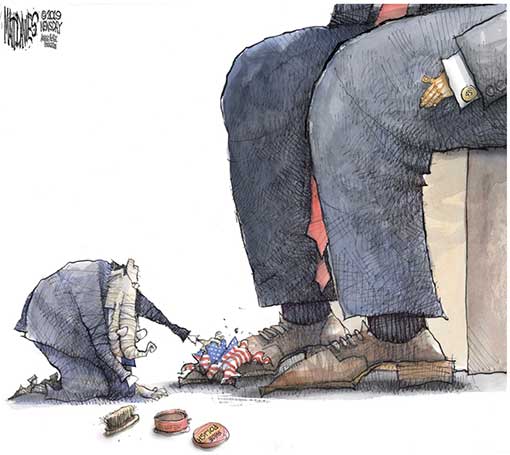 13. Dana Milbank: Republicans convene the cult of Trump
That Rep. Devin Nunes serves as the ranking member on something called the Intelligence Committee has always been a contradiction in terms. The California Republican displayed his intellectual heft earlier this year by suing a fictitious dairy cow that was mean to him on Twitter.
Even so, what he said on the House floor during Thursday's debate to authorize a formal impeachment inquiry was jaw-dropping. He railed about the sort of person who believes in "conspiracy theories" and relies on "defamation and slander," who spins a "preposterous narrative" with "no evidence" and only "bizarre obsession."
Surely he was describing one Donald J. Trump to a T?
On the contrary, Nunes applied these Trumpian signatures to Democrats. "What we're seeing among Democrats on the Intelligence Committee," he said, "is like a cult. These are a group of people loyally following their leader as he bounces from one outlandish conspiracy to another."
It was perhaps the most extraordinary case of projection ever to present itself on the House floor.
At their post-vote news conference, Republicans were asked: "Will you all go on the record and say the president did nothing inappropriate?"
"Yes," chorused the 50 men and three women onstage.
"A very clear yes," said McCarthy.
Doesn't he know that cults always end badly?
https://www.washingtonpost.com/opinions/2019/10/31/republicans-convene-cult-trump/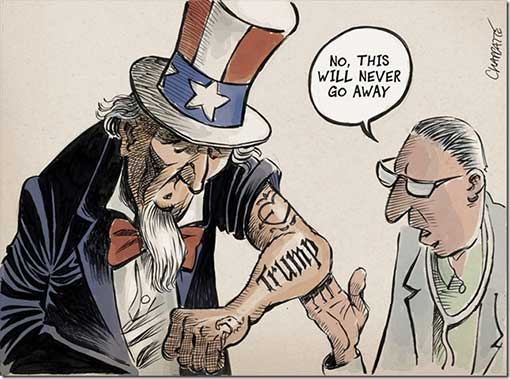 14. Alex Shultz and Jay Willis: How Trump Corrupted the American Presidency in Every Imaginable Way
In the final stretch of his 2016 presidential campaign, Donald Trump promised to "drain the swamp" of corruption in our nation's capital. "I will Make Our Government Honest Again—believe me," he tweeted three weeks before Election Day. "But first, I'm going to have to #DrainTheSwamp in DC."
This is the same guy who stiffed curtain vendors and cabinet makers, scammed students with the now-defunct Trump University, and engaged in fraudulent tax schemes took a similar tack with the presidency. Throughout his tenure in the White House, Trump has leveraged the powers of his office—and the trappings associated with occupying it—to enrich himself at every opportunity. His properties are now the destinations of choice for anyone seeking to curry his favor, and the American taxpayer is among his businesses' most dependable sources of income. At the same time, he has learned to abuse those powers to shield himself from accountability for his wrongdoing and attacked, bullied, and fired enemies both real and imagined with the imprimatur of the United States government. https://www.gq.com/story/donald-trump-corruption-timeline
15. Jonathan Chait: Trump: The Soviet Witch Coup Has Found Me Innocent
Republicans have spent weeks calling impeachment proceedings a coup, and then a witch hunt. Confusingly, they appear to believe witch hunts are quasi-judicial proceedings run by actual witches, and accordingly circulated merchandise depicting Democrats as a coven. Then yesterday — of all days to stop talking about witches! — they made the puzzling decision to switch metaphors again, and begin likening impeachment to a Soviet show trial. It was as their sole messaging objective was to make Arthur Miller turn over in his grave.
Of course neither Stalin's show trials nor the Salem Witch Hunt was known for publicly leaking friendly claims for the defense. Trump's loyalists did not seem remotely troubled by the contradiction between their attacks on the denouncing the proceedings as a pure sham and claiming they had yielded evidence of exoneration. http://nymag.com/intelligencer/2019/11/trump-the-soviet-witch-coup-has-found-me-innocent.html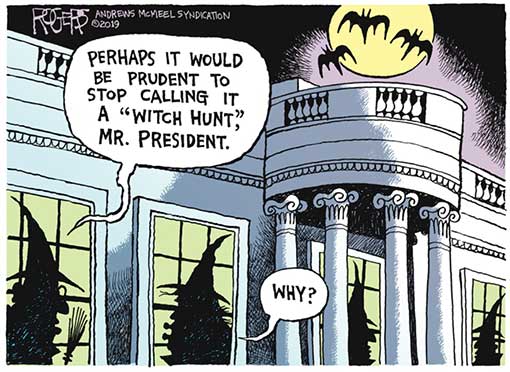 16. Judge Andrew Napolitano: Proof of Trump's impeachable offenses plain to see
Early this week, Speaker of the House Nancy Pelosi, D-Calif., giving Republicans what they asked for, announced that the full House will vote on initiating an impeachment investigation of the president by the end of this week.
Congressional Republicans should be careful what they ask for. Their defense of the president has addressed process, not proof. The proof is largely undisputed, except by the president himself. It consists of admissions, testimony and documents, which show that Trump sought to induce the government of Ukraine to become involved in the 2020 presidential election.
Specifically, Trump held up $391 million in American military hardware and financial aid to Ukraine – which is at war with Russia after the Russian seizure and continual occupation of what was until 2014 a Ukrainian province – until Ukrainian prosecutors commenced a criminal investigation of former Vice President Joe Biden and his son, Hunter.
That is a mouthful of facts to swallow in one bite, but the legal implications are straightforward and profound. Whether one agrees with federal law or not, it is a crime to solicit assistance for a federal campaign from a foreign government. As well, the crime of bribery consists of a government official refraining from performing a legal duty until a thing of value is delivered to him.
Trump admits he held up the $391 million. He admits he asked for a favor from the Ukrainian president. And he admits that the favor was to dig up dirt on Joe Biden and his son. He even gilded the lily by publicly asking the Chinese government to investigate Biden. https://www.foxnews.com/opinion/judge-andrew-napolitano-hiding-plain-sight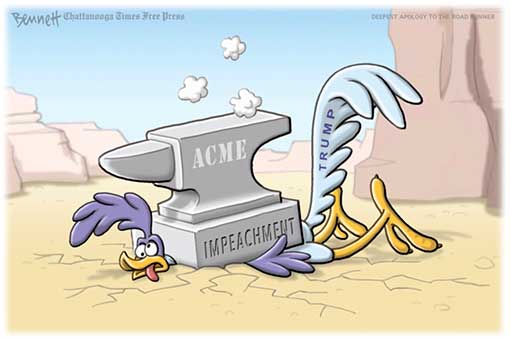 17. Michael D. Shear, Maggie Haberman, Nicholas Confessore, Karen Yourish, Larry Buchanan and Keith Collins: How Trump Reshaped the Presidency in Over 11,000 Tweets
On the morning of Inauguration Day 2017, Donald J. Trump tweeted an opening message to the United States. What followed was a barrage of personal attacks, outrage and boasting, in a near-constant stream of more than 11,000 tweets over 33 months."He needs to tweet like we need to eat," Kellyanne Conway, his White House counselor, said in an interview.
In a presidency unlike any other, where Mr. Trump wakes to Twitter, goes to bed with it and is comforted by how much it revolves around him, the person he most often singled out for praise was himself — more than 2,000 times, according to an analysis by The New York Times.
President Trump is tweeting more than ever. The second week of October was his busiest, with 271 tweets.
It is often by brute repetition. He has taken to Twitter to demand action 1,159 times on immigration and his border wall, a top priority, and 521 times on tariffs, another key agenda item. Twitter is an instrument of his foreign policy: He has praised dictators more than a hundred times, while complaining nearly twice as much about America's traditional allies. Twitter is the Trump administration's de facto personnel office: The chief executive has announced the departures of more than two dozen top officials, some fired by tweet.
More than half of the president's posts — 5,889 — have been attacks; no other category even comes close. His targets include the Russia investigation, a Federal Reserve that won't bow to his whims, previous administrations, entire cities that are led by Democrats, and adversaries from outspoken athletes to chief executives who displease him. Like no other modern president, Mr. Trump has publicly harangued businesses to advance his political goals and silence criticism, often with talk of government intervention. Using Twitter, he threatened "Saturday Night Live" with an investigation by the Federal Communications Commission and accused Amazon, led by Jeff Bezos, owner of The Washington Post, of cheating the United States Postal Service.
As much as anything, Twitter is the broadcast network for Mr. Trump's parallel political reality — the "alternative facts" he has used to spread conspiracy theories, fake information and extremist content, including material that energizes some of his base. https://www.nytimes.com/interactive/2019/11/02/us/politics/trump-twitter-presidency.html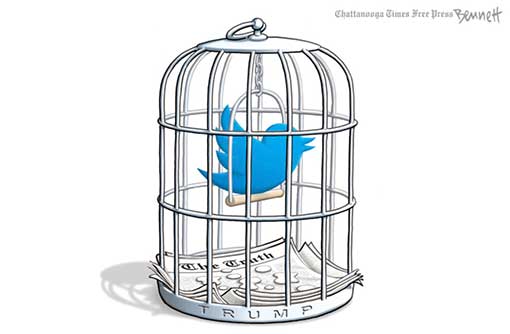 18. Jonathan Chait: Pretending Trump Wants to Stop Corruption Is the GOP's Most Insulting Lie Yet
And now Republicans have arrived, at last, at their final defense. Sure, President Trump may have demanded Ukraine investigate his domestic rivals, and sure, there may have been some kind of conditional that-for-that trade that could be summarized in a Latin phrase. But it's all okay because Trump was trying to root out corruption. He said so himself.
Trump's ask to investigate "corruption" in Ukraine was structured specifically around a demand for a public announcement of an investigation. Why does it have to be public, if Trump just wanted Ukraine to look into misconduct? Because, obviously, he wanted the "investigation" to generate news that would implicate the FBI and the Bidens. Also, if Trump was concerned about "corruption," it seems like a weird choice to deputize as his investigators a couple of crooks tied in with the Russian mafia, who were also looking to make themselves some money while they "uncovered corruption."
Indeed, Trump himself makes it perfectly clear that "corrupt" is simply a label he uses to describe his political opponents. He has called Nancy Pelosi and Adam Schiff "corrupt." He has described the entire Democratic Party as corrupt ("Tomorrow you will vote to reject the Democrats' extremism, socialism, and corruption," he promised rallygoers before Tuesday's elections). He has used the phrase for several members of the FBI, the mainstream media, Hillary Clinton, Barack Obama, and on and on.
Republicans are a little squeamish about openly saying, "Trump can push foreign countries to investigate his rivals." Instead they say, "Trump can push foreign countries to investigate corruption." But these two statements mean the exact same thing. The notion that Trump's activity had any relation to legitimately trying to root out corruption is the biggest insult to our intelligence so far. http://nymag.com/intelligencer/2019/11/trump-corruption-lie-ukraine-scandal-impeachment.html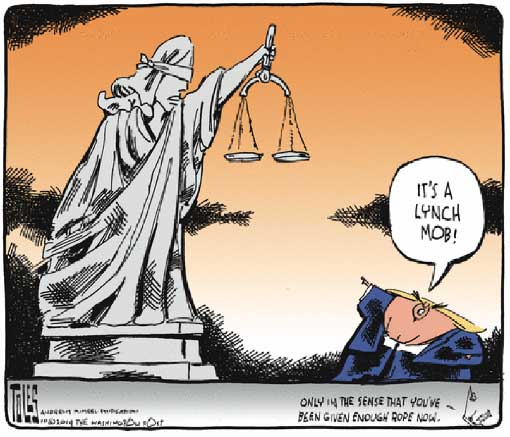 19. David Ignatius: Where is Mike Pompeo? He's hiding in fear of Donald Trump.
Since the investigation began into President Trump's machinations in Ukraine, one of the most disturbing questions has been: Where is Mike Pompeo, the secretary of state, who's supposed to shield his diplomats from political interference?
And now we have the answer: Pompeo, in recent months, has essentially been in hiding, protecting himself while his subordinates took the hit — evidently hoping to preserve his influence with Trump. Sometimes his deflections and denials have been outright misleading.
Pompeo has badly tarnished his reputation in accommodating Trump. He joins the long list of those damaged by their service to this president. If you're someone like me, who thought Pompeo was one of the smarter and more effective people in the administration, it's a sad moment.
We should be careful not to judge others' character, especially in the hotbox of today's Washington. But it's deeply troubling to see a powerful person such as Pompeo who is silent in the face of lies and who takes no action to protect his subordinates from wrongdoing. https://www.washingtonpost.com/opinions/where-is-mike-pompeo-hes-hiding-in-fear-of-donald-trump/2019/11/05/2035f2b0-001b-11ea-8501-2a7123a38c58_story.html
20. Philip Bump: Republicans have heard less about the impeachment probe — and are more likely to reject established details
A poll released Tuesday by Monmouth University found static approval for Trump (43 percent overall, at the upper end of the range Trump has seen in Monmouth polls), but it also determined that nearly two-thirds of respondents say nothing would change their minds about Trump's performance in office. That includes most Republicans (who largely approve of Trump) and nearly three-quarters of Democrats (who don't).
Republicans' lack of familiarity with the core issues — or professed lack of familiarity — is a theme in Monmouth's poll.
Most Republicans — a group that, again, opposes the impeachment inquiry — think that what's been revealed so far shows that Trump either did nothing wrong or did nothing that rises to the level of impeachment.
Despite Trump's frequent exhortations that people "read the transcript," which he thinks is exculpatory, more than a quarter of those who said they had heard a lot about Ukraine said that Trump hadn't asked for a Biden probe — about the same percentage who said that among those who said they hadn't heard anything about the issue. Nearly a third of Republicans who said they had heard a little about the Ukraine issue also incorrectly thought that Trump hadn't asked for a Biden probe.
On the question of whether Trump pressured Ukraine to launch an investigation into Biden — a claim bolstered by both the rough transcript and subsequent testimony in the impeachment inquiry — a plurality of Republicans say it didn't happen. Nearly three-quarters say either that it didn't happen or that they either reject the question or don't think there was a request for an investigation at all.
They are similarly skeptical that anyone else might have pressured Ukraine, despite documentation of former administration officials alleging exactly that. Two-thirds of Republicans say that didn't happen, either.
Perhaps the inquiry holding public hearings will increase awareness of the issues. But Democrats should be prepared for the possibility that they won't move things at all, that those 59 percent of Republicans who say nothing will change their minds are completely correct. https://www.washingtonpost.com/politics/2019/11/05/republicans-have-heard-less-about-impeachment-probe-and-are-more-likely-reject-established-details/