April 18, 2019
ON THE RECORD. . .
DNC War Room: Official Twitter Account of @TheDemocrats War Room. -- DNC War Room@DNCWarRoom
"I don't really think I've said anything much about the gold – I'm not in favor of a gold standard." — Federal Reserve Board nominee Stephen Moore, interviewed on CNN, just before being shown three clips of him saying he supports a gold standard.

Due to the fact that Democrats are unwilling to change our very dangerous immigration laws, we are indeed, as reported, giving strong considerations to placing Illegal Immigrants in Sanctuary Cities only........The Radical Left always seems to have an Open Borders, Open Arms policy – so this should make them very happy! — Donald J. Trump@realDonaldTrump
President Trump this week: "I know nothing about WikiLeaks. It's not my thing." @JoeNBC: "Donald Trump — just the worst liar there's ever been." — Joe Scarborough tweet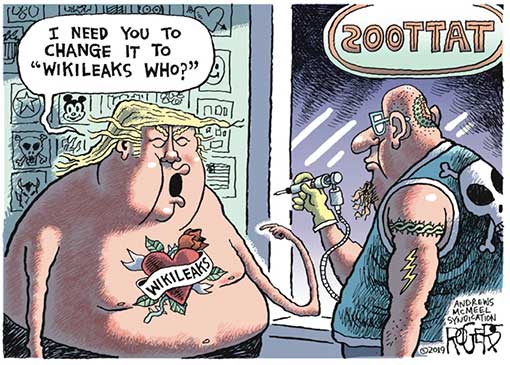 "You think I'm going to get intimidated by a bunch of yahoos trying to embarrass me?. They're the ones that are going to be embarrassed." — Herman Cain, whose prospects for a seat on the Federal Reserve Board of Governors have grown shaky before President Donald Trump even nominates him, likely gave his detractors in the U.S. Senate one more reason to oppose his confirmation.
Trump posting an edited video of Ilhan Omar speaking interspersed with graphic video of people being murdered on 9/11 is beyond revolting. Words fail me.-- Aaron Rupar@atrupar
If Dems don't change immigration laws, "we'll bring the illegals - I call them the illegals - we'll bring them to sanctuary cities & let that particular area take care of it... we can give them an unlimited supply... let's see if they have open arms. … On sanctuary cities, we are giving very strong consideration to having people, after a 20-day period, because you are not allowed legally to hold them for more than that -- we will move them into sanctuary cities. Thank you very much, everybody. — Trump
"Only Congress can declare war. You do not have our permission to go to war with Iran." — Sen. Rand Paul (R-KY), quoted by CBS News, to Secretary of State Mike Pompeo.
The extent of this administration's cynicism and cruelty cannot be overstated. Using human beings—including little children—as pawns in their warped game to perpetuate fear and demonize immigrants is despicable."  — Pelosi's spokeswoman Ashley Etienne statement in response to  Trump's threat to transport detained immigrants to sanctuary cities and release them there. 
"Capitalism is a lot more important than democracy. I'm not even a big believer in democracy." — Federal Reserve Board nominee Stephen Moore.
"His fluency on faith and his willingness to speak about it is an asset. Carter, Clinton, and Obama — they all shared that quality. It was one of the cues that opened the door to voters." — David Axelrod, quoted by New York Magazine, on Pete Buttigieg.
"Just out: The USA has the absolute legal right to have apprehended illegal immigrants transferred to Sanctuary Cities. We hereby demand that they be taken care of at the highest level, especially by the State of California, which is well known or its poor management & high taxes!" — Trump tweet
"Why is the president comfortable putting out horrible images like that. Does he worry at all about inciting violence against Muslims in general, or Ilhan Omar in specific?" — Fox News' Chris Wallace, who did not feel "comfortable" playing more than 5 seconds of the President's video, as he interviewed White House press secretary Sarah Huckabee Sanders.
"In my lifetime I have never seen a more biblical president than I have seen in Donald Trump. He is highly biblical and I would say to your listeners that we will, in all likelihood, never see a more godly, biblical president again in our lifetime." — Former Rep. Michele Bachmann (R-MN).
"I think if you look at swing voters in this country they are incredibly focused on the economy. I think today you look at it and say that Bernie Sanders is unlikely going to be able to stand up to the constant barrage that is Donald Trump on economic issues." —Jim Messina, who managed Barack Obama's re-election campaign in 2012.
---
IN THIS ISSUE
FYI
OPINION
1. Andy Borowitz: Americans Fear That Former Trump Staffers Will Be Released Into Their Cities
Americans are in a state of abject panic amid reports that Donald J. Trump is threatening to dump thousands of fired Cabinet members and aides on cities that do not support him.

Harland Dorrinson, who lives in San Francisco, said that "every American should be alarmed" at the spectre of former Trump staffers like Kirstjen Nielsen, Scott Pruitt, and Anthony Scaramucci descending on their towns.

"A lot of these people were unsavory to begin with, and their time at the White House only hardened them," he said.

Carol Foyler, who resides in Boston, said that, with Trump staffers being fired at a rate of four hundred a day, she lives in terror at the prospect of these castoffs melting into the general population.

"I was on line at Starbucks the other day and I thought I saw Steve Bannon," she said. "It turned out it was just some other creepy-looking guy, but my heart was racing. The fear is real."

Tracy Klugian, who lives in Minneapolis, has started a petition to create a city ordinance preventing former Trump aides from settling in his town. "This city is full," he said.

As they brace themselves for an onslaught of fired Trump underlings, some Americans are grasping for a silver lining. "As of now, Stephen Miller and Sarah Huckabee Sanders are still employed at the White House, where their movements can be closely monitored," Foyler said. "But, it if that changes, God help us all." https://www.newyorker.com/humor/borowitz-report/
2. White House officials concerned about being exposed by Mueller report
Some of the more than one dozen current and former White House officials who cooperated with special counsel Robert Mueller are worried that the version of his report expected to be made public on Thursday will expose them as the source of damaging information about President Donald Trump, according to multiple witnesses in the investigation.
Some of the officials and their lawyers have sought clarity from the Justice Department on whether the names of those who cooperated with Mueller's team will be redacted or if the public report will be written in a way that makes it obvious who shared certain details of Trump's actions that were part of the obstruction of justice probe, people familiar with the discussions said. But, they said, the Justice Department has refused to elaborate.
Of particular concern is how Trump — and his allies — will react if it appears to be clear precisely who shared information with Mueller, these people said.
"They got asked questions and told the truth, and now they're worried the wrath will follow," one former White House official said. https://www.nbcnews.com/politics/white-house/white-house-officials-concerned-about-being-exposed-mueller-report-n994861
3. Immigration brings out Trump's most radical self
Nothing stirs President Trump's most radical ideas like immigration. And nothing so stirs his willingness to entertain what some consider illegal or wrong.
Trump is genuinely frustrated that two years into his presidency, he hasn't built the wall he promised, and he hasn't reduced the flow of asylum seekers and undocumented immigrants into the U.S. In fact, the numbers are going up. The issue is highlighted above all others by the news outlet he focuses on most, Fox News. That raises his blood pressure every day.
He can't understand why he's not allowed to have total control over who enters the U.S. across the southern border. https://www.axios.com/trump-immigration-radical-migrants-border-sanctuary-cities-1d38fa97-29d3-43b8-9e18-522e538d1d8a.html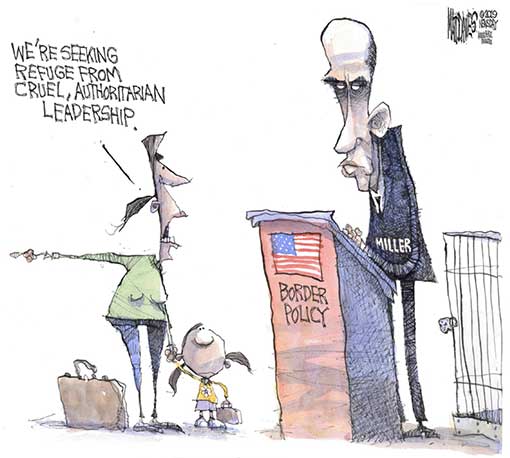 4. The DAILY GRILL
"Frankly, Chris, I don't think Congress — particularly not this group of congressmen and women — are smart enough to look through the thousands of pages that I would assume that President Trump's taxes will be. "My guess is most of them don't do their own taxes, and I certainly don't trust them to look through the decades of success that the president has and determine anything." — WH press secretary Sarah Sanders pushing back against Democrats' demands for information on the Trump's finances.

VERSUS

It remains unclear if Trump even understands the essentials of the business he runs. That would actually make sense given the frequency with which he has had to declare bankruptcy in the relatively foolproof business of running casinos, even beginning with hundreds of millions of dollars in his father's money. He has only survived by sheer shamelessness: using loopholes and outright fraud to stiff his contractors and cheat his lenders, then using his outsized ego to sell his own image on sub-par reality television shows, steaks, fraudulent universities, and other products. His golf courses tend to struggle, and there's definitely something weird going on at least with the financing of his course in Turnberry. -- David Atkins in the Washington Monthly.

 

"I know nothing about WikiLeaks. It's not my thing." — Trump seeking to distance himself from WikiLeaks after founder Julian Assange's arrest in London.

VERSUS

Trump Says WikiLeaks 141 Times On The Campaign Trail.

 

Great news! #MAGA — Donald J. Trump@realDonaldTrump showing a Fox graphic that mistakingly shows Trump's approval at 55%, referencing a Georgetown Politics poll.

VERSUS

I'm the Director of @GUPolitics & this graphic is incorrect.
The Battleground Poll shows 58% approval on the economy.
But it shows only 43% overall approval, & 52% disapproval.
The 55% number is the President's unfavorable rating. (Only 40% favorable.) http://politics.georgetown.edu/full-questionnaire/ … — MoElleithee@MoElleithee

 

"[Barr] plans to redact four categories of information: grand jury material, information that could reveal intelligence sources and methods, details that could compromise ongoing investigations, and information impacting 'peripheral' third parties." — The Hill

VERSUS

Green: Grand jury testimony.
Red: Reveals intelligence sources and methods.
Blue: Compromises ongoing investigation.
Orange: Impacts peripheral third party.
Teal: Blue marker ran out.
Salmon: Reveals unflattering detail about the experience of staying at a Trump property or resort.
Crossed Out In Gold: President Trump was trying to highlight because he thought it exculpatory but pen was too big.
Whited Out: Not redacted, just a typo.
Crossed Out in a Zodiac Symbol With Many Tiny Pen Strokes: Person redacting watched cursed videotape.
Each Letter Filled Meticulously by a Variety of Colors to Form a Picture of Saint Patrick Blessing What Looks Like a Diseased Hippopotamus: Guy who was redacting went on break, monk took over.
Covered in Layers of Aluminum Foil: Redactor suddenly became aware this went all the way to the top.
Crossed Out in Pencil With Question Mark Written on Side: Redactor wasn't sure of information's importance, reminder to go back and ask someone, oops!
Yellow: This isn't redacting! This is highlighting!
Purple: Information compromises Byzantine emperor.
Pale Green: Information reminded redactor of spring.
Turquoise: Information reminded redactor of last time he felt truly still.
Half-Inch Streak of Gorgeous Lavender: Lovely word the redactor wanted to keep to himself.
Brown Splotch: Redactor was eating gravy and spilled some on report. — Alexandra Petri in the Washington Post
5. From MEDIA MATTERS (They watch Fox News so you don't have to)
Hannity guest Glenn Beck claims migrant caravans are "an assault" on America funded by George Soros. Beck: "They just throw wave after wave after wave of people until you just can't fight it anymore." https://www.mediamatters.org/video/2019/04/10/hannity-guest-glenn-beck-claims-migrant-caravans-are-assault-america-funded-george-soros/223411

Trump Fed pick Herman Cain sent scammy sponsored emails promoting gold companies. https://www.mediamatters.org/blog/2019/04/11/trump-fed-pick-herman-cain-sent-scammy-sponsored-emails-promoting-gold-companies/223416

On Fox Business, Lou Dobbs joins Diamond & Silk in claiming Rep. Ilhan Omar puts "ideology" over America. Diamond: "I don't think she represents America. I don't know who she represent, but it's not America." https://www.mediamatters.org/video/2019/04/11/fox-business-lou-dobbs-joins-diamond-silk-claiming-rep-ilhan-omar-puts-ideology-over-amerca/223425

Fox's Brian Kilmeade falsely claims Republicans want to fix Obamacare. The Trump administration supports overturning Obamacare and Republican lawmakers have repeatedly voted to repeal it. https://www.mediamatters.org/video/2019/04/12/foxs-brian-kilmeade-falsely-claims-republicans-want-fix-obamacare/223429

Fox's Neil Cavuto dismisses the illegality of plan to send migrants to sanctuary cities because Trump is "at wits end." Cavuto: "I'm not endorsing his idea and it is illegal, but he's really at wits end." https://www.mediamatters.org/video/2019/04/12/foxs-neil-cavuto-dismisses-illegality-plan-send-migrants-sanctuary-cities-because-trump-wits-end/223436

Right-wing evangelicals are using Pete Buttigieg to attack progressive Christians. Extreme anti-LGBTQ groups and media are even calling for Buttigieg to stop being gay and undergo conversion therapy. https://www.mediamatters.org/blog/2019/04/12/right-wing-evangelicals-are-using-pete-buttigieg-attack-progressive-christians/223434

Six weeks of Fox's Alexandria Ocasio-Cortez obsession: "Totalitarian," "ignorant," "scary," and waging a "war on cows." In these 42 days, Fox News and Fox Business talked about AOC every single day, mentioning her at least 3,181 times. https://www.mediamatters.org/blog/2019/04/12/Six-weeks-of-Foxs-Alexandria-Ocasio-Cortez-obsession-Totalitarian-ignorant-scary-and-wagin/223386

Fox News anchors allow CPAC Chair Matt Schlapp to again push the baseless right-wing lie of voter fraud. Despite Schlapp's hysteria, California issuing driver's licenses to undocumented immigrants will not cause widespread voter fraud. https://www.mediamatters.org/video/2019/04/15/Fox-News-anchors-allow-CPAC-Chair-Matt-Schlapp-to-again-push-the-baseless-right-wing-lie-o/223444

Fox anchor Bill Hemmer misinformed viewers about Bernie Sanders' tax proposals. On April 15, Sanders had a town hall on Fox News, where hosts Bret Baier and Martha MacCallum questioned him about his tax proposals. The following morning, Hemmer falsely stated that Sanders claimed that "everyone should pay 52%." In reality, Sanders' plan proposes a 52% top marginal tax rate only for people whose annual income is greater than $10 million. https://www.mediamatters.org/video/2019/04/16/fox-anchor-bill-hemmer-misinformed-viewers-about-bernie-sanders-tax-proposals/223460

On Fox "straight news," guest Art Laffer says Bernie Sanders being elected president would cause a total market collapse. Laffer also falsely blames the Great Recession on Barack Obama. https://www.mediamatters.org/video/2019/04/15/fox-straight-news-guest-art-laffer-says-bernie-sanders-being-elected-president-would-cause-total/223452

Fox guest: Working people in Europe "don't dress very well, they don't go to restaurants" because of "that welfare state." https://www.mediamatters.org/video/2019/04/16/fox-guest-working-people-europe-dont-dress-very-well-they-dont-go-restaurants-because-welfare-state/223458

Study: As Notre Dame burned, anti-Muslim content surged online as the tragic news broke on Monday of a fire engulfing Notre Dame Cathedral in Paris, with far-right figures weaponizing news of the seemingly accidental fire to link it to the 9/11 terrorist attacks and to scapegoat Muslims and Islam. A Media Matters analysis found that anti-Muslim sentiment spiked on 4chan and 8chan on April 15, while the story containing the words "Muslim" or "Islam" that got the most engagements on Facebook was from an anti-Muslim bigot and claimed, "Jihadis reveled in the fire engulfing the Notre Dame Cathedral." https://www.mediamatters.org/blog/2019/04/16/study-notre-dame-burned-anti-muslim-content-thrived-online/223467

Tucker Carlson: Protecting abortion access isn't about "autonomy," it's "about making sure that women can be obedient workers." Carlson: The Democratic Party "loves" abortion, and "wants more of it, up until birth, maybe a little bit after, if possible." https://www.mediamatters.org/video/2019/04/17/tucker-carlson-protecting-abortion-access-isnt-about-autonomy-it-s-about-making-sure-women-can-be/223488

Rush Limbaugh is already attacking the redacted Mueller report: "No matter what it says, we're going to be lied to." Limbaugh: "Everybody on Mueller's team was a pro-Hillary, Trump-hating lawyer." https://www.mediamatters.org/video/2019/04/17/Rush-Limbaugh-is-already-attacking-the-redacted-Mueller-report-No-matter-what-it-says-were/223485
6. Trump bulldozes across the presidency's red lines
President Donald Trump has spent the last few weeks trying to bend to his will what are arguably three of the federal government's least political institutions – the Department of Homeland Security, Federal Reserve and Department of Justice.
Frustrated by the organizations' deliberate pace and the substance of their decision-making, Trump has tried to remake them in his own image. He's purging staffers who disagreed with him, or whom he felt were insufficiently loyal at DHS, and he hopes to stock the Fed with vocal political allies who can do his bidding on monetary policy.
Trump cares little about how such moves will be perceived, former administration officials and Republicans close to the White House say. They argue he always prefers to push the boundaries of what is possible, legally and otherwise. And in year three of his presidency, he's pushing harder than ever before. https://www.politico.com/story/2019/04/12/trump-presidency-analysis-1271841
7. Has the Senate finally hit rock bottom?
Last fall's brutal confirmation fight over Brett Kavanaugh's Supreme Court confirmation led to such bad blood that even old friends weren't talking.
Then came an ugly, 35-day government shutdown, the longest in U.S. history.
Just last week, Senate Majority Leader Mitch McConnell (R-Ky.) triggered the "nuclear option" and weakened the Senate's vaunted filibuster to steamroll over Democratic resistance to President Donald Trump's nominees — the third time in six years the majority party has unilaterally changed Senate rules.
To top it all off, the Senate has now failed to muster enough votes to pass a simple disaster-aid bill, something that was once routine and is a failure that will affect millions of Americans.
https://www.politico.com/story/2019/04/11/senate-nuclear-option-filibuster-1271791
8. An ICE Official Who Said Detention Was "More Like Summer Camp" Will Now Lead The Agency
The Trump administration has tapped Matthew Albence to lead Immigration and Customs Enforcement in the wake of the sudden resignation of its former leader.
Albence became better known after his appearance on Capitol Hill on July 31 during which he said that family detention centers were best described as 'more like a summer camp,' to the shock of some advocates and politicians. https://www.buzzfeednews.com/article/hamedaleaziz/ice-director-matthew-albence-trump-immigration-enforcement
9. A Federal Judge Compared Trump's Criticism Of The Courts To The KKK And Segregationists
In a highly unusual public rebuke against President Donald Trump by a sitting member of the federal judiciary, US District Judge Carlton Reeves delivered a speech Thursday calling the Trump administration a "great assault on our judiciary" and comparing the president's criticism of the judiciary to tactics used by the Ku Klux Klan and segregationists.
According to a copy of the speech obtained by BuzzFeed News, Reeves, who is black and sits in Jackson, Mississippi, extensively quoted Trump's tweets and public comments about judges and the courts (the written version includes footnotes making clear who and what Reeves is referring to) and blasted the lack of diversity among Trump's judicial nominees.
"When politicians attack courts as 'dangerous,' 'political,' and guilty of 'egregious overreach,' you can hear the Klan's lawyers, assailing officers of the court across the South. When leaders chastise people for merely 'us[ing] the courts,' you can hear the Citizens Council, hammering up the names of black petitioners in Yazoo City, [Mississippi]," Reeves said, quoting Trump. "When the powerful accuse courts of 'open[ing] up our country to potential terrorists,' you can hear the Southern Manifesto's authors, smearing the judiciary for simply upholding the rights of black folk. When lawmakers say 'we should get rid of judges,' you can hear segregationist senators, writing bills to strip courts of their power." https://www.buzzfeednews.com/article/zoetillman/federal-judge-carlton-reeves-trump-kkk-segregationists
10. Inside the Russian effort to target Sanders supporters — and help elect Trump
Russia's effort to promote Sanders as a way to influence the U.S. election began shortly after he declared his candidacy in the spring of 2015, according to Mueller's indictment of the 13 Russians. The aim was to defeat or weaken Clinton, who had angered Russian President Vladimir Putin when she was secretary of state. 
One reason that Sanders was on Russia's radar has been little noted: He, like Trump, opposed trade deals such as the Trans-Pac­ific Partnership. Putin had been critical of the TPP, saying it was secretive and "hardly facilitates sustainable development of Asia Pacific."
During the primary race, Sanders gave at least three interviews to a Russia-controlled television network, RT, in which his trade stance was highlighted. The network in February 2016 criticized MSNBC for breaking away from a Sanders speech after he said he was "helping to lead the opposition to the Trans-Pacific Partnership." RT posted an article headlined "Bernie Sanders 'censored' by MSNBC while criticizing trade deal." 
Around the time that Sanders was featured on RT, Russian employees at the Internet Research Agency were given a document explaining how to influence the U.S. election. The workers were told to "use any opportunity to criticize Hillary and the rest (except Sanders and Trump — we support them)," according to Mueller's indictment of the Russians. 
The Twitter database shows the impact. The tweets sent from Russia, cloaked to look as though they came from Americans, included: "Bernie Sanders looks to black voters to boost his underdog campaign"; "Hillary Clinton's summer of drama creates openings for Bernie Sanders and Joe Biden"; and "I'm for Bernie all the way!"  https://www.washingtonpost.com/politics/inside-the-russian-effort-to-target-sanders-supporters--and-help-elect-trump/2019/04/11/741d7308-5576-11e9-8ef3-fbd41a2ce4d5_story.html
11. From the Late Shows
Number of Times Alec Baldwin Absolutely Nailed Trump: https://youtu.be/VVWaQatf4kQ

Tucker Carlson Cold Open - SNL: https://youtu.be/Sld27PfAF3M

The View: Jenny McCarthy on Vaccines - SNL: https://youtu.be/Wfl-uMVbNn8

Jail Cell Cold Open - SNL: https://youtu.be/dvLfK0iOyD4

SNL's Weekend Update: Apologizes After 20 Years "CANADA" April 13, 2019 "SNL's": https://youtu.be/kLh8bNMBkdM

Jimmy Kimmel Live: Trump Thinks We're Very Lucky He's President: https://youtu.be/AlMf7KSLKgA

Trump Dodges Questions on Mueller, Tax Returns, WikiLeaks: A Closer Look: https://youtu.be/AcrYY-5PdgE

Late Night with Seth Meyers: Sarah Sanders Says Congress Is Not "Smart Enough" for Trump's Tax Returns: A Closer Look; https://youtu.be/39XmffMuds0

The Late Show with Stephen Colbert: Maxine Waters Has The Gavel (Not 'Gravel')
https://youtu.be/3cisO5Tx2gI
12. Elizabeth Warren Proposes Broad Plan to Protect Public Lands
Ms. Warren's plan, which she outlined in a post on Medium ahead of trips to Colorado and Utah this week, promises an executive order that would prohibit new leases for fossil fuel drilling offshore and on public lands, calls for the creation of "a 21st century Civilian Conservation Corps" staffed by 10,000 young people and seeks to reduce inaccessible public acreage by 50 percent. https://www.nytimes.com/2019/04/15/us/politics/elizabeth-warren-public-lands.html
13. With Polls and Private Meetings, Republicans Craft Blunt Messaging to Paint Democrats as Extreme
Republican leaders are sharpening and poll-testing lines of attack that portray Democratic policies on health care, the environment and abortion as far outside the norm, in hopes of arming President Trump with hyperbolic sound bites — some of them false — asserting that Democrats would cause long waits for doctors or make killing babies after birth legal.
The blunt messaging underscores one of the biggest challenges facing Democrats as they try to defeat the incumbent president: the need to define themselves and their ideas before Mr. Trump and his conservative allies do it for them.
The Republican National Committee has already begun polling in 16 states to assess ways to discredit ideas like "Medicare for all," which Senator Bernie Sanders proposed in a bill this week, and build on the party's broader argument that Democratic candidates like Mr. Sanders are promoting an extreme socialist agenda. Social conservative leaders have met with White House officials to discuss calling attention to Democratic-sponsored legislation to loosen restrictions on abortion in the second and third trimesters, like one that passed recently in New York.
The recent focus on health care and abortion follows well-coordinated attacks on policies like the Green New Deal, which reduced the far-reaching climate change proposal to a punch line with jokes about cow flatulence and putting farms out of business. https://www.nytimes.com/2019/04/12/us/politics/democrats-republicans-2020.html
14. Twice as many companies paying zero taxes under Trump tax plan
Taxpayers are scrambling to make last-minute payments due to the Internal Revenue Service in just four days, but many of the country's largest publicly-held corporations are doing better: They've reported they owe absolutely nothing on the billions of dollars in profits they earned last year.
At least 60 companies reported that their 2018 federal tax rates amounted to effectively zero, or even less than zero, on income earned on U.S. operations, according to an analysis released today by the Washington, D.C.-based think tank, the Institute on Taxation and Economic Policy. The number is more than twice as many as ITEP found roughly, per year, on average in an earlier, multi-year analysis before the new tax law went into effect. https://www.nbcnews.com/business/taxes/twice-many-companies-paying-zero-taxes-under-trump-tax-plan-n993046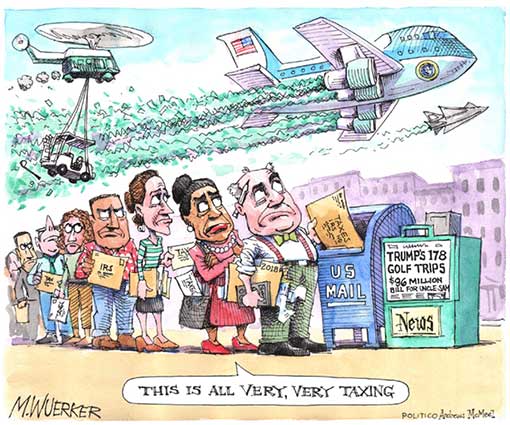 15. Roger Stone's woes: He's broke. Donald Trump doesn't call. And his wife broke her ankle.
Things are not going well for Roger Stone.
In a wide ranging interview with SiriusXM's "Jim Norton & Sam Roberts" on Thursday he said his living situation has plummeted, his savings are gone and his car was impounded.
When money problems forced Stone and his wife to move from a Fort Lauderdale mansion to a one-room apartment the truck slipped out of gear and broke his wife's ankle.
And he's no longer talking to his old friend, President Donald Trump. https://www.sun-sentinel.com/news/politics/fl-ne-roger-stone-woes-20190411-story.html
16. Trump attorneys warn accounting firm not to hand over financial records
Donald Trump's attorneys are warning of potential legal action if an accounting firm turns over a decade of the president's financial records to the House Oversight and Reform Committee.
Trump attorneys William S. Consovoy and Stefan Passantino are urging Mazars USA not to comply with a subpoena that Oversight Chairman Elijah Cummings (D-Md.) issued on Monday for Trump's financial documents, calling it a politically motivated scheme to take down the president. https://www.politico.com/story/2019/04/15/trump-financial-records-1275965
1. Manu Raju, Alex Rogers and Ted Barrett: White House snubs to Congress leave Republicans as well as Democrats aghast
Republicans on Capitol Hill are raising alarms at the White House's resistance to congressional demands, fearing President Donald Trump is bolstering the power of his office at the expense of Congress.
The White House has stonewalled House Democrats on nearly all aspects of their sprawling investigations into the President, refusing to provide documents as requested by committee chairmen, preventing former White House officials from complying with Democratic demands and fighting subpoenas pertaining to the US Census and the administration's handling of the security clearance process.
All this comes ahead of an already roiling conflict over the release of and redactions in special counsel Robert Mueller's report, which Attorney General William Barr said during a recent, high profile hearing in Congress would be released in the coming days.
"This is a non-traditional presidency," Sen. John Cornyn, a Texas Republican and member of the GOP leadership team, when asked about the White House circumventing Congress. "And the President now believes he doesn't need a lot of advisers because he wants to do it himself." https://www.cnn.com/2019/04/15/politics/congress-investigations-white-house/
2. Ed Kilgore: Mayor Pete Is Putting a Spotlight on the Prejudices of the Christian Right
Pete Buttigieg has already captured a lot more attention than you'd expect from the 37-year-old mayor of a small midwestern city mainly known for hosting big-time college football games. He is, for example, ranked third in a new poll on Democratic presidential candidates in New Hampshire by St. Anselm College. His candidacy could be for real.
But whether or not he winds up on a national ticket, his candidacy is already making history: Buttigieg is openly gay and an observant Christian, which together represent a serious challenge to the doctrinaire homophobia of the powerful Christian Right. The latter's coalition of conservative evangelicals and traditionalist Catholics tend to be fans of the heathenish Donald Trump, as I recently noted:
Pete Buttigieg offers a particularly interesting contrast with the 45th president. Would anyone be confident in accusing this married, churchgoing, Afghanistan veteran of being ethically inferior to Donald Trump? Not without risking hellfire.
On a more basic level, Buttigieg is exposing some beliefs about homosexuality that are (or at least ought to be) embarrassing to conservative Christians, which is probably why they don't really talk much about why their faith compels them to discriminate. Here's Mayor Pete throwing the disdain of such folk, including the vice president of the United States, back in their faces. http://nymag.com/intelligencer/2019/04/mayor-pete-spotlights-prejudices-of-the-christian-right.html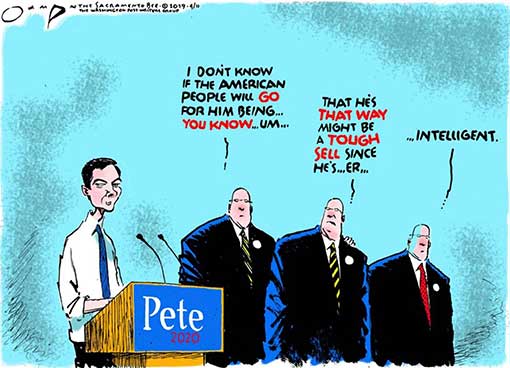 3. Seattle Mayor Jenny A. Durkan: Seattle isn't afraid of immigrants, Mr. Trump
Here's a message to President Trump: Seattle is not afraid of immigrants and refugees. In fact, we have always welcomed people who have faced tremendous hardships around the world. Immigrants and refugees are part of Seattle's heritage, and they will continue to make us the city of the future.
What does scare us? A president and federal government that would seek to weaponize a law enforcement agency to punish perceived political enemies. A would-be despot who thinks the rule of law does not apply to him.
On Friday, Trump took to Twitter to confirm a Post report that the White House wants to place detained immigrants in so-called sanctuary cities represented by Democrats.
In doing so, he trotted out his favorite playbook: He is demonizing immigrants and refugees to incite fear and to distract the American public from his own failures. Despite his party having control of the whole federal government for two years, Trump has utterly failed to fix our immigration system, to provide real opportunity for middle America or to improve the lives of the Americans in the places that supported him.
It's clear he hates the fact that the very cities he scorns are engines of innovation, opportunity and economic power. But we will not be deterred. The president's threats won't intimidate me as a mayor of a city with an open door, as a former federal prosecutor or as the granddaughter of a teenager who fled a war-torn, starving and impoverished country only to be welcomed in America.
This president believes that immigrants and refugees burden our country and burden cities like ours. But he could not be more wrong. https://www.washingtonpost.com/opinions/seattle-isnt-afraid-of-immigrants-mr-trump/2019/04/12/f26c370e-5d5e-11e9-9625-01d48d50ef75_story.html
4. Frank Rich: In Bill Barr, Trump Has Finally Found His New Fixer
Bill Barr's assertion that "spying did occur" against the Trump campaign has brought condemnations of impropriety from congressional Democrats and career intelligence officials, and raised suspicion that the attorney general is covering for Trump. Has Trump, at long last, finally found his Roy Cohn?
When you invoke Roy Cohn, you have to specify which Roy Cohn. There's the New York Cohn of the 1970s and '80s, the Mob-connected fixer who enabled Trump's rise, of course. But there's also the earlier, Washington Cohn: the smear artist who abetted Joe McCarthy's witch hunt to expose supposed Commies in the United States Army during the 1950s. The brilliantly perverse achievement of Barr is that he combines both Roy Cohns in a single package. He's a fixer for Trump, as evidenced by his unsupported conclusion that the Mueller report lets the president off the legal hook for his manifold efforts to obstruct justice. But Barr is also the McCarthy-era Cohn, sliming a "group of leaders there at the upper echelon" of government agencies for spying without offering any specifics or evidence.
That said, Barr is more insidious than either Roy Cohn. The Cohn of the McCarthy era was the chief counsel to a Senate committee; the New York Cohn was a lawyer in private practice. William Barr is the attorney general — the chief law-enforcement officer of the United States. And he is just getting started in his career in nonenforcement. He is poised to bowdlerize the Mueller report with redactions whose legitimacy cannot be verified and is stonewalling congressional efforts to read the report in full. He is in position to assist Steve Mnuchin, the Treasury secretary, as he buries documents whose exposure Trump may fear more than Mueller's evidence — his tax returns. And, as the GOP operative turned Never Trumper Rick Wilson has pointed out, Barr's accusations of "spying" are designed not only to feed right-wing conspiracy theories about a "deep state" plotting to subvert Trump but also to sully "the future public, private, and legal testimony of members of the DOJ, FBI, and intelligence community who have seen the damning data on Trump and his claque." The goal? "To intimidate anyone who would investigate Trump's vast portfolio of corruption and obstruction of justice, both before and after he took office." http://nymag.com/intelligencer/2019/04/frank-rich-bill-barr-trump-fixer.html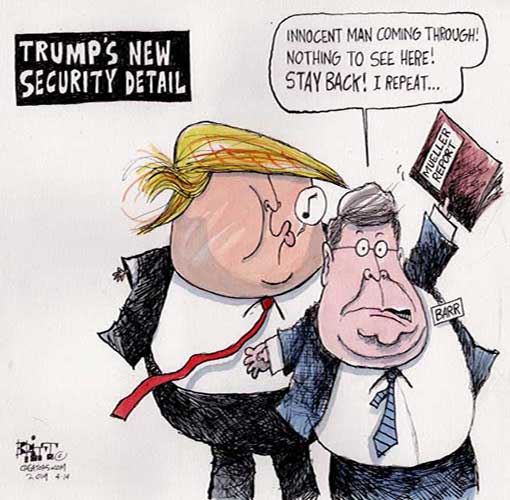 5. Zak Cheney-Rice: Ilhan Omar Never Stood a Chance
Omar is a Congressional "first," and her opponents smell blood in the water. Even her less-spotlit Muslim woman counterpart, Michigan Representative Rashida Tlaib, has faced dubious allegations of anti-Semitism and having terrorist sympathies. (Tlaib is Palestinian-American.) The political value of attacking both is apparent. For Republicans, it enables them to deflect from their own bigotry, personified most recently by a president who has attempted to ban Muslim immigration, dissolve the American asylum system, and cast Muslims as latent or active terrorists while demonizing brown-skinned immigrants more broadly. For centrist Democrats, entertaining the suggestion that Omar is anti-Semitic is an opportunity to signal their commitment to pluralism while shoring up their ties to Israel and its supporters. Both rely on a willful misreading of her intentions that is more compatible with anti-Muslim stereotypes than with her actual, documented opposition to human- and civil-rights violators of all stripes.
But Omar's treatment is a logical extension of decades of Islamophobic rhetoric and policy — much as the Reconstruction era response to black congressmen was an extension of centuries of anti-black sentiment and violence. Perhaps it should have been expected in a scenario where Republicans — whose platform and standard-bearer, Trump, call for the exclusion and maltreatment of Muslims, refugees, and asylum seekers — came face-to-face with a Muslim refugee and former asylum-seeker from Somalia who is now one of their peers. Political disagreement was bound to define the encounter. But anti-Muslim bigotry is not innate — it is a choice that Omar's detractors continue to make, and the dangers of doing are only becoming more apparent. Now that Trump has fanned the flames, the backlash only stands to intensify further. The costs are already steep, and they will only get higher. http://nymag.com/intelligencer/2019/04/ilhan-omar-islamophobic-backlash.html
6. Eric Levitz: Trump's Sanctuary-Cities Threat Is His Latest Bid to Govern by Sabotage
On Friday, the president announced that he is considering busing undocumented immigrants and asylum seekers from the southern border to liberal cities across the United States — and then releasing them onto the streets, in the hope that this would lead to so much chaos and/or violence that congressional Democrats will have no choice but to acquiesce to his demands on immigration.
"Due to the fact that Democrats are unwilling to change our very dangerous immigration laws, we are indeed, as reported, giving strong considerations to placing Illegal Immigrants in Sanctuary Cities only," Donald Trump tweeted. "The Radical Left always seems to have an Open Borders, Open Arms policy — so this should make them very happy!"
Here, Trump vouched for a Washington Post report that specifically suggested that the White House had repeatedly implored Immigration and Customs Enforcement to dump undocumented immigrants in Nancy Pelosi's congressional district — as a means of coercing House Democrats into granting the administration concessions in budget negotiations.
In other words, the president is ostensibly threatening to deliberately inflict harm on Americans who live in areas controlled by Democrats until a coequal branch starts taking his marching orders. And, in this respect, Trump's proposal to release immigrants in sanctuary cities (i.e., cities that do not fully cooperate with federal immigration authorities) isn't anything new. http://nymag.com/intelligencer/2019/04/trump-sanctuary-cities-plan-migrant-crisis-democrats-govern-by-sabotage.html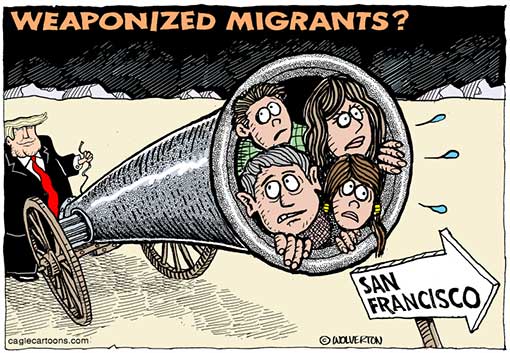 7. Paul Krugman: Republicans Are the Real Extremists Conspiracy theorists and enemies of democracy
All of Donald Trump's major policies have failed substantively, politically, or both. His one big legislative achievement, the 2017 tax cut, remains unpopular. His attacks on Obamacare have only enhanced public approval of the program. His fearmongering has cemented majority opposition to his proposed border wall.
But while today's G.O.P. can't do policy, it commands a powerful propaganda machine. And this machine is now dedicated to a strategy of portraying Democrats as extremists. It might work — but it shouldn't, because Democrats aren't extremists, but Republicans are.
The attack on Democrats has largely involved demonizing two new members of Congress, Representative Ilhan Omar and Representative Alexandria Ocasio-Cortez. Omar is Muslim, and the usual suspects have gone all-out in using an out-of-context quotation to portray her, completely falsely, as sympathetic to terrorists. AOC, who calls herself a democratic socialist — although she's really just a social democrat — has been the subject of obsessive coverage on the right. Over a six-week period, Fox News and Fox Business mentioned her more than 3,000 times, invariably portraying her as ignorant, radical, or both.
It's surely not an accident that these two principal targets are both women of color; there's a sense in which supposed concerns about extremism are just a cover for sexism and white nationalism. But it's still worth pointing out that while both Omar and AOC are on the left of the Democratic Party, neither is staking out policy positions that are extreme compared with either expert views or public opinion. https://www.nytimes.com/2019/04/15/opinion/republicans-ocasio-cortez-omar.html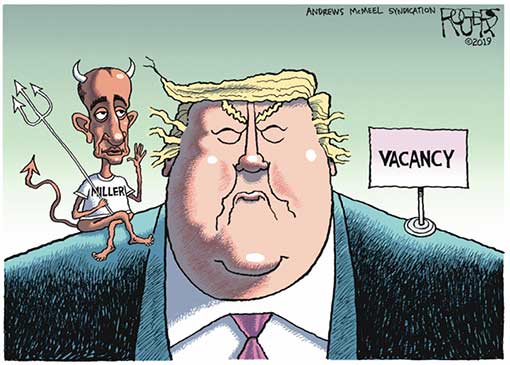 8. David Cay Johnston: Here's the Law That Requires Mnuchin to Turn Over Trump's Taxes, or Lose His Office and Go to Prison
Under Section 6103 of our tax code, Treasury officials "shall" turn over the tax returns "upon written request" of the chair of either congressional tax committee or the federal employee who runs Congress's Joint Committee on Taxation. No request has ever been refused, a host of former congressional tax aides tell me.
The crystal-clear language of this law applies to Trump, acting White House Chief of Staff Mick Mulvaney, Mnuchin and Rettig, federal employees all.
The law says all of them "shall" be removed from office if they fail to comply with the request from Representative Richard Neal, the Massachusetts Democrat who chairs the House Ways and Means Committee.
There are no qualifiers in Section 6103 that shield Trump from delivering, in confidence, his tax returns to Congress. No wiggle room at all.
Another provision in our tax code, Section 7214(a), provides that "Any officer or employee of the United States acting in connection with any revenue law of the United States… who with intent to defeat the application of any provision of this title fails to perform any of the duties of his office or employment… shall be dismissed from office or discharged from employment and, upon conviction thereof, shall be fined not more than $10,000, or imprisoned not more than 5 years or both." https://www.thedailybeast.com/heres-the-law-that-requires-steven-mnuchin-to-turn-over-trumps-taxes-or-lose-his-office-and-go-to-prison
9. David R. Lurie: William Barr Obliterated the DOJ's Standard for Defending Laws Because Donald Trump Asked
Attorney General William Barr has faced harsh criticism for his problematic treatment of the Mueller report, which some have suggested appeared to be calculated to benefit the president. But a different action Barr recently took at President Donald Trump's behest should be equally concerning. Last month, the attorney general announced that the United States will cease defending any portion of the Affordable Care Act in the courts. Instead, the DOJ will join a number of state attorneys general in challenging the constitutionality of the entire ACA, following the effective repeal of the individual mandate by Congress.
This comes after the DOJ stopped defending the constitutionality of the ACA's protection of insurance coverage for those with preexisting conditions last year. In taking the position that the entire ACA is constitutionally void, Barr abandoned a long-standing principle that the Department of Justice is duty-bound to defend the constitutionality of federal laws. In the words of one of Barr's predecessors, such an action by the nation's chief law enforcement officer may jeopardize the equilibrium of our constitutional system.
Barr has all but acknowledged that the arguments against the ACA's constitutionality, although they were accepted by one trial judge, are far from compelling; in fact, most observers (including some opponents of the law) consider them to be extremely weak. But during testimony before Congress this week, Barr stated that he nonetheless feels duty-bound to attack the ACA in the courts because Trump, after failing to convince a majority of the Senate to vote in favor of repealing the ACA, is now eager to see the act nullified by the courts instead.
Barr's decision is at direct odds with a policy upheld for decades by attorneys general in Republican and Democratic administrations. As President Ronald Reagan's first attorney general, William French Smith, wrote in 1981, the DOJ has "a duty to defend the constitutionality of an Act of Congress whenever a reasonable argument can be made in its support." https://slate.com/news-and-politics/2019/04/william-barr-aca-lawsuit-donald-trump-doj.html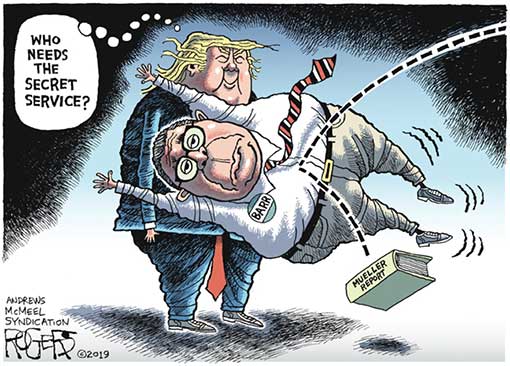 10. Dana Milbank: For Trump, the name of the season is treason
This must be the season for treason.
Trump has publicly invoked "treason" or "treasonous" on 26 occasions, according to the Factba.se compilation of Trump utterances. That's in addition to various and sundry "traitor" references. He began by accusing the likes of Bowe Bergdahl, Edward Snowden and Chelsea Manning, then moved on to include the executives of Univision and Macy's, Republicans who didn't support him, Democratic lawmakers who didn't applaud him, the failing New York Times, the media generally, people in his administration who leak, and Barack Obama, Bill Clinton, Hillary Clinton, John Podesta, Eric Holder, Loretta E. Lynch, Huma Abedin, James B. Comey, James R. Clapper Jr., Rod J. Rosenstein, Robert S. Mueller III, Andrew McCabe, Lisa Page and Peter Strzok.
Trump knows the seriousness of the charge of treason, therefore he must be interpreting treason the way King Henry VIII did, in the lèse-majesté sense: Treason is anything that offends the dignity of the sovereign. Disagreement with Trump is an offense against the state, just as Henry executed unfaithful wives for treason.
This means the following people have committed capital crimes: All journalists and late-night hosts. Anyone who leaks. All Democratic members of Congress and people who worked in Democratic administrations. Anyone who ran against Trump. Anyone who criticizes Trump on social media. Anyone who voted against Trump.
This means 65,853,514 Hillary Clinton voters will have to be imprisoned or executed. The U.S. criminal-justice system can't handle much more than the 2.3 million people it already holds. This unfortunately argues for mass execution — unless exile is a possibility? Imagine the size of that caravan heading south toward Mexico.
Democrats continue to commit treason by disagreeing with Trump on immigration, though most treason these days is committed by Justice. An image Trump retweeted in November, showing various current and former senior law enforcement officials (including Trump's own appointee Rosenstein) behind bars, asked: "When do the trials for treason begin?"
Trump's new attorney general, William P. Barr, has been fueling Trump's paranoia. His declaration this week that law enforcement officials were "spying" on the Trump campaign prompted a new cry of treason.
During his confirmation hearings, Barr said "the Barrs and Muellers were good friends and would be good friends when this is all over." Maybe they can reminisce about their friendship while Mueller awaits his turn on the gallows. https://www.washingtonpost.com/opinions/for-trump-the-name-of-the-season-is-treason/2019/04/12/f8c5c44c-5d33-11e9-a00e-050dc7b82693_story.html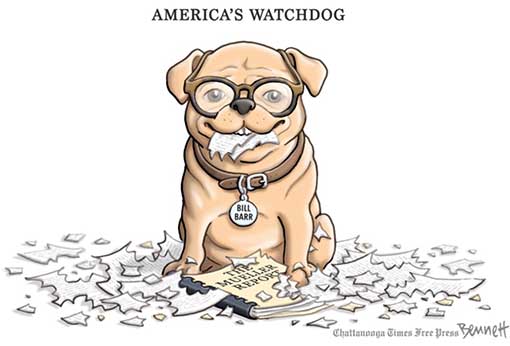 11. Greg Sargent: Just say it: Trump's attacks on Ilhan Omar are designed to incite hatred
On Monday, President Trump is set to travel to Minnesota for an economic roundtable that will take place just outside the congressional district of Democratic Rep. Ilhan Omar. This comes after Trump tweeted out a video that wrenches some recent Omar remarks out of context to portray her as trivializing 9/11.
The New York Times reports that the decision to hold the event near Omar's district is a "calculated choice," one that's part of a broader effort to elevate Omar into the "most prominent voice of the Democratic Party." The Times adds that Trump and his team see "limited downside" to this strategy.
Limited downside? Omar just released a statement claiming: "Since the president's tweet Friday evening, I have experienced an increase in direct threats on my life — many directly referencing or replying to the president's video."
One cannot conclusively establish one way or the other whether Trump actively wants to see physical harm befall Omar. But here's what we can say right now: Trump's attacks absolutely are designed to incite hatred of Muslims, and the fact that this could have horrifying consequences does not weigh on him in the slightest.
We know these things, because Trump's monumentally dishonest treatment of Omar's quote, as well as his own long history, leave no doubt about them. Trump has used 9/11 to stir up hatred of Muslims before — relying on massively deceptive agitprop to do so — and he has repeatedly continued trafficking in various tropes even after they have been confirmed to potentially play some kind of role in inciting hate and even murder. https://www.washingtonpost.com/opinions/2019/04/15/just-say-it-trumps-attacks-ilhan-omar-are-designed-incite-hatred/