March 21, 2019
ON THE RECORD. . .
The ideas behind the Green New Deal are "tantamount to genocide. That may be an overstatement but not by a whole lot." — Rep. Rob Bishop (R-UT)
"The president feels very strongly about his authority, and a number of us feel very strongly about the Constitution." — Sen. Lamar Alexander (R-TN), explaining why he was one of 12 Republicans to vote for the resolution of disapproval over Trump's border emergency declaration.
"You know, the left plays a tougher game, it's very funny. I actually think that the people on the right are tougher, but they don't play it tougher. Okay? I can tell you I have the support of the police, the support of the military, the support of the Bikers for Trump – I have the tough people, but they don't play it tough — until they go to a certain point, and then it would be very bad, very bad. —  Trump to Breitbart News Washington Political Editor Matthew Boyle
"We are asking for dire consequences. And I think it's time for the Congress — House and Senate — to grow spines, and do what is necessary to protect this democracy. This man (Trump) and his family are the greatest threats to democracy of my lifetime." — House Majority Whip James Clyburn (D-SC).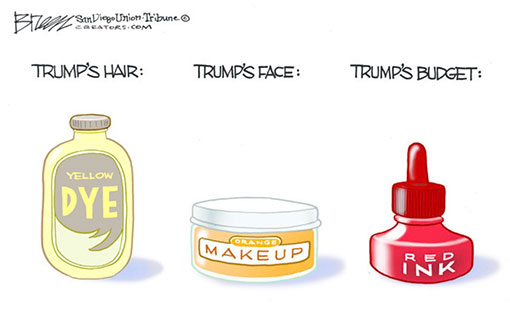 "Oh, that's the Beto line. No, I will say that, you know, I have a lot of respect for Beto. And it's great to have some Texas in this race. But no, I wasn't born to run for office, just because growing up in the '70s, in the middle of the country, I don't think many people thought a girl could be president. I wasn't born to run. But I am running." — Sen. Amy Klobuchar (D-MN), in an interview on Meet the Press, when asked if she was born to run for president.
"Time and time again, this president has embraced and emboldened white supremacists — and instead of condemning racist terrorists, he covers for them. This isn't normal or acceptable. We have to be better than this." -- Sen. Kirsten Gillibrand (D-N.Y.) on Twitter.
"Daily reminder that we have a **Muslim Ban** in this country made out of the President's hostility to Muslim people w/ little-to-no supporting evidence, and a Republican Party that tolerates it. There is so much work to do. Repealing the Ban is square 1." — Rep. Alexandria Ocasio-Cortez (D-N.Y.) on Twitter.
"Governments are real offenders when it comes to disinformation. In my own country, the United States, the worst perpetrator of false information is the President of the United States." — The U.N. Special Rapporteur on Freedom of Expression and Opinion David Kaye 
The Democrats in Congress yesterday were vicious and totally showed their cards for everyone to see. When the Republicans had the Majority they never acted with such hatred and scorn! The Dems are trying to win an election in 2020 that they know they cannot legitimately win! — Donald Trump, laying the groundwork to de-legitimize the 2020 election.
To Republicans who've been inclined to acquiesce in a Trump re-nomination in 2020: Read his tweets this morning. Think seriously about his mental condition and psychological state. Then tell me you're fine with him as president of the United States for an additional four years. — Bill "Slightly Dangerous" Kristol@BillKristol
Proud of my good friend @MeghanMcCain for staying so composed through this nonsense. The McCain family doesn't deserve it and neither does this great country. Leadership and decency may not matter on a reality show, but it sure as hell matters when you're running the free world. — Abby Huntsman@HuntsmanAbby
"Going everywhere, writing nobody off, taking no one for granted, could care less . . . what party you belong to, to whom you pray or whether you pray at all, who you love, how many generations you've been here, whether you just got here yesterday. We're going to define ourselves by our aspirations, our ambitions and the ability to bring this country together." — Beto O'Rourke
Tell us, @realDonaldTrump—which of these diagnostic criteria do you not satisfy? — George Conway@gtconway3d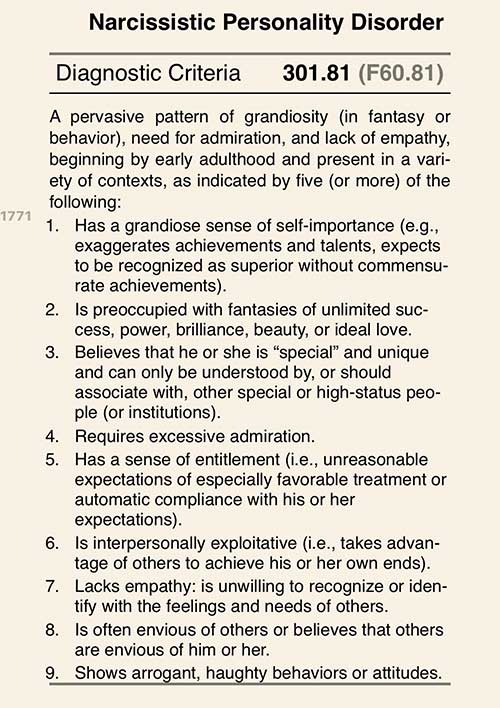 "I think he would be horrified. I think he would be heartbroken — because he loved this country a lot and he believed in this country." — Patti Davis, the daughter of the late President Ronald Reagan, saying that her father would be "horrified" by the state of the U.S. and the Republican Party under President Trump.
---
IN THIS ISSUE
FYI
OPINION
1. Andy Borowitz: Kremlin Names Trump Employee of the Month
Capping an extraordinary year for the former television host, the Kremlin has named Donald J. Trump its Employee of the Month for December.

"No one has worked more tirelessly for the glory of the Fatherland than Donald Trump," the Russian President Vladimir Putin said in an official statement. "He has set a high bar for all Kremlin employees, and for that, we salute him."

To mark the honor, Trump's name will be added to a plaque that hangs in the hallway outside the Kremlin's H.R. office.

According to Kremlin sources, Trump faced tough competition in the Employee of the Month voting, besting both Syrian President Bashar al-Assad and ExxonMobil's C.E.O., Rex Tillerson.

Speaking to reporters at his Mar-a-Lago estate, in Florida, Trump called the award "a tremendous honor, just tremendous."

"Obama was President for eight years and he didn't win this a single month," he said. "Loser." https://www.newyorker.com/humor/borowitz-report/
2. Trump is the pettiest president
Trump's ridicule of the late Arizona Sen. John McCain came during a weekend tweeting spree that was, even by the president's own very low standards, extraordinary for its sustained thin-skinned narcissism. He complained about a Saturday Night Live rerun, about a pair of insufficiently toadying Fox News anchors, and, of course, about Special Counsel Robert Mueller's investigation into his 2016 presidential campaign.
His criticism of McCain wasn't just incorrect — yes, McCain took the now-infamous Steele Dossier to the FBI, but he did it after Election Day — but extraordinarily petty. Even Sen. Lindsey Graham (R-S.C.), who has become one of Trump's most loyal sidekicks, felt compelled to issue a corrective of sorts." https://theweek.com/articles/829750/trump-pettiest-president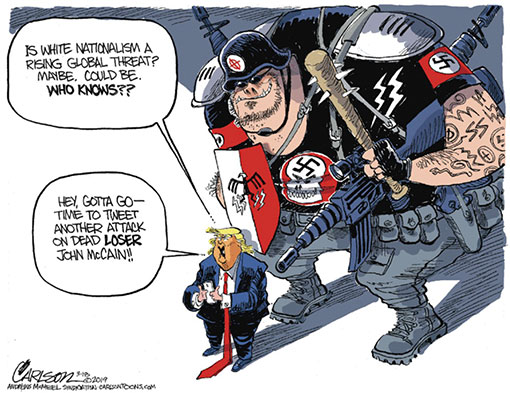 3. Twitter's Insiders Are Skeptical About Beto O'Rourke. Iowans Don't Seem To Care.
Across a breathtaking succession of stops throughout Iowa, from three different countertops, one podcast studio, and one truck bed, the first three days of O'Rourke's campaign unfolded a world away. It wasn't that Iowans hadn't seen the skepticism about O'Rourke. It was that many of them didn't much care. They saw an O'Rourke much closer to the one stormed across Texas, coming within a narrow margin of defeating Cruz."
They were entranced, they said, by his charisma, his oratory, and his particular style of campaigning — down-to-earth, personal, and relentlessly positive. Though few were willing to commit to voting for him, as is common this early in Iowa, many said they were convinced that he could deliver on the promise of unity that he offered at every campaign stop. https://www.buzzfeednews.com/article/mollyhensleyclancy/beto-orourke-iowa-2020-president-twitter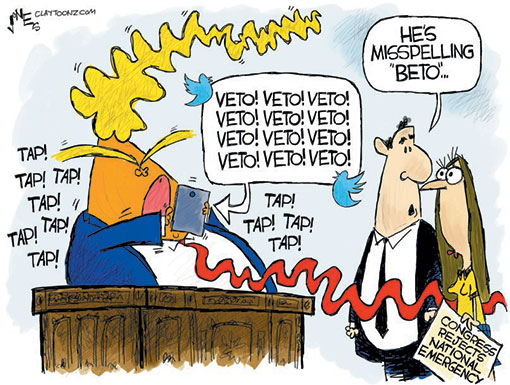 4. Poll: Half of Americans say Trump is victim of a 'witch hunt' as trust in Mueller erodes
A new USA Today/Suffolk University Poll finds that trust in special counsel Robert Mueller has eroded and half of Americans now agree with President Trump's contention that he has been the victim of a "witch hunt."
Meanwhile, support for the House of Representatives to seriously consider impeaching the president has dropped since last October by 10 percentage points, to 28% . https://www.usatoday.com/story/news/politics/2019/03/18/trust-mueller-investigation-falls-half-americans-say-trump-victim-witch-hunt/3194049002/
5. Trump Says There Should Be No Mueller Report
Trump tweeted there there should be no report from special counsel Robert Mueller's Russia investigation, saying the investigation was "illegal."
Said Trump: "So, if there was knowingly & acknowledged to be 'zero' crime when the Special Counsel was appointed, and if the appointment was made based on the Fake Dossier (paid for by Crooked Hillary) and now disgraced Andrew McCabe (he & all stated no crime), then the Special Counsel… should never have been appointed and there should be no Mueller Report." https://twitter.com/realDonaldTrump/status/1106552621152780289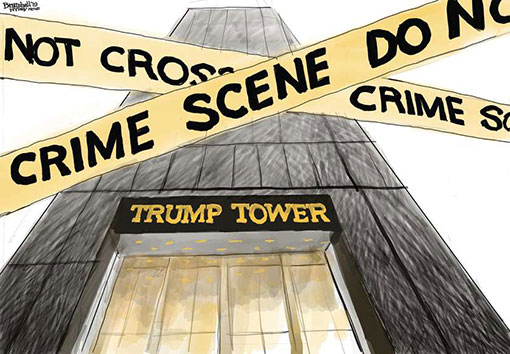 6. Mnuchin says he'll protect Trump privacy if taxes requested
Treasury Secretary Steven Mnuchin suggested he will protect President Trump's privacy if he receives a request from House Democrats for Trump's tax returns, NBC Newsreports.
Said Mnuchin: "We will examine the request and we will follow the law… and we will protect the president as we would protect any taxpayer." https://www.nbcnews.com/politics/congress/mnuchin-says-he-ll-protect-trump-privacy-if-taxes-requested-n983336?cid=public-rss_20190314
7. The DAILY GRILL
"She's not getting this anti-Israel sentiment doctrine from the Democrat Party. So if it's not rooted in the party, where is she getting it from? Think about it. Omar wears a hijab, which according to the Koran 33:59, tells women to cover so they won't get molested. Is her adherence to this Islamic doctrine indicative of her adherence to sharia law, which in itself is antithetical to the United States Constitution?" — Jeanine Pirro, criticizing Rep. Ilhan Omar (D-Minn.).

VERSUS

Bring back @JudgeJeanine Pirro. The Radical Left Democrats, working closely with their beloved partner, the Fake News Media, is using every trick in the book to SILENCE a majority of our Country. They have all out campaigns against @FoxNews hosts who are doing too well. Fox …. — Donald J. Trump@realDonaldTrump

 

Spreading the fake and totally discredited Dossier "is unfortunately a very dark stain against John McCain." Ken Starr, Former Independent Counsel. He had far worse "stains" than this, including thumbs down on repeal and replace after years of campaigning to repeal and replace! — Donald J. Trump@realDonaldTrump

VERSUS

No one will ever love you the way they loved my father.... I wish I had been given more Saturday's with him. Maybe spend yours with your family instead of on twitter obsessing over mine? — Meghan McCain@MeghanMcCain
8. From MEDIA MATTERS (They watch Fox News so you don't have to)
Fox News is already spreading misinformation about newly announced Democratic presidential candidate Beto O'Rourke. During a segment on America's Newsroom about O'Rourke's announcement that he is running for president, co-anchor Sandra Smith listed what she labeled "some of O'Rourke's policy positions." Among them, she said O'Rourke "called law enforcement the 'new Jim Crow.'" Fox News has been pushing the claim that its "hard news" division is separate from its opinion shows and commentators. But this example of a Fox anchor dutifully repeating a false talking point about O'Rourke -- one that had already been repeatedly pushed by a Fox & Friends co-host and President George W. Bush's former deputy chief of staff -- is just further evidence that no such editorial divide exists at Fox. https://www.mediamatters.org/blog/2019/03/14/fox-news-anchor-recycled-debunked-claim-about-beto-o-rourke/223142

Fox's "news side" runs with a farcical report that the DOJ "ordered" the FBI not to charge Clinton. Last night's Special Report was a case study in how Fox's news team operates. https://www.mediamatters.org/blog/2019/03/14/foxs-news-side-runs-farcical-report-doj-ordered-fbi-not-charge-clinton/223139

Rush Limbaugh suggests New Zealand shootings might be a false flag attack committed by a leftist to smear conservatives. Limbaugh: "There's an ongoing theory that the shooter himself may in fact be a leftist who writes the manifesto and then goes out and performs the deed purposely to smear his political enemies." https://www.mediamatters.org/video/2019/03/15/rush-limbaugh-suggests-new-zealand-shootings-might-be-false-flag-attack-committed-leftist-smear/223154

Fox's Jeanine Pirro suggested that Rep. Ilhan Omar and Rep. Rashida Tlaib are representing other countries in Congress. The day before Pirro's anti-Muslim hijab remarks on Fox News, the host used her Fox Nation program to accuse Reps. Omar and Tlaib of dual loyalty . https://www.mediamatters.org/video/2019/03/18/Foxs-Jeanine-Pirro-suggested-that-Rep-Ilhan-Omar-and-Rep-Rashida-Talib-are-representing-ot/223164

Fox host tells viewers to stock up on AR-15s after Democratic presidential candidate speaks out against them. Pete Hegseth: "Go out and get your second AR-15 today. Maybe it's a good reason to do so." https://www.mediamatters.org/video/2019/03/17/fox-host-tells-viewers-stock-ar-15s-after-democratic-presidential-candidate-speaks-out-against-them/223161

Pat Robertson: LGBTQ people exist "in our country because we've lost sight of God." https://www.mediamatters.org/video/2019/03/20/Pat-Robertson-LGBTQ-people-exist-in-our-country-because-weve-lost-sight-of-God/223193

Instagram is the new home for Alex Jones and Infowars. Since December, Alex Jones has used Instagram to post Infowars videos featuring hate speech, conspiracy theories, and extremist figures who are banned from the platform. https://www.mediamatters.org/blog/2019/03/19/instagram-new-home-alex-jones-and-infowars/223178


9. Howard Schultz and His Team Think the Backlash Means They're 'Onto Something'
Anyone who thought, or hoped, that the flood of horror in response to Howard Schultz's independent presidential exploration would deter him might want to sit down for this. Because the former Starbucks chairman and his band of true believers are convinced — and getting more unblinkingly convinced by the day — that the anger is conveniently packaged proof that they're paving the right path. http://nymag.com/intelligencer/2019/03/for-howard-schultzs-team-the-backlash-is-encouragement.html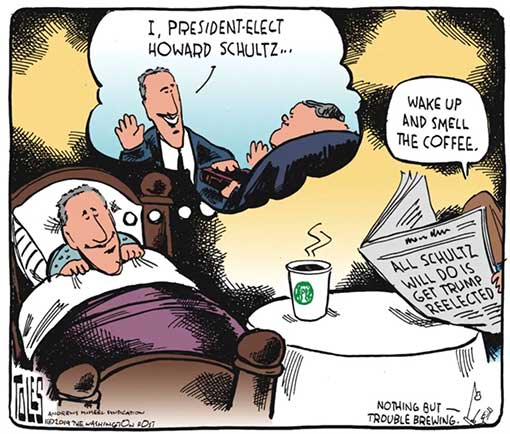 10. From the Late Shows
The Late Show with Stephen Colbert: All New Zealand Asked Trump For Was 'Love': https://youtu.be/WBr9lj4AWJ0

The Late Show with Stephen Colbert: Celebrities Give Bribery The Old College Try: https://youtu.be/IDonHSDF9HI

Jimmy Kimmel Live: Whatever You Do DON'T Follow @DevinCow on Twitter: https://youtu.be/WOa8aqo9QM8

Late Night with Seth Meyers: Beto Announces 2020 Bid and Trump Attacks Him: A Closer Look: https://youtu.be/CuXlBSuQbMo
11. Senate vote on Trump's emergency plan shows the dividends Democrats are reaping from midterms
President Donald Trump can veto a resolution blocking his border emergency declaration. If it clears the Republican-led Senate on Thursday, Democrats lack the votes to override him.
But the episode shows again what the 2018 midterm elections brought the GOP: constant pressure.
Democratic control of the House won't produce much legislation in a divided Washington, but it has already produced a fundamental shift in political leverage.
During the first half of Trump's term, Republicans at both ends of Pennsylvania Avenue protected each other. Congress shielded the president from oversight; House and Senate leaders shielded their members from casting politically perilous votes.
The shift in White House accountability has attracted the most attention so far, for good reason. The House Intelligence, Financial Services, Oversight and Judiciary committees have piled overlapping probes of their own onto investigations by prosecutors for special counsel Robert Mueller, the Southern District of New York, the state of New York and the Manhattan district attorney.
Those House initiatives alone could effectively cripple the administration over the next two years. Through the impeachment process, they could even cut it short. https://www.cnbc.com/2019/03/14/senate-vote-on-trumps-emergency-plan-shows-midterm-dividends-for-democrats.html
12. Missouri lawmaker files bills requiring some residents to own AR-15s, handguns
Two bills introduced by Missouri state Rep. Andrew McDaniel ® would require residents to purchase firearms while providing $1 million in tax credits on a first-come, first-served basis to residents who fall under the law.
The first bill, the McDaniel Second Amendment Act, would require Missouri residents aged 21 or older to purchase a handgun. It also would allot up to $1 million per year in tax credits for residents who purchased weapons to comply with the law. The bill was filed in late February.
The second bill, the McDaniel Militia Act, was filed days after the handgun bill and would require Missouri residents aged 18 to 35 to purchase an AR-15. It also would provide a tax credit of up to $1 million per year to incentivize the purchase of weapons. https://thehill.com/homenews/state-watch/434402-missouri-lawmaker-files-bills-requiring-some-residents-to-own-ar-15s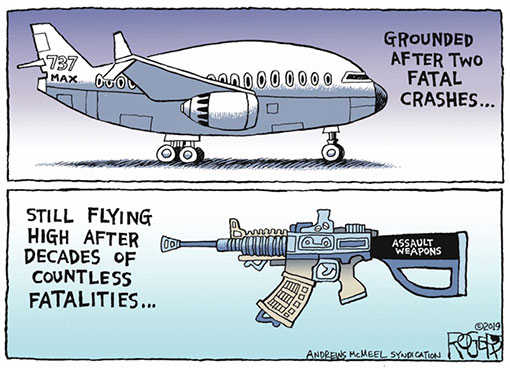 13. Joaquin Castro "All But Certain" to Challenge John Cornyn for U.S. Senate
Rep. Joaquin Castro (D-TX) is "all but certain" to enter next year's race for U.S. Senate and take on incumbent Republican John Cornyn,.
The move would profoundly change the dynamics of the 2020 campaign and put Texas squarely on center stage, with two Texans already in the Democratic primary race and Joaquin taking on a longtime Republican senator who many see as vulnerable, especially during a presidential election year. https://www.nytimes.com/2019/03/14/upshot/beto-2020-texas-battleground-white-voters.html
14. Rep. Nunes Sues Twitter and Individual Users, Including @DevinNunesMom, for Defamation
California Rep. Devin Nunes filed suit against Twitter Monday alleging the social media company was "shadow-banning conservatives" (surreptitiously minimizing the reach of their tweets) and enabling defamatory harassment on the platform. The super Trumpy ranking member on the House Intelligence Committee is seeking $250 million in compensatory damages and $350,000 in punitive damages. The suit also targets a handful of individual Twitter users, including @DevinNunesMom, "Devin Nunes' Cow" or @DevinCow, and Republican consultant Liz Mair, who worked with the anti-Trump dark money group the Swamp Accountability Project, which also took aim at Nunes online. https://slate.com/news-and-politics/2019/03/devin-nunes-sues-twitter-and-users-including-devinnunesmom-for-defamation.html
15. Bernie Sanders Just Hired His Twitter Attack Dog
Shortly before he gave speeches launching his 2020 campaign earlier this month, Bernie Sanders emailed his supporters, urging them to "do our very best to engage respectfully with our Democratic opponents—talking about the issues we are fighting for, not about personalities or past grievances. I want to be clear that I condemn bullying and harassment of any kind and in any space."
What he didn't include was that one of the people already advising him and helping him write those launch speeches is one of his most famously aggressive supporters online.
Since December, David Sirota has, on Twitter, on his own website, and in columns in The Guardian, been trashing most of Sanders's Democratic opponents—all without disclosing his work with Sanders—and has been pushing back on critics by saying that he was criticizing the other Democrats as a journalist. He centered many of his attacks on Beto O'Rourke, but he also bashed Kamala Harris, Cory Booker, Joe Biden, Kirsten Gillibrand, Michael Bennet, John Hickenlooper, Mike Bloomberg, and even Andrew Cuomo. https://www.theatlantic.com/politics/archive/2019/03/sanders-promised-civility-hired-twitter-attack-dog/585259/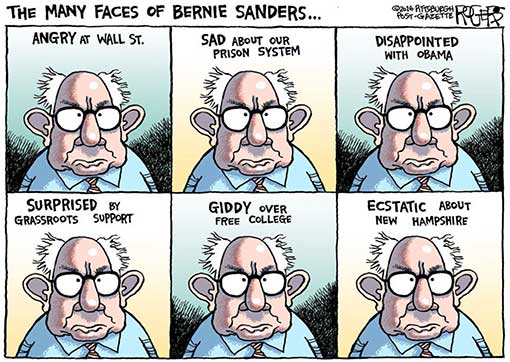 16. Federal judge demands Trump administration reveal how its drilling plans will fuel climate change
A federal judge ruled late Tuesday that the Interior Department violated federal law by failing to take into account the climate impact of its oil and gas leasing in the West.
The decision by U.S. District Judge Rudolph Contreras of Washington could force the Trump administration to account for the full climate impact of its energy-dominance agenda, and it could signal trouble for the president's plan to boost fossil fuel production across the country. Contreras concluded that Interior's Bureau of Land Management "did not sufficiently consider climate change" when making decisions to auction off federal land in Wyoming to oil and gas drilling under Barack Obama in 2015 and 2016. The judge temporarily blocked drilling on roughly 300,000 acres of land in the state. https://www.washingtonpost.com/climate-environment/2019/03/20/federal-judge-casts-doubt-trumps-drilling-plans-across-us-because-they-ignore-climate-change/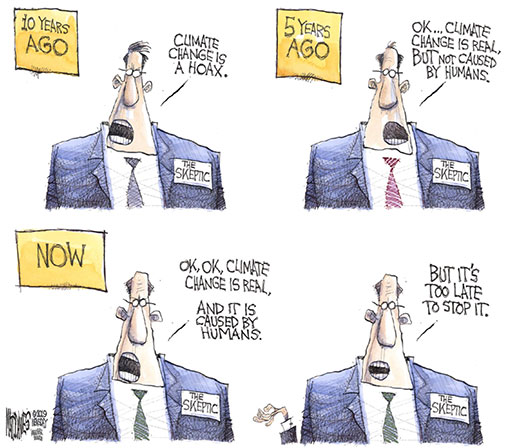 17. Trump Faces Failing Strategy on Auto Jobs
Trump's attempts to save manufacturing jobs have battered the auto industry and could erode his loyal base in the Midwest.
Trump's tariffs on steel and aluminum have cost Ford and GM about $1 billion each… Potentially making things even worse, Trump is now weighing new tariffs on foreign automobiles that could threaten hundreds of thousands of additional U.S. jobs. https://www.politico.com/story/2019/03/19/trump-gm-auto-plant-ohio-1282884
1. Peter Wehner: A Damaged Soul and a Disordered Personality
A reason we should pay attention to the tweets and other comments by the president is that they are shafts of light that illuminate not only his damaged soul, but his disordered personality.
It doesn't take a person with an advanced degree in psychology to see Trump's narcissism and lack of empathy, his vindictiveness and pathological lying, his impulsivity and callousness, his inability to be guided by norms, or his shamelessness and dehumanization of those who do not abide his wishes. His condition is getting worse, not better—and there are now fewer people in the administration able to contain the president and act as a check on his worst impulses.
This constellation of characteristics would be worrisome in a banker or a high-school teacher, in an aircraft machinist or a warehouse manager, in a gas-station attendant or a truck driver. To have them define the personality of an American president is downright alarming.
Whether the worst scenarios come to pass or not is right now unknowable. But what we do know is that the president is a person who seems to draw energy and purpose from maliciousness and transgressive acts, from creating enmity among people of different races, religions, and backgrounds, and from attacking the weak, the honorable, and even the dead.
Donald Trump is not well, and as long as he is president, our nation is not safe. https://www.theatlantic.com/ideas/archive/2019/03/trump-tweets-attack-john-mccain/585193/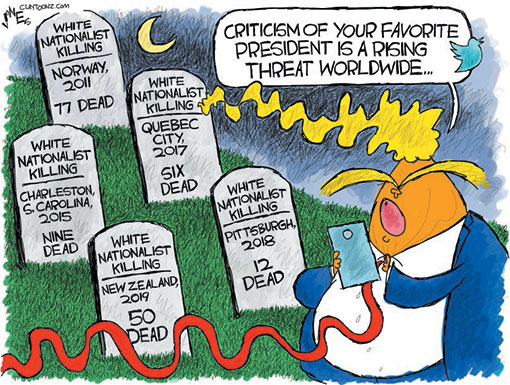 2. Brian Klaas: A short history of President Trump's anti-Muslim bigotry
On Friday, 49 people were killed in a terrorist attack at two mosques in Christchurch, New Zealand — the country's worst mass killing since 1943. A suspect charged in the attack was reportedly an anti-Muslim zealot.
As news of the attack was unfolding, President Trump tweeted a link to Breitbart — a far-right "news" site. Breitbart has published vile anti-Muslim hatred, including calling Muslims "rapefugees," mocking the notion of Islamophobia, and absurdly claiming that terrorist attacks are "an expression of mainstream Muslim values." It's a site where Muslim-hating white supremacists — like at least one of those who allegedly carried out the attack in Christchurch — would find writers who gave them rhetorical ammunition for their ideologies of hate. (Trump has since deleted the tweet.)
Trump is an Islamophobic bigot. As president, his words matter. He is using them to spread hatred. And deranged, unwell or evil people have allegedly been inspired by those words to target the very people that Trump targets in his speeches and his tweets. The charged suspect in New Zealand cited Trump "as a symbol of renewed white identity and common purpose" (though he also said he rejected Trump as a policymaker and leader).
Trump's anti-Muslim bigotry has a long history. In 2011 and 2012, Trump insinuated that President Barack Obama was secretly Muslim. In September 2015, at a campaign rally, Trump nodded along as a supporter claimed "we have a problem in this country; it's called Muslims." Trump continued nodding, saying "right," and "we need this question!" as the supporter then proceeded to ask Trump "when can we get rid of them [Muslims]?" In response, Trump said: "We're going to be looking at a lot of different things."
In November 2015, on "Morning Joe," Trump said that America needs to "watch and study the mosques." Four days later, he indicated that he would "certainly implement" a database to track Muslims in the United States. Two days after that, he falsely claimed that "thousands and thousands" of Muslims cheered in New Jersey when the World Trade Center collapsed on Sept. 11, 2001. https://www.washingtonpost.com/opinions/2019/03/15/short-history-president-trumps-anti-muslim-bigotry/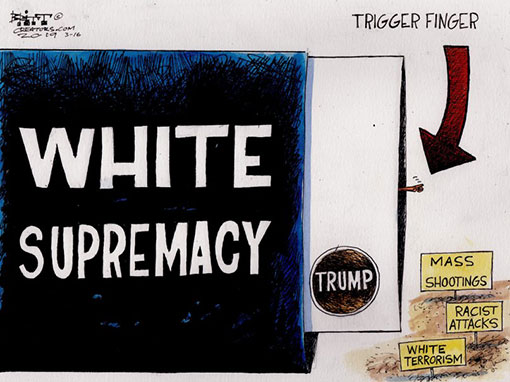 3. Ilhan Omar: We must apply our universal values to all nations. Only then will we achieve peace.
I saw firsthand the devastating toll of war. And I dreamed of one day coming to the United States of America — a land that promised peace and opportunity regardless of one's faith or ethnicity. But I also saw how America's image in the world is undermined when we don't live up to those values. And I witnessed how our continuous involvement in foreign conflicts — even those undertaken with the best of intentions — can damage our own reputation abroad.
I believe in an inclusive foreign policy — one that centers on human rights, justice and peace as the pillars of America's engagement in the world, one that brings our troops home and truly makes military action a last resort. This is a vision that centers on the experiences of the people directly affected by conflict, that takes into account the long-term effects of U.S. engagement in war and that is sincere about our values regardless of short-term political convenience.
This means reorienting our foreign affairs to focus on diplomacy and economic and cultural engagement. At a time when we spend more on our military than the next seven countries combined, our global armed presence is often the most immediate contact people in the developing world have with the United States. National security experts across the political spectrum agree that we don't need nearly 800 military bases outside the United States to keep our country safe.
Valuing human rights also means applying the same standards to our friends and our enemies. We do not have the credibility to support those fighting for human rights in Venezuela, Cuba and Nicaragua if we do not also support those fighting for human rights in Honduras, Guatemala and Brazil. Our criticisms of oppression and regional instability caused by Iran are not legitimate if we do not hold Egypt, the United Arab Emirates and Bahrain to the same standards. https://www.washingtonpost.com/opinions/ilhan-omar-we-must-apply-our-universal-values-to-all-nations-only-then-will-we-achieve-peace/2019/03/17/0e2d66fc-4757-11e9-aaf8-4512a6fe3439_story.html
4. Carol Anderson: Our Democracy Is Being Stolen. Guess Who the Thieves Are.
The Republicans would have the nation believe that the threat to our democracy is from voter fraud, where someone impersonates someone else to cast an illegal ballot or multiple ballots to "steal elections." But the chance of voter fraud occurring is, at best, 0.0000044 percent.
The real theft of American democracy happens through election fraud and voter suppression. And Republicans are the thieves.
What happened in North Carolina during the 2018 midterms was a textbook case of election fraud. That's when a candidate's campaign sets out to manipulate vote tallies to steal an election.https://www.nytimes.com/2019/03/14/opinion/voting-fraud-north-carolina.html
5. Bess Levin: Top Trump Officials Ratf**ked Us Into A Trade War
When Gary Cohn finally quit his job at the White House in March 2018, it was over Donald Trump's decision to hit China with tariffs, which the ex-Goldman Sachs president had insisted was a terrible idea that would only hurt the U.S. and not extract the concessions from Beijing Trump wanted, or do anything to shrink the trade deficit. One year later, the former National Economic Council director, among others, appears to have been correct: negotiators have yet to strike an agreement, despite the White House's weekly insistence that one is just around the corner. Last week, the Commerce Department said the United States posted an $891.2 billion trade deficit for 2018, the largest in our 243-year history. But according to Cohn, he didn't quit over the tariffs, per se, but rather because of the totally shady, ratfucking way Commerce Secretary Wilbur Ross and economic adviser Peter Navarro went about convincing the president to implement them. https://www.vanityfair.com/news/2019/03/gary-cohn-peter-navarro-wilbur-ross-trade-war
6. Joe Lockhart: Trump's thuggish threat of violence against his critics
How deeply has President Trump taken our politics into the gutter?
Fast forward to 2019 and now we have President Trump telling Breitbart News, "I have the support of the police, the support of the military, the support of Bikers for Trump -- I have tough people, but they don't play it tough until they go to a certain point and then it would be very, very bad." Twenty-five years after the Helms incident, though, there certainly won't be an apology from Trump for threatening violence against his political opponents, there won't be an investigation and I bet we don't find it on the front page of any newspaper.
It's hard to overestimate the damage President Trump has done to our political climate when comments like this go virtually unnoticed. We've all become numb to the lying, bullying and physical threats the President makes almost daily.
But the real damage goes beyond the lost comity. What is behind these statements is a different kind of, and much more serious, threat to our democracy. President Trump is seeking to undermine the foundations of our democracy as a way of gaining and holding on to power.
Remember back in 2016 when he trailed Hillary Clinton in the polls. Despite dogged attempts from reporters, Trump would not say he would respect the results of the vote on election night. He talked repeatedly about the election being rigged and voter fraud and certainly suggested his voters might take to the streets if the election was "stolen" from him.
The office of the presidency has done nothing to instill any more respect for the system or personal dignity for Trump. Whether it's threatening Democrats with bodily harm, egging on supporters' attacks on the media or again refusing to say he will respect the results at the ballot box, the President continues an all-out assault on the basis of our democracy. https://www.cnn.com/2019/03/14/opinions/trumps-thuggish-threat-of-violence-against-his-critics-lockhart/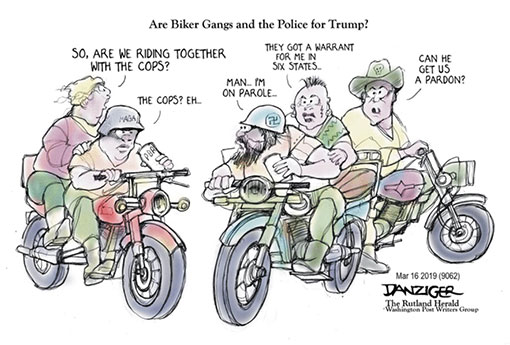 7. Fareed Zakaria: Brexit will mark the end of Britain's role as a great power
One of the great strengths of democracy is that bad policies are often reversed. That's a consolation when we look at the flurry of pandering programs being enacted as the populist wave works its way through the Western world. When a new government is elected, things can be undone. Except for Brexit, which, if it goes through, might prove to be the most profound legacy of this decade.
Britain, famous for its prudence, propriety and punctuality, is suddenly looking like a banana republic as it makes reckless decisions, misrepresents reality and now wants to change its own self-imposed deadline. But if it does leave the European Union, it would be bad news for Britain, Europe and the West.
The world order as we know it was built over two centuries, during the reigns of two liberal, Anglo superpowers — Britain and then the United States. Brexit would mark the end of Britain's role as a great power, and I wonder whether it would also mark the day that the West, as a political and strategic entity, begins to crumble. https://www.washingtonpost.com/opinions/global-opinions/brexit-will-mark-the-end-of-britains-role-as-a-great-power/2019/03/14/5df139fa-468c-11e9-8aab-95b8d80a1e4f_story.html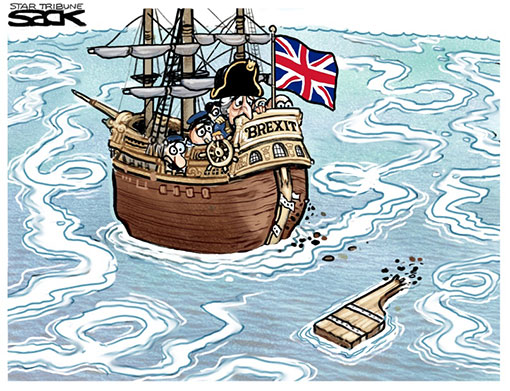 8. John Cassidy: It's Time to Confront the Threat of Right-Wing Terrorism
On Friday, when he was asked whether he thought that white nationalism was a rising threat around the world. "I don't really," Trump absurdly said. "I think it's a small group of people that have very, very serious problems. It's certainly a terrible thing." Of course, Trump had good reason to try to minimize the threat from the extreme right. In his manifesto, Tarrant praised Trump as "a symbol of renewed white identity and common purpose," while also criticizing his leadership skills. "As a policy maker and leader? Dear god no," Tarrant wrote.
Right-wing terrorism is now a very real and deadly threat in many Western countries, the United States included. Last October, Robert Bowers, a forty-six-year-old Pittsburgh man who ranted online about the threats presented by "illegals" and "the overwhelming Jew problem," allegedly gunned down and killed eleven worshippers at the Tree of Life synagogue. Just last month, federal agents arrested Christopher Paul Hasson, a lieutenant in the U.S. Coast Guard who had called for "focussed violence" to "establish a white homeland." Like Tarrant, Hasson had been inspired by the Norwegian terrorist Breivik, and, according to the prosecutors, he was intending "to murder innocent civilians on a scale rarely seen in this country."
These are just the most visible recent examples of the ongoing violence perpetrated by white supremacists and other right-wing nuts. "Right-wing extremists were linked to at least 50 extremist-related murders in the United States in 2018, making them responsible for more deaths than in any year since 1995," the Anti-Defamation League noted in January. Even the Trump Administration's own report, "National Strategy for Counterterrorism," which was published last year, acknowledged that "domestic terrorism in the United States is on the rise," and it cited "racially motivated extremism" as one of the causes.
What can we do about all this? In the face of all the hatred, the violence, and the enabling digital technology, it is easy to feel helpless. But some things can be done. To begin with, as Simon Clark, a senior fellow at the Center for American Progress, argued in a recent analysis, politicians from all parties, the President included, need to openly acknowledge the scale of the threat represented by right-wing terrorism, and to commit to tackling it in a number of different ways. One obvious step is to beef up the law-enforcement resources devoted to tracking right-wing extremism and investigating possible plots to carry out threats. In addition, the Trump Administration "needs to understand how overheated rhetoric—including the president's own words—can lead to violence," Clark wrote. https://www.newyorker.com/news/our-columnists/its-time-to-confront-the-threat-of-right-wing-terrorism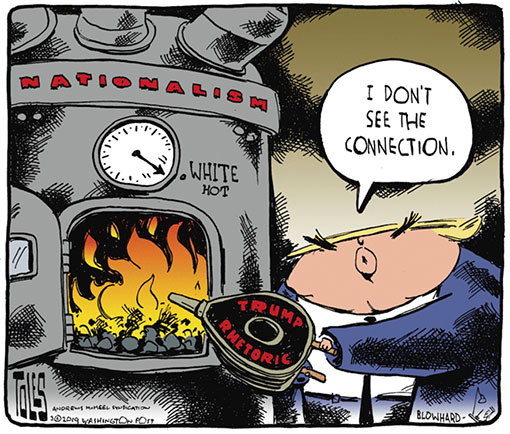 9. Katrina vanden Heuvel: Trump's budget is a bitter betrayal
On its release last week, President Trump's $4.7 trillion 2020 budget was pronounced dead on arrival, and was quickly lost in the cacophony of his presidency. The New York Times suggested it provides a "declaration of Mr. Trump's reelection campaign priorities." In fact, its pages include not only the president's campaign rhetoric but also an accounting of his actual values and priorities that reveal the scope of his betrayal of the working men and women who voted him into office. This is not "A Budget for a Better America," as its title reads. It is a budget for a bitter betrayal.
The first page of the president's budget message promises to "protect future generations from Washington's habitual deficit spending." But tax cuts for the rich and corporations, not deficits, remain the president's priority. Even with its laughably rosy economic projections, the budget projects trillion-dollar annual deficits for the next four years, while doubling down on the president's tax-cut folly, calling for making them permanent.
Yet the deficits do provide the excuse for across-the-board cuts in domestic programs. Here, too, working people, their families, individuals with disabilities, and the most vulnerable of the elderly take the biggest hits. The president, once more, calls for ending the Affordable Care Act, reversing the expansion of Medicaid, and turning the latter into a block grant to states, capped at a level that does not keep up with rising costs.
Trump would also make college less affordable for tens of thousands, and continue to undermine public schools. The Education Department would suffer another 10 percent cut — the third year in a row of cuts. Trump would eliminate after-school programs for low-income students. He would divert taxpayer money into vouchers or tax breaks for private schools. And with student-loan debt now totaling a staggering $1.5 trillion — taken on largely by the sons and daughters of working families who can't afford soaring college costs — Trump would reduce Pell Grant funding, cut work-study funding, end forbearance for those who work in public service for a decade after college, and eliminate subsidized Stafford loans. https://www.washingtonpost.com/opinions/trumps-budget-is-a-bitter-betrayal/2019/03/19/ff90adb4-49bf-11e9-9663-00ac73f49662_story.html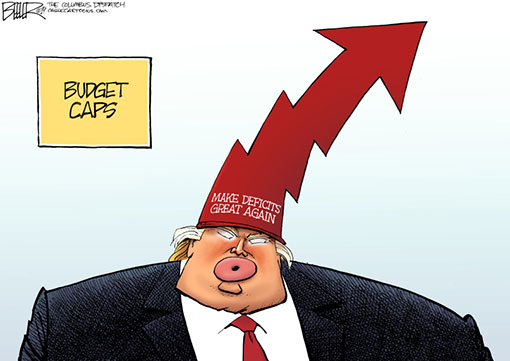 10. Jonathan Chait: Devin Nunes Files Bonkers $250 Million Lawsuit Over Mean Tweets
Representative Devin Nunes, who is bringing a $250 million suit against Twitter because he has been the subject of mean tweets, is not an obscure kook. He is a famous and highly influential kook who chaired the House Intelligence Committee until January. From this perch, he largely orchestrated President Trump's legal defense in the Russia scandal, ejecting a wild flurry of charges that Trump is the subject of a deep state conspiracy, running a sham inquiry that claimed to clear the president of all wrongdoing, and feeding scoops to the conservative media to support Trump's no-collusion narrative. For these efforts, Trump has praised Nunes as "a very courageous man," and suggested that he deserves to win the Medal of Freedom.
I have spent innumerable hours excavating the loopy theories emanating from Nunes. And yet none of that prepared me for the full barking-mad preposterousness of his lawsuit. It might be the most staggeringly juvenile and inadvertently hilarious document I have ever read.
Nunes's legal case hinges on the argument that Twitter is not merely a platform for users, but a media company with a distinct point of view. "Twitter actively censors and shadow-bans conservatives, such as Plaintiff, thereby eliminating his voice while amplifying the voices of his Democratic detractors," the suit argues. (Nunes is referencing a conspiracy theory; Twitter does not "shadow-ban conservatives," nor promote Democrats.) http://nymag.com/intelligencer/2019/03/devin-nunes-files-bonkers-usd250-million-suit-over-mean-tweets.html
11. Dana Milbank: Trump is right. This is a witch hunt!
Monday morning, he used the term for the 261st time as president (according to the Factba.se database), this time tweeting: "50% of Americans AGREE that Robert Mueller's investigation is a Witch Hunt."
On a weekend of rage directed at late senator John McCain, "Saturday Night Live," Fox News and many others, Trump rose Sunday morning to denounce Crooked Hillary's Fake and Unverified Dossier, "the info that got us the Witch Hunt!"
Sometimes it's the "Mueller Witch Hunt," other times it's the "Russian Witch Hunt," occasionally it's in ALL CAPS and often punctuated: "RIGGED WITCH HUNT!"
Just because Trump says something, however, doesn't automatically mean it's wrong. The treatment of Trump by special counsel Robert S. Mueller III and other investigators does have characteristics of a witch hunt. This is because Trump has characteristics of a witch.
So says a leading authority on the history of witchcraft, Thomas J. Rushford, history professor at Northern Virginia Community College in Annandale. In an anthropological sense, Trump "is really quintessentially a witch figure," the professor tells me, and if what is happening to Trump is a witch hunt, "it is only in a good sense, that is, this is society policing the boundaries that they believe to be ethically and morally right." https://www.washingtonpost.com/opinions/trump-is-right-this-is-a-witch-hunt/2019/03/18/a2487b14-49bf-11e9-b79a-961983b7e0cd_story.html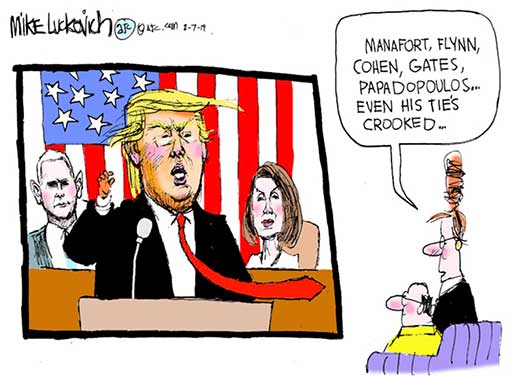 12. Max Boot: Two years of Trump have shaken my faith in America
I have always been a cockeyed optimist about America. That's due, in part, to my own family story: We came here in 1976 as penniless refugees from the Soviet Union and found a land of freedom and opportunity. It's also due to my reading of history, which led me to conclude that, for all of its undoubted problems, America has been the greatest force for good in the world over the past century. And it's due, finally, to my life experience: Having lived long enough to see predictions that America would be overtaken by the Soviet Union, Japan or the European Union proved wrong, I became skeptical of declinism.
But my faith in America has been badly shaken by more than two years of Trumpism. I now fear that the United States' days as a superpower may be numbered, especially if President Trump wins a second term — as well he might.
As corrosive as Trump's policies is his personality. He is so erratic and ignorant that he makes dictators such as China's Xi Jinping look good by comparison. Xi may be presiding over a Big Brother state, but at least he appears to be rational and knowledgeable. Trump's tweets, by contrast, often sound deranged. His actions frequently make as little sense as his words. Typical is the way he flip-flopped on Syria, announcing a total withdrawal of U.S. forces in December before now deciding to keep 1,000 troops.
If you're an ally of the United States, how can you entrust your security to a superpower that seems to have lost its marbles? If Americans could elect Trump, what kind of demagogue will we choose in the future? We are fast losing the global confidence needed to maintain our global power. A shocking Pew Research Center poll last year found that far more people around the world view the United States as a threat than China or Russia. That perception is a bigger blow to American primacy than any new weapons system that China or Russia could develop. https://www.washingtonpost.com/opinions/americas-days-as-a-superpower-may-be-numbered--because-of-trump/2019/03/20/ae15c924-4a82-11e9-93d0-64dbcf38ba41_story.html