March 15, 2018
ON THE RECORD. . .
"Many of us could see that Donald Trump was going to be a very poor president. What we couldn't see is many people would be complicit in that." — Rep. Adam Schiff (D-CA)

"From Ukraine to Syria – and now the UK – Russia continues to be an irresponsible force of instability in the world, acting with open disregard for the sovereignty of other states and the life of their citizens." — Former Secretary of State Rex Tillerson, hours before he was fired.

Trump took questions from reporters after he fired Secretary of State Rex Tillerson:

REPORTER: Did you fire him because he called you a moron?

TRUMP: What?

REPORTER: Did you fire him because he called you a moron?

TRUMP: Say it again.

REPORTER: (inaudible) Why now?

Is Trump, America's self-appointed madman, the person who can bring consistency of purpose to the U.S.'s relations with North Korea? Does he have the emotional fortitude and the intellectual wiles to salvage some material benefit for the United States from a summit that could easily descend into a farce? Does he have any other motivations besides turning the world into his stage, where he can tear his hair like Lear as the rest of us watch, enthralled, aghast? The answer to all those questions strongly point toward the negative. -- Ryu Spaeth in The New Republic.

"Let them call you racist. Let them call you xenophobes. Let them call you nativists. Wear it as a badge of honor. Because every day, we get stronger and they get weaker." — Former Trump adviser Stephen Bannon speaking to French far-right politicians

"House Republicans may have the power to prevent important facts about Trump and Russia from coming to public light. But here's what they don't have the power to do: prevent important facts about their own conduct on Trump's behalf from coming to public light." -- Greg Sargent in the Washington Post.

"We should be able to elect a box of hammers in this district. If we're losing here, you can bet there is a Democratic wave coming." — Veteran Republican consultant Mike Murphy, a Trump critic, on yesterday's Pennsylvania special congressional election.

"This is a tricky move, I believe, by a left-wing group, from the information I've seen, to use these children as a tool to further their own means. It sounds like a protest to me. It's not a memorial, it's certainly not a prayer service, it's a political statement by a left-wing group and it's shameful." -- South Carolina Gov. Henry McMaster (R) criticizing the national student walkout as a "shameful" attempt by left-wing groups to push their own political agenda,.
---
IN THIS ISSUE
FYI
OPINION
1. Andy Borowitz: House Republicans Say Japanese Did Not Meddle in Pearl Harbor
Reaching the opposite conclusion of many of their committee peers, Republican members of the House Intelligence Committee said on Tuesday that the Japanese did not meddle in the attack on Pearl Harbor in 1941.

"After an exhaustive investigation, we have come to the conclusion that there was no attempt by the Imperial Japanese Navy Air Service to influence the outcome of Pearl Harbor," Rep. Mike Conaway, a Republican of Texas, said. "Any suggestion to the contrary amounts to nothing more or less than a witch hunt."

Conaway said that while there were Japanese bombers in the vicinity of Pearl Harbor on December 7, 1941, their role in the attack there has been "blown out of proportion."

"Is it possible that some of their planes were flying in places they shouldn't have flown and dropping some things that they shouldn't have dropped, by accident?" Conaway said. "Absolutely. Does that prove that there was intent to meddle in Pearl Harbor? Absolutely not."

The House Republican praised his fellow G.O.P. committee members for "finally putting the controversy of Pearl Harbor to rest."

"December 7, 1941, is a day that will live in a big misunderstanding," he said

ELSEWHERE

With Jared Kushner losing his top security clearance, Donald J. Trump is concerned that there will be no one to read classified documents aloud to him anymore, White House aides have confirmed.

According to the aide, Kushner had a "special way" of reading classified documents to Trump, "very slowly and leaving out any long words."

"He'd read in kind of a high, whispery voice that the President found soothing," the aide said. "Within seconds, he was fast asleep." https://www.newyorker.com/humor/borowitz-report/
2. 43 top economists were polled on Trump's latest big policy — not a single one said it would help Americans
A new University of Chicago survey of 43 top economists found that not a single one said Trump's new tariffs on steel and aluminum will end up being a net positive for Americans.
Overall, 65% of respondents said they "strongly disagreed" when asked if Trump's move "imposing new US tariffs on steel and aluminum will improve Americans' welfare," while 28% simply disagreed. Three economists did not respond to the survey. http://www.businessinsider.com/trump-steel-aluminum-tariffs-poll-economist-survey-2018-3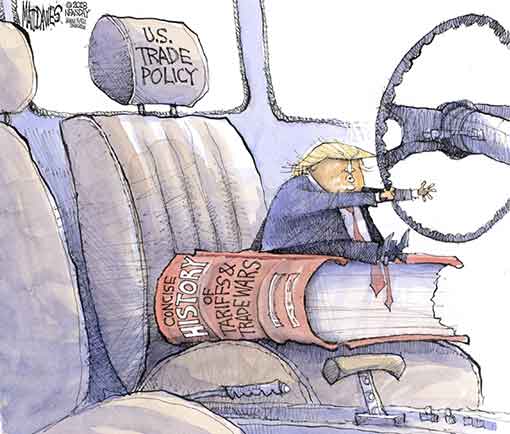 3. 'The Most Toxic Working Environment on the Planet'
In 14 months covering this White House, Jonathan Swan says he's "never registered such a mood of acute anxiety from within the West Wing."
Nobody knows what exactly is happening, who's about to be fired, or which staffer will next be frogmarched out the door by security for some shadowy clearance issue.
Said one official: "This is the most toxic working environment on the planet. Usually tough times bring people together. But right now this atmosphere is ripping people apart. There's no leadership, no trust, no direction and this point there's very little hope. Would you want to go to work every day not knowing whether your future career was going to be destroyed without explanation?"  https://www.axios.com/newsletters/axios-pm-4f35de9b-44de-412b-aa1c-8f2322d9fe9e.html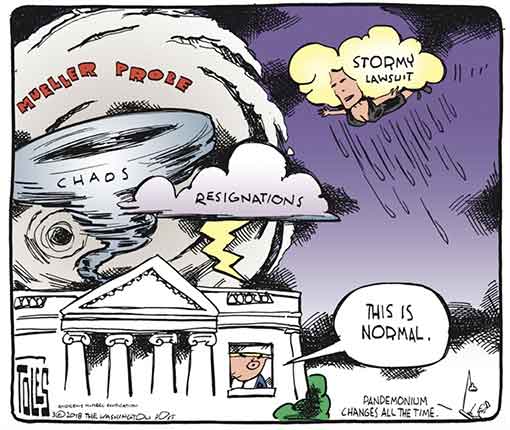 4. Montana Green Party Candidate Was on State GOP Payroll
A man who registered as a Green Party candidate for Montana's U.S. Senate race was on the state Republican Party's payroll and heads a newly formed anti-tax group," the AP reports.
Timothy Adams filed as a challenger Monday against Sen. Jon Tester (D-MT), who faces a tough re-election campaign, in a race where a Green Party candidate could siphon votes from the Democrat.  https://apnews.com/aae15528a9fe415282402c4e14090c75
5. After Swinging The Axe At Tillerson, Trump Mulls What To Do With McMaster, Sessions, Jared, And Ivanka
Over the past week, even though Kelly is still nominally on the scene, Trump's presidency has entered a new phase—one in which Trump feels emboldened to throw off the shackles that have thus far constrained him.
Perhaps most consequential for Robert Mueller's investigation, sources said Trump has discussed a plan to fire Attorney General Jeff Sessions. According to two Republicans in regular contact with the White House, there have been talks that Trump could replace Sessions with E.P.A. Administrator Scott Pruitt, who would not be recused from overseeing the Russia probe. Also, as an agency head and former state attorney general, Pruitt would presumably have a good shot at passing a Senate confirmation hearing.
Then there is the question of Jared Kushner and Ivanka Trump's futures. Trump has told people for months that he wants them to go back to New York. "Trump wants them out of there. He thinks they've been getting hit too hard," a friend of the president said. But Javanka are digging in, sources said. "They've damaged us so much already. What else can they say about us?" Kushner recently said, according to a person who spoke with him. "And if we go back to New York, they'll keep attacking. So what do we have to lose?" In recent days, the couple have argued for their continued relevance by cooperating with pieces in The New York Times and The Washington Post. Sources said that if Kelly is forced out, Jared and Ivanka will fight to stay on.  https://www.vanityfair.com/news/2018/03/trump-swinging-the-axe-at-tillerson-mcmaster-sessions-jared-and-ivanka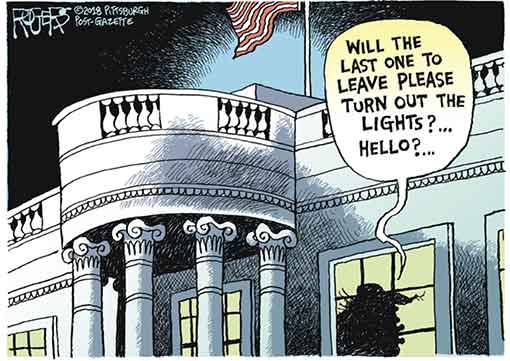 6. George Papadopoulos Claimed Trump Encouraged His Efforts to Establish a Russian Back Channel
The new book, Russian Roulette, reports that George Papadopoulos spent months "trying to set up a back channel between the campaign and the Kremlin, in part to arrange a Trump-Putin meeting before Election Day," according to Mother Jones.
According to a later court filing, Papadopoulos, who in October 2017 pleaded guilty to lying to the FBI, aimed to set up an 'off the record' meeting between campaign representatives and Putin's office. Trump has famously denied there was any relationship between his campaign and Moscow. But Russian Roulette reveals that Papadopoulos has told investigators that at a March 31, 2016, meeting Trump held with his foreign policy team, when Papadopoulos informed Trump he had contacts in the United Kingdom who could set up a meeting between Trump and Putin, Trump said this was an 'interesting' idea. Trump, according to Papadopoulos' account, looked at then-Sen. Jeff Sessions (R-AL), a top Trump adviser at the time, as if he expected him to follow up. Afterward, Papadopoulos, working with Russian cutouts, kept pursuing such a meeting.  https://www.motherjones.com/politics/2018/03/george-papadopoulos-claimed-trump-encouraged-his-efforts-to-establish-a-russian-backchannel/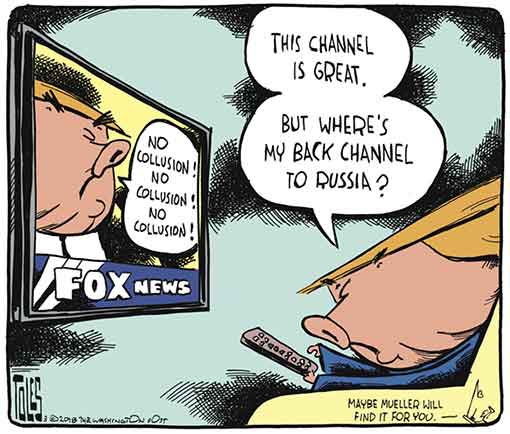 7. Two Weeks Until the Government Runs Out of Money
Government funding runs out in less than two weeks, and there's more drama developing behind the scenes."
Will Republicans in Congress keep funding for the so-called Gateway Tunnel, a new tunnel between New York and New Jersey? Donald Trump has threatened to veto any funding bill that includes money for the project, but House Appropriations Chairman Rodney Frelinghuysen (R-NJ) is retiring, and it's one of his top priorities. Senate Minority Leader Chuck Schumer (D-NY) also wants it built, and Republicans will need Democratic votes."
Rep. Mark Meadows (R-NC), the House Freedom Caucus leader who is close to Trump, tweeted over the weekend that the funding bill should cut off money for so-called sanctuary cities.  This is a nonstarter for Democrats and could be a serious issue if the Freedom Caucus digs in on it.  https://www.politico.com/newsletters/playbook/2018/03/12/pennsylvania-18-special-election-what-to-watch-253215
8. The DAILY GRILL
"At this point, we're not even talking about negotiations. What we're talking about is an invitation by the leader of North Korea to meet face-to-face with the president of the United States. The president has accepted that invitation." --  A senior administration official on Thursday

VERSUS

"They have made some major promises. They have made promises to denuclearize. They have made promises to stop nuclear and missile testing. We're not going to have this meeting take place until we see concrete actions that match the words and the rhetoric of North Korea." -- WH press secretary Sarah Sanders on Friday

 

"The Oakland mayor's decision to publicize her suspicions about ICE operations further increased that risk for my officers and alerted criminal aliens -- making clear that this reckless decision was based on her political agenda." --  ICE Deputy Director Thomas D. Homan

VERSUS

James Schwab, a spokesman for the San Francisco Division of Immigration and Customs Enforcement, has resigned, because of what he says are falsehoods being spread by members of the Trump administration including Attorney General Jeff Sessions, citing Acting Director Tom Homan and Attorney General Jeff Sessions as being the purveyors of misleading and inaccurate information, following Oakland Mayor Libby Schaaf's controversial decision to warn the community of an upcoming ICE raid. -- CNN

 

"The bottom line: The Russians did commit active measures against our election in '16, and we think they will do that in the future. We disagree with the narrative that they were trying to help Trump."-- Rep. K. Michael Conaway, the Texas Republican who is leading the House investigation.

VERSUS

American intelligence officials concluded in January 2017 that President Vladimir V. Putin of Russia personally "ordered an influence campaign in 2016 aimed at the U.S. presidential election," and pivoted from trying to "denigrate" Hillary Clinton to developing "a clear preference for President-elect Trump." -- NY Times
9. From MEDIA MATTERS (They watch Fox News so you don't have to)
After repeatedly attacking Obama for possibility of meeting with North Korea, Hannity gushes over Trump for doing exact same thing.  https://www.mediamatters.org/blog/2018/03/09/after-repeatedly-attacking-obama-possibility-meeting-north-korea-hannity-gushes-over-trump-doing/219598

Drudge's Russian propaganda pipeline pushes Daily Caller op-ed by close Kremlin ally Oleg Deripaska. The Drudge Report has linked more than 400 times to RT, Sputnik News, TASS since 2012.  https://www.mediamatters.org/blog/2018/03/09/drudge-s-russian-propaganda-pipeline-pushes-daily-caller-op-ed-close-kremlin-ally-oleg-deripaska/219596

Fox News is propagandizing the DOJ lawsuit against California's immigration laws. Fox host Harris Faulkner and Fox News contributor Steve Cortes have both adopted Attorney General Jeff Sessions' bizarre talking point comparing California to states that seceded during the Civil War.  https://www.mediamatters.org/blog/2018/03/09/fox-news-propagandizing-doj-lawsuit-against-california-s-immigration-laws/219597

Alex Jones says that situation in the U.K. regarding Russia is "obviously" a false flag.  https://www.mediamatters.org/video/2018/03/13/alex-jones-says-situation-uk-regarding-russia-obviously-false-flag/219625

Sean Hannity: House GOP report clearing Trump "confirms everything we have been telling you, and it also confirms that the media and Democrats have been flat out lying to every American for over a year with their breathless hysterical reporting and they out of pretty much whole cloth created a Russian collusion conspiracy theory all designed to smear and delegitimize Donald Trump."  https://www.mediamatters.org/video/2018/03/13/sean-hannity-house-gop-report-clearing-trump-confirms-everything-we-have-been-telling-you/219624
10. From the Late Shows
Weekend Update on Kim Jong-un Meeting with Donald Trump - SNL: https://youtu.be/kczRX0mQ_S8

The Late Show with Stephen Colbert: Trump Scolds Sarah Huckabee Sanders For... Being Honest:  https://youtu.be/ASeDPHVHY78

Alex Jones's Deep State Enemy: "Jordan Keppler" - The Opposition w/ Jordan Klepper:  https://youtu.be/rwVGXqlVmBM
11. Late Night Jokes for Dems
President Trump and North Korean leader Kim Jong Un will reportedly meet within the next two months. Unfortunately, it'll be a private meeting so here's a picture of "Alien vs. Predator." So you get the gist. -- Seth Meyers

North Korean leader Kim Jong Un on Thursday invited President Trump to meet for negotiations over the country's nuclear program. Now, Trump thinks it's because Kim Jong Un respects him, but I think it's more like when you're having a high-stakes poker game and your friend goes, "Oh, I love poker, but I'm not very good at it." And then you go, "Oh, you should definitely come. Bring your checkbook. You should definitely come." -- Seth Meyers

Daylight Savings Time began yesterday where we all lost an hour of sleep — and somehow Ben Carson gained four. -- Seth Meyers

A source recently told The Washington Post that President Trump still views Ivanka as "his little girl" and he views Eric as seldom as possible. -- Seth Meyers

The Pittsburgh Post-Gazette has endorsed the Republican candidate in Pennsylvania's special congressional election and warned in an editorial that electing a Democrat would create distractions in Washington. Unfortunately for them, the editorial was overshadowed [shows headline "Trump Sued by Porn Star"] by a distraction in Washington. -- Seth Meyers

The owner of a Greek soccer team this weekend stormed onto the field during a match waving a handgun. So long story short, soccer is now the official sport of the NRA. -- Seth Meyers

There's more news out of the Russia investigation. For months, the FBI has been questioning witnesses about possible collusion between the Trump administration and Russia, and according to a new report, Donald Trump has been asking the witnesses what questions came up in the interview. Trump's basically that kid who didn't study for a test and he's like, "What did you get for number two?" -- James Corden

Senators in Rhode Island are proposing a new bill that would charge residents a one-time fee of $20 to access online pornography. Twenty dollars to access porn, but it's $40 if you want it to show up as "Starbucks" on your credit card bill. State budget experts say this new porn bill could be profitable. They say it could generate roughly $13 gazillion. -- James Corden

You guys excited about March Madness? Not the basketball tournament — I'm talking about Trump's speech over the weekend. On Saturday, Trump spoke at a big campaign rally in Pennsylvania. At one point, he said that he really can't wait for 2020. While the rest of America was like, "Neither can we." -- Jimmy Fallon

Trump was in Moon Township, Pennsylvania. When he got to Moon Township, he was like, "Wow, this place looks exactly like Earth." -- Jimmy Fallon

Trump announced his 2020 campaign slogan will be "Keep America great!" Well, there were a bunch of other slogans he almost went with instead. For example, Trump also considered "I'm with hair." He also thought about going with "I mean, it can't get worse than it already is." And finally he almost went with, "Come on, doesn't some small part of you sort of want to see where this all goes?" -- Jimmy Fallon
12. Missouri is a destination wedding spot — for 15-year-old brides
No place in the United States is easier, The Kansas City Star found in an analysis of child marriage statutes across the country.
Every other state requires some combination of a judge's order, parents' permission, premarital counseling or proof of pregnancy. Some flat-out prohibit marriages so young. But in Missouri, brides and grooms as young as 15 can marry with no more than the single approving swipe of their parent's pen, even if the other parent objects.
Even children ages 14, 13, 12 or younger can marry in Missouri, as it remains one of 25 states with no minimum age requirement, although at 14 or younger, a judge must approve.
But 15? One signature.
The result: A review of some 50,000 marriage licenses shows how Missouri's lax law has for years turned the state into a destination wedding spot for 15-year-old child brides, often rushing to get married. Some traveled up to 1,800 miles to Missouri, from as far off as Oregon, Idaho, Utah, Florida and every other state in the region: Kansas, Colorado, Illinois, Nebraska, Kentucky, Oklahoma, Mississippi, Arkansas and Tennessee. http://www.kansascity.com/news/state/missouri/article204287484.html
13. Pruitt Spent $43K on Soundproof Phone Booth!
In total, the EPA appears to have spent more than $18,000 on the prep work, readying the space for a $25,000 soundproof booth that has brought Pruitt a wave of criticism and official scrutiny. The total cost for the project now appears to be closer to $43,000. https://www.washingtonpost.com/news/energy-environment/wp/2018/03/14/scott-pruitts-25000-soundproof-phone-booth-it-actually-cost-more-like-43000/
14. Refugee skeptic lands top State Department refugee job
Andrew Veprek, a White House aide close to senior policy adviser Stephen Miller who has advocated strict limits on immigration into the U.S., has been selected for a top State Department post overseeing refugee admissions.
Current and former officials also describe Veprek's appointment as a blow to an already-embattled refugee bureau. Trump has has made clear his disdain for liberal immigration policies, and the bureau has been adrift under Secretary of State Rex Tillerson — even as a record 65 million people are displaced around the world due to war, famine and other calamities. https://www.politico.com/story/2018/03/08/andrew-veprek-state-department-refugee-admissions-448210
15. Russians released anti-Clinton video game weeks before election
Russians created an anti-Hillary Clinton video game called 'Hilltendo' and tried to make it go viral in the weeks before the 2016 U.S. presidential election, CNN has determined through a review of internet records and computer code.
It's one of the strangest ways yet discovered that Russians tried to influence the American election. But it's indicative of just how creative Russian internet trolls were willing to be.
On the surface, it looks like a silly, Flash-based game of the sort that populated the internet for years. Yet Hilltendo appears to be more sophisticated than that. In fact, it may indicate an intent to zero in on the people who played the game, track their behavior on social media, and hit them later with micro-targeted advertisements, according to several website programmers and cybersecurity experts who viewed the code at CNN's request. http://money.cnn.com/2018/03/08/technology/hilltendo-russians-anti-clinton-video-game/index.html
16. G.O.P. Rushed to Pass Tax Overhaul - Now It Needs to Be Fixed
The legislative blitz that rocketed the $1.5 trillion tax cut through Congress in less than two months created a host of errors and ambiguities in the law that businesses big and small are just now discovering and scrambling to address.
Companies and trade groups are pushing the Treasury Department and Congress to fix the law's consequences, some intended and some not, including provisions that disadvantage certain farmers, hurt restaurateurs and retailers and could balloon the tax bills of large multinational corporations."
While Treasury can clear up uncertainty about some of the murky provisions, actual errors and unintended language can be solved only legislatively — at a time when Democrats seem disinclined to lend votes to shoring up a law they had no hand in passing and are actively trying to dismantle. https://www.nytimes.com/2018/03/11/us/politics/tax-cut-law-problems.html
17. Longtime Trump aide fired over financial crime investigation
Trump's longtime personal aide John McEntee was fired because he is currently under investigation by the Department of Homeland Security for serious financial crimes.
Minutes after news of his departure broke, the Trump campaign announced McEntee would be joining the reelection effort as a senior adviser for campaign operations. https://www.cnn.com/2018/03/13/politics/john-mcentee-white-house-security-clearance/index.html
18. Rand Paul opposes Pompeo nomination for secretary of state
Sen. Rand Paul (R-KY) Rand Paul said Wednesday that Pompeo's earlier support for the Iraq war and defense of enhanced interrogation techniques — or "torture" in the view of Paul and many other senators — is disqualifying. And the Kentucky senator indicated he may be willing to filibuster both Pompeo's nomination and CIA director nominee Gina Haspel, who he says is "gleeful" in her defense of torture techniques. https://www.politico.com/story/2018/03/14/rand-paul-opposes-mike-pompeo-state-461749
19. The House GOP's Russia conclusion is falling apart
Don't lose sight of this story: The House Republican Intel conclusion on the Russia investigation — that there was no collusion and that Russia preferred Trump over Clinton — is unraveling. And it's unraveling from House Republicans themselves.
Check out this statement from Rep. Trey Gowdy, R-S.C.:
"It remains clear Russia sought to sow the seeds of discord and challenge the reliability of the 2016 election cycle. Russia is not our friend. Russia will do what it can, when it can, to undermine the foundations of our democracy. It is also clear, based on the evidence, Russia had disdain for Secretary Clinton and was motivated in whole or in part by a desire to harm her candidacy or undermine her Presidency had she prevailed.

It is crystal clear Russia's ultimate goal was to turn Americans against Americans, undercut our confidence in the electoral process, and sow the seeds of discord. On that measure, we are in direct control—as Americans—of whether they succeed or not." -- https://www.nbcnews.com/politics/first-read/why-pennsylvania-special-election-was-gut-punch-gop-n856491
1. Paul Waldman: All the crazy things Trump wants you to believe about the Daniels scandal
White House Press Secretary Sarah Huckabee Sanders is no Sean Spicer — when she gets up before the press to lie about something, you can't detect even the barest whiff of guilt or discomfort. In fact, if there's a prevailing sentiment she sends out to the assembled journalists in the briefing room and all watching at home, it's contempt — contempt for anyone who has the temerity to question either the rancid pile of lies she's dumping in front of you or President Trump's manifest greatness.
It's almost — not quite, but almost — enough to make you feel a moment of sympathy for Sanders. No matter how enthusiastically you carry water for Trump, it's just never enough.
This scandal provides a vivid reminder that in the Trump era, not only are we lied to constantly, we're also asked to believe lies that are so obvious and absurd that one can only marvel at their epic shamelessness. Granted, if you had an affair with a porn star and paid her $130,000 in hush money, you might be spinning out a few implausible excuses to explain the whole thing away, too. But the preposterousness of the Stormy lies really sets them apart.  http://theweek.com/articles/759791/all-crazy-things-trump-wants-believe-about-stormy-daniels-scandal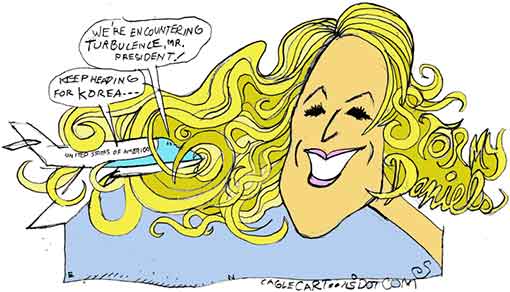 2. Michael Isikoff and David Corn: Miss Universe in Moscow: How Trump's beauty contest spawned a business deal with Russians and a bond with Putin
"Russian Roulette: The Inside Story of Putin's War on America and the Election of Donald Trump," by Michael Isikoff and David Corn is an account of how American democracy was hacked by Moscow as part of a covert operation to influence the U.S. election and help Donald Trump gain the presidency.
Yahoo News has an excerpt:
What could possibly explain Trump's unwavering sympathy for the Russian strongman, his refusal to acknowledge Putin's repressive tactics, his whitewashing of Putin's abuses in Ukraine and Syria, his dismissal of the murders of Putin's critics, his blind eye to Putin's cyberattacks and disinformation campaigns aimed at subverting Western democracies?

Trump's brief trip to Moscow held clues to this mystery. His two days there would later become much discussed because of allegations that he engaged in weird sexual antics while in Russia — claims that were not confirmed. But this visit was significant because it revealed what motivated Trump the most: the opportunity to build more monuments to himself and to make more money. Trump realized that he could attain none of his dreams in Moscow without forging a bond with the former KGB lieutenant colonel who was now the president of Russia.

This trek to Russia was the birth of a bromance — or something darker — that would soon upend American politics and then scandalize Trump's presidency. And it began in the most improbable way — as the brainstorm of a hustling music publicist trying to juice the career of a second-tier pop singer.  https://sg.news.yahoo.com/miss-universe-moscow-trumps-beauty-contest-spawned-business-deal-russians-bond-putin-100026386.html
3. Charles M. Blow: The Worst People
Early Tuesday morning, Donald Trump tweeted:
"The new Fake News narrative is that there is CHAOS in the White House. Wrong! People will always come & go, and I want strong dialogue before making a final decision. I still have some people that I want to change (always seeking perfection). There is no Chaos, only great Energy!"
Lies. Of course the White House is in chaos. It's just that Trump has lived his whole life in a state of chaos, so it feels perfectly normal to him. The only energy around Trump is a vortex of complicity and incompetence.
Trump is the worst boss who hires the worst people: People who confess to crimes, are secretly operating as foreign agents, allegedly beat their wives and have absolutely no expertise in the area in which they work.
When you choose loyalists and sycophants over experts and professionals, this disaster of an administration is what you get. https://www.nytimes.com/2018/03/08/opinion/trump-best-worst-people.html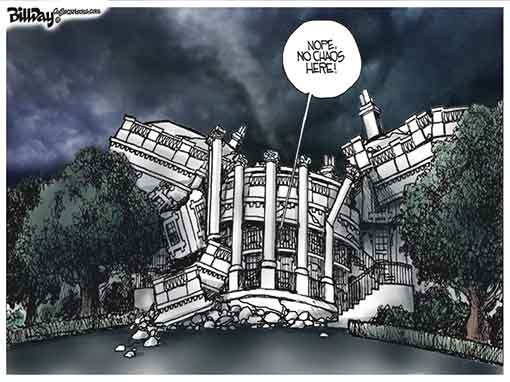 4. Ankit Panda: Trump Meeting Is Just What Kim Jong Un Has Always Wanted
It's the furthest thing from a surprise that North Korean leader Kim Jong Un just invited Donald Trump for a summit. A venue has yet to be set and the agenda remains entirely up in the air, but Trump has accepted the invitation, according to an announcement Thursday evening by South Korea's national security adviser, Chung Eui-yong. Trump will endeavor to meet Kim and "achieve permanent denuclearization" by the end of May 2018, according to Chung.
For more than two decades, successive North Korean leaders—first Kim Il Sung, then Kim Jong Il, and now Kim Jong Un—have sought to meet a sitting U.S. president as equals and enter comprehensive talks on the future of the Korean Peninsula. No sitting president has accepted; Jimmy Carter and Bill Clinton both went to North Korea, but after their terms had ended.
There was a good reason for this U.S. refusal to meet with any North Korean leader. Not only do the two countries have a deep history of mistrust and enmity, with Pyongyang not only regularly threatening nuclear war but also having defected from multiple diplomatic agreements, a one-on-one meeting with a U.S. president would serve as a major propaganda coup for the North. https://www.thedailybeast.com/trump-meeting-is-just-what-kim-jong-un-has-always-wanted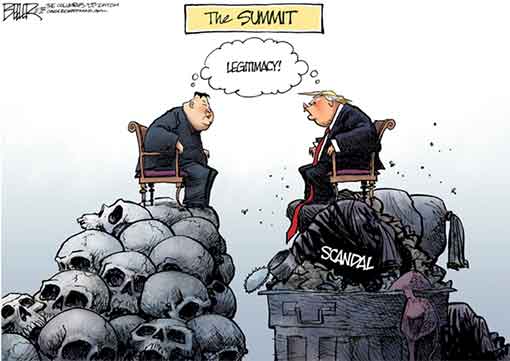 5. Eugene Robinson: Stormy Daniels Beat Trump at His Own Game
The president who boasted of treating women like sex objects is being outplayed at his own tabloid-warfare game by a porn star. Maybe there's justice in the world after all.
Thanks to Daniels, her lawyer and an unforced error by Sanders, the story Trump has tried so hard to squelch is out. Take a minute and think about it.
Republicans who regarded Bill Clinton's affair with Monica Lewinsky as the end of civilization as we know it are serenely untroubled. Evangelicals who rail against sin and cloak themselves in piety offer nothing but a worldly, almost Gallic shrug. Daniels has taught us much about their character and morals, too. https://www.realclearpolitics.com/articles/2018/03/09/stormy_daniels_beat_trump_at_
his_own_game_136480.html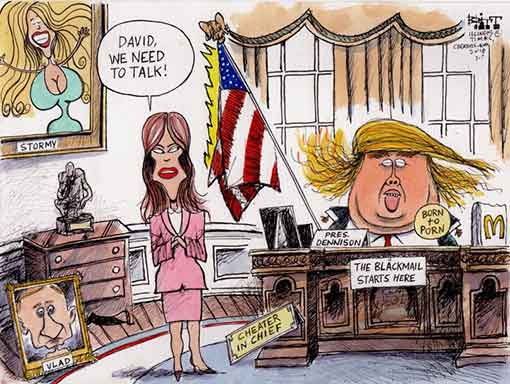 6. Joe Garofoli: Jeff Sessions suit against California is political bad news for Republicans
U.S. Attorney General Jeff Sessions ramped up the political tension Wednesday when he told a law enforcement gathering in Sacramento that California "is using every power it has — and powers it doesn't — to frustrate federal law enforcement. So you can be sure I'm going to use every power I have to stop them."
His underlying message will frighten immigrant communities and should energize Latino voters, who already overwhelmingly vote for Democrats. That could be a welcome boon for Democrats in the June primary election, because fewer Latinos vote in midterm elections than during presidential years.
And Republican candidates will feel pain as they embrace Trump's law-and-order stance to try to attract conservative primary voters, an embrace that will move them further from California's political mainstream should they advance to the general election in November.
"Politically, what it does is help Democrats by mobilizing Latino voters," said Luis Alvarado, a GOP strategist and president of the Latino Legislative Roundtable. "As I listened to Jeff Sessions speak, I imagined TV commercials on behalf of Democrats in the state." https://www.sfchronicle.com/politics/article/Jeff-Sessions-suit-against-California-is-12735691.php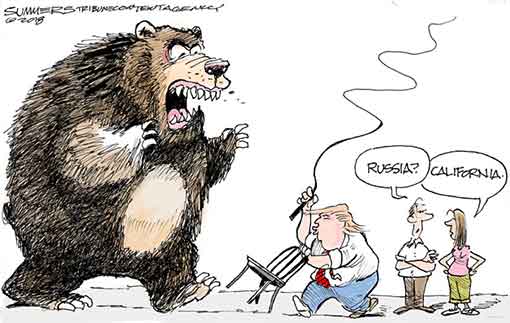 7. Robert Samuelson:  Trump's Tariffs--A Triumph of Pride Over Policy
The controversy over Trump's proposed tariffs on imports of steel (25 percent) and aluminum (10 percent) is less about economics than ego -- Trump's ego. Frustrated by special counsel Robert Mueller's investigation and the reported chaos in the White House, the president, it seems, had to show who's boss and who's driving events. Hence, his broadside attack against many traditional U.S. allies, including Canada, Japan and Mexico.
The danger is that Trump, in a fit of political and personal pique, will effectively destroy the post-World War II trading system, which has been a boon to the United States and much of the rest of the world. And for what? To keep himself occupied and entertained. It seems a dubious bargain.
Already, the dispute has led to the resignation of Gary Cohn, the White House's chief economic adviser. As with many trade conflicts, the details are confounding.  https://www.realclearpolitics.com/articles/2018/03/07/trumps_tariffs--a_triumph_of_pride_over_policy_136462.html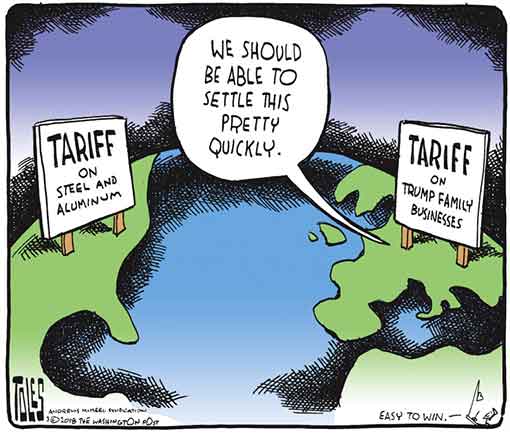 8. Matthew Walther: Stormy Daniels bringing down Trump would be the poetic justice America needs
The Trump-Daniels-Cohen saga is grimly amusing, but it's not a joke. There is a very real possibility that this scandal could have more serious consequences for the president than the never-ending Russia investigation.
Trump being laid low by a scandal involving pornography, adultery, a sleazy Manhattan lawyer, hush money, and the use of at least one ridiculous-sounding alias is the poetic justice America deserves. http://theweek.com/articles/759523/stormy-daniels-bringing-down-trump-poetic-justice-america-needs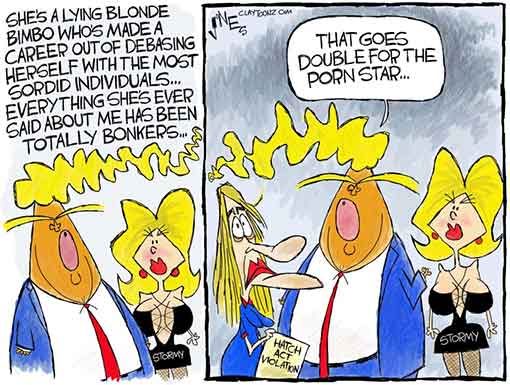 9. NY Times Editorial: Donald Trump's Empty Words on Trade
By now it should surprise no one that Mr. Trump prefers empty statements to doing the work needed to achieve lasting change. The former is easy to deliver in tweets and public pronouncements, while the latter takes patience and persistence. The president would rather impose tariffs and claim he is protecting the country and bringing back lost jobs than take the time to properly address the problem of excess Chinese steel and aluminum capacity. And he does not seem to care that, in doing so, he might penalize and anger an ally like South Korea, with which the United States needs to work closely on potential negotiations with North Korea, an unpredictable adversary.
The president's approach should worry everyone concerned about a trade war or the health of the steel and aluminum industries. https://www.nytimes.com/2018/03/08/opinion/donald-trump-trade-tariffs.html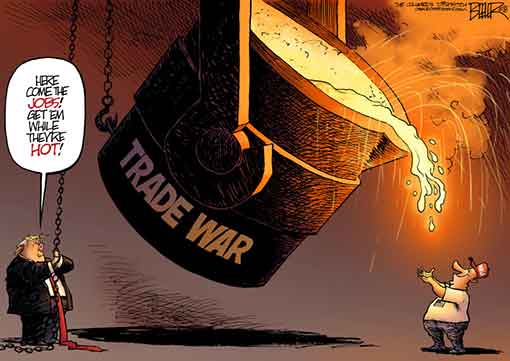 10. Roger Cohen: Trump's World and the Retreat of Shame
After Aleppo, now comes the agony of Eastern Ghouta. This suburb of Damascus, the last rebel-held enclave close to the Syrian capital, is bombarded by Bashar al-Assad's forces for weeks on end, with Russian air support. More than 900 people, including many children, are killed. Hospitals are targeted in what François Delattre, the French ambassador to the United Nations, has called "a siege worthy of the Middle Ages." Pregnant women bleed to death. Some 400,000 people are trapped.
France and Britain convene an emergency meeting of the Security Council and press for enforcement of last month's Resolution 2401, calling for an immediate cessation of hostilities. In this effort, the United States is nowhere, silent, AWOL, as President Vladimir Putin and his Syrian sidekick do their worst. The message to Moscow is clear: Donald Trump's America does not care about Syria, or war crimes, or human rights. Russian cynicism and American absence produce disaster.
Yes, it has come to this. https://www.nytimes.com/2018/03/09/opinion/trump-despots-human-rights.htmll
11. Gabriel Sherman: "Trump Is Going For A Clean Reset": Fuming In The West Wing, Trump Prepares To Defenestrate Cuck Allies And Go Full MAGA
Even before he decided to launch a trade war and roll the nuclear dice by agreeing in the course of a West Wing afternoon to a risky sit-down with Kim Jong Un, Donald Trump was telling friends he was tired of being reined in. "I'm doing great, but I'm getting all these bad headlines," Trump told a friend recently. A Republican in frequent contact with the White House told me Trump is "frustrated by all these people telling him what to do."
With the departures of Hope Hicks and Gary Cohn, the Trump presidency is entering a new phase—one in which Trump is feeling liberated to act on his impulses. "Trump is in command. He's been in the job more than a year now. He knows how the levers of power work. He doesn't give a fuck," the Republican said. Trump's decision to circumvent the policy process and impose tariffs on imported steel and aluminum reflects his emboldened desire to follow his impulses and defy his advisers. "It was like a fuck-you to Kelly," a Trump friend said. "Trump is red-hot about Kelly trying to control him."
According to five Republicans close to the White House, Trump has diagnosed the problem as having the wrong team around him and is looking to replace his senior staff in the coming weeks. "Trump is going for a clean reset, but he needs to do it in a way that's systemic so it doesn't look like it's chaos," one Republican said. https://www.vanityfair.com/news/2018/03/trump-is-going-for-a-clean-reset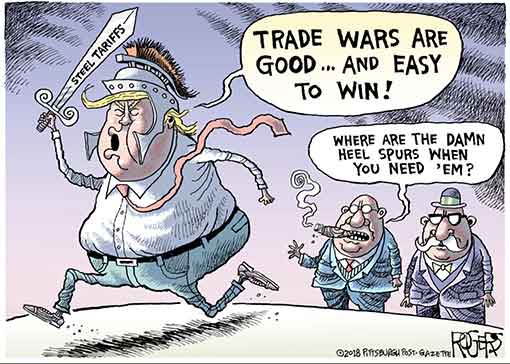 12. Richard Wolffe: Trump meeting Kim Jong-un is a half-baked idea – and a dangerous one
One is an egomaniacally unhinged, nuclear-armed neophyte, who scares his allies and enemies alike. So is the other.
The extraordinary prospect of direct talks between Donald Trump and Kim Jong-un would be a delicious moment of karma among kooky world leaders. If it weren't for their ability to destroy half the planet. 
They say we get the leaders we deserve, and these two leaders surely deserve one another. But does the world really deserve its fate to be settled by two Little Rocket Men?
Let's size up this epic summit, shall we?
The North Korean dictator has already achieved most of what his Stalinist regime has long desired: to be seen as an equal of the almighty United States of America. By sitting opposite Trump, Kim need concede nothing to still come out as a winner.
Trump, on the other hand, is trying to cast himself as Ronald Reagan at Reykjavik, as he continues in his quixotic effort to turn back the clock to the 1980s, when people seemed to admire his whole gold-plated style a little more. https://www.theguardian.com/commentisfree/2018/mar/09/trump-meeting-kim-jong-un-is-a-half-baked-idea-and-a-dangerous-one
13. Maureen Dowd: The First Porn President
Why not just go with Dirk Diggler?
I mean, if you're going to pick a fake name to pay off a porn star you've dallied with, why choose something bland like David Dennison?
If you are, after all, Donald Trump, the king of grandiosity, go for a name worthy of being Stormy Daniels's real-life co-star.
A proper moniker is in order if Trump is going to be our first porn president.
Kim Jong-un can drag him away for talks about the relative size of their nuclear buttons. Justin Trudeau can tackle him for relief on tariffs. Robert Mueller can continue his imperturbable march through the Trump family's field of lies.
But Donald Trump will not be deterred. He is determined to be our most shameless president, running a White House awash in salacious stories and louche characters. https://www.nytimes.com/2018/03/10/opinion/sunday/trump-the-porn-president.html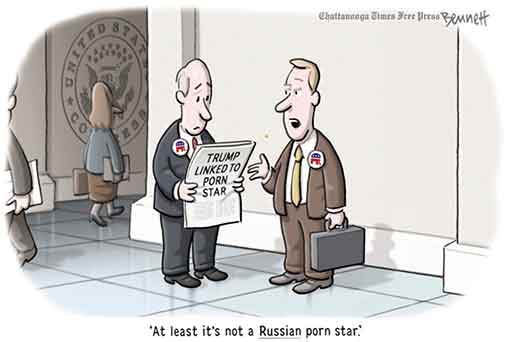 14. Stan Collender: GOP Congress Is Complicit In State Department Not Spending Russian Investigation Dollars
The State Department and its secretary, Rex Tillerson, so far have gotten all the criticism for not spending the $120 million appropriated to it to investigate Russian interference in the U.S. elections, but the Republican majority in Congress is equally as guilty for the Trump administration's failure to use these funds.
The Congressional Budget and Impoundment Control Act requires Congress to approve a request by the president not to spend a previously enacted appropriation, that is, an 'impoundment.' The act was put in place in the early 1970s in large part because President Richard Nixon was refusing to spend appropriations and Congress had no way to force the White House to do it.
Trump's refusal to spend the previously enacted $120 million appropriation is pure Nixonian in its audacity. There is one big difference between what Trump is doing now and Nixon did then, however. This time, the Republican-controlled Congress has the ability to force the president to spend the appropriation and so far has refused to do so. That makes Congress a co-conspirator. https://www.forbes.com/sites/stancollender/2018/03/11/gop-congress-is-complicit-in-state-department-not-spending-russian-investigation-dollars/#599c957f718a
15. Ron Reagan: The Problem Isn't Just Trump. It's Our Ignorant Electorate.
For many of us, mornings have taken on a certain nauseating sameness. We roll out from beneath the blankets and, before the scent of coffee has reached our nostrils, we are checking the news feeds for the latest semi-literate tweet coughed up by the ranting, traitorous squatter occupying the Oval Office.
As much as we loathe it, however sickening it might have become, every day seems all about him, a former game show host and real estate failure, a hawker of rot-gut vodka and bullshit degrees from a fraudulent "University" who once styled himself as "the Donald". The cable news shows lead with his most recent flatulence, the op-ed pages brim with intimations of doom, late night comedians are having a field day.
Virulent as he may be, Donald J. Trump is a symptom not the disease. Without us, he would amount to nothing more than what he had always been before the bizzaro presidential election of 2016: a foppish narcissist desperate for any measure of affirmation; a joke; a nothing. He did not create his voters. They have been there all along, seething with sometimes justifiable anger and suffering their various insecurities. They created and enabled Trump. And make no mistake, in all their vulnerable humanity, they are us: Gullible, compliant, distracted, marinating in irony. https://www.thedailybeast.com/the-problem-isnt-just-trump-its-our-ignorant-electorate
16. David Remnick: Donald Trump and the Stress Test of Liberal Democracy
Minute by minute, the wheels are coming off the clown car that is the Trump Administration. The circus animals are deserting, wriggling through every available window and door. Last week, it was the chief economic adviser, Gary Cohn, who had countenanced the President's falsehoods and flights of bigotry but who finally took a stand on the question of steel and aluminum tariffs. Still others—the Secretary of State, the national-security adviser, the chief of staff, the Chief Daughter, and the Feckless Son-in-Law—are surely imagining either their own retirement from government service or multi-part indictments. Meanwhile, Robert Mueller's investigation grows increasingly ominous for the President. Also, porn stars.
Trump's illiberalism—his cockeyed expressions of admiration for such leaders as Vladimir Putin, Recep Tayyip Erdoğan, and Rodrigo Duterte, and his heedless detachment from American norms—betrays that faith. It has also inspired a stream of books with titles like "How Democracies Die," "Can It Happen Here?," "The Road to Unfreedom," "Why Liberalism Failed," and "It's Even Worse Than You Think." Yascha Mounk, the author of the most recent addition to this library of anxiety, "The People vs. Democracy: Why Our Freedom Is in Danger & How to Save It," offers a trenchant survey from 1989, with its democratic euphoria, to the current map of autocratic striving, "from Athens to Ankara." https://www.newyorker.com/magazine/2018/03/19/donald-trump-and-the-stress-test-of-liberal-democracy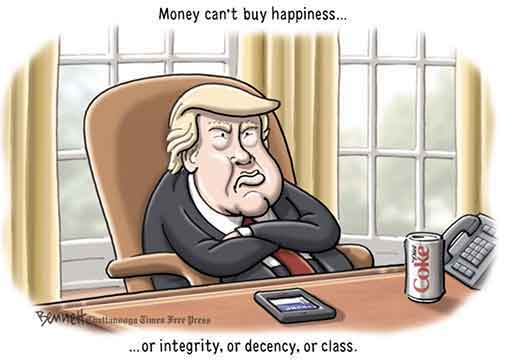 17. Rick Wilson: The Walls Are Closing In on Trump
Trump continues to behave toward Putin like a preacher caught in a whorehouse; cowed, compliant, and terrified of his prospective blackmailer. Putin's ongoing attempts to divide and influence the American political system aren't speculation, imagination, or some Soros-driven conspiracy. His anti-American propaganda campaign is still in full swing, and the only upside is he's not murdering people here quite yet, though if I were Paul Manafort I'd cut the deal and get into witness protection now.
That members of Congress who have sworn an oath to uphold the Constitution and protect this nation have engaged in a sham investigation about to produce a sham report to protect a sham president is an insult to the oath they swore and itself a clear and present danger to the security of our nation. Nunes, the Fredo of L'Affaire Russe, will have a sharply defined role in the history of this sad moment: The clownish and weak man who exposed his nation to danger and disruption by a hostile enemy nation merely for partisan benefit.
The reality is that Mueller has built a case slowly, carefully, and methodically as Trump continues to set his case on fire with obvious obstruction and manic tweets. The Senate inquiry, too, is serious, bipartisan, and delving into the places, people, and issues the House Intel Committee ignores.
As Fox News, talk radio, and Trump-centric clickservative media chant "case closed," Trump is already tweeting IN CRAZY GRANDPA ALL CAPS  his amplification of House Intel's "report" to convince his credulous base that the story is over and to call for the dismissal of Mueller and the end of the Senate probe.
His audience will believe it. Bob Mueller, the Senate, and the intelligence community have other ideas. https://www.thedailybeast.com/the-walls-are-closing-in-on-trump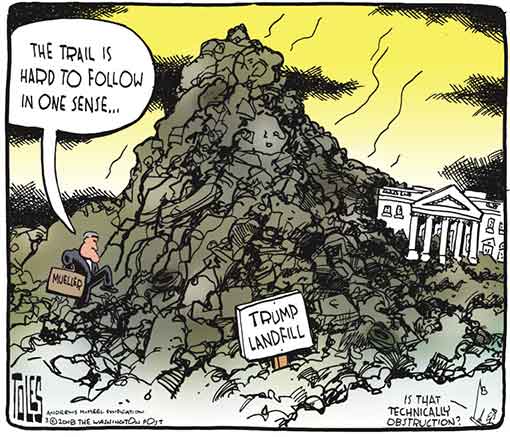 18. NY Times Editorial: Trump May Make America Miss Rex Tillerson
Rex Tillerson will be remembered as one of the country's weakest and least effective secretaries of state. With no experience in foreign policy or government, he provided little leadership and eviscerated the department he was chosen to lead, enthusiastically carrying out the budget-cutting orders of a hot-headed president uninterested in diplomacy. Scores of senior diplomats and other professionals, the core of America's foreign service, were either forced out or chose to flee.
And yet we have cause to regret his departure, because his replacement is likely to be worse.
Mr. Tillerson was one of the administration's few realist voices, along with Defense Secretary Jim Mattis. He acknowledged threats from Russia, advocated diplomacy with North Korea, supported the Paris climate pact, and encouraged Mr. Trump to preserve the Iran nuclear deal. But that frequently put him at odds with Mr. Trump.
We are left once again to contemplate the chaos of the Trump White House. https://www.nytimes.com/2018/03/13/opinion/trump-rex-tillerson-ousted.html