August 15, 2019
ON THE RECORD. . .
"White supremacy isn't a real problem in America. This is a hoax, just like the Russia hoax. It's a conspiracy theory used to divide the country and keep a hold on power… I've lived here 50 years and I've never met anybody, not one person who ascribes to white supremacy. I don't know a single person who thinks that's a good idea." — Tucker Carlson, in his ongoing and remarkably successful quest to be the worst of the Fox News nighttime hosts.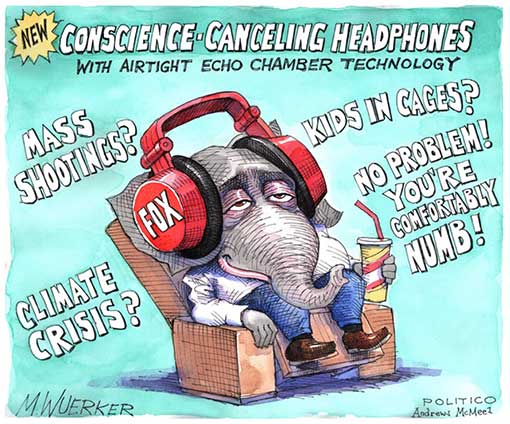 You're telling me this is the baby whose mother and father were killed by a white supremacist triggered by Trump, who hunted them down for being Hispanic? And then, Dotard Trump sees it fit to pose doing a thumbs up. Imbecil. twitter.com/joshtpm... -- Ana Navarro-Cárdenas@ananavarro
"This administration has directed DHS to conduct these raids as part of what I believe is this administration's campaign of terror, which is to make whole, whole populations of people afraid to go to work." — Sen. Kamala Harris decried recent immigration raids as part of the Trump administration's "campaign of terror" that will distort the upcoming 2020 census, Politico reports. https://www.politico.com/story/2019/08/11/kamala-harris-immigration-raids-2020-census-1456525
"Government, please show some heart. Let my parents be free … I need my dad and mommy. My dad didn't do anything, he's not a criminal." — 11-year-old Magdalena Gomez Gregorio crying after ICE rounded up hundreds of undocumented workers during a raid on workplaces throughout Mississippi leaving the children of those taken into custody scared, uninformed, and without guardian supervision as they waited for their parents to pick them up from school.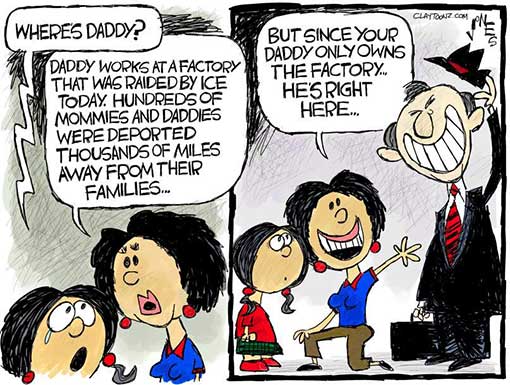 "I just got a beautiful letter from him this week. We are friends. People say he only smiles when he sees me."— Trump on his friendship with Kim Jong Un.
"The people of El Paso told me that they didn't want to see the president and they didn't want him to come here. Not a single patient at University Medical Center or Del Sol Hospital, the two hospitals caring for survivors of that attack, wanted to see the president. That says it all, if you ask me." — Beto O'Rourke
'Linking Bill and Hillary Clinton to Epstein's death first got a boost from Trump World fixture Lynne Patton and Fox Business host Lou Dobbs, then became a trending topic on Twitter, and eventually gained an inevitable endorsement from the president of the United States (who doesn't seem to realize that his administration runs the prison where Epstein died).' — New York Intelligencer.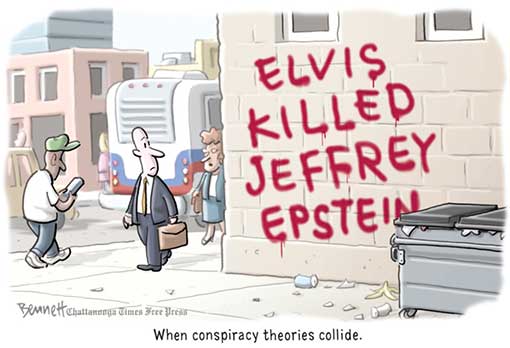 "The yellow light is on. It's gonna go red. If he wins the next presidential election, look out. He hasn't listened to anybody in the first four years, what do you think's gonna happen in the next four years?" — Anthony Scaramucci saying Trump is "giving people a license to hate" instead of bringing people together.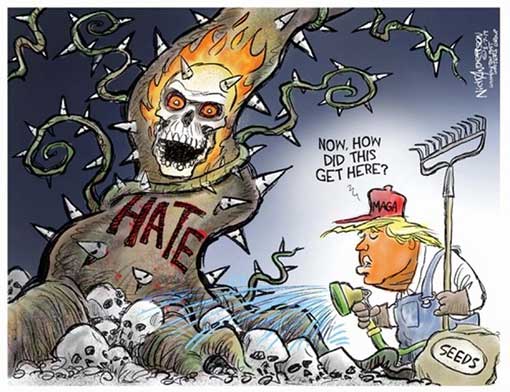 "In Trumpville, the emotional texture and familial feeling usually modeled by a First Family has been replaced with the enthusiasm of anonymous crowds, with the mass hysteria whipped up at Nuremberg-style rallies led by the President, where people seek the thrill of connection conjured by ritualistic chants of racism and misogyny ("Lock her up!" "Build that wall!" "Send them back!"). Donald Trump seems to experience love only in such soulless settings, with their underlying threat of violence — and he encourages his followers to do the same. -- Rhonda Garelick
"I got sued on a thing called emoluments. Emoluments. You ever hear of the word? Nobody ever heard of it before." — Donald Trump
"We all want to invest in building our democracy and saving it from any enemies, foreign and domestic We've sent our legislation to the Senate. Moscow Mitch says that he is the Grim Reaper. Imagine describing yourself as the Grim Reaper, that he's going to bury all this legislation. Well, we have news for him. All this legislation is alive and well in the general public." — Speaker Nancy Pelosi (D-CA) criticizing Mitch McConnell (R-KY) for blocking House Democrats' legislation, including election security measures.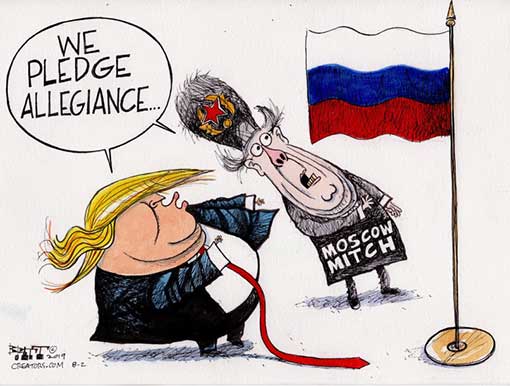 "What if we went back through all the family trees and just pulled out anyone who was a product of rape or incest? Would there be any population of the world left if we did that? Considering all the wars and all the rapes and pillages that happened throughout all these different nations, I know that I can't say that I was not a part of a product of that." — Rep. Steve King's defense for not allowing exceptions for rape and incest in the anti-abortion legislation he tried to pass in Congress.
---
IN THIS ISSUE
FYI
OPINION
1.  Andy Borowitz: Trump Demands Facebook Investigate Why Obama's Post Got So Many Likes
A furious Donald J. Trump has demanded that Facebook investigate why a status update posted by former President Barack Obama on Monday has received so many likes.

Speaking to reporters on Wednesday morning, Trump said that the more than eight hundred and fifty thousand likes that Obama's post had garnered as of Tuesday night were "phony," and called the seeming popularity of the post a "rigged hoax."

"There is absolutely no way that eight hundred and fifty thousand people liked Obama's post," he said. "I know a lot of people, and absolutely none of them like Obama."

Trump said that, in addition to investigating Obama's likes, he was demanding that Facebook remove several hundred thousand of Obama's likes and "give them to me instead."

Calling the former President's Facebook post "as long and boring as a book," Trump slammed Obama for being "terrible at social media, which is the most important part of a President's job."

"In that post he uses words like 'motivations,' 'proliferate,' and 'unequivocally,' " Trump said. "How could over eight hundred thousand people like a post full of words that no one has ever heard of?" https://www.newyorker.com/humor/borowitz-report/
2. Trump's State-by-State Approval Ratings Should Scare the MAGA Out of Him
The online polling firm Civiqs has published a new set of state-by-state job-approval ratings  for Trump as of August 11, and it shows how the president's overall standing (a 43 percent approval rating nationally, which happens to match the current RealClearPolitics polling average) might translate into electorate votes. It's not a pretty picture for the president, to put it mildly.
Civiqs shows the president's net approval ratios being underwater (i.e., negative) in 10 states he carried in 2016: Arizona, Florida, Georgia, Iowa, Michigan, North Carolina, Ohio, Pennsylvania, Texas, and Wisconsin. If that were to represent how the 2020 elections turn out, Trump would have a booming 119 electoral votes. And it's not as though he's on a knife's edge between victory and defeat in all these Trump 2016 states where he's doing poorly: He's underwater by 12 points in Pennsylvania, 11 in Michigan, and nine in Arizona, North Carolina, and Wisconsin. And there's virtually no indication that states that narrowly went for Clinton in 2016 are trending in Trump's direction: His approval ratios are minus 18 in Colorado, minus 15 in Minnesota, minus 12 in Nevada, and minus 27 in New Hampshire. These are, by the way, polls of registered voters, not just "adults," so they should be a relatively sound reflection of the views of the electorate. http://nymag.com/intelligencer/2019/08/trumps-state-by-state-approval-ratings-should-scare-him.html
3. Greenhouse Gases Reach Unprecedented Level
The dominant greenhouse gases released into the Earth's atmosphere reached record levels in 2018, and their global warming power is now 43% stronger than in 1990, according to a new report by the American Meteorological Society released Monday.
The State of the Climate in 2018 study also reported other key findings:
2018 was the fourth-warmest year on record. The three other warmest years were 2015, 2016 and 2017, with 2016 as the warmest year since records first began being kept in the mid-1800s.

Sea levels rose to record levels for a seventh consecutive year.

Glaciers continue to melt at a concerning rate for the 30th straight year.

Every year since the start of the 21st Century has been warmer than the 1981-2010 average," the report said. "In 2018, the dominant greenhouse gases released into Earth's atmosphere -- carbon dioxide, methane, and nitrous oxide -- continued to increase and reach new record highs." https://www.ecowatch.com/greenhouse-gases-level-2639803536.html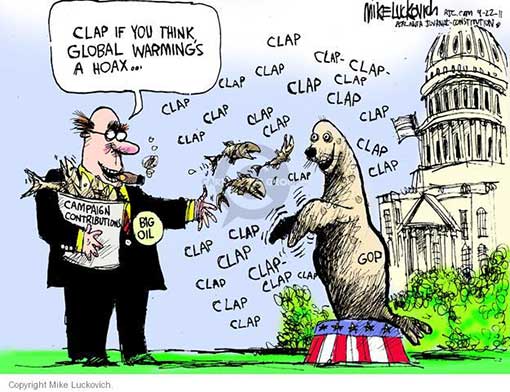 4. How Trump's paranoia and conspiracy theories become US policy
It is no longer surprising when President Donald Trump fuels a conspiracy theory online, as he did over the weekend with regard to the apparent suicide of multimillionaire financier and accused sex trafficker Jeffrey Epstein.
This is the man who built a political career by fanning the fringe of American politics with fevered insinuations or allegations, including, but not limited to the baseless theories that:
Barack Obama wasn't born in the US
A rival's father was in on the John F. Kennedy assassination
The 2016 presidential election was rigged against him even though he won
Millions voted illegally for Hillary Clinton
The US government spied on his campaign
There's a deep state of bureaucrats organized against him
The special counsel appointed by his Justice Department was actually a witch hunt organized by Democrats
Trump's latest trip into fantasy comes after the death of Epstein in a federal jail cell in New York.
https://www.cnn.com/2019/08/12/politics/trump-conspiracy-theories-jeffrey-epstein/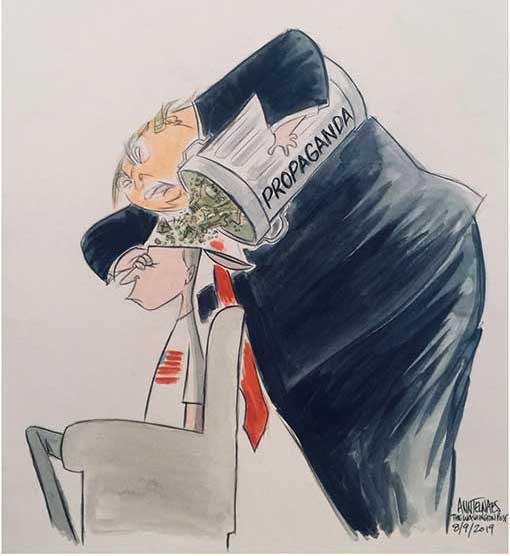 5. Trump has made 12,019 false or misleading claims over 928 days
President Trump has been caught making 12,019 false or misleading claims since taking office, the Washington Post reports.
Trump's penchant for repeating false claims is demonstrated by the fact that the Fact Checker database has recorded more than 300 instances in which he has repeated a variation of the same claim at least three times. He also now has earned 23 "Bottomless Pinocchios," claims that have earned Three or Four Pinocchios and that have been repeated at least 20 times.
Even as Trump's fact-free statements proliferate, there is evidence that his approach is failing.
Fewer than 3 in 10 Americans believe many of his most-common false statements, according to a Washington Post Fact Checker poll published in December. Only among a pool of strong Trump approvers — about 1 in 6 adults in the survey — did large majorities accept several, although not all, of his falsehoods as true. https://www.washingtonpost.com/politics/2019/08/12/president-trump-has-made-false-or-misleading-claims-over-days/
6. How the El Paso Killer Echoed the Incendiary Words of Conservative Media Stars
An extensive New York Times review of popular right-wing media platforms found hundreds of examples of language, ideas and ideologies that overlapped with the mass killer's written statement — a shared vocabulary of intolerance that stokes fears centered on immigrants of color. The programs, on television and radio, reach an audience of millions. VIDEO at https://www.nytimes.com/interactive/2019/08/11/business/media/el-paso-killer-conservative-media.html
7. 'Coal is over': the miners rooting for the Green New Deal
A lot of guys thought they were going to bring back coal jobs, and Trump stuck it to them," said 69-year-old Bennie Massey, who worked for 30 years as a coal miner in Lynch, Kentucky.
Stanley Sturgill, a coal miner for 41 years in Harlan county, Kentucky, explained the Green New Deal would open the door for elected officials to use the plan to render solutions needed in their own communities.
"If it was called the Red New Deal, it would be approved by now," said Sturgill. "What you're doing with the Green New Deal is you're opening the door to infringe on the Republicans' money and that's what they're afraid of. Republicans laugh and say you can't pay for it. But if you tax everybody what they should be taxed, and I'm talking about the wealthy, there wouldn't be a problem."
Sturgill cited the coal companies that receive billions of dollars in annual government subsidies and tax breaks, while hiring expensive lawyers to fight paying black lung benefits to coal miners. "I fought seven years before I got my black lung benefits, and they were hoping I died before getting paid," added Sturgill. https://www.theguardian.com/environment/2019/aug/12/west-virginia-appalachia-miners-green-new-deal
8. The impeachment inquiry Trump feared is already here
House Democrats have begun impeachment proceedings against President Trump. A key Democrat admitted as much Thursday.
"This is formal impeachment proceedings," the chairman of the House Judiciary Committee, Jerrold Nadler (D-N.Y.), told CNN on Thursday, after weeks of dancing around whether his committee would formally consider impeaching Trump.
"We are investigating all the evidence, gathering the evidence," Nadler added. "And we will [at the] conclusion of this — hopefully by the end of the year — vote to vote articles of impeachment to the House floor. Or we won't. That's a decision that we'll have to make. But that's exactly the process we're in right now."
His statement makes clear what a lawsuit filed Wednesday by his committee states: that the "Judiciary Committee is now determining whether to recommend articles of impeachment against the President based on the obstructive conduct described by the Special Counsel." https://www.washingtonpost.com/politics/2019/08/09/impeachment-inquiry-trump-has-feared-is-here/
9. Texodus: Why are Texas Republicans in Congress bolting for the exits, and what does it mean for 2020?
 Four rapid-fire retirement announcements by Texas Republicans in Congress have prompted fresh soul-searching for a political party that's seeing its decades-long dominance in the Lone Star State start to teeter.
While it's not that unusual for some lawmakers to hit the exits in any given election cycle, the "Texodus" label proffered these days by opportunistic Democrats may have some warrant.
The obvious question: Why?
No one reason explains it all. But looming large is the fact that Texas' demographics continue to shift, particularly in the suburbs; that the GOP faces long odds to win back the House; and that President Donald Trump's reelection bid, for good or ill, is going to set the tone in 2020.
https://www.dallasnews.com/news/elections-2020/2019/08/09/many-texas-republicans-congress-bolting-exits-mean-2020
10. Attorney for Montana man who threw teen in national anthem attack says Trump rhetoric to blame
The attorney for a Montana man accused of slamming a 13-year-old boy to the ground for not removing his hat during the national anthem before a rodeo said Wednesday his client believes he was acting on an order from President Donald Trump. The president's "rhetoric" contributed to Curt Brockway's disposition when he allegedly grabbed the boy by the throat and slammed him to the ground at the Mineral County fairgrounds Saturday,  https://www.cbsnews.com/news/lawyer-for-suspected-attacker-montana-boy-body-slammed-to-ground-hat-during-national-anthem-blames-trump-rhetoric/
11. Pentagon watchdog warns that ISIS is 'resurging in Syria' after Trump's drawdown of U.S. troops
In a sobering new report, the Pentagon's independent watchdog concludes that the remnants of the Islamic State militant group have been capitalizing on President Trump's drawdown in Syria.
"Despite losing its territorial 'caliphate,' the Islamic State … solidified its insurgent capabilities in Iraq and was resurging in Syria," writes acting Defense Department inspector general Glenn Fine. "The reduction of U.S. forces has decreased the support available for Syrian partner forces at a time when their forces need more training and equipping to respond to the ISIS resurgence."
Then Trump announced in December that he was ordering the full withdrawal of U.S. troops after a phone call with Turkish President Recep Tayyip Erdogan. That decision was the final straw that led Jim Mattis to resign as secretary of defense. A permanent replacement was not installed until Mark Esper's confirmation on July 23. Under pressure from military brass and Republican allies on Capitol Hill, Trump backed off his initial intention to precipitously withdraw all personnel. https://www.washingtonpost.com/news/powerpost/paloma/daily-202/2019/08/08/daily-202-pentagon-watchdog-warns-that-isis-is-resurging-in-syria-after-trump-s-drawdown-of-u-s-troops/5d4bb27d88e0fa4cc4c2346c/
12. Tucker Carlson goes on vacation as criticism mounts over false claim about white supremacy 'hoax'
Facing mounting controversy for declaring the very real problem of white supremacy in America to be a "hoax," Tucker Carlson announced at the end of his Wednesday night Fox News show that he will be taking a vacation. https://www.cnn.com/2019/08/08/media/tucker-carlson-vacation-reliable-sources/index.html
13. Absolute Amateur Hour': Team Trump Mangles Messages to Iran
The Trump administration keeps sending conflicting and contradictory messages to Iran about its terms for new negotiations, multiple U.S and European officials tell The Daily Beast. And the ensuing chaos has vexed the president, complicated diplomatic efforts for American allies abroad, and utterly baffled policymakers at home. 
"Absolute amateur hour," said one former senior administration official, who was involved with the internal squabbles.
For several months, the United States has been actively attempting to pass messages, via allies, to the Iranians in an effort to move closer to beginning formal diplomatic talks with Tehran.
 
However, diverging opinions within the Trump administration are foiling the nascent diplomatic process, according to two current U.S. officials and another source with direct knowledge of the matter. The dissent is straining foreign intermediaries who are working as go-betweens between Washington and Tehran. They say they are fed up with receiving mixed messages from Donald Trump's team. https://www.thedailybeast.com/team-trump-mangles-messages-to-iran-absolute-amateur-hour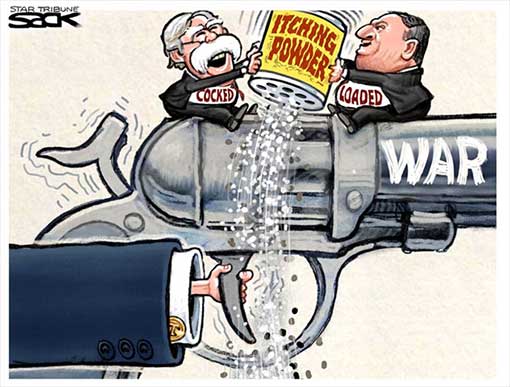 14. Trump claims credit for Shell plant announced under Obama
President Donald Trump sought to take credit Tuesday for a major manufacturing complex in western Pennsylvania in his latest effort to reinvigorate the Rust Belt support that sent him to the White House. He was cheered on by fluorescent-vest-clad workers who were paid to attend by Shell, their employer, which is building the facility.
Despite Trump's claims, Shell announced its plans to build the complex in 2012, midway through President Barack Obama's term in the White House.
The event was billed as an official White House event, but Trump turned much of it into a campaign-style rally, boasting of achievements he claims as president and assailing his would-be Democratic rivals for the 2020 election. https://www.apnews.com/00061b19834849f8b6e1aa73ecdf54e4
15. Banks Hand Over Documents on Russians Possibly Linked to Trump
Major Wall Street banks have given congressional committees investigating President Trump thousands of pages of documents related to Russians who may have had dealings with Mr. Trump, his family or his business, people familiar with the congressional probes said. Some banks are also giving documents related to Mr. Trump's business, the Trump Organization, to New York state investigators, people familiar with the New York investigation said. https://www.wsj.com/articles/banks-give-documents-possibly-linked-to-trump-to-investigators-11565256601
16. The DAILY GRILL
"That statue of poem was about "people coming from Europe. Give me your tired and your poor who can stand on their own two feet, and who will not become a public charge. ... referring to "people coming from Europe." — Ken Cuccinelli, acting director of U.S. Citizenship and Immigration Services

VERSUS

The words on the Statue of Liberty won't be changed at the racist whims of this administration—and neither will the character of this country.— Beto O'Rourke tweet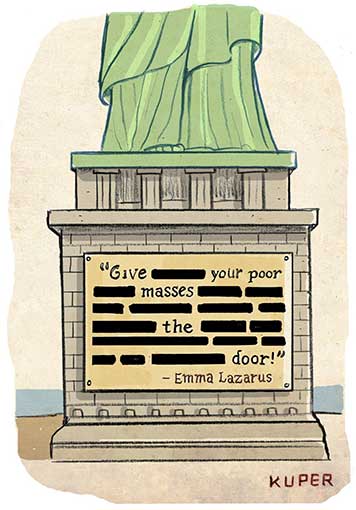 17. Billionaire Tom Steyer -- making up for lost time -- dwarfs other 2020 contenders in ad spending
The California hedge fund mogul believes his populist message, and perhaps more importantly $100 million of his own money, could pave his way to Pennsylvania Avenue, as most of the candidates in the crowded Democratic primary pivot towards grassroots support.
Steyer has been blanketing airways and social media platforms in key states with advertisements targeting President Donald Trump and introducing himself to the American people. He's spent more than $6.6 million on television and online ads in the first four weeks of his campaign, according to television and online ad data.
He has to -- the deadline to qualify for the third democratic debate in September is swiftly approaching and there's a high threshold for unique donors to qualify and candidates have to hit 2% in at least four recognized polls.
That means grabbing the attention and imagination of a huge swath of voters in a short period, if he wants his own podium on the stage. And Steyer has not been coy about his needs -- in most of his online ads, Steyer is expressly asking donors to contribute $1 so that he can meet the donor count requirement and make it to the upcoming debate.
With his massive, self-funded war chest, Steyer has been topping every other 2020 White House hopefuls' weekly social media ad spending -- even President Donald Trump -- since launching his campaign last month. And in those four weeks, he's nearly spent as much as Sens. Elizabeth Warren, D-Mass., and Bernie Sanders, I-Vt., have spent in online ads in the past half year. https://abcnews.go.com/Politics/tom-steyer-making-lost-time-dwarfs-2020-contenders/story?id=64806773
18. From MEDIA MATTERS (They watch Fox News so you don't have to)
Fox contributor: El Paso shooter "was actually very prescient" in writing that Trump's rhetoric would be linked to the massacre. https://www.mediamatters.org/fox-friends/fox-contributor-el-paso-shooter-was-actually-very-prescient-writing-trumps-rhetoric
On Fox, Brandon Judd says immigrants arrested in Mississippi committed a "myriad of crimes" like "working illegally." https://www.mediamatters.org/fox-news/fox-brandon-judd-says-immigrants-arrested-mississippi-committed-myriad-crimes-working
Conservative media figures dismissed an analysis from The New York Times showing hundreds of instances in which they used the same sort of anti-immigration rhetoric as the manifesto of the gunman who shot and killed 22 people in El Paso, TX, in early August. https://www.mediamatters.org/fox-news/rush-limbaugh-and-other-conservative-media-dismiss-ny-times-report-showing-el-paso-shooter
Christian Palich, a coal proponent attacked a federal regulator as being run by radical environmentalists. Now he's a senior official at that agency. https://www.mediamatters.org/donald-trump/coal-proponent-attacked-federal-regulator-being-run-radical-environmentalists-now-hes
19. White House rebuffed attempts by DHS to make combating domestic terrorism a higher priority
White House officials rebuffed efforts by their colleagues at the Department of Homeland Security for more than a year to make combating domestic terror threats, such as those from white supremacists, a greater priority as specifically spelled out in the National Counterterrorism Strategy, current and former senior administration officials as well as other sources close to the Trump administration tell CNN.
"Homeland Security officials battled the White House for more than a year to get them to focus more on domestic terrorism," one senior source close to the Trump administration tells CNN. "The White House wanted to focus only on the jihadist threat which, while serious, ignored the reality that racial supremacist violence was rising fast here at home. They had major ideological blinders on."
https://www.cnn.com/2019/08/07/politics/white-house-domestic-terrorism/index.html
20. Trump quietly used regulations to expand gun access
While Trump boasts of action on firearms, his administration has eased gun restrictions over the past 2½ years.
Federal agencies have implemented more than half a dozen policy changes — primarily through little-noticed regulatory moves — that expand access to guns by lifting firearms bans in certain locations and limiting the names in the national database designed to keep firearms away from dangerous people. The administration asked the Supreme Court to overturn New York City restrictions on transporting handguns outside homes. And it pushed to allow U.S. gunmakers to more easily sell firearms overseas, including the types used in mass shootings. https://www.politico.com/story/2019/08/07/trump-gun-access-restrictions-1449663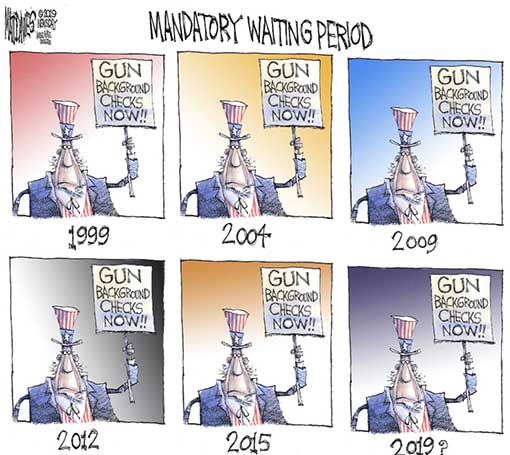 21. Bullock knocks DNC rules after Steyer reaches donor threshold for fall debates
Democratic presidential hopeful Montana Gov. Steve Bullock (D) slammed the Democratic National Committee's (DNC) debate qualification rules on Tuesday after billionaire Tom Steyer reached the donor threshold for the party's fall primary debates. 
"The DNC donor requirement may have been added with the right intentions, but there's no doubt that it's created a situation in which billionaires can buy their way onto the debate stage, and campaigns are forced to spend millions on digital ads chasing one dollar donors — not talking directly to voters," Bullock said in a statement. His presidential campaign has made a tentpole issue out of working to get big money out of politics. 
"We're kidding ourselves if we're calling a $10 million purchase of 130,000 donors a demonstration of grassroots support," he continued. https://thehill.com/homenews/campaign/457259-bullock-knocks-dnc-rules-after-steyer-reaches-donor-threshold-for-fall
22. Trump says he's losing as much as $5B being president
Donald Trump claimed on Tuesday that being president will personally cost him billions of dollars, due in part to the lawyers he has had to hire to defend him in various lawsuits.
"This thing is costing me a fortune, being president," Trump said during a speech at the Shell Petrochemical plant in Monaca, Pennsylvania, near Pittsburgh.
"Somebody said, 'Oh, he might have rented a room to a man from Saudi Arabia for $500,'" Trump said, referring to reports that Saudi Crown Prince Mohammed bin Salman and members of his delegation booked multiple nights in a Trump hotel.
"What about the $5 billion that I'll lose?" Trump asked, noting his high cost of lawyers "cause everyday they sue me for something."
"It's probably costing me from $3 to $5 billion for the privilege of being — and I couldn't care less—I don't care. You know if you're wealthy, it doesn't matter. I just want to do a great job," Trump added. https://www.nbcnews.com/politics/donald-trump/trump-being-president-it-s-probably-costing-me-3-5-n1042016
23. Mark Sanford mulls GOP challenge to Trump, heads to New Hampshire
Mark Sanford, the former South Carolina governor and congressman, is heading to another early voting state as he considers mounting an uphill challenge to President Donald Trump for the Republican presidential nomination. https://apnews.com/6fa8ce49316a4f778392fa4e526d1f3a
24. Support for Allowing Border Refugees Into U.S. Edges Up
A new Gallup poll shows growing support for allowing refugees from Central America into the United States. Among the three main U.S. partisan groups, Democrats remain most supportive of allowing the refugees entry, with the current 85% approving similar to the 82% recorded in December.
The largest increase in support has been among Republicans, from 14% in December to 24% now. Approval among independents increased slightly from 52% in December to 58% today.
If support for Central American refugee entry continues to increase, this could jeopardize President Donald Trump's immigration-related initiatives. The administration's initiatives have already endured setbacks ranging from high-profile criticisms, the resignation of the secretary of Homeland Security, condemnation from the UN and repeated court challenges to his various immigration policies. Most recently, the administration reversed a long-held U.S. asylum policy -- which would have barred nearly all the migrants currently at the border from seeking asylum status -- but this was blocked by a federal judge soon after Gallup's polling period. The final word on the asylum policy may be decided by the U.S. Supreme Court.
Across party lines, significant majorities agree that the situation at the border is a "crisis" or "major problem," suggesting that Americans desire some government action on the matter. But many of Trump's policies and proposals on immigration have been unpopular-- and particularly so among Democrats. Trump and Congress did recently work together to increase funding for the border situation, but further action will continue to depend on Trump finding solutions that can pass the Democratic House of Representatives. https://news.gallup.com/poll/264785/support-allowing-border-refugees-edges.aspx
1. Bess Levin: Trump Throws A Fit, Blames "Clueless Jay Powell," "Crazy Inverted Yield Curve" For Market Sell-Off
On Wednesday, the Dow Jones plunged 800 points after the U.S. bond market flashed a signal that a recession may be on the horizon. Rational people understand that this is largely happening because of persistent fears about Donald Trump's never-ending trade war with China, in addition to concerns about a global economic slowdown. And then you have the president, who has never once been accused of being rational, smart, or even sane, and who believes that this is all the Federal Reserve's fault.
"'The Fed has got to do something!'" he raged on Twitter, quoting the leading lights at Fox. "'The Fed is the Central Bank of the United States, not the Central Bank of the World'…. The Federal Reserve acted far too quickly, and now is very, very late. Too bad, so much to gain on the upside!
After cutting rates for the first time in more than a decade last month, citing weak manufacturing and business-investment data due to trade-war fears, Wall Street has predicted that the Fed will slash rates at least twice more before the end of the year. If that happens, it'll largely be because Trump drags his good and easy to win trade war out until at least 2020. Unfortunately, in that case, economists believe it may be impossible to avoid a global downturn, regardless of what the Fed does or how much the president verbally abuses Jerome Powell. https://www.vanityfair.com/news/2019/08/donald-trump-clueless-jay-powell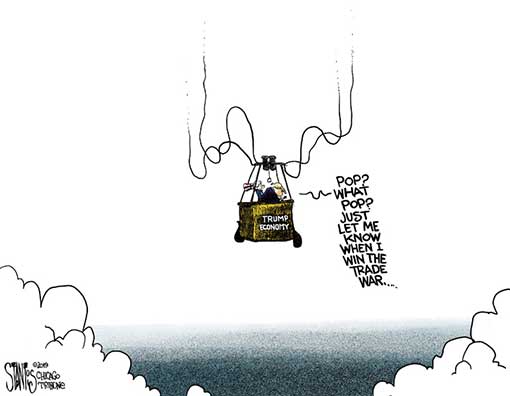 2. Eliana Johnson: Trump's vision meets growing global chaos
Donald Trump had hoped to head into the 2020 campaign season as the world's consummate deal-maker.
He may instead enter his reelection campaign not just empty-handed, but vulnerable to the charge that his policies have helped sow chaos across the globe.
His trade war with China keeps escalating, with mounting costs to the U.S. economy. Diplomatic overtures to Iran and North Korea have so far failed to yield the president's desired outcome. Jared Kushner's Middle East peace plan, two years in the making, is nowhere to be seen. And America's retreat from Syria, where the president once boasted he had defeated ISIS, has allowed the terrorist group to regenerate, according to a new Pentagon inspector general's report.
Trump's critics see these data points as alarming signs that the president is out of his depth on international affairs, if not complicit in the breakdown of global order. And while his allies enthusiastically support his efforts to squeeze Iran, some are quietly nervous — if not openly scornful — of his policies elsewhere.
"He's trying to pivot from being sort of a militarist to being a deal-maker and delivering on diplomacy. That's his sort of political goal going into 2020," said Thomas Wright, a senior fellow at the Brookings Institution. "He's made all of these decisions and choices that are sort of getting him into trouble and he's having to cope with the decisions and consequences." https://www.politico.com/story/2019/08/08/trump-foreign-policy-peacemaker-1452726
3. Dana Milbank: A worried nation wonders: How can we keep Wayne LaPierre safe?
After two horrific mass shootings, we come together as a nation to confront an urgent question: How are we going to keep Wayne LaPierre safe?
The longtime head of the National Rifle Association, it turns out, is worried sick about his personal safety in this gun culture.
After the Sandy Hook massacre in 2012, he and his wife bravely waited out the uproar on the pink-sand beaches of the Bahamas, part of $542,000 in private jet trips and personal items the NRA bought for him. And now, thanks to some delightful reporting by my Post colleagues Carol D. Leonnig and Beth Reinhard, we know that last year's Parkland massacre left LaPierre so fearful for his personal safety that he tried to have the NRA buy him a $6 million French-chateau-style mansion with nine bathrooms in a gated Dallas-area golf course community.
He told associates he was worried about his safety and thought his Virginia home was too easy for potential attackers to find.
Ultimately, the financially stressed NRA didn't buy LaPierre the mansion. That's too bad, because, as the saying goes: "The only thing that stops a bad guy with a gun is a good guy with a French chateau." — Dana Milbank https://www.washingtonpost.com/opinions/a-worried-nation-wonders-how-can-we-keep-wayne-lapierre-safe/2019/08/09/3ea6e598-bab5-11e9-bad6-609f75bfd97f_story.html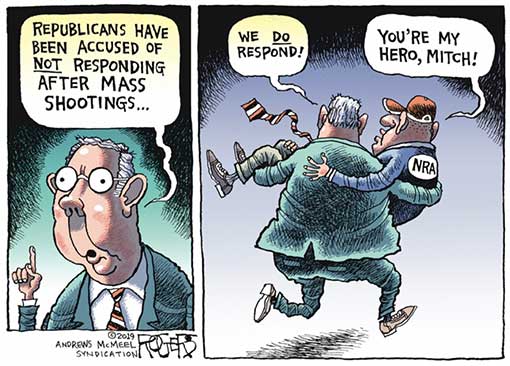 4. Bridget Read: Well, This Really, Really Doesn't Sound Good
The Intergovernmental Panel on Climate Change has released another report on the state of things in the Anthropocene, and this one also falls in the category of Really Not Good, subset: We're Fucked. It's about the world's food supply, which, in short, is very much in peril.
Last year, the IPCC delivered stark predictions about what will happen if industrialized countries fail to rapidly curb greenhouse-gas emissions and global temperatures rise over 1.5 degrees. Now the United Nations body has described how our continued wasteful land- and water-use practices are depleting these resources at potentially crisis-inducing rates. Soil is being lost between 10 and 100 times faster than it is forming; places are literally turning into deserts as they dry up.
Agriculture is getting more difficult under climate change, and it's also making climate change worse. The experts on the panel cited the draining of wetlands, deforestation, and the raising of cattle as practices that contribute untenable amounts of greenhouse gases to the atmosphere. What's more, even some of the innovations devised to combat those gases — planting trees and growing corn to produce ethanol, called bioenergy — will also adversely affect land use, pushing livestock and crops off viable soil.
The bottom line is that drastic changes are needed to mitigate the worst-case scenario, including protecting indigenous populations, aiding farmers in developing countries, and strengthening property rights. The report emphasizes that the world's most vulnerable populations are already suffering from famine and drought and that migration will only increase as desperate people try to flee their circumstances. The example the authors used is the record numbers of Hondurans, Guatemalans, and El Salvadorans who sought to cross the border between the United States and Mexico between 2010 and 2015, which coincided with an unusual dry period in those countries. There will be climate refugees within our borders too, of course, as rising seas and extreme weather cause mass migration from affected population areas. As one author of the report ominously put it, "People don't stay and die where they are." https://www.thecut.com/2019/08/un-releases-scary-new-report-on-climate-change-and-food.html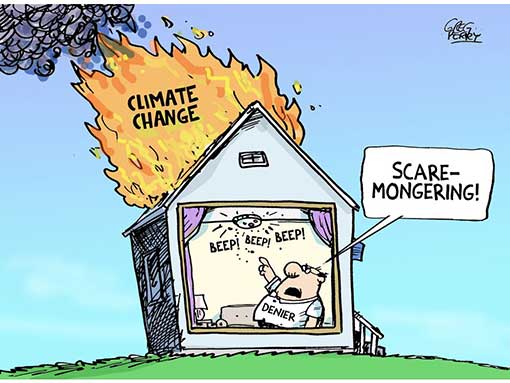 5. Maggie Haberman: A Divisive Voice Once Again Has Trump's Ear
As President Trump doubles down on a re-election approach of stoking fear of immigrants, he is once again elevating a voice of validation — and many say racism — that he discovered during his last presidential campaign.
That voice is Katie Hopkins, a far-right British commentator who has made denunciations of migrants and Muslims — and defenses of Mr. Trump — a staple of her public discourse. British headlines have routinely labeled Ms. Hopkins a "racist" and a "bigot" for her views about immigrants.
On Saturday morning, Mr. Trump invoked Ms. Hopkins shortly before a mass shooting that killed 22 in El Paso, where the suspect wrote an anti-immigrant manifesto that echoed Mr. Trump's inflammatory language about migrants.
Ms. Hopkins, a former Sun and Daily Mail columnist who appeared on the British version of "The Apprentice," has become well known in Britain for her provocative views.
In a 2015 column, she compared migrants to cockroaches. And after a suicide bombing killed 22 people at an Ariana Grande concert in Manchester in 2017, Ms. Hopkins tweeted that "we need a final solution" to the terrorism problem. She later deleted the post.
Sowing fear of Muslims — and calling out other politicians for not using the phrase "radical Islamic terrorism" — was a bedrock of Mr. Trump's run to the presidency in 2016. In an interview that March, he told the CNN anchor Anderson Cooper that "Islam hates us." The previous year, he would not rule out a mandatory registry of Muslims in the United States in an interview with Yahoo News and, after a mass shooting in San Bernardino, Calif., called for a ban on Muslims entering the country.
Ms. Hopkins's tweets and commentary were first a source of affirmation for Mr. Trump in his campaign.
"Thank you to respected columnist Katie Hopkins," Mr. Trump tweeted in 2015, "for her powerful writing on the U.K.'s Muslim problems." In another tweet, he said, "The politicians of the U.K. should watch Katie Hopkins," adding, "Many people in the U.K. agree with me!" https://www.nytimes.com/2019/08/07/us/politics/trump-katie-hopkins-tweets.html
6. Andy Kroll: DHS Was Asked What They're Doing About White Nationalist Terror. They Sent a Report About Environmentalists
In the past three years, despite the rise in recorded hate crimes, the Trump administration has reportedly deemphasized its focus on domestic terrorism and white-nationalist violence: DHS disbanded a domestic terrorism intelligence unit, according to the Daily Beast, and reassigned those analysts to different departments. The move raised questions about how serious the Trump administration was about combating homegrown extremist violence. (CNN reported on Thursday that the White House had "rebuffed" efforts by DHS to put a greater emphasis on domestic terrorism in the most recent National Counterterrorism Strategy, which lays out the administration's priorities in fighting terrorism at home and overseas.)
As if its letter wasn't confusing enough, DHS attached to its denial an official report — about "suspected environmental rights extremists." The May 2017 "Field Analysis Report," jointly produced by DHS and several state-level intelligence centers, accuses pipeline protesters of exploiting "Native American causes" to benefit their "own violent agenda" to stop construction of the Dakota Access Pipeline. It documents a series of incidents in which protesters allegedly briefly shut down pipelines along the U.S.-Canada border; fired a gun several times into a portable toilet and a backhoe; and sabotaged heavy construction equipment on several pipeline construction sites. (American Oversight provided the response letter and the report to Rolling Stone.) https://www.rollingstone.com/politics/politics-news/white-nationalist-extremist-trump-dhs-environmentalist-869090/
7.  Vera Bergengruen and W.J. Hennigan: 'We Are Being Eaten From Within.' Why America Is Losing the Battle Against White Nationalist Terrorism
When you think of a terrorist, what do you see? For more than a generation, the image lurking in Americans' nightmares has resembled the perpetrators of the 9/11 attacks: an Islamic jihadist. Not a 21-year-old white supremacist from a prosperous Dallas suburb.
But long before that young man drove to El Paso, Texas, on Aug. 3 and allegedly murdered at least 22 people at a Walmart crammed with back-to-school shoppers, it was clear that white nationalists have become the face of terrorism in America. Since 9/11, white supremacists and other far-right extremists have been responsible for almost three times as many attacks on U.S. soil as Islamic terrorists, the government reported. From 2009 through 2018, the far right has been responsible for 73% of domestic extremist-related fatalities, according to a 2019 study by the Anti-Defamation League (ADL). And the toll is growing. More people–49–were murdered by far-right extremists in the U.S. last year than in any other year since the Oklahoma City bombing in 1995. FBI Director Christopher Wray told Congress in July that a majority of the bureau's domestic-terrorism investigations since October were linked to white supremacy.
Yet the nation's leaders have failed to meet this menace. In more than a dozen interviews with TIME, current and former federal law-enforcement and national-security officials described a sense of bewilderment and frustration as they watched warnings go ignored and the white-supremacist terror threat grow. Over the past decade, multiple attempts to refocus federal resources on the issue have been thwarted. Entire offices meant to coordinate an interagency response to right-wing extremism were funded, staffed and then defunded in the face of legal, constitutional and political concerns. https://time.com/5647304/white-nationalist-terrorism-united-states/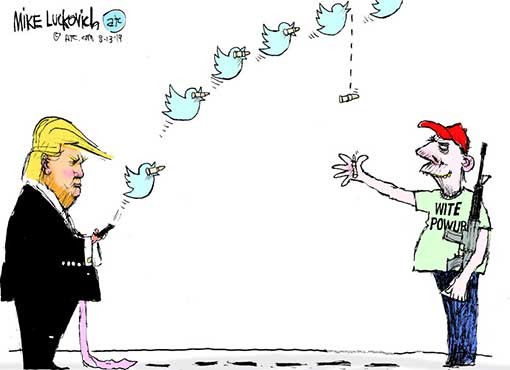 8. Dahlia Lithwick: Trump's Photo-Op With the Orphaned El Paso Baby Was the Smallest Moment of His Presidency
It took a tiny baby to reveal how small Donald Trump really is.
The president's trip to Dayton, Ohio, and El Paso, Texas, this week, ostensibly undertaken to comfort the mourners and the injured in the wake of two horrifying mass murder sprees that left at least 31 people dead and many more injured, went terribly, terribly wrong. The Washington Post observed on Thursday that inside the White House, the trip was generally seen as "not ideal," in the words of one senior administration official.
Having pledged to spend the trip unifying the nation, President Donald Trump opted to comfort the grieving by attacking Ohio Sen. Sherrod Brown and Dayton Mayor Nan Whaley for misrepresenting his reception at a hospital in Dayton, something neither of them actually did. He also spent Wednesday morning tweeting conspiracy theories about the Dayton shooter. Trump was evidently fuming on the return trip to Washington that video of his consolation and empathy tour had not been released fast enough; that he wasn't getting "credit" for his compassion, prompting Dan Scavino to tweet that he was greeted as a "ROCK STAR." Then, independent video surfaced Thursday of Trump comforting medical staff in an El Paso hospital by bragging about his crowd size at a February rally. "That was some crowd," Trump said. "We had twice the number outside. And then you had this crazy Beto. Beto had like 400 people in a parking lot, and they said his crowd was wonderful."
The cherry bomb on top was a photo from first lady Melania Trump's Twitter account that appeared to feature a grinning president with a 2-month-old infant who was orphaned during the El Paso shooting. The baby's parents were both killed trying to protect him.
Five of the eight El Paso victims who were still in the hospital reportedly declined to meet with the president, and three were physically unable to. It appears baby Paul was brought back to the hospital by White House staff for the photo-op.
That's the president, grinning and giving a thumbs-up, as the orphaned child is held out like a trophy. If words weren't inclined to fail, ghoulish and surreal might serve. This child has no parents because a shooter spouting Trumpist talking points about foreign "invaders" went to El Paso to kill them. And while the president refused to speak to reporters, who were scolded by the White House press secretary, Stephanie Grisham, in a statement saying that the visits were all "about the victims" and not a "photo op," hours later, Trump released a campaign-style video of his triumphal comforting tour.
It is clearly a horrifying spectacle of degradation when even consummate soulless showman Anthony Scaramucci is forced to say that the trip proved to be a "catastrophe" for the president, who was incapable of demonstrating the requisite quantum of "compassion" and "empathy" to win the reality show seal of approval. But for all its failures as a television event, Trump's failure served to remind us how truly small he really is. And maybe that is enough.
Trump is really only good at one thing: being on television. Any event that can be engineered to look like a scene from The Apprentice can be fudged to his advantage. Stadium rallies, press availability from inside the Oval Office, even canned speeches read from a teleprompter can be salvaged; so long as he is essentially only producing a simulacrum of presidenting, he can shift along. But reality confounds him. Take him out from behind the oceans of fawning MAGA hats and put him next to a real survivor of sexual violence, and all the grinning and preening tricks fail him. Put him next to actual heads of state discussing actual international policy, and he sulks and mopes. Oh, he can pull off the photo-op; this is a man made of photo-ops. But time and time again, when he is called on to deal with real people—not glassy superfans but genuine human beings whom he allegedly serves as president—he fails to meet the occasion. The consummate reality-TV president is unerringly confounded by reality.
Americans will soon have to choose whether or not they want to live forever in Donald Trump's reality—the one in which words don't matter, and everything is a ratings game, and proximity to the famous and the beautiful is the epitome of a life well lived. If that is the only value left, Donald Trump's is indeed the presidency perfected. For those of us who still live in reality, the photo-op with the orphaned baby is proof positive that Trump's is not a big life, or a real life. It's just smallness, refracted a million times over, which is nevertheless impossibly small. https://slate.com/news-and-politics/2019/08/trump-photo-melania-el-paso-orphan-baby-photo.html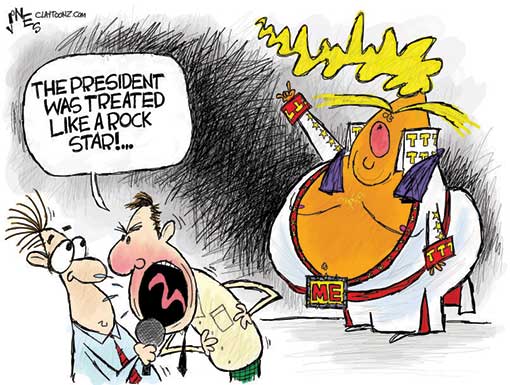 9. Ed Kilgore: Graham Reminds Us 2020 GOP Victory Means Another Assault on Obamacare
If you were not already convinced of the high-stakes nature of next year's national election, one of Congress's most prominent Republican leaders, Senator Lindsey Graham, offered a reminder that his party is coming after your health coverage if it gets in position to try it again, as the Hill reports:
"If we can get the House back and keep our majority in the Senate, and President Trump wins reelection, I can promise you not only are we going to repeal ObamaCare, we're going to do it in a smart way where South Carolina will be the biggest winner," Graham said in an interview with a South Carolina radio station.
"We've got to remind people that we're not for ObamaCare."
The pledge to move some money from godless liberal states to South Carolina is an allusion to a key feature of the bill Graham co-sponsored with Bill Cassidy in 2017, which, among other things, would reward states (in base funding for the new health-care "block grants" it would create) that refused to exercise their option under the Affordable Care Act to expand Medicaid. More centrally, of course, the Graham-Cassidy bill would make it easy for states to get rid of protections for those with preexisting health conditions and other inconvenient (if immensely popular) provisions of Obamacare.
Reminded that Republicans had failed earlier to abolish Obamacare despite trifecta control of the federal government, Graham hints that today's 53-47 Republican Senate majority would get 'er done if his party can flip the House: GOP Sens. Susan Collins (Maine), Rand Paul (Ky.) and the late Sen. John McCain (Ariz.) all opposed the bill. But Graham insists it would be different next time.
"We were one vote short in the Senate," Graham said.
Anyone who is focused on the presidential race but not the battle for the Senate and House should be forewarned. Most Republicans will bob and weave and take other evasive actions before addressing their future plans for our health-care system; Graham is bragging about going back to the poisoned well of conservative health-care policy again. If you hear other Republicans begin to talk about it as well, it's a clear sign they really are planning to make base mobilization their only strategy for 2020. For all we know, Obama birtherism could make a comeback. http://nymag.com/intelligencer/2019/08/graham-reminds-us-2020-gop-victory-means-obamacare-repeal.html
10. Bess Levin: Trump Hurt, Confused Over Insufficient Praise For El Paso Trip
Despite no one wanting him to come, Donald Trump traveled on Wednesday to El Paso, Texas, where a gunman killed 22 people over the weekend after posting an anti-immigrant manifesto that could've been cribbed from one of the president's rallies. The purpose of the trip was to gin up some good press for Trump after he was largely blamed for inspiring the massacre, but, of course, the poster child for narcissistic personality disorder couldn't keep it together and act like a human for more than a few minutes. Instead, he used a trip to the hospital where victims were being treated to lash out at Beto O'Rourke, calling the 2020 hopeful "crazy" and lying about one of his favorite subjects: crowd sizes. We know this thanks to a short video of the episode, uploaded by someone at the University Medical Center at El Paso. But apparently, if the president had had his way, there would have been way more footage of him mugging for the cameras and trashing political rivals as people lay dying.
The Washington Post reports that Trump threw a giant hissy fit on Air Force One because news cameras had not accompanied him in the hospital, causing coverage of the visit to be dominated by his foes. According to reporters John Wagner and Josh Dawsey, the president had wanted "pictures and video released immediately" and "asked aides to go defend him," complaining that he had not gotten sufficient credit for his response to the shooting. (That may have had something to do with the fact that his response was to take zero responsibility for riling people up about an immigrant "invasion," and to insist his mouth-foaming hate speech "brings people together.") Yet what Baby Huey hadn't realized was that the lack of cameras was by design, a plan hatched by nervous aides understandably worried that he wouldn't be able to go two seconds without, well, acting like himself. https://www.vanityfair.com/news/2019/08/donald-trump-el-paso-hospital-visit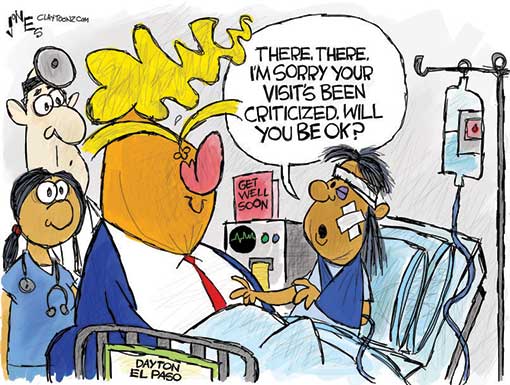 12. Washington Post Editorial: Misinformation about the 2020 election has already been spread — by Republicans
Domestic actors on both sides of the aisle have been experimenting with social media manipulation ever since Russia taught them how well those tactics can work — from misleading "news" stories to fake Facebook events to trolls stomping around Twitter. These misrepresentations would be troubling in any environment. In an age of warfare over what is real, they are downright dangerous. But, while the government can act against foreign incursions, the First Amendment prevents most attempts to clamp down on information operations carried out by citizens. Political candidates, by and large, have a right to lie, and they have a right to buy up a bunch of bots to pollute platforms with propaganda without voters knowing the difference (except perhaps in California, which as of July 1 has a "bot law" of its own). They just have to choose not to.
Not surprisingly, the president has been a leader in this realm — in the wrong direction. Routine retweeting of fraudulent accounts, along with promotion of distorted video, conspiracy theories and other manufactured narratives, is the least of it. Last month, the Associated Press reported on a series of social media ads for President Trump's reelection featuring personalities such as "AJ from Texas," a Hispanic man on a city street. But it turns out AJ is not from Texas, and his name is not AJ. All the president's supposed supporters were models in stock footage produced overseas. Weeks earlier, the New York Times discovered that a consultant for Mr. Trump's reelection campaign was publishing smear websites disguised as official pages for Democratic candidates. The most prominent displays GIFs of former vice president Joe Biden touching women and girls alongside blurbs about his opposition to court-ordered busing. https://www.washingtonpost.com/opinions/misinformation-about-the-2020-election-has-already-been-spread--by-republicans/2019/08/09/1a9fdd78-b243-11e9-951e-de024209545d_story.html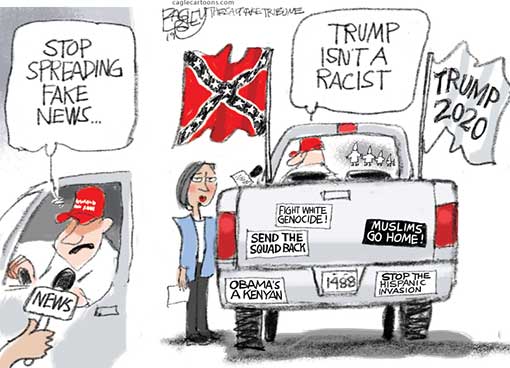 13. Paul Waldman: The Trump administration ramps up its war on legal immigration
For many years, whenever someone accused Republicans of being anti-immigrant, they would insist that they are actually pro-immigrant and that they opposed only illegal immigration. As long as people come legally, they would say, we welcome them.
So how many Republicans have raised their voices in opposition to the Trump administration's efforts not only to slash legal immigration but also to push out legal immigrants who are already here?
The administration has all but shut America's doors to refugees fleeing war, disaster and oppression. They've tried to make it impossible to seek asylum if you're coming from the south. They've allowed officials to reject green card applications for trivial paperwork reasons such as a missing blank page, without allowing applicants to fix the errors. They've proposed raising immigration filing fees, just to make things more difficult.
And now, they're following through on a proposal they first suggested not long after President Trump took office and officially unveiled last year, to use a 19th-century "public charge" principle to deny green cards and citizenship to legal immigrants who have ever used a public benefit such as Medicaid, the Children's Health Insurance Program or food stamps.
We might note that President Trump's grandfather Friedrich, who immigrated to America at the age of 16 with little education, money or ability to speak English, would almost certainly have been rejected under these standards. That's true of my ancestors who first came to America, and probably yours, too.
We should also note that the idea that if someone has ever used a public benefit then they won't ever become a contributing member of society is absurd. As a point of reference, in the wake of the Great Recession, food stamp use peaked at 47.6 million Americans, or almost 1 in 6. There are 60 million Americans on Medicare and 72 million on Medicaid and CHIP. That's not to mention the more than 150 million people who have employer coverage and therefore get a tax break that amounts to the government paying part of their premiums. https://www.washingtonpost.com/opinions/2019/08/12/trump-administration-ramps-up-its-war-legal-immigration/
14. Kevin Fitzpatrick: Trump's Epstein Response: The Clintons Are Definitely Pedophile Murderers
Accused sex trafficker Jeffrey Epstein's apparent suicide was shocking enough without factoring in how President Trump might react to it. The commander-in-chief and former Epstein confidant was perhaps uncharacteristically quiet in the weeks following the disgraced financier's arrest this summer, especially as rumors swirled that Epstein held dirt on some of the world's most powerful people. How then, would he respond to news of Epstein's shocking demise?
Why, by accusing a former president and ex-political opponent of subverting his own justice department to arrange Epstein's murder, of course. That's just where we are now.
Hours after word of Epstein's death by suicide arrived, Trump broke any semblance of restraint, indirectly addressing his former Mar-A-Lago buddy-turned-political liability. Rather than issuing a prepared statement, the president opted to retweet self-proclaimed comedian and commentator Terrence K. Williams's assertion that Bill and Hillary Clinton were behind Epstein's death.
Trump's tweets served as yet more evidence of the president's tendency to embrace unfounded conspiracy theories targeting his political enemies; previously, he winked at intimations that Texas senator Ted Cruz's father killed JFK, and spent years embracing the racist allegation that Barack Obama was not born in the United States. While the Friday release of court documents related to Epstein's alleged sex-trafficking did place Bill Clinton—and Trump himself—as a passenger on several of Epstein's flights, there have been precisely zero corroborated links between Epstein's alleged crimes and Clinton, and nothing suggesting that the Clintons, who for decades have been accused of all manner of criminal conspiracies, could have a hand in Epstein's death. https://www.vanityfair.com/news/2019/08/trump-epstein-clinton-conspiracy-theory-retweet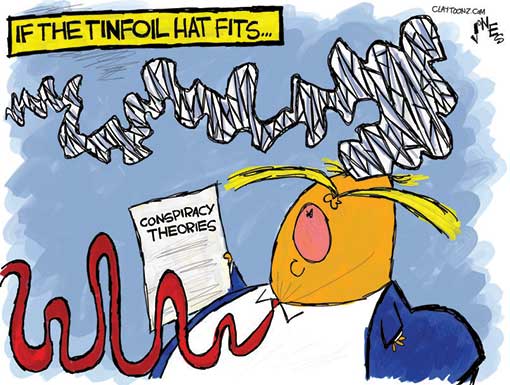 15. Bess Levin: Trump Declares Open Season On Endangered Species
Back in May, a United Nations report revealed that as many as 1 million species—from mammals, to birds, to amphibians, to plants, to marine life—are disappearing at a rate "tens to hundreds of times higher than the average over the last 10 million years" due to human activity, and that as many as 1 million are at risk of extinction. That was obviously a call to action for countries to step up their efforts to protect the wildlife that remains, but apparently the Trump administration read it as a different sort of challenge—one to kill off as many species as possible.
On Monday the people who brought you "another Deepwater Horizon spill would be great" announced that it will be gutting the Endangered Species Act, the landmark conservation legislation signed into law by Richard "This Trump Guy's Been Great for My Image" Nixon. The new rules, expected to be published in the Federal Register this week and to go into effect 30 days after that, will weaken protections for species classified as "threatened," make it easier to remove a species from the endangered list, and make it significantly more difficult to consider the impact of climate change on wildlife when determining if a certain species warrants protection, by changing how far into the future the department will look to determine the possibility of a species becoming threatened or extinct. They will "allow economic assessments to be conducted when making determinations," so that industries like mining and oil and gas can claim that protecting a certain species or its habitat would hurt their operations. (Presumably it would also allow two hunting aficionados to be able to argue that they'd suffer monetary harm should federal protections prevent them from killing off an entire ecosystem to make way for another golf course.)
The administration, of course, is arguing that the changes will help protect more species, its typical M.O. when announcing the gutting of a long-standing regulation. "The act's effectiveness rests on clear, consistent and efficient implementation," Interior Secretary David Bernhardt, a former oil and gas lobbyist, said Monday. Others, however, had a slightly different take. https://www.vanityfair.com/news/2019/08/donald-trump-endangered-species