March 10, 2022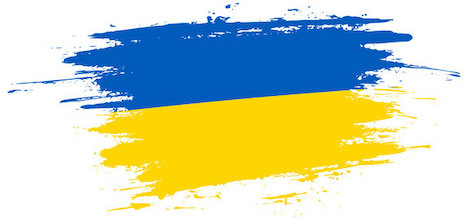 THE WEEK'S BEST QUOTES...
"We've seen very credible reports of delivered attacks on civilians which would constitute a war crime." —
U.S. Secretary of State Antony Blinken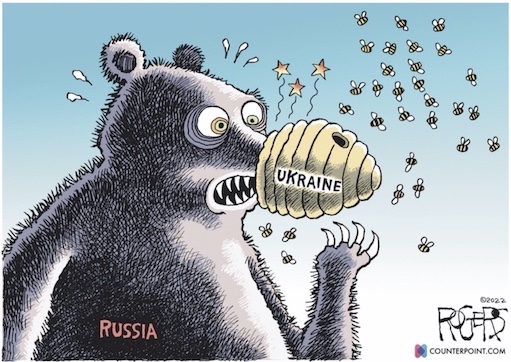 "Perhaps I was too subtle. In yesterdays' newsletter, I called Bill Barr a 'serial lying twat,' insisted that no one buy his book, and concluded with a clarion call to 'fuck Bill Barr.' ... So, lest there be any lingering ambiguity, let me make it clear that I think — and have long thought — that Barr is the very embodiment of the moral and intellectual rot in in the Republican Party." —
Charlie Sykes
"You're such a wonderful person. You've been so great to women." — RNC chair Ronna McDaniel, speaking to Donald Trump.
"I do not think anything savvy or genius about Putin. I think Putin is evil. I think he's a dictator. I think he's murdering people right now." — House Minority Leader Kevin McCarthy, now agreeing that there's no room in the Republican Party for those that apologize for Putin.
VIDEOS
The Fox News Ukraine Cold Open - SNL:
https://youtu.be/Vc9dlPlOH3Y
Weekend Update: Russian Forces Slow Down, Germany Increases Military Production - SNL: https://youtu.be/qeADI4Lptl4
LITIGATION TRACKER
Pending Criminal and Civil Cases Against Donald Trump.
https://www.justsecurity.org/75032/litigation-tracker-pending-criminal-and-civil-cases-against-donald-trump/
---
IN THIS ISSUE
IN THE NEWS
OPINION
Andy Borowitz: Putin Upset to Find Ukrainians Less Obedient Than Trump
Vladimir Putin is "very upset" that the Ukrainian people are far less obedient than Donald J. Trump, Kremlin sources have confirmed.
According to the sources, Trump's four years of ardent toadying left the Russian President emotionally unprepared for the Ukrainians' defiance.
"If I wanted Trump to do something, I'd just snap my fingers and consider it done," Putin reportedly said. "It was wonderful."
Putin's entire plan for invading Ukraine, in fact, was predicated on the false assumption that the Ukrainians "would act like Trump," one source indicated.
"After he invaded, he kept waiting for the Ukrainians to tell him how strong and smart he was," the source said. "When there were no displays of Trumpian sycophancy, his mood darkened."
At a Kremlin meeting over the weekend, Putin's frustration at the Ukrainians for being less obsequious than Trump boiled over, sources said.
"If the President of the United States can abandon democracy and the rule of law, why can't these people?" Putin asked, pounding his desk.https://www.newyorker.com/humor/borowitz-report
Help Humanitarian Efforts in Ukraine
As Russian forces attack Ukraine, civilians suffer. When those affected flee their homes and seek shelter, many will rely upon humanitarian aid from charities on the ground. You can help by donating to one or more of the 10 organizations listed at
https://action.publicgood.com/campaign/13ac7e1b-4de6-4f7c-b128-4346f73b9832
Republican 'unforced errors' threaten path to Senate control
As the prospect of a red wave grows, a series of Republican missteps including recruiting stumbles, weak fundraising and intense infighting is threatening the GOP's path to the Senate majority.
Arizona's Republican Gov. Doug Ducey dealt his party its latest setback late last week by announcing he would not challenge Democratic Sen. Mark Kelly this fall. His decision, which leaves no obvious front-runner in a crowded Republican primary, disappointed Senate Republican leader Mitch McConnell and his allies who had spent months privately encouraging Ducey to run. https://www.usnews.com/news/politics/articles/2022-03-07/republican-unforced-errors-threaten-path-to-senate-control
But the GOP's shortcomings extend well beyond Arizona.
Republican candidates in Arizona, Georgia and Nevada are struggling to keep pace with Democratic fundraising. Recruiting failures have dashed GOP hopes in reach states like Maryland and threaten a prime pickup opportunity in New Hampshire. And a recent plan that would raise taxes on low-income Americans and seniors, released by the Republican Senate midterm chief, Florida Sen. Rick Scott, is putting GOP candidates in a difficult position across states like Wisconsin, Ohio and Florida." 
https://apnews.com/article/2022-midterm-elections-business-seniors-doug-ducey-election-2020-e126709accd4405525db65b2d876584f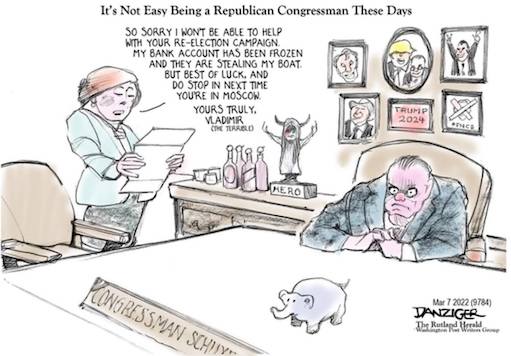 Jan. 6 Committee Lays Out Potential Criminal Charges Against Trump
The House committee investigating the Jan. 6 attack on the Capitol said on Wednesday that there was enough evidence to conclude that former President Donald J. Trump and some of his allies might have conspired to commit fraud and obstruction by misleading Americans about the outcome of the 2020 election and attempting to overturn the result.
In a court filing in a civil case in California, the committee's lawyers for the first time laid out their theory of a potential criminal case against the former president. They said they had accumulated evidence demonstrating that Mr. Trump, the conservative lawyer John Eastman and other allies could potentially be charged with criminal violations including obstructing an official proceeding of Congress and conspiracy to defraud the American people.
The filing also said there was evidence that Mr. Trump's repeated lies that the election had been stolen amounted to common law fraud. https://www.nytimes.com/2022/03/02/us/politics/trump-criminal-charges-jan-6.html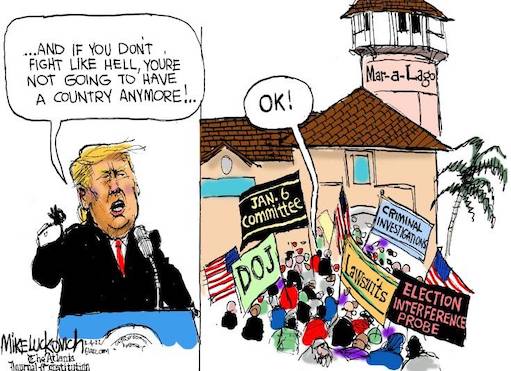 "Winter on Fire: Ukraine's Fight for Freedom" is on Netflix
Chronicling events that unfolded over 93 days in 2013 and 2014, 'Winter on Fire: Ukraine's Fight for Freedom' witnesses the formation of a new civil rights movement in Ukraine. What started as peaceful student demonstrations supporting European integration morphed into a full-fledged violent revolution calling for the resignation of the nation's president. The film captures the remarkable mobilization of nearly a million citizens from across the country protesting the corrupt political regime that utilized extreme force against its own people to suppress their demands and freedom of expression. https://bgr.com/entertainment/this-powerful-netflix-documentary-will-help-you-understand-whats-happening-in-ukraine/
Fitch, Moody's slash Russia's sovereign rating to junk
Ratings agencies Fitch and Moody's downgraded Russia by six notches to "junk" status, saying Western sanctions threw into doubt its ability to service debt and would weaken the economy.
https://www.reuters.com/markets/europe/fitch-downgrades-russias-sovereign-rating-b-2022-03-02/
JPMorgan Warns Russia Faces 1998-Like Collapse in Economy
Russia is on course for an economic collapse that will rival or even eclipse the size of the 1998 slump which followed its debt default, although the financial fallout may be less than then.
Days after President Vladimir Putin ordered troops into Ukraine, economists are starting to publish forecasts for what is currently the world's eleventh largest economy, even though they warn the outlook is opaque and subject to revision.
JPMorgan Chase & Co.'s economists told clients in a report on Friday that they expect a 7% contraction in gross domestic product this year, the same as Goldman Sachs Group Inc. Bloomberg Economics forecasts a fall of about 9%. The economy shrank 5.3% in 1998 amid the debt crisis. https://www.bloomberg.com/news/articles/2022-03-04/jpmorgan-warns-russia-headed-for-1998-like-collapse-in-economy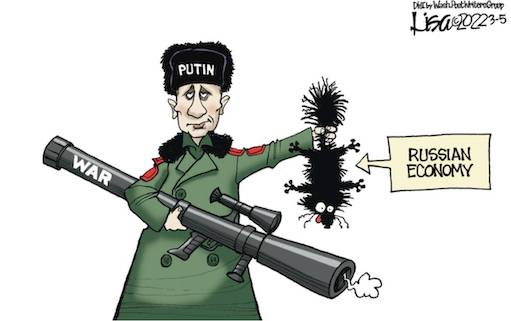 In Greene and Boebert, Democrats See a Helpful Political Target
Representatives Marjorie Taylor Greene and Lauren Boebert are two backbench freshmen in the House minority, powerless in the official hierarchy and unlikely to gain much power even in a likely Republican majority next year.
But their antics, violations of decorum and association with white nationalists have elevated their profile far beyond their positions, and Democratic operatives are determined to make them the face of the Republican Party in the looming election season. https://www.nytimes.com/2022/03/03/us/politics/boebert-greene-republicans.html
Rep. Paul Gosar's lengthy ties to White nationalists, pro-Nazi blogger and far-right fringe received little pushback for years
Rep. Gosar (R-AZ)'s ties to extremists go back further than the violent social media posts he was censured for. He has long associations with White nationalists, a pro-Nazi blogger and far-right fringe players that have received little examination compared to his colleagues, according to an extensive CNN KFile review of Gosar's events and social media posts over the years. https://www.cnn.com/2022/03/06/politics/republican-paul-gosar-white-nationalists-kfile/index.html
Indicted. Under F.B.I. Investigation. And Still Popular With Texas Republicans.
The race for Texas attorney general is asking Republicans to determine how many indictments and allegations of corruption are too many. The answer may be there is no limit — so long as the candidate has an endorsement from former President Donald J. Trump.
Ken Paxton, the Trump-backed attorney general, was indicted and arrested on criminal securities-fraud charges that are still pending. He has faced calls for his resignation after several of his top aides claimed he abused his office by helping a wealthy donor. And he has been serving as the state's top lawyer while under threat of a possible new indictment, as the F.B.I. investigates the abuse-of-office and bribery accusations. https://www.nytimes.com/2022/03/06/us/politics/paxton-bush-primary-runoff.html
Fox News Won't Be Getting Out Of A $2.7 Billion Lawsuit Over Its Rigged Voting Machine Claims
An election technology company suing Fox News for airing false claims about its role in the 2020 election notched a win yesterday, as a New York judge said much of Smartmatic's $2.7 billion defamation case against the network can proceed. There is "substantial basis" for the claim "that, at a minimum, Fox News turned a blind eye to a litany of outrageous claims about [Smartmatic], unprecedented in the history of American elections, so inherently improbable that it evinced a reckless disregard for the truth," Judge David Cohen wrote in a 61-page ruling.
https://www.vanityfair.com/news/2022/03/fox-news-smartmatic-lawsuit
The DAILY GRILL
This clown (LtCol. Vindman) wants to drag Americans into war with Russia with his big tough tweets and his zoom interviews on CNN. Go ahead and go fight yourself since you're from Ukraine. You are clueless about Americans being fed up with sending our sons and daughters to die in foreign lands. —
Rep. Marjorie Taylor Greene @RepMTG
VERSUS
This is what service looks like. I served my country--the United States of America who welcomed my refugee family--for 21 years, 6 months, & 10 days in uniform & I continue to serve out of uniform. You only serve as Putin's useful idiot. — Alexander S. Vindman@AVindman
Is there a Brutus in Russia? Is there a more successful Colonel Stauffenberg in the Russian military? The only way this ends is for somebody in Russia to take this guy out. You would be doing your country - and the world - a great service. -- Sen. Lindsey Graham.
VERSUS
I really wish our members of Congress would cool it and regulate their remarks as the administration works to avoid WWlll. As the world pays attention to how the US and it's leaders are responding, Lindsey's remarks and remarks made by some House members aren't helpful. — Rep. Ilhan Omar
It might be time for Joe Biden to let us know Ketanji Brown Jackson's LSAT score was. Why wouldn't he tell us that… — Tucker Carlson
VERSUS
He wants to see her test scores, because in small minds like Tucker's and those of his pigf**ker bigot viewers, a Black woman who graduated magna cum laude from Harvard, cum laude from Harvard Law, and was the editor of the Harvard Law Review couldn't possibly have achieved those things with the same scores her white classmates did. She threatens him. He can't handle the fact that she's clearly smarter than he is. That she's better than him. — Wonkette
Under President Trump, gas was about $2.17 in 2020. — Sen. Marsha Blackburn @MarshaBlackburn
VERSUS
Unemployment also hit 14.8% in 2020, the highest rate ever seen in the US since data collection began. Does the Senator want to jump to claim that as Trump's legacy too? Or would we rather examine context and data like adults? — Alexandria Ocasio-Cortez@AOC
Max Boot: Thank goodness Biden, not Trump, is president during the worst European crisis since 1945
I'm not a praying man, but if I were, I would be on my hands and knees thanking the Almighty that during the worst crisis in Europe since 1945, the United States is led by Joe Biden, not Donald Trump.
Biden has been as masterful in his handling of the Ukraine war as he was ham-handed in his handling of the Afghanistan withdrawal. For months he has been warning that Russia would invade and predicting that this would trigger a "swift and severe" response. He even laid out details of Russian plans to stage false flag operations and to install a puppet regime in Kyiv.
There was much skepticism on all counts, with Russia and its apologists denying until the last moment that the invasion would occur. But Biden was dead right. This is the opposite of the Iraq War, when U.S. intelligence and leadership was discredited. American credibility has been enhanced by Biden's deft handling of this crisis. Today it is Moscow, not Washington, that is acting based on bad intelligence: Russian dictator Vladimir Putin massively underestimated Ukrainian resistance. https://www.washingtonpost.com/opinions/2022/03/01/biden-handling-ukraine-crisis-far-better-than-trump/
Bess Levin: Shocker: Congress Has Evidence Trump May Have Engaged In A "Criminal Conspiracy" To Steal The Election
Say you're a person with eyes and ears, who has been conscious for the last 18 months and didn't receive a lobotomy at the MAGA Institute of Medicine from a "doctor" who looked suspiciously like Don Jr.* If we asked you, "Hey, do you think Donald Trump (1) tried to overturn the 2020 election and (2) broke any laws in doing so," you probably wouldn't need to consult an attorney or a legal textbook before answering, "Uh, yeah? Isn't it pretty obvious?" You'd likely be confident in stating as much because of all the groundwork Trump laid in the run up to the election wherein he was already claiming fraud; the time in September 2020 he refused to commit to a peaceful transfer of power; the "Stop the Steal" rally that preceded the violent insurrection in which he told his supporters to "fight" for him; and the endless articles detailing his attempts to stop Joe Biden from becoming president.
Unfortunately, courts of law have a different set of standards, and despite millions of people being able to say they saw what looked a lot like a crime being committed with their own eyes, Trump and his cronies can't just be indicted based on that. Which is why it's nice to hear that, according to the House's January 6 committee, they have actual evidence—which could conceivably be turned over to the Department of Justice and brought as charges.
Per CNN:
Former President Donald Trump and a right-wing lawyer were part of a "criminal conspiracy" to overturn the 2020 presidential election, the House select committee investigating the January 6 Capitol riot alleges in a court filing Wednesday. The filing is part of an attempt to convince a judge to allow the panel access to emails from lawyer John Eastman, who is claiming attorney-client privilege. The committee said he helped to orchestrate the plot.
The filing is the most extensive release to date from the House's January 6 investigators as they try to obtain Eastman's emails—and comes well before the House select committee releases its final report on its findings on Trump. House members have also signaled they may make a criminal referral to the Justice Department about Trump, depending on their findings, and the House's arguments Wednesday could be seen as a preview of a case that could be made by federal prosecutors. https://www.vanityfair.com/news/2022/03/donald-trump-john-eastman-january-6-criminal-conspiracy
Matt Lewis: Trump's 'Adults' Only Blew the Whistle Once They Had No Power
Better late than never?
Donald Trump's former attorney general, Bill Barr, and former national security adviser, John Bolton, are back in the news this week, saying things that—to paraphrase Adam Sander in The Wedding Singer—could have been brought to our attention
By "yesterday," I mean any time when it might have mattered more. Like during an impeachment. Like during an election. You know, a time when hearing the truth from someone with inside knowledge and credibility might have made a difference. Instead, both waited until they were hawking books to spill the administration's tea. However, since Trump remains a very viable threat to run and win in 2024, their eleventh-hour arrival is not pointless.
Barr is out with a new book, One Damn Thing After Another, where he tells us that Trump's recipe for a good tweet is "just the right amount of crazy," and that "Trump cared only about one thing: himself. Country and principle took second place." I'm skeptical that Trump put the country's interests that high on his list, but at least Barr got Trump's top priority right.
Meanwhile, uber-hawk John Bolton recently corrected a Newsmax host's assertion that Trump was tougher than Joe Biden when it came to Russia, saying "it's just not accurate to say that Trump's behavior somehow deterred the Russians." Bolton also revealed that Trump "barely knew where Ukraine was," and said that Trump "was not fit to be president."
Let's be honest, whatever their motives, both men knew Trump wasn't fit to be president before they signed up to work for him. https://www.thedailybeast.com/trumps-adults-only-blew-the-whistle-once-they-had-no-power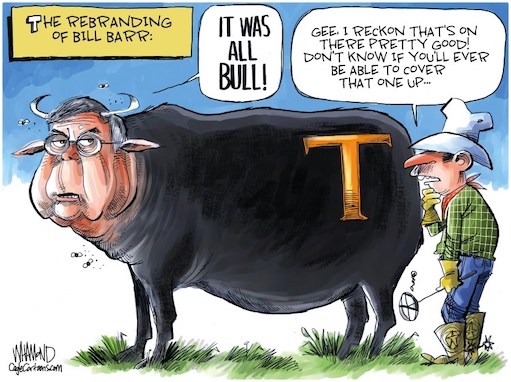 Jonathan Bernstein: Republicans Have Nothing to Offer on Ukraine
One group of Republicans spent the buildup to the war mocking Biden's warnings about Russian President Vladimir Putin's invasion plans; that includes the rump faction that had, until about a week ago, ranged from Putin-curious to full-on Putin fans. Perhaps former President Donald Trump will turn out to be correct that invading Ukraine was a "genius" move, but at this point that judgment seems, well, a classic "Donald from Queens" ignorant blowhard talk-show caller comment.
(I should point out that a faction of liberals also mocked Biden's talk about the upcoming invasion, including some who blame the conflict on NATO expansion, not Putin's aggression. Whatever one thinks of their views, it's clear that they have zero influence within the Democratic Party when it comes to foreign policy. The same is not true of Republicans who have been sympathetic to Russia).
As for most other Republicans? They have demonstrated they have little or nothing to offer. They've been at their best — or I suppose their least-worst — when they bash Biden for vague, unspecified weakness without suggesting how he's been weak in Europe or what specifically they want him to do to be stronger. But it goes downhill when they do suggest specifics, whether it's Mississippi Senator Roger Wicker advocating for a U.S.-imposed no-fly zone (which Florida Senator Marco Rubio, to his credit, knocked down as the beginning of "World War III") or South Carolina Senator Lindsey Graham calling for someone to assassinate Putin.
Republicans are so averse to agreeing with anything a Democratic president is doing that, when a Democratic president occupies the middle ground, they have little to say. That may be because they don't want Biden to thrive politically, but it's likely that what really motivates Republican politicians is paranoia about angering the party and its voters and sparking a successful nomination challenge in the next election. So they're left with either vague generalizations or reaching for policy options that have been rejected for good reasons. https://www.washingtonpost.com/business/republicans-have-nothing-to-offer-on-ukraine/2022/03/04/02e703b4-9bc0-11ec-9987-9dceee62a3f6_story.html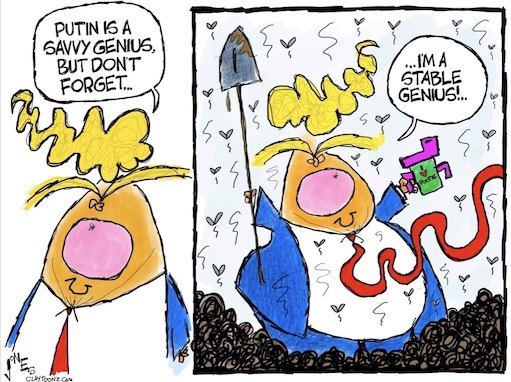 Decades of Neglect Leave I.R.S. in Tax Season 'Chaos'
Officials have warned of another rocky tax filing season ahead, saying it could be a "very frustrating tax season for both tax payers and tax professionals." Democrats have pointed to the tumult as evidence that the agency needs more funding. Mr. Biden has called for investing $80 billion in the agency over a decade to help crack down on tax cheats, estimating that would raise $400 billion in tax revenue.
But tax-averse Republicans, who have spent years cutting the agency's budget, have seized on the I.R.S.'s problems as proof it should not be given more money or responsibility, with at least one lawmaker calling for the tax collector to be abolished.
Much of the agency's current woes can be traced to those budget cuts, which have eroded the agency's ability to function at a critical moment. Staffing shortages and antiquated technology have collided with a pandemic that kept much of the agency's work force at home while the I.R.S. was turned into an economic relief spigot responsible for churning out checks and other stimulus payments to millions of Americans.
The agency's work force of about 75,000 is the same size as it was in 1970. Its enforcement staff has fallen by over 30 percent since 2010, and audits of millionaires have declined by more than 70 percent. And its budget has declined by nearly 20 percent, when accounting for inflation, during the last decade.
At the same time, the tax code has become more byzantine, and the number of individuals filing tax returns has grown by about 7 percent, according to the Center on Budget and Policy Priorities, a left-leaning Washington research group. The federal government has had to wrestle with well-financed corporations using complex tax avoidance maneuvers and the rise of digital currencies, which have made transactions more opaque and harder to tax.
"It's clearly been starved," said John Koskinen, who was I.R.S. commissioner during the Obama and Trump administrations. "Now the chickens are coming home to roost." https://www.nytimes.com/2022/03/04/us/politics/irs-chaos-tax-season-2022.html
Bess Levin: Carlson Hoping We Can Just Forget About All The Times He Insisted Putin Was The Best
If you missed Tucker Carlson's most recent shows, here is a quick recap of commentary he's offered on the situation:
It's "not un-American" to support Putin;
Democrats will find you guilty of treason if you don't hate Putin;
The whole thing is simply a "border dispute";
"Ukraine is not a democracy";
Ukraine is a "puppet" of the West; and
Our personal favorite, that unless Vladimir Putin has personally had you or one of your family members murdered, you really don't have any right to criticize the guy:
Have his goons thrown ME from an apartment building window onto a wrought iron fence? Has he invaded MY homeland and extinguished self-government there? Has he put polonium in MY tea?
Just how pro-Putin were Carlson's comments? Clearly they speak for themselves, but if you need more convincing, just know that they were good enough for Russia's state-run TV.   Per The Intercept:  At least four times this week, Russian news reports have featured translated clips of Tucker Carlson or his guest Tulsi Gabbard, a former Democratic U.S. representative…. At 8 p.m. on Sunday, a primetime review of the week's news presented by Dmitry Kiselev, a bombastic Putin favorite, featured remarks from the opening monologue of Carlson's February 17 show, in which the American commentator trashed Ukraine's government.
https://www.vanityfair.com/news/2022/02/tucker-carlson-vladimir-putin-praise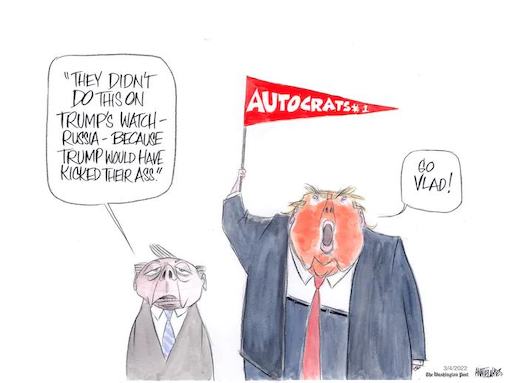 Maureen Dowd: Zelensky and Trump: Two Performers, One Hero
History is full of strange odysseys and intersections.
But it's bizarre that two men who were both front page news in the Friday Times started on similar paths and, with a consequential encounter along the way, ended up so differently.
Donald Trump and Volodymyr Zelensky both played leaders on TV shows and then became leaders in real life. They both used social media to gain power. And they both had zany acting gigs.
In 2015, Trump, who had a cameo in "Home Alone 2: Lost in New York," debated whether to play a president in "Sharknado 3: Oh Hell No!" or actually run for the presidency.
Zelensky starred in romantic comedies and played the president of Ukraine in a sitcom. He shimmied in a fringed, hot-pink number to win the Ukrainian version of "Dancing With the Stars," did the voice of Paddington Bear when the "Paddington" movies were dubbed in Ukrainian, and entertained a roaring live audience by dropping his pants and providing a lewd performance of "Hava Nagila" — a nod to his Jewish heritage.
But after they ascended to power, the would-be president of "Sharknado 3" and the Ukrainian voice of Paddington Bear took on very different roles.
Trump became a blackguard. Zelensky donned a white hat. Trump tried to overturn American democracy. Zelensky tried to save Ukrainian democracy.
Trump was always a faux tough guy who bragged about grabbing women and loved all things military except serving in it. Cadet Bone Spurs. Courage was an alien concept to this spoiled brat; he has always been a bully who let other people do the fighting for him.
Zelensky stood up for Ukrainian ideals. He helped imbue his country with a shining, resilient image, reinforced when the world saw remarkable images of battle-ready mothers and grannies making Molotov cocktails.
Trump was impeached in 2019 for withholding military aid to Ukraine — ("I would like you to do us a favor though") — until Zelensky dug up dirt on Joe Biden, Trump's rival, and Hunter Biden, who was on the board of a Ukrainian natural gas company.
As Franklin Foer wrote in The Atlantic, before that call, America had always tried to inject morality into Ukrainian politics. But Trump "polluted Ukraine with his own transactional politics."
Representative Adam Schiff and other Democratic leaders of that impeachment say people can now see how wrong Trump was to try to withhold aid to Zelensky, then in office only two months.
"It hammers home how despicable an act it was to treat Ukraine as a political plaything," Schiff told Rolling Stone.
The claim by Trump and his sycophants that his relationship with Putin had kept Russia out of Ukraine is ludicrous. He was Putin's poodle and Putin would have rolled over him; he was biding his time as Trump weakened NATO.
Trump praised Putin for an act of "genius" even as the rest of the world was watching in horror as the mad Russian president prepared to order the bloody march through Ukraine and suffocated the remnants of a free press in Moscow.
That was a shameful moment, as was a House committee on Wednesday producing evidence it said showed that Trump had conspired to commit fraud and obstruction by bamboozling Americans about the election and trying to flip the result.
There were even some Republicans — mirabile dictu — backing away from the toxic Trump over Ukraine. In a speech to top G.O.P. donors Friday night in New Orleans, Mike Pence included the line, "There is no room in this party for apologists for Putin."
By standing up to the Evil Empire, Zelensky could earn comparisons to another performer turned pol, and that should grate on Trump as much as having his vice president turn on him.
Ronald Reagan helped lift the Iron Curtain. Zelensky is trying his best to stop it from slamming down again. https://www.nytimes.com/2022/03/05/opinion/zelensky-ukraine-trump.html
George F. Will: Donald Trump looks increasingly like a stray orange hair to be flicked off the nation's sleeve
Floundering in his attempts to wield political power while lacking a political office, Donald Trump looks increasingly like a stray orange hair to be flicked off the nation's sleeve. His residual power, which he must use or lose, is to influence his party's selection of candidates for state and federal offices. This is, however, perilous because he has the power of influence only if he is perceived to have it. That perception will dissipate if his interventions in Republican primaries continue to be unimpressive.
So, Trump must try to emulate the protagonist of "A Connecticut Yankee in King Arthur's Court." In Mark Twain's novel, a 19th-century American is transported back in time to Britain in the year 528. He gets in trouble, is condemned to death, but remembers that a solar eclipse occurred on the date of his scheduled execution. He saves himself by vowing to extinguish the sun but promising to let it shine again if his demands are met.
Trump is faltering at the business of commanding outcomes that are, like Twain's eclipse, independent of his interventions.
Trump is an open book who has been reading himself to the nation for 40 years. In that time, he has changed just one important word in his torrent of talk: He has replaced "Japan" with "China" in assigning blame for our nation's supposed anemia. He is an entertainer whose repertoire is stale.
A European war is unhelpful for Trump because it reminds voters that Longfellow was right: Life is real, life is earnest. Trump's strut through presidential politics was made possible by an American reverie; war in Europe has reminded people that politics is serious.
Speaking of embarrassments: We are the sum of our choices, and Vladimir Putin has provoked some Trump poodles to make illuminating ones. Their limitless capacity for canine loyalty now encompasses the Kremlin war criminal. (The first count against Nazi defendants at Nuremberg: "Planning, preparation, initiation and waging of wars of aggression.") For example, the vaudevillian-as-journalist Tucker Carlson, who never lapses into logic, speaks like an arrested-development adolescent: Putin has never called me a racist, so there.
J.D. Vance, groveling for Trump's benediction (Vance covets Ohio's Republican Senate nomination), two weeks ago said: "I don't really care what happens to Ukraine." Apparently upon discovering that Ohio has 43,000 Ukrainian Americans, Vance underwent a conviction transplant, saying, "Russia's assault on Ukraine is unquestionably a tragedy," and emitting clouds of idolatry for Trump's supposedly Metternichian diplomacy regarding Putin.
For Trump, the suppurating wound on American life, and for those who share his curdled venom, war is a hellacious distraction from their self-absorption. Fortunately, their ability to be major distractions is waning. https://www.washingtonpost.com/opinions/2022/03/04/power-of-trump-in-gop-is-waning/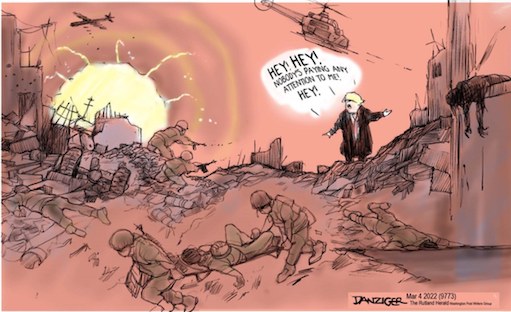 Matt Lewis: Right-wing ultra-nationalists are Putin's useful idiots
Over the past week, in response to the gut-wrenching scenes in Ukraine, Western unity has been impressive and heartening. I know from my near-daily conversations with President Volodymyr Zelensky that this has provided Ukrainians with some comfort in their hour of need.
Never in my life have I seen an international crisis where the dividing line between right and wrong has been so stark, as the Russian war machine unleashes its fury on a proud democracy. Russia's reckless attack on the Zaporizhzhia nuclear power plant reminds us just how grave the stakes are for everyone. More than one million people have fled the violence, toward an uncertain future.
President Biden has displayed great leadership, consulting and convening allies, exposing the lie that America's commitment to Europe is somehow diminished. The European Union has undertaken a remarkable effort to align behind severe sanctions on Russia. Dozens of European countries are sending defensive equipment to Ukraine's armed forces. But have we done enough for Ukraine? The honest answer is no.
Vladimir Putin's act of aggression must fail and be seen to fail. We must not allow anyone in the Kremlin to get away with misrepresenting our intentions in order to find ex post facto justification for this war of choice. This is not a NATO conflict, and it will not become one. No ally has sent combat troops to Ukraine. We have no hostility toward the Russian people, and we have no desire to impugn a great nation and a world power. We despair of the decision to send young, innocent Russians into a futile war.
The truth is that Ukraine had no serious prospect of NATO membership in the near future — and we were ready to respond to Russia's stated security concerns through negotiation. I and many other Western leaders have spoken to Mr. Putin to understand his perspective. The United Kingdom even sent emissaries to Moscow before Russia's invasion to deal directly with Defense Minister Gen. Sergei Shoigu and the chief of the general staff, Gen. Valery Gerasimov, who are spearheading this awful campaign.
It is now clear diplomacy never had a chance. But it is precisely because of our respect for Russia that we find the actions of the Putin regime so unconscionable. Mr. Putin is attempting the destruction of the very foundation of international relations and the United Nations Charter: the right of nations to decide their own future, free from aggression and fear of invasion. His assault on Ukraine began with a confected pretext and a flagrant violation of international law. It is sinking further into a sordid campaign of war crimes and unthinkable violence against civilians. https://www.nytimes.com/2022/03/06/opinion/boris-johnson-russia-putin-ukraine-war.html
Charles M. Blow: Demanding That Ketanji Brown Jackson 'Show Her Papers'
The Fox News host Tucker Carlson briefly went to a Swiss boarding school before reportedly being kicked out. He went on to graduate from Trinity College. In a 1991 yearbook entry, he described himself as being part of the "Dan White Society," an apparent allusion to the homophobe who killed San Francisco's mayor, George Moscone, and supervisor Harvey Milk, California's first openly gay elected official, in 1978.
After graduation, The Columbia Journalism Review reported, "Carlson applied to the C.I.A., but his application was denied, so he turned to journalism. 'You should consider journalism,' his father told him. 'They'll take anybody.'"
That same Tucker Carlson last week demanded that Judge Ketanji Brown Jackson, a Black woman who is President Biden's nominee for the Supreme Court, prove that she is qualified. He demanded that she show her papers.
As Carlson said on Fox News, "It might be time for Joe Biden to let us know what Ketanji Brown Jackson's LSAT score was. How did she do on the LSATs? … It would seem like Americans in a democracy have a right to know."
It is outrageous, to be sure. What was Jackson doing in 1991 when Carlson was identifying with the homicidal homophobe? She was studying government at Harvard while being a student organizer for civil rights causes, and she would graduate magna cum laude the following year.
One thing to which successful Black people can attest is that you are sometimes, even often, asked to prove your credentials, to demonstrate that you have earned your way and earned your position, often by far less credentialed questioners.
Donald Trump — whose time at Wharton is shrouded in mystery, from how he was admitted to how good of a student he was — made a name for himself in politics by questioning the legitimacy, qualifications and pedigree of Barack Obama.
Many will recall that Trump became the chief birther, questioning the location of Obama's birth, and therefore his citizenship. The BBC has pointed out that Trump started to mention his "real doubts" about whether Obama had a U.S. birth certificate in March of 2011.
A month before that, Trump began to question the accuracy and legitimacy of Obama's academic résumé. Speaking at CPAC in February 2011, Trump said of Obama: "Our current president came out of nowhere, came out of nowhere. In fact, I'll go a step further: The people that went to school with them, they don't even know — they never saw him. They don't know who he is. Crazy."
Trump also claimed that Obama didn't write his first book, telling Sean Hannity in 2011: "I heard he had terrible marks, and he ends up in Harvard. He wrote a book that was better than Ernest Hemingway, but the second book was written by an average person. He shouldn't have written the second book."
Trump insisted that Bill Ayers, who happens to be white, had to be the author of the first book.
And it didn't stop there. In 2012, Trump offered to donate $5 million to the charity of Obama's choosing if Obama would release his college and passport records.
These episodes struck such a nerve because it isn't only presidents or Supreme Court picks who have to present proof of their credentials. Too many people, Black and of other races, have had to do the same at some point in their lives. It is humiliating and degrading.
"This person, this Black person, can't possibly be as good as he says, good enough to have earned her station." They must find a way to attribute it to something else: an unfair advantage, a giving of preference, a bending of the curve. https://www.nytimes.com/2022/03/06/opinion/ketanji-jackson-tucker-carlson.html