June 21, 2018
ON THE RECORD. . .
"Persons who violate the law of our nation are subject to prosecution. I would cite you to the Apostle Paul and his clear and wise command in Romans 13 to obey the laws of the government because God has ordained them for the purpose of order. Orderly and lawful processes are good in themselves and protect the weak and lawful.-- Attorney General Jeff Sessions on offering a full-throated defense of the Trump administration's policy of separating children from their parents at the border, finding justification for his policies in the Bible..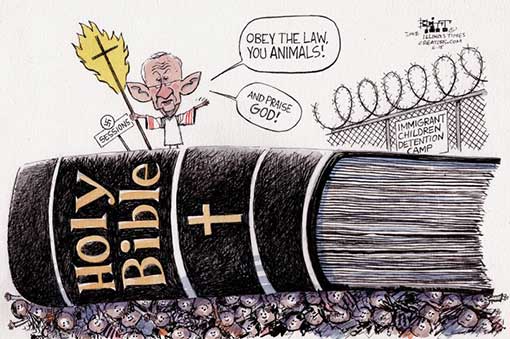 "Hey, he (Kim Jong-un) is the head of a country and I mean he is the strong head. He speaks and his people sit up at attention. I want my people to do the same." — Donald Trump
"I won't miss a lot of things about this place. I think some people lose their soul here. This is a place that just sucks your soul. It takes everything from you." -- Tea Partier Raúl Labrador (R-ID) on leaving congress.
"People are running for cover because they don't want to be on the losing side of a presidential tweet… The idea that you can't speak out and say, 'I disagree with you here but I agree with you on 90% of the stuff'… is, again, a twilight world that I've never seen." — Rep. Mark Sanford (R-SC)
While some have likened it to -- them to concentration camps or cages, you do see that they have those thermal blankets, you do see some fencing, but keep in mind -- some have referred to them as "cages," but, keep in mind, this is a great, big warehouse facility where they built walls out of chain link fences. -- Steve Doocy on Fox & Friends
"This is the United States of America. It isn't Nazi Germany." — Sen. Dianne Feinstein (D-CA), in an interview on MSNBC, about the Trump administration's policy of separating migrant children from their parents at the border.
The president of the United States used the term "sick loser" Sunday to describe a man who has helped keep our country safe for more than two decades. The tweet followed months of attacks on this Army veteran and law enforcement official, including one in which the president accused him of treason. So what monstrous act did this man commit? He spoke his mind. -- Aitan Goelman on Donald Trump's attack Peter Strzok for  expressing his personal political views to another FBI employee.
"Womp womp," -- Former Trump campaign manager Corey Lewandowski on Fox News, after it was mentioned that a 10-year-old girl with Down Syndrome was separated from her mother at the border.
"Stephen actually enjoys seeing those pictures at the border. He's a twisted guy, the way he was raised and picked on. There's always been a way he's gone about this. He's Waffen-SS." — An outside White House adviser, quoted by Vanity Fair, about Trump adviser Stephen Miller.
29 years and nine months ago I registered to vote and became a member of The Republican Party which was founded in 1854 to oppose slavery and stand for the dignity of human life. Today I renounce my membership in the Republican Party. It is fully the party of Trump. -- Steve Schmidt, the campaign manager for John McCain's presidential bid in 200
"Those who selectively use the Bible to justify this cruelty are ignoring a central tenant of Christianity … [Jesus] did not say, "Let the children suffer." -- Hillary Clinton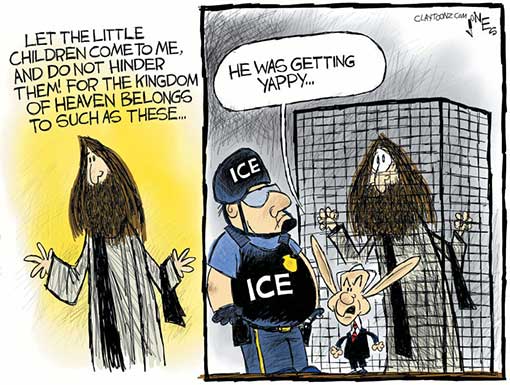 ---
IN THIS ISSUE
FYI
OPINION
1. Andy Borowitz: Trump Agrees to Let Kim Jong Un Have Pence as Manservant
As new details emerge from the Singapore summit, the White House has confirmed that Donald J. Trump unilaterally offered to let Kim Jong Un have Mike Pence as his personal manservant.

The offer reportedly came after Kim spoke glowingly to Trump about the Vice-President's obsequiousness, sources said.

"Even by North Korean standards, Pence puts my toadies to shame," Kim reportedly said.

Once the necessary paperwork is squared away, Pence could begin bowing and scraping in Pyongyang as early as next week.

Although State Department insiders were taken by surprise by Trump's offering of Pence, for whom the U.S. will receive nothing in return, the deal has been met with nearly universal approval.

"At least Trump didn't give away much this time," one diplomat said. https://www.newyorker.com/humor/borowitz-report/trump
2. Poll: 66 percent of U.S. voters oppose family separations
Roughly two-thirds of U.S. voters oppose the Trump administration's controversial policy of separating children from their parents who cross the U.S. border illegally, according to a Quinnipiac Poll  released on Monday.
Sixty-six percent of those surveyed opposed the policy. The vast majority of Democrats surveyed — 91 percent — opposed the policy, compared with 35 percent of Republicans. Only 7 percent of Democratic voters support the policy, while 55 percent of Republicans support it.
Half of voters believe the Trump administration is also being too aggressive in deporting undocumented immigrants. When broken down, 86 percent of Democrats believe the government is too harsh, compared with 10 percent of Republicans.
In addition, 79 percent support the idea of allowing Dreamers, young undocumented immigrants who were brought to the U.S. as children, to remain in the country and to ultimately apply for citizenship. Fifteen percent oppose that approach. https://www.politico.com/story/2018/06/18/poll-66-percent-of-us-voters-oppose-family-separations-650948
3. Trump Loses Temper Over Border Wall Funding
In a private meeting regarding the wall Trump fumed to senators and his own staff about the $1.6 billion the Senate is planning to send him this fall, according to two people familiar with the meeting. Trump wants the full $25 billion upfront and doesn't understand why Congress is going to supply him funds in a piecemeal fashion — even though that's how the spending process typically works.
The president said at the meeting that if Congress doesn't give him the resources he needs for border security, he will shut down the government in September, according to one of the people familiar with the meeting. He did not give a specific number, but has been fixated on getting the $25 billion in a lump sum. https://www.politico.com/story/2018/06/19/trump-border-wall-funding-immigration-653530
4. Trump Told G7 Leaders That Crimea Is Russian Because Everyone Speaks Russian In Crimea
President Donald Trump told G7 leaders that Crimea is Russian because everyone who lives there speaks Russian, according to two diplomatic sources.
Trump made the remarks over dinner last Friday during a discussion on foreign affairs at the G7 summit in Quebec, Canada, one of the diplomats told BuzzFeed News.
The sources spoke on the condition of anonymity as they were not authorized to speak on the matter.
Russia invaded and then annexed Crimea from Ukraine in 2014, leading to widespread international condemnation and sanctions. The move also directly led to Russia being kicked out of the then-G8. Russian President Vladimir Putin defended Russia's intervention in Crimea at the time, saying that he had the right to protect Russian citizens and Russian speakers in Ukraine. https://www.buzzfeed.com/albertonardelli/trump-russia-crimea
5. The DAILY GRILL
"I wouldn't want to see homosexuals teaching school anymore than I'd want to see members of the American Nazi Party teaching school." — Sen. Orrin Hatch (R-UT), quoted by the Salt Lake Tribune in 1977.

VERSUS

"No one should ever feel less because of their gender identity or sexual orientation. LGBT youth deserve our unwavering love and support. They deserve our validation and the assurance that not only is there a place for them in this society, but that it is far better off because of them. ... If there were ever a time to show our LGBT friends just how much we love them, it is now in a world where millions suffer in silence. We owe it to each other to love loudly." — Sen. Orrin Hatch (R-UT), in a speech honoring Pride Month 2018.

 

"The sleazy New York Democrats, and their now disgraced (and run out of town) A.G. Eric Schneiderman, are doing everything they can to sue me on a foundation that took in $18,800,000 and gave out to charity more money than it took in, $19,200,000," ... "Schneiderman "never had the guts to bring this ridiculous case" and that "his disciples brought it when we would not settle." -- Donald Trump

VERSUS

Trump's foundation "illegally provided extensive support" to his 2016 campaign. It also alleges that the foundation engaged in "willful self-dealing" to serve Trump's personal and business interests." ..."The Trump Foundation was little more than a checkbook for payments from Mr. Trump or his businesses to nonprofits, regardless of their purpose or legality." -- New York Attorney General Barbara Underwood on a sweeping lawsuit against the Donald J. Trump Foundation and its board of directors — the president and his three eldest children — for engaging in "a pattern of persistent illegal conduct."

 

Democrats are the problem. They don't care about crime and want illegal immigrants, no matter how bad they may be, to pour into and infest our Country, like MS-13. They can't win on their terrible policies, so they view them as potential voters! -- Donald Trump on Twitter

VERSUS

"No, @POTUS, saying immigrants 'infest' our country is repugnant, reprehensible, + repulsive. To dehumanize those who wish to make a better life for themselves + their families flies in the face of decency. The real infestation is only one of your baseless rhetoric." -- Retiring Rep. Ileana Ros-Lehtinen (R-Fla.) tweet.
6. From MEDIA MATTERS (They watch Fox News so you don't have to)
Three reporters push back on Sarah Sanders' lie that it is simply "following the law" to separate immigrant families. CBS' Paula Reid: "There is no law that requires families be separated at the border. This was the administration's choice."https://www.mediamatters.org/video/2018/06/14/three-reporters-push-back-sarah-sanders-lie-it-simply-following-law-separate-immigrant-families/220441\

Alliance Defending Freedom attorney compares "leftists" to "communists and Nazis," says they "feed on hatred." ADF legal counsel Travis Barham says "leftists ... share the same philosophies and authoritarian tendencies" as "communists and Nazis."https://www.mediamatters.org/video/2018/06/15/Alliance-Defending-Freedom-attorney-compares-leftists-to-communists-and-Nazis-says-they-fe/220455

Local Virginia media failed to report that the newly elected GOP Senate nominee is a neo-Confederate with connections to white supremacists. Evening news programs virtually ignored Corey Stewart's extremism. Virginia newspapers did only slightly better. https://www.mediamatters.org/blog/2018/06/15/local-virginia-media-failed-report-newly-elected-gop-senate-nominee-neo-confederate-connections/220453

Laura Ingraham: People talking about children being held in cages at the border "is hilarious." Ingraham: "Oh my gosh, it's funny." https://www.mediamatters.org/video/2018/06/18/laura-ingraham-people-talking-about-children-being-held-cages-border-hilarious/220463

Ann Coulter calls children separated from families at border "child actors" and begs Trump: "Don't fall for the actor children."https://www.mediamatters.org/blog/2018/06/18/ann-coulter-calls-children-separated-families-border-child-actors-and-begs-trump-dont-fall-actor/220465

Steve Doocy quibbles with term "cages" to describe immigrant detention facilities: "They built walls out of chain link fences."https://www.mediamatters.org/video/2018/06/18/steve-doocy-quibbles-term-cages-describe-immigrant-detention-facilities-they-built-walls-out-chain/220461

Tucker Carlson: People speaking up against America detaining children in cages just want to "change your country forever." Carlson: "The cost is entirely on you -- but don't complain, or else they will call you 'Hitler.'"https://www.mediamatters.org/video/2018/06/18/tucker-carlson-people-speaking-against-america-detaining-children-cages-just-want-change-your/220470

Laura Ingraham calls child detention centers "essentially summer camps." Ingraham: "Liberals have seized on the separated children and turned the entire image into a political weapon."https://www.mediamatters.org/video/2018/06/18/laura-ingraham-calls-child-detention-centers-essentially-summer-camps/220472

Jeff Sessions to Laura Ingraham: Comparisons to Nazis aren't fair because "in Nazi Germany they were keeping the Jews from leaving." https://www.mediamatters.org/video/2018/06/18/jeff-sessions-laura-ingraham-comparisons-nazis-aren-t-fair-because-nazi-germany-they-were-keeping/220473

Right-wing media attempt to distract from family separation policy by attacking abortion rights instead. https://www.mediamatters.org/blog/2018/06/19/right-wing-media-attempt-distract-family-separation-policy-attacking-abortion-rights-instead/220490
7. From the Late Shows
John Oliver Exposes Trump's Lies on Border Policy: https://youtu.be/ezxRf1-1Jf4

The Late Show with Stephen Colbert: Jeff Sessions Cites The Bible In Separating Children From Parents: https://youtu.be/j4KaLkYxMZ8
8. Late Night Jokes for Dems
Homeland Security Secretary Kirstjen Nielsen yesterday dismissed demands that President Trump unilaterally end the practice of separating families at the border, and said, "Congress can fix this tomorrow." Really? Have you MET Congress? They're still finalizing the Louisiana Purchase. -- Seth Meyers

According to Politico, White House chief of staff John Kelly has been going to the gym in the middle of the day. Well, that's one sure way to not run into the boss. -- Seth Meyers

President Trump repeated his false statement today that crime is up in Germany and said the numbers may appear lower because officials don't want to report the crimes. Dude, you want us to believe you've been poring over secret unreleased German crime statistics? You haven't even read your own autobiography. -- Seth Meyers

Today was the 40th anniversary of the first "Garfield" comic strip, so from one guy making fun of a fat lazy orange narcissist to another, congratulations. -- Seth Meyers

President Trump is continuing to blame Democrats for his new zero-tolerance immigration policy that has taken thousands of children from their parents and forced them into the detention centers. Even with a hell storm of criticism coming his way from Republicans and Democrats alike, the president is digging in — as he does — he keeps saying there's a law requiring him to do this. Which, first of all, no, there isn't, that's complete B.S. Secondly, since when did Donald Trump start caring about the law? -- Jimmy Kimmel

There's also a law against starting a fake university, but that's different. -- Jimmy Kimmel

Trump said Democrats want illegal immigrants to "infest" our country. He used the word "infest." Like his German grandfather infested our country. No job, no English. He crawled in on his stomach and infested the country with a bunch of Trumps. -- Jimmy Kimmel

This is not a popular policy — 67% of Americans oppose it. Even Melania released a statement saying she hates to see families separated. Partly because it makes her jealous. "Why can't I get separated?" -- Jimmy Kimmel

The president is very clearly, no matter what he says, using these children to try to get his wall funded. And here's the thing: If Trump wants to use kids as negotiating tools, the kids he should use are Eric and Donald Jr. They seem to be enormous tools. They are tools that wouldn't even fit in the box. -- Jimmy Kimmel

Meanwhile, the president's relationship with his chief of staff is on the rocks. John Kelly is reportedly so frustrated with Trump he stopped even trying to rein him in. Kelly reportedly has begun working out in the middle of the day and is said to be mentally checked out of his job. Just like Trump, except for the working-out part. -- Jimmy Kimmel

John Kelly also reportedly said he doesn't care if Trump gets impeached. You know, being Donald Trump's chief of staff is kind of like being his wife. You'll never see him, you have no control over what he does, and it's only a matter of time until he trades you in for a new one. -- Jimmy Kimmel

The king and queen of Spain visited Washington. When Trump first heard people speaking Spanish in the White House, he frantically pressed the silent alarm button under his desk. -- Jimmy Fallon

 
9. Trump Dismisses Kim Jong Un's Atrocities: 'He's a Tough Guy'
In an interview with Fox News immediately after his summit with Kim Jong Un in Singapore, President Donald Trump appeared to dismiss North Korea's human rights violations and Kim's atrocities against his own people. 
"Hey, he's a tough guy. When you take over a country—a tough country, tough people—and you take it over from your father, I don't care who you are, what you are, how much of an advantage you have. If you can do that at 27 years old, I mean, that's one in 10,000 that could do that. So he's a very smart guy. He's a great negotiator," Trump told Fox News' Bret Baier. When pressed further, Trump responded: "Yeah, but so have other people done some really bad things. I could go through a lot of nations where a lot of bad things were done." Last year, the president made a similar argument when dismissing Russian President Vladimir Putin's human rights violations. "What do you think, our country's so innocent?" he said at the time.
When pressed further, Trump responded: "Yeah, but so have other people done some really bad things. I could go through a lot of nations where a lot of bad things were done." https://www.thedailybeast.com/trump-dismisses-kim-jong-uns-atrocities-hes-a-tough-guy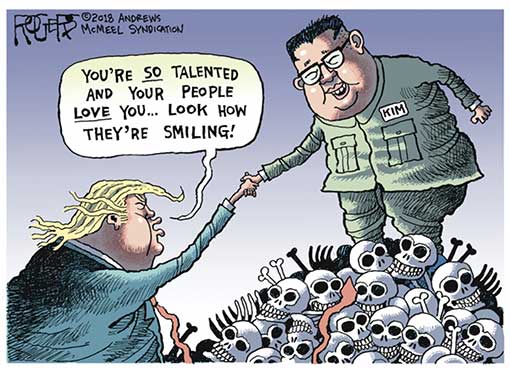 10. The Political Fringe Is Now In Power
Jeff Sessions and Stephen Miller spent years on the political fringe in the nation's capital as high-decibel immigration hard-liners, always warning about the dangers of open borders but rarely in a position to affect law or policy.
Now, Mr. Sessions, the attorney general and former senator from Alabama, and Mr. Miller, the president's top policy adviser and former Senate aide to Mr. Sessions, have moved from the edges of the immigration debate to its red-hot center. Powerful like never before, the two are the driving force behind President Trump's policy that has led thousands of children to be separated from their parents at the nation's southern border. https://www.nytimes.com/2018/06/18/us/politics/immigration-children-sessions-miller.html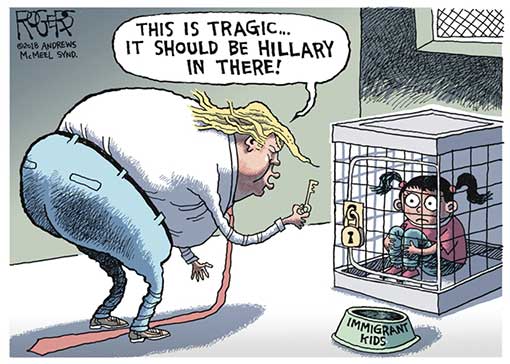 11. Trump aides plan fresh immigration crackdowns before midterms
Top aides to President Donald Trump are planning additional crackdowns on immigration before the November midterms, despite a growing backlash over the administration's move to separate migrant children from parents at the border.
Senior policy adviser Stephen Miller and a team of officials from the departments of Justice, Labor, Homeland Security and the Office of Management and Budget have been quietly meeting for months to find ways to use executive authority and under-the-radar rule changes to strengthen hard-line U.S. immigration policies, according to interviews with half a dozen current and former administration officials and Republicans close to the White House.
The goal for Miller and his team is to arm Trump with enough data and statistics by early September to show voters that he fulfilled his immigration promises — even without a border wall or any other congressional measure, said one Republican close to the White House.
Among the fresh ideas being circulated: tightening rules on student visas and exchange programs; limiting visas for temporary agricultural workers; making it harder for legal immigrants who have applied for welfare programs to obtain residency; and collecting biometric data from visitors from certain countries. https://www.politico.com/story/2018/06/18/trump-aides-plan-fresh-immigration-crackdowns-before-midterms-
12. US officials likely lost track of nearly 6,000 unaccompanied migrant kids
"The Trump administration has likely lost track of nearly 6,000 unaccompanied migrant children, thousands more than lawmakers were alerted to last month," according to a McClatchy review of federal data.
"Federal officials acknowledged last month that nearly 1,500 unaccompanied minors arrived on the southern border alone without their parents and were placed with sponsors who did not keep in touch with federal officials, but those numbers were only a snapshot of a three- month period during the last fiscal year." http://www.mcclatchydc.com/news/politics-government/white-house/article213430099.html
13. Forget Tax Cuts. Trump Wants to Rally the G.O.P. Base Over Immigration.
As Republicans try to keep their midterm election strategy focused on the economy, tax cuts and falling unemployment, President Trump sent his clearest signal yet on Monday that he intends to make divisive, racially charged issues like immigration central going into the campaign season.
Facing bipartisan criticism over his administration's family separation practice on the border, Mr. Trump renewed the sort of bald and demagogic attacks on undocumented immigrants that worked well for him politically in his 2016 presidential campaign. https://www.nytimes.com/2018/06/18/us/politics/trump-immigration-midterms.html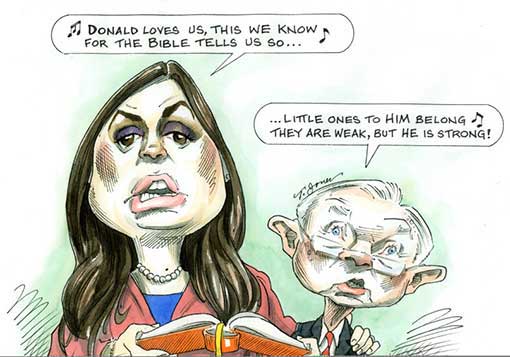 14. Former ICE Director: Some migrant family separations are permanent
The former head of U.S. Immigration and Customs Enforcement told NBC News that migrant parents separated from their children at the border are sometimes unable to relocate their child and remain permanently separated.
"Permanent separation. It happens," said John Sandweg, who served as acting director of ICE under the Obama administration from 2013-2014.
While a parent can quickly move from detention to deportation, a child's case for asylum or deportation may not be heard by a judge for several years because deporting a child is a lower priority for the courts, Sandweg explained.
"You could easily end up in a situation where the gap between a parent's deportation and a child's deportation is years," Sandweg said.
As a result, parents may find themselves back in their home countries struggling to find their children. Many do not have access to legal counsel or understand the U.S. immigration or judicial systems.
Children who stay in the foster system for lengthy periods of time may become wards of the state and finally adopted. https://www.nbcnews.com/storyline/immigration-border-crisis/former-ice-director-some-migrant-family-separations-are-permanent-n884391
15. Riling Up the Base May Backfire on Trump
Mr. Trump's base strategy brands the Republican Party as sexist, racist, xenophobic and anti-immigrant, which magnifies the anti-Trump reaction among Democrats. But it also leaves a tenth who are conservative Catholics and a fifth who are nonreligious conservatives more tentative in their support of the Republican Party — and it pushes away the quarter of Republicans who remain ideologically moderate. The harder the president bangs these drums, the more Democrats become enraged and a segment of Republicans gets demoralized. The more he trashes and defeats his Republican opponents in primaries, the more these voters may contemplate different political options. https://www.nytimes.com/2018/06/18/opinion/trump-base-midterms-moderate-republicans.html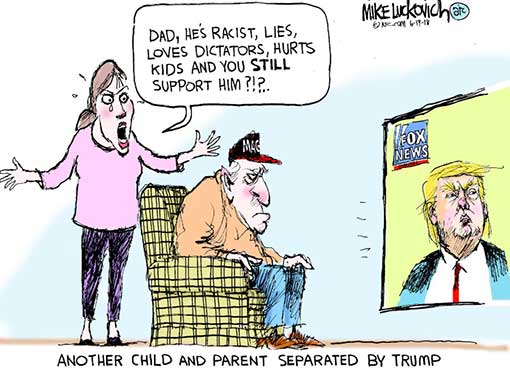 16. Democrats Hold 7-Point Lead In Race for Congress
Democrats hold a 7 point lead over Republicans in the generic House ballot, which is basically the same as the 8 point lead they held in a Monmouth University Poll taken in late April. Opinion that the country is on the right track has increased by 7 points but is still in the minority. On the other hand, approval of the tax reform package passed by Congress at the end of last year has slipped by 6 points. In other poll findings, the public narrowly agrees with continuing the Mueller probe.
If the election for U.S. House of Representatives was held today, 48% of registered voters say they would support or lean toward supporting the Democratic candidate in their district compared to 41% who would vote for the Republican. This is similar to the 49% to 41% edge Democrats held six weeks ago in Monmouth's polling. https://www.monmouth.edu/polling-institute/reports/MonmouthPoll_US_061818
17. GOP Senate Nominee Compares Cages For Migrant Kids To Playgrounds
Rep. Kevin Cramer (R-ND) pushed back hard on the idea that keeping border-crossing children in chain-link cages was inhumane, defending the practice in two local radio shows on Wednesday.
Said Cramer: "By the way, chain link fences are around playgrounds all over America, all over North Dakota. And chain link fences allow line-of-sight visual connectivity with children and families. You know, there's nothing inhumane about a chain link fence. If it is, then every ballpark in America is inhumane. https://talkingpointsmemo.com/dc/gop-senate-nom-cages-for-migrant-kids-are-humane-like-chain-link-playgrounds\
18. Michael Bloomberg Will Spend $80 Million on the Midterms. His Goal: Flip the House for the Democrats.
Michael R. Bloomberg, the billionaire former mayor of New York City, has decided to throw his political clout and personal fortune behind the Democratic campaign to take control of the House of Representatives this year, directing aides to spend tens of millions of dollars in an effort to expel Republicans from power.
Mr. Bloomberg — a political independent who has championed left-of-center policies on gun control, immigration and the environment — has approved a plan to pour at least $80 million into the 2018 election, with the bulk of that money going to support Democratic congressional candidates, advisers to Mr. Bloomberg said. https://mobile.nytimes.com/2018/06/20/us/politics/mike-bloomberg-democrats-election.html
19. What You Can Do Right Now to Help Immigrant Families Separated at the Border
See https://www.thecut.com/2018/06/how-to-help-fight-family-separation-policy-immigration-trump.html
1. Frank Bruni: Trump's Small Hostages
Why don't we call the terrified children whose incarceration is riveting the country what they are at this point?
Not migrants. Not detainees. Not pawns, although that comes closest to the mark.
They're hostages.
President Trump is using them as flesh-and-blood bargaining chips, hoping that their ordeal and reasonable Americans' disgust with it will get him what he wants. This isn't some theory that I'm basing on the whisperings of unnamed administration officials whose candor the president can dismiss as fake news put out by a maleficent media.
It's the only conclusion reachable from his and his lieutenants' own words. Falsely claiming that they are bound by law to separate families who cross the border illegally, they say that they could and would gladly abandon the approach — if only Democrats joined them in supporting a package of new immigration legislation. https://www.nytimes.com/2018/06/19/opinion/donald-trump-immigrants-children.html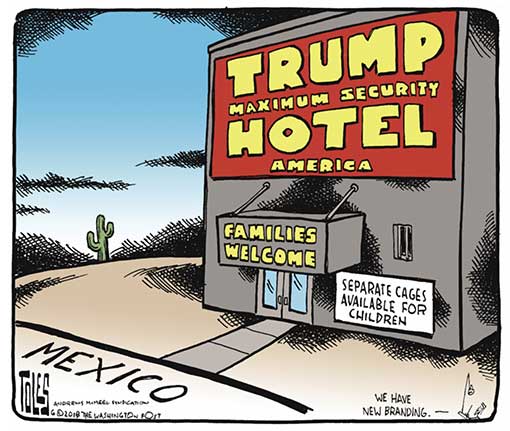 2. Andrew Sullivan: Trump Is Making Us All Live in His Delusional Reality Show
It seems so long ago now. Almost immediately after Trump took office, the denial of reality began. The president's and his spokesperson's insistence that his inauguration crowd was the biggest in history — and certainly bigger than Obama's — belied what everyone could see with their bare, lyin' eyes. At the time, I wonderedwhether the president was psychologically unwell. Three thousand lies later, we have a fuller picture.
The president believes what he wants to believe, creates a reality that fits his delusions, and then insists, with extraordinary energy and stamina, that his delusions are the truth. His psychological illness, moreover, is capable of outlasting anyone else's mental health. Objective reality that contradicts his delusions is discounted as "fake news" propagated by "our country's greatest enemy," i.e., reporters. If someone behaved like this in my actual life, if someone kept insisting that the sea was red and the sky green, I'd assume they were a few sandwiches short of a picnic. It's vital for us to remember this every day: Almost no one else in public life is so openly living in his own disturbed world. http://nymag.com/daily/intelligencer/2018/06/trump-is-making-us-all-live-in-his-delusional-reality-show.html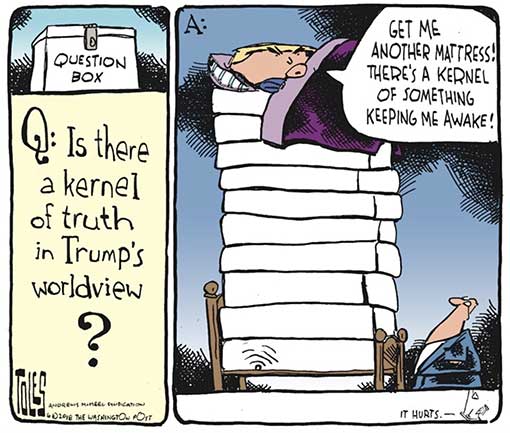 3. Molly Ball: 'It's a Sea Change' for Democratic Women in the Primaries
On June 5, the biggest primary day of the year, 42 of the 48 candidates endorsed by Emily's List, which supports pro-choice Democratic women, prevailed in races up and down the ballot in eight states, from governor to state legislature. Overall, 104 of the group's 123 primary candidates have triumphed this year, well above its usual success rate in what are often heated intraparty contests. Far more than any ideological trend, Wasserman wrote, "the drive to elect women is defining 2018's Democratic primaries."
The trend shows no signs of abating. On June 12, women dominated Democratic congressional primaries in Virginia, while Maine attorney general Janet Mills led narrowly in the state's Democratic gubernatorial primary, which was too close to call. "It's exhilarating," Mills, who would be the state's first female governor, says of being part of this prospective vanguard.
The result is that women, many of them new to politics, will be the face of the Democratic Party in the first national election of the Trump era. That wasn't necessarily the party's plan. Many successful female candidates have, like Porter, needed to overcome the Democratic establishment to win their primaries. http://time.com/5311978/women-2018-democratic-primaries/
4. Peter Beinart: Trump Takes His Party Back to the 1920s
And, like Trump today, the presidents of the 1920s embraced protectionism with little regard for its geopolitical consequences. In 1922, Harding signed the Fordney-McCumber bill, which created the highest tariffs in American history. Then, in 1930, Hoover signed Smoot-Hawley. The United States also refused to forgive its former allies' war debts. Coolidge's notorious line—"They hired the money, didn't they?"—may be apocryphal, but it captured the spirit of his policy.
What links Trump and the conservative presidents of the 1920s is their view of all foreign governments, regardless of ideology, as alien and predatory, and their desire not to bind America to any of them. It's no coincidence that, in both eras, this obsession with American sovereignty has followed disillusioning wars, nor that, in both eras, it has coincided with a panic about immigration. Both Trump's slogan, "Make America Great Again," and Harding's, "Back to Normalcy," evoke nostalgia for a time when America, and native-born Americans, were more clearly masters of their own fate.
In both eras, as well, the insistence that foreign governments have cheated America is bound up with the insistence that foreign people have cheated Americans. As vice president, Coolidge warned that "the unassimilated alien child menaces our children," and that "biological laws tell us that certain divergent people will not mix or blend." The Second Klan reached its peak in the 1920s, riding a surge of xenophobia to enroll millions of members. And in 1924, Congress passed sweeping immigration restrictions. Hostility to immigration was widespread among rank-and-file conservatives of the era, as it is today. https://www.theatlantic.com/politics/archive/2018/06/the-death-of-cold-war-conservatism/562811/
5. Brent Budowsky: Americans love Canada, not Kim
On behalf of the 94 percent of Americans who expressed approval of Canada in a Gallup poll early this year, I apologize to the people of Canada and their prime minister, Justin Trudeau, for the behavior of our president in recent days.
For the first time in American history we are led by a president who treats our friends as enemies, treats our enemies as friends and acts to destroy the alliances between our country and our democratic friends around the world.
We should negotiate trade issues with Canada, Mexico and Europe as friends and allies resolving differences with mutual respect and not arrogance, ignorance, belligerence and threats.
No president has ever before touted his great relationship with a barbarous dictator he praises while expressing contempt for democratic leaders he condemns. No president has ever before acted to divide and destabilize the democratic alliance that defends our freedom. No future president should ever do this again.
I am proud to count myself among the huge majority of Americans who love Canada and the freedom, democracy and goodwill we share. http://thehill.com/opinion/white-house/392177-budowsky-americans-love-canada-not-kim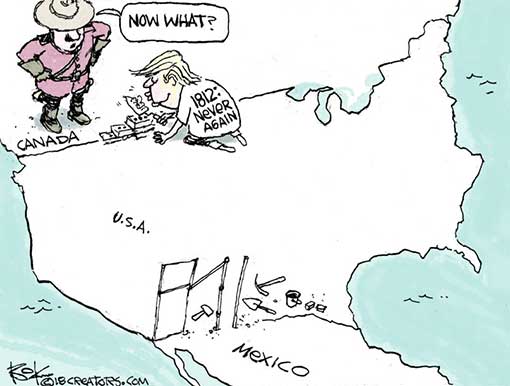 6. Shikha Dalmia: The Trump doctrine isn't 'We're America, Bitch.' It's 'I'm Trump, Bitch.'
Peace is better than war, obviously. So everyone should breathe a sigh of relief that President Trump ended months of brinksmanship and shook hands this week with North Korean dictator Kim Jong Un, at least temporarily dampening the risk of potential nuclear catastrophe.
But does anyone doubt that if President Obama had negotiated this exact same deal with the Hermit Kingdom, Trump would have berated it as "weak" and "terrible"?
This gets to the heart of Trump's approach not just to foreign policy, but all politics: It's all about him. There is no guiding ideology beyond Trump. If he does it, it's great, the best. If his opponents do it, it's weak, foolish.
Indeed, the Trump foreign policy doctrine is not, as a senior White House official recently put it to The Atlantic's Jeffrey Goldberg, "We're America, Bitch."
It's "I'm Trump, Bitch."
This president doesn't care what's in the deal — only that he's the one striking it. There is no good or bad, right or wrong. There is only Trump. http://theweek.com/articles/778551/trump-doctrine-isnt-america-bitch-im-trump-bitch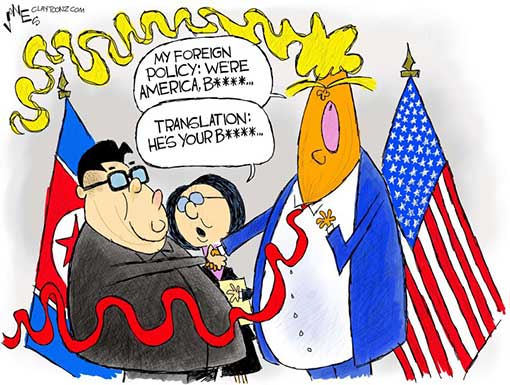 7. McKay Coppins: God's Plan for Mike Pence. Will the vice president—and the religious right—be rewarded for their embrace of Donald Trump?
It's easy to see how Pence could put so much faith in the possibilities of divine intervention. The very fact that he is standing behind a lectern bearing the vice-presidential seal is, one could argue, a loaves-and-fishes-level miracle. Just a year earlier, he was an embattled small-state governor with underwater approval ratings, dismal reelection prospects, and a national reputation in tatters. In many ways, Pence was on the same doomed trajectory as the conservative-Christian movement he'd long championed—once a political force to be reckoned with, now a battered relic of the culture wars.
Because God works in mysterious ways (or, at the very least, has a postmodern sense of humor), it was Donald J. Trump—gracer of Playboy covers, delighter of shock jocks, collector of mistresses—who descended from the mountaintop in the summer of 2016, GOP presidential nomination in hand, offering salvation to both Pence and the religious right. The question of whether they should wed themselves to such a man was not without its theological considerations. But after eight years of Barack Obama and a string of disorienting political defeats, conservative Christians were in retreat and out of options. So they placed their faith in Trump—and then, incredibly, he won.
In Pence, Trump has found an obedient deputy whose willingness to suffer indignity and humiliation at the pleasure of the president appears boundless. When Trump comes under fire for describing white nationalists as "very fine people," Pence is there to assure the world that he is actually a man of great decency. When Trump needs someone to fly across the country to an NFL game so he can walk out in protest of national-anthem kneelers, Pence heads for Air Force Two. https://www.theatlantic.com/magazine/archive/2018/01/gods-plan-for-mike-pence/546569/
8. Roger Cohen: Trump's Envy of Kim Jong-un
I've just watched footage of Donald Trump saluting a North Korean general, and it occurs to me that what's really going on here is that the president is envious of Kim Jong-un, who has the absolute authority to execute his uncle with antiaircraft machine guns, consign tens of thousands of people to the gulag, and rule through a personality cult based on ruthless indoctrination.
This, the last hangover of Stalinist totalitarianism, must be the society for which Trump yearns as, remote control in hand, he wanders the corridors of the White House searching for Melania or a late-night burger. It's one in which prostration to the leader is the norm, critical thought is punishable with death, and the whole tedious apparatus of American constitutional democracy — checks and balances, the rule of law, a free press, an independent judiciary — has been relegated to history's trash heap.
The real enemy, you see, is not the North Korean general Trump saluted, or Kim himself, the erstwhile "rocket man" turned "great personality" and "very smart guy." No, it's the forces within American society working to limit Trump's power and so keep the Republic. As he tweeted upon his return from the summit with Kim in Singapore, "Our country's biggest enemy is the Fake News so easily promulgated by fools." https://www.nytimes.com/2018/06/17/opinion/trump-and-the-baby-snatchers.html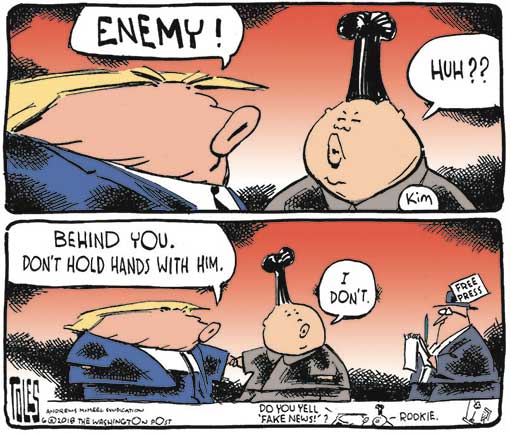 9. Ed Kilgore: We're Getting a Taste of the Backlash Mass Deportation Would Create
If images of kids at the border separated from the parents are horrifying, think about what a deportation campaign would look like. Photo: US Customs and Border Patrol
In the short term, the Trump administration has really placed itself on the horns of a dilemma by initiating its "zero tolerance" policy for people crossing the U.S. border without documentation. It is unlikely that it can brazenly continue to defy the outpouring of anguish over the separation of families at the border for too much longer, as religious communities, Republicans, and just plain folks who aren't especially political are galvanized by the images of crying children held in cages. It seems even more unlikely that the GOP gambit of using the humanitarian crisis to force passage of Trump-backed immigration legislation is going to work. If anything, Democrats have found in the family separation saga a powerful midterm campaign issue, and aren't about to reward Trump with a border wall or reductions in legal immigration to end it.
But just standing down has serious political downsides, too, since "zero tolerance" is at the heart of the approach to immigration that Trump's "base" have long demanded — and that Trump ran on. At a time when the president and his associates have clearly decided his party's only route to survival in the midterms is to whip up that base into a frenzy, backing down on a border crackdown would be a stone bummer for the MAGA set. http://nymag.com/daily/intelligencer/2018/06/border-saga-a-foreshadowing-of-mass-deportation-backlash.html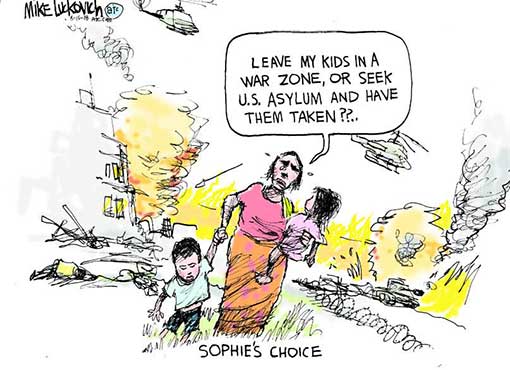 10. George Packer: Donald Trump Goes Rogue
Trump imagines that America unbound, shaking hands or giving the finger, depending upon short-term interests and Presidential whims, will flourish among the other rogues. After his meeting with Kim, he flew home aglow with wonder at his own dealmaking prowess, assuring Americans that they could now sleep in peace. In fact, Trump had secured nothing except the same vague commitment to dismantling North Korea's nuclear program which the regime has offered and routinely betrayed in the past. Meanwhile, he gave up something real—joint U.S.-South Korean military exercises, which he called 'provocative,' the language of totalitarian and aggressive North Korea. Without allies and treaties, without universal values, American foreign policy largely depends on what goes on inside Trump's head. Kim, like Putin, already seems to have got there.
Power politics is not a system that plays to American strengths. For all our lapses, we thrived for seventy years by standing for something. It wasn't boilerplate at all, and we are present at the destruction. When the next global economic crisis or major war or terrorist attack happens, America will be alone. https://www.newyorker.com/magazine/2018/06/25/donald-trump-goes-rogue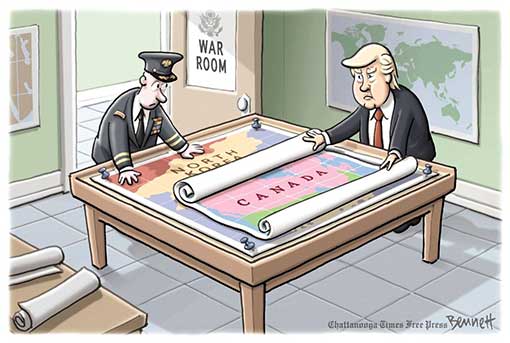 11. David Remnick: Trump's Cruelty and the Crying Children at the Border
Trump has decided that maximal aggression, relentless deception, and racialized hostility are the way to solidify the conservative base of the Republican Party. Some G.O.P. stalwarts are nervous that, despite the President's high poll numbers in the Party, the images of children stripped of their parents will alienate voters, particularly suburbanites, in November. As Liesl Hickey, a Republican strategist, tells the Times, this approach is "not a winning issue." At some point, Trump may find it necessary to dial back this particular act of heedless cruelty. It can't be entirely lost on him that five First Ladies, including, to a very measured degree, his own wife, find the situation intolerable. But don't count on it. Trump has reached a point where his self-adoring faith in his own instincts has only intensified. He has cast out of his circle nearly everyone who dared to disagree with him, and there are very few figures of substance in the Republican Party or the conservative media who have the spine or the decency to stand up to him with any consistency. Senate Majority Leader Mitch McConnell wants only to preserve the Republican majority in Congress—that is his only evident value—and Fox propagandists like Laura Ingraham will go on insisting that the facilities in Texas are "essentially summer camps."
Ginger Thompson, of ProPublica, obtained an audiotape reportedly of Central American children separated from their parents and detained in a U.S. Customs and Border Protection facility in Texas. She wrote that it makes "excruciating listening." That much is undeniable. "Many of them," Thompson went on, "sound like they're crying so hard, they can barely breathe." The President refuses to hear the children. Whether the American electorate can hear them will help decide not only an election but also who we are and what kind of country we want to be. https://www.newyorker.com/news/daily-comment/trumps-cruelty-and-the-crying-children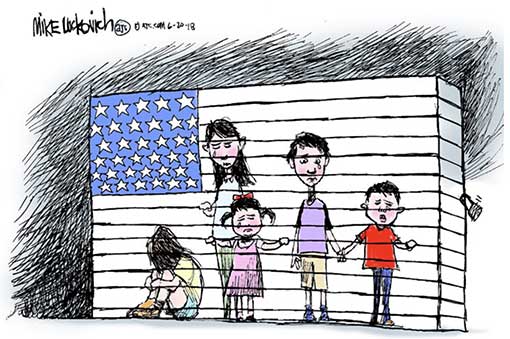 12. Thomas L. Friedman: Trump to Dictators: Have a Nice Day
Watching Trump recently accuse Canada's Prime Minister Justin Trudeau of stabbing him in the back prompted me to Google a simple question: How many Canadians were killed or wounded since April 2002 fighting alongside Americans in Afghanistan? The answer: 158 were killed and 635 wounded.
Think about that: America, not Canada, was attacked on 9/11. Nevertheless, our ally to the north sent thousands of its own young men and women to Afghanistan to help us destroy the forces of Al Qaeda that attacked our cities — and 158 Canadians gave their lives in that endeavor.
And yet, when their prime minister mildly pushed back against demands to lower Canada's tariffs on milk, cheese and yogurt from the U.S., Trump and his team — in a flash — accused Trudeau of "betrayal," back-stabbing and deserving of a "special place in hell."
A special place in hell? Over milk tariffs? For a country that stood with us in our darkest hour? That is truly sick.
But it tells you all you need to know about how differently Trump looks at the world from any of his predecessors — Republican or Democrat. Everything is a transaction: What have you done for ME today? The notion of America as the upholder of last resort of global rules and human rights — which occasionally forgoes small economic advantages to strengthen democratic societies so we can enjoy the much larger benefits of a world of healthy, free-market democracies — is over. https://www.nytimes.com/2018/06/19/opinion/trump-to-dictators-have-a-nice-day.html