March 26, 2020
ON THE RECORD. . .
"They call it the coronavirus. I call it the beer virus. How do you like that? It attacks us senior citizens. I'm one of you. I still say we have to as a nation and state go forth with everyday activities." — Rep. Don Young (R-AK) to a gathering of senior citizens last week that dangers posed by the coronavirus pandemic — the "beer virus," he called it — have been overblown due to media-fueled hysteria.

Peter Alexander of NBC News: What do you say to Americans that are scared?
Trump: I say you're a terrible reporter.

"Thinking about all of our friends in California this morning... look forward to welcoming you back to the course on the other side of this. On behalf of everyone at @TrumpGolfLA, stay safe!" — Eric Trump tweet reminding Californians that when this is over, if they haven't died, they should come on down to his family's for-profit golf club

"Although I may not agree with the vice president on every issue, I know that he has a good heart and is motivated by his love for our country and the American people. I'm confident that he will lead our country guided by the spirit of aloha — respect and compassion — and thus help heal the divisiveness that has been tearing our country apart." — Rep. Tulsi Gabbard (D-Hawaii), announcing that she was dropping out of the race, saying she would throw her support to Joe Biden,

The global coronavirus pandemic is not a problem locally because unlike in Italy, there are not a lot of Chinese people living in central Kansas— Chairman of the Riley County Commissioners..

"If Trump is going to keep lying like he has been every day on stuff this important, we should, all of us, stop broadcasting it. Honestly, it's going to cost lives." — Rachel Maddow.

REPORTER: Will you commit that no money from the emergency stimulus bill will go to your own properties?
TRUMP: "I have no idea what they're talking about. Everything is changing. But I have no idea… let's just see what happens."

"I've been telling the president things he doesn't want to hear. I have publicly had to say something different with what he states. It's a risky business. But that's my style… I say it the way it is, and if he's gonna get pissed off, he's gonna get pissed off.. — Dr. Anthony Fauci, the director of the National Institute of Allergy and Infectious Diseases.

"Unconscionable" is a feather-light word to use for the response to this pandemic by those in charge. After weeks of inaction, of downplaying the pandemic, of calling it a hoax, President Donald Trump had no choice but to shift tone once this crisis was undeniable. He then stood shoulder to shoulder at press conferences, shaking hands while declaring a national emergency that his own experts said only social distancing would quell. He has failed our nation. — Dr. Dipti S. Barot, a Primary Care Doctor in the Bay Area.

"So we're in a situation where the president's narcissism and his need to be at the center of every story, even though the story is not about Donald Trump, this story is about a global pandemic, is what is driving the White House's communication strategy." — Vanity Fair reporter Gabriel Sherman told host Joy Reid that Donald Trump is "furious" with Gov. Andrew Cuomo (D-NY) because his daily press conferences on the coronavirus pandemic are getting rave reviews — while his own are being panned.

"When it comes to how to fight #CoronavirusPandemic, I'm making my decisions based on healthcare professionals like Dr. Fauci and others, not political punditry." — Sen. Lindsey Graham dismissing calls from some to pull back on social distancing measures in order to stop damage to the economy.

"We voted no on the McConnell-GOP bill because among other problems it includes huge bailouts without protections for people and workers and without accountability, and because it shortchanges our hospitals and healthcare workers who need our help." — Sen. Chuck Schumer (D-NY)

"Blah blah blah." — Sen. John Cornyn (R-TX) responds.

"I think we're doing an incredible job. So I don't want to disturb them, bother them. I don't think I'm going to learn much and, you know, I guess you could say that there's probably a natural inclination not to call." — Trump In response to a reporter's question on whether he would reach out to any former presidents.

"Trump is just a petrified salesman who believes in perception over reality. He thinks if he can create the perception that this is going to be a quick fix and there's a little pill coming, then the stock market will roar back, along with his 2020 momentum. With F.D.R. and the Great Depression, the only thing to fear was fear itself. With Trump and our new abyss, we have to fear not only fear but also the ignorance and misdirection of the White House and the profiteering of senators. Not to mention the virus." -- Maureen Dowd

"No one reached out to me and said, as a senior citizen, 'Are you willing to take a chance on your survival in exchange for keeping the America that all America loves for your children and grandchildren?' And if that's the exchange, I'm all in … I just think there's lots of grandparents out there in this country like me — I have six grandchildren — that what we all care about and what we love more than anything are those children. I want to live smart and see through this. But I don't want the whole country to be sacrificed and that's what I see. — Texas Lieutenant Governor Dan Patrick suggesting to Tucker Carlson that of mass geriatric sacrifice would be preferred to one in which Americans continue to protect each other by remaining at home.

"The LameStream Media is the dominant force in trying to get me to keep our country closed as long as possible in the hope that it will be detrimental to my election success. The real people want to get back to work ASAP. We will be stronger than ever before!" — Trump tweet blaming the media for the country's economic slowdown.

"My focus is just dealing with this crisis right now. I haven't thought about any more debates. I think we've had enough debates. I think we should get on with this." — Joe Biden

CNN's Kaitlin Collins: "Who suggested Easter? Who suggested that day?"
Trump responds: "I just thought it was a beautiful time. A beautiful time. A beautiful timeline. It's a great day."

"The truth is that protecting people and protecting the economy are not mutually exclusive. In fact, one depends on the other. We save our economy by first saving lives. And we have to do it in that order." — Ohio Gov. Mike DeWine (R), on Twitter.

"This is really great news! I am so happy I can barely speak. He may have been a terrible presidential candidate and an even worse U.S. Senator, but he is a RINO, and I like him a lot!" — Trump responding sarcastically to reports that Sen. Mitt Romney (R-UT) tested negative for the coronavirus.
---
IN THIS ISSUE
FYI
OPINION
1. Andy Borowitz: Dr. Fauci Reports That Alcohol May Help People Survive Coronavirus Briefings
Calling it a "promising development," Dr. Anthony Fauci said on Sunday that alcohol may help people survive the most severe effects of coronavirus briefings.

Noting that millions of Americans have been exposed to the daily briefings of the White House Coronavirus Task Force, Fauci said that he had voluntarily submitted to a preliminary trial of the alcohol-based therapy.

"What we have found is that a single dosage before the briefing and as much as a double dosage after the briefing do much to alleviate the most acute suffering," Fauci said.

The esteemed virologist said that if Americans are able to administer additional doses during the briefings, "Consider yourself lucky."

But, even as Fauci hailed the benefits of the new treatment, he sounded a note of caution. "The effect of this medication is temporary," he said. "Sadly."

Fauci's findings are in line with anecdotal reports indicating that Americans have been alleviating symptoms in a similar manner since November, 2016. https://www.newyorker.com/humor/borowitz-report/
2 Political Videos
American Bridge 21st Century Ad: Failed to Act

The Recount: Trump's Coronavirus Calendar

https://therecount.com/watch/trump-coronavirus-calendar/2645515793

The Bulwark: All the President's false promises regarding the tests for COVID-19

https://twitter.com/BulwarkOnline/status/1241731899636224001

Priorities USA: Exponential Threat

Biden SuperPac Ad: Crisis comes
3. Anthony Fauci becomes a fringe MAGA target
The far-right's most zealous Trump supporters have set their sights on Dr. Anthony Fauci.
To the vast majority of Republicans, the entire medical community and the country at large, Fauci is the government's leading infectious disease expert, respected for providing Americans with consistent, factual information about the coronavirus pandemic — even if it means contradicting President Donald Trump while he hovers feet away.
But to a vocal minority of ring-wing blogs and pro-Trump pundits, Fauci is the embodiment of the establishment forces that have been arrayed against the president since he came to Washington. And those voices are getting louder amid rumblings about Fauci's standing with Trump as the president itches to get the economy restarted in the coming weeks.
"A Deep-State Hillary Clinton-loving stooge," read a Saturday headline on the American Thinker, a far-right website, latching on to a WikiLeaks-released email that showed Fauci praising Clinton for her Benghazi testimony as secretary of State. https://www.politico.com/news/2020/03/24/anthony-fauci-fringe-maga-target-147401
4.Trump Turns a Crisis Into His New Nightly TV Show
To anybody suddenly tuning into the president's news conference this Monday evening, it might have seemed like the leader of the free world was channeling an off-hours televangelist, taking advantage of a pandemic to offer a hazy tale of a miraculous cure.
"… a gentleman," Donald Trump intoned from inside the White House, invoking an antimalarial remedy called hydroxychloroquine, "they thought he was not going to make it. He said goodbye to his family. They had given him the drug just a little while before, but he thought it was over. His family thought he was going to die. And a number of hours later, he woke up, felt good. Then he woke up again, and he felt really good. And he's in good shape. And he's very happy." The drug, if it works on Covid-19, would be, he said, "a gift from God."
This brief, almost mystical tale came at the eight-minute mark of the first hour of another installment of what has become a new American serial drama. https://www.politico.com/news/magazine/2020/03/25/trump-coronavirus-white-house-briefing-room-press-conference-147571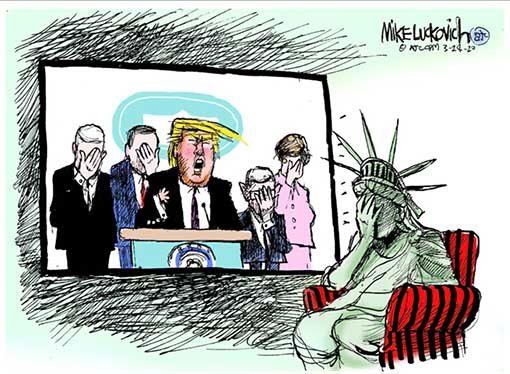 5. U.S. axed CDC expert job in China months before virus outbreak
Several months before the coronavirus pandemic began, the Trump administration eliminated a key American public health position in Beijing intended to help detect disease outbreaks in China, Reuters has learned.
The American disease expert, a medical epidemiologist embedded in China's disease control agency, left her post in July, according to four sources with knowledge of the issue. The first cases of the new coronavirus may have emerged as early as November, and as cases exploded, the Trump administration in February chastised China for censoring information about the outbreak and keeping U.S. experts from entering the country to help. https://www.reuters.com/article/us-health-coronavirus-china-cdc-exclusiv-idUSKBN21910S.
6. State GOP spent $100k to qualify Montana Green Party for the ballot
A mystery of the 2020 election was solved Tuesday as it became clear the Montana Republican Party paid for an effort to qualify the Montana Green Party for the ballot this election.
Earlier this year paid petitioners appeared in Montana's larger cities gathering signatures to qualify the Greens to run candidates this cycle, even though the Montana Green Party has made clear it did not do any work to qualify for the ballot this year and had not planned to run any candidates. https://missoulian.com/news/state-and-regional/govt-and-politics/state-gop-spent-k-to-qualify-montana-green-party-for/article_e255eae0-b7f1-5e16-b224-95b79e6ff7a1.html#tracking-source=home-top-story-1
7. Trump's Embrace of Unproven Drugs to Treat Coronavirus Defies Science
At a long-winded White House briefing on Friday, President Trump enthusiastically and repeatedly promoted the promise of two long-used malaria drugs that are still unproven against the coronavirus, but being tested in clinical trials.
"I'm a smart guy," he said, while acknowledging he couldn't predict the drugs would work. "I feel good about it. And we're going to see. You're going to see soon enough."
But the nation's leading infectious disease expert, Dr. Anthony S. , delicately — yet forcefully — pushed back from the same stage, explaining that there was only anecdotal evidence that the drugs, chloroquine and hydroxychloroquine, may be effective. https://www.nytimes.com/2020/03/20/health/coronavirus-chloroquine-trump.html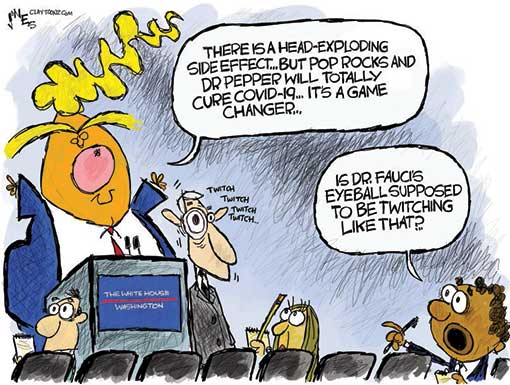 8. Rupert Murdoch Put His Son in Charge of Fox. It Was a Dangerous Mistake.
The chief executive of Fox News, Suzanne Scott, reacted swiftly to the threat of the coronavirus in late February: She ordered the bright, open new offices disinfected, installed hand sanitizer stations around the office and boldly canceled the company's major ad sales event.
But her influence doesn't extend to the most important part of Fox News: its programming in prime time.
There, for two crucial weeks in late February and early March, powerful Fox hosts talked about the "real" story of the coronavirus: It was a Democratic- and media-led plot against President Trump. Hosts and guests, speaking to Fox's predominately elderly audience, repeatedly played down the threat of what would soon become a deadly pandemic.
The person who could have stopped the flow of misinformation was Ms. Scott's boss, Lachlan Murdoch, the chief executive of the Fox Corporation. But he wasn't paying much attention. The 48-year-old heir to his family's media fortune was focused instead on buying a streaming company called Tubi for $440 million, a person who has spoken to him said. The acquisition would drive "long-term growth," he proudly announced in a news release on March 17.
That same day, the number of coronavirus cases in the United States surpassed 5,600. https://www.nytimes.com/2020/03/22/business/coronavirus-fox-news-lachlan-murdoch.html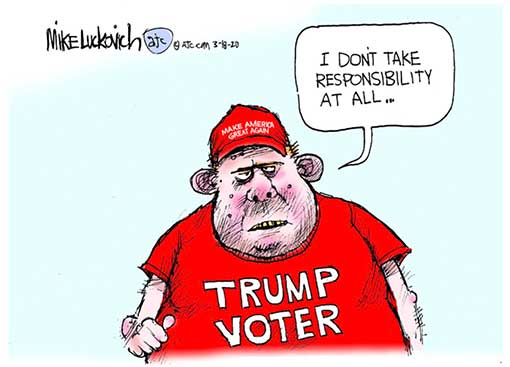 9. Trump's trade war proves immune to the coronavirus crisis
Despite the coronavirus pandemic, unprecedented lockdowns and fears of a global economic meltdown, U.S. President Donald Trump is still waging his tariff-hiking trade war.
Just one day after G7 leaders — including Trump — said they remained "committed to the stability of the global economy" and pledged to "coordinate measures and do whatever it takes" to safeguard economic growth, Washington confirmed it was pressing ahead with tariff hikes on European aircraft to 15 percent, up from 10 percent, starting Wednesday. https://www.politico.eu/article/trumps-trade-war-proves-immune-to-the-coronavirus-crisis/
10. U.S. intelligence reports from January and February warned about a likely pandemic
U.S. intelligence agencies were issuing ominous, classified warnings in January and February about the global danger posed by the coronavirus while President Trump and lawmakers played down the threat and failed to take action that might have slowed the spread of the pathogen, according to U.S. officials familiar with spy agency reporting.
The intelligence reports didn't predict when the virus might land on U.S. shores or recommend particular steps that public health officials should take, issues outside the purview of the intelligence agencies. But they did track the spread of the virus in China, and later in other countries, and warned that Chinese officials appeared to be minimizing the severity of the outbreak.
Taken together, the reports and warnings painted an early picture of a virus that showed the characteristics of a globe-encircling pandemic that could require governments to take swift actions to contain it. But despite that constant flow of reporting, Trump continued publicly and privately to play down the threat the virus posed to Americans. Lawmakers, too, did not grapple with the virus in earnest until this month, as officials scrambled to keep citizens in their homes and hospitals braced for a surge in patients suffering from covid-19, the disease caused by the coronavirus. https://www.washingtonpost.com/national-security/us-intelligence-reports-from-january-and-february-warned-about-a-likely-pandemic/2020/03/20/299d8cda-6ad5-11ea-b5f1-a5a804158597_story.html
11. Lou Dobbs Offers Bizarre Poll
In a poll shared on-air and on Twitter, Lou Dobbs asked Fox News viewers to rate President Trump's leadership during the coronavirus pandemic and offered three ratings: "very good," "great" and "superb." https://twitter.com/LouDobbs/status/1240421216692961284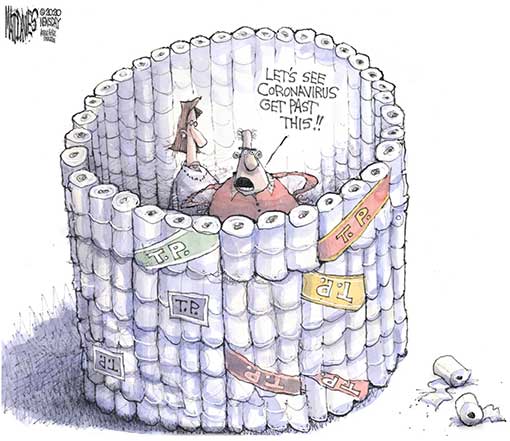 12. Kushner coronavirus team sparks confusion inside White House response efforts
Jared Kushner, President Trump's son-in-law and a senior adviser, has created his own team of government allies and private industry representatives to work alongside the administration's official coronavirus task force, adding another layer of confusion and conflicting signals within the White House's disjointed response to the crisis.
Many officials involved in the response say they are unsure who is in charge given Kushner's dual role as senior adviser and Trump family member. Some have privately dubbed his team a "shadow task force" whose requests they interpret as orders they must balance with regular response efforts. https://www.washingtonpost.com/politics/kushner-coronavirus-team-sparks-confusion-plaudits-inside-white-house-response-efforts/2020/03/18/02038a16-6874-11ea-9923-57073adce27c_story.html
13. Coronavirus Pandemic to Test Limits of How Much Debt U.S. Can Bear
The coronavirus pandemic is about to test the bounds of how much debt the U.S. government can bear.
Now analysts say the deficit will soar well past the record $1.5 trillion hit in 2009, when the U.S. reeled through two years of financial crisis and recession. https://www.wsj.com/articles/u-s-deficit-set-to-soar-as-government-responds-to-coronavirus-11584568685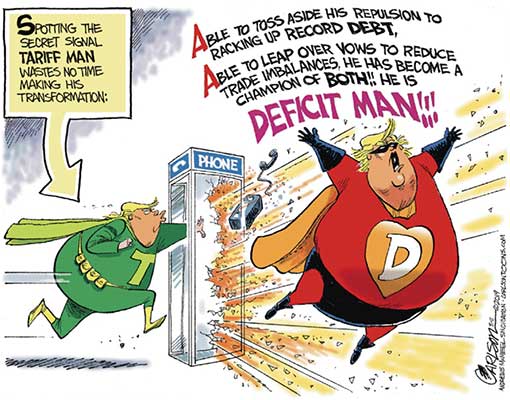 14. Mike Bloomberg transfers his campaign assets to Democratic Party to fight President Trump in swing states
Former New York mayor Mike Bloomberg has decided to donate significant components of his shuttered presidential campaign to the Democratic Party, a historic bequest that includes an $18 million cash infusion to organize for the general election in swing states.
The decision, which exploits a provision in campaign finance law available only to federal candidates, amounts to a shift in strategy for the billionaire political activist, who had previously promised to personally fund ground staff and offices in six states through an independent expenditure effort. https://www.washingtonpost.com/politics/mike-bloomberg-transfers-his-campaign-assets-to-democratic-party-to-fight-president-trump-in-swing-states/2020/03/20/43c62d60-6927-11ea-b313-df458622c2cc_story.html
15. Trump Asks States to Keep Quiet About Jobless Figures
The Trump administration asked states to abstain from releasing unemployment-claims figures prior to the publication of a national compilation of weekly U.S. jobless claims, according to a state labor department official.
The official cited an email sent on Wednesday from Gay Gilbert, an administrator at the U.S. Labor Department. The message, sent as states across the nation started reporting surges in claims tied to the coronavirus pandemic, said jobless claims are closely watched by policy makers and financial markets. https://www.wsj.com/articles/trump-administration-ask-states-to-keep-quiet-about-jobless-figures-11584676698
16 'I'm going to keep pushing.' Anthony Fauci tries to make the White House listen to facts of the pandemic
Science Insider's Jon Cohen has interviews Dr. Anthony Fauci on the coronavirus pandemic:
Q: Most everyone thinks that you're doing a remarkable job, but you're standing there as the representative of truth and facts, and things are being said that aren't true and aren't factual.

A: The way it happened is that after he made that statement [suggesting China could have revealed the discovery of a new coronavirus 3 to 4 months earlier], I told the appropriate people, it doesn't comport, because 2 or 3 months earlier would have been September. The next time they sit down with him and talk about what he's going to say, they will say, "By the way, Mr. President, be careful about this and don't say that." But I can't jump in front of the microphone and push him down. OK, he said it. Let's try and get it corrected for the next time.

Q: You have not said China virus. (Trump frequently calls the cause of the spreading illness known as coronavirus disease 2019 a "China virus" or a "Chinese virus.")

A: Ever.

Q: And you never will, will you?

A: No
https://www.sciencemag.org/news/2020/03/i-m-going-keep-pushing-anthony-fauci-tries-make-white-house-listen-facts-pandemic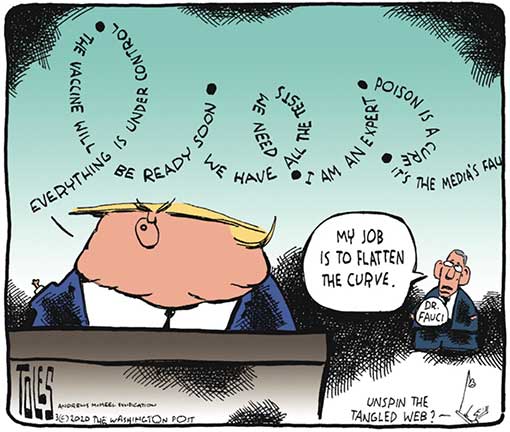 17. Man dies after self-medicating with chloroquine
"A man has died and his wife is under critical care after the couple, both in their 60s, ingested chloroquine phosphate," one of the anti-malaria drugs that Trump has promoted in recent days, according to Banner Health, the hospital system that treated both patients. https://www.axios.com/chloroquine-coronavirus-death-09c91a91-4fe7-472c-9de9-79b890aa8fff.html
18. Biden reaching out to unite party by adopting Warren bankruptcy plan, Sanders tuition free plan
Joe Biden is headed to be our nominee, but he's already stepping up in a big way. He announced via Twitter he's adopting two plans that Elizabeth Warren and Bernie Sanders have championed.
Across the country, middle and working class families are being squeezed by debt. This is a massive problem, and one that we need all of the best ideas to solve. That's why today, I'm adopting two plans from @BernieSanders and @ewarren to achieve this.
First: Bernie has put forward a plan that would make public colleges and universities free for families whose income is below $125,000. It's a good idea, and after consideration, I am proud to add it to my platform.
Second: Few people in the country understand how bankruptcy hurts working families more than Elizabeth Warren. Today, I am fully endorsing and adopting her bankruptcy plan, which she called "Fixing Our Bankruptcy System to Give People a Second Chance."
This primary has brought out our party's best ideas, and our nation is better for it. If I'm President, I'll continue to bring the best ideas from all corners of the country and fight to make them reality. To see these plans, you can go to my website.  — Joe Biden tweet https://twitter.com/JoeBiden/status/1239280175826731010
19. Wuhan Virus Dispute
Because the idea of a joint declaration by the seven important industrialized countries on the corona crisis is on the brink , according to information from European diplomatic circles . The reason is a dispute over what the pandemic should be called.
Accordingly, the State Department insists on the name "Wuhan virus," US Secretary of State Mike Pompeo represents the line of his president. Donald Trump speaks mostly of the "Chinese virus" at press conferences and on Twitter.
The rigid stance of the US government fits the course Trump is taking in the corona crisis: the Chinese are to blame, Europe reacted too late and contributed to the virus reaching the United States. That is his line. https://www.spiegel.de/politik/ausland/streit-um-wuhan-virus-a-6bb570bb-9f2b-4cd1-a895-fdeabf53f6b4
20. The DAILY GRILL
"They're scaring the living hell out of people and I see it again as like, 'Oh, let's bludgeon Trump with this new hoax.'" — Hannity on March 8th.

VERSUS

"This program has always taken the coronavirus seriously and we've never called the virus a hoax." -- Hannity ten days later, on March 18th.

 

"Nobody knew there would be a pandemic or epidemic of this proportion." — Trump attempting to deflect responsibility for his administration's poor planning, suggesting the coronavirus outbreak was inconceivable.

VERSUS

We assess that the United States and the world will remain vulnerable to the next flu pandemic or large scale outbreak of a contagious disease that could lead to massive rates of death and disability, severely affect the world economy, strain international resources, and increase calls on the United States for support. …. The growing proximity of humans and animals has increased the risk of disease transmission. The number of outbreaks has increased in part because pathogens originally found in animals have spread to human populations. — 2019, U.S. intelligence agencies warning in their annual Worldwide Threat Assessment.

 

"It's going to disappear. One day, it's like a miracle. It will disappear. It could get worse before it gets better. It could maybe go away. We'll see what happens." — Trump on Feb. 27th, when the United States had 15 confirmed cases of COVID-19, tamping down fears and suggesting that the virus could be seasonal.

VERSUS

"There's one thing that I can tell you about this: It is much more aggressive in its transmission than anything that we have seen in recent history. It is probably more akin to the 1918 pandemic." — Sen. Richard Burr on that same day, delivering a much more alarming message at the Capitol Hill Social Club.

 

Less than two weeks ago, even as he reported that the virus had infected 113,000 people in 111 countries and territories around the world, Dobbs was accusing the "national left-wing media" of "playing up fears of the coronavirus" in order to drive down the stock market. More recently, he had taken to echoing Trump by referring to COVID-19 as the "Wuhan virus" and lauding the president for causing a brief market increase with his national emergency declaration a week ago." — Yahoo! news

VERSUS

"Lou is in self-quarantine tonight. We just learned that one of his team members has tested positive for COVID-19. … Lou feels well, he has no , but out of an abundance of caution, he and his team are taking the necessary precautions." — Friday night's edition of Lou Dobbs Tonight opening with a message from fill-in host David Asman.

 

HYDROXYCHLOROQUINE & AZITHROMYCIN, taken together, have a real chance to be one of the biggest game changers in the history of medicine. The FDA has moved mountains - Thank You! Hopefully they will BOTH (H works better with A, International Journal of Antimicrobial Agents).....be put in use IMMEDIATELY. PEOPLE ARE DYING, MOVE FAST, and GOD BLESS EVERYONE! @US_FDA @SteveFDA @CDCgov @DHSgov. — Trump Tweet

VERSUS

"There may be positive "anecdotal reports" — informally observed individual cases — about the drugs, but they haven't yet been proven to work, or to be safe. "If you really want to definitively know if something works, you got to do the kind of trial that [gives you] the good information. The president is talking about hope for people," not science. --  Dr. Anthony Fauci when asked if he had "any sense" of the drug cocktail the president referred to, and whether Trump's "74-and-a-half million Twitter followers should be taking medical advice from him or from someone else.

 

"General Motors, Ford, so many companies — I had three calls yesterday directly, without having to institute like: `You will do this' — these companies are making them right now." — Trump addressing a of ventilators on Saturday.

VERSUS

No automaker is anywhere close to making medical gear such as ventilators and remain months away — if not longer. Nor do the car companies need the president's permission to move forward. — AP Fact Check

 

"WE CANNOT LET THE CURE BE WORSE THAN THE PROBLEM ITSELF. AT THE END OF THE 15 DAY PERIOD, WE WILL MAKE A DECISION AS TO WHICH WAY WE WANT TO GO!" —Trump tweet, arguing for a dangerous strategy of letting the virus run wild in order to save the economy.

VERSUS

"Waking up to find that @realDonaldTrump and many other people (?) feel that seniors such as me and @carlreiner , @WilliamShatner , @MelBrooks , @BettyMWhite , @Cloris_Leachman and millions of other seniors/people with underlying medical issues are expendable in a #ReopenAmerica scenario." — Ed Ashner's response.  
21. From MEDIA MATTERS (They watch Fox News so you don't have to)
Pro-Trump OAN pushes wild conspiracy theory that novel coronavirus was created in a North Carolina lab: Rubini has said that the novel coronavirus "was GENETICALLY ENGINEERED as a Bio-Weapon at the Univ. of North Carolina BSL-3 Lab." He has also said that it was spread from North Carolina to China, Italy, and elsewhere in the United States by the "Deep State" in a plot "to destroy the Trump economy." In addition, Rubini suggested that Dr. Anthony Fauci, the well-respected head of the National Institute of Allergy and Infectious Diseases, personally funded the production of the virus, even calling him "Little Tony Fauci." https://www.mediamatters.org/coronavirus-covid-19/pro-trump-oan-pushes-wild-conspiracy-theory-novel-coronavirus-was-created

Trump administration rides to Fox's rescue after network's coronavirus coverage endangered viewers. After Trump began publicly taking the coronavirus more seriously on Friday, Fox hosts seamlessly pivoted. After saying for weeks that the coronavirus was no big deal and that Democrats and the media were blowing it out of proportion to hurt Trump politically, the network's hosts shifted to claiming that it posed so serious a crisis that criticism of the administration's response should be off the table. https://www.mediamatters.org/coronavirus-covid-19/trump-administration-rides-foxs-rescue-after-networks-coronavirus-coverage

Fox News' terrible coronavirus coverage put its viewers and the public at risk. Here's the proof.
People who pay the most attention to Fox News are much less likely than others to say they are worried about coronavirus, according to a YouGov/The Economist poll conducted March 15-17: The same poll shows Fox viewers are much less likely to disapprove of Trump's handling of the pandemic and much less likely to think the virus will cause a recession than people who get their news from more credible sources. https://www.mediamatters.org/fox-news/fox-news-terrible-coronavirus-coverage-put-its-viewers-and-public-risk-heres-proof

With Americans settling into social distancing and self-quarantines and the economy grinding to a halt, right-wing media can no longer deny concerns about the coronavirus pandemic as a "" pushed by critics of Donald Trump. Coverage of the crisis from Fox News and other right-wing media outlets is now settling into familiar territory: racism, xenophobia, and nationalism. We can expect more of it all as the pandemic worsens. https://www.mediamatters.org/coronavirus-covid-19/anti-asian-bigotry-and-anti-immigrant-policies-take-center-stage-right-wing
1. Jonathan Chait: Trump Is Back to Waging on Science, at the Worst Possible Moment
Earlier this month, the White House became aware of studies showing the coronavirus, if unchecked, could kill 2 million Americans, and Trump suddenly reversed his public stance. After having minimized the dangers of the virus, he began promoting social distancing and presenting himself as a "president" who would defeat the "invisible enemy." This political strategy required rewriting the history of the very recent past, casting Trump as the sage guardian of the nation's health who had seen the pandemic coming and kept the country safe. The idea was to borrow the political identity George W. Bush adopted after 9/11, with the virus as the Chinese-created foreign enemy. Kellyanne Conway offered up a version of this message — "To criticize Trump now is to criticize public health officials, FEMA, first responders, private sector businesses that are all coming forward to help" — that, for all its authoritarian overtones, places the president firmly on the side of public-health authorities.
Yet the fragile truce between Trump and public-health authorities is suddenly on the precipice of coming undone. Over the past 24 hours, a cascade of White House leaks has sounded the alarm. Trump "remains fixated on the plummeting stock market, is chafing at the idea of the country remaining closed until the summer and growing tired of talking only about coronavirus," a source tells the Washington Post. Trump "has repeatedly raised concerns in meetings about the optics of grounded planes and empty airports" and "argued that those images would look bad for him and could further drag down the economy," reports NBC.
Trump's heel turn reflects, in part, his characteristic impatience. Even during his period of taking public health seriously, Trump kept promising miracle cures and a recovery that would happen "fast," fantasizing about the celebrations that would ensue after the victory, as if he were trying to psych himself up to pass his personal marshmallow test. But even the fastest possible turnaround was going to come too slow for a man who once wrote, "I plan for the future by focusing exclusively on the present." Trump has been demanding plans to get the economy growing again within the absurdly optimistic time frame of one month, the Daily Beast reports.
But there is also a strong ideological undercurrent to Trump's reversion. The conservative movement never fully abandoned Trump's original Pollyannish stance toward the coronavirus, and many conservative intellectuals have spent the last week arguing against the primacy of public health. https://nymag.com/intelligencer/2020/03/trump-coronavirus-war-on-science-kudlow-fauci.html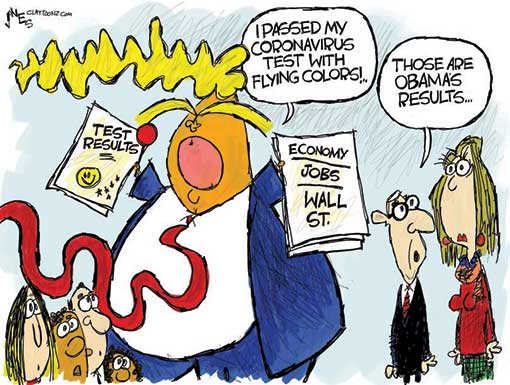 2. Gabriel Sherman: "He Can't Make Any Big Decisions": As the Crisis Escalates, Trump Experiments With a Pivot
According to sources, Trump is increasingly frustrated with Fauci and governors who advocated for shutting down large swathes of the economy to stop COVID-19's out-of-control spread. According to four Republicans briefed on internal West Wing conversations, Trump is fuming privately that Fauci advised him that the only way to blunt the pandemic was to bring the economy to a halt. "Trump is furious," a former West Wing official said. "He's been calling business leaders asking if he should just reopen the economy," a Republican briefed on the conversations told me. "He's hearing that you have to get the economy going," another former West Wing official said.
So far, Trump has refrained from publicly lashing out at Fauci and New York governor Andrew Cuomo, whose lucid and empathetic press conferences are in contrast to Trump's shambolic media theater. But late Sunday night, as Dallas became the latest city to compel its citizens to stay home, Trump tweeted: "WE CANNOT LET THE CURE BE WORSE THAN THE PROBLEM ITSELF. AT THE END OF THE 15 DAY PERIOD, WE WILL MAKE A DECISION AS TO WHICH WAY WE WANT TO GO!"
Sources say that Trump is leaning toward telling at least some Americans to return to work after the 15-day social-distancing period ends on March 31. This puts Trump on a potential collision course with Fauci that many fear will end with Fauci being fired or quitting. "Fauci is the best medical expert we have. We can't lose him," a former White House official said. https://www.vanityfair.com/news/2020/03/as-the-crisis-escalates-trump-experiments-with-a-pivot
3. Jonathan Chait: GOP Senator Upbeat Coronavirus May Kill 'No More Than 3.4 Percent of Our Population'
Right now, all people are hearing about are the deaths," Republican Senator Ron Johnson told the New York Times last week. "I'm sure the deaths are horrific, but the flip side of this is the vast majority of people who get coronavirus do survive." The problem with this line of reasoning is that "the vast majority" is not a useful standard when measuring a pandemic that is projected to infect at least half the population.
In a follow-up interview with the Milwaukee Journal Sentinel, Johnson attempted to clarify his thinking, and managed to express it in an even more callous and stupid way:
I'm not denying what a nasty disease COVID-19 can be, and how it's obviously devastating to somewhere between 1 and 3.4 percent of the population," he said.
"But that means 97 to 99 percent will get through this and develop immunities and will be able to move beyond this. But we don't shut down our economy because tens of thousands of people die on the highways. It's a risk we accept so we can move about. We don't shut down our economies because tens of thousands of people die from the common flu …
"… getting coronavirus is not a death sentence except for maybe no more than 3.4 percent of our population (and) I think probably far less."
Johnson is comparing the virus to auto fatalities. Around 37,000 people die every year in car crashes, which is certainly a lot. But losing 1 to 3.4 percent of people who get the coronavirus would mean millions of deaths. So no, we don't shut down the economy to prevent 37,000 deaths, but we might shut down the economy to prevent 100 times that many deaths.
Johnson seems to fashion himself a cool-headed sophisticate who is using statistics to rationally assess risk. What he doesn't seem to grasp is that when you're talking about the majority of the population of the United States, even a 1 percent chance of premature death is not a small number. It's a huge number.
Joseph Stalin allegedly said, "A single death is a tragedy; a million deaths is a statistic." It's not reassuring to hear this philosophy espoused by high-ranking national officials. https://nymag.com/intelligencer/2020/03/gop-senator-no-more-than-3-4-of-our-population-may-die.html
4. John Pavlovitz: You Can't Gaslight a Pandemic, Donald
Only intelligent, qualified, reasonable, compassionate people who trust science and want to protect human beings can help at times like these—which is why you are completely useless.
And sadly, it's why you will make things much worse.
Pandemics thrive on fear, and fear is your only commodity. It is the one weapon at your disposal—and it only helps the sickness.
In the raking light of an actual emergency, you are being revealed as a fraudulent, callous, completely unprepared and outmatched imposter.
History is recording how ill-equipped you are for the serious, grievous, and terrible things real leaders are required to engage and confront.
You're being exposed in these days for what you are: a public health crisis endangering millions of people; a reckless, brutal, unruly, violent thing that is spreading sickness.
The only hope we have for a cure comes in November.
You look scared, Donald.
We are too. https://johnpavlovitz.com/2020/02/27/you-cant-gaslight-a-pandemic-donald/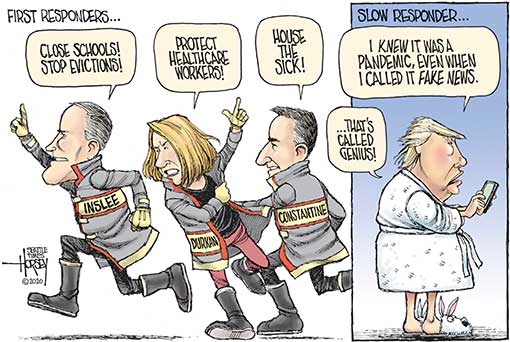 5. Bess Levin: Trump Administration Moving Forward With April 1 Plan to Kick 700,000 Off Food Stamps Despite Coronavirus Crisis
The A.P. reports that on Wednesday, the Agriculture Department said it would appeal a judge's ruling to stop a set of changes slated to go into effect on April 1 that could kick hundreds of thousands of people off of food stamps. Under the current program, federal rules dictate that able-bodied adults with no dependents must show they have worked at least 80 hours per month for more than three months in a 36-month period in order to qualify for the Supplemental Nutrition Assistance Program, aka food stamps. Individual states, however, currently have the right to waive the requirement in the case of high unemployment. Under the administration's changes, the waiver option would be taken away from states in less than two weeks, removing approximately 700,000 people from the program by the Agriculture Department's own estimate. While the situation is already dire for many people, Treasury Secretary Steven Mnuchin warned Tuesday that the U.S. jobless rate could hit 20% as a result of the pandemic, a rate double that of the the worst unemployment level of the 2008 recession.
In her ruling, Judge Beryl Howell said it would be "arbitrary and capricious" to move forward with the plan in the midst of the fast-moving crisis, which most non-evil people would agree with. "Especially now, as a global pandemic poses widespread health risks, guaranteeing that government officials at both the federal and state levels have flexibility to address the nutritional needs of residents and ensure their well-being through programs like SNAP, is essential," Howell wrote. Ellen Vollinger, legal director of the Food Research & Action Center, told the A.P. that her group opposes the changes at any time but particularly now, as they could force low-income workers to continue to do their jobs even if they should be staying home. "You don't want to have workers going out when they're sick and trying to document the right number of hours just to keep their benefits," she said. https://www.vanityfair.com/news/2020/03/trump-administration-food-stamp-cuts-coronavirus
6. Frank Rich: Trump Lies His Way Through a Pandemic
The president who is leading this country into battle cares about no one but himself, continues to lie to Americans daily about the most basic imperatives of a public-health catastrophe, and presides over an administration staffed with incompetent, third-tier bootlickers and grifters. And I am not just talking about Mike Pence, Jared Kushner, and Wilbur Ross. There are now three college seniors serving in White House positions, thanks to a new purge of ostensibly disloyal staffers being conducted by Trump's former body man, the 29-year-old John McEntee, recently installed as director of the Presidential Personnel Office. Trump calls himself a "wartime president," but his only previous wartime experience was partying during Vietnam, when he was spared military service because of "bone spurs." Those bone spurs long ago migrated to his brain. If America rises to the occasion, it will be despite him, not because of him. We're at the point where even if Trump were to start telling the truth, no one except the most mad-dog MAGA-ites would believe him. https://nymag.com/intelligencer/2020/03/frank-rich-trump-lies-his-way-through-a-pandemic.html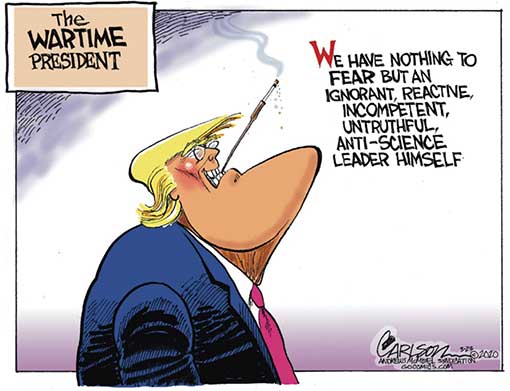 7. Bess Levin: Trump Uses Coronavirus Press Conference to Confirm He's an Actual Sociopath
Over the past three years, many terms have been thrown around to describe Donald Trump. Phrases like "huge moron," "colossal jerk," "massive prick," and, our personal favorite, "malignant tumor." Obviously many have agreed that the 45th president of the United States is both a terrible person and an idiot incapable of tweeting a coherent sentence, let alone running the country. Still, some have worried it would be taking things too far to diagnose the man as a full-blown sociopath. Are we being too cavalier with the designation, they've likely fretted. Shouldn't we wait until the Mar-a-Lago groundskeepers find a few dozen heads in the basement, they've probably wondered. On Friday, however, Trump confirmed for all the world to see that he indeed has no conscience.
During a press conference at the White House, NBC reporter Peter Alexander asked Trump, "What do you say to the Americans who are scared, though? Nearly 200 dead, 14,000 who are sick, millions, as you've witnessed, who are scared right now. What do you say to Americans who are watching you right now who are scared?" In reality this was a softball question that anyone with a semblance of a soul would be able to answer, responding with something like, "That's an understandable feeling. I would tell them we're in this together and we're doing everything we can, as fast as we can." But Trump literally only thinks about himself, so instead he told Alexander: "I say that you're a terrible reporter. That's what I say. I think it's a very nasty question, and I think it's a very bad signal that you're putting out to the American people. The American people are looking for answers and they're looking for hope, and you're doing sensationalism and the same with NBC and con-cast. I don't call it Comcast, I call it 'con-cast.' Let me just tell you something. That's really bad reporting, and you ought to get back to reporting instead of sensationalism." Seemingly responding to criticism that he'd irresponsibly hyped the drug chloroquine as a treatment for COVID-19, despite the fact that it hasn't yet been approved by the FDA for the virus, Trump snarled, "Let's see if it works. It might and it might not. I happen to feel good about it, but who knows. I've been right a lot." https://www.vanityfair.com/news/2020/03/donald-trump-peter-alexander-coronavirus-press-conference
8. Caleb Ecarma: Have Trump's Coronavirus Conspiracies Doomed His Supporters?
For weeks prior to the White House designating the coronavirus outbreak a national emergency, Donald Trump downplayed the severity of the pandemic, assuring his supporters it was "totally under control." Just last month he insisted, without evidence, that warmer weather makes the virus "miraculously" disappear and wrote off media coverage as a "hoax" created to hurt his brand. With coronavirus now claiming 219 American lives, over 17,000 cases, and one collapsed economy, Trump is finally starting to treat coronavirus with the gravity it deserves. But for a huge segment of his supporters, the damage is already done.
Data shows that Trump voters are more inclined to trust the news sources the president himself favors. A Pew Research Center study found that the only news outlet a majority of Republicans and GOP-leaning independents trust is Fox News. Hosts like Sean Hannity initially played into the president's "hoax" coronavirus claims, pushing a conspiracy theory about "deep state" actors and accusing the media of "scaring the living hell out of people" for no good reason. Trump's supporters agree: 76% of GOP respondents in a new Pew survey believe the press overhyped the impact of the disease, while just one-third of Republicans polled view coronavirus as a serious health risk. They also followed through with Trump and Hannity's early advice on coronavirus. Just 53% of Republican participants in a Kaiser Family Foundation survey said they were attempting to take precautionary measures to curb the outbreak, a number dwarfed by the 80% of Democrats who are heeding the advice of medical experts to either self-quarantine, practice social distancing, or avoid large crowds.
The case of the Frilots, a Republican family from a conservative Louisiana community, illustrates how the pandemic can be dismissed until it hits close to home. Heaven Frilot, a 43-year-old oil-and-gas analyst told the New York Times how she revealed on Facebook that her husband Mark tested positive as many in her social circle were scoffing at the deadly virus, making jokes with "eye-roll emojis, Fox News talking points, [and] Rush Limbaugh quotes." But as word of Frilot's diagnosis proliferated locally, according to the Times, "it was a revelation for the conservative suburbs of New Orleans, where many had written off the pandemic as liberal fear-mongering." https://www.vanityfair.com/news/2020/03/donald-trump-coronavirus-conspiracies-doom-supporters
9. Virginia Heffernan: Column: Is COVID-19 Donald Trump's Hurricane Katrina?
It's a fool's game to call anything Trump's Waterloo. But this virus might be his Katrina.
This week, having failed to act in the crucial early days, Trump at last seemed to face reality. He is now trying to muster resolve and clarity. Squaring his jaw, aiming for full sentences, configuring his features into "solemnity." He is also moving on plans to showcase his newfound magnanimity with money from the U.S. Treasury.
But as with climate disasters, pandemics and markets, timing is everything. To watch the commander in chief, whatever his peacetime politics and disposition, vacillate and shadowbox when he needs to show alacrity and purpose, is radically destabilizing. If Trump's missteps don't cost him the short-term approval of his base, they will surely erode his reputation over the long run, just as Katrina did Bush's.
Alternatively, should the outbreak flatten and the death toll come in below worst-case scenarios, Trump may try to claim he alone vanquished the pandemic. But we will no doubt be reminded of his grave and consequential failures in campaign ad after campaign ad. In the meantime, combat-tested Biden announced a cogent and thorough response to COVID-19 last week, while Trump was thrashing around.
Dan P. McAdams, in a new book, "The Strange Case of Donald J. Trump," argues that the president holds onto his base because "bad news can't quite pierce the Trumpist bubble." But COVID-19 has unprecedented piercing powers. Its ravages can be felt and seen. Along with stats on the ever-mounting death toll, videos of people suffering from the disease are surfacing. Patients lucky enough to get ventilators and pain medicine are nonetheless in agony. To suffocate is a terrible way to die.
Bush never recovered his popular standing after Katrina. After the straits Trump has put this country in, his reputation should permanently tank too. After all, we are all living close to the bone now. Far too many of us will, literally, never recover from the pandemic he did so little to mitigate. https://www.latimes.com/opinion/story/2020-03-19/donald-trump-coronavirus-covid-19-george-w-bush-katrina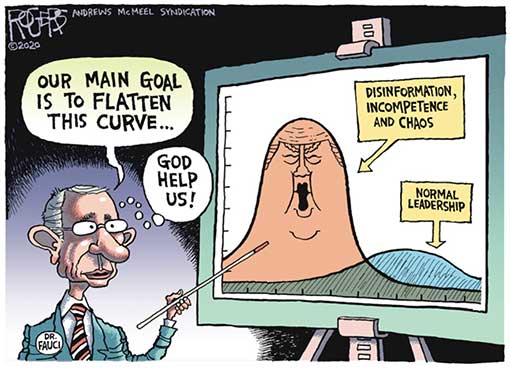 10. Peter Baker and Maggie Haberman: Used to Meeting Challenges With Bluster and Force, Trump Confronts a Crisis Unlike Any Before
Mr. Trump is no stranger to crisis. He has spent a lifetime grappling with bankruptcy, fending off creditors, evading tax collectors, defending lawsuits, deflecting regulators, spinning reporters and dueling with estranged wives, usually coming out ahead, at least as he defines it. But these were crises of his own creation involving human adversaries he knew how to confront. Nothing in his background in business, entertainment or multiple marriages prepared him for the coronavirus pandemic now threatening America's health and wealth.
Mr. Trump's performance on the national stage in recent weeks has put on display the traits that Democrats and some Republicans consider so jarring — the profound need for personal praise, the propensity to blame others, the lack of human empathy, the penchant for rewriting history, the disregard for expertise, the distortion of facts, the impatience with scrutiny or criticism. For years, skeptics expressed concern about how he would handle a genuine crisis threatening the nation, and now they know.
"When he's faced a problem, he has sought to somehow cheat or fix the outcome ahead of time so that he could construct a narrative that showed him to be the winner," said Michael D'Antonio, a Trump biographer. "And when it was all about feuds with other celebrities or contests over ratings or hotel branding, he could do that and no one cared enough to really check. And the bluster and bragging worked."
"But in this case," Mr. D'Antonio added, "he tried that in the beginning and you can't brag or bluster your way out of people dying. And I think more than the suffering, the human suffering, it's been the inexorable quality of the data that's forced him to change." https://www.nytimes.com/2020/03/21/us/politics/trump-coronavirus-leadership.html
11. Al Frankin: The Last Straw
Well, it finally isn't funny anymore – the grandiosity, the ignorance, the cruelty, the bullying, the racism, the petty insults and incessant stupidity. But especially the non-stop lying.
Until this crisis, Trump has paid no real price for his constant, pathological mendacity. Before politics, the man had spent his entire career in a business where, evidently, there was no accountability for inveterate lying.
But for this crisis there is accountability. And instead of leading, Donald Trump's focus has been where it always has been – on Donald Trump. "I give myself a ten out of ten." "We are very close to a vaccine." "I don't take responsibility at all." "Anybody who needs a test can get a test. And the tests are perfect. Like the letter was perfect. The transcript was perfect."
Trump will not step away. He will continue to take the stage and our focus – but he will not be able to claim the credibility he never earned. We are left to proceed despite our president and find the leadership we need elsewhere. From governors and mayors and other civil servants. From health care professionals and scientists and economists. From community leaders and each other.
It is time for each of us to step up and fill the vacuum at the top – first by staying home. And for those fortunate enough to weather this storm financially – to help those who cannot.
Lest we forget Trump's Houdini-like ability to escape the traps he's set for himself, it is also time for us to commit to his defeat in November. For now, find a way to do that from home. But when it's time to come out into the light, it must be our collective mission to make this godawful human being pay the price for every lie he has ever uttered. https://alfranken.com/read/the-last-straw