December 7, 2017
ON THE RECORD. . .
"People close to him during the campaign told me he has early stages of dementia." -- Joe Scarborough on Morning Joe.
"He's one of the best presidents we've ever had." — Sen. Orrin Hatch (R-UT) about Donald Trump.
"The Republican tax plan is the rare piece of legislation that manages to provide something for nearly everyone to hate." — Robby Mook, Former Campaign Manager, Hillary for America and Jeff Weaver, Former Campaign Manager, Bernie Sanders in a joint memo.
"What has been shown is no collusion, no collusion. There's been absolutely no collusion, so we're very happy." — Donald Trump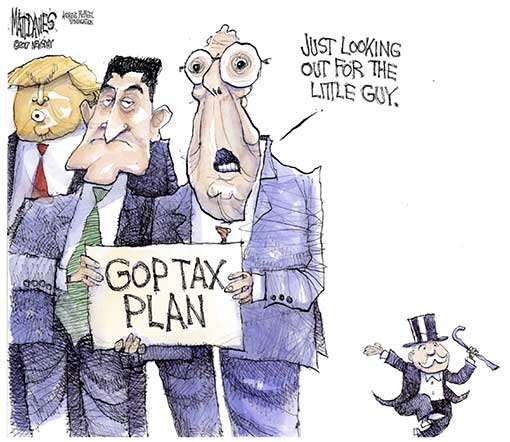 The Trump administration's tax reform bill is "fiscally irresponsible" and an assumption that growth will pay for the cuts is "delusional." --  Kapstream Capital Portfolio Manager Steve Goldman, who helps to manage more than $11.8 billion in funds. 
"They're probably shi**ing bricks. How can you not?" — Attorney who represents a senior Trump aide caught up in the probe.
"The bill that the Republicans are putting forth to go to conference is probably one of the worst bills in the history of the United States of America… This is Armageddon." — House Minority Leader Nancy Pelosi on the Republican tax bill.
"Some of the biggest losers under the Republican tax overhaul include upper-middle class families in high-tax areas like New York City, graduate students, government workers and public school teachers. The one thing they have in common? They're mostly Democrats." -- Shill Kapur in Bloomberg
"The president has tremendous moral standards." — White House adviser Kellyanne Conway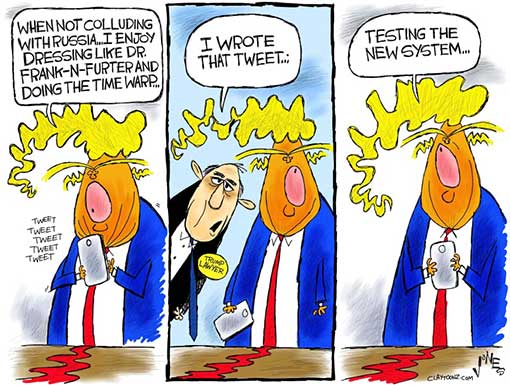 ---
IN THIS ISSUE
FYI
OPINION
1. Andy Borowitz: Nazis Feeling Neglected After Republicans' Embrace of Child Molesters
Several prominent Nazis said on Tuesday that they feel "neglected and hurt" by what they see as the Republican Party's decision to court child molesters instead.

In Washington, the Senate Majority Leader, Mitch McConnell, said that the battle between Nazis and child molesters for control of the Republican Party was largely an invention of the media.

"The Republican Party in 2017 is a place where both Nazis and child molesters can feel at home," McConnell said.

ELSEWHERE: Asked to comment on the arrest of Paul Manafort on Monday, Donald Trump told reporters that he was not sure "who this Manafort person is."

"There's been a lot of talk about this guy, Peter Manafort, or whoever, this morning," Trump said. "The name doesn't really ring a bell with me. I'll have to have someone Google him and figure out exactly who he's supposed to be."

On Capitol Hill, Trump's Republican defenders seized on his denial and called for immediate hearings to determine possible links between Hillary Clinton and Paul Manafort.

"What's becoming crystal clear is that, while pretending to be Donald Trump's campaign chairman, Paul Manafort was actually Hillary Clinton's campaign chairman," Representative Trey Gowdy, of South Carolina, said. "That's the real story here."

ELSEWHERE 2: A source who spoke on the condition of anonymity, said that Kim Jong Un fears that his scheme to turn the United States into an uninhabitable hellhole has been to a large extent upstaged by a similar proposal from congressional Republicans.

"You have to understand, destroying America is something that Kim and his family have been plotting for decades," the source said. "To see the Republicans swoop in at the last second and basically steal that idea—it's got to hurt."  https://www.newyorker.com/humor/
2. Congress Achieves the Impossible on Tax Reform
In their rush to pass something, anything, that they can call 'tax reform,' congressional Republicans have achieved the impossible: They have made an awful plan even worse."
The end result is sheer absurdity: a reform that actually complicates the tax code further, and that must contradict itself and partially self-destruct to attain some semblance of the fiscal discipline Republicans claim to value. It's hard to imagine a more egregious waste of time and energy, or a worse outcome for taxpayers and the broader economy.  https://www.bloomberg.com/view/articles/2017-12-02/congress-achieves-the-impossible-on-tax-reform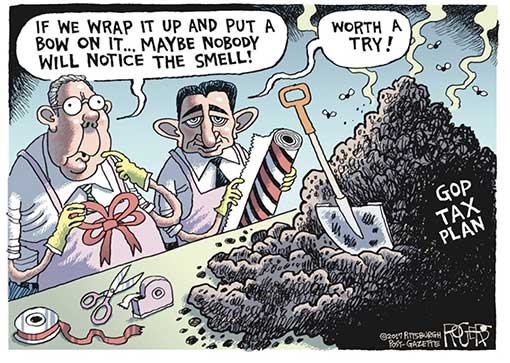 3. Sen. Rubio tells a secret: After giving a tax cut to the rich, GOP will cut Social Security and Medicare
In a videotaped interview with two Politico reporters Wednesday, Sen. Marco Rubio (R-Fla.) said the quiet parts out loud. Asked by interviewers Anna Palmer and Jake Sherman how to address the federal deficit, he replied: "We have to do two things. We have to generate economic growth which generates revenue, while reducing spending. That will mean instituting structural changes to Social Security and Medicare for the future."
The only thing that's new here is the explicit admission by a Republican officeholder that this is the GOP's master plan to eviscerate the welfare and retirement of American workers. Budget analysts have seen it coming with all the subtlety of a freight train. As we reported earlier this month, the damage begins with the so-called Paygo law (for "pay as you go"), which requires Congress to offset any increase in the federal deficit with spending cuts. The law limits Medicare cuts to 4% of its budget per year, or $25 billion of its $625-billion budget. Because the tax cut proposals the Senate was preparing to vote on late Friday would expand the deficit by about $1.5 trillion over 10 years, it's likely to trigger the cuts.  http://beta.latimes.com/business/hiltzik/la-fi-hiltzik-gop-social-security-20171130-story.html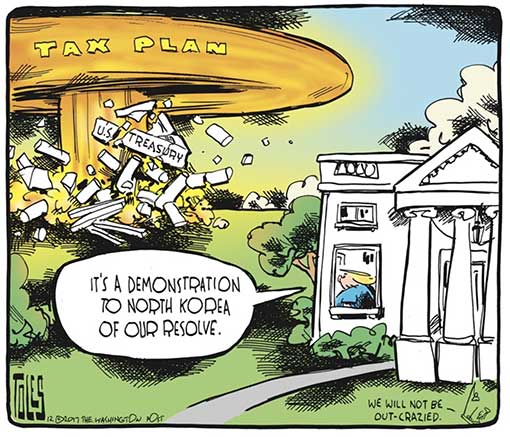 4. Democratic Party Maintains Edge in Party Affiliation
Forty-four percent of U.S. adults identify as Democrats or are independents who lean to the Democratic Party, while 37% are Republican identifiers or leaners. Democrats have maintained an edge of between five and nine percentage points on this measure of party affiliation throughout 2017, after holding a narrow advantage in late 2016.
Democrats' edge has expanded this year mainly because of a decline in Republican affiliation. A year ago, 44% of Americans identified as Democrats or leaned Democratic, the same percentage as now. However, Republican identification and leaning is five points lower than it was a year ago. More Americans now say they are nonleaning independents (14%) or do not have an opinion (5%) than did so in November 2016 (10% and 4%, respectively).  http://news.gallup.com/poll/223124/democratic-party-maintains-edge-party-affiliation.aspx
5. Top Democrat ratchets up government shutdown fight over 'dreamers'
A top Senate Democrat said Wednesday that he will vote against any spending bill in the coming weeks if Congress has failed to address the fate of young immigrants — raising the stakes in a looming showdown with the White House and Republicans over a potential government shutdown.
Sen. Richard J. Durbin (D-Ill.), the second-ranking Senate Democrat and a lead negotiator on spending matters, said he is encouraging his colleagues to join him in blocking spending legislation if the legal status of "dreamers" isn't resolved. President Trump announced in September that he will end the Obama-era Deferred Action for Childhood Arrivals program in early March, putting hundreds of thousands of dreamers — immigrants brought to the United States as children — at risk of deportation early next year.
Durbin's position is shared by at least four members of his caucus — Sens. Kamala D. Harris (D-Calif.), Elizabeth Warren (D-Mass.), Cory Booker (D-N.J.) and Bernie Sanders (I-Vt.).  https://www.washingtonpost.com/powerpost/top-democrat-ratchets-up-government-shutdown-fight-over-dreamers/2017/11/29/f66e986a-d542-11e7-b62d-d9345ced896d_story.htm
6. Moore says lesbians, gays, socialists behind sexual misconduct allegations
Alabama U.S. Senate candidate Roy Moore (R) "appeared to blame members of the LGBT community, liberals and socialists for the sexual misconduct allegations leveled against him," The Hill reports.
Said Moore: "When I say they, who are 'they?' They're liberals. They don't hold conservative values. They are the lesbian, gay, bisexual, transgender who want to change our culture. They are socialists who want to change our way of life and put man above God and the government is our God. They're the Washington establishment…who don't want to lose their power.  http://thehill.com/homenews/campaign/362504-moore-says-lesbians-gays-socialists-behind-sexual-misconduct-allegations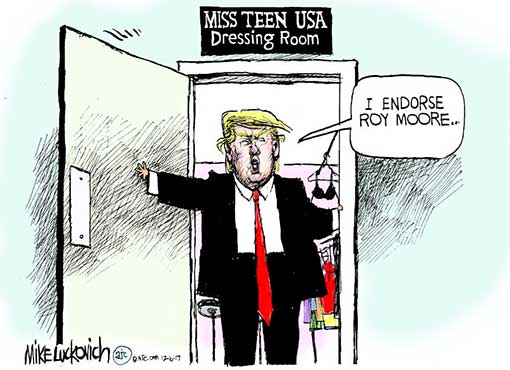 7. The DAILY GRILL
"I think he's a kook. I think he's crazy… He's not fit to be president." — Sen. Lindsey Graham (R-SC), about Donald Trump in an interview on Fox News on February 17, 2016.

VERSUS

"What concerns me about the American press is this endless, endless attempt to label the guy some kind of kook not fit to be president." — Graham, interviewed on CNN on 11/30/17

 

"I never asked Comey to stop investigating Flynn. Just more Fake News covering another Comey lie!" -- Donald J. Trump @realDonaldTrump

VERSUS

Former FBI director James Comey has testified under oath that Trump told him in January, "I hope you can see your way clear to letting this go, to letting Flynn go," a remark he interpreted as a direction from the president. Trump's critics have cited that as potential obstruction of justice, particularly after his Saturday tweet that he "had to fire" Flynn because he lied to the FBI (hence, Trump would have known Flynn committed a crime before allegedly asking Comey to back off) .--Dave Lawler in Axios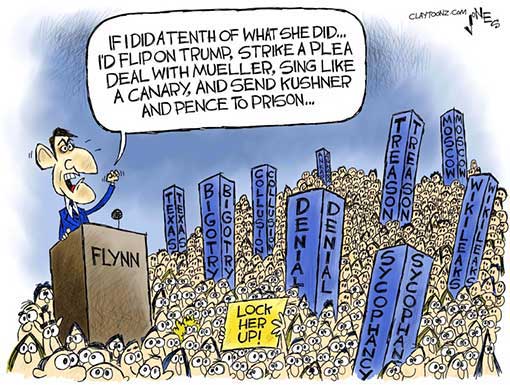 8. From MEDIA MATTERS (They watch Fox News so you don't have to)
Fox's Kilmeade parrots Trump's false claim that GOP tax plan would "hurt him as a businessman." In reality the tax plan could save Trump and his family over $1 billion.  https://www.mediamatters.org/video/2017/11/30/foxs-kilmeade-parrots-trumps-false-claim-gop-tax-plan-would-hurt-his-businessman/218688

Fox guest blames Obama for Michael 's indictment on charges of lying to the FBI. Matt Schlapp: "The idea that" the Obama administration "went back and actually tried to find wrongdoing on Mike Flynn is a very interesting and important part of this story."  https://www.mediamatters.org/video/2017/12/01/fox-guest-blames-obama-michael- s-indictment-charges-lying-fbi/218703

Sean Hannity: "We have to re-do the Hillary [Clinton] investigation, if there's equal justice under the law." Hannity: "How many special counsels would we ever need to get into all these varying scandals, all of this corruption, all of the fix being in?"  https://www.mediamatters.org/video/2017/12/06/sean-hannity-we-have-re-do-hillary-clinton-investigation-if-theres-equal-justice-under-law/218762
9. From the Late Shows
Jimmy Kimmel on Twitter War with Roy Moore:  https://youtu.be/8kFnLQySIzU

Weekend Update on the GOP Tax Plan - SNL: https://youtu.be/36cXOyPtVF8

White House Christmas Cold Open - SNL:  https://youtu.be/H9wMNxbQM-4

The Opposition w/ Jordan Klepper - Was Trump's "Access Hollywood" Tape Fake News?  https://youtu.be/lxB1z4XBuWM
10. Late Night Jokes for Dems
The New York Times is reporting that Donald Trump is expected to fire his Secretary of State Rex Tillerson in the coming weeks. Or as Rex Tillerson is calling it, a Christmas miracle. -- James Corden

It's not really surprising that Trump would fire Tillerson. If you remember, Rex Tillerson, over the summer, reportedly called Trump a, and I quote, a (bleep) moron. I don't have a joke here, I just wanted to relive that fond memory. -- James Corden

Meanwhile, the co-author of Donald Trump's book, "The Art of the Deal," says that according to two secret sources, White House staffers are starting to express concern over the president's mental health. Wow, that's some great investigative journalism right there. Or he could have just checked Twitter! -- James Corden

Michael Flynn agreed to a plea deal with Robert Mueller — and it came out that FBI's investigating everyone in the White House all the way to the top. Trump was like, "Oh my God — they're investigating Putin?" -- Jimmy Fallon

Trump created a lot of controversy by endorsing Roy Moore. Today, Trump praised Moore as someone who reaches out to young people. -- Conan O'Brien

Two large properties associated with Donald Trump have decided to disassociate from him. One is the Trump SoHo hotel, and the other is the Kremlin. -- Conan O'Brien
11. None Dare Call It Collusion
If the story were to end where we are right now, with no further confessions or indictments or revelations, it would still amount to the biggest scandal in American political history. In the real world, Robert Mueller has flipped Flynn and allowed him to plea to (much) lesser crimes, most likely in exchange for incriminating evidence against Trump campaign and administration highers-up.
Meanwhile, Trump's pretense that Flynn did no wrong but to lie to Vice President Mike Pence is falling apart, as it becomes increasingly clear that Flynn was honest with the entire team about his communication with Russian agents, and they all agreed to tell lies about it to the public. Trump admitted on Saturday that he knew Flynn had repeated those lies to the FBI at the time he ousted Flynn, and at the time he beseeched FBI Director James Comey to let Flynn off the hook. The president is for this and a myriad other reasons the subject of an obstruction investigation.  https://crooked.com/article/trump-flynn-none-dare-call-collusion/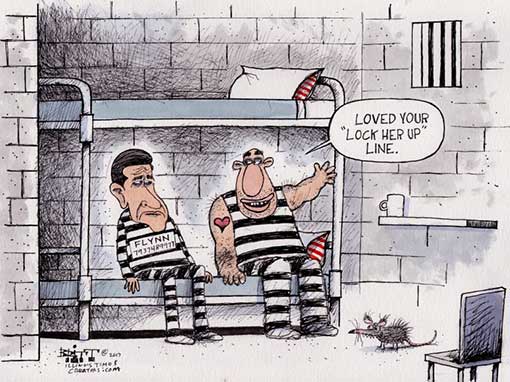 12. Trump may face a reckoning in case brought by female accuser
A defamation suit filed in January in the New York State Supreme Court by Summer Zervos, a short-lived contestant on The Apprentice, "has reached a critical point, with oral arguments over Trump's motion to dismiss scheduled for Tuesday, after which the judge is expected to rule on whether the case may move forward.
If it proceeds, Zervos's attorneys could gather and make public incidents from Trump's past and Trump could be called to testify, with the unwelcome specter of a former president looming over him: It was Bill Clinton's misleading sworn testimony — not the repeated allegations of sexual harassment against him — that eventually led to his impeachment.  https://www.washingtonpost.com/politics/trump-may-face-a-reckoning-in-case-brought-by-female-accuser/2017/12/04/dd8f783a-d39b-11e7-b62d-d9345ced896d_story.html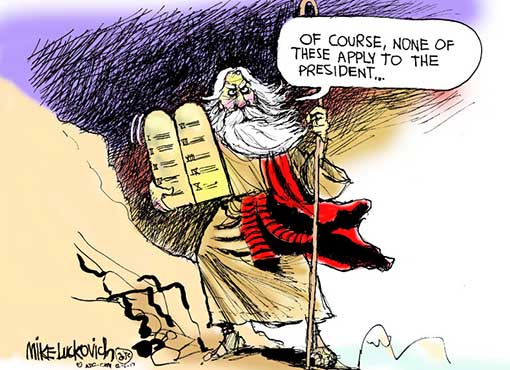 13. Tax Plan Crowns a Big Winner: Trump's Industry
After a frenzy of congressional action to rewrite the tax code, salesclerks and chief executives are calculating their gains. Business was treated with the everyone's-a-winner approach that ensures no summer camper goes home without a trophy.
Some got special prizes. Cruise lines, craft beer and wine producers (even foreign ones), car dealers, private equity, and oil and gas pipeline managers did particularly well. And perhaps the biggest winner is the industry where President Trump and his son-in-law, Jared Kushner, made their millions: commercial real estate.  https://www.nytimes.com/2017/12/05/business/economy/tax-bill-real-estate.html
14. House conservatives returned to their old ways this week: Playing havoc with spending legislation
Since the spring, House Republicans have lived through a relatively calm seven months, a period lacking the drama and infighting that have come to define their majority.
That came to an abrupt end Monday night, when members of the Freedom Caucus tried to grind progress on tax legislation to a halt.
These hard-right conservatives had no quarrel with the tax plan — they almost all voted for it — but they were looking for a hostage to grab and knew that this one would get everyone's attention. Their real target is the 2018 spending bill for federal agencies, along with a clutch of other must-pass items that conservatives oppose.  https://www.washingtonpost.com/powerpost/house-conservatives-returned-to-their-old-ways-this-week-playing-havoc-with-spending-legislation/2017/12/05/4671fe2e-d9c1-11e7-a841-2066faf731ef_story.html
15. Trump's Endorsement of Roy Moore Points Up a G.O.P. Problem: Chaos
As the party prepares for a midterm election that could bring a fierce backlash against a historically unpopular president, Republicans are growing more alarmed that a difficult race could be made worse without some semblance of planning to avert more discord.
Some top party officials say they are worried that the political environment may prove punishing enough to cost Republicans control of the House.
But an organization that can fend off such a landslide does not appear in the offing. In a departure from every modern White House, Mr. Trump himself largely dictates whom to back and how to support his preferred candidates.  https://www.nytimes.com/2017/12/05/us/politics/trump-moore-republicans-chaos.html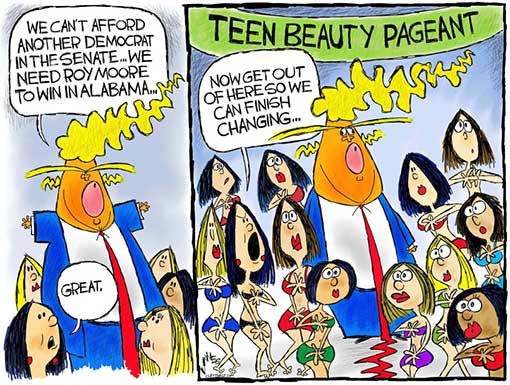 1. Jonathan Chait: Lobbyists and Tax Lawyers Can't Believe What a Gift Republicans Have Given Them
Rather than removing political interference from the tax code, the Republicans instead set out to create more of it. The bill was designed by corporate lobbyists and Republican partisans, rewarding pro-Republican business interests and punitively targeting politically hostile ones. "It's death to Democrats," gloats Trump adviser Stephen Moore, with more than a touch of hyperbole. "They go after state and local taxes, which weakens public employee unions. They go after university endowments, and universities have become playpens of the left."
Meanwhile, the bill lavishes rewards on industries friendly to the Republican majority. Oil and gas receive favorable treatment at the expense of renewable energy. Real estate — perhaps not coincidentally, the Trump family business — makes out like a bandit.
The haste with which the bills have been written and passed, combined with the unchecked influence of lobbyists, has resulted in a complex blizzard rife with loopholes. "Suddenly, there are a dozen different tax rates that apply to different businesses, in different industries, and to different investments," Adam Looney, a former Treasury Department official, tells the New York Times. "The speed with which they're doing this creates a level of ambiguity that will keep tax lawyers and tax professionals busy for 20 years," adds tax lawyer Scott D. Michel. The proliferation of rates creates unlimited opportunities for gamesmanship.
Sheer haste and technical incompetence will mean that some of the financial benefits to the rich and well-lawyered will be offset by the costs of figuring out how the law even works. These quotes to Politico from Republican sources are jaw-dropping. "The more you read, the more you go, 'Holy crap, what's this?'" says Greg Jenner, a former top tax official in George W. Bush's Treasury Department. "We will be dealing with unintended consequences for months to come because the bill is moving too fast." Another Republican lobbyist says, "It's crazy. I don't think anyone could explain it, let alone comply with it" by the time it takes effect.
This is not a description of a compromised or watered-down effort to reform the tax code. It is a description of a bill performing the opposite function of tax reform. The bill may not be the death of democracy or mortal peril to the economic expansion. But it is, at best, a messy helicopter drop of cash on corporate America. The cleanup will take years.  http://nymag.com/daily/intelligencer/2017/12/lobbyists-and-tax-lawyers-giddy-over-republican-tax-giveaway.html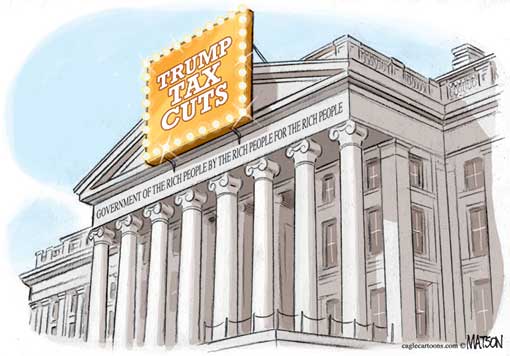 2. Greg Sargent: Two new reports suggest Trump has come unhinged. The truth is worse.
To date, Trump has made over 1,600 false or misleading claims as president. Routinely, the lies are demonstrably false, often laughably so. But this actually serves his ends. It is impossible to disentangle this from his constant effort to undermine the news media, seen again in today's NBC tweet. In many cases the attacks on the media are outlandishly ridiculous, dating back to the tone-setting assertion that the media deliberately diminished his inaugural crowd sizes, even though the evidence was decisive to the contrary. Here again, the absurdity is the whole point: In both the volume and outsize defiance of his lies, Trump is asserting the power to declare the irrelevance of verifiable, contradictory facts, and with them, the legitimate institutional role of the free press, which at its best brings us within striking distance of the truth.
I don't claim to know whether this is merely instinctual on  Trump's part, or part of a strategy. As Trump biographer Tim O'Brien puts it, Trump constantly "tells fables to himself" and "about himself," and has long self-consciously regarded this as "one of his great skills." Trump has been doing it for so long that the separation between instinct and conscious technique has probably disappeared. But one thing is clear: Terms like "lying" or "delusional" don't do justice to what we're seeing here, and we have not yet seriously reckoned with its true nature and what it really means.  https://www.washingtonpost.com/blogs/plum-line/wp/2017/11/29/two-new-reports-suggest-trump-has-come-unhinged-the-truth-is-worse/
3. E.J. Dionne: Who Will Challenge Trump's Enablers?
We are so inured to the chaos and the lying that characterize Trump's presidency that we see each outrage as little more than another passing episode on an ongoing cable news drama.
But events of just the last few days should remind us that the longer this president is in power, the weaker our country will become.
On Wednesday morning, the nation learned that it has a president who traffics in fascist propaganda -- and I am not using the "f" word lightly. Trump retweeted three inflammatory anti-Muslim videos of unknown accuracy put out by an ultra-right British group called Britain First.
Britain's Conservative Prime Minister Theresa May was horrified and did not mince words in a statement criticizing Trump for distributing "hateful narratives." She added that "British people overwhelmingly reject the prejudiced rhetoric of the far right, which is the antithesis of the values that this country represents: decency, tolerance and respect."
We'd like to think that the United States is also a nation of decency, tolerance and respect. We can't make this claim while Trump is president.  https://www.realclearpolitics.com/articles/2017/11/30/who_will_challenge_trumps_enablers_135648.html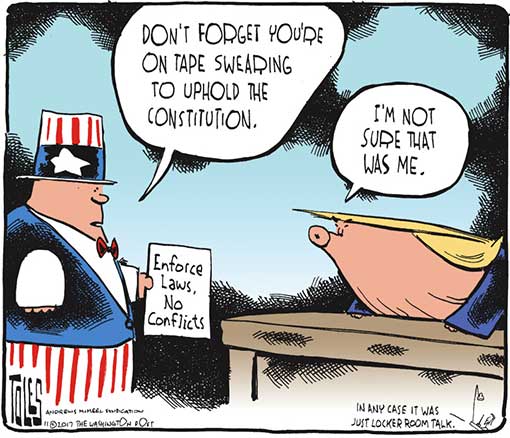 4. Jill Filipovic: The Men Who Cost Clinton the Election
Many of the male journalists who stand accused of sexual harassment were on the forefront of covering the presidential race between Hillary Clinton and Donald Trump. Matt Lauer interviewed Mrs. Clinton and Mr. Trump in an official "commander-in-chief forum" for NBC. He notoriously peppered and interrupted Mrs. Clinton with cold, aggressive, condescending questions hyper-focused on her emails, only to pitch softballs at Mr. Trump and treat him with gentle collegiality a half-hour later. Mark Halperin and Charlie Rose set much of the televised political discourse on the race, interviewing other pundits, opining themselves and obsessing over the electoral play-by-play. Mr. Rose, after the election, took a tone similar to Mr. Lauer's with Mrs. Clinton — talking down to her, interrupting her, portraying her as untrustworthy. Mr. Halperin was a harsh critic of Mrs. Clinton, painting her as ruthless and corrupt, while going surprisingly easy on Mr. Trump. The reporter Glenn Thrush, currently on leave from The New York Times because of sexual harassment allegations, covered Mrs. Clinton's 2008 campaign when he was at Newsday and continued to write about her over the next eight years for Politico.
A pervasive theme of all of these men's coverage of Mrs. Clinton was that she was dishonest and unlikable. These recent harassment allegations suggest that perhaps the problem wasn't that Mrs. Clinton was untruthful or inherently hard to connect with, but that these particular men hold deep biases against women who seek power instead of sticking to acquiescent sex-object status.
The "Crooked Hillary" narratives pushed by Mr. Lauer, Mr. Halperin, and a long list of other prominent journalists and pundits indelibly shaped the election, and were themselves gendered: Hillary Clinton as a cackling witch, Hillary Clinton a woman it was easy to distrust because she was also a woman seeking power, and what kind of woman does that? Mr. Trump emphasized this caricature as part of his more broadly sexist campaign, but he didn't invent it. Nor was he the only famous man going on television to perpetuate it — while revealing a deep disdain for women when the cameras weren't rolling.  https://www.nytimes.com/2017/12/01/opinion/matt-lauer-hillary-clinton.html
5. Philip Rucker and Ashley Parker: Trump veers past guardrails, feeling impervious to the uproar he causes
Again and again, Trump veered far past the guardrails of presidential behavior. But despite the now-routine condemnations, the president is acting emboldened, as if he were impervious to the uproar he causes.
If there are consequences for his actions, Trump does not seem to feel their burden personally. The Republican tax bill appears on track for passage, putting the president on the cusp of his first major legislative achievement. Trump himself remains the highest-profile man accused of sexual improprieties to keep his job with no repercussions.
Trump has internalized the belief that he can largely operate with impunity, people close to him said. His political base cheers him on. Fellow Republican leaders largely stand by him. His staff scrambles to explain away his misbehavior — or even to laugh it off. And the White House disciplinarian, chief of staff John F. Kelly, has said it is not his job to control the president.
For years, Trump has fired off incendiary tweets and created self-sabotaging controversies. The pattern captures the musings of a man who traffics in conspiracy theories and alternate realities and who can't resist inserting himself into any story line at any moment.
"In an intensely polarized world, you can't burn down the same house twice," said Alex Castellanos, a GOP campaign consultant. "What has Donald Trump got to lose at this point?"
Castellanos added that for many voters, and especially Trump's base, there's an "upside" to his bellicosity. "A strong daddy bear is what a lot of voters want," he said. "Right or wrong, at least he's fighting for us."  https://www.washingtonpost.com/politics/trump-veers-past-guard-rails-feeling-impervious-to-the-uproar-he-causes/2017/11/29/f96244d2-d523-11e7-b62d-d9345ced896d_story.html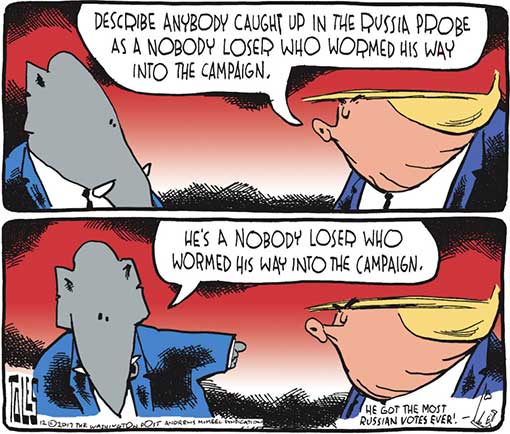 6. Antony J. Blinken: How Rex Tillerson Did So Much Damage in So Little Time
It's hard to overstate the lasting harm Mr. Tillerson's tenure will do to America's diplomacy. Last month, Barbara Stephenson, the head of the American Foreign Service Association, reported that "our leadership ranks are being depleted at a dizzying speed." Since January, the department has lost 60 percent of its career ambassadors — the equivalent of four-star generals — more than 40 percent of its three-star-equivalent career ministers and about 14 percent of its two-star-equivalent minister counselors. "Were the U.S. military to face such a decapitation of its leadership ranks," Ms. Stephenson noted in a message to her members, "I would expect a public outcry." And the number of people applying to take the Foreign Service entrance exam has dropped by more than 50 percent.
The world does not organize itself. In the absence of an engaged, diplomatically energized America, others will set the agenda, shape the rules and dominate international institutions — and probably not in ways that advance our interests or values. America's ability to mobilize others in the pursuit of common objectives will atrophy. And a whole host of challenges that require coordinated, collective responses — epidemics that defy frontiers, hackers who breach firewalls, terrorists who form global networks, aggressors who ignore borders, rogue actors who amass intercontinental arsenals, and an ocean that rises and a planet that warms — will go unmet.  https://www.nytimes.com/2017/11/30/opinion/tillerson-damage-trump-replacement.html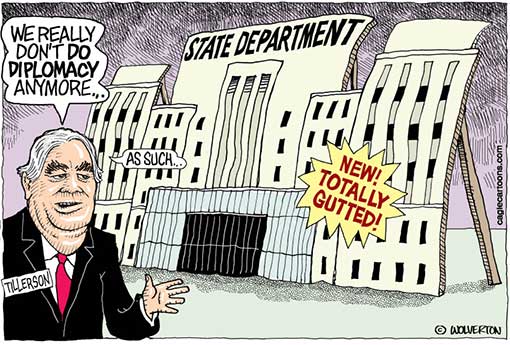 7. Timothy Egan: In the End, Reality Will Win
Whoo, boy. The truth just keeps getting whacked by this gangster White House. The how-low-can-he-go bar keeps falling. Is there no bottom? Not for some time, friends, so hold on.
We learned this week that President Trump does not believe his own words on videotape — words that he had earlier acknowledged, in explaining how a star can get away with the type of predatory behavior that has caused everyone but him to get fired.
We learned that he endorsed a website that says the pope uses magic to mastermind world events. This, after he gave a thumbs up to a media outlet that claims NASA runs a child labor colony on Mars.
We learned that he still believes three million fraudulent voters caused him to lose the popular vote, that no president has accomplished so much in 10 months as he, that Barack Obama is not a citizen of the United States.
We may soon learn that Trump won a gold medal in synchronized swimming. This is likely to come from a public servant being paid tax dollars to defend a dog's breakfast of fantasy. That would be Sarah Huckabee Sanders, the White House spokeswoman, who crossed a big Rubicon this week.  https://www.nytimes.com/2017/12/01/opinion/in-the-end-reality-will-win.html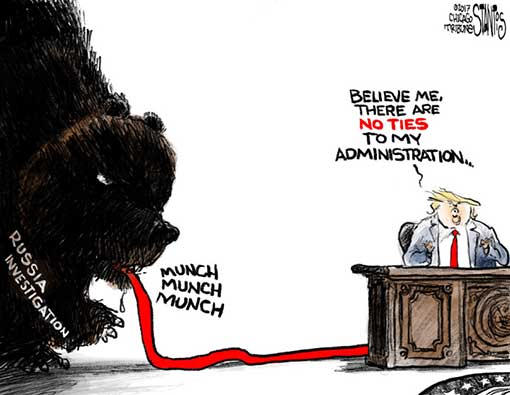 8. Andrew Sullivan: America Is Trapped in Trump's Delusional World
This past week was, in some ways, the most potent distillation of the Trump era we have yet encountered. This is not because any single incident is worse than any previous one over the past year. It's because the last few days have brought all of them together in a new, concentrated way — a super-storm, as it were, of liberal democratic destruction."
We have deranged tweeting; truly surreal lies; mindless GOP tribalism; evangelicals making excuses for the molestation of minors; further assaults on the free press; an unprecedented attack on the most reliable Atlantic ally; the demonization of personal enemies; stupendous tribal hypocrisy with respect to sexual abuse; the White House's endorsement of a foreign neo-fascist hate group; the vengeful hanging out to dry of a Cabinet member; and the attempt to pass a catastrophic omnibus piece of legislation in one mad, blind rush in order to get a 'win.' And all in a few days!"
Give such a man the power and trappings of the most powerful office on earth, give him a few months, and such delusions will get worse. Sane men and women are corrupted by the wielding of power; a psychologically disturbed figure from the get-go will degenerate into deeper and deeper forms of madness.  http://nymag.com/daily/intelligencer/2017/12/andrew-sullivan-america-is-trapped-in-trumps-delusions.html
9. Jonah Shepp: Trump's Twitter Feed Is a Foreign-Policy-Crisis Machine
It can't be good for anyone's nerves to work at the State Department right now. From one day to the next, you can't be sure whether your boss is about to get fired, whether your job still exists, or whether (as was the case on Wednesday) you'll come into work to learn that the president wrote something on Twitter that would make people in other countries very angry at the United States.
The retweet heard round the world was of highly dubious videos circulated by the leader of the U.K.'s virulently Islamophobic Britain First party, purporting to show Muslims committing acts of violence. President Donald Trump's decision to share a sloppy, racist propaganda message with his 44 million Twitter followers (and not for the first time) led to condemnationsfrom British politicians and pundits of all stripes, with some calling for Trump to be banned from the U.K. — or, even more helpfully, from Twitter.
As a matter of basic decency and online etiquette, to say nothing of presidential leadership, it is generally unwise to endorse and distribute the recruiting material of foreign neo-Nazis, especially when Europe's new, young, anti-immigrant right wing is making disconcerting gains. As a matter of U.S. foreign policy, it's outright malpractice.
Someone ought to tell that to the president. http://nymag.com/daily/intelligencer/2017/12/trumps-twitter-feed-is-a-foreign-policy-crisis-machine.html