August 31, 2023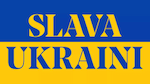 To subscribe to this FREE weekly newsletter simply email jellison@san.rr.com with "subscribe" as the subject.
THE WEEK'S BEST QUOTES. . .
"We have to face the fact that Trump is the most disliked politician in America. We can't win a general election that way." — Nikki Haley at the GOP debate.
https://www.wsj.com/politics/elections/trump-will-loom-over-gop-debate-he-skips-8f27fe1b
"The people of this country have a right to hear that evidence and to know the truth before they cast their vote and to do everything reasonably possible to be able to accomplish that." — Former acting AG Sally Yates, arguing that voters should see the special counsel's evidence against Donald Trump before the election.
https://www.cnn.com/2023/08/24/politics/sally-yates-trump-investigations-axe-files
Kaitlan Collins noted the "irony" of Donald Trump posting his mugshot on Twitter with the message "Never Surrender" — literally just hours after surrendering.
https://www.mediaite.com/uncategorized/cnns-kaitlan-collins-points-out-irony-of-trump-never-surrender-tweet-of-mugshot-he-literally-surrendered-for/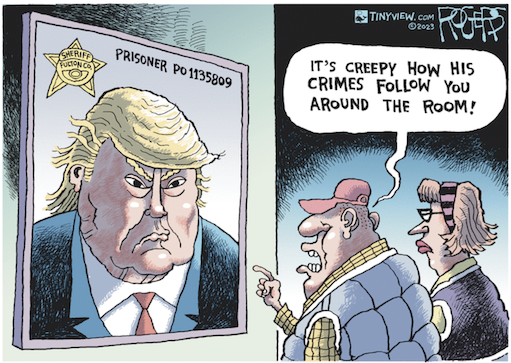 "Ruby Freeman, a Georgia election worker, was lied about, criminalized, terrorized, threatened, and smeared—not by private gangs but by a gangsterized government. What is at stake in the Georgia indictment is whether those who inflicted these intimate cruelties can get away with it and, therefore, be free to do it again." — Fintan O'Toole
https://www.nybooks.com/online/2023/08/17/frame-up-in-georgia-trump-indictment/
"Biden is a Stone Cold Crook-You don't need a long INQUIRY to prove it, it's already proven. These lowlifes Impeached me TWICE (I WON!), and Indicted me FOUR TIMES – For NOTHING! Either IMPEACH the BUM, or fade into OBLIVION. THEY DID IT TO US!" — Donald Trump issuing an ultimatum to House Republicans, angry that their talk of an impeachment inquiry against President Biden has not yet amounted to meaningful action.
https://truthsocial.com/@realDonaldTrump/posts/110963746628215974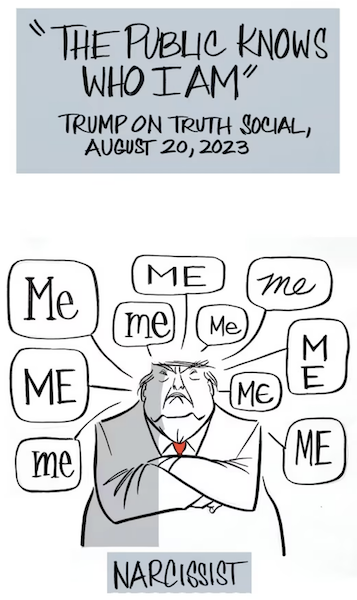 Donald Trump interviewed by Glen Beck:
Radio host Beck: "You said in 2016, you know, 'lock her up.' And then when you became president, you said, 'We don't do that in America.' That's just not the right thing to do. That's what they're doing. Do you regret not locking her up? And if you're president again, will you lock people up?"

Trump: "Well, I'll give you an example. Uh, the answer is you have no choice because they're doing it to us." https://www.mediaite.com/politics/you-have-no-choice-trump-tells-glenn-beck-he-will-absolutely-lock-people-up-if-returned-to-white-house/
---
IN THIS ISSUE
IN THE NEWS
OPINION
Andy Borowitz: Half of All G.O.P. Voters Wish Party Would Nominate Some Other Criminal Besides Trump
Although Donald J. Trump holds a commanding lead over the rest of the Republican Presidential field, approximately half of all G.O.P. voters wish that their party would choose a different criminal, a new poll indicates.

"No disrespect to Donald Trump, who has been an amazing perpetrator," Carol Foyler, a poll respondent who lives in Tempe, Arizona, said. "But it would be great to see a fresh crook in there."

"When he was President, Trump committed crimes at an incredible rate," Tracy Klugian, who resides in Columbus, Ohio, said. "But he's older now, and I worry that he won't be able to keep up that pace."
"Don't get me wrong, Donald Trump deserves major credit for all the laws he's broken," Harland Dorrinson, who lives in Springfield, Missouri, said. "But it's time to pass the torch to a new generation of felons." https://www.newyorker.com/humor/borowitz-report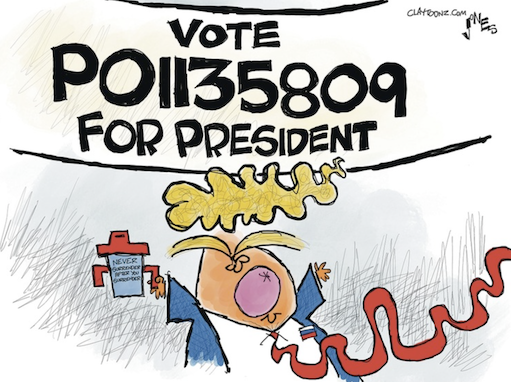 Biden Team Bristles at Newsom's Plan to Debate DeSantis
California Gov. Gavin Newsom is increasingly being viewed as a nuisance to some of President Joe Biden's political advisers.
Though Biden's camp no longer sees the California governor as a wannabe challenger to the president — and some in the president's orbit praise him for acting as a top campaign surrogate — Newsom's plan to debate Florida Gov. Ron DeSantis on television carries more risk than potential reward, these people say.
That's caused consternation within Biden's operation and among Vice President Kamala Harris' allies.
https://www.nbcnews.com/politics/joe-biden/biden-advisers-bristle-newsoms-plan-debate-desantis-rcna101799
McCarthy starts to plot Biden impeachment strategy while GOP skeptics remain
House Speaker Kevin McCarthy and top Republicans have begun to strategize about how to move forward with an impeachment inquiry into President Joe Biden this fall – the latest sign that the House GOP is seriously laying the groundwork to initiate rare proceedings against the current president.
https://www.cnn.com/2023/08/28/politics/mccarthy-biden-impeachment-strategy/index.html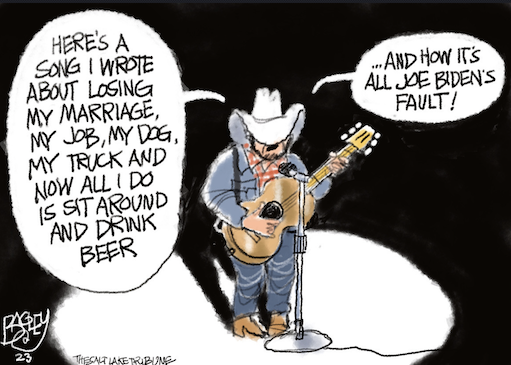 Russians Are Strangely Stumped About Why Moscow Is Getting Bombed
After six consecutive days of drone attacks on the Moscow region last week, one would think the shock of sudden late-night explosions might compel some Russians to consider what Ukrainian civilians have endured during 550 days of relentless Russian attacks.
Instead, some residents near the Russian capital have taken to social media to vent about the inconvenience of being woken up in the middle of the night, question why the 'international community' isn't coming to their rescue, and blame Ukrainian 'terrorists' for targeting civilian areas.
https://www.thedailybeast.com/russians-are-strangely-stumped-about-why-moscow-is-getting-attacked-with-drones
14th Amendment, Section 3: A new legal battle against Trump takes shape
Separate from the criminal cases, over the past few weeks a growing body of conservative scholars have raised the constitutional argument that Trump's efforts to overturn the results of the 2020 election make him ineligible to hold federal office ever again.
That disqualification argument boils down to Section 3 of the U.S. Constitution's 14th Amendment, which says that a public official is not eligible to assume public office if they 'engaged in insurrection or rebellion against' the United States, or had 'given aid or comfort to the enemies thereof,' unless they are granted amnesty by a two-thirds vote of Congress.
Advocacy groups have long argued that Trump's behavior after the 2020 election fits those criteria. 
https://abcnews.go.com/Politics/14th-amendment-section-3-new-legal-battle-trump/story
Florida lawyer files challenge to disqualify Trump from 2024 race, citing 14th Amendment
A Florida lawyer is challenging former President Trump's ability to run for president in 2024 under the U.S. Constitution's 14th Amendment, citing the Jan. 6, 2021, Capitol attack.
Lawrence Caplan, a tax attorney in Palm Beach County, filed the challenge in federal court Thursday, pointing to a clause in the amendment that says those who have engaged in insurrection or rebellion against the government cannot hold office.
The bottom line here is that President Trump both engaged in an insurrection and also gave aid and comfort to other individuals who were engaging in such actions, within the clear meaning of those terms as defined in Section Three of the 14th Amendment, Caplan wrote in the filing. Assuming that the public record to date is accurate, and we have no evidence to the contrary, Trump is no longer eligible to seek the office of the President of the United States, or of any other state of the Union.
Caplan's challenge is one of the first questioning the legality of Trump's 2024 bid, though Trump is also facing criminal charges at both the state and federal level over his actions to undo the results of the 2020 vote.
https://thehill.com/regulation/court-battles/4171623-florida-lawyer-files-challenge-to-disqualify-trump-from-2024-race-citing-14th-amendment/
Is Trump Disqualified for the New Hampshire Primary?
NH Secretary of State David Scanlan, who will oversee the first-in-the-nation presidential primary in just five months, said he's received several letters lately that urge him to take action based on a legal theory that claims the Constitution empowers him to block Trump from the ballot.
Scanlan, a Republican, said he's listening and will seek legal advice to ensure that his team thoroughly understands the arguments at play.
https://www.bostonglobe.com/2023/08/25/metro/is-trump-disqualified-for-the-nh-primary-scanlan-seeks-legal-advice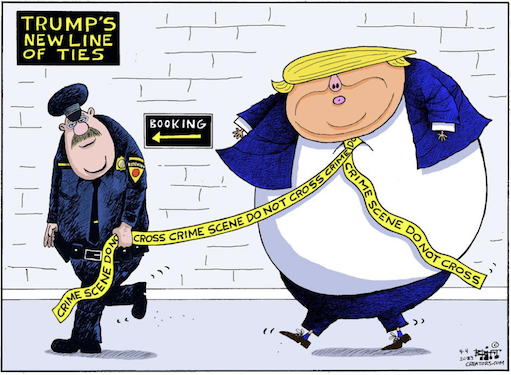 Biden is 'old,' Trump is 'corrupt': AP-NORC poll has ominous signs for both in possible 2024 rematch
Unflattering portraits of Biden and Trump emerge clearly in a new AP-NORC poll, which asked an open-ended question about what comes to mind when people think of them.
For Biden, the largest share of U.S. adults — including both Democrats and Republicans — mentioned his age. At 80, Biden is just three years older than Trump, but many Americans expressed real concerns about his ability to continue as president.
Trump, meanwhile, has been indicted in four cases featuring 91 total criminal counts and elicits words such as 'corrupt' and 'crooked' (named by 15%), along with 'bad' and other generally negative comments (11%). Not far behind are words like 'liar' and 'dishonest; (8%). Another 8% offered generally positive comments like 'good,' though.
https://apnews.com/article/biden-trump-2024-poll-old-corrupt-12b806876e2072790f9a67793761c688
Ramaswamy-Pence Clash Shows New Right's Radical Break From Reaganism
New York Times: Extolling Ronald Reagan used to be the safest of safe spaces for an ambitious Republican. Yet here was an upstart candidate, with no record of public service, standing at center stage in a G.O.P. debate and invoking Mr. Reagan's famous 1984 morning in America theme not as an applause line, but to mock one of the party's staunchest conservatives — an original product of the Reagan revolution — as out of touch with America's true condition.
The moment captured a rhetorical and substantive shift inside the G.O.P. that accelerated during the Trump era and is now being fed to the base in a purer form by Mr. Ramaswamy, who in late July overtook the former vice president in national polling averages. It is a shift to the so-called new right — often younger, often very online — that rejects the sunny optimism of Mr. Reagan's acolytes as the delusional mutterings of 'boomers.'
In the new right's overheated vernacular, these older, more established Republicans — a group that includes Mr. Pence but also most of the Republican conference in the United States Senate — have no idea 'what time it is.' They don't understand that the Republic is on its last legs.
https://www.nytimes.com/2023/08/27/us/politics/ramaswamy-pence-debate-new-right.html
DeSantis's Florida Approves Climate-Denial Videos in Schools
DeSantis's Florida Approves Climate-Denial Videos in Schools
Climate activists are like Nazis.
Wind and solar power pollute the Earth and make life miserable.
Recent global and local heat records reflect natural temperature cycles.
These are some of the themes of children's videos produced by an influential conservative advocacy group.
Now, the videos could soon be used in Florida's classrooms.

Florida's Department of Education has approved the classroom use of material from the Prager University Foundation, a conservative group that produces videos that distort science, history, gender and other topics.

Education experts call the videos dangerous propaganda.

PragerU CEO Marissa Streit says the videos will rebalance schools that have been "hijacked by the left." https://www.scientificamerican.com/article/desantiss-florida-approves-climate-denial-videos-in-schools/
 
Nearly Half of Iowa Caucusgoers Are 'MAGA Republicans'
A new Des Moines Register/NBC News/Mediacom Iowa Poll finds 46% of Iowa's likely Republican caucusgoers describe themselves as MAGA Republicans, an indication of how entrenched Donald Trump's influence has become in the first-in-the-nation caucus state.
At the same time, 23% of poll respondents describe themselves as anti-Trump, indicating that roughly a quarter of Iowa's likely Republican caucusgoers have ruled out supporting the former president.
https://www.desmoinesregister.com/story/news/politics/iowa-poll/caucus/2023/08/27/nearly-half-of-likely-republican-caucusgoers-are-maga-iowa-poll-shows-gop-trump-desantis-2024/70652081007/
Andrew Clyde Tries to Yank Funding for Trump Prosecutors
The House Appropriations Committee could consider amendments to the fiscal 2024 Commerce-Justice-Science bill next month stripping federal funding from prosecutors who are pursuing charges against former President Donald Trump.
Rep. Andrew Clyde (R-GA), a member of the House Freedom Caucus who also sits on the Appropriations Committee, announced Monday that he is working on two amendments to offer when the panel takes up the bill in early September.
https://rollcall.com/2023/08/28/rep-clyde-signals-appropriations-fight-over-trump-prosecutions/
Why Tribalism Took Over Our Politics
Ahead of his arrest on Thursday in Georgia, Donald Trump repeatedly told his supporters about the legal peril he faced from charges of election interference. But the danger wasn't his alone, he said. 'In the end, they're not coming after me. They're coming after you,' he told a campaign rally, the Wall Street Journal reports.
It was the latest example of the Republican former president employing a potent driver of America's partisan divide: group identity. Decades of social science research show that our need for collective belonging is forceful enough to reshape how we view facts and affect our voting decisions. When our group is threatened, we rise to its defense. https://www.wsj.com/politics/why-tribalism-took-over-our-politics-5936f48e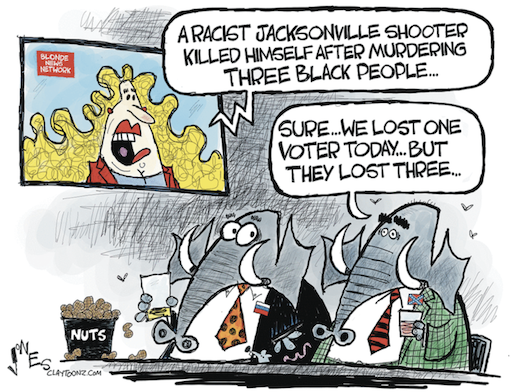 Trump raised $7.1 million after Georgia booking, mugshot
The former president has raised $7.1 million since he was booked at an Atlanta jail Thursday evening. On Friday alone, Trump raised $4.18 million, making it the single-highest 24-hour period of his campaign to date.
https://www.politico.com/news/2023/08/26/trump-mugshot-fundraising-00113118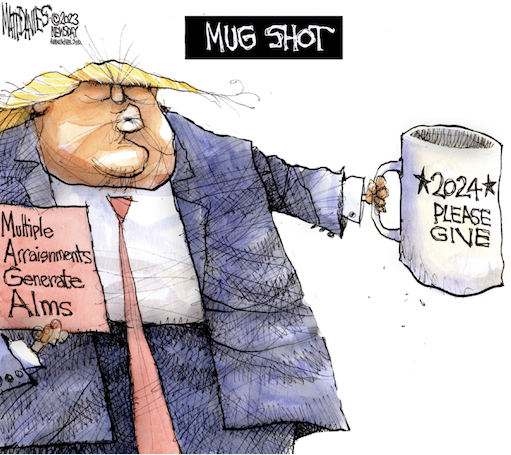 Jordan Launches Probe Into Trump Georgia Prosecution
House Judiciary Chairman Jim Jordan (R-OH) fired off a sweeping request for documents dealing with former President Trump's prosecution for election interference in Georgia, asking Fulton County District Attorney Fani Willis (D) to turn over all records relating to the case, The Hill reports.
https://thehill.com/regulation/court-battles/4169099-jim-jordan-launches-probe-into-georgia-trump-prosecution/
Trump Employee Now Won't Face Charges
The Mar-a-Lago IT employee who, according to a federal court filing, implicated former President Donald Trump and two of his aides in an alleged pressure campaign to delete security camera footage at the Florida resort was advised by special counsel Jack Smith's team that he would not face perjury charges after he amended his testimony.
https://www.cbsnews.com/news/mar-a-lago-it-worker-told-he-wont-face-charges-special-counsel-probe
Nerve agents, poison and window falls. Over the years, Kremlin foes have been attacked or killed
The attacks range from the exotic — poisoned by drinking polonium-laced tea or touching a deadly nerve agent — to the more mundane of getting shot at close range. Some take a fatal plunge from an open window, the AP reports.
Over the years, Kremlin political critics, turncoat spies and investigative journalists have been killed or assaulted in a variety of ways.
None, however, has been known to perish in an air accident. But on Wednesday, a private plane carrying a mercenary chief who staged a brief rebellion in Russia plummeted into a field from tens of thousands of feet after breaking apart.
https://apnews.com/article/prigozhin-navalny-putin-assassination-russia-wagner-plane-crash-5d4f8506b89bfa8848fd88529701db7c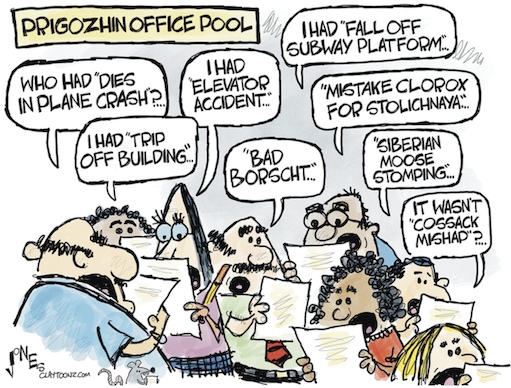 Backers Blast Language for Ohio Abortion Amendment as Misleading
The Ohio Ballot Board approved language Thursday for a fall measure seeking to establish abortion access as a fundamental right, but one Democratic member blasted it as 'rife with misleading and defective language.
Key among opponents' objections is language developed by Republican Secretary of State Frank LaRose, an abortion opponent, amid warnings the language could face a legal challenge even before the proposal goes before Ohio voters in November.

Among the new language, the word 'fetus' in the Democrats' proposal was changed to 'unborn child' in the ballot measure. https://www.pbs.org/newshour/politics/backers-blast-revised-ballot-language-for-ohios-fall-abortion-amendment-as-misleading
Three Trump codefendants say they became false electors at Trump's 'direction'
Shawn Still, Cathleen Latham and David Shafer are Georgia Republicans charged alongside the former president in a racketeering conspiracy to subvert the 2020 election.
Three Georgia Republicans who falsely claimed to be electors for Donald Trump — and are now charged alongside him in a sprawling racketeering indictment brought by local prosecutors — say they took the steps they did because Trump, then the sitting president, told them to.
In a series of court filings this week, those false electors, who became part of Trump's last-ditch bid to subvert the 2020 election, said it was Trump and his campaign lawyers who urged them to sign the false documents, claiming they were necessary to preserve Trump's flailing court efforts to reverse his defeat to Joe Biden. That exhortation from Trump's campaign lawyers, they said, amounted to federal government permission to take the actions they did.
https://www.politico.com/news/2023/08/24/co-defendant-georgia-trump-indictment-00112932
New Poll Has Some Bad News for Trump
A new Politico/Ipsos poll finds Donald Trump's cascading indictments are likely to take a toll on his general election prospects.
The survey results suggest Americans are taking the cases seriously — particularly the Justice Department's 2020 election case — and that most people are skeptical of Trump's claim to be the victim of a legally baseless witch hunt or an elaborate, multi-jurisdictional effort to 'weaponize' law enforcement authorities against him. 
https://www.ipsos.com/en-us/politico-indictment-august-2023
Ramaswamy Has Deep Ties to Rightwing Kingpins
Vivek Ramaswamy has described himself as an 'outsider,' accusing rivals for the Republican presidential nomination of being 'bought and paid for' by donors and special interests.
But the 38-year-old Ohio-based venture capitalist, whose sharp-elbowed and angry display stood out in the first Republican debate this week, has his own close ties to influential figures from both sides of the political aisle.
Prominent among such connections are Peter Thiel, the co-founder of tech giants PayPal and Palantir and a rightwing megadonor, and Leonard Leo, the activist who has marshaled unprecedented sums in his push to stock federal courts with conservative judges.
https://www.theguardian.com/us-news/2023/aug/25/vivek-ramaswamy-rightwing-elite-close-ties-leonard-leo-peter-thiel
A Mugshot for History
As soon as it was taken, it became the de facto picture of the year. A historic image that will be seared into the public record and referred to for perpetuity — the first mug shot of an American president, taken by the Fulton County, Ga., Sheriff's Office after Donald J. Trump's fourth indictment. Though because it is also the only mug shot, it may be representative of all of the charges.
As such, it is also a symbol of either equality under the law or the abuse of it — the ultimate memento of a norm-shattering presidency and this social-media-obsessed, factionalized age.
https://www.nytimes.com/2023/08/25/style/trump-mugshot.html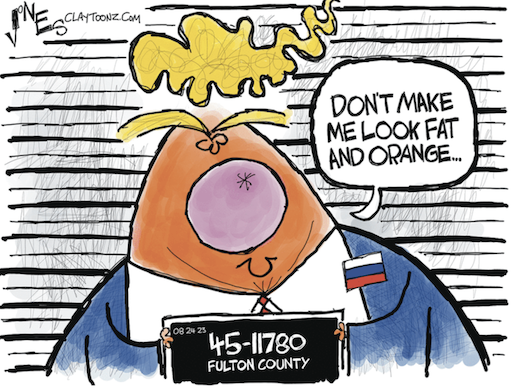 THE DAILY GRILL ...
"Election Interference! Today a biased, Trump Hating Judge gave me only a two month extension, just what our corrupt government wanted, SUPER TUESDAY. I will APPEAL!" — Donald Trump posted on Truth Social. https://truthsocial.com/@realDonaldTrump/posts/110968692224160798

VERSUS

"He can't appeal the judge's scheduling order." — Former federal prosecutor Renato Mariotti. https://twitter.com/renato_mariotti/status/1696243559710810119
Susan B. Glasser: The Harsh Glare of Justice
As much as anything, this week was the real start of the 2024 campaign, and the preview it offered suggested how much the next year will be dominated by variations on the tiresome theme of Trump, Trump, and Trump again. Even the former President's absence from the first Republican debate, on Wednesday, did little to distract from the story line of the poll-dominating elephant not in the room, as the Fox News anchor Bret Baier put it. But, if the subject is by now a familiar one, the plot has taken a notable twist, summed up in the extraordinary spectacle that unfolded in Atlanta late on Thursday evening.
In a highly public display manufactured for maximum prime-time impact by the world's most famous criminal defendant, Trump flew into the city on his private jet ahead of a Friday deadline for his surrender, then motorcaded to the Fulton County Jail, where he was arrested, fingerprinted, and had his mug shot taken, before being released on a pre-negotiated two-hundred-thousand-dollar bail. There was no real news in this, of course, since he was indicted earlier this month. But that did not stop the breathless hours of coverage—the scenes of his plane slowly rolling down the tarmac, the extensive motorcade ride through Atlanta, his self-reported and highly suspect description of himself as six feet three and two hundred and fifteen pounds. The big reveal of the evening was his photo, in which he wore a navy suit and red tie. He glared straight into the camera for his big moment; the trademark Trump glower—eyebrows raised, vaguely menacing, closer to a scowl than a smile—is one he has cultivated for years. In the White House, his aides called it, simply, the Stare. He stands charged with illegally seeking to overturn the results of the 2020 election, in Georgia and nationally. If the Fulton County district attorney, Fani Willis, has her way, he will go on trial as soon as October 23rd, alongside a rogue's gallery of eighteen co-defendants in a scheme that Willis has likened to a criminal racketeering conspiracy.
The unprecedented photo of a former American President treated like a common criminal, which Willis seemed intent on orchestrating—Unless somebody tells me differently, Fulton County's sheriff had said earlier this week, we are following our normal practices—will go down in history, and not, it is safe to say, in a good way. Look at the mug shots of the Watergate conspirators: there is a grainy satisfaction in contemplating those black-and-white figures today, knowing how their stories ended up. Yet, for now, Trump sees only political gain—and, quite possibly, the spectre of a historic self-pardon—in that snarly snapshot from the Fulton County Jail. And why, after all, shouldn't he? The four indictments this year have been good for his poll numbers with the Republican base, good for his fund-raising, and good for his favored political move of presenting himself as a perpetual victim who must seek vengeance against his persecutors.
https://www.newyorker.com/news/letter-from-bidens-washington/the-harsh-glare-of-justice-for-donald-trump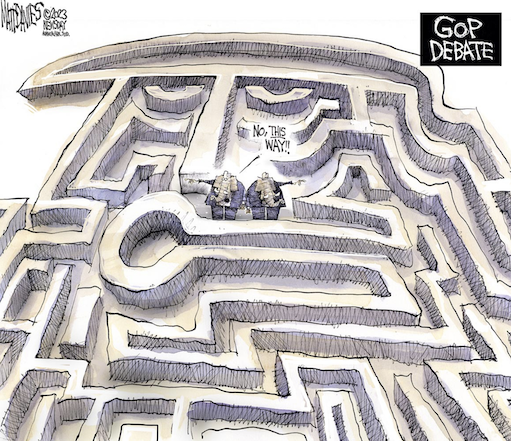 Maureen Dowd: Catch the Smug Mug on That Thug!
Trump is feral and cunning, and deep in his amygdala, he must have shivered, thinking to himself, Damn, I could go to prison. My liberty is actually at risk. Even though he has spent his whole life getting away with things, sliding out of things, stiffing people, conning people, he had to have a moment at the jail when he realized he is in the prosecutors' sights. He even went out and hired a real criminal lawyer.
Perplexing as it is, Trump devotees continue to adore him. President Biden sarcastically called Trump a handsome guy, but many on the right thrilled to his jailhouse portrait. I say this with an unblemished record of heterosexuality, Jesse Watters swooned on The Five on Fox News. He looks good, and he looks hard.
At the Republican debate, no one was big enough to shove him aside. Nikki Haley seemed the most appealing. Ron DeSantis's inability to smile is disqualifying. It was pathetic that the best the Florida governor could muster, asked if Mike Pence acted properly when he certified the election, was to say, I got no beef with him.
Vivek Ramaswamy seemed smarmy. Scott Jennings, a Republican commentator on CNN, said that Ramaswamy was Scrappy-Doo to Trump's Scooby-Doo. That comparison is not fair to Scooby or Scrappy, who are positive forces in the world, helping to unmask crooks, unlike Trump and his mini-me.
https://www.nytimes.com/2023/08/26/opinion/donald-trump-mug-shot.html
David Frum: The Fourteenth Amendment Fantasy
The fourteenth amendment won't save us from Donald Trump.
Eminent jurists are promising that it will. They argue that language in the Fourteenth Amendment, adopted after the Civil War, should debar the coup-plotting ex-president from appearing on a ballot for any office ever again. Their learning is undisputed. Their conclusions are another story. The project to disqualify Trump from running for president is misguided and dangerous. It won't work. If it somehow could work, it would create problems worse even than Americans already face. In an ideal world, Trump's fellow Republicans would handle this matter by repudiating his crimes and rejecting his candidacy for their presidential nomination. Failing that—and it certainly seems as if that hope is failing—opponents of Trump must dig deep and beat him at the polls one more time. There is no cheat code to win this game.
Stopping Trump by electoral means will be a tough and arduous fight. The fancied alternatives are dreams and delusions. Legal process can prosecute and punish crimes. It cannot save a nation from itself. That duty falls instead on each of us.
This summer's wish for a constitutional anti-Trump magic wand is an unfeasible, unhelpful fantasy. Let it go.
https://www.theatlantic.com/ideas/archive/2023/08/trump-disqualified-president-14th-amendment/675163/
Tom Nichols: The GOP's Dispiriting Display
Ever since Trump's ascent, nearly a decade ago, both his supporters and opponents have entertained a fantasy vision of the Republican Party, in which the conflict between the maga-verse and Trump's opponents would be firmly settled, with one side taking over the Party for good. But Trump's success has been partial—enough to raise doubts about the old consensus, on everything from foreign policy to deficits, without really establishing a new one. And so, beneath the iron grip that Trump has on the polls is the interesting mess of a party on display in last night's debate, in which everyone vowed himself a staunch conservative but no one seemed to really agree on what conservatism means.
In the run-up to the debate, there had been reminders of the worse fates that Pence, Haley and Christie had ducked: more than a dozen of Trump's co-conspirators were indicted in Georgia, alongside the former President, for allegedly participating in his scheme to reverse the outcome of the 2020 Presidential election; earlier in the day, Rudy Giuliani was photographed apparently headed into a bail bondsman's office. Perhaps fortified by those images, the Republican candidates were, as a group, more openly critical of Trump than leaders in their party have been in a very long time. But they also showed that they haven't yet managed the critical next step: articulating a plausible different direction. https://www.newyorker.com/news/daily-comment/a-chaotic-display-of-conservatism-at-the-first-republican-debate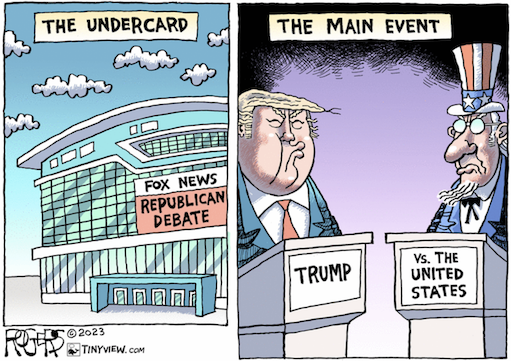 Matt Lewis: Republican Debaters Agreed on One Thing: They Hate Vivek Ramaswamy
That was the biggest takeaway from the Fox News debate on Wednesday night. And who can blame them?
'I'm the only person on the stage who isn't bought and paid for,' Vivek Ramaswamy boldly declared after calling climate change a 'hoax.' This broadside was arguably the moment that Ramaswamy became the most hated person on the debate stage, at least by his Republican adversaries…
Out of the gate, he looked pompous and oleaginous, with what can only be described as a smarmy, shit-eating grin that belied his sharp elbows. Regarding the slickness, Christie observed that he sounded 'like ChatGPT.' And regarding the elbows, at one point, even Sen. Tim Scott—you know, the optimistic guy who has a reputation for being too nice—even accused him of 'being childish.'
https://www.thedailybeast.com/republican-debaters-agreed-on-one-thing-they-hate-vivek-ramaswamy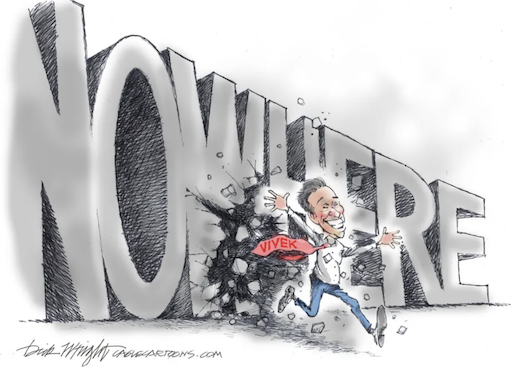 Abigail Tracy: House Democrats Have a Vocal Joe Biden Cynic in Their Ranks. He Says He's Not Alone
Dean Phillips is getting a little fed up with his party. The third-term Democratic congressman is on a crusade, he says. I'm saying we need presidential diversity on the stage. It is a toasty afternoon in mid-August at the WCCO-TV television studios in Minneapolis; Phillips has had a lot more media hits in recent weeks ever since he said Democrats need to challenge President Joe Biden in the presidential primary. In his words, he's just giving voice to private conversations (he wouldn't say with whom). The Democratic Party—and the country—shouldn't just gamble on an octogenarian with a roughly 42% approval rating to beat Donald Trump, Phillips tells me.
If Phillips's call to action has inspired any Democrats to jump on board in what will inevitably be an uphill battle against the sitting president, time is running out. As Phillips himself conceded in a recent interview with Minnesota's Star Tribune, it takes tremendous amount of effort and time to stand up a competitive presidential campaign—and state filing deadlines are approaching. In other words, this crusade may have started too late to begin with.
Still, Phillips, draped in a leopard-print salon cape as a makeup artist touches him up before his on-camera media hit, stands by his message. He promised to be a transitional president, he tells me. I think it's time for the new generation to rise…. Almost everybody in these circles in Washington kind of agreed, and then suddenly something shifted. 'Circle the horses, put on the blinders, get in line.' 
https://www.vanityfair.com/news/2023/08/dean-phillips-house-democrats-joe-biden-democratic-primary
Eugene Robinson: Trump's aggrieved victimhood is a recipe for carnage
To understand how completely Donald Trump has transformed the Republican Party, all you had to do was watch Wednesday's debate and Trump's surrender to Georgia authorities on Thursday.
The vibe was a mash-up of American carnage and aggrieved victimhood.
The eight also-rans in the race for the GOP presidential nomination outdid one another in trying to describe the wealthiest, most powerful country on Earth as some kind of hellish dystopia. It is not morning in America, yapped businessman Vivek Ramaswamy, amid his many flourishes of callow ignorance.
This is the party Trump has wrought. In order to save the GOP, voters need to destroy it — with a crushing defeat in 2024.
https://www.washingtonpost.com/opinions/2023/08/24/trump-georgia-surrender-republican-impact/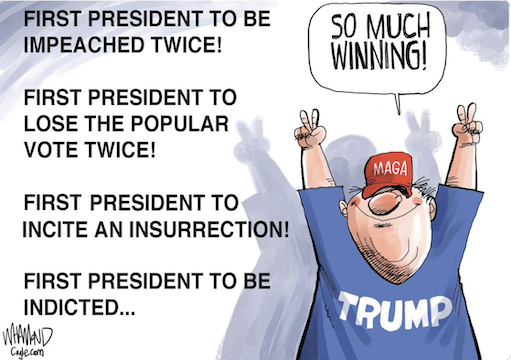 Susan B. Glasser The Harsh Glare of Justice
As much as anything, this week was the real start of the 2024 campaign, and the preview it offered suggested how much the next year will be dominated by variations on the tiresome theme of Trump, Trump, and Trump again. Even the former President's absence from the first Republican debate, on Wednesday, did little to distract from the story line of the poll-dominating elephant not in the room, as the Fox News anchor Bret Baier put it. \

In the end, six out of eight candidates confirmed what we already knew: they would back Trump as the nominee, essentially, no matter what. The two exceptions were Asa Hutchinson and Chris Christie. Someone has to stop normalizing this conduct, Christie said, of Trump, prompting audible boos from the audience. Baier and his co-anchor, Martha MacCallum, didn't even bother to ask which felony—out of the ninety-one counts, in four separate criminal indictments that he is currently facing—Trump might be convicted of. That was not the point of their hypothetical, which instead served to remind America that even Republicans ostensibly running against the ex-President are very likely to end up voting for him.

Watching these hopelessly outmatched candidates, I kept thinking back to one of the great lines from last summer's January 6th hearings in the House of Representatives. Trump's former campaign manager, Bill Stepien, described how, after the 2020 election, he and others had been part of Team Normal, those who tried and failed to convince Trump that he had really lost the election, only to find themselves pushed aside in favor of Team Crazy, whose members, led by Rudy Giuliani, aided and abetted Trump's lies about the rigged election. The Republican debate stage in Milwaukee this week was filled with candidates who came from what passes for Team Normal in today's G.O.P., figures such as Trump's former Vice-President, Pence; Trump's former U.N. Ambassador Haley; and Trump's former friend and adviser Christie.
The polls these days about the Republican race for 2024 are clear: Team Normal is a sideshow, and a highly compromised one at that. There should be little doubt that most of those who now claim to have moved on from Trump, such as Haley and Pence, will nonetheless raise their hands and vote for him again if they have to. For Republicans, for now, there is, once again, only Team Trump. https://www.newyorker.com/news/letter-from-bidens-washington/the-harsh-glare-of-justice-for-donald-trump
Maureen Dowd: Live by RICO, Die by RICO
Giuliani went from cleaning up corruption to ginning up corruption, from crimebuster to criminal defendant in Georgia and unindicted Co-Conspirator 1 in D.C. Rudy, the prosecutor who made his reputation aggressively pursuing RICO cases, is now Rudolph William Louis Giuliani, a defendant in the Georgia RICO case about the deranged plot to steal the election.

We have seen many cases of mobsters turning state's evidence for prosecutors. But now we have the rare experience of seeing a prosecutor turn into a mobster.

After all those years spent prosecuting the Five Families in New York, Giuliani surrendered himself to the lamest mob boss there ever was: Don Trump.

We saw the coup attempt play out, but it's startling to see the Georgia indictment refer to this criminal organization, members of the enterprise, corruptly solicited and acts of racketeering activity.

Trump, mentored by mob lawyer Roy Cohn, always loved acting like a mobster, playing the faux tough guy, intimidating his foes, swanning around like John Dillinger, Al Capone and John Gotti. He told Timothy O'Brien, the author of TrumpNation: The Art of Being the Donald, that he admired Gotti because the mobster sat through years of trials with a stone face. In other words, tough, Trump said.

Trump both fetishized mobsters and did business with them, O'Brien told me. The way he fetishizes mobsters informs this fascination he has about Putin and Kim Jong-un. He loves 'bad-ass' guys who roll like they want to roll. He sees himself the same way.
Rudy wants to be the mob slayer and then he winds up doing mobster-like things and getting in bed with a wannabe mobster, O'Brien said, and neither one of them can shoot straight, and they end up getting in trouble with the law. It's a dime-store psychodrama that is both comic and grotesque at the same time. https://www.nytimes.com/2023/08/19/opinion/rudy-giuliani-donald-trump-rico.html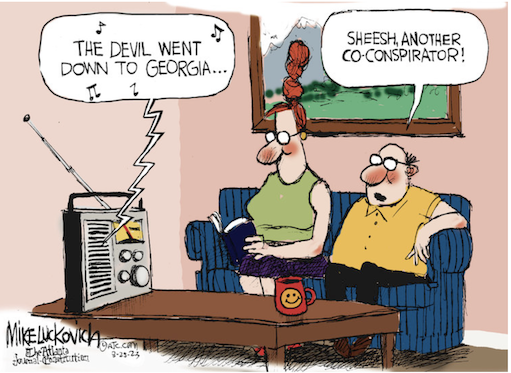 Michelle Goldberg: Vivek Ramaswamy Is Very Annoying. It's Why He's Surging in the Polls.
Of all the descriptors attached to Vivek Ramaswamy, the 38-year-old political tyro enjoying a bizarre surge in the Republican primary race for second place, the most common one seems to be "annoying." After the Republican presidential primary debate on Wednesday, a Politico headline quoted a party strategist about Ramaswamy's performance: "It just got to be annoying." In a widely shared essay, the writer Josh Barro, a Harvard contemporary of Ramaswamy, probed the quality that "makes Vivek so annoying." CNN's S.E. Cupp called him, in a column: "Obnoxious. Annoying. Disrespectful. Inexperienced. Conspiratorial."

Matt Lewis, an anti-Trump conservative writer for The Daily Beast, marveled that there are some who actually like Ramaswamy's cocky, know-it-all persona: "As Seinfeld might say, 'Who are these people?'"

The answer, of course, is much of the Republican Party. The Washington Post, FiveThirtyEight and Ipsos polled likely Republican primary voters before and after last week's debate. Following his performance, Ramaswamy's favorability rating rose from 50 percent to 60 percent, even though his unfavorability rating rose even more, from 13 percent to 32 percent. Participants in a CNN focus group of Iowa Republicans declared him the debate's winner, as did a poll released on Thursday from JL Partners. The day after the debate, his campaign reportedly raised more than $1 million.

The question is what Ramaswamy's supporters see in this irksome figure. Some Republicans, clearly, appreciate the way he sucks up to Donald Trump, whom Ramaswamy has called "the best president of the 21st century." But that doesn't explain the roughly 10 percent of Republicans who tell pollsters they're planning to vote for Ramaswamy instead of Trump. It can't only be his shtick as Fox News's "woke and cancel-culture guru," as one anchor called him, since at this point even the Florida governor Ron DeSantis has learned that railing against wokeness is a losing message. Nor is Ramaswamy's appeal tailored to the downwardly mobile Trump voters who appreciated the former president's pledges to protect their entitlements, since Ramaswamy's promise to "dismantle Lyndon Johnson's failed 'Great Society'" makes Paul Ryan look like a social democrat.
Instead, I suspect that Ramaswamy's fans are drawn to him for all the reasons his critics find him insufferable. Conservatives love being championed by representatives of groups that they think disdain them. Despite the right's deep resentment of the entertainment industry, Republicans tend to adore celebrity candidates, from Ronald Reagan to Arnold Schwarzenegger and Donald Trump. Think of the infamous tweet from Republicans on the House Judiciary Committee: "Kanye. Elon. Trump." (They deleted it once the rapper Kanye West's right turn veered into outright Hitler fandom.) At Democratic conventions I've seen famous actors walk around either unrecognized or ignored, while at Republican conventions C-listers are feted like superstars.
https://www.nytimes.com/2023/08/28/opinion/columnists/vivek-ramaswamy-surging-polls.html