October 17, 2019
ON THE RECORD. . .
"They didn't help us in the Second World War, they didn't help us in Normandy" and were only interested in fighting for "their land." With all of that being said, we like the Kurds." — Trump

From the day I announced I was running for President, I have NEVER had a good @FoxNews Poll. Whoever their Pollster is, they suck. But @FoxNews is also much different than it used to be in the good old days. With people like Andrew Napolitano, who wanted to be a Supreme.....Court Justice & I turned him down (he's been terrible ever since), Shep Smith, @donnabrazile (who gave Crooked Hillary the debate questions & got fired from @CNN), & others, @FoxNews doesn't deliver for US anymore. It is so different than it used to be. Oh well, I'm President! — Donald J. Trump @realDonaldTrump

"There is obviously a massive hypocrisy here. Pompeo was one of the ringleaders of a massive political circus around Benghazi; he was responsible for dragging countless Foreign Service officers, civil servants — people who had been serving Democrats and Republicans for decades — in front of Congress, through the mud. Now he's claiming that he's defending the institution? That irony is not lost." — Jen Psaki, State Department spokeswoman during the Benghazi probe.

"You look at what's happening over at the Justice Department, now we have a great attorney general. Whereas before that, with Jeff Sessions, it was a disaster. Just a total disaster. He was an embarrassment to the great state of Alabama. And I put him there because he endorsed me, and he wanted it so badly. And I wish he'd never endorsed me." — Trump slamming former Attorney General Jeff Sessions in a Daily Caller interview.

"I referred them to a campaign finance expert who pretty much resolved it." — Rudy Giuliani, two weeks ago, minimizing the campaign finance issues facing his two arrested Ukrainian researchers.

"We will open the gates and send 3.6 million refugees your way." — Turkish President Tayyip Erdogan says he will send the 3.6 million Syrian refugees in Turkey to Europe if European countries continue to criticize his military incursion in Syria.

"We have a duty to investigate whether the misuse of government resources for personal and political ends goes beyond Ukraine. We have an obligation to just see how deep this sewage flows." — Rep. Jim Himes (D-Conn.), a member of the House Intelligence Committee, suggesting that solely focusing on Ukraine could miss the opportunity to build a stronger case against the president. 

"Today, we have a weird, twisted president who thinks he's a gangster, who's not even a very good gangster … Gangsters have honor, you shake a hand and they have your word and you have theirs and that's it. But with this guy, it's not the case." — Robert De Niro, star of The Irishman, in which he plays a mafia killer, renewing his criticism of Donald Trump.

"Try to impeach him, just try it. There will be a spasm of violence and insurrection in this country like you've never seen. Both sides are heavily armed. A politician who votes for it will be endangering their own life." — Trump confidant Roger Stone.

"Yeah, I disagree with what he's doing now, I wish it wasn't happening, but I still fully support it." — Rep. Mark Green (R-TN), about Trump and Syria.

"Look in the mirror and figure out how you want to be remembered later and how you feel about yourself today." — Former Gov. John Kasich, giving advice to congressional Republicans.

"I mean, Elizabeth considers herself, if I got the quote correctly, to be a capitalist to her bones. I don't." — Bernie Sanders, seeking to differentiate himself from Elizabeth Warren.

"Rudy's out there running off of cliffs, smacking into road signs and watching his own schemes just blow up on him to defend Trump." — Rick Wilson, a former Giuliani adviser.

"We believe in democracy as a core concept, but in light of the invasion by Turkey and the existential threat its attack poses for our people, we may have to reconsider our alliances. The Russians and the Syrian regime have made proposals that could save the lives of millions of people who live under our protection. We do not trust their promises. To be honest, it is hard to know whom to trust. We know that we would have to make painful compromises with Moscow and Bashar al-Assad if we go down the road of working with them. But if we have to choose between compromises and the genocide of our people, we will surely choose life for our people." — The Kurds' commander in chief explains why his forces are finally ready to partner with Assad and Putin.

"We're going to take a look at it. We're going after these people. These are bad, bad people." — Trump threatening to sue top congressional Democrats Rep. Adam Schiff and House Speaker Nancy Pelosi amid the House impeachment inquiry into the President.

I would like you to do us a favor, though' — Trump responding to Ukrainian President Volodymyr Zelenskiy who told him that Ukraine was ready to buy more Javelin anti-tank missiles from the United States. These 10 words triggered the House impeachment inquiry that has imperiled his presidency. — Associated Press

"We want to make sure that we meet the needs of the investigation and not give the president or his legal minions the opportunity to tailor their testimony and in some cases fabricate testimony to suit their interests." — House Intelligence Committee Chairman Adam Schiff defending holding impeachment inquiry testimony behind closed doors.

When Barack Obama was president, he had a foreign policy principle that aides described as "Don't do stupid s---."  … unfortunately — as events in northern Syria are now proving — "stupid s---" is Trump's specialty. — Paul Waldman

Anyone who wants to assist Syria in protecting the Kurds is good with me, whether it is Russia, China, or Napoleon Bonaparte. I hope they all do great, we are 7,000 miles away!" — Donald J. Trump @realDonaldTrump.

"Democrats have crossed over the line of partisan politics and have undertaken a seditious conspiracy to overthrow the people's president. Nancy Pelosi should step down for betraying her oath of office and attempting to overthrow our great Republic." — Trump's campaign manager Brad Parscale.

"I'm not going to vote for the president, and I'm on record for saying that. He could come up with this $50 billion, he could walk across my pond and not get wet, and I'm still not going to vote for him because, you know, at the end of the day my name is Chris Gibbs, it's not Judas, and I'm not going to sell my political moorings for 30 pieces of silver." — Chris Gibbs, an Ohio farmer and former chairperson of the Shelby County Republican Party

"You can tell when Trump is cornered: he lashes out at everyone. In this case, the Europeans, the Turks, and even the Kurds are to blame. Pretty soon, he'll find a way to blame Biden, and perhaps Hillary Clinton, too. " — John Cassidy in the New Yorker

"I am not part of whatever drug deal Sondland and Mulvaney are cooking up." — Former National Security Adviser John Bolton, as recounted by Fiona Hill in her House impeachment testimony.

"Syria and Turkey can fight… They've got a lot of sand over there. There's a lot of sand that they can play with." — Trump, quoted by the AP

"He was insulting, particularly to the speaker. She kept her cool completely. But he called her a third-rate politician. … It was sort of a diatribe, a nasty diatribe not focused on the facts," — Senate Minority Leader Charles E. Schumer (D-N.Y.) after a meeting with Trump, which focused on Syria and during which impeachment was not discussed.
---
IN THIS ISSUE
FYI
OPINION
1. Andy Borowitz: Trump Accidentally Calls Biden Looking for Dirt on Biden
In the latest embarrassing communications slipup for the White House, Donald Trump called Joe Biden over the weekend looking for dirt on Joe Biden.

Reportedly, the phone call began with ten to fifteen minutes of pleasantries before Trump, who apparently did not realize he was speaking to the former Vice-President, asked Biden to investigate "Sleepy Joe and his crooked son, Sleazy Hunter."

Understandably, Biden took umbrage at this request, and only then did it become clear to Trump that he had called the wrong person.

After Biden was unmasked, Trump was urged to quickly hang up by Mike Pompeo, Mike Pence, Bill Barr, Betsy DeVos, and a half-dozen other senior Administration officials who had been listening in on the call. https://www.newyorker.com/humor/borowitz-report/
2. Senior Interior official denied there was an ozone hole and compared undocumented immigrants to cancer
William Perry Pendley, the acting director of the federal agency responsible for managing one in every 10 acres of land in the United States has repeatedly denied the existence of climate change and falsely claimed in a 1990s speech there was no credible evidence of a hole in the ozone layer.
In other comments uncovered during a CNN KFile review of his social media activity, writings and public appearances, Pendley cited an anti-Muslim figure to claim Islam was at war with the United States, compared undocumented immigrants to cancer and blamed them for diseases. https://www.cnn.com/2019/10/08/politics/william-perry-pendley-blm-kfile/index.html
3. As Elizabeth Warren Rises, the G.O.P. Deploys an Old Tactic
Republicans have tried to brand her as a socialist, attack her policy ideas and portray her as too left-wing for the American electorate. None of those arguments have diminished her political momentum, robust fund-raising or polling.
But in the past week, conservative news sites have challenged Ms. Warren's story about how a public school principal forced her out of a teaching job in 1971 because she was 'visibly pregnant,' and the Republican National Committee grabbed onto the issue to wage its own attack. In doing so, Republicans employed a tactic — questioning a female candidate's authenticity — that is at once often a sexist trope in politics and a strategy used against Hillary Clinton in 2016. https://www.nytimes.com/2019/10/10/us/politics/elizabeth-warren-fired-teaching.html
4. Now That Shep Smith Is Gone, Trump Zeroes In On Fox News' Chris Wallace
Now that President Donald Trump doesn't have Shepard Smith to kick around at Fox News any longer, he's attacking "Fox News Sunday" host Chris Wallace.
Wallace is one of the few remaining news hosts at Fox who routinely presents a balanced perspective, and who often challenges Trump's policies and statements. Smith abruptly resigned from Fox on Friday after being repeatedly criticized by Trump. https://www.huffpost.com/entry/shep-smith-chris-wallace-fox-news-donald-trump_n_5da3e3b2e4b087efdbb0b29b
5. Judge blocks Trump move to deny green cards to recipients of government benefits
Three separate federal judges on Friday blocked a Trump administration regulation that permits immigration officials to deny green cards to immigrants who receive certain government benefits.
The rulings will prevent the so-called public charge regulation from taking effect as scheduled on Oct. 15. Under the measure, immigrants will be scrutinized for their use of food stamps, welfare, Medicaid, and housing assistance — or the likelihood they might use such benefits in the future.
In a 24-page order, Manhattan-based U.S. District Judge George Daniels said the Trump administration likely exceeded its authority when it expanded the guidelines for determining who should be labeled a public charge.
Daniels wrote the Trump administration failed to explain why it was changing the definition of a public charge or why the change was needed now. Furthermore, he ripped the administration's new standard, saying it "has absolutely no support in the history of U.S. immigration law."
"The rule is simply a new agency policy of exclusion in search of a justification," he wrote. https://www.politico.com/news/2019/10/11/judge-blocks-trump-green-card-public-benefits-regulation-044666
6. Trump renews claim that he is immune from criminal investigation in effort to block Manhattan DA probe
President Trump on Friday repeated his assertion of sweeping executive immunity — arguing in court that, because he is president, he cannot be investigated by any prosecutor, anywhere.
Trump's personal attorneys made the argument in a filing with the U.S. Court of Appeals for the 2nd Circuit in New York. They are seeking to overturn a lower court's dismissal of a suit the president filed seeking to block Manhattan District Attorney Cyrus Vance Jr. (D) from obtaining Trump's tax returns. https://www.washingtonpost.com/politics/trump-renews-claim-that-he-is-immune-from-criminal-investigation-in-effort-to-block-manhattan-da-probe/2019/10/11/e7d0df28-ec5d-11e9-9c6d-436a0df4f31d_story.html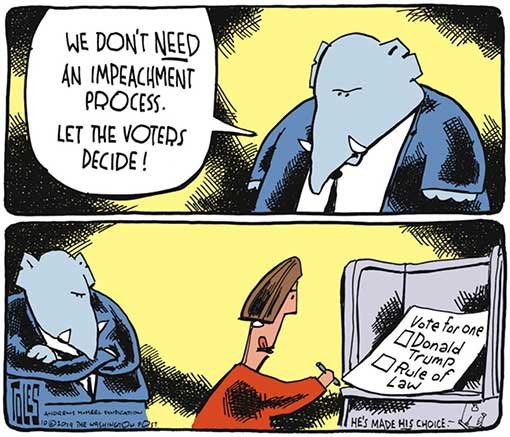 7. Gruesome Video of Fake Trump Killing Media in Mass Shooting Played at One of His Resorts
At a time when our nation is facing an epidemic of mass shootings, supporters of President Donald Trump showed a violent depiction of a fake Trump massacring members of the news media using a gun and other weapons at a conference held at one of the president's resorts, the New York Times reported Sunday night.
American Priority, a group that supports the president, hosted the conference at Trump National Doral Miami. Former White House press secretary Sarah Huckabee Sanders, the president's son Donald Trump Jr. and Florida Governor Rick DeSantis were all scheduled to speak at the event. But Huckabee Sanders and a source close to Trump Jr. denied either saw the video.
Bloomberg technology reporter William Turton surfaced a video matching the description from the Times on YouTube. The video appears to have been uploaded by YouTube account TheGeekzTeam in July 2018, and the account has posted other videos doctored to make it look like Trump is violently killing his enemies. Although Turton said he has not yet been able to confirm the YouTube video was the same one played at the conference, the details in the video as described by the Times line up, although portions like the Barack Obama interview at the end of the video were not reported to have been shown. https://www.rollingstone.com/politics/politics-news/gruesome-video-fake-trump-mass-shooting-898446/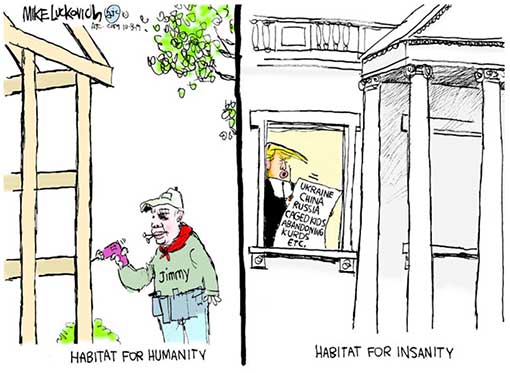 8. The DAILY GRILL
"As you know, you have designed and implemented your [impeachment] inquiry in a manner that violates fundamental fairness and constitutionally mandated due process. For example, you have denied the President the right to cross-examine witnesses, to call witnesses, to receive transcripts of testimony, to have access to evidence, to have counsel present, and many other basic rights guaranteed to all Americans." —White House counsel Pat Cipollone, in a letter to House Democratic leaders.
"Even Salem witch trials didn't use anonymous testimony. The accused had to be confronted by a witness willing to put their name and reputation behind the charges and then had to be available for cross examination. Ah, the Soviet Union had trials with anonymous, unnamed witnesses. Welcome to McCarthy II." — Rudolph W. Giuliani tweet.

VERSUS

It is grossly misleading to say Trump is unable to call or cross-examine witnesses, or have counsel present, in the House impeachment inquiry. The Constitution says the Senate holds impeachment trials. The House, on the other hand, acts as the prosecutor. The founders thought about it, and that's how they split their roles. Especially bonkers is Giuliani's comparison to the Salem witch trials and McCarthyism. But it should not go unnoticed that the White House counsel's letter, though more sober in tone, makes the unfounded claim that House Democrats are violating Trump's "constitutionally mandated due process" rights. The Supreme Court ruled in 1993 that impeachment proceedings are different from those in the criminal justice system and that judges could not referee impeachment questions. These claims are worth Four Pinocchios. -- Salvador Rizzo in the Washington Post

 

On Monday, Trump announced sanctions on Turkey to punish it for the offensive. On Tuesday, a senior U.S. official said Washington would threaten more sanctions to persuade Turkey to reach a ceasefire and halt its offensive. — Reuters

VERSUS

"They say 'declare a ceasefire'. We will never declare a ceasefire. They are pressuring us to stop the operation. They are announcing sanctions. Our goal is clear. We are not worried about any sanctions." — Turkey's President Tayyip Erdogan
9. From MEDIA MATTERS (They watch Fox News so you don't have to)
An upcoming book excerpted by Esquire reveals "another 43 allegations of alleged inappropriate behavior" by President Donald Trump, "including 26 instances of unwanted sexual contact." The women discussed in the book join the 24 others who have already publicly said the president sexually assaulted them or made unwanted advances to them. So far, major American newspapers are ignoring the story. https://www.mediamatters.org/sexual-harassment-sexual-assault/forty-three-new-women-came-forward-describe-assault-and-harassment

Sean Hannity and Eric Trump agree "there is no question" the Ukraine scandal "starts with Obama." https://www.mediamatters.org/sean-hannity/sean-hannity-and-eric-trump-agree-there-no-question-ukraine-scandal-starts-obama

Trump's right-wing media allies are making an extraordinary number of sometimes-contradictory arguments all coming to the conclusion that he did nothing wrong (or if he did, it wasn't really that bad). https://www.mediamatters.org/trump-impeachment-inquiry/right-wing-media-cant-get-their-story-straight-impeachment-they-agree

Asked about arrest of Giuliani associates, Peter Schweizer tells Fox: "This goes back to the Obama administration." https://www.mediamatters.org/peter-schweizer/asked-about-arrest-giuliani-associates-peter-schweizer-tells-fox-news-goes-back

Fox's Jeanine Pirro says that the CIA is "attempting a coup against the United States president." https://www.mediamatters.org/trump-impeachment-inquiry/foxs-jeanine-pirro-says-cia-attempting-coup-against-united-states

Right-wing media can't get their story straight on impeachment, but they agree Trump is innocent. Fox host and occasional Trump adviser Sean Hannity said that the president had "a sworn duty, a constitutional duty" to ask Ukraine to investigate Biden and his son, Hunter. Hannity's Fox News colleague Gregg Jarrett has also said that if Trump had not asked Ukraine to investigate Biden, it would have been "a dereliction of his constitutional duty." https://www.mediamatters.org/trump-impeachment-inquiry/right-wing-media-cant-get-their-story-straight-impeachment-they-agree
10. From the Late Shows
Cut for Time: Giuliani & Associates - SNL: https://youtu.be/Q4-5-CGq39k
11. Giuliani's Ukraine Team: In Search of Influence, Dirt and Money
Over the past year, the two men connected Mr. Giuliani with Ukrainians who were willing to participate in efforts to push a largely unsubstantiated narrative about the Bidens. They played a key role in a campaign by pro-Trump forces to press for the removal of the United States ambassador to Ukraine on the grounds that she had not shown sufficient loyalty to the president as he pursued his agenda there.
They met regularly with Mr. Giuliani, often at the Trump International hotel in Washington. And all the while, they were pursuing their own business schemes and, according to an indictment unsealed on Thursday, illegally funneling campaign contributions in the United States in the service of both their political and business activities.
The indictment, along with interviews and other documents, show Mr. Parnas, Mr. Fruman and their associates as somewhat hapless operators, scrambling recklessly to use their new connections to the highest levels of American politics to seek financial gain while guiding Mr. Giuliani, the former New York City mayor, into a Ukrainian political culture rife with self-dealing and ever-shifting alliances. https://www.nytimes.com/2019/10/10/us/politics/rudy-giuliani-ukraine-associates.html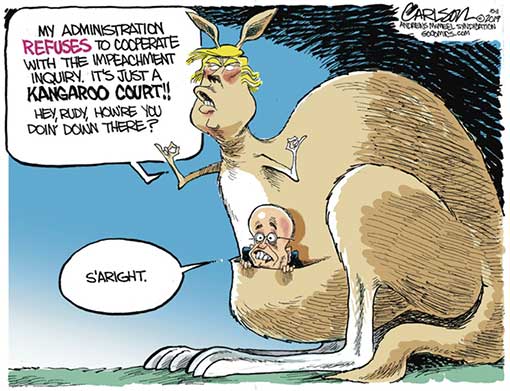 12. The 'No Collusion' Song Goes Silent
Team Trump's "no collusion" tune has gone silent in the latest round of foreign election interference.
The evidence is clear from Trump's own words that he sought to motivate Ukraine to manufacture dirt on Joe Biden and his son by opening a criminal investigation in Ukraine that—to date—has no basis in fact. The silence suggests that Team Trump knows the "no collusion" cry won't work this time. https://thebulwark.com/the-no-collusion-song-goes-silent/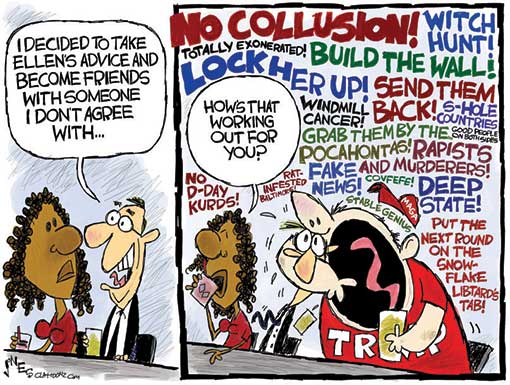 13. Impeachment fight tests Constitution's limits
Trump has spent his time in office trying to bend the conventions of the American presidency to his will. Now he appears to be trying to override a core principle of democracy: that no one is above the law.
Faced with an impeachment inquiry, Trump has openly defied the core constructs of the Constitution. He chafes at the idea of co-equal branches of government and rejects the House's right to investigate him.
He has deployed a convoluted logic in which he has declared that the courts can't investigate him because as president he cannot be charged with a crime but also that Congress cannot impeach him because its inquiry is politically illegitimate.
It's a "heads he wins, tails you lose" formulation. https://apnews.com/5be8de56073f453695dfad84e71a928f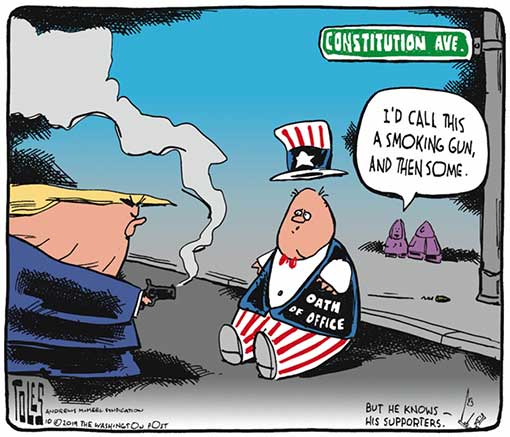 14. More Potential Whistleblowers Are Contacting Congress
"New potential whistleblowers are coming forward to the House Democrats' impeachment inquiry, two congressional sources tell The Daily Beast. 
They seem to be emboldened by the actions of the whistleblower whose explosive account of President Donald Trump's phone call to Ukraine's Volodymyr Zelensky about investigating Trump's domestic political rivals ignited the impeachment inquiry. Another whistleblower is known to have come forward. 
Congressional investigators are currently vetting the new accounts they've received for credibility. Accordingly, knowledgeable sources would not discuss where in the government these new would-be whistleblowers come from, nor what they purport to have to say. https://www.thedailybeast.com/more-potential-whistleblowers-are-contacting-congress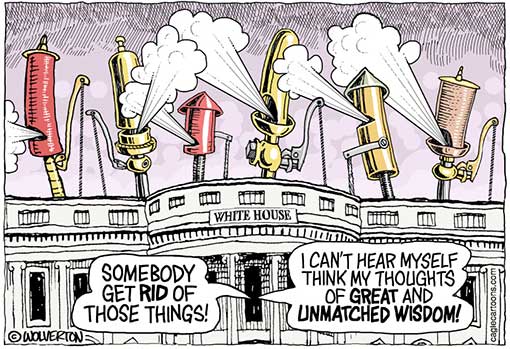 15. Trump Taxes: Justice Dept. Asks Judges to Block Subpoena
The Justice Department asked a federal appeals court on Friday to stop the release of President Trump's tax returns to the Manhattan district attorney's office, arguing that local prosecutors should have to meet a very high legal bar before investigating a sitting president.
The filing meant Mr. Trump's own Justice Department was lending support to his attempt to block a subpoena demanding eight years of his personal and corporate tax returns. The district attorney's office issued the subpoena to Mr. Trump's accounting firm in late August as part of an investigation into hush-money payments made before the 2016 presidential election.
But in its filing, the Justice Department, which is led by Attorney General William P. Barr, stopped short of endorsing Mr. Trump's most sweeping argument: that sitting presidents are totally immune from all criminal investigations. https://www.msn.com/en-us/news/politics/trump-taxes-justice-dept-asks-judges-to-block-subpoena/ar-AAIE18Q?sf17491758=1
16. District Court Rules Against Trump in Border Wall Case
The U.S. District Court for the Western District of Texas found President Trump's proclamation declaring a national emergency at the southern border to be unlawful, ruling that the use of funds for this project violates the Consolidated Appropriations Act. https://www.lawfareblog.com/district-court-rules-against-trump-border-wall-case
17. Raw, angry, uncensored: Welcome to Trump's impeachment-era campaign
Russian interference in 2016 was right down the Trump campaign's alley
The confluence of the Russian operation with Trump's campaign was evident in the Senate committee's finding "that no single group of Americans was targeted by IRA information operatives more than African-Americans. By far, race and related issues were the preferred target of the information warfare campaign designed to divide the country in 2016."
The Senate Intelligence Committee was not alone in its findings.
Former special counsel Robert S. Mueller III, who in 2018 filed a federal indictment on Russian activities as far back as 2014, also found that the Russians (like their Trump campaign counterparts) concentrated on encouraging blacks not to vote in the presidential election or to vote for a third-party candidate.
One example of a post to the Russia-controlled Instagram account "Woke Blacks": "[A] particular hype and hatred for Trump is misleading the people and forcing Blacks to vote Killary. We cannot resort to the lesser of two devils. Then we'd surely be better off without voting AT ALL."
On the IRA's Instagram account "Blacktivist": "Choose peace and vote for Jill Stein. Trust me, it's not a wasted vote." https://www.washingtonpost.com/opinions/the-trump-campaign-and-russian-government-are-apparently-on-the-same-moral-plane/2019/10/11/3b6fa978-eb84-11e9-9306-47cb0324fd44_story.html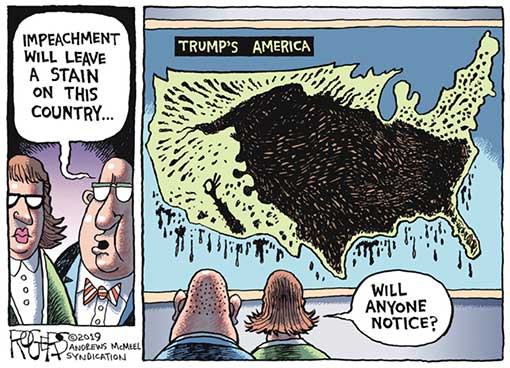 18. The Impeachment Loophole No One's Talking About
The Constitution doesn't indicate that removal from office requires two-thirds of the Senate. It requires two-thirds of senators present for the proceedings.
The inclusion of this single word in the Constitution's impeachment clauses shifts the mathematical ledger of how impeachment, however unlikely, could go down. It allows for the all-important two-thirds threshold to exist along a sliding scale—far from the full attendance of the 100-member Senate. In theory, a vote to convict the President (or anyone else) would count as legal with as few as 34 members, not 67, assuming the absolute minimum (51) participated.
"The Constitution contains quorum requirements [elsewhere] and clearly distinguishes between percentages of a particular chamber and percentages of 'members present,'" said Laurence Tribe, a professor of constitutional law at Harvard Law School and the co-author of the book To End a Presidency: The Power of Impeachment. "That language in the provision for Senate conviction on impeachment charges is quite deliberate, creating precisely the possibility" described above. https://www.washingtonian.com/2019/10/10/the-impeachment-loophole-no-ones-talking-about/
19. Glenn Kessler's quick guide to Trump's false claims about Ukraine and the Bidens
Trump has long relied on repetition to spread his falsehoods into the national discourse. As the whistleblower complaint about his dealings with Ukraine has led to a possible impeachment crisis, he has repeated previously fact-checked claims about former vice president Joe Biden while introducing new ones. We've been trying to keep up at The Fact Checker, doling out lots of Pinocchios, but our reports have been scattered over several days.
This is one of those complex stories that consume Washington but frequently confuse ordinary Americans. Trump appears to be counting on that confusion to offer a fog of claims and allegations to make it appear as if Biden had done something wrong. A quick guide to Trump's statements — and the truth is at: https://www.washingtonpost.com/politics/2019/09/27/quick-guide-trumps-false-claims-about-ukraine-bidens/
20. Giuliani was paid $500,000 to consult on indicted associate's firm
Donald Trump's personal attorney, Rudy Giuliani, was paid $500,000 for work he did for a company co-founded by the Ukrainian-American businessman arrested last week on campaign finance charges, Giuliani told Reuters on Monday. https://www.reuters.com/article/us-usa-trump-whistleblower-giuliani-excl-idUSKBN1WU07Z
21. Republicans drop their revolt against Trump on Syria
The Republican rebellion against President Donald Trump was short-lived.
Republicans unleashed perhaps their most aggressive outcry of the Trump era after he abandoned the U.S.' Kurdish allies and ceded northeastern Syria to Turkey. But now GOP lawmakers are dialing back their direct criticism of the president — instead working with Trump, dinging Democrats and trying to move forward.
But already, the GOP fury toward Trump is winding down — just the latest example of how eager Republicans are to avoid a breach with the president and a reminder of how difficult it will be for Democrats to win over Republicans in the fast-moving impeachment inquiry. https://www.politico.com/news/2019/10/15/republicans-buckle-to-trump-on-syria-047618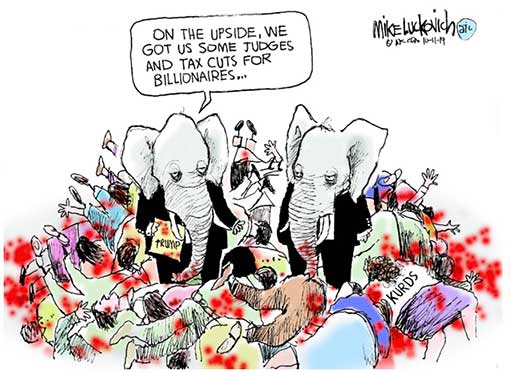 22. Video Shows Russians Have Moved Into Former U.S. Base
A journalist traveling with Russian-backed forces released a video that appeared to show Russians inside of a now-abandoned U.S. base near the town of Manbij in northern Syria. https://twitter.com/Kyruer/status/1184018510835568641
23. How Don Jr., Ivanka, and Eric Trump Have Profited Off Their Dad's Presidency
Setting aside the alternative facts underlying the Trump kids' criticisms of Hunter Biden, however, their decision to wade into this controversy is notable for a different reason: During their father's tenure as president, Don Jr. and Eric have repeatedly managed to cash in on their newfound positions of political privilege in their business dealings. So, too, have their sister Ivanka and brother-in-law Jared Kushner, both of whom hold senior positions in the administration and whose companies and investment portfolios netted them anywhere between $29 million and $135 million last year, per their financial disclosure forms.
For some of the highlights of when the family's business intertwining with government affairs constituted the "appearance of impropriety" and "conflict of interest" go to https://www.gq.com/story/trump-kids-profit-presidency
24. CBS News poll: Most Americans favor a national health plan
Fifty-six percent of Americans think providing access to affordable health care coverage for all Americans is the responsibility of the federal government, and two-thirds favor the creation of a national, government-administered health insurance plan similar to Medicare that would be available to all Americans.
But few who favor a "Medicare for All" plan want it to become the only form of health insurance available. Six in 10 would want it to compete with private health insurance as a choice for those who want it, rather than replace all private insurance. Most Democrats hold this view as well.  https://www.cbsnews.com/news/2020-polls-national-health-care-plan-favored-by-most-americans-cbs-news-poll-finds/
1. Jelani Cobb: Why Trump, Facing Impeachment, Warns of Civil War
Trump's problems are self-inflicted. He brought the freewheeling amorality with which he led the Trump Organization—an enterprise he continues to profit from—to the White House. From the loftiest perch in American politics, Trump has spewed vitriol, trampled norms, provoked violence, nurtured racism and misogyny, invited foreign intervention into an American election, befriended adversaries, and alienated allies. He followed up his civil-war threat on Tuesday, tweeting, "I am coming to the conclusion that what is taking place is not an impeachment, it is a COUP, intended to take away the Power of the People, their VOTE, their Freedoms, their Second Amendment, Religion, Military, Border Wall, and their God-given rights as a Citizen of the United States of America!" It was a breathtakingly irresponsible and foolish comment that could reasonably provoke violence among his most devout followers. As the blog Lawfare noted this week, far-right militias are taking Trump's language about war and the possibility of a Democratic coup d'état seriously. https://www.newyorker.com/news/daily-comment/why-trump-facing-impeachment-warns-of-civil-war
2. Ashley Parker: The 'I'm rubber, you're glue' presidency: Trump turns to schoolyard taunts in impeachment battle
After House Democrats launched an impeachment inquiry into President Trump, the Oval Office occupant countered with a creative offer of his own: Impeach me? No, impeach you!
And so it was that Trump suggested, in a series of tweets, that perhaps the two California Democrats leading the effort against him — House Speaker Nancy Pelosi and Rep. Adam B. Schiff, chairman of the House Intelligence Committee — should be impeached instead.
"Must all be immediately Impeached!" wrote Trump, who, in a separate missive, also debuted an "#IMPEACH­­MITT­ROMNEY" hashtag, after Sen. Mitt Romney (R-Utah) criticized him for calling on both Ukraine and China to investigate a political rival.
Left unsaid was the pesky fact for the president that lawmakers cannot, in fact, be impeached. But the schoolyard taunt offered another window into Trump's "I'm rubber, you're glue" approach to the impeachment inquiry now consuming his administration.
Though the White House has yet to launch an official war room to fight the Democratic investigation, it is putting forth something of a one-man platoon in the form of the president himself — in the role of playground bully, wielding his shamelessness like a weaponized rubber kickball, ready to pummel into the mud anyone who dares to level a charge against him.
The tactic epitomizes Trump's "I know you are but what am I?" presidency, a long-held strategy in which Trump turns an accusation back forcefully on his accuser, regardless of how outlandish or fallacious the countercharge may be. https://www.washingtonpost.com/politics/the-im-rubber-youre-glue-presidency-trump-turns-to-schoolyard-taunts-in-impeachment-battle/2019/10/09/a609ba8c-eaab-11e9-85c0-85a098e47b37_story.html
3. George Will: The spiraling president adds self-impeachment to his repertoire
Trump's gross and comprehensive incompetence now increasingly impinges upon the core presidential responsibility. This should, but will not, cause congressional Republicans to value their own and their institution's dignity and exercise its powers more vigorously than they profess fealty to Trump. He has issued a categorical refusal to supply witnesses and documents pertinent to the House investigation of whether he committed an impeachable offense regarding Ukraine. This refusal, which is analogous to an invocation of the Fifth Amendment protection against self-incrimination, justifies an inference of guilt. Worse, this refusal attacks our constitutional regime. So, the refusal is itself an impeachable offense.
The canine loyalty of Senate Republicans will keep Trump in office. But until he complies with House committee subpoenas, the House must not limply hope federal judges will enforce their oversight powers. Instead, the House should wield its fundamental power, that of the purse, to impose excruciating costs on executive branch noncompliance. This can be done.
In 13 months, all congressional Republicans who have not defended Congress by exercising "the constitutional rights of the place" should be defeated. If congressional Republicans continue their genuflections at Trump's altar, the appropriate 2020 outcome will be a Republican thrashing so severe — losing the House, the Senate and the electoral votes of, say, Georgia, Arizona, North Carolina and even Texas — that even this party of slow-learning careerists might notice the hazards of tethering their careers to a downward-spiraling scofflaw.
https://www.washingtonpost.com/opinions/the-spiraling-president-adds-self-impeachment-to-his-repertoire/2019/10/10/8c1a739c-eb7c-11e9-9c6d-436a0df4f31d_story.html
4. Richard L. Hasen: The Arrest of Giuliani's Ukraine Associates Shows How Much Trump Has Already Corrupted Our Elections
The news of Thursday's indictments of two associates of Rudy Giuliani's, who according to their lawyer (and former Trump lawyer) John Dowd, assisted Giuliani "in connection with his representation of President Trump" shows that foreign interference in American elections is a feature and not a bug of the Trump campaign and presidency. And the connections to the emerging Ukraine scandal show that the corruption runs deep in this administration.
But more interesting than the details of the petty influence-peddling efforts are the allegations in the complaint that the purpose was to further the bigger political goals of the co-conspirators. According to the Wall Street Journal, the defendants funneled $325,000 to a pro-Trump super PAC. They then worked with the president's personal attorney, Giuliani, to remove the U.S. ambassador to Ukraine. (They further allegedly sought to lobby an unnamed congressman to seek the ambassador's removal.) The apparent goal was to move her out of the way so Giuliani, on Trump's behalf, could pressure Ukraine prosecutors to dig up or fabricate dirt on Joe Biden and his son Hunter. All of this is at the center of Congress' impeachment inquiry of the president, and House Democrats were reportedly due to seek to depose the two men as critical witnesses prior to their arrest.
All of this holds vast implications for the House's impeachment probe and the picture is only starting to come together. https://slate.com/news-and-politics/2019/10/giuliani-ukraine-associates-arrested-sdny-trump-corrupt-elections.amp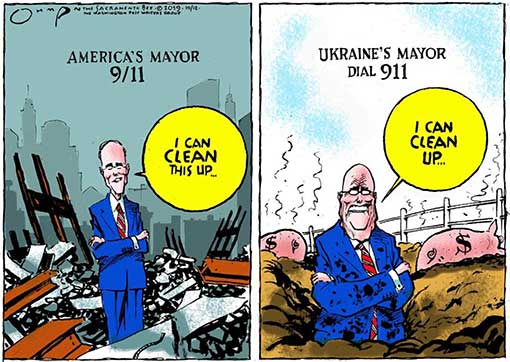 5. Barbara McQuade: Trump's Impeachment Strategy: Trick Americans Into Blaming Congress
The White House responded to the impeachment inquiry into President Trump on Tuesday with a letter arguing that the administration has no obligation to comply with congressional demands for testimony and documents. The letter is remarkable for a number of reasons, including the cynicism displayed by its author.
Cipollone contends that the real culprit here is Congress, arguing that House Intelligence Committee Chairman Adam Schiff mischaracterized the Trump-Zelensky call during a House hearing, and that the whistle-blower sought guidance from the Intelligence Committee before filing his complaint, contrary to a statement by Schiff that "we have not spoken directly to the whistle-blower." Schiff explained that he was paraphrasing Trump's phone call to help people understand its gravity. Additionally, there is no prohibition on a whistle-blower's seeking procedural guidance from the congressional intelligence committees. If Schiff has behaved inappropriately, then he should be subject to sanctions. But none of this excuses the president's betrayal of his duty to the public.
And here is where the cynicism should alarm and disgust us. This is one of President Trump's favorite gaslighting moves — to not only deny the accusations, but to suggest that it is actually his opponent who is the wrongdoer. Trump demonstrated this tactic during a debate with Hillary Clinton: When she accused him of being a puppet for Russian president Vladimir Putin, he responded by calling her a puppet (his memorable phrase: "No puppet. No puppet. You're the puppet!"). No matter that the accusation was a complete non sequitur.
Cipollone does the same here when he argues about procedural rights such as "due process." His argument may sound persuasive to people who have only a passing familiarity with such terms, and are unaware that these rights do not apply at this investigative stage. The administration's blanket invocation of absolute executive privilege puts the executive branch beyond the reach of congressional oversight, an outcome that is completely at odds with our system of government. And if the call was "completely appropriate," then there is no need to hide the facts.
The reality is that this stonewalling to prevent the discovery of the truth is a gross deviation from our constitutional values, and is itself grounds for impeachment. http://nymag.com/intelligencer/2019/10/trumps-impeachment-plan-fool-americans-blame-congress.html
6. Jonathan Chait: Trump's Watergate Burglars, Lev Parnas and Igor Fruman, Just Got Arrested
Lev Parnas and Igor Fruman were carrying out President Trump's scheme to pressure Ukraine to investigate his domestic rivals. This morning, the two men were arrested on campaign-finance charges as they attempted to leave the country.
Ultimately, the campaign-finance violations are a small part of their overall plot. Parnas and Fruman were the rough equivalent of the Watergate burglars. A July profile of the two, by the Organized Crime and Corruption Reporting Project, creates the distinct impression that both men are goons. Not violent goons, but people who specialize in highly unethical or illegal activity that may involve organized crime.
Parnas and Fruman were working with Giuliani, who represents the two as their lawyer, to encourage various Ukrainians to investigate Trump's opponents in Ukraine. Their work initially focused on discrediting the Mueller investigation, and later evolved to include pursuing unsubstantiated allegations against the Biden family. At the same time they were advancing Trump's agenda, they were working on a side hustle in which they tried to push Ukraine's state-controlled energy sector to sign them up to export liquid natural gas. The gas proposal appears to be their payoff: They could let Ukraine know they represented Trump, and Ukraine would therefore have an incentive to throw some business their way, despite their lack of expertise in the inner workings of the energy business. http://nymag.com/intelligencer/2019/10/parnas-and-fruman-trumps-ukraine-fixers-just-got-arrested.html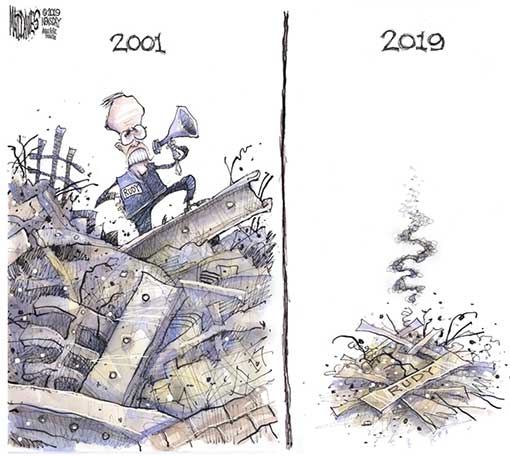 7. Washington Post Editorial: Trump's blunder in Syria is irreparable
Mr. Trump — with no consideration, no warning, no consultation with allies, no regard for the other nations that have fought alongside the United States and risked their men and women in the fight — has turned tail. In the past two years, courageous U.S. troops cooperated with our Kurdish allies to defeat the deadly Islamic State caliphate. These allies lost more than 11,000 men and women killed; the United States, a dozen. It was a rare U.S. success in the Middle East.
The president has thrown it all away. His surrender is so hasty that U.S. forces could not execute a long-standing plan to take dozens of high-profile Islamic State detainees with them; we can expect to hear from those terrorists before long, in the region, in Europe or in the United States. The Islamic State is likely to exert its malign force again. The allies who fought alongside of us are being slaughtered, and noncombatant women and children, too. Iran is strengthened, which threatens Israel. The murderous Syrian dictator Bashar al-Assad is strengthened, too. Russia is taking charge. America's adversaries could not have scripted a better outcome.
Mr. Trump likes to preen and posture as a champion of American fighters. But what more bitter medicine could any commander in chief administer to U.S. troops than ordering them to abandon the comrades who fought alongside them? He likes to preen, too, as a great enemy of Iran, and even as he runs from Syria he is ordering 1,800 American troops to Saudi Arabia, ostensibly to deter Iran. But that deployment, while proving the utter incoherence of his claim of "ending wars in the Middle East," will have far less effect on Iran than the U.S. pullout from Syria, which opens the door for it to swell its influence there, on Israel's border. https://www.washingtonpost.com/opinions/global-opinions/trump-had-one-foreign-policy-success-he-just-threw-it-away/2019/10/14/165c96cc-ee87-11e9-89eb-ec56cd414732_story.html
8. Dana Milbank: Donald Trump, absolutely corrupted
President Trump has proved to the 21st century that Lord Acton's 19th-century maxim still holds: Power corrupts, and absolute power corrupts absolutely.
Trump began staking his title to absolute power in his first weeks in office. "The whole world will soon see, as we begin to take further actions, that the powers of the president to protect our country are very substantial and will not be questioned," White House adviser Stephen Miller announced. He wasn't kidding.
Trump soon stated that "I have the absolute right" to fire FBI Director James Comey. He subsequently proclaimed the "absolute right" to provide Russia with an ally's highly classified intelligence; the "absolute right" to pardon himself; the "absolute right" to shut down the southern border; the "absolute right" to fire special counsel Robert Mueller; the "absolute right" to sign an executive order removing the Constitution's birthright-citizenship provision; the "absolute right" to contrive a national emergency to deny Congress the power of the purse; the "absolute right" to order U.S. businesses out of China; the "absolute right" to release apparent spy-satellite imagery of Iran; and, most recently, the "absolute right" to ask other countries to furnish evidence that Joe Biden is corrupt.
Kellyanne Conway asserted Trump's "absolute right" to give his son-in-law a security clearance over security professionals' objections. White House counsel Pat Cipollone said current and former White House officials are "absolutely immune" from testifying before Congress. As others have noted, Trump has repeatedly said the Constitution's Article II empowers him "to do whatever I want" and bestows on him "all of these rights at a level nobody has ever seen before." https://www.washingtonpost.com/opinions/donald-trump-corrupted-absolutely/2019/10/11/92b0c720-ec34-11e9-85c0-85a098e47b37_story.html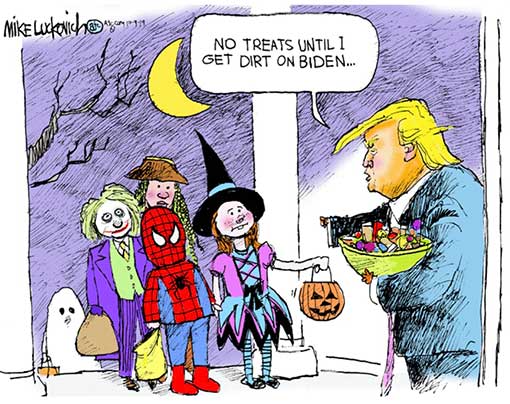 9. Dan Balz: Impeachment has put Trump in a different place. He's showing it every day
President Trump delivered a characteristic performance Thursday night in Minneapolis. His 100-minute rally speech was complete with scattered vulgarities, caustic attacks on political opponents, including former vice president Joe Biden and his son Hunter, and an accusation that Democrats who have begun an impeachment inquiry are carrying out "a brazen attempt to overthrow our government."
For the president it was all in a day's work. And ever since the first stories broke three weeks ago about Trump's efforts to pressure the Ukrainian government to help find damaging information about the Bidens and about Hillary Clinton, there has been some version of the Minnesota performance virtually every day.
Many Americans have become inured to the president's volatile behavior. Yet even by the standards of this presidency, Trump has been operating beyond his often-untethered bounds. His Twitter feed has been more frantic, his public comments angrier and more abusive, his sense of victimhood more visible than ever. Including his attacks on the investigation by former special counsel Robert S. Mueller III, there may be no period in the entirety of Trump's presidency comparable to the behavior now on display.
Along the political spectrum, there is a shared sense that the country has entered into a new and more worrisome phase of Trump's presidency. To some who have long been critical of the president, Trump's actions with regard to Ukraine and his call to China to launch its own investigation of Biden and his son have brought a heightened sense of alarm. Others, who have been more measured in their assessments of the president over time, see the country in a period of crisis that will test the strength of American constitutional democracy and institutions. https://www.washingtonpost.com/politics/impeachment-has-put-trump-in-a-different-place-hes-showing-it-every-day/2019/10/12/b3cfe8d4-ecfa-11e9-9306-47cb0324fd44_story.html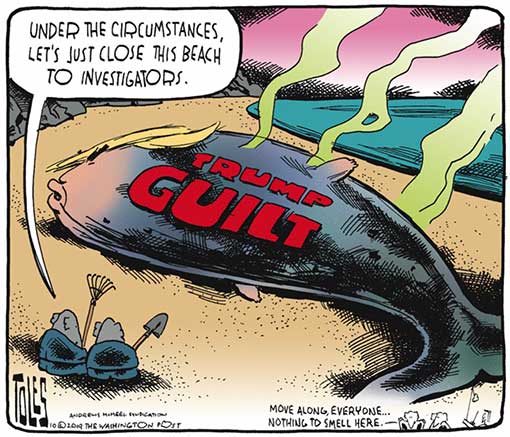 10. Bess Levin: Rudy Giuliani: Those Witches In Salem Got A Fairer Shake Than Me And Trump
If you've ever pictured Rudy Giuliani flying through a New England town on a broomstick, snatching up small children to drop in a cauldron as his cloak billows in the wind, you're not alone. The former mayor of New York City has also been thinking a lot about himself and witches. Specifically, that the 14 women and 5 men who were found guilty of witchcraft and executed by hanging in Salem circa 1692 were treated to a fairer justice system than him and his buddy Donald Trump, a grievous turn of events he ranted about via Twitter on Tuesday.
Seemingly referring to the news that House Democrats are considering having the original Ukraine whistle-blower testify "from a remote location and obscuring the individual's appearance and voice," in order to keep the person's identity shielded from those who would potentially seek to harm him, Giuliani fumed:
Even Salem witch trials didn't use anonymous testimony. The accused had to be confronted by a witness willing to put their name and reputation behind the charges and then had to be available for cross examination. Rudy Giuliani @RudyGiuliani
In what is unlikely to come as a shock, Big Rudy's understanding of the Salem witch trials appears somewhat lacking. For one thing, most of the accused probably wouldn't attest to the fairness of the proceedings, considering much of the "testimony" provided by witnesses was spectral evidence, i.e. testimony that the accused's spirit had visited the witness in a vision or dream. For another, refusing to go to trial led to death by crushing. Also, and this is where Giuliani's legal degree really comes into question, the House isn't holding a trial! This is part of an investigation which, incidentally, he was invited to participate in and declined, adding that other key players involved in the Ukraine scandal are unlikely to cooperate, as well, because Donald Trump's got a fever and the only prescription is more obstruction of justice. https://www.vanityfair.com/news/2019/10/rudy-giuliani-salem-witch-trials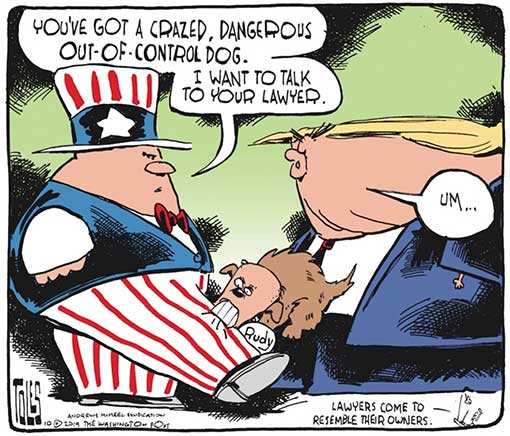 11. Ashley Parker and Philip Rucker: 'I sort of thrive on it': The impeachment crisis shines a spotlight on Trump's state of mind
Five days after the impeachment inquiry began — on Sunday Sept. 29 — Trump sent forth a torrent four dozen tweets and retweets, making it at the time the third most prolific day of tweeting of his entire presidency. Over nearly 16 hours on Twitter, he suggested that House Intelligence Committee Chairman Adam B. Schiff (D-Calif.) be questioned for "Fraud & Treason" and quoted an Evangelical pastor who warned that the impeachment of Trump would "cause a Civil War like fracture in this Nation."
Then on Friday, Trump passed that previous milestone with 59 total tweets, including 33 in just 20 minutes. All told, in the week before the launch of the inquiry, Trump averaged 18 tweets per day. In the two weeks following the launch, that doubled: On average, Trump was tweeting three dozen times a day.
His behavior during a news conference with the Finnish president appeared so erratic to some viewers that a hashtag — #TrumpMeltdown — began trending on Twitter. Commentary about the president's mental fitness ensued.
Staring down impeachment, Trump has seemed to play the role of the nation's Shakespearean monarch. At a rally Thursday night in Minneapolis, Trump boasted about his own fortitude in surviving so many scandals.
Raising his hand and twirling his fingers to point to his right temple, the president mused, "Maybe I'm a little different up here. I don't know." https://www.washingtonpost.com/politics/i-sort-of-thrive-on-it-the-impeachment-crisis-shines-a-spotlight-on-trumps-state-of-mind/2019/10/14/10fb345e-eb9e-11e9-85c0-85a098e47b37_story.html
12. E.J. Dionne Jr.: Trump is the culmination of all that has gone wrong in our politics
Trump's words and actions suggest he really does believe he can get away with anything. It is a supreme irony that Trump triumphed by exploiting public disaffection with a political system so many Americans see as infested with sleaze and controlled by forces operating entirely for their own benefit.
Rather than being the cure for such maladies, he is their apotheosis, the culmination of all that has gone wrong in our politics. The task of the impeachment inquiry is to use his Ukrainian misadventure to bring home the breadth of the president's venality and self-dealing. The goal should be not only to rid the country of a dangerous leader but also to show how desperately our system needs repair. https://www.washingtonpost.com/opinions/trump-is-the-culmination-of-all-that-has-gone-wrong-in-our-politics/2019/10/13/17de18c4-ed2c-11e9-9306-47cb0324fd44_story.html
13. Jonathan Chait: The (Full) Case for Impeachment A menu of high crimes and misdemeanors.
The crimes for which impeachment is the prescribed punishment are notoriously undefined. And that's for a reason: Presidential powers are vast, and it's impossible to design laws to cover every possible abuse of the office's authority. House Democrats have calculated that an impeachment focused narrowly on the Ukraine scandal will make the strongest legal case against President Trump. But that's not Trump's only impeachable offense. A full accounting would include a wide array of dangerous and authoritarian acts — 82, to be precise. His violations fall into seven broad categories of potentially impeachable misconduct that should be weighed, if not by the House, then at least by history.
The complete list of Trump's potentially impeachable misconduct is at http://nymag.com/intelligencer/2019/10/the-full-case-for-trump-impeachment.html
14. James Hohmann: Trump hands Putin another win with Syria pullout
Vladimir Putin has won so much these past three years that he may get tired of winning.
The U.S. intelligence community's January 2017 report on Russian interference in the previous year's presidential campaign sought to explain why Donald Trump was so attractive to Moscow. This sentence has fresh salience: 'Pro-Kremlin proxy Vladimir Zhirinovskiy, leader of the nationalist Liberal Democratic Party of Russia, proclaimed just before the election that if Trump won, Russia would 'drink champagne' in anticipation of being able to advance its positions on Syria and Ukraine.
Coming on the heels of Trump holding up assistance for Ukraine as his administration urged its new president to investigate a Democratic challenger, Trump's order on Saturday to withdraw U.S. troops from northern Syria has given the Russians a new reason to reach for the bubbly. https://www.washingtonpost.com/news/powerpost/paloma/daily-202/2019/10/14/daily-202-trump-hands-putin-another-win-with-syria-pullout/5da403d6602ff1408391445f/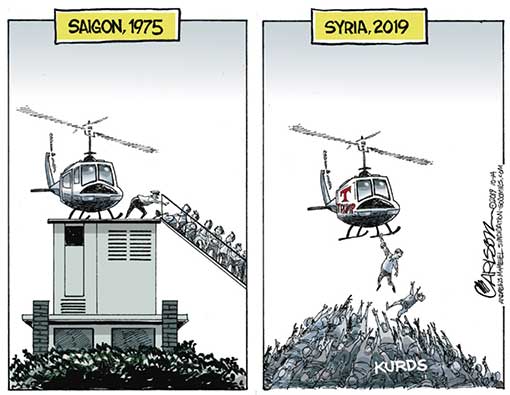 15. Bess Levin: Trump: Mexicans Are A Bigger Threat Than The Isis Prisoners I Let Escape In Northern Syria
Donald Trump has made a lot of exceedingly stupid decisions in the 78,000 dog years he's been in office, but few compare, in impact and the speed with which they blew up in his face, than the one to withdraw troops from northern Syria, paving the way for Turkey to invade the region and kill our Kurdish allies, leading to one (completely predictable) consequence after the next. Roughly 785 people affiliated with ISIS have escaped; an estimated 100,000 people have been displaced; at least 81 Kurdish fighters and 60 civilians have been killed; the American-allied Syrian Democratic Forces, abandoned by Trump and under attack by Turkey, have teamed up with Bashar al-Assad's Russian- and Iranian-backed government, giving Vladimir Putin major influence over the region; and approximately 50 nuclear weapons that the the U.S. has stored in the area have now effectively become Recep Tayyip Erdoğan's hostages, which isn't a great turn of events considering the Turkish president has said as recently as last month that he would like to acquire such ammunition. To be clear, all of this was anticipated; Trump was warned by advisers for months that such disastrous outcomes would result if he followed his vaunted "instincts"—the ones he thinks tell him more than any dumb intelligence memos or briefing books can—and pulled out of Syria, telling the Kurds, who helped us defeat ISIS, that they were on their own because they sat out D-Day like a bunch of bone spur victims. And on Monday, perhaps the most predictable outcome occurred when Trump announced that he would punish Turkey for the bloody mess he created.
Now that the situation has descended into unstoppable chaos, Trump is naturally acting as though no one could have predicted any of this, and threatening retribution that experts say will do little to stop the unmitigated disaster he set into motion. "I think the likelihood of Turkey invading Northern Syria with U.S. troops there was zero," Senator Tim Kaine told CNN's Poppy Harlow on Monday. "And with the U.S. pulling out now, they feel like they have a green light and they're doing exactly what everybody told President Trump that they would do." https://www.vanityfair.com/news/2019/10/donald-trump-turkey-syria-sanctions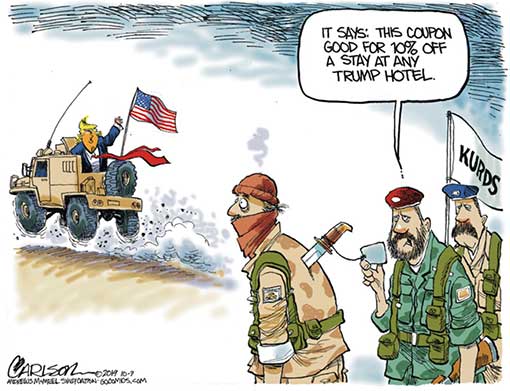 16. Olivia Nuzzi: Among the Witches Inside the Republicans' bunker.
It's hard to be worried when you don't really like the guy." That's what one senior Republican Senate aide had to say when I asked how concerned conservatives are about Donald Trump's fate.
The truth is, Trump fatigue is a condition that knows no party, and many Republicans are as tired of this shit as anybody else. That's not to say they're outraged, or motivated to Make a Difference. They're just tired. You can live inside the right-wing bubble in a state of depression, resigned to the fact that, yeah, every five minutes or so, the president is probably going to do something norm-shattering or potentially impeachable, and no, you probably won't or can't do anything to change that. Sad!
"Syria isn't that much different than the other crazy shit he's done in the last three years," the senior Republican Senate aide said. "In some ways, people are both pissed off about it but then it's also like, Are we gonna go crazy over this incident when we've seen so much other stuff? Not to minimize the seriousness here, but what came out in the call transcript is not exactly shocking. If I were to describe Republicans one way, it would be weary.
Weary and numb. It's been a long three years for Republicans on the Hill. Not to say we're the real victims — Yeah, start passing around the collection plate for us!" http://nymag.com/intelligencer/2019/10/trump-impeachment-inside-the-republicans-bunker.html
17. Kevin Drum: How To Blow Up the Middle East In One Week
Is it possible to overstate how insane the Syria situation is? On Sunday President Trump talks to the Turkish president and tells him to go ahead and invade northern Syria. He is then informed that our allies the Kurds occupy this territory and will be in big trouble if the Turks roll across the border. Trump doesn't care. He follows up this warning with a tweetstorm that basically boils down to, who cares about the Kurds anyway? Then he withdraws all US troops. Any ten-year-old could predict that this would be viewed by the Turks as a green light to do whatever they wanted, and that's exactly what happened: the Turks began massacring Kurds and eventually the Kurds teamed up with the Russians in an act of self-preservation. Now, having made a colossal mess out of everything, Trump plans to sanction the Turks and broker a cease-fire. You betcha.
And this happened in the span of a week!
It's easy to pretend that a president doesn't really need to know much. After all, that's what aides are for. But it's really not true. Everyone makes mistakes, as Obama did when he talked about a "red line" in Syria. But Trump's unfathomable ignorance and bloated ego is light years beyond that. A lot of us figured from the start that Trump probably wouldn't deliberately start a war, but that he might start one by accident. As it turns out, that was exactly right. https://www.motherjones.com/kevin-drum/2019/10/how-to-blow-up-the-middle-east-in-one-week/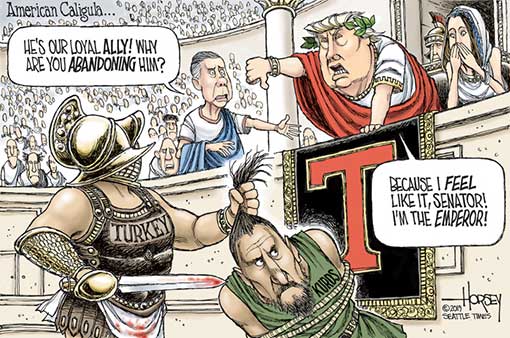 18. Jonathan Chait: Trump Is Being Impeached Because He Keeps Doing What Russia Wants
Pro-Kremlin proxy Vladimir Zhirinovskiy, leader of the nationalist Liberal Democratic Party of Russia, proclaimed just before the election that "if President-elect Trump won, Russia would 'drink champagne' in anticipation of being able to advance its positions on Syria and Ukraine," noted the U.S. intelligence community's official assessment of Russian intervention in the presidential election. Vladimir Putin's regime had developed a clear preference for Donald Trump, including and perhaps especially "his Russia-friendly positions on Syria and Ukraine."
It is exactly those two issues that are playing out at the forefront of American politics right now. Trump is facing impeachment over his campaign to withhold diplomatic recognition and military aid from Ukraine while working covertly in an alliance with pro-Russian political actors in that country. Meanwhile, Trump suddenly and impulsively engineered a U-turn in American policy toward Syria to the direct benefit of Russia and its regional proxies.
The mystery of Russia's influence over Trump has largely disappeared from public attention since the publication of the Mueller report. Yet now, as thousands of ISIS terrorists go free and a humanitarian crisis unfolds, whatever illicit or corrupt backchannel or leverage Russia may have still poses a great danger to American security. http://nymag.com/intelligencer/2019/10/trump-impeachment-ukraine-syria-turkey-russia-putin.html
19. Max Boot: Can you take four more years of this?
Trump added to the chaos on Sunday night, Oct. 6, by impetuously giving Turkey a green light to invade northern Syria, thereby allowing Islamic State prisoners to escape and the United States' Kurdish allies to be slaughtered. In one week, Trump undid five years of work to defeat Islamic State and foster a moderate, secular zone in Syria.
Seemingly unperturbed by the ethical and geopolitical disasters in his wake, Trump continued with his usual routine: golfing, watching TV (he urged his Twitter followers to vote for his former press secretary Sean Spicer on "Dancing With the Stars"), wallowing in maudlin self-pity ("Serial killers," he tweeted, "get more Due Process than the Democrats give to the President"), and of course spewing bombastic insults. At a campaign rally in Minneapolis, Trump reviled not only Rep. Ilhan Omar (D-Minn.) but also other Somali refugees who have found haven in Minnesota. Racist and xenophobic comments are Trump's go-to moves when he's feeling the political heat.
Note that this is an incomplete chronicle of only one week — albeit a week that is a strong contender (against some stiff competition) for the worst week of Trump's entire presidency. Commentator Charlie Sykes notes that in 1980 the question was: "Are you better off than you were 4 years ago?" In 2020 it will be: "Can you take another four years of this?" I can't even take another week like last week — much less four more years. https://www.washingtonpost.com/opinions/2019/10/15/can-you-take-four-more-years-this/