March 19, 2020
ON THE RECORD. . .
TRUMP: "The markets are going to be just fine, just fine."
REPORTER: "Why do you say that? They're tanking."
I get the sense that this is not only the low point of the Trump presidency but the low point of the American presidency ever. Has any president ever been this overmatched by a crisis? — David Brooks tweet.
"You remember the North Korean leader promised us a Christmas present for America? Back in December. Could it be they got together with China and this is that present? I don't know. But it really is something strange going on." — Jerry Falwell Jr. suggesting on Fox News that the coronavirus outbreak was orchestrated by North Korea and China to sabotage President Trump.
"I don't take responsibility at all." — Trump, when asked if he took responsibility for the U.S. lag in testing.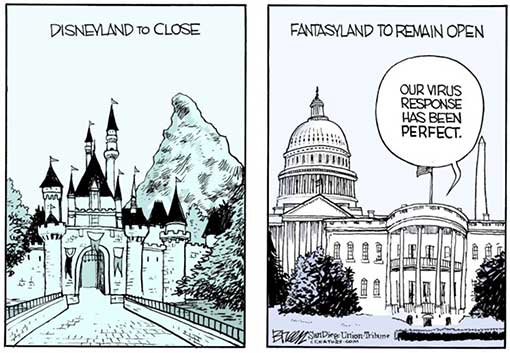 "In the most scripted of presidential settings, a prime-time televised address to the nation, President Trump decided to ad-lib — and his errors triggered a market meltdown, panicked travelers overseas and crystallized for his critics just how dangerously he has fumbled his management of the coronavirus." -- The Washington Post.
"I think the challenge that I see among a lot of people that go to Donald Trump rallies, and then they will go to church on Sunday… I don't know what faith they are worshipping… Donald Trump has done more to hurt the least of us among us than just about any president I can think of." — DNC chair Tom Perez.
"Our country is in a war-time scenario but we're getting a Mar-a-Lago attitude from the federal government. We need testing, ventilators, surgical masks and we needed them weeks ago, when Trump was still calling this pandemic a hoax…" —New York City Mayor Bill DeBlasio, on Twitter.
"But the Mar-a-Lago petri dish has become a kind of metaphor for the perils of group gatherings in the age of coronavirus, demonstrating how quickly and silently the virus can spread. No one is necessarily safe from encountering it, not senators or diplomats or even the most powerful person on the planet seemingly secure in a veritable fortress surrounded by Secret Service agents. It was a lavish, festive, carefree evening at Mar-a-Lago a week ago Saturday in what in hindsight now seems like a last hurrah for the end of one era and the beginning of another. In the days since then, the presidential estate in Florida has become something of a coronavirus hot zone. At least four Mar-a-Lago guests from last weekend have said they are infected and others have put themselves into quarantine."-- New York Times
"GO INTO THE STREETS FOLKS. Visit bars, restaurants, shopping malls, CHURCHES and demand that your schools re-open. NOW!
If government doesn't stop this foolishness...STAY IN THE STREETS.
END GOVERNEMNT (sic.) CONTROL OVER OUR LIVES. IF NOT NOW, WHEN? THIS IS AN EXPLOITATION OF A CRISIS." —Former sheriff David A. Clarke, Jr, an outspoken Trump supporter who, early in the Trump administration, said he accepted a top post at the Department of Homeland Security, then abruptly withdrew that acceptance.
"Critical failures — principally the failure to distribute tests more widely and to alert Americans to the severity of the threat — are almost certain to cost large numbers of lives. Trump is incapable of either taking charge or accepting responsibility for what his subordinates are doing in his name. "No, I don't take responsibility at all," he said Friday when asked about covid-19 testing failures. That will be the epitaph of an administration that, amazingly, appears to grow more incompetent the longer it stays in office." — Max Boot 
"I'd rate it a 10." — Trump on how he would rate his administration's response to the coronavirus. 
"If you want to apply for money from the government through the child tax credit program, then you have to be a legitimate person. It has nothing to do with not liking immigrants. It has to do with saying, taxpayer money shouldn't go to non-people." — Sen. Rand Paul (R-KY) describing undocumented immigrants as not "legitimate" people.  
---
IN THIS ISSUE
FYI
OPINION
1. Andy Borowitz: Trump Tests Negative For Empathy
In an official statement, Dr. Sean Conley said that Trump submitted to the empathy test even though, in the physician's opinion, "it was not really necessary."

"I expected him to test negative," Conley said. "Empathy-wise, he has been entirely asymptomatic."

The White House doctor attributed Trump's empathy-free status to his established practice of social distancing from anyone showing even the faintest sign of compassion, kindness, or humanity.

"At the first indication that someone is about to open his or her mouth to emit an expression of concern for others, he is careful to move as far away from that person as possible," the physician said.

Instead, Conley said, Trump has been spending time exclusively with people who have also tested negative for empathy, such as Stephen Miller, Mitch McConnell, and all of the adult Trump children except Tiffany. https://www.newyorker.com/humor/borowitz-report/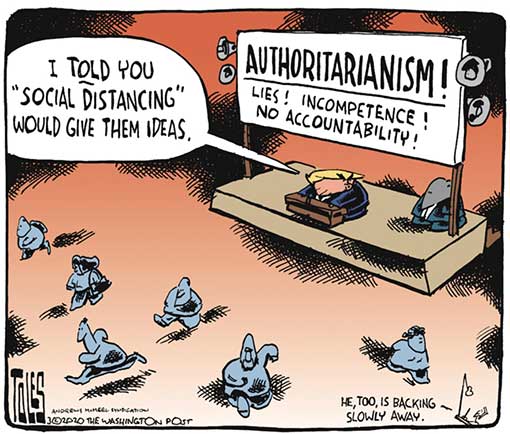 2. "I Don't Know Anything About It," Trump Says About White House's Elimination of Pandemic Response Team
WH CORRESPONDENT YAMICHE ALCINDOR: You did disband the White House pandemic office, and the officials that were working in that office left this administration abruptly. So what responsibility do you take to that, and—the officials that worked in that office said the White House lost valuable time because that office was disbanded. What do you make of that?

TRUMP: Well, I just thank it's a nasty question, because what we've done, and Tony had said numerous times that we saved thousands of lives because of the quick closing. [Ed.: The closing of borders to some travelers.] And when you say me, I didn't do it. We have a group of people, I could ask perhaps, in my administration, but I could perhaps ask Tony about that, because I don't know anything about it. I mean, you say we did that, I don't know anything about it. Disbanding, no, I don't know anything about it …

ALCINDOR: You don't know about the reorganization that happened at the National Security Council.

TRUMP: It's the administration, perhaps they do that, let people go, you used to be with a different newspaper than you are now, you know, things like that happen. (At which point Alcindor's microphone was cut off.) https://slate.com/news-and-politics/2020/03/i-dont-know-anything-about-it-trump-says-about-his-white-house-eliminating-the-pandemic-response-team.html
3. Russian election meddling is back -- via Ghana and Nigeria -- and in your feeds
The Russian trolls are back -- and once again trying to poison the political atmosphere in the United States ahead of this year's elections. But this time they are better disguised and more targeted, harder to identify and track. And they have found an unlikely home, far from Russia itself.
In 2016, much of the trolling aimed at the US election operated from an office block in St. Petersburg, Russia. A months-long CNN investigation has discovered that, in this election cycle, at least part of the campaign has been outsourced -- to trolls in the west African nations of Ghana and Nigeria.
They have focused almost exclusively on racial issues in the US, promoting black empowerment and often displaying anger towards white Americans. The goal, according to experts who follow Russian disinformation campaigns, is to inflame divisions among Americans and provoke social unrest. https://www.cnn.com/2020/03/12/world/russia-ghana-troll-farms-2020-ward/index.html
4. Rep. Louie Gohmert delays House coronavirus relief bill from moving to Senate
Rep. Louie Gohmert, R-Texas, is holding up the House-passed coronavirus relief bill , preventing it from being delivered to the Senate for a vote. https://www.nbcnews.com/politics/congress/rep-louie-gohmert-delays-house-coronavirus-relief-bill-moving-senate-n1160681
5. Lincoln Project's new ads (videos):
A Virus In The World: https://youtu.be/7gJgmkWJ6es

Grifters: Episode One: https://youtu.be/A_cyQE36DTU
6. How Fox News has shifted its coronavirus rhetoric (video)
7. EU says pro-Kremlin media trying to sow 'panic and fear' with coronavirus disinformation
Russian state media and pro-Kremlin outlets are waging a disinformation campaign about the coronavirus pandemic to sow "panic and fear" in the West, EU officials have warned in a report seen by CNN. https://www.cnn.com/2020/03/18/europe/eu-kremlin-disinformation-coronavirus-intl/index.html
8. Predict it: Place your bet. Which party will win the 2020 U.S. presidential election?
https://www.predictit.org/markets/detail/2721/Which-party-will-win-the-2020-US-presidential-election
9. McConnell Has a Request for Veteran Federal Judges: Please Quit
Running out of federal court vacancies to fill, Senate Republicans have been quietly making overtures to sitting Republican-nominated judges who are eligible to retire to urge them to step aside so they can be replaced while the party still holds the Senate and the White House.
Senator Mitch McConnell, Republican of Kentucky, who has used his position as majority leader to build a judicial confirmation juggernaut for President Trump over the past three years, has been personally reaching out to judges to sound them out on their plans and assure them that they would have a worthy successor if they gave up their seats soon, according to multiple people with knowledge of his actions. https://www.nytimes.com/2020/03/16/us/politics/mcconnell-judges-republicans.html
10. The DAILY GRILL
We are all in this together.  We must put politics aside, stop the partisanship, and unify together as one nation and one family. — Trump in his March 11th address to the nation.

VERSUS

Sleepy Joe Biden was in charge of the H1N1 Swine Flu epidemic which killed thousands of people. The response was one of the worst on record. Our response is one of the best, with fast action of border closings & a 78% Approval Rating, the highest on record. His was lowest! — Donald J. Trump @realDonaldTrump on March 12th.

 

"Now, more than ever, we need the wall. With China Virus spreading across the globe, the US stands a chance if we can control of our borders." — Trump claimed twice that a wall along the southern border would help mitigate the coronavirus from spreading in the United States, first at a campaign rally and then in a tweet quoting a right-wing activist.

VERSUS

"Not that I've seen." —  CDC Director Robert Redfield, when asked at a House hearing whether "structural barriers at our border would be of any use in mitigating the outbreak of this virus."

 

President Obama made changes that only complicated things further .... Their response to H1N1 Swine Flu was a full scale disaster, with thousands dying, and nothing meaningful done to fix the testing problem, until now. The changes have been made and testing will soon happen on a very large scale basis. All Red Tape has been cut, ready to go! — Trump

VERSUS

Food and Drug Administration guidance drafted during the Obama administration called for tighter regulation of so-called laboratory-developed tests, a market traditionally not overseen by the agency. Trump says that step made it more difficult to come out with a coronavirus test. But that guidance never took effect. And if it had, it would not have applied to public health emergencies like the current one. -- US News

 

"It's a very contagious virus, it's incredible, but it's something we have tremendous control of." — Trump, quoted by CNN Sunday, on the coronavirus outbreak.

VERSUS

"No, that's not under control for any place in the world." — Trump, quoted by CNN on Monday.

 

The Coronavirus is very much under control in the USA. We are in contact with everyone and all relevant countries. CDC & World Health have been working hard and very smart. Stock Market starting to look very good to me! — Donald J. Trump @realDonaldTrump on Feb 24th.

VERSUS

"I felt it was a pandemic long before it was called a pandemic." — Trump who has has minimized the coronavirus, mocked concern about it and treated the risk cavalierly made this remarkable pronouncement on Tuesday.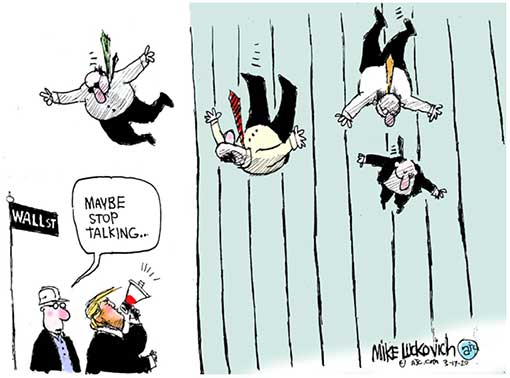 11. From MEDIA MATTERS (They watch Fox News so you don't have to)
Newsmax TV host and Las Vegas Review-Journal columnist Wayne Allyn Root has been dangerously suggesting to people that if they get the coronavirus, they should take doses of an "alkaline structured silver" product he endorses because it supposedly "kills [the] virus" and can "save your life." Root is recommending products from Dr. Gordon Pedersen, who has claimed that his version of silver can "protect people from the Coronavirus" and help people suffering from it "recover more quickly."  https://www.mediamatters.org/newsmax/newsmax-host-wayne-allyn-root-endorses-scammy-silver-product-which-can-supposedly-kill

Fox News aired dangerous misinformation from Steven Hotze, a disreputable doctor who has a history of pushing "methods [that] are not supported by science and are potentially harmful" and sells bogus colloidal silver. Hotze used his Fox News platform to dismiss concerns about the coronavirus as people going "totally crazy" and told viewers to "conduct your life normally."  https://www.mediamatters.org/coronavirus-covid-19/fox-news-coronavirus-special-featured-quack-doctor-who-told-viewers-conduct

While Fox News would like its viewers to believe it always took the threat of coronavirus seriously, the network wasted time promoting anti-abortion misinformation about the Democrats' coronavirus spending bill. Others in right-wing media, as well as abortion opponents, continue to contribute their own misinformation and attacks against House Speaker Nancy Pelosi and Democrats in Congress. https://www.mediamatters.org/fox-news/fox-news-and-right-wing-media-seize-coronavirus-crisis-attack-abortion
12. Trump on the Coronavirus Crisis
As President Trump attempts to blame President Barack Obama for his own handling of the coronavirus outbreak, it's important to document Trump's comments during this public health crisis.
These are not utterances from some of his more rambling news conferences or from his advisers. These are Trump's most direct statements as a global pandemic took hold.
• January 22: "We have it totally under control. It's one person coming in from China. It's going to be just fine." (CNBC)
• February 2: "We pretty much shut it down coming in from China." (Fox News)
• February 10: "A lot of people think that goes away in April with the heat—as the heat comes in." (Bloomberg)
• February 24: "The Coronavirus is very much under control in the USA… Stock market starting to look very good to me." (Twitter)
• February 26: "It's going very substantially down, not up… The 15 within a couple of days, is going to be down to zero." (CNN)
• February 27: "It's going to disappear one day, it's like a miracle." (Twitter)
• March 6: "I like this stuff. I really get it. People are surprised that I understand it… Every one of these doctors said, 'How do you know so much about this?' Maybe I have a natural ability. Maybe I should have done that instead of running for president." (Wired)
• March 6: "I didn't know people died from the flu." (CNN)
• March 6: "I like the numbers being where they are." (Washington Post)
• March 10: "It will go away. Just stay calm. It will go away." (Twitter)
• March 13: "I don't take responsibility at all because we were given a set of circumstances and we were given rules, regulations, and specifications from a different time." (New York Times)
https://politicalwire.com/2020/03/14/trump-on-the-coronavirus-crisis/
13. Trump Administration Is Relaxing Oversight of Nursing Homes
The Trump administration has been working to relax regulations governing America's nursing homes, including rules meant to curb deadly infections among elderly residents.
The main federal regulator overseeing nursing homes proposed the rule changes last summer, before the coronavirus pandemic highlighted the vulnerability of nursing homes to fast-spreading diseases. The push followed a spate of lobbying and campaign contributions by people in the nursing-home industry, according to public records and interviews. https://www.nytimes.com/2020/03/14/business/trump-administration-nursing-homes.html
14. Mismanagement, missed opportunities: How the White House bungled the coronavirus response
An examination of how the Trump administration responded to the coronavirus outbreak that was first documented in December reveals a story of missed opportunities, mismanagement and a president who resisted the advice of experts urging a more aggressive response. All the while, Trump made a series of upbeat claims, some of which were flatly false, including that the number of cases was declining in the U.S. and that "anybody who needs a test gets a test." https://www.nbcnews.com/politics/white-house/mismanagement-missed-opportunities-how-white-house-bungled-coronavirus-response-n1158746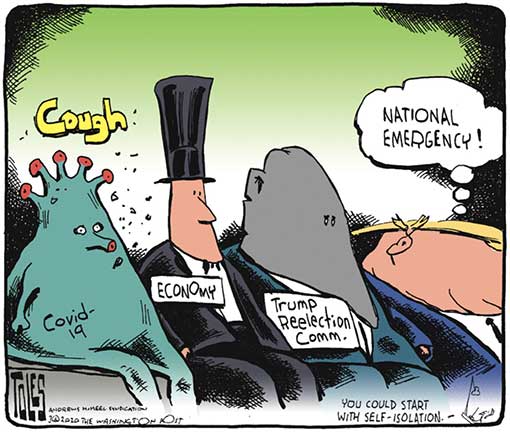 15. From the Late Shows
Trump's Coronavirus Address, Blooper Reel Included | The Daily Show: https://youtu.be/BWO6i8cH8SA
1. Maureen Dowd: Plagued by the President
Until now, Trump has mostly succeeded in covering up things that could damage him — from taxes to payoffs to paramours during the campaign to blocking evidence and witnesses in his impeachment to his conversation with Vladimir Putin where the interpreter's notes disappeared.
But a global pandemic is different.
He can't cover up his lack of empathy, his instinct to mislead, his refusal to do his homework and his blame-shifting. And the idea that Trump could soothe a nation went out the window a long time ago.
He can't cover up the fact that he is not interested in public policy fixes or ending his juvenile sniping across the aisle. After he woodenly said in his national address Wednesday that "we must put politics aside, stop the partisanship and unify together as one nation and one family," he jumped back on Twitter to trash Barack Obama and Joe Biden, this time criticizing their response to the swine flu virus.
Trump is only interested in spinning public appearances to create the impression that he's in charge. As always, such forums offer a fantastic floor to show just how low Mike Pence will limbo. By now, Trump is surely jealous of Pence's good reviews and requires extra obeisance.
Even when the president stopped being so blithe about the virus, even after his error-ridden national address and his press conference Friday declaring a national — "two very big words" — his attempt at maturity was crystallized in one sound bite. "No, I don't take responsibility at all," Trump said, when asked about the egregious lag in testing.
It was far from his tweet in 2013, when he loved trolling Obama: "Leadership: Whatever happens, you're responsible. If it doesn't happen, you're responsible." https://www.nytimes.com/2020/03/14/opinion/sunday/trump-coronavirus-national-emergency.html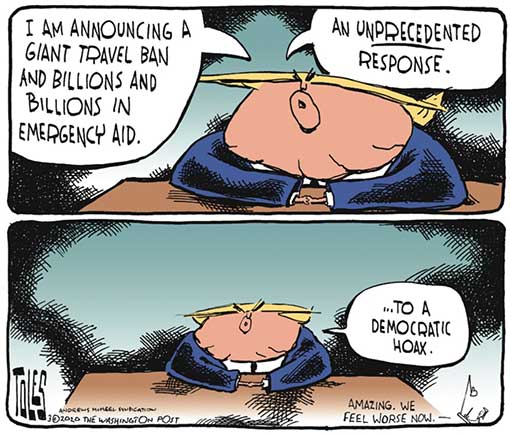 2. Kurt Bardella: Trump's 'Chinese Virus' coronavirus tweets echo his Mexico insults — with similar results
Trump's arrogant belief in American exceptionalism has often resulted in the scapegoating of other nations — Mexico, for example. And those nations tend, generally, not to like it. Here, he's antagonizing China at the absolute worst time. We need to be learning from Chinese doctors and officials, not causing an international incident.
Justifying his use of the term Tuesday, Trump said he was pushing back on a conspiracy theory — that did, in fact, start in China — blaming the U.S. military for spreading the disease. "China was putting out information, which was false, that our military gave this to them. That was false. And rather than having an argument, I said I had to call it where it came from. It did come from China. So I think it's a very accurate term," Trump said.
This is, at best, an incredibly tone-deaf defense. There is a good chance, however, that Trump is digging in because he is being influenced by the racist ignorance we're seeing from other conservatives, including House GOP leader Kevin McCarthy. To be clear, plenty of others made the same mistake when the virus was first becoming news. But they've stopped, because they realize the harm it could potentially cause.
Trump hasn't stopped.
At a time when the president of the United States should be acting as a unifying figure, he is instead sowing the destructive seeds of xenophobia that have become hallmarks of his presidency. And just as we saw following his rhetoric against Latinos, the violent trickle-down effect is clear. There have been numerous examples of Asian Americans' being targeted in the past few weeks. https://www.nbcnews.com/think/opinion/trump-s-chinese-virus-coronavirus-tweets-echo-his-mexico-insults-ncna1162261
3. George T. Conway III : There is no new Trump
If you think you've been hearing a different President Trump this week — more accepting of the reality of the coronavirus pandemic — don't be fooled. The new Trump is the same as the old Trump. He can't help it. He's incapable of taking responsibility for his role in this crisis — and thus incapable of leading us out of it.
After weeks of denial and deflection, a seemingly chastened Trump on Monday conceded that the virus was, in fact, "not under control," and was, indeed, "a very bad one." What caused the switch in tone? Who knows? Perhaps it was the largest one-day point drop in the Dow Jones in history on Monday. Perhaps it was a study the White House received saying that 2.2 million Americans could die. Perhaps it was that Trump's beloved Mar-a-Lago is getting a coronavirus-necessitated deep cleaning.
But the sudden shift can't conceal the fact that Trump has shown himself to be wholly inept at dealing with the pandemic. It doesn't change the fact that he puts himself first, always. It doesn't alter the fact that, as he once told top aides, he thinks of "each presidential day as an episode in a television show in which he vanquishes rivals." It doesn't dissolve Trump's compulsion to lie, even when truth would serve him best. It doesn't diminish his incompetence, ignorance or propensity for administrative chaos. https://www.washingtonpost.com/opinions/2020/03/18/there-is-no-new-trump/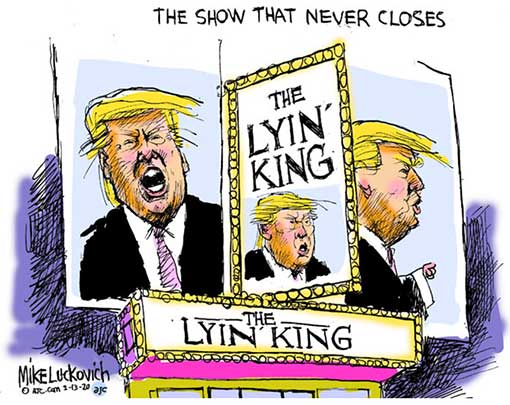 4. Stuart Stevens: Republicans like me built this moment. Then we looked the other way.
Don't just blame President Trump. Blame me — and all the other Republicans who aided and abetted and, yes, benefited from protecting a political party that has become dangerous to America. Some of us knew better.
But we built this moment. And then we looked the other way.
Many of us heard a warning sound we chose to ignore, like that rattle in your car you hear but figure will go away. Now we're broken down, with plenty of time to think about what should have been done.
The failures of the government's response to the coronavirus crisis can be traced directly to some of the toxic fantasies now dear to the Republican Party. Here are a few: Government is bad. Establishment experts are overrated or just plain wrong. Science is suspect. And we can go it alone, the world be damned.
All of these are wrong, of course. But we didn't get here overnight. It took practice.
Long before Trump, the Republican Party adopted as a key article of faith that more government was bad. We worked overtime to squeeze it and shrink it, to drown it in the bathtub, as anti-tax activist Grover Norquist liked to say. But somewhere along the way, it became, "all government is bad." Now we are in a crisis that can be solved only by massive government intervention. That's awkward.
https://www.washingtonpost.com/opinions/2020/03/18/elections-have-consequences-slow-response-virus-is-one-them/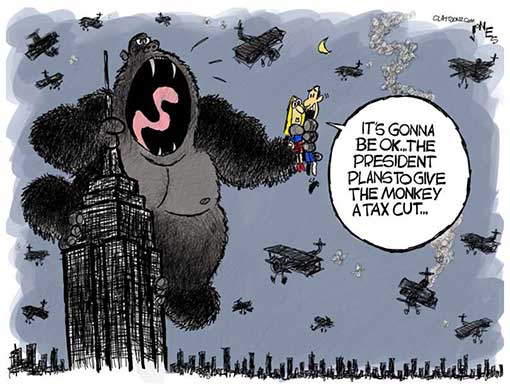 5. Jonathan Capehart: The buck never, ever stops with Trump
Ever since Harry S. Truman put a sign on his desk that read "the buck stops here," presidents have embraced the mantra as a responsibility that comes with the job. Not Trump. When things go wrong, he rarely knows anything. More often than not, he blames his predecessor, Barack Obama. But it is in these moments that the American people most want to hear their president acknowledge mistakes, express sympathy for those harmed by his errors and demonstrate empathy for the aggrieved.
Leading our nation requires selflessness. It demands putting one's personal interests far behind the national interest. It means striving to be a reflection of our better selves and projecting the moral authority that comes from doing all of these things. To varying degrees, these are the characteristics of Trump's 44 predecessors that helped to make the United States a superpower. Unfortunately, Trump has shown time and again how void he is of any of them.
This is why, as Pelosi told me, a Democrat "has to win this time." The election is about more than defeating Trump. It's about saving the nation at home and restoring the hopeful idea of America abroad. https://www.washingtonpost.com/opinions/2020/03/16/buck-never-ever-stops-with-trump/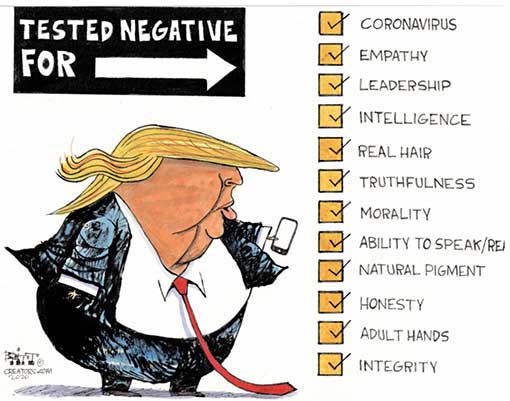 6. Nick Bilton: Coronavirus Is Creating A Fake-News Nightmarescape
Donald Trump Jr.'s comments to Fox & Friends on Friday might be the purest example of the sort of misinformation that's spreading almost as quickly as the coronavirus. "For [Democrats] to try to take a pandemic and seemingly hope that it comes here and kills millions of people, so that they could end Donald Trump's streak of winning, is a new level of sickness," he said. "You know, I don't know if this is coronavirus or Trump derangement syndrome, but these people are infected badly." To some extent, propaganda has always cropped up alongside mass disease—the whole black-cats-and-bubonic-plague thing, for example—but as technology has evolved, and information reaches exponentially more people exponentially faster, the potential for misinformation to spread has become correspondingly voluminous. "The scariest thing about this virus is the fact that there are a lot of people out there who don't believe this is a scary virus," a biomedical investor told me. "This is a bad one, and you've got people conspiring that it's a hoax made to get Trump thrown out of office."
When HIV/AIDS first sprang up in the 1980s, conspiracy theories about the disease became ubiquitous. In the U.S., rumor spread that you could catch it from doorknobs or swimming pools. One largely believed rumor held that AIDS was developed by the Central Intelligence Agency to kill off African Americans and gays. It was arguably the first global pandemic in the age of 24-hour cable news, which began around the same time the disease really started to spread, and helped fill the empty hours of television, injecting fear into the arteries of America. On top of that, add smartphones, social media, fake news, Donald Trump, and the far right's politicization of everything from sporting events to where you drink your coffee to the brand of sneakers you wear, and you have the perfect setup for a virus to go viral, and a bunch of conspiracy theories to spread around the globe before the truth has time to tie its shoelaces. https://www.vanityfair.com/news/2020/03/coronavirus-is-creating-fake-news-nightmarescape-social-media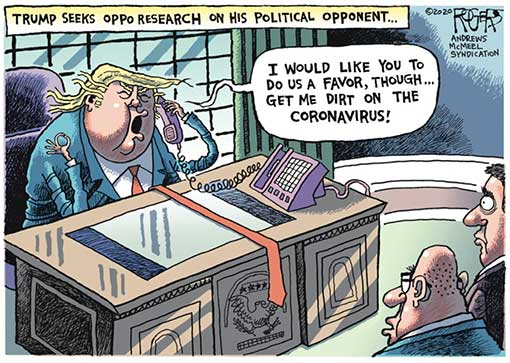 7. Caleb Ecarma: Fox Goes Full Dear Leader With Coronavirus Coverage
In the alternate reality of Fox News, the coronavirus pandemic is an overhyped invention of the mainstream media devised for the specific purpose of taking down Donald Trump. Unfortunately for the American public, the network also happens to be the president's source for news on the spread of the virus, and where most White House officials have opted to appear while updating the public—in between segments casting it as an anti-Trump "hoax."
"The chorus of hate being leveled at the president is nearing a crescendo as Democrats blame him, and only him, for a virus that originated halfway around the world," Fox Business host Trish Regan said on Monday, labeling media coverage "yet another attempt to impeach the president." The same night, Lou Dobbs, Trump's favorite Fox Business host, accused "the national left-wing media" of "playing up fears of the coronavirus," before reporting, without an ounce of self-awareness, that the virus has "now infected 113,000 people…in 111 countries and territories around the world."
Fox News and Fox Business have long been the president's safe spaces, where he is glorified nightly and his perceived enemies—whether Democrats, journalists, or so-called "deep state" actors—are pilloried. As with impeachment, sycophantic hosts provided daily defenses of the president's actions, similarly dismissing the proceedings as a "hoax." Now, as Trump has severely mismanaged the government's response to the coronavirus pandemic, and repeatedly misled the public, the networks' hosts appear willing to do their part to deflect blame away from the president and toward the same recurring targets of Trump's ire. Media Matters' Matt Gertz, who has closely tracked the Fox–Trump feedback loop, noted the "Dear Leader-ism" on display this week in prime time. https://www.vanityfair.com/news/2020/03/fox-news-dear-leader-donald-trump-coronavirus-coverage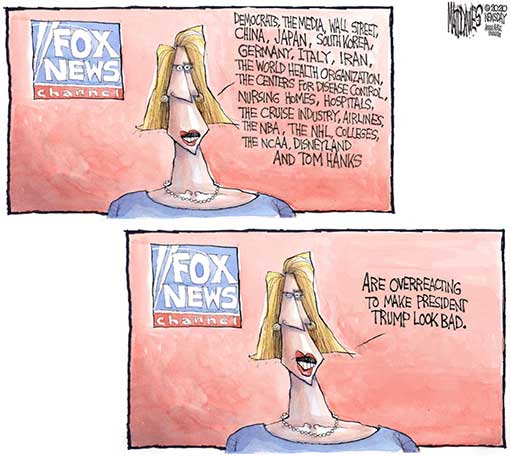 8. Eric Lutz: How Trump Made America Far Less Prepared For Coronavirus
Just over a year ago, the Office of the Director of National Intelligence sounded alarms about America's vulnerability to a major public health crisis. "We assess that the United States and the world will remain vulnerable to the next pandemic or large scale outbreak of a contagious disease," the DNI reported in January 2019, "that could lead to massive rates of death and disability, severely affect the world economy, strain international resources, and increase calls on the United States for support."
But Donald Trump put his head in the sand. After slashing federal pandemic response teams and kneecapping other public health initiatives throughout his first term, he failed to prioritize the potential for outbreak, declining to devote adequate resources to the looming threat. Now, as the DNI's grim forecast last year proves correct, the United States' national security apparatus is scrambling both to address a growing crisis in the country—and, potentially, within its ranks. https://www.vanityfair.com/news/2020/03/how-trump-made-america-far-less-prepared-for-coronavirus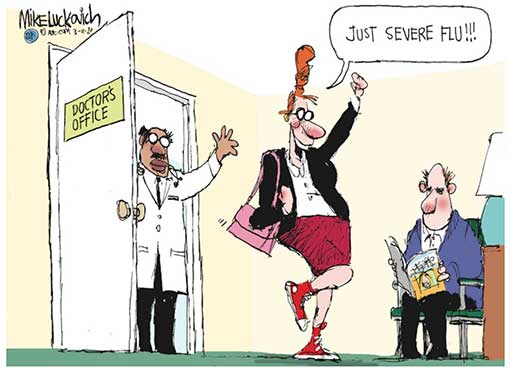 9. McKay Coppins: Trump's Dangerously Effective Coronavirus Propaganda
From the moment the coronavirus reached the United States, Donald Trump has seemed determined to construct an alternate reality around the outbreak. In the information universe he has formed, COVID-19, the disease caused by the virus, is no worse than the seasonal flu; criticism of his response to it is a "hoax"; and media coverage of the virus is part of a political conspiracy to destroy his presidency.
A key strain of the president's narrative is that concerns about the coronavirus are being weaponized by bad-faith actors—a notion that has spawned a broad range of conspiracy theories. On Fox Business, Trish Regan accused Trump's enemies of trying to "create mass hysteria to encourage a market sell-off" that would harm his reelection prospects: "This is impeachment all over again," she declared. Rush Limbaugh has mused that the president is the target of "virus terrorism." And on Facebook and Twitter, a meme has begun circulating among Trump fans that darkly suggests a new disease is introduced every election year to influence politics.
Pro-Trump social-media stars have ridiculed people who are afraid of the coronavirus, casting them as ridiculous, or perhaps unmasculine. ("Stop being a baby and go to the gym," one well-known troll recently wrote beneath a selfie emphasizing his biceps. "Obesity is the real pandemic.") At the same time, many Republicans are seizing on the outbreak to build support for restrictionist immigration policies and a trade war with China. "We need the Wall more than ever!" Trump tweeted this week.
To the president and his allies, it doesn't really matter that all these narrative threads don't perfectly cohere. Muddying the waters is the name of the game, and it's a strategy that's carried Trump through numerous political battles over the years. https://www.theatlantic.com/politics/archive/2020/03/trump-coronavirus-threat/607825/
10. Peter Wehner: The Trump Presidency Is Over
Donald Trump is shrinking before our eyes.
The coronavirus is quite likely to be the Trump presidency's inflection point, when everything changed, when the bluster and ignorance and shallowness of America's 45th president became undeniable, an empirical reality, as indisputable as the laws of science or a mathematical equation.
It has taken a good deal longer than it should have, but Americans have now seen the con man behind the curtain. The president, enraged for having been unmasked, will become more desperate, more embittered, more unhinged. He knows nothing will be the same. His administration may stagger on, but it will be only a hollow shell. The Trump presidency is over. https://www.theatlantic.com/ideas/archive/2020/03/peter-wehner-trump-presidency-over/607969/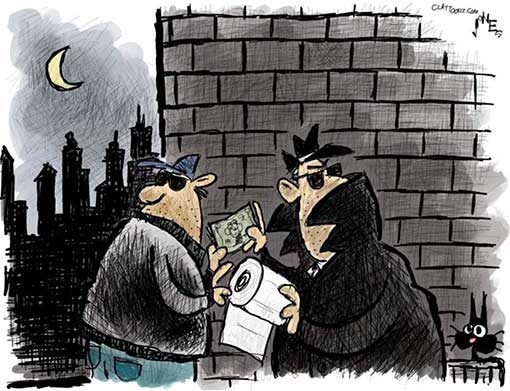 11. David Frum: The Worst Outcome
At every turn, President Trump's policy regarding coronavirus has unfolded as if guided by one rule: How can I make this crisis worse?
Presidents are not all-powerful, especially not in the case of pandemic disease. There are limits to what they can do, for good or ill. But within those limits, at every juncture, Trump's actions have ensured the worst possible outcomes. The worst outcome for public health. The worst outcome for the American economy. The worst outcome for American global leadership.
There is always something malign in Trump's incompetence. He has no care or concern for others; he cannot absorb the trouble and suffering of others as real. He monotones his way through words of love and compassion, but those words plainly have no content or meaning for him. The only thing that is real is his squalid vanity. This virus threatens to pierce that vanity, so he denied it as long as he could. What he refuses to acknowledge cannot be real, can it?
And even now that he has acknowledged the crisis, he still cannot act, because he does not know what to do. His only goal now is to shove blame onto others. Americans have to face the fact that in the grip of this pandemic, the Oval Office is for all practical purposes as empty as the glazed eyes of the man who spoke from that office tonight. https://www.theatlantic.com/ideas/archive/2020/03/trump-ensuring-worst-possible-outcome-coronavirus-crisis/607867/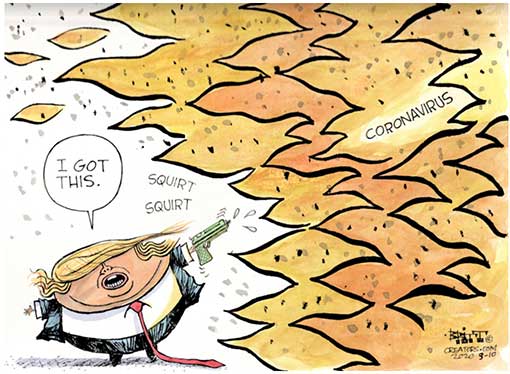 12. David Wallace-Wells: America Is Broken
What we are seeing right now is the collapse of civic authority and public trust at what is only the beginning of a protracted crisis. In the face of an onrushing pandemic, the United States has exhibited a near-total evacuation of responsibility and political leadership — a sociopathic disinterest in performing the basic function of government, which is to protect its citizens.
While it is important to keep in mind that even the worst-case scenarios for COVID-19 stop far short of producing total social and political disarray — producing merely widespread death and suffering and an almost incalculable burden on our already stretched-thin medical capacity — it is nevertheless astonishing, and horrifying, just how quickly we have arrived here, almost totally distrustful of the civic institutions we expect to protect us.
And how did we arrive here? Part of it is, of course, Trump, who has so accelerated the decades-long Republican war on government, which is to say good governance, that it can now seem the only two people actually working in the federal government are Jared Kushner and Stephen Miller (who, by the way, jointly wrote the speech the president gave last night). Part of it is the long story of neoliberalism, which has taught us all that we make our political mark on the world through consumer choice and individual behavior, that we shouldn't expect much but economic management from government, and that citizens are meant to be unleashed into unencumbered markets. Part of it is even deeper cultural transformation, involving growing distrust of institutions and authorities and the growth of a kind of casually paranoid style of go-it-alone American life, as was so memorably documented in Chris Hayes's The Twilight of the Elites. And part of it is, I think, in the term Ross Douthat has deployed in the title of his new book, "decadence" — the ancient imperial cycle of rising power and competence followed by avarice and narcissism and shortsightedness, but accelerated, in the case of the U.S., for a hypermodern age.
Barely more than two decades ago, the United States saw itself as a kind of eternal and all-powerful empire — the indispensable nation. It would have seemed laughable, then, to be told that China would have produced a far better and more comprehensive pandemic response — a shamefully superior response. But today, distressingly, we take that relative failure for granted, and don't expect to outperform the Chinese on matters like these, let alone South Korea or Singapore. What feels new is that we are doing worse even than Italy, where in the past few days hundreds have died and where they are now rationing critical-care devices between patients who need them — deciding, between two people who will die without support, which one has a better chance of surviving with the machine and giving it to them. We are well behind Italy and seem somewhat closer in the effectiveness and coordination of our response to Iran, where it's estimated millions may be infected, including many senior figures in government. When countries like these are desperate, they now turn to China, which is sending a huge supply of necessary equipment and human resources to Italy. The United States used to play that role not that long ago. Now, in this crisis and future ones, who will help us? https://nymag.com/intelligencer/2020/03/coronavirus-shows-us-america-is-broken.html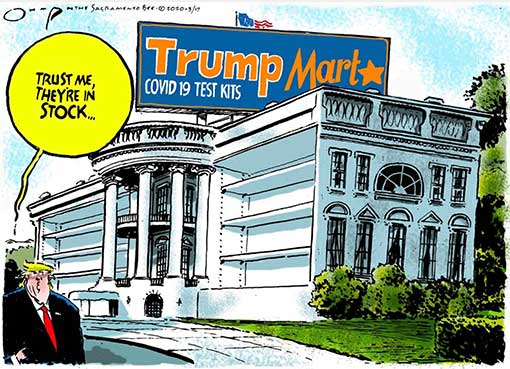 13. Susan B. Glasser: A President Unequal to the Moment
Crises clarify. The bigger the crisis, the more the clarity, which is why the incompetence, dishonesty, and sheer callousness of the Trump Presidency have been clearer in recent days than ever before. As the coronavirus, as of Wednesday an official pandemic, spreads, the lives of Americans depend on the decisions made—or not made, as the case may be—by a President uniquely ill-suited to command in this type of public-health catastrophe. In that sense, the last few weeks may well have been the most clarifying of Donald Trump's Presidency.In a prime-time address to the nation on Wednesday night, Trump declared war on the "foreign virus," blaming first China and then the European Union for spreading it, and insisting that it carried "very, very low risk" for Americans. The starkly militaristic and nationalistic tone of the address sounded scary and ignorant and utterly inadequate at a time when the country is being radically upended, with travel halting, workplaces and schools shuttering, and hospitals bracing for impact. The "foreign virus" will not be contained or shut out by a European travel ban, which the President announced, any more than it was by a China travel ban, which he had previously decreed. It is already here in states across the nation, and experts warn that it could infect millions and kill hundreds of thousands in a worst-case scenario. Trump spoke little about that, beyond a vague nudge to Congress to pass a payroll tax cut and a warning to "elderly Americans" to be "very, very careful" and avoid "nonessential travel." He failed to explain or even address the shocking lack of testing of Americans—a stark contrast to the response by other countries—and did not warn the public about or advise them on how to handle the difficult days ahead. Even the major measure that he announced, the European travel ban, required immediate clarification and correction from Administration officials who said it did not apply to trade, as Trump indicated in his remarks, or permanent residents. His former homeland-security adviser, Thomas Bossert, immediately panned the ban as a "poor use of time & energy."
In short, Trump was detached from the unfolding reality of a global crisis that is unlike any in memory. I've watched Presidential speeches for a few decades now. I cannot recall one that was less equal to the moment.
Trump has spent years devaluing and diminishing facts, experts, institutions, and science—the very things upon which we must rely in a crisis—and his default setting during the coronavirus outbreak has been to deny, delay, deflect, and diminish. His speech on Wednesday night was a disappointment but not a surprise. He told us what we already knew: America is in big trouble. https://www.newyorker.com/news/letter-from-trumps-washington/a-president-unequal-to-the-moment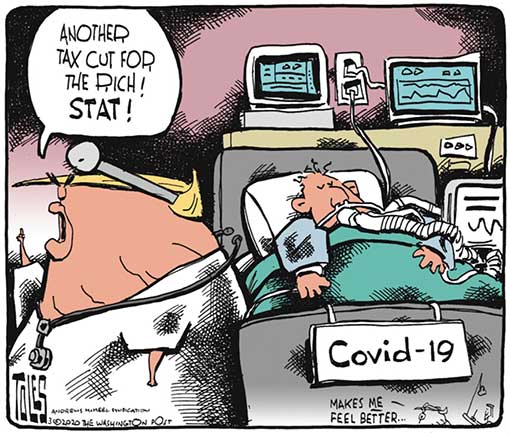 14. John Stoehr: America Loses Trust in Trump, Finally
The president of the United States went on television last night to reassure a worried nation that the government's response to the outbreak of new disease is well in hand. "This is not a financial crisis," Donald Trump said from the Oval Office. "This is just a temporary moment of time that we will overcome together as a nation and as a world."
Yeah, no.
As I was waiting for my Dunkin this morning, ABC News broke into its regular programming with a special report. Wall Street fell 7 percent (that's billions going poof) within minutes of the opening bell. That triggered the circuit breakers, which halted trading for 15 minutes. That's a precaution, the correspondent said, to prevent "a free fall." The long bull market has ended. A recession appears to be in the offing.
I don't know what to say except more of what I've been saying.
You can't trust a fascist to do the work of a democratic republic. You can't trust a leader who betrayed his country, then got his party to cover up his betrayal. You can't trust an executive who's willing to throw people away when they displease him by telling the truth, obeying the law and practicing patriotism. You can't trust someone who has, if memory serves, lied or spoken falsely over 14,000 times since taking office. You can't trust a president who takes no responsibility for his oath to defend and protect the US Constitution. You can't trust a president who serves Republicans only.
Morally speaking, if you were OK with treason, you should be OK with a pandemic.
You can trust a fascist to bumble into disaster before making things much worse by focusing on all the wrong things. Last night, Trump claimed his administration saved lives by taking "early action on China." He blamed Europe for not doing more sooner to contain "the foreign virus." He said Europeans "seeded" hotspots in the US. He announced a ban on travel from Europe for 30 days. (Earlier in the day, he said the coronavirus outbreak meant we needed a border wall more than ever.) It was a xenophobic know-nothing campaign speech dressed to look like serious leadership.
But Trump couldn't even do nativism right.
Turns out "suspending all travel" from Europe does not include the United Kingdom or Ireland, which got officials on the continent thinking Trump's true aim was punishing the trading bloc, not protecting public health. Turns out the ban does not apply to goods and trade. Turns out the ban applies only to foreigners who've been to Europe in the past 14 days. Trump said insurance firms "have agreed to waive all co-payments for coronavirus treatments." Turns out that's for testing, not treatments. (He said today that "the testing has been going very smooth." That's what you call a lie.) https://stoehr.substack.com/p/america-loses-trust-in-trump-finally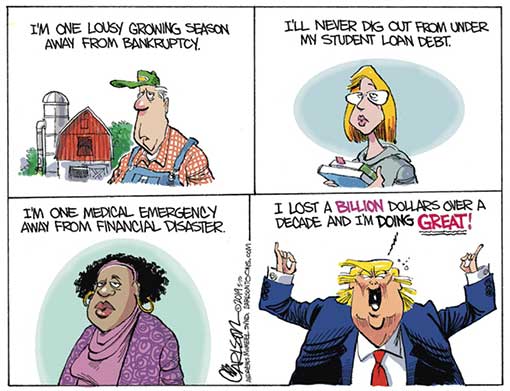 15. Julia Ioffe: Trump Voters Wanted to Blow up the System. Well, Here We Go.
Some 63 million Americans voted for a man who wanted to smash the system to smithereens, either because they felt it wasn't doing enough for them or because breaking glass just feels so primitively satisfying. Or maybe it's because the Republican Party has been peddling a dystopian anarchistic anti-government pipe dream to them for the last four decades. Now, it turns out, a functioning government is a good thing to have when a global pandemic arrives on your shores. It turns out that maybe reforming an imperfect system is wiser than just taking a sledgehammer to it, better to trust people who have dedicated their lives to being public servants than trashing them in favor of a one-man, megalomaniacal savior, better to have a functioning system than dancing on its rubble while crowing about the death of the "deep state"—or "the political establishment."
To those 63 million Americans, I say this: you wanted to smash the system and you got what you wanted—in spades. Now we will all have to pay the price. https://www.gq.com/story/trump-oval-office-address-amid-coronavirus-pandemic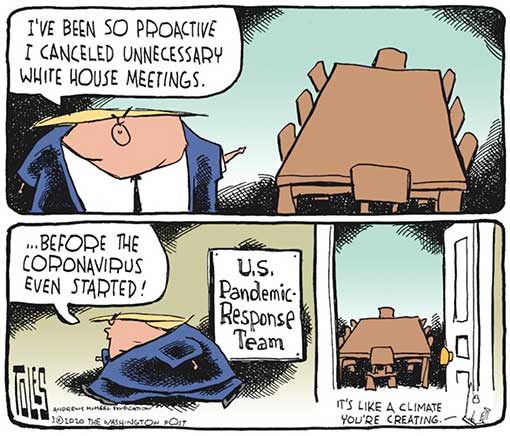 16. Gabriel Debenedetti: Obama's Ebola Czar, Ron Klain, on How Trump Has Bungled the Coronavirus Response
I think there are problems of competence, and there are problems of confidence. On the competence side, this testing fiasco is a fiasco of the first order. Any hope we had of isolating the disease — preventing its widespread transmission in the U.S. — rested on quickly testing people to identify where the disease is and who has it. And the administration made much of their policy of excluding some travelers from China, and whatever you think of that policy, it was always doomed to fail eventually. It bought time, not protection. And then they didn't use the time that it bought to get this testing thing sorted out. So when you wake up in the morning and you see that 150,000 people have been tested in South Korea and fewer than probably 4- or 5,000 were tested here, that's a failure of execution. 
On the confidence side, the communication from the president — and to a lesser extent the vice-president, but mostly from the president — has been horrible. False assurances: 15 days ago, he said we only have 15 cases in America and they're all going down. Everything the president's said has been wrong, and that has two real-world consequences, aside from our standard, Oh, Trump lies. One is that's helped to create this economic panic. Markets and economies react to confidence and the lack thereof and the fact that it seems like our president doesn't know what he's doing. https://nymag.com/intelligencer/2020/03/obamas-ebola-czar-on-how-trump-bungled-coronavirus-response.html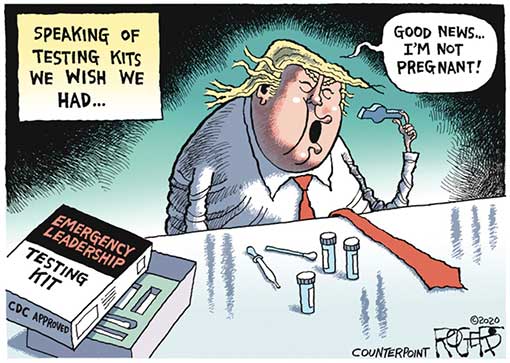 17. Paul Waldman: Reasons Trump is uniquely incapable of managing crises — including this one
Trump's White House is a mess. In any crisis, you want an organization that runs smoothly and communicates well internally. But the word used most often to characterize Trump's White House may be "chaos." He's on his fourth chief of staff and sixth communication director. His White House leaks more than any in history, as aides jockey for position or distance themselves from screw-ups.
Trump himself admits that he likes to set staff against one another, as though operating the government were like an episode of "The Apprentice." "I like conflict," he says. "I like seeing it, and I think it's the best way to go."
Trump values loyalty over competence. "I expect loyalty," Trump reportedly told then-FBI Director James B. Comey not long before firing him. We've seen it again and again: Officials who put the interests of the country or the requirements of their job over personal service to Trump, like Jeff Sessions, earn his ire and are eventually shown the door, while fervent devotees are rewarded. The Post reports that he has tasked a close aide with assembling a list of insufficiently loyal officials so they can be purged. And one of the first things he did in office was to hire his daughter and son-in-law for top positions.
Trump can't tell the truth, and must always say everything is great. From the beginning of the crisis, Trump insisted everything was under control, his administration was doing a spectacular job, and it would all be over soon. When he announced his task force, he claimed that "we've had tremendous success," there were only 15 people infected, and that "within a couple of days" that would be "close to zero."
Trump's relentless need to attack his opponents renders him unable to unify the country. At a moment when a president ought to be calling the country to common purpose, Trump is spending his days insulting Democrats on Twitter and blaming his own shortcomings on Barack Obama.
But what it adds up to is that we've never seen a president less equipped to handle a crisis on this order, or more likely to turn it into a cataclysm. https://www.washingtonpost.com/opinions/2020/03/13/nine-reasons-trump-is-uniquely-incapable-managing-crises-like-this-one/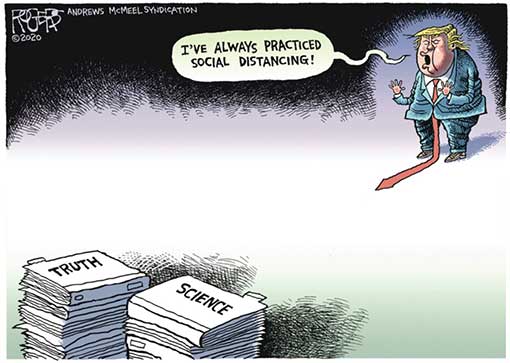 18. Bess Levin: Great News: Jared Kushner Doesn't Think the Coronavirus Is a "Health Reality"
Earlier this week a disturbing new development occurred on the corona front when it was reported that Jared Kushner had paused his efforts solving the opioid crisis, bringing peace to the Middle East, and "reinventing the entire government" to work on the administration's response to the crisis. While you might not know it based on the many top-level assignments Donald Trump has entrusted his son-in-law with, Kushner is not actually a boy genius capable of succeeding where others have failed. He's neither a public health expert nor a doctor. In fact, some might argue that he's a barely functioning adult. Still, perhaps we were being too hard on the guy? Maybe he would be the one to finally get it through to Trump that this is an extremely serious issue? And that the government needs to get its act together, and fast? And that we're literally talking about a matter of life and death here?
Of course, as it turns out, that hasn't happened at all, and Kushner, if anything, is reportedly making the situation worse by feeding into the president's impression that this whole thing is much ado about nothing. https://www.vanityfair.com/news/2020/03/jared-kushner-coronavirus-no-biggie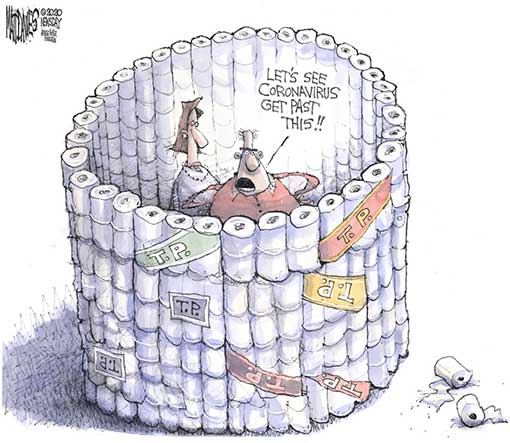 19. Nate White: Why do some British people not like Donald Trump?
Someone on Quora asked "Why do some British people not like Donald Trump?" Nate White, an articulate and witty writer from England wrote the following response on February 11, 2019.
A few things spring to mind.
 
Trump lacks certain qualities which the British traditionally esteem.

For instance, he has no class, no charm, no coolness, no credibility, no compassion, no wit, no warmth, no wisdom, no subtlety, no sensitivity, no self-awareness, no humility, no honour and no grace – all qualities, funnily enough, with which his predecessor Mr. Obama was generously blessed.

It's impossible to read a single tweet, or hear him speak a sentence or two, without staring deep into the abyss. He turns being artless into an art form; he is a Picasso of pettiness; a Shakespeare of shit. His faults are fractal: even his flaws have flaws, and so on ad infinitum.

God knows there have always been stupid people in the world, and plenty of nasty people too. But rarely has stupidity been so nasty, or nastiness so stupid.
 
He makes Nixon look trustworthy and George W look smart.

In fact, if Frankenstein decided to make a monster assembled entirely from human flaws – he would make a Trump.
 
And a remorseful Doctor Frankenstein would clutch out big clumpfuls of hair and scream in anguish: 'My God… what… have… I… created?' https://thehobbledehoy.com/2019/03/08/british-writer-pens-the-best-description-of-trump-ive-read/
20. Ashley Parker: The Coronavirus Show has but one star — and the rest are supporting players
The Coronavirus Show — directed by, produced by and featuring President Trump — has certain rules.

The president, who is every episode's star, always gets the best lines — delivering the happy talk quotes and zingers that are often riddled with half-truths and misstatements, but that allow him to present to the audience the world as he wishes it were, not as it is, in the middle of a deadly global pandemic.

He reserves the right to surprise viewers — as he did with a serious turn on Monday afternoon — offering an appearance totally out of character with the show's previous installments.

And the president appears when he wants, often at the beginning of coronavirus task force news conferences, and sometimes departs early, too — not dissimilar to his time as the actual reality TV host of NBC's "The Apprentice," when he would dole out the challenge and then recede off-screen to the let the teams battle for his approval.

This is generally when the real show begins. But this show, too, has its own set of rules.

Administration officials playing supporting characters must often shape-shift to inhabit two main roles: the role of Trump cheerleader, where they make sure to lavish praise on the president almost to the point of obsequiousness, and the role of competent government bureaucrats doing their very best to be honest and transparent with the public.

It is not an easy casting assignment. https://www.washingtonpost.com/politics/the-coronavirus-show-has-but-one-star--and-the-rest-are-supporting-players/2020/03/16/74c41e16-6794-11ea-9923-57073adce27c_story.html