August 27, 2020
ON THE RECORD. . .
Trump says you can't do fair polls of registered voters, only likely voters, because many registered voters have died. He did not explain how dead voters answer polls.

"If you want a vision of your life under Biden's presidency, think of the smoldering ruins of Minneapolis, the violent anarchy of Portland, the bloodstained sidewalks of Chicago, and imagine the mayhem coming to your town and every single town in America." — Trump, quoted by CNN, apparently forgetting that he's president now.

"Speaking is hard for me too, Brayden. But as you know, practice and purpose help. Thank you for your courage and for the great speech!" — Former Rep. Gabrielle Giffords (D-AZ), responding to 13-year old Brayden Harrington who said Joe Biden helped him with his stutter.

I first encountered Steve Bannon in 2004 & if you told me he would be arrested in 2020, my reaction would have been, "You really think it will take that long?" One of the creepier freaks you're likely to encounter this side of a WH staff meeting. — Former Mitt Romney strategist Stuart Stevens

The Department of Homeland Security, at the urging of President Trump, awarded a $400 million contract to a company affiliated with Steve Bannon's "We Build the Wall" effort. — ACLU

REPORTER: QAnon believes you are secretly saving the world from this cult of pedophiles and cannibals. Are you behind that?
TRUMP: Is that supposed to be a bad thing? We are actually. We are saving the world.

"I never expected that my successor would embrace my vision or continue my policies. I did hope, for the sake of our country, that Donald Trump might show some interest in taking the job seriously; that he might come to feel the weight of the office and discover some reverence for the democracy that had been placed in his care. But he never did." — From former President Barack Obama's DNC convention speech.

And now the Republican Party of Lincoln is led by a man who is determined to honor and defend symbols of the traitorous Confederacy. President Trump imposed punitive tariffs in the name of national security on America's dearest and closest friend and neighbor, Canada, whose soldiers bled and died alongside ours on the sacred beaches of Normandy. And he demeans and disrespects great leaders like Germany's Angela Merkel, a dear friend and ally who is now the world's strongest voice in defense of democratic values and institutions. — Former Rep. Charlie Dent (R-PA), who crossed party lines and endorsed Joe Biden for president.

"I feel very badly. I haven't been dealing with him for a very long period of time. Haven't been dealing with him at all. Don't know anything about the project at all. It's a very sad thing by Mr. Bannon." — Trump commenting to the NY Times on Steve Bannon's arrest on fraud charges.

"I'm not happy with Goodyear because what they're doing is playing politics. And the funny thing is that the people who work for Goodyear, I can guarantee you I poll very well with all those great workers in Goodyear." — Trump doubling down on his attacks against tire maker Goodyear over its policies on political attire, saying he's considering replacing the company's tires on the presidential car with a different brand.

A loss by Trump this year would mean the Republicans have lost the popular vote 7 out of the last 8 elections since 1992. — CNN

"All he wants to do is appeal to his base. He has no principles. None. None. And his base, I mean my God, if you were a religious person, you want to help people. Not do this. … It's the phoniness of it all. It's the phoniness and this cruelty. Donald is cruel. … He was brat. I did his homework for him" and I drove him around New York City to try to get him into college. … He went to Fordham for one year [actually two years] and then he got into University of Pennsylvania because he had somebody take the (SAT) exams." — Trump's sister, Maryanne Trump Barry in a conversation secretly recorded by her niece, Mary L. Trump.

Most of the money given to We Build the Wall—and to the Trump reëlection campaign, so far—has come in the form of modest sums, which were presumably donated, in the main, by people of modest means. An obvious question is: At what point will Trump's supporters come to understand that the maga movement is, for the people organizing and leading it, largely a money-making scam? Sadly, the answer may be never. — John Cassidy in the New Yorker.

The deep state, or whoever, over at the FDA is making it very difficult for drug companies to get people in order to test the vaccines and therapeutics. Obviously, they are hoping to delay the answer until after November 3rd. Must focus on speed, and saving lives! — Donald Trump

@SpeakerPelosi described Trump's comments as "scary" after he suggested, without evidence, that employees at the @US_FDA are attempting to sabotage his re-election campaign by slowing down research on #coronavirus treatments.

"He had a checklist and this came up in late August. You end up with only so much brain space and adrenaline and that is what happened." — Newt Gingrich, when asked why President Trump has not come up with a second term agenda.

CHRIS WALLACE: You can end this controversy right now. Does the president disavow, does he condemn QAnon?
MARK MEADOWS: Well, listen, we — we don't even know what it is.

"You know I don't have a history of dodging questions. But I don't know how to answer that. There is no consistent philosophy, You can't say it's about making America great again at a time of Covid and economic distress and social unrest. It's just not credible… That's the best I can do." — GOP pollster Frank Luntz when asked, "What do Republicans believe?"

"When it came to the issue of the border wall, Trump would be dreaming up "sickening" medieval plots "to pierce the flesh" of migrants, rip all the families apart, "maim," and gas them. "This was a man with no humanity whatsoever," Taylor says. "He says, we got to do this, this, this, and this, all of which are probably impossible, illegal unethical," Taylor recalls," — Miles Taylor, the former chief of staff at the Department of Homeland Security on "The New Abnormal" podcast.

"We got about about maybe 15% of voters watching this stuff. Most of whom are hardcore partisans in one of the most stable races ever. And little sign the horserace significantly moved after the DNC. This idea that any of the DNC/RNC activities will move voters is untested." — Harry Enten

POLITICAL ADS.....

Goodyear | The Lincoln Project: https://youtu.be/2vuqy7G5Z4E

Donald Trump Is The Snake | Meidas Touch: https://www.youtube.com/watch?v=yZJEI4TNMro

Sarah Cooper Crashes DNC With Brutal Trump Impression: https://www.thedailybeast.com/sarah-cooper-crashes-dnc-with-brutal-trump-impression

Trump administration's response to covid-19 | American Bridge 21st Century:. https://wapo.st/316ZhUF

Trump's Boycott - Goodyear OH | Joe Biden For President 2020: https://youtu.be/BUNfZhEjFfA

#BlueWave2020 | Eleven Films: https://twitter.com/Eleven_Films/status/1294769916294225921

Trump's "fixer" Michael Cohen has a dire warning for us all | American Bridge 21st Century: https://twitter.com/American_Bridge/status/1298030438225764352

Trump's America in 75 seconds | Lincoln Group: https://twitter.com/i/status/1298348692370599938
---
IN THIS ISSUE
FYI
OPINION
1. Andy Borowitz: Trump Fails Cognitive Test When Asked to Remember Steve Bannon
Donald J. Trump's stellar reputation for mental acuity took a hit on Thursday when he failed a cognitive test in which he was asked to remember Steve Bannon.

According to the White House physician, Trump was shown several pictures and asked to identify them, including ones of a woman, a man, a camera, a TV, and Steve Bannon.

"He nailed woman, man, camera, and TV but drew a blank when it came to Steve Bannon," the physician said. "He said he was unfamiliar with that picture and could not remember ever seeing that person before."

After repeated attempts to jog Trump's memory concerning the identity of Steve Bannon, including writing the name Steve Bannon on a notecard and showing it to him, the physician gave up trying.

On a positive note, the physician said, Trump's cognition appeared to improve later in the morning, when he was able to block Steve Bannon on Twitter, Facebook, and his phone. https://www.newyorker.com/humor/borowitz-report/
2. Trump Comes Up Empty When Pressed For Evidence Of Election Fraud In Court
Donald Trump's campaign, ordered by a federal court judge in Pennsylvania to back up its claims of fraud in the state's vote-by-mail system, has documented only a handful of cases of election fraud in recent years — none of which involved mail-in ballots. The revelation, which came in the form of a partially redacted 524-page document produced by the Trump campaign last week, undermines the claim by Trump team operatives that mail-in ballot fraud is a grave risk to Pennsylvania voters. https://theintercept.com/2020/08/20/trump-election-fraud-pennsylvania-court/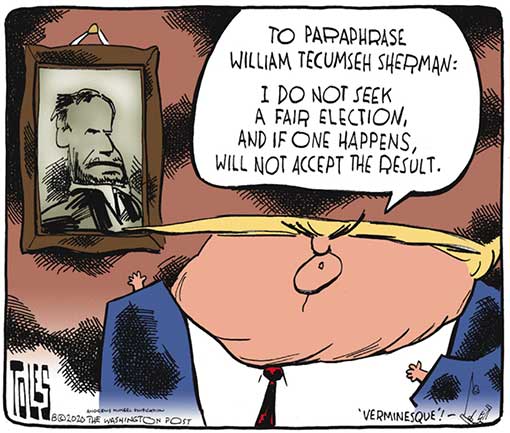 3. Fact checking the Republican National Convention
Fact Check: First night of the Republican National Convention features more dishonesty than four nights of DNC: https://www.cnn.com/2020/08/24/politics/republican-national-convention-first-night-fact-check/index.html
Fact Check: Second night of RNC riddled with dishonesty as Melania Trump appeals for 'total honesty':
https://www.cnn.com/2020/08/25/politics/rnc-night-two-fact-check/index.html
4. CDC was pressured 'from the top down' to change coronavirus testing guidance, official says
A sudden change in federal guidelines on coronavirus testing came this week as a result of pressure from the upper ranks of the Trump administration, a federal health official close to the process tells CNN.
"It's coming from the top down," the official said of the new directive from the Centers for Disease Control and Prevention.
The new guidelines raise the bar on who should get tested, advising that some people without symptoms probably don't need it -- even if they've been in close contact with an infected person.
Previously, the CDC said viral testing was appropriate for people with recent or suspected exposure, even if they were asymptomatic. https://www.cnn.com/2020/08/26/politics/cdc-coronavirus-testing-guidance/
5. New Postal Service Documents Show Nationwide Delays Far Worse Than Postal Service Has Acknowledged
Rep. Carolyn B. Maloney, the Chairwoman of the Committee on Oversight and Reform, released new internal Postal Service documents warning Postmaster General Louis DeJoy about steep declines and increasing delays nationwide over the last two months as a result of his drastic operational and organizational changes. https://oversight.house.gov/news/press-releases/new-postal-service-documents-show-nationwide-delays-far-worse-than-postal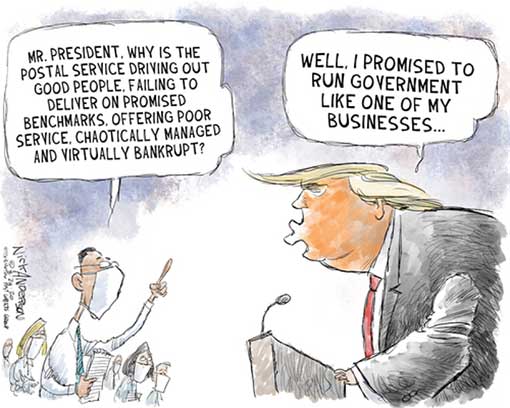 6. Trump's suggestion of deploying law enforcement officials to monitor polls raises specter of voting intimidation
More than 30 years ago, a Republican Party program that dispatched off-duty police officers to patrol polling places in heavily Black and Latino neighborhoods in New Jersey triggered accusations of voter intimidation, resulting in a federal agreement that restricted for decades how the national GOP could observe voting.
Now, two years after those limits were lifted, President Trump has revived the idea of using law enforcement officers to patrol polling places, invoking tactics historically used to scare voters of color.
In an interview Thursday with Fox News host Sean Hannity, Trump described law enforcement officers as part of a phalanx of authorities he hopes will monitor voting in November.
"We're going to have everything," the president said. "We're going to have sheriffs, and we're going to have law enforcement, and we're going to hopefully have U.S. attorneys and we're going to have everybody, and attorney generals. But it's very hard."
https://www.washingtonpost.com/politics/trumps-suggestion-of-deploying-law-enforcement-officials-to-monitor-polls-raises-specter-of-intimidation/2020/08/21/4ff6407a-e3bb-11ea-8dd2-d07812bf00f7_story.html
7. The Winner of Bannon's 'We Build the Wall' Walked Away With $1.7 Billion
Winning is everything in Trump world, and the winner in the border wall fundraising scandal is a contractor who has ended up with more than $1.7 billion in federal contracts.
Former Trump advisor Steve Bannon is said by prosecutors to have pocketed only a relatively modest $1 million. Brian Kolfage, who launched the "We Build the Wall" effort on GoFundMe allegedly got less than half that.
Kolfage had pledged he would "not take a penny" and Bannon had declared himself "a volunteer." Both now face fraud and money laundering charges that could result in serious time.
https://www.thedailybeast.com/the-real-winner-of-steve-bannons-we-build-the-wall-walked-away-with-dollar17-billion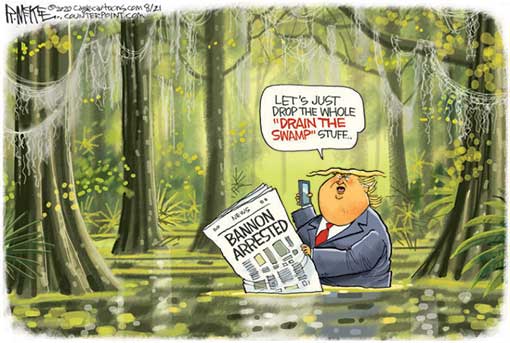 8. As Census Count Resumes, Doubts About Accuracy Continue to Grow
"With the 2020 census into its final stage, more than one in three people hired as census takers have quit or failed to show up.
Many still on the job are going door to door in areas that largely track places where there are elevated rates of coronavirus infections, according to calculations by the National Conference on Citizenship, Civis Analytics and The New York Times.
And with 38 million households still uncounted, state and local officials are raising growing concerns that many poor and minority households will be left out of the count.
Wracked by the pandemic and politics and desperately short of time, the last stage of the national population count — a Constitutional mandate to tally everyone living in the United States accurately — is unfolding in historic doubt. https://www.nytimes.com/2020/08/24/us/census-bureau.html
9. New York attorney general files legal action against Trump Organization, revealing state investigation into the company's financial dealings
The New York attorney general is investigating President Trump's private business for allegedly misleading lenders by inflating the value of its assets, the attorney general's office said Monday in a legal filing.
In the filing, signed by a deputy to Attorney General Letitia James, the attorney general's office said it is investigating Trump's use of "Statements of Financial Condition" — documents Trump sent to lenders, summarizing his assets and debts.
The filing asks a New York state judge to compel the Trump Organization to provide information it has been withholding from investigators — including a subpoena seeking an interview with the president's son Eric. https://www.washingtonpost.com/politics/new-york-ag-trump-organization-lawsuit/2020/08/24/882c03a8-e60e-11ea-bc79-834454439a44_story.html
10. Fox News is right: Any idiot can read off a teleprompter
The Daily Show: https://twitter.com/TheDailyShow/status/1296935132700581889
11. The race begins for Kamala Harris' Senate seat
Should Joe Biden win the presidency, California Gov. Gavin Newsom (D) will appoint a replacement for Sen. Kamala Harris (D) to serve the remaining two years of her term.
Democratic sources in the state tell CBS News that Rep. Adam Schiff, Rep. Katie Porter, Rep. Nanette Diaz Baragan, and former Los Angeles Mayor Antonio Villaraigosa, have all made calls to lobby constituencies for the job.
Others, like Secretary of State Alex Padilla, Attorney General Xavier Becerra, Reps. Karen Bass and Barbara Lee, and former Labor Secretary Hilda Solis consistently come up in conversations as likely replacements. https://www.cbsnews.com/news/the-race-begins-for-kamala-harris-senate-seat/
12. Susan B. Anthony Museum Rejects Trump Pardon, Tells How He Can Really Honor Her
The National Susan B. Anthony Museum and House in Rochester, New York, explained in a Twitter thread Tuesday why it objected to Trump's pardon for Anthony, who was charged in 1872 with voting illegally.
"If one wants to honor Susan B. Anthony today, a clear stance against any form of voter suppression would be welcome."
"Support for the Equal Rights Amendment would be well received," it continued. "Advocacy for human rights for all would be splendid."
"Anthony was also a strong proponent of sex education, fair labor practices, excellent public education, equal pay for equal work, and elimination of all forms of discrimination," the museum said. https://www.yahoo.com/huffpost/susan-b-anthony-museum-rejects-donald-trump-pardon-082133508.html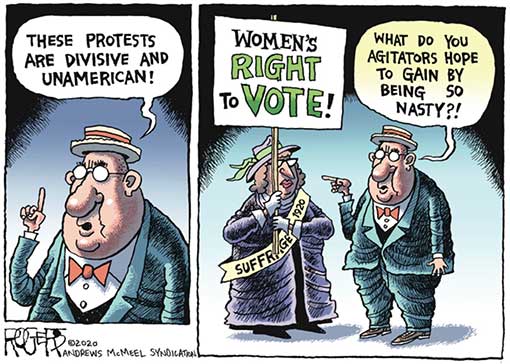 13. Former Republican CIA, FBI heads and national security officials to back Biden
A  new letter, released by 70 former Republican national security officials including ex-CIA and FBI chiefs just hours before Mr. Biden formally accepted the nomination laid out a 10-point indictment of Mr. Trump's actions, accusing him of undermining the rule of law, aligning himself with dictators and engaging 'in corrupt behavior that renders him unfit to serve as president.'" https://www.defendingdemocracytogether.org/national-security/
14. Justices remove Green Party candidates from Montana ballot
A Republican-backed effort to qualify Montana Green Party candidates for the general election has been rejected by the Montana Supreme Court.
Justices on Wednesday upheld District Judge James Reynolds' Aug. 7 ruling that granted the requests of about 560 people to remove their names from the petitions after they learned the Montana Green Party did not support the effort.
It was later learned the Montana Republican Party had bankrolled the $100,000 signature-gathering effort and violated campaign finance laws by not properly reporting the expenditure. https://nbcmontana.com/news/local/justices-remove-green-party-candidates-from-montana-ballot
15. LeBron James and a Multimillion-Dollar Push for More Poll Workers
More Than a Vote, a collective of athletes headlined by LeBron James that is fighting to combat voter suppression, will announce a multimillion-dollar initiative to increase the number of poll workers in Black electoral districts ahead of November's general election.
The project, a collaboration with the NAACP Legal Defense Fund, aims to recruit young people to serve at polling locations in Black communities in swing states, including Georgia, Michigan, Wisconsin, Florida and Ohio. The effort will involve poll worker recruitment, a paid advertising campaign and a corporate partnership program that will encourage employees to volunteer as poll workers. https://www.nytimes.com/2020/08/24/us/politics/lebron-james-poll-workers.html
16. Trump Cabinet officials voted in 2018 White House meeting to separate migrant children, say officials
In early May 2018, after weeks of phone calls and private meetings, 11 of the president's most senior advisers were called to the White House Situation Room, where they were asked, by a show-of-hands vote, to decide the fate of thousands of migrant parents and their children, according to two officials who were there.
Donald Trump's senior adviser Stephen Miller led the meeting, and, according to the two officials, he was angry at what he saw as defiance by Homeland Security Secretary Kirstjen Nielsen.
Miller saw the separation of families not as an unfortunate byproduct but as a tool to deter more immigration. According to three former officials, he had devised plans that would have separated even more children. Miller, with the support of Sessions, advocated for separating all immigrant families, even those going through civil court proceedings, the former officials said.
While zero tolerance ultimately separated nearly 3,000 children from their parents, what Miller proposed would have separated 25,000 more, including those who legally presented themselves at ports of entry seeking asylum, according to Customs and Border Protection data from May and June 2018. https://www.nbcnews.com/politics/immigration/trump-cabinet-officials-voted-2018-white-house-meeting-separate-migrant-n1237416
17. The Republican Embrace of QAnon Goes Far Beyond Trump
Late last month, as the Texas Republican Party was shifting into campaign mode, it unveiled a new slogan, lifting a rallying cry straight from a once-unthinkable source: the internet-driven conspiracy theory known as QAnon.
The new catchphrase, "We Are the Storm," is an unsubtle cue to a group that the F.B.I. has labeled a potential domestic terrorist threat. It is instantly recognizable among QAnon adherents, signaling what they claim is a coming conflagration between President Trump and what they allege, falsely, is a cabal of Satan-worshiping pedophile Democrats who seek to dominate America and the world.
The slogan can be found all over social media posts by QAnon followers, and now, too, in emails from the Texas Republican Party and on the T-shirts, hats and sweatshirts that it sells. It has even worked its way into the party's text message system — a recent email from the party urged readers to "Text STORM2020" for updates. https://www.nytimes.com/2020/08/20/us/politics/qanon-trump-republicans.html
18. Disinformation campaign stokes fears about mail voting
A prominent Washington-based conservative advocacy organization is promoting a deceptive digital ad campaign that is stoking fears about mail-in voting and targeting battleground states with high concentrations of minority voters.
FreedomWorks, the tax-exempt nonprofit that helped launch tea-party protests a decade ago and is now aligned with causes central to President Trump's reelection, has extensively promoted the website behind the operation.
The website, called Protect My Vote, warns baselessly that mail balloting results in "lost votes and lost rights." An associated page on Facebook has purchased more than 150 ads, which have been viewed hundreds of thousands of times this month. They appear designed to tap existing anxiety about the integrity of the voting system to convince voters in swing states where minority turnout could be decisive that mail balloting is not reliable amid an uncontained pandemic leading many Americans to consider alternative ways to be heard on Election Day. https://www.washingtonpost.com/politics/disinformation-campaign-stokes-fears-about-mail-voting-using-lebron-james-image-and-boosted-by-trump-aligned-group/2020/08/20/fcadf382-e2e2-11ea-8181-606e603bb1c4_story.html
19. Ballot drop boxes are latest battleground in U.S. election fight
As U.S. election officials gird for a dramatic expansion of mail voting in the Nov. 3 election, Democrats across the country are promoting drop boxes as a convenient and reliable option for voters who don't want to entrust their ballots to the U.S. Postal Service.
President Donald Trump's re-election campaign, meanwhile, has sued to prevent their use in Pennsylvania, a key battleground state, alleging that the receptacles could enable voting fraud.
Republican officials in other states have prevented their use. Tennessee Secretary of State Tre Hargett told a U.S. Senate committee in July that drop boxes could enable people to violate a state law against collecting ballots.
In Missouri, Republican Secretary of State Jay Ashcroft decided not to distribute 80 drop boxes he had purchased because state law requires those ballots to be returned by mail. https://www.reuters.com/article/us-usa-election-dropboxes/ballot-drop-boxes-are-latest-battleground-in-u-s-election-fight-idUSKBN25G14I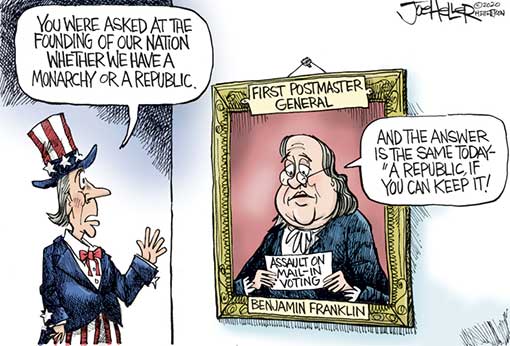 20. Bannon Joked About Stealing Money from Donors
In a newly-discovered video clip from a 2019 "We Build the Wall" telethon, Steve Bannon jokingly brags about being on a "million dollar yacht" with Brian Kolfage, who Bannon quips paid for the yacht with "all that money" from donors. Both men were arrested yesterday — Bannon was actually on a yacht — and charged with fraud and money laundering. twitter.com/existentialfish/status/1296820737521717248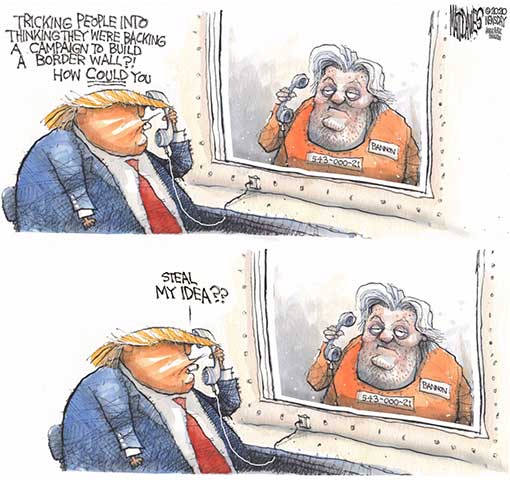 21. Judge orders Trump to pay legal fees to Stormy Daniels
A California court ordered President Trump to pay $44,100 to Stormy Daniels to cover her legal fees regarding her nondisclosure agreement. https://thehill.com/regulation/court-battles/513212-judge-orders-trump-to-pay-legal-fees-to-stormy-daniels
22. Trump's attempt to bypass Congress on stimulus is offering almost no economic relief
Just two weeks after President Trump approved executive actions aimed at bypassing stalled stimulus negotiations with Congress, only one state has said it is paying new jobless benefits, few evictions have been paused, and leading employers have made clear that workers will not benefit from the president's new payroll tax deferral. https://www.washingtonpost.com/us-policy/2020/08/21/trump-unemployment/
23. Republicans Will Have No Party Platform
Instead of drafting a document outlining the party's beliefs and agenda, the Republican National Committee simply states that it agrees with everything Donald Trump has done and will do. https://prod-cdn-static.gop.com/media/documents/RESOLUTION_REGARDING_THE_REPUBLICAN_PARTY_PLATFORM.pdf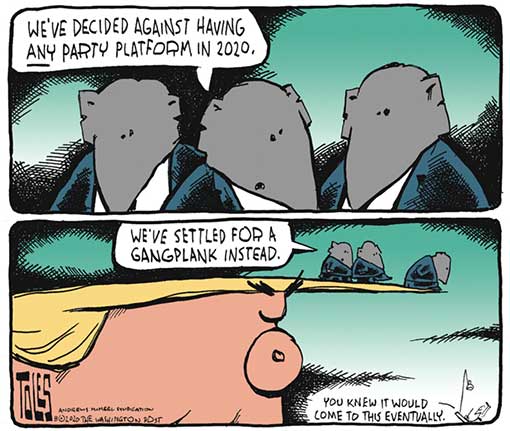 24. Trump's Handpicked Postal Service Chair Has A Long History Of Voter Suppression
Donald Trump's selection for a key Postal Service position, Robert M. Duncan, once had a very different job: steering the Republican Party while it undertook some of its most brazen voter suppression schemes.
Duncan is now the chair of the Postal Service board of governors, but he previously served as general counsel and then chair of the Republican National Committee from 2002 to 2009, a time when the committee and its state counterparts oversaw an unprecedented escalation of voter disenfranchisement efforts in swing states.
From 2004 to 2006, when Duncan was the committee's general counsel, party officials challenged the eligibility of at least 77,000 voters, a 2007 report by the nonpartisan group Project Vote found.
As it happens, one of the party's favored tactics relied on the U.S. mail. In 2004, Republicans in Ohio, Florida and Pennsylvania sent thousands of nonforwardable letters and postcards to select voters — particularly minority voters — and used the mail returned as undeliverable to come up with voter registration challenge lists. 
Duncan's history is the latest alarm bell for those fearful that Trump is attempting to undermine the U.S. Postal Service in order to win reelection. https://www.huffpost.com/entry/usps-chair-voter-suppression_n_5f42e65fc5b6763e5dc4b7c1
25. The DAILY GRILL
"The Democrats took the word GOD out of the Pledge of Allegiance at the Democrat National Convention. At first I thought they made a mistake, but it wasn't. It was done on purpose. Remember Evangelical Christians, and ALL, this is where they are coming from-it's done. Vote Nov 3!" —Trump tweet.

VERSUS

THE FACTS: That's a misleading accusation. The central programming of the convention featured the entire pledge, complete with "under God."

 

"Of course masks work. Everyone knows that. Dozens of research papers have proved it. In South Korea, Japan, Hong Kong, the rest of Asia where coronavirus has been kept under control -- masks were key." — Tucker Carlson 3/30/20

VERSUS

Masks are a tool of control by diabolical Democrats who want to keep people afraid to win the election. — Tucker Carlson 7/07/20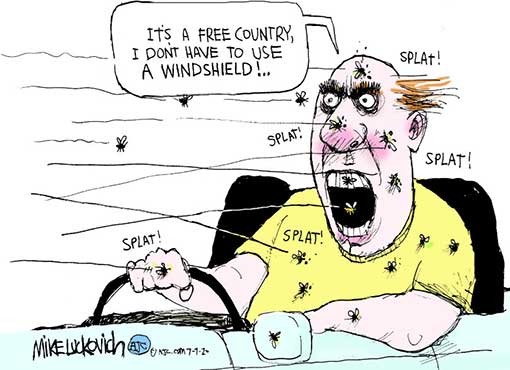 "The Clinton have sold out their own people for cold cash. They are grifters." — Steve Bannon, in a 2016 interview on Breitbart News Radio, adding that the Clintons were running "a money laundering operation."

VERSUS

Former Trump administration chief strategist Steve Bannon was charged with fraud by federal prosecutors in New York and taken into custody, Bannon, along with three others, allegedly defrauded donors out of hundreds of thousands of dollars for their own profit with a crowdfunding campaign called "We Build the Wall."

 

Trump said Thursday he didn't like the project, citing a tweet from last month criticizing it, and said he knew nothing about it other than what he had read.

VERSUS

"I've spoken to the President about this project on three occasions now. And he said — the first time I told him about it — he said, 'well, you tell the guys at We Build The Wall, that they have my blessing.' And he used those exact words." — Trump ally Kris Kobach in an interview last year.

 

Democrats have spent all week talking about how much they hate President @realDonaldTrump. The President should spend next week talking about how much he loves and is fighting for the American people. -- Sarah Huckabee Sanders

VERSUS

Well that's not going to happen because the only one he cares about is himself. — Debbie Woodruff https://twitter.com/CoachDebbieRuns/status/1296290583644745733
26. From MEDIA MATTERS (They watch Fox News so you don't have to)
Florida veteran Brian Kolfage, former Trump chief strategist Steve Bannon, and two others "orchestrated a scheme to defraud hundreds of thousands of donors" who supported their online crowdfunding campaign effort to construct a barrier on the U.S. southern border, according to an indictment federal prosecutors unsealed Thursday. The group had relied on credulous coverage and support from right-wing media outlets and personalities to drive more than $20 million in donations. In December 2018, as President Donald Trump prepared to shut down the federal government in hopes of obtaining funds to build his long-sought border wall on the U.S. border with Mexico, New York Post columnist Michael Goodwin suggested that the president's supporters instead crowdfund its construction. "Let the people who support the wall pay for it -- directly and voluntarily," Goodwin wrote. https://www.mediamatters.org/immigration/these-right-wing-outlets-and-personalities-promoted-steve-bannon-and-brian-kolfages

LOU DOBBS (HOST): You may find this somewhat ironic, the contratemps between the postal service and the Trump administration and somehow the deep state launching agents of the U.S. Postal service to arrest Mr. Bannon. Now, we checked. If you're surprised to find out the postal service has its own police force, there are 65 separate U.S. federal police departments and agencies and 27 offices of inspector general that also can make arrests and carry firearms. What in the world kind of government have we created? https://www.mediamatters.org/fox-news/lou-dobbs-claims-arrest-steve-bannon-deep-state-plot

Fox News really doesn't care about voluminous evidence of Trump-Russia malfeasance. Fox News has already moved on from the Republican-led Senate Intelligence Committee's damning new report dissecting the Kremlin's effort to help President Donald Trump win the 2016 election and the direct links between his associates and Russian intelligence. Sean Hannity, the prime mover of its alternate Russia conspiracy theory, claimed on his show Tuesday that the report was "confirming -- we've been telling you for over three years -- there was no Trump-Russia collusion ever." That's a lie -- the report itself did not address the issue of collusion. The committee's Republicans claimed in an addendum that the investigation "found no evidence that then-candidate Donald Trump or his campaign colluded with the Russian government in its efforts to meddle in the election," a far narrower and yet still dubious claim that requires pretending the voluminous evidence they assembled -- and the questions they couldn't answer due to deliberate efforts to conceal -- doesn't exist. https://www.mediamatters.org/trumprussia/fox-news-really-doesnt-care-about-voluminous-evidence-trump-russia-malfeasance

Rush Limbaugh questions whether Biden's "flawless" speech was live, or "a series of edited-together segments made to look live": RUSH LIMBAUGH (HOST): And I have to tell you, let me just review, there are a lot of people — I have come to find out — who want to know if Plugs' [Biden's] speech was delivered live, or was it prerecorded? Now, the assumption I think that everybody had going in, was that he was live … Because we didn't hear anything else, well, it was live. The time came for the speech to happen, the lights went down or came up, whichever, and here comes [Biden] and starts the speech. Some people are of the opinion that it had to be taped — and that it had to be taped in segments, and the segments had to be edited together — because [Biden] is not capable of 22 minutes, even reading a prompter, with no screw-ups. This is the prevailing theory. https://www.mediamatters.org/joe-biden/rush-limbaugh-questions-whether-bidens-flawless-speech-was-live-or-series-edited-together

Fox's whitewash of Trump's QAnon endorsement helps explain how it happened in the first place: President Donald Trump's Wednesday endorsement of the deranged and dangerous QAnon movement as people who "love this country" thrilled its supporters while horrifying observers, who pointed out that his validation of an extremist ideology linked to violent acts would swell its ranks. But during his first interview following those remarks on Thursday night, the president faced no questions about his praise for unhinged pro-Trump conspiracy theorists who claim that he is on the verge of unraveling a global pedophile ring of Satan-worshipping Democrats and celebrities. As Fox News host Sean Hannity provided the president with his typical mix of sycophancy and softballs over the course of the half-hour phoner, Trump's embrace of QAnon never came up. Hannity's decision to ignore the story put a capstone on Fox's lackadaisical response to the president's praise for advocates of a bizarre conspiracy theory that the FBI has termed a domestic terror threat. https://www.mediamatters.org/qanon-conspiracy-theory/foxs-whitewash-trumps-qanon-endorsement-helps-explain-how-it-happened-first
27. From the Late shows
Trump Messed With The Wrong Tire Guys: https://www.youtube.com/watch?v=uFkHIrsaO7E

The Trump Family Sings The ABCs Of The RNC: https://www.youtube.com/watch?v=hsTxzn3SHQk&feature=youtu.be

RNC Night 2: Melania Trump endorses fictional version of Donald: https://www.youtube.com/watch?v=W2xdw4W9Keg

 RNC Night 2 | Colbert Report: https://youtu.be/B71GIMg-2Ds
1. Toluse Olorunnipa: Trump uses Republican to try to rewrite coronavirus history, casting himself as lifesaving hero
At the Republican National Convention on Monday, Trump was hailed as a bold and lifesaving leader who "was right" on the novel coronavirus while Democrats, doctors and pundits were wrong from the beginning. One campaign-style video that aired during the convention hailed Trump as the "one leader" who stood up to the virus while quoting Democratic figures who played down the severity of the virus in its early stages. Trump uses Republican convention to try to rewrite coronavirus history, casting himself as lifesaving hero
Faced with a pandemic that has killed more than 175,000 Americans, President Trump used glitzy video and misleading testimonials to spin a tale of heroism and resolve far removed from the grim reality of a country in the throes of an uncontrolled public health crisis.
In his revisionist version of recent history belied by hours of videotape in which the president minimized the threat of the virus for months, falsely predicted that it would "disappear" with warmer weather, promoted several unproven miracle cures, pushed states to reopen before meeting federal government benchmarks, equivocated on mask-wearing, defied social distancing guidelines and repeatedly told Americans that everything was under control. https://www.washingtonpost.com/politics/trump-coronavirus-convention/2020/08/25/e3741c40-e6e1-11ea-970a-64c73a1c2392_story.html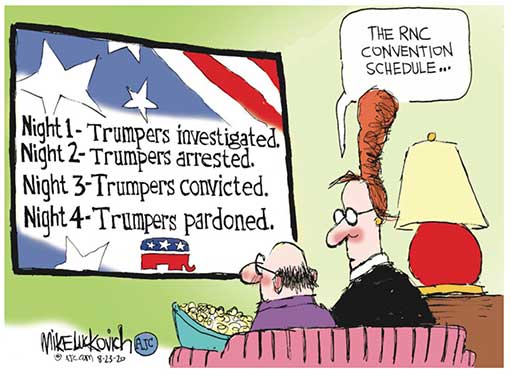 2. Ezra Klein: A loyalty test for the GOP, a reality test for the country
The problem for Republicans is that the main thing Trump has told them to support is himself. There are no detailed policy proposals, much less a coherent ideology or set of governing principles. And so speech after speech followed the same template: How was America going to stop the coronavirus? By reelecting Donald Trump. How was it going to revive its economy? By reelecting Donald Trump. How was it going to ensure domestic harmony? By reelecting Donald Trump.
The contradiction at the heart of the convention, of course, is that Donald Trump is currently president. I'm dead serious. How would reelecting Trump resolve these crises that Trump has proven unable to resolve — and has, in many cases, worsened — in office? No one even took a shot at that Rubik's cube. Instead, the speakers awkwardly talked around the fact of Trump's incumbency. He was presented, strangely, as both incumbent and challenger; the man who had fixed America's problems, but also the man needed to fix an America beset by more problems than ever. https://www.vox.com/2020/8/25/21400476/republican-convention-night-one-donald-trump-rnc-facts-2020
3. Greg Sargent: The GOP convention just ripped the mask off Trump's corruption and lies
The second night of the GOP convention showcased a party that is unshakably confident in its ability to get away with flaunting President Trump's corrupt manipulation of the levers of government to remain in power — on national television, with absolute impunity.
It also showcased a party that's equally confident in its power to create a hermetically sealed-off alternate universe in which the only corrupt party is the opposition. Completing this picture, the levers of government are currently being manipulated to manufacture that invented reality about the opposition, too.
If they get away with this, what will be left of our political system?
These stakes were illustrated with unsettling clarity by Pam Bondi's speech on Tuesday night. The former attorney general of Florida oozed a phony air of sincerity while recycling entirely debunked nonsense about Joe Biden's son Hunter and Ukraine. The Biden campaign didn't take the bait.
This is not a moment we should allow to slide by. Taken along with the blatant lawbreaking at the convention on Tuesday, it all demonstrates a level of seething contempt for our political system and institutions — and even for the very idea that there should be baseline standards in political competition — that the media still struggles to convey faithfully. https://www.washingtonpost.com/opinions/2020/08/26/gop-convention-just-ripped-mask-off-trumps-corruption-lies/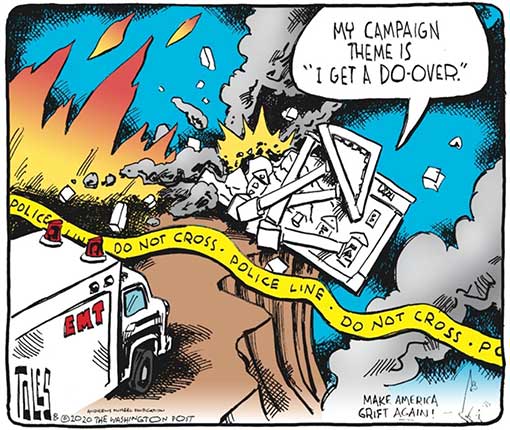 4. Paul Waldman: The Trump children are here to feed your grievance and resentment
Before the Republican National Convention began, party chair Ronna McDaniel promised "an aspirational and uplifting tone." And some speakers certainly have described the paradise America will turn into should President Trump be given a second term.
But much more, the convention has been a showcase of grievance, anger and resentment. And the most enthusiastic purveyors of this, oddly enough, have been those who have the least cause to be aggrieved about anything: Trump's own children.
This has long been a core part of Republican politics, especially around race. Minorities are taking your jobs, killing your children and living off welfare, generations of voters have been told; the only answer was to elect the party whose highest priority is cutting taxes for the wealthy and corporations. In 2016, Trump told that same story, but this time the villains were immigrants.
But in this election the GOP has found a different avenue to promote that resentment and anger. Liberals, they say, are silencing you, making you a victim of "cancel culture."
And the Trump children are here to tell you that the thought police are coming for you. https://www.washingtonpost.com/opinions/2020/08/26/trump-children-are-here-feed-your-grievance-resentment/
5. Robin Wright: A Dubious Pompeo Speech for an Empty Trump Foreign Policy
As Trump seeks reëlection, some of the toughest criticism on his foreign policy is from other Republicans, including a scathing joint condemnation last week by seventy-five senior Republican officials from four Administrations. "Without question, Trump has denigrated our standing with friends and with foes. They all think less of us," Richard Armitage, one of the signatories, and the Deputy Secretary of State during the George W. Bush Administration and Assistant Secretary of Defense during the Reagan Administration, told me. "Our standing globally has not been this low since the end of the Cold War and probably not since before World War Two. . . . People don't really care about us. They're so over us because of this guy."
Long-standing American principles and policies shared by both parties—promoting democracy, defending human rights, containing aggression, and addressing climate change, migration, and public health—have been discarded or ignored. As Pompeo spoke from Jerusalem—a transparent appeal to Trump's evangelical base and a boost to Pompeo's own Presidential ambitions—the Russian opposition leader Alexey Navalny lay in a coma, in intensive care from poisoning. Trump has remained largely silent on what German doctors claim was clearly an attempt on Navalny's life. Trump has also avoided questions about the ongoing popular protests in Belarus against Alexander Lukashenko, Europe's last dictator.
Trump has done little to confront President Vladimir Putin on his most egregious aggressions, including Russian bounties reportedly paid to the Taliban for killing U.S. troops in Afghanistan. Trump called the New York Times story "a made-up fake news media hoax" designed to damage his reputation. Putin is running rampant and penetrating deeper into Europe, the Middle East, and Africa, but Trump still has illusions of befriending and transforming the former K.G.B. operative. "Trump's Russia policy has been a complete and utter failure," Richard Burt, the chief U.S. negotiator in the Strategic Arms Reduction Talks with the Soviet Union, during the George H. W. Bush Administration, told me. "Putin has gotten away with whatever he wants." https://www.newyorker.com/news/our-columnists/at-the-republican-national-convention-a-vacuous-pompeo-speech-for-an-empty-trump-foreign-policy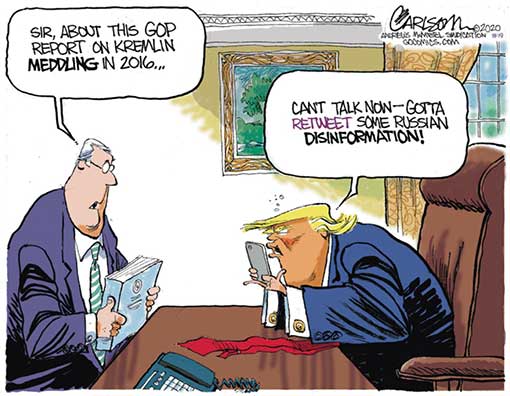 6. Eric Levitz: The RNC Has Made a Compelling Case for America's Imminent Collapse
America has never been greater than it is today — or at greater risk of collapsing tomorrow.
This is the central message of the Republican National Convention through its first two nights. And while the RNC has done little to substantiate the triumphalist half of its argument (a tall order amid a pandemic that's killed 177,000 U.S. residents and more than 6 million U.S. jobs), the convention has made a strong case for believing the American Republic isn't long for this earth.
On the convention's opening night, the GOP informed America that teachers unions are bad — not because they oppose "school choice" or donate to Democratic campaigns — but rather because they are hell-bent on "subverting our republic" by deliberately undermining "educational excellence, morality, law and order" in our classrooms. Florida congressman Matt Gaetz proceeded to warn that Democrats want to "disarm you, empty the prisons, lock you in your home, and invite MS-13 to live next door." Trump campaign adviser Kimberly Guilfoyle clarified that Democrats don't just want to endanger your family but rather "to destroy this country and everything that we have fought for and hold dear." The president, for his part, told convention-goers that the opposing party was "trying to steal the election from Republicans, just like they did it last time, with spying."
On night two, we learned that Joe Biden will force all Christians to choose between "being obedient to God and obedient to Caesar — because the radical left's god is government power," and that Planned Parenthood is actually a racist, eugenicist organization whose "abortion facilities are strategically located in minority neighborhoods." Florida lieutenant governor Jeanette Marie Núñez then revealed that Joe Biden is actually a crypto-communist who serves a radical left that "systematically chisels away at the freedoms we cherish," as its members "normalize socialism to dismantle our Constitution." Eric Trump declared that "Democrats want an America where your thoughts and opinions are censored," while his half-sister Tiffany warned that even now, liberals have made it impossible for Americans to trust their own minds, as "our thoughts, our opinions … are being manipulated and coerced by the media and tech giants."
None of these things are true, of course (take it from me, the media). But the fact that the Republican base believes such things constitutes one horseman of our democracy's apocalypse. Among the others: a presidential system that favors divided government, legislative institutions that overrepresent white rural areas, and partisan polarization along lines of racial attitudes and religious fundamentalism. https://nymag.com/intelligencer/2020/08/rnc-republican-national-convention-speeches-democrats-crisis.html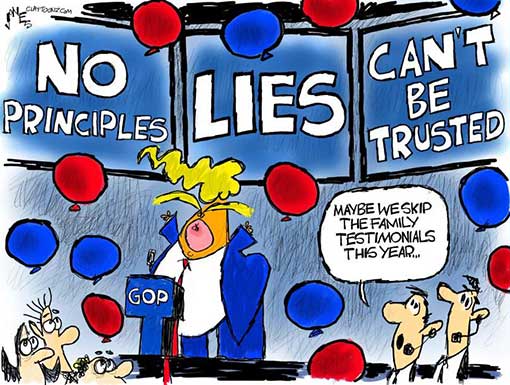 7. Jonathan Chait: Trump Previews Crazy Strategy to Convince America Things Are Actually Great
Joe Biden used his convention acceptance speech to promise he could "overcome this season of darkness in America." Speaking to a conservative group today, President Trump unveiled what appears to be his thematic response: Darkness? What darkness?
"Where Joe Biden sees American darkness, I see American greatness," he told a conservative group in Virginia, "They spent four straight days attacking America as racist and a horrible country that must be redeemed. Joe Biden grimly declared a season of American darkness, and yet look at what we've accomplished."
As messaging choices go, this is an odd one. Since the coronavirus pandemic, Trump has leaned on three primary themes. First, Joe Biden is so senile he literally doesn't know what he's saying. Second, if Biden wins, he will abdicate power to an AOC–ruled hellscape in which taxes triple and anarchist goons burn down your cities and marry your daughters. Third, and most importantly, Trump is the best candidate to restore prosperity.
Trump has claimed that he personally created the greatest economy in the history of the world (he didn't), the devastation caused by the pandemic was not his fault (it mostly was) and that, once it disappears, he will restore prosperity. As Mike Pence put it, "we'll make American great again — again."
"Make American Great Again, Again" is not obviously not an ideal promise for an incumbent to have to make. But there's a reason Trump was resorting to it: Everything is terrible now. And Trump's fans don't even actually believe things are going well. The most recent Gallup poll asking, "In general, are you satisfied or dissatisfied with the way things are going in the United States at this time?" found 13 percent of the public satisfied with current condition and 84 percent unsatisfied.
You know who else besides Joe Biden sees American darkness? Almost everybody. A president who grossly mishandled a catastrophe in the most high-profile fashion possible, denying its seriousness day after day on camera while refusing to accept responsibility, doesn't have a lot of great options. But telling the country that things are actually going well might be one of his worst possible options. https://nymag.com/intelligencer/2020/08/trump-american-darkness-startegy-message-campaign-2020-biden.html
8. Max Boot: Trump relies on grifters and misfits. Biden is bringing the A Team
Trump came into office not knowing the first thing about government, and he surrounded himself with equally inexperienced and unethical people. Most qualified Republicans wanted nothing to do with him. (They still don't: A new open letter signed by more than 70 GOP national security veterans excoriates Trump and endorses Biden.)
This helps to explain why so many Trump aides have been grifters and misfits. His personal lawyer Michael Cohen, national security adviser Michael Flynn, campaign manager Paul Manafort, deputy campaign manager Rick Gates, pal Roger Stone and foreign policy adviser George Papadopoulos are all convicted felons. Now, Stephen K. Bannon — former Trump campaign CEO and onetime White House strategist — has been indicted for allegedly defrauding Trump supporters eager for a border wall. This populist mountebank was arrested on a mega-yacht owned by a Chinese billionaire.
To be sure, a few qualified and ethical appointees somehow made it into the administration — e.g., Trump's first defense secretary, Jim Mattis, and economic adviser Gary Cohn — but most are long gone. Trump is left with second-raters and sycophants such as Secretary of State Mike Pompeo, Defense Secretary Mark T. Esper, acting Homeland Security secretary Chad Wolf and national security adviser Robert C. O'Brien. All were promoted multiple ranks above their level of competence. But even they are superior to third-raters such as Jared Kushner, Stephen Miller and Peter Navarro, who would be allowed into a normal White House only as part of a tour group.
Little wonder that the administration has been such a shambles. While Trump has done many awful things on purpose, the greatest carnage during his presidency — his mismanagement of the coronavirus — is the result of sheer incompetence. If a few more people in the White House knew what they were doing, at least 172,000 Americans might not be dead.
Having a president who can do the job — and who hires similarly qualified aides — would be unremarkable in normal times. Today it would be revolutionary. That is what Biden offers and why it is essential that he win. America cannot survive four more years of Trump's malign ineptitude. https://www.washingtonpost.com/opinions/2020/08/22/another-argument-bidens-experience-his-veteran-staff-advisers/
9. Darryl Fears, Faiz Siddiqui, Sarah Kaplan and Juliet Eilperin: Heat is turbocharging fires, drought and tropical storms this summer
First came the lightning, with cracks of thunder that woke Hope Weng from sleep. "I thought it was someone wheeling out one of the garbage bins," the 23-year-old said. Then came the wildfires, mixing with the unbearable heat that was tough to escape in her Mountain View, Calif., apartment with no air conditioning. "I'm hot and I want to let the window open to let in cool air, but the air also smells like fire."
America is roasting.
At least 140 Western weather stations notched record highs in the past 10 days as a thermometer in California's Death Valley hit 130 degrees Fahrenheit, one of the highest temperatures measured on Earth. Eighty million U.S. residents are under excessive heat advisories. More than 35 wildfires are raging in California, burning 125,000 acres in the San Francisco Bay area alone, threatening 25,000 businesses and homes this week. Parts of the country are suffering drought conditions. And in the Atlantic Ocean, a marine heat wave is fueling what is becoming an unusually active storm season.
Scientists say there is no doubt that climate change is driving the extreme weather, increasing the threats to property and life. "Yeah, it's summer, and summer is hot, but this is different," the National Weather Service tweeted. "These are dangerous conditions."
Conditions are made even more perilous by the worst pandemic in a century. Tens of thousands of people are trying to escape wildfires and extreme heat at a time when they are also asked to wear masks and keep a distance from strangers. And as a hurricane season turbocharged by heat gets underway, the virus promises to complicate responses. https://www.washingtonpost.com/climate-environment/2020/08/21/heat-climate-change-weather/
10. Eric Lutz: Trump Wants To Station Armed Guards At The 2020 Polls
Donald Trump has spent months now mounting a brazen assault on the integrity of the November election, sowing doubt in the democratic process with unfounded claims of fraud and scheming to keep turnout low—including, it seems, by hamstringing the United States Postal Service via his handpicked postmaster general, megadonor Louis DeJoy. Now, he's raising fears over another potential disenfranchisement tactic: armed poll watchers.
Speaking to Sean Hannity on Thursday evening, the president vowed to enlist law enforcement to monitor polling stations, apparently to root out the rampant fraud he insists will occur this fall. "We're going to have sheriffs, and we're going to have law enforcement, and we're going to have, hopefully, U.S. attorneys," he said. "And we're going to have everybody and attorney generals [sic]." As CNN pointed out, Trump doesn't actually have the authority to mandate this, though election law expert Rick Hasen told the outlet that he could potentially hire off-duty law enforcement as poll watchers --something that would almost certainly trigger pushback from Democrats. "Trump tells Hannity that he will send law enforcement to the polls," Democratic attorney Marc Elias said Thursday night. "Not without a legal fight he won't!"
The GOP has a history of deploying poll watchers as an intimidation tactic, particularly in predominantly Black and brown precincts, and have already launched a massive recruitment campaign to monitor voting this November. The Republican party is working to send 50,000 people to police the polls, its first national poll-watching operation in about four decades, NBC News reported in June. While both parties make use of poll watchers, voting rights advocates are skeptical of the GOP's operation. "They're not going to sit idly by and ensure the lines move swiftly," Elias told the outlet at the time. "They're recruiting these folks so they go to the polls and either intimidate voters, or at a minimum slow the process." https://www.vanityfair.com/news/2020/08/trump-wants-to-station-armed-guards-at-2020-polls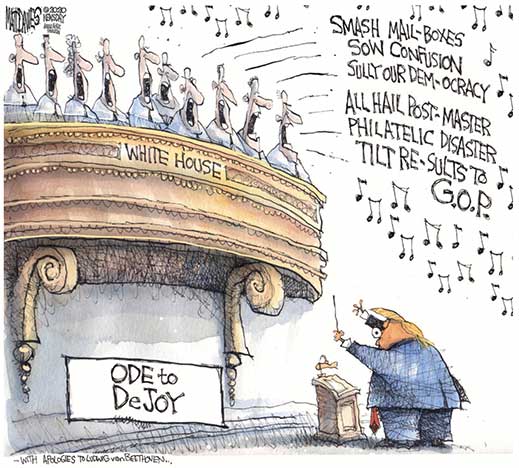 11. Amanda Carpenter: Trump's Bad Bet on the Politics of Fear
Given President Trump's inability to run a positive campaign based on his record over the last four years, he only has one chance of winning re-election: scaring the ever-living crap out of the Republican base.
Sure, his campaign is signaling for the millionth time that they'll have a "new tone" and saying they'll produce an "optimistic, hopeful" convention. And maybe there really will be some attempt, now and then during this week's RNC, to reach out to undecided voters. Trump's surrogates have said there will be "surprises," and positivity would certainly count as an unexpected change. But don't expect much of it: What Trump is really pitching is a bonanza of political and medical disinformation designed to confirm the fears of his army of internet trolls, who already think he's some kind of deep-state avenging superhero who is saving the world from a secret cabal of Satan-worshipping, pedophiliacs who drink children's blood.
Aside from hawking miracle coronavirus cures and pretending the election is already rigged against him, Trump has only one play. He's asking housewives who aren't yet brainwashed by QAnon wellness influencers on Instagram to believe the suburbs will be pillaged and looted by a roving mob of Black Lives Matter socialists led by . . . Cory Booker. (Heaven forbid, the hug-it-out New Jersey senator might bring you over some vegan cupcakes while he's spreading "radical love" through the neighborhood. Yikes!)
But Trump has four days of programming during the convention this week to frighten voters. It's his go-to move: If there's one theme Trump has stuck with during his presidency, it's the one that began with his inauguration speech—American carnage. Once again, he's putting all his bets on the politics of fear. https://thebulwark.com/trumps-bad-bet-on-the-politics-of-fear/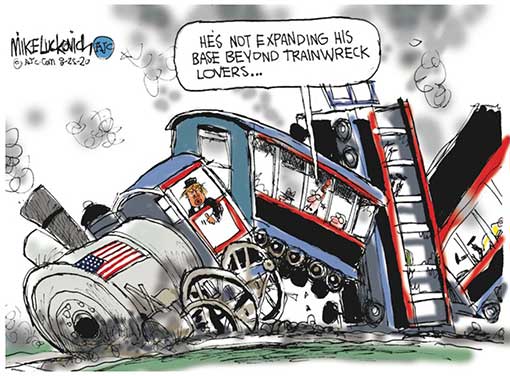 12. Stephen Collinson: Obama issues a dire warning about American democracy in stunning rebuke of Trump
From the Philadelphia ground where the American experiment was born, one former president -- in a stunning prime-time address to the nation he once led -- warned that his successor was on the cusp of destroying democracy itself.
The latest installment of the long duel between Barack Obama and Donald Trump perfectly exemplified the jarring contrasts in personal and political temperaments of the two defining White House residents of this age. And it took their rivalry to a level unprecedented in the modern history of the presidency.
Obama -- serious and intellectual -- delivered a complex constitutional lecture on primetime television during the virtual Democratic National Convention. He summoned historic sweep, encompassing the Founders, the Civil Rights Movement, America's immigrant heritage and young Americans he called to action today to save their freedoms just as their ancestors had done every time the country's promise was imperiled.
Trump meanwhile, back at the White House, was rage-tweeting in real time in all-caps, flinging wild accusations and lies that, if anything, provided contemporaneous evidence of his predecessor's somber warnings. https://www.cnn.com/2020/08/20/politics/barack-obama-dnc-speech-donald-trump-joe-biden/index.html
13. Eric Lach: The Stunning Predictability of Steve Bannon's "We Build the Wall" Scam
It has been asked, repeatedly, whether the grifts of Donald Trump and the people around him would ever catch up with them. On Thursday, they caught up to Bannon. Federal prosecutors in New York announced that Bannon and three other men were being indicted for alleged fraud and money laundering for their role in a scheme that, even in a Bond film, might feel too on the nose. For the past two years, Bannon and his accomplices ran an online fund-raising campaign called We Build the Wall, whose nominal purpose was to raise the money for the monument to nativism that Trump had promised to build on the southern border. Trump had also promised that Mexico would pay for the wall. But, when those funds proved unforthcoming, and his various attempts to strong-arm Congress into giving him the money mostly failed, too, Bannon and his gang stepped forward to ask the very people who'd been thrilled by the notion of a "big, beautiful wall" to shell out. According to the government, the group raised more than twenty-five million dollars, and promised "not to take a penny in salary or compensation." Then they pocketed a bunch of the money. Bannon allegedly routed more than a million dollars through a nonprofit he controls. One of his co-defendants, Brian Kolfage, allegedly used his share of the money to buy, among other things, a boat called Warfighter. According to the Times' Evan Hill, Kolfage sailed Warfighter in a pro-Trump boat parade held in Destin, Florida, on July 4th. Happy birthday, America. Is there a word in German for something that is at once extraordinary and shocking and yet at the same time totally predictable and stupid?
The indictment raises questions about other Trump allies as well. We Build the Wall's board members included Kris Kobach, the former Kansas secretary of state; Erik Prince, the Blackwater founder and a brother of Education Secretary Betsy DeVos; David A. Clarke, Jr., the former sheriff of Milwaukee County, Wisconsin; and Curt Schilling, the former major-league-baseball pitcher. The indictment came out of the office of the U.S. Attorney for the Southern District of New York. In June, Trump and his Attorney General, Bill Barr, forced Geoffrey Berman out of his job as the U.S. Attorney in that office, for reasons that remain unclear, and despite Berman's protests. It now needs to be asked whether this case against a close Trump associate played a role in Berman's ouster. https://www.newyorker.com/news/news-desk/the-stunning-predictability-of-steve-bannons-we-build-the-wall-scam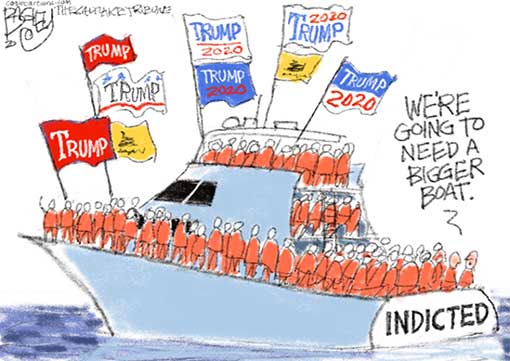 14. John Stoehr: We need a worst-case scenario plan
Darkness and light are indeed the choices ahead of us. Donald Trump is bringing the country to the brink of ruin with his treacherous response to the Covid-19 pandemic that has killed over 177,000 Americans, infected 5.7 million others, and unemployed scores of millions. If he wins, expect more devastation—more corruption, joblessness, sickness and death. I haven't even mentioned the bright attrition of our liberties. As one former administration official put it, if Trump wins, expect "shock and awe."
While citizens must believe in their abilities to defeat tyranny, they must not maintain the fairy-tale illusion that everything's going to work out fine in the end. We can't allow ourselves to trust that the system is fair and that all we need to do is ensure that enough people get out and vote. We need to imagine the worst-case scenario, and come up with a practical plan. We need to get out in front of the president, accuse him now of trying to steal the election. This is not panic or paranoia in the slightest. If you must, think of it this way: do you trust Trump to accept defeat? I didn't think so.
Before Joe Biden gave the best speech of his life Thursday night, the president phoned into Sean Hannity's show on Fox. He said he was going to send "sheriffs" and "law enforcement" out to the polls to make sure only Americans vote. Millions and millions of mail-in ballots are going out to people, he said in effect, and no one's ever heard of such a thing! The implication here is there's a massive underhanded conspiracy afoot. He was laying the rhetorical groundwork for calling Joe Biden's victory fraudulent. https://stoehr.substack.com/p/we-need-a-worst-case-scenario-plan
15. Washington Post  Editorial Board: A second Trump term might injure the democratic experiment beyond recovery
Four years ago, after Mr. Trump was nominated in Cleveland, we did something in this space we had never done before: Even before the Democrats had nominated their candidate, we told you that we could never, under any circumstances, endorse Donald Trump for president. He was, we said, "uniquely unqualified" to be president.
"Mr. Trump's politics of denigration and division could strain the bonds that have held a diverse nation together," we warned. "His contempt for constitutional norms might reveal the nation's two-century-old experiment in checks and balances to be more fragile than we knew."
The nation has indeed spent much of the past three years fretting over whether that experiment could survive Mr. Trump's depredations. The resistance from some institutions, at some times, has been heartening. The depth of the president's incompetence, which even we could not have imagined, may have saved the democracy from a more rapid descent.
But the trajectory has been alarming. The capitulation of the Republican Party has been nauseating. Misbehavior that many people vowed never to accept as normal has become routine.
A second term might injure the experiment beyond recovery.
And so, over the coming weeks, we will do something else we have never done before: We will publish a series of editorials on the damage this president has caused — and the danger he would pose in a second term. And we will unabashedly urge you to do your civic duty and vote: Vote early, vote safely, but vote. https://www.washingtonpost.com/opinions/2020/08/21/second-trump-term-might-injure-democratic-experiment-beyond-recovery/
16. Steve Lopez: The case for Trump in his own, uh, words
On the eve of the Republican National Convention, it's worth noting that no one has made a greater case for reelecting Donald Trump — if not adding him to the lineup at Mt. Rushmore — than the president himself.
But don't take my word for it. Take his:
I'm a big environmentalist.... We have the cleanest air, the cleanest water we've ever had.... Nobody has more respect for women than Donald Trump! ... Nobody would fight harder for free speech than me.... I am the only one that knows how to build cities.... Many people have commented that my fragrance, 'Success' is the best scent & lasts the longest. Try it & let me know what you think!

We will immediately repeal and replace ObamaCare — and nobody can do that like me. We will save $'s and have much better healthcare! ... How do you get impeached when you have done NOTHING wrong (a perfect call), have created the best economy in the history of our Country, rebuilt our Military, fixed the V.A. (Choice!), cut Taxes & Regs, protected your 2nd A, created Jobs, Jobs, Jobs, and soooo much more? Crazy! ...

In addition to winning the Electoral College vote in a landslide, I won the popular vote if you deduct the millions of people who voted illegally.... We are United in our effort to defeat the Invisible China virus, and many people say that it is Patriotic to wear a face mask when you can't socially distance. There is nobody more Patriotic than me, your favorite President! … Much more at https://www.msn.com/en-us/news/politics/column-the-case-for-four-more-years-of-donald-j-trump-in-his-own-words/ar-BB18g9Zd?li=BBnbcA1
17. David Shaywitz: Trump's Self-Defeating Attacks on the FDA
After distinguishing himself this week by his embrace of the conspiracy theorists at QAnon, President Trump posited early Saturday morning that the "deep state, or whoever" may also be hard at work at the FDA, determined to thwart his re-election by slowing down recruitment of patients to test promising new COVID-19 medicines.
One conspicuous concern with Trump's latest attack on the FDA is that it represents an attempt to work the ref, and make it more likely that future decisions will resolve in fashion he regards as more favorable to him—ideally in time for him to incorporate the news into his reelection campaign.
The more Trump is seen to be putting his finger on the scale, the less credible new treatments will likely be seen by doctors and patients alike—including those that might truly be effective. This means delayed adoption of potentially valuable therapeutics, and a longer time to capture both the medical and economic benefit at the population level.
It's more than a little disconcerting to consider that scientific deliverance from this pandemic may hinge at least in part on the President's ability to defer gratification by stepping away from his favorite outlet. It's like Trump's very own, very personal marshmallow test. How long can he resist? https://thebulwark.com/trumps-self-defeating-attacks-on-the-fda/
18. Eli Stokols: Coronavirus overshadows Trump's legacy in office
Four years ago, when Donald Trump accepted the Republican presidential nomination in a Cleveland basketball arena, he painted a dark portrait of a nation in crisis. "I alone can fix it," he vowed.
In April this year, as a deadly contagion scythed the land and millions lost their jobs, Trump deflected all blame for his administration's failure to control the coronavirus. "I don't take responsibility at all," he said.
"The defining legacy of Trump is his demonstration that a person completely lacking in a commitment to liberal constitutional democracy can be elected president and that, as an 'elected authoritarian,' he or she can wield great power and do tremendous damage to the nation's institutions and norms," said Kevin C. O'Leary, a fellow at the Center for the Study of Democracy at UC Irvine.
Trump's angry tweets and threats, and his fervid political base, have kept most Republican lawmakers in line.
Brinkley, the Rice University history professor, views Trump's persona as a successor to bygone American demagogues Joseph McCarthy and George Wallace.
"Trump's single greatest bit of political savvy was terrifying Republican members of Congress that he would destroy them if they broke ranks," he said.
But the 45th president, Brinkley said, has made his mark above all for his unabashed assertion of power in the service of self-interest and the way he has tested the durability of the Constitution itself.
"Trump wants to blow up the checks and balances. He has utter contempt for Congress and really for democracy," Brinkley said. "That type of politician has been ubiquitous in world history. But it's been confusing to us as a country because it's never before taken root in the American land." https://www.latimes.com/politics/story/2020-08-21/coronavirus-overshadows-trumps-legacy-in-office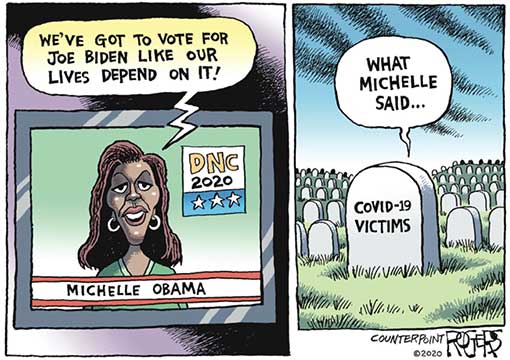 19. Charlie Sykes: "Who needs Vladimir Putin when we have Donald Trump?
If you were Vladimir Putin and you wanted to disrupt this election, what would you do? You'd spread disinformation. You'd make people doubt the legitimacy of the vote. You'd peddle conspiracy theories and you might want to mess with mail-in voting. That's all happening without him. Our president is doing that."It's very clear that Trump will use every lever of governmental power to stay in office. There'll be many mail-in votes and the mail-in votes will be very different than the same-day votes.
What he will do – and it will be very much on brand for Donald Trump – is declare victory on election night and then, as the mail-in votes are counted, he will insist that that they are not legitimate, that the election is being stolen from him, and I think that has the potential to create massive doubt and chaos."
Such a scenario promises to dwarf the acrimony, chaos and confusion of the disputed 2000 election between Republican George W Bush and Democrat Al Gore, which went all the way to the supreme court. https://www.theguardian.com/us-news/2020/aug/23/donald-trump-v-democracy-us-election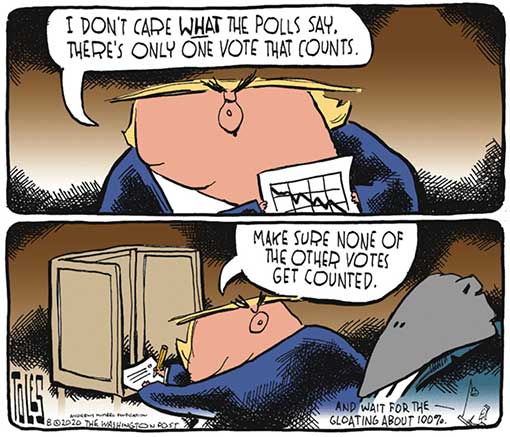 20. The Sun Sentinel Endorsement: Save our democracy. Vote for Joe Biden
A republic, Madam, if you can keep it — Benjamin Franklin, Philadelphia, 1787, when asked what the Constitutional Convention had proposed
The question that Franklin answered 233 years ago overshadows every other issue in the presidential election. It is why we recommend, with enthusiasm and a sense of urgency, that voters elect Joe Biden and Kamala Harris to be the president and vice president of the United States. In so doing, the American people will answer whether our representative democracy, under the rule of law, is still worth keeping.
That is the overarching question, which makes this the most fateful campaign since the survival of the nation was at stake in the Civil War.
In ordinary times, citizens would be debating whether presidential policies should be conservative, moderate or liberal, whether taxes should be raised or cut and programs created, ended or changed. Reasonable people can disagree respectfully over such choices.
But now, as former President Barack Obama declared last week, the main question is whether the presidency will be "the custodian of this democracy" and "defend the freedoms and ideals that so many Americans marched for and went to jail for, fought for and died for." https://www.sun-sentinel.com/opinion/editorials/fl-op-edit-endorsement-joe-biden-20200823-jfla4dpm55g7vksh4n2c2vlo5a-story.html