April 20, 2023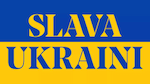 To subscribe to this FREE weekly newsletter simply email jellison@san.rr.com with "subscribe" as the subject.
LITIGATION TRACKER
Pending Criminal and Civil Cases Against Donald Trump

.

https://www.justsecurity.org/75032/litigation-tracker-pending-criminal-and-civil-cases-against-donald-trum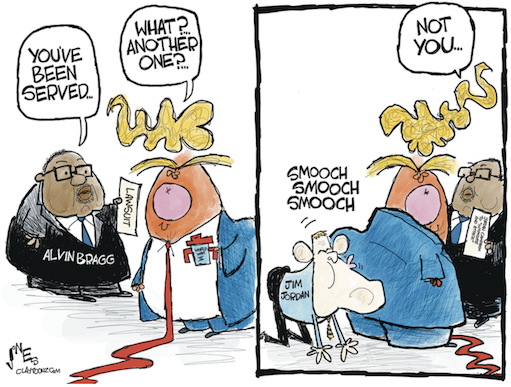 THE WEEK'S BEST QUOTES. . .
"I think that it's a big step forward in democracy if our system can send a signal that if media companies lie — whoever they are or whatever channel they're on — and they do so knowingly, they will be prepared to pay a very high price." — Dominion Voting Systems CEO John Poulos.
https://abcnews.go.com/US/fox-settlement-big-step-democracy-dominion-ceo/story
"I can't shake the feeling that even though Dominion has won the battle, the rest of us continue to lose the war." — Charlie Sykes.
https://morningshots.thebulwark.com/p/no-apologies-for-foxs-costly-lies
"The settlement represents justice for Dominion but by no means does it cleanse Fox of its corruption. Liars must be fired. Viewers must be informed. The company must apologize. Until then, it's still corrupt." — David French.
https://twitter.com/DavidAFrench/status/1648433935758815234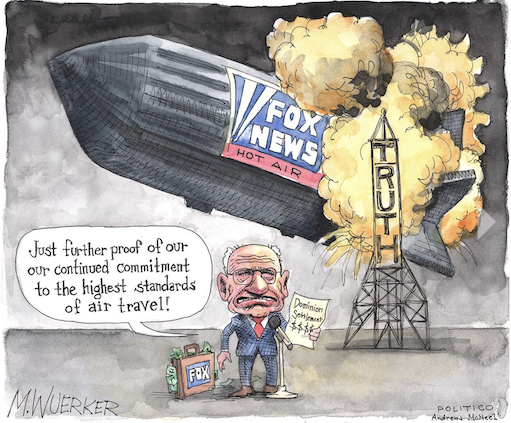 "The money of course serves no public purpose. An apology would have been meaningful as part of national accounting for the Big Lie. That was a very big opportunity here, which now goes away. Not Dominion's fault–it's the adversary system for you– but a shame." — Harry Litman.
https://twitter.com/harrylitman/status/1648446072824672256
"If these sons-of-bitches want to try to end-run us, game on." — Rep, Chip Roy (R-TX), rejecting proposals for the moderate Problem Solvers Caucus to raise the debt limit.
https://www.wsj.com/articles/chip-roy-pivotal-in-house-speaker-talks-braces-for-fight-on-debt-ceiling-d8675955
"It's interesting to me. I don't know what political agendas are at work that are going after Sen. Feinstein in that way. I've never seen them go after a man who was sick in the Senate in that way." — Rep. Nancy Pelosi (D-CA).
https://thehill.com/homenews/house/3948358-pelosi-on-calls-for-feinstein-to-resign-ive-never-seen-them-go-after-a-man-who-was-sick-in-the-senate/
"Do you know any kids who have been married at age 12? I do. And guess what? They're still married." — Missouri State Senator Mike Moon (R), suggested children as young as 12 should have the right to marry with parental permission.
https://www.news-leader.com/story/news/politics/2023/04/12/sen-mike-moon-reiterates-support-for-12-year-olds-right-to-marry-missouri-senate/70107573007/.
"The benefit of control of the state is less the power to persecute the innocent; more the power to protect the guilty. Texas Governor Abbott is about to demonstrate what I had in mind." – David Frum.
https://morningshots.thebulwark.com/p/greg-abbotts-jury-nullification
"A conservative group is offering a new service that texts 'Woke Alerts' straight to the phones of grocery shoppers who want to know which brands are accused of taking political positions that are offensive to the right."
https://www.axios.com/2023/04/14/conservatives-plot-text-warning-woke-products
"Justice Thomas's acceptance of and failure to disclose these repeated, lavish gifts and shocking real estate sales not only undermines public trust in his ability to serve impartially on the Court, it undermines confidence in the Supreme Court as an institution." —- CREW President Noah Bookbinder who filed a civil and criminal complaint against Clarence Thomas.
https://www.citizensforethics.org/legal-action/legal-complaints/crew-files-civil-and-criminal-complaint-against-clarence-thomas/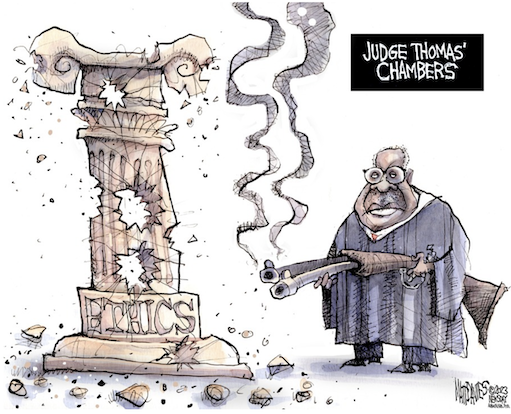 "I'll be blunt. If Speaker McCarthy continues in this direction, we are headed toward a default." — Senate Majority Leader Chuck Schumer (D-NY) on the latest proposal by Speaker Kevin McCarthy to raise the debt ceiling.
https://punchbowl.news
"If Fox would finally admit that there was large scale cheating & irregularities int he 2020 presidential election, which would be a good thing for them & for America, the came against them, which should not have existed at all, would be greatly weakened. Back up those patriots at Fox instead of throwing them under the bus." — Donald Trump giving advice to Rupert Murdoch on how to handle the $1.6 billion defamation lawsuit against Fox News.
https://truthsocial.com/@realDonaldTrump/posts/110212779236165465
"They'd like Republicans to help them speed the appointment of more liberal justices? Yes — when hell freezes over." — Sen. Mitt Romney (R-UT) throwing cold water on the prospect of voting with Democrats to replace Sen. Dianne Feinstein (D-CA) on the Judiciary Committee.
https://www.nbcnews.com/politics/congress/republicans-reject-feinstein-committee-swap-putting-democrats-bind-rcna80117
"Since leaving Washington, I haven't heard much about Liddle' Mick Mulvaney, perhaps the dumbest person, along with John Bolton, working at the White House. He was "Acting" Chief of Staff because I never would have named him to the permanent position. … This guy was uncharismatic, a born loser." — Donald Trump about his former chief of staff, who now works for CBS News.
https://truthsocial.com/@realDonaldTrump/posts/110216529806165776
VIDEOS ...
The super PAC allied with Gov. Ron DeSantis takes a shot at Donald Trump with its first campaign ad, titled "Fight Democrats, Not Republicans."
https://www.youtube.com/watch?v=20BacuqYZ94
"What's happening to this leaker now is what happens to anyone who contradicts the National Security State and their obedient servants in the media. You go to prison." — Tucker Carlson telling his viewers that what happened to Jake Teixeira will happen to other truth-tellers against the "national security state."
https://twitter.com/Acyn/status/1646669000993021952?s=20
"Pudding Fingers."  — A new ad by Trump's super PAC: attacks Gov. Ron DeSantis on the way he apparently eats chocolate pudding.
https://twitter.com/MAGAIncWarRoom/status/1646839424460771329
"Well, my sense of this case has been almost since the date of the search warrant execution at Mar-a-Lago, that this case is the shortest distance between Donald John Trump and an orange jumpsuit. I still adhere to that view." — George Conway, on Morning Joe, arguing the classified documents case is the easiest to prove against Donald Trump.
https://www.youtube.com/watch?v=jsJiHWaACrs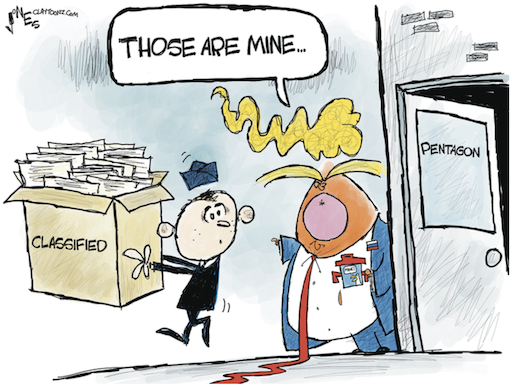 Tim Scott launching his presidential exploratory bid on the notion that it's Joe Biden who is leading a new confederacy that threatens to tear the country apart.
https://twitter.com/votetimscott/status/1646109597214679043
---
IN THIS ISSUE
IN THE NEWS
OPINION
Andy Borowitz: Cash-Strapped Fox Forced to Sell Kevin McCarthy
Reeling from its punishing settlement agreement with Dominion Voting Systems, a newly cash-strapped Fox News Channel has been forced to sell Representative Kevin McCarthy.
Rupert Murdoch, who acquired the Speaker of the House just two months ago, expressed sadness that new financial realities had necessitated the sale."I wish Kevin well," the Fox owner said. "I hope whoever buys him finds as much use for him as I did."
Even as many in Washington expressed skepticism about the House Speaker's market value, Murdoch's plans to sell McCarthy faced a significant roadblock in the form of the Georgia congresswoman Marjorie Taylor Greene.
I have no idea why Fox thinks they can sell Kevin McCarthy," she told reporters.
"I own Kevin."
https://www.newyorker.com/humor/borowitz-report/
How Trump's Lawsuit Against Michael Cohen Could Backfire
The former president just can't help himself.
On Wednesday, Donald Trump filed a
$500 million lawsuit
he may come to regret. He sued his former fixer, Michael Cohen, alleging that Cohen breached his duty of confidentiality as Trump's one-time lawyer.
In Trump's constant pursuit of retribution, he has opened a door to revealing evidence of how he abused the justice system for retaliatory purposes during his final year as president.
It's not hard to project from there the danger to fair and equal justice that Trump presents if he is re-elected. Voters should have the facts as he runs, and Trump may have just helped ensure that we do.
https://slate.com/news-and-politics/2023/04/trump-michael-cohen-lawsuit-discovery-subpoenas.html
Fox News-Dominion settlement doesn't end crisis for Rupert Murdoch's empires

Fox Corp. has settled the defamation lawsuit brought by Dominion Voting Systems, but the company's troubles are far from over.
Beyond the $787.5-million payout to end the Dominion case, Fox now must contend with a second defamation suit filed by a rival voting machine company, Smartmatic USA, which has demanded $2.7 billion.
And Fox investors also are lining up with their own lawsuits, alleging that Rupert Murdoch and other board members were derelict in their duties by allowing Fox News to promote election lies, which harmed the network's reputation as a news organization.
Revelations from emails and text messages, disclosed in the court motions, tarnished Murdoch and high-profile hosts, including Tucker Carlson, Sean Hannity and Maria Bartiromo. Murdoch and others privately indicated they knew former President Trump's "stolen election" claims were bogus, but they appeared to be more interested in protecting Fox News' big profits than telling the truth to its millions of viewers, according to the court documents.
https://www.latimes.com/entertainment-arts/business/story/2023-04-18/fox-news-dominion-settlement-fallout-rupert-murdochs-empire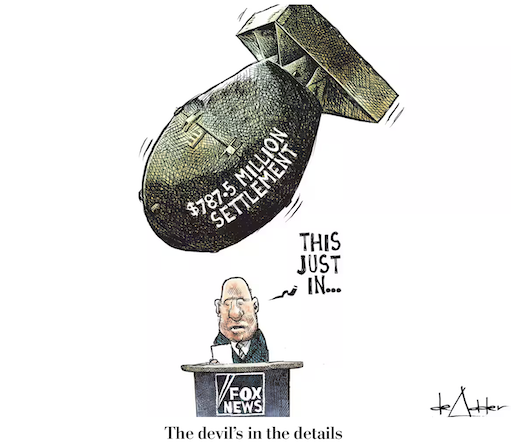 Texas Senate Passes Bill To Seize Control of Elections from Local Authorities
The Texas Senate passed a bill that will empower the secretary of state to seize election authority from county officials. The bill passed on a party line vote, with all Republicans voting in favor and all Democrats voting against. It now heads to the Republican-controlled House.
https://www.democracydocket.com/news-alerts/texas-senate-passes-bill-to-seize-control-of-elections-from-local-authorities/
Clarence Thomas for years has claimed income from a defunct real estate firm
Over the last two decades, Supreme Court Justice Clarence Thomas has reported on required financial disclosure forms that his family received rental income totaling hundreds of thousands of dollars from a firm called Ginger, Ltd., Partnership.
But that company — a Nebraska real estate firm launched in the 1980s by his wife and her relatives — has not existed since 2006.
That year, the family real estate company was shut down and a separate firm was created, state incorporation records show. The similarly named firm assumed control of the shuttered company's land leasing business, according to property records.
Since that time, however, Thomas has continued to report income from the defunct company — between $50,000 and $100,000 annually in recent years — and there is no mention of the newer firm, Ginger Holdings, LLC, on the forms.
https://www.washingtonpost.com/investigations/2023/04/16/clarence-thomas-ginger-financial-disclosure/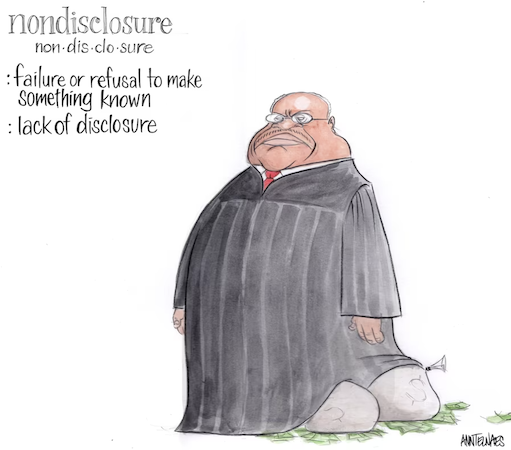 Mike Pence's solution for school shootings
Mike Pence called for the quick execution of mass shooters as a solution to gun violence at the NRA's annual leadership summit.
https://www.politico.com/news/2023/04/14/pence-calls-for-quick-execution-of-mass-shooters-at-nra-summit-00092136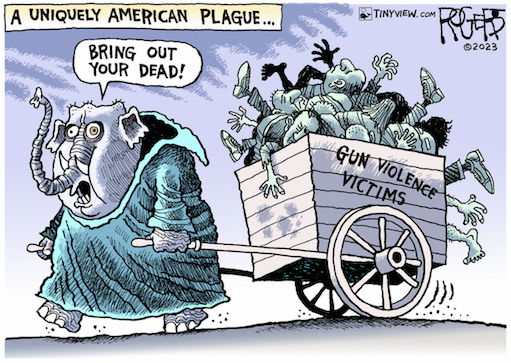 Florida set to lower death penalty threshold as bill heads to DeSantis
Florida House lawmakers have approved a bill that would lower the state's threshold for the death penalty allows capital punishment if eight of 12 jurors approve, instead of requiring a unanimous jury. The bill awaits Republican Gov. Ron DeSantis's signature.
https://www.washingtonpost.com/nation/2023/04/14/florida-death-penalty-threshold-ron-desantis/
Manhattan DA sues Jim Jordan over Trump indictment inquiry
Manhattan District Attorney Alvin Bragg sued Rep. Jim Jordan on Tuesday, an extraordinary move as he seeks to halt a House Judiciary Committee inquiry that the prosecutor contends is a "transparent campaign to intimidate and attack" him over his indictment of former President Donald Trump.

Bragg's lawsuit, a forceful escalation after weeks of sparring with Jordan and other Republican lawmakers in letters and media statements, seeks to end what it says is a "constitutionally destructive fishing expedition" that threatens the sovereignty and integrity of a state-level prosecution. https://apnews.com/article/trump-bragg-jordan-lawsuit-investigation-263fffac40bb3a83c6322b1790ab221f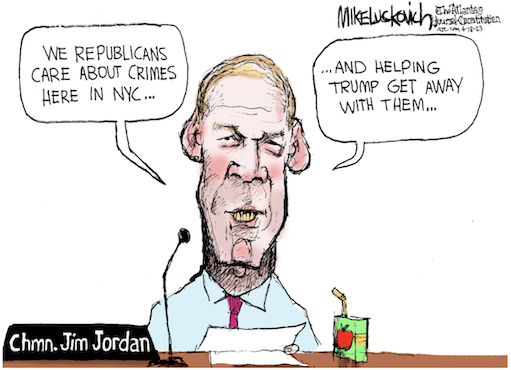 Special counsel focuses on Trump fundraising off false election claims
Federal prosecutors probing the Jan. 6, 2021, attack on the U.S. Capitol have in recent weeks sought a wide range of documents related to fundraising after the 2020 election, looking to determine if former president Donald Trump or his advisers scammed donors by using false claims about voter fraud to raise money, eight people familiar with the new inquiries said.
The fundraising prong of the investigation is focused on money raised during the period between Nov. 3, 2020, and the end of Trump's time in office on Jan. 20, 2021, and prosecutors are said to be interested in whether anyone associated with the fundraising operation violated wire fraud laws, which make it illegal to make false representations over email to swindle people out of money. 
https://www.washingtonpost.com/nation/2023/04/12/trump-fundraising-fraud-special-counsel
Disney Trolls DeSantis by Announcing First-Ever 'Pride Nite'
The House of Mouse seemingly fired a shot across the bow at Ron DeSantis on Monday afternoon, promoting Disneyland's first-ever "Pride Nite" event in a
tweet
just hours after the Florida governor outlined new legislation seeking to wrangle the company as it attempts to resist a state takeover of its special taxing district.
https://www.thedailybeast.com/disney-promotes-first-ever-pride-nite-after-gov-ron-desantis-targets-company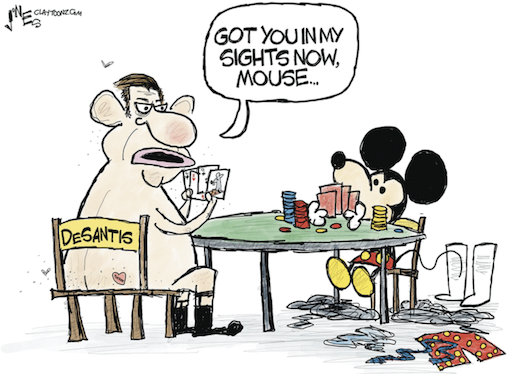 Republican states could be hit hardest by McCarthy's proposed spending cuts
The spending-cut proposals unveiled by U.S. House of Representatives Speaker Kevin McCarthy on Monday could fall hardest on people in Republican-leaning states, a Reuters analysis of federal spending data found.
https://www.reuters.com/world/us/republican-states-could-be-hit-hardest-by-mccarthys-proposed-spending-cuts-2023-04-17/
Poll: Trump's big post-indictment bounce is fading fast
Former President Donald Trump got a big bounce among Republican primary voters after his indictment in New York in late March — but now that swell of support seems to be fading fast, according to a new
Yahoo News/YouGov poll
.
Just two weeks ago, Trump was lapping Gov. Ron DeSantis of Florida, his strongest potential challenger, by 26 percentage points in a one-on-one matchup among voters who describe themselves as Republicans or Republican-leaning independents (57% to 31%). It was the former president's widest lead to date.
Since then, however, Trump's advantage over DeSantis has shrunk by 10 points (52% to 36%).
https://news.yahoo.com/poll-trumps-big-post-indictment-bounce-is-fading-fast-183753992.html
Biden administration to widen Medicaid and ACA health coverage to DACA immigrants
The Biden administration is proposing new rules that would allow immigrants covered by the Deferred Action for Childhood Arrivals program to qualify for health insurance through Medicaid and Affordable Care Act marketplaces.
The plan, which the White House says would benefit up to 580,000 young people brought to the United States as children would broaden the definition of who qualifies for these two insurance programs in which the federal government has a role.
https://www.washingtonpost.com/health/2023/04/13/aca-daca-biden-expansion/
Judge Rejects Trump's Attempt to Delay Rape Trial
A federal judge on Monday denied a bid by Donald Trump to delay a civil trial involving a rape allegation by author E. Jean Carroll against the former president, rejecting a contention that a 'cooling off' period is needed after Trump's arraignment this month in a criminal case related to hush money payments to an adult-film star.
In an order, U.S. District Judge Lewis A. Kaplan said the trial will begin in Manhattan on April 25 as planned.
https://www.washingtonpost.com/national-security/2023/04/17/trump-carroll-rape-trial-no-delay/
Paul Gosar promotes pro-Hitler and Holocaust-denying website'
Rep. Paul Gosar (R-AZ) used his House.gov newsletter to promote "Veterans Today," an antisemitic website that has has published pro-Hitler propaganda, called the Holocaust a "lie" and a "hoax" and praised Hitler as a "great man" and "a man of valor.
One piece ("A Defense of Hitler as a Heroic War Veteran?")
called
Hitler "a man of valor" and "a great man." Another
stated
that while Hitler "intended to save humankind, instead, he has been vilified with the epithet of being the most hated man—and most evil ruler—in human history."
https://www.mediamatters.org/diversity-discrimination/rep-paul-gosar-promotes-pro-hitler-and-holocaust-denying-site-after-it
DeSantis: Lawmakers will reassert control of Reedy Creek, jokes about building prison
Florida Gov. Ron DeSantis (R) declared that the Florida Legislature will reassert that the state has control of Disney World's Reedy Creek Improvement District.
He then mused about potentially selling off utilities, and even developing district land that Disney doesn't own.
Said DeSantis: "People are like, 'Well… what should we do with this land?" said a smiling DeSantis. "Maybe create a state park, maybe try to do more amusement parks? Someone even said, 'Maybe you need another state prison?' Who knows? I just think that the possibilities are endless."
https://www.orlandosentinel.com/business/os-ne-disney-desantis-visits-reedy-creek-20230417-7rzrdgclxjfn5dwl5ywhb2pm44-story.html
In the 2024 Republican primary, the war on drugs is back on. Literally.
Led by Donald Trump, all of the GOP's official presidential contenders have endorsed a counter-terrorism operation against Mexico-based drug cartels, bringing tactics to the Southwest that America last deployed in Iraq and Syria — "just as we took down ISIS," as Trump put it in a January campaign video. The idea, rejected by his cabinet when Trump floated it four years ago, is now mainstream Republican opinion.
"The Mexican cartels ought to be designated as foreign terrorist organizations," former Arkansas Gov. Asa Hutchinson told Semafor in an interview, shortly before launching his campaign. "This administration has not done it, and it would help law enforcement be able to go after them in a more effective fashion."
Former U.N. Ambassador Nikki Haley endorsed the terrorist designation — "just like we dealt with ISIS" — last month, during a visit to the Texas side of the border. Vivek Ramaswamy was already there, telling Semafor that "tactical operations, drone strikes, airstrikes and limited ground intelligence-guided capability could lead to, I think, even a higher probability of success than we had when we were going in to take the fight to ISIS."
https://www.semafor.com/article/04/14/2023/republicans-want-a-new-non-metaphorical-drug-war
PBS Joins NPR in Quitting Twitter Over State-Backed Label
The Public Broadcasting Service has followed National Public Radio in quitting Twitter after the social media network labeled both organizations as "government-backed media."
https://www.bloomberg.com/news/articles/2023-04-12/pbs-joins-npr-in-quitting-twitter-over-state-backed-designation
Ron DeSantis' team tries to stop Florida Republicans from endorsing Trump
Gov. Ron DeSantis' political operation has started calling Republican members of the Florida congressional delegation in an effort to consolidate support after four members publicly backed Donald Trump in his 2024 presidential bid.
Sources with four of the six members contacted by DeSantis' team shared the outreach with NBC News; each requested anonymity to confirm the calls.
As Trump continues to lead in the polls for the GOP presidential nomination, the governor is trying to stop defections in his own backyard ahead of his expected run. DeSantis currently has no endorsements from the state delegation.
https://www.nbcnews.com/politics/2024-election/ron-desantis-team-tries-stop-florida-gop-endorsing-trump-rcna79379
If Tennessee's Legislature Looks Broken, It's Not Alone
Add 3 paragraphs to opening from original:
There are 99 legislators in the Tennessee House of Representatives, the body that voted on Thursday to expel two of its Democratic members for leading an anti-gun protest in the chamber.
Sixty of them had no opponent in last November's election.
Of the remaining House races, almost none were competitive. Not a single seat flipped from one party to the other.
Nationwide, candidates for roughly four of every 10 state legislative seats run unopposed in general elections. And across the country, one-party control of state legislatures, compounded by hyperpartisan politics, widespread gerrymandering, an urban-rural divide and uncompetitive races, has made the dysfunction in Tennessee more the rule than the exception."
The lack of competition means incumbent lawmakers face few consequences for their conduct. And their legislative actions are driven in large part by the fraction of partisans who determine their fates in primary elections, the only political contests where they face serious opposition. https://www.nytimes.com/2023/04/13/us/tennessee-house-republicans.html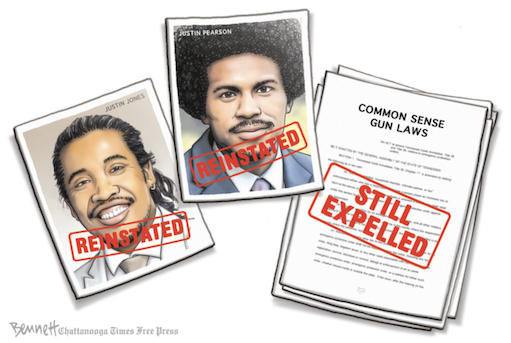 China sanctions US Congress member for Taiwan visit
The sanctions against Rep. Michael McCaul (R-TX) include freezing his assets and properties in China, prohibiting any organization or individual in China from conducting transactions or working with him, and denying him a visa to enter the country.
https://apnews.com/article/china-sanctions-congress-member-taiwan-903026728ff745547bd0b49dddf9ca25
Republican presidential hopefuls are already struggling with the abortion issue
Republican presidential contenders are walking a tightrope between a party base that favors outlawing the procedure and a majority of the U.S. that wants it to remain legal in most cases.
The issue has become more challenging for the GOP to navigate after an intense backlash to the overturning of Roe v. Wade last summer, which has hurt Republicans in numerous elections since, and the more recent lawsuits challenging access to the abortion pill mifepristone. The latest difficulties for Republican 2024 hopefuls reveal a party still trying to figure out how to use its newfound legal power granted by the Supreme Court to restrict abortion nationally.
https://www.nbcnews.com/politics/2024-election/republican-presidential-hopefuls-are-already-struggling-abortion-rcna79586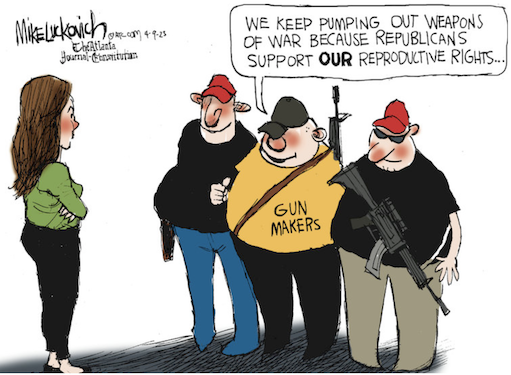 DeSantis signs Florida bill banning abortion after six weeks of pregnancy
The Florida legislature passed a Republican bill Thursday that would ban abortion after six weeks of pregnancy, cutting off what has become a critical access point for abortion care in the South since the Supreme Court overturned Roe v. Wade.
https://www.washingtonpost.com/politics/2023/04/13/florida-abortion-six-week-ban/
Texas Army sergeant convicted of murdering protester in 2020 shared posts about killing looters, court docs reveal
An Army sergeant who was convicted of murder this month in the fatal shooting of a protester in 2020 in Austin — and who Texas Gov. Greg Abbott said he wants to pardon — posted on social media and sent messages about killing demonstrators and shared racist memes before the shooting, new court documents revealed.
Daniel Perry, 35, was found guilty by a Travis County jury on April 7 in the death of Garrett Foster, 28, on July 25, 2020, during protests in downtown Austin decrying police brutality and racism.
Though Perry had claimed he opened fire in self-defense, a newly unsealed filing reveals that Perry appeared to be increasingly disgruntled with the protests and looting that unfolded across the nation in the wake of the May 2020 police killing of George Floyd, and was also critical of the Black Lives Matter movement and talked about killing and shooting people.
https://www.nbcnews.com/news/us-news/texas-army-sergeant-convicted-murdering-protester-2020-shared-posts-ki-rcna79702
Texas Bill Would Censor Posts About Abortion
State lawmakers in Texas are considering a bill that would make it illegal to provide information on how to access abortion. The bill would also require internet service providers to block websites offering content like that, allow prosecution of abortion pill 'distribution networks,' and permit anyone to sue a person who shared anything about how to access a medical abortion.
The proposal borrows from a Texas law passed in 2021 that offers a cash bounty to citizens who sue a person who helped facilitate access to abortion care.
https://www.wired.com/story/texas-could-push-tech-platforms-to-censor-posts-about-abortion/
THE DAILY GRILL
Jake Teixeira is white, male, christian, and antiwar.
That makes him an enemy to the Biden regime.
And he told the truth about troops being on the ground in Ukraine and a lot more.
Ask yourself who is the real enemy?
A young low level national guardsmen?
Or the administration that is waging war in Ukraine, a non-NATO nation, against nuclear Russia without war powers?" — Rep. Marjorie Taylor Greene
https://twitter.com/RepMTG/status/1646615867285708802
VERSUS
Marjorie Taylor Greene makes clear yet again that she cannot be trusted with America's national security information and should not have a security clearance of any kind." — Former Rep. Liz Cheney after Greene defended the Air National Guardsman suspected of leaking a trove of classified documents.
https://www.nbcnews.com/politics/congress/liz-cheney-says-greene-lose-security-clearance-defending-suspect-penta-rcna79734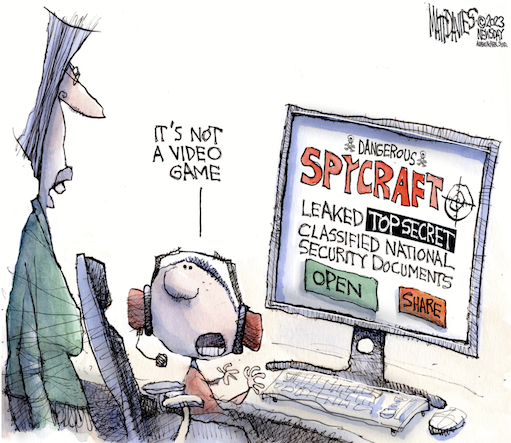 "I'm not going back to Saudi Arabia as long as this guy's in charge. This guy is a wrecking ball. He had this guy murdered in a consulate in Turkey, and to expect me to ignore it? … The MBS figure is to me toxic. He can never be a world leader on the world stage. Saudi Arabia, if you're listening: There's a lot of good people you could choose, but MBS has tainted your country and tainted himself." — Sen. Lindsey Graham in 2018.
https://rollcall.com/2018/10/16/lindsey-graham-wants-to-sanction-the-hell-out-of-saudi-arabia-until-crown-prince-is-ousted/
VERSUS
I just had a very productive, candid meeting with the Saudi Crown Prince and his senior leadership team. The opportunity to enhance the U.S.-Saudi relationship is real and the reforms going on in Saudi Arabia are equally real. — Lindsey Graham on April 11th.
https://twitter.com/LindseyGrahamSC/status/1645920606263599105
Rep. Basabe "had been drinking and was mistaken about something that lead him to slap me in the face in front of other people in the room. He then told me to stand in the corner. I was so embarrassed that I did as he asked." --  25-year-old aide to Florida state Rep. Fabian Basabe (R).
https://www.cbsnews.com/miami/news/state-rep-basabe-under-investigation-for-allegedly-slapping-an-aide/
VERSUS
"What?! I don't remember anything like that!" — Rep. Fabian Basabe.
https://www.cbsnews.com/miami/news/state-rep-basabe-under-investigation-for-allegedly-slapping-an-aide/
Michelle Goldberg: Why Fox Had to Settle
It is deeply disappointing that Fox News settled the defamation lawsuit brought by Dominion Voting Systems before Rupert Murdoch and his roster of celebrity propagandists had to testify. But it is not surprising. Fox News, after all, had no viable defense so the public will be deprived of seeing Murdoch, Sean Hannity, Tucker Carlson and several of their colleagues grilled on the stand, forced to reckon with the real world, unable to fall back on the dense lattice of misinformation that typically sustains Fox's narratives.
Although the public will be deprived for now Smartmatic is still suing Fox for $2.7 billion, though no trial date has been announced yet. "Dominion's litigation exposed some of the misconduct and damage caused by Fox's disinformation campaign," Smartmatic lawyer J. Erik Connolly said in a statement on Tuesday. "Smartmatic will expose the rest."
I'm not sure I believe it — Fox has just shown the world what it's willing to pay to avoid the unmasking. But reality isn't done with Murdoch and the rest of them yet.
https://www.nytimes.com/2023/04/18/opinion/fox-news-dominion-settlement.html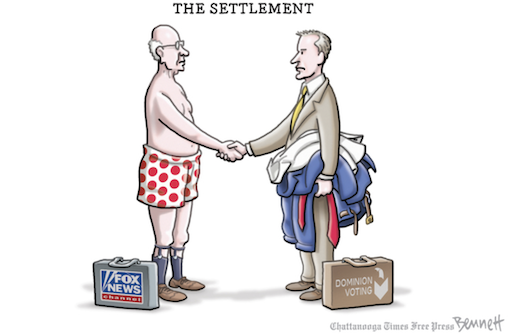 BeMatt Stieb: Billionaire Harlan Crow Bought Clarence Thomas's Mother a House
When Supreme Court Justice Clarence Thomas got caught last week for accepting lavish vacations and yacht trips from billionaire conservative donor Harlan Crow, he said his patron's generous hospitality was "not reportable." But according to a new report, Thomas didn't even disclose when one of Crow's firms directly paid him tens of thousands of dollars.
ProPublica, which broke the news, followed up in a Thursday report showing that in 2014 one of Crow's companies bought a number of Savannah, Georgia, properties co-owned by Thomas and members of his family for a total of $133,363. The purchase included the two-bedroom home of the justice's mother, Leola, which Crow's firm then upgraded with $36,000 in renovations by an award-winning local architect, including a garage, a repaired roof, and a new fence and gate.
A post-Watergate federal disclosure law requires justices to report details of real-estate sales over $1,000, but Thomas failed to disclose the purchase. Four ethics-law experts told ProPublica that he had violated the law in not doing so. "Given the role Crow has played in subsidizing the lifestyle of Thomas and his wife, you have to wonder if this was an effort to put cash in their pockets," one watchdog told ProPublica. Buying Thomas's mother a new garage was simply an effort to "preserve its long-term viability," Crow told ProPublica in a statement. Thomas did not respond to requests for comment.
According to two neighbors, Thomas's 94-year-old mother still lives in the house owned by her son's billionaire friend, who did not say whether he charges her rent.
https://nymag.com/intelligencer/2023/04/harlan-crow-bought-clarence-thomass-mothers-house.html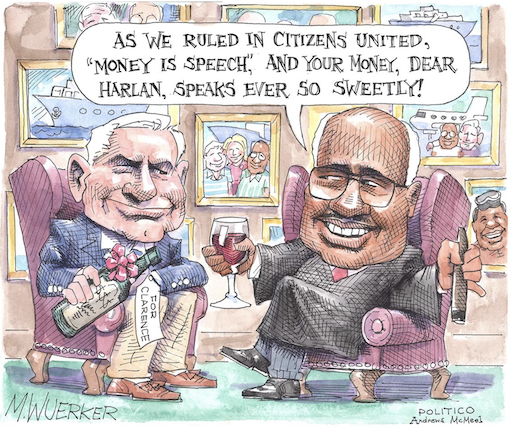 Ryan Lizza, Rachael Bade and Eugene Daniels: The GOP's abortion problems are only beginning
Consider some numbers compiled by Playbook:

72%: That's the percentage of Americans who oppose "laws that make it illegal to use or receive through the mail FDA-approved drugs for a medical abortion," according to recent polling from PRRI.

63%: That's the percentage of Americans who oppose "laws that ban abortion after a fetal heartbeat can be detected, usually around the sixth week of pregnancy."

52%: That's the percentage of Americans who "oppose restrictions that make it illegal to obtain an abortion after 15 weeks of pregnancy."

These are terrible numbers for Republicans.

Sen. Tim Scott (R-SC) knows it, which is why he had such a tough time answering questions on abortion yesterday.

Donald Trump knows it, which is why he's holding secret meetings with the religious right to get them to back off talk of a national ban.

Every single Republican running for president — or even those thinking about it — is on the wrong side of public opinion on this issue.

Meanwhile, conservative judges and red state legislatures are pushing more extreme restrictions on abortion.

It's an unmitigated political disaster for Republicans in 2024. https://www.politico.com/newsletters/playbook/2023/04/14/the-gops-abortion-problems-are-only-beginning-00092045
Benjamin Hart: Elon Musk Drives NPR Off Twitter
Earlier this month, as part of his continuing dogfight against traditional media outlets, Musk slapped a "state-sponsored media" label on NPR's Twitter account, putting it in the same category as propaganda-heavy, government-controlled outlets like Xinhua and Sputnik. NPR ceased tweeting in protest of the move and pressed its case to Twitter, after which Musk tweaked the label to "government-funded media." That did not mollify NPR, which said the label was still inaccurate, since it's a private company with editorial independence that receives only about one percent of its funding from the federal government.
Given the hostile atmosphere for media outlets on a platform that needs them considerably more than the other way around, there's a good chance NPR won't be the last to make a decision that would have been unthinkable a few years ago: Just get the hell out of there. A news-media exodus would be bad for Twitter's bottom line, but it might also sadden Musk on a personal level.
Because what good is a punching bag if it's no longer there to be punched?
https://nymag.com/intelligencer/2023/04/elon-musk-drives-npr-off-twitter-in-latest-genius-move.html
Eric Levitz: Why the GOP Can't Moderate On Abortion Pill Bans
For the Republican Party, the political costs of judicial victory continue to multiply. Which seems like bad news for the GOP. The pro-life's movement ambitions have never been popular. Only about 35 percent of Americans supported the overturning of Roe v. Wade last year in Gallup's polling. But banning access to abortion pills polls even worse.
In March, a Reuters survey asked voters whether they would support a federal court cutting off access to mifepristone, only 27 percent said yes, while 70 percent said no. Earlier this year, the same poll found that Americans support keeping medication abortion legal throughout the U.S. by a 65 to 21 percent margin. Meanwhile, a Public Religion Research Institute poll in February found Americans opposing a ban on the receipt of abortion pills through the mail by a 72 to 26 percent margin. When asked specifically about a ban on women receiving prescriptions for mifepristone from out-of-state providers in 2022, 76 percent of respondents voiced opposition in a Marquette University Law School survey.
The popularity of allowing access to medication abortion is not hard to understand. Since the pills lose efficacy during the advanced stages of a pregnancy, they do not enable the most controversial category of abortions. At the same time, the medicinal termination of a pregnancy is less invasive — and thus harder to sensationalize — than surgical abortion.
Perhaps for this reason, national Republicans have been oddly quiet about Kacsmaryk's ruling, largely declining to defend the decision against Democratic attacks. One congressional Republican, Nancy Mace, actually encouraged the FDA to ignore the ruling.
While silence or heterodoxy might be viable stances for rank-and-file D.C. Republicans, they are almost certainly unfit for the party's 2024 hopefuls. Pro-life voters and organizations command a substantial share of the GOP primary electorate. If the Republican nomination contest is competitive, then contenders will face enormous pressure to align themselves with the party's pro-life vanguard.
Already, Ron DeSantis is getting right with the movement. Currently, Florida prohibits abortion after the first 15 weeks of a pregnancy. But earlier this month, the state's Senate passed a bill that would cut the period of legality down to six weeks. Since Florida also requires two separate doctor's visits before one can legally access an abortion, and wait times for such appointments can be lengthy, the new restriction would function as a de-facto blanket ban in a high percentage of cases. DeSantis has signaled that he will sign the law, in defiance of the will of Floridians, a supermajority of whom believe that abortion should be legal in "all or most cases," according to a 2022 poll from  Florida Atlantic University.
As DeSantis and Donald Trump fight for the allegiance of the party's most powerful interest groups, it is all but certain that they will be compelled to champion the pro-life movement's crusade against mifepristone. That means that the next Republican administration is likely to be the most hostile to reproductive autonomy yet. But it also makes the odds of such an administration taking power in 2025 a bit lower than they otherwise would be.
https://nymag.com/intelligencer/2023/04/why-the-gop-cant-moderate-on-abortion-pill-bans.html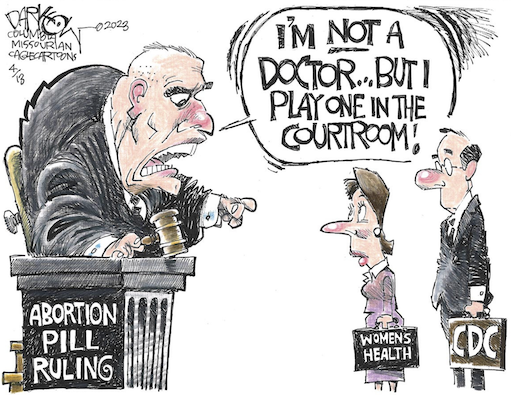 Sarah Jones: The United States of Vigilantes
Daniel Perry was ready for a confrontation. In Facebook messages, the Texas-based U.S. Army sergeant told friends he "might go to Dallas to shoot looters" and " might have to kill a few people on my way to work they are rioting outside my apartment complex." Online, he searched for terms such as "protest tonight" and "protesters in Seattle get shot" and "riot shootouts." On July 25, 2020, Perry, a white man, was driving for Uber when he drove his car into a crowd of Black Lives Matter protesters in Austin. One protester, a white Air Force veteran named Garrett Foster, approached Perry's car while legally carrying an AK-47. Perry shot and killed him.
Although Perry claimed self-defense in keeping with the state's sweeping "Stand Your Ground" law, witnesses said Foster never raised his rifle. Prosecutors argued that Perry simply "couldn't keep his anger under control," and on April 7, a jury found him guilty of murder. But Perry's conviction might not stand for long. Perry has not yet been sentenced, but the state's Republican governor, Greg Abbott, has already said he intends to pardon Perry for his crime. "Texas has one of the strongest 'Stand your ground' laws of self-defense that cannot be nullified by a jury or progressive district attorney," Abbott said in a statement. "I will work as swiftly as Texas law allows regarding the pardon of Sgt. Perry." On April 12, days after the verdict had been announced, the New York Times reported that investigators hired by Perry's legal team had visited some jurors at their homes in an effort to show that they had "relied improperly on information not presented during the trial."
The Austin American-Statesman reported that the Board of Pardons and Paroles must review the conviction and issue a recommendation to Abbott before he can issue a pardon. Abbott appoints the board's members, and he perhaps assumes he can influence the board's proceedings. "It's what happens in Uganda or El Salvador," a defense attorney who wasn't involved in the Perry case told the American-Statesman. Don't expect Abbott to care. Elements of the Republican Party are embracing vigilante violence with dire implications for its future and the safety of its opponents.
Abbott seeks to appease the far right. Tucker Carlson called Perry's conviction "a legal atrocity" and invited Abbott to discuss a potential pardon on his Fox News show. To Carlson and his viewers, Perry may be the next Kyle Rittenhouse, who shot three protesters and killed two in 2020. Rittenhouse, who was 17 at the time of the killings, became something of a hero to the right. After a jury acquitted him of murder, Carlson interviewed Rittenhouse and called him "a sweet kid." He met former president Donald Trump and appeared at events for Turning Point USA, a conservative youth organization. Rittenhouse may see something of himself in Perry. On Twitter, he called on Abbott "to step in and do the right thing."
When men like Perry can kill with impunity, no one is safe. There will be other killings that Carlson will excuse and conservatives in power will condone. At stake is the right to protest and more: human life, even democracy itself. The streets are one front in a much bigger war.
https://nymag.com/intelligencer/2023/04/daniel-perry-is-a-vigilante-with-friends.html
Tim Miller: Ron DeSantis's "Insidious" Immigration Bill
Ron DeSantis's remarkable 2023 legislative session is replete with compassionless quasi-conservative bills that he hopes will power an upcoming presidential campaign. The session is set to reach its apex this month with the signing of a Stephen Miller-style immigration law that targets immigrant communities in his not-really-a-border-state state.
HB 1617: "An Act Related To Unlawful Immigration," has yet to garner a catchy "Don't Say Gay"-type moniker to describe its barbarism.
But the name of DeSantis's legislation matters less than the particulars. Among them: requiring hospitals to collect the immigration status of patients and report it to the government and preventing legal DACA recipients from obtaining law licenses.
But the most troubling provisions are related to the "transport" and "harboring" of immigrants that you should "reasonably should have known" were undocumented, then it'll be a felony and you can be sent to prison.
https://plus.thebulwark.com/p/ron-desantis-insidious-immigration-bill
Peter Wehner: An Acute Attack of Trumpism in Tennessee
Perhaps the most revealing statement during this manufactured crisis came from Republican House Speaker Cameron Sexton, who compared the incident to the insurrection and attack on the U.S. Capitol on January 6.

"What they did today was equivalent, at least equivalent, maybe worse depending on how you look at it, to doing an insurrection in the state capitol," Sexton said. When he was pressed about his statement, he said, "That quote did not say absolutely it was worse. It said it could be."

No one, not even Republicans in the Tennessee state legislature, can watch what happened last week on the floor of the House and the January 6 attack on the Capitol and consider them remotely comparable.

What happened in Tennessee wasn't an "insurrection." It was indecorous, a breaking of procedural rules, but it was also an event without violence or destruction, without assaults or deaths, without heavily armed mobs or nooses hanging from gallows. No one in Tennessee will be charged and convicted of seditious conspiracy against the United States. And what happened in Tennessee didn't include peddling lies and embracing crazed conspiracy theories in order to overturn a free and fair election. So what's going on here?

We're watching Trump-induced idiocy. For more than seven years, Republicans have defended Trump's cruel, unethical, and deranged behavior. They are constantly having to deny what they have become in service to him. It's created cognitive dissonance. How can the party of "family values" defend a moral degenerate like Trump? How can law-and-order Republicans defend a violent insurrection and threats against judges and prosecutors? How can "constitutional conservatives" rally around a man who attempted to subvert the Constitution by overthrowing an election? https://www.theatlantic.com/ideas/archive/2023/04/trump-induced-idiocy-tennessee/673726/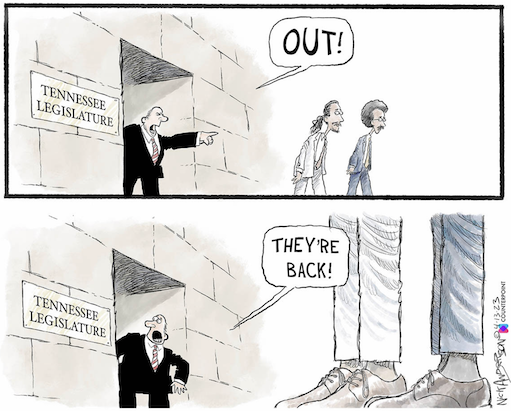 Jackie Calmes: Why does the Republican Party have a death wish?
From top to bottom, at all levels of government, the Republican Party is on a tear to epitomize the timeless truth of 19th century Britain's Lord Acton: "Power tends to corrupt, and absolute power corrupts absolutely."
Signs of backlash are building, however. Witness Democrats' takeover of the Wisconsin Supreme Court last week, and its capture of Michigan's entire government last fall — victories in two heartland states that Democrats had long feared were slipping away from them. By public demand, the Republican-controlled Tennessee House has had to reseat the two Black Democratic representatives it expelled last week for egging on a protest in support of gun control after a shooter killed six at a Nashville school.
For a Republican Party that didn't even bother to write an actual platform in 2020, Americans can clearly see a de facto one: Its planks are antiabortion extremism, pro-gun absolutism, anti-LGBTQ activism, book banning, vote suppression and election denialism. That's not a winning mix.
Most Republican leaders aren't stupid; they recognize their political peril in swing states and national elections, if only privately. Pollsters and consultants are warning them. As Sarah Longwell, who conducts focus groups of Republican voters, told Politico, "The gap between what base voters demand … and what swing voters are up for has gotten very wide."
Which suggests just one explanation for Republicans' not only staying the course, but also doubling down on issues unpopular with just about everyone other than their base: They have a death wish.
I'd recommend Republicans take this advice from a good ol' American, Will Rogers: "If you find yourself in a hole, stop digging."
https://news.yahoo.com/calmes-why-does-republican-party-123003023.html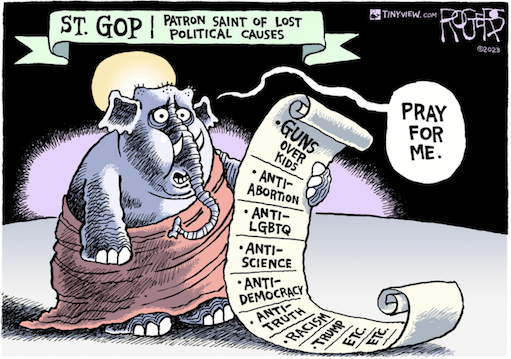 Eugene Robinson: Why Clarence Thomas's explanations fail the laugh test
In 1969, Supreme Court Justice Abe Fortas resigned after it was learned that he had accepted, then returned, $20,000 from a Wall Street financier. At the time, Chief Justice Earl Warren felt it was important that Fortas step down to preserve the court's reputation.
Clarence Thomas accepted gifts from Crow worth many times that amount, even counting for inflation, and failed to report them. And then there is all the money Ginni Thomas has received from right-wing organizations that lobby on issues before the court — plus her outrageous involvement in the "Stop the Steal" putsch that led to the Jan. 6, 2021, Capitol insurrection.
Thomas doesn't believe in affirmative action or protecting voting rights, though he benefited from both. He does believe in living the good life among millionaires and billionaires whose interests he just happens to protect in his opinions.
My mental image of Thomas used to be of him sitting on the Supreme Court bench during arguments, silent and scowling. Now, I see him on vacation, smoking a cigar with Crow and his buddies, laughing as though he doesn't have a care in the world. The joke is on us. 
https://www.washingtonpost.com/opinions/2023/04/17/clarence-thomas-disclosures-harlan-crow-respect/
Paul Waldman: The party of big, intrusive government? That would be the GOP
House Speaker Kevin McCarthy went to Wall Street on Monday to reiterate the Republican Party's threat to wreck the U.S. economy by engineering a default on the country's debts unless its vague demands for spending cuts are met. McCarthy (Calif.) wants this presented as a debate between advocates of "big government" and "small government," which is how it is commonly understood.
In fact, this debate is really between two different brands of "big" government. It's true that Democrats generally want government to spend more money, while Republicans want it to spend less — at least on social services. (They're happy, though, to spend enormous amounts on certain things, including the military.) But Republicans also want government to be much more intrusive and involved in Americans' lives, watching them for questionable behavior and limiting the choices they make.
Let's take one example that McCarthy and Republicans are getting ready to propose: the imposition of "work requirements" for the tens of millions of Americans who rely on Medicaid for health insurance or food stamps to feed their families. If you're looking for big government, work requirements are it.
https://www.washingtonpost.com/opinions/2023/04/19/mccarthy-republicans-big-government/