September 17, 2020
ON THE RECORD. . .
"No ... You really drank the Kool-Aid, didn't you? Just listen to you. Wow. No, I don't feel that at all." — Trump replying to Bob Woodward who asked if Mr. Trump was working to "understand the anger and the pain, particularly, Black people feel in this country."

"I have to disagree with that, because if you look at … the statistics they are disturbing. We're plateauing at around 40,000 cases a day. And the deaths are around a thousand." — Dr. Anthony Fauci responding to Trump claims that we "rounding the final turn" on the coronavirus.

CNN's JIM ACOSTA: "Why are you not wearing your mask?"
RALLYGOER: "Because there's no COVID. It's a fake pandemic. Created to destroy the United States of America."
And, it gets even worse. … from Trump's rally in Freeland, MI. VIDEO

"These are transgender Marxists — transgender Black Marxists — who are seeking the overthrow of the United States and the dissolution of the traditional family …. the Black Lives Matter protests in Portland, Oregon, are a "communist takeover" and the election of Joe Biden could precipitate a "communist revolution." -- Former Rep. Michele Bachmann, R-Minn. in an interview on The Victory Channel, televangelist Kenneth Copeland's right-wing Christian network,

"He had all this information yet he held rallies, he suggested that to wear a mask is a sign of weakness as opposed to a sign of strength. This is the president of the United States. So we continue to have examples of the fact that this is an individual who is not concerned about the health and safety and well-being of the American people and is frankly engaged in a reckless disregard for the lives and health and well being of the people of our country. I find it so outrageous." — Kamala Harris, who also accused the president of recklessly endangering American lives.

"When the House is on fire and there's a five-alarm fire, you have an obligation to let people know. If not, they're going to burn, and they're going to die. And this awful, awful incident, tragedy, can be summed up in four words: Trump lied. People died." — Sen. Chuck Schumer (D-N.Y.) on President Trump deliberately downplaying the deadly impact of the coronavirus.

"We'll put them down very quickly if they do that. We have the right to do that. We have the power to do that, if we want. Look, it's called insurrection,.We just send in, and we do it very easy. I mean, it's very easy. I'd rather not do that because there's no reason for it, but if we had to, we'd do that and put it down within minutes." — Donald Trump threatening to "put … down very quickly" riots on election night should aggrieved Democrats take to the streets in the wake of his potential victory.

"I saved his ass. I was able to get Congress to leave him alone. I was able to get them to stop." — Trump bragging to Bob Woodward that he protected Saudi Crown Prince Mohammed bin Salman after the assassination and dismembering of Washington Post columnist Jamal Khashoggi.

"I think there's probably, possibly drugs involved. That's what I hear." -- Trump during interview with Judge Jeanine, accusing Joe Biden of using performance enhancing drugs.

"For the first time, mental health professionals go on the record, in an eye–opening, science–based assessment of the behavior and stability of Donald J. Trump." -- Unfit, a just released documentary featuring George Conway, Anthony Scaramucci and Bill Kristol.

"We're gonna win four more years in the White House, and then we'll negotiate, because based on the way we were treated, we're probably entitled to another four years after that." -- Trump at his rally in Nevada.

"If you give a climate arsonist four more years in the White House, why would anyone be surprised if we have more of America ablaze? If you give a climate denier four more years in the White House, why would anyone be surprised when more of America is underwater?" — Joe Biden

"President Trump should be considered to be a useful idiot and a fellow traveler, which makes him an unwitting agent of Putin." — Lt. Col. Alexander Vindman, a star witness in Trump's impeachment trial.

"His handlers and the Fake News Media are doing everything possible to get him through the Election. Then he will resign, or whatever, and we are stuck with a super liberal wack job that NOBODY wanted!" — Trump suggesting again that Joe Biden is a Trojan horse for radical leftists.

C.D.C. scientists "haven't gotten out of their sweatpants except for meetings at coffee shops to plot how they're going to attack Donald Trump next. There are scientists who work for this government who do not want America to get well, not until after Joe Biden is president." — Michael R. Caputo, assistant secretary of public affairs at the Department of Health and Human Services, a longtime Trump loyalist with no background in health care.

"I'm on a stage and it's very far away. And so I'm not at all concerned." — Trump dismissing concerns about the spread of coronavirus at his indoor rally in Nevada, showing no concern for the potential threat posed to the thousands of his supporters who attended the rally.

TRUMP: This thing is a killer if it gets you. If you're the wrong person, you don't have a chance.
WOODWARD: Yes, yes, exactly.
TRUMP: So this rips you apart.
WOODWARD: This is a scourge. And–
TRUMP: It is the plague. -- Woodward audio from April 13th

There will be a coronavirus vaccine in a matter of "weeks" and that the government will start delivering it "immediately." — Trump on Fox News.

 

JIM CRAMER: "What deal can we have, Crazy Nancy? I'm sorry, that was the president. I have such reverence for the office. I would never use that term ..."
PELOSI: "But you just did. But you just did."

"I'm fearful that comments made in the media recently have only confirmed that perspective… It's not the legitimate role of government, for Congress or for taxpayer expense, to be used in an effort to damage political opponents." — Sen. Mitt Romney (R-UT) criticizing his Republican colleagues on the Senate Homeland Security Committee for their probe into Joe Biden and his son's dealings in Ukraine.

"You know liberals project. All this bullshit about how the president is going to stay in office and seize power? I've never heard of any of that crap. I mean, I'm the attorney general. I would think I would have heard about it. They are projecting. They are creating an incendiary situation where there will be loss of confidence in the vote." — AG Bill Barr, in an interview with the Chicago Tribune.

TRUMP: I have it all ready. I have it all ready.
STEPHANOPOULOS: But it's … you've been trying to strike down preexisting conditions…
TRUMP: It doesn't matter. I have it all ready, and it's a much better plan for you, and it's a much better plan. — Trump saying he has a new heath care plan ready to unveil.

"You'll develop like a herd mentality. It's going to be herd-developed, and that's going to happen, that will all happen… But I really believe we're rounding the corner." — Trump, doubling down on his claim that the virus will "go away."

 

"They said at the Democrat convention they're going to do a national mandate. They never did it, because they've checked out and they didn't do it. And a good question is, you ask why Joe Biden—they said we're going to do a national mandate on masks." — Trump blaming Joe Biden, who is obviously not President, for not instituting a national mask mandate.

"I don't know, to be honest, whether he's got it straight in his head what is real and what is unreal. That is why, at the end of the book, I say, in totality, my judgment is, this is the wrong man for the job." — Bob Woodward, on CNN.

South Carolinians have voted for Lindsey before, but this is the first time they truly know who he is | The Lincoln Project: https://twitter.com/ProjectLincoln/status/1303656587228114949

More than 1,000 people died from COVID yesterday. @realDonaldTrump watched eight hours of TV. | Joe Biden: https://twitter.com/JoeBiden/status/1304209289456672768

Mr. President, if you don't respect our troops, you can't lead them. | Joe Biden: https://twitter.com/JoeBiden/status/1301913914922299393

All of that money. For nothing. | The Lincoln Project: https://twitter.com/ProjectLincoln/status/1305831252935741440

While millions of people are out of work and struggling, Trump has been bailing out his own businesses — with campaign money. |The Lincoln Project: https://twitter.com/ProjectLincoln/status/1299803474314637312

--------------------------------------------------------------------------

Don Trump The Science-ish Guy: Wildfires | The Daily Social Distancing Show: https://youtu.be/Xj-n-uGsjLI
---
IN THIS ISSUE
FYI
OPINION
1. Andy Borowitz: Scientists Believe Congressional Republicans Have Developed Herd Mentality
Researchers at the University of Minnesota believe that Republican members of Congress have obtained "extremely high" levels of herd mentality, a new study shows.

According to the study, the researchers found that, in obtaining herd mentality, the G.O.P. lawmakers have developed "near-total immunity" to damning books, news reports, and audio tapes.

Herd mentality was observed in congressional Republicans from every region of the country, with the exception of one senator from Utah, Mitt Romney, who was deemed an outlier and therefore statistically insignificant.

Davis Logsdon, the scientist who supervised the study, said that Republicans were exhibiting herd mentality to a degree never before observed in humans.

"Herd mentality at these levels historically has appeared only in other mammal species, like lemmings," the researcher said. https://www.newyorker.com/humor/borowitz-report/
2. Barr Tells Prosecutors to Consider Charging Violent Protesters With Sedition
Attorney General William Barr told the nation's federal prosecutors to be aggressive when charging violent demonstrators with crimes, including potentially prosecuting them for plotting to overthrow the U.S. government, people familiar with the conversation said.
In a conference call with U.S. attorneys across the country last week, Mr. Barr warned that sometimes violent demonstrations across the U.S. could worsen as the November presidential election approaches. He encouraged the prosecutors to seek a number federal charges, including under a rarely used sedition law, even when state charges could apply. https://www.wsj.com/articles/barr-tells-prosecutors-to-consider-charging-violent-protesters-with-sedition-11600276683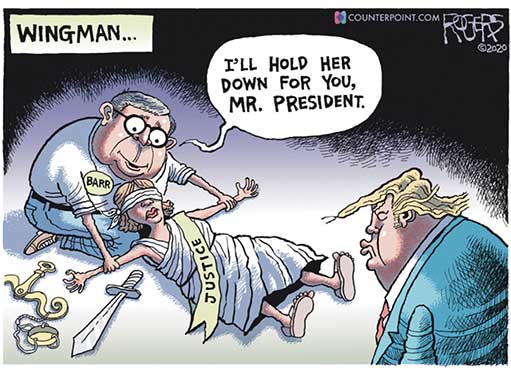 3. GOP Senator Who Walked Out To Stop Climate Vote Loses House To Wildfire
Oregon Republican state senator Fred Girod was one of 11 Republicans who made headlines when they walked out of the senate – some even leaving the state – so that a quorum could not be achieved for a climate change bill.
Now with wildfires raging in Oregon, climate change has come to Girod's doorstep. Literally. http://labor411.org/411-blog/gop-senator-who-walked-out-to-stop-climate-vote-loses-house-to-wildfire/
4. U.S. Image Plummets Internationally
Since Donald Trump took office as president, the image of the United States has suffered across many regions of the globe. As a new 13-nation Pew Research Center survey illustrates, America's reputation has declined further over the past year among many key allies and partners. In several countries, the share of the public with a favorable view of the U.S. is as low as it has been at any point since the Center began polling on this topic nearly two decades ago. https://www.pewresearch.org/global/2020/09/15/us-image-plummets-internationally-as-most-say-country-has-handled-coronavirus-badly/
5. Court blocks Trump order to exclude undocumented immigrants from census count
A federal court on Thursday blocked a memorandum signed by President Trump seeking to exclude undocumented immigrants from being counted in the census for apportionment, saying such action would violate the statute governing congressional apportionment.
A special three-judge panel out of New York wrote that the president's argument that undocumented immigrants should not be counted runs afoul of a statute saying apportionment must be based on everyone who is a resident of the United States.
The judges found that all residents must be counted for apportionment purposes regardless of their legal status. https://www.washingtonpost.com/local/social-issues/trump-census-documents/2020/09/10/6c2bdcce-f3a0-11ea-bc45-e5d48ab44b9f_story.html
6. How Conspiracy Theories Are Shaping the 2020 Election—and Shaking the Foundation of American Democracy
The QAnon conspiracy theory, a pro-Trump viral delusion that began in 2017 and has spread widely over recent months, migrating from far-right corners of the Internet to infect ordinary voters in the suburbs. Its followers believe President Trump is a hero safeguarding the world from a "deep state" cabal of Satan-worshipping pedophiles, Democratic politicians and Hollywood celebrities who run a global sex-trafficking ring, harvesting the blood of children for life-sustaining chemicals.
This matters not just because of what these voters believe but also because of what they don't. The facts that should anchor a sense of shared reality are meaningless to them; the news developments that might ordinarily inform their vote fall on deaf ears. They will not be swayed by data on coronavirus deaths, they won't be persuaded by job losses or stock market gains, and they won't care if Trump called America's fallen soldiers "losers" or "suckers," as the Atlantic reported, because they won't believe it. They are impervious to messaging, advertising or data. They aren't just infected with conspiracy; they appear to be inoculated against reality. https://time.com/5887437/conspiracy-theories-2020-election/
7. Trump Health Aide Pushes Bizarre Conspiracies and Warns of Armed Revolt
The top communications official at the powerful cabinet department in charge of combating the coronavirus made outlandish and false accusations on Sunday that career government scientists were engaging in "sedition" in their handling of the pandemic and that left-wing hit squads were preparing for armed insurrection after the election.
Michael R. Caputo, the assistant secretary of public affairs at the Department of Health and Human Services, accused the Centers for Disease Control and Prevention of harboring a "resistance unit" determined to undermine President Trump, even if that opposition bolsters the Covid-19 death toll.
Mr. Caputo, who has faced intense criticism for leading efforts to warp C.D.C. weekly bulletins to fit Mr. Trump's pandemic narrative, suggested that he personally could be in danger from opponents of the administration. "If you carry guns, buy ammunition, ladies and gentlemen, because it's going to be hard to get," he urged his followers.
C.D.C. scientists "haven't gotten out of their sweatpants except for meetings at coffee shops" to plot "how they're going to attack Donald Trump next," Mr. Caputo said. "There are scientists who work for this government who do not want America to get well, not until after Joe Biden is president." https://www.nytimes.com/2020/09/14/us/politics/caputo-virus.html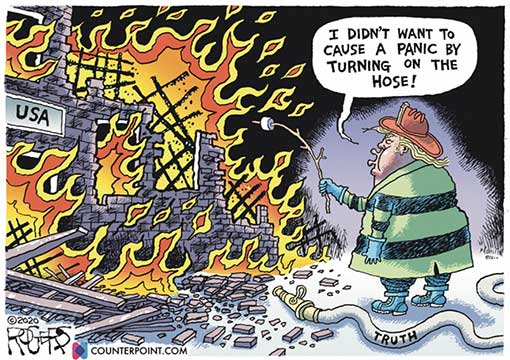 8. Over 170 environmental leaders urge supporters to vote for Biden, not Green Party
Nearly 200 environmental leaders signed an open leader on Monday urging likeminded voters to support Democratic presidential nominee Joe Biden in the November election instead of casting their ballots for the Green Party's candidate.
"Angry right-wing voters and liberal absentees put Trump in the White House in 2016," the letter reads. "In 2020 the same unholy team could keep him there. Progressives who vote for the Green Party candidate, or write in Henry David Thoreau, or refuse to vote at all for lack of an ideal choice will give Donald Trump precisely what he wants, and enough such pious gestures will produce catastrophic results." https://thehill.com/homenews/campaign/516270-over-170-environmental-leaders-urge-supporters-to-vote-biden-not-green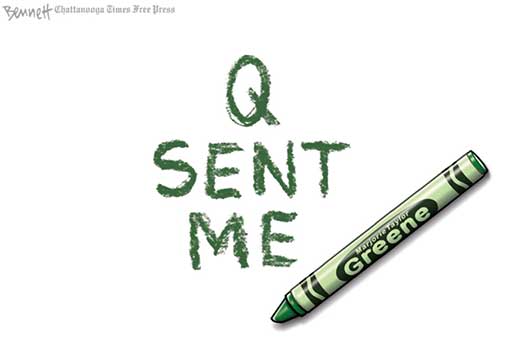 9. We're numb to the coronavirus
We're over COVID even if it isn't over us.
Six months into the pandemic, online engagement around coronavirus stories has dropped off markedly and continues to reach new lows even as the pandemic continues.
Interactions (likes, comments, shares) on stories about the coronavirus have fallen 88% since March, 62% since July and 36% even from the August average. https://www.axios.com/coronavirus-social-media-attention-aade9f77-2f82-4708-99a2-8c6609da6150.html
10. Nebraska to end nearly all social distancing restrictions
Nebraska Gov. Pete Ricketts (R) announced that the state was moving to phase 4 of reopening, ending almost all state-wide pandemic restrictions on Monday, September 14th. https://apnews.com/e280640ba95931e6020e21a974b11396
11. USPS removed 711 sorting machines this year
The United States Postal Service removed 711 mail-sorting machines from postal facilities -- the highest level in at least four years -- according to new court testimony from top-ranking agency officials. https://us.cnn.com/2020/09/09/politics/usps-removed-711-sorting-machines/index.html
12. Trump, struggling to define Biden, steps up attacks on Harris
Trump said this week that "nobody likes" Harris, feeding into a standard of likability that is applied to women in leadership far more often than men. He told voters in North Carolina it would be "an insult to our country" if Harris became the first female president. And Trump and his allies repeatedly mispronounce Harris' first name, a pattern her supporters say amounts to a deliberate effort to portray the daughter of immigrants as someone who does not belong at the top ranks of politics.
Trump is focusing on Harris as he has sometimes struggled to land on a consistent, coherent attack against Biden, who has built a reputation as a bipartisan deal maker rather than a progressive ideologue. And the racism and sexism underlying Trump's critique of the first Black woman and person of Asian descent on a major party ticket are part of an aggressive strategy to appeal to white suburban voters. https://apnews.com/b4665166708eb28e2255605b2a04984e
13. As Clock Ticks, Trump Engulfs Himself in Chaotic News Cycles
For much of the Trump presidency, days and controversies have run together until they've become an indistinguishable blur: a bombshell revelation from a former aide, or a self-sabotaging news conference, canceling out the last one. Time has seemed to pass quickly or not at all, as the constant churn of scandals, resignations, tell-all books and racist or sexist tweets has created its own political ecosystem.
At times, the constant noise has helped Mr. Trump, who thrives on chaos and wants the spotlight always on himself, and he believes he has faced few consequences for it.
But with less than eight weeks left until the election, and with early voting beginning in some states this month, the number of days Mr. Trump can afford to burn is dwindling. He is trailing his Democratic rival, Joseph R. Biden Jr., in most national and battleground state polls, and is facing a potential cash crunch, leaving him with less to invest in television ads after aggressive spending over the last three years.
Said GOP strategist Mike Murphy: "Even though the calendar says 54 days, it's really more like 40 days. And so every day, Trump is burning the one thing he can't create more of, which is time — which is a disaster for him." https://www.nytimes.com/2020/09/10/us/politics/trump-campaign-virus-woodward.html
14. The Trump campaign played a song about rich kids dodging the Vietnam War draft — which the president did 5 times — at a Michigan rally
Donald Trump's campaign played a song about rich people dodging the Vietnam War draft — which Trump did five times — as the president got off his plane for a rally in Michigan on Thursday. https://www.businessinsider.com/trump-michigan-rally-plays-fortunate-son-song-avoiding-vietnam-war-2020-9
15. Twitter expands rules against election-related misinformation, setting up showdown with Trump
Twitter announced Thursday that it is expanding its policies against election-related misinformation, setting new rules that will likely force the platform to more aggressively fact-check President Donald Trump during the final months of the 2020 campaign.
The social media giant rolled out the new policies in a blog post, which said that Twitter (TWTR) will either add fact-check labels to or hide altogether tweets that contain "false or misleading information that causes confusion" about election rules, or posts with "unverified information about election rigging."
The new rules, which Twitter says will go into effect next week, explicitly prohibit a lot of the material Trump is prone to posting, putting the company on a collision course with Trump while it tries to help steer the country through an unprecedented voting and post-election process. https://www.cnn.com/2020/09/10/tech/twitter-rules-trump-misinformation-election/index.html
16. Trump administration secretly withheld millions from FDNY 9/11 health program
The Trump administration has secretly siphoned nearly $4 million away from a program that tracks and treats FDNY firefighters and medics suffering from 9/11 related illnesses, the Daily News has learned.
The Treasury Department mysteriously started withholding parts of payments — nearly four years ago — meant to cover medical services for firefighters, emergency medical technicians and paramedics treated by the FDNY World Trade Center Health Program, documents obtained by The News reveal. https://www.nydailynews.com/news/politics/ny-fdny-911-health-program-treasury-20200910-s7yam67j6vhmhbdzg6ordanfdm-story.html
17. Democrats build big edge in early voting
Democrats are amassing an enormous lead in early voting, alarming Republicans who worry they'll need to orchestrate a huge Election Day turnout during a deadly coronavirus outbreak to answer the surge. https://www.politico.com/news/2020/09/10/democrats-early-voting-lead-412106
18. Durham aide quits amid pressure on Russiagate probe
A top aide to Connecticut U.S. Attorney John Durham, who is conducting a politically sensitive investigation into the origins of the federal investigation into potential ties between the Trump campaign and Russia, has resigned from the Justice Department amid mounting pressure from President Donald Trump and his allies to publish results from the probe before the November election.
Veteran federal prosecutor Nora Dannehy, who returned from the private sector to assist Durham in March 2019, exited the government Friday, according to a Durham spokesperson. https://www.politico.com/news/2020/09/11/durham-aide-quits-russiagate-412699
19. QAnon fans spread fake claims about real fires in Oregon
Law enforcement agencies described 911 dispatchers as being overrun with calls about a false online rumor that "Antifa" members had been arrested for setting the fires — a claim promoted by the anonymous account behind the conspiracy theories.
The incident highlights how online conspiracy theories, a sustained right-wing campaign to create increased fear of anti-fascist groups, and amplification of false claims by QAnon followers, have real consequences. https://www.cnn.com/2020/09/11/tech/qanon-oregon-fire-conspiracy-theory/index.html
20. Trump officials interfered with CDC reports on Covid-19
The CDC's Morbidity and Mortality Weekly Reports are authored by career scientists and serve as the main vehicle for the agency to inform doctors, researchers and the general public about how Covid-19 is spreading and who is at risk. Such reports have historically been published with little fanfare and no political interference, said several longtime health department officials, and have been viewed as a cornerstone of the nation's public health work for decades.
Since Michael Caputo, a former Trump campaign official with no medical or scientific background, was installed in April as the Health and Human Services department's new spokesperson, there have been substantial efforts to align the reports with Trump's statements, including the president's claims that fears about the outbreak are overstated, or stop the reports altogether. https://www.politico.com/news/2020/09/11/exclusive-trump-officials-interfered-with-cdc-reports-on-covid-19-412809
21. Trump Campaign Solicits Donations With Desperate Text Claiming Antifa Will 'Attack Your Homes' if Biden Wins
Trump's campaign solicited donations Saturday with a fear-mongering text warning of impending violent attacks by anti-fascist activists under a Joe Biden presidency: "ANTIFA ALERT: They'll attack your homes if Joe's elected. Pres Trump needs you to become a Diamond Club Member. Your name is MISSING. Donate. https://www.thedailybeast.com/trump-campaign-solicits-donations-with-desperate-text-claiming-antifa-will-attack-your-homes-if-biden-wins
22. Decision to drop Michael Flynn case was 'corrupt and politically motivated,' court-appointed lawyer says
The Justice Department's decision to drop the criminal case against former Trump national security adviser Michael Flynn was a "corrupt and politically motivated favor," a former judge who was appointed to analyze the case said Friday in a new court filing.
John Gleeson's comments Friday include some of the sharpest rebukes of the Justice Department to date and directly accuse President Donald Trump's appointees of doing his bidding to protect Flynn merely because he is a political ally.
"In the United States, Presidents do not orchestrate pressure campaigns to get the Justice Department to drop charges against defendants who have pleaded guilty -- twice, before two different judges -- and whose guilt is obvious," Gleeson wrote. https://www.cnn.com/2020/09/11/politics/michael-flynn-gleeson-response/
23. 'A huge risk': Trump's allies can't sway him on mail-in voting
For a few weeks, Donald Trump's advisers had seemingly gotten through to him — the president was finally encouraging his supporters to vote by mail, at least some of the time.
On-message Trump didn't last long. He recently appeared to suggest people vote twice — voting in-person as a way to determine if their mail-in ballot had been counted — later warning Democrats would be "thieving and stealing and robbing" their way to an election win. Now, five Republicans close to the president's campaign say that if Trump keeps up his vacillating mail-in voting rhetoric, they fear infrequent voters, especially older ones, will simply sit out the election. https://www.politico.com/news/2020/09/12/trump-mail-in-voting-411608
24. Colorado Secretary of State Accuses USPS of Sending 'Misinformation' to Voters
Colorado's secretary of state took to Twitter to sound the alarm after the United States Postal Service sent out a postcard to voters nationwide containing inaccurate information that could undermine the election and "suppress votes."
The postcard, sent to all American households, is "confusing" voters in several states by telling them they must request a ballot, even though many states automatically send a ballot to every registered voter.
The postcard also includes a recommendation to voters to "mail your ballot at least 7 days before Election Day," while some states, like Colorado, tell voters to send them earlier. https://www.thedailybeast.com/colorado-secretary-of-state-jena-griswold-accuses-usps-and-louis-dejoy-of-sending-misinformation-to-voters
25. A Climate Reckoning in Fire-Stricken California
Multiple mega fires burning more than three million acres. Millions of residents smothered in toxic air. Rolling blackouts and triple-digit heat waves. Climate change, in the words of one scientist, is smacking California in the face.
The crisis in the nation's most populous state is more than just an accumulation of individual catastrophes. It is also an example of something climate experts have long worried about, but which few expected to see so soon: a cascade effect, in which a series of disasters overlap, triggering or amplifying each other.
"You're toppling dominoes in ways that Americans haven't imagined," said Roy Wright, who directed resilience programs for the Federal Emergency Management Agency until 2018 and grew up in Vacaville, Calif., near one of this year's largest fires. "It's apocalyptic."
The same could be said for the entire West Coast this week, to Washington and Oregon, where towns were decimated by infernos as firefighters were stretched to their limits. https://www.nytimes.com/2020/09/10/us/climate-change-california-wildfires.html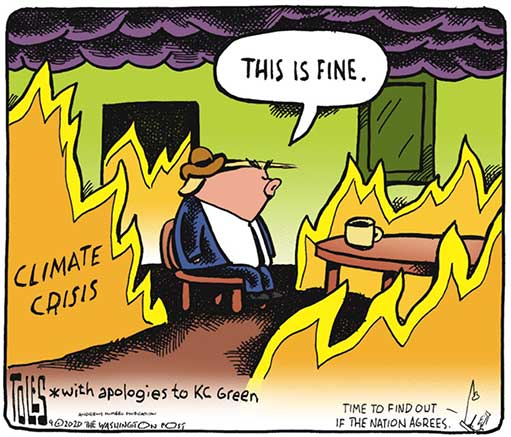 26. Longtime Climate Science Denier Hired At NOAA
David Legates, a University of Delaware professor of climatology who has spent much of his career questioning basic tenets of climate science, has been hired for a top position at the National Oceanic and Atmospheric Administration.
In 2007, Legates was one of the authors of a paper that questioned previous findings about the role of climate change in destroying the habitat of polar bears. That research was partially funded by grants from Koch Industries, the lobbying group the American Petroleum Institute and ExxonMobil, according to Inside Climate News. https://www.npr.org/2020/09/12/912301325/longtime-climate-science-denier-hired-at-noaa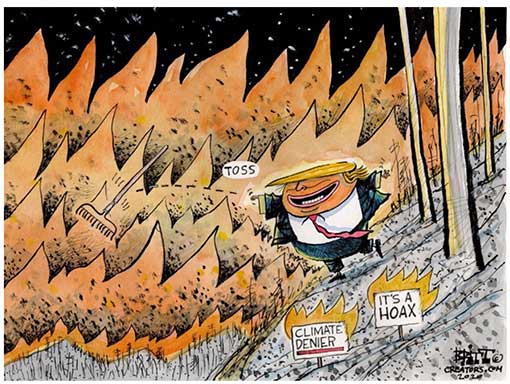 27. D.H.S. Downplayed Threats From Russia and White Supremacists, Whistle-Blower Says
Top officials with the Department of Homeland Security directed agency analysts to downplay threats from violent white supremacy and Russian election interference, a Homeland Security official said in a whistle-blower complaint released on Wednesday.
Brian Murphy, the former head of the Homeland Security Department's intelligence branch, said in the complaint that he was ordered this spring by Chad F. Wolf, the acting secretary of the department, to stop producing assessments on Russian interference and focus instead on Iran and China. That request, Mr. Murphy said, was routed through Mr. Wolf from Robert C. O'Brien, the White House national security adviser.
In other instances, the department's second-highest ranked official, Kenneth T. Cuccinelli II, ordered Mr. Murphy to modify intelligence assessments to make the threat of white supremacy "appear less severe" and include information on violent "left-wing" groups and antifa, according to the complaint, which was filed on Tuesday but released Wednesday by the House Intelligence Committee. https://www.nytimes.com/2020/09/09/us/politics/homeland-security-russia-trump.html
28. Justice Dept. Intervenes to Help Trump in E. Jean Carroll Defamation Lawsuit
The Justice Department moved on Tuesday to replace President Trump's private legal team with government lawyers to defend him against a defamation lawsuit by the author E. Jean Carroll, who has accused him of raping her in a Manhattan department store in the 1990s.
In a highly unusual legal move, lawyers for the Justice Department said in court papers that Mr. Trump was acting in his official capacity as president when he denied ever knowing Ms. Carroll and thus could be defended by government lawyers — in effect underwritten by taxpayer money.
"The question is," said Steve Vladeck, a University of Texas law professor, "is it really within the scope of the law for government lawyers to defend someone accused of lying about a rape when he wasn't even president yet?" https://www.nytimes.com/2020/09/08/nyregion/donald-trump-jean-carroll-lawsuit-rape.html
29. 400,000 Immigrants Can Be Forced to Leave the U.S., Court Rules
A federal appeals court ruled on Monday that the Trump administration acted within its authority in terminating legal protections that have allowed hundreds of thousands of immigrants to live and work legally in the United States, sometimes for decades, after fleeing conflict or natural disasters in their home countries.
The 2-1 ruling by the United States Court of Appeals for the Ninth Circuit effectively strips legal immigration status from some 400,000 people, rendering them deportable if they do not voluntarily leave the country. The decision affects the overwhelming majority of beneficiaries of a program offering what is known as "temporary protected status," which has permitted them to remain in the United States after being uprooted from their unstable homelands.
"It's a really devastating day for hundreds of thousands of people who have lived and worked in the country lawfully for decades," said Tom Jawetz, vice president for immigration policy at the Center for American Progress. https://www.nytimes.com/2020/09/14/us/immigrants-temporary-protected-status.html
30. WTO says U.S. tariffs on Chinese goods violated international trade rules
The World Trade Organization ruled on Tuesday that additional tariffs imposed in 2018 by the United States on Chinese goods violated international trading rules, a blow to the Trump administration's trade war against the world's second largest economy.
A three-person panel of WTO trade experts said Washington broke with global regulations in 2018 when it slapped more than $200 billion in levies on a slew of Chinese goods. Since March 2018, the United States has imposed tariffs on $400 billion in Chinese exports. https://www.cnbc.com/2020/09/15/wto-says-us-tariffs-on-chinese-goods-violated-international-trade-rules.html
31. The Trump identity and fashion statement
Trump flotillas ... Trump flags bigger than American flags ... Trump truck rallies ... Trump shirts ... Trump underwear ... lawns that don't have a Trump-Pence sign or two but 50 or even 100 — a forest.
To his diehard supporters, Trump isn't just a candidate. He's a lifestyle choice and a vehicle for self-expression — a way to continually flip the middle finger at big media, big business, big government ... anything big.
It's all part of one of the big Trump triumphs — convincing his voters that an attack on him is actually an attack on them. https://www.axios.com/trump-merchandise-fashion-boats-flags-9d27d9cb-ff09-4119-a512-1514fbd5d363.html
32. Judge rules that Trump's Homeland Security secretary is serving unlawfully
A Maryland federal judge ruled that Chad Wolf is likely unlawfully serving as acting secretary of the Department of Homeland Security and temporarily barred the Trump administration from enforcing new asylum restrictions on members of two immigration advocacy groups. https://www.cnn.com/2020/09/14/politics/judge-chad-wolf/index.html
33. The DAILY GRILL
"Believe it or not, even when I'm in Washington or New York, I do not watch much television," Trump scolded reporters aboard Air Force One in 2017. "People that don't know me, they like to say I watch television — people with fake sources. You know, fake reporters, fake sources. But I don't get to watch much television. Primarily because of documents. I'm reading documents. A lot. I actually read much more — I read you people much more than I watch television." -- Trump

VERSUS

"I watched Liz McDonald, she's fantastic. I watched Fox Business. I watched Lou Dobbs last night, Sean Hannity last night, Tucker last night, Laura. I watched Fox & Friends in the morning." — Trump citing the many shows he watches, all of which of course feature slavishly pro-Trump hosts feeding his own conspiratorial worldview.
 

 

"Many plants are being built right now — auto plants — in Michigan, just like I said. They're being built in Ohio, they're being built in South Carolina, North Carolina, they're being built all over and expanded at a level that we've never seen before. Cause I said to Japan, Germany and others, 'Sorry, you've got to come here and build plants, otherwise we're going to have to make it very tough on you with tariffs.' "— Trump bragging about imaginary auto plants on labor day.

VERSUS

Only five new auto plants have been announced since Trump took office, and investment in auto manufacturing was higher under the last three years of Barack Obama's presidency than the first three of Trump's. Three of the four states name-checked by Trump do not have new plants. And there's no evidence that Trump's threat of tariffs led to more auto investment. Trump earns Four Pinocchios. — Washington Post Fact Checker

 

Trump's fusillade of falsehoods on mail voting.Here's a list of the most outlandish claims from Trump and his allies. Trump and his allies keep repeating these falsehoods over and over. -- Washington Post

VERSUS

This is a breathtaking onslaught on the truth and the integrity of an upcoming U.S. election. We expect it from Russia, especially after the copious evidence of its disinformation campaign in 2016 to benefit Trump. But to see it emanate from the president of the United States, the attorney general and the head of the Republican Party is nothing short of stunning. Every one of these claims earns Four Pinocchios. -- Washington Post

 

Trump "has never lied to the American public on Covid" and "never downplayed the virus" — Press secretary Kayleigh McEnany saying that after the release of the interview excerpts — despite Trump's acknowledgment to Woodward that he did just that.

VERSUS

"Well, as you said, in order to reduce , perhaps that's so, The fact is, I'm a cheerleader for this country. I love our country, and I don't want people to be frightened. I don't want to create panic, as you say. Certainly I'm not going to drive this country or the world into a frenzy." — Trump when asked if he downplayed the severity of the pandemic.

 

Joe Biden, "will destroy your protections for pre-existing conditions." -- Trump At a campaign rally in Freeland, Michigan went on to say that he would himself preserve these protections. — Trump telling one of the most absurd lies of his relentlessly dishonest reelection campaign on Thursday.
 

VERSUS

This is not only false but a complete reversal of reality. The protections for people with pre-existing conditions were created by the very Obama administration in which Biden served as vice president -- as part of Obamacare, the 2010 law Biden has vowed to preserve and strengthen if elected President. Trump, conversely, has tried repeatedly to get bills passed that would have weakened these protections. He is now trying to get the entirety of Obamacare struck down by the courts. -- CNN Fact Checker

 

Trump told Fox & Friends that he discussed assassinating Syria's President Bashar al-Assad. "I would have rather taken him out. I had him all set. Mattis didn't want to do it."

VERSUS

Bob Woodward made this same allegation in his book, "Fear," and Trump denied it: "Not at all. The book is fiction. I heard somewhere where they said the assassination of President Assad by the United States. Never even discussed. It was never even contemplated."
34. From MEDIA MATTERS (They watch Fox News so you don't have to)
The shameless sycophants at Fox News, who spent late February and early March deluding their audience about the danger posed by the novel coronavirus, are arguing that President Donald Trump was correct to intentionally "play it down," as he claimed in an interview with The Washington Post's Bob Woodward. https://www.mediamatters.org/fox-news/fox-defending-trumps-coronavirus-deception-because-network-complicit

Roger Stone calls for Trump to seize total power if he loses the election: Roger Stone is making baseless accusations of widespread voter fraud in the 2020 presidential election and is urging Donald Trump to consider several draconian measures to stay in power, including having federal authorities seize ballots in Nevada, having FBI agents and Republican state officials "physically" block voting under the pretext of preventing voter fraud, using martial law or the Insurrection Act to carry out widespread arrests, and nationalizing state police forces. https://www.mediamatters.org/roger-stone/roger-stone-calls-trump-seize-total-power-if-he-loses-election.

TUCKER CARLSON (HOST): In the hands of Democratic politicians, climate change is like systemic racism in the sky. You can't see it, but rest assured it's everywhere and it's deadly. And, like systemic racism, it is your fault. https://www.mediamatters.org/tucker-carlson/tucker-carlson-mockingly-calls-climate-change-systemic-racism-sky

RUSH LIMBAUGH (HOST): Man-made global warming is not scientific certainty. It cannot be proven, nor has it ever been. Now, the climate of this planet is constantly changing. Whether or not man is responsible — it's bogus. But they want man to be responsible for it, because they want to control your behavior. If they convince you that your lifestyle choices are the reason why all these fires are firing up out on the left coast, why, what can they tell you? They can tell you to stop anything they want you to do that they say is causing the fires, and you have to go along with it if you accept this. https://www.mediamatters.org/climate-deniers/rush-limbaugh-falsely-claims-its-absolute-bunk-climate-change-has-worsened

Tucker Carlson, Laura Ingraham, and Jeanine Pirro, have made a number of baseless claims related to Covid-19 vaccine and therapeutic development funding provided by the Bill & Melinda Gates Foundation for vaccine research, which they claim was given for various malevolent reasons, including to enact "mass social control" in the name of climate change, force "population control," and create a "vast mass surveillance system" for "digitally tracking Americans' every move." https://www.mediamatters.org/coronavirus-covid-19/definitive-guide-fox-news-vaccine-conspiracy-theories

MARK LEVIN (HOST): I have a sneaking suspicion -- and no I have no firsthand knowledge, but a sneaking suspicion -- should our president be reelected, God willing, that he will dust off the Insurrection Act that was first passed by the Jeffersonian Republicans and used by Jefferson and used by so many presidents since Jefferson. And he will have to use it to put down the enemy. The enemy is antifa, the enemy is Black Lives Matter, and the enemy is anybody that is going to use rioting, arson, looting, violence against our country to try to overthrow our country. Those are traitors. That's treasonous. https://www.mediamatters.org/mark-levin/mark-levin-trump-will-have-use-insurrection-act-put-down-enemy
1. Charlotte Alter: How Conspiracy Theories Are Shaping the 2020 Election—and Shaking the Foundation of American Democracy
Two women in Ozaukee County calmly informed me that an evil cabal operates tunnels under the U.S. in order to rape and torture children and drink their blood. A Joe Biden supporter near a Kenosha church told me votes don't matter, because "the elites" will decide the outcome of the election anyway. A woman on a Kenosha street corner explained that Democrats were planning to bring in U.N. troops before the election to prevent a Trump win.
Others seemed to be repeating false ideas espoused in Plandemic, a pair of conspiracy videos featuring a discredited former medical researcher that went viral, spreading the notion that COVID-19 is a hoax across social media. When asked where they found their information, almost all these voters were cryptic: "Go online," one woman said. "Dig deep," added another. They seemed to share a collective disdain for the mainstream media–a skepticism that has only gotten stronger and deeper since 2016. The truth wasn't reported, they said, and what was reported wasn't true.
This matters not just because of what these voters believe but also because of what they don't. The facts that should anchor a sense of shared reality are meaningless to them; the news developments that might ordinarily inform their vote fall on deaf ears. They will not be swayed by data on coronavirus deaths, they won't be persuaded by job losses or stock market gains, and they won't care if Trump called America's fallen soldiers "losers" or "suckers," as the Atlantic reported, because they won't believe it. They are impervious to messaging, advertising or data. They aren't just infected with conspiracy; they appear to be inoculated against reality. https://time.com/5887437/conspiracy-theories-2020-election/
2.  David Brooks: Where Do Republicans Go From Here?
Steve Bannon's leap finally did what none of us could do. Donald Trump and Bannon took a low-rent strand of conservatism — class-based ethnic nationalism — that had always been locked away in the basement of the American right, and overturned the Reagan paradigm.
Bannon and Trump got the emotions right. They understood that Republican voters were no longer motivated by a sense of hope and opportunity; they were motivated by a sense of menace, resentment and fear. At base, many Republicans felt they were being purged from their own country — by the educated elite, by multiculturalism, by militant secularism.
During the 2016 presidential campaign, Trump and Bannon discarded the Republican orthodoxy — entitlement reform, fiscal restraint, free trade, comprehensive immigration reform. They embraced a European-style blood-and-soil conservatism. Close off immigration. Close trade. We have nothing to offer the world and should protect ourselves from its dangers.
It would have been interesting if Trump had governed as a big-government populist. But he tossed Bannon out and handed power to Jared Kushner and a bunch of old men locked in the Reagan paradigm. We got bigotry, incompetence and tax cuts for the wealthy. https://www.nytimes.com/2020/08/07/opinion/sunday/republican-party-trump-2020.html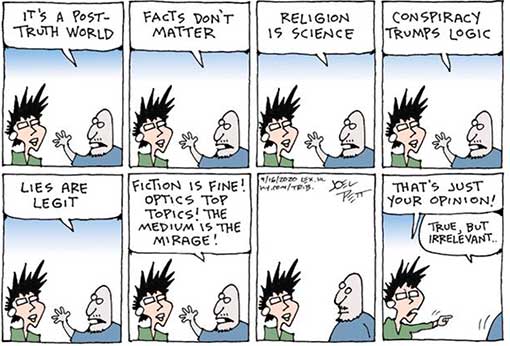 3. Maureen Dowd: All the President's Insecurities
Trump is his own whistle-blower.
As The Times's Nick Confessore put it on MSNBC: "Trump is the first candidate for president to launch an October surprise against himself. It's as if Nixon sent the Nixon tapes to Woodward in an envelope by FedEx."
Trump fiends for legitimacy even as he undercuts any chance of being seen as legitimate. He is fact-based and cogent on the Woodward tape talking in early February about how the coronavirus is airborne and deadly and dangerous for young people. But he vitiated that by publicly downplaying the vital information for his own political advantage.
For more than a week, instead of focusing on his peace deals and his nomination for the "Noble Prize," as a Trump campaign ad spelled it, everyone has been focused on a story that contends he called Americans who died in war "suckers" and "losers."
Trump desperately wants approval even as he seems relentlessly driven to prove he's not worthy of it.
He may be ludicrously un-self-aware, but even he sensed that his tango with Woodward would end badly. It was fun for a while, bro-ing out in the Oval with his fellow septuagenarian big shot, batting around the finer points of white privilege. But it could not last.
"You're probably going to screw me," the president told the writer.
"You know, because that's the way it goes."
Even so, the unreflective Narcissus will never drag himself away from his reflecting pool. You know, because that's the way it goes. https://www.nytimes.com/2020/09/12/opinion/sunday/donald-trump-bob-woodward.html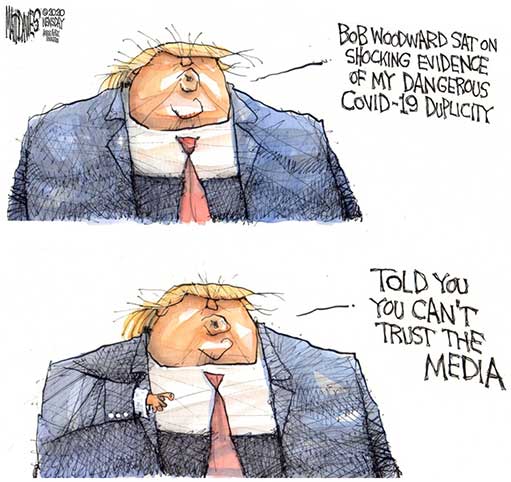 4. Jeff Wise: The People v. Donald J. Trump
The defendant looked uncomfortable as he stood to testify in the shabby courtroom. Dressed in a dark suit and somber tie, he seemed aged, dimmed, his posture noticeably stooped. The past year had been a massive comedown for the 76-year-old former world leader. For decades, the bombastic onetime showman had danced his way past scores of lawsuits and blustered through a sprawl of scandals. Then he left office and was indicted for tax fraud. As a packed courtroom looked on, he read from a curled sheaf of papers. It seemed as though the once inconceivable was on the verge of coming to pass: The country's former leader would be convicted and sent to a concrete cell.
The date was October 19, 2012. The man was Silvio Berlusconi, the longtime prime minister of Italy.
Here in the United States, we have never yet witnessed such an event. No commander-in-chief has been charged with a criminal offense, let alone faced prison time. But if Donald Trump loses the election in November, he will forfeit not only a sitting president's presumptive immunity from prosecution but also the levers of power he has aggressively co-opted for his own protection. Considering the number of crimes he has committed, the time span over which he has committed them, and the range of jurisdictions in which his crimes have taken place, his potential legal exposure is breathtaking. More than a dozen investigations are already under way against him and his associates. Even if only one or two of them result in criminal charges, the proceedings that follow will make the O. J. Simpson trial look like an afternoon in traffic court. https://nymag.com/intelligencer/article/donald-trump-criminal-case.html
5. Bess Levin: Trump Two Weeks Away From Claiming He Saw Biden Selling Drugs Outside The Washington Monument
As you've probably noticed by now, Donald Trump has spent the entirety of his presidency saying certifiably insane, 100% made-up stuff, including but not limited to suggesting he invented the word "caravan"; claiming you need an I.D. to buy cereal; insisting a hurricane was going to hit Alabama when it definitely wasn't; telling people that wind turbines give you cancer; dubbing himself the greatest environmentalist president in more than 100 years; and repeatedly talking about a nonexistent commercial flight filled with "thugs" who apparently used their frequent-flier miles to get a deal on a red-eye to Washington.
With fewer than two months until the election, these statements have only gotten more absurd and have focused nearly completely on his opponent, Joe Biden. In the last few weeks, the president has claimed his opponent is controlled by "people that are in the dark shadows," that he's fine with children being "slaughtered," and that if he's elected, you'll have to flee your home in the middle of the night. On Thursday it was shown that Trump took his Biden commentary to its next "logical" conclusion, claiming in an interview that the Democratic nominee has gained an edge in the polls by using...performance-enhancing drugs.
"I think there's probably—possibly—drugs involved," Trump told Fox News host Jeanine Pirro in an interview that will air on Saturday night. "That's what I hear. I mean, there's possibly drugs. I don't know how you can go from being so bad where you can't even get out a sentence." https://www.vanityfair.com/news/2020/09/donald-trump-joe-biden-drugs
6. Max Boot; The strongest evidence yet of Trump's (ongoing) collusion with Russia
The Treasury Department on Thursday imposed sanctions against Andriy Derkach, a member of Ukraine's parliament, who was described as an "active Russian agent for over a decade." Treasury says that Derkach has "been complicit in foreign interference in an attempt to undermine the upcoming 2020 U.S. presidential election" — for example, by releasing "edited audio tapes and other unsupported information with the intent to discredit U.S. officials."
The target of Derkach's smear campaign has been Democratic nominee Joe Biden — and Derkach's willing collaborator has been Rudolph W. Giuliani, Trump's personal lawyer. Giuliani now claims to barely know Derkach, but the former New York mayor has met with him at least three times. Earlier this year, he told The Post that he knew Derkach "quite well" and that the Ukrainian lawmaker "has been very helpful to me." Trump, in turn, has hyped this Russian agent's bogus charges against Biden.
Talk about deja vu: Paul Manafort was in regular contact with a Russian agent while serving as chairman of Trump's 2016 campaign — and while Trump was amplifying Russian attacks against the Democrats. Once again, there are suspiciously strong parallels between Trump's propaganda and Russia's. This year, both Trump and Russia are assailing the integrity of mail-in voting. The Department of Homeland Security warns that Russian operatives have "denigrated vote-by-mail processes, alleging they lack transparency and procedural oversight, creating vast opportunities for voter fraud." https://www.washingtonpost.com/opinions/2020/09/11/trumps-collusion-with-russia-isnt-past-its-happening-right-now/
7. Shane Harris, Nick Miroff and Ellen Nakashima: Senior DHS official alleges in whistleblower complaint that he was told to stop providing intelligence analysis on threat of Russian interference
A senior Department of Homeland Security official alleges that he was told to stop providing intelligence reports on the threat of Russian interference in the 2020 election, in part because it "made the President look bad," an instruction he believed would jeopardize national security.
The official, Brian Murphy, who until recently was in charge of intelligence and analysis at DHS, said in a whistleblower complaint that on two occasions he was told to stand down on reporting about the Russian threat and alleged that senior officials told him to modify other intelligence reports, including about white supremacists, to bring them in line with President Trump's public comments, directions he said he refused.
On July 8, Murphy said in the complaint, acting homeland security secretary Chad Wolf told him that an "intelligence notification" regarding Russian disinformation efforts should be "held" because it was unflattering to Trump, who has long derided the Kremlin's interference as a "hoax" that was concocted by his opponents to delegitimize his victory in 2016.
Murphy objected to Wolf's instruction, "stating that it was improper to hold a vetted intelligence product for reasons [of] political embarrassment," according to a copy of his whistleblower complaint that was obtained by The Washington Post.
Murphy also made allegations in the whistleblower complaint that senior Trump administration officials had pressured him to provide what he considered misleading information about suspected terrorists crossing the border with Mexico, as part of an effort to bolster the case for building a border wall. https://www.washingtonpost.com/national-security/senior-dhs-official-alleges-in-whistleblower-complaint-that-he-was-told-to-stop-providing-intelligence-analysis-on-threat-of-russian-interference/2020/09/09/9d0661c4-f2b6-11ea-b796-2dd09962649c_story.html
8. Ed Yong: America Is Trapped in a Pandemic Spiral
A third of Americans already say they would refuse a vaccine, whether because of existing anti-vaccine attitudes or more reasonable concerns about a rushed development process. Those who get the shot are unlikely to be fully protected; the FDA is prepared to approve a vaccine that's at least 50 percent effective—a level comparable to current flu shots. An imperfect vaccine will still be useful. The risk is that the government goes all-in on this one theatrical countermeasure, without addressing the systemic problems that made the U.S. so vulnerable, or investing in the testing and tracing strategies that will still be necessary. "We're still going to need those other things," Dean says.
Between these reasons and the time needed for manufacturing and distribution, the pandemic is likely to drag on for months after a vaccine is approved. Already, the event is exacting a psychological toll that's unlike the trauma of a hurricane or fire. "It's not the type of disaster that Americans specifically are used to dealing with," says Samantha Montano of Massachusetts Maritime Academy, who studies disasters. "Famines and complex humanitarian crises are closer approximations." Health experts are burning out. Long-haulers are struggling to find treatments or support. But many Americans are turning away from the pandemic. "People have stopped watching news about it as much, or talking to friends about it," Redbird says. "I think we're all exhausted." Optimistically, this might mean that people are becoming less anxious and more resilient. More worryingly, it could also mean they are becoming inured to tragedy.
The most accurate model to date predicts that the U.S. will head into November with 220,000 confirmed deaths. More than 1,000 health-care workers have died. One in every 1,125 Black Americans has died, along with similarly disproportionate numbers of Indigenous people, Pacific Islanders, and Latinos. And yet, a recent poll found that 57 percent of Republican voters and 33 percent of independents think the number of deaths is acceptable. "In order for us to mobilize around a social problem, we all have to agree that it's a problem," Lori Peek says. "It's shocking that we haven't, because you really would have thought that with a pandemic it would be easy." This is the final and perhaps most costly intuitive error. https://www.theatlantic.com/health/archive/2020/09/pandemic-intuition-nightmare-spiral-winter/616204/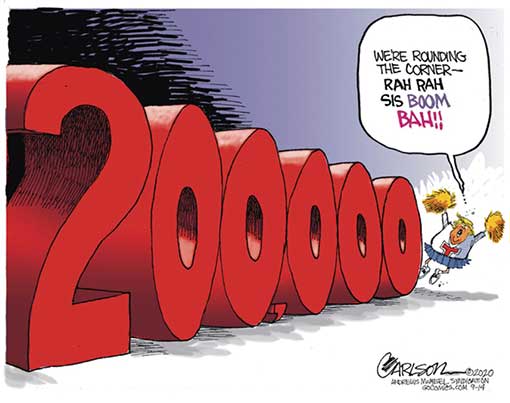 9. Tom Nichols: This Republican Party Is Not Worth Saving
I was a Republican for most of my adult life. I came of political age in 1980, and although I grew up in a working-class Democratic stronghold in Massachusetts, I found a home in Ronald Reagan's GOP. Back then, the Republicans were a confident "party of ideas" (a compliment bestowed on them by one of their foes, Democratic Senator Daniel Patrick Moynihan of New York), optimistic boosters of the American dream at home, and fierce opponents of the Soviet Union overseas. While the Democrats were the party of recrimination and retreat, the Republicans were the party of the future.
I understand the attachment to that GOP, even among those who have sworn to defeat Donald Trump, but the time for sentimentality is over. That party is long gone. Today the Republicans are the party of "American carnage" and Russian collusion, of scams, plots, and weapons-grade contempt for the rule of law. The only decent, sensible, and conservative position is to vote against this Republican Party at every level, and bring the sad final days of a once-great political institution to an end. Then build the party back up again—from scratch.
I'm not advocating for voting against the GOP merely to punish Republicans for Trump's existence in their party. Rather, conservatives must finally accept that at this point Trump and the Republican Party are indistinguishable. Trump and his circle have gutted the old GOP and stuffed its empty husk with the Trump family's paranoia and corruption. https://www.theatlantic.com/ideas/archive/2020/09/i-used-think-gop-should-be-saved/616189/
10. John Harris: Woodward Interviews Shallow Throat
Woodward, based on Wednesday's barrage of publicity for next week's official release of "Rage," has once again delivered the goods with plenty of news-driving revelations. But these scoops are like so many in the Trump years: They reveal that things are pretty much Exactly What They Seem.
It seemed last winter and spring that Trump was prattling on with a lot of happy talk that he couldn't possibly believe about how the coronavirus wouldn't be that serious—even as his own government officials were warning that it would be—because he was desperately trying to create reality by proclamation. Months later, Woodward has confirmed that to be true.
What's more, his source was not a latter-day Deep Throat skulking around garages on behalf of the Deep State. The most damaging source for Woodward is on the record and on tape: Trump himself.
It had previously seemed that Trump, despite his constant attacks on the "Fake News" media, had a compulsive fascination with establishment media figures and the coverage they give him. Now the president has confirmed that to be true, giving 18 (!) interviews to Woodward. Think of him as Shallow Throat. https://www.politico.com/news/magazine/2020/09/10/trump-war-shallow-state-411377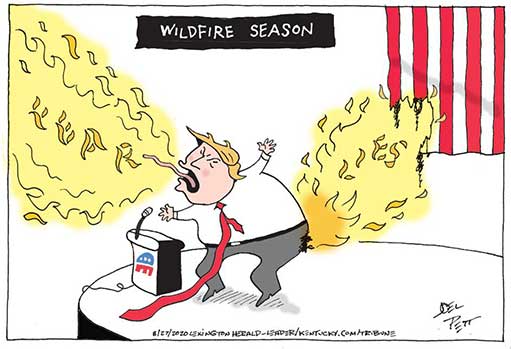 11. Joe Hagan: "I'll Never Question 1938 In Germany Again": An Ex-Republican Strategist Surveys The Wreckage Of Trump's GOP
On the latest episode of Inside the Hive, former Republican strategist Stuart Stevens described the GOP under Donald Trump as a party of cynics, stooges, racists, and obsequious enablers whose profiles in cowardice bear an uncomfortable resemblance to 1930s Germany. "When I talk to Republican politicians, I hear Franz von Papen," he says, referencing the German chancellor who convinced Germans that so-called radical leftists were a far greater threat than Adolf Hitler. "They all know that Trump is an idiot. They all know that he's uniquely unqualified to be president. But they convinced themselves that he was a necessity."
Not surprisingly, Stevens, an adviser to two George W. Bush presidential campaigns and a top strategist for Mitt Romney's 2012 bid against Barack Obama, has become the latest apostate to his party, declaring in his best-selling book, It Was All a Lie: How the Republican Party Became Donald Trump, that Republicans have sacrificed every last belief and principle they held dear on the bonfire of Trump's vanity. And now, not even the catastrophically mismanaged coronavirus pandemic can wake them from their stupor.
"It is the combination of the anti-intellectualism, the anti-education elements of the Republican Party, and the anti-elite elements of the Republican Party, so-called, that have culminated in this toxic brew that is killing tens of thousands of Americans," says Stevens, who recently joined the independent Never Trump organization the Lincoln Project. "I mean, more Americans are going to die because of this combination of political beliefs than major wars. This virus [is] attacking Americans. And Donald Trump is making it a lot worse, and we all know this. But Republicans won't even stand up to defend America."
Consequently, Stevens calls Trump a "traitor" to his country. "I really think he is against America," he says, blaming the Republican Party for "a complete collapse of responsibility that they had to defend democracy in America." The following is an edited transcript of two conversations with Stevens conducted by Joe Hagan. https://www.vanityfair.com/news/2020/09/ex-republican-strategist-surveys-the-wreckage-of-trumps-gop
12. Jonathan Chait: Trump's Lawyer Working With Active Russian Agent to Smear Biden
Yesterday, the Treasury Department officially labeled Andriy Derkach "an active Russian agent for over a decade, maintaining close connections with the Russian Intelligence Services." The only person who even claims to find this remotely surprising is Rudy Giuliani, who has been working hand in glove with Derkach for months.
There is an old Simpsons episode in which Homer Simpson, watching a spy movie, blurts out, "I think that guy's a spy!" His irritated wife whispers back, "Of course he's a spy. You just saw him go through spy school!" This exchange is worth bearing in mind as you read Giuliani's response to the "revelation."
Mr. Giuliani said in an interview Thursday night that he "felt comfortable" meeting with Mr. Derkach "because there were no sanctions against him" at the time. While he acknowledged that he "didn't do much investigation" of Mr. Derkach, Mr. Giuliani said: "I have no reason to believe he is a Russian agent. There is nothing I saw that said he was a Russian agent. There is nothing he gave me that seemed to come from Russia at all." But he added, "How the hell would I know?"
Giuliani's reason for not suspecting Derkach as a Russian agent is that he didn't tell him he was a Russian agent. I am not an espionage expert, but I have watched enough spy shows to know that one of the basic practices of foreign agents is not to announce that they are foreign agents. If you have ever watched The Americans, you will notice that Phillip and Elizabeth Jennings do not go around wearing furry Russian hats and handing out KGB business cards. It's basic tradecraft.
Now, the fact that Derkach was advancing Russian interests was hardly a secret. He had previously belonged to the Party of Regions. That's the pro-Russian Ukrainian party that had been financed by Russia, and whose campaign had been managed by Paul Manafort in 2010. If Giuliani had any suspicions in his mind, he could have done a Google search and turned up the fact that Derkach has been closely aligned with pro-Russian figures in Ukraine and attended the Dzerzhinsky Higher School of the KGB in Moscow.
What's astonishing about Giuliani's role is its sheer brazenness. A decade ago, Manafort was paid by Russia to manage the presidential campaign of its pro-Russian party in Ukraine. Manafort owed money to his Russian oligarch boss, and subsequently proceeded to take a job managing the campaign of a pro-Russian presidential candidate in the United States. Then he was convicted of various crimes.
Over the last year and a half, Giuliani has taken on a similar role that Manafort played. He has been strong-arming the reformist elements in Ukraine (which are a threat to Moscow) while using his network of Russian agents to gin up material to smear Joe Biden, in an effort to get Trump a second term. Two of his partners have already been arrested, Giuliani remains under federal investigation, and, oh yeah, Trump was already impeached by the House of Representatives.
But he's still going! Derkach has been giving Giuliani recordings of Joe Biden speaking to Ukrainian officials during his tenure as vice-president. The recordings in fact show Biden advancing the administration's pro-reform agenda in that country, but Giuliani and his Russian partners have presented it instead as evidence Biden was somehow seeking a payoff. The Russian dirt is being disseminated by One America News, a pro-Trump right-wing propaganda network. Trump has been promoting its material on its Twitter feed.
So Trump's lawyer is working directly with a Russian agent. But apparently it's okay because Derkach didn't introduce himself as a Russian agent? https://nymag.com/intelligencer/2020/09/rudy-giuliani-russian-agent-derkach-trump-ukraine-biden.html
13. Caleb Ecarma: Trump's Fox News Shield May Save Him From Nixon's Fate
In the weeks following Donald Trump's private admission to Bob Woodward that the coronavirus was, in fact, "deadly," a February 7 comment revealed in the veteran journalist's new book, the president publicly wrote off the then impending mass-death disaster as a garden-variety "flu" and a "hoax" fueled by Democrats and the media. At the time, many of the top-rated Fox News hosts stuck to similar messaging, regurgitating the president's lies nearly word-for-word, down to Sean Hannity calling mainstream outlets' coverage of the virus, which is now responsible for more than 191,000 American deaths, another attempt to "bludgeon Trump."
As the virus's deadly nature became more obvious, Fox's coverage evened out. But Woodward's Wednesday reveal saw the network return to all-out Trump-defense mode. Predictably, the president gave his first TV interview post–Woodward bombshell to Hannity, one of his closest advisers—a role he's taken on in an informal capacity, despite his reported resultant stress-induced vaping habit. The host did use his time to criticize the president, though not for lying to Americans while leaving the country in the dark amid a global health crisis. "I don't think a lot of good comes from talking to Bob Woodward, my own personal opinion," Hannity said before repeatedly praising Trump's early "actions" to respond to COVID-19 and his decision to not publicly disclose its high risks in order to prevent a "." (In a March 19 interview with Woodward, as Americans were coming to terms with their new reality, Trump said, "I wanted to always play it down. I still like playing it down, because I don't want to create a panic.") The president agreed with Hannity's assessment and implied that Woodward's reporting is a "hit [job]" that he "almost definitely won't read."
On the Thursday edition of Fox & Friends, cohost Steve Doocy used the same line of defense to stick up for the show's most valuable viewer, saying that the president is regularly warned of potential threats in closed-door briefings and "he doesn't, you know, blurt out, 'Somebody is trying to blow up Akron' or something like that. Instead, as he said, he didn't want people to freak out, so he tried to keep people calm."
Speaking in the White House briefing room on Thursday, Trump inadvertently but succinctly explained just how valuable Fox News is to his presidency. "Last night, I watched some of the shows," he said, shouting-out Fox hosts Lou Dobbs, the "fantastic" Liz McDonald, Hannity, Tucker Carlson, and Laura Ingraham. After mentioning his routine viewing of Fox & Friends this morning, which rounded the list out at seven hours of the network's programming, the president added, "You watch these shows, you don't have to go too far into the details. They cover things that are—it's really an amazing thing." https://www.vanityfair.com/news/2020/09/trumps-fox-news-shield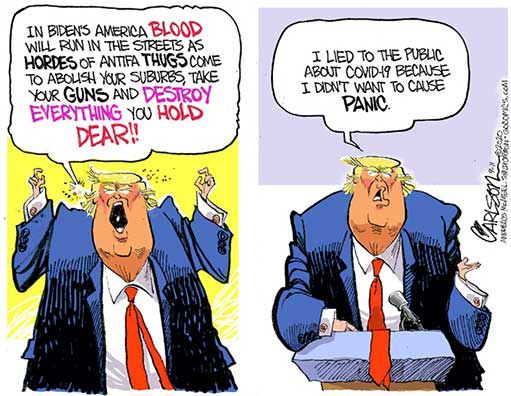 14. Jim VandeHei: A screaming, spreading wake-up call
All the biggest threats to America — most of them predicted, if not known well in advance — are unfolding before our eyes, in real-time, in unmistakable ways.
It's as if God or the galaxy, or whatever you believe in, are screaming for politicians and the public to pop our bubbles and pay attention — believe our eyes.
Every day brings new stories of other nations manipulating social media — and Americans refusing to believe scientists or experts about factual news, coronavirus prevention, global warming, vaccines and established truth. https://www.axios.com/america-threats-misinformation-race-coronavirus-cd1c49f6-e747-4242-b7e4-1a6a7c464c20.html