December 5, 2019
ON THE RECORD. . .
"This was a shocking and unprecedented intervention in a low-level review. It was also a reminder that the president has very little understanding of what it means to be in the military, to fight ethically or to be governed by a uniform set of rules and practices." — Former Navy Secretary Richard Spencer slamming Trump in the Washington Post over his firing.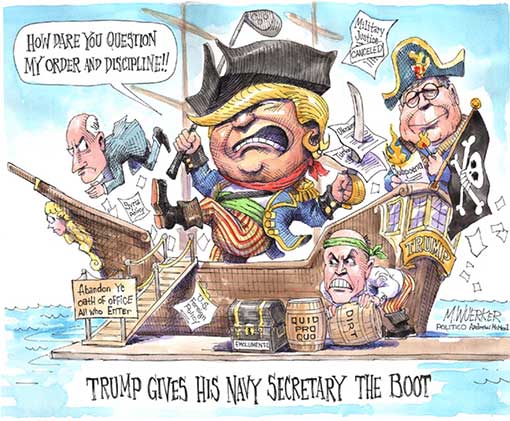 "Republicans are in public "standing with the president for the moment," despite the impeachment inquiry prompted by the Ukraine scandal. But there's no question, having spoken to many of them privately, they're absolutely disgusted and exhausted by the president's behavior. They resent being put in this position all the time." — Former Rep. Charlie Dent (R-PA).
When a man unprincipled in private life desperate in his fortune, bold in his temper, possessed of considerable talents, having the advantage of military habits—despotic in his ordinary demeanour—known to have scoffed in private at the principles of liberty—when such a man is seen to mount the hobby horse of popularity—to join in the cry of danger to liberty—to take every opportunity of embarrassing the General Government & bringing it under suspicion—to flatter and fall in with all the non sense of the zealots of the day—It may justly be suspected that his object is to throw things into confusion that he may 'ride the storm and direct the whirlwind. — Alexander Hamilton on 18 August 1792, apparently anticipating the election of Donald Trump.
"It just tells you what deep trouble Donald Trump is in. I mean, when you have 50% of the country wanting you not just impeached but removed from office, and the game hasn't even gotten fast yet. I think once the vote is taken by Congress to impeach him and he's wearing the 'I' on his chest, you're going to see that movement grow even more." — Presidential historian Douglas Brinkley predicting that public support for President Trump will collapse as House Democrats continue their impeachment inquiry against him.
"I don't trust anyone at all." — Ukrainian President Volodymyr Zelensky.
What hangs in the balance in the impeachment process isn't only the fate of President Trump, it's the very notion of objective truth and whether our nation's health and security will succumb to a global campaign, fanned by the Kremlin, to subvert reality. -- Dan Rather @DanRather
"If the president said that giraffes could fly the Republicans would say they just spotted one in a tree." — Karen Tumulty @ktumulty
"I've got no doubt that it was the Russians who stole the DNC emails. It wasn't Ukraine. Russia was behind the stolen DNC emails and (John) Podesta and all that good stuff. So as to the Ukraine, they had zero to do with the hacking of the DNC and the stealing of the emails. Whether or not people from the Ukraine met with DNC operatives, I don't know. All I've seen is press reports that no one has validated." — Senator Lindsey Graham (R-SC)
Under the precedent being set by the Democrats, in the future someone is going to pick an orange out of the refrigerator and not like it and therefore decide to impeach the president. — Trump
"The Trump administration is driving the vulnerable into hunger just as the Christmas season approaches. It is heartless. It is cruel. It exposes a deep and shameful cruelness, and hypocrisy in this administration." — Senator Chuck Schumer on The Trump administration giving final approval to a rule that will remove nearly 700,000 people from the federal food-stamp program.
"If we cannot impeach a president who abuses his office for personal advantage, we no longer live in a democracy —we live in a monarchy, or we live under a dictatorship." —Constitutional scholar Noah Feldman at the House Judiciary impeachment hearing.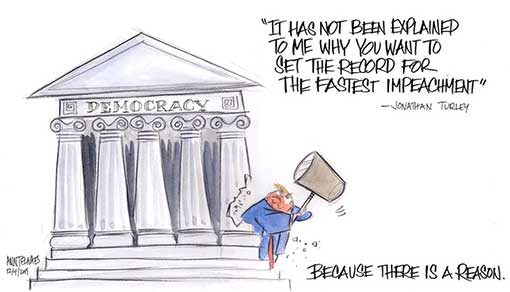 ---
IN THIS ISSUE
FYI
OPINION
1.  Andy Borowitz: NATO Leaders Challenge Trump to Spell NATO
At a preliminary gathering of the leaders, Trump demanded that the other member nations increase their cash contributions to the alliance, prompting Angela Merkel, the German Chancellor, to issue the unexpected and unwelcome spelling challenge.

"We'll be happy to give more to nato, Mr. President, if you can spell nato," she said, drawing raucous applause from the other leaders.

Handing Trump a pencil and a yellow legal pad, Merkel watched as he struggled to spell the word correctly, crumpling page after page in the effort.

After several failed attempts, Trump finally offered up a drawing of several stick figures standing in a row and asked for "partial credit."

When the other nato leaders rejected his request by a 28–0 voice vote, Trump stormed out of the room, vowing never to return.

In a joint communiqué, the nato leaders said that they were looking forward to spending the rest of the summit watching the impeachment hearings. https://www.newyorker.com/humor/borowitz-report/d
2. Moderates on the Rise In 2020 Race
The early boom for 2020 Democrats' left turn is yielding to moderate muscle as Elizabeth Warren falls, Joe Biden persists and Pete Buttigieg rises.
Poll after poll shows voters like the idea of Medicare for All. But the second you tell them about costs and tradeoffs, they turn on it… Warren collapsed in the latest national Quinnipiac University poll just as she's been diving into the details of how she'd pass Medicare for All — and fending off a barrage of attacks from her more moderate rivals.
She's not the only Democrat who's run into trouble. Kamala Harris realized she could be checkmating herself by dismissing private health insurance — which is why she changed her Medicare for All plan to allow private insurers to offer Medicare plans. https://www.axios.com/medicare-for-all-2020-democrats-boxed-in-ed74f05f-02a4-455f-8cf6-8fc892e3f365.html
3. Britain's Dirty Election
Pity British voters because they are being subjected to a barrage of distortion, dissembling and disinformation without precedent in the country's history. Long sentimentalized as the home of "fair play," Britain is now host to the virus of lies, deception and digital skulduggery that afflicts many other countries across the world.
In this as in other respects, Prime Minister Boris Johnson — a serial liar who lost his first job as a journalist for inventing quotes — resembles President Trump. And Britain, whose election is breaking down under the pressure of manipulation, increasingly looks like the United States. Truth and falsehood have become malleable concepts. Anything goes. https://www.nytimes.com/2019/11/29/opinion/britain-election-disinformation-johnson.html
4. News from the Swamp: North Dakota company that Trump touted gets $400 million border wall contract
A company that President Trump urged military officials to hire for border wall construction has been awarded a $400 million contract to build a span of new barrier across an Arizona wildlife refuge, according to a Defense Department announcement Monday.
North Dakota-based Fisher Sand and Gravel won the contract to build in the Cabeza Prieta National Wildlife Refuge in Yuma County, Ariz., the Defense Department said, with a target completion date of Dec. 30, 2020.
Trump has been enamored with Tommy Fisher, the company's chief executive, who has made multiple appearances on Fox News to promote his firm and insists that it would do a better job than those the government had already chosen. https://www.washingtonpost.com/immigration/north-dakota-company-that-trump-touted-gets-400-million-border-wall-contract/2019/12/02/9c661132-1568-11ea-bf81-ebe89f477d1e_story.html
5. Witness testimony and records raise questions about account of Trump's 'no quid pro quo' call
Trump himself, in describing the conversation, has referred only to the ambassador's account of the call, which — based on Sondland's activities — would have occurred before dawn in Washington. And the White House has not located a record in its switchboard logs of a call between Trump and Sondland on Sept. 9, according to an administration official who, like others in this report, spoke on the condition of anonymity because of the sensitivity of the matter.
But there is evidence of another call between Trump and Sondland that occurred a few days earlier — one with a very different thrust, in which the president made clear that he wanted his Ukrainian counterpart to personally announce investigations into Trump's political opponents.
The conflicting information raises serious questions about the accuracy of Sondland's account, one that Trump has embraced to counter a growing body of evidence that he and his allies pressured Ukraine for his own political benefit.
The president's argument that the call proves he was not seeking favors from Ukraine is undercut by the timing: At the end of August, White House lawyers had briefed Trump on the existence of a whistleblower complaint describing the administration's pressure campaign on Ukraine and the possibility that Trump abused his power, according to a person familiar with the situation. By early September, the president had also begun to confront public questions about why U.S. aid to Ukraine was stalled.
So if Trump did tell Sondland flatly that he wanted "no quid pro quo," he did so knowing there was growing scrutiny of his posture toward Ukraine. https://www.washingtonpost.com/politics/witness-testimony-and-records-raise-questions-about-account-of-trumps-no-quid-pro-quo-call/2019/11/27/425545c2-0d49-11ea-8397-a955cd542d00_story.html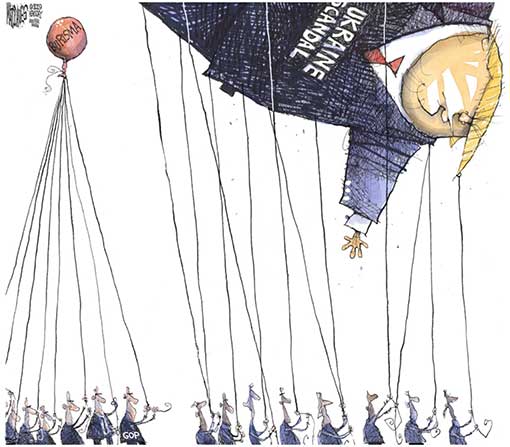 6.Trump administration to cut its financial contribution to NATO
The Trump administration has moved to substantially cut its contribution to NATO's collective budget according to several US and NATO officials, a symbolic move that comes as many continue to question President Trump's commitment to the transatlantic alliance as he prepares to attend a summit to mark its 70th anniversary in London next week. https://www.cnn.com/2019/11/27/politics/trump-nato-contribution-nato/index.html
7. Russia Inquiry Review Is Expected to Undercut Trump Claim of F.B.I. Spying
The Justice Department's inspector general found no evidence that the F.B.I. attempted to place undercover agents or informants inside Donald J. Trump's campaign in 2016 as agents investigated whether his associates conspired with Russia's election interference operation, people familiar with a draft of the inspector general's report said.
The determination by the inspector general, Michael E. Horowitz, is expected to be a key finding in his highly anticipated report due out on Dec. 9 examining aspects of the Russia investigation. The finding also contradicts some of the most inflammatory accusations hurled by Mr. Trump and his supporters, who alleged not only that F.B.I. officials spied on the Trump campaign but also at one point that former President Barack Obama had ordered Mr. Trump's phones tapped. The startling accusation generated headlines but Mr. Trump never backed it up.
The finding is one of several by Mr. Horowitz that undercuts conservatives' claims that the F.B.I. acted improperly in investigating several Trump associates starting in 2016. He also found that F.B.I. leaders did not take politically motivated actions in pursuing a secret wiretap on a former Trump campaign adviser, Carter Page — eavesdropping that Mr. Trump's allies have long decried as politically motivated. https://www.nytimes.com/2019/11/27/us/politics/fbi-trump-campaign-inspector-general.html
8. As Trump cases arrive, Supreme Court's desire to be seen as neutral arbiter will be tested
The legal cases concerning President Trump, his finances and his separation-of-powers disputes with Congress are moving like a brush fire to the Supreme Court, and together provide both potential and challenge for the Roberts court in its aspiration to be seen as nonpartisan.
The court, composed of five conservatives nominated by Republican presidents and four liberals chosen by Democrats, has little choice but to step onto a fiercely partisan battleground.
It announced Tuesday that it will consider on Dec. 13 whether to schedule a full briefing and argument on the president's request that it overturn a lower-court ruling giving New York prosecutors access to Trump's tax returns and other financial records in their investigation of ­hush-money payments in the lead-up to the 2016 election.
There are many more such evaluations to come.
"This is a real existential test for this Supreme Court," said Walter Dellinger, a longtime member of the Democratic legal establishment who argued for President Bill Clinton when the Supreme Court ruled he was not immune from a lawsuit.
"This will be a special moment for the independence of the judiciary and whether the hyperpartisanship that has infected so much of our culture has also infiltrated the Supreme Court."
https://www.washingtonpost.com/politics/courts_law/as-trump-cases-arrive-supreme-courts-desire-to-be-seen-as-neutral-arbiter-will-be-tested/2019/11/26/1d186f92-106d-11ea-b0fc-62cc38411ebb_story.html
9. ICE arrests 90 more students at fake university in Michigan
About 90 additional foreign students of a fake university in metro Detroit created by the Department of Homeland Security have been arrested in recent months.
A total of about 250 students have now been arrested since January on immigration violations by U.S. Immigration and Customs Enforcement (ICE) as part of a sting operation by federal agents who enticed foreign-born students, mostly from India, to attend the school that marketed itself as offering graduate programs in technology and computer studies, according to ICE officials. https://www.freep.com/story/news/local/michigan/2019/11/27/ice-arrested-250-foreign-students-fake-university-metro-detroit/4277686002/
10. Trump has turned the suburbs into a GOP disaster zone. Does that doom his reelection?
For decades, there was an unvaried rhythm to life in America's suburbs: Carpool in the morning, watch sports on weekends, barbecue in the summer, vote Republican in November.
Then came President Trump.
The orderly subdivisions and kid-friendly communities that ring the nation's cities have become a deathtrap for Republicans, as college-educated and upper-income women flee the party in droves, costing the GOP its House majority and sapping the party's strength in state capitals and local governments nationwide.
The dramatic shift is also reshaping the 2020 presidential race, elevating Democratic hopes in traditional GOP strongholds like Arizona and Georgia, and forcing Trump to redouble efforts to boost rural turnout to offset defectors who, some fear, may never vote Republican so long as he is on the ballot. https://www.latimes.com/politics/story/2019-11-29/2020-battleground-suburban-women-voters
11. MEDIA MATTERS (They watch Fox News so you don't have to
In an interview with Fox's Sean Hannity the president linked Ukraine to a conspiracy theory involving the Democratic National Committee's hacked server, demonstrating his state of mind about the country at that time. As Hannity attempted to move on to another topic, Trump interjected: "And Ukraine, take a look at Ukraine. How come the FBI didn't take the server, [former Hillary Clinton campaign chair John] Podesta told them to get out. He said, 'Get out.' So how come the FBI didn't take the server from the DNC? Just think about that one, Sean. Think about that one." https://www.mediamatters.org/trump-impeachment-inquiry/trump-inquired-us-aid-ukraine-he-pushed-crowdstrike-conspiracy-theory-fox

Sean Hannity's "new e-book" is just two and a half pages of Fox News lies. Fox News host Sean Hannity has posted an interesting little pamphlet online titled "Your Guide To SURVIVING The Holidays." Hannity's website promises that the e-book -- two and a half pages long -- can be used to "Hannitize" your relatives. The guide contains a collection of Hannity's talking points on various controversies regarding President Donald Trump, most notably the impeachment inquiry. Most of them are super easy to rebut — though, as with Hannity's usual style, perhaps their persuasive power comes simply from him repeating these mantras over and over again and exhorting his audience to do the same. https://www.mediamatters.org/sean-hannity/sean-hannitys-new-e-book-just-two-and-half-pages-fox-news-lies

Fox legal analyst Gregg Jarrett attacks witnesses for being "pinheaded professors." https://www.mediamatters.org/sean-hannity/gregg-jarrett-attacks-impeachment-witnesses-being-pinheaded-professors

A construction company won a $400 million federal contract to build a portion of wall along the U.S. border with Mexico after the firm's Fox News-centric strategy of capturing President Donald Trump's attention through laudatory appearances on his favorite channel overcame the Army Corps of Engineers' reported complaints that its design did not meet requirements. https://www.mediamatters.org/fox-news/fox-trump-feedback-loop-nets-company-400-million-contract

Tucker Carlson defends Vladimir Putin, saying the American media hate the United States more than Putin. … "The irony, of course, is that Putin, for all his faults, does not hate America as much as many of these people do. They really dislike our country. And they call other people traitors? 'Cause they're mouthing the talking points of Putin. These are people who don't know anything about Russia, who don't speak Russian. Who couldn't identify three cities in Russia. The rest of the world isn't quite that dumb, as dumb as that may be, not quite that dumb."  https://www.mediamatters.org/tucker-carlson/tucker-carlson-defends-vladimir-putin-and-says-american-media-hate-united-states

On December 2nd "The Gateway Pundit" called for Democrats pursuing impeachment to be hanged. The blog has been promoted by Donald Trump, and far-right figures associated with Gateway Pundit have been to the White House. Joe Hoft's piece tries to draw a comparison between the conspirators behind President Abraham Lincoln's assassination -- which he calls a " Democrat coup" -- and those supposedly involved in a  "2016 Democrat coup to take out Trump," complaining that none of the latter have been hanged. https://www.mediamatters.org/gateway-pundit/gateway-pundit-calls-democrats-pursuing-impeachment-be-hanged
12. He defended the Confederate flag and insulted immigrants. Now he's an SC judge.
When South Carolina lawmakers confirmed a batch of new magistrates this year, one nominee stood out from the pack: Mike Pitts.
The former state House member had made a name for himself in Columbia as a staunch defender of the Confederate flag, and on Facebook he has penned anti-immigration screeds and used racially charged language. In May, for example, he posted a photo of New Jersey Sen. Cory Booker, an African American Democrat running for president. His caption: "Cory Booker alway [sic] looks like he just hit crack real hard."
None of this, however, prompted any discussion in June, when the state Senate confirmed Pitts along with 33 other nominees for the lower courts. https://www.postandcourier.com/news/he-defended-the-confederate-flag-and-insulted-immigrants-now-he/article_fccd2722-1144-11ea-bf17-dbfc08c2afcb.html
13. Trump official who suggested dropping nuclear bombs on Afghanistan now responsible for arms control issues
 A former conservative talk radio host and naval intelligence officer who suggested dropping nuclear bombs on Afghanistan after the 9/11 attacks now works on arms control issues at the State Department, according to two U.S. officials familiar with the matter.
Frank Wuco, a senior adviser at the State Department's Bureau of Arms Control, Verification and Compliance, came under scrutiny last year when his past comments involving the promotion of far-right conspiracy theories surfaced.
Some of those included debunked claims that former president Barack Obama was not born in the United States, former CIA director John Brennan converted to Islam, former attorney general Eric H. Holder Jr. had been a member of the Black Panthers and former Hillary Clinton aide Huma Abedin had ties to the Muslim Brotherhood. https://www.washingtonpost.com/world/national-security/trump-official-who-suggested-dropping-nuclear-bombs-on-afghanistan-now-responsible-for-arms-control-issues/2019/11/27/235f2976-10af-11ea-a533-90a7becf7713_story.html
14. Senate quicksand engulfs a bipartisan prescription drug plan that Trump backs
President Donald Trump has vowed to lower the cost of prescription drugs. A Senate committee has approved a bipartisan bill to do just that. And the plan is going nowhere fast.
The standstill — even on an issue that has bipartisan backing and the support of a fickle president — reflects the unceasing gridlock of today's Senate and how difficult it is to move any major legislation through the upper chamber.
With Democrats in control of the House, the GOP-controlled Senate has shifted virtually its entire focus to confirming Trump's judicial nominees where bipartisan votes aren't needed. And heading into an election year, McConnell is loath to bring up issues that divide his caucus or risk alienating powerful industry groups. Legislative activity will only decline further if and when the Senate holds an impeachment trial that will further polarize the Capitol. https://www.politico.com/news/2019/12/01/prescription-drugs-bill-trump-074077
15. Trump Campaign Blacklists Bloomberg News
Trump's 2020 campaign announced Monday it will no longer allow reporters from Bloomberg News to obtain credentials to cover Trump campaign events. https://www.axios.com/trump-campaign-bloomberg-news-credentials-de53650c-f275-4e83-a884-02677d3de6a3.html
1. Jonathan Chait: Macron Uses Toddler Reverse Psychology Trick to Fool Trump Into Supporting NATO
What seems to have worked to get Trump to support NATO is Emmanuel Macron's ploy. The French president gave an interview last month decrying the "brain death" of NATO, which he said had failed to account for America's shrinking commitment under Trump.
Trump himself has called NATO "obsolete," openly questioned whether the U.S. would come to the defense of allies under attack (the very foundation of the alliance), and privately told aides on several occasions last year he wants to withdraw from the alliance. But the notion that somebody else would question NATO, and blame its demise on Trump, has enraged him.
And now Trump is lashing out at Macron. "NATO serves a great purpose," he declared today. "And I hear that President Macron said NATO is 'brain dead.' I think that's very insulting to a lot of different forces … When you make a statement like that, that is a very, very nasty statement to 28 — including them — 28 countries."
Manipulating children into doing what you want by pretending to demand they do the opposite thing is a trick most parents learn to use. It usually stops working around the age of 5. http://nymag.com/intelligencer/2019/12/macrons-toddler-psychology-trick-makes-trump-endorse-nato.html
2. Jonathan Chait: Rudy's Scheme to Line His Pockets in Ukraine Keeps Getting Shadier
Rudy Giuliani is in an enormous amount of trouble. His two partners, Lev Parnas and Igor Fruman, have already been arrested, and Giuliani himself is under investigation. We learned last week that the investigation concerns his own potential profit. Over the last two days, a flood of leaks has detailed the potential crimes he may have committed. And today, the New York Times and Washington Post both have new stories about Giuliani pursuing business deals with Ukrainian government officials at the same time he was lobbying them on Trump's behalf. All this misconduct is on top of the basic political shakedown Trump is getting impeached over.
Some of the draft agreements Giuliani was trying to strike included deals for Victoria Toensing and Joseph diGenova, two Republican lawyers close to Trump. There does not appear to be much room for Giuliani to deny any of these reports. His "discussions with Ukrainian officials proceeded far enough along that he prepared at least one retainer agreement, on his company letterhead, that he signed," reports the Times.
The first and most important thing to understand about these deals is that there is no possible set of mitigating circumstances that might make the negotiations remotely ethical. Ukraine was and is desperate for the support of the American government, because it has been fending off a low-grade Russian invasion for years and fighting to maintain its territorial integrity against Vladimir Putin's barely disguised ambition to swallow it back into the Russian empire. Trump has repeatedly urged Ukrainian officials — both through his intermediaries, and in a phone call with its president — to deal with Giuliani. http://nymag.com/intelligencer/2019/11/rudy-giuliani-ukraine-business-deals-impeachment-trump-profit.html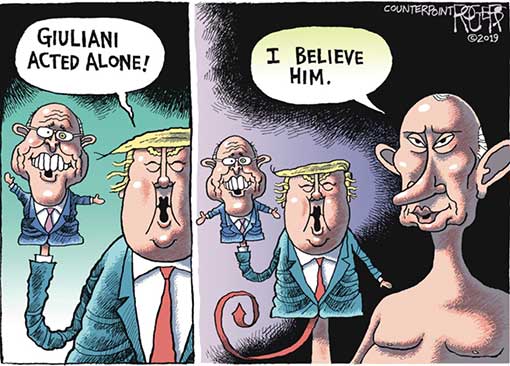 3. Philip Bump: President Trump loves conspiracy theories. Has he ever been right?
For President Trump, conspiracy theories are often more about utility than considered belief.
A good example of that came after the White House released the rough transcript of a call between Trump and Ukrainian President Volodymyr Zelensky. That document showed that Trump pressed Zelensky to launch an investigation into a server purportedly obtained by Ukraine, a request that was itself a muddling of an unfounded conspiracy theory.
We identified 19 conspiracy theories — some constrained, some sprawling — that Trump has elevated since becoming a vocal participant in U.S. politics before the 2012 presidential election. Seventeen of them are obviously false or lack substantive evidence in their defense. One involves a claim Trump makes about a past belief that is hard to evaluate. And one — one lonely, lucky theory — appears to have been validated to some extent.
Core theories are those that have become central to Trump's political identity;.
Core theory: Barack Obama wasn't born in the United States
Core theory: Global warming is a hoax
Core theory: Immigrants bring higher crime to the United States
Core theory: Voter fraud is rampant in American politics
Core theory: The Russia inquiry was a hoax
Core theory: Joe Biden behaved improperly or illegally in Ukraine
Core theory: Polling is biased and skewed against Trump

Corollary theories: The FBI targeted Trump with a coup, Russia didn't interfere in the 2016 election.

Theory: Trump Tower was wiretapped during the 2016 election
Theory: Ukraine was somehow involved in 2016 hacks targeting Trump's opponents
Theory: The death toll from Hurricane Maria has been overestimated
Theory: Wind turbines cause cancer
Theory: Jeffrey Epstein didn't kill himself — it was Clinton's fault.
Theory: Trump saw a television broadcast of Muslims in New Jersey celebrating on Sept. 11
Theory: Muslims seek to bring sharia law to the United States
Theory: Foul play might have been involved in the death of Justice Antonin Scalia
Theory: Ted Cruz's father was linked to the Kennedy assassination
https://www.washingtonpost.com/politics/2019/11/26/president-trump-loves-conspiracy-theories-has-he-ever-been-right/
4. Jonathan Bernstein: Trump's Approval Rating Should Worry Republicans
It's still early to project how next year's congressional elections will go. But the folks at Inside Elections have updated their predictions for 12 House contests in the Democrats' favor, with only one shifting toward Republicans. It's a good reminder that unpopular presidents typically drag their parties down.
And, yes, President Donald Trump is unpopular. In fact, through 1,048 days, his average approval rating is back to being the very worst of the polling-era presidents. According to FiveThirtyEight, he's at 41.6%; the next worst at this point was Barack Obama at 44%. Disapproval ratings tell an even worse story: At 53.5%, Trump is the only president through 1,048 days topping 50% (with Obama again the next-worst at 49.7% and no one else above 42%).
This is dangerous territory for Republicans. Even if Trump rallies between now and November, it may be too late to help his party much. Candidate-recruitment season is already well underway, and those updates at Inside Elections mostly reflect how certain seats are becoming easier for Democrats to defend or harder for Republicans to hold based on decisions by politicians who are anticipating a tough contest for the president's party. https://www.bloomberg.com/opinion/articles/2019-12-04/donald-trump-s-approval-rating-should-worry-republicans
5. Tom Boggioni: Trump has surrounded himself with 'failsons' starting with 'dimwitted' Don Trump Jr. and Kushner
In a biting piece for the Daily Beast, acerbic columnist Molly Jong-Fast accuses Donald Trump of stocking his administrations with "failsons" — which she described as "a son of wealth and privilege who is equal parts incompetence, stupidity, and arrogance" — because in many ways they are a reflection of his own career.
Using reports of conservative groups making bulk purchase of Don Trump's Jr's book "Triggered" to boost it on the best sellers list, Jong-Fast pounced on the president's namesake to make her case.
"One is not born a failson. Nor does one simply inherit the status of failson. No—failson status is earned through a display of equal parts incompetence, stupidity, and arrogance. And until his book, no person in America—or maybe even the world, so bursting at the seams with louche heirs and dissolute royals with no throne to sit their pampered arses on—illustrated all the facets of a failson better than Junior," she wrote.
The New York Times denotes such bulk sales with an asterisk to let readers know that the sales were not organic. Junior, never one to be deterred by facts, immediately declared that this was part of a larger Times conspiracy against him. 'I guess that's their way of exerting a little bit of revenge by putting an asterisk without getting into the details,' he sniffed," she wrote before adding a sarcastic," Yes Junior, The New York Times bulk purchasing policy is actually a conspiracy against you, the president's large adult failson."
Don Jr was not the only one to get the "failson" treatment with Jong-Fast casting a jaundiced eye at Jared Kushner, a "failson" who married into the family.
Jared Kushner is the failson in chief, arguably worse than Junior. After crushing a newspaper and overpaying for the aptly named 666 Fifth Avenue, the failson-in-law decided to take a crack at governmenting. He was tasked with peace in the Middle East and also renegotiating NAFTA, handling the opioid crisis, modernizing the Veterans Administration, spearheading criminal justice reform, and WhatsApp messaging with Saudi Arabian failson Mohammed bin Salman," she explained. "But when those things proved too complicated for the young polymath, his father-in-law decided to refocus him on the important things, like why Matt Drudge was mad at him, tasking Ivanka's husband to "look into it" and find out why Drudge has forsaken him. More recently, Jared was asked by his father-in-law to take another crack at building the wall.
Not to be forgotten, Jong-Fast also focused on Eric Trump.
"Not as notorious as his dimwitted siblings, Eric is the one of the Trump litter who seems the most interested in running the family's mediocre hotel business. Though Eric always enjoys doing a segment on Fox News, where he dishes out really hot takes like his assessment that "Democrats weren't even people." Eric is also extremely bad at Twitter. On Thanksgiving Day, he tweeted a picture of a red hat emblazoned with the acronym LOPA for "Leave Our President Alone," which caused the internet to erupt in mockery of the young Hapsburg," she wrote.
As to why Trump doesn't surround himself with competent aides and defenders, Jong-Fast points out that Trump himself is a "failson." https://www.rawstory.com/2019/11/trump-has-surrounded-himself-with-failsons-starting-with-dimwitted-don-trump-jr-and-kushner-columnist/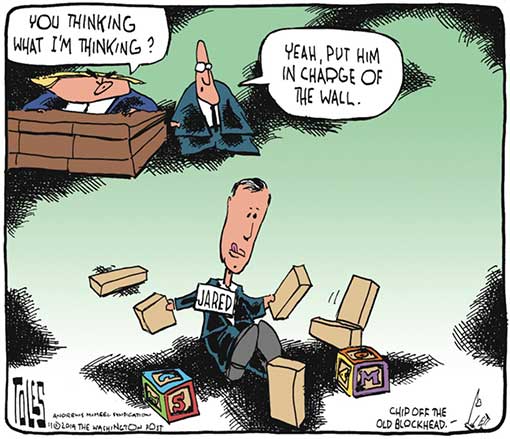 6. Will Bunch: In America, the law is the law* (*if you're poor, undocumented or nonwhite)
You raise your child to grow up to be a man like Delmer Joel Ramirez Palma. The Honduran native -- married, raising a 10-year-old son in New Orleans -- supported his family by working construction. It's a tough job under the best of circumstances, but Ramirez Palma didn't have the best of circumstances. After complaining repeatedly to his bosses at the site of a future Hard Rock Hotel about workplace safety, he watched three coworkers die and narrowly escaped serious injury himself when the unfinished building collapsed in October.
As an undocumented immigrant, Ramirez Palma had every reason to retreat into the shadows after cheating death. Instead, he wanted people to know everything. He talked to the media, joined a workplace-safety lawsuit, and offered to tell investigators what he knew about the deadly collapse -- but the U.S. government wasn't having it. In a simpler time, Ramirez Palma had staved off deportation so he could raise his son -- a U.S. citizen -- but the Trump administration's Immigration and Customs Enforcement (ICE) arrested him and sent him back to Honduras where he'd be inaccessible to investigators, let alone his family.
The details here are unique, even shocking -- but the almost mindless cruelty of it all is something we see again and again in America as the 2010s mercifully come to a close. Not just in heavily Latin neighborhoods where families are now afraid to go to the ice cream shop -- let alone testify in a court case or talk with police -- but on big-city subway platforms where cops respond to fare jumpers with SWAT teams when they're not busting women selling treats at the entrance upstairs. Did I mention school lunch debt or overdue library books?
This zero-tolerance policing sends a message not just to citizens and to migrants but around the world: America is a nation where the law is the law.
Except when it's not.
This is why I fear so greatly for the United States after Trump is acquitted in January. Our secret that's been hiding in plain sight for decades now -- that America isn't really ruled by the power of law, just the powerful -- will be out there for the world to see, with no more pretending that we are some kind of exceptional nation. In post-impeachment, post-factual, post-rule-of-law America, we'll discover whether that truth entraps us or sets us free. https://www.inquirer.com/opinion/commentary/hard-rock-whistleblower-deported-gallagher-war-crimes-trump-epstein-20191201.html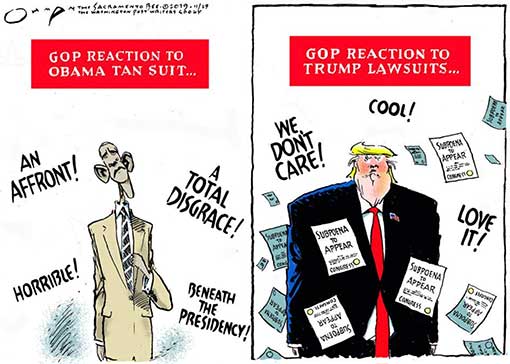 7. Jonathan Chait: Report: Trump's Business More Fraudulent Than Previously Known
Donald Trump has famously refused to disclose his returns, and waged a series of implausible but dogged legal challenges to prevent those returns from being obtained by Congress and the New York attorney general, in spite of clear legal mandate to do so. In the absence of seeing the tax returns, journalists have pieced together elements of Trump's financial practices by obtaining whatever documents he has had to submit in the course of his business dealings.
The portrait those efforts have painted is consistent. Trump engages in systematic financial fraud — not just aggressive use of tax sheltering, but straight up criminal fraud — and counts on lax-to-nonexistent enforcement to make his crimes pay.
This isn't being clever, finding a complicated tax shelter, or taking full advantage of what the law allows. It's just, by all indications, straight up fraud. What these figures can't settle is whether Trump is defrauding his lenders, cheating on his taxes, or both. Both of those forms of fraud are crimes. None of the experts contacted by ProPublica could formulate an innocent explanation. And as Congress decides whether it should deem Trump's abuses of power to be high crimes, surprisingly little attention has been given to the fact that Trump's entire career leading up to the presidency has consisted of habitual criminality. http://nymag.com/intelligencer/2019/11/report-trump-business-fraud-propublica-taxes-crimes.html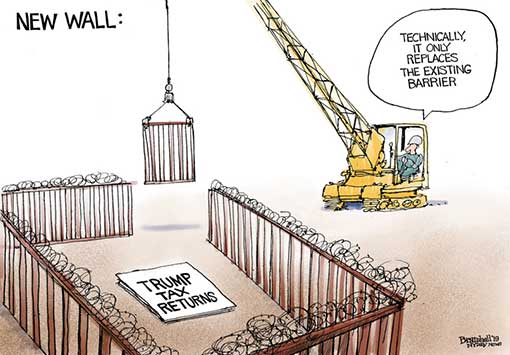 8. Molly Jong-Fast: Lisa Page Speaks: 'There's No Fathomable Way I Have Committed Any Crime at All'
Lisa Page, of course, is the former FBI lawyer whose text-message exchanges with agent Peter Strzok that belittled Donald Trump and expressed fear at his possible victory became international news. They were hijacked by Trump to fuel his "deep state" conspiracy.
For the nearly two years since her name first made the papers, she's been publicly silent (she did have a closed-door interview with House members in July 2018). I asked her why she was willing to talk now. "Honestly, his demeaning fake orgasm was really the straw that broke the camel's back," she says. The president called out her name as he acted out an orgasm in front of thousands of people at a Minneapolis rally on Oct. 11.
That was the moment Page decided she had to speak up. "I had stayed quiet for years hoping it would fade away, but instead it got worse," she says. "It had been so hard not to defend myself, to let people who hate me control the narrative. I decided to take my power back." 
The era of Trump populism always had an ugly edge, particularly toward women. Trump revels in bringing misery to his opponents and will always seek out and exploit any weakness. Page "wasn't nice to him," and so in his eyes she can be endlessly targeted and assaulted. 
It's tempting to describe this as just part of Trump's deep, baked-in misogyny and sociopathy, but in Page's case it's worse; it's a sign of how deeply he's corrupted the government to serve his will and his whims. His apologists have become part of Trump's own squad of witch-hunters, hunting fantasies like "Ukrainian interference" while attacking the people who tried to protect us from Russian attacks.
It's not just that Lisa Page may never be safe as long as Trump is president. 
It's that we won't be safe, either.  https://www.thedailybeast.com/lisa-page-speaks-theres-no-fathomable-way-i-have-committed-any-crime-at-all
9. Matthew Yglesias: What Trump has actually done in his first 3 years
The scandals, the leaks, the outrages, and the bizarre tweets of the last three years can distract from an important fact about President Donald Trump: He has changed policy in ways that affect the lives of millions of Americans.
Tax changes were Trump's biggest legislative accomplishment, creating a huge windfall for wealthy shareholders and small gains for the middle class — with revenue losses much larger than initially forecast. He's also undertaken significant but little-noticed alternations in supervision of Wall Street that increase the riskiness of the banking system, plus drastic changes to immigration policy that go far beyond wall construction.
The immigration changes align with Trump's main campaign themes, even if they don't line up in detail with what he promised. But much of this amounts to delivering for big business and the wealthy in a much more dramatic way than his "populist" positioning would indicate. Promises to voters to protect clean air, provide better health care, crack down on banks, and tax the rich have fallen entirely by the wayside.
As 2020 approaches, Trump's achievements are a reminder that Trump and his team are doing real things that have real impacts on real lives. His successes explain why the conservative movement is solidly behind him, despite its considerable doubts from four years ago. Regardless of what Trump tweets or says or does during the election, it's worth remembering there's more to him than the Trump Show. https://www.vox.com/policy-and-politics/2019/12/2/20970521/trump-administration-achievements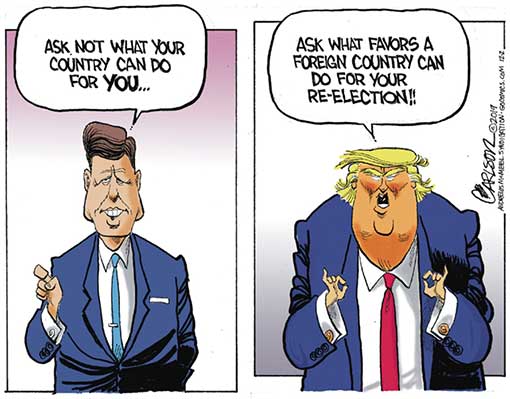 10. Bob Bauer: Trump Is the Founders' Worst Nightmare
One of Sherlock Holmes' most famous cases was solved when a normally noisy dog was silent the night of the crime, leading the famous detective to the deduction that it must have been an inside job — the dog knew the intruder.
Those not barking today are the numerous Trump administration officials who are strangely silent when a few short statements (under oath) could go a long way toward exonerating the president from the charge of using the powers of his office for personal gain.
Acting chief of staff Mick Mulvaney, Secretary of State Mike Pompeo, Energy Secretary Rick Perry, former national security adviser John Bolton and probably at least a dozen White House and National Security Council staffers — all could clear up, one way or another, the essential question of whether the president was interested in corruption generally in Ukraine last summer, or whether the withholding of military aid and the dangling of a White House meeting was motivated by his personal and political interest in publicized investigations of the 2016 election and the activities of one of his principal rivals. And this would be direct evidence, which no one can call hearsay.
Because it would be so easy for these people to clear the president, it's hard to escape the conclusion that their silence is less about vague assertions of executive privilege (which isn't available to cover-up wrongdoing, in any case) and more about not wanting to testify under oath as to what actually happened. https://www.usatoday.com/story/opinion/2019/12/02/ukraine-scandal-mick-mulvaney-john-bolton-mike-pompeo-trump-column/4347042002/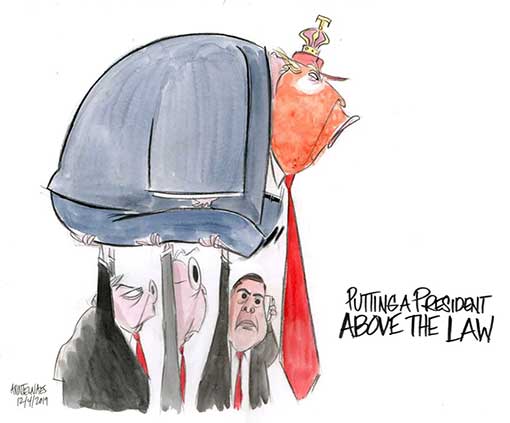 11. Jonathan Chait: Trump Is Making the Al Capone Tax-Evasion Defense Against Impeachment
Trump ran as an authoritarian demagogue whose entire conception of the office he stood poised to occupy was at odds with the republican form of government. That Democrats did not immediately undertake impeachment proceedings against him shows they gave him the benefit of the doubt.
But rather than growing into the office, Trump has fulfilled the darkest fears about his character and his conduct. Trump has run through the authoritarian threats he made as if it were a to-do list. Retribution against owners of independent media? Check. Promoting the use of war crimes? Check. Collecting money from interested parties at home and abroad? Check. Inciting violence to intimidate critics? Check.
The fact that some of Trump's critics were contemplating impeachment for years before they settled on this charge hardly absolves him. The feds were looking to nail Al Capone for a long time before they finally prosecuted him for tax evasion. Capone, like Trump, had a knack for intimidating law enforcement, bribing witnesses, and withholding evidence. His crimes were something everybody knew but were difficult to prove. His punishment was both procedurally fair — Capone was as clearly guilty of tax evasion as Trump is of pressuring Ukraine to investigate his domestic rivals — yet frustratingly too narrow to capture the full breadth of his culpability. That discrepancy will challenge historians who study Trump's criminal presidency. But it is truly odd to see it used as a case against impeaching him at all. http://nymag.com/intelligencer/2019/12/trump-impeachment-democrats-ukraine-crimes-al-capone.html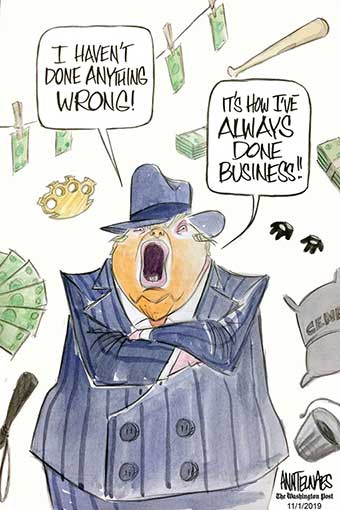 12. Matt Stieb: Attorney General Bill Barr Still Trusts Trump Over DOJ on Russia Investigation
Since it's been a few months — and at least one presidency-defining international scandal — since President Trump's last presidency-defining international scandal, let's review the behavior of Attorney General William Barr regarding Russian interference in the 2016 election.
Foremost, Barr's creative interpretation of the Mueller report shielded Trump from clear examples of obstruction of justice, leading to the president's false claim of "complete and total exoneration." Aside from that bail-out, he also called the Mueller investigation into potential obstruction a "political operation to overthrow the president;" claimed that the FBI was "spying" on Trump; had multiple conversations with White House lawyers prior to the report's release benefitting the president's cause; and compared the Russia investigation to the racist birther movement, although it was forwarded primarily by Trump.
In light of the attorney general's past actions safeguarding the president from accountability for his campaign's conduct, it's no surprise that Barr continues to trust Trump's word over findings from a Department of Justice investigation. According to the Washington Post, Barr privately disagrees with the DOJ Inspector General Michael Horowitz's determination that the FBI had enough information to open an inquiry into the Trump campaign in July 2016. The IG report on the origin of the investigation, which will be released next week, is expected to find that the FBI was justified in its investigation, which was opened after Trump aide George Papadopoulos spilled that Moscow had hacked Clinton emails prior to the announcement that DNC servers were compromised by Russian assets. http://nymag.com/intelligencer/2019/12/ag-bill-barr-still-favors-trump-over-doj-on-russia-inquiry.html
13. Eric Levitz: Democrats Should Make 2020 a Referendum on 'More Socialism for Old People'
The Republican Party lives off the largess of the welfare state's worst enemies — and the votes of its primary beneficiaries. In 2016, Hillary Clinton trounced Donald Trump by more than 20 points with voters under 45. Absent the resilient Republicanism and superlative turnout rate of America's seniors, the mogul would have lost the Electoral College in a landslide.
Thus the GOP appears poised to grow increasingly reliant on the support of older voters, even as those voters grow evermore dependent on on social-welfare programs: In the coming decades, millions of younger boomers will age into eligibility for Medicare and Social Security, while millions of older ones will develop a need for long-term care. Whether the GOP can keep these graying boomers satisfied — while meeting its obligations to the anarcho-capitalist billionaires who are the party's top shareholders (and the movement conservative ideologues who are its top functionaries) — may determine its electoral viability in 2020 and beyond.
The Democrats' leftward lurch on socialism for seniors is right on the merits: Owing in part to gains in life expectancy among the elderly, an American turning 65 today has somewhere between a 50 and 70 percent chance of eventually requiring long-term support by the end of his or her life. And yet, the U.S. is nearly alone among wealthy nations in lacking a universal long-term-care benefit. What's more, as James Medlock and Colin McAuliffe of Data for Progress note, the U.S. spends far less on long-term care (as a percentage of its GDP) than the vast majority of OECD countries.
If the federal government does not step in and provide more funding for home health-care workers and quality live-in facilities, then millions of older Americans will be at risk of spending their "golden years" in conditions of harrowing deprivation, while millions of younger Americans will see their own ambitions compromised by the burdens of caring for their elders. http://nymag.com/intelligencer/2019/12/dems-should-campaign-on-socialism-for-seniors-in-2020.html
14. Greg Sargent: Laughable new GOP report: Yes, Trump did it. But his motives were pure!
House Republicans have now formalized their defense of Trump with the release of a new report as the impeachment process shifts into its next phase, and at the center of it is an effort to make that corrupt motive disappear entirely.
The report's new argument is that, yes, Trump might have made requests of Ukrainian President Volodymyr Zelensky to announce "investigations" that would validate Trump's (invented) theory of Ukrainian interference in the 2016 election and his (fabricated) narrative of corruption on the part of Joe Biden and his son in Ukraine.
But, Republicans say, Trump was right to do this, because his concerns about these things were legitimate and were subsumed into a much broader — and, again, legitimate — set of concerns about corruption.
The argument is a joke. But it also illustrates in a backhand way just how unconvincing any effort to sanitize away Trump's corrupt motives must inevitably be.
The GOP argument requires ignoring voluminous evidence of those corrupt motives. It also requires accepting the spectacularly absurd idea that the investigations Trump actually did ask for were not just motivated by a general desire to fight corruption but also benefited Trump politically out of pure coincidence. https://www.washingtonpost.com/opinions/2019/12/03/laughable-new-gop-report-yes-trump-did-it-his-motives-were-pure/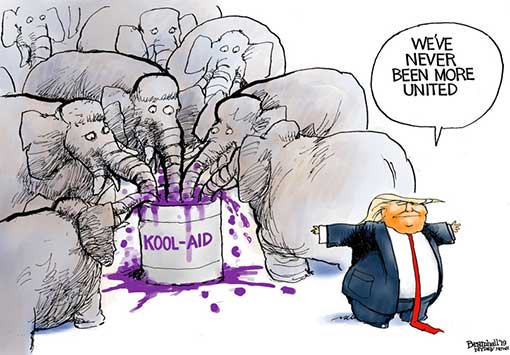 15. William D. Cohan: Dear President Trump: The Ultimate Impeachment Deal Is To Abdicate Right Now
If Donald Trump were even half the "stable genius" he'd like us to think he is, he'd do something really smart: He'd abdicate his office before the House of Representatives votes to impeach him. What's more, if he were to abdicate, not only could he cut one helluva deal on his way out of Washington, but he could also make sure that Trumpism survives him—and his brand would be preserved to adorn hotels and golf courses far into the future.
Bear with me here, especially because Trump is about as contrarian and stubborn as they come. To say nothing of the fact that he is highly unlikely to take advice from a contemptuous libtard like me. But the idea of Trump abdicating still makes a lot of completely objective sense. He will most certainly be impeached by the House whenever that vote comes. And for good reason: His behavior as president has been largely and repeatedly unconscionable. The fact that the Republicans in the Senate will allow him to get away with his impeachable offenses is not a good reason for why he should continue to stick around the Oval Office. Impeachment is forever. It's for the history books. He can't erase it from his tombstone, regardless of whether the Senate lets him slide on the removal from office part of the equation. It's a permanent status humiliation—his own particular, inescapable circle of hell. He'll be a world-historic loser. https://www.vanityfair.com/news/2019/12/ultimate-impeachment-deal-donald-trump-abdicate
16. Paul Waldman: The world is laughing at Donald Trump
"We need a President who isn't a laughing stock to the entire World," Donald Trump tweeted in 2014. "We need a truly great leader, a genius at strategy and winning. Respect!"
Indeed, having such a leader would provide many benefits to the United States. Instead, we get this: President Trump, who has long demeaned his rivals for being laughed at around the world, found himself the scorned child on the global playground Wednesday as widely circulated video showed some of his foreign counterparts gossiping about and mocking him.
The video captured Canadian Prime Minister Justin Trudeau appearing to laugh Tuesday evening with French President Emmanuel Macron, British Prime Minister Boris Johnson and others about Trump's performance during an earlier bilateral meeting and painted White House aides as agog at the president's behavior.
And so it was Wednesday morning that Trump presented a sulking, brooding president as he engaged on the sidelines of the NATO summit at a secluded estate here outside London. Trump abruptly cancelled a planned news conference at the summit's conclusion, arguing that he had already answered so many questions from reporters in other settings during his visit to England.
Trump says he'll be leaving the summit early, and it won't be the first time he has stalked angrily away from a meeting of U.S. allies before he was scheduled to depart. A year and a half ago, he fled a meeting of the Group of Seven in Quebec, apparently miffed that the allied leaders expressed their differences with him on tariffs and climate change.
It's almost as though at these gatherings of world leaders Trump becomes his most petulant, insecure and childish.
Trump's preoccupation with the idea of being laughed at borders on the pathological. It was his primary theme as a candidate whenever he discussed foreign affairs or international trade: China is laughing at us, Europe is laughing at us, the Taliban is laughing at us, OPEC is laughing at us, the world is laughing at us. But once he became president, he promised, the laughter would stop. And so he has asserted many times since taking office. "We don't want other leaders and other countries laughing at us anymore, and they won't be," he said. https://www.washingtonpost.com/opinions/2019/12/04/world-is-laughing-donald-trump/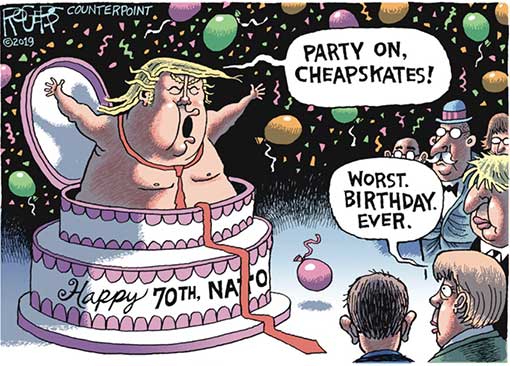 17. Max Boot: NATO is on life support — and Trump's the one who put it there
President Trump's meetings with anti-American despots such as Recep Tayyip Erdogan, Kim Jong Un and Vladimir Putin are inevitably lovefests. His meetings with democratic allies are inevitably tense and acrimonious. This week's NATO summit in London held true to disastrous form.
The first lowlight was Trump's tense meeting with French President Emmanuel Macron on Tuesday. The two leaders fought over the handling of Islamic State detainees ("Would you like some nice ISIS fighters? I could give them to you," Trump demanded sarcastically. Macron snapped: "Let's be serious"). They also fought over Turkey ("How is it possible to be a member of the alliance … and to buy the S-400s from the Russians?" Macron asked) and Russia ("I think we get along with Russia," Trump said, while Macron cautioned against "naivete" in "a strategic dialogue with Russia"). They even fought over NATO's own future.
In an interview with the Economist last month, Macron made headlines by saying that NATO is experiencing "brain death" because of the unilateralism of Turkey and the United States. "We find ourselves for the first time with an American president who doesn't share our idea of the European project, and American policy is diverging from this project," Macron said. "You have no coordination whatsoever of strategic decision-making between the United States and its NATO allies. None."
You would think that an American president who has called NATO "obsolete" and opined that "European nations were set up in order to take advantage of the United States" would have no problem with Macron's withering assessment. But no. Trump called Macron's comments "very, very nasty" and "very disrespectful," although not to Macron's face. Trump — a lion on Twitter but a pussycat in person — saved his harshest words about the French president for his meeting with NATO Secretary General Jens Stoltenberg. https://www.washingtonpost.com/opinions/2019/12/04/nato-is-life-support-trumps-one-who-put-it-there/
18. John Cassidy: The House Republicans' Shameless Report
At this late stage in the transformation of the Party of Lincoln into an emotional- and political-support group for Donald Trump, we have grown accustomed to its elected representatives debasing themselves to protect the President. Even by current G.O.P. standards, though, the impeachment report that the House Republicans put out on Monday is an extraordinarily cynical and tendentious document.
It begins by dismissing the entire impeachment process as an effort to "undo the will of the American people" as expressed in the 2016 election result, and "an orchestrated campaign to upend our political system" that began "because some unelected bureaucrats chafed at an elected President's 'outside the beltway' approach to diplomacy." Ignoring the potential contradiction in these two descriptions, the report goes on to concede that there are some actual allegations here. "The sum and substance of the Democrats' case for impeachment is that President Trump abused his authority to pressure Ukraine to investigate former Vice President Joe Biden, President Trump's potential political rival, for President Trump's benefit in the 2020 election," it says.
"Democrats say this pressure campaign encompassed leveraging a White House meeting and the release of U.S. security assistance to force the Ukrainian president"—Volodymyr Zelensky—"to succumb to President Trump's political wishes. Democrats say that Mayor Rudy Giuliani, the President's personal attorney, and a 'shadow' group of U.S. officials conspired to benefit the President politically."
The Republican report runs to more than a hundred pages, most of which are spent trying to explain away what is obvious. It makes much of the fact that many of the witnesses didn't have direct access to Trump, but it plays down the fact that the White House ordered many witnesses who did have access to him not to testify, claiming, "President Trump's assertion of longstanding claims of executive privilege is a legitimate response to an unfair, abusive, and partisan process, and does not constitute obstruction of a legitimate impeachment inquiry." https://www.newyorker.com/news/our-columnists/the-house-republicans-shameless-impeachment-report