November 16, 2017
ON THE RECORD. . .
"The allegations against Roy Moore are deeply disturbing and disqualifying. He should immediately step aside and allow the people of Alabama to elect a candidate they can be proud of." — Sen. John McCain (R-AZ) on Twitter.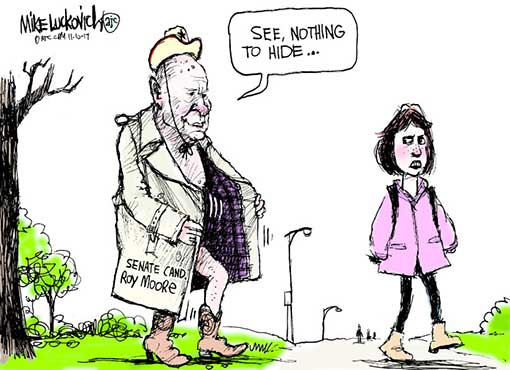 "The Commission's operations have not been open and transparent, not even to the commissioners themselves, who have been deprived access to documents prepared by and viewed by other commissioners." -- Maine Secretary of State Matt Dunlap (D), a member of Trump's shady voter fraud commission who is suing the commission for violating federal government transparency laws.
"Come on, Republicans. Is this who we are? This cannot be who we are."— Sen. Jeff Flake (R-AZ), on Twitter, reacting to Alabama Republicans coming to the defense of Roy Moore (R).
"This is what happens when you let reckless, incompetent idiots like Steve Bannon go out and recruit candidates who have absolutely no business running for the U.S. Senate." —  Former Mitch McConnell chief of staff Josh Holmes, on the allegations that Roy Moore initiated sexual relations with teenagers.
"Look, I'm sorry, but even before these reports surfaced, Roy Moore's nomination was a bridge too far." — Sen. Bob Corker (R-TN), on Twitter.
"Believe it or not, even when I'm in Washington or New York, I do not watch much television. I know they like to say that. People that don't know me, they like to say I watch television — people with fake sources. You know, fake reporters, fake sources. But I don't get to watch much television. Primarily because of documents. I'm reading documents. A lot. And different things. I actually read much more — I read you people much more than I watch television." — Trump.
"This artificial Democratic hit job gets in the way and that's a shame because people will die because of it. And it's a pure hit job." — Trump, suggesting people will die because of the investigation into Russian meddling in the 2016 election.
"He said he didn't meddle. He said he didn't meddle. I asked him again. You can only ask so many times. Every time he sees me, he says, 'I didn't do that.' And I believe, I really believe, that when he tells me that, he means it. I think he is very insulted by it." -- Trump saying that "he's done confronting Russian President Vladimir Putin over his country's election meddling since it's insulting to the Russian leader."
"I think it demonstrates to Mr. Putin that Donald Trump can be played by foreign leaders who are going to appeal to his ego and try to play upon his insecurities, which is very, very worrisome from a national security standpoint." — Former CIA Director John Brennan on not confronting Russian president Vladimir Putin over his election interference.  https://www.washingtonpost.com/news/post-politics/wp/2017/11/12/former-u-s-intelligence-officials-trump-being-played-by-putin/
"There's nothing 'America First' about taking the word of a KGB colonel over that of the American intelligence community. There's no 'principled realism' in cooperating with Russia to prop up the murderous Assad regime, which remains the greatest obstacle to a political solution that would bring an end to the bloodshed in Syria. Vladimir Putin does not have America's interests at heart. To believe otherwise is not only naive but also places our national security at risk." -- Senator John McCain (R-AZ), Chairman of the Senate Armed Services Committee, on President Trump's comments about Vladimir Putin.  https://www.mccain.senate.gov/public/index.cfm/2017/11/statement-by-sasc-chairman-john-mccain-on-president-trump-s-comments-about-vladimir-putin
'Trump mentioned 'WikiLeaks' 145 times during the final month of the 2016 campaign." -- First Read
"Of the years that I have been here, I never thought that we would be considering the nomination of a person who supported the commission of what the Geneva Conventions says is war crimes. That is a serious, serious issue. I am astonished that we are here considering the nomination of a person who is in violation of the Geneva Convention rules of war, to which the United States of America is a signatory." --  John McCain (R-AZ) on Trump's nominee to be the general counsel of the Department of Transportation citing Steven Bradbury's efforts to devise a legal justification for the United States' use of torture during the Bush administration.
---
IN THIS ISSUE
FYI
OPINION
1. Andy Borowitz: Eric Trump Asks Dad if He Can Have Donald, Jr.,'s Room
Eric Trump has asked his father, Donald Trump, if he can have his brother Donald, Jr.,'s room, Eric Trump confirmed on Monday night.

"Don, Jr., got this ginormous room, and I got a crappy little one," Eric Trump said. "Don, Jr., got to work in the real-estate company, and I got stuck with the winery. But all that's about to change."

Eric Trump said that, although his father had not yet responded to his request, he was optimistic that his wish would be granted. "It looks like Don, Jr., might not be needing his room for quite some time," he said, barely suppressing a grin.

He added that he had not discussed the future of Donald, Jr.,'s room with his brother. "I've had to put up with Don, Jr.,'s bullshit my entire life," he said. "Don, Jr., this, Don, Jr., that. Don, Jr., is the king of all he surveys. Seriously, Don, Jr., can suck it. I'm getting his room."

Asked if he had a message for his brother, Eric Trump paused for a moment and said, "Yes. I've waited my whole life for this moment. And you know what they say? Revenge is a dish best served after you've waited your whole life for this moment."

EARLIER: The special counsel Robert Mueller announced on Saturday that he was closing the Justice Department's Russia investigation, "effective immediately," after hearing that President Vladimir Putin, of Russia, said he was innocent of any election meddling.  https://www.newyorker.com/humor/borowitz-report/

2. GOP Panic Boosts Tax Cut Plan Chances
With the release of the Senate's plan yesterday, tax cuts are off to a stronger start than health reform's fraught debut earlier this year. You've got high top rates on wealthy people, a concession to the left — yet tons of loopholes and crony tax breaks. Even Republicans who have been skeptical all year about tax reform's prospects say they see glints of momentum.
One reason: "Sheer political panic: This may be Republicans' only chance to hold onto the House. GOP leaders, especially Speaker Ryan, are under no illusions — particularly not after the results in Virginia."
Another: "Donor pressure: As members and senators have admitted out loud, donors won't be returning phone calls if united GOP government can't deliver tax reform."  https://www.axios.com/republican-panic-boosts-tax-cut-chances-2508329575.html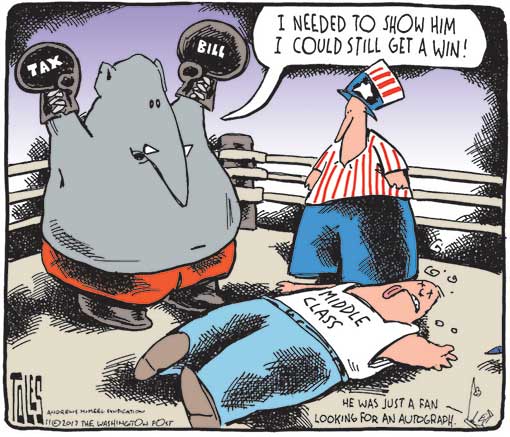 3. Channels Trump's campaign used to cooperate with Russian efforts to help him win the presidency
There are several channels through which Donald Trump's campaign apparently cooperated with Russian efforts to help him win the presidency. The first, and best known, is a Trump Tower meeting in June 2016 to pursue Russian promises of providing dirt on Hillary Clinton. A second is Roger Stone, a frequent Trump adviser who had clear advance notice of the publication of stolen emails. A third is Trump himself openly asking Russia to obtain Clinton's State Department emails. The final channel is the efforts by Cambridge Analytica, the campaign's data firm. This channel is less well known to the public, in part because reporting about it has been dominated by The Wall Street Journal, and its stories hidden behind a paywall. But Cambridge Analytica's role has come into much clearer focus.
Two weeks ago, the Journal reported that Alexander Nix, the CEO of Cambridge Analytica, reached out to WikiLeaks founder Julian Assange to help him better organize the stolen Democratic emails his site was publishing. On Friday, the Journal found that this contact came as Cambridge Analytica was joining the Trump campaign.  http://nymag.com/daily/intelligencer/2017/11/cambridge-analytica-denies-ties-to-russia-unconvincingly.html
4. The Secret Correspondence Between Donald Trump Jr. and WikiLeaks
Private messages between Donald Trump Jr. and Wikileaks were turned over by Trump Jr.'s lawyers to congressional investigators are part of a long—and largely one-sided—correspondence between Wikileaks and the president's son that continued until at least July 2017. The messages show Wikileaks, a radical transparency organization that the American intelligence community believes was chosen by the Russian government to disseminate the information it had hacked, actively soliciting Trump Jr.'s cooperation.
Wikileaks made a series of increasingly bold requests, including asking for Trump's tax returns, urging the Trump campaign on Election Day to reject the results of the election as rigged, and requesting that the president-elect tell Australia to appoint Julian Assange ambassador to the United States.
Though Trump Jr. mostly ignored the frequent messages from Wikileaks, he at times appears to have acted on its requests.  https://www.theatlantic.com/politics/archive/2017/11/the-secret-correspondence-between-donald-trump-jr-and-wikileaks/545738/
5. The GOP Has Done the Impossible: Make Tax Cuts Unpopular
There was a time when liberal professionals, watching in horror as Republican presidents drove the federal budget into a ditch, could at least count on the semi-guilty consolation of a tax break. And I would indeed be happy to have my tax rate raised for the purpose of reducing the deficit or funding important social needs. But the prospect of paying higher taxes in order to finance gigantic tax cuts for much richer people is a novel misery. The comprehensive awfulness of the Trump administration has extended into new terrain.
The Republican government seems hell-bent on this course.  http://nymag.com/daily/intelligencer/2017/11/the-gop-has-done-the-impossible-make-tax-cuts-unpopular.html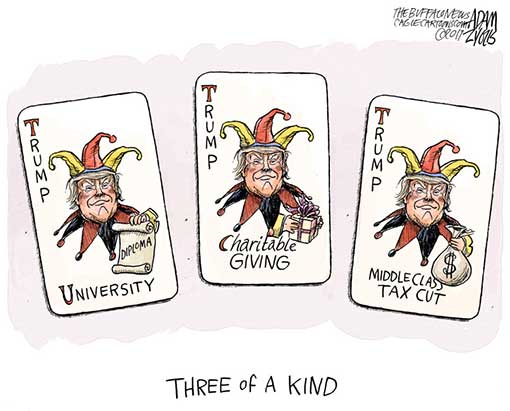 6. After massive rejection of Trumpism, Democrats expand offensive to take back House
House Democratic strategists, convinced that Tuesday's results represent a massive voter uprising against Trumpism that will continue through next year, are adding nearly a dozen new GOP districts to their list of 2018 takeover targets, in an effort to expand the map to keep pace with the rapid deterioration of the GOP's political fortunes.  https://www.washingtonpost.com/blogs/plum-line/wp/2017/11/09/after-massive-rejection-of-trumpism-democrats-expand-offensive-to-take-back-house/
7. A Surge In Women Running for Office
Women racked up victories across the country on Tuesday, and are being credited with the Democrats' big night overall. It is a testament to the remarkable explosion of women candidates who have entered the political stage since Donald Trump was elected president one year ago.
The wave is likely to continue. In 2018, 40 women are already planning to run for governor. Dozens more are considering congressional and other statewide office bids. And Tuesday's result has already become a rallying cry for activists seeking to draw even more women into the public square.  https://www.washingtonpost.com/politics/women-racked-up-victories-across-the-country-tuesday-it-may-only-be-the-beginning/2017/11/08/97f8f3b0-c49f-11e7-afe9-4f60b5a6c4a0_story.html
8. Republicans fear Democratic wins mean more losses to come
A wave of Democratic victories ignited a ferocious debate across the Republican Party on Wednesday over whether President Trump's un­or­tho­dox behavior and polarizing agenda are jeopardizing the GOP's firm grip on power in Congress, governors' mansions and state legislatures, reports.
The recriminations sparked by Tuesday's results — a decisive rebuke of Trump and his policies in Virginia and elsewhere — threatened the fragile GOP push to pass sweeping tax cuts by the end of the year and raised deeper questions about Republican identity and fealty to a historically unpopular president.  https://www.washingtonpost.com/politics/canary-in-the-coal-mine-republicans-fear-democratic-wins-mean-more-losses-to-come/2017/11/08/15130b64-c4b0-11e7-84bc-5e285c7f4512_story.html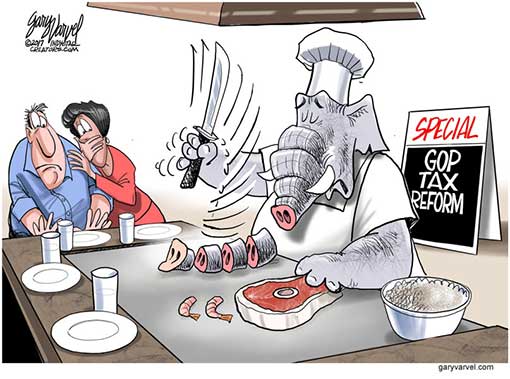 9. InfoWars Has Republished More Than 1,000 Articles From RT Without Permission
Over the past three years, conspiracy site InfoWars has copied more than 1,000 articles produced by Russian state-sponsored broadcaster RT to its website — all without the permission of RT.
InfoWars is headed by radio host Alex Jones who propagated the false Pizzagate conspiracy theory, fueled hate against migrants, and pushed the unfounded theory that former president Barack Obama is not an American citizen… Jones and his outlet have also faced accusations that their work often aligns with Kremlin-funded outlets such as RT, and that they have at times benefitted from amplification from Twitter bots and other Russian information operations.  https://www.buzzfeed.com/janelytvynenko/infowars-is-running-rt-content
10. From MEDIA MATTERS (They watch Fox News so you don't have to)
Hannity suggested the women might be lying, claimed The Washington Post hates Republicans, and implied the "establishment" was out to get Moore.  https://www.mediamatters.org/blog/2017/11/10/heres-what-sean-hannity-was-clear-and-unambiguous-about-regarding-roy-moore/218524

Roy Moore and the rot in conservative politics. Some prominent conservatives would rather defend a reported pedophile than lose an election; that choice should haunt them.  https://www.mediamatters.org/blog/2017/11/10/roy-moore-and-rot-conservative-politics/218522

William Johnson, a white supremacist leader who has called for the deportation of nonwhites, recently donated to the U.S. Senate campaign of Alabama Republican Roy Moore. Throughout his career, Moore has repeatedly associated with white nationalists.  https://www.mediamatters.org/blog/2017/11/10/white-supremacist-leader-recently-donated-roy-moore-s-campaign/218519

Sean Hannity chastises women who spoke out about Roy Moore: "Now we do have Ten Commandments, one of the commandments is thou shalt not bear false witness."  https://www.mediamatters.org/video/2017/11/09/sean-hannity-chastises-women-who-spoke-out-about-roy-moore-now-we-do-have-ten-commandments-one/218505

How pro-Trump media are attacking Moore's accusers: claiming a forged yearbook signature, suggesting bribery, and quibbling over a phone's location.  https://www.mediamatters.org/blog/2017/11/14/How-pro-Trump-media-are-attacking-Moores-accusers-claiming-a-forged-yearbook-signature-sug/218554

Fox News' Shepard Smith debunks Uranium One lie peddled by his own network. Smith: "The accusation is predicated on the charge that Secretary Clinton approved the sale. She did not."  https://www.mediamatters.org/video/2017/11/14/fox-news-shepard-smith-debunks-uranium-one-lie-peddled-his-own-network/218557

Fox & Friends downplays report about Trump Jr.'s communication with Wikileaks as just a "talking point." Steve Doocy: "No laws were broken. It just gives the talking point, 'Hey, there's a connection, look, Russia, Wikileaks, Trump Jr.' "  https://www.mediamatters.org/video/2017/11/14/fox-friends-downplays-report-about-trump-jrs-communication-wikileaks-just-talking-point/218551
11. Trump judge nominee, 36, who has never tried a case, wins approval of Senate panel
Brett Talley, President Trump's nominee to be a federal judge in Alabama, has never tried a case, was unanimously rated 'not qualified' by the American Bar Association's judicial rating committee, has practiced law for only three years and, as a blogger last year, displayed a degree of partisanship unusual for a judicial nominee, denouncing 'Hillary Rotten Clinton' and pledging support for the National Rifle Association.
On Thursday, the Senate Judiciary Committee, on a party-line vote, approved him for a lifetime appointment to the federal bench.  http://www.latimes.com/politics/la-na-pol-trump-judge-20171110-story.html
12. Russia Twitter trolls rushed to deflect Trump bad news
"Disguised Russian agents on Twitter rushed to deflect scandalous news about Donald Trump just before last year's presidential election while straining to refocus criticism on the mainstream media and Hillary Clinton's campaign," according to an Associated Press analysis of since-deleted accounts.
"The analysis illuminates the obvious strategy behind the Russian cyber meddling: swiftly react, distort and distract attention from any negative Mr. Trump news."  https://www.cbsnews.com/news/twitter-trolls-russia-donald-trump-bad-news-ap-investigation/
13. Revenge of the Obama Coalition
if you squint at Tuesday's results, you can sort of see a synthesis emerging between Obama and Hillary Clinton's theory of the emerging Democratic electorate — in which Democrats win by appealing to a coalition of white professionals and minorities — and Bernie Sanders's focus on grass-roots organizing and economic populism."
In some ways the election was the revenge of the Obama coalition. Educated white liberals joined people of color to elect an amazingly diverse group of candidates. A Latina single mother, Michelle De La Isla, was elected mayor of Topeka, Kan. Wilmot Collins, a refugee from Liberia, won the mayoral race in Helena, Mont. Seattle elected its first lesbian mayor, Jenny Durkan. After a year in which liberals have been bludgeoned by demands that they abandon identity politics and empathize with resentful Trump voters, the election was a reminder that white men needn't be the center of the political universe.  https://www.nytimes.com/2017/11/10/opinion/democrats-election-obama-coalition.html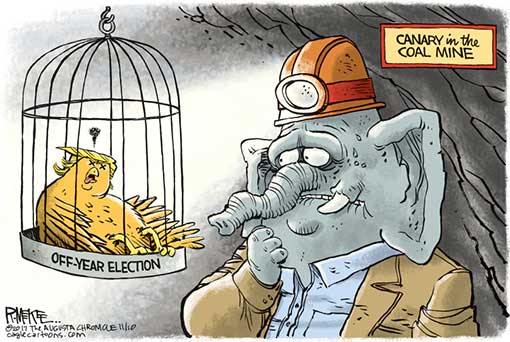 14. Donald Trump says something that isn't true 5.5 times a day. Every day.
Alternative facts. Lies. Distortions. Exaggerations. Misstatements. Half truths.
Call it what you want, but there's one indisputable fact: Donald Trump does a stunning amount of it.
According to a count maintained by The Washington Post's Fact Checker and updated Tuesday morning here, Trump has now made 1,628 false or misleading claims in his 298 days in office. That's an average of 5.5 a day. Five and a half misleading or outright false statements for each day -- including weekends! -- that Trump has been president.
By the Fact-Checker's estimates, Trump -- if he keeps up his current pace -- will blow past 2,000 misstatements and/or untruths in his first year in office.  http://www.cnn.com/2017/11/14/politics/trump-fact-checker-1628/index.html
15. Senate Plans to End Obamacare Mandate in Revised Tax Proposal
Senate Republicans have decided to include the repeal of the Affordable Care Act's requirement that most people have health insurance in a sprawling overhaul of the tax code, merging the fight over health care with the high-stakes effort to cut taxes.
Repealing the so-called individual mandate, as President Trump had urged, would help Republicans with the difficult math problem they face in refining their tax plan. But it also risks reigniting the contentious debate over health care that Republicans found themselves mired in for much of the year.  https://www.nytimes.com/2017/11/14/us/politics/tax-plan-senate-obamacare-individual-mandate-trump.html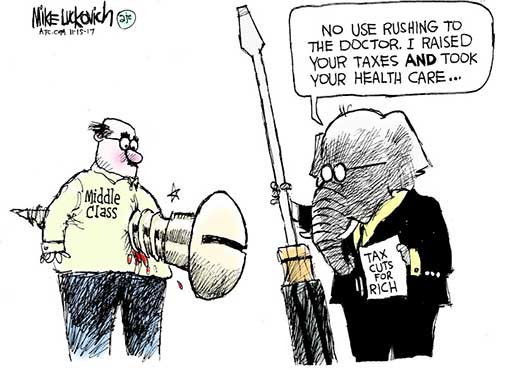 16. Robbing Blue States to Pay Red
Much of the debate over the Republican House and Senate tax plans has centered on how they will shift income toward the affluent. But there is a second kind of redistribution in the plans — from Democratic blue states to Republican red states."
"Call it the Republican two-step: redistribute upward, then sideways. The biggest beneficiaries are corporations and the rich regardless of where they are. But under the Republican plans, half of these big cuts have to be paid for in the first 10 years (the other half will be added to the national debt, increasing it by $1.5 trillion). And these 'pay-fors,' as they're called, are predominantly aimed at blue states.  https://www.nytimes.com/2017/11/13/opinion/tax-plan-states-gop.html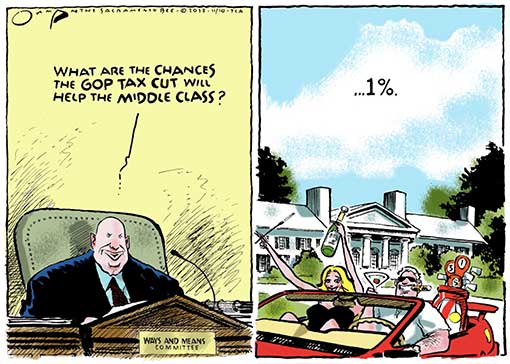 17. Late Night Jokes for Dems
It was reported about an hour ago that Donald Trump Jr. carried on a 10-month-long secret correspondence with WikiLeaks during the presidential campaign and the months following. Wow, it's going to be awfully hard to distance yourself from a guy named Donald Trump Jr. "He's not even related to me. My last name's not Junior. Everyone knows that." -- Seth Meyers

By now, you've probably heard of Alabama senatorial candidate and former judge Roy Moore. Last week, allegations surfaced that when Moore was an assistant district attorney in the 1970s, he had sexual contact with a 14-year-old. Which would be appropriate only if he were a 14-year-old assistant district attorney. -- Stephen Colbert

To defend himself, Moore went on the Hannity radio show to strongly ... make things much worse. [plays clip] Hannity: "Do you remember dating girls that young at that time?" Moore: "Not generally, no." Oh, no, not generally. But specifically, you betcha! -- Stephen Colbert

On Saturday Trump fired back at Kim Jong Un and North Korea after the country released a statement that referred to him as an "old lunatic." Trump tweeted, "Why would Kim Jong Un insult me by calling me 'old' when I would NEVER call him 'short and fat'?" So in order to prove he's not old, Trump reacted like a third-grader. -- James Corden

I mean, right now we are this close to Kim Jong Un and Trump doing "yo mama" jokes on Twitter. "Yo mama so stupid she couldn't get into Trump University." -- James Corden

Years from now we can only hope that we will look back at all of this and laugh. And we will be like, "You remember that time when Trump called Kim Jong Un short and fat? Haha. Anyway, how long do we have to stay in this bunker?" -- James Corden

I saw that President Trump is wrapping up his two-week trip to Asia. Yep, Trump said he couldn't wait to get home, put on his pajamas, and tweet in his own bed. -- Jimmy Fallon

Trump said that he asked Putin if he meddled in our election, and Putin denied it. Is Trump the guy who should be leading that investigation? That's like telling Kevin Spacey to keep an eye on Roy Moore. -- Jimmy Fallon

It came out that Donald Trump Jr. was in direct contact with WikiLeaks during last year's election. You can tell Don Jr.'s in trouble, cuz his dad just demoted him to "Eric." -- Jimmy Fallon
18. From the Late Shows
Jimmy Kimmel Live: Should Hillary Clinton Be Impeached?:  https://youtu.be/oMupq6zB1Tc
19. Christopher Steele Believes Dossier Is 70% to 90% Accurate
Christopher Steele, the former British intelligence officer who compiled an explosive dossier of allegations of collusion between the Trump campaign and the Kremlin, believes it to be 70% to 90% accurate, according to a new book on the covert Russian intervention in the 2016 US election.
"I've been dealing with this country for 30 years. Why would I invent this stuff?" Steele is quoted as saying.  https://www.theguardian.com/us-news/2017/nov/15/christopher-steele-trump-russia-dossier-accurate
20. Nearly 1.5 million have signed up for ACA coverage in 2 weeks
Nearly 1.5 million people have signed up for coverage through HealthCare.gov in the first two weeks of this year's open enrollment period — up from just over 1 million at the same point in the last enrollment window. Those results are stronger than many experts anticipated, in light of the Trump administration's cuts to enrollment outreach.  https://www.axios.com/nearly-1-5-million-have-signed-up-for-aca-coverage-in-2-weeks-2509717123.html
1. Ron Insana: 'Average' Americans left holding empty bag in tax reform proposals
The latest version of "tax reform" is deeply flawed.
Given its construction, as we understand it today, it's not necessary. It will wreck the housing market; it's punitive to every high-tax blue state in the nation (maybe purposely so); it's anti-family and now, with the repeal of the Affordable Care Act potentially imbedded in the House version, there will be tens of millions of Americans without health insurance, unlike their peers in Congress.
Let's start with the issue of necessity. The White House and congressional Republicans claim the tax package is needed because it will create jobs and raise wages for the "average worker."
First off, we don't need to create any more jobs. The unemployment rate is at a 17-year low, while a record 6.1 million jobs remain open and could stay that way in the absence of sufficient education, retraining and increases in immigration.
In short, the U.S. has a shortage of workers, not a shortage of jobs.
Further, with economic growth accelerating, a tax cut could be saved for a rainy day, when counter-cyclical policies would be more beneficial to a struggling economy.
With respect to wages, there is scant, if any, evidence that suggests cutting taxes will lead to a hike in take-home pay for workers at any level. History has shown that both temporary and permanent tax cuts that lead to rising corporate profits and widening profit margins most often result in the gains being paid to shareholders in the form of stock buybacks and dividend increases, not given to workers in the form of pay increases.
Companies do not raise wages when rapid technological change is leading to greater automation, lower labor costs and higher productivity.
It's a bald-faced lie that wages will magically rise once corporate tax rates come down.
Indeed, with corporate profits at both cyclical and historic highs, companies have been in no hurry to raise wages, a conundrum that has defied economic orthodoxy.  https://www.cnbc.com/2017/11/09/average-americans-left-behind-in-tax-reform-proposals.html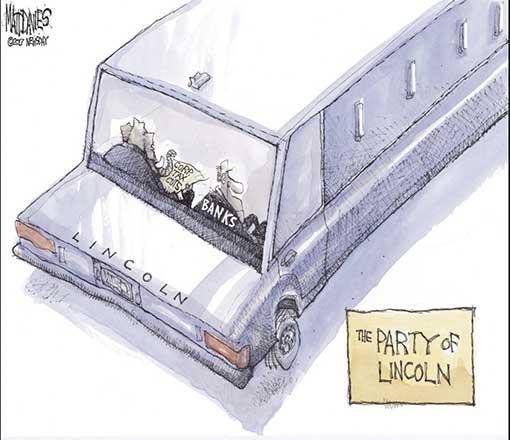 2. Masha Gessen: One Year After Trump's Election, Revisiting "Autocracy: Rules for Survival"
 Do not be taken in by small signs of normality. Most catastrophes unfold over time. Following the shock of a disastrous election—or a Presidential tweet—the sun rises again in the morning, and life appears to proceed as before. One adjusts, until the next shocking event.
Trump has moved faster, assaulting our senses in more ways and more often than I (and, I think, most other people) expected. The sun still rises every morning, but an early-morning barrage of Trump's tweets might obscure it. The word "Presidential" has gradually faded from the conversation: no one expects the President to live up to the standards of speech and behavior that his office would seem to demand. Instead, we have settled into constant low-level dread: a state in which a person can function, but can hardly be creative or look into the future. A Russian writer who blogs under the name Alexander Ivanov-Petrov, writing of a different time and place, has called this state of living "provincial time." It is a time in which people continue to think and create, but "in some fundamental way lack agency or the ability to be fully aware of themselves."
This state renders us incapable, too, of absorbing the bigger threats, ones that strain the imagination. For months, we have been living with the very real threat of nuclear war with North Korea and the near-inevitability of irreversible and unmitigated climate change, made that much more catastrophic by the actions of the Trump Administration. In this context, Trump's daily dreadful tweets, and our ability to feel something in response, pass for small signs of normality.  https://www.newyorker.com/news/our-columnists/one-year-after-trumps-election-revisiting-autocracy-rules-for-survival
3. Gabriel Sherman: "you Can't Go Any Lower": Inside The West Wing, Trump Is Apoplectic As Allies Fear Impeachment
Until now, Robert Mueller has haunted Donald Trump's White House as a hovering, mostly unseen menace. But by securing indictments of Paul Manafort and Rick Gates, and a surprise guilty plea from foreign policy adviser George Papadopoulos, Mueller announced loudly that the Russia investigation poses an existential threat to the president. "Here's what Manafort's indictment tells me: Mueller is going to go over every financial dealing of Jared Kushner and the Trump Organization," said former Trump campaign aide Sam Nunberg. "Trump is at 33 percent in Gallup. You can't go any lower. He's fucked."
The first charges in the Mueller probe have kindled talk of what the endgame for Trump looks like, according to conversations with a half-dozen advisers and friends of the president. For the first time since the investigation began, the prospect of impeachment is being considered as a realistic outcome and not just a liberal fever dream. According to a source, advisers in the West Wing are on edge and doing whatever they can not to be ensnared. One person close to Dina Powell and Gary Cohn said they're making sure to leave rooms if the subject of Russia comes up.
The consensus among the advisers I spoke to is that Trump faces few good options to thwart Mueller. For one, firing Mueller would cross a red line, analogous to Nixon's firing of Archibald Cox during Watergate, pushing establishment Republicans to entertain the possibility of impeachment. "His options are limited, and his instinct is to come out swinging, which won't help things," said a prominent Republican close to the White House.  https://www.vanityfair.com/news/2017/11/the-west-wing-trump-is-apoplectic-as-allies-fear-impeachment
4. Ed Kilgore: Tuesday's Crushing Defeat Convinces Republicans They're on the Right Track
The danger indicators on the console are blinking red, but the people driving the GOP seem determined to ignore them.
There are certainly multiple reasons for this willful refusal to change course.
Sheer inertia is one factor. The GOP legislative agenda was set before Donald Trump even took office, and the failure to deal with health care, cut spending, or stay on schedule has naturally intensified the determination of Republican leaders to get something done by the end of this incredibly disappointing year. Pausing for reflection at this point is the last thing Paul Ryan and Mitch McConnell want to do.
In addition, the tax bill is very important to GOP donors, who are already furious at their hirelings for their legislative incompetence. The more Republicans pay attention to the demands of donors that they defy public opinion, the more they need those donors to finance campaigns that swim upstream against public opinion: It's truly a vicious circle.
The demands of the base matter, too, particularly given the possibility of right-wing primary challenges to members of Congress who are too accommodating to mainstream public opinion. It is often forgotten that the vast majority of Republicans in both chambers of Congress are personally invulnerable to the general elections that could destroy their majorities and their power.
That can lead to some really delusional thinking. Here's an example: Maine voters approved a referendum by a landslide 59/41 margin to force their state to accept the Affordable Care Act's Medicaid-expansion option, which atavistic GOP governor Paul LePage has repeatedly blocked. Some congressional Republicans are viewing that as a sign they should keep trying to repeal the Obamacare law that made the expansion possible. As Talking Points Memo reports:
Despite polls showing that more Americans approve of Obamacare than at any time since its implementation, and the vast majority disapprove of Republican bills to repeal it, GOP members said the message they got from Tuesday's elections was that their failure to deliver "results" is what is hurting Republicans, not their repeated attempts to gut the ACA.
And how about that Maine vote?  http://nymag.com/daily/intelligencer/2017/11/tuesdays-crushing-defeat-convinces-gop-theyre-doing-well.html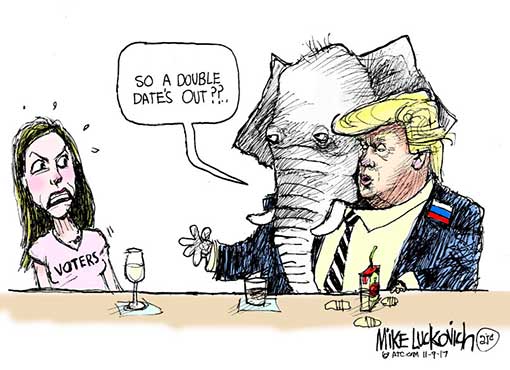 5. Joy-Ann Reid: Finally, the Real Majority Pushes Back Against the Bitter Third
It was a week in which the American majority held its breath, bracing for yet another gut punch, in which a country that became virtually unrecognizable to so many on Nov. 9, 2016, revealed its utter capitulation to the bitter third again. Instead, Ed Gillespie, who shamefully morphed from ordinary, New Jersey Republican to brown-baiting neo-Confederate cosplayer, lost and lost big in the Virginia governor's race.
A wave of women, immigrants, candidates of color, and trans candidates swept into office from coast to coast, in an utter repudiation of Trumpism's ugly intolerance. On an off-year Election Day that typically attracts fewer voters of color, it was those very voters, particularly black women, who carried Democrats and pro-health care, pro living-wage ballot initiatives over the top. Trump apologists in the right-wing media feverishly tried to spin the night as a lesson to Republicans to cling harder to Dear Leader, but the exit polls made it clear that he might as well be made of asbestos.
It turns out that Trumpism is many things: a cult, per religious scholar Reza Aslan, and perhaps even a doomsday cult; an excuse for those who demand that the long dead past come calling on them, rather than proactively moving toward the future, and a window into an ugly part of the American soul. For the Republican Party, Trumpism is like a slow-acting poison. It may not kill the party today, but just as its wiser adherents, some of whom have left the party, warned a year ago, it is condemning the Grand Old Party to at best a schism, and at worst an existential grave.
Tuesday's election allowed millions in the American majority to finally take a deep, cleansing breath after a year of fear and loathing, watching the rampant corruption of our government and the degradation of our culture by the vulgar president and his Putinite coterie. It allowed the world to see that our country has not gone entirely mad.
So permit me to be unusually hopeful about the future, because no matter how dark the present often feels, we do stand to inherit a world free from Trumpism, no matter how pervasive and oppressive it can feel day to day. Trumpism is doomed to fail because in the end, you can't beat modernity into submission. Nor can you roll back progress for long.  https://www.thedailybeast.com/finally-the-real-majority-pushes-back-against-the-bitter-third
6. Max Boot: Roy Moore Response Shows GOP Deserves to Die
This episode is the sorry culmination of two trends that have disfigured the conservative movement beyond all recognition: contempt for the facts and desire to win at all costs. Republicans are increasingly reliant on 'alternative facts' manufactured by the likes of Fox News and Breitbart, which claim that global warming isn't real and neither is the Russian hack of the Democratic National Committee. The real scandal, they tell us, is the Steele dossier paid for by the Democrats in an attempt to uncover Trump's Russian connections. Or is it the evidence-free claim that Obama supposedly wiretapped Trump?
In the final analysis, no indictment of their candidate will convince the faithful. As Trump once said, 'I could stand in the middle of 5th Avenue and shoot somebody and I wouldn't lose voters' Or, more to the point, Roy Moore could molest a 14-year-old girl and not lose votes. Because for Republican partisans, their opponents are 'the forces of evil,' and anything is preferable to that. Even Donald Trump. Even Roy Moore. So in ostensibly fighting evil, Republicans have become complicit in it.
This is a party that does not deserve to survive.  https://www.usatoday.com/story/opinion/2017/11/10/roy-moore-response-shows-gop-doesnt-deserve-survive-max-boot-column/851640001/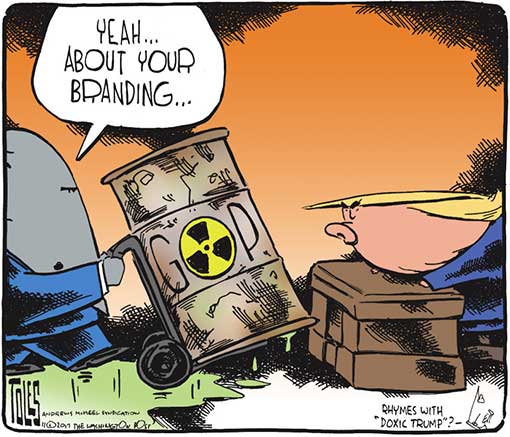 7. Jamelle Bouie "If True"
Unequivocal condemnations of Roy Moore, the party's nominee for the U.S. Senate in the upcoming Alabama special election, were the minority. More common were those from figures like Mitch McConnell and Paul Ryan. "If these allegations are true, Roy Moore should step aside for all the obvious reasons. Very disturbing allegations," said McConnell. "If these allegations are found to be true, Roy Moore must drop out of the Alabama special Senate election," said Colorado Sen. Cory Gardner. "If there is any truth to that, he ought to step aside, of course," said Arizona Sen. Jeff Flake. "These allegations are disqualifying if true. Anyone who would do this to a child has no place in public office, let alone the United States Senate," Ryan said.
If true. On the surface, this looks like a condemnation and a call for Moore to leave the race. But it isn't. These Republicans are shocked by the allegations, but they aren't willing to make a judgment about their veracity or make a choice about their support for Moore. Indeed, if true defers the issue to Moore himself. Either he makes it true by acknowledging and affirming the allegations, or he doesn't, in which case those Republicans won't have to act. If true renders the question inert. If true is moral cowardice.
Republicans face the same choice they did last year, when Trump was accused of sexual assault. And with few exceptions, they have deferred making a choice, which is a choice in and of itself. By hedging their statements, and by not directly calling for Moore to leave the race, they are signaling their willingness to accept Moore into the Senate, if he wins. His predatory behavior, his bigotry, his contempt for the rule of law—all of those are secondary to the fact that he will give them an additional vote. This is where the Republican Party and the conservative movement stand. If partisanship demands that they support an abuser and a predator, then that's exactly what they'll do.  http://www.slate.com/articles/news_and_politics/politics/2017/11/
the_moral_cowardice_of_saying_allegations_against_roy_moore_are_horrible.html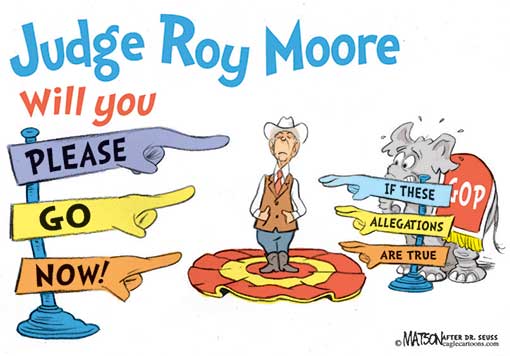 8. Scott Gilmore: Donald Trump: Putin's Manchurian Idiot
t can't be denied that Russia interfered in the U.S. election in support of Trump. But what did the President know about it?
There are three things that all objective observers cannot deny. First, Russia did interfere in the U.S. election. Second, the interference was in support of Trump. And third, senior members of Trump's campaign were aware of it. That leaves us with what is likely to become the great historical question of the Trump presidency: What did he know, and when did he know it?
There are three possible answers to that question. The most implausible is that Trump has been working with the Russians for years and that he is their "Manchurian Candidate" knowingly doing the Kremlin's bidding. If this were true, it would be the most incredible strategic coup in modern history. But there is absolutely no evidence to support this. And setting aside partisan fever dreams, Trump's mercurial nature and inability to keep a secret or stay on script—even for a few minutes—makes this impossible.
A more likely scenario is that the Russians saw an opportunity to support a candidate who might be an ally, trailed their coats in front of the campaign several times and got a bite from Papadopoulos and maybe a couple others. Trump eventually found out, but didn't care—or even welcomed the help. And now he is willing to say or do anything to protect himself and avoid impeachment.
The third possibility is that Trump was indeed kept out of the loop and genuinely does not believe the accusations and indictments now being levelled at his team. My money is on this scenario. I think Trump sincerely believes there was no collusion. And in spite of the growing pile of evidence in front of him, he is constitutionally incapable of admitting a foreign power helped win the election, because that conclusion would dramatically diminish the single greatest accomplishment of his life. And like he has with NAFTA, NATO, climate change, ISIS, the Central Park Five and dozens of other issues, Trump will risk looking like a fool unable to grasp the evidence before his eyes or presented by all the experts, if accepting the truth would cause him to lose face.
This is still a strategic coup for Moscow. Washington is embroiled in what will be years of partisan chaos. The American people are increasingly disenchanted with democracy. And in the Oval Office there is a man few take seriously at home or abroad. Trump is, in short, Putin's Manchurian Idiot.  http://www.macleans.ca/politics/washington/donald-trump-putins-manchurian-idiot/
9. Paul Waldman: Republicans' hilariously pathetic attempt to manufacture another Hillary Clinton scandal
They've got her now, just you wait.
Republicans in Congress have Hillary Clinton in their sights, and it's all going to be different this time. They're demandingthat the Justice Department appoint a special counsel to investigate Clinton, or more specifically, a couple of different matters relating to her, including the sale of a company that mines uranium and the Russia dossier, in which an opposition researcher assembled potentially damaging information on Donald Trump in 2016. What America obviously needs is a prosecutor with unlimited resources and subpoena power to get to the bottom of these matters, because ... because ... well because Hillary Damn Clinton, that's why!
You may have noticed that Hillary Clinton is not actually the president, a fact that has left Republicans who were looking forward to four or eight years of rip-roaring investigations rather bereft. So why not have the Justice Department investigate the president's former opponent? Maybe they'll get to lock her up after all. Sure, that's something that tends to happen in countries where elections are a prelude to tyranny, but isn't the American system far too lenient on people who commit the crime of losing an election?
What is the point of all this? The answer is a bit complicated, but first let's quickly address the Republicans' complaint. In their fantasy world, what demands investigation is chiefly this: Hillary Clinton gave 20 percent of our uranium to Russia in exchange for donations to the Clinton Foundation, and there was obviously something fishy going on. However, every bit of the previous sentence is false, other than that there is a person named "Hillary Clinton," a thing called "uranium," a place called "Russia," and an organization called the "Clinton Foundation."  http://theweek.com/articles/737366/republicans-hilariously-pathetic-attempt-manufacture-another-hillary-clinton-scandal