April 29, 2021
ON THE RECORD. . .
"Ok, got that? No burger on July 4. No steaks on the barbecue. I'm sure Middle America is just going to love that. Can you grill those Brussels sprouts? So get ready. You can throw back a plant-based beer with your grilled Brussels sprouts and wave your American flag. Call it July 4th Green." —Larry Kudlow claimed on Fox News that under President Joe Biden's new climate plan grilled Brussels sprouts would replace hamburgers at the 4th of July.

"The Biden Administration and President Biden have definitely exceeded expectations that progressives had. — Rep. Alexandria Ocasio-Cortez (D-NY) quoted by the New York Post.

"Systemic racism isn't an issue in America because Barack Obama and Kamala Harris were elected." — Lindsey Graham

"We birthed a nation from nothing. I mean, there was nothing here. I mean, yes, we have Native Americans, but candidly, there isn't much Native American culture in American culture." — Former Sen. Rick Santorum (R) saying that there was "nothing" in America before white colonizers arrived.

"Your response when you see children wearing masks as they play should be no different from your response to seeing someone beat a kid in Walmart. Call the police immediately, contact child protective services. Keep calling until someone arrives. What you're looking at is abuse, it's child abuse and you are morally obligated to attempt to prevent it". —Tucker Carlson unhinged. VIDEO

"So when Jim Jordan was pulling all these stunts with Anthony Fauci, why didn't someone jump in and say, 'Let me tell you something, Jim, if Fauci knew what you knew, if he knew that a doctor was molesting young people, he would've gone to the medical board yesterday. So you can go ahead and shut the fuck up.'" — James Carville, quoted by Vox, on Jordan sparring with Fauci at a congressional hearing on coronavirus precautions.
REMINDER: Just Security is continuing to track every pending criminal and civil case against Donald Trump.
---
IN THIS ISSUE
IN THE NEWS
OPINION
Andy Borowitz: Representative Marjorie Taylor Greene lambasted President Biden's proposal for free preschool by declaring, "I refuse to go."
Speaking to reporters, the Georgia congresswoman called preschool "just another form of mind control" and said that she would rather "hold my breath until I turn blue" than attend such a school.

"Joe Biden would like nothing better than to see me sitting on a colorful rug, singing, 'Do you know what time it is?' " she said. "I'll tell you what time it is. It's time for him and George Soros to stop thinking that I'm going to preschool, because I'm not, and no one can make me."

Greene also said that she had "serious concerns" about the indoctrination she would have received had she gone to preschool, as Biden wished.

"Sorry, Joe Biden, but the wheels on the bus do not go round and round, all through the town," she said. "That's a hoax." https://www.newyorker.com/humor/borowitz-report/
Transgender restrictions increasingly pit GOP lawmakers vs. GOP governors
A nascent effort by Republican state lawmakers across the country to pass bills restricting youth transgender rights and LGBTQ education has increasingly run into resistance … from Republican governors.
In recent weeks, the tension between GOP lawmakers and the governors faced with implementing the laws they pass has become unusually acute in several red states, some of them deeply red.
There are 27 Republican governors. Four of them have issued vetoes of bills restricting the medical care and/or sports participation of transgender youth, or attempting to constrain education on sexual orientation and gender identity.
In each case, the bills had the overwhelming and even unanimous support of GOP state lawmakers before the governor intervened. Oftentimes, the governor has labeled the bill as overly broad, with the lawmakers declining to back down and moving to thwart the veto. https://www.washingtonpost.com/politics/2021/04/23/transgender-bills-increasingly-pit-gop-lawmakers-vs-gop-governors/
Arizona Republicans deploy Cyber Ninjas in pro-Trump election audit
Months after Donald Trump's election defeat, Republicans in Arizona are challenging the outcome with an unprecedented effort to audit results in their most populous county – all run by Cyber Ninjas, a single employee Florida company with no elections experience.
The state senate used its subpoena power to take possession of all 2.1m ballots in Maricopa county and the machines that counted them, along with computer hard drives full of data. The materials were then handed to Cyber Ninjas, a consultancy run by a man who has shared unfounded conspiracy theories claiming official election results are illegitimate.
Conspiracy theories about Joe Biden's victory have had particular staying power in Arizona, which went Democratic for just the second time in 72 years.
On Friday, Trump predicted the audit would reveal fraud and prompt similar reviews in other states he lost."Thank you state senators and others in Arizona for commencing this full forensic audit," he said in a statement. "I predict the results will be startling!"
On a since-deleted Twitter account, Cyber Ninjas owner Doug Logan used hashtags and shared memes popular with people promoting unsupported allegations casting doubt on Biden's victory. Logan says his personal views are irrelevant because he is running a transparent audit with video streamed online.
"There's a lot of Americans here, myself included, that are really bothered by the way our country is being ripped apart right now," Logan said. "We want a transparent audit to be in place so that people can trust the results and can get everyone on the same page."
Logan refuses to disclose who is paying him or who is counting the ballots, and will not commit to using bipartisan teams for the process.
The Republican-dominated Arizona senate refuses to let media observe the count. Reporters can accept a six-hour shift as an official observer but photography and note-taking are prohibited. It would be a violation of journalistic ethics for reporters to participate in an event they were covering.
The state senate has put up $150,000 for the audit but Logan has acknowledged that is not enough to cover his expenses. A right wing cable channel, One America News Network, raised money from unknown contributors which went directly to Cyber Ninjas. Logan would not commit to disclosing the donors and would not provide an estimate for the cost of his audit. https://www.theguardian.com/us-news/2021/apr/25/arizona-republicans-election-audit-cyber-ninjas
Republicans make Biden an infrastructure offer he has to refuse
the White House proposal had been framed as new infrastructure money, on top of whatever the government was already expected to spend on roads, bridges, airports, broadband, etc., if existing laws and programs continue without changes. (Budget wonks usually call this "baseline" spending.) The Republican plan, by contrast, takes credit for all this already scheduled spending when calculating its total.
That's significant because the "baseline" spending (roughly $379 billion over the next five years) represents almost all of what Republicans have offered up. Once you strip out this already expected spending, the entire GOP plan is a mere $189 billion of new money.
If you compare GOP new spending to only the same line items of spending in the Biden plan — the select categories Republicans have blessed as "core" infrastructure — it means Republicans are offering about 24 percent of Biden's proposal ($189 billion vs. $785 billion). If you instead compare the overall packages — that is, including electric vehicles, R&D, eldercare and everything else in Biden's American Jobs Plan — the GOP counteroffer is only about 8 percent of what Biden seeks ($189 billion vs. $2.25 trillion).
In some categories of spending, the GOP proposal is especially stingy. On public transit, for example, Republicans are proposing not merely less than Biden wants; Republicans are actually proposing to cut public transit funding to levels below the existing baseline, according to calculations from Jeff Davis, senior fellow at the Eno Center for Transportation.
Most journalists completely missed the sleight-of-hand. In nearly all news coverage, Biden's $2.25 trillion plan and the $568 billion GOP proposal have been presented as directly comparable — even though at a press conference Thursday unveiling the GOP plan, Sen. Shelley Moore Capito (R-W.Va.) acknowledged that Republicans had done their accounting differently. https://www.washingtonpost.com/opinions/2021/04/26/republicans-make-biden-an-infrastructure-offer-he-has-refuse/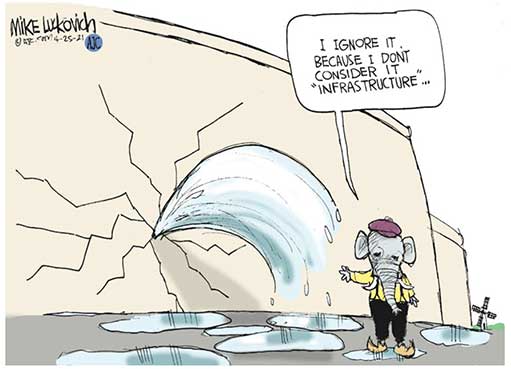 A Radical Right-Wing Dream To Rewrite The Constitution Is Close To Coming True
Six weeks before Donald Trump won the 2016 presidential election, more than 100 state lawmakers gathered in Williamsburg, Virginia, for a week of Founding Fathers cosplay. Their task, over three days in the town that bills itself as a living museum to America's colonial period, was to approve a dramatic overhaul of the United States' foundational text.
The lawmakers, nearly all Republicans, ratified six new Constitutional amendments: They imposed term limits on members of Congress, abolished the federal income tax and placed severe limits on the federal government's ability to levy taxes, implement new regulations or spend money. While the rest of the country focused on the presidential election, the Virginia gathering partied like it was 1787.
"The events at Williamsburg will be remembered as a turning point in history," Michael Farris, a co-founder of the Convention of States Project, the conservative group that organized the event, said as the mock convention closed. 
That may have been a comically grandiose statement at the time. But nobody should be laughing today. The project to overhaul the Constitution is much closer to fruition than most people realize. https://www.huffpost.com/entry/mark-meckler-article-five-constitutional-convention_n_6086c380e4b09cce6c143b10
Poll: Majority of Americans more concerned about voter access than ineligible voters
A majority of all Americans prioritize ensuring that those who want to vote can do so, rather than making sure no ineligible people can vote, a new NBC News poll finds.
But while large majorities of Democrats and independents say they are more concerned with protecting eligible voters' access to the polls, Republicans overwhelmingly say they are most concerned about making sure ineligible people do not vote.
The survey found that 58 percent of Americans say their bigger concern when it comes to voting is "making sure that everyone who wants to vote can do so." That includes 87 percent of Democrats and 65 percent of independents.
A smaller share of all Americans — 38 percent — say they are most concerned about "making sure that no one votes who is not eligible to vote." More than three-quarters of Republicans — 77 percent — agree. https://www.nbcnews.com/politics/meet-the-press/poll-majority-americans-more-concerned-about-voter-access-ineligible-voters-n1265404
Homeland Security Will Assess How It Identifies Extremism in Its Ranks
The Department of Homeland Security will undergo an internal review to root out white supremacy and extremism in its ranks as part of a larger effort to combat extremist ideology in the federal government, officials said on Monday.
The task of identifying extremists throughout the United States, and specifically in government agencies, has come to the top of President Biden's agenda since Jan. 6, when a pro-Trump mob stormed the U.S. Capitol. Many of the rioters were found to be members of extremist groups.
"We recognize that domestic violent extremism and the ideology, the extremist ideologies that spew it, are prevalent," said Alejandro N. Mayorkas, the homeland security secretary. "We have a responsibility, given what we do, to ensure that that pernicious influence does not exist in our department." https://www.nytimes.com/2021/04/26/us/politics/homeland-security-extremism-white-supremacy.html
'Lock and load': The top Virginia gubernatorial candidate has aligned herself with Proud Boys, Oath Keepers and other extremists
Amanda Chase, the Republican frontrunner in the party's nominating contest for governor of Virginia, has surrounded herself with armed volunteers and extremists bent on upending democracy since at least January 2020, when she joined a Second Amendment rally in Richmond that drew thousands of people wielding high-powered rifles.
With a handful of Proud Boys standing nearby, including national chairman Enrique Tarrio, who was clad in a bullet-proof vest, Chase vowed to launch a recall against Democratic Gov. Ralph Northam, charging that "he has violated the very oath that he swore to uphold." https://www.rawstory.com/amanda-chase-2652794121/
Not rich? Good news: You're probably getting a tax cut.
Everyone knows that Democrats want to raise taxes on the rich, but what hasn't gotten nearly as much notice is how much they've cut them for most everyone else — substantially more than Republicans did in the first year of their 2017 tax overhaul.
New estimates by Congress's official forecasters show Democrats' tax cuts — included in their March stimulus package — will drive down tax rates on low- and middle-income people so much this year that those earning less than $75,000, on average, will owe nothing in federal income taxes.
Those making between $75,000 and $100,000 will pay a scant 1.8 percent average tax rate this year, the nonpartisan Joint Committee on Taxation predicts.
That will shift the relative burden to the wealthy, at least temporarily, with those earning more than $500,000 expected to pay more than two-thirds of all income taxes this year. https://www.politico.com/news/2021/04/25/dems-tax-cuts-biden-484476
Voting Rights Standoff Stalls Trump-Inspired Ethics Measures
After Donald J. Trump lost the election and was impeached for his role in the Capitol riot, democracy preservation groups pointed with urgency to what they called a last, best chance to address the holes in the Constitution exposed by his presidency.
But a suite of legislative responses, like requiring the release of presidential tax returns and barring presidents from channeling government money to their private businesses, is now hostage in the Senate to a more public fight over voting rights. And competing priorities of President Biden's may ensure that the moment to fortify constitutional guardrails that Mr. Trump plowed through may already have passed.
Most Democrats and a coalition of watchdog groups say the ethics and voting rights sections in a sprawling Senate bill known as the For the People Act, or S.1., should remain intact and entwined. But solid Republican opposition to the legislation's voter access proposals threatens less debated elements in the measure, part of what was envisioned to be the most comprehensive ethics overhaul since Watergate. https://www.nytimes.com/2021/04/24/us/politics/trump-ethics-voting-rights.html
Minnesota County GOP Event Featured Conspiracy Theorist Who Said George Floyd's Murder Was Planned
The keynote speaker at a Minnesota county Republican Party's event last month told members that George Floyd's murder at the hands of police was "planned since 2016." On March 27, New Zealand author Trevor Loudon addressed an audience of hundreds of members of the Wabasha County Republican Party.
Loudon claimed more than a hundred Democratic members of Congress deserve to be investigated for espionage for "working with foreign governments and the communist and Islamic movements," that Floyd's murder was a longstanding conspiracy, that the coronavirus was released to purposefully kill Donald Trump's re-election chances, and that the 2020 presidential election was stolen from Donald Trump via rigged voting machines.
A GOP state senator, Michael Goggin, attended the event and posed for a photo with Loudon. Wabasha County Republicans called the event "an amazing night" on Facebook and said Loudon did "an amazing job." Previously, Loudon has said that Barack Obama was born in Kenya and likened him to Hitler and Stalin. https://www.thedailybeast.com/minnesota-gop-event-featured-conspiracy-theorist-trevor-loudon-who-said-george-floyds-murder-was-planned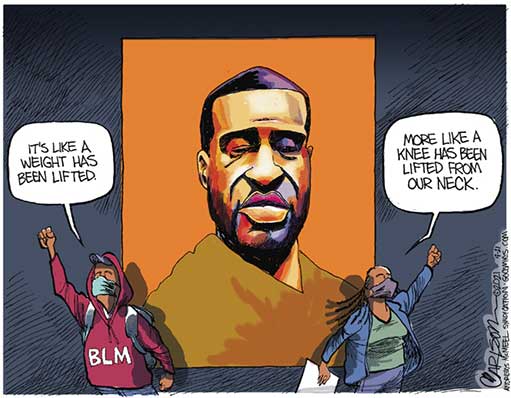 The Trump admin awarded a firm up to $1.3 billion to make Covid vaccine syringes. Where are they?
A year after a Connecticut company was awarded federal loans and contracts worth up to nearly $1.3 billion to supply an essential syringe for the Covid-19 vaccine rollout, no syringes have been made. The syringe hasn't received even the first of a series of approvals it needs from the federal government before it can be manufactured, and a factory promising 650 jobs remains unbuilt.
ApiJect's plant was supposed to be built in an industrial park in North Carolina, but Morgan Weston, a spokesperson for the foundation that runs the park, said that the plant hasn't been built and that "they have not moved their operation in on any level." She referred all other questions to the company. https://www.nbcnews.com/health/health-care/trump-administration-awarded-firm-1-3-billion-make-covid-vaccine-n1263872
Brett Kavanaugh Writes Opinion Holding That Crimes Committed By Teenagers Should Allow Them To Be Confined For Life Irrespective Of Their Ability To Be Rehabilitated
In an appalling 6–3 decision on Thursday, the Supreme Court effectively reinstated juvenile life without parole by shredding precedents that had sharply limited the sentence in every state. Justice Brett Kavanaugh's majority opinion in Jones v. Mississippi is one of the most dishonest and cynical decisions in recent memory.
While pretending to follow precedent, Kavanaugh tore down judicial restrictions on JLWOP, ensuring that fully rehabilitated individuals who committed their crimes as children will die behind bars. Justice Sonia Sotomayor's dissent, joined by Justices Stephen Breyer and Elena Kagan, pulls no punches in its biting rebuke of Kavanaugh's duplicity and inhumanity. It doubles as an ominous warning that the conservative majority is more than willing to destroy major precedents while falsely claiming to uphold them. https://www.lawyersgunsmoneyblog.com/2021/04/brett-kavanaugh-writes-opinion-holding-that-crimes-committed-by-teenagers-should-allow-them-to-be-confined-for-life-irrespective-of-their-ability-to-be-rehabilitated
McCarthy and Cheney worlds apart after Florida retreat
House Minority Leader Kevin McCarthy spent three days urging his Republicans to stay united if they want to take back the majority. But his own relationship with one of his top deputies is breaking apart over former President Donald Trump.
At a retreat meant to craft a cohesive message, McCarthy (R-Calif.) and GOP Conference Chair Liz Cheney (R-Wyo.) illustrated the exact rift the party has fought to avoid. While the former president wasn't even invited to the House GOP's annual policy retreat here in the Sunshine State, his presence has loomed large over the gathering. https://www.politico.com/news/2021/04/26/mccarthy-cheney-gop-484756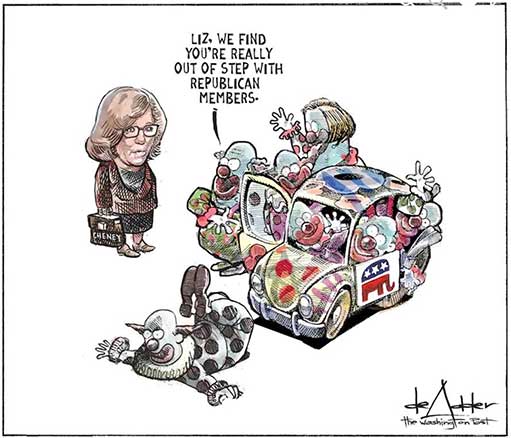 Albuquerque Hires Collection Agency for Unpaid Trump Bill
The city of Albuquerque, one the 14 local governments around the U.S. have for years tried unsuccessfully to recover expenses associated with Trump rallies, has referred a $211,175.94 unpaid bill for former President Trump's reelection campaign rally in 2019 to a debt collection agency.
The Center for Public Integrity, a nonprofit news organization, reported last year that the Trump campaign had at least $1.82 million worth of unpaid bills across 14 communities. Watch the video of Jordan Klepper interviewing Mayor Tim Keller is HERE. https://www.abqjournal.com/2383135/city-still-chasing-trump-campaign-debt.html
As America embraces early voting, GOP hurries to restrict it
Nearly 7 in 10 voters cast their ballots before election day in 2020. Republicans are moving to make it harder for that to happen again, potentially affecting the voting preferences of millions of Americans.
The GOP's campaign to place new restrictions on mail-in and early voting in certain states will force voters to contend with new rules on what have quickly become popular and proven methods of casting ballots.
Though it is difficult to forecast how exactly the changes will affect voter turnout in the years ahead, critics argue that the proposals target a voting method that has had growing appeal for both Democrats and Republicans, and will add additional and needless bureaucratic hurdles to casting ballots before election day.
In just Georgia and Iowa, states where sweeping new voting restrictions already have been signed into law, more than 5 million voters used absentee or early in-person voting last fall. Restrictive early voting bills also are advancing in other politically important states where Republicans are in control, including Arizona, Florida and Texas. Altogether, nearly 27 million voters in those five states cast ballots in advance of the 2020 presidential election.
"They're trying to make it a hassle to vote," said Dixie Davis, a 33-year-old seamstress in Fort Worth who voted early in the last election. "I feel like voting should be convenient — it's like the most basic service a government should provide in a democratic society."
https://abcnews.go.com/Politics/wireStory/america-embraces-voting-early-gop-moves-restrict-77117684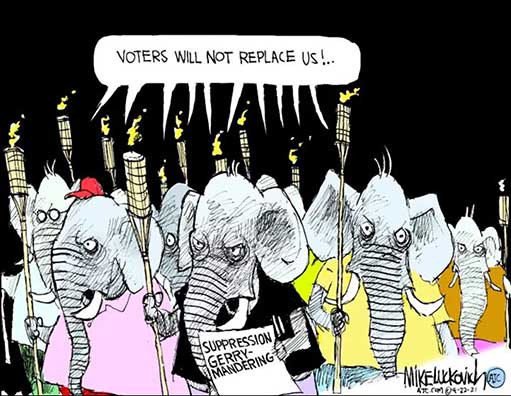 GOP State lawmakers continue crusade against Roe vs. Wade with flood of new abortion bills
Energized by the conservative tilt of the U.S. Supreme Court, legislators in Republican-led states have put forward hundreds of abortion restrictions, including near-total bans, eager to offer the vehicle to achieve a long-standing goal: the unwinding of Roe vs. Wade.
The barrage of bills introduced this year — the first legislative session since Justice Amy Coney Barrett was confirmed last fall, cementing the court's conservative majority — reflects the growing sense of opportunity among abortion opponents.
"There's just a lot of hope out there on the pro-life side," said Arizona state Sen. Nancy Barto, a Republican. "For a long time, we haven't made a lot of progress. Everybody is seeing the possibilities now. It has emboldened states."
And they're emboldened not only to further limit the procedure, but to challenge the 1973 landmark ruling that established the right to abortion nationwide.
Abortion rights advocates have identified about 500 measures that lawmakers at the state level have introduced to impede the procedure, including bans based on the gestational age of the fetus, as well as prohibitions on terminating a pregnancy due to race, sex or genetic anomaly. Some bills would prevent doctors from prescribing abortion pills through telemedicine visits; others would allow men with paternity claims to block an abortion against a pregnant woman's wishes. https://www.latimes.com/politics/story/2021-04-22/abortion-bills-state-legislatures-supreme-court
QAnon Is Obsessively Watching for the Arizona Recount to Bring Trump Back
For the last five days, Trump supporters and QAnon followers have been obsessively monitoring livestreams of auditors re-counting ballots from the November presidential election in the Arizona Veterans Memorial Coliseum in Phoenix—a GOP-led effort that's shrouded in mystery and is at least in part being funded by taxpayers. 
A roster of people have signed up to ensure all the cameras inside the building are monitored at all times. Anything suspicious is flagged, shared on MAGA forums and QAnon Telegram channels, and endlessly scrutinized for evidence of wrongdoing. The counting began Friday and is expected to last for 16 days, with 250 people working in two shifts to do the job.
Audit update videos are published breathlessly on YouTube, maps showing the positions of tables within the count center are created and shared—and pretty much everyone is pushing wild and baseless conspiracy theories about the operation.
The reason for this intense focus on Maricopa County is that all these people still believe the election was stolen from Donald Trump and that if the audit reveals any discrepancy in the original count, it will trigger some sort of nationwide recount of votes that will lead to Trump's triumphant return to the White House. https://www.vice.com/en/article/z3xv3x/qanon-is-obsessively-watching-for-the-arizona-recount-to-bring-trump-back
Montana governor signs bill nullifying federal gun restrictions
Gov. Greg Gianforte on Friday signed a bill that prohibits state and local law enforcement in Montana from enforcing federal bans on firearms, ammunition and magazines. https://www.usatoday.com/story/news/politics/2021/04/24/montana-gov-greg-gianforte-signs-bill-nullifying-us-gun-restrictions/7366187002/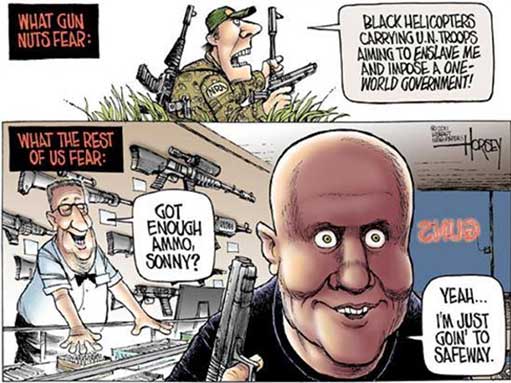 Alabama governor signs bill banning transgender athletes from public school sports teams
Gov. Kay Ivey signed a controversial bill into law that bans transgender public school students from playing on sports teams for the gender that they identify as.
LGBTQ advocates warned that Alabama could lose out on events like NCAA tournament games and the upcoming World Games in Birmingham if Ivey signed the law, criticizing the bill as discriminatory toward transgender students.
Warned that Alabama could lose out on events like NCAA tournament games and the upcoming World Games in Birmingham, Ivey said before she signed the bill, "that's all speculation and I'm the governor of the people of Alabama, not the NCAA or any of those groups." https://www.al.com/politics/2021/04/ivey-signs-bill-banning-transgender-athletes-from-public-school-sports-teams.html
Republicans Target Voter Access in Texas Cities, but Not Rural Areas
Twenty-four-hour voting was one of a host of options Harris County introduced to help residents cast ballots, along with drive-through voting and proactively mailing out ballot applications. The new alternatives, tailored to a diverse work force struggling amid a pandemic in Texas' largest county, helped increase turnout by nearly 10 percent compared with 2016; nearly 70 percent of registered voters cast ballots, and a task force found that there was no evidence of any fraud.
Republicans are pushing measures through the State Legislature that would take aim at the very process that produced such a large turnout. Two omnibus bills, including one that the House is likely to take up in the coming week, are seeking to roll back virtually every expansion the county put in place for 2020.
The bills would make Texas one of the hardest states in the country to cast a ballot in. And they are a prime example of a Republican-led effort to roll back voting access in Democrat-rich cities and populous regions like Atlanta and Arizona's Maricopa County, while having far less of an impact on voting in rural areas that tend to lean Republican.
Bills in several states are, in effect, creating a two-pronged approach to urban and rural areas that raises questions about the disparate treatment of cities and the large number of voters of color who live in them. That divide is helping to fuel opposition from corporations that are based in or have work forces in those places.
In Texas, Republicans have taken the rare tack of outlining restrictions that would apply only to counties with population of more than one million, targeting the booming and increasingly diverse metropolitan areas of Houston, Austin, San Antonio and Dallas.
"It's clear they are trying to make it harder for people to vote who face everyday circumstances, especially things like poverty and other situations," said Chris Hollins, a Democrat and the former interim clerk of Harris County, who oversaw and implemented many of the policies during the November election. "With 24-hour voting, there wasn't even claims or a legal challenge during the election."
The effort to further restrict voting in Texas is taking place against the backdrop of an increasingly tense showdown between legislators and Texas-based corporations, with Republicans in the House proposing financial retribution for companies that have spoken out. https://www.nytimes.com/2021/04/24/us/politics/texas-republicans-voting.html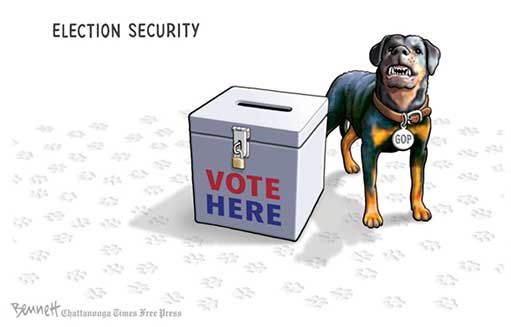 A Section of Trump Border Wall in South Texas Cost $27 Million a Mile. It's Being Foiled by $5 Ladders.
Scott Nicol, an ardent opponent of border walls, can't help but note the irony: asylum seekers turn themselves over to agents who then escort them through gates in the wall, while so-called regulars—unauthorized migrants—make use of rudimentary ladders to easily climb a barrier specifically designed to keep them out. "These ladders are probably $5 worth of hardware," Nicol said, "and they're defeating a wall that cost $12 million a mile in that location."
Nicol is finding more and more ladders—further evidence, he said, that the wall is not about stopping people or drugs. "Border walls are just backdrops for politicians who want to rile up their voters," Nicol said. "They have political value, and that's what counts." https://www.texasmonthly.com/news-politics/trump-border-wall-ladders/
Republicans say they would resume Trump's border wall if they win back the House
"House Republicans, eager to elevate border security to a top 2022 campaign issue, said Monday they would revive the now-stalled construction of the wall along the U.S.-Mexico border. https://www.washingtonexaminer.com/news/congress/gop-would-revive-trump-border-wall-house-majority
CBS News poll: Republican voters dispute Chauvin verdict
Although three in four Americans think the jury reached the right verdict a CBS News/YouGov poll found that 46% of Republican voters believe former Minneapolis police officer Derek Chauvin was wrongly convicted even though George Floyd's murder was captured in its entirety in more than nine minutes of video. https://www.cbsnews.com/news/chauvin-verdict-opinion-poll/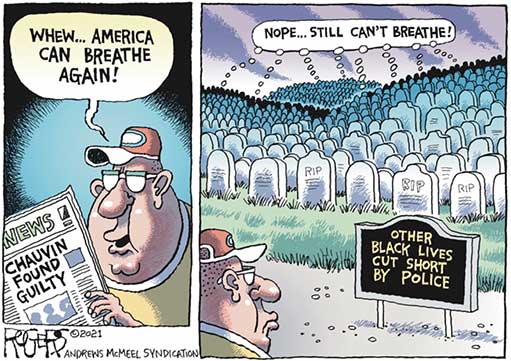 Young adults' relocations are reshaping political geography
The U.S. Census Bureau this coming week is expected to formally tally this change by releasing its count of population shifts in the once-a-decade reallocation of congressional seats. It's is expected to lead to the Sun Belt gaining seats at the expense of states in the north.
Most projections have Texas gaining three seats, Florida two and Arizona, Colorado, Montana, North Carolina and Oregon one each. Expected to lose seats are Alabama, Illinois, Michigan, Minnesota, New York, Ohio, Pennsylvania, Rhode Island, West Virginia — and California.
The relocations have reshuffled politics. Once solidly conservative places such as Texas have seen increasingly large islands of liberalism sprout in their cities, driven by the migration of younger adults, who lean Democratic. Since 2010, the 20-34-year-old population has increased by 24% in San Antonio, 22% in Austin and 19% in Houston, according to an Associated Press analysis of American Community Survey data. In November's election, two states that also saw sharp growth in young people in their largest cities — Arizona and Georgia — flipped Democratic in the presidential contest. https://www.thedailybeast.com/minnesota-gop-event-featured-conspiracy-theorist-trevor-loudon-who-said-george-floyds-murder-was-planned
'Lost in the shuffle': Republicans battle around Biden — for now
Senate Minority Leader Mitch McConnell, R-Ky., has sought to keep the party focused on criticizing those Biden policies and others. Yet in early GOP House and Senate campaign ads, Biden's name tends to earn only a cursory mention — or none at all.
"They're figuring out who their villains and boogeymen are going to be," Liam Donovan, a lobbyist and former Republican operative, said, "because Biden is not going to be particularly fruitful." https://www.nbcnews.com/politics/joe-biden/lost-shuffle-republicans-battle-around-biden-now-n1264812

The DAILY GRILL
If Biden is elected, 'the stock market will crash' — Donald Trump

VERSUS

"So far in his young presidency, President Joe Biden has been one of the best friends the stock market has ever had. Better, in fact, than any president before him going back to at least the 1950s and the Dwight Eisenhower administration, as the 46th chief executive has witnessed an unprecedented growth on Wall Street in his first 100 days in office." -- CNBC reports.

 

"Joe Biden's climate plan includes cutting 90% of red meat from our diets by 2030. They want to limit us to about four pounds a year. Why doesn't Joe stay out of my kitchen?" -- Rep. Lauren Boebert (R)

VERSUS

Biden has not proposed any limit on Americans' red meat consumption. In fact, he has not proposed any limit on Americans' consumption of any food. The false claim about Biden trying to restrict people to four pounds of red meat per year appears to have originated with a deceptive Thursday article by the British tabloid The Daily Mail. 
Greg Sargent and Paul Waldman: Giuliani's new legal travails remind us how badly Trump betrayed the country
Given all the ways President Donald Trump betrayed this country — the Russiagate scandal of 2016, the catastrophic mishandling of the coronavirus pandemic, the incitement of deadly mob violence to disrupt official ratification of his 2020 loss — it's easy to forget about the importance of the Ukraine affair.
Trump's corruption of U.S. foreign policy to strong-arm an ally into helping his reelection is almost like the forgotten stepchild of Trump scandals, even though it got him impeached (the first time).
But the news that federal investigators have executed a search warrant against Rudolph W. Giuliani is a reminder of just how crowning a betrayal Trump's subversion of the national interest in that scandal truly was. It's also a reminder that the full puzzle of that complex tale is still being filled in.
Giuliani, of course, was the chief orchestrator of Trump's effort to pressure Ukraine, including withholding military aid when it was under extreme duress, to pressure its president into manufacturing dirt on Joe Biden and his son Hunter.
According to multiple reports, the search warrant served against Giuliani suggests investigators are zeroing in on whether Giuliani broke laws when he engineered the firing of Marie Yovanovitch as U.S. ambassador to Ukraine. Giuliani reportedly saw Yovanovitch as an obstacle to his and Trump's scheme.
But the key question is whether Giuliani was doing this not just on behalf of Trump, but also on behalf of Ukrainians. https://www.washingtonpost.com/opinions/2021/04/28/giulianis-new-legal-travails-remind-us-how-badly-trump-betrayed-country/
Jonathan Lemire and Calvin Woodward: More action, less talk, distinguish Biden's 100-day sprint
Already, Biden has achieved a pandemic relief package of historic breadth and taken executive actions to wrestle the country away from the legacy and agitations of President Donald Trump.
The U.S. has pivoted on the environment. The government has created payments that independent analysts say should halve child poverty in a year. It has embraced international alliances Trump shunned. It has elevated the health insurance program Trump and fellow Republicans tried to kill, making the Affordable Care Act more affordable than it ever was under President Barack Obama.
When Trump won the 2016 election, Obama said the day after that he saw something very American in the outcome, as unhappy as he was about the result. "The path that this country has taken has never been a straight line," Obama said. "We zig and we zag."
It's Biden's zigzag now. The temperature is lower. The drama is less. And the persona is fundamentally different.
"He ran as the antithesis of Trump — empathetic, decent and experienced, and he is delivering on that promise," said former Obama adviser David Axelrod. https://apnews.com/article/politics-immigration-health-joe-biden-election-2020-0bf5f72ba4194ba4247dcf7130af70b6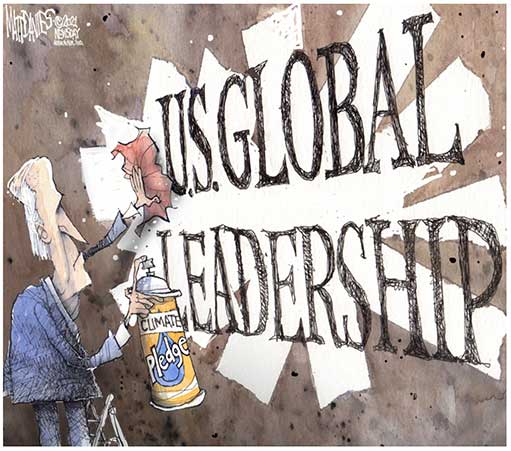 David Brooks: The G.O.P. Is Getting Even Worse
Those of us who had hoped America would calm down when we no longer had Donald Trump spewing poison from the Oval Office have been sadly disabused. There are increasing signs that the Trumpian base is radicalizing.
My Republican friends report vicious divisions in their churches and families. Republican politicians who don't toe the Trump line are speaking of death threats and menacing verbal attacks.
What's happening can only be called a venomous panic attack. Since the election, large swaths of the Trumpian right have decided America is facing a crisis like never before and they are the small army of warriors fighting with Alamo-level desperation to ensure the survival of the country as they conceive it.
This level of catastrophism, nearly despair, has fed into an amped-up warrior mentality.
Liberal democracy is based on a level of optimism, faith and a sense of security. It's based on confidence in the humanistic project: that through conversation and encounter, we can deeply know each other across differences; that most people are seeking the good with different opinions about how to get there; that society is not a zero-sum war, but a conversation and a negotiation.
With their deep pessimism, the hyperpopulist wing of the G.O.P. seems to be crashing through the floor of philosophic liberalism into an abyss of authoritarian impulsiveness. Many of these folks are no longer even operating in the political realm. The G.O.P. response to the Biden agenda has been anemic because the base doesn't care about mere legislation, just their own cultural standing.
I can tell a story in which the Trumpians self-marginalize or exhaust themselves. Permanent catastrophism is hard. But apocalyptic pessimism has a tendency to deteriorate into nihilism, and people eventually turn to the strong man to salve the darkness and chaos inside themselves. https://www.nytimes.com/2021/04/22/opinion/trump-gop.html
Nick Bryant: Biden isn't FDR. He's the anti-Reagan.
President Biden is signaling that the era of big Reaganism is over by rejecting the central proposition of the Reagan presidency: "Government is not the solution to our problem; government is the problem," the most ringing line from the 1981 inaugural. Biden is trying to engineer not only a revival of government, but also a reconsideration of its essential role. For this president, restoring the soul of America requires reviving faith in government.
In making his case, Biden has already been at pains to point out that the federal government was the builder of world-beating infrastructure in the 1950s, and the victor of the space race at the end of the 1960s. Now government has been mobilized to combat the planetary pandemic.
By seeking to levy more corporate tax, Biden is also trying to revive the nobler instincts of U.S. boardrooms, a rejection of the greed-is-good ethos prioritizing the maximization of shareholder value that took hold in the 1980s. Regulatory robustness, of that type that went out of fashion during and after the Reagan years, will be a central feature of the Biden era.
This 78-year-old is also departing from the model of the modern presidency that Reagan essentially invented, with its emphasis on the theatrical aspects of the job. For him, the presidency is neither performative nor omnipresent. https://www.washingtonpost.com/opinions/2021/04/22/biden-isnt-fdr-hes-anti-reagan/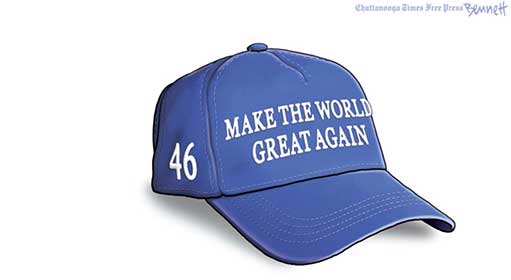 Doyle McManus: The GOP's civil war is just beginning, and the fighting will get worse before it gets better
After the chaotic departure of Donald Trump the Republican Party party has descended into a state of virtual civil war between unrepentant loyalists to former President Trump and those impatient to cast off the chaos of the last four years and begin a post-Trump era. And as in Lebanon, the hostilities promise to be a prolonged series of flare-ups, with neither side willing to permanently lay down arms.
Every political party faces a reckoning after it loses a presidential election. But the debate Republicans are holding is angrier and more dangerous than most, partly due to problems of their own making.
In 2016, Trump looked like a political genius for turning out voters who would have stayed home for a less colorful candidate. But under Trump, the GOP became a narrow, shrinking party, dependent on that base of angry, almost entirely white conservative voters, many of them aging. Trump believed he could win reelection mainly by turning out record numbers of his base, and he came close. He won 10 million more votes than in 2016, but moderate voters including women defected to Biden, denying Trump both the popular vote and the electoral college votes he needed.
Still, the base he built is now the dominant force in the Republican electorate, especially in primary elections — and GOP officeholders know it.
But dependence on Trump's base could prove disastrous for the party. In conservative House districts, Republicans will still compete for votes by out-Trumping one another. But in statewide and presidential elections, where candidates must appeal to broader audiences, the former president's legacy is beginning to look like a liability. Since Jan. 6, thousands of voters have changed their registrations from Republican to independent.
The Republicans' struggle is over more basic principles: telling the truth, respecting the Constitution, keeping political battles nonviolent, accepting the outcomes of elections — and making sure the term "civil war" remains only a figure of speech. https://www.latimes.com/politics/story/2021-02-03/the-gops-civil-war-is-just-beginning
Joe Biden's billions won't stop Bolsonaro destroying the Amazon rainforest
For the Brazilian government, presided over by the climate change sceptic Jair Bolsonaro, President Biden's promise to rejoin the Paris accords sounded like a threat, even more so because it was followed by a promise made during one of the debates to mobilize $20bn in international funds for tropical rainforests – including for Brazil – to stop the destruction of the Amazon. Bolsonaro reacted by calling the plans "coward threats".
Last year, Biden may not have been fully aware of the extent to which the current Brazilian government has transformed Brazil into an environmental pariah, the world's greatest destroyer of tropical forests and the foremost threat to the planet's already precarious climate equilibrium. By now, as Biden's climate summit gets under way, he will have been fully informed and repeatedly warned of the risk of making deals that could strengthen Bolsonaro's government and allow it to further advance its destructive policies.
Still, the Biden administration, along with ministers from Britain and Europe, has in recent weeks been negotiating a deal with the Brazilian government. For all the talk of cowardly threats, Bolsonaro's environment minister, Ricardo Salles, is asking for a yearly installment of $1bn – in return for which, he says, Brazil's forest clearance would be reduced by between 30% and 40%. There are concerns that some of these funds could be channelled to the very land-grabbers who are behind the destruction of the Amazon.
Our warning is based on the following fact: deforestation in the Brazilian Amazon is not the result of a lack of money, but a consequence of the government's deliberate failure of care. https://www.theguardian.com/commentisfree/2021/apr/22/joe-biden-brazil-amazon-rainforest-jair-bolsonaro-deforestation
Ed Kilgore: You Cannot Reason With Right-Wing Conspiracists
There are many explanations on offer for the bitter, "uncivil war" tone of contemporary politics and government, and at least some share of blame to go around. But I'm not going to indulge in false equivalence here: The radicalization of the Republican Party and its dominant conservative ideological faction has been — and for the foreseeable future will continue to be — the prime engine of polarization and gridlock. I've felt that way since the George W. Bush administration, and it's a big reason why a card-carrying centrist like me has abandoned all hope of bipartisan "problem-solving." Nine years ago President Obama confidently predicted the GOP "fever" would "break" if he won reelection. Clearly the "fever" is running higher than ever in the Trump era, with no particular end in sight.
Understanding that differences between left and right aren't just a matter of reasonable differences of opinion on legitimately disputed facts is the first step towards comprehending the current political environment. The fact that conservatives have a tendency to subscribe to conspiracy theories or dismiss inconvenient facts is not an absolute bar to debate. But as Greg Sargent pointed out recently, MAGA ultras exhibit a more systematic rejection of verifiable reality in favor of ideological systems that interpret (or reinterpret) everything according to an antagonistic depiction of the left as virtually demonic.
And now even regular Republican pols regularly fulminate about socialist plots to "cancel" all conservatives, destroy all religion, seize all firearms, and in the meantime open up the borders to let more of those people come in so that the real American majority can be overwhelmed and subdued. This is a fever that is showing no signs of "breaking." And there's no known vaccine. https://nymag.com/intelligencer/2021/04/you-cannot-reason-with-the-gops-conspiracists.html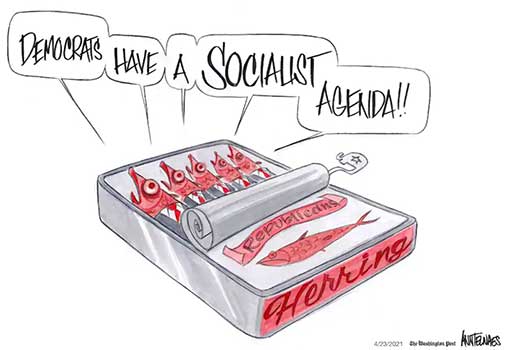 Paul Krugman: Getting Real About Coal and Climate
"Change is coming, whether we seek it or not." So declares a remarkable document titled "Preserving Coal Country," released Monday by the United Mine Workers of America, in which the union — which at its peak represented half a million workers — accepts the reality that coal isn't coming back. Instead, it argues, the goal should be "a true energy transition that will enhance opportunities for miners, their families and their communities."
It's good to see this kind of realism. Remember, back in 2016 Donald Trump promised that he would restore coal to its former greatness, reopening shuttered mines — and voters in coal country believed him. Many of them probably still imagine that something like that is possible.
The union, however, understands that it isn't. What killed the mines wasn't a "war on coal"; it was technological progress, first in the extraction of natural gas, then in solar and wind power. Generating electricity from coal would be economically unviable even if we didn't have to worry about climate change.
Of course, we do need to worry about climate change, which is an existential threat to civilization. The question is how to address this threat.
The union's document is in effect an endorsement, at least in principle, of the Biden administration's plans to make action against climate change a centerpiece of its boost to infrastructure spending — something I guess we're now supposed to call Build Back Better rather than the New Deal, but whatever. It's also a small but encouraging vindication of the thinking behind Build Back Better, the belief that climate action is most likely to be politically feasible if it eschews economic purism and relies more on carrots than on sticks. https://www.nytimes.com/2021/04/22/opinion/coal-mine-workers-climate.html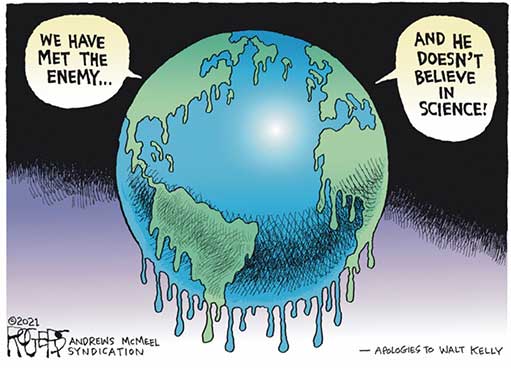 Richard L. Hasen: Republicans Aren't Done Messing With Elections
A new, more dangerous front has opened in the voting wars, and it's going to be much harder to counteract than the now-familiar fight over voting rules. At stake is something I never expected to worry about in the United States: the integrity of the vote count. The danger of manipulated election results looms.
State legislatures and others also have been taking steps to amplify false claims that the 2020 election was stolen, solidifying the false belief among a majority of Republican voters that the November vote count was unfair. It's not just the hearings featuring charlatans like Rudy Giuliani or Sidney Powell spewing the big lie. It's also steps like the Arizona State Senate demanding the seizure of November ballots from Democratic-leaning Maricopa County and ordering an audit of the votes to be conducted by a proponent of the bogus "Stop the Steal" movement who falsely contended that the election was rigged against Mr. Trump. Never mind that Arizona's vote count has been repeatedly subject to examination by courts and election officials with no irregularities found.
Combating efforts that can undermine the fair administration of elections and vote counting is especially tricky. Unlike issues of voter suppression, which are easy to explain to the public (what do you mean you can't give water to voters waiting in long lines?!?), the risks of unfair election administration are inchoate. They may materialize or they may not, depending on how close an election is and whether Mr. Trump himself or another person running for office is willing to break democratic norms and insist on an unfair vote count. https://www.nytimes.com/2021/04/23/opinion/republicans-voting-us-elections.html