October 14, 2021
ON THE RECORD. . .
"Helping kids of color to feel they belong has a negative effect on white, Christian, or conservative kids," — Mary Beeman, a Republican operative in Connecticut.

Right-wing pastor Perry Stone claimed that he's spent 175,000 hours studying the Bible — which equals 8 hours a day for every single day of his life — and declared that he's 100% certain "that we literally have entered the last of the Last Days."

"He's shown that he's willing to campaign from the lowest denominator and do anything and everything to win," the strategist said. "If that doesn't scare the shit out of every Democrat, we're in trouble." — Democratic strategist describing another Trump run as "the world's biggest nightmare."   

"There's one other thing that nobody talks about. Many Haitians crossing the U.S. border "probably have AIDS" and letting them in "like a death wish." -- Trump fear-mongering about Haitian migrants

Trump responded to the House select committee's investigation into the events of the day like a caged feral pigeon—frantically flapping his wings, shitting everywhere. — Bess Levin

Christians must take control of public schools because children are being abused by being taught "filth": "There's no reason anybody anywhere in America should be telling any child about transgenderism, homosexuality, any of that filth." — North Carolina Lt. Gov. Mark Robinson

"I think some of my fellow progressives who want to do everything for a few years are making a big mistake. The idea that all this stuff will be so popular that the Republicans will roll over and extend everything is extremely naïve—and dangerous. Trying to do everything for a short time is a recipe for ending up with little that is enduring over the long term." — Robert Greenstein, a veteran budget analyst who has worked with Democrats and is now at the Brookings Institution.

"If he makes a successful return to the presidency in 2024, democracy's done." — Former national security official Fiona Hill on Donald Trump running for president again.

"I'm the only one in this race for U.S. Senate saying we should abolish the Jan. 6 commission and replace it with a Nov. 3 commission to really investigate what happened when the Democrats stole the election." — Ohio U.S. Senate candidate Josh Mandel.

"Trump will run in 2024; he will get the Republican nomination; and whatever happens on election night, the next day he will announce that he won." — Bill Maher warns (again) of a "slow moving coup" by Donald Trump and his allies.

I would never normally say this - & I may have to go take a shower now - but I agree with almost every word of this from Bill Maher, about the 'slow-moving coup' & what could be coming in 2022 & 2024, & I wish more actual journalists would say what a late-night comedian's saying. -- Mehdi Hasan

"Millions of Americans have been sold a fraud that the election was stolen. Republicans have a duty to tell the American people that this is not true. Perpetuating the Big Lie is an attack on the core of our constitutional republic." —Rep. Liz Cheney (R WY) on Rep. Steve Scalise (R-LA) who, on Fox News Sunday, repeatedly refused to acknowledge that the 2020 election was not stolen from Donald Trump.

"If witnesses do not show up, we will hold them in criminal contempt." — Rep. Adam Schiff (D-CA) about witnesses defying subpoenas from the House panel investigating the January 6 insurrection at the Capitol.

President Biden's approval rating is higher than Trump's was at any point during his presidency. You wouldn't think that with all the doom and gloom stories in the media, though. — MeidasTouch

Pelosi mentions the idea that Treasury should be able to lift the debt ceiling, and Congress can overrule it. Pelosi says this idea "has merit."  "That seems to have some appeal to both sides of the aisle because of the consequences to people for not lifting it." — Speaker Nancy Pelosi

A lie gets halfway around the world while the truth is still putting its boots on. But an engaging rumor that aligns with partisan preferences moves faster still, instantly available in every Twitter feed and Facebook page on Earth. — Philip Bump on Cruz's assertion on Twitter, without evidence, that the cancellation of hundreds of Southwest flights was a function of "Joe Biden's illegal vaccine mandate."

Donald Trump released a statement in which he threatened to have Republican voters stay home in 2022 and 2024 unless the party is able to "solve" the Presidential election fraud of 2020.

VIDEOS

A Reporter's Video from Inside the Capitol Siege — Luke Mogelson followed Trump supporters as they forced their way into the Senate chamber. Good commentary following the video. https://www.newyorker.com/video/watch/a-reporters-footage-from-inside-the-capitol-siege

Jennifer Jenkins, a member of the school board in Brevard, Florida, detailes the threats and intimidation made against her, her family, and her neighbors during the debate over pandemic restrictions in schools.
Litigation Tracker: Pending Criminal and Civil Cases Against Donald Trump
---
IN THIS ISSUE
IN THE NEWS
OPINION
Andy Borowitz: Trump to Skip 2024 Campaign and Go Straight to Claiming He Won
Donald J. Trump will skip the 2024 campaign and go straight to claiming that he won, the former reality-show host has confirmed.

Speaking to reporters, Trump said that campaigning in 2024 would be "a waste of time, quite frankly, because I have already won that election."

Asked how he could have won an election that is not scheduled to occur for another three years, he said, "People are saying that it already did happen. A lot of very smart people are calling me and saying that."

Trump said that, although he already won the 2024 election, "there was fraud and corruption like you wouldn't believe."

"The 2024 election was so stolen it makes the 2020 election look not stolen," he said. "The fact that I won in 2024 even though it was stolen from me is amazing, and, quite frankly, fantastic."

Trump lashed out at a reporter who asked if he planned to run yet again in 2028. "I already won in 2028," he said. "That's a stupid question and you're a disgrace." https://www.newyorker.com/humor/borowitz-report/
Former Treasury Secretary Steven Mnuchin intervened to block Ivanka Trump's appointment to the World Bank
Former President Donald Trump sought to name his daughter, Ivanka Trump, to lead the World Bank in 2019, but then-Treasury Secretary Steven Mnuchin intervened to block the appointment, according to The Intercept.
As the White House assembled a list of possible successors, Ivanka Trump emerged as a favorite to the then-president, who told The Atlantic that she would have been an excellent choice because "she's very good with numbers." https://news.yahoo.com/former-treasury-secretary-steve-mnuchin-181305988.html
Bannon's subpoena snub sets up big decision for Biden DOJ
Former Trump White House strategist Stephen Bannon's choice to buck a subpoena from the House committee investigating the Jan. 6 attack on the Capitol could tee up a big decision for a Justice Department determined to strike an independent tone.  
The House committee has said it may refer Bannon for criminal prosecution by the Department of Justice (DOJ) if he doesn't appear for a deposition slated for Thursday.
Such a move would place Attorney General Merrick Garland in the center of a debate over whether to go after a former right-hand man of Donald Trump after vowing to restore the reputation of a department that was deeply politicized under the prior administration. https://thehill.com/policy/national-security/576256-bannons-subpoena-snub-sets-up-big-decision-for-biden-doj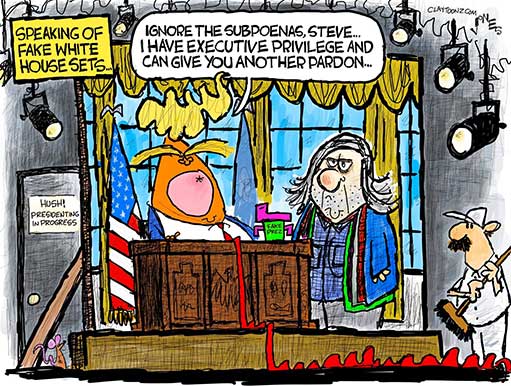 Trump won Hood County in a landslide. His supporters still hounded the elections administrator until she resigned.
An elections administrator in North Texas submitted her resignation Friday, following a monthslong effort by residents and officials loyal to former President Donald Trump to force her out of office.Her critics sought to abolish her position and give her duties to an elected county clerk who has used social media to promote baseless allegations of widespread election fraud. https://www.texastribune.org/2021/10/12/hood-county-elections-administrator-trump/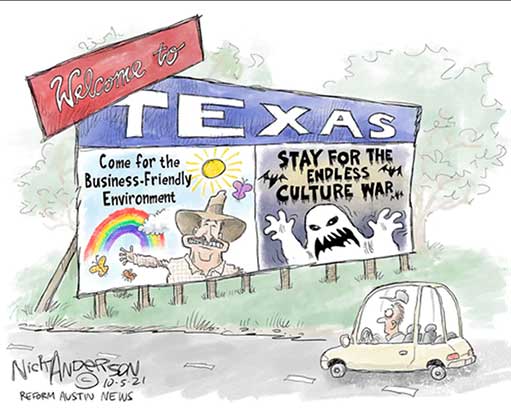 Kyrsten Sinema Wants to Cut $100 Billion in Proposed Climate Funds
Senator Kyrsten Sinema of Arizona, who began her political career with the Green Party and who has voiced alarm over the warming planet, wants to cut at least $100 billion from climate programs in major legislation pending on Capitol Hill, according to two people familiar with the matter. https://www.nytimes.com/2021/10/08/climate/arizona-senator-sinema.html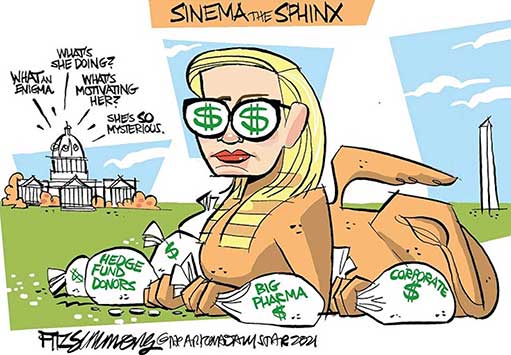 Man charged in Md. triple-slaying was angry because brother gave coronavirus vaccines, police allege
A Maryland man was angry with his pharmacist brother for administering coronavirus vaccines before he killed his brother, sister-in-law and a family friend in a triple homicide that led to a police manhunt, investigators allege in court documents.
Jeffrey Burnham, 46, of Cumberland had previously told his mother that he wanted to confront his older brother, Brian Robinette, about what he claimed was the government poisoning people with the shots, according to court documents filed in Howard County District Court. https://www.washingtonpost.com/local/public-safety/man-kills-phramacist-brother-covid-vaccine/2021/10/07/44c58e18-276c-11ec-8d53-67cfb452aa60_story.html
Rift widens between business groups and House GOP
Even after every major business group in Washington, D.C., urged House Republicans to support the Senate-passed $1 trillion bipartisan infrastructure bill, only a handful of GOP lawmakers have said they would vote for the measure, according to The Hill's tally.
The U.S. Chamber of Commerce, in particular, has drawn public attacks from House Minority Leader Kevin McCarthy (R-Calif.) and other Republicans, revealing deep divisions between the two forces that were closely aligned for decades. https://thehill.com/business-a-lobbying/business-a-lobbying/575671-rift-widens-between-business-groups-and-house-gop
The New Jobs Numbers Are Pretty Good, Actually
It's not as bad as it looks.
That's the most important thing to take away from Friday's release of the September jobs report, which found that employers added 194,000 jobs last month, a far cry from the 500,000 analysts expected. The initial response among experts was to wonder whether it called for an exclamation of a mere "oof" or a more extreme "ooooooof."
But when you peel apart the details, there is less reason to be concerned than that headline would suggest. The story of the economy in the second half of 2021 remains one of steady expansion that is more rapid than other recent recoveries. It is being held back by supply constraints and, in September at least, the emergence of the Delta variant. But the direction is clear, consistent and positive.
Much of the disappointment in payroll growth came from strange statistical quirks around school reopening. The number of jobs in state local education combined with private education fell by 180,000 in September — when the customary seasonal adjustments are applied. https://www.nytimes.com/2021/10/08/upshot/jobs-report-september.html
Defense Department warns climate change will increase conflicts over water and food
Climate change poses a serious threat to U.S. military operations and will lead to new sources of global political conflict, the Department of Defense wrote in its new climate adaptation plan this week.
Water shortages could become a primary source of friction or conflict between U.S. military overseas and the countries where troops are based, the department warned. It also expects that political efforts to mitigate food and water shortages will result in more frequent physical and cyber terrorist attacks from unknown third parties.
Extreme weather events made worse by climate change, including droughts, storms and floods, have already cost the department billions of dollars, according to the plan. An increase in extreme weather events will create more demand for U.S. troops while damaging military bases, degrading mission capabilities and putting service members at risk. https://www.cnbc.com/2021/10/08/defense-department-warns-climate-change-will-increase-conflicts.html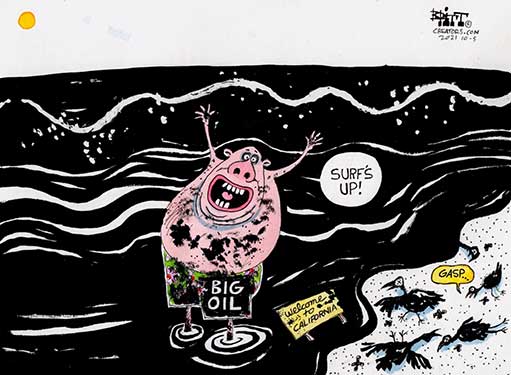 Project Home Fire/Center for Politics Research Reveals Outsized Role Immigration Plays in Fueling our National Divide
A new University of Virginia poll finds 84% of Donald Trump voters say they either strongly or somewhat agree that discrimination against whites will increase in the U.S. in the next few years.
Trump voters have identified a common threat — immigrants and those who support them. For them, immigration splits the country and amplifies broader concerns. More to the point, immigration presents as an expansive and expanding conflict accelerator that sits at the fulcrum of our deep, wide, and dangerous national divide. https://centerforpolitics.org/crystalball/articles/project-home-fire-center-for-politics-research-reveals-outsized-role-immigration-plays-in-fueling-our-national-divide/
Trump and his allies target McConnell over deal to avoid default
Thursday's debt-limit deal has prompted a new round of attacks on Senate Minority Leader Mitch McConnell by former president Donald Trump and his supporters, highlighting McConnell's beleaguered role in a party where Trump remains the most powerful force.
"Looks like Mitch McConnell is folding to the Democrats, again," Trump said in a statement issued through his Save America PAC. "He's got all of the cards with the debt ceiling, it's time to play the hand. Don't let them destroy our Country!"
The attacks reflect McConnell's contradictory, difficult role in the Republican Party. He is its top elected leader, running its Senate wing and leading the charge against the Democratic agenda. Yet he is openly reviled by the former Republican president, who is also the party's most influential figure, with millions of followers, and its potential 2024 presidential nominee.
The renewed barrage by Trump and his allies is part of a bid by the former president to turn Republicans against the senator from Kentucky and oust him as the party's leader in the Senate. And it marks the latest effort by Trump to retaliate against his critics, since McConnell said after the violent Jan. 6 attack on the Capitol that Trump was "practically and morally responsible." https://www.washingtonpost.com/politics/mcconnell-trump-debt-limit-republicans/2021/10/07/00f07f4e-2777-11ec-8831-a31e7b3de188_story.html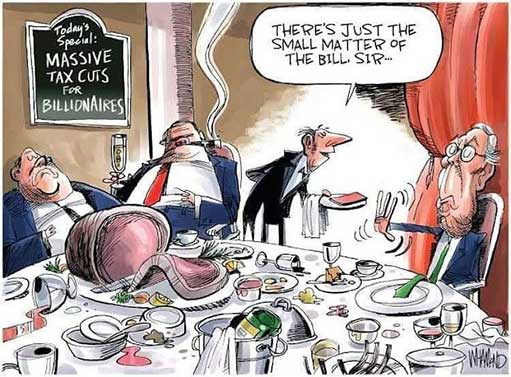 Texas Republicans Are Pulling Out All the Stops to Dilute the Voting Power of People of Color
Through the redistricting process, Texas Republicans are building a sea wall against demographic change—an early indicator of how the Republican Party nationally is responding to momentous population changes not by reaching out to growing communities of color but by diluting their voting power. At a time when Texas is becoming more diverse and Democratic, the new maps drawn by Republicans for congress and the state legislature would make the state's political representation far whiter and more Republican, all but ending competition at the very moment when ascendant Democrats are finally making the state competitive.
Republican House candidates won 53 percent of the statewide vote in 2020 but would hold a projected 65 percent of seats under the new lines, which were approved by the state Senate redistricting committee on Monday. The number of safe GOP seats would double, from 11 to 22, while the number of competitive districts would fall from 12 to just one. Nine Texas House Republicans, including Van Duyne, currently hold seats in districts won by Biden or where Trump won by five points or less, but they're all drawn into districts that Trump would have carried by double digits. This will push state and national politics even further to the right, as Republicans worry more about primary challengers than Democratic opponents. https://www.motherjones.com/politics/2021/10/texas-republicans-are-pulling-out-all-the-stops-to-dilute-the-voting-power-of-people-of-color/
Trump-backed candidates, including Sean Parnell, face scrutiny after minimal vetting
One has been accused of assaulting another White House aide. Another allegedly threatened his ex-wife's life, exaggerated claims of financial success and alarmed business associates with his erratic behavior. A third has asked a judge to keep past protection-from-abuse orders sealed.
As former President Donald Trump wades into contested primaries across the country, he's trying to exact revenge and remake the Republican Party in his image. In doing so, he has endorsed a series of candidates involved in allegations of wrongdoing, especially concerning their treatment of women.
That's contributing to anxiety among some Republicans who worry that Trump is lending his powerful political backing only to those who flatter his ego. Such candidates may be able to win GOP primaries in which the party's Trump-supporting base dominates, only to struggle in the general election. https://www.wesa.fm/politics-government/2021-10-08/trump-backed-candidates-including-sean-parnell-face-scrutiny-after-minimal-vetting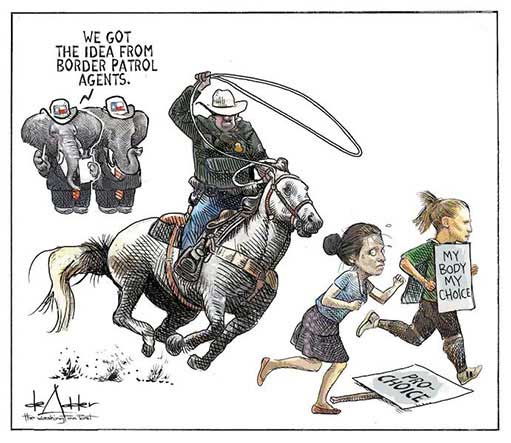 Peter Thiel lines up against Liz Cheney
Wyoming Rep. Liz Cheney's primary challenger landed former President Donald Trump's endorsement before she even officially launched her campaign. Now, she's cashing big checks from Trump's biggest donors — including tech billionaire Peter Thiel.
The former president has made Cheney, an outspoken critic who voted for his impeachment in January, his top target in the 2022 election, and now big-money benefactors like Thiel are piling into the race. https://www.politico.com/news/2021/10/13/liz-cheney-trump-fundraisers-515857
Grassley's embrace of Trump shakes GOP landscape
Sen. Chuck Grassley's (R-Iowa) enthusiastic appearance at a Trump event in Iowa over the weekend shows that the former president has further strengthened his grip on the GOP following the Jan. 6 attack on the Capitol.
A few months ago, Grassley criticized Trump for refusing to accept the results of the 2020 election, accusing him of "poor leadership" and "extreme, aggressive and irresponsible" language. 
He said at the time that Trump belittled and harassed elected officials across the country "to get his way" and encouraged his own vice president, Mike Pence, "to take extraordinary and unconstitutional actions" to interfere with the Electoral College count in Congress. https://thehill.com/homenews/senate/576273-grassleys-embrace-of-trump-shakes-gop-landscape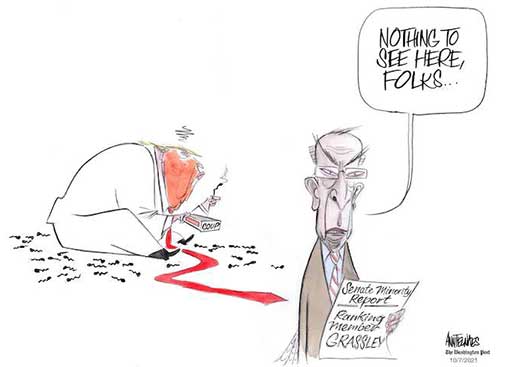 CNN Poll: Most Democrats favor a bigger bill on social safety net and climate
As congressional Democrats negotiate the size and scope of a budget bill that could significantly remake the social safety net in the United States, a new CNN Poll conducted by SSRS finds 75% of the party's rank-and-file prefer a bill that goes further to expand the social safety net and combat climate change over one that costs less and enacts fewer of those policies (20% favor a scaled-back bill).
Support for an economic bill that enacts all of the proposed social safety net and climate change policies is broadest among liberal Democrats (84%), but two-thirds of moderates and conservatives in the party share that view (67%). https://www.cnn.com/2021/10/13/politics/cnn-poll-democrats-bills/index.html 
POLITICO-Morning Consult poll finds Biden's "favorability" rating is higher than all other national political figures they tested
Joe Biden: 47%
Kamala Harris: 45%
Donald Trump: 41%
Mike Pence: 39%
Nancy Pelosi: 36%
Chuck Schumer: 28%
Mitch McConnell: 22%
Kevin McCarthy: 22%
https://www.politico.com/newsletters/playbook-pm/2021/10/13/new-polling-on-biden-trump-mcconnell-and-pelosi-494689
The DAILY GRILL
The $3.5 trillion Biden plan isn't socialism, it's marxism —Marco Rubio
A $1.5 trillion plan to codify socialism is just as bad as a $3.5 trillion one.—Marco Rubio

VERSUS

Rubio has equated $3.5 trillion with Marxism, so a spending bill of around $6 trillion (the level proposed by Senator Bernie Sanders) would probably be Marxism-Leninism. The spending level necessary to achieve Full Stalinism can probably be set around $10 trillion over a decade, or roughly 3 percent of GDP. But these are only guesses, and I will leave the final word to Professor Rubio. — Jonathan Chait https://nymag.com/intelligencer/2021/10/rubio-doesnt-know-whats-a-socialist-but-knows-bidens-one.html

 

"President Biden said no one making under $400,000 will see their federal taxes go up. That's a lie, just like he lied about Afghanistan. In fact, under his plan, an average family who earns over $50,000 will see a tax increase." — House Minority Leader Kevin McCarthy (R-Calif.), in remarks to reporters, Sept. 30 https://www.rev.com/blog/transcripts/house-gop-leader-kevin-mccarthy-press-conference-transcript-september-30

VERSUS

McCarthy is able to claim that taxes will be increased for people at this income level in part only because of expiring tax provisions in the 2017 bill he helped craft. Republicans for years have cried foul when Democrats cited figures for 2027, after individual tax cuts lapsed, so turnabout is not fair play. McCarthy and other GOP House members claiming, with vituperative language, that Biden has violated his $400,000 promise earn Three Pinocchios. https://www.washingtonpost.com/politics/2021/10/04/kevin-mccarthys-claim-that-bidens-tax-plan-will-raise-taxes-families-making-50000/

 

Unbelievably, the National School Boards Association asked that parent protests at school board meetings be treated as possible acts of "domestic terrorism." — Reverend Franklin Graham https://www.wonkette.com/franklin-graham-sick-of-commies-trying-to-stop-parents-from-terrorizing-school-board-members

VERSUS

Not the protests, the threats. If they can't tell the difference between protests and threats, they should perhaps reconsider "protesting" until they can work that out. This is not meant to "silence" them. If someone did not know the difference between heating up some soup on the stove and setting their house on fire, I would make the same recommendation. — Robyn Pennacchia in Wonkett https://www.wonkette.com/franklin-graham-sick-of-commies-trying-to-stop-parents-from-terrorizing-school-board-members

 

MyPillow CEO Mike Lindell's new claim: he's found someone who was 850 years old who voted in the 2020 election, but he won't say from what state the alleged voter was registered. Lindell adds that he and his team have identified 2K people over the age of 200 that voted in a mysterious state that he wouldn't name. https://twitter.com/ZTPetrizzo/status/1446252404471738369

VERSUS

Taken out of context, some voter registration information may appear to suggest suspicious activity, but are actually innocuous clerical errors or the result of intended data practices. For example, election officials in some states use temporary placeholder data for registrants whose birth date or year is not known (e.g., 1/1/1900, which makes such registrants appear to be 120 years old). In other instances, a voting-age child with the same name and address as their deceased parent could be misinterpreted as a deceased voter or lead to clerical errors. — CISA https://www.cisa.gov/rumorcontrol#rumor21
Eugene Robinson: Take the Democrats-are-doomed narrative with a grain of salt
I can't recall another time when one of our political parties has so lost its way — and its mind — leaving the other to do all the serious work of governing. And one of The Narrative's weaknesses is an inability to deal with novel situations — as though the wildebeests, expecting to be galloping across wide-open savanna, somehow find themselves in a dense rainforest.
Senate Minority Leader Mitch McConnell (R-Ky.) faced such white-hot anger from his caucus for simply allowing Democrats to raise the debt ceiling so the treasury could pay its obligations for the next two months — a move necessary to avert a global financial meltdown — that he was forced to swear he would never, ever do so again. This is simply not normal or rational. In terms of taking care of the government's most basic and necessary functions, Democrats, for better or worse, are on their own.
So when The Narrative warns that Biden urgently needs to get the progressives and the moderates in his party to set aside their differences, I take a somewhat different view. What I see is a pretty normal exercise in legislative give-and-take, except that it's all happening within the Democratic Party — while Republicans hoot, holler and obstruct from the peanut gallery. When it comes to Congress, things never go as quickly as they might, and there always comes at least one moment when it appears that all is lost.
As Republicans ever more slavishly bend the knee to Trump, however, it should become clearer that Democrats must act alone. There will come a time when Manchin and Sinema have to decide whether the Senate filibuster is more important than protecting the right to vote in free and fair elections. I hope they choose wisely.
The thing about The Narrative is that it requires periodic plot twists. When the "Biden is toast" story line changes to "Biden is back," take that, too, with a grain of salt. The Serengeti is wide, and there are many miles to go. https://www.washingtonpost.com/opinions/2021/10/11/take-democrats-are-doomed-narrative-with-grain-salt/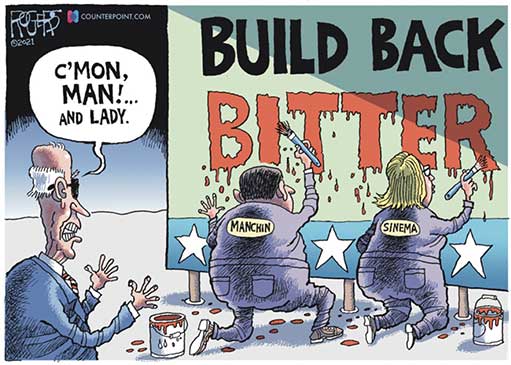 Max Boot: I'm no Democrat — but I'm voting exclusively for Democrats to save our democracy
There appears to be a consensus in Washington that the success of the Biden presidency will hinge on the outcome of the massive infrastructure and social-spending bills now before Congress. That may be true, but their fate won't affect how I vote.
I'm a single-issue voter. My issue is the fate of democracy in the United States. Simply put, I have no faith that we will remain a democracy if Republicans win power. Thus, although I'm not a Democrat, I will continue to vote exclusively for Democrats — as I have done in every election since 2016 — until the GOP ceases to pose an existential threat to our freedom. https://www.washingtonpost.com/opinions/2021/10/11/im-no-democrat-im-voting-exclusively-democrats-save-our-democracy/
Bess Levin: Senate Republicans Are Terrified Trump Will Run In 2024, Will Obviously Support Him Anyway
Picture this: You're the head of marketing at a potato chip company and you're reissuing the brand's original flavor in the hopes of boosting holiday sales. One day your team receives an email from Adolf Hitler's great-great-nephew, who says he wants to help the campaign by filming a short video declaring that the chips in question were "Uncle Adolf's favorite," with a little anecdote about how he "actually invaded Poland because someone set him off by eating the last bag in his stash."
You'd probably want to do everything in your power to ensure this didn't happen, as it wouldn't be ideal for your product to be associated with one of the worst people in history, right? If you're vigorously nodding your head in agreement, you now have an idea of how Senate Republicans feel re: Donald Trump being the face of the party in the next midterm and presidential elections.
Of course, while it's not clear if Trump will actually run in 2024, Republicans will no doubt line up to kiss the ring if he does—even McConnell has said he would support Trump if he becomes the party's nominee (though to be fair, McConnell is a shameless hack who famously has no principles). Even more worrisome to those who care about not seeing democracy buried in a shallow grave? https://www.vanityfair.com/news/2021/10/republicans-trump-2022-2024
Michael Gerson: The Trump nightmare looms again
It is increasingly evident that the nightmare prospect of American politics — unified Republican control of the federal government in the hands of a reelected, empowered Donald Trump in 2025 — is also the likely outcome.
Why this is a nightmare should be clear enough. Every new tranche of information released about Trump's behavior following the 2020 election — most recently an interim report from the Senate Judiciary Committee — reveals a serious and concerted attempt to overthrow America's legitimate incoming government.
At roughly the same time that Trump was gathering and unleashing his goons to intimidate members of Congress on Jan. 6, he was pressuring Justice Department leaders to provide legal cover for his effort to prevent certification of the election. When they refused, Trump conspired with a lower-level loyalist to take over the department and run it according to the president's dictates. Under the threat of mass resignations, Trump eventually backed off.
Meanwhile, it is clear that this same lawless, reckless man has a perfectly realistic path back to power. The GOP is a garbage scow of the corrupt, the seditious and their enablers, yet the short- and medium-term political currents are in its favor. https://www.washingtonpost.com/opinions/2021/10/11/trump-nightmare-looms-again/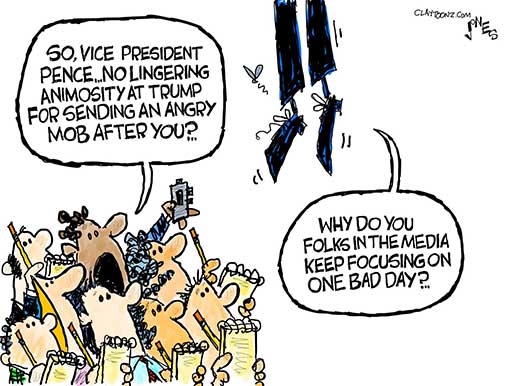 Bess Levin: Biden Announces He'll Be Exposing Trump's Traitorous Ass
As you've no doubt heard by now, Donald Trump really, really doesn't want people to find out what exactly he was up to on January 6, 2021, probably because it makes him look really, really bad. We know he feels this way because he's responded to the House select committee's investigation into the events of the day like a caged feral pigeon—frantically flapping his wings, shitting everywhere; because his lawyer has instructed at least four of his lackeys to obstruct justice; and because he's insisted that any and all documents detailing what he was doing before, during, and after the Capitol attack must remain under lock and key. In a letter sent to the National Archives on Friday, Trump wrote that the records sought by the committee contain information shielded by "executive and other privileges, including but not limited to the presidential communications, deliberative process, and attorney-client privileges," adding that he would assert the same privilege in the case of any future requests.
Only, as Trump may or may not know, he's no longer president, and therefore he has no executive privilege to assert. Instead, there's a new president in the White House, and that guy? Says the documents are going to Congress! https://www.vanityfair.com/news/2021/10/joe-biden-donald-trump-january-6-investigation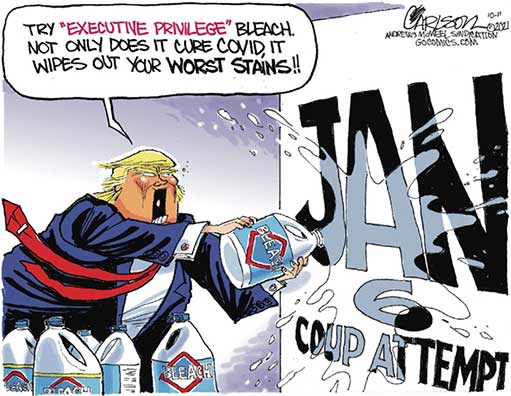 Maureen Dowd The Supreme Court v. Reality
Ordinarily staid and silent Supreme Court justices have become whirling dervishes of late, spinning madly to rebut the idea that Americans are beginning to regard the court as a dangerous cabal of partisan hacks.
They need not fret and wring their hands. No one is beginning to think that.
Many of us have thought that for a long time.
Supremes are often Shakespeare fans, so of course they are familiar with the phrase "doth protest too much, methinks."
The once august court's approval ratings on fairness were already falling two decades ago. The bloom came off the robe in 2000, when the court threw the game on Bush v. Gore, voting 5 to 4 to stop the Florida recount and anoint a Republican president.
If we conjure an alternative-history look at America, consider all the things that the Supreme Court brought down on our heads by preemptively purloining that victory for George W. Bush: two interminable and inexplicable wars, costing so many lives and so many trillions; a descent into torture; the villainous Dick Cheney.
As some on Twitter noted, our 20 years of quicksand in Afghanistan was capped Friday with this headline: "Son of Afghanistan's Former Defense Minister Buys $20.9 Million Beverly Hills Mansion." https://www.nytimes.com/2021/10/09/opinion/supreme-court-conservative.html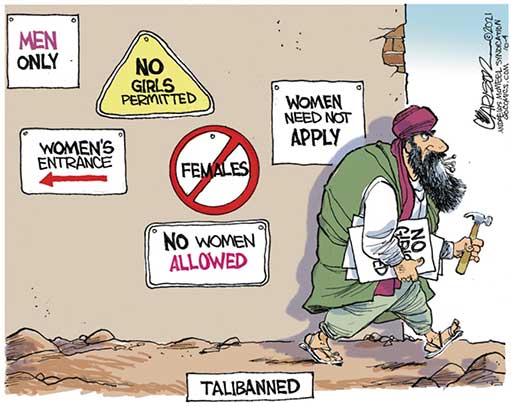 Susan B. Glasser: The Battle of January 6th Has Just Begun
You can dismiss Trump as a joke, a poor sport, a clown, and a fool. "The former guy," as President Biden memorably described him some months back, is undoubtedly all of those things. What he is not, however, is irrelevant. Sure, Trump is banned from Twitter and rarely on TV, except for a few reunions now and then with friends from Fox, such as "the great Sean Hannity." Even his wildest pronouncements are rarely covered on the front pages of the Times or the Washington Post or, for that matter, on the home pages of Breitbart or the Drudge Report. Trump is being written about less, and thus talked about less on social media—fifty per cent less since March, according to Axios.
Consider one metric I've been obsessed with: the increase in the percentage of Republicans who believe Trump's falsehoods about the election. In January, a CNN poll found that seventy-five per cent of Republicans said that Biden was not legitimately elected President. In April, that number declined to seventy per cent, but now, according to the most recent CNN survey, it has risen to seventy-eight per cent. Yes, more Republicans believe that the 2020 election was stolen now than did when the pro-Trump mob stormed the Capitol.
What strikes me most, however, about the latest iteration of our endless what-to-do-about-Trump debates is how much the country's political divisions have worsened since we began having them. Sabato's center put out an extraordinary survey last week, in conjunction with a group called Project Home Fire, that documented this crisis in ways I haven't seen before. The survey, which is worth reading in its entirety, shows that this is not a problem of ideology or policy or the other markers of conventional American politics. It is something much deeper and more intractable: two parties whose members now hate one another with a fierce, anti-democratic, Constitution-threatening passion. Eighty-four per cent of Trump voters said that Democratic officials are a "clear and present danger" to society; seventy-eight per cent of Trump voters also said that Americans who strongly support Democrats are a "clear and present danger." This level of antipathy is fully reciprocated by Democrats; eighty per cent of Biden voters surveyed said that Republican officials represent a "clear and present danger," and seventy-five per cent of them said the same about Americans who strongly support Republicans. Things are so bad that fifty-two per cent of Trump voters and forty-one per cent of Biden voters said that they would favor seceding from America. January 6th may not have been the end of Trump so much as the beginning of something even worse. https://www.newyorker.com/news/letter-from-bidens-washington/the-battle-of-january-6th-has-just-begun
Jonathan Chait: Anybody Fighting Joe Biden Is Helping Trump's Next Coup All Republican politics is now functionally authoritarian.
All the reporting and investigations of Trump's coup attempt make clear that the effort to overturn the election was haphazard, ad hoc and at times deeply stupid, yet at the same time utterly terrifying. It's a good lesson: The people who do the most damage to our country and democracy aren't necessarily brilliant supervillains.
Sometimes calamity occurs because a bunch of scoundrels and fools were presented with an opportunity to do their worst. And in this case, those scoundrels and fools were stopped only because some other people managed to find an ounce or two of courage.
They are not heroes. They went to work for Trump knowing full well who he was. But at that moment, they were unwilling to cooperate in a coup, and their resistance deprived it of a key element it needed.
The Judiciary Committee recommends strengthening rules that govern the relationship between the White House and Justice Department to make another attempted coup less likely in the future. But it's clear that to the Trump administration — and perhaps to future administrations — the rules didn't matter. All that leaves us with is the person of the president, and the people he appoints.
Which makes you wonder what will protect us if Trump, or someone like him, becomes president again. https://www.washingtonpost.com/opinions/2021/10/07/stunning-new-report-reveals-trumps-threat-democracy-republicans-shrug/
Dana Milbank: Kevin McCarthy is the O.J. Simpson of Jan. 6
"I will pursue as my primary goal in life the killer or killers who slaughtered Nicole and Mr. Goldman."
— O.J. Simpson, vowing to find the real killers
"We will run our own investigation." — Kevin McCarthy, vowing to find the real insurrectionists
Last Thursday was another key day in House Republican leader Kevin McCarthy's pitched battle against reality. How deeply, an interviewer asked, was President Donald Trump involved in the events of Jan. 6?
"The FBI has investigated this," McCarthy replied. "The Senate had bipartisan committees that come back. And you know what they have found? That there is no involvement."
No involvement! No collusion! It was a perfect call.
To the extent that McCarthy has control over what comes out of his mouth, what he voiced was a lie. The Senate probe avoided the question of Trump's role, and the FBI has reached no such conclusion. When it comes to the first sacking of the U.S. Capitol since the War of 1812, McCarthy zips it. "There's nothing I have that can add to that day," he said last week.
Rest assured: He's still seeking the real culprits — just like O.J. https://www.washingtonpost.com/opinions/2021/09/07/kevin-mccarthy-jan-6-investigation-culprits-interview/
Paul Waldman: Republicans are siding with the angry mob
Republicans in Congress have seen the threat of mob violence, and they are going to do something about it.
They're going to defend the mob, and make sure law enforcement doesn't crack down too hard on it.
That's the clear message being sent from up and down the right — politicians, pundits, and conservative media — in response to a memorandum from the Department of Justice laying out an effort to address the rising tide of angry threats directed at school boards and education officials.
The memorandum itself may have been restrained to the point of banality, but it presented a perfect opportunity for Republicans to reemphasize to their supporters that 1) the Biden administration is tyrannical; 2) conservatives are oppressed and afflicted; and 3) mob intimidation is an appropriate response to any public policy they disagree with.
But here's the real problem: Threats of violence against public officials are now simply part of the Republican repertoire. Even if most people who vote GOP would never threaten their local school principal, Republican politicians know that a number of their supporters would. And one level below that — the furious mob, screaming over a lie they've been told on Fox — is seen by those politicians not as a dangerous threat to society but as an instrument for them to regain power.
So they'll do what they can to protect that mob, condemn its targets (whatever they are), and find any excuse they can to portray themselves as the courageous and oppressed. The result is likely to be more mobs and more violence. https://www.washingtonpost.com/opinions/2021/10/06/republicans-are-siding-with-angry-mob/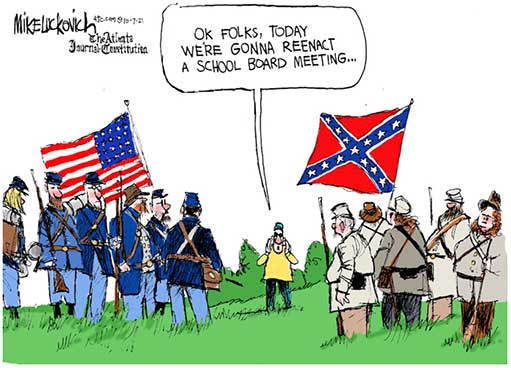 David Byler and Yan Wu: Will you fall into the conspiracy theory rabbit hole?
Who believes in conspiracy theories? Statistically speaking: almost everyone.
A team of researchers recently showed several thousand Americans a list of 20 common conspiracy theories and asked if they believed them. These included false conspiracy theories about the John F. Kennedy assassination, 5G cellular wireless technology, Barack Obama's birth certificate, covid-19 and climate change. The result: Nine in 10 Americans believed in at least one conspiracy theory.
The study — led by Adam Enders of the University of Louisville and Joseph Uscinski of the University of Miami — surveyed a representative sample of 2,023 Americans in March 2020 and 2,015 more in October 2020. This article uses questions from their surveys to test your knowledge — and your credulity.
So, can you tell fact from fiction, or will you fall down the rabbit hole? Click on this link to find out. https://www.washingtonpost.com/opinions/interactive/2021/conspiracy-theory-quiz/
Drew Sullivan: The Pandora Papers show the criminal brazenness of the global financial industry
After the Panama Papers investigation came out more than five years ago, certain business interests tried to position Mossack Fonseca — the leaky law firm at the heart of the project — as a rogue organization, a bad apple in an orchard of upstanding professionals who facilitate global commerce and help corporations pay fair (and minimum) taxes.
But recent revelations show that's simply not the case. The Pandora Papers series of investigations — led by the International Consortium of Investigative Journalists and involving 150 media outlets, including The Post and the Organized Crime and Corruption Reporting Project — shows the true heart of the offshore finance industry. The proof was in the leak of 12 million files from 14 companies that provide offshore services. The Pandora Papers offer stunning evidence of what we've seen over and over again in our decades of investigating global crime and corruption: These professional enablers are mostly bad apples — and they're rotten to the core.
A thriving, global "criminal services industry" of formation agents, bankers, lawyers, accountants and others has been key to moving trillions of dollars' worth of proceeds from corruption and crime from the developing world to hedge funds, luxury properties and untold assets in the West. It is impossible to move these large amounts of money without the criminal services industry.
And while there has been great progress around the world at forcing the collection and disclosure of ultimate beneficial ownership, the offshore industry has not been curtailed. And the newest problem jurisdiction is the United States itself. Now, South Dakota trusts have joined other business-friendly states such as New York, Nevada and Wyoming to make it hard to figure out who is behind companies. In recent years, more than a dozen U.S. states have passed permissive laws that help draw users from out of state to resident service providers.
Something must be done and done quickly. We must acknowledge that offshore havens and their facilitators pose more of a risk than a solution and they must be regulated. We are all paying the price for this harmful and hidden arrangement. https://www.washingtonpost.com/opinions/2021/10/07/pandora-papers-corruption-offshore-we-pay-the-price/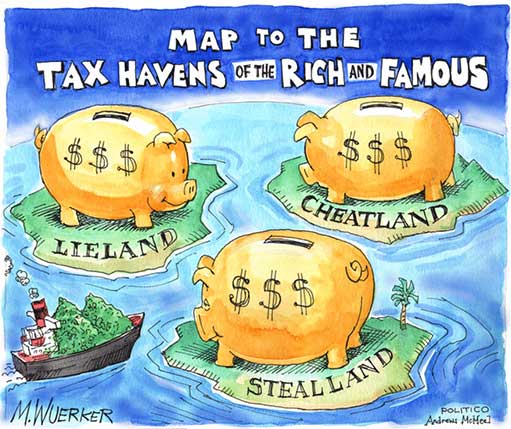 Eugene Robinson: How dumb can a nation get and still survive?
T.S. Eliot wrote that the world ends "not with a bang but a whimper," but I fear our great nation is careening toward a third manner of demise: descent into lip-blubbering, self-destructive idiocy.
How did we become, in such alarming measure, so dumb? Why is the news dominated by ridiculous controversies that should not be controversial at all? When did so many of our fellow citizens become full-blown nihilists who deny even the concept of objective reality? And how must this look to the rest of the world?
Our elected representatives in the U.S. Senate, which laughingly calls itself "the world's greatest deliberative body," agreed Thursday not to wreck our economy and trigger a global recession — at least for a few weeks. Republicans had refused to raise the federal ceiling, or even to let Democrats do so quickly by simple majority vote. They relented only after needlessly unsettling an international financial system based on the U.S. dollar.
The frequent games of chicken that Congress plays over the debt ceiling are — to use a term of art I recall from Economics 101 — droolingly stupid. In the end, yes, we always agree to pay our obligations. But the credit rating of the planet's greatest economic superpower has already been lowered because of this every-few-years ritual, and each time we stage the absurd melodrama, we risk a miscalculation that sends us over the fiscal cliff.
Today's trench-warfare political tribalism makes that peril greater than ever. An intelligent and reasonable Congress would eliminate the debt ceiling once and for all. Our Congress is neither.
How dumb can a nation get and still survive? Idiotically, we seem determined to find out. https://www.washingtonpost.com/opinions/2021/10/07/reconciliation-vaccines-election-america-dumb/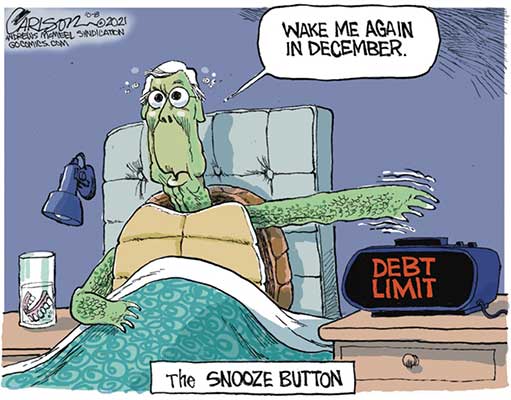 Steve Schmidt: Stop Appeasing Autocrats
America tonight.
40% of the population has $400 cash in savings. Huge swaths of the country lack broadband, and our national infrastructure is decrepit. Billionaires who fund their own space programs pay no taxes, while the country's senior political leaders, who incited an insurrection, remain protected by their own coverup.
The concept of truth has been obliterated by a toxic combination of algorithms, misinformation and greed. There is an autocratic movement that is large, rich, powerful and on the march. It is maneuvering, yet somehow it remains invisible to the people who are nearest to it and have the power to do something about it.
Perhaps there is a lesson to be learned about this through the story of Neville Chamberlain. The story is more complicated than most people have been taught. He was an honorable man.
The First World War was a human catastrophe that killed 20 million people and one million Britons. In fact, it can be argued that the British Empire never recovered from that war. A generation of upper-class sons were wiped out in the rush to glory that ended in muddy trenches, plumes of poison gas and vast killing fields.
It was unimaginable in the 1930s that there could be another war. It was unthinkable. It was wished away. Chamberlain wasn't a bad man or a weak man. He just couldn't imagine that it could all happen again, so he pretended that it couldn't. He reached for peace with noble intent.
In the end, it was the avoidance of the obvious and inevitable that led to a disaster so great that it obliterated the memory of the bloodiest war in human history, fought just 25 years earlier.
The next war killed 100 million.
Is there not a lesson from this in our moment? History offers lessons. Some people could see the threat clearly and some could not. Some saw it very early, while for others it was the last thing they saw.
It's hard to imagine that Donald Trump could come back. It's hard to conceive that he remains the far-and-away frontrunner for the 2024 nomination. https://www.maxnewstoday.com/post/stop-appeasing-autocrats