August 2, 2018
ON THE RECORD. . .
"This year's legislative crunch time is about to get very real but House Republicans have little leadership, no plan, a very divided caucus, are very likely to be distracted and are relying on a notoriously unreliable Donald Trump to do the right thing. This is almost a textbook definition of political and legislative chaos." -- Stan Collender

"I think in fact what's happening is the walls are closing in on President Trump. He knows it, and we're going to see increasingly desperate rhetoric, behavior on his part." — Rep. Denny Heck (D-WA)

"These parents and have lost valuable time together that can never be replaced. We're thrilled for the families who are finally reunited, but many more remain separated. The Trump administration is trying to sweep them under the rug by unilaterally picking and choosing who is eligible for reunification. We will continue to hold the government accountable and get these families back together." -- American Civil Liberties Union 

Wow, highest Poll Numbers in the history of the Republican Party. That includes Honest Abe Lincoln and Ronald Reagan. There must be something wrong, please recheck that poll! -- Trump claiming he's more popular than Lincoln who died before polling even began.

"My dear spouse would say that the true symbol of the United States is not the bald eagle — it is the pendulum. And when it goes very far in one direction you can count on its swinging back." — Justice Ruth Bader Ginsburg on what keeps her "hopeful."

CNN: Trump tweeted that Mueller has "a nasty business relationship" with him. What did he mean?

GIULIANI: I can't tell you

CNN: If you can't talk about it, why would Trump tweet it?

GIULIANI: Ask Mueller

CNN: Why should Mueller have to explain Trump's tweets?

GIULIANI: 'Cause he has the conflict. https://twitter.com/atrupar/status/1023906724003164160

 

GIULIANI: I'm happy to tell Mueller that Trump wasn't at the Trump Tower meeting.

CNN: How do you know he wasn't there?

GIULIANI: Because Cohen is a liar and Don Jr. says he wasn't there.

CNN: Don't they have a self-interest in saying that?

GIULIANI: Well, so does Cohen. https://twitter.com/atrupar/status/1023908510399164416

"Their network is highly overrated, I have beaten them at every turn. They want to protect their companies outside the U.S. from being taxed, I'm for America First & the American Worker - a puppet for no one. Two nice guys with bad ideas." -- Trump attacking Kansas' most prominent business family on Tuesday, calling Charles and David Koch a "total joke in real Republican circles after Charles Koch warned Trump's trade tariffs could lead to a recession.

"Impossible, in my opinion, based on my experience working with Trump and everybody that worked with Trump. Something major, something newsworthy, something press-worthy would always go before Trump." -- Former Trump Organization executive, Barbara Res, told CNN that it is "impossible" Donald Trump would not have known about the 2016 Trump Tower meeting between campaign officials and a Russian lawyer offering damaging information on Hillary Clinton.
---
IN THIS ISSUE
FYI
OPINION
1. Satire from The Borowitz Report: Republicans Accuse Rosenstein of Secretly Plotting to Uphold Constitution
In a joint press conference, Representatives Mark Meadows, of North Carolina, and Jim Jordan, of Ohio, said that they had "ample evidence" that Rosenstein was prepared to protect the Constitution "by any and all means at his disposal."

"There is only one way to describe Rosenstein's obsession with putting the Constitution before all other concerns," Meadows said. "Conflict of interest."

"It is almost as if Rod Rosenstein had taken some kind of solemn oath to defend a centuries-old document," Jordan said. "This should make every American very, very scared."

Though the Republicans have shelved their articles of impeachment against Rosenstein for now, they hope that their impeachment threat will send a clear message to Rosenstein that his reckless allegiance to the Constitution will no longer be tolerated.

"If, going forward, Rosenstein uses his position at the Department of Justice to seek justice, he will be crossing a red line," Meadows said. https://www.newyorker.com/humor/borowitz-report
2. The Latest Generic Congressional Ballot Polls
Here's a quick round up:
Quinnipiac: Democrats 51%, Republicans 39%

Economist/YouGov: Democrats 44%, Republicans 38%

NPR/PBS/Marist: Democrats 47%, Republicans 40%

Reuters/Ipsos: Democrats 42%, Republicans 37%

NBC News/Wall Street Journal: Democrats 49%, Republicans 37%

For comparison, the FiveThirtyEight polling average shows Democrats leading 48% to 40%.
3. How the Trump Tax Cut Is Helping to Push the Federal Deficit to $1 Trillion
"The amount of corporate taxes collected by the federal government has plunged to historically low levels in the first six months of the year, pushing up the federal budget deficit much faster than economists had predicted," the New York Times reports.
"The reason is President Trump's tax cuts. The law introduced a standard corporate rate of 21 percent, down from a high of 35 percent, and allowed companies to immediately deduct many new investments. As companies operate with lower taxes and a greater ability to reduce what they owe, the federal government is receiving far less than it would have before the overhaul. https://www.nytimes.com/2018/07/25/business/trump-corporate-tax-cut-deficit.html
4. Trump approval sags in trio of Midwest states
"In three politically important Midwest states — including two that were key in deciding the 2016 election — President Donald Trump's job approval rating is below 40 percent, and Democrats hold a sizable lead for the upcoming congressional midterms," according to a trio of new NBC News/Marist polls.
In Michigan, which Trump won by nearly 11,000 votes, 36% of registered voters approve of the president's job, while 54% disapprove.

In Wisconsin, which he won by about 23,000 votes, another 36% give Trump a thumbs up, with 52% giving him a thumbs down."

"And in Minnesota, which Trump narrowly lost by 1.5 percentage points, his rating stands at 38% approve, 51% disapprove. https://www.nbcnews.com/politics/first-read/polls-trump-approval-sags-trio-midwest-states-n894556
5. The DAILY GRILL
"The man is an honest, honorable lawyer." — Rudy Giuliani, about Michael Cohen on May 6, 2018.

VERSUS

"He has lied all his life… a person who is found to be an incredible liar, he's got a tremendous motive to lie now… I don't think anyone believes that." -- Rudy Giuliani, about Michael Cohen on July 25, 2018.

 

Incredible numbers. I remember when "the experts" laughed about breaking 3%. Just because Obama never broke 2% doesn't mean that someone with great policies can't. Let's keep this going. -- Donald Trump Jr.

VERSUS

Except that Obama was responsible for 5 different quarters in which the US GDP increased to 4% or higher: Second Quarter, 2014 – 5.1% Third Quarter, 2014 – 4.9% Fourth Quarter, 2013 – 4.0% Fourth Quarter, 2011 – 4.7% Fourth Quarter, 2009 – 4.5% --- Diane Straub

 

"I haven't seen any evidence that the attempts to interfere in our election infrastructure was to favor a particular political party. I think what we've seen on the foreign influence side is they were attempting to intervene and cause chaos on both sides." — Homeland Security Secretary Kirstjen Nielsen, in remarks at the Aspen Security Forum, July 19, 2018

VERSUS

"We assess Russian President Vladimir Putin ordered an influence campaign in 2016 aimed at the US presidential election. Russia's goals were to undermine public faith in the US democratic process, denigrate Secretary Clinton, and harm her electability and potential presidency. We further assess Putin and the Russian Government developed a clear preference for President-elect Trump. We have high confidence in these judgments." -- U.S. intelligence community's January 2017 assessment

Obamacare is collapsing. We must do something. This year, a majority of states are seeing premiums and costs double, including states that expanded Medicaid. Three states – Alaska, Alabama, and our own Oklahoma – are seeing premiums triple." -- Sen. James Lankford (R-OK) 5/24/18

VERSUS

A recent Health and Human Services study found that individual-market premiums in many states had doubled -- but over four years, not "this year." But the comparison itself is flawed. It doesn't reflect several significant issues that would paint a different picture, including federal subsidies that lower the out-of-pocket cost, coverage requirements that provide better benefits for the insured, and the possibility that people with pre-existing conditions could buy a plan at all. -- Politifact

 

"We can have a theoretical discussion later, OK? This is why they don't know what it means to win, OK? We don't have time to have some theoretical discussion and to have their spokesman come out and say the president is divisive." -- Steve Bannon

VERSUS

ICYMI. https://www.nationalreview.com/corner/steve-bannon … it's really hard to imagine how the Kochs can withstand this kind of pressure. I mean a combined net worth of $80 billion in privately held companies leaves them so vulnerable to a dude with 5 shirts and fewer followers. — Jonah Goldberg on twitter.
6. From MEDIA MATTERS (They watch Fox News so you don't have to)
Lou Dobbs celebrates White House banning CNN reporter: "It's about time there were consequences for disrespectful behavior ... The president does insist on respect." https://www.mediamatters.org/video/2018/07/25/lou-dobbs-celebrates-white-house-banning-cnn-reporter-its-about-time-there-were-consequences/220791

NRATV host: "Nobody gives a rat's ass" that Trump bragged about sexually assaulting women. https://www.mediamatters.org/video/2018/07/26/nratv-nobody-gives-rat-s-ass-trump-bragged-about-sexually-assaulting-women/220798

Fox analyst Jack Keane says North Korean denuclearization may take a while "given the Asian culture...They move slowly -- slower than we do -- dealing with anything. Not just North Korea, but other countries as well."chttps://www.mediamatters.org/video/2018/07/26/fox-analyst-jack-keane-says-north-korean-denuclearization-may-take-while-given-asian-culture/220797

NRATV's Dan Bongino misquotes Rep. Maxine Waters to claim she made a "decapitation" analogy about Trump. https://www.mediamatters.org/blog/2018/07/26/nratv-s-dan-bongino-misquotes-rep-maxine-waters-claim-she-made-decapitation-analogy-about-trump/220796

Fox & Friends First reports on violence "spilling across the border into Baja California" from Mexico (Baja California is a Mexican state). https://www.mediamatters.org/video/2018/07/31/fox-friends-first-reports-violence-spilling-across-border-baja-california-mexico-baja-california/220854

NRATV host: Opposition to 3D printed guns is just "a way to scare ordinary people away from supporting the Second Amendment." https://www.mediamatters.org/video/2018/07/31/nratv-host-opposition-3d-printed-guns-just-way-scare-ordinary-people-away-supporting-second/220864

Conservatives on social media are spreading a fake Alexandria Ocasio-Cortez quote about Medicare. https://www.mediamatters.org/blog/2018/07/31/Conservatives-on-social-media-are-spreading-a-fake-Alexandria-Ocasio-Cortez-quote-about-Me/220860

Rush Limbaugh: LeBron James and NFL athletes who kneel are "spoiled brats being used as political tools by left-wing activists." Limbaugh: LeBron James "railing against Trump" on CNN is "supposed to bring all the other dead-brain dolts that watch that network right along into the fold." https://www.mediamatters.org/video/2018/07/31/rush-limbaugh-lebron-james-and-nfl-athletes-who-kneel-are-spoiled-brats-being-used-political-tools/220858
7. Late Night Jokes for Dems
President Trump tweeted today quote, "Collusion is not a crime, but that doesn't matter because there was No Collusion (except by Crooked Hillary and the Democrats)!" Okay, follow this logic with me. Collusion is not a crime, also I didn't do it, but also Hillary did it and she should be in jail! Good news, Rudy Giuliani, you're no longer the worst lawyer in the world. -- Seth Meyers

According to The New York Times, Ivanka Trump, like President Trump, is said to hold grudges. Well you know what they say, the apple doesn't fall far from the orange. -- Seth Meyers

The new "Mission: Impossible" won the box office this weekend, bringing in over $60 million. They've already come up with the plot for the next "Mission: Impossible" — getting Rudy Giuliani to stop talking. -- Jimmy Fallon

8. Trump's Bailout Won't Stop the Farm Belt Rebellion
American farmers have finally found a government subsidy they don't like. Earlier this week, President Trump announced a $12 billion emergency relief package for agricultural producers — who've been harmed by the "emergency" of his own trade policies.
While some farm groups applauded the handout, many took it as confirmation that the White House has no intention of calling off its trade war anytime soon. After all, if the president were on the brink of a breakthrough with China, he wouldn't feel compelled to funnel such large subsidies through an obscure New Deal–era program. On Tuesday, the American Soybean Association demanded a "a longer-term strategy to alleviate mounting soybean surpluses and continued low prices, including a plan to remove the harmful tariffs." That sentiment was echoed by other agricultural lobbies, including the recently formed Farmers for Free Trade — which is preparing a $2.5 million campaign against the president's tariffs.  http://nymag.com/daily/intelligencer/2018/07/trumps-bailout-wont-stop-farmers-anti-tariff-campaign.html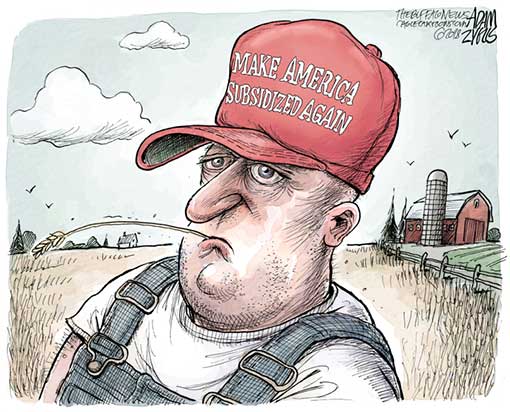 9. Trump admin has no central strategy for election security, and no one's in charge
Nineteen months into his presidency, there is no coherent Trump administration strategy to combat foreign election interference — and no single person or agency in charge," NBC Newsreports.
After terrorists struck on 9/11, the U.S. government passed laws, boosted funding, and reorganized itself with the goal of making sure such an attack could never happen again. But no such wholesale changes have taken place in the nearly two years since Russia sought to manipulate the 2016 election, cyber aggression that some lawmakers have called an act of war. https://www.nbcnews.com/politics/elections/trump-admin-has-no-central-strategy-election-security-no-one-n895256
10. Hillary Clinton's prophetic speech
Hillary made this speech 8 days before the 2016 US Presidential election. Considering what we know now, it's spookily prophetic. Watch it at https://twitter.com/JamesMelville/status/1019555023007739904
11. Democrats Are 'Substantial Favorites' to Win House
With 102 days to go, Democrats remain substantial favorites for House control. A big reason: Republicans are defending 42 open or vacant seats, a record since at least 1930. The retirements of Speaker Paul Ryan (WI-01), as well as powerful committee chairs like Reps. Ed Royce (CA-39) and Rodney Frelinghuysen (NJ-11) and popular moderates like Reps. Ileana Ros-Lehtinen (FL-27) and Frank LoBiondo (NJ-02), have given Democrats stellar pickup opportunities.
Of Republicans' 42 incumbent-less seats, eight are in districts that voted for Hillary Clinton in 2016, and an additional 13 are in districts where President Trump received less than 55 percent. History is working against the GOP in many of those seats: we found that since 1992, in situations when a president's party was stuck defending an open seat two years after the president failed to carry it, that party has batted zero for 23 keeping it in their column. -- Cook Political Report https://www.cookpolitical.com/analysis/house/house-overview/bottom-line-republicans-42-open-seats
12. Emails: Lawyer who met Trump Jr. tied to Russian officials
The Moscow lawyer said to have promised Donald Trump's presidential campaign dirt on his Democratic opponent worked more closely with senior Russian government officials than she previously let on, according to documents reviewed by The Associated Press.
Scores of emails, transcripts and legal documents paint a portrait of Natalia Veselnitskaya as a well-connected attorney who served as a ghostwriter for top Russian government lawyers and received assistance from senior Interior Ministry personnel in a case involving a key client. https://abcnews.go.com/International/wireStory/emails-lawyer-met-trump-jr-tied-russian-officials-56851982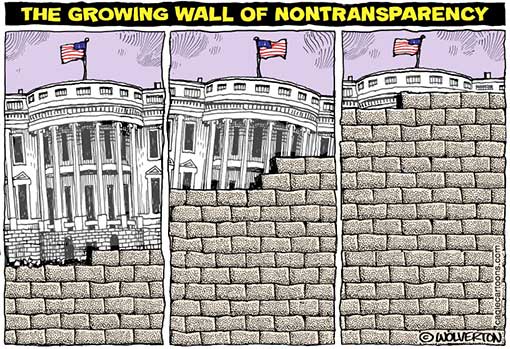 13. An Extremely Detailed Map of the 2016 Election
The New York Times has published an incredibly detailed, interactive map of 2016 presidential election results at https://www.nytimes.com/interactive/2018/upshot/election-2016-voting-precinct-maps.html
14. New Yorker Video: Immigrants Deported to Death and Violence
https://video.newyorker.com/watch/the-immigrants-deported-to-death-and-violence
15. As Affordable Housing Crisis Grows, HUD Sits on the Sidelines
The country is in the grips of an escalating housing affordability crisis. Millions of low-income Americans are paying 70 percent or more of their incomes for shelter, while rents continue to rise and construction of affordable rental apartments lags far behind the need.
The Trump administration's main policy response, unveiled this spring by Ben Carson, the secretary of housing and urban development: a plan to triple rents for about 712,000 of the poorest tenants receiving federal housing aid and to loosen the cap on rents on 4.5 million households enrolled in federal voucher and public housing programs nationwide, with the goal of moving longtime tenants out of the system to make way for new ones. https://www.nytimes.com/2018/07/27/us/politics/hud-affordable-housing-crisis.html
16. Trump policy shop filters facts to fit his message
Trump's appointees in the health department have deleted positive references to Obamacare, altered a report that undermined the administration's positions on refugees and added anti-abortion language to the strategic plan — part of an ideological overhaul of the agency's research office.
"While every administration puts its imprint on the executive branch and promotes ideas that advance its own agenda, this one has ventured several steps further — from scrubbing links to climate change studies from an Environmental Protection Agency website to canceling an Interior Department study on coal mining risks and suppressing reports on water contamination and the dangers of formaldehyde."
"Inside the Health and Human Services policy research shop, staffers say the political pressures to tailor facts to fit Trump's message have been unprecedented." https://www.politico.com/story/2018/07/28/trump-facts-policy-shop-administration-research-714353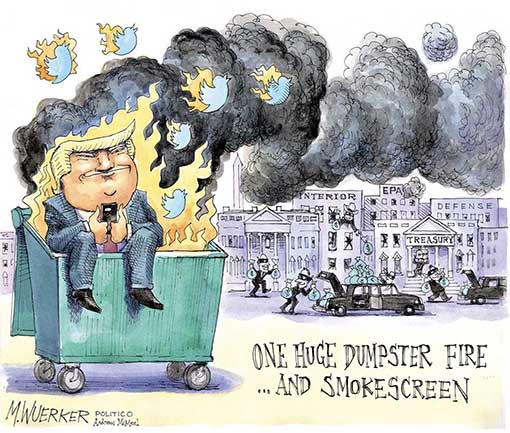 17. Trump threatens again to shut down federal government over border-wall funding
Donald Trump "threatened to shut down the federal government if Congress does not pass sweeping changes to immigration laws, including appropriating more public money to build his long-promised border wall.
Trump's threat raises the stakes ahead of a Sept. 30 government funding deadline, a political showdown before the November midterms that Republican congressional leaders had hoped to avoid. https://www.washingtonpost.com/politics/trump-threatens-again-to-shut-down-federal-government-over-border-wall-funding/2018/07/29/a8795546-9333-11e8-810c-5fa705927d54_story.html
18. House Republicans Are In Almost Total Disarray As Summer Recess Begins
When the House reconvenes, the GOP plans to devote a significant amount of the limited time it has left before fiscal 2019 begins to three tax cut bills that have no chance of being enacted any time soon because…wait for it…the Republican-controlled Senate has already said it's not interested."
And none of this even begins to anticipate what the House Republicans who are running for reelection and think they will need to energize the Trump base will do in September as the Manafort trial and Cohen investigations continue and as the Mueller probe moves forward.
In other words, this year's legislative crunch time is about to get very real but House Republicans have little leadership, no plan, a very divided caucus, are very likely to be distracted and are relying on a notoriously unreliable Donald Trump to do the right thing.
This is almost a textbook definition of political and legislative chaos. https://thebudgetguy.blog/2018/07/28/house-republicans-are-in-almost-total-disarray-as-summer-recess-begins/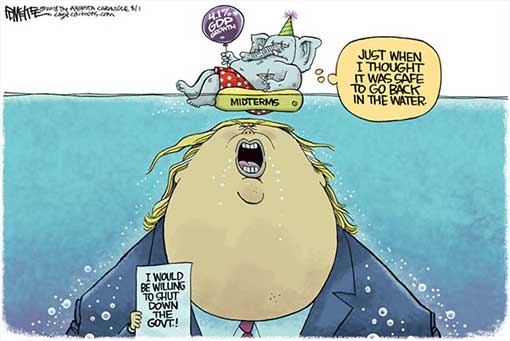 19. Women Drive Dems To 12-Pt. Lead In U.S. House Races
With almost 2-1 backing from women, Democrats take a 51 – 39 percent lead in hypothetical races for the U.S. House of Representatives this year, according to a Quinnipiac University National Poll released today.
Women back Democratic candidates 57 – 32 percent, the independent Quinnipiac University National Poll finds. Men are divided with 46 percent going Republican and 44 percent for Democrats. White voters are divided with 46 percent for Democrats and 45 percent for Republicans. Black voters go Democratic 78 – 16 percent and Hispanic voters back Democrats 66 – 23 percent.
The key block of independent voters backs Democratic candidates 50 – 33 percent. American voters disapprove 66 – 27 percent of the job Republicans in Congress are doing and disapprove of Democrats in Congress 63 – 30 percent. https://poll.qu.edu/images/polling/us/us07252018_uytw29.pdf/
20. 99 Days to Go, and the Midterm Elections Battleground Is Not What Was Expected
The battleground in the fight for control of the House is starting to come into focus with 99 days to go until the November election. It's not exactly the battleground that analysts expected.
It's not dominated by well-educated, suburban districts that voted for Hillary Clinton. Instead, the battleground is broad, and it includes a long list of working-class and rural districts that voted for Donald J. Trump in 2016.
The broader battleground is a positive development for Democrats. It's a reflection of how much the Republican structural advantage in the House has eroded over the last year. What remains of it isn't helping the Republicans as much as analysts assumed it would, at least not yet. https://www.nytimes.com/2018/07/30/upshot/99-days-till-midterm-elections-battleground.html
21. 'Eye-popping' payouts for CEOs follow Trump's tax cuts
Some of the biggest winners from President Donald Trump's new tax law are corporate executives who have reaped gains as their companies buy back a record amount of stock, a practice that rewards shareholders by boosting the value of existing shares.
A POLITICO review of data disclosed in Securities and Exchange Commission filings shows the executives, who often receive most of their compensation in stock, have been profiting handsomely by selling shares since Trump signed the law on Dec. 22 and slashed corporate tax rates to 21 percent. That trend is likely to increase, as Wall Street analysts expect buyback activity to accelerate in the coming weeks.
"It is going to be a parade of eye-popping numbers," said Pat McGurn, the head of strategic research and analysis at Institutional Shareholder Services, a shareholder advisory firm.
That could undercut the political messaging value of the tax cuts in the Republican campaign to maintain control of Congress in the midterm elections. https://www.politico.com/story/2018/07/30/eye-popping-payouts-for-ceos-follow-trumps-tax-cuts-747649
22. Trump Administration Mulls a Unilateral Tax Cut for the Rich
 The Trump administration is considering bypassing Congress to grant a $100 billion tax cut mainly to the wealthy, a legally tenuous maneuver that would cut capital gains taxation and fulfill a long-held ambition of many investors and conservatives.
Steven Mnuchin, the Treasury secretary, said in an interview on the sidelines of the Group of 20 summit meeting in Argentina this month that his department was studying whether it could use its regulatory powers to allow Americans to account for inflation in determining capital gains tax liabilities. The Treasury Department could change the definition of "cost" for calculating capital gains, allowing taxpayers to adjust the initial value of an asset, such as a home or a share of stock, for inflation when it sells.
"If it can't get done through a legislation process, we will look at what tools at Treasury we have to do it on our own and we'll consider that," Mr. Mnuchin said, emphasizing that he had not concluded whether the Treasury Department had the authority to act alone. "We are studying that internally, and we are also studying the economic costs and the impact on growth."
https://www.nytimes.com/2018/07/30/us/politics/trump-tax-cuts-rich.html
23. Mueller Says Manafort Made $60 Million from Ukraine
Prosecutors from special counsel Robert Mueller's office said Monday that Paul Manafort earned $60 million from his work as a political consultant in Ukraine and challenged a motion by the former Trump campaign chairman's attorneys to exclude dozens of exhibits on the topic.
Manafort is charged with lying on tax forms and bank fraud. He has denied all charges against him. https://www.cnn.com/2018/07/30/politics/mueller-says-manafort-earned-60m-from-ukraine-consulting/index.html
24. U.S. spy agencies: North Korea is working on new missiles
U.S. spy agencies are seeing signs that North Korea is constructing new missiles at a factory that produced the country's first intercontinental ballistic missiles capable of reaching the United States, according to officials familiar with the intelligence.
Newly obtained evidence, including satellite photos taken in recent weeks, indicates that work is underway on at least one and possibly two liquid-fueled ICBMs at a large research facility in Sanumdong, on the outskirts of Pyongyang, according to the officials, who spoke on the condition of anonymity to describe classified intelligence. https://www.washingtonpost.com/world/national-security/us-spy-agencies-north-korea-is-working-on-new-missiles/2018/07/30/b3542696-940d-11e8-a679-b09212fb69c2_story.html
25. Trump blasts media as 'unhinged' and 'crazy'
President Trump blasted the media as "unhinged" and "crazy" on Tuesday morning, adding that news organizations ruin the lives of "innocent" people as he continues his long-running battle with the news organizations.
He added: "In 7 years, when I am no longer in office, their ratings will dry up and they will be gone!" https://www.politico.com/story/2018/07/31/trump-criticize-media-751422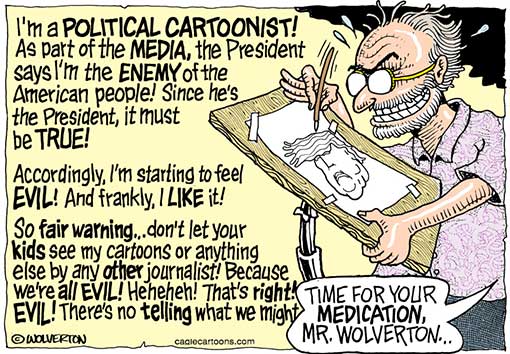 26. Layoffs from Trump tariffs are piling up. So are calls for more bailouts.
Trump has repeatedly said he would protect American farmers in the trade war, last week setting aside $12 billion to help them, but he is facing pressure to extend aid to other industries if the tariffs remain in place or get extended to more products.
Extending those bailouts would be an expensive proposition. The U.S. Chamber of Commerce on Monday estimated the total price tag could hit $39 billion if Trump compensated the losses across all industries. It would take $7.6 billion to help car and automobile parts manufacturers alone, the Chamber said, calling it a "slippery slope" for Trump to determine who gets help and who doesn't. The Chamber has been a vocal critic of the tariffs. https://www.washingtonpost.com/business/2018/07/30/after-trumps-farmer-bailout-manufacturers-ask-what-about-us/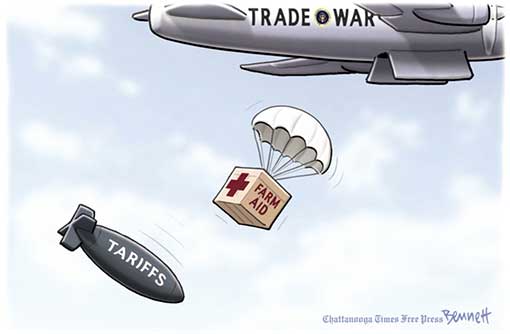 27. Trump Admin Ordered to Stop Injecting Migrant Kids With Psychotropic Drugs Without Consent
After reading testimony from several migrant children who said they'd been injected with psychotropic medication without their consent, a federal judge ruled that the Texas facility holding them had violated state child welfare laws.
Per the Washington Post, U.S. District Judge Dolly Gee of Los Angeles ordered the Trump administration to either obtain consent or a court order before giving medication to minors, unless there is a dire emergency. She also demanded the immediate evacuation of all children — except those deemed to pose a "risk of harm" — from the offending facility, Shiloh Residential Treatment Center in Manvel, Texas, which is contracted by the U.S. Office of Refugee Resettlement. https://www.thecut.com/2018/07/immigrant-kids-drugs-trump-judge-ruled.html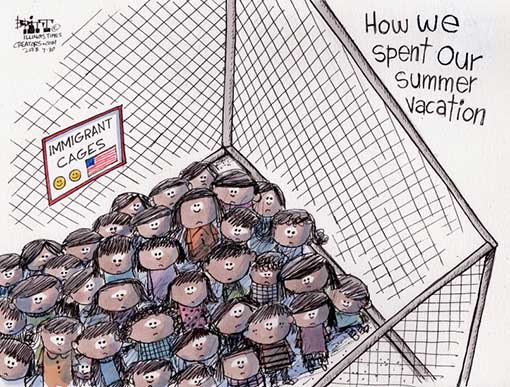 28

. New Emails Show Michigan Republicans Plotting to Gerrymander Maps

Newly disclosed emails show Michigan Republicans angling to give their party a dominant position through gerrymandered maps and celebrating the plight of their Democratic rivals.

Republicans in the state have denied that they sought partisan gain when they drew new legislative boundaries in 2011. But a federal lawsuit, which argues the maps are unconstitutional, has unearthed records showing Republicans intent on drawing boundaries that would help their party.

The emails, disclosed in a filing on Monday, boast of concentrating "Dem garbage" into four of the five southeast Michigan districts that Democrats now control, and of packing African-Americans into a metropolitan Detroit House district. One email likened a fingerlike extension they created in one Democratic district map to an obscene gesture toward its congressman, Representative Sander M. Levin.

"Perfect. It's giving the finger to Sandy Levin," the author of the message wrote. "I love it." https://www.nytimes.com/2018/07/25/us/michigan-gerrymandering.html
1. David Wallace-Wells: How Did the End of the World Become Old News?
It has been a month of historic, even unprecedented, climate horrors. But you may not have noticed, if you are anything but the most discriminating consumer of news. The major networks aired 127 segments on the unprecedented July heat wave, Media Matters usefully tabulated, and only one so much as mentioned climate change. The New York Times has done admirable work on global warming over the last year, launching a new climate desk and devoting tremendous resources to high-production-value special climate "features." But even their original story on the wildfires in Greece made no mention of climate change — after some criticism on Twitter, they added a reference.
Over the last few days, there has been a flurry of chatter among climate writers and climate scientists, and the climate-curious who follow them, about this failure. In perhaps the most widely parsed and debated Twitter exchange, MSNBC's Chris Hayes — whose show, All In, has distinguished itself with the seriousness of its climate coverage — described the dilemma facing every well-intentioned person in his spot: the transformation of the planet and the degradation may be the biggest and most important story of our time, indeed of all time, but on television, at least, it has nevertheless proven, so far, a "palpable ratings killer." All of which raises a very dispiriting possibility, considering the scale of the climate crisis: Has the end of the world as we know it become, already, old news? http://nymag.com/daily/intelligencer/2018/07/climate-change-wildfires-heatwave-media-old-news-end-of-the-world.html
2. E.J. Dionne Jr.: Trump lies. And lies. And lies.
"What you're seeing and what you're reading is not what's happening."
When the history of the Trump era is written, this quotation from our president will play a prominent role in explaining the distemper of our moment and the dysfunction of his administration. Trump was talking about media coverage of his trade war, but he was also describing his genuinely novel approach to governing: He believes that reality itself can be denied and that big lies can sow enough confusion to keep the truth from taking hold.
This has advantages for Trump, because it dulls the impact of any new revelation. Old falsehoods simply get buried under new ones. Take the recording of his September 2016 conversation with his onetime lawyer Michael Cohen that was released Tuesday night.
When it comes to creating new and unhinged narratives to displace those rooted in fact, Trump has no equal. Thus did the man who stood next to Vladimir Putin when the Russian leader said he wanted Trump to win in 2016 declare this week — with no evidence whatsoever — that Russia "will be pushing very hard for the Democrats" in this fall's elections. https://www.washingtonpost.com/opinions/trump-lies-and-lies-and-lies/2018/07/25/3f19d0fa-9048-11e8-bcd5-9d911c784c38_story.html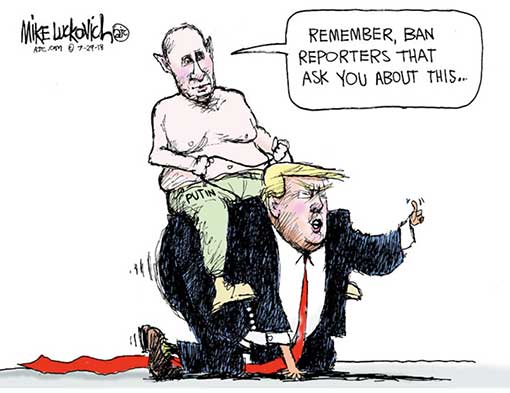 3. Jennifer Rubin: If Republicans lose big, this will be why
A raft of new polling helps explain just how much trouble Republicans are in and how they got there. It's hard to avoid the conclusion that President Trump's misogynistic, xenophobic and pro-Russian outlook — the things that endear him to his core base — are turning off a large majority of voters.
Overall, Democrats enjoy a healthy lead in the generic lead — 12 points in Quinnipiac, six in the NBC/Wall Street Journal and seven in the NPR/PBS NewsHour/Marist polls, to name a few. In large part that lead reflects a huge gender gap. In the Quinnipiac poll, for example, women prefer Democrats by a 57 to 32 percent margin. One factor in their antipathy toward Republicans seems to be abortion; 68 percent of women think reversing Roe v. Wade would be a "bad thing." The RealClearPolitics average is now nearly an eight-point lead for Democrats.
Even worse for Republicans, white women — who traditionally have supported Republicans — now tilt heavily toward Democrats. According to Quinnipiac, white women prefer Democrats for Congress by a substantial 53 to 39 percent margin. As a point of comparison Trump won white women (52/43) and Republicans in House races won them by an even greater margin (55/43).
In sum, if you are a Democrat running for the House you've got some big advantages. Go after Trump for being weak on Russia and Republicans for trying to take away health care; make sure women voters understand the stakes on abortion and health care; stick up for law enforcement; and offer yourself as a check against an out-of-control president. Don't be shy about hitting the tax bill as a give-away to the rich. And wouldn't you know it? That's pretty much what Democrats around the country are saying. https://www.washingtonpost.com/blogs/right-turn/wp/2018/07/26/if-republicans-lose-big-this-will-be-why/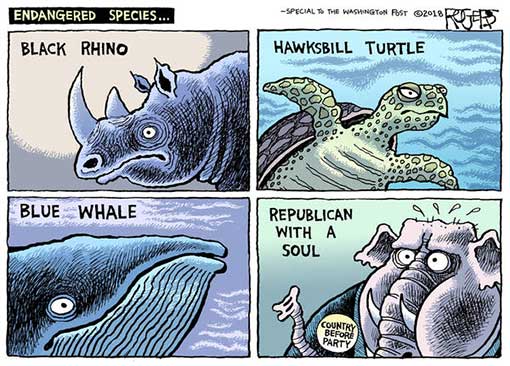 4. David Faris: Here comes that blue wave
The meta-story here is actually very simple: An unpopular, unstable president has pursued unpopular, unnecessary policies in tandem with an unpopular, craven congressional majority, resulting in a consistent polling deficit for the party in power. If President Trump and his allies continue on this disastrous course through Election Day, which they show every sign of doing, they will almost certainly be punished by the voters. The only question is the scale of the retribution and whether it will be enough to give Democrats control of one or both houses of Congress. None of this is even particularly surprising at a historical level, as the president's party almost always loses seats in the midterm elections. This Republican Party wouldn't even be the first to manage the seemingly impossible feat of bleeding out seats as the economy booms.
But to its pursuit of toxic policies and its difficulty fighting against the inevitable partisan headwinds, the GOP has added an additional handicap: the president himself. Donald Trump is an extraordinarily tiresome person whose constant mewling, bottomless self-pitying, grandiose conspiracy-mongering, and unpresidential grandstanding repulse a solid and consistent majority of people who encounter it. America is a country that in many ways yearns for a return to normalcy, and is probably willing to let it happen even under Trump's misrule. But the president himself simply won't allow it.
President Trump has also deliberately forsaken every single opportunity he has been given to speak or govern in ways that might mollify his opponents or build a broader coalition. Worse, he has spent much of this year on a self-destructive quest to light the embers of a global trade conflagration, which now threatens the health of the economy and the party's fortunes in key swing districts. http://theweek.com/articles/786738/here-comes-that-blue-wave
5. Jonathan Chait: Trump-Created European Trade Crisis Averted by Fake Deal
The Trump administration announced with maximum fanfare that the trade war with the European Union was over. "This was a big day for free and fair trade!," tweeted an excited President Trump. For all the hype and surprisingly credulous press the announcement attracted, it amounts to little more than a face-saving truce. If you're looking for any details as to how this will work, too bad, they don't exist.
The trade "deal" follows the script of the ballyhooed North Korean nuclear "deal" from last month. The cycle begins with bellicose Trumpian threats designed to increase American leverage. This leads to negotiations, which produce an impossibly ambitious and thoroughly vague "solution" that allows Trump to boast that he has averted a crisis of his own making.
But it is easy to see how Trump plans to turn this shambolic retreat into another famous victory. Begin with the assumption that the European Union has been screwing the Great Companies of the United States with one-sided and very, very unfair tariffs for decades. (This is not true.) Then proceed to the assumption that Trump has produced a deal to eliminate all these tariffs. (Completely unrealistic.) By stacking the two fantasies atop each other, you arrive at a reality in which Trump has made a Great Deal to make Americans win again. http://nymag.com/daily/intelligencer/2018/07/trump-created-european-trade-crisis-averted-by-fake-deal.html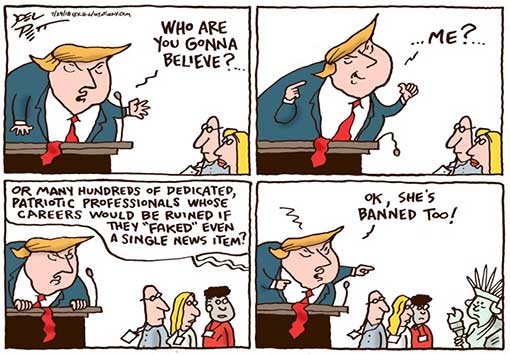 6. Eugene Robinson: There's just one way to constrain this lunatic administration
Democrats should keep in mind the classic definition of insanity: doing the same thing repeatedly and expecting a different result. This is an emergency, and while the party should be true to its values, it can ill afford litmus tests on the left or on the right.
If a candidate in, say, West Virginia or Montana is not as pro-choice as the party's mainstream, or does not make gun control a marquee issue, then so be it. If a candidate in an immigrant-rich district in California, Texas, Florida or New York favors reorganizing Immigration and Customs Enforcement in light of its excesses, that's fine as well.
There will be plenty of time to worry about the 2020 presidential election. Right now, the Democratic Party's exclusive focus should be on registering new voters and ensuring that constituencies with a habit of voting only in presidential years — especially minorities and young people — come out in November.
Are you registered? Do you not just plan to vote but swear you will vote? Do you know where your polling place is? If the answer to any of these questions is no, you are not part of the solution. You're part of the problem. https://www.washingtonpost.com/opinions/theres-just-one-way-to-constrain-this-lunatic-administration/2018/07/23/5aa09c14-8eae-11e8-bcd5-9d911c784c38_story.html
7. Andrew Sullivan: Portrait of the President As a Con Man
Con men usually know that a con has a life span, and not a long one. At some point, it will collapse because it is, in fact, bullshit. By then, the best con men have made the sale — think of "Trump University" — and moved on. They also know that keeping the suckers sealed off from other sources of contrary information is essential until the deal is done. You have to maintain a fiction relentlessly, dismiss or delegitimize external information that might get your marks to think differently, and constantly make the sale. You have to humor and flatter and bullshit all the time, until you've sealed the deal.
And Trump is really, really good at this. In fact, it's his chief skill, along with his instinct for the easy mark and another human being's vulnerable spot. It has worked many times before. It's at the root of his entire shady business career. His problem now, however, is that this is the biggest of all cons, if you're playing at a presidential level, and is also the longest. It has to be sustainable for at least four years. And that's an extremely long time to keep it alive.
This is why, it seems to me, Trump tweets so often and so aggressively. It's his chief mechanism for keeping his dupes under his spell, for sustaining the narrative of the con while reality tugs at it. He's making the sale every news cycle of every day because the alternative is the whole thing crashing to the ground. It's also why he keeps holding rallies. You need that kind of mass crowd hysteria to sustain a con — "America Is Great Again!" — that might otherwise be fraying at the edges. It's why he lambastes the media. Their role in undercutting the con — in presenting the arguments against it, in raising suspicions about the con man himself — is deeply destabilizing to the project. And it's why he has to lie, and lie with greater and greater intensity and frequency.

The con is definitely fraying badly. And it is not going to get easier to keep patching it up as time goes steadily by. http://nymag.com/daily/intelligencer/2018/07/andrew-sullivan-portrait-of-the-president-as-a-con-man.html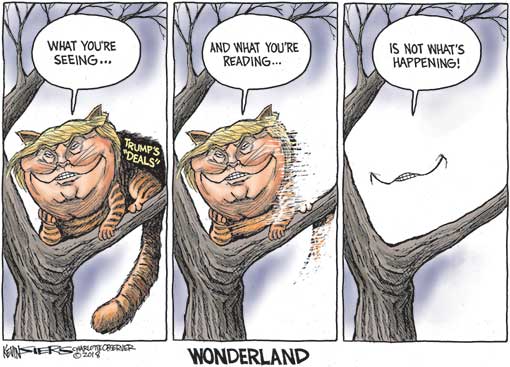 8. Jonathan Chait: Why Does Trump Keep Lying About His Dealings With Russia?
Trump, who has lied about his dealings with Russia so many times that his word has grown completely worthless, has to resort to the defense of pulling down the value of hostile witnesses to his own level. Rudy Giuliani, Trump's attorney, told CNN Thursday night, "Cohen]'s been lying all week, he's been lying for years."
Years! Keep in mind that Cohen has been working for Trump until recently. The effort to impugn Cohen's credibility naturally impeaches Trump's own credibility. Neither man is especially trustworthy, but the preponderance of circumstantial evidence supports Cohen's testimony.
One can see the ground already shifting in the defenses of Trump. Now his defenders deny that working cooperatively with Russians to obtain Russian dirt on Clinton amounts to collusion, or that such a thing is bad at all. "Look, I don't think that it's bad if campaigns are turning to foreign governments for dirt," asserts Andrew McCarthy on Fox News, "It's not collusion. It's not something that's impeachable; it's icky, but that's what this is."
But if that's the case, and Trump faces no legal liability for his secret collaboration with Russia, why didn't he simply admit it all along? Why tell a series of lies and implicate his subordinates in those lies, exposing them to potential perjury charges? Perhaps because he has more to hide. http://nymag.com/daily/intelligencer/2018/07/trump-knew-about-trump-tower-russian-meeting-keeps-lying.html
9. David Faris:Trump and the art of no deal
The basic problem is that the president is profoundly, almost impossibly, lazy. For him, easy things ("DO NOT CONGRATULATE") are strenuous, while he seems to believe that complex, intricate matters of global importance can be resolved with an awkward handshake and an aimless confab. His non-existent work ethic is almost unmatched in world diplomatic history outside the realm of inbred princes and accidental kings. He is content to chat amiably with his counterparts, agree to a vague framework bereft of any substance, and then call it a "win." He loves the pageantry of big announcements but is incapable of putting in the elbow grease to invest them with legitimacy or legal force.
Global leaders know perfectly well that the impressionable Trump, a serial liar and exaggerator with no better than a child's grasp on economic and security policy, has no idea what he's talking about and will say whatever he wants after the meeting is over anyway. That not only leaves the difficult task of hammering out the details to others, but allows allies and adversaries to reverse themselves almost immediately, to contest the Trump administration's narrative and to gallop off in the opposite policy direction. It also permits Trump himself to change his mind without consequence, or to be talked out of what he just agreed to by other advisers. That's the sort of impetuousness and impatience that led the president to storm out of the G7 meeting without signing the statement his team had just painstakingly helped craft.
The result of all of this unpredictable and inscrutable noise is profound policy drift. President Trump has walked away from both the Paris climate accord and the Iran nuclear deal without even a halfhearted attempt to put something else in place. He threatens to pull out of the World Trade Organization but can't be bothered to enlist congressional allies in the legislative project that would be required to do so. He threatens multiple countries with a global trade war, but lacks the courage to pay its inevitable political price, which is how we arrived at the president's announcement of a plan to bail out farmers hurt by the administration's cavalier and arbitrary tariffs. http://theweek.com/articles/786938/trump-art-no-deal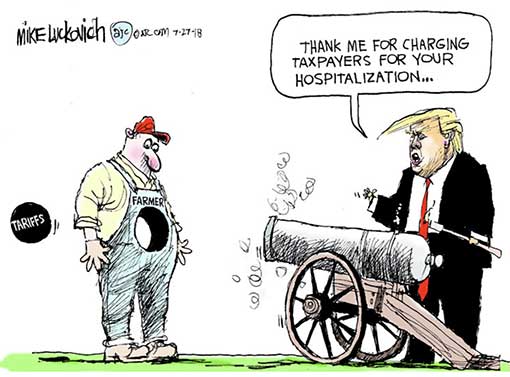 10. Frank Bruni: Mike Pence, Holy Terror
There are problems with impeaching Donald Trump. A big one is the holy terror waiting in the wings.
That would be Mike Pence, who mirrors the boss more than you realize. He's also self-infatuated. Also a bigot. Also a liar. Also cruel.
To that brimming potpourri he adds two ingredients that Trump doesn't genuinely possess: the conviction that he's on a mission from God and a determination to mold the entire nation in the shape of his own faith, a regressive, repressive version of Christianity. Trade Trump for Pence and you go from kleptocracy to theocracy.
That's the takeaway from a forthcoming book by the journalists Michael D'Antonio and Peter Eisner presents an entirely damning portrait of Pence. The book persuasively illustrates what an ineffectual congressman he was, apart from cozying up to the Koch brothers, Betsy DeVos and other rich Republican donors; the clumsiness and vanity of his one term as governor of Indiana, for which he did something that predecessors hadn't and "ordered up a collection of custom-embroidered clothes — dress shirts, polo shirts, and vests and jackets — decorated with his name and the words Governor of Indiana"; the strong possibility that he wouldn't have won re-election; his luck in being spared that humiliation by the summons from Trump, who needed an outwardly bland, intensely religious character witness to muffle his madness and launder his sins; and the alacrity with which he says whatever Trump needs him to regardless of the truth.
In Pence's view, any bite marks in his tongue are divinely ordained. Trump wouldn't be president if God didn't want that; Pence wouldn't be vice president if he weren't supposed to sanctify Trump. And his obsequiousness is his own best route to the Oval Office, which may very well be God's grand plan. https://www.nytimes.com/2018/07/28/opinion/sunday/mike-pence-holy-terror.html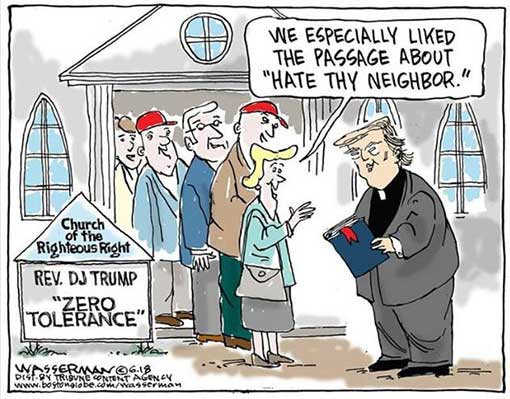 11. Tina Nguyen; It's War!: The Kochs Kneecap Trump In An Attempt To Make The G.O.P. Theirs Again
Charles and David Koch, the billionaire libertarian-ish brothers and longtime Republican Party patrons, never did like Donald Trump. During the 2016 election, they refused to contribute to Trump's candidacy, noting that they would instead spend their $300 million to prop up Republican candidates in local races. They remained aloof throughout 2017, with Charles suggesting that Trump's Muslim ban was reminiscent of Nazi-era racism, and both brothers implying that they would wait it out before backing Trump, who had begun to rail about tariffs. "We're principled, and if we can't get comfortable with the policies that are in place, then we're not going to support them," said Mark Holden, Koch Industries's top lawyer. Though they made several attempts to influence the White House's policy through their connectionswith top figures like Mike Pence, the president's recent gesture toward a trade war with China represented a proverbial final straw. "From the beginning we've said that tariffs and protectionism is a bad idea," Tim Phillips, president of Americans for Prosperity, the Kochs' political organization, told CNBC. "[The White House has] explained their reasoning behind it and we just strongly disagree."
The Kochs's hostility toward Trump isn't new, though their rhetoric seems to mark a turning point. A.F.P. has been subtly instigating this agenda for months, running a not insignificant volume of ads blasting Republicans for voting in favor of Trump's controversial trillion-dollar spending package, and going out of their way to advertise in support of Democrats who embrace their agenda, such as North Dakota Senator Heidi Heitkamp,who voted to roll back Dodd-Frank regulations on community banks. (Heitkamp, incidentally, faces a tough race in a vulnerable seat this year.) Perhaps the brothers Koch hoped that overtly voicing their objections would lure some Republicans back into the free-market fold, thereby preserving their Congressional majorities. https://www.vanityfair.com/news/2018/07/koch-brothers-supporting-democrats-donald-trump
12. Robert Epstein: What's going on with Donald Trump? Psychologist explains the president's lies, reversals
Sympathetic audience control and a small time window produce most of the odd cognitive glitches we see in our president. Moment to moment, he either sees a foe and shoots, or he sees a friend and is influenced. In that kind of perceptual world, Trump inevitably — and without shame or even awareness — shifts his views frequently, sometimes multiple times a day.
Not only do his views shift, he also has no trouble denying, entirely without guile, in my view, what he said yesterday. All that's shiny and real to him is what friends or foes are saying inside those small time windows. Everything else is fuzzy, and that's why he can so easily tell so many lies. From his perspective, lying has no meaning. Only reacting has meaning. Trump reacts.
The small time window and sympathetic audience control also explain why Trump always seems to be creating foreign policy on the fly, why his meetings with world leaders rarely produce tangible results, why he can't get congressional deals, and why he is almost certainly incapable of negotiating those famous bilateral agreements that were supposed to replace the multinational treaties he has swept aside.
If I'm right, and I'm pretty sure I am, Trump is capable of only a minimal level of analytical or critical thinking. Perhaps more alarming, our president — the putative leader of the free world — doesn't believe in anything and he rarely, if ever, means anything he says. The impulsive tweets, the conservative court appointments, the unfunded tax cuts, the obsession with a wall, the swipes at immigrants — all are byproducts (dross, if you will) of sympathetic audience control operating in small time windows. There are no principles operating here, just gusts of wind.
And if I'm right, Trump will continue to function this way — blindly, erratically and reactively, without principle or direction — for the rest of his life. https://www.usatoday.com/story/opinion/2018/07/30/trump-lies-reversals-rudderless-unprincipled-leader-psychologist-column/848728002/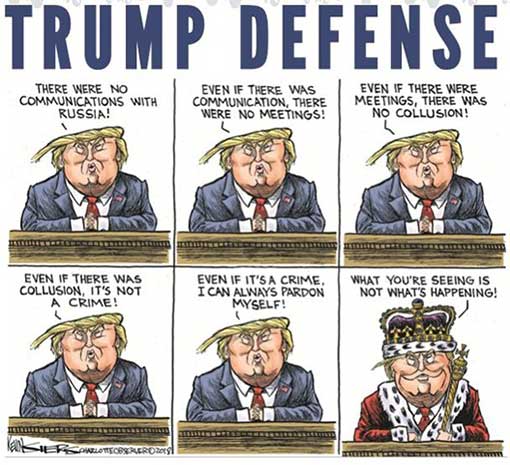 13. Damon Linker: Ignore the president
The time has come to turn off The Trump Show.
I know: We can't simply ignore the president. He has enormous power at his disposal. Because of this, normally everything a president says has news value. Presidential words matter. They inspire actions and reactions across the federal government, and throughout the citizenry. They shape public opinion and drive policy changes. They can move markets at home and abroad. They send signals to foreign governments.
Yet it's also true that we've been dealing with Trump in the presidential arena long enough — since he launched his campaign three years ago — to have learned something important about how he uses his pulpit differently from all previous presidents.
President Trump uses his public utterances, and especially his tweets, not to rally the country as a whole but to rally his base of far-right voters, to encourage a cult of personality around himself, and to troll everyone else. To accomplish these goals, he exaggerates, insults, lies, and spreads transparent nonsense in the hope of provoking a reaction — adulation among his supporters and anger in his opponents.
At this point, there's no good reason why we should lend credence to this miasma of presidential BS. If the president wants to engage in base maintenance and mobilization by denouncing "fake news" or the special counsel's investigation of his campaign's myriad ties to a hostile foreign government, he can go ahead and do that. But journalists shouldn't be complicit in spreading or legitimating the message. http://theweek.com/articles/787577/ignore-president