January 4, 2018
ON THE RECORD. . .
"I think my generation needs to get the hell out of politics. Start coaching and start moving up this next generation who are more … fiscally sane. Neither Republicans or Democrats can claim they are fiscally responsible anymore. This young generation is going to pay for that if we don't get the hell out of the way and have somebody who is 50 running the country." -- Howard Dean on MSNBC.
"From trying to discredit and dismantle the Congressional Budget Office, to ignoring the trillion dollar deficit increase projected by the Joint Committee on Taxation from the Trump Family and Friends Tax Cut, to misusing and abusing the congressional budget process, to coming close to 3 government shutdowns, to not even trying to enact any of the 12 regular 2018 appropriations by the start of the fiscal year, to enacting what may well be the most nonsensical and damaging tax policy in U.S. history, there was nothing about what the Republican House and Senate majorities and Trump administration did that had any redeeming value." -- Stan Collender in Forbes
"I think the big enchilada here is the conspiracy to break into the Democratic National Committee in violation of the federal computer crime law and to use those emails to help Donald Trump get elected. All of that is motive as to why Donald Trump and others were endeavoring to obstruct the investigation, and why Donald Trump told James Comey to let the investigation on Michael Flynn go. All of this is going to come together in 2018. -- Nick Ackerman to  MSNBC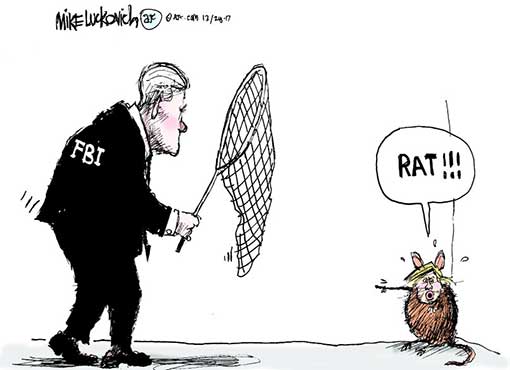 "Since taking office I have been very strict on commercial aviation. Good news – it was just reported that there were zero deaths in 2017, the best and safest year on record!" — Trump, on Twitter, taking credit for planes not crashing.
"You realize where this is going. This is all about money laundering. Mueller chose [senior prosecutor Andrew] Weissmann first and he is a money-laundering guy. Their path to f**king Trump goes right through Paul Manafort, Don Jr and Jared Kushner… It's as plain as a hair on your face." — Stephen Bannon, quoted in Michael Wolff's Fire and Fury: Inside the Trump White House on the Russian investigation.
Steve Bannon has described the Trump Tower meeting between the president's son and a group of Russians during the 2016 election campaign as "treasonous" and "unpatriotic." Said Bannon: "They're going to crack Don Junior like an egg on national TV." -- The Guardian
---
IN THIS ISSUE
FYI
OPINION
1.  Andy Borowitz: Paul Ryan Says He Will Retire Once He Has Wrecked Country
Starting 2018 with a political bombshell, House Speaker Paul Ryan said on Tuesday that he will retire once he is satisfied that he has completely wrecked the country.

"I came to Washington with the goal of destroying life in the United States as we know it," Ryan said in an emotional press conference. "Once I look around me and see nothing but smoldering ruins, I'll call it a day."

Asked by a reporter whether, by passing the Republican tax bill, he had not in fact already wrecked the country, the House Speaker responded, "That was an important step in the right direction, but, make no mistake, there is much havoc left to wreak."

"There's a lot of talk about the millions of people who will lose their health care, but no one one talks about the tens of millions who still have it," he said. "That just shows how much work I still have to do."

Speaking solemnly about the challenging path of destruction that lies ahead of him, Ryan said, "I have many lives to wreck before I sleep."  https://www.newyorker.com/humor/borowitz-report/paul-ryan-says-he-will-retire-once-he-has-wrecked-country
2. Trump made 25 false claims in his latest New York Times interview
Trump made nearly one false claim per minute in the 30-minute interview in Florida on Thursday.
U.S. President Donald Trump sat down Thursday for a rare interview with a media outlet other than Fox News, holding an impromptu 30-minute session with New York Times reported Michael Schmidt at his golf club in West Palm Beach, Fla.
He made nearly one false claim per minute — 25 false claims in all.
For the list of Trump's false claims go to https://www.thestar.com/news/world/analysis/2017/12/29/donald-trump-made-25-false-claims-in-his-latest-new-york-times-interview.html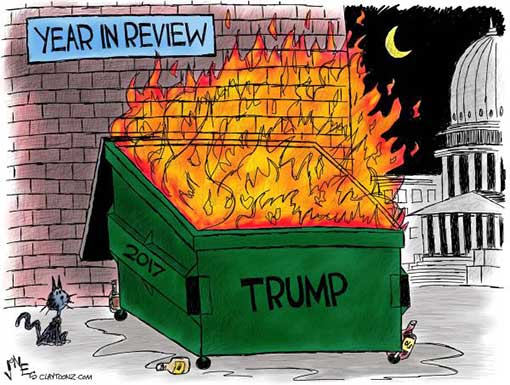 3. Steve Bannon touches the third rail of Trumpworld
Bannon's comments won't surprise anyone who's spoken to him, but as on the record statements they are shocking sources close to the president. The White House was prepared for the Wolff book to be bad for them — and sources there have told me he spent a ton of time in the building visiting with Bannon — but they weren't prepared for Bannon doing this.
Bannon touched the third rail of Trumpworld — going after the president's blood family.  https://www.axios.com/steve-bannon-touches-the-third-rail-of-trumpworld-2522110706.html
4. Russia never stopped its cyberattacks on the United States
There is a perception among the media and general public that Russia ended its social-media operations following last year's election and that we need worry only about future elections. But that perception is wrong. Russia's information operations in the United States continued after the election and they continue to this day.
In a single week this month, Moscow used these accounts to discredit the FBI after it was revealed that an agent had been demoted for sending anti-Donald Trump texts; to attack ABC News for an erroneous report involving President Trump and Michael Flynn, the former national security adviser; to critique the Obama administration for allegedly "green lighting" the communication between Flynn and then-Russian Ambassador Sergey Kislyak; and to warn about violence by immigrants after a jury acquitted an undocumented Mexican accused of murdering a San Francisco woman.
This continues a pattern of similar activity over the past year. Russian operatives have frequently targeted Republican politicians who have been critical of Trump, including Sen. Jeff Flake (Ariz.), Sen. Lindsey O. Graham (S.C.) and Sen. Bob Corker (Tenn.). In September, they also attacked Sen. John McCain (Ariz.) after his decisive "no" vote against the Republican health-care bill. -- Michael Morell and Mike Rogers  https://www.washingtonpost.com/amphtml/opinions/russia-never-stopped-its-cyberattacks-on-the-united-states/2017/12/25/83076f2e-e676-11e7-a65d-1ac0fd7f097e_story.html
5. The DAILY GRILL
"You know, one of the things that people don't understand — we have signed more legislation than anybody. We broke the record of Harry Truman." -- Trump claiming that he had signed more legislation than any of his predecessors at this point in their terms to roughly four dozen first responders at a firehouse in West Palm Beach.

VERSUS

As of today, President Trump has signed the fewest bills into law by this point in any president's first year at least as far back as President Eisenhower. -- Recent report from the website GovTrack.


In the East, it could be the COLDEST New Year's Eve on record. Perhaps we could use a little bit of that good old Global Warming that our Country, but not other countries, was going to pay TRILLIONS OF DOLLARS to protect against. Bundle up! -- Donald J. Trump✔@realDonaldTrump 

VERSUS

U.S. to be coldest region in world relative to normal over next week. Please note rest of world will be much warmer than normal lest anyone try to claim pocket of cold in U.S. debunks global warming, which they will invariably and irresponsibly do. http://wapo.st/2zEovsu -- Capital Weather Gang✔@capitalweather 

 

While the Fake News loves to talk about my so-called low approval rating, @foxandfriends just showed that my rating on Dec. 28, 2017, was approximately the same as President Obama on Dec. 28, 2009, which was 47%...and this despite massive negative Trump coverage & Russia hoax! -- Donald J. Trump✔@realDonaldTrump
 

VERSUS

The cleanest comparison between the approval ratings of the two presidents is Gallup's daily tracking polls, which are released as both three-day rolling averages and weekly averages. The three-day averages released on December 28, 2009—the day Trump cited in his tweet—showed 51% approval for Obama with 43% disapproval. On December 28 of this year, Gallup released a three-day average showing 38% approval for Trump with 56% disapproval. -- Daily Kos

 

I hope everyone is having a great Christmas, then tomorrow it's back to work in order to Make America Great Again (which is happening faster than anyone anticipated)! -- Donald J. Trump✔@realDonaldTrump

VERSUS

"Trump has since gone golfing for seven consecutive days, while the press pool ate pancakes at a local IHOP." -- ThinkProgress

 

Democrats are doing nothing for DACA - just interested in politics. DACA activists and Hispanics will go hard against Dems, will start "falling in love" with Republicans and their President! We are about RESULTS. -- Donald J. Trump✔@realDonaldTrump

VERSUS

You eliminated DACA. No one is as dumb as this tweet. https://twitter.com/realdonaldtrum p/status/948211438472089600 -- Neera Tanden✔@neeratanden
6. From MEDIA MATTERS (They watch Fox News so you don't have to)
President Donald Trump and his administration have waged an unprecedented war on the media since he took office. For a look at some numbers that exemplify the conflicts throughout 2017 go to  https://www.mediamatters.org/blog/2017/12/29/trump-administration-s-2017-war-press-numbers/218929

Following a bombshell report, Fox News is desperately clinging to their alternate reality about the Russia investigation. While a NYT report reveals the real impetus of the Russia investigation, Fox is running with the unfounded conjecture of fake news, pro-Trump trolls, and Republican congressmen.  https://www.mediamatters.org/blog/2018/01/03/following-bombshell-report-fox-news-desperately-clinging-their-alternate-reality-about-russia/218961
7. 44% of Republicans Say Trump Repealed Obamacare
A new Economist/YouGov poll finds that 31% of American adults believe that President Trump has successfully repealed Obamacare. Of those who identify as Republican voters, 44% say that Trump has repealed Obamacare.
Just to be clear, Trump hasn't repealed Obamacare. Most of the Affordable Care Act is still the law of the land. But the Republicans' new tax bill did repeal a key feature of the law, the requirement that all Americans carry health insurance coverage.  https://www.vox.com/2017/12/27/16822748/republicans-trump-repeal-obamacare
Unsurprisingly, 51 percent of Republicans still think former President Barack Obama was born in Kenya.  http://www.newsweek.com/trump-birther-obama-poll-republicans-kenya-744195
8. Republican Attacks on Mueller and F.B.I. Open New Rift in G.O.P.
A growing campaign by President Trump's most ardent supporters to discredit the special counsel, Robert Mueller, and the law enforcement agencies assisting his investigation is opening new fissures in the Republican Party, with some lawmakers questioning the damage being done to federal law enforcement and to a political party that has long championed law and order.  https://www.nytimes.com/2017/12/30/us/politics/conservatives-mueller-fbi-republicans-trump.html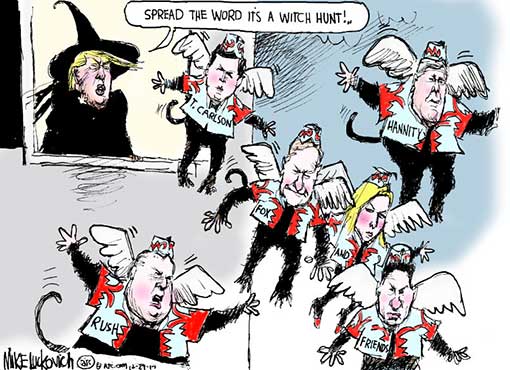 9. Trump: Give Me a Border Wall or I'll Deport the Dreamers
Donald Trump just made Democrats an offer they can't accept. In a Friday-morning tweet, the president issued an ultimatum: Build me a border wall — and make it harder for legal immigrants to bring their foreign family members into the United States (a.k.a. "chain migration") — or the Dreamers get it  http://nymag.com/daily/intelligencer/2017/12/trump-give-me-a-border-wall-or-ill-deport-the-dreamers.html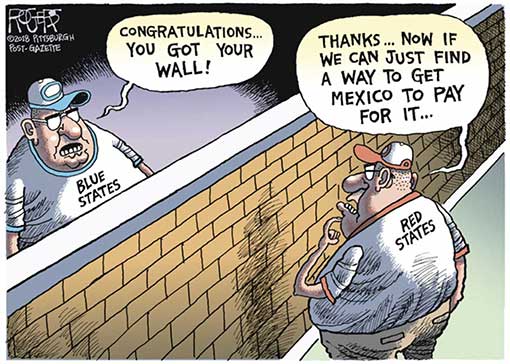 10. Tax bill a giant present to the tax lobbying community
President Trump just signed into law the biggest tax overhaul in a generation, but that means more work — not less — for Washington's tax lobbyists. Rather than streamlining the tax code, Republicans have made it more complicated by jamming through a new series of temporary tax breaks for everything from craft brewers to citrus growers. Lobbyists expect these breaks, known as tax extenders, to generate paydays for years."
Adding to their workload: Republicans rammed their bill, H.R. 1 (115), through Congress so quickly that it's almost certain to require follow-up legislation to fix the mistakes and miscalculations still being discovered, according to interviews with half a dozen tax lobbyists.  https://www.politico.com/story/2018/01/02/tax-overhaul-paydays-for-k-street-261668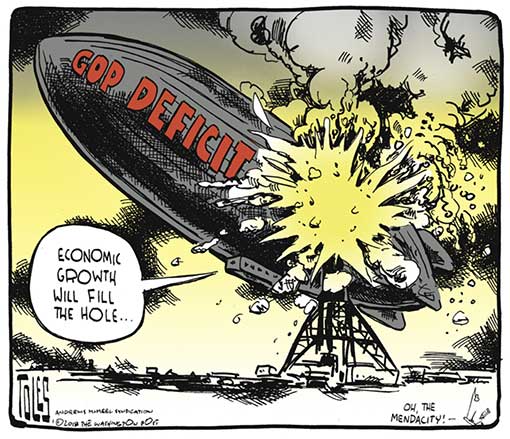 11. GOP Obamacare quandary — easy to hate, hard to kill
Republicans start the year divided over whether to tear down or prop up Obamacare, a split that could derail their legislative agenda leading up to the 2018 midterm elections. GOP leaders on Capitol Hill don't want a repeat of last year's Obamacare fumble: They spent precious time on a failed attempt to repeal the health care law every member of the GOP was presumed to hate. But they also don't want to take repeal off the table, which would provoke conservatives who are still determined to undo Obamacare.
The reality is the GOP is so divided on Obamacare, they don't have the votes to achieve either objective — repeal or stabilization. That means former President Barack Obama's signature legislative accomplishment could keep limping along, crippled by the repeal of the individual mandate in the tax law but lifted by the surprisingly strong enrollment for the coming year.  https://www.politico.com/story/2018/01/02/obamacare-gop-quandary-319619
12. Trump confronts 2018's harsh political reality
Over the past few weeks — especially since Roy Moore's defeat — sources close to Trump say he's finally recognizing a harsh reality: If Republicans lose the House in 2018, it will pose an existential threat to his presidency, with endless investigations, legislative obstruction and a likely move toward impeachment.  https://www.axios.com/trumpworld-confronts-the-political-realities-of-2018-2521337089.html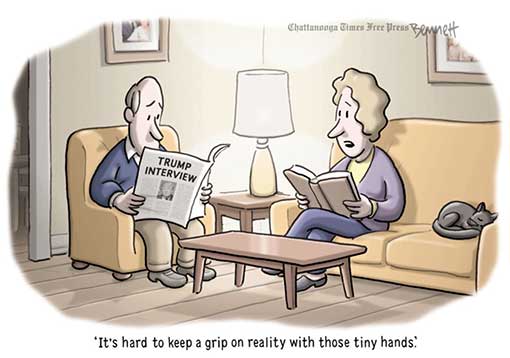 13. First special election of 2018 is in Trump country — and Democrats are drooling
The special election for former Pennsylvania Rep. Tim Murphy's seat is kicking into gear now that each party has its candidate. Democrat Conor Lamb, a former Marine and federal prosecutor, will face Republican state Rep. Rick Saccone, a former Air Force special agent, in the March 13 election.
Voters in the district have tended to support Republicans in recent years. President Donald Trump carried the 18th by 20 points last fall, according to calculations by Daily Kos Elections. GOP presidential nominees Mitt Romney and Sen. John McCain did the same in 2012 and 2008, respectively.  https://www.rollcall.com/news/politics/special-election-tim-murphy-seat
Republican State Rep. Rick Saccone extreme record, Trump's unpopularity and Lamb's moderate, "electable" veneer -- along with the campaign donations that pour into a nationally watched race -- might make that revolution possible. This race in the heart of Trump country will set the tone for 2018.  https://www.salon.com/2017/12/27/first-special-election-of-2018-is-in-trump-country-and-democrats-are-drooling/#.WksVIfWhaiw.twitter
14. Trump's year of living dangerously is worse than you think
By the time Trump's dinner with leaders of four Latin American countries on the sidelines of the annual United Nations General Assembly was over, the leaders were in shock, and not just over the idle talk of armed conflict. No matter how prepared they were, eight months into an American presidency like no other, this was somehow not what they expected. A former senior U.S. official with whom I spoke was briefed by ministers from three of the four countries that attended the dinner. "Without fail, they just had wide eyes about the entire engagement," the former official told me. Even if few took his martial bluster about Venezuela seriously, Trump struck them as uninformed about their issues and dangerously unpredictable, asking them to expend political capital on behalf of a U.S. that no longer seemed a reliable partner. "The word they all used was: 'This guy is insane.'  https://www.politico.com/magazine/story/2018/01/02/donald-trump-foreign-policy-analysis-dangerous-216202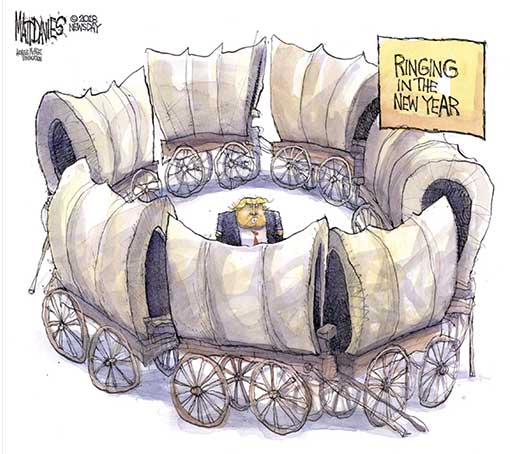 15. Minnesotans Don't Want Franken to Resign
A new Public Policy Polling survey in Minnesota finds that a majority of voters don't think Sen. Al Franken (D-MN) should resign, 50% to 42%. Franken's continued popularity is being driven especially by women. 57% of them like the job he's doing to 37% who don't.
76% of Minnesota voters think their voices should have been more important in determining whether Franken stayed in the Senate or not, to only 12% who think that should have been determined more by his fellow Senators in Washington.  https://www.publicpolicypolling.com/polls/minnesotans-dont-think-franken-resign-franken-remains-popular-especially-women/
1. Glenn R. Simpson and Peter Fritschjan (Founders of the research firm Fusion GPS): The Republicans' Fake Investigations
A generation ago, Republicans sought to protect President Richard Nixon by urging the Senate Watergate committee to look at supposed wrongdoing by Democrats in previous elections. The committee chairman, Sam Ervin, a Democrat, said that would be "as foolish as the man who went bear hunting and stopped to chase rabbits."
Today, amid a growing criminal inquiry into Russian meddling in the 2016 election, congressional Republicans are again chasing rabbits. We know because we're their favorite quarry.
In the year since the publication of the so-called Steele dossier — the collection of intelligence reports we commissioned about Donald Trump's ties to Russia — the president has repeatedly attacked us on Twitter. His allies in Congress have dug through our bank records and sought to tarnish our firm to punish us for highlighting his links to Russia. Conservative news outlets and even our former employer, The Wall Street Journal, have spun a succession of mendacious conspiracy theories about our motives and backers.
The intelligence committees have known for months that credible allegations of collusion between the Trump camp and Russia were pouring in from independent sources during the campaign. Yet lawmakers in the thrall of the president continue to wage a cynical campaign to portray us as the unwitting victims of Kremlin disinformation.  https://www.nytimes.com/2018/01/02/opinion/republicans-investigation-fusion-gps.html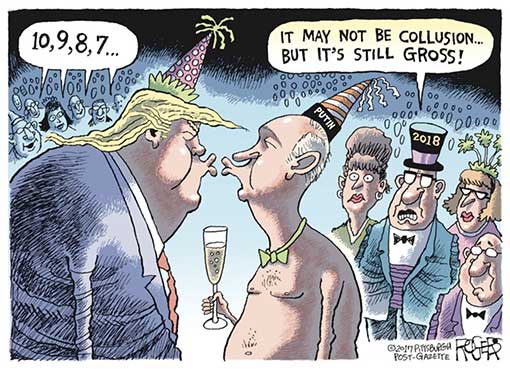 2. Incoherent, authoritarian, uninformed: Trump's New York Times interview is a scary read
The president of the United States is not well. That is an uncomfortable thing to say, but it is an even worse thing to ignore.
Trump does not know what he doesn't know, and he overestimates what he does know
In psychology, there's an idea known as the Dunning-Kruger effect. It refers to research by David Dunning and Justin Kruger that found the least competent people often believe they are the most competent because they "lack the very expertise needed to recognize how badly they're doing." This dynamic helps explain comments like the one Trump makes here.
I've talked to policy experts who have sat in the Oval Office explaining their ideas to the president and to members of Congress who have listened to the president sell his ideas to them. I've talked to both Democrats and Republicans who have occupied these roles. In all cases, their judgment of Trump is identical: He is not just notably uninformed but also notably difficult to inform — his attention span is thin, he hears what he wants to hear, he wanders off topic, he has trouble following complex arguments. Trump has trouble following his briefings or even correctly repeating what he has heard.  https://www.vox.com/policy-and-politics/2017/12/29/16829806/trump-interview-new-york-times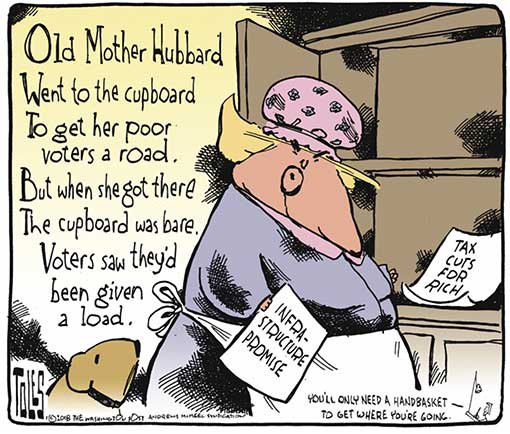 3. Juan Williams: GOP will suffer for tax giveaway
With so much money concentrated in the hands of so few Americans, it is no wonder that polls show the GOP tax bill is wildly unpopular, with support ranging in major polls only from 26 to 32 percent.
"Don't let your Uncle Bob be fooled: Republicans are voting for this because their wealthy patrons demand it," former Clinton Labor Secretary Robert Reich wrote last week on his website. "Their tax plan will weaken our economy for years — reducing demand, widening inequality, and increasing the national debt by at least $1.5 trillion over the next decade." 
And now for the political fall-out:
Before the tax cut vote, Democrats led Republicans on the generic Congressional preference ballot question by 15 points. Fifty-one percent said they would vote or lean towards voting Democratic, while just 36 percent said the same about Republicans, according to Monmouth University.
Look for those numbers to sink even lower when Trump voters realize they've been had. They were sold a bill of goods by his party when they voted for Trump-style economic populism in 2016.  http://thehill.com/opinion/white-house/366398-juan-williams-gop-will-suffer-for-tax-giveaway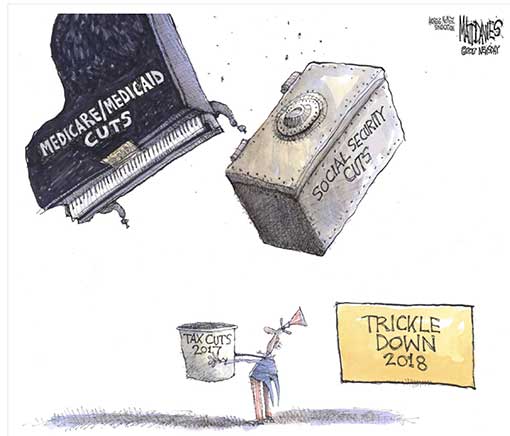 4. Joe Scarborough: A Storm Is Gathering
A storm is gathering, and there is every reason to believe that 2018 will be the most consequential political year of our lives.
The reckoning upon us follows a year mercifully drawing to a close this weekend. Over that horrid year, President Trump has questioned the legitimacy of federal judges, used Stalinist barbs to attack the free press and cast contempt on the rule of law, while his campaign manager, his national security adviser and a foreign policy aide have been marched into federal courts. Those anti-democratic instincts were made all the more ominous by his praising of autocrats across the world as they were ruthlessly consolidating power in countries such as Russia, China and the Philippines.
It is difficult to pinpoint the nadir for a man who has savaged Mexicans, Muslims and Gold Star mothers while fat-shaming beauty queens and face-shaming female news hosts (disclosure: in the latter example, my own fiancee ). But the low moment in this presidency may have occurred four months ago, when Trump claimed a moral equivalency between neo-Nazis and those standing against them. Or perhaps it was three weeks ago, when the president told Americans to vote for an accused child molester who had called our country the focus of evil in the modern world and once suggested opposition to the constitutional amendments that ended slavery and gave women the right to vote.
Others would surely consider the president's malignant idiocy in foreign affairs to be the most damning legacy of his first year. World leaders continue to watch dumbstruck as the United States retreats from organizations that were created following the allies' victory over Hitler. Those same alliances that Trump now undermines with reckless tweets and discarded treaties carried the United States to victory in the Cold War. But this is a White House that heaps contempt on history. And so, America's dangerous retreat from the world continues.
This president is ripping apart the carefully woven fabric of U.S. foreign policy that bound administrations together from Franklin D. Roosevelt to Ronald Reagan to Barack Obama, and across the American century.  https://www.washingtonpost.com/opinions/a-storm-is-gathering/2017/12/28/a03dc436-ec01-11e7-b698-91d4e35920a3_story.html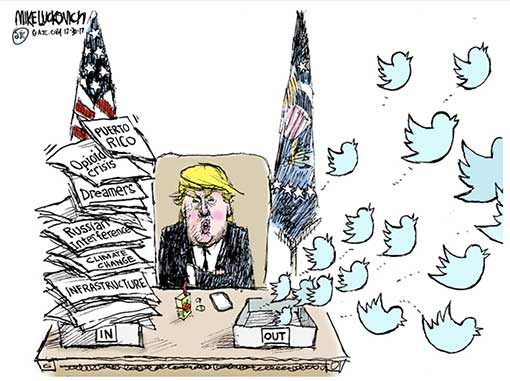 5. Mark Landler: Trump, The Insurgent, Breaks With 70 Years Of American Foreign Policy
Nearly a year into his presidency, Mr. Trump remains an erratic, idiosyncratic leader on the global stage, an insurgent who attacks allies the United States has nurtured since World War II and who can seem more at home with America's adversaries. His Twitter posts, delivered without warning or consultation, often make a mockery of his administration's policies and subvert the messages his emissaries are trying to deliver abroad.
Mr. Trump has pulled out of trade and climate change agreements and denounced the 2015 nuclear deal with Iran. He has broken with decades of American policy in the Middle East by recognizing Jerusalem as the capital of Israel. And he has taunted Kim Jong-un of North Korea as "short and fat," fanning fears of war on the peninsula.
He has assiduously cultivated President Xi Jinping of China and avoided criticizing President Vladimir V. Putin of Russia — leaders of the two countries that his own national security strategy calls the greatest geopolitical threats to America.
Above all, Mr. Trump has transformed the world's view of the United States from a reliable anchor of the liberal, rules-based international order into something more inward-looking and unpredictable. That is a seminal change from the role the country has played for 70 years, under presidents from both parties, and it has lasting implications for how other countries chart their futures.  https://www.nytimes.com/2017/12/28/us/politics/trump-world-diplomacy.html
6. Michael Grunwald: Donald Trump Is a Consequential President. Just Not in the Ways You Think.
The most consequential aspect of President Trump—like the most consequential aspect of Candidate Trump—has been his relentless shattering of norms: norms of honesty, decency, diversity, strategy, diplomacy and democracy, norms of what presidents are supposed to say and do when the world is and isn't watching. As I keep arguing in these periodic Trump reviews, it's a mistake to describe his all-caps rage-tweeting or his endorsement of an accused child molester or his threats to wipe out "Little Rocket Man" as unpresidential, because he's the president. He's by definition presidential. The norms he's shattered are by definition no longer norms. His erratic behavior isn't normal, but it's inevitably becoming normalized, a predictably unpredictable feature of our political landscape. It's how we live now, checking our phones in the morning to get a read on the president's mood. The American economy is still strong, and he hasn't started any new wars, so pundits have focused a lot of their hand-wringing on the effect his norm-shattering will have on future leaders, who will be able to cite the Trump precedent if they want to hide their tax returns or use their office to promote their businesses or fire FBI directors who investigate them. But Trump still has three years left in his term. And the norms he's shattered can't constrain his behavior now that he's shattered them.  https://www.politico.com/magazine/story/2017/12/30/rating-donald-trump-year-one-2017-216199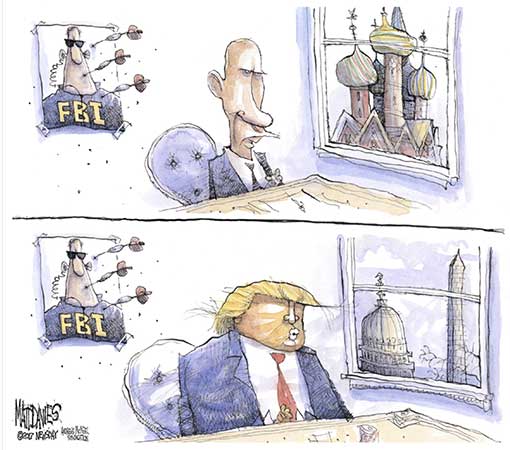 7. Ryan Cooper: The American empire is crumbling
Because of Trump, our own addle-brained, would-be dictator, and Western powers are dealing with the shocking possibility that America is best considered an enemy. In his first foreign policy tour, while cozying up to the brutal Saudi monarchy, Trump offended Western European leaders for no reason, especially Angela Merkel, who said afterwards that "[t]he era in which we could rely completely on others are gone, at least partially." Trump also badly cracked the U.K. alliance simply by impulsively retweeting a British fascist, stoking fury across the country.
The American empire was built by people who recognized that often the best way to exert power was through non-coercive means. Trump represents a different tradition — a pinched, ignorant, aggressive, insecure tradition, one that insists only military force and chest-thumping belligerence matters.
As I said above, it is worth emphasizing the horrific carnage American imperialism has wreaked in places like Guatemala, Vietnam, or Iraq. But this kind of chaotic collapse is perhaps the worst of all worlds. The likeliest non-authoritarian nations to fill some of the power vacuum are Germany and France, but they are trapped in a grotesque failure of a currency areathat will sap their strength indefinitely. The real core of the U.S empire was always its decent relationship with Western countries, and so as that goes, so will the bulk of its power. But it will retain more than enough strength to completely wreck poor countries for the foreseeable future. The most obvious successor to the U.S. is China, and it's a safe bet that sort of empire will be no better than the American version — and perhaps worse in some ways.
Future presidents will have their work cut out for them just salvaging any sort of workable international system from the Trump disaster.  http://theweek.com/articles/745597/american-empire-crumbling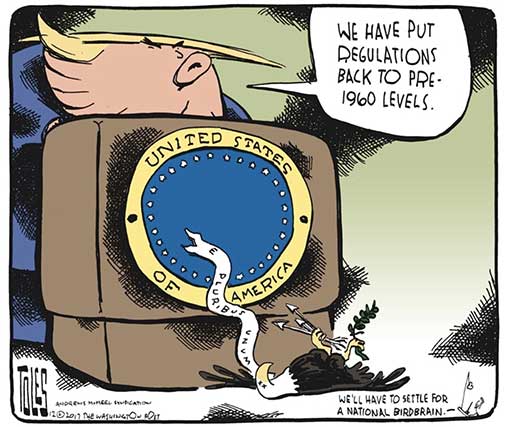 8. E.J. Dionne Jr.: This new year, tell Trump: Enough
Trump, not some ingenious new policy, will be the issue on voters' minds, and opposition to him will be the most powerful force pushing voters to the polls. Yes, progressives should talk about Trump policies they would try to check or roll back — beginning with the GOP's egregious tax giveaway — and work to make their ideas on health care, jobs, infrastructure, the environment and education more persuasive. But the point of 2018 is to meet the emergency this presidency has created.
Let's not shilly-shally about this. To truly check Trump, Democrats will need to win elections in usually unfriendly territory. As my loyally Republican Post colleague Michael Gerson wrote recently, Republican politicians will abandon Trump only "if they see it as in their self-interest." For this to happen, they will have "to watch a considerable number of their fellow Republicans lose."
A campaign in defense of democracy that transcends immediate policy goals will make it easier for moderately conservative voters to do something a lot of them won't relish: vote for a party they usually shun.
Since electoral politics is about addition rather than subtraction, progressives ought to welcome the anti-Trump conservatives without expecting them to alter all their views. Again, none of this requires the left to abandon its purposes. Many progressive positions on matters from health care and family leave to fairer taxation and workers' rights are widely popular. The fact that revulsion over Trump has shaken loose many normally Republican voters can be embraced as an opportunity for dialogue and persuasion.
The priority of 2018 is for our nation to rise up and say: Enough.  https://www.washingtonpost.com/opinions/this-new-year-tell-trump-enough/2017/12/31/c5ffb092-ecc1-11e7-9f92-10a2203f6c8d_story.html