April 8, 2021
ON THE RECORD. . .
Two weeks after eight people where gunned down in three Atlanta-area spas, the Georgia Senate on Monday approved legislation to loosen the state's gun laws.— The Atlanta Journal-Constitution

When @SpeakerBoehner was recording his audiobook I was told by sources that during these wine-soaked sessions he would deviate from the book's text and insert random violent attacks on
@tedcruz -- Well, here's some tape (listen to the end)

"There is nothing more dangerous than a reckless asshole who thinks he is smarter than everyone else. Ladies and gentlemen, meet Senator Ted Cruz." —  John Boehner in his new book, "On the House."

"I'm insulted when he tells me that it's more important to maintain a relationship with the minority in the U.S. Senate than it is for you to maintain a relationship with the minority of voters in America. That's insulting to me." — Rep. Jim Clyburn (D-S.C.), criticizing the position Sen. Joe Manchin (D-W.Va.) is taking on "H.R.1, the For the People Act of 2021," the Democratic party's top legislative priority, a giant reform package that includes an expansion of voting rights across the country.

"Guess what I am doing today? Not watching baseball!!!!" — RNC Chairwoman Ronna McDaniel tweeted that she wouldn't be watching baseball after Major League Baseball pulled the All-Star Game from Atlanta in response to Georgia's controversial new voting law that critics say will disproportionately affect people of color.

"Washington Democrats want to pass a sweeping bill that would let them rewrite all 50 states' election laws and turn the Federal Election Commission into a Democrat-run partisan body. This power grab is impossible to defend, so the left wants to deflect. Instead of winning the debate, they want to silence debate by bullying citizens and entire states into submission." — Senate Minority Leader Mitch McConnell's statement regarding disinformation campaigns surrounding debates over election laws.

"My warning, if you will, to corporate America is to stay out of politics. It's not what you're designed for. And don't be intimidated by the left into taking up causes that put you right in the middle of America's greatest political debates." — Sen. Mitch McConnell (R-KY), issuing a warning to corporations.

"Big corporations are the new liberal mob. First they came after Georgia; now they're coming after Texas."— Nikki Haley, on Twitter.

"They just completely reinvented a coalition and their messaging overnight has gone from an Episcopalian, Presbyterian, white party to rural and non-college. They don't want to talk about free trade or anything like that. And Biden is not this polarizing figure. I mean, you can't gin it up. I mean Obama, for obvious reasons, he could get them all ginned up. They try to get a charge out of Biden, but it just doesn't work that well." — James Carville, on why Republicans have had a difficult time opposing President Biden's agenda.

"Congressman Matt Gaetz has never asked me for a pardon. It must also be remembered that he has totally denied the accusations against him." — Former President Donald Trump offered a 24-word statement in defense of Matt Gaetz

"Boycott baseball and all of the woke companies that are interfering with Free and Fair Elections. Are you listening Coke, Delta, and all!" -- Former President Trump called for a boycott of Major League Baseball after it decided to move its All-Star Game out of Georgia in protest of the state's new bill signed into law that tightens voting restrictions. 

VIDEOS

Liz Cheney right now, probably.— Sarah Longwell https://twitter.com/SarahLongwell25/status/1377955874350755845

Weekend Update: Matt Gaetz Under Investigation - SNL: https://youtu.be/5hoEQnH8KDI

PETER DOOCY: Is the WH concerned MLB is moving their All Star Game to Colorado, where voting rules are very similar to Georgia?

PSAKI: Let me refute that. CO has same-day registration, universal mail voting... it's important to remember the context. The GA bill is built on a lie. https://twitter.com/atrupar/status/1379487125083717636
REMINDER: Just Security is continuing to track every pending criminal and civil case against Donald Trump.
---
IN THIS ISSUE
IN THE NEWS
OPINION
Andy Borowitz: McConnell Says Corporations Should Follow His Example and Not Get Involved in Government
Senator Mitch McConnell urged the nation's largest corporations to follow his example and not get involved in governing the country.

Speaking to reporters, the Senate Minority Leader said that he "could have easily used my position over the years to make the country a better place, but I have wisely resisted that temptation."

"Whether it was giving Americans affordable health care or passing stronger gun laws, I have been careful not to influence the government to accomplish things," he said. "I wish corporations would follow my lead."

He urged the C.E.O.s of major companies to spend a day with him in Washington to "see how getting nothing done is done."

McConnell cut short his remarks to reporters, saying that he had to return to his office to get to work on not improving the country's infrastructure. https://www.newyorker.com/humor/borowitz-report/
Republicans ramp up attacks on corporations over Georgia voting law, threaten 'consequences'
Republicans are attacking corporations over their decision to condemn the controversial Georgia voting law, part of the party's embrace of the populism espoused by President Donald Trump even as it creates tensions with traditional allies in the business community.
Senate Minority Leader Mitch McConnell (R-Ky.) on Monday accused corporations of siding with Democrats' portrayal of the law as the new Jim Crow, which he called an attempt to "mislead and bully the American people." He argued that it would expand, not restrict, voter access to the polls, and his statement included a threat of unspecified "serious consequences" if companies continued to stand opposite Republicans on a variety of issues.
"From election law to environmentalism to radical social agendas to the Second Amendment, parts of the private sector keep dabbling in behaving like a woke parallel government," McConnell said in his statement. "Corporations will invite serious consequences if they become a vehicle for far-left mobs to hijack our country from outside the constitutional order." https://www.washingtonpost.com/politics/georgia-voting-mlb-trump-mcconnell/2021/04/05/5aa65090-9622-11eb-962b-78c1d8228819_story.html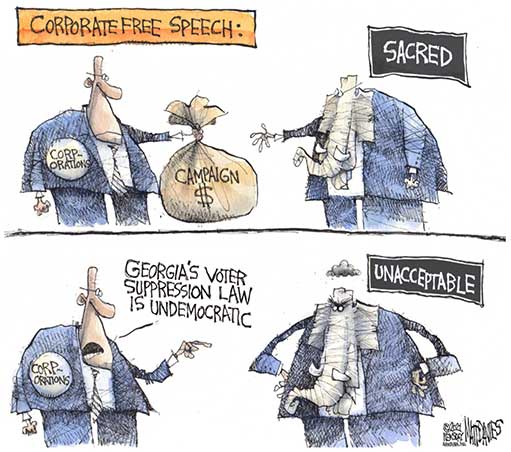 Biden U.S. infrastructure ideas popular, but support for plan is partisan: Reuters/Ipsos poll
 President Joe Biden's $2 trillion infrastructure plan is loaded with road repairs, internet upgrades and other initiatives that are widely popular on their own, according to a Reuters/Ipsos poll, but U.S. public support declines when the initiatives are packed into a Democratic bill and sold as a Biden-backed plan.
Only 45% of Americans said they would support a jobs and infrastructure plan that was "recently released by the Biden administration." Another 27% said they were opposed and the remaining 28% said they were not sure.
The decline in support appears to be mostly a partisan reaction: only about two in 10 Republicans and three in 10 independents said they supported a Biden infrastructure plan, compared with seven out of 10 Democrats.
In short, while Americans generally want road repairs and other improvements, many are skeptical of Congress' ability to put a good infrastructure plan together, and most Republicans are opposed to a reform that was written by Democrats. https://www.reuters.com/article/us-usa-biden-infrastructure-poll-idUSKBN2BP126
Half of Republicans believe false accounts of deadly U.S. Capitol attack
Since the deadly Jan. 6 insurrection at the U.S. Capitol, former President Donald Trump and his Republican allies have pushed false and misleading accounts to downplay the event that left five dead and scores of others wounded. His supporters appear to have listened.
Three months after a mob of Trump supporters stormed the Capitol to try to overturn his November election loss, about half of Republicans believe the siege was largely a non-violent protest or was the handiwork of left-wing activists "trying to make Trump look bad," a new Reuters/Ipsos poll has found.
Six in 10 Republicans also believe the false claim put out by Trump that November's presidential election "was stolen" from him due to widespread voter fraud, and the same proportion of Republicans think he should run again in 2024, the March 30-31 poll showed. https://mobile.reuters.com/article/amp/idUSKBN2BS0RZ
Fears of White People Losing Out Permeate Capitol Rioters' Towns, Study Finds
When the political scientist Robert Pape began studying the issues that motivated the 380 or so people arrested in connection with the attack against the Capitol on Jan. 6, he expected to find that the rioters were driven to violence by the lingering effects of the 2008 Great Recession.
But instead he found something very different: Most of the people who took part in the assault came from places, his polling and demographic data showed, that were awash in fears that the rights of minorities and immigrants were crowding out the rights of white people in American politics and culture. https://www.nytimes.com/2021/04/06/us/politics/capitol-riot-study.html
Capitol police have the best case against Trump for the insurrection
The contours of Trump's potential civil liability are finally coming into focus. The lawsuits filed by Representatives Eric Swalwell and Bennie Thompson, pleading claims under a Civil War-era statute enacted to counter the rise of the then-nascent KKK, provide one promising pathway to holding the former president accountable. Yet it is a no-frills lawsuit filed March 30 by two Capitol Police officers who stood their ground against the insurrectionists, and paid a heavy physical and psychological toll for doing so, that holds perhaps the greatest promise of making Trump pay for directing the violent mob that stormed the Capitol on his command. https://www.bostonglobe.com/2021/04/05/opinion/capitol-police-have-best-case-against-trump-insurrection/
Trump got evicted from 'the swamp.' Some of his people are trying to stick around.
After four years of watching the Trump administration appease white supremacists, demonize and tear-gas Black Lives Matter protesters, ban travelers from certain Muslim-majority countries, separate children from their families at the Mexico border and inspire an insurrection at the Capitol, a lot of companies have developed something of a moral core (or, more likely, a fear of backlash).
Several former Trump officials told The Washington Post that the job climate was even more difficult than they believed it would be, and Trump and former vice president Mike Pence have kept a coterie of staffers on their payrolls, some because they have not been able to find other work. Some seem to have disappeared. Kirstjen Nielsen, the former head of homeland security who is linked to the family separations at the border, sold her house in Washington, according to a person familiar with the decision, and moved in hopes that fewer people would recognize her in public. Mark Meadows, the president's former chief of staff, changed his longtime cellphone number. A number of other Cabinet secretaries have struggled to find jobs, while Pompeo is beginning to take political meetings and interview aides as he eyes a potential presidential bid, people who have talked to him say. Many of Trump's political advisers are still circling the boss, looking for lucrative political contracts out of his $80 million PAC budget. https://www.washingtonpost.com/lifestyle/former-trump-officials-stick-around-washington/2021/04/05/19a627ae-9164-11eb-a74e-1f4cf89fd948_story.html
Senate parliamentarian to let Democrats bypass GOP filibuster on two bills
The Senate parliamentarian ruled Monday that Democrats can use special budgetary rules to avoid a GOP filibuster on two more pieces of legislation, setting the stage for President Biden's infrastructure agenda to pass in two packages with simple-majority votes.
It's a win for Senate Majority Leader Charles Schumer (D-N.Y.) that allows him to pass Biden's $2.25 trillion package by revising the fiscal 2021 Budget Resolution. https://thehill.com/homenews/senate/546215-senate-parliamentarian-to-let-democrats-bypass-filibuster-with-third-bill
No Federal Taxes for Dozens of Big, Profitable Companies
Just as the Biden administration is pushing to raise taxes on corporations, a new study finds that at least 55 of America's largest paid no taxes last year on billions of dollars in profits.
The sweeping tax bill passed in 2017 by a Republican Congress and signed into law by President Donald J. Trump reduced the corporate tax rate to 21 percent from 35 percent. But dozens of Fortune 500 companies were able to further shrink their tax bill — sometimes to zero — thanks to a range of legal deductions and exemptions that have become staples of the tax code, according to the analysis. https://www.nytimes.com/2021/04/02/business/economy/zero-corporate-tax.html
1 in 2 states at risk of "rigged maps," group warns
More than half of the states in the U.S. are at "extreme risk" of congressional districts being drawn to unfairly favor one party, according to a new analysis of state redistricting processes by RepresentUs, a non-partisan advocacy group focused on election reform. https://www.axios.com/gerrymandering-states-partisan-redistricting-elections-3ead2a0a-3876-4e85-aaa1-f80efd76daad.html
Biden's Effort to Combat Hunger Marks 'a Profound Change'
With more than one in 10 households reporting that they lack enough to eat, the Biden administration is accelerating a vast campaign of hunger relief that will temporarily increase assistance by tens of billions of dollars and set the stage for what officials envision as lasting expansions of aid.
The effort to rush more food assistance to more people is notable both for the scale of its ambition and the variety of its legislative and administrative actions. The campaign has increased food stamps by more than $1 billion a month, provided needy children a dollar a day for snacks, expanded a produce allowance for pregnant women and children, and authorized the largest children's summer feeding program in history.
"We haven't seen an expansion of food assistance of this magnitude since the founding of the modern food stamp program in 1977," said James P. Ziliak, an economist at the University of Kentucky who studies nutrition programs. "It's a profound change." https://www.nytimes.com/2021/04/04/us/politics/biden-hunger-programs.html
Will U.S. learn from a $1.7 trillion goof that would have paid for Biden's infrastructure plan?
The F-35 Lightning II stealth fighter jet is decades and hundreds of billions of dollars into a lifetime that will cost taxpayers $1.7 trillion
The massive swing-and-a-miss that is the F-35 — which already has the Pentagon dreaming of a new, new next-gen fighter that might actually be cheaper and easier to use — is just one symptom of a much greater problem: In spending more on war-related costs than the world's next 10 nations combined, the U.S. wastes billions on weapon systems that are ineffective and often not even needed. This dollar drain hasn't let up even as America's highways fill up with potholes and bridges collapse, while the world's richest nation falls behind on everything from high-speed rail to solar energy to teaching our kids.
Meanwhile, the money blown on the F-35 fighter jet behind the padlock on America's garage could have — OK, with help from a good accountant, perhaps — painlessly paid for 85% of what the Biden administration is seeking to do here. Or, what if we went crazy and tackled senseless Pentagon waste and raised taxes on corporations AND on billionaires like Jeff Bezos and used the savings for our other massive needs, like making community college and public universities free to attend? But here's the deal, folks — Uncle Joe isn't going there, not yet. https://www.inquirer.com/columnists/attytood/f-35-waste-pentagon-trillion-biden-infrastructure-20210401.html
Arizona legislature OKs bill to bar enforcement of any new US gun restrictions
The state Senate approved legislation Tuesday — already passed by the House — that would make it illegal for state and local governments and employees to enforce, administer or cooperate with any federal law, act, treaty, rule or regulation that is "inconsistent with any law of this state regarding the regulation of firearms.'' https://tucson.com/news/state-and-regional/legislature-oks-bill-to-bar-arizona-enforcement-of-any-new-us-gun-restrictions/article_dbadb97c-55a5-5b29-80c4-2856589a5814.html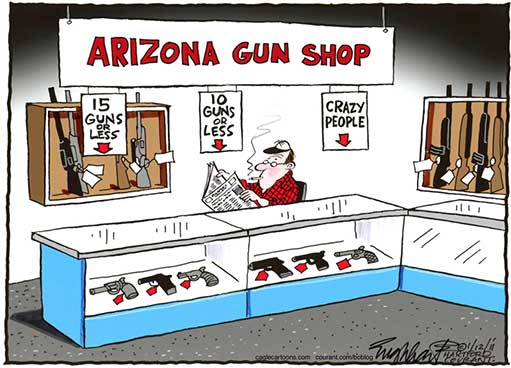 Republicans seek to make vaccine passports the next battle in the pandemic culture wars
Republicans are opening a new front in the pandemic culture wars, attacking efforts by the Biden administration to develop guidelines for coronavirus vaccination passports that businesses can use to determine who can safely participate in activities such as flights, concerts and indoor dining.
The issue has received an increasing amount of attention from some of the party's most extreme members and conservative media figures, but it has also been seized on by Republican leaders like Florida Gov. Ron DeSantis, who is considered a potential 2024 presidential candidate.
Other Republicans have used more inflammatory rhetoric, with Rep. Marjorie Taylor Greene (R-Ga.) calling the passport idea "Biden's Mark of the Beast" and some conservative activists comparing it with Nazi policies to identify Jews. https://www.washingtonpost.com/politics/biden-vaccine-passports-desantis/2021/03/30/eeb41124-9171-11eb-9668-89be11273c09_story.html
Why Being 'Anti-Media' Is Now Part Of The GOP Identity
FiveThirtyEight: "In the past two decades, trust in traditional media has plummeted — especially among Republicans. According to polling from Gallup, since at least the late 1990s, Republicans have been less likely than Democrats (and independents) to say they trust the media. But starting in 2015, trust among Republicans took a nosedive, falling from 32 percent to 10 percent in 2020. (Meanwhile, among Democrats, trust in the media has actually climbed back up, and by quite a bit.)"
"Part of this is because Republicans are often more vocal in their criticism of the media and have long perceived it as having a liberal bias. But now they are also more likely to say that being 'anti-media' is part of their political identity, and this is likely driving the staggering gap in media trust that we are seeing." https://fivethirtyeight.com/features/why-being-anti-media-is-now-part-of-the-gop-identity/
The Lawsuits Against Donald Trump Are Stacking Up Over "Stop The Steal"
There are already two lawsuits filed by Democratic members of Congress — Reps. Bennie Thompson and Eric Swalwell — that accuse Trump and his allies of conspiring to interfere with their official duties by pushing the false claims of voter fraud that underpinned the Capitol insurrection. A fourth case, filed a few weeks before the January riot, accuses Trump and Republicans of violating federal civil rights law by focusing post-election challenges and fraud falsehoods on areas with large Black populations.
In the case filed in federal district court in Washington, DC, on Wednesday, longtime Capitol Police officers James Blassingame and Sidney Hemby, who suffered physical and emotional injuries during clashes with rioters, alleged that Trump "inflamed, encouraged, incited, directed, and aided and abetted" his supporters who rioted on Jan. 6. They pointed to the weeks of post-election tweets and public remarks from Trump claiming the election was stolen and promoting demonstrations before Jan. 6 that had turned violent. They noted a tweet that Trump sent early on Jan. 6 urging Republicans to "FIGHT!" as well as his speech at the "Stop the Steal" rally just before the riot began when he said, "if you don't fight like hell, you're not going to have a country anymore."
In more potential legal fallout from "Stop the Steal" looming over Trump, Dominion Voting Systems hasn't ruled out suing Trump or anyone else who promoted false claims that Dominion and its products were involved in an election fraud scheme. https://www.buzzfeednews.com/amphtml/zoetillman/trump-lawsuits-capitol-riot-police
EPA dismisses dozens of key science advisers picked under Trump
Environmental Protection Agency Administrator Michael Regan will purge more than 40 outside experts appointed under President Donald Trump from two key advisory panels, a move he says will help restore the role of science at the agency and reduce the heavy influence of industry over environmental regulations.
The Biden administration said the move is one of several to reestablish scientific integrity across the federal government after what it characterizes as a concerted effort under the previous president to sideline or interfere with research on climate change, the novel coronavirus and other issues. https://www.washingtonpost.com/climate-environment/2021/03/31/epa-advisory-panels/
Facebook removes video interview with Trump, citing his ban from the platform
Facebook removed a video featuring former President Donald Trump, a company spokesperson confirmed on Wednesday, citing his indefinite suspension from the platform.
The removal tests just how far Facebook is willing to interpret its suspension, which followed the insurrection at the U.S. Capitol on Jan. 6. The video featuring Trump was posted by his daughter-in-law, Lara Trump, who was interviewing the former president. Lara Trump had teased the interview in an Instagram photo of the sit-down on Tuesday. https://www.nbcnews.com/news/amp/rcna564
How Trump Steered Supporters Into Unwitting Donations
Facing a cash crunch and getting badly outspent by the Democrats, the campaign had begun last September to set up recurring donations by default for online donors, for every week until the election.
Contributors had to wade through a fine-print disclaimer and manually uncheck a box to opt out.
As the election neared, the Trump team made that disclaimer increasingly opaque, an investigation by The New York Times showed. It introduced a second prechecked box, known internally as a "money bomb," that doubled a person's contribution. Eventually its solicitations featured lines of text in bold and capital letters that overwhelmed the opt-out language.
The tactic ensnared scores of unsuspecting Trump loyalists — retirees, military veterans, nurses and even experienced political operatives. Soon, banks and credit card companies were inundated with fraud complaints from the president's own supporters about donations they had not intended to make, sometimes for thousands of dollars. https://www.nytimes.com/2021/04/03/us/politics/trump-donations.html
G.O.P. Group Warns of 'Defector' List If Donors Uncheck Recurring Box
The political arm of House Republicans is deploying a prechecked box to enroll donors into repeating monthly donations — and using ominous language to warn them of the consequences if they opt out: "If you UNCHECK this box, we will have to tell Trump you're a DEFECTOR." Those donors who do not proactively uncheck the box will have their credit cards billed or bank accounts deducted for donations every month. https://www.nytimes.com/2021/04/07/us/politics/republicans-donations-trump.html
Arizona Senate hires a 'Stop the Steal' advocate to lead 2020 election audit
The audit team that Arizona Senate President Karen Fann (R) selected to examine the 2020 general election in Maricopa County will be led by a company owned by an advocate of the "Stop the Steal" movement who repeatedly alleged that the election was rigged against former President Donald Trump. https://www.azmirror.com/2021/03/31/arizona-senate-hires-a-stop-the-steal-advocate-to-lead-2020-election-audit/
White Evangelical Resistance Is Obstacle in Vaccination Effort
There are about 41 million white evangelical adults in the U.S. About 45 percent said in late February that they would not get vaccinated against Covid-19, making them among the least likely demographic groups to do so, according to the Pew Research Center.
The opposition is rooted in a mix of religious faith and a longstanding wariness of mainstream science, and it is fueled by broader cultural distrust of institutions and gravitation to online conspiracy theories. The sheer size of the community poses a major problem for the country's ability to recover from a pandemic that has resulted in the deaths of half a million Americans. And evangelical ideas and instincts have a way of spreading, even internationally. https://www.nytimes.com/2021/04/05/us/covid-vaccine-evangelicals.html
American Public Opinion and Gun Violence
If it were up to Americans, what would they do about gun viiolence? The immediate answer is straightforward. The data show strong public support for proposed legislative changes that would do such things as require background checks for all gun purchases, ban high-capacity ammunition magazines, require all privately owned guns to be registered with the police, and require a 30-day waiting period for all gun sales. And, although there is debate on what does and does not constitute an assault weapon, a Gallup review of available data and question wording experiments in 2019 confirmed that such a ban does have majority support. More generally, 57% say that the laws covering the sale of firearms should be made more strict. https://news.gallup.com/opinion/polling-matters/343649/american-public-opinion-gun-violence.aspx
White House tells Democratic investigators it no longer has Trump White House Capitol attack documents
The White House says it no longer has custody of the documents House Democratic investigators sought to shed light on the inner workings of then President Donald Trump's top aides in the lead up to, and on the day of, the January 6 attack on the US Capitol, according to a letter obtained by CNN.
The request marked a clear ramping up from Democrats into their unilateral investigation into the events that led to the death of five, injured dozens of law enforcement officer and shook the country just two weeks before President Joe Biden was set to be inaugurated. https://www.cnn.com/2021/04/02/politics/trump-capitol-attack-documents/index.html
Biden Claims Infrastructure Plan Will Create 19 Million Jobs
President Joe Biden said the sweeping infrastructure proposal he unveiled this week would create 19 million jobs to further boost the U.S. economy's trajectory coming out of the pandemic.
The proposal emphasizes new union jobs, and making it easier to unionize. It also aims to create employment through programs such as a new Civilian Climate Corps, construction on affordable housing, and efforts to clean up abandoned mines or cap old oil wells. https://www.detroitnews.com/story/business/2021/04/02/biden-infrastructure-plan-create-nineteen-million-new-jobs/115664820/


The DAILY GRILL
Peter Navarro called Fauci "a sociopath and a liar" who "had nothing to do with the vaccine. What is Fauci the father of? Fauci is the father of the actual virus." — Peter Navarro, when asked in a Fox interview about Fauci's recent remarks about his decision to start trying to work on a coronavirus vaccine in January 2020.

VERSUS

"How bizarre is that? Think about it for a second. Isn't that a little weird? I mean, come on," — Dr. Fauci's response.

 

For months, former Michigan state senator Patrick Colbeck (R) has repeated baseless claims about mass fraud in the presidential election to state senators and pro-Trump crowds, falsely insinuating that rigged voting machines and bogus ballots swayed the results.

VERSUS

"There is nothing you can say or do at this point to undo the damage that has been done to Dominion. The company must therefore expressly reserve all legal rights against you and remind you of your ongoing obligation to preserve all materials that relate in any way to these matters." -- A letter from Dominion's attorneys asks Colbeck to "publicly and forcefully retract your false claims about Dominion and set the record straight regarding the fake evidence and fake experts you have put forward.
Dan Pfieffer: The Coming (Cancel) Culture War
The battle lines have been drawn. Democrats are running on an agenda of steady leadership, vaccinating people, distributing $1400 relief checks, and rebuilding America's infrastructure. Republicans are talking about Dr. Seuss, complaining about the "wokeness" of Major League Baseball, and Trumping up cancel culture controversies. Ignoring policy and obsessing about seemingly trite cultural issues is all the rage in the Republican Party.
The Cancel Culture crusade is not just the province of the blowhards on Fox News. The Republican Party leadership is making it a central part of their strategy. Representative Jim Banks, the chair of the Republican Study Committee, recently wrote a memo where he argues that the GOP should make "anti-wokeness" a pillar of the platform:
On Monday, Minority Leader McConnell took a break from a career of shilling for corporations to release a bizarre statement attacking the private sector for "taking cues from the outrage industrial complex" and "frantic left-wing signaling." The genesis of McConnell's transparently phony outrage was major corporations like Coca-Cola and Delta Airlines publicly opposing a McConnell-backed effort to make it harder for people to vote in Georgia.
Polling data shows that more GOP voters reported hearing about Dr. Seuss's estate pulling six of its books from publication than passage of President Biden's $1.9 trillion pandemic relief plan.
"This finding is a testament to the power of the issue and massive indictment of America's information ecosystem. Dr. Seuss's books weren't banned. It's a completely fake issue driven by blow-dried blowhards on cable and MAGA grifters on Facebook. Yet, it received as much attention as the passage of a historic piece of legislation that will put checks in people's bank accounts and shots in their arms." https://messagebox.substack.com/p/the-coming-cancel-culture-war
Aaron Blake: Conservatives try to commandeer 'the big lie'
In the weeks after the 2016 election, we were all trying to explain how Donald Trump had, somehow, narrowly won the presidency. And one phrase that had cropped up just before the election was suddenly on the lips of many analysts: "fake news." Deliberate election disinformation from dubious websites had infected such social media platforms as Facebook, leading many people to believe utterly false things like that the pope had endorsed Trump or that Hillary Clinton had sold weapons to the Islamic State militant group. Some studies even suggested it might have swung the election.
Given that last narrative, Trump and his supporters quickly sprung into action. They commandeered the term, twisting it to refer to something else entirely. Suddenly, it was used to describe media reports and media figures with whom they disagreed. Thanks to Trump's knack for branding and repetition, this latter meaning became more pervasive. A pithy phrase used to describe a legitimate media phenomenon that risked undermining Trump suddenly became an even pithier political cudgel for him to use against his foes.
Today, a similar effort is afoot to re-purpose another phrase that has become a liability for Trump's party: the "big lie."
The decisions by Major League Baseball, Coca-Cola and Delta Air Lines to push back on Georgia's new voting law has united much of the conservative movement — Trump supporters and critics alike — against them. The right has accused the left and the media of overstating the suppressive elements of Georgia's law and these corporations of swallowing the claims whole.
It has been rightly noted that such laws and their more extreme variants are predicated, in many ways, on Trump's "big lie" of a supposedly stolen election. GOP legislators have justified such efforts by saying that they are needed to address even the perception of problems, regardless of nonexistent evidence of the widespread voter fraud that Trump claimed.
Conservatives, though, are appropriating that phrase not to describe the predicate for laws like Georgia's, but rather the pushback against it. https://www.washingtonpost.com/politics/2021/04/05/conservatives-try-commandeer-big-lie/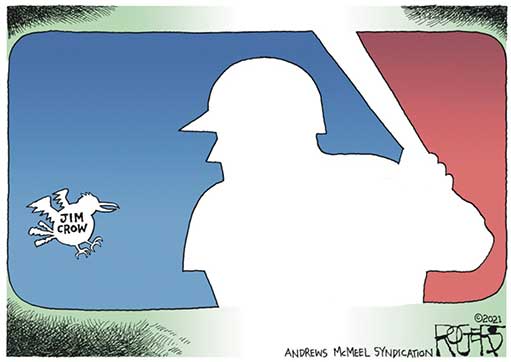 Perry Bacon Jr: Why The Republican Party Isn't Rebranding After 2020
Typically, after losing a presidential election, a political party will undertake an intense intra-party debate over why it didn't win and how the party needs to change to take back the White House. Democrats did so after losing in 1988, 2000, 2004 and 2016. In fact, even after winning in 2020 — taking control of the White House and U.S. Senate and maintaining control in the U.S. House — Democrats are having an intra-party debate, trying to figure out why they didn't win more House seats and struggled with Latino voters. Republicans, too, have had such debates, after losses in 1996, 2008 and 2012. 
But not this time. 
Despite Republicans losing the White House and Senate in 2020, and thus being totally swept out of power in Washington, there's been no official "autopsy" or widespread consideration of appointing new leaders or anything else. In the period after the 1988 presidential election, the Republican Party has lost the popular vote in all but one presidential race (2004). It has lost three of the last four presidential elections and allowed itself to be dominated by former President Donald Trump, who was twice impeached for breaking with democratic values. But it is moving forward like none of that really happened. https://fivethirtyeight.com/features/why-the-republican-party-isnt-rebranding-after-2020/
Philip Bump: The infrastructure bill is Biden politics at its purest.
Politics usually comes down to framing, of course. You can argue for eliminating coal as a fuel for generating electricity because it's more expensive than wind or because it produces particulate matter that can lead to respiratory illness or because it contributes to global warming. The end result is the same, but different people will be compelled by different arguments.
What the Green New Deal proposal did was loop a lot of sweeping changes to the economy into the idea that doing so would better prepare the United States for a warmer world and, ideally, to slow or reverse some of that warming. It was intersectional in the way that our coal example was, offering various reasons for the utility of the proposed changes, but the theme was addressing climate change. The political reception to the Green New Deal reflected that, to its ultimate detriment.
The Biden proposal uses the more politically popular umbrella of infrastructure to incorporate some of those same shifts. None of this is to say that the Biden proposal is the Green New Deal in sheep's clothing; it is, instead, to say that many of the components of the Green New Deal that addressed things like increasing clean energy, improving water and bolstering the economy more broadly are also part of the Biden proposal.
Passing this legislation will be trickier than passing the covid relief bill, both because it lacks the same sense of urgency and because it's not clear that it will have the same level of public support. But it is a very good encapsulation of the Biden approach: Pick up Democratic priorities and shape them into something as palatable as possible to the public.
Sure, housing and care for the elderly isn't normally what one thinks of as infrastructure. But fixing bridges is, and if Biden can use the latter as a reason to fund the former, he'll take it. If he ends up reshaping what Americans think of as "infrastructure"? All the better. https://www.washingtonpost.com/politics/2021/04/01/infrastructure-biden-green-new-deal/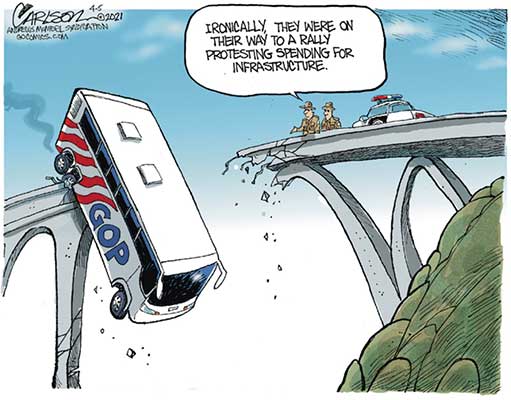 David E. Sanger: 40 Years After Reagan, a Bet Big Government Can Get Something Done
It has been 40 years since President Ronald Reagan declared in his first inaugural address that "government is not the solution to our problems, government is the problem."
The infrastructure plan that President Biden described on Wednesday — $2 trillion in federal investment in poured concrete, electric car chargers, artificial intelligence and social engineering — is a bet that government can do colossal things that the private sector cannot.
In fact, when the long-awaited "infrastructure week" finally arrived in Washington, it turned out to be about a lot more than just new highways and the replacement of old lead pipes. Urged on by the left wing of his party, and reminded by historians that Presidents Franklin D. Roosevelt and Lyndon B. Johnson went big, Mr. Biden is using the framework of rebuilding crumbling highways and bridges to try to reshape the American economy by focusing more on long-range problems like climate change and inequality that have been caught up in the culture wars.
It will take years to know whether Mr. Biden's initiative will have the lasting power of the New Deal or the Great Society, or whether it can "change the paradigm," as he argued a few weeks ago.
Yet it is already clear it is based on the gamble that the country is ready to dispense with one of the main tenets of the Reagan revolution, and show that for some tasks the government can jump-start the economy more efficiently than market forces. Mr. Biden has also made a bet that the trauma of the coronavirus pandemic and the social and racial inequities it underscored have changed the political center of gravity for the nation. https://www.nytimes.com/2021/03/31/us/politics/biden-infrastructure.html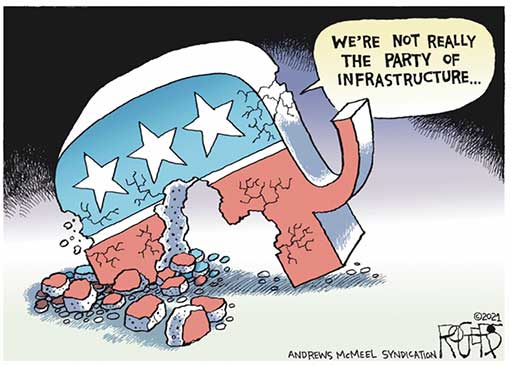 Nick Corasaniti and Reid J. Epstein: What Georgia's Voting Law Really Does
Go page by page through Georgia's new voting law, and one takeaway stands above all others: The Republican legislature and governor have made a breathtaking assertion of partisan power in elections, making absentee voting harder and creating restrictions and complications in the wake of narrow losses to Democrats.
The New York Times analyzed the state's new 98-page voting law and identified 16 key provisions that will limit ballot access, potentially confuse voters and give more power to Republican lawmakers.
Voters will now have less time to request absentee ballots.
There are strict new ID requirements for absentee ballots.
It's now illegal for election officials to mail out absentee ballot applications to all voters.
Drop boxes still exist … but barely.
Mobile voting centers (think an R.V. where you can vote) are essentially banned.
Early voting is expanded in a lot of small counties, but probably not in more populous ones.
Offering food or water to voters waiting in line now risks misdemeanor charges.
If you go to the wrong polling place, it will be (even) harder to vote.
If election problems arise, a common occurrence, it is now more difficult to extend voting hours.
With a mix of changes to vote-counting, high-turnout elections will probably mean a long wait for results.
Election officials can no longer accept third-party funding (a measure that nods to right-wing conspiracy theories).
With an eye toward voter fraud, the state attorney general will manage an election hotline.
The Republican-controlled legislature has more control over the State Election Board.
The secretary of state is removed as a voting member of the State Election Board.
The G.O.P.-led legislature is empowered to suspend county election officials.
Runoff elections will happen faster — and could become harder to manage.
https://www.nytimes.com/2021/04/02/us/politics/georgia-voting-law-annotated.html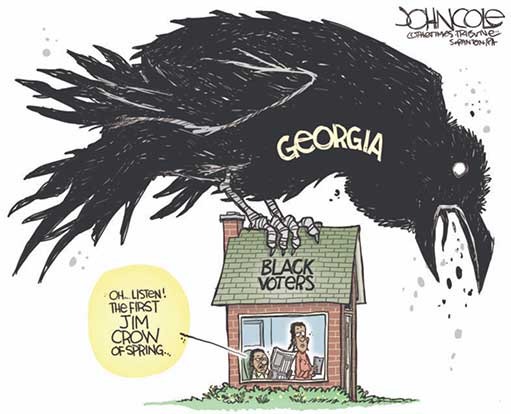 Doyle McManus: How to catch cheaters who don't shoulder their share of the tax burden
For almost 25 years, Republicans, in a misguided campaign of anti-tax populism, have been slashing the IRS budget. The agency's annual spending is more than 20% smaller in real dollars than it was 10 years ago, and its budget for audits and other tax enforcement is down even more. Its staff has been cut by more than 33,000.
As a result, only 0.45% of tax returns were audited in 2019, about half the percentage audited in 2010. For pass-through businesses, the audit rate was even lower.
Those enforcement cuts have been very visible. The agency might as well have sent taxpayers a notice that their chances of beating an audit were better than at any time in recent memory.
IRS Commissioner Charles Rettig, a Beverly Hills tax attorney who was appointed by President Trump, estimates that every additional dollar in IRS spending will produce about $6 in added revenue. Economists outside the agency have projected that the return could be as high as $14.
Either way, that's a terrific return on investment. As a business proposition, it's a no-brainer: A company that thought it could recoup $6 in billings for every dollar spent would be hiring bill collectors by the dozen. https://www.latimes.com/politics/story/2021-04-07/bidens-spending-plan-is-bad-news-for-tax-cheats