November 2, 2017
ON THE RECORD. . .
"We've got some of the smartest people in America who serve in the Congress, and we've got some of the dumbest. We have some of the nicest people you'd ever want to meet, and some that are Nazis. Congress is nothing more than a slice of America. ... Donald Trump's not a Republican. He's not a Democrat. He's a populist. He doesn't have an ideological bone in his body. So who, I ask, is the leader of the party? There is nobody." — Former Speaker John Boehner
No matter how much Trump rants about the "Russia hoax," the 2016 hacking was not only real and aimed at electing Trump but constituted a major victory for a dangerous foreign adversary. "The Russians have "succeeded beyond their wildest expectations. ... Far from being the "witch hunt" Trump has repeatedly called it, the investigation of whether Trump's team colluded with Russia constitutes a "cloud not only over the president, but the office of the presidency, the administration, the government and the country" -- Former Director of National Intelligence James Clapper
"The indictments of Paul Manafort and Rick Gates have "nothing to do" with Trump and his campaign. We're not worried about it distracting because it doesn't have anything to do with us ... The real collusion has everything to do with the Clinton campaign." -- Press Secretary Sarah Sanders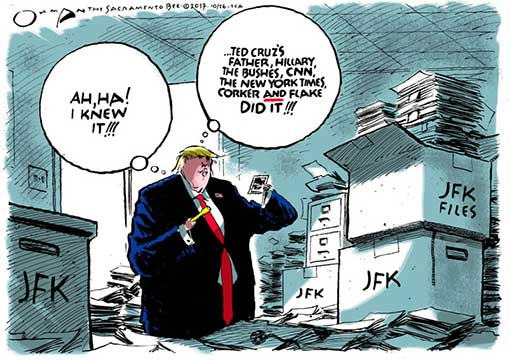 Republicans who fancy themselves true conservatives, such as Mr. Flake, should stand up against Mr. Trump's noxious politics, as the senator implored on Tuesday. But they have to do more than that. They have to fashion an agenda and a political style that can compete successfully in primaries against Trumpism. Until they do, all the eloquence in the world will not be enough. -- WA Post Editorial
If we can teach young people not to take drugs… it's really, really easy not to take them."— Trump, while declaring a "nationwide public health emergency" on the opioid crisis.
The Republican senators greeted Trump on Capitol Hill and saw a president so repetitive and rambling, some thought he might be suffering from early Alzheimer's. But they know which way the wind is blowing. They gave him a standing ovation. -- David Brooks in the NY Times
Trump likely wields too much authority now to pay for his abuses — too many other interests and politicians and factions would find themselves damaged if he were to fall. This is, perhaps, the depressing lesson of the Weinstein and Trump stories. The allegations are similar. The evidence is similar. But power still protects, and while Weinstein had lost enough power to imperil his protection, Trump has only amassed more. -- Vox on why Harvey Weinstein is disgraced but Donald Trump is president
"We can't have the inmates running the prison," -- Houston Texans owner Bob McNair about allowing players to kneel during the national anthem. McNair is a multimillion-dollar Trump campaign contributor, according to an ESPN report about the conference
"I remember saying to myself, I never realized what a large man — I mean stature-wise, he's a big man, with massive hands." -- Former congressman and 2018 House hopeful Michael Grimm (R-NY), formerly known as inmate No. 83479-053, wants everyone know that President Donald Trump really does have big hands. "Massive hands," in fact.
"I couldn't sleep at night having to embrace the president or condoning his behavior or being okay with some of his positions. I knew that when I spoke out at that time that I was out of step with a lot of the Republican primary voters, but I felt that I had to do it. I had hoped — and I still hope and I'm confident at some point — that the fever will break. But it just became more and more apparent that it certainly wasn't going to break by next year." -- Sen. Jeff Flake (R-AZ)
"We have to fight against propaganda and crackpot conspiracy theories. We have to fight isolationism, protectionism and nativism. We have to defeat those who would worsen our divisions. We have to remind our sons and daughters that we became the most powerful nation on earth by tearing down walls, not building them." -- Sen. John McCain (R-AZ)
"I'm watching now and screaming. I want to quit." -- Some employees at Fox News who were embarrassed by their network's coverage of the latest revelations in special counsel Robert Mueller's investigation into Russian election meddling. 
---
IN THIS ISSUE
FYI
OPINION
1. The Borowitz Report: Trump Unsure Who This Manafort Person Is
Asked to comment on the arrest of Paul Manafort on Monday, Donald Trump told reporters that he was not sure "who this Manafort person is."

"There's been a lot of talk about this guy, Peter Manafort, or whoever, this morning," Trump said. "The name doesn't really ring a bell with me. I'll have to have someone Google him and figure out exactly who he's supposed to be."

Before bringing his conversation with reporters to an abrupt close, Trump offered a theory of who Manafort might be. "You're telling me he ran a campaign," Trump said. "If he ran anybody's campaign, it was Hillary's."

"What's becoming crystal clear is that, while pretending to be Donald Trump's campaign chairman, Paul Manafort was actually Hillary Clinton's campaign chairman," Representative Trey Gowdy, of South Carolina, said. "That's the real story here."

ELSEWHERE: Donald Trump on Wednesday signed an emergency travel ban preventing Republicans from fleeing the United States Senate.

Susan Collins, of Maine, one of the Republicans affected by the ban, called attention to the growing humanitarian crisis inside the Capitol. "If you have a shred of decency, Mr. President, let us leave the Senate," Collins said. "Let us follow our dream of a better life."

In retaliation, Trump reportedly told Border Patrol agents that if Collins is caught trying to escape she should be returned to the Senate and forced to sit next to Ted Cruz.

ELSEWHERE 2: Calling it a story "too hot for the other cable-news networks to handle," Fox News Channel announced on Tuesday that it would begin airing twenty-four-hour coverage of Bill Clinton's 1998–99 impeachment.

"For years, this hushed-up chapter of our history has been shrouded in silence," Hannity said. "That silence ends today."  https://www.newyorker.com/humor/borowitz-report/
2. McConnell Allies Declare War on Steve Bannon
"Allies of Senate Majority Leader Mitch McConnell declared open warfare on Wednesday against Stephen Bannon, the former White House chief strategist and leader of an insurrection aimed at defeating mainstream GOP candidates in next year's midterm elections," the Washington Post reports.
"More than a year ahead of the 2018 congressional contests, a super PAC aligned with McConnell (R-KY) revealed plans to attack Bannon personally as it works to protect incumbents facing uphill primary fights. The effort reflects the growing concern of Republican lawmakers over the rise of anti-establishment forces and comes amid escalating frustration over President Trump's conduct, which has prompted a handful of lawmakers to publicly criticize the president.  https://www.washingtonpost.com/powerpost/gops-insurgents-step-up-campaign-against-mcconnell/2017/10/25/ec3a5af4-b9a0-11e7-9e58-e6288544af98_story.html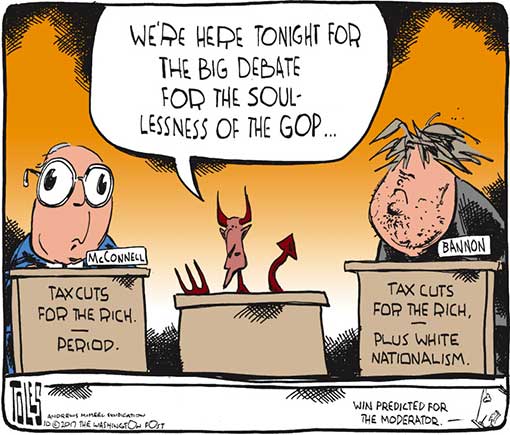 3. The DAILY GRILL
"interested in who paid for the dossier." -- Rep. Trey Gowdy (R-SC), who is also a member of the House Intelligence Committee, on "Fox News Sunday." 

VERSUS

@RepAdamSchiff: Most important question about Trump dossier is not who paid for it, but "how much of it is true."  http://abcn.ws/2ydkIXi 
4. From MEDIA MATTERS (They watch Fox News so you don't have to)
Video: Five months of Trump interviews with fawning sycophants  https://www.youtube.com/watch?v=0U2np4yZtHs&feature=youtu.be

Fox & Friends: Media conspire to publish negative Trump stories whenever he "gets on a roll." Brian Kilmeade attacks Trump reporting as "opposition research" from news outlets meant to disrupt the president. https://www.mediamatters.org/video/2017/10/26/fox-friends-media-conspire-publish-negative-trump-stories-whenever-he-gets-roll/218335

Trump's lie about Manafort's illegal activity predating his campaign came from Fox News https://www.mediamatters.org/blog/2017/10/30/trumps-lie-about-manaforts-illegal-activity-predating-his-campaign-came-fox-news/218383
5. From the Late Shows
Jimmy Kimmel Live: Donald Trump Treated Unfairly by Fox News: https://youtu.be/j8GRHPWLIGU

Fox News Showers Trump with Praise, Obsesses Over Hillary: A Closer Look: https://youtu.be/3EhQoG0Epxg

The Late Show with Stephen Colbert: Trump Has Now Been Interviewed On Fox News 19 Times: https://youtu.be/MGtNtCjnGNI
6. VIDEO: It's Mueller Time!
7. Talking Points Brought to Trump Tower Meeting Were Shared With Kremlin
Ms. Veselnitskaya, hoped to interest top Trump campaign officials in the contents of a memo she believed contained information damaging to the Democratic Party and, by extension, Hillary Clinton. The material was the fruit of her research as a private lawyer, she has repeatedly said, and any suggestion that she was acting at the Kremlin's behest that day is anti-Russia "hysteria."
But interviews and records show that in the months before the meeting, Ms. Veselnitskaya had discussed the allegations with one of Russia's most powerful officials, the prosecutor general, Yuri Y. Chaika. And the memo she brought with her closely followed a document that Mr. Chaika's office had given to an American congressman two months earlier, incorporating some paragraphs verbatim.
The coordination between the Trump Tower visitor and the Russian prosecutor general undercuts Ms. Veselnitskaya's account that she was a purely independent actor when she sat down with Donald Trump Jr., Jared Kushner, the president's son-in-law, and Paul J. Manafort, then the Trump campaign chairman.  https://www.nytimes.com/2017/10/27/us/politics/trump-tower-veselnitskaya-russia.html
8. Private-prison giant, resurgent in Trump era, gathers at president's resort
GEO Group , the private prison company company moved its annual leadership conference to a Miami-area golf resort owned by President Trump.
The event last week, during which executives and wardens gathered for four days of meetings, dinner receptions and golf outings at the luxurious 800-acre Trump National Doral, followed an intense effort by GEO Group to align itself with the president and his administration.
During last year's election, a company subsidiary gave $225,000 to a pro-Trump super PAC. GEO gave an additional $250,000 to the president's inaugural committee. It also hired as outside lobbyists a major Trump fundraiser and two former aides to Attorney General Jeff Sessions, one of the president's most prominent campaign backers.
GEO Group, meanwhile, has had newfound success in Trump's Washington. The company secured the administration's first contract for an immigration detention center, a deal worth tens of millions a year. And its stock price has tripled since hitting a low last year when the Obama administration sought to phase out the use of private prisons — a decision that Sessions reversed.  https://www.washingtonpost.com/politics/with-business-booming-under-trump-private-prison-giant-gathers-at-presidents-resort/2017/10/25/b281d32c-adee-11e7-a908-a3470754bbb9_story.html
9. Whitefish Energy contract bars government from auditing deal
A deal reached between the government and a small Montana energy company located in Interior Secretary Ryan Zinke's hometown prohibits the government from reviewing labor costs or profits related to the company's relief efforts in Puerto Rico, according to a leaked copy of the contract.
A copy of the deal obtained by reporter Ken Klippenstein reveals that the government isn't allowed to "audit or review the cost and profit elements" under the agreement, allowing the company greater discretion and secrecy for how it spends the $300 million to restore power to the island. Puerto Rico is rebuilding after two major hurricanes wiped out most of the island's electrical grid.
A private prison group moved its annual conference to the Trump National Doral Golf Club in Miami this year, in an apparent ongoing effort to align more closely with President Trump.  http://thehill.com/homenews/administration/357473-whitefish-energy-contract-bars-government-from-auditing-deal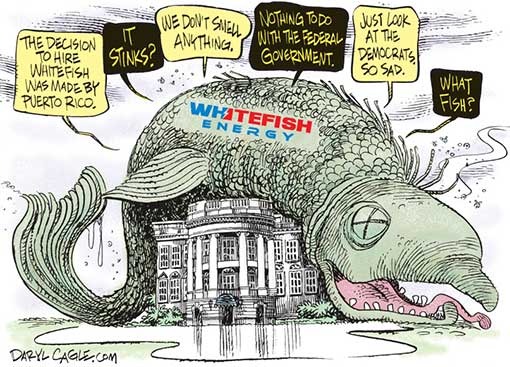 10. Gallup Daily: Trump job approval at new low
A new Gallup poll finds President Trump's approval rate has sunk to a new all-time low of 33% to 62%.  http://news.gallup.com/poll/201617/gallup-daily-trump-job-approval.aspx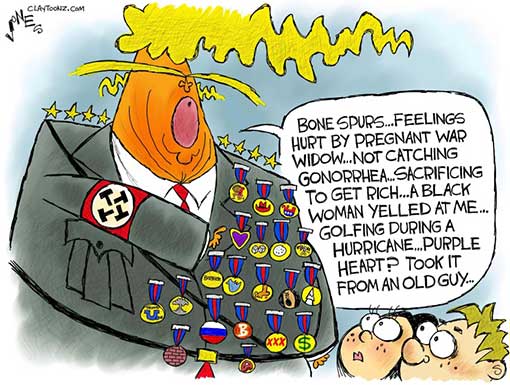 11. House GOP tosses conservative playbook in bid for tax reform
House Republicans are so desperate for a win on taxes that they're agreeing to proposals that would have caused internal party warfare just a year or two ago. They're considering forgoing a big cut in the top income tax rate on the rich, offering moderate-income Americans so many tax breaks that many would be excused from paying taxes entirely and passing a potentially 1,000-page tax bill few have seen within a matter of weeks. Last week, they agreed to a budget that ignored their demands for deep cuts in federal spending just so they could pass a tax bill using a special procedure that enables them move forward without any Democratic votes.  https://www.politico.com/story/2017/10/29/house-gop-tax-reform-debate-244282
12. Swamp Things: More Than 50% of President Trump's Nominees Have Ties to the Industries They're Supposed to Regulate
Nearly a year since he won election, the president has turned federal agencies over to the private industries that they regulate. And he has done so to a degree that ethics groups say they have never witnessed.
The Daily Beast examined 341 nominations the president has made to Senate-confirmed administration positions. Of those, more than half (179) have some notable conflict of interest, according to a comprehensive review of public records. One hundred and five nominees worked in the industries that they were being tasked with regulating; 63 lobbied for, were lawyers for, or otherwise represented industry members that they were being tasked with regulating; and 11 received payments or campaign donations from members of the industry that they were being tasked with regulating.  https://www.thedailybeast.com/donald-trump-pledged-to-drain-the-swamp-instead-he-filled-it-with-industry-sharks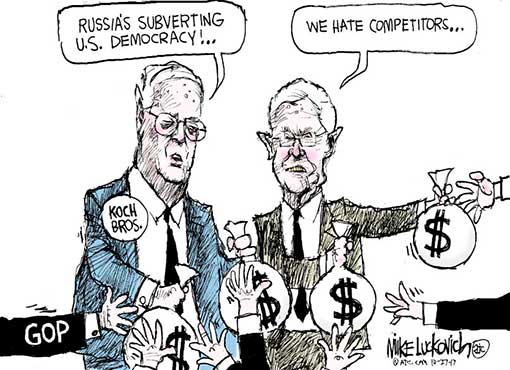 13. Late Nite Jokes for Dems
Fox News host Lou Dobbs interviewed President Trump last night and told Trump he is "one of the most loved and respected presidents in history." I don't know about that, but he's definitely in the top 45. -- Seth Meyers

Housing Secretary Ben Carson said today that rebuilding Puerto Rico after Hurricane Maria could take anywhere between "one and 100" years. And that's just the kind of precision you expect from a brain surgeon. "What are my chances of survival, doc?" "Somewhere between one and 100 percent." -- Seth Meyers

A new poll has found that 51 percent of Democrats now have a favorable view of former President George W. Bush. That makes sense. I'd also have a favorable view of the flu if I suddenly found myself with the plague. -- Seth Meyers

In an interview with Lou Dobbs yesterday on Fox Business, Donald Trump claimed he, quote, "started this whole fake news thing." And I think I speak for everyone when I say, "Yep, yep, you did." -- James Corden

During Trump's rant about the media, he said, "What could be more fake than CBS and NBC and ABC and CNN?" I mean, yeah, what could be more fake? Just off the top of my head: Donald Trump's approval rating, his inauguration size, his concern for Puerto Rico, his concern for immigrants, his concern for hurricane victims, his golf handicap, his high IQ, his tan, his hair, him saying no one respects women more than him … and Fox News. -- James Corden

And Trump was tweeting again today. He said that his big meeting with Republican senators was "a love fest" with multiple standing ovations. They were mostly getting up to leave — but still, that counts as a standing ovation. Trump sent three tweets about how the senators gave him a standing ovation. It's a big deal for Trump — he hasn't seen 50 people cheering him on since his inauguration. -- Jimmy Fallon
14. Russian Posts Were Seen by 126 Million People
Facebook plans to tell lawmakers on Tuesday that 126 million of its users may have seen content produced and circulated by Russian operatives, many times more than what the company previously disclosed about the reach of the disinformation campaign during the 2016 presidential election.
Previously, Facebook had focused its disclosures on Russian ads. The company has said that 470 accounts and pages run by a Russian troll farm had purchased roughly 3,000 ads, which the company said reached an estimated 10 million users. But the troll farm, known as the Internet Research Agency, also published free content. Researchers estimated that the spread of free content was far greater than that of ads and that Facebook has been under pressure to share more about those posts.  https://www.washingtonpost.com/business/technology/2017/10/30/4509587e-bd84-11e7-97d9-bdab5a0ab381_story.html
15. Trump is 'very intelligent.' Just ask him
Anyone who feels compelled to boast how smart he is clearly suffers from a profound insecurity about his intelligence and accomplishments. In Trump's case, he has good reason to have doubts.
A linguistic analysis by Politico found that Trump speaks at a third-grade level. A study by researchers at Carnegie-Mellon University compared last year's Republican and Democratic presidential candidates in terms of their vocabulary and grammar. Trump scored at a fifth-grade level, the lowest of all the candidates.  http://www.latimes.com/opinion/opinion-la/la-ol-dreier-trump-intelligence-20171030-story.html
16. Trump Is Apoplectic as Allies Fear Impeachment
The first charges in the Mueller probe have kindled talk of what the endgame for Trump looks like, according to conversations with a half-dozen advisers and friends of the president. For the first time since the investigation began, the prospect of impeachment is being considered as a realistic outcome and not just a liberal fever dream. According to a source, advisers in the West Wing are on edge and doing whatever they can not to be ensnared. One person close to Dina Powell and Gary Cohn said they're making sure to leave rooms if the subject of Russia comes up.
The consensus among the advisers I spoke to is that Trump faces few good options to thwart Mueller. For one, firing Mueller would cross a red line, analogous to Nixon's firing of Archibald Cox during Watergate, pushing establishment Republicans to entertain the possibility of impeachment."
Trump, meanwhile, has reacted to the deteriorating situation by lashing out on Twitter and venting in private to friends. He's frustrated that the investigation seems to have no end in sight… According to two sources, Trump has complained to advisers about his legal team for letting the Mueller probe progress this far. -- Gabriel Sherman in Vanity Fair  https://www.vanityfair.com/news/2017/11/the-west-wing-trump-is-apoplectic-as-allies-fear-impeachment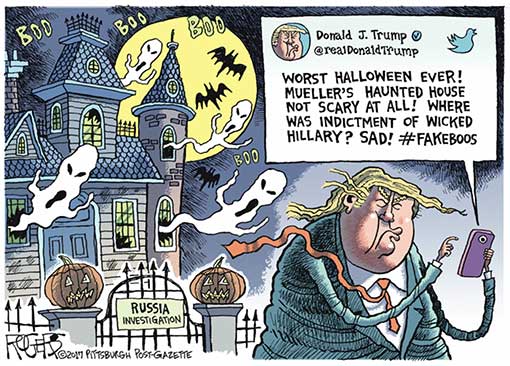 17. House Freedom Caucus Proves It's a Deficit Scam
This could be the classic "man bites dog" story, except that it's not really news.
The House Freedom Caucus -- that self-professed paragon of fiscal rectitude and righteousness that in the past has opposed emergency relief aid for Americans devastated by natural disasters unless it was offset with spending cuts -- today made it much easier for the multi-trillion dollar increase in the federal deficit and national debt that will be caused by the Trump tax cut to be enacted.
But instead of deficit purity, the House Freedom Caucus didn't oppose the budget resolution, as it has so many other deficit- and debt-increasing bills. It instead went along with legislation that will enable one of the biggest deficit and debt increases ever proposed to be considered under procedures that will make it much easier to enact.  https://www.forbes.com/sites/stancollender/2017/10/26/house-freedom-caucus-proves-its-a-deficit-scam/#45ab74aa48cd
1. Josh Marshall: The Big WaPo Story & Why Everyone Needs to Thank Marc Elias
The country owes the Democrats a debt of gratitude for keeping Steele's research going. The FBI had apparently missed a lot of what he found.
Whether the execs at top of the Clinton campaign knew about it, Marc Elias may have helped save his country by making the decision to fund this critical research. Thank you, Marc Elias! I know that sounds a bit hyperbolic but it's really not. Here's why.
Remember, the Trump plan was to hit the ground running in January with a series of policy pay offs to Russia. It was the mounting FBI investigation into Trump's ties to Russia, helped along significantly by information Steele uncovered, that got into the spokes of the Trump effort during the transition and hobbled the efforts to make the pay off. It's what led to the rapid and chaotic series of events that forced the firing of Mike Flynn, the revelations about clandestine communications between Trump associates and the Russian Ambassador and finally to Trump's decision to fire James Comey.
The Trump team wanted to deliver for Russia right out of the gate in January, a quick series of accommodations and a 'grand bargain' with Vladimir Putin. It was the investigation into Trump's ties to Russia that got in the way and mainly prevented it. It's clear that Steele's research played a major role in that. Remember, the FBI found it so critical it agreed to continue funding Steele's research. Without Marc Elias's decision, that research may never have been conducted. The country owes him a debt of gratitude.  http://talkingpointsmemo.com/edblog/the-big-wapo-story-why-everyone-needs-to-thank-marc-elias
2. Jonathan Chait: The Republicans Have Developed a Theory of Alt-Collusion to Defend Trump From Mueller
Having apparently decided that defending the Trump campaign against charges of collusion with Russian cyberattacks is an impossible task, the Republican Party has decided to go on offense. The House Intelligence Committee, putatively assigned to investigate collusion, is instead running a counter-investigation into Trump's nemeses. Their argument, incredibly enough, is that the FBI and Robert Mueller are the realperpetrators of collusion with Russia. 'No puppet, no puppet, you're the puppet' has become the new Republican argument against Mueller.
Their case, which is being quickly spread by Republican officeholders and conservative media, centers on the role of Christopher Steele, a respected retired British intelligence officer turned private investigator, and Fusion GPS, the firm for which he worked.
This method can work if you have enough mouthpieces who are sufficiently devoid of skepticism or intellectual self-respect to be willing to spread your obviously absurd message. A key fact that Trump has discovered, and which has enabled his takeover of the Republican Party, is that this is a resource the American right has in abundant supply.  http://nymag.com/daily/intelligencer/2017/10/alt-collusion-the-gop-theory-to-defend-trump-from-mueller.
3. David Lazarus: By a single vote, Republicans throw out years of work on consumer protection
It took the Consumer Financial Protection Bureau five years to adopt a rule on forced arbitration by banks and credit card companies — five years of research, meetings with industry officials, public comment and crafting regulatory language.
It took a single tie-breaking vote by Vice President Mike Pence for Republican lawmakers to overturn the rule this week, denying consumers the right to band together in class-action lawsuits over possibly unfair or illegal business practices.
"The repeal of the CFPB's arbitration rule reeked of the banking industry's heavy-handed influence over Washington's politicians," said Christine Hines, legislative director for the National Assn. of Consumer Advocates.
"Wall Street's power, including its tens of millions in donations to campaign coffers, made it easy for Senate Republicans to choose big banks and predatory lenders over the rights of their own constituents," she said.
Or as Merriam-Webster puts it:
Plutocracy / noun / plu·toc·ra·cy / plü-ˈtä-krə-sē: 1. government by the wealthy 2. a controlling class of the wealthy.
As soon as Trump signs off on Congress' repeal bill, the Republican Party will have ensured that businesses maintain the upper hand in any dispute.
Oxford Dictionaries has a word for that:
Screwed / adjective / skro͞od: in a difficult or hopeless situation; ruined or broken.  http://www.latimes.com/business/lazarus/la-fi-lazarus-senate-arbitration-rule-20171027-story.html
4. Paul Waldman: Why Republicans secretly yearn for a Hillary Clinton presidency
Hillary Clinton has a stalker. Their relationship is over, yet he keeps hounding her, pursuing her, and obsessing over her, dreaming of all the time they're going to spend together, their lives entwined forever, or at least for another few years. Why can't he accept reality? Because she gives his life meaning. Without her, he's nothing.
If the GOP was a friend of yours, you'd pull him aside, lay a comforting hand on his shoulder, and say, "Dude, she's gone. You've got to let it go."
But they can't.
They were so excited about what these years were going to be like with a Republican Congress and Clinton in the White House. She would give them purpose and focus, the idea of vexing her and catching her in multitudinous crimes would be the thing that got them jumping out of bed in the morning. Just look at the energy they put into investigating Benghazi, in which four Americans died but there was never any credible evidence that Clinton did anything wrong: seven separate congressional investigations, culminating in a special committee that took 28 months to explore the matter, longer than Congress spent investigating Watergate or the Sept. 11 attacks.
But that was merely an amuse bouche of oversight compared to what they had planned for Clinton's presidency. Subpoenas would fall upon her administration like a righteous hurricane of justice, exposing every bit of malfeasance and misconduct to be found. "Even before we get to Day One, we've got two years' worth of material already lined up," said Rep. Jason Chaffetz (R-Utah), then the chair of the House Oversight Committee, two weeks before the 2016 election.  http://theweek.com/articles/733149/why-republicans-secretly-yearn-hillary-clinton-presidency
5. John Nichols: Jeff Flake's Call of Conscience Will Not Be Answered by Soulless Republicans
Arizona Senator Jeff Flake, an old-school conservative Republican who rejects Donald Trump's remodeling of the Republican Party as a dangerously destructive cult of personality, announced Tuesday that he would not seek reelection to a Republican-controlled Senate that more frequently than not serves as a rubber stamp for Trump and Trumpism.
The maverick senator, who had been targeted for defeat in the 2018 Arizona Republican primary by the president's political henchmen (most notably former White House chief strategist Steve Bannon), did not mention Trump by name in his emotional address to the Senate. But there could be no mistaking Flake's message to his stunned colleagues and to his country.
"Reckless, outrageous and undignified behavior has become excused as telling it like it is when it is actually just reckless, outrageous and undignified," Flake declared. "And when such behavior emanates from the top of our government, it is something else. It is dangerous to a democracy."
Flake addressed much of his speech to his fellow Republicans, whose complicity with Trump he warned is transforming the GOP into a "fearful, backward-looking minority party."
Flake acknowledged that his brand of conservatism-with-conscience, which owes more to Republicans such as Robert Taft and Barry Goldwater than to the likes of Mitch McConnell and Paul Ryan, has been sidelined in Trump's Grand New Party.
Flake acknowledged that he was challenging a basic premise of the hyper-cynical Republican Party that has been forged by Ryan, McConnell, and other apologists for the 45th president: that partisanship trumps principle. "I am aware," he said, "that a segment of my party believes that anything short of complete and unquestioning loyalty to a president who belongs to my party is unacceptable and suspect."
There can be no doubt that it was Flake's hope that he could shake his colleagues out of their partisan stupor. "If I have been critical, it not because I relish criticizing the behavior of the president of the United States," he said.  https://www.thenation.com/article/jeff-flakes-call-of-conscience-will-not-be-answered-by-soulless-republicans/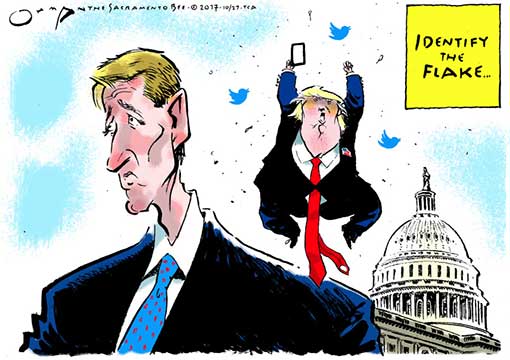 6. Andrew Sullivan: This Is What the Trump Abyss Looks Like
The past week was another watershed, it seems to me, in the rising power of Donald Trump. Flake is quitting; Corker is retiring; McCain is mortal. Sasse, Murkowski, Collins, and Paul remain, but the odds are mounting against them. A new slew of Bannonite candidates is emerging from under various rocks and crannies to take their places. The Trump propaganda machine was given a chance to turn the Russia story into a Clinton scandal - lowering even further the possibility of impeachment - and gleefully took it. The FBI is the next target for a barrage of hostile propaganda, since it might expose the Supreme Leader. Mueller is being daily savaged in the right wing press. Outside Washington, Trump's targets are faltering. The NFL is reeling; a Gold Star widow is attacked; Obamacare is at risk of being sabotaged to death; the EPA is castrated.
This time last year, I warned about an abyss. This is what it looks like.
The Congress is paralyzed, reduced entirely to staffing the judiciary with the far right; it can pass no significant legislation and reach no compromise on anything, without Trump undermining it. The bureaucracy is shell-shocked and demoralized; the State Department is a wasteland; the press has sunk even further into public disdain. The police are increasingly seen either as incapable of error, or morally suspect. The essential civilian control of the military has been weakened, with an embittered general's honor now deployed as a way to play political defense in front of the press corps. "My generals", as the president calls them, as if they swear loyalty to him and not to the Constitution. The Republican candidate for the Senate from Alabama, Roy Moore, believes that there should be a religious test for public office. As Ben Sasse blurted out yesterday: "It feels like this party I'm a member of has gone post-Constitutional."  http://nymag.com/daily/intelligencer/2017/10/this-is-what-the-trump-abyss-looks-like.html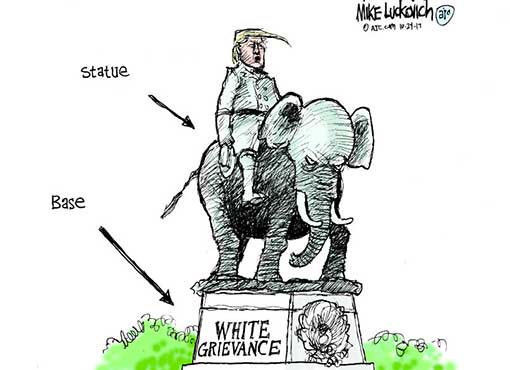 7. Eric Levitz: The GOP Doesn't Even Have the Courtesy to Hide Its Sociopathic Priorities
On Thursday, House Republicans decided that tax cuts for the wealthy and corporations are such an urgent necessity, it would be worth adding $1.5 trillion to the deficit to ensure their passage. Hours later, the Republican president declared the opioid epidemic a "public health emergency" — but refused to commit a single dollar of new funds to address it.
Although the GOP has voted to add $1.5 trillion to the deficit for their tax plan, the president has actually proposed some $5.8 trillion in cuts (to be offset with unspecified loophole closures and spending cuts). According to an analysis from the Tax Policy Center, the top one percent of income earners would collect about 80 percent of that lost revenue.
So, at a time when corporate profits and income inequality are at historic highs — and drug overdoses are killing more than 50,000 Americans a year— the White House is bragging that it has treated the opioid epidemic as though it were 0.017 percent as important as tax cuts for the wealthy.
And even this is an overstatement. Note that tweet's passive voice: The $1 billion Trump refers to here was appropriated under the 21st Century Cures Act, which was signed into law by Barack Obama last December. This administration hasn't allocated any new funds to fight the epidemic. In fact, it spent the better part of its first year in office trying to cut $1 trillion for Medicaid, one of America's primary sources of funding for addiction treatment.  http://nymag.com/daily/intelligencer/2017/10/the-gop-is-no-longer-trying-to-hide-its-inhuman-priorities.html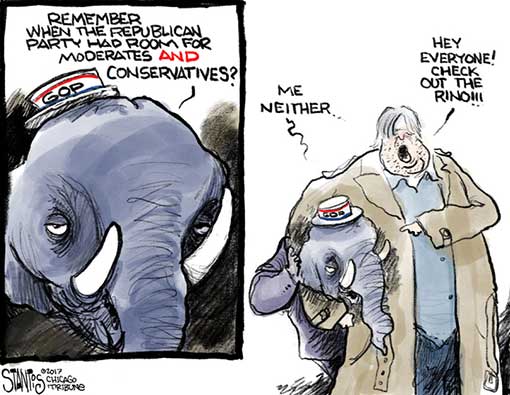 8. Paul Krugman: Trump's $700 Billion Gift to Wealthy Foreigners
The whole sales pitch for the Trump tax plan rests on the claim that everything is different because we're now part of a global financial market. The truth is that this makes less difference than many imagine.
But one thing is true: These days there's a lot of cross-border investment. In particular, as Steven M. Rosenthal of the Tax Policy Center notes — in a paper I found revelatory — around 35 percent of U.S. equities are now owned by foreigners, triple the level during the Reagan years.
What this means is that around 35 percent of a tax cut from an administration that proudly uses the slogan "America first" — $700 billion over the next decade — wouldn't even go to Americans. Instead, it would be a windfall to wealthy foreigners, who would probably gain a lot more from the tax cut than U.S. workers. Oh, and it makes all that talk about allies not paying their "fair share" sound kind of silly, doesn't it?
And meanwhile, the result would be a huge hole in the budget, which Republicans would try to close at the expense of the poor and middle class. The budget resolution the House and Senate passed over the last week called for cuts of $1 trillion in Medicaid and almost half a trillion in Medicare. The resolution doesn't have the force of law, but it's a pretty clear indication of what's next if the big tax cuts pass.
Now, it may sound extreme to say that Trump and his allies want to take away health care from millions largely so that they can give wealthy foreigners a $700 billion gift. But however it may sound, it's also the literal truth.  https://www.nytimes.com/2017/10/26/opinion/trump-taxes-wealthy-foreigners.html
9. LA Times Editorial 'Who paid for the dossier?' doesn't matter; Russian meddling in our elections is what's important
Who paid for the 35-page "dossier" compiled by former British intelligence officer Christopher Steele is far less important than whether any or all of the allegations it contains are true.
As for a cover-up, it long has been known that the dossier was part of an opposition research project financed by Democrats after originally being funded by an unknown Republican client.
But it's absurd to suggest that this new wrinkle vindicates Trump's longstanding claim that the "Trump Russia story is a hoax." If some of the allegations in the Steele dossier are accurate, it's of small importance that they were turned up as part of an opposition research operation. And, of course, the Steele document isn't the only source of suspicion about Russian meddling or about improper contacts between Russian operatives or intermediaries and people in the Trump orbit.
Not for the first time — remember the bogus scandal about the supposedly improper "unmasking" of Trump transition officials whose names appeared in intelligence intercepts? — the president and his allies are seizing on a sideshow to distract attention from the main event: Russian interference in last year's election and allegations that the Trump campaign colluded in that interference — and that Trump tried to frustrate investigations of that conduct, including by firing former FBI Director James B. Comey. Neither the public nor federal investigators should be fooled into taking their eyes off the ball.  http://www.latimes.com/opinion/editorials/la-ed-clinton-dossier-20171027-story.html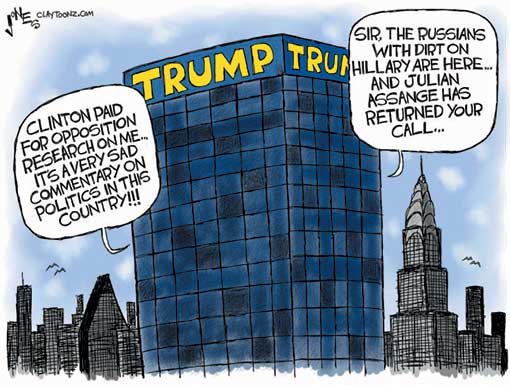 10. Philippe Reines: How media should respond to Trump attacks
"Fake News" has been a powerful line of attack for Trump because it's tapping into the country's existing doubts about the news media's fairness and accuracy. A recentPolitico/Morning Consult poll shows that 46% of Americans believe the media fabricate stories about Trump. It also found that 76% of Republicans and 20% of Democrats believe that.
They believe the media make things up because Trump says it incessantly and without shame.
News outlets should start with a few simple changes:
When the President lies, use the word "lie." Drop euphemisms like "casual relationship with the truth." I know news media want to be respectful. But Trump has made that impossible. And he's using euphemisms and indirect language to his advantage. It might be repetitive, but when Trump lies, say it. He lies.
These are mere Band-Aids. And this doesn't begin to address those who cite Fake News out of the dangerous combination of intellectual laziness and political obstinance. Nor does it even begin to address the inclination of so many refusing to give up their conspiracy theories. Never in the history of man has one been debunked to the satisfaction of the believer.
But there are good reasons we use Band-Aids. We do so to prevent the wound from worsening, spreading or growing into a serious infection that could kill the patient.
They don't always work. But they never hurt.  http://www.cnn.com/2017/10/27/opinions/trump-media-reines-opinion/index.html
11.  Ryan Lizza: As Mueller Pushes Ahead, Trump Distracts
On Friday, while prosecutors working for the special counsel, Robert Mueller, obtained their first grand-jury indictments in their investigation of potential collusion by the Trump campaign and Russia, the President of the United States was busy gaslighting. Trump tweeted, of course, that "It is now commonly agreed, after many months of costly looking, that there was no collusion between Russia and Trump. Was collusion with HC!"
The President was referring to an episode that took place in 2010 whereby the Obama Administration gave a Russian firm permission to buy a Canadian company that had the rights to mine a great deal of uranium in the U.S. The allegation is that, because Bill Clinton took some money from Russian interests, Hillary Clinton, in exchange, approved the uranium deal. Assume for a moment that Russian influence did affect the Obama Administration's decision. This is not out of the realm of possibility, and the Obama Justice Department was reportedly looking into Russian influence in the uranium markets.
But the vast majority of examinations by journalists of the uranium deal have found no sign of wrongdoing. I won't rehash all the details of the bureaucratic process that led to the deal being approved, but it required the support of multiple government agencies, including the Nuclear Regulatory Commission, a body not controlled by Hillary Clinton. If you want the full explanation for why this allegation is false, I highly recommend this detailed account  from FactCheck.org, which concludes, "Donald Trump falsely accused former Secretary of State Hillary Clinton of giving away U.S. uranium rights to the Russians and claimed—without evidence—that it was done in exchange for donations to the Clinton Foundation."
What's more important is that Trump is once again spreading lies to confuse the public about the Russian attack on American democracy last year. There are some obvious reasons why Trump would make this untruthful claim. The first is political. Trump's typical response to any allegation of wrongdoing is to accuse his accuser of the same crime. Perhaps the most famous moment of the Presidential debates last year was Trump's response when Hillary Clinton accused him of being Vladimir Putin's puppet. "No puppet, no puppet, you're the puppet," he muttered into his microphone. He has been trying to make that case ever since.  https://www.newyorker.com/news/our-columnists/as-mueller-pushes-ahead-trump-distracts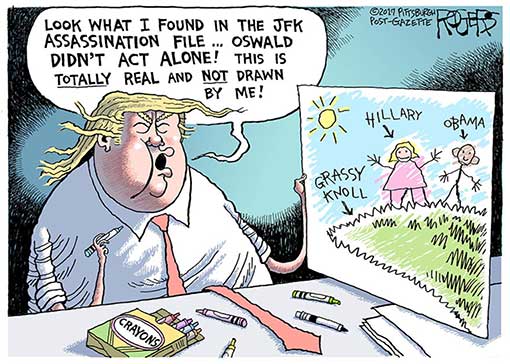 12. Ed Kilgore: As Manafort and Gates Are Arrested, Trump Doubles Down on Clinton-Russia 'Scandal'
With the news that former 2016 Trump campaign chairman Paul Manafort and his deputy have been indicted on 12 federal criminal charges connected with highly corrupt activities on behalf of Russian (or Russo-Ukrainian) interests, the Trump White House had a very big strategic decision to make about how to react. In most administrations, you'd figure an appalling situation like this would call for a restrained and perhaps sorrowful statement asserting the president's innocent shock at this development, and keeping him as far away from the unfolding news as possible.
But this being the Trump administration, restraint was probably never an option.
You have to figure the president knew everything about Manafort and Gates's indictment before it hit the news this morning. And that makes today's initial tweets revealing. Here was the first:
Report out that Obama Campaign paid $972,000 to Fusion GPS. The firm also got $12,400,000 (really?) from DNC. Nobody knows who OK'd!
Then Fox and Friends, to all appearances running interference on the Manafort-Gates story, interviewed former Trump staffer Michael Caputo about the Fusion GPS contract and the Steele Dossier and "the Russian connections to the Clintons and the Democrats." Trump had a quick attaboy:
Sorry, but this is years ago, before Paul Manafort was part of the Trump campaign. But why aren't Crooked Hillary & the Dems the focus?????
So there you have it: The indictments have nothing to do with Donald J. Trump or his campaign (other than perhaps reflecting poorly on his vetting practices), and Robert Mueller is wasting his time and taxpayers' money by messing with this ephemeral stuff instead of going after the real Russia story, which is about the Clintons and the DNC and Obama and Democrats, Democrats, Democrats.
It's a pretty crude application of the principle of "the best defense is a good offense"; indeed, it's as offensive a response as you might imagine.
Whether or not the underlying issues are similarly damning to the president, this reaction is like Richard Nixon claiming that the DNC, whose Watergate offices his thugs got caught breaking into, was actually committing burglaries all over Washington. It's not very credible, but it has the advantage of giving his allies and his base something to talk about that preempts all the details of the indictment and implicitly accuses Mueller of covering up the "real" Russia scandal.
So as Manafort and Gates disappear under the bus, you can expect Trump & Co. to raise the volume of their attacks on Hillary Clinton to previously unknown levels. Perhaps he'll even get the Justice Department to appoint a second special counsel with instructions to lock her up. http://nymag.com/daily/intelligencer/2017/10/trump-doubles-down-on-clinton-russia-scandal.html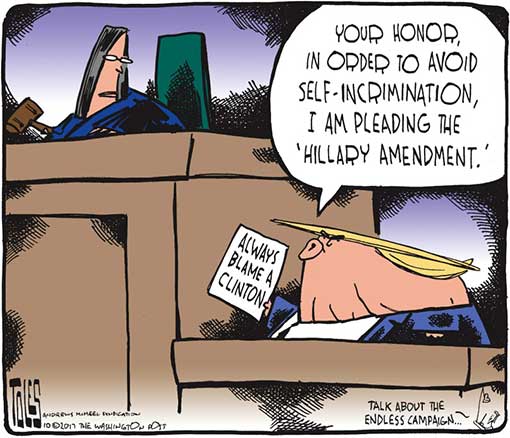 13. Rebekah Entralgo: The big lie about their tax plan that Trump and his top advisors have already told 84 times
As a candidate for president, Donald Trump ran as a populist. Throughout the campaign, he harnessed the power of his appeal to middle class Americans frustrated with the political establishment.
At odds with Trump's appeal to his populist base are the actual policies that his administration proposes. Following the their failed repeated attempts at stripping Americans of healthcare coverage, Donald Trump's Republican party now has it's sights on passing tax reform, the details of which are anything but populist.
Study after study of the GOP-Trump tax plan shows the plan will ultimately benefit the wealthiest Americans. The non-partisan Tax Policy Center found that after the tax plan has taken full effect in 2027, 80 percent of the benefits would go to the top 1 percent. When it comes to tax cuts, the top 1 percent will get an average cut of $1,022,120, while the middle 20 percent will get an average cut of $420, eviscerating any notion that the middle class are the key beneficiaries of the Republican's  "Unified Framework for Fixing Our Broken Tax Code."
In spite of this, the administration continues to pedal this to the American public as a tax plan designed with the middle class in mind.  https://thinkprogress.org/the-big-lie-about-their-tax-plan-that-trump-and-his-top-advisors-have-already-told-84-times-ba3294861c1f/