January 12, 2017
ON THE RECORD. . .
"These are stories that most fourth graders would find incredible. That a national security adviser would fine them believable enough to share them causes me great concern." -- Sen. Tim Kaine (D-VA) on Trump's designated national security adviser, retired Lt. Gen. Michael Flynn, who has made news for posting conspiracy theories to his Twitter account, including an incredibly bizarre one that claimed his running mate Hillary Clinton was involved in the child sex trade." 1/5/17
"Trump slams intelligence community again, puts confidence in accused sex offender who published millions of State Dept docs at US peril. Wow."-- Rep. Adam Schiff (D-CA), the ranking Democrat on the House Intelligence Committee.
"Grow up, Donald. Grow up. Time to be an adult. You're president. You've got to do something. Show us what you have."— Joe Biden, on Donald Trump's attacks on the U.S. intelligence community
To @realDonaldTrump : The more jobs you destroy in México, the more immigrants the American people will have. Think a little! -- Felipe Calderón ✔@FelipeCalderon
"Trump, when will you understand that I am not paying for that fucken wall. Be clear with U.S. tax payers. They will pay for it." — Former Mexican President Vicente Fox, on Twitter.
"We're not in this for any sort of political reasons. We have no ax to grind, political or otherwise. We're a business. We have 700 employees that we pay every week. We have bills. We are effectively financing this work, and we don't think it's right. That's really it." --A subcontractor that worked on Donald Trump's new luxury Washington, D.C. hotel has filed a lien claiming that the Trump Organization and its construction manager have not paid it almost $2.1 million. That claim brings the total in alleged unpaid bills on the Trump International Hotel in D.C. to more than $5 million.
Obamacare is causing Medicare to "go broke" -- Speaker Paul Ryan in a statement at odds with the fact that the Affordable Care Act actually extended the solvency of the Medicare program, rather than undermined it.
"Putin and the Russian government aspired to help President-elect Trump's election chances when possible by discrediting Secretary Clinton and publicly contrasting her unfavorably to him," -- The intelligence agencies' report on the Russian intervention in the American presidential election.
"Most Republicans are condemning what Russia did. And to those who are gleeful about it – you're a political hack. You're not a Republican. You're not a patriot." — Sen. Lindsey Graham (R-SC)
"I'm concerned that somebody with a platform like Meryl Streep's is inciting people's worst instincts."— Trump adviser Kellyanne Conway.
"It was that moment, when the person asking to sit in the most respected seat in our country imitated a disabled reporter — someone he out-ranked in privilege, power and the capacity to fight back. It kind of broke my heart when I saw it, and I still can't get it out of my head because it wasn't in a movie; it was in real life." -- Actress Meryl Streep calling out President-elect Donald Trump during a speech at the Golden Globe.
"I need to talk about ethics today because the plan the president has announced doesn't meet the standards that the best of his nominees are meeting and that every president in the past four decades has met," --  Walter Shaub, head of the nonpartisan Office of Government Ethics. 1/11/17
"And even if the dossier (published by BuzzFeed) turns out to be pure bunk, there is a good bit of karma blasting back at Trump for inciting the Russians to hack and leak on Hillary, not to mention all the birther stuff. How does it feel to be the aggrieved party, Donald?" -- Jack Shafer in Politico
"For sheer, jaw-dropping wonder, I doubt that any of it will improve on a typical Conway television interview, which is a circus of euphemisms, a festival of distractions and a testament to the stamina of a willed smile. She looks cheery when attacking, even cheerier when attacked and absolutely radiant when descending into a bog of half-truths and fictions. It's always sunny on Conway's side of the street." -- Frank Bruni 1/11/17
---
IN THIS ISSUE
1. Russian Officials Celebrated Trump's Win
2. Trump mentioned Wikileaks 164 times in last month of election, now claims it didn't impact one voter
3. Andy Borowitz: Trump Urges Spy Agencies To Lay Off Russia And Focus On Threat Posed By Actresses 
4. Rupert Murdoch Is Turning Fox News Into Trump TV
5. The DAILY GRILL
6. From MEDIA MATTERS (They watch Fox News so you don't have to)
7. Trump Indexed
8. Tensions Grow Between Trump and the GOP
9. Trump and Assange Unite to Sow Hacking Doubts
10. Indivisible: A Practical Guide for Resisting the Trump Agenda 
11. Kaiser Family Foundation poll: Most Say Don't Repeal Obamacare Without Replacement
12. Conservatives Now Willing to Explode National Debt
13. Mattis Clashing with Trump Transition Team
14. Selling off public lands. The House rule change that went unnoticed
15. Trump said he had $315 million in debt. He left out $1.5 billion
16. Republicans Should Know Trump Will Target Them Too
17. Pew Research: Republicans Grow More Skeptical of Free Trade
18. MarkFiore cartoon: De-Obamafication
19. From the Late Shows
20. Quinnipiac poll: U.S. Voters Approve Of Obama, Disapprove Of Trump 
21. Most Economists Are Worried About Trump
1. Joy-Ann Reid:The Questions Donald Trump Needs to Answer About Russia
2. Washington Post Editorial Board: Trump refuses to face reality about Russia
3. Dana Milbank Trump opponents find an ally: Republican incompetence 
4. Paul Kane: With Obamacare, GOP faces the 'Pottery Barn rule': You break it, you own it
5. Vann R. Newkirk II: 'Repeal and Delay' Won't Prevent Obamacare Repeal Chaos
6. Jonathan Chait: Donald Trump, Julian Assange, and the Control of the Republican Mind
7. John Cassidy: Could Obamacare Save The Democrats?
8. Paul Krugman: The Age of Fake Policy 
9. Nicholas Kristof: The G.O.P. Health Care Hoax 
10. Paul Waldman: What do you hate most about the health system? Republicans will make it worse.
1. Russian Officials Celebrated Trump's Win
Senior officials in the Russian government celebrated Donald Trump's victory over Hillary Clinton as a geopolitical win for Moscow, according to U.S. officials who said that American intelligence agencies intercepted communications in the aftermath of the election in which Russian officials congratulated themselves on the outcome.
The ebullient reaction among high-ranking Russian officials — including some who U.S. officials believe had knowledge of the country's cyber campaign to interfere in the U.S. election — contributed to the U.S. intelligence community's assessment that Moscow's efforts were aimed at least in part at helping Trump win the White House. https://www.washingtonpost.com/world/national-security/us-intercepts-capture-senior-russian-officials-celebrating-trump-win/2017/01/05/d7099406-d355-11e6-9cb0-54ab630851e8_story.html?utm_term=.d43f22cf2cc7
2. Trump mentioned Wikileaks 164 times in last month of election, now claims it didn't impact one voter
President-elect Trump says that information published by Wikileaks, which the U.S. intelligence community says was hacked by Russia, had "absolutely no effect on the outcome of the election." This was not the view of candidate Trump, who talked about Wikileaks and the content of the emails it released at least 164 times in last month of the campaign.
"Wikileaks, I love Wikileaks. And I said write a couple of them down. Let's see. During a speech crooked Hillary Clinton, oh she's crooked folks. She's crooked as a 3 dollar bill. Okay here's one. Just came out - lock her up is right." [10/10/16]"

"I'll tell you this Wikileaks stuff is unbelievable. It tells you the inner heart you gotta read it and you gotta maybe get it because they're not putting it out. They want to put it out but they can't do that because without the media and without the press Hillary Clinton would be nothing. She'd be nothing. Zero." [10/12/16]

She would be the most dishonest and the most corrupt person ever elected to high office. The Wikileaks emails show the Department of Justice fed information to Clinton, now think of this. She is under investigation [10/12/16]

It's a total setup. Now suddenly after many, many years phony accusers come out less than a month before one of the most important elections in the history of our country. It also comes at a time as wikileaks unveils horrible, horrible things about Hillary Clinton but they'd rather talk about this. [10/14/16]
https://thinkprogress.org/trump-mentioned-wikileaks-164-times-in-last-month-of-election-now-claims-it-didnt-impact-one-40aa62ea5002#.wh9fkwe8f
3. Andy Borowitz: Trump Urges Spy Agencies To Lay Off Russia And Focus On Threat Posed By Actresses
In an emergency meeting at Trump Tower on Monday morning, President-elect Donald J. Trump urged the heads of the nation's intelligence agencies to "stop picking on Russia" and instead focus on "the very real threat" posed by Hollywood actresses.

Calling the recent allegations against Russia a "witch hunt," Trump told the intelligence chiefs that their investigations of Russian President Vladimir Putin were distracting them from "America's real enemy, actresses."

Growing increasingly irate, he laid out a series of proposals for dealing with what he called a "scourge," including mandatory registration of actresses and a temporary ban on actresses entering the country.

Additionally, he said that the flow of actresses could be "cut off at the source" by having F.B.I. agents infiltrate improv classes.

"Nothing should be taken off the table," Trump reportedly said.

The President-elect also complained that, under President Barack Obama, actresses have been allowed to operate with impunity. "Barack Obama is basically the founder of actresses," he said. http://www.newyorker.com/humor/borowitz-report/ 
4. Rupert Murdoch Is Turning Fox News Into Trump TV
People close to Murdoch are surprised by how fast Fox has fallen into line with the Trump administration. This morning, Bill Kristol, a longtime Fox contributor, criticized Hannity's fawning interview with Julian Assange. "I'm old enough to remember when Fox News was pro-American soldier not pro-anti-American leaker," Kristol tweeted. During the GOP primary, Murdoch veered from neutral to openly hostile to Trump's candidacy. One Murdoch associate told me that over the years Murdoch spoke of Trump as a buffoon. Murdoch was also turned off by Trump's anti-immigration rhetoric. But in the general election, Murdoch came around to backing Trump (after a détente brokered by Trump's son-in-law, Jared Kushner). Now he seems intent on turning up Fox's support to a new level.
Murdoch's reversal, the associate said, can partly be explained by Murdoch's longtime desire to have a relationship with an American president. Murdoch has met every occupant of the Oval Office since Nixon, but has never had a personal connection with one. The 85-year-old Murdoch may see Trump as his last chance. -- Gabriel Sherman. http://nymag.com/daily/intelligencer/2017/01/rupert-murdoch-is-turning-fox-news-into-trump-tv.html
5. The DAILY GRILL
"I will build a great wall — and nobody builds walls better than me, believe me — and I'll build them very inexpensively. I will build a great, great wall on our southern border, and I will make Mexico pay for that wall. Mark my words." -- Trump during the speech in which he launched his candidacy in June 2015.

VERSUS

Trump's transition team "has signaled to congressional Republican leaders that his preference is to fund the border wall through the appropriations process as soon as April, according to House Republican officials." -- CNN on Friday

 

Pence's CLAIM: "American people...want us to repeal and replace Obamacare" -- igorvolsky@igorvolsky

VERSUS

FACT: Only 26% want ACA repealed .-- Kaiser health tracking poll.

 

"Intelligence stated very strongly there was absolutely no evidence that hacking affected the election results. Voting machines not touched!" -- Donald J. Trump @realDonaldTrump

VERSUS

"We did not make an assessment of the impact that Russian activities had on the outcome of the 2016 election. The US Intelligence Community is charged with monitoring and assessing the intentions, capabilities, and actions of foreign actors; it does not analyze US political processes or US public opinion. " --- U.S. Intelligence Community report regarding Russia's meddling in the U.S. presidential campaign 1/06/17
6. From MEDIA MATTERS (They watch Fox News so you don't have to)
CIA Director John Brennan is a "mole" for the Saudi government and should be thrown in jail. -- Trump Advisor Roger Stone

Fox News' New Prime-Time Host Tucker Carlson Is Beloved By Neo-Nazis And Misogynists. "Tucker Carlson is literally our greatest ally. I don't believe that he doesn't hate the Jews." -- Neo-Nazi Andrew Anglin, The Daily Stormer

Breitbart.com appears to have falsely reported that "a mob of more than 1,000 men chanted 'Allahu Akhbar'" while attacking police and setting a church on fire during New Year's Eve festivities in Dortmund, Germany. Breitbart is engaged in an ongoing effort to amplify anti-Muslim sentiment in Europe in order to support the rise of xenophobic, far-right political parties and movements. http://mediamatters.org/blog/2017/01/06/breitbart-story-about-mob-1000-muslims-attacking-german-church-reportedly-dissolves/214945

"Delusional" And "Racially Divisive" -- Right Wing Media's Unhinged Reaction To Obama's Farewell Address http://mediamatters.org/research/2017/01/10/delusional-and-racially-divisive-right-wing-medias-unhinged-reaction-obamas-farewell-address/214974
7. Trump Indexed
This is an amazing tool: Factbase is indexing and transcribing nearly every speech, tweet or other utterance of Donald Trump. https://factba.se
Try searching for WikiLeaks: https://factba.se/search#wikileaks
8. Tensions Grow Between Trump and the GOP
Welcome to unified government – Trump style. The new Congress wasn't even sworn in before a Donald Trump crashed through the Republican conference – forcing a hasty retreat on an ill-timed ethics maneuver. And you don't have to look far beneath the surface to see other cracks in party unity trying to make themselves seen. Trump's near-mockery of intelligence agencies, along with his alignment with both Russia and Wikileaks, is testing the ability of Republicans in Congress to hold their tongues on foreign policy and national security. http://abcnews.go.com/Politics/note-capitol-hill-takes-russian-hacking/story?id=44570691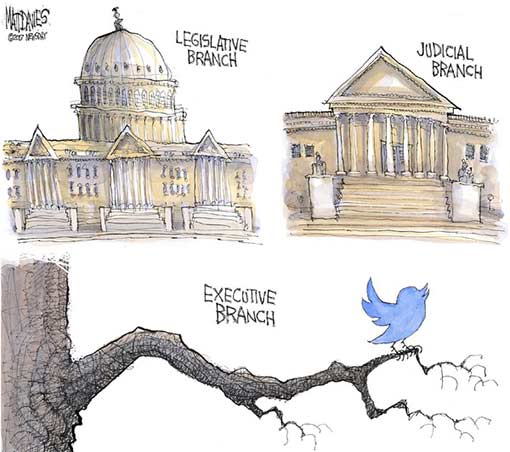 9. Trump and Assange Unite to Sow Hacking Doubts
Just a year ago, they might have seemed the oddest of couples. But now President-elect Donald Trump and Julian Assange, the WikiLeaks founder, have formed a united front against the conclusion of American intelligence agencies that Russian intelligence used hacked emails to interfere in the presidential election.
Mr. Assange, long reviled by many Republicans as an anarchist lawbreaker out to damage the United States, has won new respect from conservatives who appreciated his site's release of Democratic emails widely perceived to have hurt Hillary Clinton's campaign. And Mr. Trump has been eager to undercut the conclusion of the F.B.I., the C.I.A. and other agencies that those emails were provided to WikiLeaks courtesy of Russian government hackers." 1/5/17 http://www.nytimes.com/2017/01/04/us/politics/julian-assange-donald-trump.html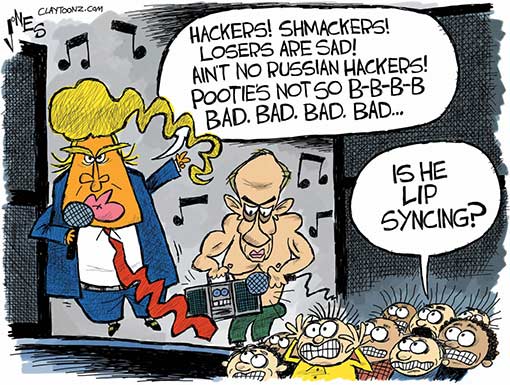 10. Indivisible: A Practical Guide for Resisting the Trump Agenda
This is a step-by-step guide for individuals, groups, and organizations looking to replicate the Tea Party's success in getting Congress to listen to a small, vocal, dedicated group of constituents. The guide is intended to be equally useful for stiffening Democratic spines and weakening pro-Trump Republican resolve.
Download the guide at. https://www.indivisibleguide.com/
11. Kaiser Family Foundation poll: Most Say Don't Repeal Obamacare Without Replacement
A new finds that 75% of Americans say they either want lawmakers to leave Obamacare alone, or repeal it only when they can replace it with a new health care law.
Twenty percent of those polled say they want to see the law killed immediately. http://kff.org/health-costs/poll-finding/kaiser-health-tracking-poll-health-care-priorities-for-2017/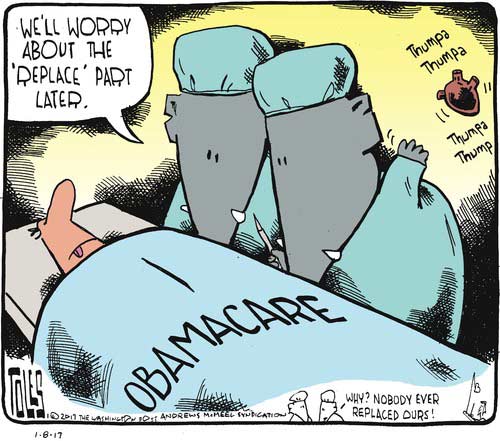 12. Conservatives Now Willing to Explode National Debt
Some of the most conservative members of Congress say they are ready to vote for a budget that would — at least on paper — balloon the deficit to more than $1 trillion by the end of the decade, all for the sake of eventually repealing the Affordable Care Act.
In a dramatic reversal, many members of the hard-line House Freedom Caucus said Thursday they are prepared later this month to support a budget measure that would explode the deficit and increase the public debt to more than $29.1 trillion by 2026, figures contained in the budget resolution itself. https://www.washingtonpost.com/powerpost/conservatives-ready-to-support-1-trillion-hole-in-the-budget/2017/01/05/76d4bf34-d391-11e6-a783-cd3fa950f2fd_story.html
13. Mattis Clashing with Trump Transition Team
The honeymoon seems to be ending between retired Gen. James Mattis and Donald Trump's transition team amid an increasingly acrimonious dispute over who will get top jobs in the Defense Department — and who gets to make those decisions, the Washington Post reports.
With only two weeks left before Inauguration Day and days before Mattis's Senate confirmation hearing, most major Pentagon civilian positions remain unfilled. Behind the scenes, Mattis has been rejecting large numbers of candidates offered by the transition team for several top posts, two sources close to the transition said. The dispute over personnel appointments is contributing to a tenser relationship between Mattis and the transition officials, which could set the stage for turf wars between the Pentagon and the White House in the coming Trump administration. https://www.washingtonpost.com/news/josh-rogin/wp/2017/01/06/mattis-clashing-with-trump-transition-team-over-pentagon-staffing/?utm_term=.de68dd431a26
14. Selling off public lands. The House rule change that went unnoticed.
House Republicans on Tuesday changed the way Congress calculates the cost of transferring federal lands to the states and other entities, a move that will make it easier for members of the new Congress to cede federal control of public lands.
The provision, included as part as a larger rules package the House approved by a vote of 233 to 190 during its first day in session, highlights the extent to which some congressional Republicans hope to change longstanding rules now that the GOP will control the executive and the legislative branches starting Jan. 20. http://www.dailykos.com/stories/2017/1/3/1616800/-Selling-off-public-lands-The-House-rule-change-that-went-unnoticed
15. Trump said he had $315 million in debt. He left out $1.5 billion.
Trump filed documents with the FEC over the summer that revealed he owed at least $315 million to ten entities. This debt, some of which is personally guaranteed by him, was a clear conflict. As president, Trump will be responsible for regulating entities that he also owes money to. Worse, these debts are frequently renegotiated, giving these companies leverage over Trump in the regulatory process.
A report this afternoon from the Wall Street Journal, however, revealed that Trump's disclosure was the tip of the iceberg. The FEC required Trump only to report debt from entities he fully controls. The disclosure left out "more than $1.5 billion lent to partnerships that are 30%-owned by him." That debt has been securitized and is owed to at least 150 financial entities.
Legal experts from both sides of the aisle believe that, absent full divestment, Trump will violate the constitution on his first day in office. https://thinkprogress.org/trump-said-he-had-315-million-in-debt-he-left-out-1-5-billion-73577d392896#.hnwys7bor
16. Republicans Should Know Trump Will Target Them Too
The hilarious capper to the ethics mess was the ease with which Trump threw his GOP 'allies' under the bus. Trump may be ethically vacant and morally bankrupt, but he's got a keen nose for the populism that drove him into office; his tweets sent a wave of utter panic through the House caucus. The walkback set a terrible precedent: House leadership should make policies and decisions without living in fear of Trump's tweeted tantrums. The operative word is 'should,' but they're going to have to touch the hot stove a few more times before the lesson takes.
The populist fury of the Trumpentariat isn't reserved for liberals alone; more and more, it will be focused on Republicans who fail to toe the line when He issues his commands and diktats. The rage monster machine of Fox News, talk radio and Trump-centric social media needs something to feed on, and if House Republicans think Trump and his media allies won't sacrifice them for their own satisfaction and ratings, they're not paying attention." http://www.thedailybeast.com/articles/2017/01/05/house-republicans-catch-a-bad-case-of-victory-disease.html
17. Pew Research: Republicans Grow More Skeptical of Free Trade
About two-thirds of Republicans and Republican-leaning registered voters (68%) say free trade has been a bad thing for the U.S., while only 24% say it has been good for the country. These views, which have shifted starkly since May 2015, when 51% of Republican voters said free trade was a good thing for the U.S. and 39% said it was bad, came as President-elect Trump criticized free trade throughout the 2016 election cycle. Democrats, on the other hand, remain largely positive about free trade. http://www.pewresearch.org/fact-tank/2016/12/21/16-striking-findings-from-2016/
18. MarkFiore cartoon: De-Obamafication
19. From the Late Shows
Obama Brings Back His Anger Translator To Help Him Deliver Some Parting Words. http://digg.com/video/trevor-noah-obama-anger-translator-luther-key-peele

The Late Show with Stephen Colbert: Oh, The Damage Trump Can Do With His Thumbs> https://youtu.be/IvVOxbYF698

The Late Show with Stephen Colbert: Stephen Calls For A Million Meryl March. https://youtu.be/Rkk2zqgPJWA

Late Night with Seth Meyers: Russian Hacking and Trump Ethics: A Closer Look. https://youtu.be/gmJ-GccrmEc
20. Quinnipiac poll: U.S. Voters Approve Of Obama, Disapprove Of Trump
American voters approve 55 - 39 percent of the job President Barack Obama is doing, his best approval rating in seven years, according to a Quinnipiac University national poll released today. These same voters disapprove 51 - 37 percent of the way Donald Trump is handling his job as president-elect.
Donald Trump will be a worse president than Barack Obama, 45 percent of voters say, while 34 percent say he will be a better president and 15 percent say he will be about the same, American voters tell the independent Quinnipiac University Poll. https://poll.qu.edu/national/release-detail?ReleaseID=2415
21. Most Economists Are Worried About Trump
Over three days of intense discussions (at the annual conference of economists last weekend in Chicago), I didn't encounter a single economist who expressed optimism that Mr. Trump's administration would be good for the economy. The optimists were those who thought Mr. Trump would not have the energy to actually implement his agenda; the pessimists' thoughts veered toward disaster. -- Justin Wolfers.  https://www.nytimes.com/2017/01/11/upshot/why-most-economists-are-so-worried-about-trump.html
1. Joy-Ann Reid:The Questions Donald Trump Needs to Answer About Russia
Donald Trump's strange responses to increasingly detailed evidence that Russian intelligence services hacked into the email accounts of both Democratic and state and federal government targets during the 2016 election should cause alarm across party lines. 
Trump seemed only capable of focusing on reasserting the legitimacy of his election, clinging to the lack of a finding that Russians hacked into actual voting machines. But that was never the point. The point was that Russia deployed cybercriminals, who fed stolen emails to Wikileaks, and deployed trolls who spread made up, damaging news stories, including through the Russian propaganda arm RT and through American conspiracy theory peddlers like Infowars and random sites online, specifically to help him. And while he is not portrayed as an accomplice to the Russian operation in the intelligence report, the fact is, Trump actively pitched and sold the products of the Russian hackers and trolls and Wikileaks. He did so every day of the campaign, sometimes even going beyond the content and exaggerating it to his own benefit. 
It's left unsaid in the intelligence report, but the truth is, the Russian operation could not have succeeded without the help of Donald J. Trump. He alone among the Republican primary candidates, during the period of active hacking and email theft, was willing – no, eager – to use the looted material for the benefit of his campaign. 1.07.17. http://www.thedailybeast.com/articles/2017/01/07/the-questions-donald-trump-needs-to-answer-about-russia.html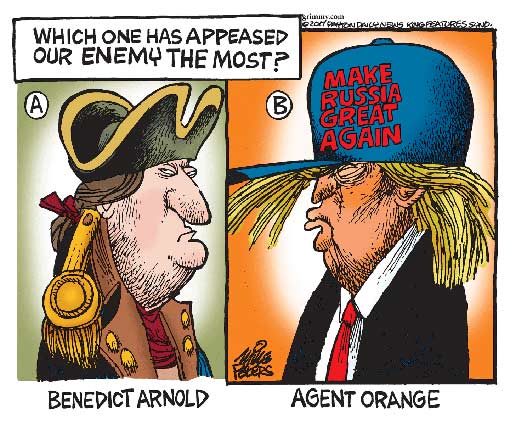 2. Washington Post Editorial Board: Trump refuses to face reality about Russia
ALTHOUGH PRESIDENT Obama's sanctions against Russia for interfering with the U.S. presidential election came late, his action on Thursday reflected a bipartisan consensus that penalties must be imposed for Moscow's audacious hacking and meddling. But one prominent voice in the United States reacted differently. President-elect Donald Trump said "it's time for our country to move on to bigger and better things." Earlier in the week, he asserted that the "whole age of computer has made it where nobody knows exactly what is going on."
No, Mr. Trump, it is not time to move on. U.S. intelligence agencies are in agreement about "what is going on": a brazen and unprecedented attempt by a hostile power to covertly sway the outcome of a U.S. presidential election through the theft and release of material damaging to Democratic nominee Hillary Clinton. The president-elect's dismissive response only deepens unanswered questions about his ties to Russia in the past and his plans for cooperation with Vladi­mir Putin.
Why is Mr. Trump so dismissive of Russia's dangerous behavior? Some say it is his lack of experience in foreign policy, or an oft-stated admiration for strongmen, or naivete about Russian intentions. But darker suspicions persist. Mr. Trump has steadfastly refused to be transparent about his multibillion-dollar business empire. Are there loans or deals with Russian businesses or the state that were concealed during the campaign? Are there hidden communications with Mr. Putin or his representatives? We would be thrilled to see all the doubts dispelled, but Mr. Trump's odd behavior in the face of a clear threat from Russia, matched by Mr. Putin's evident enthusiasm for the president-elect, cannot be easily explained. 12/30/16 .https://www.washingtonpost.com/opinions/trump-refuses-to-face-reality-about-russia/2016/12/30/5a69d692-ceb7-11e6-a747-d03044780a02_story.html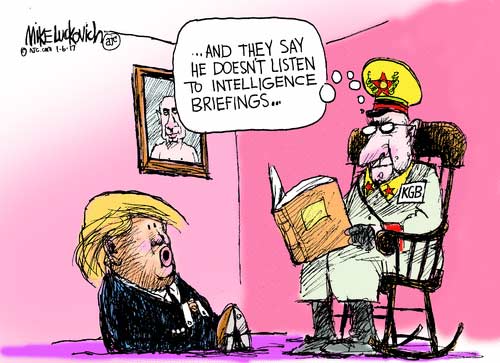 3. Dana Milbank Trump opponents find an ally: Republican incompetence
Doesn't anybody here know how to work this thing?
For 10 years, Republicans have waited for their chance to govern, and finally the voters handed them the car keys: unified GOP control of Congress and the White House.
But the moment the starter's flag dropped Tuesday, the opening day of the 115th Congress, the eager majority seized the wheel of power, hit the gas — and immediately lost control of the vehicle and crashed into a guardrail.
It was the simplest of tasks for the new Congress: The House was to approve a new rules package for the 2017-2018 term, normally a routine matter. But a group of House GOP lawmakers, ambushing their leaders, persuaded the Republican caucus to tack on a plan that would gut ethics enforcement.
House Republicans suddenly reversed a plan to gut a House ethics watchdog panel on Jan. 3. The Fix's Amber Phillips explains what happened. (Peter Stevenson/The Washington Post)
Thus did Republicans, after the "drain the swamp" campaign of 2016, propose in their first act of 2017 to overflow the swamp with a new pipeline of sleaze. The headlines were murderous, and Donald Trump tweeted criticism of his fellow Republicans on Tuesday morning: "Do they really have to make the weakening of the Independent Ethics Watchdog . . . their number one act and priority?" 1/03/17 .https://www.washingtonpost.com/opinions/trump-opponents-find-an-ally-republican-incompetence/2017/01/03/4056347a-d1fb-11e6-9cb0-54ab630851e8_story.html
4. Paul Kane: With Obamacare, GOP faces the 'Pottery Barn rule': You break it, you own it
Democrats have an emerging strategy to defend the Affordable Care Act from Republican assault, daring their opponents to defy the "Pottery Barn rule": They're about to break the health-care system, and that means they will own it.
For more than six years, Republicans have attacked unpopular parts of the law without having to propose alternatives. Those days are over.
Emerging from their final huddle with President Obama, congressional Democrats said their plan is essentially to leave it to the GOP to replace Obamacare. And they're getting an unintended assist from Republicans, who to date have no full plan, only a vague timeline and very few details on how they intend to do it.
"They're going to own it and all the problems in the health-care system," Senate Minority Leader Charles E. Schumer (D-N.Y.) said at a news conference after a 90-minute meeting with the president in the Capitol basement on Wednesday. Republicans will discover quickly, Schumer said, that implementing their preferred market-based alternatives will be virtually impossible without a large source of revenue, which would probably require Democratic votes for approval.
"Now they're responsible for the entire health-care system, and it will be on their backs," he said. "And I believe, a year from now, they will regret that they came out so fast out of the box." https://www.washingtonpost.com/powerpost/with-obamacare-gop-faces-the-pottery-barn-rule-you-break-it-you-own-it/2017/01/04/61717d00-d2b8-11e6-9cb0-54ab630851e8_story.html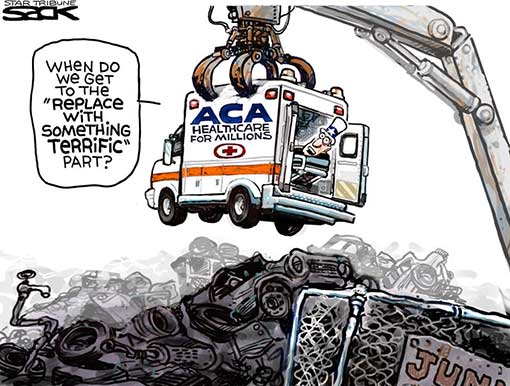 5. Vann R. Newkirk II: 'Repeal and Delay' Won't Prevent Obamacare Repeal Chaos
Some in Congress seem to think that passing the "repeal" part immediately but delaying its implementation for two or three years will somehow leave everything as it is now. But this naive notion misses the fact that the riskiness of the Obamacare individual insurance exchange markets will have been ramped up to such a level that continuing makes no sense.
The worst-case scenario would be the large-scale withdrawal of insurers from markets and the inversion of risk pyramids, with sicker and sicker patients seeking coverage while they can. Without available insurers or a public option, people without employer coverage or who make too much to qualify for Medicaid might just not have any insurance to buy. If Congress and state governments don't actively enforce "rate review" and medical-loss ratio rules that give states oversight over large premium increases and mandate that insurance plans spend a certain percentage of premiums on healthcare, insurers could enter markets that don't have plans and raise premiums for vulnerable people who need insurance most. Alternatively, short-term insurers—which already profit on the mandate despite providing barebones services that don't qualify as full plans—could continue to fill in the gaps.
As conservative think-tank American Enterprise Institute reports, the fact that Republicans are aware of the destabilizing effect that a delay might cause and intend to build a reform in increments indicates that there isn't really a plan in place. But the longer the delay goes, the more political capital will have to be expended in fixing the issues that it causes. A piecemeal plan with a delay could also exacerbate the instabilities in the marketplace, and continue to widen gaps in the current healthcare system. The market risk grows with each day without a clear picture of what comes next, and many people who have children, lose jobs, lose spouses or have other serious life events in the interim will be placed at the mercy of a volatile market, where life-saving plans might evaporate, subsidies may suddenly dry up, or death spirals may collapse entire markets altogether. What comes next for them? https://www.theatlantic.com/politics/archive/2017/01/repeal-and-delay-wont-prevent-obamacare-repeal-chaos/512147/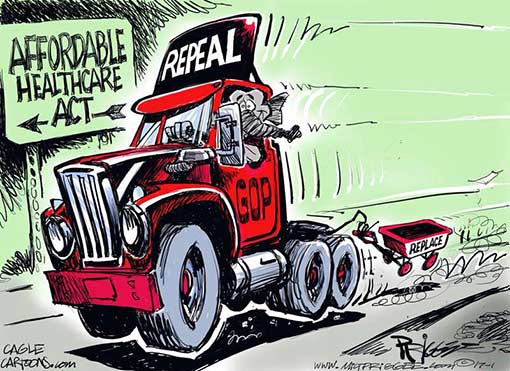 6. Jonathan Chait: Donald Trump, Julian Assange, and the Control of the Republican Mind
The cruelest, most condescending, and also devastatingly correct indictment of Donald Trump's supporters was uttered not by a member of the liberal media but by Donald Trump himself, when he mentioned that he could shoot somebody on Fifth Avenue and not lose support. Trump's insinuation that his fans will ignore any evidence of his guilt, however plain, has been vindicated. Perhaps no episode has demonstrated the Fifth Avenue Principle more dramatically than the case of the Russian email hack.
To this end, Trump has employed many of the same techniques he used to attract attention to the cause of disputing President Obama's citizenship. He has exploited popular distrust of institutions, portraying their documentation and conclusions to be suspicious, and promised that he alone either has obtained the real facts, or will soon get to the bottom of them. He has supplied his fans with plausible-sounding alternative suspects — the Chinese, a morbidly obese man, teenage boys — or attributed the issue to the general complications entailed by computers.
Trump cited the authority of Julian Assange, who declared that the hacking might have been undertaken by a 14-year-old. For an ordinary politician, this case might have been slightly awkward, since Trump had previously called WikiLeaks "disgraceful" and called for the organization to receive "the death penalty." The simple about-face produced no embarrassment among his supporters.
Trump's bizarre lies about Russia and Assange are designed not only to defend the legitimacy of his election but also to prove, once again, that his control over the supple minds of the conservative base is total. http://nymag.com/daily/intelligencer/2017/01/trump-assange-and-the-control-of-the-republican-mind.html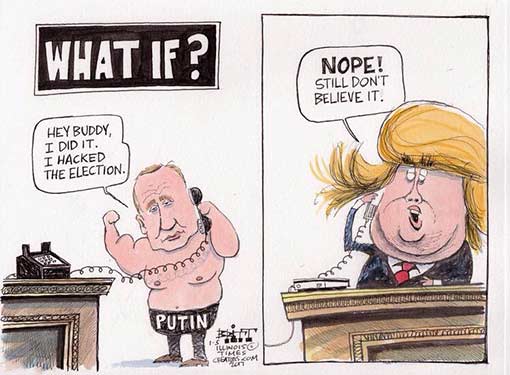 7. John Cassidy: Could Obamacare Save The Democrats?
Insurers are warning that a "repeal and delay" plan would create immediate turmoil on the government-run exchanges, many of which are already having trouble attracting more than one or two insurers to participate. Last month, two big trade groups—the American Hospital Association and the Federation of American Hospitals—warned publicly that repealing the A.C.A. could cost hospitals a hundred and sixty-five billion dollars and trigger an "unprecedented public health crisis." In a letter to Congress on Tuesday, Dr. James Madara, the chief executive of the American Medical Association, said, "We believe that before any action is taken . . . policymakers should lay out for the American people, in reasonable detail, what will replace current policies."
No wonder Trump is concerned. Having campaigned as an economic populist who would focus his efforts on jobs and trade, he now runs the risk of getting embroiled in a battle over health care that could conceivably overshadow everything else he does. "Some Republicans think they can repeal ObamaCare and blame Mr. Obama for the fallout, but they are kidding themselves," the editorial page of the Wall Street Journal, which itself has been a vehement opponent of the A.C.A., noted on Thursday. "Republicans were elected on a promise to repeal and replace, and the statute of limitations on blaming Mr. Obama will soon expire."
It's looking more and more like the Republicans are caught in a trap of their own making. Ever since 2008, they and their media outriders, such as Rush Limbaugh and Sean Hannity, have demagogued the health-care issue in an outrageous fashion. Trump, in running for President, employed the same nihilistic strategy. Now they may pay for it. Despite the Republicans' vague talk of stripping away government bureaucracy and setting up a more "market-based system" to replace Obamacare, there is no quick fix, no cheap way out. In a private health-care market, the only way to guarantee universal, or near universal, coverage is to employ mandates, subsidies, taxes, and legal directives—the very tools employed in the A.C.A. http://www.newyorker.com/news/john-cassidy/could-obamacare-save-the-democrats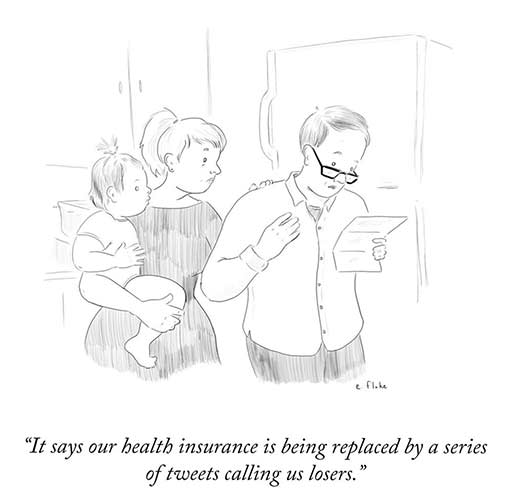 7. Paul Waldman: Donald Trump's disastrous war with America's spies
Donald Trump knows more about everything than everyone, as he'll be happy to tell you. Whether it's taxes, ISIS, hacking, or even scripture ("Nobody reads the Bible more than me," he once claimed), he's always more knowledgeable than the so-called "experts" with their useless training and experience. Whatever bunch of poindexters is trying to tell Trump something, he'll be sure to inform them that they don't know what they're talking about, unlike him.
But nobody likes being told they're stupid and uninformed, particularly when their job is precisely to figure stuff out. And before he has even taken office, Trump is in open war with the intelligence agencies whose job it is to give the president the information he needs to make critical, often life-and-death decisions in foreign policy. How is that going to affect their relationship when Trump is president, and actual lives are at stake?
The reason Trump is angry is that those intelligence agencies determined that Russia was responsible for hacking into the email systems of the Democratic Party and John Podesta, who chaired Hillary Clinton's campaign, and they further determined that the hacking was for the purpose of helping Trump get elected. http://theweek.com/articles/671304/donald-trumps-disastrous-war-americas-spies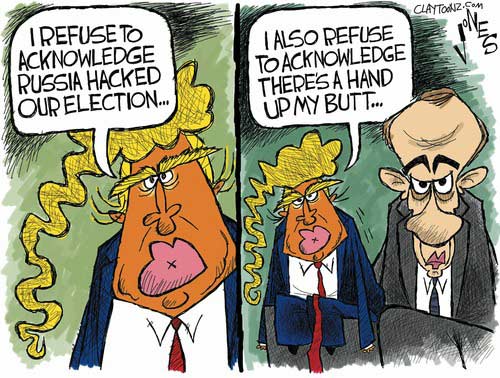 8. Paul Krugman: The Age of Fake Policy
Real policy, in a nation as big and rich as America, involves large sums of money and affects broad swaths of the economy. Repealing the Affordable Care Act, which would snatch away hundreds of billions in insurance subsidies to low- and middle-income families and cause around 30 million people to lose coverage, would certainly qualify.
Consider, by contrast, the story that dominated several news cycles a few weeks ago: Donald Trump's intervention to stop Carrier from moving jobs to Mexico. Some reports say that 800 U.S. jobs were saved; others suggest that the company will simply replace workers with machines. But even accepting the most positive spin, for every worker whose job was saved in that deal, around a hundred others lost their jobs the same day.
In other words, it may have sounded as if Mr. Trump was doing something substantive by intervening with Carrier, but he wasn't. This was fake policy — a show intended to impress the rubes, not to achieve real results.
The incoming administration's incentive to engage in fake policy is obvious: It's the natural counterpart to fake populism. Mr. Trump won overwhelming support from white working-class voters, who believed that he was on their side. Yet his real policy agenda, aside from the looming trade war, is standard-issue modern Republicanism: huge tax cuts for billionaires and savage cuts to public programs, including those essential to many Trump voters.
So what can Mr. Trump do to keep the scam going? The answer is, showy but trivial interventions that can be spun as saving a few jobs here or there. Substantively, this will never amount to more than a rounding error in a giant nation. But it may well work as a P.R. strategy, at least for a while. 1/06/17. http://www.nytimes.com/2017/01/06/opinion/the-age-of-fake-policy.html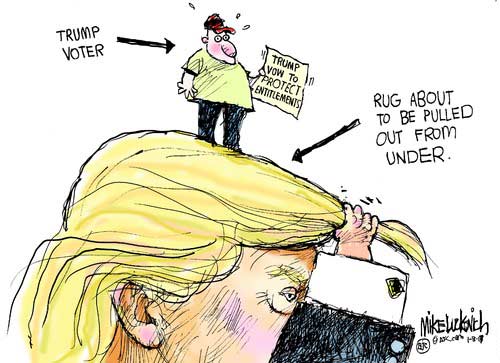 9. Nicholas Kristof: The G.O.P. Health Care Hoax
This week, President-elect Donald Trump and congressional Republicans began to dismantle Obamacare, and here are the details of their replacement plan:
—— —- —- —- - —— —- —— —- - —- —- — —— —- —— —- —- —- — — - - - - —— —- —- —— —- —- —- - —— —- —— —- - —- —- — —— —- - —- —- — - —- —- — —— —- - —- —- — - —- —-
That captures the nonexistent Republican plan to replace Obamacare. They're telling Americans who feel trapped by health care problems: "Jump! Maybe we'll catch you."
This G.O.P. fraud is called "repeal and delay." That means repealing the Affordable Care Act, effective in a few years without specifying what will replace it.
If the Republicans ran a home renovation business, they would start tearing down your roof this month and promise to return in 2019 with some options for a new one — if you survived.
Republicans spent $7 million investigating the deaths of four Americans in Benghazi and ultimately found no evidence of high-level wrongdoing. Now they are rushing toward a scam that may cost thousands of American lives every year. 1/05/17 http://www.nytimes.com/2017/01/05/opinion/the-gop-health-care-hoax.html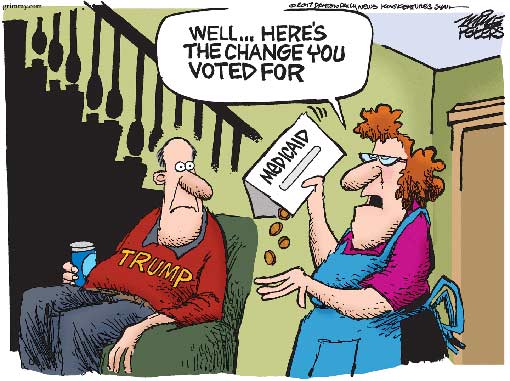 10. Paul Waldman: What do you hate most about the health system? Republicans will make it worse
The first thing Republicans say is that they want "universal access" to coverage. That sounds good, but its true nature can only be seen in what it's denying. It's a contrast to what Democrats want, which is universal coverage — everyone being covered. Republicans want to be able to say that it doesn't matter how many uninsured there are, as long as access remains universal, in theory anyway.  And if all Republicans mean by "universal access" is that you can get insurance if you can afford it, then we have universal access now. In fact, access is only as close to universal as it is because of the Affordable Care Act. The people who most lack access are the millions of poor Americans unfortunate enough to live in the 19 Republican-run states that refusedthe ACA's expansion of Medicaid. And a few years ago, if you had a pre-existing condition and didn't have the benefit of employer-provided coverage, you didn't have access to insurance. Even if you did have employer coverage, you could be subject to yearly or lifetime limits on benefits, which means your access could be cut off. That status quo ante will be restored when the ACA is repealed.
So when you hear Republicans say they want "universal access," you should know that 1) they don't, and 2) it's meaningless anyway, unless you think that it's somehow relevant that Americans have "universal access" to luxury sedans and ski vacations in Aspen. Republicans say their reforms will make health coverage more affordable, thus giving more people access, but they will have to define what "access" means under this scenario before we have any idea even how to evaluate it. 1/09/17 .https://www.washingtonpost.com/blogs/plum-line/wp/2017/01/09/what-do-you-hate-most-about-the-health-system-republicans-will-make-worse