June 4, 2020
ON THE RECORD. . .
"We are a nation in pain, but we must not allow this pain to destroy us. We are a nation enraged, but we cannot allow our rage to consume us. Please stay safe. Please take care of each other." — Joe Biden

"This is like Charlottesville all over again. He speaks and he makes it worse. There are times when you should just be quiet. And I wish that he would just be quiet." — Atlanta Mayor Keisha Lance Bottoms (D), about President Trump.

"Never, ever give up on any of our brothers and sisters. We're one people, we're one family. We all live in the same house, not just the American house, but the world house." — Rep. John Lewis (D-GA) calling for "love, peace and nonviolence" from all Americans.

"MAGA loves the black people." — Trump claiming that his supporters "love African Americans.

"This is not the legacy of civil rights in America. This is chaos, and we are buying into it. This won't change anything, we are no longer talking about the murder of an innocent man. We are talking about how you are burning police cars on the streets of Atlanta, Georgia. Go home." — Atlanta Mayor Keisha Lance Bottoms (D)  pleading for protesters go home and use their anger to enact change through voting. "Show up at the polls on June 9th. Do it in November. That is the change we need in this country.,"

As of today, considering the overall pandemic situation, she cannot agree to her personal participation, to a journey to Washington." — Angela Merkel rebuffing Donald Trump's invitation to attend a G7 summit.

"President Obama has long been — no one wants to say it, but it's true — America's chief racial arsonist." — Fox News' Tucker Carlson

"The reason I've had to put up with so much opposition over the last 4 years as a Representative is that NO ONE GETS TO CONTROL ME. I mean, NO ONE. I have civil rights and I have a right to privacy." — Ohio state Rep. Candice Keller (R) "refusing to have her temperature taken at work this week, calling the practice an invasion of her privacy."

I think Mark Zuckerberg's statement was a disgrace. They're not taking off any accusations the president is making about Joe Scarborough. They know that's not true. They do a token thing and think it's okay. Again, I don't know if there's honor among thieves b ut they only have a business model to make money, not to convey facts. That's what they're about." — Speaker Nancy Pelosi (D-CA) about Facebook chief Mark Zuckerberg, who said he didn't believe social media platforms should be the "arbiters of truth" and fact-check political speech.

In 2014 on Fox and Friends Trump criticized Obama for golfing when there were *two cases* of Ebola in the United States saying, "it sends the wrong signal" and he should have given up golf as president "to really focus on the job." - VIDEO

"We see the game he's playing because it's so transparent and he's not very good at it. He wants to show failures on the part of Democratic local leaders to throw red meat to his base. His goal is to polarize, to destabilize local government and inflame racist urges. And we can absolutely not let him prevail. I will code what I really want to say to Donald Trump. It's two words: It begins with F and ends with YOU." — Chicago Mayor Lori Lightfoot (D)

"You have President Obama, who after the beheading of Daniel Pearl, spoke to how upset he was about that, then rushed off to a golf game. I think when we're in a state of war, when we're in a state of mourning, you should take time off from the golf course." —  Kayleigh McEnany, even though George W. Bush was president at that time, while Obama was an Illinois state senator.

"The original sin of this country still stains our nation today and sometimes we managed to overlook it. But it's always there. And in weeks like this, we see it plainly that we are a country with an open wound.None of us can be silent. None of us can … hear the words 'I can't breathe' and do nothing." - Joe Biden addressed the nation after speaking with George Floyd's family.

"I hope people feel safe to go out and vote, but if they don't, you know, the No. 1 thing — their safety should be No. 1. If they don't, then don't go out and vote." — Missouri Gov. Mike Parson (R). Unlike several states, Missouri does not offer "no-excuse" absentee voting, and most voters are only eligible to cast their ballot in-person.

"I'm going to win the election easily." — Trump, when asked what he was doing to address the nationwide turmoil against police brutality.

"Donald Trump is scum for fueling racist hate and violence in our country." — Sen. Ed Markey (D-MA)

"Yes, protests often are used as an excuse for some to take advantage, just as when fans celebrating a hometown sports team championship burn cars and destroy storefronts. I don't want to see stores looted or even buildings burn. But African Americans have been living in a burning building for many years, choking on the smoke as the flames burn closer and closer. Racism in America is like dust in the air. It seems invisible — even if you're choking on it — until you let the sun in. Then you see it's everywhere. As long as we keep shining that light, we have a chance of cleaning it wherever it lands. But we have to stay vigilant, because it's always still in the air." — Kareem Abdul-Jabbar.

"The hateful rhetoric advocating violence against black demonstrators by the US President does not warrant defense under the guise of freedom of expression." — Facebook employee on an internal message board.

"Is it possible Trump has resigned and they just haven't gotten around to the press release?" — Ann Coulter tweet.

"I've never been more ashamed. I'm really honestly disgusted. I'm sick to my stomach. And they're all celebrating it. They're very very proud of themselves." — A senior White House official on the use of tear gas, clearing the crowd for Trump to walk to the church with his entourage.

"But I've been involved in three shootings myself, and not one of them has bothered me." —  Lt. Bob Kroll, head of Minneapolis's police union..

"How do we end systemic racism in our society? The only way to see ourselves in a true light is to listen to the voices of so many who are hurting and grieving. Those who set out to silence those voices do not understand the meaning of America — or how it becomes a better place." — From a statement by George W. Bush saying that he and his wife, Laura, are "anguished" by the death of George Floyd, and said that "it is time for America to examine our tragic failures."

"I think we may have to account for the distinct possibility that the people who sounded the most apocalyptic about Trump were not being hysterical — they were right."— Sen. Brian Schatz (D-HI)

"Has there ever been a lower moment in the history of the American presidency?" — George Conway

If local politicians will not do their most basic job to protect our citizens, let's see how these anarchists respond when the 101st Airborne is on the other side of the street. And, if necessary, the 10th Mountain, 82nd Airborne, 1st Cav, 3rd Infantry — whatever it takes to restore order. No quarter for insurrectionists, anarchists, rioters, and looters." — Sen. Tom Cotton (R-AZ) suggesting killing looters.

"They said it would be a good time to go down and take a look because maybe sometime you're going to need it. I was there for a tiny, short little period of time. it was more for an inspection." — Donald Trump trying to explain his presence in an underground White House bunker during clashes outside the residence.

"It seems like now is the time to say, 'I understand your pain, I want to comfort you, I think it's time we love each other.' But the president took a different course. He said, 'I am the president of law and order.' — Televangelist Pat Robertson joining the religious leaders criticizing President Trump for his "law and order" response to the nationwide unrest following the death of George Floyd.

MSNBC's Kasie Hunt asked Republican senators for comment on President Trump's clearing of protesters for his photo op at St. John's Church last night:
Sen. Ron Johnson (R-WI): "Didn't really see it."
Sen. Mitt Romney (R-UT): I didn't watch it closely enough to know."
Sen. Rob Portman (R-OH): "I'm late for lunch."
That's just a representative sampling. Read the whole thread here.
POLITICAL ADS

#RichMitch | The Lincoln Project: https://www.youtube.com/watch?v=uXgCyKmunXM&feature=youtu.be

Flag of Treason | The Lincoln Project: https://youtu.be/5w7kwtLJtVc

Vote Out Hate | Meidas Touch: https://youtu.be/0AtAgLsDkF4

The Looters | #Trump Loots: Meidas Touch: https://youtu.be/QmxobxjHMmM

Had Enough? | Trump's Tweets: https://youtu.be/V0Q-Gz9zGPE

Donald Trump Is The Snake | Meidas Touch: https://youtu.be/yZJEI4TNMro

End Trump's American Carnage | Republican Voters Against Trump: https://youtu.be/OPC43SK3eR0
---
IN THIS ISSUE
FYI
OPINION
1. Andy Borowitz: Angela Merkel Practices Social Distancing by Staying Four Thousand Miles Away from Trump
In an effort to practice social distancing, the German Chancellor, Angela Merkel, is staying four thousand miles away from Donald Trump, Merkel has confirmed.

Merkel's decision to decline Trump's invitation to a possible meeting of the G-7 in Washington was based "entirely on science," Merkel told reporters.

"Epidemiologists have recommended that, in order to be safe, one should social-distance by six feet," she said. "It only stands to reason that I will be even safer if I social-distance by twenty-one million feet."

Merkel said that she was taking the extremely cautious social-distancing measures regarding Trump because of "the danger posed by being in proximity to someone who speaks so loudly and incessantly."

"His mouth is like a firehose of droplets," she said, shuddering.

Asked whether she would reconsider a White House visit if Trump agreed to wear a mask, she said, "Donald Trump with a mask is clearly a big improvement over Donald Trump without a mask, but no."

The German leader added that she could envision making a trip to the Oval Office if "events on the ground change," most likely in January of 2021. https://www.newyorker.com/humor/borowitz-report/
2. Audio: Trump berates governors
Listen to audio of President Trump's 38 minute conference call, calling governors "weak," and urging them to use force against unruly protests. https://wapo.st/3cqj0AZ
3. As Trump attacks voting by mail, GOP builds 2020 strategy around limiting its expansion
President Trump's persistent attacks on mail-in voting have fueled an unprecedented effort by conservatives to limit expansion of the practice before the November election, with tens of millions of dollars planned for lawsuits and advertising aimed at restricting who receives ballots and who remains on the voter rolls.
The strategy, embraced by Trump's reelection campaign, the Republican National Committee and an array of independent conservative groups, reflects the recognition by both parties that voting rules could decide the outcome of the 2020 White House race amid the electoral challenges posed by the coronavirus pandemic. https://www.washingtonpost.com/politics/as-trump-attacks-voting-by-mail-gop-builds-2020-strategy-around-limiting-its-expansion/2020/05/31/a17ccfa0-a00d-11ea-b5c9-570a91917d8d_story.html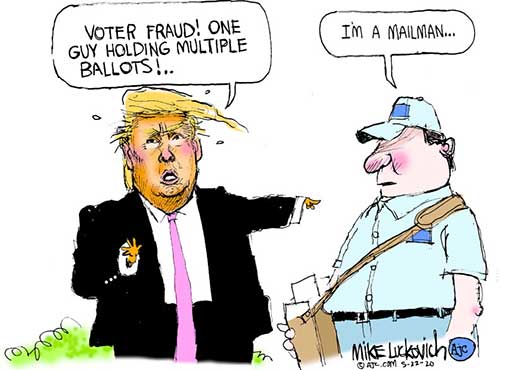 4. Civiqs Poll: Trump's job approval by registered voters, broken down by age, gender, education, party, race and state.
https://civiqs.com/results/approve_president_trump
5. In Seeking to Hold Michigan, Trump Can Be His Own Worst Enemy
Michigan amounts to a one-state case study on how Mr. Trump's impulsiveness, inattention to detail and penchant for personal insults have eroded his political standing and diminished his chances to win re-election.
In addition to his ultimatum over federal funding, Mr. Trump has ridiculed a half-dozen of the state's female leaders, proposed cutting support for the Great Lakes and suggested John D. Dingell Jr., the former Michigan congressman who died in February — was "looking up" from hell. https://www.nytimes.com/2020/05/31/us/politics/michigan-trump-election.html
6. Genesee County Sheriff Chris Swanson joins protesters marching for George Floyd
A video of a sheriff from Flint, Michigan, taking off his helmet and laying his baton on the ground to join George Floyd protesters on their march has gone viral. https://nbc25news.com/news/local/justice-for-george-floyd-protest-in-flint-twp
7. One America News was desperate for Trump's approval. Here's how it got it.
ONE AMERICA NEWS NETWORK is having a moment. In April the small, right-wing national cable network made headlines when Chanel Rion, its White House correspondent, was banned from the briefing room by the White House Correspondents' Association for ignoring social-distancing regulations. Since then, the network has supported the president's claim that hydroxychloroquine, a controversial and potentially dangerous drug, is a cure for the novel coronavirus.
The drug has "proven to be miraculous," Robert Herring, OAN's owner and chief executive, said, falsely, on an OAN broadcast in May. He'd purchased hydroxychloroquine himself, he added, and was grateful to Trump for leading by example. https://www.cjr.org/the_profile/one-america-news-oan-trump-herring.php
8. The bad news quietly buried during the pandemic
WITH THE WORLD'S ATTENTION glued to the coronavirus pandemic, news about anything else has been slipping farther and farther down the proverbial front page. But that doesn't mean nothing's been going on.
In late March EPA, led by former coal lobbyist Andrew Wheeler, rolled back the Obama administration's hard-won fuel efficiency standards.
On March 16, the Department of Defense released a report into the news-sink Friday afternoon time slot finding that the number of military bases with high levels of certain cancer-linked chemicals jumped by nearly fifty percent since 2018. 
A few weeks later, airlines lobbied international regulators for release from carbon offsetting obligations.
The next day, the Canadian gas company TC Energy announced it had begun building the Keystone XL oil sands pipeline.
Other areas of the federal government have been busy too. The Justice Department dropped a case, originally brought by Special Counsel Robert Mueller, against two Russian companies that worked to influence the 2016 presidential election. https://www.cjr.org/analysis/pandemic-buried-news.php
9. Tired of bad cops? First, look at their labor unions.
The purpose of policing is to promote public safety and uphold the rule of law so that individuals and communities can thrive. The purpose of police unions, however, is to win members better salaries and benefits and to protect their job security — specifically by pushing for safeguards against investigation, discipline and dismissal. These protections can make it difficult for police chiefs to manage their forces effectively and can allow a few bad officers to act with impunity, poisoning an entire organizational culture in the process. ... https://www.washingtonpost.com/opinions/2020/06/03/tired-bad-cops-first-look-their-labor-unions/
10. Trump Administration Preps New Weapons Sale To Saudi Arabia
When State Department inspector general Steve Linick was abruptly fired, one of the inquiries he was conducting concerned a massive, highly controversial weapons sale to Saudi Arabia. Now the Trump administration is preparing to sell Riyadh even more weapons. https://www.thedailybeast.com/trump-administration-preps-new-weapons-sale-to-saudi-arabia
11
. Trump keeps predicting coronavirus death tolls the U.S. then surpasses
12. Case files discredit Kemp's accusation that Democrats tried to hack Georgia election
It was a stunning accusation: Two days before the 2018 election for Georgia governor, Republican Brian Kemp used his power as secretary of state to open an investigation into what he called a "failed hacking attempt" of voter registration systems involving the Democratic Party.
But newly released case files from the Georgia Bureau of Investigation reveal that there was no such hacking attempt. https://www.ajc.com/news/state--regional-govt--politics/case-files-discredit-kemp-accusation-that-democrats-tried-hack-georgia-election/xcMXfkgKGRsFxOeglGn57N/
13. Fact check: Breaking down Trump's 654 false claims over 14 weeks during the coronavirus pandemic
Donald Trump's response to the coronavirus pandemic has been deeply dishonest.
He has been dishonest about testing. He has been dishonest about his travel restrictions. He has been dishonest about the supplies his predecessor left him, about what his opponents have said about the pandemic, even about what he has said himself.
Trump made as many false claims at some of his official pandemic task force briefings as he does in some of his rally speeches.
Over the 14 weeks from the Monday his coronavirus task force started meeting, January 27, through Sunday, May 3, he made 654 false claims -- 215 of them specifically about the pandemic. (Lots of the others were about related subjects, like the economy and China.) https://edition.cnn.com/2020/05/29/politics/fact-check-trump-coronavirus-pandemic-dishonesty/
14. Bad state data hides coronavirus threat as Trump pushes reopening
Federal and state officials across the country have altered or hidden public health data crucial to tracking the coronavirus' spread, hindering the ability to detect a surge of infections as President Donald Trump pushes the nation to reopen rapidly.
In at least a dozen states, health departments have inflated testing numbers or deflated death tallies by changing criteria for who counts as a coronavirus victim and what counts as a coronavirus test, according to reporting from POLITICO, other news outlets and the states' own admissions. Some states have shifted the metrics for a "safe" reopening; Arizona sought to clamp down on bad news at one point by simply shuttering its pandemic modeling. About a third of the states aren't even reporting hospital admission data — a big red flag for the resurgence of the virus. https://www.politico.com/news/2020/05/27/bad-state-coronavirus-data-trump-reopening-286143
15. Gripped by disease, unemployment and outrage at the police, America plunges into crisis
A global pandemic has now killed more than 100,000 Americans and left 40 million unemployed in its wake. Protests — some of them violent — have once again erupted in spots across the country over police killings of black Americans.
President Trump, meanwhile, is waging a war against Twitter, attacking his political rivals, criticizing a voting practice he himself uses and suggesting that looters could be shot.
America's persistent political dysfunction and racial inequality were laid bare this week, as the coronavirus death toll hit a tragic new milestone and as the country was served yet another reminder of how black people are killed by law enforcement in disproportionately high numbers. Together, the events present a grim tableau of a nation in crisis — one seared by violence against its citizens, plagued by a deadly disease that remains uncontained and rattled by a devastating blow to its economy. https://www.washingtonpost.com/national-security/plagued-by-disease-unemployment-and-outrage-at-the-police-america-plunges-into-crisis/2020/05/29/c8329bb2-a1b5-11ea-81bb-c2f70f01034b_story.html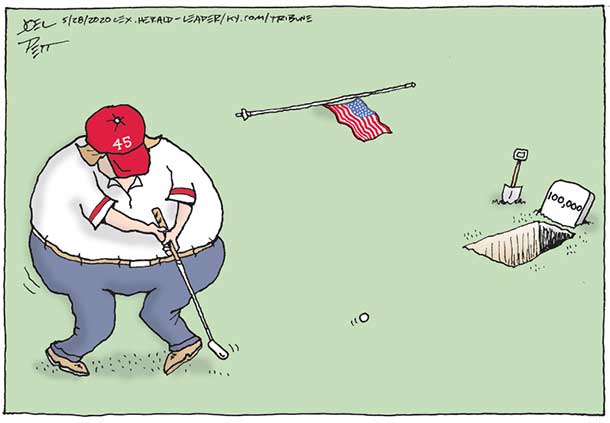 16. Trump campaign is creating an alternate reality online about coronavirus
The novel coronavirus has claimed more than 100,000 lives in the U.S. since February 29th and continues to spread as some states loosen shutdown restrictions. From the announcement of the first confirmed case in the U.S. on Jan. 21, Trump and his team's messaging on the crisis has evolved. However, a constant in the rhetoric has been an attempt to recast the administration's actions in fighting the pandemic. Their version of the story illustrates a successful — and often inaccurate — picture of the response.
The Trump team's online posts reach millions of followers on Facebook and Twitter. The campaign has also been collecting voter data for the past four years through digital tools, like online polls, email listservs and rally registration forms. The Trump campaign has spent $32.6 million on Facebook ads since January of 2019, more than doubling presumptive Democratic nominee Joe Biden's Facebook ad spending.
The Fact Checker analyzed thousands of Facebook, Twitter and YouTube posts and ads from Trump, his campaign and a long list of surrogates. The data revealed the backbone of a five-point strategy to tell their version of the coronavirus story: re-writing mistakes, highlighting achievements, deflecting blame, declaring victory and creating distraction. Fact Checker Video at https://www.youtube.com/watch?v=pIue1jtWfWY&list=PL8QBkS_wk32U4bxlNx2PNEUFFAWb_xfCB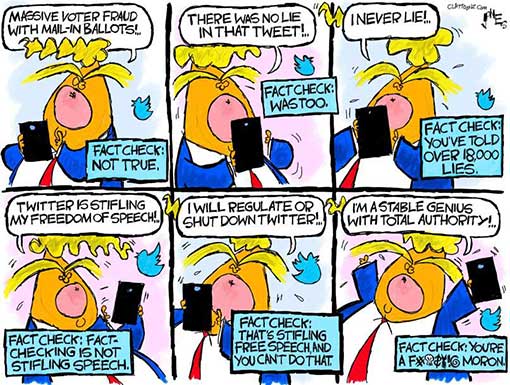 17. Get Republicans to Vote Against Trump? This Group Will Spend $10 Million to Try
Four years ago, 50 of the country's most senior Republican national security officials signed a letter declaring that Donald J. Trump would put the country at risk if he was elected president and that they would not vote for him.
But the collective voice of former cabinet officials and top aides to Republican presidents denouncing their party's nominee did little to move the needle with regular Republican voters across the country, who were not swayed by opposition from the establishment.
Now, a new effort called Republican Voters Against Trump is hoping to chip away at Mr. Trump's support from white, college-educated Republican voters in the suburbs, hoping a more surgical approach will help to elect Joseph R. Biden Jr., his expected Democratic opponent. https://www.nytimes.com/2020/05/28/us/politics/republican-voters-against-trump.html
18. CIA veterans who monitored crackdowns abroad see troubling parallels in Trump's handling of protests
The scenes have been disturbingly familiar to CIA analysts accustomed to monitoring scenes of societal unraveling abroad — the massing of protesters, the ensuing crackdowns and the awkwardly staged displays of strength by a leader determined to project authority.
In interviews and posts on social media in recent days, current and former U.S. intelligence officials have expressed dismay at the similarity between events at home and the signs of decline or democratic regression they were trained to detect in other nations.
"I've seen this kind of violence," said Gail Helt, a former CIA analyst responsible for tracking developments in China and Southeast Asia. "This is what autocrats do. This is what happens in countries before a collapse. It really does unnerve me." https://www.washingtonpost.com/national-security/cia-veterans-who-monitored-crackdowns-abroad-see-troubling-parallels-in-trump-handling-of-protests/2020/06/02/7ab210b8-a4f6-11ea-bb20-ebf0921f3bbd_story.html
19. Trump Promotes Video Calling for Dead Democrats
Donald Trump promoted a video on Twitter late Wednesday night that opens with Cowboys for Trump founder Couy Griffin declaring that "the only good Democrat is a dead Democrat." https://twitter.com/realDonaldTrump/status/1265855459719892993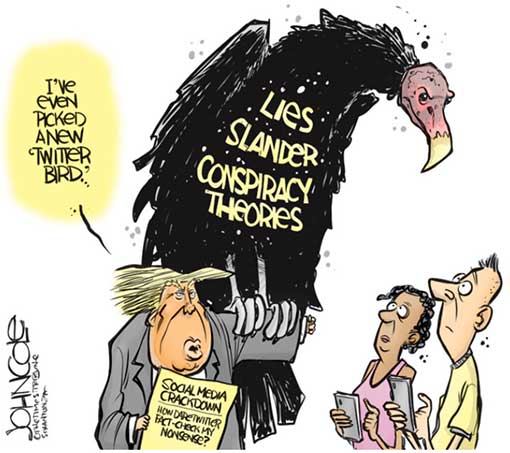 20. GOP's no-mask caucus: 'Can you smell through that mask?'
A contingent of House Republicans continues to defy the recommendations of public health experts and Congress' top physician to wear face coverings to limit the spread of Covid-19, refusing to wear them on the floor of the chamber, in the hallways of the Capitol or when chatting with aides and colleagues -- even when they're unable to maintain a social distance.
"Can you smell through that mask?" Rep. Clay Higgins, a Republican of Louisiana, told CNN on Thursday. "Then you're not stopping any sort of a virus. It's part of the dehumanization of the children of God. You're participating in it by wearing a mask."
"What you're wearing is a bacteria trap; it's not helping your health or anybody else's," said Higgins, who had just gotten off a cramped elevator with two other GOP members, none of whom were wearing masks.
Higgins' statement is not supported by the science. Smells do not carry viral particles. Viruses are carried in particles of mucus or saliva that spray from the mouth and nose when people sneeze, cough or talk. https://www.cnn.com/2020/05/28/politics/house-republicans-masks-debate-covid/index.html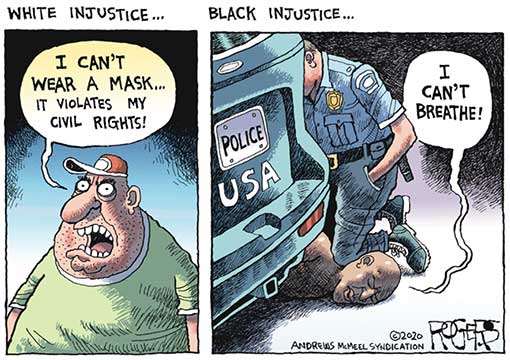 21. The NSA has a warning: Russia's most infamous hackers are still active
The same Russian intelligence unit that leaked Democrats' files in 2016 is engaged in an ongoing email hacking campaign, the National Security Agency announced Thursday.
Hackers in Russia's GRU, its military intelligence agency, regularly target email accounts, as is common for many with robust cyber capabilities. But this is the first time that the NSA has issued a direct public alert that named the agency and warned of an ongoing hacking campaign. https://www.nbcnews.com/tech/security/nsa-has-warning-russia-s-most-infamous-hackers-are-still-n1216541
22. From AIDS to Covid-19: Trump's decades of spreading dangerous misinformation about disease outbreaks
Donald Trump has spent decades spreading and sowing dangerous misinformation about disease outbreaks -- from falsely suggesting AIDS can be transmitted through kissing to warning Americans not to get vaccinated and falsely suggesting vaccines can cause autism.
Long before advising Americans to ingest disinfectant to treat the coronavirus as President, Trump demonstrated a pattern of spreading unsupported medical claims that preyed on the public's fears of getting sick, a CNN KFile review of the President's statements on past epidemics and pandemics found.
In 1993, Trump promoted the widely-debunked claims that AIDS could be spread by kissing and that AIDS patients intentionally spread the virus. As the swine flu pandemic began in 2009, he warned Americans against taking flu vaccines. When the Ebola virus outbreak devastated West Africa in 2014, he disputed guidance by the Centers for Disease Control and Prevention on how it spreads.
Today as the nation's chief executive overseeing his own public health crisis, Trump continues to comprehensively misinform the public about the coronavirus, offering remarks riddled with false, misleading or scientifically questionable claims. https://www.cnn.com/2020/05/30/politics/kfile-trump-history-of-medical-misinformation/index.html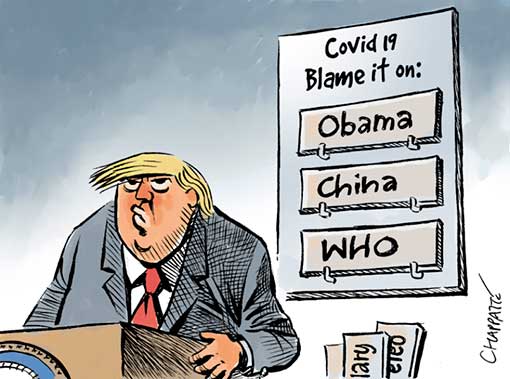 23. McConnell blocks resolution condemning Trump's actions against peaceful protesters
Senate Majority Leader Mitch McConnell (R-KY) blocked a resolution introduced by Minority Leader Chuck Schumer (D-NY) on Tuesday that would have condemned the use of tear gas and rubber bullets against peaceful protesters outside the White House on Monday in order to allow President Trump to walk to St. John's Church. https://www.axios.com/mcconnell-trump-peaceful-protesters-4f2209d1-7cad-477c-a5fa-1a9fee4e625a.html
24. Antifa rumors spread on local social media with no evidence
On Tuesday, Facebook added a warning to posts on Facebook and Instagram indicating the fake antifa post was "false information" but by then the post had already gone viral on both platforms, generating hundreds of thousands of interactions.
The post was shared by pro-Second Amendment and conservative media pages like Red State and Hot Air. It was also shared by "U.S. Law Enforcement," a page with nearly half a million followers that claims to be "run by several current and retired U.S. law enforcement officers," which posted the screenshot of the tweet and wrote, "Antifa is warning that tonight they're moving out of the cities — and into residential areas to 'take what's ours.' Law enforcement across the country on high alert. Circulate this asap."
The posts then moved quickly through pro-Trump Facebook groups.
The post was also widely shared on Instagram, led by Trump Jr., who shared the post on Sunday and wrote, "Absolutely insane. Just remember what ANTIFA really is. A Terrorist Organization! They're not even pretending anymore." His post was liked 96,000 times. Trump Jr. did not respond to a request for comment, but deleted the post on Tuesday morning. https://www.nbcnews.com/tech/tech-news/antifa-rumors-spread-local-social-media-no-evidence-n1222486
25. Trump turns walk to with bible into campaign ad
https://twitter.com/WhiteHouse/status/1267676026391404544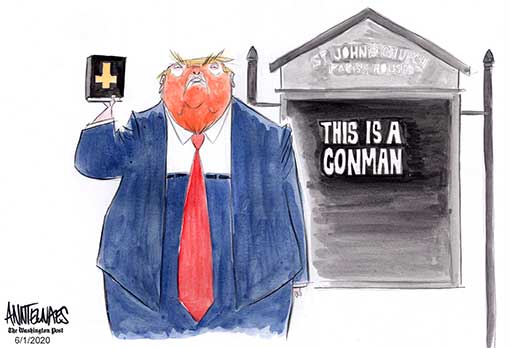 26. One-Third of America's Record Unemployment Payout Hasn't Arrived
Almost one-third of unemployment benefits estimated to be owed to the millions of Americans who lost their jobs as a result of the coronavirus slump haven't been paid yet, as flagship policies struggle to cope with the unprecedented wave of layoffs. https://www.bloomberg.com/news/articles/2020-06-02/one-third-of-america-s-record-unemployment-payout-hasn-t-arrived
27. Trump Had Kushner Push the National Enquirer to Probe Scarborough Murder Conspiracy
Donald Trump, via his son-in-law Jared Kushner, encouraged his pals at the notorious supermarket tabloid National Enquirer in 2017 to push the debunked conspiracy theory that MSNBC host Joe Scarborough murdered a female congressional aide, Lori Klausutis, knowledgeable sources confirmed to The Daily Beast.
More recently, the president has displayed a bizarre obsession with the allegations, even bringing it up Wednesday morning amid nationwide protests, chaos, and growing unrest, declaring on Fox News radio that he thought Scarborough "got away with murder." Since last month, officials on Trump's campaign and in his White House have also devoted time and resources to weighing in on the Scarborough smear. https://www.thedailybeast.com/trump-had-kushner-push-the-national-enquirer-to-probe-scarborough-murder-conspiracy-in-2017
28. The DAILY GRILL
"Any difficulty and we will assume control but, when the looting starts, the shooting starts." --Trumptweet.

VERSUS

"After stoking the fires of white supremacy and racism your entire presidency, you have the nerve to feign moral superiority before threatening violence? 'When the looting starts the shooting starts'??? We will vote you out in November. -- A few hours later Taylor Swift tweet.

 

 

"We've been talking about how, in terms of foreign influence, there are a number of foreign countries that could easily make counterfeit ballots, put names on them, send them in. And it'd be very hard to sort out what's happening." — AG William Barr suggesting that foreign adversaries will try to interfere in the 2020 election.

VERSUS

The theory that foreign adversaries would print out fake ballots and send them out in batches to election offices — which Barr himself did not cite any evidence to prove — is highly unlikely for three main reasons.   Most ballots and the envelopes they come in have barcodes and extremely specific information, like precinct numbers and voter identification numbers, that are very hard to replicate." — Business Insider

 

Trump positioned his body in front of St. John's Episcopal and held a Bible aloft, like a trophy, for the cameras. Asked if it was his Bible, he answered "It's a Bible." Well, score one for candor. Though in the physical vicinity of a place of worship, Trump betrayed no trace of piety. Asked his thoughts as he brandished the book he has never read, he defaulted to rally slogans. --  Mona Charen in The Bulwark

VERSUS

Joe Biden actually entered a church on Monday, the Bethel African Methodist Episcopal Church in Wilmington, Delaware. It wasn't a prayer service, but a meeting with faith leaders. Biden listened for over an hour. He took notes. He heard criticism of the 1994 crime bill he had done so much to pass. When it was his turn to speak, Biden asked for a moment of prayer. He invoked Kierkegaard: He quoted the philosopher to the effect that "Faith sees best in the dark," adding "And it's been pretty dark." He promised to take the problem of police brutality seriously, and mentioned that it is not limited to white officers. —Mona Charen
29. From MEDIA MATTERS (They watch Fox News so you don't have to)
Laura Ingraham says Trump can relate to police brutality because he went through the Russia investigation: "And to our African-American fellow citizens I say this: Given his own experience with an out-of-control FBI and unfair investigations, given all his work now on criminal justice reform, President Trump knows how poisonous an out-of-control law enforcement process can be. We should spend more time trying to work together to ensure we have a fair and just society." https://www.mediamatters.org/laura-ingraham/laura-ingraham-says-trump-can-relate-police-brutality-because-he-went-through-russia

Mark Zuckerberg is a hypocrite and a Trumpist. Mark Zuckerberg doesn't think social media companies should be arbiters of truth. In an interview with Fox News anchor Dana Perino, the Facebook founder and CEO chided Twitter for its decision to add a fact check to one of President Donald Trump's tweets containing an unhinged conspiracy theory about rampant voter fraud. According to Zuckerberg, that's not the kind of thing Facebook would do because the social media company is committed to free speech and letting people judge for themselves whether politicians are telling the truth. But as is so often the case when it comes to the Silicon Valley billionaires guiding our digital lives, he's not being entirely honest about how Facebook has handled the Trump era. https://www.mediamatters.org/facebook/mark-zuckerberg-hypocrite-and-trumpist

Fox News host Mark Levin: Black Lives Matter in LA, other organizations -- very destructive.
When you have LeBron James, who knows nothing about anything related to this. But he's enormously popular in the culture. He's followed by a lot of people. When he puts out there a tweet which shows the cop with his knee on the back of Mr. Floyd's neck and then shows [Colin] Kaepernick taking a knee at the beginning of a football game during the national anthem.
How dare he do that.
How dare LeBron James do such a thing.
And there are others. And there are others.
So we'll see how this goes over time. There's not a lot more I can say about it. Not a lot more I know about it. https://www.mediamatters.org/mark-levin/fox-news-host-screams-lebron-james-sharing-image-george-floyd-and-colin-kaepernick

Lou Dobbs blames "Black churches," "Black teachers and leaders" for Minneapolis protests
Dobbs: To see this kind of ignorance unleashed on the streets of Minneapolis because a mayor doesn't have guts, because the city council isn't engaged, because the community there isn't engaged with the city council, obviously. They had the ability to control their lives with those local power centers, and I don't know where the Black churches are are, I don't know where the Black teachers and leaders are. It is such a failure of community and local government that it's just pathetic. https://www.mediamatters.org/lou-dobbs/lou-dobbs-calls-black-minneapolis-community-leaders-pathetic-amid-civil-unrest

As Juan Williams tries to describe institutional racism, his Fox News co-host shouts him down. VIDEO https://www.mediamatters.org/fox-news/juan-williams-tries-describe-institutional-racism-his-fox-news-co-host-shouts-him-down

After peaceful protesters were hit with tear gas and rubber bullets, Fox "straight news" anchor likens Trump to Abraham Lincoln. https://www.mediamatters.org/fox-news/after-he-tear-gassed-peaceful-protesters-fox-news-glorifies-trumps-photo-op

CNN reports that Trump used tear gas on peaceful protesters for a photo-op after being upset with coverage of him being rushed to a bunker. VIDEO https://www.mediamatters.org/cnn/report-trump-used-tear-gas-peaceful-protesters-photo-op-after-being-upset-coverage-him-being
30. From the Late Shows
Trump's Totally Not Weird Way of Standing | The Daily Social Distancing Show: https://youtu.be/OD80B2aZYCo

The Late Show with Stephen Colbert | After Days Of Unrest, America Needs Moral Leadership. Instead, We Have Donald Trump: https://youtu.be/RuU-SHQljDQ
1. Linda Chavez: Trump Should Put Down the Bible, Open It, and Read
Trump's entire life is a repudiation of the Gospels. He embodies none of the cardinal virtues—prudence, temperance, fortitude, and justice—and shows little adherence to the theological virtues of faith, hope, and charity. We see him at church when he wants to send a political message. He chose to spend the first Sunday after ordering governors to open churches on the golf course instead of in the pews, but dispersed peaceful protesters in Lafayette Square with police in riot gear shooting tear gas and rubber bullets so he could walk to St. John's for a photo op.
Trump is the embodiment of the Deadly Sins: pride, greed, wrath, envy, lust, gluttony, and sloth. He takes credit for anything that might bring him glory, slapping his name on everything from hotels and condominiums to the checks appropriated by Congress to alleviate the economic suffering of Americans during the pandemic. He cheats people with phony universities and get-rich-quick schemes. He calls women pigs, tells police, "when you see these thugs being thrown into the back of a paddy wagon, you just see them thrown in, rough, I said, please don't be too nice." He envies moral strength and leadership among figures like John McCain, yet longs for the power of those who rule by force like Vladimir Putin. His multiple marriages, affairs, and sexual assaults reflect not masculinity but misogyny. He is too lazy to master the art of governing and surrounds himself with sycophants who are willing to do anything he asks. https://thebulwark.com/trump-should-put-down-the-bible-open-it-and-read/
2. Salman Rushdie: I've seen dictators rise and fall. Beware, America.
In my life, I have seen several dictators rise and fall. Today, I'm remembering those earlier incarnations of this unlovely breed.
Extreme narcissism, detachment from reality, a fondness for sycophants and a distrust of truth-tellers, an obsession with how one is publicly portrayed, a hatred of journalists and the temperament of an out-of-control bulldozer: These are some of the characteristics.
President Trump is, temperamentally, a tinpot despot of this type. But he finds himself in charge of a country that has historically thought of itself — by no means always correctly — as being on the side of liberty. So far, with the collusion of the Republican Party, he has ruled more or less unchecked. Now an election looms, and he is unpopular, and flails about looking for a winning strategy. And if that means trampling over American freedoms, then so be it.
I have lived in the United States for 20 years and been a citizen for the past four. One of the most important reasons for becoming a citizen was my admiration for the ideas of freedom embodied in the First Amendment to the U.S. Constitution. Trump, whose regard for the Second Amendment is well known, needs reminding of the First, which, if I may help, states in part that "Congress shall make no law … abridging the freedom of speech, or of the press; or the right of the people peaceably to assemble, and to petition the government for a redress of grievances."
And yet, the man whose incompetence allowed the pandemic to tighten its deadly grip around our necks, and whose inflammatory language full of racist dog whistles has played a significant role in unleashing white-supremacist bigotry upon us all, stands in the Rose Garden of the White House and announces without an iota of shame that he wants to protect peaceful protesters. At that very time, just down the street, his security forces, some of them on horseback, are attacking a peaceful protest with tear gas and rubber bullets. A moment later, he characterizes the demonstrators as terrorists and characterizes their protests as crimes against God.
He has the pictures to prove it: the fleeing young people, the clouds of tear gas, the line of horses advancing in the name of the Law. If there's one thing Trump knows, it's how to construct an image the cameras will like. https://www.washingtonpost.com/opinions/2020/06/03/salman-rushdie-ive-seen-dictators-rise-fall-beware-america/
3. Gabriel Sherman: "It's Spiraling Out Of Control": Confronting A Failed Presidency, Trump Plays Politics With The Protests
Confronting a failed presidency after 100,000-plus COVID deaths and the protests that are still convulsing the nation this week, Donald Trump is venting to West Wing officials that Democratic governors are allowing civil unrest to rage in American cities to damage his reelection campaign. "He feels the blue-state governors are letting it burn because it hurts him. It's a lot like how he sees coronavirus," an outside White House adviser told me yesterday, shortly after audio leaked of Trump berating governors on a conference call about quelling the riots.
Trump's sense of victimhood, and his view that the crisis ignited by George Floyd's gruesome death is largely a political problem, have resulted in a shambolic White House response, veering from Trump's retreat to the bunker as the protests neared the White House to the culmination of police using teargas on peaceful protestors so that he could walk through a park to stage a photo op in front of St. John's Church. "He's paralyzed," a former West Wing official told me. https://www.vanityfair.com/news/2020/06/trump-plays-politics-with-the-protests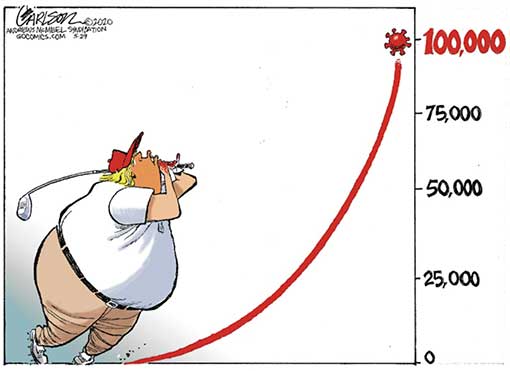 4. Tony Schwartz: The Psychopath in Chief
Like many other Trump critics, I believed that he was driven by an insatiable narcissistic hunger to be loved, accepted, admired, and praised. That remains prima facie true, but it deflects attention from what drives Trump more deeply: the need to dominate. His primary goal is to win at any cost and the end always justifies the means. Ultimately, he doesn't care what anyone else thinks or feels. For Trump, the choice between dominating and being loved — saving himself or saving others — is no contest.
The catalyst for my shift came after a friend sent me a long paper written by Vince Greenwood, a Washington, D.C.-based psychologist. Greenwood makes a detailed clinical case that Trump is a psychopath, a term that is now used nearly interchangeably with sociopath.
The trait that most distinguishes psychopaths is the utter absence of conscience — the capacity to lie, cheat, steal, and inflict pain to achieve their ends without a scintilla of guilt or shame, as Trump so demonstrably does. What Trump's words and behavior make clear is that he feels no more guilt about hurting others than a lion does about killing a giraffe. https://gen.medium.com/the-psychopath-in-chief-aa10ab2165d9
5. Jennifer Senior: What Trump and Toxic Cops Have in Common. It's us versus them
In his first Inaugural Address, and hopefully his last, Donald Trump talked about American carnage. He got it this week. What we couldn't have known in January 2017 is that he wasn't here to save us from this carnage, but to perpetuate it; that incitement wasn't just a feature of his campaign, but of his governance. When historians look back at the Trump era, they may very well say his presidency was encapsulated by this moment, when a sadistic cop knelt on the neck of an African-American man for almost nine minutes in plain view and the streets exploded in rage.
Derek Chauvin was by no means the first cop to gratuitously brutalize and lynch an African-American. But he embodied something essential about Trumpism: It's us versus them. That's the poison ethos at the heart of police brutality, and it's the septic core of our 45th president's philosophy. Neither a toxic cop nor Donald Trump sees himself as a servant of all the people they've sworn to protect. They are solely servants of their own. Everyone else is the enemy.
From the beginning, the police have received a lot of perverse messages from Trump, encouraging them to embrace the bitter angels of their nature. Three summers ago, he gave a speech on Long Island, disparaging officers who cradled the heads of suspects as they tucked them into their squad cars: "You can take the hand away, OK?" (A bank of police officers, seated behind him, started to laugh and cheer.)
And once again, there's a vacuum in response to the chaos, just as there is with Covid-19. It's every state for itself, with Trump trolling the most liberal leaders for their supposed failures to contain the unrest. https://www.nytimes.com/2020/05/31/opinion/trump-police-george-floyd.html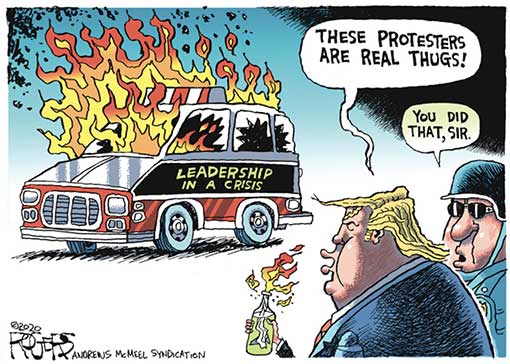 6. Robert Reich: Fire, pestilence and a country at war with itself: the Trump presidency is over
You'd be forgiven if you hadn't noticed. His verbal bombshells are louder than ever, but Donald J Trump is no longer president of the United States.
By having no constructive response to any of the monumental crises now convulsing America, Trump has abdicated his office. 
He is not governing. He's golfing, watching cable TV and tweeting.
How has Trump responded to the widespread unrest following the murder in Minneapolis of George Floyd, a black man who died after a white police officer knelt on his neck for minutes as he was handcuffed on the ground?
Trump called the protesters "thugs" and threatened to have them shot. "When the looting starts, the shooting starts," he tweeted, parroting a former Miami police chief whose words spurred race riots in the late 1960s.
On Saturday, he gloated about "the most vicious dogs, and most ominous weapons" awaiting protesters outside the White House, should they ever break through Secret Service lines. 
Trump's response to the last three ghastly months of mounting disease and death has been just as heedless.
Since claiming Covid-19 was a "Democratic hoax" and muzzling public health officials, he has punted management of the coronavirus to the states.
His advisers aren't truth-tellers. They're toadies, lackeys, sycophants and relatives.
Trump's nonfeasance goes far beyond an absence of leadership or inattention to traditional norms and roles. In a time of national trauma, he has relinquished the core duties and responsibilities of the presidency.
He is no longer president. The sooner we stop treating him as if he were, the better. https://www.theguardian.com/commentisfree/2020/may/31/donald-trump-coronavirus-pandemic-george-floyd-minneapolis-tweets
7. Paul Krugman: Trump Takes Us to the Brink
Last fall Bob Kroll, the head of the Minneapolis police union, appeared at a Trump rally, where he thanked the president for ending Barack Obama's "oppression of police" and letting cops "put the handcuffs on criminals instead of us."
The events of the past week, in which the death of George Floyd in Minneapolis police custody led to demonstrations against police brutality, and these demonstrations were met by more police brutality — including unprecedented violence against the news media — have made it clear what Kroll meant by taking the handcuffs off. And Donald Trump, far from trying to calm the nation, is pouring gasoline on the fire; he seems very close to trying to incite a civil war.
I don't think it's an exaggeration to say that America as we know it is on the brink.
How did we get here? The core story of U.S. politics over the past four decades is that wealthy elites weaponized white racism to gain political power, which they used to pursue policies that enriched the already wealthy at workers' expense.
Until Trump's rise it was possible — barely — for people to deny this reality with a straight face. At this point, however, it requires willful blindness not to see what's going on. https://www.nytimes.com/2020/06/01/opinion/trump-george-floyd-police-brutality.html
8. Former chairman of the JCS, Mike Mullen: I Cannot Remain Silent
Our fellow citizens are not the enemy, and must never become so.
It sickened me yesterday to see security personnel—including members of the National Guard—forcibly and violently clear a path through Lafayette Square to accommodate the president's visit outside St. John's Church. I have to date been reticent to speak out on issues surrounding President Trump's leadership, but we are at an inflection point, and the events of the past few weeks have made it impossible to remain silent.
Whatever Trump's goal in conducting his visit, he laid bare his disdain for the rights of peaceful protest in this country, gave succor to the leaders of other countries who take comfort in our domestic strife, and risked further politicizing the men and women of our armed forces.
This is not the time for stunts. This is the time for leadership. https://www.theatlantic.com/ideas/archive/2020/06/american-cities-are-not-battlespaces/612553/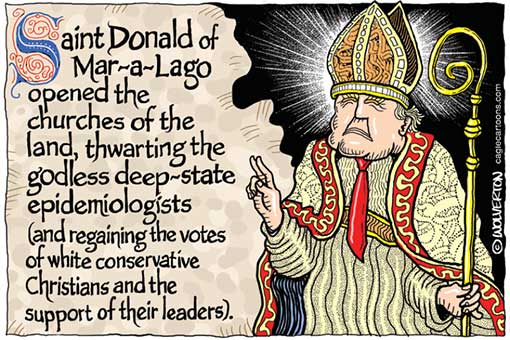 9. George Will: Trump must be removed. So must his congressional enablers.
The nation's downward spiral into acrimony and sporadic anarchy has had many causes much larger than the small man who is the great exacerbator of them. Most of the causes predate his presidency, and most will survive its January terminus. The measures necessary for restoration of national equilibrium are many and will be protracted far beyond his removal. One such measure must be the removal of those in Congress who, unlike the sycophantic mediocrities who cosset him in the White House, will not disappear "magically," as Eric Trump said the coronavirus would. Voters must dispatch his congressional enablers, especially the senators who still gambol around his ankles with a canine hunger for petting.
In life's unforgiving arithmetic, we are the sum of our choices. Congressional Republicans have made theirs for more than 1,200 days. We cannot know all the measures necessary to restore the nation's domestic health and international standing, but we know the first step: Senate Republicans must be routed, as condign punishment for their Vichyite collaboration, leaving the Republican remnant to wonder: Was it sensible to sacrifice dignity, such as it ever was, and to shed principles, if convictions so easily jettisoned could be dignified as principles, for . . . what? Praying people should pray, and all others should hope: May I never crave anything as much as these people crave membership in the world's most risible deliberative body.
A political party's primary function is to bestow its imprimatur on candidates, thereby proclaiming: This is who we are. In 2016, the Republican Party gave its principal nomination to a vulgarian and then toiled to elect him. https://www.washingtonpost.com/opinions/no-one-should-want-four-more-years-of-this-taste-of-ashes/2020/06/01/1a80ecf4-a425-11ea-bb20-ebf0921f3bbd_story.html
10. Susan B. Glasser: Trump Plays Macho Man as America Burns
Trump loves such theatrical displays of Presidential power. He believes that you project strength by proclaiming it—that if you say you are macho, then you are. But, on this violent, tragic weekend for America, there was no narcissistic photo op that could obscure the reality that he is a deeply unpopular, deeply insecure politician, who is struggling, as never before, to lead his divided country. A few hours later on Saturday, after Trump flew back to Washington from Florida, he retreated for the night behind the high walls of his fortified executive mansion, defended from an angry crowd by a heavily armed swarm of riot police and National Guardsmen. For twelve hours, Trump said and tweeted nothing, as the fires raged outside, and as the "American carnage" of his strange, apocalyptic Inaugural Address finally seemed to become manifest in televised images of a country at war with itself and plagued, once again, by its long and awful history of racism and police abuse. Trump did not offer new versions of his race-baiting tweets of Saturday morning, about "vicious dogs" and tough-guy tactics, to stop the riots. Nor did he mention the pro-Trump crowd of counter-protesters he had sought to summon that morning to the White House, but which had entirely failed to materialize. The Macho Man did not seem so alpha anymore.
By midday Sunday, of course, Trump was back to being Trump, even as the piles of broken glass were still being swept away from the front of expense-account restaurants and fancy hotels and A.T.M. machines in the blocks around the White House. As joggers snapped pictures of the fresh "Fuck Trump" graffiti across the street, the President was back to fulminating on Twitter about the "Lamestream Media" and "FAKE NEWS." He was blaming the mayor of Minneapolis and "radical Left Anarchists" for the nation's troubles, chiding leaders of "Democrat run Cities and States," and mocking his November opponent, "Sleepy Joe" Biden. He was claiming legal power that he does not have to designate the loosely organized, leftist Antifa movement as a terrorist organization. He was back, in other words, to being the almighty President of his public conjurings, the fulminating would-be autocrat who loves nothing more than to ramble on about his "absolute right" to do just about anything, whether he has that right or not. https://www.newyorker.com/news/letter-from-trumps-washington/trump-plays-macho-man-as-america-burns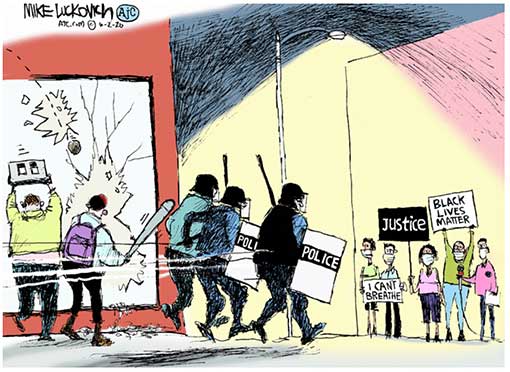 11. Dan Balz: America is at a low ebb, shaken by multiple blows, and Trump adds to the distress
America is at a low ebb. Pain and destruction strangle hopes and dreams of people across the country. People are dying — alone from a terrible virus or from a knee on the neck in full public view. Cities burn, destroying businesses and inflaming divisions. Tens of millions are out of work. The president makes it all worse.
This is the state of the union as the nation reels from multiple blows, each one arriving with swift and overwhelming force. Long-standing, untreated inequalities have been exposed anew, and they, in turn, have highlighted the country's real vulnerabilities. What has been just below the surface, known but barely acknowledged and rarely addressed seriously, is now impossible to ignore.
America experienced a wave of burning cities in the aftermath of a racial killing in 1968. America was hit by a pandemic in 1918 that killed even more people than the 103,000 who have died of the novel coronavirus. America was battered by a Great Depression in the 1930s and laid low by a Great Recession just a decade ago. America has never experienced all of this kind of tumult in the same moment. It is more than the system can bear, and people grieve for the country.
The heinous death of George Floyd in the hands of Minneapolis police — one officer, Derek Chauvin, has since been fired and charged — provoked instantaneous outrage that united nearly every racial and ideological group in the country. It was a collective cry of anguish and a demand for change to what has become commonplace, the killing of unarmed black people at the hands of law enforcement. https://www.washingtonpost.com/politics/america-is-at-low-ebb-shaken-by-multiple-blows-and-trump-adds-to-the-distress/2020/05/31/2becbd02-a35c-11ea-b619-3f9133bbb482_story.html
12. Joe Biden: We are a nation furious at injustice.
These last few days have laid bare that we are a nation furious at injustice. Every person of conscience can understand the rawness of the trauma people of color experience in this country, from the daily indignities to the extreme violence, like the horrific killing of George Floyd.
Protesting such brutality is right and necessary. It's an utterly American response. But burning down communities and needless destruction is not. Violence that endangers lives is not. Violence that guts and shutters businesses that serve the community is not.
The act of protesting should never be allowed to overshadow the reason we protest. It should not drive people away from the just cause that protest is meant to advance.
I know that there are people all across this country who are suffering tonight. Suffering the loss of a loved one to intolerable circumstances, like the Floyd family, or to the virus that is still gripping our nation. Suffering economic hardships, whether due to COVID-19 or entrenched inequalities in our system. And I know that a grief that dark and deep may at times feel too heavy to bear.
Please stay safe. Please take care of each other. https://medium.com/@JoeBiden/we-are-a-nation-furious-at-injustice-9dcffd81978f
13. LA Times Editorial: 'Chaos or community?' Dr. King asked. Trump is pushing us toward chaos
Los Angeles, like so many American cities, is on edge. Protests over the police killings of unarmed black civilians have been mostly peaceful, but they've been marred by unfortunate acts of vandalism and looting that damaged downtown businesses, many of them owned by immigrants and people of color. The Los Angeles Police Department has acted with restraint, even as protesters destroyed some of its vehicles. Mayor Eric Garcetti, who ordered a curfew downtown Saturday, has been a voice of calm and reason.
Not so, alas, President Trump, whose depravity seemingly knows no bounds. In truth, we are tired of condemning him. We would rather focus on defeating him in November. Yet condemn him again we must.
Trump's threats Saturday to unleash "vicious dogs" and "ominous weapons" against protesters at the White House, his crude appeal to his "Make America Great Again" supporters to convene in Washington on Saturday night, and his bizarre and offensive statement that "MAGA loves the black people" threaten to throw fuel on a powder keg. This is no mere dog-whistling; it is an all but open invitation to far-right elements and white supremacists to commit violence.
Furthermore, Trump continues to politicize law enforcement. Saturday, he threatened "liberal governors and mayors" that if they do not "get MUCH tougher," the feds will step in and "do what has to be done, and that includes using the unlimited power of our Military and many arrests."
These are the words of an authoritarian. Threatening the use of military force against one's own citizens is the last resort of despots and tyrants; such language has no place in a free and open society. https://www.latimes.com/opinion/story/2020-05-30/trump-protests-racism-chaos-community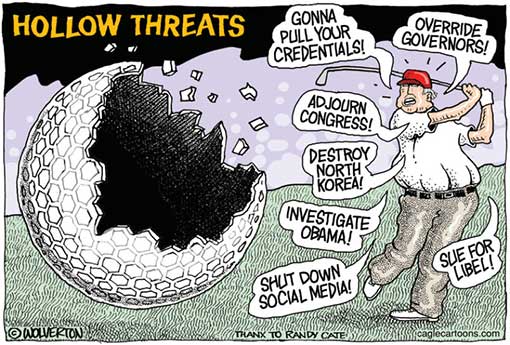 14. Sally Jenkins: This is why Colin Kaepernick took a knee
Two knees. One protesting in the grass, one pressing on the back of a man's neck. Choose. You have to choose which knee you will defend. There are no half choices; there is no room for indifference. There is only the knee of protest or the knee on the neck.
NFL owners chose the knee on the neck. They did. They may rationalize it as controversy avoidance or respect for the flag or audience mollification or economic strategy or business exigency. But when they collectively ostracized Colin Kaepernick for his protests against police brutality on unarmed black citizens, they chose the wrong knee. They chose the knee on the neck, the knee that pressures, stifles, gags, chokes and silences.
Kaepernick was treated as un-American and radical simply for asking the question, "Isn't this lethal racism every American's problem, and aren't we letting down our flag by not fulfilling its promise?" Instead of defending him, most NFL owners stood by and quailed or in some cases projected tacit acceptance as Donald Trump called him a son of a bitch and suggested any player who took a knee be thrown out of the country. It was the ugly political version of a chokehold. Oh, the owners protested the "divisive" language. They issued statements. But where was their full-throated resistance to such an obvious, aggressive, bullying wrong?
All those who vilified Kaepernick, where is the same demand for banishment, the same level of ugly feeling, the same red-faced, foaming sense of injury over the insult to America in that video of Floyd's death, three white cops with all of their weight on his burdened back, grinding him into that pavement? https://www.washingtonpost.com/sports/2020/05/30/this-is-why-colin-kaepernick-took-knee/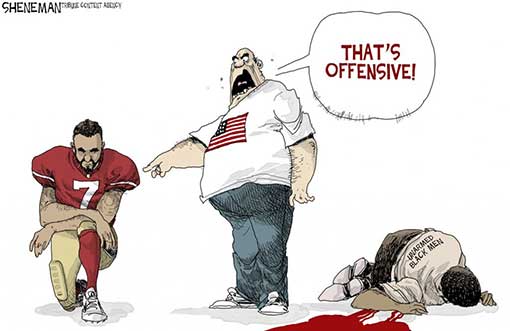 15.  Peter Baker In Days of Discord, a President Fans the Flames
With a nation on edge, ravaged by disease, hammered by economic collapse, divided over lockdowns and even face masks and now convulsed once again by race, President Trump's first instinct has been to look for someone to fight.
Over the last week, America reeled from 100,000 pandemic deaths, 40 million people out of work and cities in flames over a brutal police killing of a subdued black man. But Mr. Trump was on the attack against China, the World Health Organization, Big Tech, former President Barack Obama, a cable television host and the mayor of a riot-torn city.
While other presidents seek to cool the situation in tinderbox moments like this, Mr. Trump plays with matches. He roars into any melee he finds, encouraging street uprisings against public health measures advanced by his own government, hurling made-up murder charges against a critic, accusing his predecessor of unspecified crimes, vowing to crack down on a social media company that angered him and then seemingly threatening to meet violence with violence in Minneapolis. https://www.nytimes.com/2020/05/30/us/politics/trump-george-floyd-protests.html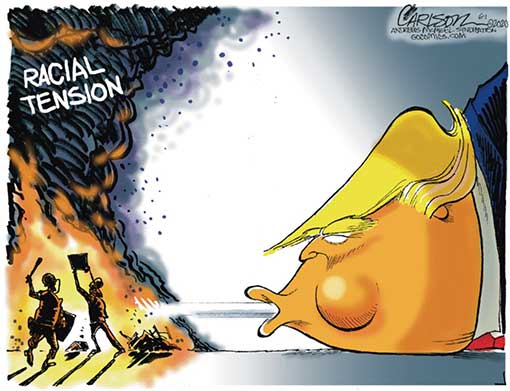 16. Austin Sarat And Jonathan Obert: Donald Trump Is America's First Vigilante President
Twice in a 24-hour period, the president of the United States took to to endorse violence. The first time, at 12:00 a.m. on Thursday, he retweeted a video in which a supporter says, "The only good Democrat is a dead Democrat."
Then, early Friday morning, as protests over the police killing of George Floyd erupted in Minneapolis and turned violent, Donald Trump tweeted that "THUGS" were "dishonoring" Mr. Floyd's memory. He concluded with a chilling warning: "when the looting starts, the shooting starts."
Trump is by no means the first American president to talk tough or to threaten the use of violence. But other presidents, mindful of the chief executive's role as the leader of the entire nation, were focused on America's public power and its legitimate use of force.
The president's recent tweets were just the latest example of his penchant for threatening, encouraging, or obliquely endorsing violence directed against individual political opponents and/or racial minorities.
His embrace of such violence marks such a stunning departure from the pattern of his predecessors that we might fairly regard him as America's first vigilante president.
Like all vigilantes, confident in their ability to right wrongs and avenge apparent wrongdoing, the president seems oblivious or indifferent to the fact that his casual remarks and incendiary tweets are tearing this country apart and risking the welfare of all who live in the United States. https://thebulwark.com/donald-trump-is-americas-first-vigilante-president/
17.  Jonathan Chait: Trump Killed Obama's Police Reforms. Now He's Getting What He: Asked For.
Last October, Minneapolis Police Union president Bob Kroll appeared at a Trump rally. Clad in his red "Cops for Trump" T-shirt, Kroll (who has been alleged to be affiliated with white supremacists) gloated that the president had unshackled his officers from the restraints imposed by Trump's predecessor. "The Obama administration and the handcuffing and oppression of police was despicable," he told the crowd. "The first thing President Trump did when he took office was turn that around, got rid of the Holder-Loretta Lynch regime and decided to start takin— letting the cops do their job, put the handcuffs on the criminals instead of us."
We will never know if that unshackling emboldened Derek Chauvin to murder George Floyd. But the line between the relief demanded by Kroll on behalf of Minneapolis police, and the naked assassination committed on camera by one of his officers, is quite direct. The world around us, in which the streets of every major American city are filled with protesters, is the result of Trump granting the wishes of the most retrograde police officers. They are getting what they asked for.
The last few years of the Obama administration were one of the most productive periods of criminal justice reform in American history. The Obama administration changed sentencing guidelines to reduce the disparity in the treatment of drug crimes that had disproportionately harmed black defendants. As part of an effort to inculcate a "guardian, not a warrior" mindset, it restricted the transfer of surplus military equipment to police departments. Most importantly, it formed consent decrees with more than a dozen police departments to force them to change their practices.
These reforms did not root out brutality and racism. They were mild both in form and intent, undertaken with the goal of conciliating police and their communities, believing that enhancing trust would ultimately create safer conditions for police as well as those who fear them. It was the epitome of evolutionary cultural change.
Trump's first attorney general, Jeff Sessions, ended the restriction on transferring military equipment to police, reviewed all consent decrees struck by his predecessor, and then restricted their use going forward. "It is not the responsibility of the federal government to manage non-federal law enforcement agencies," he insisted. https://nymag.com/intelligencer/2020/05/trumps-george-floyd-obama-protest-police-violence-kneeling.html
18. Frank Rich: Trump vs. Twitter Is No Contest
Trump's real motive for his Scarborough sideshow, as always these days, is to distract our attention from actual victims — those who have succumbed to COVID-19 in an avoidable acceleration of American carnage that happened on his indolent watch. Though he has not expended an iota of emotion over the 100,000 who have died since March, he concocted a rip-roaring spectacle to dramatize his concern over the death of the woman whom Scarborough did not murder 19 years ago. On a Memorial Day weekend when many noted that the COVID body count exceeded the number of American combat casualties in Vietnam and the Korean War combined, Trump served up a buffet of alternative programming: tweets suggesting that Nancy Pelosi be silenced with duct tape, attacking Stacey Abrams's physical appearance, and mocking Joe Biden for wearing a mask. He did stop short of calling Biden a pedophile — a tactic wielded by Trumpists against Hillary Clinton last time around, in the so-called "pizzagate" conspiracy — but then again Donald Trump Jr. had already done so on Instagram two weeks earlier.
Even were Twitter to take a far sterner stance on Trump and his accomplices, it wouldn't matter. His followers are well past being interested in checking out any facts. Of all recent polls, none was more revelatory than this week's Morning Consult finding that even now, even after repeated clinical tests showed that hydroxychloroquine increased the risk of death for COVID-19 patients, 41 percent of Republicans still support its use. If you are looking for further proof that Trumpism is a death cult, look no further. https://nymag.com/intelligencer/2020/05/frank-rich-trump-vs-twitter-is-no-contest.html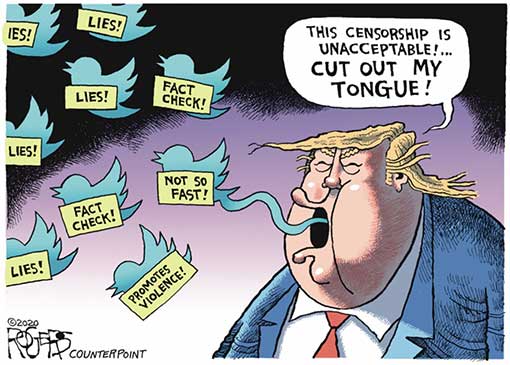 19. Joe Scarborough: Lori deserves better. So does America.
One is a politician so obsessed with a morning cable news show that he has sought retribution by repeatedly defaming a dead woman's memory.
The other is a soft-spoken Air Force engineer who has worked on projects for 32 years with the singular goal of protecting and defending the United States. The 6-foot-3 Florida resident is still mourning the death of a wife he lost 19 years ago. He holds on to cherished memories of Lori Klausutis as a lifelong Republican, a devoted Catholic who sang in her church choir and an avid runner so perpetually cheerful that people called her "Little Miss Mary Sunshine." After Lori's death, T.J. Klausutis returned alone to the home the couple had just bought in Niceville, Fla., and faced an almost immediate barrage of Internet conspiracy theories about the "murder" of his wife.
The pace of those hateful lies ebbed and flowed with the years, until they swelled recently into a slimy tsunami of bilge spewing from President Trump's 80-million-strong Twitter feed. I have never been able to grasp Trump's bizarre fixation with "Morning Joe," but that sad obsession has driven him to weaponize Lori's memory in an attempt to settle some perceived grievance against me. Or perhaps to deflect from the 100,000 Americans lost to a disease he once dismissed as "one person coming in from China." https://www.washingtonpost.com/opinions/lori-deserves-better-so-does-america/2020/05/28/d56e0318-a113-11ea-81bb-c2f70f01034b_story.html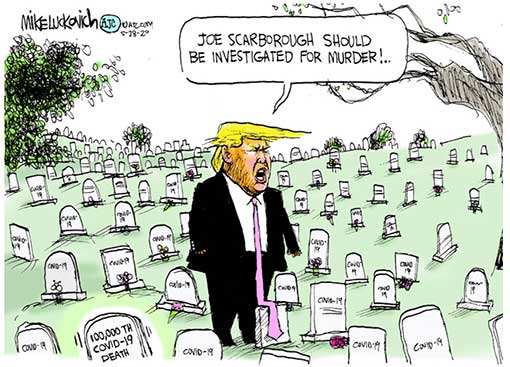 20. Susan Glasser: The Most Mendacious President in U.S. History
On Sunday, on Tuesday, and again on Wednesday, President Donald Trump accused the TV talk-show host Joe Scarborough of murder. On Tuesday, Wednesday, and Thursday, he attacked the integrity of America's forthcoming "rigged" election. When he woke up on Wednesday, he alleged that the Obama Administration had "spied, in an unprecedented manner, on the Trump Campaign, and beyond, and even on the United States Senate." By midnight Wednesday, a few hours after the number of U.S. deaths in the coronavirus pandemic officially exceeded a hundred thousand, the President of the United States retweeted a video that says, "the only good Democrat is a dead Democrat."
This is not the first time when the tweets emanating from the man in the White House have featured baseless accusations of murder, vote fraud, and his predecessor's "illegality and corruption." It's not even the first time this month. So many of the things that Trump does and says are inconceivable for an American President, and yet he does and says them anyway. The Trump era has been a seemingly endless series of such moments. From the start of his Administration, his tweets have been an open-source intelligence boon, a window directly into the President's needy id, and a real-time guide to his obsessions and intentions. Misinformation, disinformation, and outright lies were always central to his politics.
In recent months, however, his tweeting appears to have taken an even darker, more manic, and more mendacious turn, as Trump struggles to manage the convergence of a massive public-health crisis and a simultaneous economic collapse while running for reëlection. He is tweeting more frequently, and more frantically, as events have closed in on him. Trailing in the polls and desperate to change the subject from the coronavirus, mid-pandemic Trump has a Twitter feed that is meaner, angrier, and more partisan than ever before, as he amplifies conspiracy theories about the "deep state" and media enemies such as Scarborough while seeking to exacerbate divisions in an already divided country.
Strikingly, this dark turn with the President's tweets comes as he is using his Twitter feed as an even more potent vehicle for telling his Republican followers what to do—and they are listening. Just this week, amid the Scarborough-murder libels, about the accidental 2001 death of a young woman who worked for him, Trump tweeted out that he was now against the reauthorization of the federal wiretapping authorities in the fisa bill. Immediately, Republican lawmakers in Congress who had until that point supported it suddenly refused to vote in its favor. Bowing to the reality that some Republican votes were needed by the House's Democratic majority in order to pass the measure, Speaker Nancy Pelosi reluctantly withdrew the bill from consideration. On Thursday, she mocked her G.O.P. colleagues for shifting on the basis of a "twinkle of a tweet" from Trump. He is now wielding actual and not just rhetorical power via social media. And he knows it. https://www.newyorker.com/news/letter-from-trumps-washington/the-most-mendacious-president-in-us-history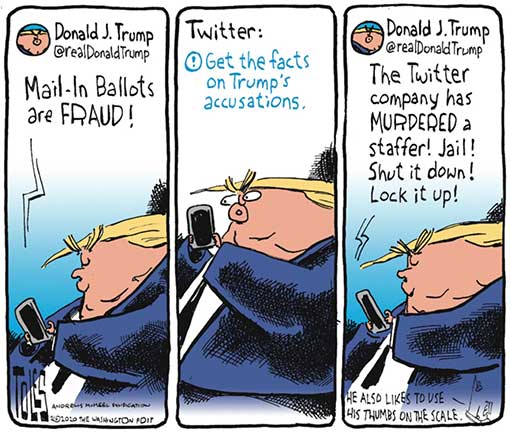 21. Jonathan Chait: Trump Threatens to Close Down Social Media for Challenging His Lies
The current pretext for Trump's complaint is Twitter's decision to begin implementing some mild fact-checking measures. Yesterday, the social-media firm appended contextual news articles to Trump tweets claiming both ongoing and future voter fraud on a massive scale. The well-intentioned effort seems very likely to fail. It will prove impossible to settle on a remotely workable answer to the problem either of what kind of statement qualifies as a lie, and which users are big enough to merit correction when they do. And while many rules have difficult edge cases, in this instance, the edge cases will swallow up the rule itself.The root cause for Twitter's discomfort is Trump's systemic lies. Trump's foundational insight throughout his public life has been to overwhelm the system's capacity to handle dishonesty. In 1982, Trump tried to persuade Forbes that he was worth $900 million. The reporter, Jonathan Greenberg, diligently unraveled Trump's lies and listed him at $100 million, only to discover decades later he was actually worth $5 million. Greenberg later explained that his attempts to expose Trump's enormous lies had merely conscripted him in the dissemination of slightly less-huge ones. https://nymag.com/intelligencer/2020/05/trump-regulate-fact-check-twitter-google-facebook-close-them-down.html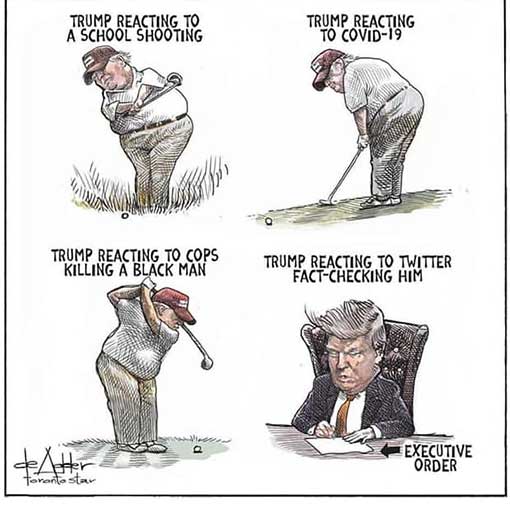 22. Abigail Tracy: With Multiple Investigations Targeting Biden, Gop Senators Have Become Trump Campaign Operatives
As Donald Trump flails in search of an viable election strategy dimmed against the backdrop of a tumbling economy and an abiding pandemic, it has increasingly felt as if Capitol Hill has been thrust into a Groundhog Day scenario; gripped in an endless loop of probes into probes and well-worn conspiracy theories. Republican senators insist that their motivations are pure, not political. Whereas Democrats see a choreographed effort to handicap Trump's presumptive opponent this fall, Joe Biden; evidence of the president's vice-like grip on the Republican Party and the erosion of bipartisan oversight in the Trump era. "We have a Republican Party that is in the throes of various conspiracy theories," Senator Mazie Hirono of Hawaii told me. "It's an abuse of power because they're using taxpayer money to pursue these avenues solely, by the way, to enable the president to be reelected."
While Majority Leader Mitch McConnell sits on his hands, three powerful GOP committee chairmen are ramping up parallel investigations to, Democrats allege, smear Vice President Biden by way of his son Hunter, and discredit the FBI Russia investigation. With an assist from his colleague Senator Chuck Grassley, Wisconsin senator Ron Johnson has flexed his chairmanship of the Senate Homeland Security and Governmental Affairs Committee to revive Trumpworld's impeachment counter-narrative targeting the former vice president's son for his work on the board of Burisma Holdings, a Ukrainian natural gas company. Meanwhile, over at the helm of the Senate Judiciary Committee, Lindsey Graham has launched a far-reaching probe into the provenance of the FBI Russia investigation, expected to entangle high-profile officials who served in the Obama administration.
But Democrats increasingly see their Republican colleagues as, essentially, Trump campaign operatives. "They're not even really hiding the fact that this is a concerted, organized effort within the Republican caucus," the second senior Democratic aide said.
"I always have the hope, the hope that maybe they'll live up to the responsibilities of a separate branch of government, but I have been continuously disappointed. So why should this be any different?" Hirono said. "But one would think at some point that what goes into their minds is what the heck they ran for office for, and that's certainly not to do the bidding of a president who is basically unhinged. And here they are, it's amazing." https://www.vanityfair.com/news/2020/05/republican-senators-investigations-joe-biden