July 27, 2023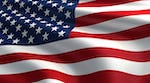 To subscribe to this FREE weekly newsletter simply email jellison@san.rr.com with "subscribe" as the subject.
THE WEEK'S BEST QUOTES. . .
"If I were Prigozhin, I'd be very worried. NATO has an open doors policy. Russia has an open windows policy." — Secretary of State Antony Blinke at the Aspen Security Forum.
https://twitter.com/SCClemons/status/1682410058649571329
"They're probably going to show that some of the folks that eventually parlayed, you know, being a blacksmith into doing things later in life," — Florida Gov. Ron DeSantis is intensifying his efforts to de-emphasize racism in his state's public school curriculum by arguing that some Black people benefited from being enslaved and defending his state's new African American history standards that civil rights leaders and scholars say misrepresents centuries of U.S. reality.
https://www.washingtonpost.com/politics/2023/07/22/desantis-slavery-curriculum/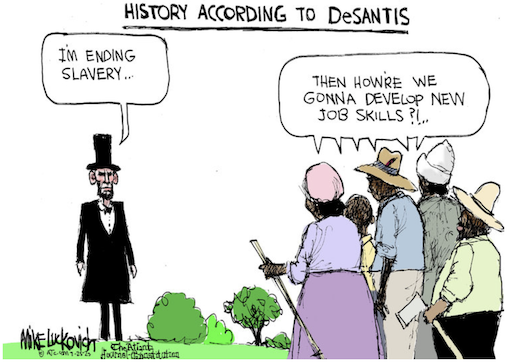 "A man is running to run the government he tried to overthrow while he was running it, even as he is running to stay ahead of the law. That sounds loony, except in the topsy-turvy world of Donald Trump, where it has a grotesque logic." — Maureen Dowd.
https://www.nytimes.com/2023/07/22/opinion/trump-jack-smith.html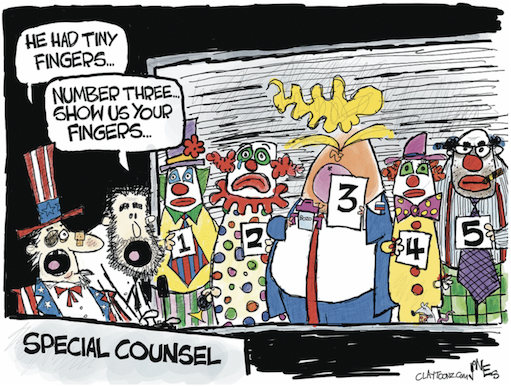 "We should not fear a government shutdown. Most of what we do up here is bad anyway." — Rep. Bob Good (R-VA), a member of the far-right Freedom Caucus.
https://www.nbcnews.com/politics/congress/biden-threatens-veto-house-funding-bills-republicans-add-culture-war-p-rcna96159
"So far Ron DeSantis has run a failing campaign. But here's the good news: DeSantis has developed skills which, in some instances, can be applied for his personal benefit." — Larry Sabato, on Twitter or X or whatever it's called now.
https://twitter.com/LarrySabato/status/1684000534343331841
"The idea that this was a plan to somehow overthrow the government of the United States is not true, and it's something that the media had spun up just to try to basically get as much mileage out of it and use it for partisan and political aims." — Ron DeSantis seeming almost as delusional as Trump.
https://www.nytimes.com/2023/07/22/opinion/trump-jack-smith.html
"Kennedy embraces virtually every conspiracy theory in existence.His horrific antisemitic and xenophobic views are simply beyond the pale, and he has frequently met with and promoted antisemitic conspiracy theorists. Kennedy's anti-vaccine conspiracies go back decades and have had deadly real world consequences." —The Congressional Integrity Project,
https://congressionalintegrity.org/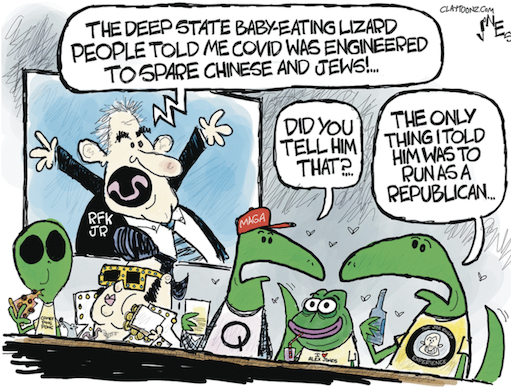 "What we're seeing from Fox is industrialized devil worship. We have an obligation to call them out. Christianity is under attack." — Beth Ailes, the widow of Roger Ailes, saying Fox News is helping satanic organizations.
https://twitter.com/RonFilipkowski/status/1683659616276586499
"Twitter's rebrand is a reminder that Elon Musk, not Threads or any other app, is and has always been the most likely 'Twitter killer.'" — Insider Intelligence analyst Jasmine Enberg.
https://www.cnbc.com/2023/07/24/elon-musk-risks-more-damage-to-twitter-business-after-name-change-to-x.html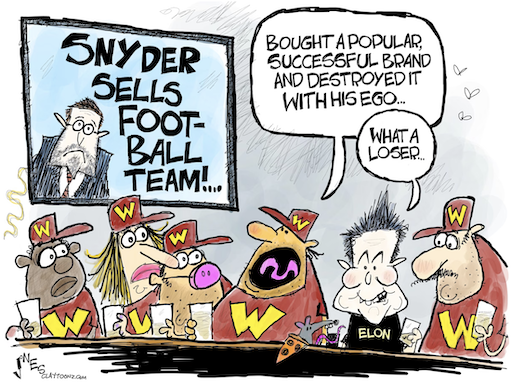 VIDEOS ...-
It would be "very dangerous" for Special Counsel Jack Smith to put me in prison because of my "very passionate" supporters. — Donald Trump.
https://twitter.com/AccountableGOP/status/1682143307957170179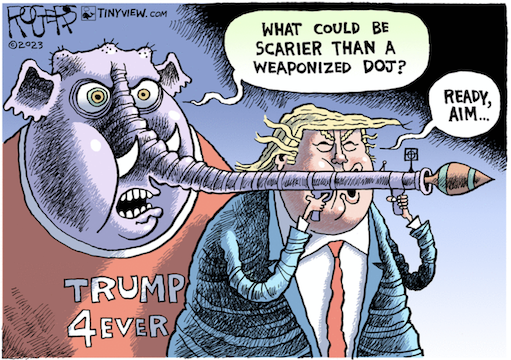 Marjorie Taylor Greene unintentionally makes an impressively persuasive case for Bidenomics in this Joe Biden for President ad.
https://twitter.com/JoeBiden/status/1681424737384435713
"Kevin is playing politics. It's not even clear if he constitutionally can expunge those Trump's impeachments. If he wants to put his members in difficult races on the spot, that's a decision he has to make. But this is not responsible. This is not about the flag still being there. This is about being afraid… Trump is the puppeteer, and what does he do all the time but shine a light on the strings? These people look pathetic." — Rep. Nancy Pelosi (D-CA).
https://twitter.com/atrupar/status/1683106856695132161
ASK A SLAVE Ep 3: You Can't Make This Stuff Up.
https://www.youtube.com/watch?v=n33iPnDRqPU
"Slavery: not so bad, say DeSantis & crew" — Mark Fiore.
https://vimeo.com/84855193
---
IN THIS ISSUE
IN THE NEWS
OPINION
Andy Borowitz: Unskilled Florida Man Regrets Missing Out on Being Enslaved
An unskilled Florida man said that he deeply regrets having missed out on the opportunity to be a slave.
The man said that his "lack of access to enslavement" had made his acquisition of essential skills "impossible."
"Every day when I mess something up at work, I wonder to myself, would I be doing a better job if I'd been a slave?" he said. "There's no question that it would have been a game-changer for me."
He argued that being barred from forced servitude was a form of "white underprivilege," and that Caucasians who suffer from a resulting skills deficit deserve reparations.
"Something must be done to compensate people like me who were unfairly denied the chance to be slaves," he said. "When I think about the personal benefits I was prevented from obtaining, it makes me furious."
https://www.newyorker.com/humor/borowitz-report/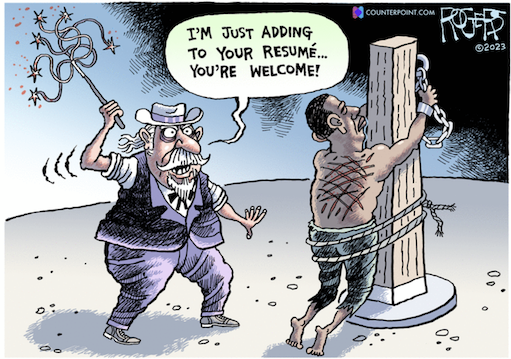 GOP Splits Over Jan. 6 Deepen as Trump Indictment Loom
The likelihood Donald Trump will be indicted over efforts to undo his loss in the 2020 election is deepening divisions within the GOP over the Jan. 6, 2021, Capitol riot, forcing the issue back to the forefront in Congress and on the campaign trail.
The former president and many of his allies have played down the riot and boosted support for those who stormed the Capitol. A smaller wing of the party has strongly criticized Trump and the rioters. In between those Republican poles is a wavering middle, including many of Trump's 2024 nomination rivals and Speaker Kevin McCarthy (R., Calif.), who is facing calls for the House to vote on expunging Trump's two impeachments.
Trump hasn't just minimized his role in pushing false claims of election fraud or spurring the actions of the mob. Last month he appeared at a fundraiser for the rioters, and he has vowed to pardon many of them if he returns to office.
https://www.wsj.com/articles/gop-splits-over-jan-6-deepen-as-trump-indictment-looms-a3e8239
Trump's GOP rivals open door to cutting Social Security for younger people
Three of Donald Trump's rivals for the 2024 GOP presidential nomination are pushing for cuts to Social Security benefits that would only affect younger Americans, as the party's leaders grapple with the explosive politics of the retirement program.
Ron DeSantis, Mike Pence and Nikki Haley have proposes curbing spending on the program without affecting seniors.
https://www.washingtonpost.com/business/2023/07/22/gop-social-security-trump-rivals-cuts/
Nebraska Teen Who Used Abortion Pills Sentenced to Jail
A Nebraska teenager who used abortion pills to terminate her pregnancy was sentenced on Thursday to 90 days in jail after she pleaded guilty earlier this year to illegally concealing human remains.
Greer Donley, an associate professor of law at the University Pittsburgh School of Law, said in an interview on Thursday that the case was a "harbinger of things to come," as a flurry of Republican-led states have enacted abortion restrictions and more women in those states have sought abortion pills as a workaround.
"This case is really sad because people resort to things like this when they're really desperate," Professor Donley said, "and the thing that makes people really desperate is abortion bans."
https://www.nytimes.com/2023/07/20/us/celeste-burgess-abortion-pill-nebraska.html
Trump's Unpopularity Hits a New High
A new Monmouth poll finds Donald Trump's net favorability now stands at negative 27 points — the highest in the history of the poll.
https://www.newsweek.com/donald-trump-unpopularity-hits-highest-one-polls-history-1814451
Alabama Republicans refuse to draw a second Black congressional district in defiance of Supreme Court
Alabama Republicans rejected calls to draw a second majority-Black congressional district this week, instead creating maps that Democrats and advocates say completely ignore a recent ruling from the U.S. Supreme Court.
https://www.nbcnews.com/politics/elections/alabama-gop-refuses-draw-second-black-district-supreme-court-order-rcna94715
The Republican War on Colleges
Former President Trump and Florida Gov. Ron DeSantis, the two GOP presidential frontrunners, have both promised a crackdown on colleges should they occupy the White House — a stark reflection of the right's growing skepticism of higher education.
Between the lines: Some Republican complaints about colleges are related to broader concern about 'wokeness' and free speech. But others hint at deeper questions about the value of college, and how to ensure a degree comes with an appropriate economic return.
In a video posted on his website last week, Trump pledged to "fire the radical Left accreditors" and hire new ones "who will impose real standards on colleges which would include "protecting free speech," "removing all Marxist diversity, equity, and inclusion bureaucrats," and "implementing college entrance and exit exams to prove that students are actually learning and getting their money's worth."
Last month DeSantis sued the Biden administration over the college accreditation system, alleging it's unconstitutional.
https://www.axios.com/2023/07/23/trump-desantis-colleges-universities
Nervous Republicans turn to New Hampshire in hopes of stopping Trump
They acknowledge Donald Trump's dominance, but weary Republicans across New Hampshire — even inside the governor's office — are fighting to stop the former president from winning the first-in-the-nation primary.
For now, however, they're relying on little more than hope and prayers.
https://apnews.com/article/new-hampshire-republican-president-2024-pence-trump-cee250b2171b68c2da79b1bbb8454deb
About That Bizarre DeSantis Video Attacking Trump
One recent move that drew intense blowback, including from Republicans, was the DeSantis campaign's sharing of a bizarre video on Twitter that attacked Mr. Trump as being too friendly to LGBTQ people, showed Mr. DeSantis with lasers coming out of his eyes. The video drew a range of denunciations, with some calling it homophobic and others homoerotic before it was deleted.
It turns out to be more of a self-inflicted wound than was previously known: A DeSantis campaign aide had originally produced the video internally, passing it off to an outside supporter to post it first and making it appear as if it was generated independently.
https://www.nytimes.com/2023/07/23/us/politics/desantis-campaign-reboot.html
Texas' Harsh New Border Tactics Are Injuring Migrants
For more than two years, Gov. Greg Abbott of Texas has pursued an increasingly aggressive approach to the border, sending thousands of National Guard troops and police officers to patrol the Rio Grande and testing the legal limits of state action on immigration.
But in recent weeks, Texas law enforcement officials have taken those tactics much further, embarking on what the state has called a "hold-the-line" operation, according to interviews with state officials and documents reviewed by The New York Times. They have fortified the riverbanks with additional concertina wire, denied water to some migrants, shouted at others to return to Mexico and, in some cases, deliberately failed to alert federal Border Patrol agents who might assist arriving groups in coming ashore and making asylum claims, the review found.
The reality of those tactics in one area of the border, around the small city of Eagle Pass, was detailed in an email by one state police medic, who described exhausted migrants being cut up by razor wire, a teenager breaking his leg to escape the barriers and officers being directed to withhold water from migrants struggling in the perilous heat. The actions described in the email drew broad condemnation from Texas Democrats in Congress and from the White House after the email was reported by The Houston Chronicle.
https://www.nytimes.com/2023/07/19/us/texas-border-migrants-abbott.html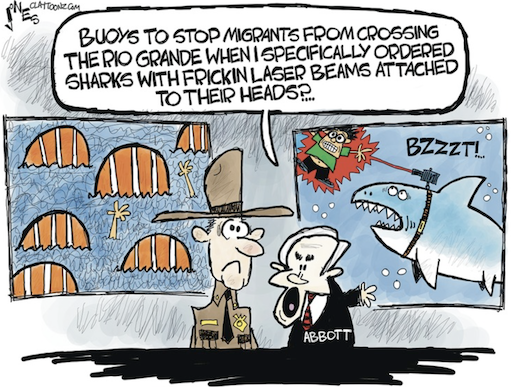 Before Jan. 6, Mark Meadows joked about Trump's election claims
Mark Meadows joked about the baseless claim that large numbers of votes were fraudulently cast in the names of dead people in the days before the then-White House chief of staff participated in a phone call in which then-President Trump alleged there were close to 5,000 dead voters in Georgia and urged Secretary of State Brad Raffensperger to overturn the 2020 election there.
In a text message that has been scrutinized by federal prosecutors, Meadows wrote to a White House lawyer that his son, Atlanta-area attorney Blake Meadows, had been probing possible fraud and had found only a handful of possible votes cast in dead voters' names, far short of what Trump was alleging. The lawyer teasingly responded that perhaps Meadows's son could locate the thousands of votes Trump would need to win the election. The text was described by multiple people familiar with the exchange.
The jocular text message, which has not been previously reported, is one of many exchanges from the time in which Trump aides and other Republican officials expressed deep skepticism or even openly mocked the election claims being made publicly by Trump, according to people familiar with the investigation, who spoke on the condition of anonymity due to the sensitivity of the criminal investigation.
https://www.washingtonpost.com/national-security/2023/07/22/mark-meadows-georgia-election-results-2020-fraud-claims/
Morgan Stanley credits Bidenomics for 'much stronger' than expected GDP growth
Morgan Stanley is crediting President Biden's economic policies with driving an unexpected surge in the U.S. economy that is so significant that the bank was forced to make a sizable upward revision to its estimates for U.S. gross domestic product.
As a result of these unexpected swells, Morgan Stanley now projects 1.9% GDP growth for the first half of this year. That's nearly four times higher than the bank's previous forecast of 0.5%.
https://www.cnbc.com/2023/07/21/bidenomics-spurred-stronger-gdp-growth-morgan-stanley.html
Hunter Biden lawyer files complaint after Marjorie Taylor Greene shows Congress nude photos
Hunter Biden's lawyer filed an ethics complaint in the House of Representatives on Friday against Rep. Marjorie Taylor Greene for reaching a "new level of abhorrent behavior" after she displayed sexually explicit pictures of him during a hearing Wednesday.
The lawyer, Abbe Lowell, told the Office of Congressional Ethics in a letter that the Georgia Republican's "unmoored verbal abuses and attacks on Biden represented numerous ethics violations.''
Lowell previously complained in April about Greene over alleged defamation, false allegations, publication of private photos and "bizarre dissemination of conspiracy theories about Mr. Biden and members of his family."
"She displayed (on printed posters) sexually explicit and nude images of Mr. Biden," Lowell wrote. "Then, toward the end of her questioning, Ms. Greene held up the graphic poster boards, spouting yet another of her untethered conspiracy theories, suggesting without any evidence that they showed Mr. Biden 'making pornography.'"
https://www.usatoday.com/story/news/politics/2023/07/21/mtg-shows-hunter-biden-lawyer-photos-congress/70445956007/
THE DAILY GRILL ...
"They're probably going to show some of the folks that eventually parlayed, you know, being a blacksmith into, into doing things later in life." —  Ron DeSantis defends new curriculum that will teach children how slaves *benefited* from slavery. https://twitter.com/ammarmufasa/status/1682548505385025537

VERSUS

"Slavery began in Jamestown in 1619 and wasn't abolished until 1865. So that's 246 years—a quarter of a millennium—in which generation after generation after generation of slaves wasn't able to 'parlay' their good fortune at having been enslaved into professional advancement later in life." — Jonathan Last. https://thetriad.thebulwark.com/p/why-not-tim-scott-or-how-much-worse
 
Bess Levin: That Sound You Hear Is Donald Trump Screaming, Crying, and Throwing Up in a Mar-a-Lago Bathroom
The decision by Aileen Cannon—a federal judge Trump himself appointed—to set a trial date of May 20, 2024, for Trump to face off with the federal government in the classified-documents case, that had staffers and aides hiding in hallways and coat closets to avoid Trump's ire (and whatever ketchup bottles he could get his hands on). While the spring date is several months later than prosecutors had requested, it is very much well before the postelection one Team Trump had been angling for in the hopes of putting it off until the ex-president could have won a second term and made all of his legal problems—on the federal level, that is—go away.
Incidentally, the documents case isn't even the first criminal trial that Trump will have to fit into his schedule next spring. His trial versus the Manhattan district attorney—who charged him in April with various crimes related to his hush money deals—is slated to begin March 25, three weeks after Super Tuesday. (Trump has also pleaded not guilty in that case.)
In related news, The Washington Post reports that Trump's many legal issues—including the New York case, the DOJ's documents case, and the possible Georgia case, and the DOJ's election-interference case that he's expected to be charged in—are eating into a huge amount of campaign funds:
A lot of money is going to legal and people who don't do much, and not a lot is left over to do marketing and advertising, said one Trump adviser, who like others spoke on the condition of anonymity to discuss internal plans. A lot of the money we're raising is just going to legal.
And if you're thinking perhaps Trump was chipping in at least a little bit of his own money for his legal fees, think again. According to the Post, the former guy is not relying on his personal fortune to cover his legal bills. (You expected Trump pay for this s--t out of pocket like some kind of commoner? C'mon now.) https://www.vanityfair.com/news/2023/07/donald-trump-fulton-county-racketeering-documents-trial-date
Jonathan Last: For Republicans, the time to ditch Trump is always tomorrow.
McConnell voted against an impeachment conviction, which could have barred Trump from holding office again. And he did so because he said the justice system could take care of Trump.
Today we have Republicans decrying the justice system's attempt to hold Trump accountable.
Here's Ron DeSantis talking about Trump's various indictments with Jake Tapper:
This country is going down the road of criminalizing political differences. I think that's wrong. . . .

And so you have a situation where the Department of Justice, FBI had been weaponized against people they don't like . . . And so what I've said, as president, my job is to restore a single standard of justice to end weaponization of these agencies.

We're going to have a new FBI director on day one; we're going to have big changes at the Department of Justice. . .

I hope he doesn't get charged.
So where McConnell refused to convict on impeachment because he trusted the justice system to pursue Trump, DeSantis now attacks the justice system for indicting Trump—even going so far as to promise that he will fire the Trump-appointed, non-partisan director of the FBI in retaliation for the justice system doing what McConnell promised Americans it would do.. https://thetriad.thebulwark.com/p/a-lesson-about-pain-and-power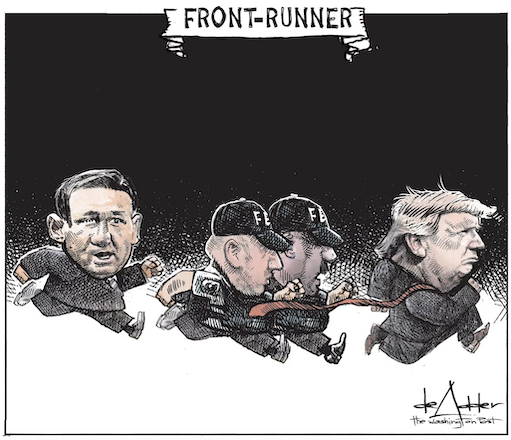 Molly Jong-Fast: Is the Sheer Stupidity of Republican Politics Breaking Through?
House Republicans have collectively lost their minds.

You'd think that House Republicans might have slowed their roll after the man they pushed as their star whistleblower against Hunter Biden, Gal Luft—an Israeli-American dual citizen who claimed to have compromising information on President Joe Biden and his son—was charged with serious crimes last November. Or especially when, per the recently unsealed indictment, it became clear that those crimes included being an unregistered foreign agent for China, trafficking arms, breaking international sanctions, and making false statements to federal officials. (According to the DOJ, Luft faces a maximum of 100 years in prison. Luft, who the DOJ now considers a fugitive, has previously chalked up the charges to political persecution.)

But no, House Republicans have not skipped a beat in their relentless hunt for a smoking gun on the Bidens. Instead, charging full speed ahead in defense of their missing whistleblower during last week's ultra-mortifying House Judiciary Oversight hearing, a furious-looking and jacketless Jim Jordan accused the FBI of suppress[ing] American speech, of course, conservative speech in particular. I find it stunning. Stunning is a word for it.

Perhaps more stunning is that this particular MAGA caucus seems completely immune to both shame and common sense. Typically the Speaker of the House sets a party's agenda in Congress. But there is no functional leader of the House Republican Party. Instead, it's made up of an ensemble cast of chaos agents providing a comedy of errors each week Congress is in session.

Some of this abject embarrassment surely could have been prevented if House Speaker Kevin McCarthy had control over his caucus. For example, few—except for, perhaps, Democrats—benefited from hearing Wyoming congresswoman and election denier Harriet Hageman accuse lifelong Republican and Donald Trump–appointed FBI director Christopher Wray of having personally worked to weaponize the FBI against conservatives. Wray reminded the clown car of his résumé. The idea that I'm biased against conservatives seems somewhat insane to me, given my own personal background, he said. And that wasn't even the most embarrassing moment from the hearing; Florida Republican Matt Gaetz accused Wray of being blissfully ignorant as to the Biden shakedown regime and claimed that people trusted the FBI more when J. Edgar Hoover was running the place (to which Wray said there's been a sharp increase in Floridians applying to the FBI). Representative Troy Nehls even brought up the right-wing conspiracy theory that somehow January 6 rioter Ray Epps was working for the FBI to discredit Trump. Epps is currently suing Fox News after former host Tucker Carlson spread this conspiracy theory.

Republicans ended last week with the passage of a defense budget bill, which according to The New York Times, would limit abortion access, transgender care and diversity training for military personnel. In other words, it was littered with partisan poison pills, each representing another Republican dog whistle and passed 219 to 210 on partisan lines.

McCarthy continues to enable the madness. Now it's just up to Democrats to ensure Americans know just how much more this could spiral out of control if Republicans actually controlled all of government. https://www.vanityfair.com/news/2023/07/sheer-stupidity-of-republican-politics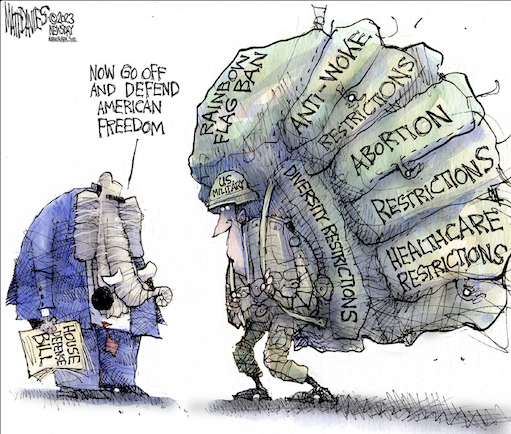 Eric Lutz: Ron DeSantis's Florida Board of Education: Hey, What About the Personal Benefit of Being a Slave?
Ron DeSantis's war on wokeness in schools ascended to dangerous new heights Wednesday, as Florida's State Board of Education approved new African American studies curriculum standards that, among other things, would force public school students to learn about some of the supposed upsides of slavery — a whitewashing of history that the state's largest teachers union decried as a big step backward for education.

The new rules approved Wednesday, which require teachers— in a section on slavery— to note that slaves developed skills, which, in some instances, could be applied for their personal benefit. In a section on Reconstruction and beyond, a period marked by Jim Crow and routine white terrorism on Black communities, the new rules dictate that students must be taught about acts of violence perpetrated against and by African Americans, which, as Democratic State Senator Geraldine Thompson pointed out, suggests incidents like the Ocoee Massacre were sparked by violence from African Americans.

That's blaming the victims, said Thompson, who, as The Washington Post notes, helped pass a 2020 law requiring Florida schools to teach about the 1920 massacre, in which a white mob killed dozens of Black residents of Ocoee, Florida, in Election Day violence. (Manny Diaz, Florida's education commissioner, praised the changes, saying that this is something that is going to set the norm for standards in other states.)

DeSantis, of course, shows no sign of stopping: His relentless culture war helped lift him to national prominence, and he has made it his central — nay, his only — pitch to GOP voters in his sputtering presidential campaign. We've made the state of Florida the place where woke goes to die, he said at a recent campaign event. And now, it is our mission as Americans to ensure that in January 2025…we leave woke ideology in the dustbin of history where it belongs. https://www.vanityfair.com/news/2023/07/florida-african-american-studies-lgbtq-curriculum-change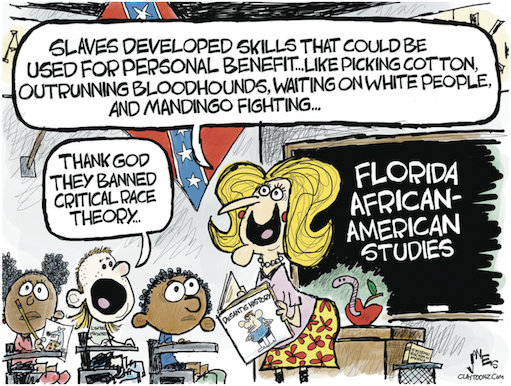 Maureen Dowd: The Moment of Truth for Our Liar in Chief
A man is running to run the government he tried to overthrow while he was running it, even as he is running to stay ahead of the law.

That sounds loony, except in the topsy-turvy world of Donald Trump, where it has a grotesque logic.

The question now is: Has Trump finally run out of time, thanks to Special Counsel Jack Smith, who runs marathons as an Ironman triathlete? Are those ever-loving walls really closing in this time?

Trump has been denouncing Jack Smith as a deranged prosecutor and a nasty, horrible human being. Trump has been zigzagging his whole life and now, unbelievably, he's trying to zigzag back into the White House, seemingly intent on burning down the federal government and exacting revenge on virtually everyone.

So it will be interesting to see what the top lawyer with the severe expression makes of the bombastic dissembler. Smith seems like a no-nonsense dude who works at his desk through lunch from Subway while Trump is, of course, all nonsense, all the time.

Smith has a herculean task before him. He must present a persuasive narrative that Trump and his henchmen and women (yes, you, Ginni Thomas) were determined to pull off a coup.

His letter telling Trump he's a target of the Jan. 6 investigation reportedly does not mention sedition or insurrection, which leaves people wondering exactly what Trump will be charged with.

Of all the legal troubles Trump faces, this is the case that makes us breathe, Finally, as Susan Glasser put it in The New Yorker. It is, as she wrote, the heart of the matter.

Trump ultimately might not be charged with staging an insurrection or sedition. And that would be a shame. For the first time, a president who lost an election nakedly attempted to hold onto power and override the votes of millions of Americans.

If that isn't sedition, it's hard to figure what is. https://www.nytimes.com/2023/07/22/opinion/trump-jack-smith.html
Michael Hiltzik: The false centrism of political group No Labels
The politician the purportedly centrist political group has been most assiduously promoting lately is Sen. Joe Manchin III (D-W.Va.). Manchin has demonstrated his centrist bonafides by doing things such as killing an expansion of the Child Tax Credit, an anti-poverty program of proven effectiveness, and blocking initiatives for renewable fuels in favor of protecting coal and other fossil fuels (he's an investor in the coal industry).

That might tell you all you need to know about No Labels, but there's more. The organization doesn't disclose its donors, but Mother Jones has reported that they include private equity investors, a natural gas billionaire and real estate and insurance industry figures.

On many issues, No Labels is claiming to map out a middle ground between Democrats and Republicans that doesn't really exist. No Labels says its goal is to combat political polarization in America, but the country is not, in fact, polarized. Large majorities favor abortion rights, gun control, making the rich pay their fair share in taxes, and protecting voting rights.

No Labels tries to both-sides the GOP's allegiance to an extremist former president and its platform of eliminating abortion rights, constricting voting rights and advancing discrimination against racial and ethnic minorities and LGBTQ+ individuals. That Democratic Party policies are the polar opposites of those hardly makes it as extremist as the GOP. Where's the middle ground when one side wants to expand rights and opportunities, and the other wants to destroy them? https://www.latimes.com/business/story/2023-07-20/the-false-centrism-of-no-labels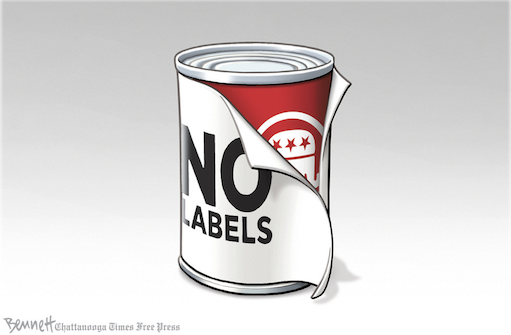 Katy Rich: Ted Cruz Goes to War Against Barbie
I'm the Dad of two young daughters, Ted Cruz says at the beginning of a clip from a recent appearance on the conservative The Daily Signal podcast. That, apparently, makes him an authority on the upcoming Barbie movie and its entanglement in Asian maritime disputes, thanks to a map that's either a child-like crayon drawing or an endorsement of the controversial nine-dash line, depending on whom you ask.
Cruz, for one, is siding with the Vietnamese government, which has banned the release of Barbie thanks to the map, shown briefly in the film, that they say depicts a disputed dash-line used by China to claim the South China Sea. Vietnam's state-run newspaper called it an offending image; Cruz calls it Chinese communist propaganda, which he seems gravely concerned will brainwash the young girls who go see Barbie this weekend. The film's distributor Warner Bros. has emphasized that the line was intended to depict Barbie's make-believe journey from Barbie Land to the real world. It was not intended to make any type of statement.
Cruz has been fixated on Barbie for a while now—though he must be used to picking fights with pop culture icons that are inevitably going to remain way more popular than he is. (And to pledging fealty to other pop culture icons that want absolutely nothing to do with him.)
Back in 2021, the senator accused Big Bird of promoting government propaganda, and earlier this year he launched an investigation into Bud Light. He tried to claim that Disney was on its way to showing Mickey and Pluto going at it—he really did!—and got so fixated on some anti-racist children's books that he wound up driving up their sales. That could very well be what winds up happening with Barbie, which is currently projected to make as much as $100 million domestically in its opening weekend. For anyone who was on the fence about seeing Barbie but enjoys sticking it to Ted Cruz, your decision has just been made. 
https://www.vanityfair.com/hollywood/2023/07/ted-cruz-barbie-movie
Susan B. Glasser: Finally, the Trump Case We've Been Waiting For
One word came to mind when I heard the news this week that Donald Trump had received a target letter from the Justice Department special prosecutor Jack Smith, indicating that an indictment is likely of the former President on charges connected with his effort to overturn the 2020 election and remain in power: Finally. This, in the end, is the heart of the matter, a long-delayed reckoning with an offense against the constitutional system so great that it is without historic precedent—no President before Trump ever did such a thing.

Trump received the target letter on Sunday, and revealed it in one of his trademark hysterical social-media posts on Tuesday: HORRIFYING NEWS! Over the next couple of days, there were still more legal setbacks. In Florida, a Trump-appointed federal judge overseeing Smith's other criminal case against the former President—for illegally holding on to top-secret documents—appeared deeply skeptical of Trump's argument that she should delay a trial indefinitely since he is running for President. In Georgia, the state's Supreme Court ruled against Trump's motion to block the Fulton County district attorney, Fani T. Willis, from prosecuting him for his efforts to pressure officials to overturn his 2020 defeat in the state; criminal charges could result in the coming weeks. In New York, meanwhile, a judge said that Trump could not switch the venue of his Manhattan criminal trial for allegedly paying hush money to silence a former porn star with whom he had an affair. Trump is also facing two more civil lawsuits in New York, both of which could go to trial next year. America's new political reality, in short, is: Donald Trump, Full-Time Defendant.

And yet Republicans remain in such thrall to their Orange Jesus—the honorific that Party apostate Liz Cheney so memorably quoted one of his acolytes calling him during last summer's January 6th hearings—that, with each new legal woe, his prospects of winning the 2024 G.O.P. nomination keep going up. Few if any of these cases are likely to be fully resolved before the start of next year's Republican primaries. Trump's campaign is now explicitly a race not just to retake the Oval Office but to save himself from criminal conviction. This convergence of campaign and courtroom is, as the former Republican National Committee counsel Benjamin Ginsberg said this week, a toxic mix unprecedented in the American experiment. Something's gotta give.

Will there be new details showing that it was the President himself who orchestrated the conspiracy to overturn election results in battleground states? New examples of Trump pressuring officials or government agencies? Damning evidence in his own words that he knew he had lost the election and proceeded anyway? Will there be a turncoat—Mark Meadows, perhaps?—to provide revelations from inside Trump's fevered quest to stay in office after the voters had spoken? I hope and expect so after more than two and a half years of waiting. And yet somehow those questions still seem subordinate to the one that the indictment will not and cannot answer: Did it come too late? https://www.newyorker.com/news/letter-from-bidens-washington/finally-the-trump-case-weve-been-waiting-for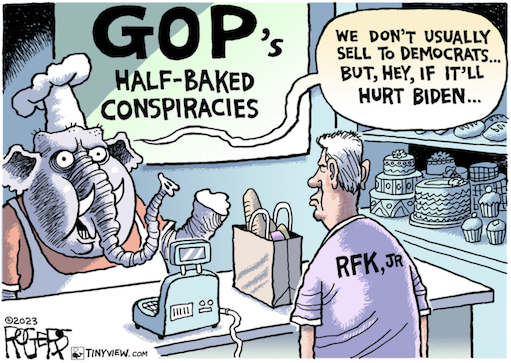 Lois Parshley: Climate Collapse Could Happen Fast
Ever since some of the earliest projections of climate change were made back in the 1970s, they have been remarkably accurate at predicting the rate at which global temperatures would rise. For decades, climate change has proceeded at roughly the expected pace, says David Armstrong McKay, a climate scientist at the University of Exeter, in England. Its impacts, however, are accelerating—sometimes far faster than expected.

For a while, the consequences weren't easily seen. They certainly are today. The Southwest is sweltering under a heat dome. Vermont saw a deluge of rain, its second 100-year storm in roughly a decade. Early July brought the hottest day globally since records began—a milestone surpassed again the following day. For a long time, we were within the range of normal. And now we're really not, Allegra LeGrande, a physical-research scientist at Columbia University, told me. And it has happened fast enough that people have a memory of it happening.

In fact, a growing number of climate scientists now believe we may be careening toward so-called tipping points, where incremental steps along the same trajectory could push Earth's systems into abrupt or irreversible change—leading to transformations that cannot be stopped even if emissions were suddenly halted. The Earth may have left a 'safe' climate state beyond 1°C global warming, Armstrong McKay and his co-authors concluded in Science last fall. If these thresholds are passed, some of global warming's effects—like the thaw of permafrost or the loss of the world's coral reefs—are likely to happen more quickly than expected. On the whole, however, the implications of blowing past these tipping points remain among climate change's most consequential unknowns: We don't really know when or how fast things will fall apart.

There's a sense of awe—in the original meaning of inspiring terror or dread—at witnessing  sweeping changes play out across the landscape. Many scientists knew these things would happen, but we're taken aback by the severity of the major changes we're seeing, Ripple said. Armstrong McKay likened the challenge of being a climate scientist in 2023 to that faced by medical professionals: You put a certain emotional distance between you and the work in order to do the work effectively, he said, that can be difficult to maintain.

Although it may be too late to avert some changes, others could still be staved off by limiting emissions. LeGrande said she worries that talking about tipping points may encourage people to think that any further action now is futile. In fact, the opposite is true, Ripple said. Scientifically, everything we do to avoid even a tenth of a degree of temperature increase makes a huge difference. https://www.theatlantic.com/science/archive/2023/07/climate-change-tipping-points/674778/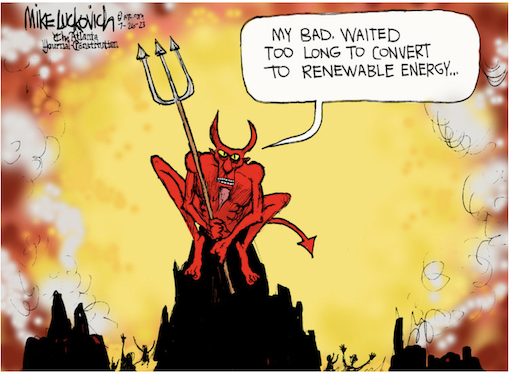 Tim Miller: There is only an imaginary Republican presidential primary
I would expect professional political commentators, and donors shelling out millions in campaign cash, and the political strategists receiving that cash, to live in the real world.
Alas this is not the case. Instead we have a heavily capitalized right-wing ecosystem that exists to prop up an imaginary Republican presidential primary so that the participants can feel better about their party identification. This way they can do business with Republican politicians or chew the fat at the club without feeling icky at having to admit that their Grand Old Party has become something dark.
In this imaginary primary, some people are wondering if Tim Scott might surge to the top. Highly unlikely! Others are looking longingly at Glenn Youngkin and chattering among themselves about whether or not he might perform better than DeSantis.
In this fake primary there are several candidates using creative strategies to figure out how to make it onto a debate stage. Yet should they succeed, they do not plan to use that stage to directly challenge the person beating them by 50 points in the polls. (If he even bothers to show up.) Some people in this fantasy world are even talking about Rick Scott running for president. Yes that Rick Scott! The one with the inverted endo- and exoskeletons. 
https://plus.thebulwark.com/p/there-are-two-gop-primaries-only-one-is-real
Christopher R. Browning: A New Kind of Fascism
Trump inflicted grave damage on our country's political culture, stoking toxic polarization and reveling in dishonesty. And Trumpism did exhibit distinct elements of the fascist style of politics: the inflammatory rallies; the incessant mongering of fear, grievance, and victimization; the casual endorsement of violence; the pervasive embrace of conspiracy theories; the performative cruelty; the feral instinct for targeting marginalized and vulnerable minorities; and the cult of personality. But the Trump presidency lacked any warlike, expansionist interest, and that made it decisively unlike 20th-century fascism.

Thankfully, also, Trump himself was too lazy, inexperienced, and unprepared to set about systematically constructing a true dictatorship. The main focus of the Trump presidency was less plans and programs and more the theatrics of satisfying his constant, insatiable need for attention and adulation. Everything—whether the state of the economy or the chocolate cake served to China's Xi Jinping at Mar-a-Lago—had to be extolled as "the greatest ever."

Until the final weeks of Trump's term, the guardrails of American democracy seemed to hold firm. The institutions of the federal government remained relatively intact, and civil servants largely secure and uncorrupted. The United States experienced democratic backsliding but not democratic collapse.

In a second term, however, a newly emboldened Trump could well attack democracy itself. The MAGA Republican Party of his making has openly explored ways to transform states where they control all branches of government. States that were once pluralistic democracies with at least some chance of a transfer of power are coming to resemble one-party regimes directed by a minority of the population.

In Florida, Governor Ron DeSantis, Trump's putative rival for the 2024 Republican nomination, has turned his state into a laboratory for testing how a determined, calculating, uninhibited authoritarian can maximize executive power. In many respects, he has already accomplished at the state level what Trump did not have the discipline and focus to do at the federal level. And DeSantis has created a blueprint for other Republican state leaders to follow. https://www.theatlantic.com/ideas/archive/2023/07/trump-second-term-isolationist-fascism/674791/