February 9, 2023


To subscribe to this FREE weekly newsletter simply email jellison@san.rr.com with "subscribe" as the subject.
THE WEEK'S BEST QUOTES. . .
"I've never seen anything like it in a State of the Union speech – they ran at him like a pack of lemmings and, with a wink and a grin, he politely directed them to the cliff." --Rex Huppke
https://www.usatoday.com/staff/6878775001/rex-huppke/
 "They asked to get together on Endorsements of candidates, we did, and had MANY WINS & NO losses. Relationship broke up over my Endorsement of certain great people in Alabama & Ohio. I won them all!" — Donald Trump lashing out at the Club for Growth after he was left off the guest list of its annual donor retreat, The Hill reports.
https://thehill.com/homenews/campaign/3847759-trump-rips-club-for-growth-after-he-wasnt-invited-to-donor-retreat/
"Marjorie Taylor Greene is now the face of the Republican Party and it's a mistake. There are some people who like what she does and that's why she does it. But the vast majority of people — and especially people who are temperamentally Republicans but have been pushed away by Trump and others — react negatively to that kind of behavior, understandably. It's a mistake." — Former national security adviser John Bolton.
https://www.nbcnews.com/politics/joe-biden/republicans-heckle-biden-swipes-social-security-positions-rcna69633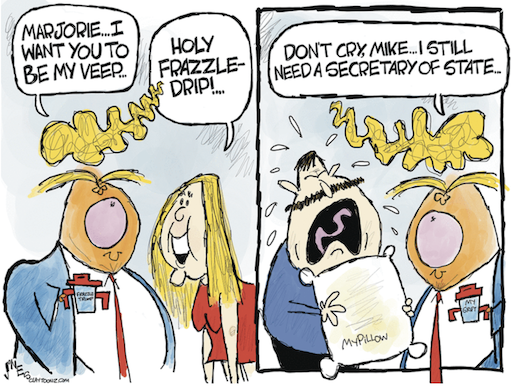 No, I wouldn't do that because I want to bring our country forward. No, I wouldn't do that. I would be entitled to a revenge tour if you want to know the truth, but I wouldn't do that. — Donald Trump, when asked if he would use the powers of the presidency to punish the people who punished him.
https://www.rollingstone.com/politics/politics-news/trump-says-1234672647/
Greene: Can you tell me how much money went to CRT?

US Comptroller General Gene Dodaro: CRT?

Greene: It's a racist curriculum used to teach children that somehow their white skin not equal to black skin and other things. https://twitter.com/Acyn/status/1620874964219084802
 
After 2016, 2018, 2020, 2022, the party needed an exorcism. Instead, the GOP looked itself in the mirror, shrugged, and said, looks good to me. -- Charlie Sykes.
https://morningshots.thebulwark.com/p/this-is-not-punching-back
"It would depend. It would have to depend on who the nominee was." - Trump in a radio interview, refusing to say whether he'll commit to backing the 2024 GOP presidential candidate if it's not him, injecting uncertainty into Republican hopes of reclaiming the White House next year.
https://www.washingtonpost.com/politics/2023/02/02/trump-2024-presidential-nominee-republicans/
If Senator Feinstein decides to seek reelection, she has my whole-hearted support. If she decides not to run, I will be supporting House Intelligence Committee Chair Adam Schiff, who knows well the nexus between a strong Democracy and a strong economy. — Former House speaker Nancy Pelosi (D-CA) on Thursday threw her support behind Rep. Adam Schiff (D-CA) in what is shaping up as a competitive 2024 Senate race in California if Sen. Dianne Feinstein (D-CA) chooses not to run.
https://www.washingtonpost.com/politics/2023/02/02/pelosi-schiff-feinstein-california-senate/
"There are too many people like me in the Republican Party who would not support him if he were the nominee, and that is why I don't think he'll be the nominee. Because everyone knows we'll lose the election if we nominate this guy again." — Former Speaker Paul Ryan (R-WI) is doubling down on his belief that Donald Trump is the wrong choice for Republicans in 2024.
https://www.jsonline.com/story/news/politics/2023/02/03/paul-ryan-says-he-would-not-back-donald-trump-if-is-2024-gop-nominee/69865881007/
"Joe Biden's president. We don't know what to do, Lord! It's all right, we pray for our presidents. You know, it says, 'Let his days be few and another take his office.'" — Rep. Lauren Boebert (R-CO) has, again, appeared to pray for the demise of President Biden.
https://news.yahoo.com/lauren-boebert-appears-pray-joe-050621364.html
In a series of posts on Truth Social, Donald Trump is taking aim at Gov. Ron DeSantis (R) — including apparently accusing him of being a groomer and pedophile.
https://truthsocial.com/@realDonaldTrump/posts/109825049366738123
VIDEOS
Speaker McCarthy — who voted for three debt limit suspensions under Donald Trump, including one that eliminated Obama-era spending limits — says debt limit negotiations are needed to change the "bad spending habits" of D.C.
https://twitter.com/therecount/status/1622733177180520448
"Twitter executives coordinated with the CIA to ban accounts like hers." — Rep. Marjorie Taylor Greene (R-GA) in a House Oversight Committee hearing, taking her entire five minutes of question time saying she would not let the witnesses speak because they banned her Twitter account.
https://twitter.com/Acyn/status/1623363312489492480
LITIGATION TRACKER
Pending Criminal and Civil Cases Against Donald Trump

. https://www.justsecurity.org/75032/litigation-tracker-pending-criminal-and-civil-cases-against-donald-trump/
---
IN THIS ISSUE
IN THE NEWS
OPINION
Andy Borowitz: Dick Cheney Offers to Shoot Down Future Balloons
Demonstrating his commitment to keeping America secure, former Vice-President Dick Cheney has offered to shoot down all future balloons that venture into U.S. airspace.
"I haven't touched my hunting rifle in a few years, but handling a gun is like riding a bicycle," he said. "You just pick it up, and, blammo!"
Cheney said that he was prepared to watch the skies for foreign balloons and, the moment he spots one, "I'll use my patented hunting technique: aim, squint, fire."
The former Vice-President said that he was honored to take part in a geopolitical struggle he called the War on Inflatables.
"Either you're with us, or you're with the balloons," he said. https://www.newyorker.com/humor/borowitz-report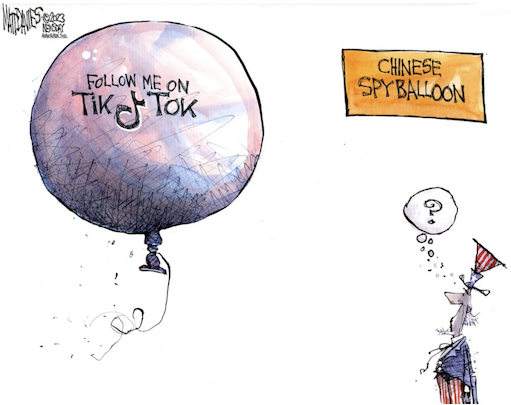 RNC urges GOP candidates to 'go on offense' on abortion in 2024
After GOP underperformance in November's midterm elections, the Republican National Committee is doubling down on its anti-abortion stance, formally urging GOP lawmakers and campaigns to 'go on offense in the 2024 election cycle' and to pass the strictest anti-abortion legislation possible. https://www.washingtonpost.com/politics/2023/01/30/republicans-abortion-elections/
Soaring Death Toll Gives Grim Insight Into Russian Tactics
The number of Russian troops killed and wounded in Ukraine is approaching 200,000, a stark symbol of just how badly President Vladimir V. Putin's invasion has gone, according to American and other Western officials.
While the officials caution that casualties are notoriously difficult to estimate, particularly because Moscow is believed to routinely undercount its war dead and injured, they say the slaughter from fighting in and around the eastern Ukrainian city of Bakhmut and the town of Soledar has ballooned what was already a heavy toll.
Russia analysts say that the loss of life is unlikely to be a deterrent to Mr. Putin's war aims. He has no political opposition at home and has framed the war as the kind of struggle the country faced in World War II, when more than 8 million Soviet troops died. U.S. officials have said that they believe that Mr. Putin can sustain hundreds of thousands of casualties in Ukraine, although higher numbers could cut into his political support. https://www.nytimes.com/2023/02/02/us/politics/ukraine-russia-casualties.html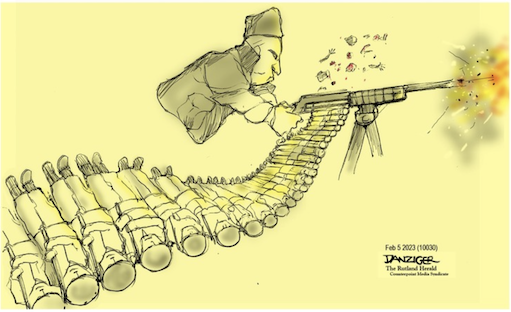 Republicans rally around conservatives who lost their elections
Unlike in previous decades, where losing candidates largely slunk away, many Republicans have increasingly been celebrating political losers, with certain sections of the GOP base lionizing them as wronged warriors and avatars of legitimate grievances.
Trump is the most obvious embodiment of the phenomenon — a man who lost both the electoral and popular vote to President Biden in 2020 and refused to accept the results of the election, yet has maintained a powerful, if waning, hold over his party.
Now, however, he has company in the likes of defeated far-right politicians Bolsonaro and Lake. https://www.washingtonpost.com/politics/2023/02/03/republicans-losing-candidates/
Republicans aim to decimate abortion access in post-Roe haven states
The showdown in North Carolina reflects similar efforts underway in several conservative states that have become destinations for post-Roe abortion care. In Florida and Nebraska — where laws still allow the vast majority of abortions to continue — conservatives are also pushing for six-week bans, which, together with the same kind of ban in North Carolina, could dramatically reshape the national abortion landscape once again. https://www.washingtonpost.com/politics/2023/02/03/north-carolina-florida-nebraska-abortion-roe-desantis/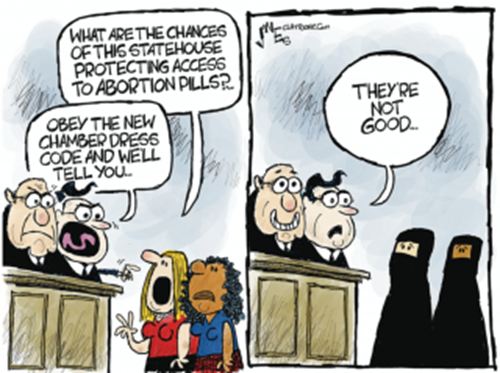 Rep. George Santos doubles down on the claim his mother died from cancer due to 9/11
Rep. George Santos has doubled down on claims that his mother died due to 9/11 and dismissed immigration records showing that she was in Brazil when the attack occurred.
He claimed in a 2021 tweet that 9/11 claimed my mother's life, even though his mother, Fatima Devolder, died of cancer in 2016. https://www.businessinsider.com/george-santos-claim-mother-cancer-from-911-2023-2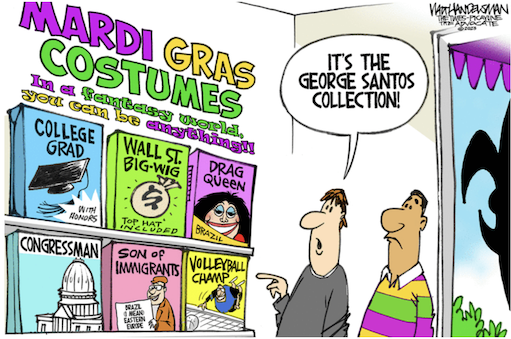 Moscow, Tehran Advance Plans for Iranian-Designed Drone Facility in Russia
Moscow and Tehran are moving ahead with plans to build a new factory in Russia that could make at least 6,000 Iranian-designed drones for the war in Ukraine, the latest sign of deepening cooperation between the two nations.
As part of their emerging military alliance, the officials said, a high-level Iranian delegation flew to Russia in early January to visit the planned site for the factory and hammer out details to get the project up-and-running. The two countries are aiming to build a faster drone that could pose new challenges for Ukrainian air defenses. https://www.wsj.com/articles/moscow-tehran-advance-plans-for-iranian-designed-drone-facility-in-russia-11675609087
China Aids Russia's War in Ukraine, Trade Data Shows
China is providing technology that Moscow's military needs to prosecute the Kremlin's war in Ukraine despite an international cordon of sanctions and export controls.
https://www.wsj.com/articles/china-aids-russias-war-in-ukraine-trade-data-shows-11675466360
Taking Aim at Trump, Koch Network Will Back G.O.P. Primary Candidates
The donor network created by the billionaire industrialist brothers Charles and David Koch is preparing to get involved in the presidential primaries in 2024, with the aim of turning 'the page on the past' in a thinly veiled rebuke of former President Donald Trump.
The network, which consists of an array of political and advocacy groups backed by hundreds of ultrawealthy conservatives, has been among the most influential forces in American politics over the past 15 years, spending nearly $500 million supporting Republican candidates and conservative policies in the 2020 election cycle alone. But it has never before supported candidates in presidential primaries. https://www.nytimes.com/2023/02/05/us/politics/koch-donors-trump-campaign-finance.html
DeSantis Takes On the Education Establishment, and Builds His Brand
Gov. Ron DeSantis, as he positions himself for a run for president next year, has become an increasingly vocal culture warrior, vowing to take on liberal orthodoxy and its champions, whether they are at Disney, on Martha's Vineyard or in the state's public libraries.
But his crusade has perhaps played out most dramatically in classrooms and on university campuses. He has banned instruction about gender identity and sexual orientation in kindergarten through third grade, limited what schools and employers can teach about racism and other aspects of history and rejected math textbooks en masse for what the state called "indoctrination." Most recently, he banned the College Board's Advanced Placement courses in African American studies for high school students.https://www.nytimes.com/2023/01/31/us/governor-desantis-higher-education-chris-rufo.html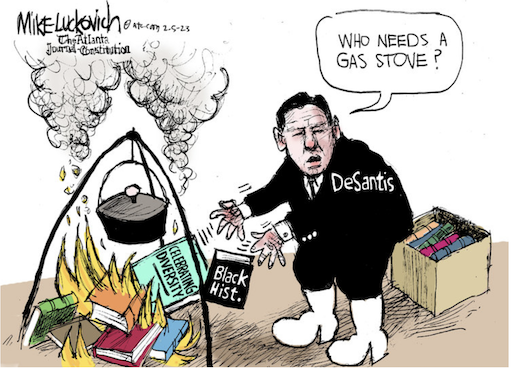 Allen Weisselberg, Already Jailed, Could Face More Fraud Charges
Manhattan prosecutors this week warned that they might file new fraud charges against Allen Weisselberg, a longtime top executive at Donald Trump's real estate business — increasing pressure on Mr. Weisselberg to cooperate in a broader investigation into the former presidents.
Mr. Weisselberg, the Trump Organization's former chief financial officer, is already serving a five-month sentence in the Rikers Island jail complex after pleading guilty to unrelated tax fraud charges. While he testified against the company at its trial on the same charges last year, he has for years refused to turn on Mr. Trump directly.
But as the Manhattan district attorney, Alvin Bragg, jump-starts his office's effort to indict Mr. Trump, his prosecutors are using the prospect of additional charges to exert leverage over Mr. Weisselberg. https://www.nytimes.com/2023/02/02/nyregion/trump-weisselberg-fraud.html
From MAGA flamethrower to powerful committee chair: Jim Jordan's effort to rebrand draws skepticism on Capitol Hill
Rep. Jim Jordan, one of the GOP's most vocal partisans and now the chair of the powerful Judiciary Committee, started a recent meeting on the "weaponization" of the federal government with a surprising move: He urged caution.
Rather than issuing a series of partisan attack lines about the so-called "Deep State," Jordan took a low-key approach – handing out binders of reading materials and cautioning members to be meticulous about who they haul in for interviews, a source familiar with the meeting told CNN.
Jordan allies have gone out of their way in recent weeks to claim the usually hyper-partisan attack dog wants to take a more methodical approach in turning up the heat on his primary target – the Biden Justice Department. The Ohio Republican, they said, believes amassing more evidence before mounting public pressure could help him squeeze more from DOJ and boost his credibility in the long run.
But around Washington, skepticism abounds over whether a longtime Trump loyalist, partisan firebrand and staunch election denier can transform into a serious committee chair – let alone someone capable of heading a bipartisan investigation.
"If he wants to turn a new leaf and be credible and methodical and try to get at the facts as opposed to wacko conspiracy theories and the latest news item propagated by right wing media – which he haunts I might add – that would be welcome," Rep. Gerry Connolly (D-VA) said before adding sarcastically, "I'm just shaking in anticipation to see it!"  https://www.cnn.com/2023/02/03/politics/jim-jordan-rebrand-weaponization-skepticism/index.html
NYC Prosecutors Had to Prove 'Trump Was Not Legally Insane'
As they prepared to potentially indict Donald Trump for relentlessly lying to banks about his wealth, Manhattan prosecutors were forced to consider whether the former American president was a criminal mastermind or had just lost his mind, according to a new tell-all memoir by Mark Pomerantz, a member of that team. https://www.thedailybeast.com/manhattan-district-attorney-alvin-bragg-had-to-prove-trump-was-not-legally-insane
Gut spending? Slash the IRS budget? 7 GOP ideas for debt limit talks.
House Republicans are demanding that President Biden agree to policy concessions in exchange for their support in raising the nation's $31.4 trillion borrowing limit. But it is not clear — even to leading GOP officials — what they're asking Biden to do.
Here are seven of the emerging GOP ideas on what to demand in the debt limit fight - all of which critics think each has enormous downsides.
Big cuts to agency spending


Changes to Social Security and Medicare


Undo Biden's IRS boost


Claw back COVID aid


Border wall funding


New work requirements for federal programs


Go over the cliff. https://www.washingtonpost.com/us-policy/2023/02/05/debt-limit-gop-proposals/
Inside the Trump Campaign's Plan to Take Down Nikki Haley
Polls have shown Haley polling around 3 percent, compared to Trump's 48 percent. A rival that Trump can crush early—like Alabama football going against Austin Peay in September—could allow Trump to show voters that he's still a force in the GOP. However, there are two schools of thought about how Haley is most useful to Trump.
Some in Trump's orbit see a chance to bury Haley early and often, using her campaign like a crash test dummy to demonstrate Trump's dominance for anyone else willing to step in. But Haley could also be useful in splitting the Republican primary vote and allowing Trump to cruise through the primaries with his strong base of voters who aren't going anywhere.
Still, for others, Haley's lack of a perceived threat will allow Trump to attempt something akin to 'coalition building' during the primary. https://www.thedailybeast.com/inside-the-donald-trump-campaigns-plan-to-take-down-nikki-haley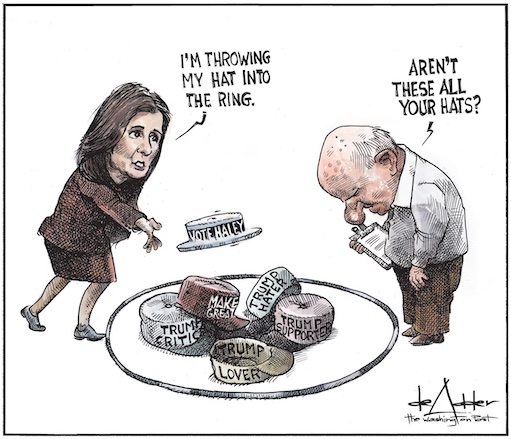 100,000 Green Jobs Announced Since US Adopted Climate Law, Study Finds
Between last August, when President Joe Biden's  landmark climate bill became law, and the end of January, companies have announced more than 100,000 clean energy jobs in the US.
Most of those projects are in seven states: Arizona, Georgia, Michigan, Ohio, South Carolina, Tennessee and Texas.
Georgia has attracted the most investment so far, the group found, with roughly $15 billion worth of projects in the pipeline that are expected to produce close to 17,000 jobs. https://www.bloomberg.com/news/articles/2023-02-06/companies-adding-100-000-green-jobs-under-new-us-climate-law
Biden or bust: Democratic insiders are all in for Biden 2024
President Joe Biden had one question for Democratic power brokers at a campaign-style rally Friday: "Are you with me?"
The roars of approval and chants of "four more years!" at the Democratic National Committee's Winter Meeting indicated they were all in for Biden 2024.
Despite lackluster approval ratings, an ongoing classified documents scandal and polls showing most voters would like the 80-year-old to retire, Biden faces zero meaningful opposition to his leadership of the Democratic Party and an unobstructed path to renomination next year, even before he has officially declared his intention to seek it. https://www.nbcnews.com/politics/2024-election/biden-bust-democratic-insiders-are-biden-2024-rcna68917
Fears mount around 'catastrophic' abortion pills case as decision nears
Abortion rights advocates delivered a stark warning to the Biden administration's top health official in a private meeting last week: It's time to take seriously "fringe" threats that could wind up blocking abortion access across the country.
Driving their anxiety is a Texas lawsuit brought by conservative groups seeking to revoke the decades-old government approval of a key abortion drug.
The suit has been widely ridiculed by legal experts as rooted in baseless and debunked arguments. But in recent weeks, abortion rights advocates and some in the Biden administration have grown increasingly concerned that the case is likely to be decided entirely by conservative judges who might be eager for a chance to restrict abortion access even in Democrat-led states, where the procedure has remained legal since the fall of Roe v. Wade. https://www.washingtonpost.com/politics/2023/02/05/abortion-pills-texas-lawsuit/
GOP's Probe Into Hunter Biden Risks Political Blowback
The House Republican investigation into the financial dealings of President Joe Biden's family risks turning off more voters than it attracts.
The Biden-centric investigation led by the Oversight and Accountability Committee kicks off Wednesday morning, just hours after the president delivers his State of the Union address to Congress. At the center of the probe is the contents of the laptop of Biden's son Hunter — a topic that's been a far-right preoccupation since 2020.
Yet a series of recent polls show the majority of Americans just aren't that interested in what may or may not be on Hunter Biden's hard drive. https://www.bloomberg.com/news/articles/2023-02-07/republicans-probe-into-hunter-biden-risks-political-backlash
The Fair Tax is haunting the 2024 GOP field
President Biden and Democratic allies have relentlessly attacked Republicans in recent weeks for cracking the door open to a Fair Tax, a plan to scrap the American tax code and replace it with a jumbo-sized sales tax.
They might get many more opportunities to bring it up. Several of the most prominent 2024 names on the Republican side have supported Fair Tax bills at the state and national level and enthusiastically praised the idea along the way. https://www.semafor.com/article/02/07/2023/the-fair-tax-is-haunting-the-2024-gop-field
Why the Stormy Daniels Charges Might Actually Reach Trump This Time
As a baseline matter, the evidence that the former president committed crimes seems powerful. In Cohen's guilty plea, he stated under penalty of perjury that Trump 'directed him to commit a crime by making payments to two women for the principal purpose of influencing an election.' That testimony is supported by an audio recording in which Cohen and Trump discussed the hush money payment to McDougal and how it could be accomplished surreptitiously through a shell company.
Trump has also indicated more than once that he was directly involved in the payments to Clifford, including saying in 2018 that the payments 'came from me.' He made a further admission last week on his social media platform, Truth Social, apparently acknowledging that he coordinated with Cohen to make the payments.
And all of this is backed up by the Trump Organization's internal business records, falsely describing the reimbursements to Cohen as 'legal expenses.' Trump himself signed six of the repayment checks, including while in the Oval Office. https://slate.com/news-and-politics/2023/02/stormy-daniels-charges-trump-possible-indictment.html
McCarthy's Horse-Trading Nightmare
McCarthy's imperiled speakership was a collaborative effort that resulted in plenty of begging and favor-trading. Now, as members expect reciprocity for loyalty in the form of committee assignments, McCarthy's up to his eyeballs placating unhappy former allies in his slim majority. https://puck.news/mccarthys-horse-trading-nightmare/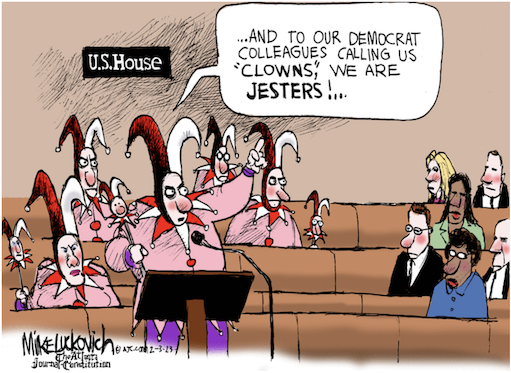 THE DAILY GRILL
I just spoke with our GREAT America First President Trump.
He would have never allowed China to fly a spy balloon over our country and our military bases and assets.
Pres Trump would have shot it down before it entered the US.
And so would I.— Rep. Marjorie Taylor Greene @RepMTG
https://twitter.com/RepMTG/status/1622029467869667328
VERSUS

U.S. officials said Saturday that similar Chinese balloons transited the continental United States briefly at least three times during the Trump administration. https://apnews.com/article/politics-united-states-government-antony-blinken-china-b1b03193b7abeb7bbeca169bbc7c2c53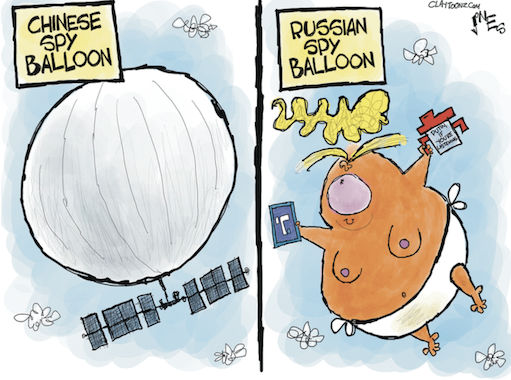 Rep AOC, I have repeatedly asked you to debate me, but you have been a coward and can't even respond.
But you go on @CNN and lie about me.
When are you going to be an adult and actually debate me on policy instead of run your mouth like a teenage girl?  — Rep. Marjorie Taylor Greene (VIDEO) https://twitter.com/RepMTG/status/1621334599396724737

VERSUS

Hey there! In case you forgot, we sit on the same committee, which debated for the first time this week.
I don't blame you if you forgot. You spent almost no time there. In the few minutes you did show up, you claimed one elementary school got *$5 billion dollars* to teach CRT. — Rep Alexandria Ocasio-Cortez@AOC https://twitter.com/AOC/status/1621378924998541313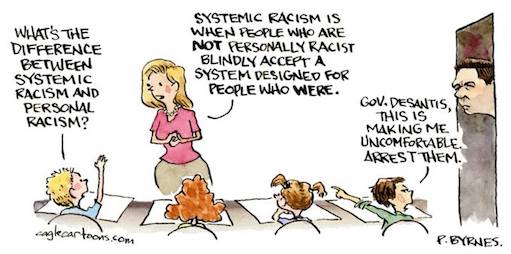 This email (from Hunter Biden) reads as if it was cut-and-pasted from an official government briefing. An official government briefing that one would infer his father had received. And it reads as if it could easily have come from a classified briefing. We don't know that. But the level of geopolitical and geo-strategic analysis is the sort of analysis that is often in classified briefings. — Sen. Ted Cruz (R-Tex.). https://podcasts.apple.com/us/podcast/did-hunter-cut-paste-his-dads-classified-briefings/id1495601614

VERSUS
 
We're fairly confident that Hunter Biden assembled this material by reading news reports and checking with contacts like Kaufman, rather than getting a special briefing from the State Department or others in the administration. Cruz and Johnson earn Three Pinocchios. They have not presented evidence to dispute our conclusions. — Glenn Kessler, the Washington Post Fact checker. https://www.washingtonpost.com/politics/2023/02/02/laptop-email-suggests-hunter-biden-read-newspapers-not-classified-documents/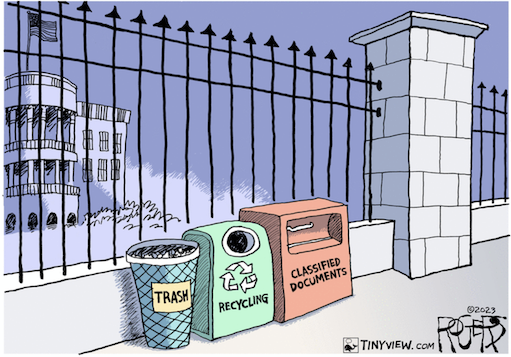 Tucker Carlson accuses Boris Johnson, through his script and in an on-screen headline, of wanting a direct war with Russia that would automatically go nuclear. The wording on screen: Millions would die in the war Boris is proposing. Carlson's move is perfect for Moscow. https://twitter.com/EHunterChristie/status/1622068851079790592

VERSUS

Carlson doesn't say that what Johnson proposes is simply more arms shipments to Ukraine, in line with the views of the current UK govt and several other European govts, as well as many US lawmakers. Are they all insane and trying to commit suicide? Of course not. https://twitter.com/EHunterChristie/status/1622068851079790592
Eugene Robinson: Biden's response to GOP heckling? Vigor, humor and command.
There have been times the past two years when Biden looked and acted his age — moments in which he seemed tired, lost his place in a speech or went off on some obscure tangent. But not on Tuesday night. Biden is 80, and it is legitimate to ask whether he is too old to seek another term. With this speech, he gave an answer. He sure sounded like a man who's running.
For Democrats, he pledged to move forward on issues that fire up the base, such as protecting abortion rights. And with the mother and stepfather of Tyre Nichols in first lady Jill Biden's box, the president even got a bipartisan standing ovation with a call for police reform.
Can Biden's words really be translated into legislation by this Congress? Realistically, the assumption has to be that most, if not all, of Biden's proposals for legislative action are dead on arrival in the Republican-controlled House. Even if McCarthy wanted to, could he convince his caucus to approve new taxes and strengthen the social safety net? Can the speaker even think about meeting Biden halfway on any hot-button issue without jeopardizing his own job, given that any GOP House member can force a vote on taking away McCarthy's gavel?

There is, however, great peril for the slim Republican majority, in spending the next two years saying no to everything that Biden and the Democrats propose, while passing "statement" bills that have no chance of making it through the Senate. Republicans might believe their planned kangaroo-court investigations of Hunter Biden and other manufactured villains will win them support, but I am skeptical. Getting something done is usually a better political strategy than getting nothing done.

And if they thought they had a punching bag in Biden, they were wrong. They have a puncher instead. https://www.washingtonpost.com/opinions/2023/02/07/biden-state-of-the-union-analysis-fighter/
Susan Glasser: Joe Biden, Once Again, Lucks Out with His Enemies
The suspense of the evening was not rooted in what Biden would say but how he would say it—and how it would be received. Would the far-right Republican extremists who had held up their own party's leadership through fifteen long ballots at the start of the year, rather than sign off on McCarthy as Speaker, once again act up?
The answer, of course, was yes. As if to prove the point, even McCarthy's audible shushing could not get a few House Republican hecklers to shut up. And if their goal was to rattle the eighty-year-old President, embattled and down in the polls and facing questions even from within his own party about whether he should run again, it's safe to say that it didn't work.
Biden, it seemed, had carefully prepared for their antics. Had he scripted their reaction, he could not have asked for a better foil than Marjorie Taylor Greene, the former QAnon promoter who flirts with white supremacy. https://www.newyorker.com/news/letter-from-bidens-washington/joe-biden-once-again-lucks-out-with-his-enemies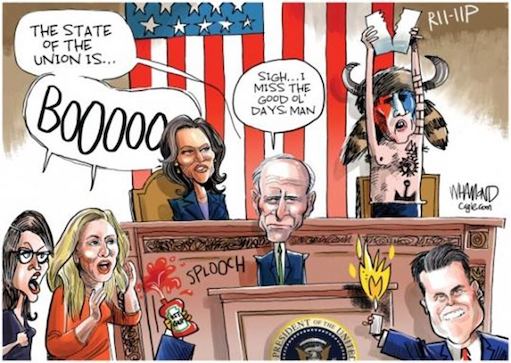 David Frum: How Biden Successfully Baited Congressional Republicans
Not only did Republicans repeatedly heckle, jeer, and shout during President Joe Biden's State of the Union address Tuesday night, but Biden was ready for them. In impromptu remarks not included in the prepared text of the speech, Biden rolled with the interruptions, using them to reinforce his message. Biden accused "some" Republicans of plotting to sunset Social Security and Medicare. When he got protests, he grinned and accepted them as a "unanimous" endorsement. "I welcome all converts," he told them, recasting for the television audience the Republican hubbub as a sign of submission.

Partisanship, populism, and patriotism were his themes. The speech was strewn with traps carefully constructed to ensnare opponents. He opened with a tribute to bipartisanship, but the mechanics of his address were based on shrewd and unapologetic hyper-partisanship. He anticipated negative reactions in the chamber—and used them to reinforce his message.
This State of the Union address was less a plan of action and more a plan of attack for the next election, as he hopes to contest it. Old as he is, Biden has learned some new tricks. "I'm Not Here to Make Friends" is the title of a hit song released two weeks before the speech. Beijing got the same message from Biden.
In this hyper-polarized era, the goal of the survival-minded politician is not so much to offer grand visions as to expand his own coalition, even if only a little, while squeezing his opponents where it hurts most. Like a boxer trying to goad his antagonist into leaving open a vulnerable spot for a counterpunch, Biden's plan was to invite Republicans to make dangerous mistakes. This was a speech not of lofty phrases but of cunning ploys; not one for the ages, but one that will reverberate long enough to make a difference in November 2024. https://www.theatlantic.com/ideas/archive/2023/02/state-union-joe-biden-congress-republicans/672984/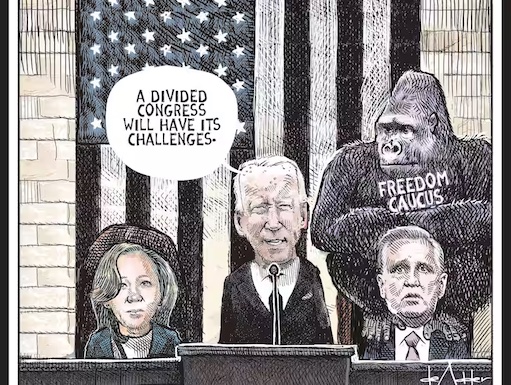 Ja'han Jones: Republicans ramp up the anti-China rhetoric with blatant bigotry
Republicans are ramping up their anti-China rhetoric, unsurprisingly, during a time when anti-Asian hatred and conspiracies are at the fore.
The GOP is in search of a boogeyman. Thus far, its efforts to paint President Joe Biden as an evil, corrupt tyrant seem to be falling flat. But it clearly sees political promise in its efforts to portray China — and its people — as dangers to the U.S. And, frighteningly enough, in a nation that has yet to reckon with its treatment of Asian people at home and abroad, conservatives could see returns on this investment.

Last week, Rep. Mike McCaul, R-Texas, openly parroted rather repulsive claims made by an Air Force general that the U.S. is likely to be at war with China in 2025 and that military officers should prepare to "aim for the head."

Meanwhile, Rep. Bob Good, R-Va., openly called for Chinese students who come to the U.S. for school to be prohibited from attending U.S. colleges. "Certainly at the graduate level," he said in an interview on Newsmax, "or certainly in the STEM areas, at the graduate level," using the acronym for science, technology, engineering and math.

It seems pretty clear that Good thinks Chinese students in America to learn math and science are a threat to national security. Blatant bigotry.

Just days earlier, Rep. James Comer, R-Ky., also appeared on Newsmax and suggested that there could be truth in a racist rumor claiming that one of Biden's aides when he was vice president might have ties to the Chinese government. Comer — who now chairs the House Oversight Committee — also has baselessly claimed that Biden's energy policy suggests he has been "compromised by China."
Any one of these things, on its own, would indicate a disturbing anti-Asian worldview, in my opinion. But when they are taken together, it seems clear what the GOP is after in pushing this crusade. https://www.msnbc.com/the-reidout/reidout-blog/china-republicans-anti-asian-hatred-rcna68685
Amy Davidson Sorkin: The New G.O.P. Takes the Country Hostage with the Debt Ceiling
During the Trump Administration, there were three suspensions of the ceiling on the debt, which rose, during those years, from about nineteen trillion to twenty-seven trillion dollars (and is now more than thirty-one). Republicans, nonetheless, are again threatening to use the limit to break the economy if they don't get what they want. But in 2011 they at least had a rough idea of what they were after. The current G.O.P. cast is more akin to a room of people shouting different and sometimes contradictory demands.
Some swear that they will protect defense spending, but maybe not for what Representative Jim Jordan calls the Pentagon's "woke policies"; Senator Rand Paul, meanwhile, wants to take a hundred billion dollars from the military. Representative Anna Paulina Luna wants a balanced-budget amendment, no Social Security or Medicare cuts, and no tax increases. ("Where there's a will, there's a way," she told NBC News.) Twenty-four G.O.P. senators signed a letter to Biden demanding unspecified "structural reforms"; among the senators were newly elected Trumpists, such as J. D. Vance and Ted Budd, who seem to see the debt-limit fight as an ideological testing ground. One could be forgiven for thinking that, for some, economic chaos is not a risk but the goal. Representative Greg Pence (the former Vice-President's brother) told CNN that he wouldn't vote to raise the limit even if he got everything he wanted. Representative Chip Roy thinks that the debt limit shouldn't be raised until all asylum seekers can be kept in detention centers.

A number of Republican lawmakers have referred to the limit as "leverage," which amounts to an admission that they believe they are owed some kind of tribute in lieu of a default. High-stakes blackmail requires party discipline, however, and the G.O.P. leadership has not shown that it can exert such control when it needs to. The question about our perennial debt-ceiling crisis might remain tediously the same: Is the G.O.P. really reckless enough to go through with its threats? This time, though, there's a different Republican Party, and there may be a different answer. https://www.newyorker.com/magazine/2017/01/30/doomsday-prep-for-the-super-rich
David Frum: The GOP Is Just Obnoxious
A generation ago, politicians invested great effort in appearing agreeable: Ronald Reagan's warm chuckle, Bill Clinton's down-home charm, George W. Bush's smiling affability. By contrast, Donald Trump delighted in name-calling, rudeness, and open disdain. Not even his supporters would have described Trump as an agreeable person. Yet he made it to the White House all the same—in part because of this trollish style of politics, which has encouraged others to emulate him."

There's talk of some kind of review by the Republican National Committee of what went wrong in 2022. If it happens, it will likely focus on organization, fundraising, and technology. For any political operation, there is always room to improve in these areas. But if the party is to thrive in the post-Trump era, it needs to start with something more basic: at least pretend to be nice. https://www.theatlantic.com/magazine/archive/2023/03/republican-midterm-election-performance-trump-dr-oz/672771/
Geoffrey Skelley: How Donald Trump's Unusual Presidential Comeback Could Go
Trump's comeback campaign is unprecedented since the contemporary nomination system took shape in the 1970s. Yet in the broader history of presidential elections, his comeback effort is unusual — but not unheard of. Former presidents like Martin Van Buren, Ulysses Grant, Grover Cleveland and Theodore Roosevelt each mounted serious post-presidency campaigns to return to 1600 Pennsylvania Avenue between 1844 and 1912. In fact, five former presidents have won at least some delegates at major-party national conventions, as the table below shows.
Former presidents who won delegate support at a major party's national convention
| Year | Party | Former president | Largest delegate % | Won nomination |
| --- | --- | --- | --- | --- |
| 1844 | D | Martin Van Buren* | 54.9% |   |
| 1880 | R | Ulysses Grant | 41.4 |   |
| 1892 | D | Grover Cleveland | 67.8 | ✓ |
| 1912 | R | Theodore Roosevelt† | 9.9 |   |
| 1916 | R | Theodore Roosevelt | 8.2 |   |
| 1940 | R | Herbert Hoover | 3.2 |   |
The American political system has changed enough, at a structural level, that Trump can't expect to retread the paths that any of these men took. And why would he want to? Only one of them successfully made it back to the White House.

Still, the broad circumstances surrounding a trio of presidential comeback attempts offer three paths for Trump's 2024 campaign. Like Grant in 1880, Trump could attract ample support for his party's nomination but ultimately fall short after a majority of Republicans coalesce around an opponent. Alternatively, after seeking his party's nomination, Trump could abandon the GOP and launch a third-party bid, as Roosevelt did in 1912. Or Trump could win his party's nomination, as Cleveland did in 1892 — and maybe even reclaim the White House. https://fivethirtyeight.com/features/how-donald-trumps-unusual-presidential-comeback-could-go/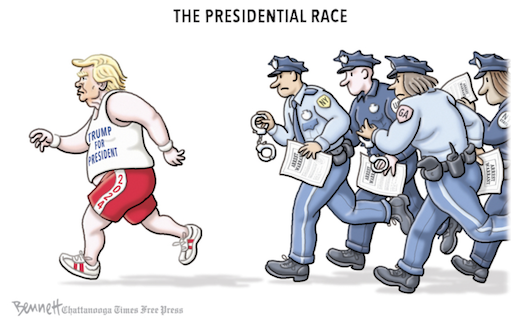 David Weigel: 'At any age': Donald Trump pushes the GOP towards targeting transgender adults
You'd be forgiven if you missed Donald Trump's new plan to stop 'left-wing gender insanity.' Other Republicans had talked like this for years, and far more media attention went to, say, Ron Desantis getting the College Board to take left-wing voices out of an African American Studies course.
But to both LGBT advocates and social conservatives, Trump's policy rollout was a watershed moment, one that signaled a hard right turn from debates focused on transitioning youth to a broader attack on the very concept of transgender identity itself.
"The biggest thing here is the pivot away from transgender youth to all transgender people," said Rodrigo Heng-Lehtinen, executive director at the National Center for Transgender Equality. "This year is the first time we've seen actions, in states, going after adults. That is brand new for Trump." https://www.semafor.com/article/02/03/2023/at-any-age-donald-trump-pushes-the-gop-towards-targeting-transgender-adults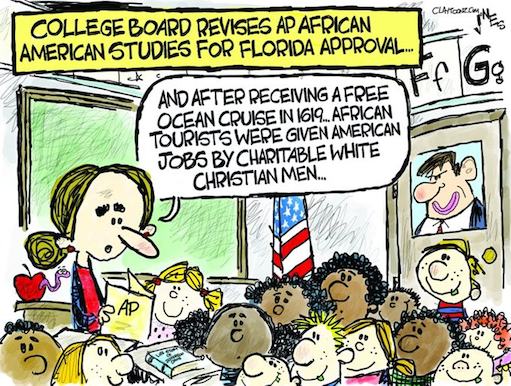 Jonathan Chait: The GOP Attack on Ilhan Omar Trivializes Antisemitism
One of the first things the Republican Party did upon gaining control of the House of Representatives was to restore committee privileges to Marjorie Taylor Greene, whose positions were stripped over a series of deranged and bigoted statements. One of its next moves is to impose the same punishment on Ilhan Omar over her past antisemitic statements.
The absurdity and vindictiveness of the Omar decision is thrown into the starkest relief when you consider it in conjunction with the treatment of Greene.
https://nymag.com/intelligencer/2023/02/ilhan-omar-congress-house-anti-semitism-marjorie-taylor-greene.html
David Wasserman: 2024 House Race Ratings: Another Competitive Fight for Control
House Republicans enter the 2024 cycle with an infamously thin 222-213 majority and lots of questions about why they didn't perform better in 2022. But they have history on their side: despite the House flipping partisan control five times since 1994, it hasn't flipped in a presidential cycle since 1952 and hasn't flipped to the party occupying the White House since 1948, when Harry Truman barnstormed against a Republican 'do nothing Congress.'
Still, with 18 Republicans sitting in districts carried by President Biden in 2020 and just five Democrats sitting in districts carried by Donald Trump, there are more than enough vulnerable GOP seats on the table to keep the House in play for Democrats.
The most recent precedents for this cycle might be 1996 and 2012, when Presidents Clinton and Obama faced voters two years after the GOP retook the House. Despite a government shutdown in 1995 and a debt ceiling showdown in 2011, voters opted to preserve a divided government — with slightly reduced GOP House majorities. Of course, a true debt limit catastrophe could lead to a greater backlash against Republicans.
https://www.cookpolitical.com/analysis/house/house-overview/2024-house-race-ratings-another-competitive-fight-control
Maggie Haberman, Michael C. Bender and Reid J. Epstein: Eager to Challenge Trump, Republicans Aren't So Eager to Be the First
Increased uncertainty is rippling through the Republican Party over how to beat Donald J. Trump for the 2024 presidential nomination, as an array of the party's top figures move slowly toward challenging the politically wounded yet resilient former president.
Contenders have so far been unwilling to officially jump into the race, wary of becoming a sacrificial lamb on Mr. Trump's altar of devastating nicknames and eternal fury. Some are waiting to see if prosecutors in Georgia or New York will do the heavy lifting for them and charge Mr. Trump with crimes related to his election meddling after the 2020 contest or hush-money payments to a porn star during the 2016 campaign. And the sitting governors weighing a 2024 campaign, including Ron DeSantis of Florida, are vying to score legislative victories they can use to introduce themselves to voters in Iowa and New Hampshire.
https://www.nytimes.com/2023/02/01/us/politics/trump-republicans-2024-nikki-haley.html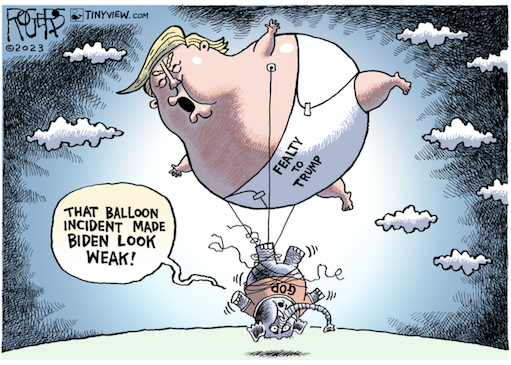 Susan B. Glasser: The Ukraine Crackup in the G.O.P.
For nearly a full year, President Biden and a deeply divided U.S. Congress have responded to the horror of Russia's invasion of Ukraine with a strikingly bipartisan resolve. This near-unanimity held through an election year, and produced so many billions of dollars in military assistance—nearly fifty and counting—that, had one predicted such unprecedented sums a year ago, it would have seemed impossible. The united front for Ukraine has been a rare exception to the capital's polarized politics and, along with his successful rallying of NATO allies to defend that country, perhaps Biden's signal foreign-policy accomplishment. Whenever he speaks on the war, the President emphasizes this. We are united, Biden said last week, in announcing that the United States now planned to send Abrams tanks to Ukraine. America is united and so is the world.
Except, of course, it's not really. Support for Biden's approach to the war is ebbing, particularly among Republicans. The new House Speaker, Kevin McCarthy, has warned there will be no blank check for Ukraine going forward, and a recent survey by the Pew Research Center found that forty per cent of Republicans and Republican-leaning independents think the U.S. is providing too much support to Ukraine, up from just nine per cent who thought that last March. Over all, the share of adults in both parties who believe the U.S. is doing too much for Ukraine has gone up nineteen points since the war began, a year ago. On Fox News, Tucker Carlson harps on this theme night after night. In the House, vocal McCarthy supporter Marjorie Taylor Greene, who has decried the neo-Nazis in Ukraine, blustered, after the G.O.P. won the House in November, that not another penny would go to their cause.
For Joe Biden, the would-be defender of Ukrainian democracy abroad and American democracy at home, the war is still much more precarious than he may admit, given the enormous commitment. Ukraine fights on, but its fate is not yet decided, and American unity, even if proclaimed again and again, may prove ever more elusive. Still, I would not have believed it had you told me a year ago that this President, with his understandable wariness about provoking a Third World War, would have gone this far down the road of waging a proxy war against Russia on its own border.
There has been much talk about Putin's red lines in the past tragic year, about where and when and how the West might finally go too far in helping Ukraine and bring about some retaliatory response from Russia upon NATO itself. But the unlooked-for resolve shown by Biden—and the otherwise balky U.S. Congress—shows that we may have spent not nearly enough time considering America's own red lines. Putin, for real this time, has gone too far. 
https://www.newyorker.com/news/letter-from-bidens-washington/the-ukraine-crackup-in-the-gop
David Frum: Do They Not Know He'll Betray Them?
House Republicans are preparing for a big confrontation with the Biden White House over the debt ceiling—a confrontation that could, if played wrong, collapse the U.S. financial system and drag down the world economy. President Joe Biden has been preparing for this fight since 2011, the last time Republicans tried a similar trick. That year, the doomsday device was switched off seconds before it detonated by an agreement on a sequester that automatically cut spending on defense and domestic programs with little regard to merits. Even so, the S&P rating agency downgraded U.S. debt below triple A for the first time, and the stock markets spasmed. The sequester was ultimately jettisoned by Republicans during the Trump years.
Have the House Republicans planned more carefully this time? Have they figured all the angles? In particular, have they taken into account the near-infinite capacity for treachery and backstabbing of the once and maybe future leader of their party, Donald Trump?
Trump announced his 2024 candidacy back in November. For weeks, he's done nothing much about it, but in the past few days, Trump has emerged again. Last week, he made speeches in New Hampshire and South Carolina. He hit familiar notes of racial and cultural resentment. He denounced critical race theory and left-wing gender ideology. He proposed that parents should elect school principals. You know what he did not talk about? Cutting the federal budget.
Trump's never been a fiscal-discipline guy. In 2016, he repeatedly promised never to tamper with Social Security or Medicare. That was one promise he kept while in office. Now his party is rushing to create a crisis over exactly the issues from which he distanced himself. If all goes well for Republicans, Trump may be happy to scoop up the credit. But if things begin to go badly …
Trump's going to be on the prowl for ways to elevate himself and disqualify alternatives. If the polls go negative for Kevin McCarthy & Co. in the impending drama, they should brace themselves for Trump to demean and disparage them. He will show no party loyalty. He will want to say that he alone is smart, that everybody else is stupid, and that no issue—not the budget, not anything—should take priority over Trump, Trump, Trump.
https://www.theatlantic.com/ideas/archive/2023/02/donald-trump-debt-ceiling-republicans/672908/
Karl Rove: Trump Is the GOP's Albatross
There's a lot of skepticism about former President Donald Trump's campaign launch for the 2024 Republican nomination. His rambling, hour-long mid-November announcement was widely panned. There have been few endorsements and no trademark rallies. He's trailing Gov. Ron DeSantis in Florida and New Hampshire polls and is having fundraising difficulties. All this leaves an impression of—dare we say—low energy.
However, Mr. Trump could still be the Republican nominee. He's a known quantity. His committed following is larger than any prospective GOP rival's. He's been underestimated before by many—including by me on numerous occasions. He has time to up his game. But will he?
There's also a downside for each of Mr. Trump's strengths. He's well-known, sure, but also overexposed. His shtick is old, his speeches boring. More and more Republicans want to turn the page: Only 31% in the Dec. 11 USA Today/Suffolk University poll wanted him to run again.
https://www.wsj.com/articles/trump-is-the-gops-albatross-election-2024-nominee-candidate-voters-republicans-campaign-frontrunner-11675286850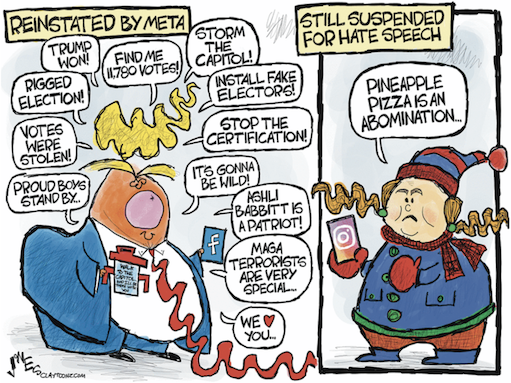 Jackie Calmes: On the debt-ceiling crisis, take it from moderate Republicans: Be afraid, be very afraid
Given Republicans' narrow House majority, just a few radicals can block any legislation that Leader-in-Name-Only Kevin McCarthy (R-Bakersfield) ultimately might agree to. Remember, it took McCarthy a humiliatingly historic 15 House votes to wrangle enough Republican support to get elected speaker, and yet we have to count on him to unite his party on the debt limit and avoid an economic cataclysm?
There's another reason to fear what House Republicans might do: An unusually large number of them, 52%, have come to Congress only in the last four years. The novices have shown by their public statements that they don't understand the federal budget or the debt limit. Even as they call for deep budget cuts, they don't volunteer much in the way of specifics beyond putting a target on what one called "woke and weaponized bureaucrats."
Veteran Republicans who know better (looking at you, Mr. Speaker) cynically echo the vague rhetoric about easy-peasy cuts, thus misleading the public. They're making false promises about budget balancing that they know they couldn't achieve even if they could rely only on Republican votes for passage.
Also, the newer Republican lawmakers haven't experienced how their party, when it previously controlled the House, emerged the loser in nearly every debt-limit crisis and government shutdown it provoked, as adjudged by polls, pundits and even party colleagues. They weren't there in 2011, for example, when tea party Republicans caused a debt-limit crisis that resulted in the first downgrading of the U.S. credit rating and, consequently, billions of dollars in higher interest on the nation's borrowing — interest payments that only added to the debt.
Yet knowing that history probably wouldn't sway many of the newcomers anyway. Like their voters, they'd just counter that Republicans of the past gave in too soon. There's no persuading such ideologues that their stance is both bad policy and bad politics.
https://www.latimes.com/opinion/story/2023-02-03/debt-ceiling-crisis-spending-cuts-kevin-mccarthy-joe-biden
Henry Olsen: Republicans have a big Kari Lake problem
Attend a Kari Lake rally, as I did Sunday night, and you will see why so many conservatives will follow her to the ends of the Earth.

Lake has star power. She lights up a stage and can talk coherently for nearly an hour. She flatters her audiences and knows which buttons to push to rile them up and garner sympathy.

This gift poses massive problems for the Arizona Republican Party.

Lake continung to spout lies to her adoring fans creates huge problems for the state party. Its leaders know why they lost most statewide races and nearly lost control of the legislature. They know they need to win back the votes of some educated Whites while holding on to the people who backed Trump and Lake. Do that, and Arizona goes from the ultimate purple state to one that clearly leans Republican.

But how do they do that when so many of their voters believe in the voter-fraud myth? The base demands obeisance to faith that the election was stolen, and any statewide candidate will be tempted to pander to those views. But doing so would alienate the swing voters they need to win. Three straight election cycles in which Republicans lost narrowly to Democrats in their Senate and gubernatorial races prove that the hardcore base is not enough to win. https://www.washingtonpost.com/opinions/2023/02/03/kari-lake-arizona-republican-senate-race/
Colby Itkowitz: GOP turns to false insinuations of LGBTQ grooming against Democrats
When Michigan Democratic state Sen. Mallory McMorrow stood on the chamber floor to take on a Republican colleague who had accused her of wanting to sexually groom children, she was denouncing not just an isolated incident, but an onslaught of GOP attacks on the LGBTQ community.

The groomer accusation is only one element in the revival of LGBTQ-focused battles popping up in campaigns across the country. Vernon Jones, a Black Republican congressional candidate in Georgia endorsed by Trump, argued recently that gay rights are not civil rights, claiming falsely that a person can choose to "go from being straight to being gay to being transgender and all these other genders."

Kate Oakley, senior counsel at the Human Rights Campaign, said while attacks on the LGBTQ community never disappeared, the scale and vitriol have increased recently.

"The escalation is new. The saying the quiet part out loud is new, but the underlying animus of this is the same fear that we have seen," Oakley said. "It's just that they're no longer feeling the compunction to wrap it up in a polite bow." https://www.washingtonpost.com/politics/2022/04/20/republicans-grooming-democrats/
Michelle Goldberg: Biden's a Great President. He Should Not Run Again.
President Biden has a lot to boast about. He's presided over record job creation and the lowest unemployment rate in over 50 years. Whereas Donald Trump's infrastructure weeks were a running joke, Biden signed the largest infusion of federal funds into infrastructure in more than a decade. His Inflation Reduction Act made a historic investment in clean energy; the head of the International Energy Agency called it the most important climate action since the 2015 Paris climate accord. (And incidentally, inflation is finally coming down.) Biden rallied Western nations to support Ukraine against Russia's imperialist invasion and ended America's long, fruitless war in Afghanistan, albeit with an ugly and ignominious exit. His administration capped insulin prices for seniors, codified federal recognition of gay marriage and shot down that spy balloon everyone was freaking out about.
He's on track to appoint more federal judges than Trump.
Biden can also take a victory lap for Trump's declining influence. Lots of pundits rolled their eyes when Biden sought to make the midterms a referendum on the MAGA movement's threat to American democracy. Voters didn't. Even more than Trump's defeat in 2020, the loss of Trumpist candidates like Arizona's Kari Lake and Georgia's Herschel Walker in 2022 convinced many Republicans they need to move on from their onetime hero.
In other words, Biden has been a great president. He's made good on an uncommon number of campaign promises. He should be celebrated. But he should not run again.
The last time I wrote about Biden being too old, he was at a low moment in his presidency, with inflation soaring and his Build Back Better agenda stalled. Had he decided not to run for re-election then, it probably would have looked like an admission of failure. Now his political legacy seems more secure. He'll cement it if he has the uncommon wisdom to know when the time has come for a valediction, not a relaunch.
https://www.nytimes.com/2023/02/06/opinion/biden-shouldnt-run-2024.html