January 19, 2023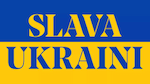 To subscribe to this FREE weekly newsletter simply email jellison@san.rr.com with "subscribe" as the subject.
THE WEEK'S BEST QUOTES. . .
The wife of an Iowa Republican who ran for Congress in 2020 was arrested Thursday and accused of casting 23 fraudulent votes on behalf of her husband.
https://www.businessinsider.com/wife-of-iowa-republican-accused-of-casting-23-fraudulent-votes-2023-1
Kevin McCarthy gutting the Office of Congressional Ethics before Republicans take over the House is like Donald Trump disbanding the pandemic response team before COVID-19 takes over the world.
https://twitter.com/middleageriot/status/1612518396842897408
"I don't think Biden has legal worries here, I don't think he has political worries. The main benefit for Republicans is Trump is breathing a sigh of relief because it makes it hard for Merrick Garland to authorize a prosecution of Donald Trump, even if it is merited." — Brian Fallon, a former Clinton adviser who worked at the Department of Justice on the classified documents found at President Biden's home.
https://www.washingtonpost.com/politics/2023/01/12/biden-trump-classified-documents-politics/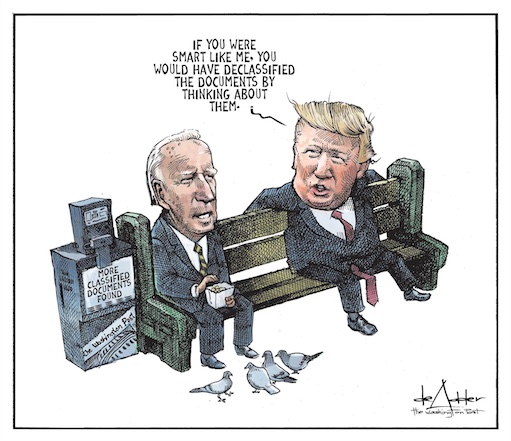 Read George Santos's résumé for yourself, courtesy of reporting by the NYT:
https://nytimes.com/interactive/2023/01/11/us/resume-of-george-santos.html
"He's a complete and total fraud. He lied to the voters of the 3rd Congressional District in New York. He deceived and connived his way into Congress, and is now the responsibility of House Republicans to do something about it." — Rep. Hakeem Jefferies (D-NY) about embattled Rep. George Santos (R-NY).
https://thehill.com/homenews/house/3810529-jeffries-to-gop-on-santos-clean-up-your-house/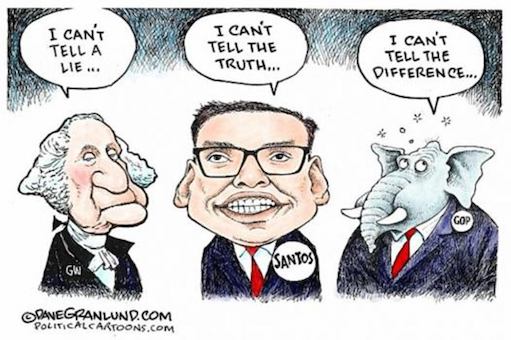 "Kevin's a piece of shit. And let's just be honest about this, because he will say whatever he needs to say to stay in power. I'm not even saying that gratuitously to be mean to him. It's just a fact." — Former Rep. Adam Kinzinger (R-IL), talking to Charlie Sykes on his
podcast
about Speaker Kevin McCarthy (R-CA).
"I will sue her after this is over, and that's the thing I really look forward to doing. And I'll sue you too because this is—how many cases do you have? Many, many cases. I will be suing you also, but I'll be suing her very strongly as soon as this case ends. But I'll be suing you also." — Donald Trump, to her lawyer, in a deposition in E. Jean Carroll's lawsuit against him, .
https://www.thedailybeast.com/donald-trump-said-hell-sue-e-jean-carroll-in-unsealed-deposition-docs
Last night an employee of PCLabs in Indiana threatened to kill me and my family following Speaker McCarthy's smears against me. Patients Choice Laboratories has since terminated that employee. On behalf of my wife and three small children, I am very grateful. — Rep. Eric Swalwell. 
https://twitter.com/RepSwalwell/status/1613931238116716546
Rep. Jim Banks (R-IN) on Friday announced his intention to form the "first ever Anti-Woke Caucus," which will reportedly focus on addressing "wokeness," which he deemed the "greatest domestic threat to America today."
https://twitter.com/RonFilipkowski/status/1614029439775506433/photo/1
"I put myself through college and got an MBA from NYU and I have zero debt. I hate looking at youth today and seeing them sitting on their behinds and acting like, 'Ugh, this is so hard.'" — George Santos, on a 2020 podcast, before admitting he never graduated from New York University or, in fact, any college or university. https://www.thedailybeast.com/george-santos-nyu-lies-are-even-more-brazen-than-we-knew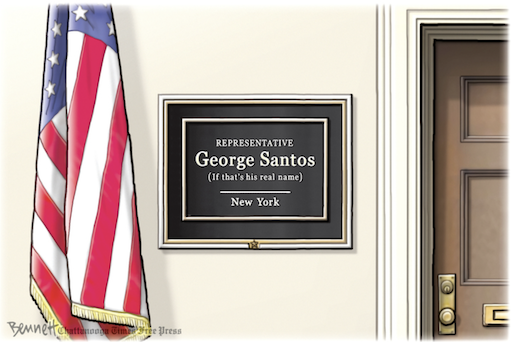 Japanese Prime Minister Fumio Kishida should perform a ritualistic suicide by disembowelment to repent for "servitude to the United States."  — Dmitry Medvedev, Russia's former president and a senior security official in President Vladimir Putin's administration.

https://www.washingtonpost.com/world/2023/01/15/medvedev-kishida-disembowelment-russia-japan/
"I use the words 'Maga fascists' because it's the truth. These people are not Grand Old Party Republicans; they are Maga fascists. There is no reason for me to call them by anything other than what they are. If they feel a little sensitive about that, then maybe they ought to reconsider their position vis-a-vis American democracy and stop acting like fascists." — Adrian Fontes the new Arizona Secretary of State. https://www.theguardian.com/us-news/2023/jan/02/arizona-adrian-fontes-secretary-of-state-safeguard-elections
"They're fiscally demented, I think." — President Biden on congressional Republicans. https://www.washingtonexaminer.com/news/white-house/biden-republicans-fiscally-demented
"An unprecedented tax hike on the middle class and a national abortion ban are just a glimpse of the secret, backroom deals Speaker McCarthy made with extreme MAGA members to end this month's chaotic elections and claim the gavel. It is well past time for Speaker McCarthy and the ultra MAGA Republican House members to come out of the dark and tell the American people, in-full, what they decided in secret." — White House spokesman Andrew Bates. https://www.politico.com/news/2023/01/17/white-house-to-mccarthy-come-clean-on-your-backroom-speaker-deals-00078105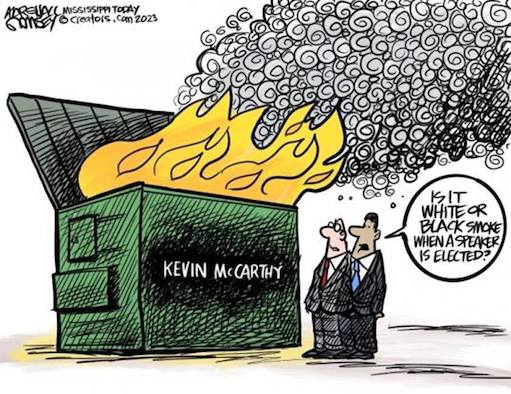 VIDEOS
"The idea that we're supposed to remain silent on the abuses of the past, as if they didn't occur? That's not being woke, that's being honest. That's talking about history." — Joe Biden criticizing Republican attempts to limit how educators discuss race and systemic discrimination in schools. https://twitter.com/Acyn/status/1615042036922449941

Jake Tapper asks GOP Oversight Chair James Comer, who's trying to make a big deal out of Biden's handling of classified documents, to explain a clip of him saying last November that investigating Trump's mishandling of classified docs is "not a priority" for him. https://twitter.com/atrupar/status/1614626593317523459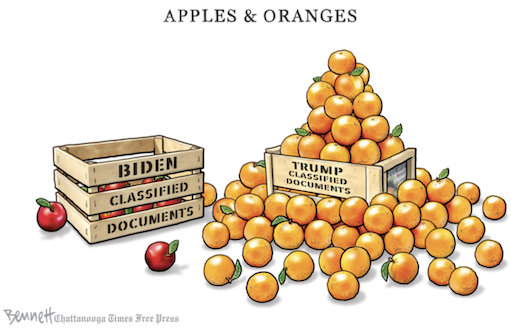 Trump, who went way too strong on the self-tanner in this unhinged four-minute video. https://www.youtube.com/watch?v=6RH1RDAwcqM&t=17s
"It's the equity of my hard working self I invested inside of me. …it didn't come from Burisma, it didn't come from Ukraine, Russia, China …" — George Santos telling Matt Gaetz where he suddenly got the hundreds of thousands of dollars he moved to his campaign. https://twitter.com/CREWcrew/status/1613590280971911169
"I spent $1,200 on a suit, and I can't wear it in the People's House because someone who doesn't have the range tells me that's inappropriate." —MO State Rep. Proudie (D) goes after GOP House members pushing a dress code for women — requiring they wear jackets — in a rules bill. https://twitter.com/HeartlandSignal/status/1613306806847115268
LITIGATION TRACKER
Pending Criminal and Civil Cases Against Donald Trump

. https://www.justsecurity.org/75032/litigation-tracker-pending-criminal-and-civil-cases-against-donald-trump/  
---
IN THIS ISSUE
IN THE NEWS
OPINION
Andy Borowitz: Elon Musk Sees Trial as Way to Finally Force People to Be in Same Room with Him
Elon Musk said that he was "elated" to be going on trial because "finally people are being forced to be in the same room with me."
Speaking outside a federal courthouse, the boss of Tesla and Twitter said that he had been trying for years to compel people to be in the same room with him but had been repeatedly foiled in those efforts.
"Last November, I thought if I required Twitter employees to come to work in the office, that would do the trick," he said. "Instead, they quit en masse."
However, during a trial, Musk observed, "people have to be in the same room with you. They're trapped. It's a beautiful thing."
Musk said that he had thus far "loved" jury selection, noting, "Lawyers keep asking prospective jurors what they think of me, and then the jurors have to answer. I'm hearing my name being said over and over again. If I had known that it would be like this, I would have gone on trial sooner."
https://www.newyorker.com/humor/borowitz-report
Speaker McCarthy's tidy 1st week disguises trouble ahead

The daunting political math confronting McCarthy remains the same: With a 222-seat majority, he can only lose a few detractors on any issue unless he reaches across the aisle for help and backing from Democrats for the 218 votes typically needed to pass legislation. While the first bills the House Republicans easily approved were essentially GOP favorites, designed to unite their side of the aisle and even pull in some Democratic support, the next legislative lifts are expected to be more vigorous and politically risky. https://www.politico.com/newsletters/playbook-pm/2023/01/13/yellen-sounds-siren-on-debt-limit-00077905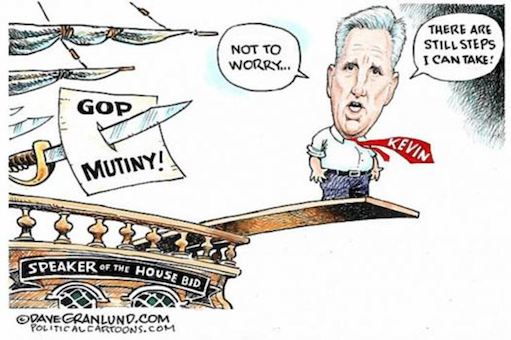 Trump's 2024 bid is off to a rough start. But other Republicans aren't eager to take him on just yet
In the two months since Donald Trump launched his third presidential campaign, potential rivals have been casting doubt over his inevitability as the GOP nominee – whispering from the sidelines that he has lost his touch, that there are cracks in his base, that his strange absence from the campaign trail will cost him later on.

But diminished or not, Trump has still managed to inspire a game of chicken. His most likely competitors want to go toe-to-toe with him eventually – just not at the outset of their campaigns.

While nearly a dozen 2024 campaign operatives and advisers who spoke to CNN on the condition of anonymity insisted that Trump's political appeal is more limited than ever, most said they still wouldn't want their horse to be first in the race after him. Their reasons vary. Some worry about sustainability, wanting to saturate the airwaves just before the early contests in Iowa and New Hampshire instead of burning through cash to build name ID while Trump is pummeling them on his Truth Social platform without distraction. Others are hesitant to subject themselves to the concentrated attacks they would no doubt face from the former president and other potential rivals if they were next to jump in, unsure if the earned media in a two-person field would work for or against them. https://www.cnn.com/2023/01/13/politics/trump-2024-gop-primary/index.html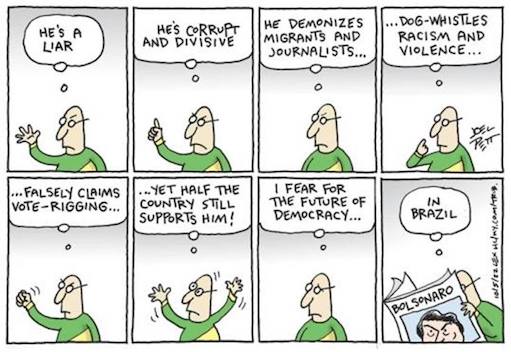 U.S. Will Hit Debt Limit Jan. 19, Yellen Tells Congress
Treasury Secretary Janet L. Yellen warned on Friday that she would have to begin employing "extraordinary measures" to continue paying the nation's bills this month if lawmakers do not act to raise the statutory debt limit and that her powers to delay a default could be exhausted by early June.

"Failure to meet the government's obligations would cause irreparable harm to the U.S. economy, the livelihoods of all Americans and global financial stability," Ms. Yellen wrote.

The letter marks the beginning of what's expected to be a protracted and potentially damaging economic fight. Republicans, who assumed control of the House last week, have insisted that any increase to the debt limit be accompanied by significant spending curbs, likely including cuts to both spending on the military and on domestic issues not related to national defense. https://www.nytimes.com/2023/01/13/business/economy/debt-limit-us-economy.html
House GOP tempts fall government shutdown with impossible spending demands
House Republicans are vowing to put Don Quixote to shame by tilting at a huge windmill: slashing federal spending by at least $130 billion without cutting defense.

It's a proposition that's severely unlikely on its face, before factoring in a Democratic Senate and White House that would never accept such cuts. Even the GOP's fallback plan for avoiding a shutdown later this year — passing a short-term funding patch that would trigger reductions as an incentive for lawmakers to finish comprehensive spending bills — is inconceivable this term. https://www.politico.com/news/2023/01/13/house-gop-government-spending-goals-00077762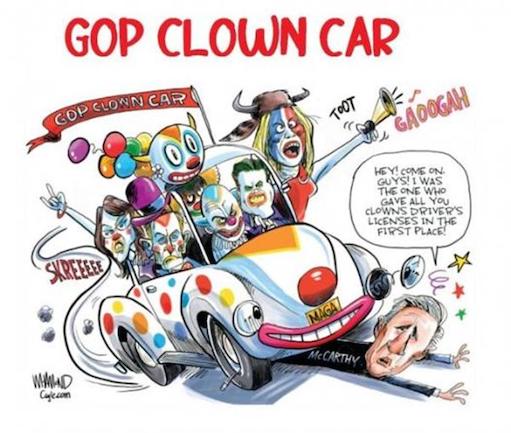 Michigan Electors Sue Fakes, Claiming 'Fraudulent Scheme' To Steal 2020 Election
Three Michigan electors are suing a slate of 16 Republicans, claiming they illegally plotted to replace "duly elected and qualified" electors to overthrow Donald Trump's 2020 defeat in the state.
The fake electors are accused in the suit of a "fraudulent scheme to steal the election and install the losing candidate as President." Michigan's 16 real electoral votes were cast for Joe Biden. The fakes went for Trump.
The suit asks a judge to declare that the "fake elector scheme was illegal under Michigan law." It "attempted to subvert the sacred right of qualified voters in Michigan, enshrined in the state Constitution, to have their votes counted," the lawsuit states, according to the Detroit News.
Trump and his allies plotted to install fake Electoral College electors in Michigan and six other swing states that were won by Biden, according to the House Jan. 6 committee. The failed plot climaxed with the Capitol riot and is a central focus of the Justice Department's ongoing criminal investigation.
The Michigan GOP electors violated multiple criminal laws, the lawsuit alleges, including state statutes against election law forgery, and obstructing or attempting to obstruct "any elector in the exercise" of their duties. The real electors "suffered humiliation, mental anguish and stress as a result of being cast in the false light created by defendants' election fraud and lies," states the lawsuit, which seeks at least $25,000 in damages. One of the plaintiffs, Blake Mazurek, tweeted that the suit aims to "remedy ... the damage caused by the spurious electors" and "deter them from engaging in election fraud again." https://www.huffpost.com/entry/michigan-electors-lawsuit-donald-trump-2020-election_n_63c0d83be4b0d6724fcc480b\
Biden worries the Secret Service may be loyal to Trump, according to a new book
A new book offering  an inside look at President Joe Biden's White House, reveals that Biden actively distrusts the Secret Service to the point that he does not speak freely in front of his agents and he believed that the agency lied about an incident where Biden's German shepherd Major bit an agent. https://www.vox.com/2023/1/13/23553350/joe-biden-chris-whipple-book
Stuck With Santos
Although party officials in New York's Nassau County, as well as six newly elected House members from that state, have called for Santos to resign, House Speaker Kevin McCarthy doesn't plan on helping Santos out the door. "The voters of his district have elected him. He is seated. He is part of the Republican Conference," McCarthy said yesterday.

Never mind that his election was based on a pack of lies—including allegedly even having someone pretend to be McCarthy's chief of staff to help with fundraising.

For Santos, the threat of FEC action on the CLC's complaint carries only monetary fines, which his magical funding source could presumably cover. But the Department of Justice has authority to prosecute violations of the federal election statutes criminally, as well, if the offenses were committed "knowingly and willfully" and involve certain monetary thresholds. Too bad that for Kevin McCarthy and his cast of January 6th enablers who remain in Congress, the commission of crimes is not an impediment to carrying out the duties of federal public office, including House members who vowed under the Constitution's express terms to "be bound by Oath or Affirmation, to support this Constitution." https://www.thebulwark.com/stuck-with-santos/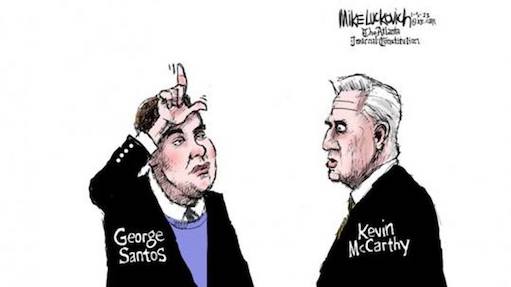 Trump Loses Bid to Dismiss Sex-Assault Claims
Donald Trump's argument that a New York law allowing older sex-assault claims violated his constitutional rights was rejected by a judge as "absurd." https://www.bloomberg.com/news/articles/2023-01-13/trump-must-face-rape-accuser-s-battery-suit-judge-rules
McCarthy says he's willing to look at expunging a Trump impeachment
House Speaker Kevin McCarthy (R-Calif.) said Thursday that he's willing to take a look at expunging an impeachment of former president Donald Trump by the Democratic-led House.

Asked at a news conference about the prospect of an expungement now that Republicans control the House, McCarthy said, "I would understand why members would want to bring that forward." https://www.washingtonpost.com/politics/2023/01/12/trump-impeachment-mccarthy-house-republicans/
How Montana Took a Hard Right Turn Toward Christian Nationalism
Montana has a tradition of ticket-splitting and has long been one of the most politically independent states in the union… But in recent years, Republicans have managed to secure an ironclad grasp over state government, and the religious right is ascendant.

The rise of Montana's Christian right has been enabled by the weakening of the state Democratic Party. It has become harder for Montana Democrats to separate themselves from the national party and, as a result, ticket-splitting has dropped… Changes to campaign-finance laws have also contributed to tipping the balance of power. https://www.nytimes.com/2023/01/11/magazine/montana-republicans-christian-nationalism.html
Another Santos Money Mystery: He Struck a Curious Business Deal With a Veteran GOP Operative
As multiple investigations—federal, state, and local—envelope Santos and local Republicans demand he resign, one person who might be able to provide answers about his puzzling money trail is a veteran GOP operative named Nancy Marks, who was the the treasurer of Santos' two congressional campaigns.

Not only was she a key part of his political machine—and deeply tied into Republican politics locally and nationally—she was a business partner of Santos. Her story, which has yet to draw much public examination, is an important component of the Santos tale. https://www.motherjones.com/politics/2023/01/another-george-santos-money-mystery-he-struck-a-curious-business-deal-with-a-veteran-gop-operative-nancy-marks/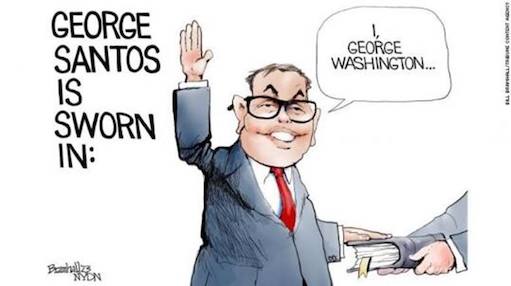 Warren backs Porter in California Senate primary
Sen. Elizabeth Warren (D-MA) endorsed Rep. Katie Porter (D-CA) in her newly-announced bid for U.S. Senate in California.

Warren's marks the first major endorsement in the burgeoning primary battle for the California seat— still currently occupied by Democratic Sen. Dianne Feinstein. Porter officially announced her intention to seek the seat on Tuesday, even though Feinstein has not yet said if she is running for a sixth term. https://www.nbcnews.com/meet-the-press/meetthepressblog/warren-backs-porter-california-senate-primary-rcna65453
George Santos lied about being a volleyball 'star,' county GOP chair says
George Santos allegedly told a Republican official he was a star on the volleyball team in college. The problem with that anecdote? The freshman GOP lawmaker from New York never attended the college for which he claimed to have played. https://www.washingtonpost.com/politics/2023/01/11/santos-lies-volleyball/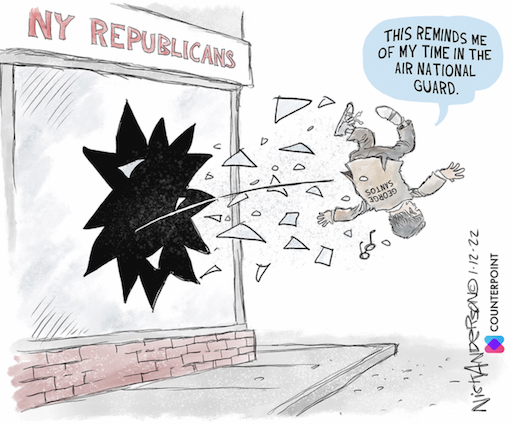 Survey finds 'classical fascist' antisemitic views widespread in U.S.
At points in the past half-century, many U.S. antisemitism experts thought this country could be aging out of it, that hostility and prejudice against Jews were fading in part because younger Americans held more accepting views than did older ones.

But a survey released Thursday shows how widely held such beliefs are in the United States today, including among younger Americans. The research by the Anti-Defamation League includes rare detail about the particular nature of antisemitism, how it centers on tropes of Jews as clannish, conspiratorial and holders of power. https://www.washingtonpost.com/dc-md-va/2023/01/12/antisemitism-anti-defamation-league-survey/
GOP Leader Was Thrilled to Suppress City Vote
Republican Robert Spindell, a member of the Wisconsin Elections Commission, is proud as a peacock of the work Republicans did to suppress the vote in Milwaukee in the November 2022 election. Spindell, who also serves as chairperson of the party's Fourth Congressional District, which includes much of Milwaukee County and almost all of the city of Milwaukee, sent an email to Republicans in the district hailing the party's success at undermining the democratic process.

Spindell, who was one of the 10 Republican fake electors in Wisconsin that schemed to overturn the 2020 election, is more extreme than many party leaders in the state. But the GOP delight in suppressing the votes of Democratic-leaning citizens goes back many years, to when legislators were "giddy" about how the photo ID law they passed would reduce the turnout in Milwaukee. In fact, in the 2016 presidential election, the first one fully effected by the law, there was a 61,000 reduction in the number of voters in Milwaukee, with Neil Albrecht, then the executive director of the Milwaukee Election Commission, saying that the greatest declines were "in the districts we projected would have the the most trouble with ID requirements." https://urbanmilwaukee.com/2023/01/10/murphys-law-gop-leader-thrilled-to-suppress-city-vote/
The Last 8 Years Were the Hottest on Record
The world remained firmly in warming's grip last year, with extreme summer temperatures in Europe, China and elsewhere contributing to 2022 being the fifth-hottest year on record, European climate researchers said this week.

The eight warmest years on record have now occurred since 2014, the scientists, from the European Union's Copernicus Climate Change Service, reported, and 2016 remains the hottest year ever. https://www.nytimes.com/interactive/2023/climate/earth-hottest-years.html
Harbor City called George Santos a 'perfect fit.' The SEC called the company a fraud.
In July 2020, a small Florida-based investment firm announced that a man named George Devolder had been hired as its New York regional director. "When we had the opportunity to welcome him to our team, I was delighted," the company's founder and chief executive said in a news release. "He's a perfect fit."

Devolder is now better known as George Santos, the 34-year-old freshman Republican congressman from New York's 3rd Congressional District who brazenly lied to voters about key details of his biography. And the company for which he was "a perfect fit," Harbor City Capital, is no longer in operation. Its assets were frozen in 2021, when the Securities and Exchange Commission accused it of running a "classic Ponzi scheme" that had defrauded investors of millions of dollars. https://www.washingtonpost.com/investigations/2023/01/15/george-santos-harbor-city-capital/
McCarthy Promised Vote on National Sales Tax
As part of his deal to become House speaker, Kevin McCarthy reportedly promised his party's conservative hardliners a vote on legislation that would scrap the entire American tax code and replace it with a jumbo-sized national sales tax.

The assurance got relatively little attention at the time, drowned out by the many other concessions McCarthy made to win his gavel. But with Democrats already attacking the proposal, some conservatives see it as a political headache in the making.

Said Grover Norquist: "This is a political gift to Biden and the Democrats. I think that this is the first significant problem created for the Republican Party by the 20 people who thought that there was no downside to the approach they took." https://www.semafor.com/newsletter/01/18/2023/one-good-tax-santos-dog-committee-mccarthy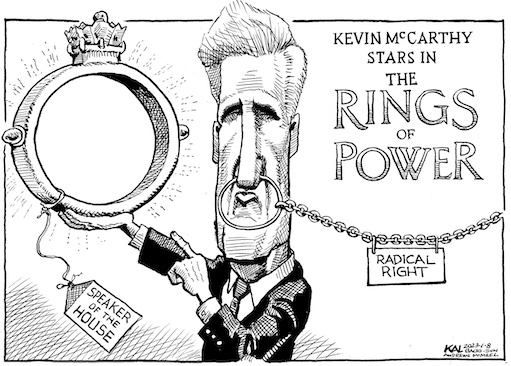 DeSantis Moves to Permanently Ban Covid Protocols
Despite facing pushback from medical professionals and businesses, Gov. Ron DeSantis announced legislation Tuesday that would make permanent a law to penalize companies that require employees to wear masks or be vaccinated for Covid-19 and added a new ban on medical boards reprimanding doctors for spreading Covid misinformation.

Said DeSantis: "This is just nuts that we're still doing this. We need to be leading on this by making all of these protections permanent in Florida statute as we need to do in the upcoming legislative session." https://www.miamiherald.com/news/politics-government/state-politics/article271286472.html
Disabled Veteran: George Santos Took $3K From Dying Dog's GoFundMe
Texts obtained by Jacqueline Sweet show George Santos (née Anthony Devolder) set up a GoFundMe so the dog of disabled veteran could get a life-threatening tumor removed. Santos took the $3,000 raised and disappeared. The dog died. https://patch.com/new-york/oysterbay/disabled-veteran-george-santos-took-3k-dying-dogs-gofundme
Records Show George Santos' Mother Wasn't Even In New York on 9/11
Newly obtained documents from the U.S. Citizen and Immigration Services show that Rep. George Santos' (R-NY) mother was not in the World Trade Center during the terrorist attacks on 9/11, as he has claimed.

Santos has said that his mother survived the attacks — including on his campaign website — and that the "ash cloud" caused her death 15 years later, in 2016. https://forward.com/news/532350/george-santos-congressman-lie-about-9-11-newly-released-documents/
Trump Rolls Out Yet Another Defense
Donald Trump claimed on Truth Social that he collected "hundreds" of "inexpensive folders with various words printed on them" — like "Classified" or "Confidential" — because they were "cool."

But he claimed that the folders did not contain any documents and that any documents found in them were likely planted by FBI agents who searched Mar-a-Lago. https://truthsocial.com/@realDonaldTrumpy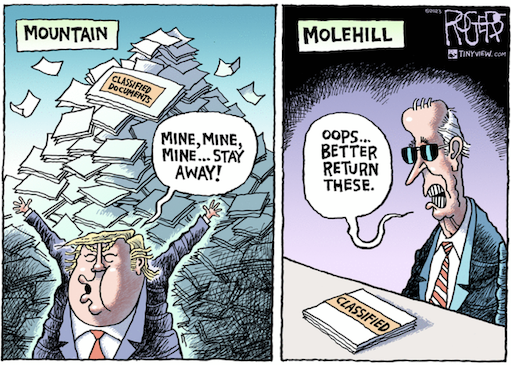 THE DAILY GRILL
I'll NEVER give up my gas stove. If the maniacs in the White House come for my stove, they can pry it from my cold dead hands.  COME AND TAKE IT!!  — Rep. Ronny Jackson (R-TX).  https://twitter.com/ronnyjacksontx/status/1612839703018934274



VERSUS



While the Commission is researching the impact of gas stoves and working to make the appliances safer, it has no plans to ban them outright. — Alexander Hoehn-Saric, chair of the Consumer Product Safety Commission. https://gizmodo.com/us-not-considering-gas-stove-ban-1849975905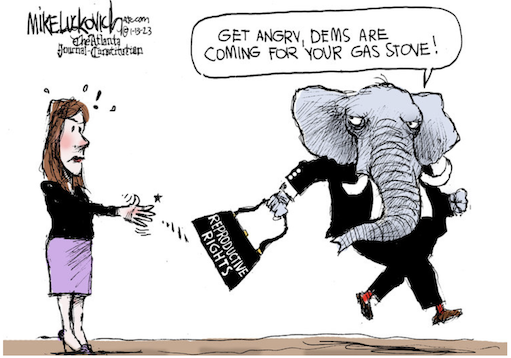 Hot take: Keep the gas stove and get rid of the air fryer. Only urban elitist use air fryers.— Rep. Ruben Gallego (D-AZ). https://twitter.com/RubenGallego/status/1613710839181201408

VERSUS 

Ruben Gallego. You know we have an air fryer? Tells you who does the cooking." — Sydney Gallego, his wife, responding on Twitter. https://twitter.com/Syd_Gallego/status/1613727036853346304


House Republicans are on a mission to end wasteful Washington spending. From now on, if a federal bureaucrat wants to spend it, they have to come before us to defend it. —Speaker McCarthy https://twitter.com/SpeakerMcCarthy/status/1615519691778265094

VERSUS

For context, roughly 25% of our total national debt incurred over the last 230 years actually occurred during the 4 years of the Trump administration. That's right. 25% of our entire national debt, all during the Trump years. — David Jolly https://twitter.com/DavidJollyFL/status/1615549724865568769
Jonathan Chait: Republicans' Denial That They're Defending Rich Tax Cheats Is Very Fake
Over the past generation, rich people's taxes have been audited at a dramatically lower rate because the Internal Revenue Service has been slowly losing the resources to conduct the audits. Last year, in an attempt to increase tax compliance among the rich, Democrats passed a law to give the IRS more funding with the explicit direction of using the money to audit the wealthy.

Republicans propose to strip the IRS of its funding. But Republicans don't admit their goal is to leave the agency unable to audit the rich. What they say instead is that the Democratic plans would actually target the non-rich. The basis of these claims is nonsensical.

A good summary of the state-of-the-art justification for the Republican plan can be found in a recent National Review column by Nate Hochman. Much of Hochman's column is taken up with repeated familiar conservative myths — that the Democratic plan would hire "87,000 new IRS agents" (not true: Most of those new hires would not be agents and would be replacing existing staff) and that the Obama administration used the IRS to target the tea party (not true: The IRS was investigating the abuse of nonprofit status by political groups on the right and the left, and in any case, Obama had nothing to do with the policy).

Since the 1990s, Republicans have consistently pushed to increase tax-compliance requirements for low-income earners while decreasing funding for the IRS. Over that time, the poor have been audited at an increasing rate while the rich have been audited at a decreasing rate. They are now insisting with a straight face that the Democrats are the ones who want to protect rich tax cheats. https://nymag.com/intelligencer/2023/01/irs-rich-tax-cheats-audit-tax-foundation-inflation-reduction-act-biden-congress.html
Benjamin Wallace-Wells: Kevin McCarthy and the Republicans' Rocky Road Ahead
How McCarthy eventually won over his opponents may provide a clue to how he will operate. Mostly, he traded leverage away for support. He agreed to lower the threshold for replacing a Speaker, and to keep a McCarthy-aligned super pac from picking sides in Republican primaries. Substantively, he agreed to establish a new select subcommittee on the "weaponization" of the federal government which Jordan is expected to lead, and is likely to begin with investigations into the Obama-era classified documents that recently turned up in an office that President Biden had used and at his home. (The new Speaker has also agreed to consider formally expunging Trump's impeachment.) More ominously, McCarthy agreed not to raise the debt ceiling without extracting offsetting spending cuts. That concession suggests that the House's year, which seems set to start with investigations into Hunter Biden and border policy, may be punctuated with a standoff over the debt ceiling, in which Republicans threaten to default on the government's debt in the name of small-government principle. And he gave opponents the committee seats they wanted. Fox News asked Byron Donalds, a second-term Black congressman from Florida, whom the insurgents had repeatedly nominated for Speaker, "What did you get?" The answer was a spot on the Party's steering committee. Gaetz said that the opposition to McCarthy's election stopped because "we ran out of stuff to ask for."

If this is, in fact, how the new Speaker has to govern, by cutting individual deals in order to preserve his majority, then his tenure is likely to move from crisis to crisis and may well be short. Already there are little fires everywhere in the caucus: some moderates have balked at the concessions made to the Gaetz faction, at the possibility that McCarthy's debt-ceiling commitments will mean sharp defense cuts, and even at the caucus's extreme line on abortion, which South Carolina's Nancy Mace, a McCarthy ally, denounced as "tone deaf." The main preoccupation of McCarthy's first week as Speaker was the case of the freshman Representative George Santos, of New York, who, in his bid for office, appears to have made up just about every element of his biography: a sterling business record, Jewish heritage, even a star turn on the Baruch College volleyball team. (He was also wanted for fraud in Brazil.) Both the Nassau County G.O.P. and the five other freshman Republicans from New York have called for him to resign, but not McCarthy, whom Santos supported and who doesn't have the margin to cut loose even an obvious liability. It might seem like good news for Democrats that the Republican leadership is this weak—except that weak Republican leadership is what paved the way for Trump in the first place. https://www.newyorker.com/magazine/2023/01/23/kevin-mccarthy-and-the-republicans-rocky-road-ahead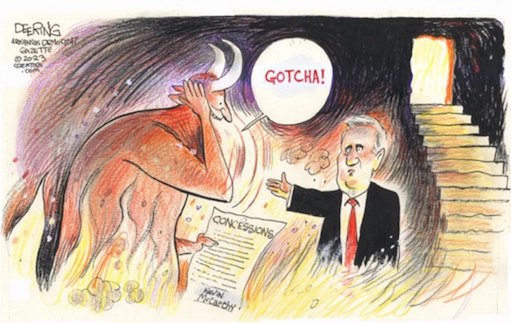 Ed Kilgore: Anti-Abortion Activists Are Bringing the Culture War to Your Drugstore
The anti-abortion movement is already working to dampen any enthusiasm over the FDA approving the distribution of an abortion pill, mifepristone, by pharmacies with a prescription (previously, it could be dispensed only by specially certified mail-order pharmacies, doctors, and clinics). The approval applies only to states where abortion pills haven't already been banned after Dobbs v. Jackson Women's Health Organization revoked the federal constitutional right to choose. And now the forced-birth crowd is pledging to put pressure on pharmacies that distribute these drugs in states where it's legal in hopes of restricting access. As Politico explains, anti-abortion activists are focusing on large pharmacy chains that should quickly get certified to distribute the drugs:

Anti-abortion advocates are organizing pickets outside CVS and Walgreens in early February in at least eight cities, including Washington, D.C., in response to the companies' plans to take advantage of the Food and Drug Administration's decision last week allowing retail pharmacies to stock and dispense abortion pills in states where they're legal.

Big drugstore chains aside, smaller mom-and-pop independent pharmacies may already be deterred from distributing abortion pills by the burdensome certification process. Now they'll also have to consider the threat of protesters outside and "pharmacists of conscience" inside. And underlying all these considerations for pharmacies will be the continuing battles in the courts over state constitutional provisions protecting the right to choose, policies set by state legislatures, and upcoming ballot initiatives (won by the abortion-rights cause in every 2022 test). And while Democratic control of the White House and the Senate means there's no reason to fear federal abortion bans right away, the House will be churning out anti-abortion legislation (it's already passed one bill protecting pro-life protesters and another requiring medical treatment for rare survivors of botched late-term abortions) in a sign of what might happen after 2024 if Republicans win a trifecta that year.

So the parking lots at CVS and Walgreen's will simply join other contested ground the U.S. Supreme Court created with Dobbs. https://nymag.com/intelligencer/2023/01/anti-abortion-activists-bring-culture-war-to-your-drugstore.html
Molly Jong: Fast: Keeping Up With The Congressional Kardashians

 
Welcome to the 118th Congress, season one, a taxpayer-funded reality show where, instead of glitzy women battling it out, it's mostly old white guys jockeying for power, protecting Donald Trump, and targeting Joe Biden. Last week's episode featured Kevin McCarthy pathetically promising the far right everything from a one-person motion to vacate to a very likely debt-ceiling default debacle. In fact, McCarthy has made so many people so many promises that Republican Nancy Mace wondered Sunday on CBS's Face the Nation, "So my question today is what backroom deals were cut?"
Good question! For it certainly seems like McCarthy gave away the store to get the gavel. On Monday, McCarthy kicked off his first week as Speaker by rejecting Dan Crenshaw as chair of the Homeland Security Committee, and instead picking House Freedom Caucus member Mark Green. You may remember the representative from Tennessee: He had to withdraw his nomination for secretary of the Army after his anti-transgender comments surfaced. After getting his plum assignment, Green told reporters Monday he was going to put a permanent staffer on the border.
We're still learning more details about the concessions and arm-twisting that apparently went on last week beyond the reach of C-SPAN's cameras in order to get McCarthy over the finish line on the 15th vote. As Politico's Olivia Beavers tweeted Tuesday, "At least two Republicans among McCarthy's 20 holdouts got direct threats from GOP donor Thomas Peterffy last week, per GOP sources I spoke with." Beavers shared a screenshot of a message purportedly from Peterffy: "What goes on in the house is weakening the party. Unless you vote for Kevin now, we'll never give you any money, Big Donors."
This season seems like it's going to have lots of twists and turns as the House GOP turns Congress into The Real Housewives of the Longworth Building. https://www.vanityfair.com/news/2023/01/congressional-kardashians-kevin-mccarthy-speaker-drama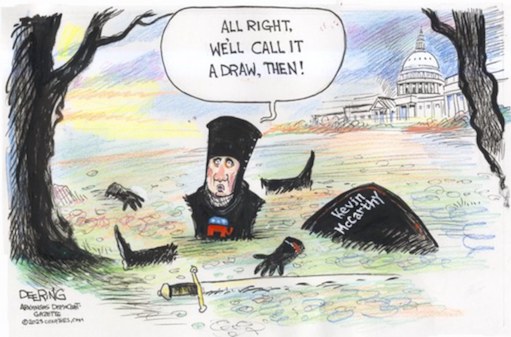 David Rohde: The Investigations of Joe Biden Begins
On Tuesday, the Republican-controlled House, in a party-line vote, created a new Select Subcommittee on the Weaponization of the Federal Government, which they say will be modelled on the Church committee, a landmark Senate investigative panel created in 1975 to examine abuses committed by the F.B.I., the C.I.A., and other intelligence agencies.
The new subcommittee will have the power to investigate "ongoing criminal investigations" by the Justice Department and the F.B.I., and what Republicans say is political bias in both organizations. Representative Jim Jordan, of Ohio, has vowed to look into the banning of Donald Trump and other conservatives from Twitter as well as reports from internal whistle-blowers of anti-conservative activity at the F.B.I. "We have a duty to get into these agencies," Jordan told Fox News, "and how they've infringed on First Amendment liberties of the American people."
Jordan and some potential Republican members of the subcommittee played a central role in Trump's effort to overturn the 2020 Presidential election. Jordan worked closely with Trump to get House members to block the certification of the results—and voted against it himself. (Nancy Pelosi vetoed Jordan's nomination to the January 6th committee.) Scott Perry, who has expressed interest in serving on the subcommittee, was involved in Trump's failed attempt to seize control of the Justice Department just before January 6th by attempting to appoint an election denier as Attorney General. In an interview that aired on Sunday, Perry insisted that he should be able to serve on the panel investigating the Justice Department—even though the Justice Department is potentially investigating him. "Why should I be limited just because someone has made an accusation?" he asked. "Everybody in America is innocent until proven guilty." https://www.newyorker.com/news/daily-comment/the-investigations-of-joe-biden-begin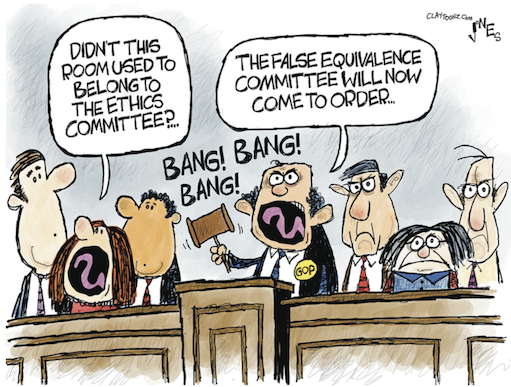 Nick Catoggio: Waiting for Ronald
Arguably no one, Trump included, understands better than Ron DeSantis that popularity within the Republican Party requires relentlessly confronting the right's domestic enemies. As such, it's unimaginable that he'd discourage House Republicans from a politically and economically ruinous fight over the debt ceiling just because having that fight would be politically and economically ruinous.

Especially since, more so than most Republican politicians, DeSantis is hypersensitive to populist opinion. This is a guy so intent on staying on the good side of MAGA voters that he's repositioned himself as a vaccine skeptic to win their favor. He surely knows by now that a majority of Republican voters oppose raising the debt ceiling. He's not going to side against them and with Democrats by backing a clean debt-ceiling hike, especially while Trump is hooting at the House GOP to fight, fight, fight.

There go the people. He must follow them, for he is their leader. https://thedispatch.com/newsletter/boilingfrogs/waiting-for-ronald/
Republican Opposition to Ukraine Is Reaching Tipping Point
When Russia first launched a full-scale invasion of Ukraine in February 2022, most Americans and their political representatives immediately identified with and sought to assist the beleaguered victims of Vladimir Putin's aggression, while condemning the crude neo-tsarist imperialism it represented.

But from the get-go in the dark heart of MAGA-land, there was dissent and considerable grumbling. Some of if took the form of America First whataboutism, best expressed by Ohio Senate candidate J.D. Vance; on the brink of the invasion he said, "I don't really care what happens to Ukraine" because he was too absorbed with fentanyl coming across the U.S.-Mexico border. But others were really struggling to abandon their affection for Putin, who had, with Donald Trump, Victor Orbán, and Jair Bolsonaro, represented a sort of right-wing authoritarian network. Then-Congressman Madison Cawthorn parroted Russian propaganda by saying "the Ukrainian government is incredibly corrupt and is incredibly evil and has been pushing woke ideologies," and his colleague Marjorie Taylor Greene called the Ukrainians "neo-Nazis." Fox News' Tucker Carlson was a constant font of bitter hostility toward U.S. aid for Ukraine.

Now, nearly a year later, it's harder to find Republicans expressing a crush on Putin, but neo-isolationist disdain for any U.S. role in aiding Ukraine has been steadily rising in the GOP and may have reached a tipping point where it has real-life consequences. When putative House Speaker Kevin McCarthy reached a handshake agreement with his right-wing critics to roll back appropriations for the current fiscal year, defense hawks in his party were appalled. It quickly became apparent that the "defense cuts" many House Republicans had in mind involved the new tranche of military aid to Ukraine that had been included in the omnibus spending bill Congress approved in December. It's no accident that a majority of House Republicans skipped Ukrainian president Volodymyr Zelenskyy's address to Congress on December 21, even as opinion leaders on the right were attacking him (e.g., Donald Trump Jr.'s dismissal of Zelenskyy as an "ungrateful international welfare queen"). https://nymag.com/intelligencer/2023/01/republican-opposition-to-ukraine-is-reaching-tipping-point.html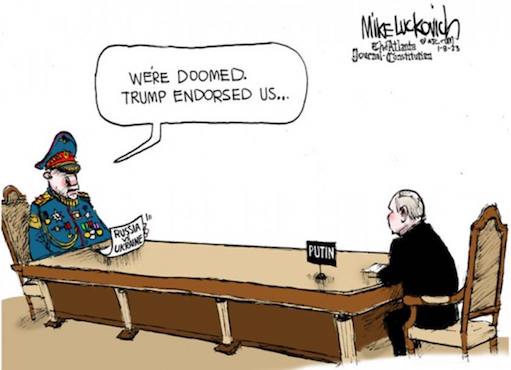 John Cassidy: Kevin McCarthy's Hollow Victory Will Have Economic and Political Consequences
Based on his own self-serving modus operandi, McCarthy doesn't have much choice; if he is to get anything done over the next two years, he will need to retain the support of Greene and many other far-right extremists.

This prospect is already raising alarms on Wall Street, where attention is focussing on the need to raise the debt ceiling and prevent a U.S. government default—an imperative that will probably become pressing by the summer. Earlier this week, Representative Ralph Norman, of South Carolina, who is a member of the Freedom Caucus, called on McCarthy to "shut down the government rather than raise the debt ceiling," adding that this demand was "a non-negotiable item." In this instance, it would be a mistake to focus exclusively on the maga crazies: months ago, McCarthy and Senator John Thune, of South Dakota, both made clear that they favored using the debt limit to force big cuts in spending. But McCarthy's humiliation has made clear how little flexibility he will have in managing his own caucus during the debt-ceiling brinkmanship.

A repeat of the 2011 debt-ceiling crisis, in which the G.O.P.-led House of Representatives defied President Barack Obama, now seems likely, and it could be a lengthy one. Ultimately, perhaps, even the members of the Freedom Caucus won't want to be held responsible for a financial crash that tanks their voters' 401(k) plans and endangers the mighty dollar, especially at the start of another Presidential-election campaign. But who really knows? https://www.newyorker.com/news/our-columnists/kevin-mccarthys-hollow-victory-will-have-economic-and-political-consequences
Dana Milbank: Can you govern on a lie? House Republicans give it a try.
Former Trump administration interior secretary and incoming Rep. Ryan Zinke (R-Mont.) stepped up to the microphone and into the Twilight Zone.

"Despite the 'deep state's' repeated attempts to stop me, I stand before you as a duly elected member of the United States Congress and tell you that a deep state exists and is perhaps the strongest covert weapon the left has against the American people," he told the House. The Montana Republican, who has returned to Congress after a scandal-plagued stint in President Donald Trump's Cabinet, informed his colleagues that "the deep state runs secret messaging campaigns" and is trying "to wipe out the American cowboy."

Yee-haw! Zinke was speaking in support of a new Select Subcommittee on the Weaponization of the Federal Government, or, as Democrats call it, the "Tinfoil Hat Committee." In substance, it's the QAnon committee, with a remit to probe the "deep state" and other wacky conspiracy theories. With the panel's creation, QAnon completes its journey from message board for the paranoid to official policy of the House Republican majority.

After the chaos of the first week of the 118th Congress, many Americans wondered: If it took them 15 ballots just to choose a speaker, how could Republicans possibly govern? Now we know. They are going to govern by fantasy and legislate on the basis of fiction.

On Monday, their first day of legislative business, they voted to repeal funding for a fictitious "87,000 IRS agents" who don't exist and never will. On Wednesday, they approved legislation purporting to outlaw infanticide, which is already illegal and always has been. In between, they set up the deep state committee. https://www.washingtonpost.com/opinions/2023/01/13/house-republicans-govern-lie-weaponization-committeee/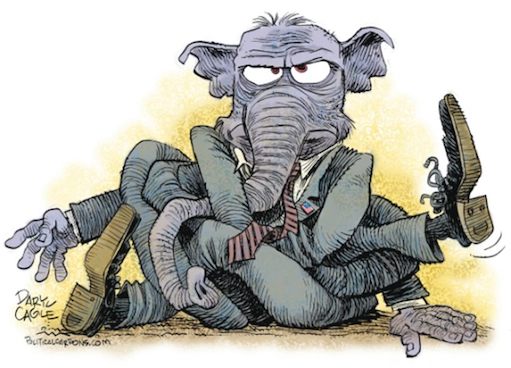 Jackie Calmes: Republicans being the party of fiscal conservatism? Don't believe it for a minute
With a Democrat inhabiting the White House, perhaps the most predictable thing about House Republicans' return to power is this: They've rediscovered their faux fiscal conservatism.

All week members of the Republican majority have been chest-beating about how, thanks to the new House rules they devised, they will restore rectitude to federal budgeting. Income will be balanced against spending and debt reduced, just as American families have to do at their kitchen tables.

Don't take that promise to the bank. It'll bounce. And not because Republicans are up against the supposedly profligate Democrats who control the White House and Senate. As we begin what's sure to be a chaotic two years of Republican governance in the House, a little fiscal history is in order, no green eyeshades needed.
In short, Republicans forfeited the title "fiscal conservatives" so long ago, most Americans weren't even born yet. https://www.latimes.com/opinion/story/2023-01-12/house-republicans-budget-national-debt-fiscal-conservatism
Benjamin Wallace-Wells: What the Twitter Files Reveal About Free Speech and Social Media
The Twitter Files, a serial investigation into the way the company has managed sensitive public issues, commissioned by its new owner, Elon Musk. Not long after Musk bought Twitter, in October, he reached out to a few prominent journalists, each of them at least broadly sympathetic to Musk's view that Twitter's past moderation decisions reflected its own entrenchment in the liberal establishment, and were therefore effectively suppressing conservative and other dissenting views.
If the problem were a runaway progressive corporate culture, then it should have ended with Musk's takeover. The billionaire came in, late last fall, with guns blazing: Twitter's internal bureaucracy was going down. Agrawal, Roth, and Gadde were all out; he fired half its staff and started making decisions with a "war room" of a half-dozen longtime allies and friends. But pretty quickly the Musk experience, which began with promises of a less censorious approach to speech and a more robust public square, turned hypocritical. Musk tweeted an excerpt of an academic paper of Roth's that concerned underage access to apps like Grindr; a wave of threats accusing Roth of being a "pedo" forced the former Twitter executive and his husband to flee their home. Not only did Musk suspend a Twitter account, operated by a college student, that published public data tracking Musk's private plane; he also briefly suspended the accounts of a half-dozen or so journalists who reported on the suspension. This week, the billionaire publicized a new edition of the Twitter Files, by the covid-conspiracist journalist Alex Berenson. This installment focussed on the efforts of a prominent public doctor, Scott Gottlieb, to lobby Twitter to limit anti-vaccine propaganda. Musk tweeted about the series, "Some conspiracies are actually true." Even if you believe—and I don't—that Musk took a progressive thumb off the scale when he acquired the company, all he has done since is stick his own thumb—bigger and clumsier—on it.
Musk could have made different choices. He could have opened the files to more journalists, with broader perspectives, rather than a group that largely shared his view. They, in turn, could have taken the time to write as investigative reporters rather than commentators, and might have begun with material other than the company's response to the Hunter Biden story—a preoccupation of Republican politicians but far from the most compelling element of the archives. Rather than try to handle suspensions with a small group of allies, Musk might have appointed an independent body to assess such sensitive matters. The choices Musk did make suggest another aim—not neutrality, but counterbalance. If progressive ideas had been too amplified, he would now amplify conservative ones. Everything in the Twitter Files has had this see-saw quality, in which the only response to excessive partisanship is partisanship on the other side. In this way, the Twitter Files have been trapped in the style of Twitter itself. https://www.newyorker.com/news/the-political-scene/what-the-twitter-files-reveal-about-free-speech-and-social-media