July 4, 2019
ON THE RECORD. . .
"@ericswalwell asked @JoeBiden to pass the torch. @KamalaHarris just took it. #demdebate" — Mark Lukasiewicz
"Today's Supreme Court ruling that the Constitution doesn't bar even extreme partisan gerrymandering is the worst election-related decision since Citizens United, which in 2010 opened the floodgates for corporate money in campaigns. The Court just stacked the deck in favor of parties over voters—and laid the groundwork for yet more polarization." — Former Reps. Steve Israel (D-NY) and Zach Wamp (R-TN) in The Atlantic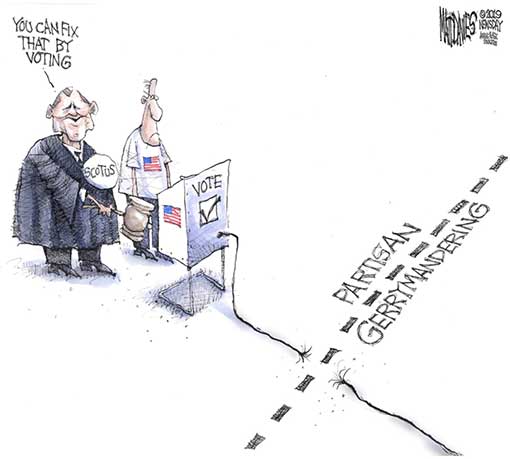 A full investigation "would show that Trump didn't actually win the election in 2016….He was put into office because the Russians interfered. Does that mean he's an illegitimate president? Based on what I said, which I can't retract." —Former president Jimmy Carter
"She's (Megan Rapinoe) the co-captain of the team that represents the United States of America on foreign soil and what does she do? She insults, with an obscenity, our White House and our president. That is beneath contempt. Why don't we just fire her as the co-captain. Love to see that." — Fox Business host Stuart Varney bristling at the notion that anyone would have the temerity to turn down an invitation from an alleged serial sexual predator whose idea of a celebratory meal translates to a heaping spread of Burger King.
"Yes, of course I will," Trump said, a smile creeping across his face. "Don't meddle in the election," -- Trump to Putin, with the huge grin of a man who knows he's going to tell a foreign dictator to keep up the great work once the reporters are out of the room. Then, for good measure, he wagged his finger at Putin and said it again, cracking Putin up.
"Today, Trump joked with Putin about interfering in our elections. He joked about getting 'rid of' journalists with a man who has reporters murdered. The president is looking out for himself—not the American people. We need a president who will always stand up for American values." — Elizabeth Warren
"One thing I'll say about Kamala Harris, and I said this before, she's got game. She is very talented, she's very smart, and she'll be a force to be reckoned with." — Sen. Lindsey Graham (R-SC) told Face the Nation that Sen. Kamala Harris (D-CA) will be "a force to be reckoned with" following her strong performance in the first Democratic debate this week.
"I think she was given too much credit for what she did. It wasn't that outstanding. I think probably he was hit harder than he should have been hit. It was right out of the can. It was right out of the box. He didn't respond great. This is not Winston Churchill we're dealing with, but it wasn't nearly as bad as they portend it to be." — Trump saying that Sen. Kamala Harris "received too much credit" for her attack on Joe Biden at Thursday night's Democratic presidential debate,
"The attacks against @KamalaHarris are racist and ugly. We all have an obligation to speak out and say so. And it's within the power and obligation of tech companies to stop these vile lies dead in their tracks." — Sen. Elizabeth Warren (D-MA)
There "is no defending the North Korean regime, which is a monstrous regime. It is the last really Stalinist regime in the whole world. It is a disgusting place, obviously. On the other hand, you've got to be honest about what it means to lead a country. It means killing people. Not on the scale the North Koreans do, but a lot of countries commit atrocities, including a number that we are closely allied with."  — Tucker Carlson on "Fox & Friends Sunday"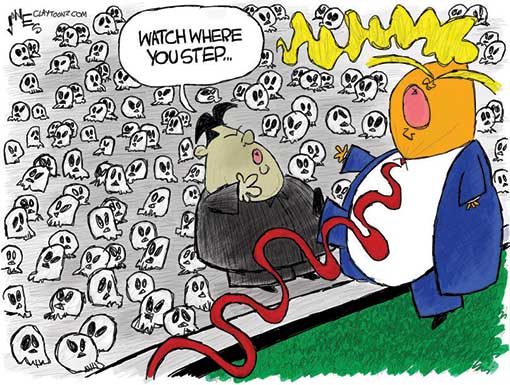 "Robert Mueller is being asked to testify yet again. He said he could only stick to the Report, & that is what he would and must do. After so much testimony & total transparency, this Witch Hunt must now end. No more Do Overs. No Collusion, No Obstruction. The Great Hoax is dead!" — Trump tweeting that former special counsel Robert Mueller must stick to his report's findings when he testifies to Congress later this month.
"This is a breach of trust with the public. The public pays parks fees to fix national parks and for educational programs, not the president's parade." —-Theresa Pierno, president and CEO of the National Parks Conservation Association, about the National Park Service diverting nearly $2.5 million in entrance and recreation fees primarily intended to improve parks across the country to cover costs associated with Trump's Independence Day celebration. (Note: The diverted park fees represent just a fraction of the extra costs the government faces as a result of the event, which will include displays of military hardware, flyovers by an array of jets including, the deployment of tanks on the Mall and an extended pyrotechnics show. 
"Are we headed to fascism? Yes. I don't think there's a question. If you actually take the time to study, and to look at the steps, and to see how government transforms under authoritarian regimes, and look at the political decisions and patterns of this president, the answer is yes." — Rep. Alexandria Ocasio-Cortez (D-NY)
"I think members of the Republican Party are in a coma right now… And at some point they'll wake up and say, 'What's happened?'" — Former Ohio Gov. John Kasich,
---
IN THIS ISSUE
FYI
OPINION
1. Andy Borowitz: Ivanka Comes Out Against Busing: "I Have Never Taken a Bus In My Life—They're Gross"
Ivanka Trump came out strongly against busing on Monday, telling reporters, "I have never taken a bus in my life—they're gross."

Trump said she was reluctant to wade into the busing controversy, but asserted, "The idea of getting on a bus, where there are a lot of other people and you have no idea who they are or what they might be eating, is against everything I stand for."

She said that she had no idea why people would take a bus when they could "just take an Uber," but was quick to clarify, "I have never taken an Uber, either."

"Ubers don't seem as gross as buses, but they still seem pretty gross," she said.

As she spoke about various modes of transportation, Trump grew visibly emotional. "In the eighties, a little girl in Manhattan took a limo to elementary school every morning," she said. "That little girl was me." https://www.newyorker.com/humor/borowitz-report/
2. Trump administration threatens hefty fines on immigrants who elude deportation
The Trump administration is threatening to impose hundreds of thousands of dollars in civil penalties on immigrants who disobey deportation orders by seeking refuge in churches or elsewhere in the United States, according to federal officials.
Immigration and Customs Enforcement's Washington headquarters on Monday notified a woman seeking sanctuary in a North Carolina church that the agency intends to fine her more than $300,000. An immigrant in Colorado faces a fine of more than $500,000.
Rosa Ortez Cruz, a 38-year-old mother of four living in a Chapel Hill church, received a notice that ICE intends to fine her $314,007 for "willfully" failing to depart the United States and for having "connived or conspired" to avoid deportation. She has said she fears for her life if deported to her native Honduras and has appealed her case to the federal courts.
"Over $300,000 being assessed against a person that has nothing? It might as well be a million dollars. It might as well be a billion dollars," said Ortez Cruz's lawyer, Jeremy McKinney, of Greensboro, who received the June 25 notice by certified mail. "She has nothing of monetary value at this point. She is unemployed. She lives in a church." https://www.washingtonpost.com/immigration/trump-administration-threatens-hefty-fines-on-immigrants-who-elude-deportation/2019/07/02/956e2334-9cc2-11e9-9ed4-c9089972ad5a_story.html
3. White House gives tickets to Trump's July Fourth extravaganza to GOP donors
The White House is distributing tickets for President Trump's July Fourth speech on the Mall to Republican donors and political appointees, prompting Democratic lawmakers to question whether the administration's planned celebration violates federal ethics rules.
The Republican National Committee confirmed on Tuesday that it had received some passes to Trump's address at the Lincoln Memorial, which it described as standard for presidential events. The speech Thursday will kick off the "Salute to America," a revamped Independence Day observance designed by the president that will also include a military flyover and an extended fireworks display.
The awarding of tickets to GOP supporters, which was first reported Monday by HuffPost, has exacerbated tensions between the Trump administration and lawmakers who have been pressing for a full accounting from federal agencies. The White House has also provided a select number of tickets to top staffers at federal agencies, who are free to distribute them as they would like.
"We've never seen anything like this," said Sen. Tom Udall (N.M.), the top Democrat on the Senate Appropriations Subcommittee on the Interior, Environment and Related Agencies, in a phone interview. "No ticketed political event should be paid for with taxpayer dollars." https://www.washingtonpost.com/politics/white-house-gives-tickets-to-trumps-july-fourth-extravaganza-to-gop-donors/2019/07/02/9109a566-9ce0-11e9-b27f-ed2942f73d70_story.html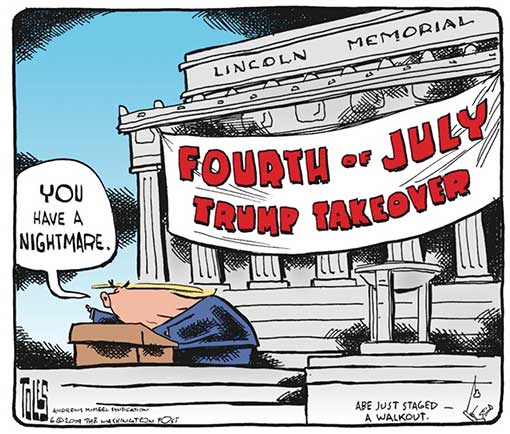 4. Trolls target online polls following first Democratic presidential debate
Users from pro-Trump communities on 4chan and Reddit implored fellow members to vote for lower-polling candidates in online polls, specifically Tulsi Gabbard and Bill de Blasio, in the hours after Wednesday's Democratic debate — a sign that digital manipulation efforts related to U.S. politics and elections remain very much alive.
Users on 4chan's anonymous far-right /pol/message board repeatedly posted links to polls across the web, encouraging one another to "blow the polls out" for Gabbard, the congresswoman from Hawaii who has developed a substantial support base among many of its users. https://www.nbcnews.com/tech/tech-news/trolls-target-online-polls-following-first-democratic-presidential-debate-n1023406
5. White House Considers Capital Gains Tax Break That Would Benefit Wealthy
The White House is developing a plan to cut taxes by indexing capital gains to inflation, according to people familiar with the matter, in a move that would largely benefit the wealthy and may be done in a way that bypasses Congress.
Consensus is growing among White House officials to advance the proposal soon, the people said, to ensure the benefit takes effect before President Donald Trump faces re-election in 2020. https://www.bloomberg.com/news/articles/2019-06-27/white-house-mulls-capital-gains-tax-break-that-benefits-wealthy
6. The DAILY GRILL
In a 5-to-4 decision, the court's conservatives decided that federal courts do not have a role to play in determining whether gerrymandered districts are too extreme, giving a dominant political party in a state great leeway to draw electoral maps to its benefit. While both parties take advantage of drawing electoral districts when they have control in a state, the most recent beneficiaries have been Republicans. The GOP is in control of both the governorship and legislature in 22 states, compared to 14 for Democrats. — John Wagner in the Washington Post.

VERSUS

The court decision "strikes at the very heart of our American democracy."-- House Speaker Nancy Pelosi (D-Calif.) noting that the Democratic-led House has passed legislation that requires states to establish independent, nonpartisan redistricting commissions. Senate Majority Leader Mitch McConnell (R-Ky.) has said that legislation will not be considered by his chamber.

 

"The liberal idea presupposes that nothing needs to be done. The migrants can kill, plunder, and rape with impunity because their rights as migrants must be protected The liberal idea has become obsolete." — Putin saying Western-style liberalism has failed, leaving Putin-style authoritarianism as the only alternative.

VERSUS

"Putin is correct that things are terrible in cities in California. This is the fault of the Democrats, not me. .— Trump then assured reporters he's not offended, because Putin has congratulated him on the overall state of the American economy

 

The conditions we saw today at CBP facilities in Texas were heartbreaking and abhorrent. From cells that are too crowded to lie down in, to women being told by Border Patrol agents to drink water from the toilet, the situation at the border is unacceptable. #DemsAtTheBorder —Rep. Pete Aguilar @RepPeteAguilar

VERSUS

"No, the conditions are much better than they were under President Obama." — Trump told The Hill.

 

"And, you know, one thing I didn't mention: You also got very nice pay raises for the last couple of years. Congratulations. Oh, you care about that. They care about that. I didn't think you noticed. Yeah, you were entitled. You know, it was close to 10 years before you had an increase. Ten years." — Trump during a speech to US troops at the Osan Air Base in South Korea 

VERSUS

"His claim isn't true… Military pay rose every year under Obama." — CNN

 

"Nobody was going to meet. President Obama wanted to meet, and Chairman Kim would not meet him. The Obama administration was begging for a meeting. They were begging for meetings constantly. And Chairman Kim would not meet with him."-- Trump

VERSUS

The public record shows the Obama administration rejected the idea of meetings of any sort until North Korea promised to back off of its nuclear program and accept international inspections. While the administration held out hope of North Korea meeting those preconditions during Obama's first term, in the second, it took a harder line. There is no evidence that Obama begged for a meeting. — POLITIFACT.

 

California "admitted" there were "a million" illegal votes in the 2016 presidential election. Take a look at Judicial Watch. Take a look at their settlement. California admitted to a million votes. They admitted to a million votes," — Trump told Chuck Todd, the show's host, in an interview that aired June 23, 2019. 

VERSUS

We found Trump's new voter fraud claim as baseless as his past allegations. We rate it Pants on Fire.  — POLITIFACT.
7. As Bad as Citizens United
Today's Supreme Court ruling that the Constitution doesn't bar even extreme partisan gerrymandering is the worst election-related decision since Citizens United, which in 2010 opened the floodgates for corporate money in campaigns. The Court just stacked the deck in favor of parties over voters—and laid the groundwork for yet more polarization. https://www.theatlantic.com/ideas/archive/2019/06/gerrymandering-decision-worst-long-time/592843/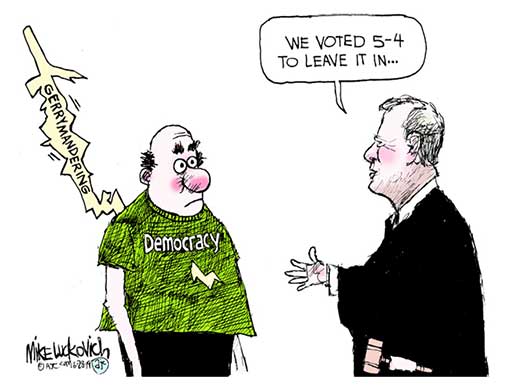 8. Republicans Revel in Biden's Debate Troubles, but See a New Threat in Harris
He would relish a run against Senator Elizabeth Warren and has dismissed Senator Bernie Sanders as "crazy." He has worried about Joseph R. Biden Jr.'s standing in the polls, at the same time telling advisers that the former vice president is a male version of Hillary Clinton and that a matchup in 2020 is a race he knows how to run.
But President Trump has been less sure-footed about how he would take on Senator Kamala Harris if she were to be his rival. And after her breakout performance in the Democratic presidential primary debate on Thursday night, Trump campaign aides and allies acknowledged that Ms. Harris, a black former prosecutor from the donor-laden state of California, could prove to be a vexing adversary.
"I would be more worried about Kamala Harris than Joe Biden as the nominee," Matt Schlapp, the chairman of the American Conservative Union, said after watching the debate. "The Joe Biden of last night is a candidate I would dream to run against. But she can put together the Obama coalition. She's also a first, and Democrats like the tingles up the leg."
Ms. Harris, who has demonstrated the natural political skills closer to those of President Barack Obama than those of Mrs. Clinton, would present Mr. Trump with an unfamiliar rival, and one whose race and gender are potential land mines for him in terms of his attacks. So far, he has struggled to land on a quick-hit way to undermine Ms. Harris's candidacy. Aides said that was because her poll numbers had not been high enough to register with him. https://www.nytimes.com/2019/06/28/us/politics/trump-kamala-harris-debate.html
9. The new Bill of Rights: Donald Trump gives originalism an update, Illustrated by Steve Brodner
https://www.latimes.com/opinion/op-ed/la-oe-brodner-trumps-new-bill-of-rights-20190630-htmlstory.html
10. From MEDIA MATTERS (They watch Fox News so you don't have to)
After losing NRA spokesperson job, Dana Loesch goes on Fox to falsely claim only 1% of Americans want stronger gun laws. https://www.mediamatters.org/blog/2019/06/27/after-losing-nra-spokesperson-job-dana-loesch-goes-fox-falsely-claim-only-1-americans-want-stronger/224073

Trump's sycophants attack "traitor" Chief Justice John Roberts after census ruling. https://www.mediamatters.org/blog/2019/06/28/trump-s-sycophants-attack-traitor-chief-justice-john-roberts-after-census-ruling/224088

Tucker Carlson calls Cory Booker one of "the two whitest candidates on stage" and warns that Democrats could ban speaking English. Carlson: "You can add the English language to the long and growing list of things the Democratic Party considers racist." https://www.mediamatters.org/video/2019/06/27/tucker-carlson-calls-cory-booker-one-two-whitest-candidates-stage-and-warns-democrats-could-ban/224080

Rush Limbaugh rants for 7 minutes about how the Democrats are "the country's biggest hate group." Limbaugh: Democrats "have more hate than any of the hate that was at Charlottesville. ... They are angry that the concepts of life, liberty, pursuit of happiness exist. And their mission is obviously to shut them down." https://www.mediamatters.org/video/2019/06/28/rush-limbaugh-rants-7-minutes-about-how-democrats-are-country-s-biggest-hate-group/224090

Fox gushes over Trump's DMZ photo-op while foreign policy experts slam him for granting legitimacy to North Korea's dictator. https://www.mediamatters.org/research/2019/07/01/fox-gushes-over-trumps-dmz-photo-op-while-foreign-policy-experts-slam-him-granting-legitimacy-north/224098

Karl Rove defended Trump entering North Korea. In 2008, Rove warned against Obama participating in "meaningless meetings that serve only as propaganda victories for our adversaries." https://www.mediamatters.org/blog/2019/07/01/karl-rove-defended-trump-entering-north-korea-2008-rove-warned-against-obama-participating/224102

Rush Limbaugh says that "maybe toilet water is a step up for" some migrants, "based on what the left is telling us." Limbaugh suggests Rep. Alexandria Ocasio-Cortez and "this gaggle of hysterical women" are telling "flat-out lies" about conditions in immigrant detention centers. https://www.mediamatters.org/video/2019/07/02/Rush-Limbaugh-says-that-maybe-toilet-water-is-a-step-up-for-some-migrants-based-on-what-th/224113
11. Judge blocks Trump from using billions in military funds for border wall
A federal judge on Friday issued a ruling blocking the Trump administration from tapping billions of dollars in military funds to construct a wall on the United States southern border.
U.S. District Judge Haywood Gilliam issued the permanent injunction in a California federal court, after initially ruling last month to temporarily halt the administration's use of military funds for the border wall. https://thehill.com/regulation/court-battles/450987-judge-permanently-blocks-trump-from-using-billions-in-military-funds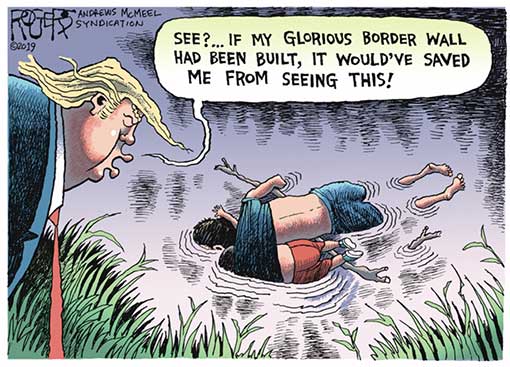 12. Kamala Harris Is Surging and Birtherism Is Back
Kamala Harris broke out from the other nine Democrats onstage during the second Democratic presidential primary debate on Thursday, calling on her personal experiences of racial injustice as a black woman.
"As the only black person on this stage, I would like to speak on the issue of race," Harris said.
That's when she was attacked on Twitter by a conservative provocateur for not being an "American black." It's a play straight out of the racist birther playbook used against Barack Obama when he ran for president a decade earlier. This time, though, those kinds of allegations don't have to circulate for years on obscure right-wing forums before they reach a mainstream audience. On Thursday night, spammers and even one of President Trump's sons spread the attack to millions of people within hours.  https://www.thedailybeast.com/kamala-harris-is-surging-and-birtherism-is-back
13. From the Late Shows
The Late Show with Stephen Colbert: Rep. Alexandria Ocasio-Cortez: "We Can't Just Say, 'Is Miami Going To Exist In 50 Years?'"https://youtu.be/71E0RJWDgpQ

The Late Show with Stephen Colbert: Trump's 22nd Sexual Assault Allegation | The Daily Show https://youtu.be/ZGv6QfZkWo8

America's High Ideals Aren't On Display At U.S. Detention Facilities: https://youtu.be/YIVIH9ML23Y

Stephen Colbert Unpacks The First Debate Of The 2020 Campaign: https://youtu.be/jke4r28INDQ

Votegasm 2020: The Democratic Debates, Night Two | The Daily Show: https://youtu.be/RpI-QFq38aE

Mitch McConnell: Dry Rot of Democracy | Full Frontal: https://youtu.be/0ssySdK98zk

Stephen Colbert's LIVE Monologue Following Democratic Debate #2: https://youtu.be/Rm7viX6VmT4
14. House backs ban on White House spending at Trump's properties, sending message to president
Targeting federal spending at properties owned by President Trump, the House on Wednesday passed legislation that would bar the White House and other federal entities from doing business with Trump-affiliated establishments.
The provision, which could greatly complicate Trump's routine visits to his various properties, was included in a $24 billion appropriations bill for various federal agencies that passed on a 224-196 vote largely along party lines. The Senate has not acted on its corresponding bill, and the Republican majority there is unlikely to agree to include it in any spending legislation that ultimately becomes law. https://www.washingtonpost.com/powerpost/house-backs-ban-on-white-house-spending-at-trumps-properties-sending-message-to-president/2019/06/26/fac81964-984f-11e9-83
15. The Secret Facebook Group for Border Patrol Officials Is Absolutely Horrifying
In a secret Facebook page for former and current Border Patrol officers called "I'm 10-15," members made racist, sexist, and inhumane comments about migrants, and government officials, including representative Alexandria Ocasio-Cortez, according to a new report by ProPublica.
The group — whose name refers to the Border Patrol's code 10-15, for "aliens in custody" — reportedly has about 9,500 members, which is nearly half the current number of Border Patrol officers. ProPublica reported that they were able to connect many of the participants in the conversations to "apparently legitimate Facebook profiles belonging to Border Patrol agents."
On the page, members joked about the deaths of migrants, with one sharing a GIF of Elmo saying "Oh well," in response to a story someone posted about Carlos Gregorio Hernandez-Vasquez, a 16-year-old Guatemalan migrant who died in custody at a Border Patrol station in Weslasco, Texas. "If he dies, he dies," commented another.
Another member shared the viral photo of Óscar Alberto Martínez Ramírez and his 23-month-old daughter, Valeria, who drowned trying to cross the Rio Grande in June. "I HAVE NEVER SEEN FLOATERS LIKE THIS," they wrote, suggesting that the photograph had somehow been altered. (As ProPublica notes, there is no indication that it has been.)
Representative Alexandria Ocasio-Cortez, who has compared migrant detention centers to concentration camps, is a frequent subject of disgusting memes and comments. Multiple illustrations have been edited to show the freshman congresswoman performing oral sex — in one, on Donald Trump, and in another, at an immigrant detention center with the caption, "Lucky Illegal Immigrant Glory Hole Special Starring AOC." https://www.thecut.com/2019/07/secret-facebook-group-border-patrol-agents.html
16. 7 Months After Florida Approved an Expansion of Voting Rights, the Governor Just Gutted It
Florida Gov. Ron DeSantis signed a law on Friday denying the right to vote to anyone with a past felony conviction who owes money to the state. Critics call it a modern-day poll tax, and the ACLU immediately filed suit against the law after DeSantis signed it.
The move effectively counteracts a ballot initiative approved by 64 percent of Florida voters in November. That initiative restored voting rights to previously incarcerated individuals who had completed probation and parole, except those convicted of murder or a sexual offense. Amendment 4, as the measure was known, was set to restore voting rights to up to 1.4 million people, but the new law could disenfranchise half a million Floridians who still owe restitution and other fees, which often total tens of thousands of dollars.   https://www.motherjones.com/politics/2019/06/7-months-after-florida-approved-an-expansion-of-voting-rights-the-governor-just-gutted-it/
17. The White House would be barred from spending taxpayer funds at Trump's estate and other businesses he owns under a House bill that passed Wednesday.
Targeting federal spending at properties owned by President Trump, the House on Wednesday passed legislation that would bar the White House and other federal entities from doing business with Trump-affiliated establishments.
The provision, which could greatly complicate Trump's routine visits to his various properties, was included in a $24 billion appropriations bill for various federal agencies that passed on a 224-196 vote largely along party lines. The Senate has not acted on its corresponding bill, and the Republican majority there is unlikely to agree to include it in any spending legislation that ultimately becomes law.
But the amendment sponsored by Democratic Reps. Steve Cohen (Tenn.), Jamie B. Raskin (Md.), Mark DeSaulnier (CA) and Hakeem Jeffries (N.Y.) sends a message to the White House over the propriety of taxpayer funds going to Trump's businesses. [When Trump visits his clubs, government agencies and Republicans pay to be where he is.]
It says that none of the agencies funded in the bill — including the Executive Office of the President, which handles presidential travel arrangements — may "enter into any new contract, grant, or cooperative agreement" with any of dozens of listed entities.
Those entities include companies listed on Trump's annual financial disclosure report as well as other properties listed on the Trump Organization's website. https://www.washingtonpost.com/powerpost/house-backs-ban-on-white-house-spending-at-trumps-properties-sending-message-to-president/2019/06/26/fac81964-984f-11e9-830a-21b9b36b64ad_story.html
18. U. S. asylum officers say Trump's 'Remain in Mexico' policy is threatening migrants' lives, ask federal court to end it
U.S. asylum officers slammed President Trump's policy of forcing migrants to remain in Mexico while they await immigration hearings in the United States, urging a federal appeals court Wednesday to block the administration from continuing the program. The officers, who are directed to implement the policy, said it is threatening migrants' lives and is "fundamentally contrary to the moral fabric of our Nation."
The labor union representing asylum officers filed a friend-of-the-court brief that sided with the American Civil Liberties Union and other groups challenging Trump's Migrant Protection Protocols program, which has sent 12,000 asylum-seeking migrants to Mexico since January. The policy aims to deter migrants from coming to the United States and to keep them out of the country while courts weigh their claims.
The union argued that the policy goes against the nation's long-standing view that asylum seekers and refugees should have a way to escape persecution in their homelands, with the United States embracing its status as a safe haven since even before it was founded — with the arrival of the Pilgrims in the 17th century.
The union said in court papers that the policy is compelling sworn officers to participate in the "widespread violation" of international and federal law — "something that they did not sign up to do when they decided to become asylum and refugee officers for the United States government." https://www.washingtonpost.com/immigration/u-s-asylum-officers-say-trumps-remain-in-mexico-policy-is-threatening-migrants-lives-ask-federal-court-to-end-it/2019/06/26/863e9e9e-9852-11e9-8d0a-5edd7e2025b1_story.html
19. House Democrats sue Trump administration over president's tax returns
House Democrats filed a lawsuit Tuesday in federal court seeking access to President Trump's tax returns, accusing the Trump administration of an "extraordinary attack" on Congress in preventing the disclosure of the president's personal financial records.
Rep. Richard E. Neal (D-Mass.), chairman of the House Ways and Means Committee, filed the lawsuit against the Internal Revenue Service and the Treasury Department after months of feuding with the administration over the returns.
Treasury Secretary Steven Mnuchin and IRS Commissioner Charles Rettig, who have denied Democrats' demands for the returns, are named as defendants. https://www.washingtonpost.com/business/2019/07/02/house-democrats-sue-trump-administration-over-presidents-tax-returns/
20. Who's behind the law making undocumented immigrants criminals? An 'unrepentant white supremacist.'
The provision of federal law criminalizing unlawful entry into the United States — which some Democratic presidential candidates now want to undo — was crafted by an avowed white supremacist who opposed the education of black Americans and favored lynching, which he justified by saying, "to hell with the Constitution."
The law, referred to as Section 1325, became a flash point in the first of two Democratic presidential debates this week, when Julián Castro, a former secretary of housing and urban development, challenged his rivals to back its repeal. The measure's little-known history did not arise on Wednesday night in Miami, where the first cohort of Democrats vying to compete against President Trump took the stage. No one mentioned Sen. Coleman Livingston Blease.
But the legacy of the criminal lawyer and neo-Confederate politician from South Carolina hangs over the 2020 election. Blease was the architect of Section 1325, the part of Title 8 of the United States Code that makes it a misdemeanor to enter the country without authorization.
The influence of Jim Crow on the nation's immigration laws is personified by Blease, whom Hernández called an "unrepentant white supremacist." His ideas gained currency as part of a larger effort to enforce racial exclusion a century ago, including through national origin quotas and a complete ban on immigrants from Asia. That system was scrapped during the civil rights era, but criminal penalties for unlawful entry remain. "The world that Blease imagined in 1929 is very much the world in which we're living," Hernández said.
Meanwhile, abandoning the criminal classification of unlawful entry, and treating it instead as a civil infraction, could be "immensely consequential for undocumented immigrants. For one, it would prevent large-scale detention and end the practice of separating children from their parents, as the adults would no longer face criminal proceedings. https://www.washingtonpost.com/nation/2019/06/27/julian-castro-beto-orourke-section-immigration-illegal-coleman-livingstone-blease/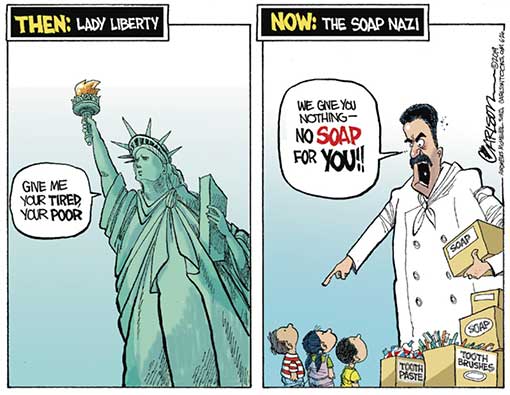 21. European heatwave sets new temperature records
An unusually early and exceptionally intense heatwave has set new temperature records in Europe and ensuring that the month of June was the hottest on record for the continent, with the average temperature 2° Celsius above normal. The high temperatures pose a major threat to people's health, agriculture and the environment, but initial reports indicated that heat-health early warnings successfully limited the death toll.
Such heatwaves are consistent with climate scenarios which predict more frequent, drawn out and intense heat events as greenhouse gas concentrations lead to a rise in global temperatures.  
"Every heatwave occurring in Europe today is made more likely and more intense by human-induced climate change," said a study published by scientists at World Weather Attribution on the Human contribution to record-breaking June 2019 heatwave in France. https://public.wmo.int/en/media/news/european-heatwave-sets-new-temperature-records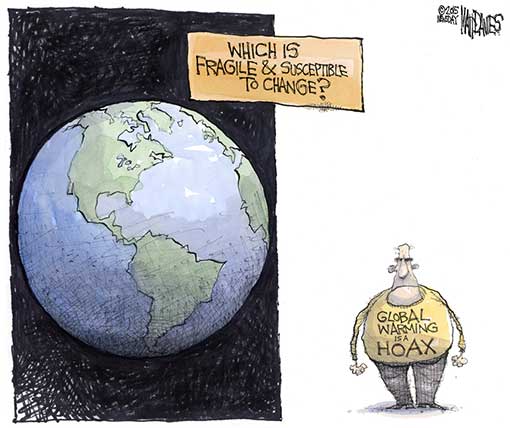 22. Internal Cracks Emerge In GOP Strategy to Avoid Shutdown
Senate Republicans are struggling to unite behind a plan to fund the government after budget talks have ground to a halt.
Congress has until the end of September to prevent the second government closure of the year, but Republicans are struggling to overcome the first roadblock — agreeing to top-line defense and nondefense figures or deciding what comes next if they can't.
The drama over how to fund the government and avoid deep budget cuts has played out in private, closed-door meetings and put a public spotlight on the high-profile split among Republicans as well as with the White House about the best path to avoiding a shutdown.
"I'm very concerned. We've only got about 20 days left between now and the end of September, which is the end of the fiscal year. It looks to me like we've got total gridlock right now," Sen. David Perdue (R-Ga.), a close Trump ally who is up for reelection, told The Hill. https://thehill.com/homenews/senate/450973-cracks-emerge-in-gop-strategy-to-avoid-shutdown
23. AP-NORC Poll: Trump not boosted by strong American economy
Nearly two-thirds describe as "good" an economy that appears to have set a record for the longest expansion in U.S. history, with decade-long growth that began under Barack Obama. More people consider the economy to be good today than did at the start of the year.
But significantly fewer approve of Trump's handling of the economy, even as it remains a relative strength compared with other issues. The survey indicates that most Americans do not believe they're personally benefiting from his trade policies. And only 17% said they received a tax cut, despite government and private sector figures showing that a clear majority of taxpayers owed less after the president's tax overhaul passed in 2017.
These doubts create a possible vulnerability as Trump highlights the economy's solid performance in his campaign for re-election in 2020. During two nights of debates last week, almost every Democratic presidential candidate found ways to criticize the president by decrying the wealth gap. https://apnews.com/a5523454096a4c2b9e8406251ee8c2a2
24. With 16 Months to go, Negative Partisanship Predicts the 2020 Presidential Election
Rachel Bitecofer's Negative Partisanship Model — which nailed the 2018 midterm elections — predicts Democrats will win the presidency in 2020.
The leaking of the Trump campaign's internal polling has somewhat softened the blow of this forecast, as that polling reaffirms what my model already knew: Trump's 2016 path to the White House, which was the political equivalent of getting dealt a Royal Flush in poker, is probably not replicable in 2020 with an agitated Democratic electorate. And that is really bad news for Donald Trump because the Blue Wall of the Midwest was then, and is now, the ONLY viable path for Trump to win the White House.
Does the Democrat's nominee matter? Sure, to an extent. If the ticket has a woman, a person of color or a Latino, or a female who is also a person of color, Democratic Party turnout will surge more in really important places. If the nominee is Biden he'd be well-advised to consider Democratic voter turnout his number one consideration when drawing his running mate to avoid the critical mistake made by Hillary Clinton in 2016. This is true for any of the white male candidates. If the nominee hails from the progressive wing of the party, it will provoke massive handwringing both within the party and the media that if not controlled could become self-reinforcing. But the Democrats are not complacent like they were in 2016 and I doubt there is any amount of polling or favorable forecasts that will make them so. That fear will play a crucial role in their 2020 victory. We will not see a divided Democratic Party in 2020. http://cnu.edu/wasoncenter/2019/07/01-2020-election-forecast/
25. Trump fumes about Cuomo, New York A.G. over state investigations
Donald Trump on Monday accused New York Gov. Andrew Cuomo of using the state's attorney general, Letitia James to target his businesses for political purposes, claiming in an afternoon tweet storm that the state sues "for everything" and is "always in search of a crime."
"It is very hard and expensive to live in New York," Trump began. "Governor Andrew Cuomo uses his Attorney General as a bludgeoning tool for his own purposes. They sue on everything, always in search of a crime. I even got sued on a Foundation which took Zero rent & expenses & gave away more money than it had."
https://www.nbcnews.com/politics/donald-trump/trump-fumes-about-cuomo-new-york-g-over-state-investigations-n1025316?cid=public-rss_20190701
26. Trump Slaps Tariffs on Solar Panels in Major Blow to Renewable Energy
"In the biggest blow he's dealt to the renewable energy industry yet, President Trump decided on Monday to slap tariffs on imported solar panels," Time reports.
The U.S. will impose duties of as much as 30 percent on solar equipment made abroad, a move that threatens to handicap a $28 billion industry that relies on parts made abroad for 80 percent of its supply." https://time.com/5113472/donald-trump-solar-panel-tariff/
27. June was hottest ever recorded on Earth
Data provided by the Copernicus Climate Change Service (C3S), implemented by the European Centre for Medium-Range Weather Forecasts on behalf of the EU, showed that the global average temperature for June 2019 was the highest on record for the month. https://www.independent.co.uk/news/world/june-hottest-month-ever-earth-2019-weather-heatwave-hot-a8984691.html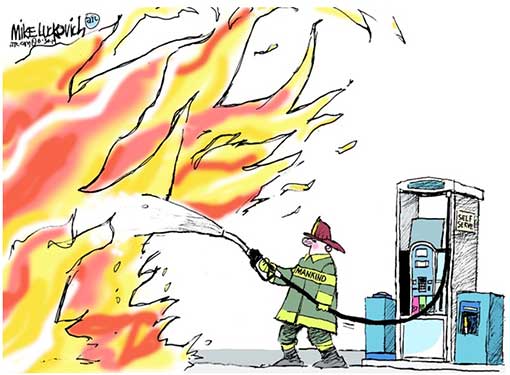 1. Max Boot: Trump's Fourth of July salute to himself will only hurt him
It's no surprise that President Trump has hijacked the Fourth of July ceremony on the Mall. He wants to turn a celebration of America's founding into a celebration of himself. Obscene, yes, but entirely in character. Alice Roosevelt Longworth, Theodore Roosevelt's eldest child, said: "My father always wanted to be the corpse at every funeral, the bride at every wedding and the baby at every christening." That is Trump to a T — minus any of Roosevelt's redeeming qualities.
A desire to be the center of attention has been — along with a desire for money and a desire to grab women by their private parts — Trump's defining passion in life. It is why he has plastered his name on so many buildings and products. Why he fed the New York tabloids so many stories about himself. And ultimately why he ran for president. He didn't think he'd win — it was just a way to get the attention he's always craving.
Remarkably enough, Trump hasn't become any less needy and greedy for publicity since he entered the White House. Having drunk so deeply at the well of ego gratification, he keeps coming back for ever-bigger gulps.
By the standards of normal politicians who want to get things done and win reelection, Trump's presidency has been a fiasco. But by the standards of a reality TV show performer, he is accomplishing far more than he could have ever imagined. Getting attention as a real estate developer took a lot of work. For a president, it's effortless. He finally has a narcissist's dream job, and he will try to keep it as long as he can. The irony is that the more he struggles to stay in the limelight, the likelier he is to lose it. https://www.washingtonpost.com/opinions/trumps-fourth-of-july-salute-to-himself-will-only-hurt-him/2019/07/03/38da2564-9da8-11e9-b27f-ed2942f73d70_story.htm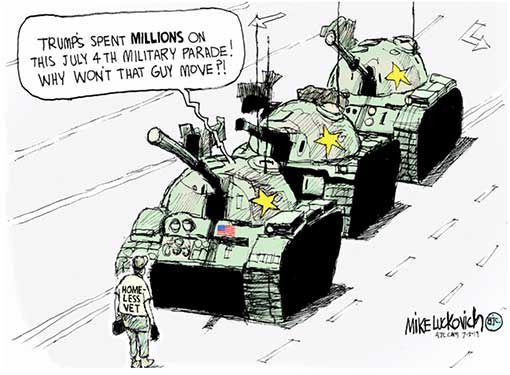 2. Michelle Goldberg: The Welcome Humiliation of John Bolton
Say this for Donald Trump. He may be transforming American politics into a kleptocratic fascist reality show and turning our once-great country into a global laughingstock, but at least he's humiliating John Bolton in the process.
Many people who get involved with this president end up diminished, embarrassed or, in quite a few cases, indicted. Rex Tillerson, once known as a corporate titan, will now be remembered for his brief, ineffectual record as secretary of state. Michael Cohen, Trump's former attorney, and Paul Manafort, his former campaign manager, are in prison.
Bolton's comeuppance is of a different kind. By taking to Fox News to kiss up to Trump, he became national security adviser, a job that no other president would have ever given to a discredited warmonger. His reward is that, after devoting his life to the expansion of American power globally, he's a hapless party to its contraction. For a person to sell out his putative ideals for such a hollow victory would be like a Greek drama, if the Greeks had written dramas about such small men. https://www.nytimes.com/2019/07/01/opinion/john-bolton-trump.html
3.  Narges Bajoghli: Trump's Iran Strategy Will Fail. Here's Why.
While the Revolutionary Guards remains a repressive organization, intolerant of dissent, for the moment it has managed to shift public opinion in its favor. The regime has long smeared its domestic critics as tools of Western imperialism, but the generations born after the revolution were skeptical of that message. In large numbers, young people kept voting for leaders who called for domestic reform, and promised dialogue with the West.
The Trump administration's aggression has changed that. Hard-line factions in the guards and the political establishment have claimed for years that the United States cannot be trusted, despite calls by moderates and reformers for Tehran to take conciliatory measures toward the United States. With Mr. Trump unilaterally pulling out of the international nuclear accord, despite Iran's compliance, conservatives in the Islamic Republic feel vindicated in their distrust of the United States.
Despite the frustrations that many Iranians have with their political leaders, modern Iranian history teaches that one of the core themes in the country's political culture is the struggle for independence from foreign powers. The revolution was the most significant milestone in that struggle, but it was also just one part of this larger story. As long as the Trump administration believes it can use sanctions and hostile rhetoric to drive a wedge between the Iranian public and its leaders, the Revolutionary Guards will use that same pressure to enforce solidarity behind it and the regime — and defeat any attempt by the West to bring change to Iran. https://www.nytimes.com/2019/06/30/opinion/trump-iran-revolutionary-guards.html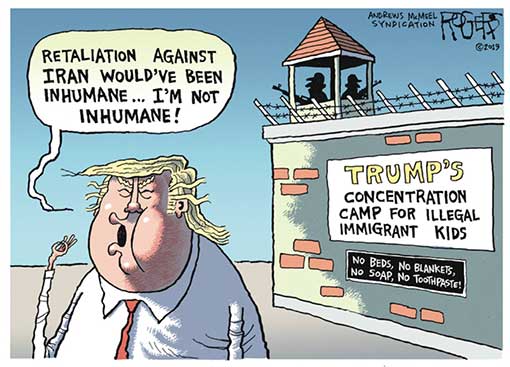 4. Greg Weiner: The Trump Fallacy
President Trump lies so reflexively on trivial matters that world leaders do not know whether to believe him on important ones. This conduct has become so routine it barely merits notice. He denounces the press as "the enemy of the people," derides his critics as treasonous and openly fawns over an autocrat whose modern-day gulags practice extermination, torture and sexual violence. The president's most strenuous apologists have long swept all this away with the breezy assurance that he should be taken "seriously, not literally." Instead of his bombast, they say, look to policies of which conservatives approve.
This image of Mr. Trump as a political Robin Hood whose illicit behavior is justified because it serves a greater good is doubly flawed. First, the lying and vulgarity are unrelated to the policies Mr. Trump's base wants implemented. Second, his supporters purport to seek a restoration of American founding principles. This increasingly strains credulity. But if they profess constitutionalism, they should at least understand that it is more about process than policy. Constitutions depend on habits and traditions, not the momentary outcomes they produce. Mr. Trump's upending of these customs, not his transient policies, will form the legacy that endures.
The first flaw arises from what might be called the "post Trump, ergo propter Trump" fallacy. It is a form of the "post hoc ergo propter hoc" error in logic: "after, therefore because of." The classic illustration is the supposition that the rooster's crow causes the sunrise because the second event follows the first.
In the version of the fallacy his defenders espouse, Mr. Trump violates customary standards of presidential behavior and then delivers desired policies, so the assumption is that the violations produced the policies. No one believes this more vehemently than Mr. Trump himself, a man who crows before the stock market rises and believes he caused it to occur. The challenge in his case is that the boorishness that supposedly yields conservative outcomes is so unrelenting it is impossible to correlate with anything and plausible to associate with everything. https://www.nytimes.com/2019/06/30/opinion/trump-fallacy.html
5. Greg Sargent: The new GOP attacks on Mueller will backfire on Trump — bigly
Given that Robert S. Mueller III's findings supposedly amounted to "total exoneration" for President Trump, you might be puzzled to learn that Trump's top allies are spending enormous amounts of time scheming about how to undermine the former special counsel's credibility and cast doubt on those findings.
With Mueller set to testify to Congress on July 17, Politico reports that Trump's leading Republicans defenders in the House are putting together a new battle plan that will finally expose the Mueller investigation once and for all as the fraud it has always been.
If Mueller's investigation exonerated Trump, you would think the best strategy for Trump's allies would be to simply sit back while Mueller describes his findings in as detailed and unvarnished way as possible. Oddly enough, that's not what they're planning on doing.
The monumental absurdity at the core of this disconnect is the reason this strategy is likely to backfire on Trump. Yet, at the same time, the very existence of this strategy, despite its obvious ridiculousness, opens a window on how the Trump propaganda network wields disinformation, and how in certain respects, it does serve his ends. https://www.washingtonpost.com/opinions/2019/07/01/new-gop-attacks-mueller-will-backfire-trump-bigly/
6. Paul Krugman: The Moochers of Middle America
I've been reading a recent Rockefeller Institute report on states federal 'balance of payments' — the difference for each state between what the federal government spends in that state and what it gets back in revenue.
The pattern is familiar: Richer states subsidize poorer states. And the reasons are clear: Rich states pay much more per person in federal taxes, while actually getting a bit less in federal spending, because Medicaid and other 'means-tested' programs go disproportionately to those with low incomes. But the magnitudes are startling.
Take the case of Kentucky. In 2017, the state received $40 billion more from the federal government than it paid in taxes. That's about one-fifth of the state's G.D.P.; if Kentucky were a country, we'd say that it was receiving foreign aid on an almost inconceivable scale. https://www.nytimes.com/2019/07/01/opinion/2020-democrats-taxes.html
7. Jennifer Rubin: Sometimes, even in post-debate polling, conventional wisdom gets it right
The CNN poll has some red flags for Democrats. By a 57 percent to 37 percent margin, voters say a new health-care system shouldn't completely replace private insurance. And among Democrats, only 31 percent think it is a good idea and 50 percent do not. On the broader question of whether the government should cover everyone even if it requires higher taxes, 56 percent (including 87 percent of Democrats) say yes, 40 percent say no. In short, for the life of me, I cannot see any upside in promising to abolish private health care. Nevertheless, a batch of these candidates including Warren and Sanders are promising to do just that.
Likewise, by a difference of 59 percent to 38 percent, Americans say they don't want to give government health-care coverage to illegal immigrants. However, 66 percent of Democrats approve of the idea. That's a quintessential issue on which a popular position in the primaries is a loser in the general election.
Democrats and those who lean Democratic are now confident (61 percent to 30 percent) that their candidate can beat President Trump. But it stands to reason that who they nominate will matter a great deal.
A final, critical aspect of this poll is Biden's commanding lead (31 percent) among conservative and moderate Democrats. No other candidate gets more than 11 percent. If Biden implodes — and we are a long way from that — determining who else could capture the moderate/conservative Democratic electorate will be a vital concern. If there is a two- or three-person race among candidates who all appeal more to liberal Democrats, there could be room for a moderate, or someone moderate-friendly, to win the nomination.
That might leave a slice of daylight for someone such as Klobuchar, or it might mean that Harris, if she doesn't follow Sanders and Warren all the way out on the party's left branch, might become the consensus candidate.
If she simply mimics the two super-progressives, she might have a hard time. https://www.washingtonpost.com/opinions/2019/07/02/two-lines-counterattack-harris-will-either-work/
8. Brian Klaas: Will Boris Johnson bring Trumpism to Britain?
He's a narcissistic serial philanderer with larger-than-life hair who was born in New York. He lies routinely and has encouraged political violence. He makes racist statements, basks in the media attention from his outlandish statements and unapologetically follows self-interest rather than principle. Now he's about to become one of the most powerful men in the world.
No, this isn't America in November 2016. I speak of Britain in July 2019.
Boris Johnson is the odds-on favorite to become Britain's next prime minister on July 24, when a new leader is slated to take over from Prime Minister Theresa May. Johnson is currently in a two-man battle (against British Foreign Secretary Jeremy Hunt) for the leadership of the Conservative Party.
There are, of course, plenty of differences between Boris Johnson and Donald Trump. But their biggest hidden similarity — the one nobody is talking about — is how their paths to power were paved by a conservative political party that decided to become a vehicle for xenophobic nationalism, co-opting bigots and lunatics rather than denouncing them.
In the United States, the tea party movement emerged a month after Barack Obama became president in January 2009. Ostensibly, the movement was about taxes and government spending. And while that may have been true for some of the intellectual architects of the movement, the rank and file were far more motivated by xenophobic nationalism and social conservatism. If you wanted to see signs or hear speeches that falsely claimed Obama was a secret Muslim from Kenya, the best bet was to attend a tea party rally. https://www.washingtonpost.com/opinions/2019/07/02/will-boris-johnson-bring-trumpism-britain/
9. Jennifer Rubin: Trump's celebration of himself is the perfect reminder of why he must leave
Trump has crushed political norms and constitutional barriers, whether by his incessant, brazen lying or his defiance of Congress in executive power grabs or impeding the Mueller investigation or smearing our intelligence community or taking monies from foreign governments in violation of the emoluments clause (according to two district court judges). But now, he has really done it.
Absconding with the most American of holidays, Independence Day, he plans to run a Soviet-style military display on the Mall; and just like the Soviets of old, he'll have rich apparatchiks ... er, donors, in preferred seats, because nothing says Fourth of July like preferential treatment for rich toadies.
The event embodies so much of what is wrong with Trump that a Hollywood screenwriter surely would have been told to do a page-one rewrite of "Trump's Grotesque Celebration of Himself." It has nearly every Trumpian element.
There is the cringe-worthy ignorance. ("Abrams tanks — which Trump referred to as 'Abram' tanks in his remarks — weigh more than 60 tons and are usually transported over long distances by heavy rail," The Post reports. "Trump also said 'we have the brand-new Sherman tanks,' which have not been in use by the U.S. military since the 1950s.")
There is the misuse of the military as props for his own partisan ends and personal glorification (especially demanding that service commanders to stand at his side during the flyovers, as any tinpot dictator would insist upon). His incessant desire to ingratiate himself (he imagines) with the military while lacking any sense of its code of honor and values (e.g. considering pardons for war criminals, extolling police brutality) is a pathetic attempt to "make up" for draft avoidance.
There is the raiding of the Treasury for his personal aggrandizement. "The F-35 costs about $30,000 per hour to fly, according to Pentagon estimates. Each Blue Angel jet costs at least $10,000 per hour to operate, and the cost of flying an Air Force One jet is more than $140,000 per hour," The Post reports. Moreover, "Two major fireworks firms have donated a pyrotechnic show valued at $750,000, for example, but the Park Service will have to pay employees overtime to clean up the remnants of that display." https://www.washingtonpost.com/opinions/2019/07/02/trumps-celebration-himself-is-perfect-reminder-why-he-must-go/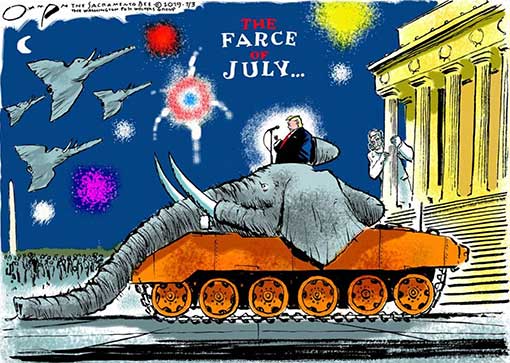 10. Alexander Burns and Jonathan Martin-- Liberal Democrats Ruled the Debates. Will Moderates Regain Their Voices?
The Democratic debates this past week provided the clearest evidence yet that many of the leading presidential candidates are breaking with the incremental politics of the Clinton and Obama eras, and are embracing sweeping liberal policy changes on some of the most charged public issues in American life, even at the risk of political backlash.
Vowing to eliminate private health insurance, decriminalize illegal immigration and provide government health care benefits to undocumented migrants, high-profile contenders like Senators Bernie Sanders, Elizabeth Warren and Kamala Harris are wagering that they can energize voters eager to dismantle President Trump's hard-line policies.
But with moderate Democrats repeatedly drowned out or on the defensive in the debates, the sprint to the left has deeply unnerved establishment Democrats, who have largely picked the party nominees in recent decades. They fear that advocating a government-run health care system could alienate suburban and upper-income voters who are otherwise eager to eject Mr. Trump from office, while the most progressive immigration policies might turn off the working-class white voters who backed Mr. Trump after twice supporting former President Barack Obama.
Liberals point to polls showing that policies like universal health care and tuition-free college are growing in popularity, and argue that victory in 2020 depends in part on inspiring turnout from young voters and progressives. Yet other Democrats came away from the debates fearful that the party was squandering the chance to make the election a referendum on an unpopular president, and staking its fortunes on untested policy promises instead. https://www.nytimes.com/2019/06/29/us/politics/2020-democrats.html
11. Chas Danner: Trump's Big Tariff Threat Against China Is Officially a Flop
President Trump has backed down on his threat to impose new tariffs in his trade war with China, and will once again allow U.S. companies to sell to Huawei. He announced the big about-face after a long meeting with President Xi Jinping at the G20 on Saturday in which the two leaders agreed to restart trade-deal negotiations.
The president said that existing U.S. tariffs on goods from China, which currently target $250 billion worth of exports, would remain in place, but he would hold off (for the "time being") on imposing new ones.
Ahead of the last round of trade talks, the president had vowed to impose tariffs on an additional $300 billion worth of goods if China didn't agree to a deal. He didn't impose them, but kept up with the threat anyway. The tariffs, if implemented, would have meant targeting almost everything China exports to the U.S. Paired with China's retaliatory tariffs, they could have had a significant negative impact on the global economy, on U.S. businesses and consumers, and on President Trump's reelection chances.
Now, six weeks of stalemate later, Trump seems to have been forced to realize that his big threat was met with a big "meh." http://nymag.com/intelligencer/2019/06/trumps-big-tariff-threat-against-china-is-officially-a-flop.html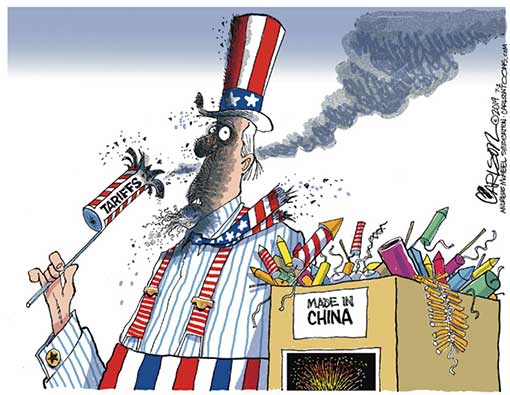 12. Maureen Dowd: Kamala Shotguns Joe Sixpack
Kamala Harris, who had been trying to appease the progressives on Twitter who berate her for her law enforcement record, suddenly found her inner cop.
Rather than asking Biden to pass the torch, she took a blowtorch to him.
"I do not believe you are a racist," she allowed about the man who was the partner of the first black president, had a good civil rights record and claimed (unconvincingly) that he was inspired to run by his disgust at Charlottesville.
Harris snapped the cuffs on: "It was hurtful to hear you talk about the reputations of two United States senators who built their reputations and career on segregation of race in this country. And it was not only that, but you also worked with them to oppose busing. And you know, there was a little girl in California who was part of the second class to integrate her public schools, and she was bused to school every day. And that little girl was me."
Harris was grinding her stiletto on a vulnerable part of Biden's record. The reason Hill was eviscerated and a lying Clarence Thomas ascended to the Supreme Court is that Biden, as chairman of the Senate Judiciary Committee, was bending over backward to appease uncompromising Republicans on the panel — the same men who were falsely accusing Hill of perversity, erotomania and perjury.
After his poor debate showing, Biden tried to recover Friday in Chicago but stepped in it again, saying during a labor luncheon, "We've got to recognize that kid wearing a hoodie may very well be the next poet laureate and not a gangbanger."
Biden on Friday, during a labor luncheon in Chicago, argued that "the discussion in this race today shouldn't be about the past." But the problem at the moment is that Biden has too much past and not enough presence. https://www.nytimes.com/2019/06/29/opinion/sunday/kamala-harris-joe-biden-debate.html
13. Ben Taub: The Law That Makes It Easy to Go to War with Iran
Thirteen months ago, the United States pulled out of its own nuclear deal with Iran, not because the Iranians had violated it—there is no evidence to suggest that they had—but seemingly because it had been negotiated by President Trump's predecessor.
Now the Iranians have abandoned the nuclear deal, following a year of compliance with the remaining five partners; the Revolutionary Guard is gaining power and recklessly lashing out, giving the United States more reasons to respond with a deadly strike. On June 25th, in response to Iran's President, Hassan Rouhani, saying that the White House was "afflicted by mental retardation," Trump threatened the "obliteration" of Iran. After which, who knows?
The cultural norms of the Presidency are currently determined by a man who, on the afternoon of September 11, 2001, was asked on live television whether a building he owned on Wall Street had suffered any damage during the attack. "Well, it was an amazing phone call," he said, as footage of the falling towers played onscreen. "Forty Wall Street actually was the second-tallest building in downtown Manhattan." (It wasn't.) "And now it's the tallest." He went on to suggest that a Boeing 767 couldn't "possibly go through the steel" beams without secondary explosions—a line of questioning at the core of the 9/11-truther movement. Then he became the President of the United States. https://www.newyorker.com/news/news-desk/the-law-that-makes-it-easy-to-go-to-war-with-iran
14. Ezra Klein: Kamala Harris was the Democrat you could imagine taking on Trump
Sen. Kamala Harris is the closest Democrats have to a potential consensus candidate. She doesn't suffer from the enmity that Hillary Clinton voters have for Sen. Bernie Sanders, or that leftists hold for former Vice President Joe Biden, or that the Obama administration has for Elizabeth Warren. She's not another white guy running to represent a diverse party. She's got enough political experience to be a credible candidate, but not so much that she's been on the wrong side of dozens of controversial issues.
But Harris wouldn't be the first politician to look good on paper only to falter in the campaign. And so the question that has quietly suffused Democratic politics for the past few years has been: Can she do it? Can she perform under the lights?
Thursday night, she proved she can.
Harris won a debate over Bernie Sanders's ideas despite Sanders standing right next to her. She looked like the heir to the Obama coalition despite the presence of Barack Obama's vice president on the stage.
She tore into Biden's comments about segregationists and his record on busing in a way that left him sputtering onstage, and that carried the meta-message that she'd be able to confront Trump with the same cool precision. She carefully criticized the Obama administration's record on immigration in a way that showed she wouldn't be hemmed in by the Democrats' past. It was a command performance. https://www.vox.com/policy-and-politics/2019/6/28/18953583/kamala-harris-democratic-debate-2019-miami-biden-trump-winner
15. Jonathan Chait: Sanders Claims 2016 Primary Was Rigged, Won't Commit to Supporting Winner
NBC's Kasie Hunt asked Bernie Sanders if he would commit to supporting the Democratic nominee before the convention if it's clear it won't be him. Sanders would not make any such commitment. Instead, he said, "some people say that maybe if the system was not rigged against me, I would have won the nomination."
While Sanders is coyly hiding behind the 'some people say' formulation, he is threatening to repeat the tactics he used in 2016, when he called the process 'rigged' and withheld his support long after the outcome was decided. http://nymag.com/intelligencer/2019/06/bernie-sanders-2016-rigged-wont-pledge-support-winner.html
16. Jonathan Chait: Democratic Presidential Candidates Need to Stop Taking Unpopular Stances
The Democratic presidential primary has worked to the party's disadvantage by maneuvering its candidates into unpopular positions. This is not quite a crisis, but it is a serious danger that, if not redressed, could blow up in the party's face.
Democrats have lots of room to run to attack President Trump from the left on economic and social policy while placing themselves on the right side of public opinion. And while the party as a whole has done so, the presidential contenders have been jostling to stand out by adopting a series of highly unpopular stances. To date, the following positions have been taken by some or all the candidates: replace all employer-provided private insurance with a government plan; decriminalize the border while also providing subsidized health insurance to undocumented immigrants; and provide reparations for the descendants of American slaves."
All these positions would likely be serious liabilities in a general election. What's more, none of them would appear to stand any plausible chance of enactment in the next administration. http://nymag.com/intelligencer/2019/07/democratic-candidates-taking-unpopular-stances-progressive-trump-private-insurance-decriminalize-border.html
17. Bess Levin: "I Made Him": Trump Loses His Mind In Batshit Fox Interview
But speaking of Jerome Powell, aka Trump's archnemesis du jour, here's what the president of the United States had to say about his hand-selected central bank chief:
"Here's a guy -- nobody ever heard of him before. And now, I made him, and he wants to show how tough he is, okay. Let him show how tough he is. He's a-- he's a-- he's not doing a good job."
Trump, who apparently thinks he's some kind of talent agent who "discovered" Powell bagging groceries and made a star, went on to claim that he has "the right" to demote or fire the Fed chair, which, it may or may not surprise you to hear, he actually doesn't. https://www.vanityfair.com/news/2019/06/donald-trump-maria-bartiromo-interview
18. Greg Sargent: The new GOP attacks on Mueller will backfire on Trump — bigly
Given that Robert S. Mueller III's findings supposedly amounted to "total exoneration" for President Trump, you might be puzzled to learn that Trump's top allies are spending enormous amounts of time scheming about how to undermine the former special counsel's credibility and cast doubt on those findings.
With Mueller set to testify to Congress on July 17, Politico reports that Trump's leading Republicans defenders in the House are putting together a new battle plan that will finally expose the Mueller investigation once and for all as the fraud it has always been.
If Mueller's investigation exonerated Trump, you would think the best strategy for Trump's allies would be to simply sit back while Mueller describes his findings in as detailed and unvarnished way as possible. Oddly enough, that's not what they're planning on doing.
The monumental absurdity at the core of this disconnect is the reason this strategy is likely to backfire on Trump. Yet, at the same time, the very existence of this strategy, despite its obvious ridiculousness, opens a window on how the Trump propaganda network wields disinformation, and how in certain respects, it does serve his ends. https://www.washingtonpost.com/opinions/2019/07/01/new-gop-attacks-mueller-will-backfire-trump-bigly/
19. Max Boot: Trump just proved he doesn't even know the meaning of America
Oh, the cruel irony. President Trump is planning to turn the Fourth of July celebrations into his own "Salute to America." And yet, while attending the Group of 20 summit in Osaka, Japan, Trump made clear that he has no idea what America is all about.
Just before coming to Osaka, Vladimir Putin attacked liberal democracy in an interview with the Financial Times. The Russian despot claimed that "the liberal idea" — which he maliciously defined as allowing "migrants" to "kill, plunder and rape with impunity" — had become "obsolete." Any normal democratic leader should have reacted as Donald Tusk, president of the European Council, did. He said, "What I find really obsolete is authoritarianism, personality cults, and the rule of oligarchs."
But when Trump was asked by Peter Baker of the New York Times about Putin's attack on "Western-style liberalism," he responded by criticizing San Francisco and Los Angeles, which he said are "sad to look at" because they are "run by liberal people." So Trump doesn't know the difference between West Coast liberalism and Western liberalism — between supporting the Green New Deal and supporting the immortal words of the Declaration of Independence that all people are endowed "with certain unalienable Rights," including "Life, Liberty, and the pursuit of Happiness." It is the issuance of the Declaration of Independence that we celebrate on July 4. But Trump is clueless. For him it's just another chance to stage a garish spectacle with himself at the center. https://www.washingtonpost.com/opinions/2019/06/29/trump-just-proved-he-doesnt-even-know-meaning-america/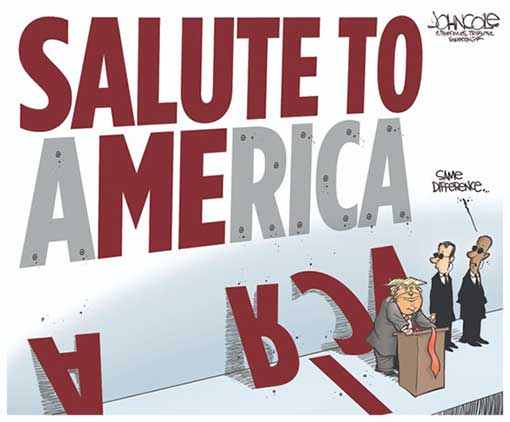 20. Donald Ayer: Why Bill Barr Is So Dangerous
Buried behind our president's endless stream of lies and malicious self-serving remarks are actions that far transcend any reasonable understanding of his legal authority. Donald Trump disdains, more than anything else, the limitations of checks and balances on his power. Witness his assertion of a right to flout all congressional subpoenas; his continuing refusal to disclose his tax returns, notwithstanding Congress's statutory right to secure them; his specific actions to bar congressional testimony by government officials; and his personal attacks on judges who dare to subject the acts of his administration to judicial review. More blatant yet are his recent assertion of a right to accept dirt on political opponents from foreign governments, and his declaration of a national emergency, when he himself said he "did not need to do this," he just preferred to "do it much faster."
Attorney General William Barr has not had the lead public role in advancing the president's claims to these unprecedented powers, which have come to us, like most everything about this president, as spontaneous assertions of Trump's own will. To the contrary, in securing his confirmation as attorney general, Barr successfully used his prior service as attorney general in the by-the-book, norm-following administration of George H. W. Bush to present himself as a mature adult dedicated to the rule of law who could be expected to hold the Trump administration to established legal rules. Having known Barr for four decades, including preceding him as deputy attorney general in the Bush administration, I knew him to be a fierce advocate of unchecked presidential power, so my own hopes were outweighed by skepticism that this would come true. But the first few months of his current tenure, and in particular his handling of the Mueller report, suggest something very different—that he is using the office he holds to advance his extraordinary lifetime project of assigning unchecked power to the president. https://www.theatlantic.com/ideas/archive/2019/06/bill-barrs-dangerous-pursuit-executive-power/592951/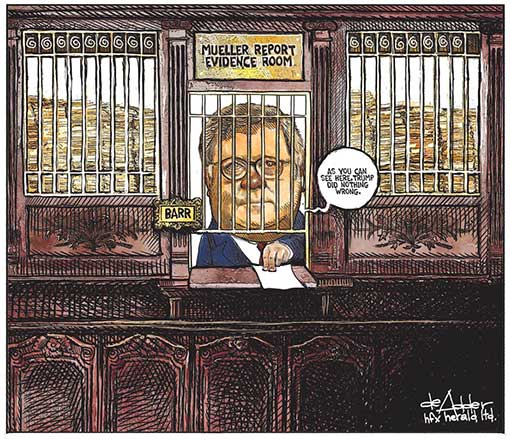 21. Michael Tomasky: Do Republicans Even Believe in Democracy Anymore?
A number of observers, myself included, have written pieces in recent years arguing that the Republican Party is no longer simply trying to compete with and defeat the Democratic Party on a level playing field. Today, rather than simply playing the game, the Republicans are simultaneously trying to rig the game's rules so that they never lose.
The aggressive gerrymandering, which the Supreme Court just declared to be a matter beyond its purview; the voter suppression schemes; the dubious proposals that haven't gone anywhere — yet — like trying to award presidential electoral votes by congressional district rather than by state, a scheme that Republicans in five states considered after the 2012 election and that is still discussed: These are not ideas aimed at invigorating democracy. They are hatched and executed for the express purpose of essentially fixing elections.
https://www.nytimes.com/2019/07/01/opinion/republicans-trump-democracy.html
22. Alexander Heffner: Trump Is Counting on the Media to Help Re-Elect Him—Will They Oblige?
In scrutinizing the Democratic candidates for president, the debate moderators largely restrained themselves from Trumpian fictional frames and themes, whether they are "walls," "caravans," "spying," or even his fantasy about challenging the constitutional law of impeachment. The result was Drudge's first post-debate headline: THEY IGNORE TRUMP! 
Instead, the candidates expounded on reality—American economic immobility, the continued health care crisis, and the climate emergency. If journalists ask questions based on the truth, it will also expose the president's exploitation of bigotry instead of helping to spread his lies.   
This doesn't come naturally to the media. Instead, they renormalize a habitually deceitful president in return for the perception of access. We saw this again Sunday, as some gloated about a groundbreaking presidential North Korea landing without appropriate context. A historic betrayal of American values and acquiescence to authoritarianism would be more accurate.
On last Sunday's Meet the Press interview of President Trump, the first of his presidency, Chuck Todd replicated the approach of ABC's 30 Hours special, enabling Trump to volley back and forth disinformation, like "votes cast that I don't believe," and personal grievances—without any merit or real public policy discussion. "EXCLUSIVE: President Donald Trump tells @chucktodd that impeachment is 'a very unfair thing,'" retweeted MSNBC. Erm... that's not an exclusive. https://www.thedailybeast.com/trump-is-counting-on-the-media-to-help-reelect-him-will-they-oblige