July 28, 2022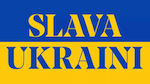 If you have a friend, family member, or neighbor who would like to subscribe to this FREE weekly newsletter they should simply email jellison@san.rr.com with "subscribe" as the subject.
THE WEEK'S BEST QUOTES. . .
Missouri Democrats are planning a "
Hawlin' Hawley 5K
" race to mock Sen. Josh Hawley's (R-MO) after the January 6 Committee showed video footage of him running for safety.
https://twitter.com/Acyn/status/1550287423560630278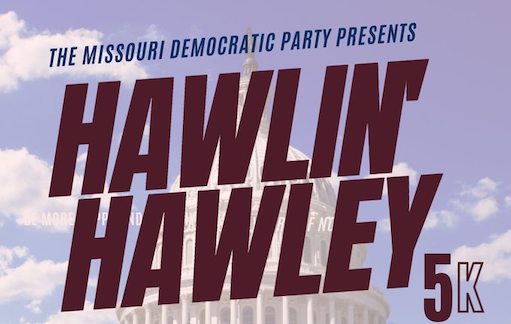 "Trump is now secondary to the cancer. Trump is like a cancer of the liver. Now we have cancer in the whole body, and the next person that can mimic Trump can still pull his magic tricks. We've got to stand up against this." —
Rep. Adam Kinzinger (R-Ill.) 
https://www.washingtonpost.com/politics/2022/07/23/adam-kizinger-politics-republicans/
"I would tell the Jan. 6 staff right now: preserve your documents because there's going to be a real committee, and this is going to be backed by Republican grassroots voters to say we want to get to the bottom of this for the good of the nation. We have to really govern, and I mean govern on offense. Every committee in the House needs to be an oversight committee. We have to go after the Biden administration, which is illegitimate." —
Steve Bannon
lashing out at the House January 6 committee hours after being found guilty of contempt of Congress.
https://www.businessinsider.com/bannon-issues-warning-to-jan-6-committee-hours-after-contempt-conviction-2022-7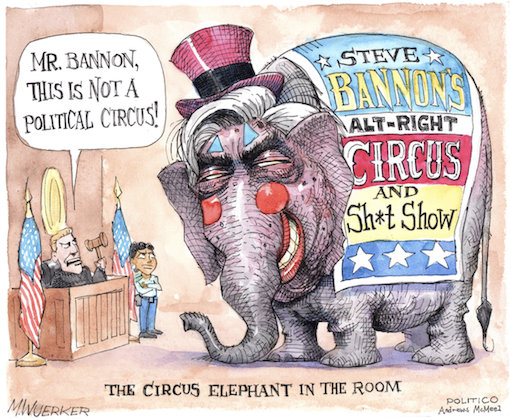 "They're Bolsheviks. So, they probably do hate the American founders and most White people in general. This is a Bolshevistic anti-White campaign. If you can't see that, your eyes are freaking closed. And so, they see me as a young Christian who they can try to basically scare, right?"  —
Garrett Ziegler, a former Trump White House aide,
in a 27-minute livestream using vulgar and misogynistic language to attack Cassidy Hutchinson and Alyssa Farah Griffin, two women who worked for the Trump White House but have since publicly broken from the former President and cooperated with the January 6 panel.
https://www.cnn.com/2022/07/20/politics/garrett-ziegler-rant/index.html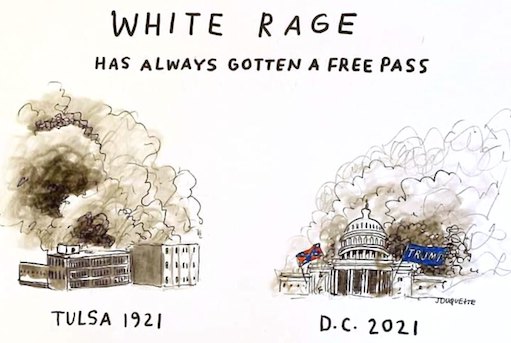 I "kinda liked that" when the head of the Taliban called me "Your Excellency." —
Donald Trump
in a speech to loyalists.
https://www.thedailybeast.com/trump-says-he-kinda-liked-that-taliban-called-him-your-excellency
"Why is it that the women with the least likelihood of getting pregnant are the ones most worried about having abortions? Nobody wants to impregnate you if you look like a thumb." — R
ep. Matt Gaetz (R-FL)
https://twitter.com/atrupar/status/1550954716913360896
"Fox & Friends just really botched my poll numbers, no doubt on purpose. That show has been terrible — gone to the 'dark side.' They quickly quote the big Turning Point Poll victory of almost 60 points over the number two Republican, and then hammer me with outliers." —
Trump
.
https://thehill.com/homenews/media/3572831-trump-fox-friends-has-gone-to-the-dark-side/.
"I haven't heard what his explanation is, but obviously that was not his greatest moment in that hearing." —
Sen. Mitt Romney (R-UT)
, on the
video
showing Sen. Josh Hawley (R-MO) fleeing the Capitol after riling up the crowd on January 6.
https://www.businessinsider.com/mitt-romney-josh-hawley-january-6-running-video-not-greatest-moment-2022-7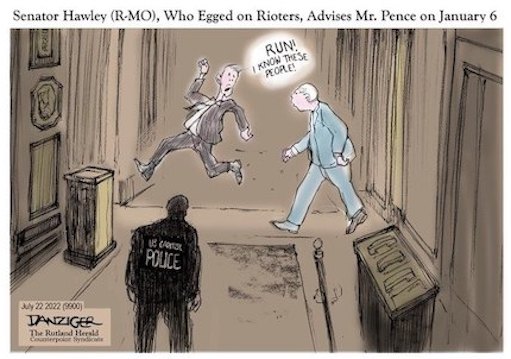 "If the mob had gotten closer to the vice president, I do think there would have been a massacre in the Capitol that day." —
Ex-Pence chief of staff Marc Short
about January 6.
https://abcnews.go.com/US/pence-chief-staff-appeared-grand-jury-probing-jan/story
"You know, those islands that we spent blood and treasure securing back in World War II, a few of those out there. I think they need to go out and do about five years of hard time busting rocks out there, making them into gravel for their food. You know, just get them out of this country if they're so bad they've illegally crossed and committed crimes." -- Arizona U.S. Senate candidate Jim Lamon (R) proposing sending undocumented immigrants "out to the Pacific Ocean."
https://coppercourier.com/story/lamon-extreme-far-right-immigration-prison-labor-senate/
If they don't go forward with charges, if they decide that it's just too heavy a lift, and Trump is returned to the presidency, what would Trump 2.0 look like, do you think? — Charlie Sykes
I don't know that I have enough alcohol at home to even fathom that. —Andrew Weissmann, the lead prosecutor on Special Counsel Robert Mueller's investigation of Russia interference in the 2016 election. https://www.thebulwark.com/podcast-episode/andrew-weissmann-trump-acted-with-premeditation-2/
If you had asked me to hypothesize, for illustrative purposes, a set of emails that prosecutors would find helpful in proving a fake-elector fraud conspiracy, I would not have come up with anything nearly as incriminating as the emails that the Times just reported on today. — George Conway. https://twitter.com/gtconway3d/status/1552017327440420867
VIDEOS
Never in American history - before Trump - a president aimed at overthrowing an election, including the possibility of assassinations.  --
Presidential historian Michael Beschloss

reacting to what was revealed during Thursday's January 6th Hearing.
https://twitter.com/jbveen/status/1550427390962286593
Donald Trump slamming Senate Republican Leader Mitch McConnell (R-KY)
as a "disloyal sleazebag"
after the Jan. 6 committee played a clip of McConnell's speech on the Senate floor during Trump's second impeachment trial in which he blamed the former president for inciting the attack on the U.S. Capitol." https://thehill.com/homenews/senate/3570407-trump-slams-mcconnell-as-disloyal-amid-jan-6-hearings/



Conservative conferences

are beyond parody.  Ted Cruz proclaiming as he walked on stage: "I'm Ted Cruz and my pronoun is kiss my ass." https://twitter.com/atrupar/status/1550615751505199104

Raw footage of

Trump

recording his January 7 video message, getting mad and lashing out, and not wanting to say "the election is over."  https://twitter.com/atrupar/status/1550304896750129152

"He's going to sit right there and say they stole it. If Biden's winning, Trump is gonna do some crazy shit." --
Steve Bannon

audio days before the election.
https://twitter.com/atrupar/status
/1550310404131274754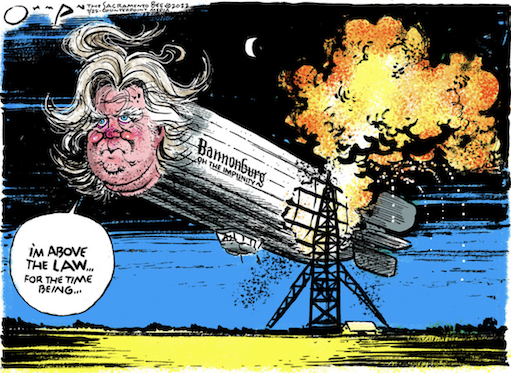 Midas Touch: Dr. Oz - the Wizard Of Lies

: https://twitter.com/AdamParkhomenko/status/1549861043958079488
If Herschel Walker is so ready to debate, why hasn't he agreed to any? — 
Sen. Raphael Warnock's (D-GA)
 new ad urging challenger Herschel Walker (R) to commit to debates in their Senate race.
https://twitter.com/ReverendWarnock/status/1551538042539737089
Jan. 6 committee member
Elaine Luria releases unseen video of depositions and exhibits
showing Trump crossed out line in prepared remarks on 1/7 that he would call on DOJ to prosecute Capitol attack rioters.
https://twitter.com/hugolowell/status/1551571605121339392
While people might like to write all this off as fringe, it isn't ---
70% of Republicans believe Biden didn't legitimately win the election
.
https://twitter.com/donie/status/1551739069905920000
LITIGATION TRACKER
Pending Criminal and Civil Cases Against Donald Trump
. 
https://www.justsecurity.org/75032/litigation-tracker-pending-criminal-and-civil-cases-against-donald-trump/
---
IN THIS ISSUE
IN THE NEWS
OPINION
The push, which two right-wing sheriffs' groups have already endorsed, seeks to lend law enforcement credibility to the false claims and has alarmed voting rights advocates. They warn that it could cause chaos in future elections and further weaken trust in an American voting system already battered by attacks from Mr. Trump and his allies. https://www.nytimes.com/2022/07/25/us/politics/election-sheriffs-voting-trump.html
After Recent Turmoil, the Race for Texas Governor Is Tightening
One of the deadliest school shootings in U.S. history. The revival of a 1920s ban on abortion. The country's worst episode of migrant death in recent memory. And an electrical grid, which failed during bitter cold, now straining under soaring heat.

The unrelenting succession of death and difficulty facing Texans over the last two months has soured them on the direction of the state, hurting Gov. Greg Abbott and making the race for governor perhaps the most competitive since Democrats last held that office in the 1990s.

Polls have shown a tightening, single-digit contest between Mr. Abbott, the two-term incumbent, and his ubiquitous Democratic challenger, the former congressman Beto O'Rourke. Mr. O'Rourke is now raising more campaign cash than Mr. Abbott — $27.6 million to $24.9 million in the last filing — in a race that is likely to be among the most expensive of 2022. https://www.nytimes.com/2022/07/24/us/texas-governor-campaign-abbott-orourke.html
Newsom signs California gun bill modeled after Texas abortion law
California Gov. Gavin Newsom (D) on Friday signed a bill into law that allows private citizens to bring civil action against anyone who manufactures, distributes, transports or imports assault weapons or ghost guns, which are banned in the state. https://www.cnn.com/2022/07/22/politics/california-newsom-gun-bill-texas-abortion-law/index.html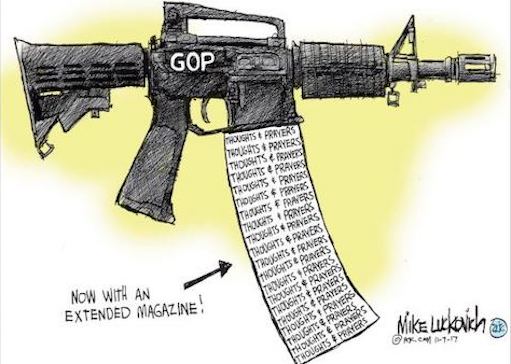 Our Precarious Democracy: Extreme Polarization and Alienation in Our Politics
More than one in four Americans are so alienated from their government that they believe it may "soon be necessary to take up arms" against it, according to a new poll released Thursday by the University of Chicago's Institute of Politics (IOP). That startling finding, which comes in the midst of congressional hearings into the January 6th insurrection at the U.S. Capitol, was just one of several reflections of the dangerous level of estrangement many Americans feel from each other and our democratic institutions. https://uchicagopolitics.opalstacked.com/uploads/homepage/Disinfo-Press-PDF.pdf
Because of Texas abortion law, her wanted pregnancy became a medical nightmare
New, untested abortion bans have made doctors unsure about treating some pregnancy complications, which has led to life-threatening delays and trapped families in a limbo of grief and helplessness. https://www.npr.org/sections/health-shots/2022/07/26/1111280165/because-of-texas-abortion-law-her-wanted-pregnancy-became-a-medical-nightmare
Red States Are Building a Nation Within a Nation
It was a revealing sign of the times when the Supreme Court last week, in response to a lawsuit from the Republican state attorneys general in Texas and Louisiana, blocked President Joe Biden's administration from changing a key element of federal immigration policy.
The case was just the latest example of how red states, supported by Republican-appointed judges, are engaging in a multi-front offensive to seize control of national policy even while Democrats hold the White House and nominally control both the House and Senate. The red states are moving social policy sharply to the right within their borders on issues from abortion to LGBTQ rights and classroom censorship, while simultaneously working to hobble the ability of either the federal government or their own largest metro areas to set a different course.
To a degree unimaginable even a decade ago, this broad offensive increasingly looks like an effort to define a nation within a nation – one operating with a set of rules and policies that diverge from the rest of America more than in almost any previous era. https://www.cnn.com/2022/07/26/politics/red-states-blue-states-control-of-national-policy-fault-lines/index.html
Steve Bannon Calls On '4,000 Shock Troops'
Fresh from a double contempt of Congress conviction linked to his role in the Jan. 6, 2021, insurrection, Steve Bannon is now calling on "4,000 shock troops" to "deconstruct" the federal government "brick by brick."

He wants to see people "stepping forward, say[ing], 'Hey, I want to be one of those 4,000 shock troops," Bannon said on his "War Room" podcast Monday. "This is taking on and defeating and deconstructing the administrative state," he added.  https://www.huffpost.com/entry/steve-bannon-shock-troops-deconstructing-government-brick-by-brick_n_62df1131e4b0aad58d1e13ca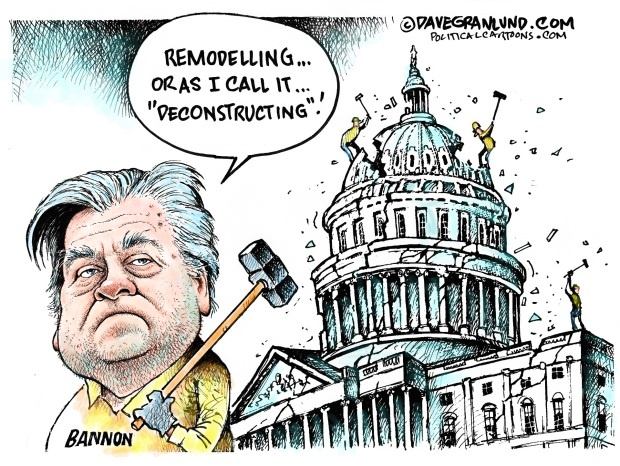 Arizona fake-electors subpoenas show breadth of DOJ Jan. 6 probe
Grand jury subpoenas issued last month to two Arizona state lawmakers show the breadth of the criminal investigation by the U.S. attorney's office in Washington into efforts by supporters of Donald Trump to use "false electors" to try to undo Joe Biden's 2020 election victory. https://www.washingtonpost.com/national-security/2022/07/25/fann-townsend-subpoenas-arizona-trump/
Biden Poised for Big Wins in Congress
The first major prescription drug legislation in nearly 20 years. More than $50 billion to subsidize computer chip manufacturing and research. A bill that would enshrine protection for same-sex marriage.

After a turbulent stretch in which much of President Biden's legislative agenda seemed to be foundering, the president and his party may be on the cusp of significant wins in Congress that the White House hopes will provide at least a modest political boost. https://www.washingtonpost.com/politics/2022/07/25/biden-big-wins-congress/
Trump in DC speech calls for death penalty for convicted drug dealers
Former President Trump on Tuesday voiced support for imposing the death penalty as punishment for convicted drug dealers as part of a speech in which he laid out a series of drastic measures to curb crime.
"The penalties should be very, very severe. If you look at countries throughout the world, the ones that don't have a drug problem are ones that institute a very quick trial death penalty sentence for drug dealers," Trump said at the America First Policy Institute.
He also called for police squad cars to be parked on every corner and suggested moving encampments of homeless people out of major cities and to "large parcels of inexpensive land at the outer reaches of the city." https://thehill.com/homenews/campaign/3575157-trump-in-dc-speech-calls-for-death-penalty-for-convicted-drug-dealers/
CNN Poll: 75% of Democratic voters want someone other than Biden in 2024
A new CNN poll finds 75% of Democratic and Democratic-leaning voters want the party to nominate someone other than President Joe Biden in the 2024 election, a sharp increase from earlier this year. CNN Poll: 75% of Democratic voters want someone other than Biden in 2024. https://www.cnn.com/2022/07/26/politics/cnn-poll-biden-2024/index.html
Pelosi to Blinken: Label Russia as terrorist state, or else Congress will
Speaker Nancy Pelosi had a message for Secretary of State Antony Blinken: Designate Russia as a state sponsor of terrorism — otherwise, Congress will.

The warning, made on a call between the two earlier this week, was described to POLITICO by two sources familiar with the conversation. Spokespersons for the State Department and Pelosi's office declined to comment. https://www.politico.com/news/2022/07/20/pelosi-to-blinken-label-russia-as-terrorist-state-or-else-congress-will-00047076
Sen. Joe Manchin And His Wife Directed Millions To The Wildlife Area Surrounding Vacation Condo
But while Manchin has sabotaged federal efforts at combating climate change, he has used federal dollars to preserve his own corner of the world. Public records reviewed by The Intercept show that even after Manchin's decades long efforts to upend environmental policy that would undercut the fossil fuel companies funding his political campaigns (and the waste coal industry generating his personal fortune), he and his wife, Gayle Manchin, have directed millions of federal dollars to a small, pristine valley in West Virginia where the couple owns a condo. https://theintercept.com/2022/07/18/joe-gayle-manchin-condo-climate-canaan-valley/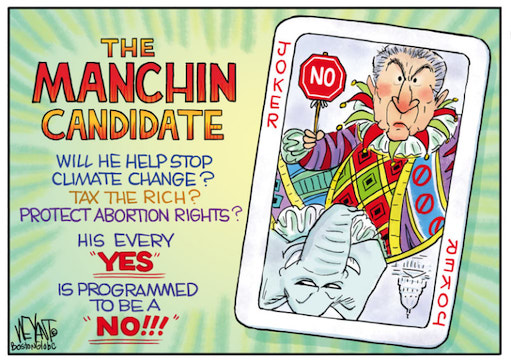 Rupert Murdoch's Newspapers Weigh In
Wall Street Journal editorial: The brute facts remain: Mr. Trump took an oath to defend the Constitution, and he had a duty as Commander in Chief to protect the Capitol from a mob attacking it in his name. He refused. He didn't call the military to send help. He didn't call Mr. Pence to check on the safety of his loyal VP. Instead he fed the mob's anger and let the riot play out. In the 18 months since, Mr. Trump has shown not an iota of regret. https://www.wsj.com/articles/the-president-who-stood-still-donald-trump-jan-6-committee-mike-pence-capitol-riot-11658528548
:
New York Post editorial: As his followers stormed the Capitol, calling on his vice president to be hanged, President Donald Trump sat in his private dining room, watching TV, doing nothing… It's up to the Justice Department to decide if this is a crime. But as a matter of principle, as a matter of character, Trump has proven himself unworthy to be this country's chief executive again. https://nypost.com/2022/07/22/trumps-jan-6-silence-renders-him-unworthy-for-2024-reelection/
The DAILY GRILL
Trump previously said he had "suggested & offered up to 20,000 National Guard" be deployed to be Capitol, "because it was felt that the crowd was going to be very large.  https://www.donaldjtrump.com/news/news-rut6qrme9t2119

VERSUS

To remove any doubt: Not only did Donald Trump fail to contact his Secretary of Defense on January 6th (as shown in our hearing), Trump also failed to give any order prior to January 6 to deploy the military to protect the Capitol. — Former Acting Secretary of Defense Christopher Miller testifying to the January 6 Committee. https://twitter.com/January6thCmte/status/1552041350941532168
The LA Times Editorial Board: Trump should be charged for crimes against the United States
Charging a former president with crimes would be an extraordinary development in American history and carries the risk of forever reshaping our politics as well as the very future of the nation. It should not be undertaken lightly.
But former President Trump's multifaceted attempt to overthrow the results of the 2020 election that culminated with him inciting violent mobs to attack the Capitol on Jan. 6, 2021, as Congress was certifying Joe Biden's victory, was also an extraordinary development in American history — one that nearly destroyed our democracy. The country is already in uncomfortable, uncharted waters navigating the wreckage Trump left in his wake.
What's needed now is not genteel deference to political norms but an unflinching pursuit of justice. Over the last two months the House select committee investigating the Jan. 6 attack has meticulously presented with video clips and firsthand testimony ample evidence that the former president led a dangerous, mendacious plot to block the peaceful transfer of power and hang on to the presidency despite being voted out of office. At a minimum, the Department of Justice should prosecute him for conspiring to defraud the United States and conspiring to obstruct an official proceeding, the electoral vote count. These crimes carry maximum sentences of five and 20 years in prison, respectively. https://www.latimes.com/opinion/story/2022-07-24/prosecute-trump-criminal-charges-jan-6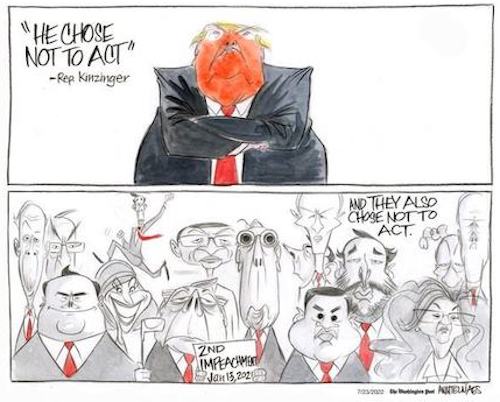 J

ames Risen: The Cult of Donald Trump
DONALD TRUMP IS a murderous cult leader who incited the mob that attacked the U.S. Capitol on January 6, 2021, hoping that his supporters would kill his own vice president, Mike Pence, and as many members of Congress as possible so that he could become a dictator.
That was the inescapable conclusion from Thursday night's chilling prime-time, nationally televised hearing of the House January 6 committee. The committee combined a wide range of evidence and testimony to reveal a timeline of the insurrection, showing how Trump eagerly sent his mob to the Capitol and then refused for hours to call them off when they broke into the building. Instead, he wanted to join and lead them.

On January 6, Trump was not much different from Jim Jones at Jonestown, as he urged his rabid followers to kill American democracy.

Trump controlled the insurrection, and he could easily have stopped his cult members from attacking the Capitol, the hearing revealed. But he didn't want to stop them. For months, he had tried everything to overturn the 2020 election and failed, so now he was willing to try assassination.

Some of the most damning evidence presented during the hearing was audio of insurrectionist leaders and video from inside the Capitol, showing how the rioters were keyed into every Trump tweet in real time and were eager to do his bidding. The evidence showed that the insurrectionists believed — indeed, knew — that they were following Trump's orders. https://theintercept.com/2022/07/22/trump-cult-jan-6-hearings-pence/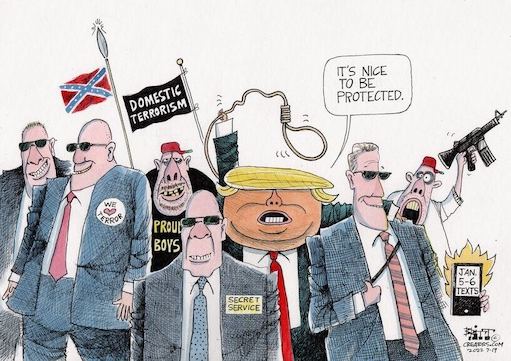 E.J. Dionne: Finally, the dam is breaking against Trump.
The Jan. 6 committee has fundamentally altered public perceptions of Trump's role in the violence at the Capitol.
It has increased the likelihood that he will be prosecuted for his efforts — from Election Day to Jan. 7, 2021 — to overthrow the outcome of a free election. It has made the attack on our democracy a central issue in this fall's midterm elections, and will keep it there with the September hearings the committee announced.
It has also weakened Trump's political position, within his party and with the broader electorate.
The committee lived up to the promise made at the outset by Chairman Bennie G. Thompson (D-Miss.) that its evidence would demonstrate that the Jan. 6 attack was the "culmination of an attempted coup," not the work of an out-of-control crowd. The riot was of a piece with Trump's creation of slates of fake electors, pressure on GOP legislatures to throw out valid election results and even a request to a Republican election official in Georgia to "find" votes for him that didn't exist.
Trump harbored hopes that the mayhem would block or delay Congress's certification of his defeat, as Thursday's hearing made clear. He was prepared to endanger the life of his vice president, Mike Pence, for refusing to act illegally in obstructing Joe Biden's victory. Against the counsel of aides and family members, Trump let the criminal assault — by a horde he knew was armed — continue for hours. He did not (grudgingly) call off the invaders until it was clear his stratagem had failed. https://www.washingtonpost.com/opinions/2022/07/22/jan6-hearings-dam-breaking-against-trump/
Jennifer Rubin  Some good news: Trump seems closer than ever to prosecution
A Fulton County special grand jury has already subpoenaed Trump's top advisers, including Eastman and Trump lawyer Rudy Giuliani, something it seems the Justice Department has not done. Willis is "clearly going after whoever orchestrated the fake electors scheme," Tribe says. "It looks very much like she's pursuing the conspiracy to steal Georgia's 16 electoral votes all the way to the top."

Willis has been able to move swiftly for several reasons. First, the facts relating to Trump's pressure campaign in Georgia are more limited than the entire coup plot. Second, she also benefits from the recorded conversation between Trump, some of his cronies and Georgia officials. Third, she has not had to spend months, as Justice Department attorneys have, tracking down and prosecuting hundreds of violent insurrectionists who stormed the Capitol. Finally, the legal avenues of prosecution she is likely considering (e.g., solicitation or conspiracy to commit election fraud, intentional interference with an election official's duties) are straightforward.

Fortunately for federal and state prosecutors, Eisen notes that "the [House Jan. 6 select committee] has put forth a shocking amount of evidence of not only federal crimes but also state crimes in Georgia, including evidence Trump was personally involved" in seeking phony electors. The committee may well have lit a fire under the Justice Department and allowed at least one prosecutor to move forward before Trump's allies in insurgency take control in Congress. https://www.washingtonpost.com/opinions/2022/07/20/georgia-investigation-jan-6-trump-seems-closer-prosecution/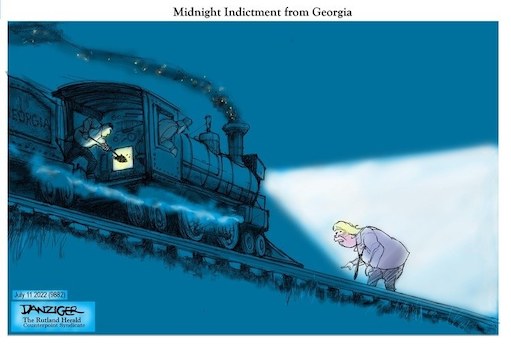 Charlie Sykes: Ready For Prime Time
Birchers, Birthers, Paulites, paranoiacs of various stripes, who spoke in tongues, and read yellowing tracts explaining how Muslims were trying to destroy Christendom, and that the Bilderbergers and Illuminati were secretly running the government.
Okay, that is a slight (very slight) exaggeration, but the story of the last few years is how the bug-eyed crazy fringe became the mainstream in the GOP. And now, we are all living in their world.
A man who organized buses to Washington on Jan. 6, tweeted during the Capitol riot that Vice President Mike Pence was a "traitor," tried to impeach Maryland Republican Gov. Larry Hogan over his actions to stem COVID-19, and spoke at a QAnon conference this spring, just won the Republican nomination for Maryland governor.
And he's not even the most extreme candidate Maryland Republicans nominated for statewide office on Tuesday.

Maryland state Delegate Dan Cox won the GOP gubernatorial primary Tuesday night, buoyed by an endorsement from former President Donald Trump and big spending by Democrats. And his coattails helped his friend and ally Michael Peroutka—a Christian nationalist and former board member of the neo-Confederate, secessionist League of the South whose extreme views are almost too numerous to enumerate—win the GOP's nomination for attorney general.
In Texas, the state GOP formally embraced the idea of secession.
The federal government, the platform claims, "has impaired our right of local self-government." Given that Texas supposedly "retains the right to secede from the United States," the "Texas Legislature should be called upon to pass a referendum" on secession.
In Idaho, the Republican Party backed an abortion ban that rejects an exception for the life of the mother.
Meanwhile, in Arizona:
The state party's executive committee on Tuesday evening censured House Speaker Rusty Bowers for the apparently unpardonable sin of holding onto his integrity when Donald Trump came calling.
It was left to the head sewer rat, state GOP Chairwoman Kelli Ward, to announce the (supposed) downfall of this lifelong Republican who had the nerve, the absolute gall, to stand up for democracy and the will of the people.
The @AZGOP Executive Committee formally censured Rusty Bowers tonight— he is no longer a Republican in good standing & we call on Republicans to replace him at the ballot box in the August primary," Ward tweeted.
And, of course, the GOP has made its peace with the Big Lie about the 2020 election that was predicated on things like Italian satellites, Venezuelan voting machines, and smart thermostats controlled by the Chinese government.
The crazy starts right at the top. https://morningshots.thebulwark.com/p/ready-for-prime-time
Philip Bump: Lucky for Democrats, Democrats love Democrats
Looking at the gap between presidential net approval (that is, approval of the president minus disapproval) and how the president's party is faring in the generic ballot, we see that the gap between Biden and his party is far higher than at any prior point in the last 200 days of the past five federal election cycles. In 2014, Barack Obama's approval toward the end of the cycle was significantly lower than the Democratic margin in the generic ballot, but 2022 is seeing an even wider gap than that. (And 2014 is not a year that Democrats should want to emulate.)

A central reason for that is that Democrats are more likely to say they plan to vote for Democrats in November than they are to say they approve of Biden. Polling from YouGov shows that in 2018 and 2020, the gap in Republican approval for Donald Trump was on average about 2.5 to three points away from Republican support for Republicans on the generic ballot. YouGov had a methodological error in polls this summer that means there's no generic-ballot data, but the past two polls have shown an average gap of around 12 points between Democratic support for Democrats and Democratic approval of Biden. https://www.washingtonpost.com/politics/2022/07/21/lucky-democrats-democrats-love-democrats/
Jonathan Chait: Once Hysterical on Gay Marriage, Conservatives Are Now Incoherent
In 2004, the Republican Party was united in anger at the idea that judges would seize the issue of gay marriage from its rightful place in the legislative arena.
Said President George W. Bush: "We will not stand for judges who undermine democracy by legislating from the bench and try to remake America by court order."
Said the Alliance for Marriage: "The only question is whether the constitutional status of marriage will be determined by unelected judges or the American people."
Conservatives may finally get their wish. The matter of gay marriage is finally coming for a vote before what they have always insisted is its rightful venue: Congress. And yet, far from expressing gratitude that Congress is finally exerting its sacred Article III powers, conservatives are angry that elected officials are now meddling in business properly settled by the courts. https://nymag.com/intelligencer/2022/07/gay-marriage-equality-congress-vote-republicans-dobbs.html
Jelani Cobb: Herschel Walker's Deficits Are Not the Only Cause for Concern
A week ago, the Republican Party's nominee for the United States Senate from Georgia explained his opposition to the Green New Deal. Given the decades of Republican denials, obfuscations, and outright falsehoods on the subject of climate change, it would be difficult for nearly any G.O.P. candidate's erroneous comments to stand out. It was a challenge Herschel Walker, a former N.F.L. star, was ready to meet. He explained, "Since we don't control the air, our good air decided to float over to China's bad air, so when China gets our good air, their bad air got to move. So it moves over to our good air space. Then, now, we got to clean that back up."
The tale of how Walker came to be the Republican nominee is a clear example of the warping effect that Trump has had on the Party nationally. Having lost Georgia in the 2020 election, he launched a crusade to invalidate the results there, famously pressing the secretary of state, Brad Raffensperger, to "find" him more than eleven thousand votes—an act that is now the subject of a criminal probe—while he insisted to supporters that the state's election had been rigged. He did so irrespective of the impact that such claims could have on other Republican candidates, including Georgia's two incumbent senators, Kelly Loeffler and David Perdue, who faced runoff elections against their respective Democratic opponents, Warnock and Jon Ossoff. A Trump supporter in Marietta asked Ronna McDaniel, the Republican National Committee chair, "Why should we vote in this election when we know it's already decided?" After Warnock and Ossoff won, Trump, in a fit of internecine score-settling, pushed Perdue, a viable contender to take on Warnock this November (Warnock's victory was in a special election), to run as a primary challenger to Brian Kemp, the Republican Governor, who had also rejected Trump's entreaty to throw out the 2020 results. Kemp easily beat Perdue, and Trump's grievance left an open lane for Walker to pursue the Senate seat.
We have learned the hard way that, in American politics, integrity is optional. We've seen the wreckage that unqualified leadership yields. Yet Walker's deficits are not the only cause for concern here. Warnock and Ossoff were elected on January 5, 2021. The next day, a Trumpist mob laid siege to the United States Capitol. We are not yet beyond that moment. Trump will reportedly announce a 2024 run for the Presidency ahead of this year's election, when a Walker victory could return control of the Senate to the Republicans. A number of state legislatures have made their systems less amenable to fair elections, and next year the Supreme Court may assist those efforts. No one in the G.O.P. leadership can possibly believe that Walker is fit to hold a Senate seat, but the hope—as dangerous as it is cynical—is that he may be able to win one. And that joke would most certainly be on us. https://www.newyorker.com/magazine/2022/07/25/herschel-walkers-deficits-are-not-the-only-cause-for-concern
Susan B. Glasser:

Liz Cheney's Revenge on Donald Trump—and Her Own Party
So now we can answer the question: How does democracy die? It dies not in darkness, as the Washington Post's Trump-era slogan would have it, but in the White House itself, in the private dining room off the Oval Office, with the sound of Fox News blaring in the background.
That private dining room was Donald Trump's de-facto headquarters for much of his Presidency. It was where he watched television and where he tweeted about what he watched on television—two of the activities that, perhaps more than any others, defined his tenure. It was also where Trump, on January 6, 2021, remained holed up for a hundred and eighty-seven minutes, as his followers stormed the U.S. Capitol, until he finally, reluctantly, released a video urging them to go home and telling them that he loved them.
On Thursday night, the House select committee charged with investigating January 6th concluded a two-month run of blockbuster hearings with a searing, minute-by-minute account of what Trump did—and didn't do—in the dining room that awful afternoon. The words "dereliction of duty" came up a lot, as did phrases like "stain on our history" and "betrayed his oath of office." It all added up to a portrait of something that the United States has not seen in its more than two hundred and forty years: a President who abdicated his role as Commander-in-Chief, having unleashed a violent mob of his own making and then chosen to sit by and do nothing as his nation's Capitol was besieged and overwhelmed by that mob. "President Trump did not fail to act," Representative Adam Kinzinger, the renegade, anti-Trump Republican from Illinois, who presented much of the evidence on Thursday, said. "He chose not to act."
The final word, though, goes to Cheney, who as a direct consequence of her insistence on not shutting up about Trump and the tragedy of January 6th will likely lose her House seat in Wyoming's Republican primary next month, before the House committee convenes again, in September. "We must remember that we cannot abandon the truth and remain a free nation," Cheney said. And yet Republicans—the vast majority of them—have chosen Trump's Big Lie over the hard truths that would enable our democracy to endure. For now. So there is a cliffhanger ending to the committee's work after all. https://www.newyorker.com/news/letter-from-bidens-washington/liz-cheneys-revenge-on-donald-trump-and-her-own-party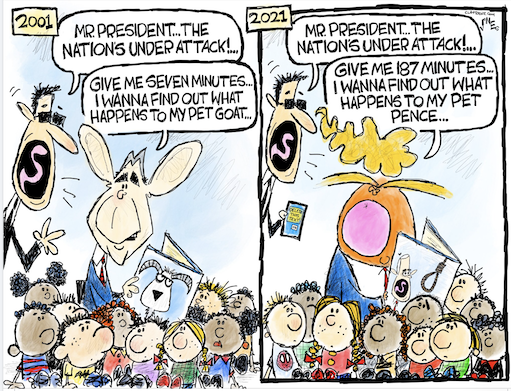 Bess Levin: "Pro-Life" Idaho Republicans Declare Women Should Be Left To Die To Save Fetuses
A frequent refrain from gaslighting conservatives in the weeks since Roe v. Wade was overturned goes something like this: "Abortion hasn't been outlawed, the Supreme Court is just returning the decision to the states. Don't be so hysterical." While technically true, in practice, this argument is, of course, total bullshit. Abortion has now been restricted in roughly half the country, eight states banned the medical procedure the day Roe was struck down, and 13 states will forbid it within 30 days of the June 24 ruling. If someone tries to claim to you that the Court's decision wasn't that big a deal and/or doesn't change much, you are legally obligated to inform them they have shit where their brain should be. If you can stand to breathe the same air as them for a moment longer, you should also inform them of the many ways the various states in question have proceeded to use the opportunity afforded to them by the Supreme Court to advocate for not only forced births, but the state-sanctioned murder of pregnant people.
Reports of horrifying repercussions from the Supreme Court merely kicking the abortion question to the states, a woman bled for more than 10 days after suffering an incomplete miscarriage because a Wisconsin hospital wouldn't perform the procedure; a woman with an ectopic pregnancy had to seek emergency, out-of-state care because a doctor in her home state was worried he'd run afoul of the law; administrators at a Kansas City, Missouri hospital temporarily required "pharmacist approval" before prescribing medications that stop postpartum hemorrhages—as in hemorrhages that occur after someone has given birth—because they are also sometimes used for abortions; and a 10-year-old rape victim in Ohio was told they must give birth to their rapist's child or seek care elsewhere. https://www.vanityfair.com/news/2022/07/idaho-gop-abortion-life-of-mother
Eric Lutz: The Jan. 6 Hearing Utterly Embarrassed Trump And All Involved (Looking At You, Josh Hawley)
"Yesterday is a hard word for me."
That's what Donald Trump said in one of two blooper reels the January 6 committee played Thursday of the former president attempting — and failing — to read simple scripted remarks condemning his supporters' attack on the Capitol that day. It's a funny statement — cue the "stable genius" jokes — but also one that underscores a basic fact about the former president: Here we have a man perennially preoccupied with the concept of winners and losers, and dispositionally unable to accept the notion he could ever be the latter — and now some aide is going to ask him to acknowledge the fact of his inadequacy?
"I can't say that," he told staff. "I don't want to say the election's over."
The January 6 committee — in its season, but not series, finale on Thursday — painted a portrait of a former president who continues to pose a profound threat to American democracy. But the portrait was also of a small, sad, excruciatingly petty tyrant sitting at his dining room table and watching television as violence erupted at the Capitol, and ignoring the increasingly desperate appeals of those around him to do something to put a stop to the madness. This instigation, followed by inaction, constituted a stunning, unprecedented attack on democracy. It was also, as the committee's presentation reminded, extraordinarily embarrassing for all involved. Look at this guy, telling armed rioters that they are "special" and that he "loves" them, just after they ran amok through the halls of Congress:
Better yet, look at this guy hauling ass through the Capitol in fear after raising his fist in solidarity with the Stop the Steal people:
That, of course, is Josh Hawley, who went back into the Senate chamber after desperately fleeing the insurrectionists he encouraged the morning of January 6 (and who still voted against certifying Joe Biden's clear-cut victory over Trump). Backing Trump publicly, running in mortal terror behind the scenes — not a bad metaphor for the dynamic a lot of Republicans have with their leader. If not out of fear for their lives."  https://www.vanityfair.com/news/2022/07/january-6-committee-utterly-embarrassed-trump-and-allies-hawley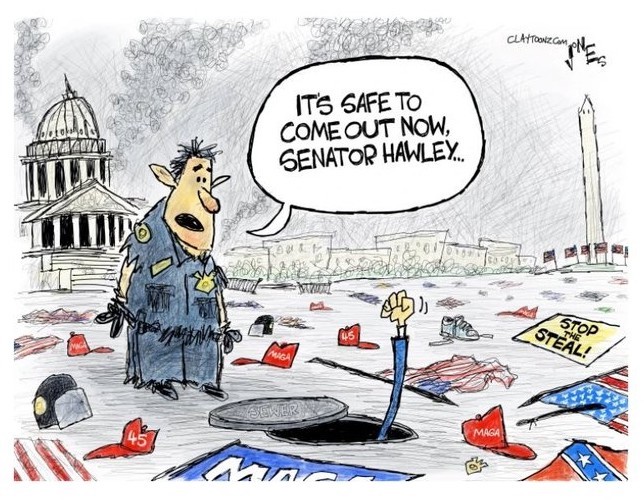 Bess Levin: Trump's Authoritarian Plans For A Second Term Should Scare The Crap Out Of You
Meanwhile, angel of darkness Stephen Miller is reportedly also hard at work "identifying and assembling a list of lawyers who would be ready to fill the key general counsel jobs across government in a second-term Trump administration." Trump, you see, didn't like the lawyers he had around last time because they were always telling him his demands "were illegal and could not be implemented." Can't have any of that! Miller, according to Axios, "has his eye out for general counsels who will aggressively implement Trump's orders and skeptically interrogate any career government attorney who tells them their plans are unlawful or cannot be done." In other words, he's looking for people who would possibly break the law for Trump. Elsewhere, the ex-president has apparently been spending "significant amounts of his time talking to luminaries of the 'Stop the Steal' movement, including attorney Boris Epshteyn and the pillow entrepreneur Mike Lindell, who has spent at least $25 million of his own money sowing doubts about the 2020 election result."
In other words, we should all be very, very afraid, and perhaps try to ensure this guy is never allowed to have an inch of power again. https://www.vanityfair.com/news/2022/07/donald-trump-second-term-purge-plans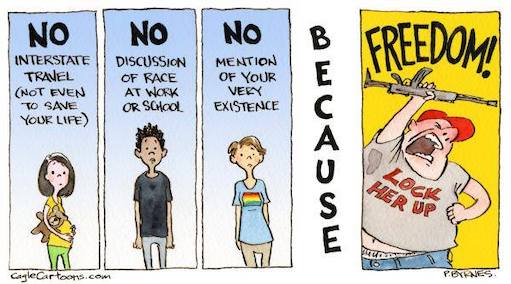 Max Boot: I used to be optimistic about America's future. Not anymore
We already live in a "backsliding" democracy, where voting rights are being restricted and freedom is under siege. The most severe threat comes from an increasingly authoritarian Republican Party whose maximum leader is an unindicted and unrepentant coup plotter.
As political scientist Brian Klaas just wrote in the Atlantic, given that the GOP has become "authoritarian to its core," there are two main ways to save America: Either reform the Republican Party or ensure that it never wields power again. But a MAGA-fied GOP is likely to gain control of at least one chamber of Congress in the fall and could win complete power in 2024.
We seem to be sleepwalking to disaster. If we don't wake up in time, we could lose our democracy. Just because we've avoided a breakdown in the past doesn't mean we will stave it off in the future. https://www.washingtonpost.com/opinions/2022/07/25/trump-second-term-threat-us-democracy/
David Frum: Trump Just Told Us His Masterplan
Yesterday, an ex-president who had tried to overturn a democratic election by violence returned to Washington, D.C., to call for law and order. Again and again, the speech reversed reality. The ex-president who had spread an actual big lie against the legitimacy of the 2020 election tried to appropriate the phrase big lie to use against his opponents. The ex-president who had fired an acting FBI director days before that official's pension was due to be vested lamented that police officers might lose their pension for doing their job.
Yet scrape aside the audacity, the self-pity, and the self-aggrandizement, and there was indeed an idea in Donald Trump's speech at a conference hosted by the America First Policy Institute: a sinister idea, but one to take seriously.
Trump sketched out a vision that a new Republican Congress could enact sweeping new emergency powers for the next Republican president. The president would be empowered to disregard state jurisdiction over criminal law. The president would be allowed to push aside a 'weak, foolish, and stupid governor,' and to fire 'radical and racist prosecutors'—racist here meaning 'anti-white.' The president could federalize state National Guards for law-enforcement duties, stop and frisk suspects for illegal weapons, and impose death sentences on drug dealers after expedited trials. https://www.theatlantic.com/ideas/archive/2022/07/trumps-america-first-speech-revealed-a-plan-for-power/670963/