May 3, 2018
ON THE RECORD. . .
"This is an individual who completely lacks compassion and empathy, and therefore the recycling of people, people crashing and burning, it means nothing to him. He might put on a public frown for a day because he's upset that, in his mind, the admiral got railroaded out. But Trump couldn't care less about the admiral." -- Jack O'Donnell, the former president of Trump Plaza Hotel and Casino in Atlantic City

"I think that loyalty has always been a one-way street with Trump, and he doesn't really care about the wreckages he engenders as long as he comes out where he wants to be." Tim O'Brien, a biographer who was sued by Mr. Trump over a book reporting that Mr. Trump had inflated his net worth.

"The mob takes the Fifth. If you're innocent, why are you taking the Fifth Amendment?" — Donald Trump, quoted by New York magazine at a September 2016 campaign rally.

Former FBI Director James Comey as a "liar and a leaker" who is "guilty of crimes" ... "I love the FBI and the FBI loves me. But the top people at the FBI were crooked."-- Trump, to Fox & Friends

"The guy who said he could be as presidential as any president except for Abraham Lincoln is instead about as presidential as Yosemite Sam. I really think of him as Yosemite Sam — just hopping around in anger, firing his gun wildly, sometimes at his own foot. He was so unhinged and ranting in that call to 'Fox & Friends' this week that even the hosts couldn't wait to get him off the air." -- Trump's biographer, Tim O'Brien

"I can tell you that there are people who have been making threats privately and publicly against me for quite some time. And I think they should understand by now the Department of Justice is not going to be extorted." -- Deputy A.G. Rod Rosenstein

"It's important that it not be five white guys at the table, no offense. I have no intention of walking away from that table."— House Minority Leader Nancy Pelosi (D-CA), referring to the top two leadership spots in the House and Senate and the presidency.

"Wolf's routine burst the bubbles of civility and performance, and of the separation of media and comedy. It plunged the attendees into the reality that is, in the Trump era, the stuff of comedy. Through her obscene humor, Wolf exposed the obscenity of the fictions—and the fundamental unfunniness of it all. Her last line, the most shocking of her entire monologue, bears repeating: Flint still doesn't have clean water." -- Masha Gessen in the New Yorker  

"A friend of mine who helped me write, he gave me a note before I went on. The note said: Be true to yourself. Never apologize. Burn it to the ground. I wouldn't change a single word. I'm very happy with what I said, and I'm glad I stuck to my guns." -- Michelle Wolf 
---
IN THIS ISSUE
FYI
OPINION
1. Andy Borowitz: Trump Deletes Nine Tweets While Attempting to Spell "Subpoena"
Donald J. Trump deleted nine tweets early Wednesday morning in a failed attempt to spell the word "subpoena," a White House source confirmed.

According to the source, Trump spent more than an hour angrily trying to spell the legal term before giving up in disgust.

"I've never seen him so enraged," the source said. "He hates the word 'subpoena' more than the E.P.A. hates the words 'climate' and 'change.' "

Having been flummoxed in the past while trying to spell such words as "heel" and "tap," Trump now believes that the word "subpoena" is "out to get him," the source said.

Speaking to reporters later in the morning, Trump called the word "subpoena" "disgraceful" and said that it had treated him "very unfairly," but stopped short of threatening to fire it from the dictionary. https://www.newyorker.com/humor/borowitz-report/
2. Trump has made 3,001 false or misleading claims so far
In the 466 days since he took the oath of office, President Trump has made 3,001 false or misleading claims.
The Washington Post's interactive graphic displays a running list of every false or misleading statement made by Trump. It also catalogues the president's many flip-flops, since those earn Upside-Down Pinocchios if a politician shifts position on an issue without acknowledging that he or she did so.. https://www.washingtonpost.com/news/fact-checker/wp/2018/05/01/president-trump-has-made-3001-false-or-misleading-claims-so-far/
3. Crimes are no longer a disqualification for Republican candidates
Former New York congressman Michael Grimm is a felon who has admitted to hiring undocumented workers, hiding $900,000 from tax authorities and making false statements under oath. To hear him tell it, that's a reason Staten Island Republicans should vote him back into office.
"It's almost identical to what the president has been going through," Grimm says of the federal investigation that led to his imprisonment. "It's not an accident that under the Obama administration, the Justice Department was used politically. And that is all starting to come out."
Grimm has uncovered a new reality in the constantly changing world of Republican politics: Criminal convictions, once seen as career-enders, are no longer disqualifying. In the era of President Trump, even time spent in prison can be turned into a positive talking point, demonstrating a candidate's battle scars in a broader fight against what he perceives as liberal corruption. https://www.washingtonpost.com/powerpost/crimes-are-no-longer-a-disqualification-for-republican-candidates/2018/04/30/c64a40ac-4807-11e8-827e-190efaf1f1ee_story.html
4. Ukraine, Seeking U.S. Missiles, Halted Cooperation With Mueller Investigation
In the United States, Paul Manafort is facing prosecution on charges of money laundering and financial fraud stemming from his decade of work for a pro-Russian political party in Ukraine."
But in Ukraine, where officials are wary of offending President Trump, four meandering cases that involve Mr. Manafort, Mr. Trump's former campaign chairman, have been effectively frozen by Ukraine's chief prosecutor. https://www.nytimes.com/2018/05/02/world/europe/ukraine-mueller-manafort-missiles.html
5. Trump's Tariffs Could Weaken the GOP's Grip on Congress
Farm districts such as King's put Trump in the White House and are the backbone of the GOP majorities in Congress. They're also uniquely positioned to suffer from a trade war with China. In early April, responding to Trump's proposed $50 billion in tariffs on Chinese goods, China announced or implemented retaliatory levies on roughly $50 billion in U.S. exports, including wheat, corn, cotton, sorghum, tobacco, and soybeans—a direct strike at the deep-red, Trump-friendly heartland.
It's also a strike at the Trump voters the GOP is depending on to show up in November. According to data compiled by Bloomberg measuring which U.S. congressional districts rely most on soybeans for economic activity, far more GOP than Democratic districts will suffer, with King's atop the list. But party affiliation alone doesn't capture the extent to which Trump voters stand to be hurt: Of the 30 districts most reliant on soybeans, Republicans represent 25 and Democrats 5; all voted for Trump in 2016. "It's like he's microtargeting policy to screw his own supporters," says a frustrated GOP strategist.
BOTTOM LINE - Chinese tariffs on a host of U.S. agricultural products could spell trouble for farm-state Republican candidates in this year's midterm elections. https://www.bloomberg.com/news/articles/2018-04-27/trump-s-tariffs-could-weaken-the-gop-s-grip-on-congress
6. Better Call Cohen: The Shady Cases of a Trump Lawyer's Personal Injury Practice
A few years before he started working for Donald Trump, and long before he gave legal advice to people like Fox News personality Sean Hannity, Michael D. Cohen had a different kind of clientele. Cohen roamed the courthouses of New York City, filing lawsuits on behalf of people with little means who were seeking compensation for the injuries they suffered in car collisions. Many personal-injury lawyers make their living this way, but there was something striking about Cohen's cases: Some of the crashes at issue didn't appear to be accidents at all."
A Rolling Stone investigation found that Cohen represented numerous clients who were involved in deliberate, planned car crashes as part of an attempt to cheat insurance companies. Furthermore, investigations by insurers showed that several of Cohen's clients were affiliated with insurance fraud rings that repeatedly staged "accidents." And at least one person Cohen represented was indicted on criminal charges of insurance fraud while the lawsuit he had filed on her behalf was pending. Cohen also did legal work for a medical clinic whose principal was a doctor later convicted of insurance fraud for filing phony medical claims on purported "accident" victims.
Taken together, a picture emerges that the personal attorney to the president of the United States was connected to a shadowy underworld of New York insurance fraud, a pervasive problem dominated by Russian organized crime that was costing the state's drivers an estimated $1 billion a year. https://www.rollingstone.com/shady-cases-michael-cohen-personal-injury-practice-w519679
7. Rubio Admits Tax Law Isn't Helping Workers
Sen. Marco Rubio (R-FL) told the Economist that the new Republican tax law isn't helping American workers like his party promised it would.
Said Rubio: "There is still a lot of thinking on the right that if big corporations are happy, they're going to take the money they're saving and reinvest it in American workers. In fact they bought back shares, a few gave out bonuses; there's no evidence whatsoever that the money's been massively poured back into the American worker." https://www.economist.com/news/united-states/21741146-florida-senator-thinks-reheating-reaganomics-dead-end-marco-rubio-offers-his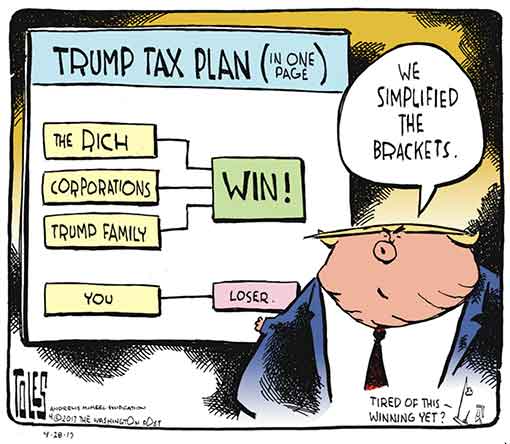 8. U.S. Allies Brace for Trade War as Tariff Negotiations Stall
 A few weeks ago, it felt as if a trade war pitting the United States against allies like Australia, Canada and the European Union was over before it even began. The Trump administration dispensed so many temporary exemptions to steel and aluminum tariffs that many countries figured the threats were just political theater.
But with only days left before the exemptions expire and punitive tariffs take effect, it's dawning on foreign leaders that decades of warm relations with the United States carry little weight with a president dismissive of diplomatic norms and hostile toward the ground rules of international trade. https://www.nytimes.com/2018/04/29/us/politics/us-allies-trade-war-tariff-negotiations.html
9. Democrats launch net neutrality fight to energize midterm voters
Senate Democrats are preparing to force a floor vote next month on restoring net neutrality rules repealed by President Donald Trump's Federal Communications Commission, creating a public clash they hope will help them in the midterm elections.
Democrats are planning to take the procedural step May 9 to compel the vote, a Senate Democratic aide told POLITICO. That could set up the vote as soon as the following week.
Senate Democrats have 50 votes lined up — more than enough to force a vote under the Congressional Review Act, but one shy of the 51 required for passage. Sen. Susan Collins of Maine is the only Republican to have pledged support for the effort so far. https://www.politico.com/story/2018/04/30/democrats-net-neutrality-midterm-voters-508425
10. The DAILY GRILL
"What happened with the Paralympics was so incredible and so inspiring to me. And I watched — it's a little tough to watch too much, but I watched as much as I could." — Trump, quoted by the PBS Newshour.

VERSUS

Record numbers around the world are not finding @Paralympics tough to watch. Billions of viewers now take in the Paralympics in hundreds of countries around the world. We hope the US President continues to watch and be inspired by the Paralympics. -- Paralympic Games on Twitter
11. From MEDIA MATTERS (They watch Fox News so you don't have to)
Fox host on Scott Pruitt's corruption scandals: "What is more serious is the damage" the EPA has "done to American business."  https://www.mediamatters.org/video/2018/04/26/fox-host-scott-pruitts-corruption-scandals-what-more-serious-damage-epa-has-done-american-business/220053

Tucker Carlson: If Mexico is "such a dangerous country filled with so many violent people, why would we let any of them into our country?"  https://www.mediamatters.org/video/2018/04/27/tucker-carlson-if-mexico-such-dangerous-country-filled-so-many-violent-people-why-would-we-let-any/220062

Laura Ingraham dismisses asylum claims from Hondurans fleeing violence: "It's not our problem."  https://www.mediamatters.org/video/2018/04/27/laura-ingraham-dismisses-asylum-claims-hondurans-fleeing-violence-its-not-our-problem/220064

ICE is wrongly designating immigrants as gang members to deport them -- and conservatives are thrilled. https://www.mediamatters.org/blog/2018/04/30/ice-wrongly-designating-immigrants-gang-members-deport-them-and-conservatives-are-thrilled/220068

Sean Hannity suggests burning The New York Times after it published questions Mueller reportedly wants to ask Trump. Hannity: "These New York Times questions, you could use it to burn in your fireplace tonight."  https://www.mediamatters.org/video/2018/04/30/sean-hannity-suggests-burning-new-york-times-after-it-published-questions-mueller-reportedly-wants/220078

Fox claims Mike Pompeo "confirmed" that Iran is violating the nuclear deal. He didn't.  https://www.mediamatters.org/blog/2018/05/01/fox-claims-mike-pompeo-confirmed-iran-violating-nuclear-deal-he-didnt/220082
12. Trump's biggest problem might be the competency question
Yes, it's chaos and controversy, which we've constantly chronicled here. But it's also a matter of competency. According to this month's NBC/WSJ poll, a majority of Americans – 56% – said that Trump's administration isn't competent, including 39% who said it isn't competent at all. By contrast, 43% said it was competent, including 16% who said 'very competent.
For all the potential dangers to Trump's presidency – the Russia investigation, historically low approval ratings, Democrats possibly winning the House (and Senate) in November – the biggest could very well be the competency question… That's a big problem. https://www.nbcnews.com/politics/first-read/trump-s-biggest-problem-might-be-competency-question-n869236
13. From the Late Shows
Late Night with Seth Meyers:Trump Goes on Fox & Friends and Freaks Out About Michael Cohen: A Closer Look: https://youtu.be/0Nyl1yUbVHM

The Late Show with Stephen Colbert:Trump Is Flipping Out Over Rumors Cohen Is Flipping: https://youtu.be/asud3udH6Hk

White House Correspondents' Dinner: Michelle Wolf FULL monologue: https://youtu.be/lJlWGO5XHPk
14. Late Night Jokes for Dems
At a rally in Michigan this weekend, President Trump asked the crowd, quote, "Any Hispanics in the room?" And it's a little alarming that he was holding a net. -- Seth Meyers

At the same rally, President Trump claimed that nobody knows what a community college is. Sure, they do. It's where Michael Cohen went to law school. -- Seth Meyers

In a new interview, French first lady Brigitte Macron said that first lady Melania Trump is, quote, "actually really fun." Although, any time you throw in "actually" like that, it's probably not true. "This flourless chocolate cake is actually pretty good." "I actually like your bangs." "Melania actually wants to be married to Trump." -- Seth Meyers

Comedian Michelle Wolf hosted the dinner, did the most amazing job. During the dinner, she mocked journalists and politicians. So you can see why Trump was upset — she's stealing his act. -- James Corden

Trump skipped the correspondent's dinner on Saturday night, and instead hosted a rally in Michigan. Trump said he'd rather be around people who loved him, so he went to Michigan and left behind the White House press corps and Melania. -- James Corden

Saturday was the White House Correspondents' Dinner, and Trump called it a very big, boring bust. This is the first time in history Trump has called a big bust boring. -- Jimmy Fallon

Some people got upset at the dinner when comedian Michelle Wolf made fun of members of the Trump administration. The president was furious. He was like, "Nobody makes a mockery of my staff except me." -- Jimmy Fallon

Porn star Stormy Daniels is suing President Trump for defamation for something he said in a tweet. When they heard this, Muslims, African-Americans, gays, and Hillary Clinton said, "You can do that?" -- Conan O'Brien
15. Majority of Republicans See News Media as the Enemy
A new Quinnipiac poll finds a majority of Republicans — 51% — see the news media as the enemy of the people, compared with 37% of them who view the media as an important part of democracy.
By contrast, 91% of Democrats and 70% of independents see the media as an important part of democracy. https://poll.qu.edu/national/release-detail?ReleaseID=2539
16. Pruitt Leaves EPA Staff In 'Despair'
Scott Pruitt may have survived his testimony on Capitol Hill, but he's coming back to a further enraged and demoralized EPA staff. Several current and former EPA officials and other people close to the agency said Pruitt did himself no favors with his congressional testimony Thursday, in which he blamed his aides for installing a $43,000 privacy booth in his office and approving more than $100,000 in first-class flights that he took last year.
Pruitt also denied knowing key details about raises that his top staff received last year. … In conversations with 11 people who know the atmosphere inside EPA, including Republican political appointees, a handful said his refusal to grovel may have pleased President Trump. But others said his strategy was appalling to the current and former staffers who found themselves thrown under the bus. https://www.politico.com/story/2018/04/27/pruitt-epa-strategy-staff-despair-507221
17. Please Stay, Justice Kennedy. America Needs You
The New York Times editorial board writes to Supreme Court Justice Anthony Kennedy concerning rumors that he might soon retire:
How can we put this the right way? Please don't go…

As Justice O'Connor would tell you, legacy isn't only what you do when you're on the court; it's also the circumstances in which you leave it. To put it bluntly, did you spend a lifetime honoring and upholding the Constitution and the values of civility and decency in American public life only to have your replacement chosen by Donald Trump?

Do you want to give your seat to a president whose campaign and administration are under criminal investigation, whose closest aides have been indicted or have pleaded guilty to federal crimes? A president with so little regard for or understanding of the role of the judiciary, the separation of powers and the rule of law? A president who nominated to the federal bench someone who called you a "judicial prostitute"? https://www.nytimes.com/2018/04/28/opinion/sunday/justice-kennedy-supreme-court-open-letter.html
18. Commentary: Democrats allow GOP to game top-two primary
California's Republican Party hasn't shown much political acumen in recent years, which is one reason why it's been, in the words of former Gov. Arnold Schwarzenegger, "dying at the box office."
However, the GOP may be pulling off one of history's most audacious political coups, one that could save the seats of several embattled Republican members of Congress and potentially preserve the party's control of the House.
If the GOP ploy succeeds and Democrats don't get more than one or two new seats, the finger-pointing and scapegoating will be severe. https://calmatters.org/articles/commentary/commentary-dems-allow-gop-to-game-top-two-primary/
1.  Peter Baker and Maggie Haberman: For Many, Life in Trump's Orbit Ends in a Crash Landing
Over many decades, people who have entered Mr. Trump's circle have discovered that they are bit actors in a movie he sees himself starring in.
"People are not people to him, they are instruments of his ego. And when they serve his ego, they survive, and when they don't, they pass into the night," said Tony Schwartz, the ghostwriter on "The Art of the Deal," Mr. Trump's first book. "Ultimately, the fate of anyone who casts their lot with Trump is — you are passing through. And I just can't think of anybody for whom it is not true."
Jack O'Donnell, the former president of Trump Plaza Hotel and Casino in Atlantic City, and a vocal critic of his former boss, said many people have cycled through his world remarkably quickly without leaving much of an impression on Mr. Trump.
"This is an individual who completely lacks compassion and empathy, and therefore the recycling of people, people crashing and burning, it means nothing to him," Mr. O'Donnell said. "He might put on a public frown for a day because he's upset that, in his mind, the admiral got railroaded out. But Trump couldn't care less about the admiral."
Michael D'Antonio, another Trump biographer, said, "Anyone who engages with the president and, before that, with him as a business person, had to practice self-defense even if they were his allies."
"All that matters to him," he added, "is what you say and do in the moment in front of him." https://www.nytimes.com/2018/04/26/us/politics/trump-orbit-crash-landing.html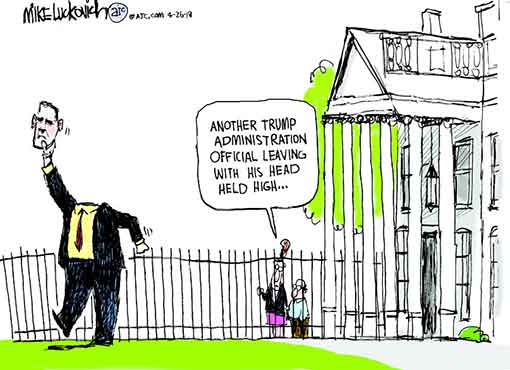 2. John Cassidy: Mick Mulvaney and the Trump Administration's Sellout to Wall Street
Mick  Mulvaney, the Trump Administration macher who heads the White House Office of Management and Budget and also serves as the temporary head of the Consumer Financial Protection Bureau, has been heavily criticized for some remarks he made on Tuesday to an audience of bankers and financial-industry lobbyists. But Mulvaney may have performed a public service by drawing attention to the institutionalized corruption that passes as the business of government in many parts of Washington.
Speaking to a conference organized by the American Bankers Association, Mulvaney recalled that when he was a Republican congressman he only talked to lobbyists who had made contributions to his campaigns, and he encouraged the members of his audience to carry on their work of seeking to influence legislators and policymakers, him included. After Mulvaney's words created a bit of a storm, his spokesperson weakly claimed that they had been misinterpreted.
With Republicans facing the prospect of losing control of Congress in November, the real intent of Mulvaney's remarks may have been to encourage bankers and financial-industry lobbyists to pour more moneyinto the G.O.P.'s coffers. And this tactic could work. So far during the Trump Administration, the rate of return on Wall Street's investment in the Republican Party, the one that Trump claimed he was turning into a workers' party, has been very high. https://www.newyorker.com/news/our-columnists/mick-mulvaney-and-the-trump-administrations-sellout-to-wall-street
3. NY Times Editorial: Trump's 'Best People' Are the Worst
At this point you have to ask: Just what do job postings for the Trump administration look like? Surely they must stipulate that relevant experience isn't a plus, but that a flexible notion of ethics is. They must demand references who can recount specific instances of demonstrated incompetence. How else to explain the sheer number of poorly prepared or careless or sticky-fingered officials crammed into this careening clown-car of an administration?
No one should have expected the lack of qualifications to matter to Mr. Trump. That wasn't an obstacle to his decision to give his son-in-law, Jared Kushner, a portfolio that includes negotiating peace in the Middle East, reforming the criminal justice system and making the government more tech-savvy. Mr. Trump also considered appointing his personal pilot to head the Federal Aviation Administration.
As for the lobbyist-loving wing of the Trump administration, one of its leading members — Mick Mulvaney, who heads the Office of Management and Budget and the Consumer Financial Protection Bureau — was extolling the practice of pay-to-play public service the other day. At a speech before the American Bankers Association on Tuesday, Mr. Mulvaney said that as a congressman he would only meet with lobbyists who gave money to his campaign. He also encouraged bankers — many of whom have given generously to him — to let their needs be known to lawmakers.
Mr. Mulvaney was just making old friends happy. He did that for years as a congressman, defending bankers and fending off consumer protection. Since he took over the consumer agency that Congress created after the financial crisis, he has been working overtime to gut it for his pals.
On the other hand, Scott Pruitt, who runs the Environmental Protection Agency, has been taking care of himself. He got a sweetheart deal for a $50-a-night room from the wife of a lobbyist whose company was seeking goodies from the E.P.A. He has liberally spent government funds on first-class flights and a security detail large enough for a minor potentate. He also spent $43,000 on a soundproof phone booth for his office that might remind some of the "cone of silence" from "Get Smart." When he was an Oklahoma state senator, The Times recently reported, Mr. Pruitt came to own a stately house overlooking the State Capitol, a million-dollar lakeside manse in Tulsa and a stake in a minor-league baseball team. He accomplished all that with the help of a couple of old associates, one a banker and the other a lawyer … both of whom are now on the public payroll, working with Mr. Pruitt at the E.P.A.
Remember when Mr. Trump said he would hire the "best people"? Of course, he said Mexico would pay for his border wall, too. https://www.nytimes.com/2018/04/25/opinion/trumps-best-people-are-the-worst.html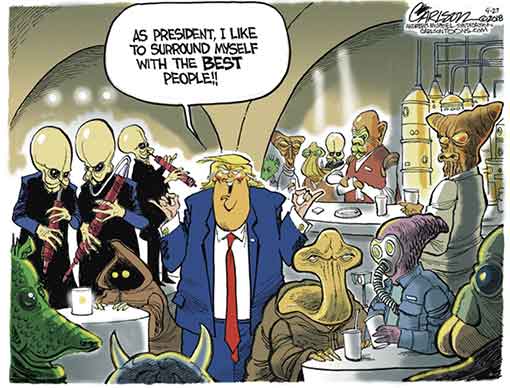 4. Nicholas Kristof: Why Does Trump Treat Immigrant Kids Cruelly? Because He Can
A lifetime ago, Anne Frank's family applied for visas to the United States to escape Hitler, but we rejected the Franks and other desperate Jewish refugees. We thought: This is Europe's problem, not ours, and we don't want to be overrun by "those people."
Today President Trump is again slamming the door on desperate refugees. Indeed, the Trump administration is going a step further by wrenching children from the arms of asylum-seekers, apparently as a way of inflicting gratuitous cruelty to discourage new arrivals.
Caitlin Dickerson of The Times reported that more than 700 children have been separated from immigrant parents since October.
The White House chief of staff, John Kelly, said publicly last yearthat he was considering routine family separation "to deter" new arrivals. The White House later backed the plan, although it has never been announced.
Why do we tolerate a policy that is so cruel to young children? For precisely the reason Dr. Seuss identified in a 1941 cartoon, which accompanies this column. While Dr. Seuss is best known for the likes of "The Cat in the Hat," he published this cartoon as a commentary on America's turning away Jewish refugees trying to flee Hitler.
As Dr. Seuss wrote in the caption, "Those were Foreign Children and it really didn't matter."
Today's policies leave me ashamed. When immigration officials pry a crying young child away from a parent and send that child to foster care, that is not "immigration policy." That is "barbarism." https://www.nytimes.com/2018/04/25/opinion/family-separation-border-immigration.html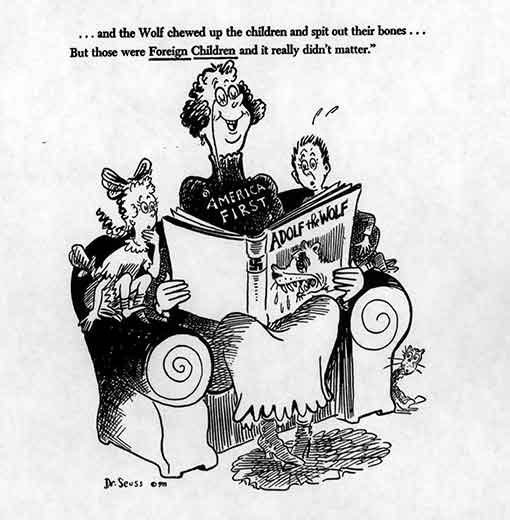 5. Paul Waldman and Greg Sargent: The new House GOP report on Russia is revealing. But not in a good way for Trump.
Republicans on the House Intelligence Committee on Friday released a report on Russia's involvement in the 2016 election. Although it is meant to exonerate President Trump and everyone around him, what it actually does is bring the utter degradation and disgrace of that committee to its fullest expression.
By contrast, there may be real news in the Democrats' response to the report. In particular, the Democrats detailed new information that appears to shed light on what Republicans would not do in their investigation.
The response by Democrats makes this important charge: That Republicans refused to follow up on a lead that could have demonstrated whether, despite his denials, Trump had advance knowledge of the now-infamous Trump Tower meeting in June 2016 between a group of Russians and Donald Trump Jr., Jared Kushner, and Paul Manafort.
But the Democratic response fills in some extremely important context — and it may involve the president himself, though we cannot know one way or the other right now.
According to the Democratic response, right after Trump Jr. set up the specifics of the meeting, he had two calls with a number in Russia belonging to Emin Agalarov. Between those two calls, the Democratic response recounts, Trump Jr. received a third call from a blocked number. Who might it have been?
Democrats wanted to find out, but Republicans blocked it from happening, according to the Democrats' response.
"We sought to determine whether that number belonged to the president, because we also ascertained that then-candidate Trump used a blocked number," Schiff said during our interview. "That would tell us whether Don Jr. sought his father's permission to take the meeting, and [whether] that was the purpose of that call."
Schiff added that Democrats asked Republicans to subpoena phone records to determine whose number it was, but Republicans "refused," Schiff said. "They didn't want to know whether he had informed his father and sought his permission to take that meeting with the Russians." https://www.washingtonpost.com/blogs/plum-line/wp/2018/04/27/the-new-house-gop-report-on-russia-is-revealing-but-not-in-a-good-way-for-trump/
6. Joe Scarborough: There is no one who can save Trump from himself
Friends, Republicans, countrymen, lend me your ears. I come to praise President Trump, not to place him in an elder-care home. Any concerns regarding my old friend's mental health are as distant a memory as the Mooch's reign as communications director. That's because earlier this year, Americans received blessed assurance — from no less an authority than the White House physician — that their president is of sound mind and herculean body.
Dr. Ronny L. Jackson is an honorable man, and just more than three months ago, he declared to a watchful world that the Manhattan billionaire's ability to draw boxes, tell time and identify giraffes in pictures was all the proof he needed that our commander in chief's mental health was strong. For good measure, Jackson deduced that Trump is so genetically superior to mere mortals, the Queens native could live 200 years if he just stopped supersizing his Big Mac value meals.
My own personal misdiagnosis of what ails Donald Trump. Given his recent history of self-defeating statements, the president is clearly not suffering through the early stages of dementia , but is afflicted instead by the political equivalent of self-harm syndrome. What else could explain continued rants so personally destructive that no rational person — let alone a sitting president — would behave in such a way?
This is not about Trumpian political disruption. It is, instead, a study in self-immolation. And one of the many tragedies of Donald Trump's life is that there is no one on this Earth who can save this tortured man from himself. Not even the honorable Dr. Jackson. https://www.washingtonpost.com/opinions/there-is-no-one-who-can-save-trump-from-himself/2018/04/27/c7c579d4-4a45-11e8-827e-190efaf1f1ee_story.html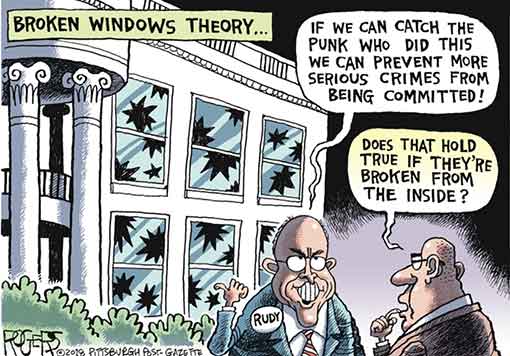 7. Michael Kruse: Trump's Ever-Mounting Scrap Heap
"Everything he touches," Fred Trump once said of his son, "turns to gold."
That was in 1973. Things are … a little different now.
Ronny Jackson is only the latest to join the ever-growing scrap heap of the Trump administration—people who volunteered or were summoned to serve, only to find themselves discarded and disgraced. The Trump-adjacent damage ranges from blaring-siren legal woes (Paul Manafort, Rick Gates, Michael Flynn, George Papadopoulos, and poor-man's-Roy-Cohn, fixer-attorney Michael Cohen) to reputational taint (Sean Spicer, Reince Preibus, Anthony Scaramucci, Steve Bannon, global-CEO-turned-spurned-Secretary-of-State Rex Tillerson) to unexpected political collapses (Luther Strange, Roy Moore, Rick Saccone) in which the president's support proved to be less Midas touch and more kiss of death. Rear Adm. Jackson was the mostly anonymous White House physician. Now, largely as a result of Trump's decision to put him forth to be to be secretary for the Department of Veterans Affairs, he's better known, fairly or not, as an ill-tempered, drunk-driving drug-dispensing "candy man."
There's always been a Trump World scrap heap—in particular during his moments of maximum stress and duress—but it's never been like the past 15 months.
"It's something new," Louise Sunshine, a former Trump Organization executive who's known Trump for more than 40 years, told me.
What's different now is this: He always had publicity. He seldom had scrutiny.
"He's now under a microscope. Instead of giving the story, he is the story," said Davidoff, the longtime New York lawyer and lobbyist. "It's a world that he doesn't accept. He's fighting that world."
And other people again are paying the price. It remains to be seen, of course, whether or not Trump himself will, too. https://www.politico.com/magazine/story/2018/04/26/trump-orbit-crash-burn-218109
8. Paul Waldman: The coming Trump faceplant on North Korea
One thing Trump doesn't see as a prerequisite to negotiation is understanding the person on the other side of the table: What they want, what motivates them, what they might be willing to give up, and how far they'll go. We saw that with negotiations over his attempt to repeal the Affordable Care Act, where he never bothered to learn about the issue and didn't grasp the incentives and risks influencing members of Congress from his own party.
So do you think Trump will spend weeks reading briefing books about North Korea and Kim Jong Un? Or will he say, "Don't worry fellas, I can handle this pipsqueak"?
Trump also doesn't seem to realize that there's a good reason previous administrations weren't able to put a stop to the North Korean nuclear program. And in some ways it's a harder sell today than it ever was, since Kim now has both nukes and the missiles that could deliver them all the way to the U.S. mainland.
Kim may be a brutal dictator, but there's no evidence he's an idiot. According to multiple reports, his thinking and that of other North Korean officials is shaped in significant part by the experience of Moammar Gadhafi, who gave up his weapons and then was overthrown and killed, and Saddam Hussein, who didn't have much in the way of weapons and then was overthrown and killed. Not only that, Kim can see that the United States and other countries signed an agreement to restrain Iran's nuclear program, but now Trump wants to trash that deal. Why should he believe that Trump will keep his word? http://theweek.com/articles/769369/coming-trump-faceplant-north-korea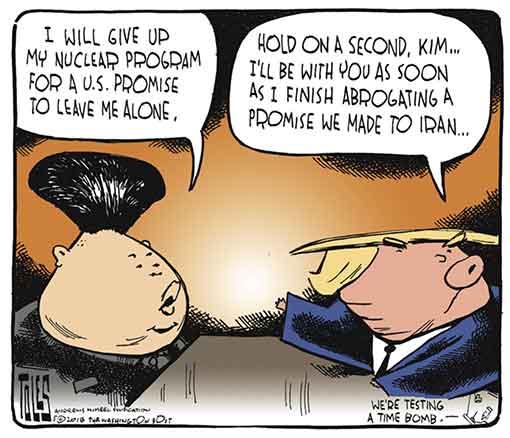 9. Maureen Dowd: Trump: Our Cartoon Nobel Laureate
You can hear those heads exploding from here to Oslo.
Republican lawmakers are pushing Donald Trump, the most combative man in the universe, for a Nobel Peace Prize.
How unimaginable is this?
Just picture a wildly hirsute cartoon figure with a hair-trigger temper festooned with a medal of Alfred Nobel reading "Pro pace et fraternitate gentium" ("For the peace and brotherhood of men").
"The guy who said he could be as presidential as any president except for Abraham Lincoln is instead about as presidential as Yosemite Sam," says his biographer Tim O'Brien. "I really think of him as Yosemite Sam — just hopping around in anger, firing his gun wildly, sometimes at his own foot. He was so unhinged and ranting in that call to 'Fox & Friends' this week that even the hosts couldn't wait to get him off the air."
"We're dealing with a person who's psychologically and categorically different from any previous president," says the Trump biographer Michael D'Antonio. "He may be the most successful con man in history atop the most powerful nation in history. He has prevailed in a way no other spinner of tales has prevailed.
"Expecting him to be different or less crazy only makes us the crazy ones. His behavior gets more outrageous, out of control and florid as the pressure on him persists. And it's only going to get worse."
That's comforting. https://www.nytimes.com/2018/04/28/opinion/sunday/trump-our-cartoon-nobel-laureate.html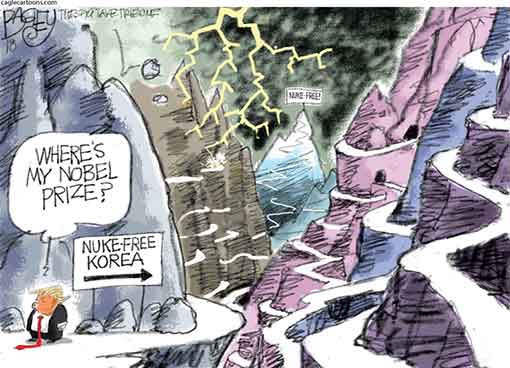 10.  E.J. Dionne: The Steep Price of the Trumpian Circus
One of the many costs of the Trump era is the dumbing down of our political discourse. The incoherent spoken and tweeted outpourings from President Trump and the daily outrages of his administration leave little time for serious debate about policy or meaningful dialogue about our larger purposes.
In a normal environment, the Republican Congress's assault on food-stamp recipients, the administration's waivers allowing states to erode Medicaid coverage, and Housing and Urban Development Secretary Ben Carson's proposed rent increases for some of the country's poorest people would be front and center in the news.
But poor people lack the media cachet of Stormy Daniels, Michael Cohen or a president who rants uncontrollably over the phone to his favorite Fox News show or to a crowd of enthusiasts, as he did Saturday night in Washington Township, Mich.
News outlets are entirely justified in lavishing coverage on the sensational and the personal, since developments in these areas are a part of a bigger story that could undermine the Trump presidency altogether. Nonetheless, the circus that Trump has brought to town is nearly as much of a threat to a well-ordered political system as is Trump himself. https://www.realclearpolitics.com/articles/2018/04/30/the_steep_price_of_the_trumpian_circus_136937.html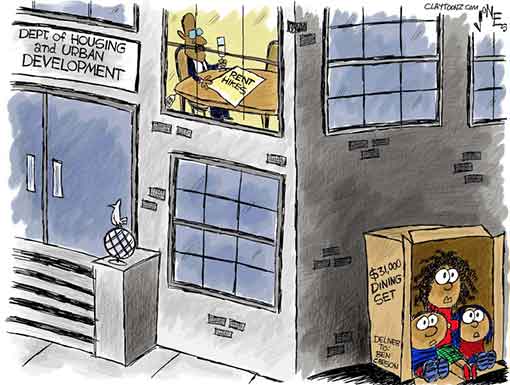 11. Jonathan Chait: Has Michael Cohen Already Flipped on Donald Trump?
The danger Cohen poses as a witness to Trump is vast, but at least some of the elements are well known. He has played an integral role paying off women who have sexual relations with Trump, at least one of whom claims to have been threatened. The Steele dossier named Cohen as a point of contact with Russian intelligence in 2016, and while Cohen has denied the visit in question, one report claims that Robert Mueller has investigated and discredited his denial. Cohen is likewise involved with at least some of Trump's business dealings in Russia. There may be more to come, but the publicly available evidence of Cohen's involvement in criminality with Trump is extensive.
What is less well-known is the scale of legal jeopardy Cohen faces independent of Trump. Numerous reports have mentioned Cohen's work in the taxi industry, without specifying just what he did there that could put him at risk. A deep-dive report earlier this month by Ilya Marritz and Andrea Bernstein fills out a lot of gaps in the picture. Their story makes it plain that Cohen is basically a career criminal; he has surrounded himself at every stage of his life with mentors and colleagues who have criminal records. Cohen is not, as I assumed before reading the story, an unethical lawyer who enjoys acting like a goon. He is (almost certainly) a crook who happens to have a law degree.
Cohen drew close to Trump because he started using his (almost certainly ill-gotten) wealth to buy real estate in Trump Tower, a favored investment vehicle for many criminal figures. What adds an extra layer of danger to Trump is that the alleged crimes with which Cohen could be charged are all state crimes. That is important because Trump can only pardon people for federal crimes. New York's state attorney general Eric Schneiderman is partnering with Robert Mueller, and seemingly has the capacity to credibly threaten Cohen with a very long prison sentence for a potentially very long list of offenses spanning the rest of his life.
In that case, the best defense Trump has left is to discredit Cohen altogether, and make the case that he is fabricating evidence against the president to save his own skin. In other words, the narrative we see in the National Enquirer is an indication that Trump is seriously desperate. Discrediting Cohen is a break-glass-in-case-of-emergency move that makes no sense unless Cohen has already flipped. http://nymag.com/daily/intelligencer/2018/04/has-michael-cohen-already-flipped-on-donald-trump.html
12. Paul Waldman: Why the left shouldn't take yes for an answer
If you're a liberal, the left can be a real pain in the neck.
That's what many Democrats are probably now feeling as their party embarks on a period of intense internal policy debate. We've moved so far on so many issues, they'd say — why won't you stop complaining and give us some credit? Can't you take yes for an answer?
That, however, is not how it works. And that's probably a good thing.
I'm describing the following series of events: The Democratic Party has a generally agreed-upon position on an issue, which the left says makes Democrats a bunch of neoliberal shills, corporate sellouts, weak-kneed compromisers. Then, for a variety of reasons, the party moves to the left, adopting a significantly more liberal position. At which point the left says, "You're still a bunch of neoliberal shills." Which drives the Democrats nuts.
Supporters of Bernie Sanders (and Sanders himself) are part but not all of "the left" I'm referring to, for lack of a better term. They tend to be opposed to any half-loaf thinking, believing that partial victories are just defeats by another name. And they are not particularly encouraged by what they see in today's Democratic Party, or at least aren't inclined to say so publicly.
That's despite the fact that by any sane measure, the Democratic Party has not only moved significantly to the left in recent years, it continues to move in that direction on an almost daily basis. The party is more supportive of immigration than ever before. It's advocating more aggressive gun control than it has in years. It's just about ready to favor legalization of marijuana. Nearly every Democrat wants a $15 minimum wage. Just about every 2020 Democratic presidential candidate now proposes new plans to achieve universal coverage through expanded Medicare or Medicaid. They're now seriously debating a federal job guarantee, a proposal so radically socialist that Finland — Finland! — is abandoning its experiment with one. As my colleague Jeff Spross recently wrote, "Quietly but steadily, the Democratic Party is admitting that Sanders was right."
To all that, leftists tend to reply: Not good enough.
It isn't even a problem that many of the leftist critics aren't actually part of the Democratic Party. Bernie Sanders himself isn't — he's an independent, and stayed that way even when he ran for the Democratic presidential nomination. He and other leftists feel much more at home challenging the party from the outside. As I've argued before, there won't ever be a point at which they say, "Good job, Democrats — now you've given us what we asked for, and we're satisfied," because the belief that the party isn't liberal enough is a core part of their political identity. That's not to mention the fact that once you've said the party has gone far enough left, you lose some of your ability to pull it even farther. http://theweek.com/articles/769595/why-left-shouldnt-take-yes-answer
13. Jonah Shepp: Trump Buys Netanyahu's Bad Case for Abandoning the Iran Deal
In a special address on Monday, Israeli prime minister Benjamin Netanyahu presented what he described as shocking, indisputable evidence that Iran had lied about its covert nuclear weapons program in the past and "continued to preserve and expand its nuclear weapons knowledge for future use" after signing the 2015 deal with six world powers to halt its nuclear activities.
Much like Netanyahu's previous dire warnings about Iran's nuclear ambitions, however, this one is being hugely oversold. The trove of Iranian documents recently obtained by Israeli intelligence, most of which date to before the Joint Comprehensive Plan of Action was adopted, do not constitute proof that Iran either has violated or intends to violate it. Several experts and European diplomats pointed out that the Israeli prime minister had not revealed anything they didn't already know, nor did he provide a proverbial smoking gun to show that Iran was making an end run around the JCPOA. If Mossad had found slam-dunk proof of noncompliance in their brazen heist of Iran's nuclear archive, surely Netanyahu would have included it in his PowerPoint. That he didn't suggests that they haven't.
Trump doctor Harold War with Iran is easy for Trump's enablers in Jerusalem and Riyadh to contemplate: both Israel and Saudi Arabia are already engaged in proxy wars with Iran. Israel is believed to have carried out a strike on a Syrian arms depot on Sunday that killed 11 Iranians, and is now threatening to strike Iran directly if its forces or proxies in Syria target Israel itself. Before Trump's advisers urge him to act on the basis of Monday's "revelations," they should consider whether Netanyahu isn't trying to drag the U.S. along on a disastrous military misadventure of his own. http://nymag.com/daily/intelligencer/2018/05/trump-buys-netanyahus-bad-case-for-abandoning-the-iran-deal.html
14. Richard Cohen: Trump Is Where the End Begins
Trump's way of governing and his almost absolute lack of political principles is often referred to as "Trumpism." This is a dandy term, because it moves us past the temptation to say "fascism" -- the subject of countless articles and books, including two important ones. The respected Dutch public intellectual Rob Riemen calls his book "To Fight Against This Age: On Fascism and Humanism," while Madeleine Albright, as befits her admirably direct style, comes right out and says it: "Fascism: A Warning."
Trumpism did not come out of nowhere. The GOP has long reviled the so-called mainstream media. Trumpism is Sarah Palinism updated. It is the GOP's acceptance of white racism -- the reason segregationist Strom Thurmond left the Democratic Party -- and is an extreme version of Reaganism and his dictum that "government is not the solution to our problem; government is the problem." In a way Ronald Reagan did not intend, that is certainly the case now.
Does Trumpism have a future beyond Trump himself? Maybe. The woods are thick with Trumps-in-waiting, but none so far have his celebrity mojo. More likely, America's political immune system will kick in and install a more conventional government. But Trump -- with his tweets, his vulgarity, his appeal to bigotry, his insults, his carefree ignorance and his ability to maintain himself as an addictive spectacle -- has changed things forever. Trump is where the end begins. He will be gone, but Trumpism will remain. https://www.realclearpolitics.com/articles/2018/05/01/trump_is_where_the_end_begins_136946.html