February 14, 2019
ON THE RECORD. . .
"I think she's doing great. I think she's actually doing a great job. I'm very proud that she was able to hold the caucus together during the longest shutdown in American history. I think she got concessions from the president. I think she's showing people who's boss and I very much understand that she's in an extraordinarily difficult position." — Rep. Alexandria Ocasio-Cortez (D-NY), on House Speaker Nancy Pelosi
"I can understand why the idea of meaningful oversight terrifies the President. Several of his close associates are going to jail, others await trial, and criminal investigations continue. …We're going to do our job and won't be distracted or intimidated by threats or attacks." — House Intelligence Committee Chairman Adam Schiff (D-CA), on  Twitter.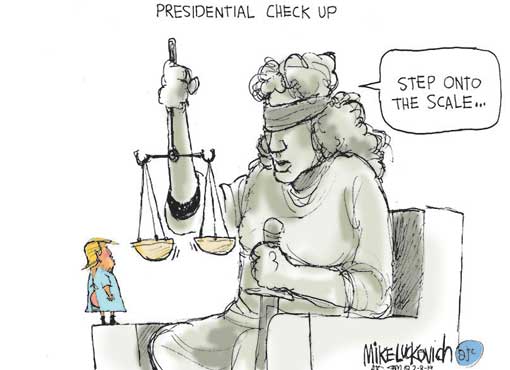 "Today Elizabeth Warren, sometimes referred by me as Pocahontas, joined the race for President. Will she run as our first Native American presidential candidate, or has she decided that after 32 years, this is not playing so well anymore? See you on the campaign TRAIL, Liz!" —Trump, whose use of the word "trail" in all caps was widely interpreted as a reference to the Trail of Tears in which Native Americans were forcibly relocated from their homes in the southeastern U.S. to reservations in Oklahoma in the 1800s. Thousands of them died from disease, starvation and exposure along the way. 
"Yes, I can be tough, and yes I can push people. I have high expectations for myself, I have high expectations for the people that work for me, but I have high expectations for this country." — Sen. Amy Klobuchar (D-MN) offered a defense against the recent reports that she has consistently mistreated members of her staff.
"By the time we get to 2020, Donald Trump may not be president. In fact, he may not even be a free person." — Sen. Elizabeth Warren (D-MA)
"If you grew up during that Cold War period, then you saw a time in politics when the word socialism could be used to end an argument...You can no longer simply kill off a line of discussion about a policy by saying that it's socialist — South Bend Mayor Pete Buttigieg tweet dismissing Trump's efforts to portray Democratic policies as "socialist."
"The media was able to get my work schedule, something very easy to do, but it should have been reported as a positive, not negative. When the term Executive Time is used, I am generally working, not relaxing. In fact, I probably work more hours than almost any past President....." — Trump on Twitter
"The LGBTQ is a modern day version of the Ku Klux Klan, without wearing hoods with their antics of hate." — West Virginia Delegate Eric Porterfield (R) comparing the gay community to the Ku Klux Klan after an anti-gay and lesbian rant he delivered in committee.
"So I was born in Oakland, and raised in the United States except for the years that I was in high school in Montreal, Canada. And look, this is the same thing they did to Barack. This is not new to us and so I think that we know what they are trying to do. They are trying to do what has been happening over the last two years, which is powerful voices trying to sow hate and division, and so we need to recognize when we're being played." — Sen. Kamala Harris (D-CA) directly confronting critics who have questioned her black heritage, her record incarcerating minorities as a prosecutor and her decision to marry a white man.
"Those who think the Mueller investigation will die out with a whimper are dreaming. This is a pretext to allow them to remove both Trump and Pence and replace them with Leather Face—I mean, Nancy Pelosi—and then she can appoint Hillary Clinton as V.P. That's been the agenda from the beginning." — Roger Stone, in an interview with the New Yorker.
"The tragic reality is this planet simply can't sustain billions of people consuming industrially produced animal agriculture because of environmental impact. It's just not possible." — Sen. Cory Booker (D-NJ), in an interview with VegNews.
"Any Republican that supports this garbage compromise, you will have to explain." — Sean Hannity after lawmakers announced a border deal to prevent a government shutdown.
"But we still have a choice. In this democracy, if in fact the people are the government, and the government is the people, we still have a chance to prove it. .. We can decide that we'll get past the lies and fear, focus on the facts and human lives in our midst, and do the right thing. The end goal is a stronger, safer, more successful country. Critical to achieving that goal is having immigration, security and bilateral policies that match reality and our values." — Beto O'Rourke prior to the President's visit to El Paso.
The wall is about whatever you want it to be about: welfare, immigrants, race, class, socialism, you name it. It will never be an actual, 30-foot wall from sea to shining sea, as Mr. Trump once promised. He is, in fact, losing on the merits, bit by bit. But he will still get his monument: a metaphor that just as effectively divides the nation, even if a real wall never divides the border here, in El Paso. — Richard Parker in the NY Times
"Trump talks a good game on the border wall but it's increasingly clear he's afraid to fight for it. Call this his Yellow New Deal." — Ann Coulter accusing Trump of being afraid to "fight" for his proposed border wall.
 "I've noted with great interest the Green New Deal, and we're going to be voting on that in the Senate to give everybody an opportunity to go on record." — Senate Majority Leader Mitch McConnell who wants to get Senate Democrats, especially the 2020 presidential election hopefuls, on the record about their support of the sweeping climate resolution.
"The path to the White House is long, winding and filled with perils, much like the Yellow Brick Road from "The Wizard of Oz." But don't be surprised if Klobuchar exceeds expectations, surmounts the challenges and ends up on top in the Emerald City." — Henry Olsen in the Washington Post
"I always have plan B and C and D and E and F. I have great flexibility. I probably have more flexibility than any man that's ever been in this office." — Trump, quoted by Politico.
"I fail to understand why members of this committee or the American people should find any testimony that you give today to be truthful." — Exchange between Rep. Omar Ilhan and Elliott Abrams
"You have trafficked in hate your whole life — against Jews, Muslims, Indigenous, immigrants, black people and more. I learned from people impacted by my words. When will you?"— Rep. Omar Ilhan responding to Donald Trump's call for her resignation.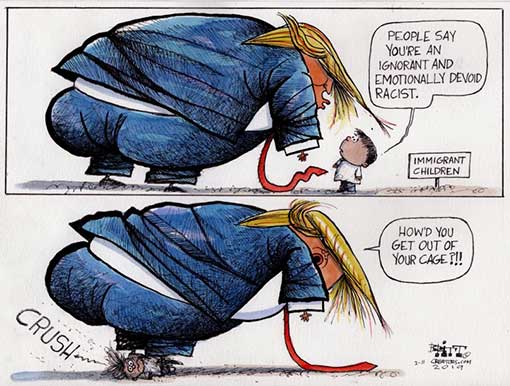 ---
IN THIS ISSUE
FYI
OPINION
1. Andy Borowitz: El Chapo Says He Is Victim of Phony Witch Hunt
In his first interview since being found guilty on all counts in his U.S. trial, the Mexican drug lord Joaquín (El Chapo) Guzmán called himself the victim of a "phony witch hunt."

The former cartel leader made his blistering comments in a phone call to the television program "Fox & Friends," whose hosts appeared surprised that he had somehow gained access to a phone and was able to get through to them.

"It was a phony witch hunt," El Chapo said, of his trial. "It was a phony, rigged witch hunt, and the charges against me were fake news and a disgrace."

Questioned whether he had worked in concert with other drug lords to bring narcotics into the United States, El Chapo said, "There was no collusion. And there was no evidence of collusion, because there was no collusion."

But the former drug kingpin reserved his harshest words for the F.B.I. and its former director James Comey.

"Lying and leaking Jim Comey is a showboat and a disaster," he said.

Asked to give his impression of the American justice system, El Chapo said, "I think it's very bad when someone like me, who is running a business and creating jobs and helping the economy, is harassed and treated unfairly. I think it's a disgrace and, frankly, very sad." https://www.newyorker.com/humor/borowitz-report/
2. 'It will create a firestorm': Mulvaney's border wall cash grab sparks dissent in White House
The White House is firming up plans to redirect unspent federal dollars as a way of funding President Donald Trump's border wall without taking the dramatic step of invoking a national emergency.
Done by executive order, this plan would allow the White House to shift money from different budgetary accounts without congressional approval, circumventing Democrats who refuse to give Trump anything like the $5.7 billion he has demanded. Nor would it require a controversial emergency declaration.
The emerging consensus among acting chief of staff Mick Mulvaney and top budget officials is to shift money from two Army Corps of Engineers' flood control projects in Northern California, as well as from disaster relief funds intended for California and Puerto Rico. The plan will also tap unspent Department of Defense funds for military construction, like family housing or infrastructure for military bases, according to three sources familiar with the negotiations. https://www.politico.com/story/2019/02/11/mick-mulvaney-border-wall-funds-1163996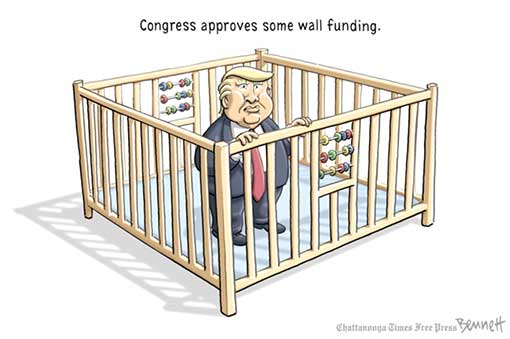 3. Dems ready to issue subpoena for phone records linked to Trump Tower meeting
Democrats on the House Intelligence Committee are preparing to issue a subpoena as soon as Thursday to obtain phone records linked to the June 2016 Trump Tower meeting between Trump campaign officials and a Russian lawyer, two sources familiar with the matter tell The Hill.
The subpoena will be the first order Rep. Adam Schiff (D-Calif.) will issue as committee chairman. The process of preparing the order came one day after the committee became formally constituted. https://thehill.com/policy/national-security/429035-dems-ready-to-issue-subpoena-for-phone-records-linked-to-trump-tower
4. New Trump Rules Make It Easier to Sell Guns Overseas
Semi-automatic weapons, flamethrowers and even some grenades will become easier for U.S. weapons manufacturers to export overseas under new rules being put in place by the Trump administration and obtained by NBC News.
Under the new rules, set to take effect in just under a month, gun makers will no longer need licenses from the State Department to sell dozens of types of weapons to other countries, including the popular AR-15-style semi-automatic rifle that's been employed in many of America's worst mass shootings. Instead, sellers will need only a no-fee license from the Commerce Department, which has a less onerous licensing process and a smaller global footprint, making it harder to track how the weapons are ultimately used overseas. https://www.nbcnews.com/politics/white-house/new-trump-rules-make-it-easier-u-s-gun-makers-n968601
5. The DAILY GRILL
So now Congressman Adam Schiff announces, after having found zero Russian Collusion, that he is going to be looking at every aspect of my life, both financial and personal, even though there is no reason to be doing so. Never happened before! Unlimited Presidential Harassment.... Republicans never did this to President Obama, there would be no time left to run government. I hear other committee heads will do the same thing. Even stealing people who work at White House! A continuation of Witch Hunt! — Trump tweet

VERSUS

Rep. Darrell Issa (R-Calif.) … has now issued nearly 100 subpoenas since becoming chairman of the House Oversight and Government Reform Committee — more than all three previous committee chairmen combined. — Jennifer Bendery in the Huff Post Jul 11, 2014

 

After Trump agreed to reopen the government without securing any funds for his signature campaign promise anger and outrage rippled across the #MAGA media landscape: "TRUMP CAVES," declared The Daily Caller. "NO WALL FUNDS," bellowed the Drudge Report. On Fox Business, the host Lou Dobbs concluded that Speaker Nancy Pelosi had "just whipped the president of the United States," and "to deny it is to escape from reality." And in Breitbart News, a home-page article proclaimed, "The White House finally caved to Democrats' demands, despite Trump's repeated assertions this week that he would not do so."-- The Atlantic

VERSUS

After the State of the Union speech the same high-profile voices on the right rushed to celebrate Trump's triumph at the State of the Union: At The Daily Caller, the gauzy headline leading the homepage Wednesday morning read, "Choosing Greatness." Drudge went with "TRUMP ROCKS HOUSE." Dobbs could hardly wait for the speech to end before describing it as "a hallelujah moment," and "the best State of the Union I've ever heard." And at Breitbart, the reconciliation was marked with a joyous headline: "TRUMP MAKES MAGA GREAT AGAIN" -- The Atlantic

 

"A young man who's got very little going for himself, except he's got a great first name… He challenged us. So we have let's, say, 35,000 people tonight. And he has 200 people, 300 people. Not too good." — Trump, referring to the protest that Beto O'Rourke and other El Paso leaders had organized.

VERSUS

We're news people, so we'll mention the crowd estimates, per NBC's and others' reporting: About 7,000 to 8,000 attended O'Rourke's protest, while 6,500 attended Trump's rally (that's the capacity per the Fire Department) and several thousands more Trump supporters assembled outside the arena. So that's not 200 people. Or 300. Or 15. — NBC News

 

"Bad timing. By the end of her speech she looked like a Snowman(woman)!" — Donald Trump tweet abut Amy Klobuchar announcing that she is running for President and talking about climate change while standing in a virtual blizzard of snow, ice and freezing temperatures,

VERSUS

"Science is on my side, @realDonaldTrump. Looking forward to debating you about climate change (and many other issues). And I wonder how your hair would fare in a blizzard?" — Amy Klobuchar
6. From MEDIA MATTERS (They watch Fox News so you don't have to)
"This is not about immigration": Fox figures stress the border wall is about Trump's political standing and 2020 chances. https://www.mediamatters.org/blog/2019/02/07/not-about-immigration-fox-figures-stress-border-wall-about-trumps-political-standing-and-2020/222797

Fox News fearmongered about a migrant caravan for 26 straight days in the run-up to Trump's State of the Union. As Trump tries to paint a picture of an immigration "crisis," Fox News devoted 7 hours of coverage to a migrant caravan. https://www.mediamatters.org/blog/2019/02/07/fox-news-fearmongered-about-migrant-caravan-26-straight-days-run-trumps-state-union/222799

Watch Fox's Stuart Varney freak out over Democrats' "socialist ideas." Varney: "How about the Green New Deal? That's top-down socialist revolution." https://www.mediamatters.org/video/2019/02/07/watch-foxs-stuart-varney-freak-out-over-democrats-socialist-ideas/222796

Fox & Friends host suggests Trump "run a private investigation" into personal lives of Democrats in Congress. Brian Kilmeade: "Why not investigate Adam Schiff? Why not investigate Maxine Waters? ... Why not investigate them? It could be no reason." https://www.mediamatters.org/video/2019/02/07/fox-friends-host-suggests-trump-run-private-investigation-personal-lives-democrats-congress/222790

Hugh Hewitt: The Green New Deal "is communism, it is fascism, it is despotism." Hewitt likens Alexandria Ocasio-Cortez to dictators who "end up murdering millions." https://www.mediamatters.org/video/2019/02/08/hugh-hewitt-green-new-deal-communism-it-fascism-it-despotism/222809

A video showing some of the dumbest right-wing media takes on the Green New Deal is at https://youtu.be/m6a3K0pMuLA

Dennis Prager says the Green New Deal "will lead to bloodshed, loss of liberty, loss of human rights." Prager links the Green New Deal and "Medicare-for-all" to Nazi Germany. https://www.mediamatters.org/video/2019/02/08/dennis-prager-says-green-new-deal-will-lead-bloodshed-loss-liberty-loss-human-rights/222816

Hannity claims potential congressional deal on border security is "an unmitigated disaster, and everybody should stop wasting their time." https://www.mediamatters.org/video/2019/02/08/hannity-claims-potential-congressional-deal-border-security-unmitigated-disaster-and-everybody/222817

Fox News almost single-handedly manufactured anti-abortion outrage before Trump's State of the Union. Before the State of the Union, Fox News devoted over 6 and a half hours to inaccurately saying state abortion measures allow "infanticide." https://www.mediamatters.org/blog/2019/02/08/fox-news-almost-single-handedly-manufactured-anti-abortion-outrage-trump-s-state-union/222813

ICE senior adviser Jon Feere repeatedly promoted anti-refugee content from Alex Jones. Feere is a senior adviser for U.S. Immigration and Customs Enforcement (ICE) at the Department of Homeland Security. Previously, he worked for Donald Trump's 2016 presidential campaign and for the anti-immigrant group Center for Immigration Studies. https://www.mediamatters.org/blog/2019/02/13/ice-senior-adviser-jon-feere-repeatedly-promoted-anti-refugee-content-alex-jones/222848

In their ongoing effort to smear the Green New Deal, right-wing media misrepresent Sen. Mazie Hirono's joke about air travel to Hawaii Hirono said that it'd be "pretty hard for Hawaii" to abandon air travel. Luckily, no one is asking the state to do that. https://www.mediamatters.org/blog/2019/02/13/their-ongoing-effort-smear-green-new-deal-right-wing-media-misrepresent-sen-mazie-hirono-s-joke/222865

Fox & Friends tries to smear Kamala Harris following an interview she did with The Breakfast Club. The wanna-be scandal underscores a larger trend of figures on the right using misinformation to paint Democratic candidates as inauthentic and unrelatable. https://www.mediamatters.org/blog/2019/02/13/Fox---Friends-tries-to-smear-Kamala-Harris-following-an-interview-she-did-with-The-Breakfa/222858
7. New Evidence of Wrongdoing by Trump Inaugural
Federal prosecutors in New York are circling Donald Trump's inaugural committee as part of a wide-ranging investigation into possible money laundering, illegal contributions and cash-for-access schemes. Now, WNYC and ProPublica have identified evidence of potential tax law violations by the committee."
A spokesman confirmed that the nonprofit 58th Presidential Inaugural Committee paid the Trump International Hotel a rate of $175,000 per day for event space — in spite of internal objections at the time that the rate was far too high. If the committee is deemed by auditors or prosecutors to have paid an above-market rate, that could violate tax laws prohibiting self-dealing.
Tax law prohibits nonprofits from paying inflated prices to entities that are owned by people who also control or influence the nonprofit's activities. https://www.propublica.org/article/trump-inc-new-evidence-emerges-of-possible-wrongdoing-by-trump-inaugural-committee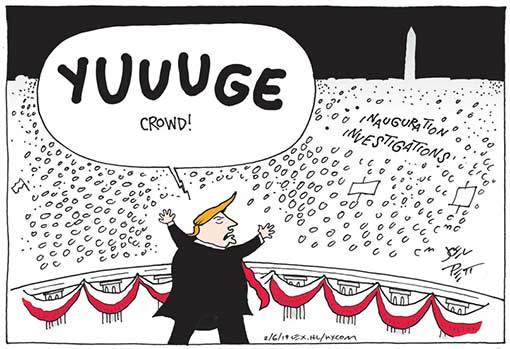 8. Rosenstein Didn't Want to Justify Comey Firing
Deputy Attorney General Rod Rosenstein "privately complained that he was ordered by president Donald Trump to write the notorious memo justifying the firing of the FBI director James Comey," The Guardian reports.
Former Deputy FBI Director Andrew McCabe writes in a new book that Rosenstein, who has publicly defended the memo, lamented that the president had directed him to rationalize Comey's dismissal, which is now the subject of inquiries into whether Trump obstructed justice." https://www.theguardian.com/us-news/2019/feb/08/rosenstein-did-not-want-to-write-memo-justifying-comey-firing-new-book
9. Georgia voters suing for paper ballots win appeal to 11th Circuit
A federal appeals court upheld a judge's ruling that said Georgia's electronic voting system poses a "concrete risk" to secure elections, the Atlanta Journal Constitution reports. https://www.ajc.com/news/state--regional-govt--politics/georgia-voters-suing-for-paper-ballots-win-appeal-11th-circuit/1HWhP8xNy081ONfesFxLOM/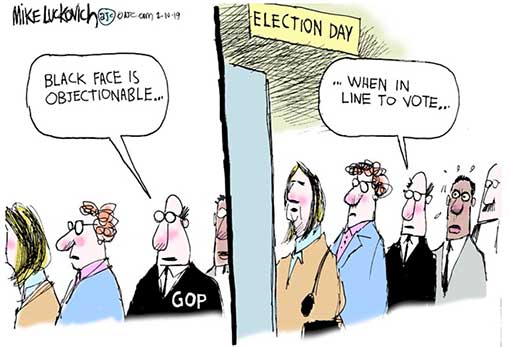 10. Ocasio-Cortez Campaign Film Draws Top Dollar
Netflix acquired rights to the award-winning documentary Knock Down the House, about the election campaigns of U.S. Representative Alexandria Ocasio-Cortez and three other women from the Democratic Party. The picture won the Festival Favorite Award at the Sundance Film Festival earlier this year.
Watch the official trailer at https://www.dailymail.co.uk/video/news/video-1859286/Video-AOC-featured-upcoming-Netflix-documentary-Knock-House.html
11. From the Late Shows
Women of Congress - SNL: https://youtu.be/HG9Z961mhXU

State Meeting - SNL: https://youtu.be/MrpQVSVa2QI

The Late Show with Stephen Colbert: We're Finally Going To Get Trump's Tax Returns: https://youtu.be/DHXZLAFf67w

The Late Show with Stephen Colbert: Trump's Inauguration Is Now Under Investigation: https://www.youtube.com/watch?v=v3mnVXgGBkI
12. Exposing the Dark Side of Politics In Just Five Minutes
Rep. Alexandria Ocasio-Cortez (D-NY) exposed some of the biggest flaws and loopholes in campaign finance laws this week.
"During a hearing, the freshman lawmaker created a game in which she pretended to be 'a really, really bad guy' who wants to abuse the system as much as possible. Then, in a series of questions, she exposed the world of payoffs, dark money, PACs and more. She even revealed how it was perfectly legal for a lawmaker to invest in an industry, then write laws to benefit that industry and increase the value of the investment." Video at https://youtu.be/TJlpS4vhKP0
13. Tennessee's 'Natural Marriage Defense Act' would prohibit same-sex weddings
After failing to advance last session, Republicans have again filed legislation to keep Tennessee from permitting same-sex marriages, a bill officials previously estimated could cost the state more than $9 billion in federal funding," the Tennessean reports.
"The bill would prohibit government officials — presumably including clerks issuing marriage certificates — from giving recognizing any court ruling that affirms same-sex unions, and specifies they cannot be arrested for failing to comply with court orders that do so. https://www.tennessean.com/story/news/politics/2019/02/08/tennessee-marriage-defense-act-would-ban-same-sex-marriage/2805983002/
14. California Gov. Gavin Newsom to pull back National Guard from border
"California Gov. Gavin Newsom (D) plans to withdraw several hundred National Guard troops from the state's southern border with Mexico in defiance of the Trump administration's request for support from border states," CBS News reports.
Newsom's move comes on the heels of New Mexico Gov. Michelle Lujan Grisham (D) pulling back her state's troops from the U.S.-Mexico border.
Newsom's and Grisham's actions are a fresh, if symbolic, affront to President Trump's description of an immigration crisis on the nation's southern border. https://www.cbsnews.com/news/california-gov-gavin-newsom-to-pull-back-national-guard-from-border/
15. Brett Kavanaugh Just Declared War on Roe v. Wade
On Thursday night, the Supreme Court blocked a stringent Louisiana abortion law by a 5–4 vote, with Chief Justice John Roberts joining the liberals to keep the measure on hold. Roberts' vote is surprising, but not a total shock: The Louisiana statute is a direct violation of the Supreme Court's 2016 ruling in Whole Woman's Health v. Hellerstedt, and until the court overturns that decision, the Louisiana law cannot take effect. To Roberts, this precedent matters. To Justice Brett Kavanaugh, it does not. Kavanaugh so disagreed with the majority that he wrote a dissent explaining why the Louisiana law should be allowed to move forward—an opinion that should not be taken as anything less than a declaration of war on Roe v. Wade. https://slate.com/news-and-politics/2019/02/brett-kavanaugh-june-medical-services-louisiana-john-roberts.html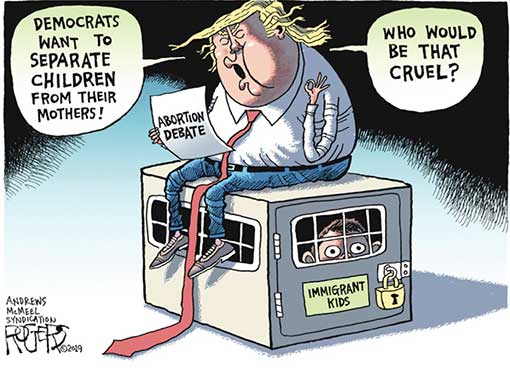 16. Under Trump, EPA inspections fall to a 10-year low
The agency's inspection rate last year is half of what it was in 2010, while the civil penalties levied against polluters is the lowest since 1994.
Under President Trump, the Environmental Protection Agency inspected fewer industrial facilities during 2018 than at any time over the past decade, according to data released by the agency Friday.
The sharp drop in inspections and evaluations last fiscal year — to roughly 10,600 — is only half the number EPA conducted at its peak in 2010, and continues a downward trend that began in 2012. Other enforcement activities at the agency experienced similar declines, according to EPA figures: The number of civil cases the division started and completed in 2018 hit a 10-year low, and the $69 million in civil penalties it leveled represents the lowest in nearly a quarter-century. https://www.washingtonpost.com/climate-environment/2019/02/08/under-trump-epa-inspections-fall-year-low/
17. U.S. senators to try again to pass Russia sanctions bill
A bipartisan group of U.S. senators introduced a bill on Wednesday that would impose stiff new sanctions on Russia over its meddling in U.S. elections and aggression against Ukraine, the latest congressional effort to push President Donald Trump to ratchet up Washington's response to Moscow.
The new bill may have a better chance of passing Congress now, either as a whole or as amendments to other legislation, in the face of growing bipartisan anger over Russia's interference in other countries' affairs. https://www.reuters.com/article/us-usa-russia-sanctions-exclusive/exclusive-u-s-senators-to-again-try-to-pass-russia-sanctions-bill-idUSKCN1Q22J9
18. Howard Schultz's campaign about nothing
At the start of the town hall CNN gave Howard Schultz on Tuesday night, anchor Poppy Harlow promised, 'We're going to talk about all the issues, because that's what this is about.'"
Unfortunately, Schultz spent the next hour studiously avoiding taking a position on much of anything.
The former Starbucks CEO and potential independent presidential candidate's performance was almost a caricature of an independent candidate trying to say nothing except that the two major parties were doing it wrong. Harlow, to her great credit, repeatedly noted that he was skirting the questions and not talking about his own proposals. https://www.washingtonpost.com/politics/2019/02/13/howard-schultzs-campaign-about-nothing/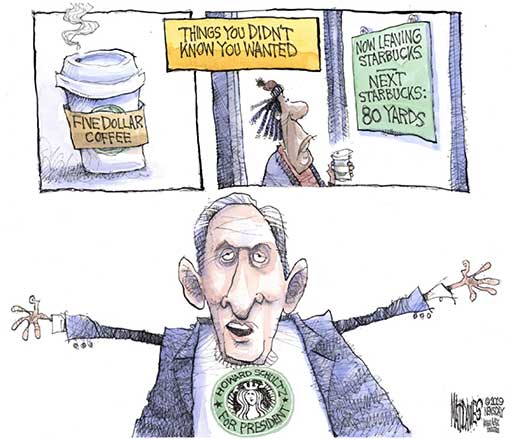 19. Howard Dean to Lead Democratic Voter Data Exchange
Former Vermont Gov. Howard Dean "is set to return to prominence as head of a new operation that Democrats hope puts them back on par with Republicans in the never-ending race to use voter data to drive Americans to the polls," the AP reports.
Dean confirmed that he's signed on to lead a planned data exchange hammered out by DNC officials, state party leaders and Democratic consultants. The agreement still requires the expected approval from state party leaders gathering Wednesday in Washington, but it would end more than 18 months of internal party wrangling that has dogged DNC Chairman Tom Perez amid fights over money and control.
The arrangement would allow the national party, state parties and independent political action groups on the left to share voter data in real time during campaigns. https://www.cbsnews.com/news/howard-dean-to-lead-new-democratic-voter-data-exchange/
1. Susan B. Glasser: Welcome to Trump's 2020 Campaign
His SOTU speech made clear that he intends to run his reelection race the same way he ran his first campaign: as a divider, not a uniter. Trump is all about having enemies. Without Barack Obama and Hillary Clinton to set himself in opposition to, he will try to vilify far-left socialist Democrats and rampaging illegal immigrants in 2020. The immigrant-bashing, of course, was a staple and centerpiece of his 2016 race. The claim that Democrats are going to turn America into a Venezuelan socialist hellscape is something new. The Party, with its embrace of Sanders (and his Medicare-for-all proposal) and A.O.C. (with her talk of seventy-per-cent income-tax rates on the über-rich), appears to be tilting left at just the right moment for Trump. "It seems to me that DJT has zero interest in expanding his coalition, and is going all-in on making the Democratic alternative unpalatable, hence the focus on opposing 'socialism,' " the Republican strategist Michael Steel, a former senior adviser to the House G.O.P. leadership, told me in an e-mail the morning after the speech.
Democrats, of course, will seek to make the race a referendum on the contentious President himself—on his corruption and controversies, erratic persona, hard-line policies, and bullying tweets. If they succeed in doing so, they will likely win. Trump starts out, at this point in his term, with the lowest ratings of any President in decades, and already public surveys have found a significant majority of registered voters who say they will definitely vote against him next year. Then again, a crowded field of more than a dozen Democrats now seems certain, with no clear front-runner. Polls of the primary electorate are skewing increasingly liberal, and there is a decided tilt left in who is choosing to run and who is opting out. "The President is unlikely to ever get his approval ratings much above where they are now. At best, he hits forty-five per cent," the political analyst Amy Walter, the national editor of the nonpartisan Cook Political Report, told me. "The way Trump wins reëlection isn't by getting more people to like him—it's by insuring that voters don't see the Democratic nominee as a viable alternative." https://www.newyorker.com/news/letter-from-trumps-washington/trump-vows-to-stop-america-from-turning-into-a-venezuelan-socialist-hellscape
2. Ronald Brownstein: Trump Is Walling Off the GOP
The most misleading line in Donald Trump's State of the Union address this week might have also been the most revealing about how he is reconfiguring the Republican Party and reshaping America's electoral alignment.
"Legal immigrants enrich our nation and strengthen our society in countless ways," he declared at one point. "I want people to come into our country, in the largest numbers ever, but they have to come in legally."
Trump ad-libbed the part about "the largest numbers ever," but even the base claim—that he supports legal immigration—radically rewrites his record. Trump just last year supported legislation from Republican Senator Chuck Grassley of Iowa that would have cut legal immigration by more than 40 percent—the largest reduction since the 1920s, according to a study from the libertarian Cato Institute. If that bill had been put in place in 1965, when Congress revised the nation's immigration laws, it would have blocked nearly three-fifths of all the immigrants the nation has admitted since then, the study's author, David Bier, calculated.
All of this underscores how Trump, across a broad range of immigration issues, is steering the GOP toward the preferences of a distinct minority of Americans. And yet the evidence is also clear that Trump is systematically eradicating opposition to his agenda inside the GOP. Over four-fifths of Republicans in the House and nearly three-fourths of Republicans in the Senate voted for the massive cuts to legal immigration that Trump supported last year, though the bills ultimately failed. https://www.theatlantic.com/politics/archive/2019/02/trumps-alienating-immigration-agenda/582265/
3. Reihan Salam: Trump's revealing immigration ad lib
Though Grassley's bill failed last year in the Republican-controlled Senate, and a companion measure died in the GOP House, Trump has used, in the meantime, almost every administrative tool at his disposal to create more hurdles for legal immigrants. "The idea that the administration is trying to increase legal immigration, or allow more of it, is just totally contrary to every proposal that they have put out here," Bier said in an interview. Trump was so determined to restrict legal immigration, he rejected a deal accepted by virtually every Senate Democrat that would have provided him with $25 billion for his border wall in return for a pathway to citizenship for the so-called Dreamers, the young people brought illegally to the U.S. by their parents.
Trump's hostility to legal immigration, which he so aggressively sought to hide in his speech, is key to understanding the real implications of his immigration agenda. Once again on Tuesday, Trump signaled that he prioritizes no cause more than building a wall across the southern border, portraying his determination as a sign of his commitment to ensuring Americans' security and upholding the rule of law. His praise for legal immigration, though distorting his record, provided a critical buttress for that case: It allowed him to suggest that his motivation for the wall isn't resisting immigration per se, only illegal and dangerous behavior. The truth, though, is that the wall is itself only one brick in a much larger structure aimed at restricting most kinds of immigration. https://www.theatlantic.com/politics/archive/2019/02/trumps-alienating-immigration-agenda/582265/
4. Jonathan Chait: New Proof the Trump Tax Cuts Are Doing the Exact Opposite of What They Promised
The Trump tax cuts had several publicly stated goals. First, by lowering corporate tax rates, they would induce companies to bring home massive stores of overseas cash. "We've got about $3 trillion in trapped cash overseas that basically can't come back in this country because of our tax laws," said Paul Ryan. Second, by eliminating loopholes and preferences, it would reduce the need for and value of gaming the tax code through specialized knowledge. "We just want to clean it up," explained Ryan, "we just want to simplify the whole thing." And third, by promoting new investment and economic activity, the tax cuts would spur enough new growth to replace the lost revenue.
The law's putative goals have proven a failure. Tax revenues aren't holding steady, corporate cash isn't coming back from overseas, and the tax code is more complex and expensive to comply with than ever. So why aren't Republicans thinking about repealing or at least revising the bill that has failed to accomplish its goals? Because it's still doing a great job of accomplishing the actual goal that they really cared about: letting people who own businesses have more money. http://nymag.com/intelligencer/2019/02/trump-tax-cuts-doing-opposite-of-promised-corporate-cash-accountants.html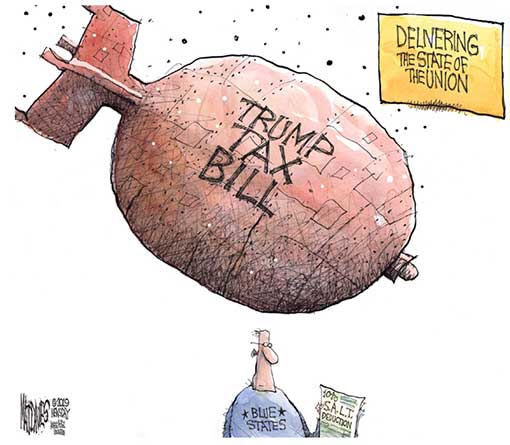 5. Jonathan Chait: An Inheritance Tax Is Democrats' Best Weapon Against Trump's Oligarchy
There is no issue in American politics that splits the parties more cleanly than the taxation of large inherited fortunes. Last year's Republican tax cut included a big cut in the estate tax, which will now allow couples to pass on $22 million to their heirs before the first dollar of tax kicks in. Not satisfied with this generous gift, Republican senators recently unveiled a bill to eliminate the estate tax altogether, thus relieving heirs to fortunes exceeding the $22 million threshold of any tax burden.
Centering an attack on inherited wealth also gives Democrats a chance to highlight the still barely known reality of Trump's sad history in business. Trump is known to the country as a self-made man, whose crude mannerisms suggest some working-class background. In reality, we now know he was primarily in the business of laundering inherited money. Last fall, a trio of University of Maryland political scientists found not only that most voters do not realize that Trump was born into great wealth, but also that learning that he was changes their overall view of him for the worse.
Trump — the real Trump, not the character he played on television — is the embodiment of inherited privilege. He has surrounded himself with crooks and cronies who live by his own values, in which money begets political power, which begets more money, on and on in perpetuity. It is a rare opportunity for a political party to face a politician who embodies the social phenomenon they are trying to fight. A tax on inherited fortunes is a symbolic and substantive blow against the crisis of American oligarchy that Trump simultaneously aggravated and embodies. http://nymag.com/intelligencer/2019/02/inheritance-tax-estate-democrats-trump-oligarchy.html
6.  Eric Lutz: Trump Explodes As Democrats Close In On His Business
Donald Trump on Thursday whined again that Democrats are engaging in unprecedented "presidential harassment," his term for the congressional scrutiny the new House majority is beginning to intensify. "The Dems and their committees are going 'nuts,'" he wrote in one tweet of a three-part rant Thursday morning. "The Republicans never did this to President Obama."
It's a particularly rich complaint coming from the guy who spent years falsely claiming Barack Obama was not born in the United States, but it reflects Trump's growing unease as Democrats revive and launch new probes into his administration and his business empire. Trump has taken out his angst on House Intelligence Committee chairman Adam Schiff in particular, as Schiff and other Democrats on the panel prepare to launch a broad inquiry into the president's family business. "After having found zero Russian Collusion," Trump tweeted Thursday, "he is going to be looking at every aspect of my life, both financial and personal, even though there is no reason to be doing so."
As the noose tightens, Trump—who has so far enjoyed the protection of a Republican-controlled Congress—is in revolt. "If there is going to be peace and legislation, there cannot be war and investigation," he declared during his State of the Union Address on Tuesday, a line that received scant applause. "I thought it was, frankly, kind of bizarre," Representative Alexandria Ocasio-Cortez told NBC of Trump's ostensible threat. "I don't think that investigations into federal misconduct have anything to do with our economy." Schiff echoed her comments on Wednesday, telling reporters, "I can understand why the idea of meaningful oversight terrifies the president. Several of his close associates are going to jail, others await trial, and criminal investigations continue. We're going to do our job and won't be distracted or intimidated by threats or attacks." https://www.vanityfair.com/news/2019/02/trump-explodes-as-democrats-close-in-on-his-business-schiff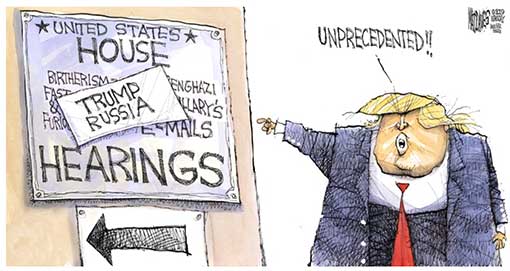 7.  Emily Jane Fox: "I Am Disgusted": Behind The Scenes Of Trump's Increasingly Scrutinized $107 Million Inauguration
Stephanie Winston Wolkoff was the mastermind event producer behind Trump's inaugural celebration, which has since come under S.D.N.Y. investigation. Now, taped conversations reveal Wolkoff's concerns with how money was being spent, the general chaos of the process, the involvement of the Trump family, and the people in charge, namely Rick Gates and Tom Barrack.
Last February, The New York Times published an article centered on WIS, headlined "Trump's Inaugural Committee Paid $26 million to Firm of First Lady's Adviser." The inaugural committee had raised a stunning $107 million—about twice what Barack Obama had hauled in 2009—from donors such as Sheldon Adelson and corporations like AT&T. But as the Times reported, the tax form revealed profligate spending—nearly $10 million on travel; $4.6 million on salaries and benefits; and $100,000 to Rick Gates, the former campaign aide and deputy chairman of the inauguration who, about a week later, became one of Robert Mueller's first major cooperating witnesses. Some $40 million was publicly unaccounted for. Wolkoff, as the event planner in charge, became the face of the disarray. The Times story quoted an official from a government watchdog group accusing her of "fiscal mismanagement at its worst." https://www.vanityfair.com/news/2019/02/behind-the-scenes-of-trumps-107-million-inauguration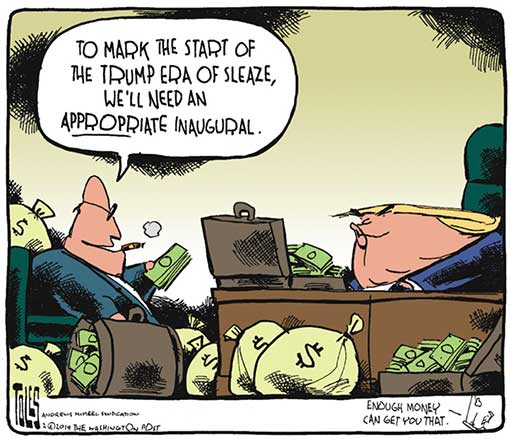 8. Amanda Ripley: Trump Is a Mental Health Story
So far, most of the mainstream stories about Trump's narcissism have been about whether mental health professionals should diagnose him from afar. That's a worthy debate. But journalists are not psychiatrists. We are not bound by the rules of the American Psychiatric Association. We are bound by a duty to inform the public, without fear, drawing upon any source that may prove useful.Narcissists, for example, need admiration the way addicts need substances. They believe they are truly special and yet not appreciated for their gifts, which can lead them to act entitled, as if the rules do not apply to them. In their quest for recognition, they sometimes exploit others, contradict what they've said, and break their promises — all the while arguing (and often truly believing) in their new, alternative facts. Once we know this, Trump's tendency to revise history becomes unsurprising and explicable.
It's a painful way to live, because no amount of adoration will ever be enough. After every victory, feelings of envy, anger, and frustration squirm back to the surface. Now, Behary says, Trump is "unraveling." This, too, is predictable, which is why we need to talk about it, out in the open. As the bad news stacks up for Trump, including Republican losses in the midterms, a divided Congress, and continuing legal investigations, he is likely experiencing profound mental agony.
In this agitated state, narcissists are notoriously bad at negotiating, as it turns out. (They are good at bullying, which is not the same thing.) Catherine Conner, a family law attorney and mediator in Northern California, understands this better than political scientists, because she has helped hundreds of people craft child custody agreements and divorce settlements. A crisis, such as a divorce, may intensify narcissistic tendencies and make negotiation impossible, she says.
"The only way to create an agreement is to put yourself in the other person's shoes and come up with a package that might appeal to both of you," Conner says. "If they are incapable of seeing the world through anyone else's eyes, they won't be able to do this. They will just remain stuck on their vision of what should be, convinced that everyone will see it their way."
This would explain why Trump was reportedly shocked that the Democrats did not agree to his border-wall terms. He was unable to see the situation from their point of view. When this kind of intransigence takes hold in Conner's cases, the parties are sometimes forced to rely on judges to make the decision.
In Trump's case, if he is unable to compromise before the government shuts down again in two weeks, the courts might have to get involved. Or Trump might just turn the government back on in order to be the hero. "Narcissists are so good at showing up as Messiahs," Behary says. If he's at risk of losing the support of his fan base, which he needs in order to stop the pain, he will swoop in to save the day. Because that's what narcissists do. https://medium.com/s/reasonable-doubt/trump-is-a-mental-health-story-652c340f4503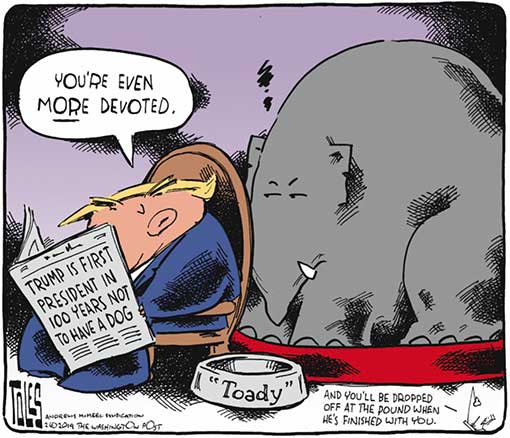 9. Gabriel Sherman: "Trump Is Hated By Everyone Inside The White House": The State Of The Union Left Trump Stoked—But Some Of His Staff Are Miserable
Morale inside the White House, never high to begin with, has turned particularly bleak, according to interviews with 10 former West Wing officials and Republicans close to the president. The issue is that many see Trump himself as the problem. "Trump is hated by everyone inside the White House," a former West Wing official told me. His shambolic management style, paranoia, and pattern of blaming staff for problems of his own making have left senior White House officials burned out and resentful, sources said. "It's total misery. People feel trapped," a former official said. "Trump always needs someone to blame," a second former official said. Sources said the leak of Trump's private schedules to Axios—which revealed how little work Trump actually does—was a signal of how disaffected his staff has become.
What's driving a lot of the frustration is that Trump, now more than ever, runs the West Wing as a family business. Four sources said the only White House advisers he truly consults are daughter Ivanka and son-in-law Jared Kushner. "This is a family affair, and if you're not in the family, you've got problems," a former official said. The special privileges and access afforded to Kushner and Ivanka have been alienating Trump's acting chief of staff, Mick Mulvaney. "Mick is not entirely thrilled with the family," a Republican close to Mulvaney told me. Multiple sources said Mulvaney is looking for a way out of the West Wing. He's said to be interested in a Cabinet position, either at the Commerce Department or Treasury, and he's reportedly been pursuing the University of South Carolina presidency. A senior White House official recently lobbied a friend of Mulvaney's to convince Mulvaney to stay. https://www.vanityfair.com/news/2019/02/the-state-of-the-union-left-trump-stoked-but-some-of-his-staff-are-miserable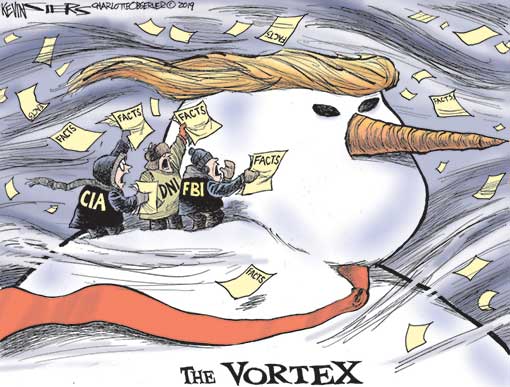 10.  David Wallace-Wells: The Green New Deal Isn't Enough. But Democrats Should Embrace It Anyway.
The science says that what is necessary to avert catastrophic climate change is truly jaw-dropping: halving emissions by 2030 and completely zeroing out on carbon by 2050, a project that the U.N. says (in language the Green New Deal embraces) would require a mobilization like the one during World War II. But when what is necessary does not seem plausible, where does that leave politics? As my other colleague Eric Levitz suggests,<http://nymag.com/intelligencer/2019/02/ocasio-cortez-aoc-green-new-deal-resolution-explained-utopian-and-pragmatic.html> it leaves us with a choice, between accepting the politics of the possible or trying to forge a new politics. That sounds grand, and possibly self-serving for the left wing of the party. But it's actually a lesson the party as a whole has been learning already — Medicare for All, free, abolishing ICE. None of these propositions, should they become law, are likely to match their banner rhetoric to a T. But in the aftermath of Obamacare — and its post-passage struggles — the party has seemed to recognize that selling hard with hyperbole and backfilling with policy was okay. In fact, it's the course of politics. And if hyperbole is okay for health care and higher education and immigration, why shouldn't it be for climate change? After all, when it comes to climate change, hyperbole isn't even hyperbole; the science itself is hysterical. Politics is just beginning to catch up.
How feasible is climate action on this scale? At the moment, unfortunately, not very — though it is pretty incredible just how quickly a legislative project of this ambition has acquired the momentum of this: 60 House members and nine senators co-sponsoring, including at least three major Democratic presidential candidates. But as The New Yorker's Osita Nwanevu points out, while the bill's lead author in the Senate, Ed Markey, insists he hopes it can pass through the threat of a filibuster with Republican votes, anyone who is even passingly familiar with today's Republican Party knows that isn't happening any time soon. http://nymag.com/intelligencer/2019/02/democrats-should-embrace-flawed-ambitious-green-new-deal.html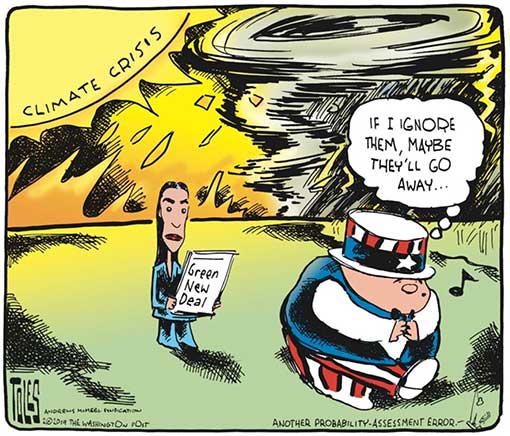 11. Maureen Dowd: Daddy Warbucks Goes to War
Pecker is up to his slimy neck in politically motivated messes. He had to make a deal with prosecutors after he helped deliver his pal Donald Trump's hush payments to the Playboy model and the porn star. The Dickensian-named head of American Media Incorporated, The Enquirer's owner, was "apoplectic," according to Bezos' post in Medium, about his investigation into who leaked the texts.
"I prefer to stand up, roll this log over, and see what crawls out," Bezos wrote.
And thus a P.R. debacle turned into a triumph. Besides unbridled consumerism, Americans love nothing more than seeing a bully like Pecker get kicked in the groin. https://www.nytimes.com/2019/02/09/opinion/sunday/jeff-bezos-national-enquirer-blackmail.html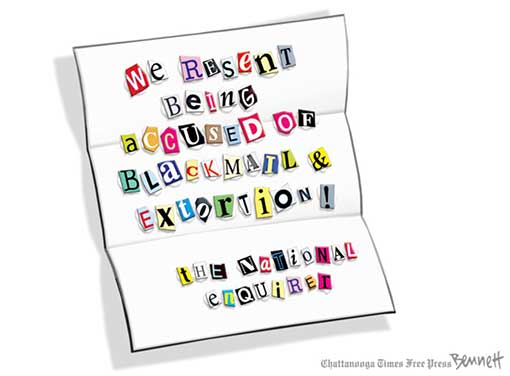 12. Jeffrey Toobin: Roger Stone's and Jerome Corsi's Time in the Barrel
The Stone indictment reads like a political black comedy. It stars a pair of mismatched operatives, Stone and the right-wing author Jerome Corsi, who, without formal connections to the Trump campaign, went on a transatlantic quest for dirt. Mueller's indictment does not charge Stone with any involvement in the hacking, but accuses him of lying to the House Permanent Select Committee on Intelligence about his (and Corsi's) efforts to pry loose the hacked e-mails from WikiLeaks. Stone is also charged with trying to coerce Randy Credico, a New York media figure and a sometime friend of Stone's, into joining his efforts to interfere with the work of the House committee. According to the indictment, Stone, in order to prevent Credico from sharing what he knew, sent menacing e-mails to him, including one that said "Prepare to die," followed by an expletive. He also threatened to steal Credico's thirteen-year-old therapy dog, a Coton de Tulear named Bianca.
Corsi has not been charged, but, in December, he sued Mueller for three hundred and fifty million dollars, saying that the special counsel had engaged in prosecutorial misconduct and illegal surveillance, among other misdeeds. In this civil case, which is pending, Corsi is being represented by Larry Klayman, a Washington lawyer and eccentric best known for filing multiple lawsuits against Bill Clinton's Administration. Also in December, Corsi published an e-book, "Silent No More: How I Became a Political Prisoner of Mueller's 'Witch Hunt,' " which recounts his experiences with Mueller's team and what he calls being "mentally tortured by Mueller's Deep State prosecutors."
If Stone and Corsi had not turned up in the Mueller probe, they might have been just a pair of waning satellites in the right-wing solar system. Stone once cut a glamorous figure, with his bodybuilder's physique and his bespoke suits from London. But, at sixty-six, he is out of shape, he hasn't played a major role in a campaign in ages, and he scratches out a living by giving speeches, doing a little corporate consulting, and writing for fringe publishers and Web sites. (The house on the canal is rented.) Corsi is seventy-two, and spent most of his life as a marginal academic and a nomadic businessman. In middle age, he began writing books whose conceits—"Swift-boating," "birtherism"—became shorthand for journalistic irresponsibility. Corsi, who earned a doctorate from Harvard in 1972, stamps "Ph.D." after his name on the cover of his books as an almost poignant plea for respectability. https://www.newyorker.com/magazine/2019/02/18/roger-stones-and-jerome-corsis-time-in-the-barrel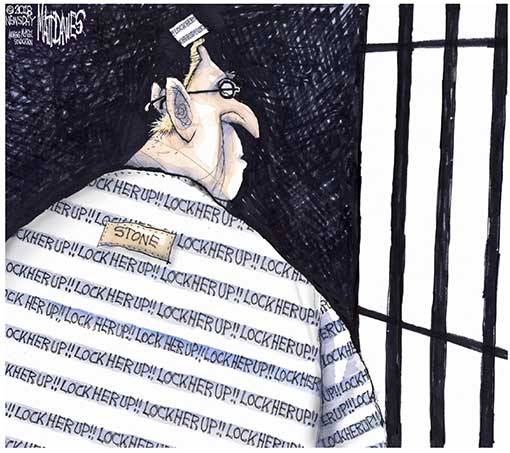 13. Daniel Denvir: The Case Against 'Border Security'
Democrats should follow their voters, who increasingly want more open borders, and reframe the immigration debate by rejecting the very notion that the border needs more "security" and making it clear that the real problem is the denial of migrants' rights. The time has come for the Democratic Party to push for concrete policies to make the border more open.
There is plainly no need for more security on the border. Illegal entries to the United States (as measured by Border Patrol apprehensions, which the government has long used as a proxy) began to fall at the turn of the century, and have plummeted since 2006. They remain at historic lows today. Those who are coming to the country are often Central Americans fleeing violence that United States policy in the region helped foment.
And when it comes to drugs — a favorite justification of Mr. Trump's for his wall — evidence shows that more "border security" does not stop trafficking. From the 1970s on, every crackdown on a drug-smuggling route, whether it was heroin via the French Connection or cocaine through the Caribbean, has only led to new innovations in the trade that have empowered murderous Mexican cartels. Some scholars even argue that the rise of fentanyl can be traced to drug interdiction.
Then why, if there isn't truly a crisis on the border, do the Democrats continue to invoke the need for more "border security"? Largely because the conversation about the border and immigration has moved so far to the right over the past 30 years. As the linguist George Lakoff and Sam Ferguson, his student at the time, wrote more than a decade ago, the narrow framing of the "immigration" debate "has shaped its politics, defining what count as 'problems'" and, as a result, "constrains the solutions needed to address that problem." When the "problem" is defined as "illegal immigration," it becomes about "the illegal act of crossing the border without papers," and so "the logical response to the 'wave' of 'illegal immigration' becomes 'border security.'"
https://www.nytimes.com/2019/02/11/opinion/democrats-border-security-wall.html
14. Jamelle Bouie Trump's Trail of Fears
When Trump jabs at Warren with "Pocahontas," he's using the name as an anti-Native caricature. But when he uses Wounded Knee or the Trail of Tears in his attacks, he's grossly trivializing this nation's history of genocidal violence against Native Americans, as if there aren't still millions of indigenous people living in the United States facing continued discrimination and disadvantage.
Like his attacks on prominent African-Americans or his xenophobic smears of Hispanic immigrants, the president's jokes about these shameful moments in American history are both a performance of racial contempt and an atavistic expression of white supremacist ideology. It's those comments — more so than his election night promise to represent "the forgotten man" — that forge whatever resemblance Trump has to Andrew Jackson.
It was Jackson who first championed reactionary white majoritarianism, Jackson who shepherded this country toward a mass democracy so tied to chattel slavery, settler colonialism and white supremacy that we still struggle to disentangle ourselves from their legacies.
Jackson, himself a frontier planter and slave owner, embodied these ideas as he carried them forward. The same is true for Trump, who similarly embodies the drive to preserve hierarchies of race, gender and national origin even as they degrade life for most Americans, including many who think they benefit from them.
All of this gives additional meaning to the president's much-invoked slogan. He will "make America great again" by reveling in its most shameful actions and miring it in its worst impulses.
https://www.nytimes.com/2019/02/11/opinion/trump-warren-trail-tears.html
15. Paul Krugman: Democrats, Debt and Double Standards
You don't have to agree with everything in proposals for a "Green New Deal" to acknowledge that it's very much an investment program, not a mere giveaway. So it has been very dismaying to see how much commentary on these proposals either demands an immediate, detailed explanation of how Democrats would pay for their ideas, or dismisses the whole thing as impractical. Was there the same pushback against Republican tax cuts? No.
Look, we've seen this over and over again — three times since 1980. Republicans rail against budget deficits when they're out of power, then drop all their concerns and send the deficit soaring once they are in a position to cut taxes. Then when it's the Democrats' turn, they're expected to clean up the Republicans' red ink rather than address their own priorities. Enough already.
I'm not saying that Democrats should completely ignore the fiscal implications of their actions. Really big spending plans, especially if they don't clearly involve investment — for example, a major expansion of federal health spending — will have to be paid for with new taxes. But if and when Democrats are in a position to make policy, they should be ambitious, and not let the deficit scolds scare them into thinking small.
https://www.nytimes.com/2019/02/11/opinion/democrats-federal-deficit.html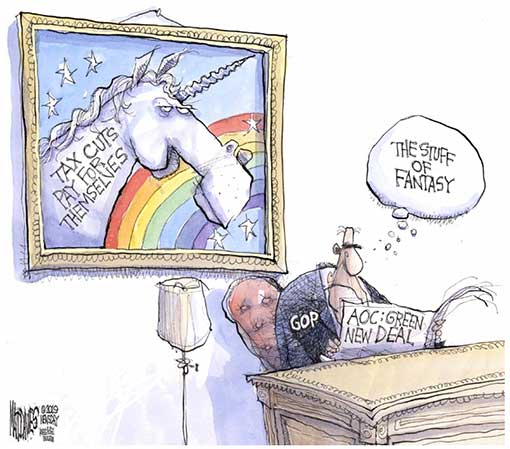 16. Jonathan Chait: The Green New Deal Is a Bad Idea, Not Just a Botched Rollout
The fallout from the Green New Deal rollout last week can be felt in the form of a new round of stories explaining what went wrong. Reports in Voxand the Washington Post focus on a set of frequently asked questions prepared by the staff of Alexandria Ocasio-Cortez, and then clumsily obfuscated, which left the policy open to ridicule and easy attack.
But the trouble with the Green New Deal wasn't just an unvetted fact sheet. As Mike Pesca points out, very few environmental experts consider the targets laid out in the plan to be remotely attainable. Climate change experts have called for zeroing out emissions in the power sector by 2050, while the Green New Deal proposes doing so by 2030. On what basis does it maintain the time frame can be accelerated by two-thirds? It does not say. If my plan for retirement is to have a million dollars in the bank when I'm 70, and then I decide the new plan is to have a million dollars when I'm 50, is that "progress"? Or just empty sloganeering?
The plan has attracted praise from the left for its bold ambitions. That is, at best, half true. The plan contains too little prescription in areas where it's needed, avoiding any mention of the need to expand nuclear power, increase population density in cities, and cap pollution. At the same time, it contains far too much prescription in areas where none is needed, using the Green New Deal as a platform to add in unrelated proposals for free, a job guarantee, and other ideas that motivate progressives. http://nymag.com/intelligencer/2019/02/green-new-deal-aoc-bad-idea.html
17. Robert Reich: Trump offers socialism for the rich, capitalism for everyone else
"America will never be a socialist country," Donald Trump declared in his State of the Union address. Someone should alert Trump that America is now a hotbed of socialism. But it is socialism for the rich. Everyone else is treated to harsh capitalism.
In the conservative mind, socialism means getting something for doing nothing. That pretty much describes the $21bn saved by the nation's largest banks last year thanks to Trump's tax cuts, some of which went into massive bonuses for bank executives. On the other hand, more than 4,000 lower-level bank employees got a big dose of harsh capitalism. They lost their jobs.
Banks that are too big to fail – courtesy of the 2008 bank bailout – enjoy a hidden subsidy of some $83bn a year, because creditors facing less risk accept lower interest on deposits and loans. Last year, Wall Street's bonus pool was $31.4bn. Take away the hidden subsidy and the bonus pool disappears.
Under socialism for the rich, you can screw up big time and still reap big rewards
Trump and his appointees at the Federal Reserve are easing bank requirements put in place after the bailout. They'll make sure the biggest banks remain too big to fail.
Trump is promoting socialism for the rich and harsh capitalism for everyone else in other ways. GM has got more than $600m in federal contracts, plus $500m in tax breaks. Some of this has gone into the pockets of GM executives. Chairman and CEO Mary Barra raked in almost $22m in total compensation in 2017 alone.
Advertisement
But GM employees are subject to harsh capitalism. GM is planning to lay off more than 14,000 workers and close three assembly plants and two component factories in North America by the end of 2019. https://www.theguardian.com/commentisfree/2019/feb/11/trump-offers-socialism-for-the-rich-capitalism-for-everyone-else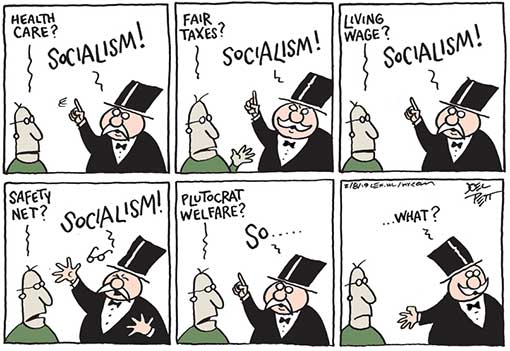 18. Bess Levin: Don Jr. Tells Conservatives To Fight Their "Loser" Teachers
Republicans have never been big fans of education, or, as they like to describe it, elitist sources of liberal, possibly Satanic ideology that allow our children's brains to become infected with book learning and facts. Rick Santorum famously called Barack Obama a "snob" for wanting "everybody in America to go to college." Last year, in the run-up to the midterms, the chairman of the Pennsylvania Republican Party reportedly accused a high-school teacher of using his position for "liberal indoctrination," because the guy handed out voter-registration forms. Chris Christie and Scott Walker regularly demonized teachers' unions, punishing them with draconian budget cuts. Donald Trump appointed a woman who hates schools to run the Department of Education. So it probably shouldn't come as a surprise that the president's eldest child and namesake, Donald Trump Jr., holds a similar view, which he shared last night at daddy's rally in El Paso. Perhaps slightly less expected, though, was Donny's call for conservatives to go after educators like a bunch of angry, monosyllabic frat boys.
Warming up the crowd for his father's usual string of lies and bullshit, Junior told the group, "You know what I love? I love seeing some young conservatives." Sounding like the belligerent drunk guy at the bar, the sentient Natty Lite keg continued: "Because I know it's not easy. Keep up that fight. Bring it to your schools. You don't have to be indoctrinated by these loser teachers that are trying to sell you on socialism from birth. You don't have to do it." https://www.vanityfair.com/news/2019/02/donald-trump-jr-teachers