February 13, 2020
ON THE RECORD. . .
These are turbulent times, perhaps the most challenging that I have witnessed. But I still intend to find ways to engage on foreign policy issues and to encourage those who want to take part in the important work of the Foreign Service. Like my parents before me, I remain optimistic about our future. The events of the past year, while deeply disturbing, show that even though our institutions and our fellow citizens are being challenged in ways that few of us ever expected, we will endure, we will persist and we will prevail. — Marie Yovanovitch who most recently served as the U.S. ambassador to Ukraine.
This verdict is ours to render. The people will judge us for how well and faithfully we fulfilled our duty. The grave question the Constitution tasks senators to answer is whether the president committed an act so extreme and egregious that it rises to the level of a "high crime and misdemeanor. ..,. Yes, he did." — Sen. Mitt Romney (R-UT)
"They're vicious and mean, vicious. These people are vicious. Adam Schiff is a vicious, horrible person. Nancy Pelosi is a horrible person…. She (Nancy Pelosi) may pray, but she prays for the opposite. But, I doubt she prays at all." — Trump celebrating his acquittal, telling a crowd of Republican allies that his impeachment was a "disgrace" and that he "went through hell unfairly."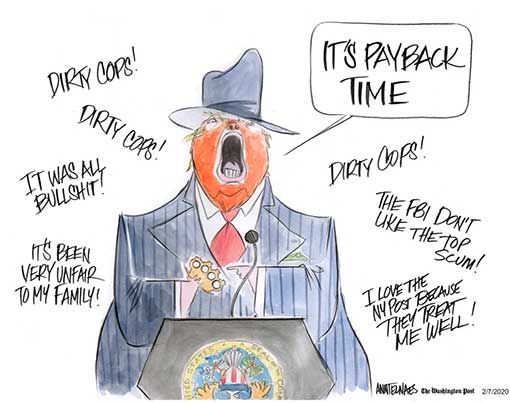 "There's no chance in hell we'll ever win the Senate with Sanders at the top of the party defining it for the public." — James Carville, citing some of the ambitious if largely aspirational policy proposals put forth by Sanders and the party's more progressive lawmakers.
"Countries with a powerful death penalty, with a fair but quick trial, they have very little if any drug problem. That includes China." — Trump suggesting he'd like to model American criminal law on drug dealing on authoritarian systems like China, where dealers are executed.
"That the Democrats are crooked… that they shouldn't have brought impeachment and my poll numbers are 10 points higher." — Trump, when asked if he learned any lessons from being impeached.
"He has a plan, that's for sure. You have to recognize, the man — he really was a good mayor of a huge, huge, city, the largest city in America. I like him, I've always liked him. Nobody's done more on guns and climate than he has. No one." — Former Sen. Harry Reid (D-NV), about Michael Bloomberg.
"With their vote, Senate Republicans embraced this darkest vision of power: that if the president believes his reelection is good for the country, he can then use any means necessary to win, with no accountability or consequences." — Nancy Pelosi in the Washington Post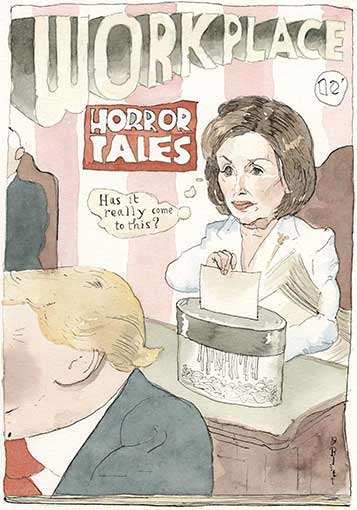 "To Aaron and Adam, Jonathan and Michael: I am sorry for the agony you are about to endure, and for the pain & betrayal you will feel at the hands of your beloved Dept. Know that you are on the right side of history & that we are so very proud of you for defending the rule of law." — Former FBI lawyer Lisa Page, who has been in Trump's sights over the last few months  tweet to the four federal prosecutors who stepped aside from the Roger Stone case after the president's interference.
"You do know who's paying for the wall, don't you? Redemption. From illegal aliens that are coming in. The redemption money is paying for the wall." — Trump at a rally in New Hampshire even though experts on immigration policy have no idea what the term "redemption money" means.
---
IN THIS ISSUE
FYI
OPINION
1.  Andy Borowitz: Judge Sentences Roger Stone To House Arrest In Susan Collins's Home
In a decision that Donald Trump called "incredibly unfair," Judge Amy Berman Jackson has sentenced Roger Stone to ten years of house arrest in the home of Senator Susan Collins, of Maine.

As part of the sentence, Senator Collins will be required to live under the same roof as Stone, in Bangor, and insure that he is properly fed, clothed, and exercised until 2030.

The sentence immediately drew howls of protest from Stone, who claimed that living with the ceaselessly waffling Collins would "send me over the edge."

"Judge, can we revisit the whole prison idea?" Stone begged Jackson.
For her part, Collins said that she was unsure whether becoming Stone's jailer was a good idea, adding that she would "need more time to think about it."

Jackson said that Stone's house arrest will not go into effect until after the 2020 election, at which point Collins is expected to be home on a permanent basis. https://www.newyorker.com/humor/borowitz-report/
2. Democrats Would Prefer Meteor Strike to Trump
A new UMass Lowell poll found that 62% of New Hampshire Democrats would rather see a giant meteor strike the earth and extinguish all human life than see President Trump get re-elected. https://twitter.com/sahilkapur/status/1225838433765072896
3. Long-term maintenance for Trump's border wall could cost billions, but government isn't saying
The $18 billion steel barrier President Trump is building along the Mexico border is one of the largest federal infrastructure projects in U.S. history. It is not a wall but a "wall system," U.S. officials say, with roads, lighting, sensors and advanced technology.
And as soon as it is in place, an array of forces, natural and man-made, will begin working to wear it down.
The long-term costs of maintaining hundreds of miles of additional barriers is largely unknown, and experts say it could put taxpayers on the hook for billions of dollars. The Trump administration has not said what the government expects to spend in coming decades on upkeep and repairs for the structure — which crosses remote deserts and Texas riverbanks where extreme weather is common and powerful smuggling organizations are relentless — or for its roadways and technology.
Perhaps the biggest risk to the structure's upkeep is the partisan and highly personalized nature of the project itself. Unlike the interstate highway system, or the country's bridges and ports, the border wall system does not have broad bipartisan support, raising doubts about whether future administrations will pay to maintain it in top condition. Its association with the Trump presidency could prove to be its most enduring feature. https://www.washingtonpost.com/national/long-term-maintenance-for-trumps-border-wall-could-cost-billions-but-government-isnt-saying/2020/02/05/8c9f3cfc-2e49-11ea-bcd4-24597950008f_story.html
4. Betting Odds Data - Democratic Presidential Nomination
Sanders  41.7
Bloomberg 23.2
Buttigieg 15.7
Biden 13.0
Warren 7.3
Klobushar 2.5
https://www.realclearpolitics.com/elections/betting_odds/democratic_2020_nomination/
5. Trump makes his most aggressive move yet to gut Medicaid
Rebuffed by the courts in its previous efforts to gut Medicaid, the Trump administration teed up a new, far-reaching attack on the program that could affect the health of millions of low-income Americans.
Officially unveiled Thursday under the Orwellian label "Healthy Adult Opportunity," the new rules would encourage states to cut benefits and narrow eligibility for residents who qualify under the Affordable Care Act's Medicaid expansion provision.
Although the administration asserted that the rules would give states "new levels of flexibility" in running their Medicaid programs, in fact they would lock them into annual caps for Medicaid that could not be exceeded. In essence, the rules are tantamount to block granting Medicaid — that is, setting a concrete budget — which destroys flexibility.
To many of us, Medicaid is remote, but as my colleague Noam Levey reports, Medicaid and the related Children's Health Insurance Program cover more than 70 million low-income Americans. The program's $600-billion cost is split between the federal government and states. https://www.latimes.com/business/story/2020-01-30/trump-moves-to-gut-medicaid
6. Trump Jr. Calls Romney a 'Pussy'
Donald Trump Jr. posted a picture in Instagram calling Sen. Mitt Romney (R-UT) a "pussy" after the senator voted to convict President Trump on abuse of power. https://www.instagram.com/p/B8MnQ3flAy-/
7. Bernie Sanders poses a quandary for vulnerable Democrats
Millions of voters, based upon 2016 election results and current polling numbers, are ideologically aligned with Sanders. But for many of them, this affinity does not extend to the Democratic Party. A recent poll found that only 53 percent of Sanders voters will definitely support the eventual 2020 Democratic nominee if he doesn't win. https://www.washingtonpost.com/opinions/bernie-sanders-poses-a-quandary-for-vulnerable-democrats/2020/02/07/e8a4fac8-491a-11ea-bdbf-1dfb23249293_story.html
8. Bloomberg seizes on chaos in Democratic presidential race to escalate his campaign
While the rest of the Democratic field tries to recover from Iowa and pivot to New Hampshire, Bloomberg is seizing the moment to gain an advantage — doubling his television spending in key states, expanding his staff to more than 2,000, and traveling the country to introduce himself as a competent and accomplished manager.
The sheer size and machine-like efficiency of Bloomberg's campaign, for which he has already paid more than $200 million of his own fortune, is distinct compared with the troubling performance of party leaders in Iowa and stumbling by former vice president Joe Biden. https://www.washingtonpost.com/politics/bloomberg-seizes-on-chaos-in-democratic-presidential-race-to-escalate-his-campaign/2020/02/05/a79949d0-4758-11ea-bc78-8a18f7afcee7_story.html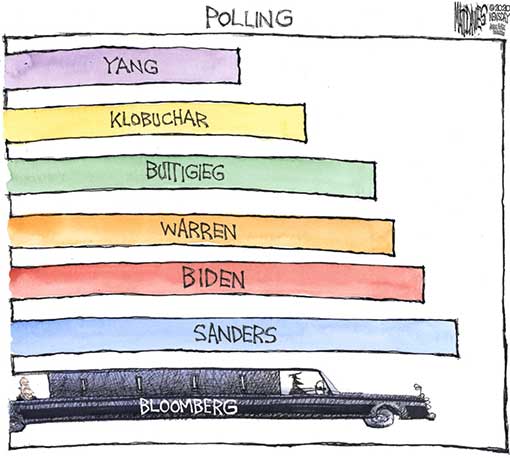 9. Investigations Into 2020 Candidates Must Be Cleared by Top Justice Dept. Officials
Attorney General William P. Barr issued new restrictions on Wednesday over the opening of politically sensitive investigations, an effort meant to avoid upending the presidential election as the F.B.I. inadvertently did in 2016 when its campaign inquiries shaped the outcome of the race.
The memo, which said the Justice Department had a duty to ensure that elections are "free from improper activity or influences," was issued on the same day that President Trump was acquitted on charges that he had abused his office to push a foreign power to publicly announce investigations into his political rivals. The memo said that the F.B.I. and all other divisions under the department's purview must get Mr. Barr's approval before investigating any of the 2020 presidential candidates. https://www.nytimes.com/2020/02/05/us/politics/barr-2020-investigations.html
10. The DAILY GRILL
"Now that the Senate has fulfilled its constitutional responsibility, bringing this process to a conclusion," he began. "I want to say again to the American people how profoundly sorry I am for what I said and did to trigger these events, and the great burden they have imposed on the Congress and on the American people." — Bill Clinton post-impeachment, February 1999.

VERSUS

Trump repeatedly called Democrats involved in the impeachment "evil," "corrupt" and "vicious and mean." He railed against the Russian investigation, former FBI director James B. Comey, and special counsel Robert S. Mueller III, adding, "It was all bullshit." — Donald Trump post-impeachment, February 2020.

 

"If my father travels, they stay at our properties for free. So everywhere that he goes, if he stays at one of his places, the government actually spends, meaning it saves a fortune because if they were to go to a hotel across the street, they'd be charging them $500 a night, whereas, you know we charge them, like $50," he added." — Trump Organization Executive Vice President Eric Trump.

VERSUS

President Trump's company charges the Secret Service for the rooms agents use while protecting him at his luxury properties — billing U.S. taxpayers at rates as high as $650 per night..
At the Trump National Golf Club Bedminster, the Secret Service was charged $17,000 a month to use a three-bedroom cottage on the property, an unusually high rent for homes in that area. Trump's company billed the government even for days when Trump wasn't there. Also: Why did the Secret Service spend so much at Trump's D.C. hotel, a place where — unlike Bedminster and Mar-a-Lago — Trump has not stayed overnight since taking office? In response to records request from NBC News, the Department of Homeland Security released a listing of 39 payments there during Trump's first year, totaling $159,000. --Washington Post

 

The deficit — which has ballooned as a result of Mr. Trump's tax and spending policies — will fall below the trillion-dollar mark, to $966 billion in the 2021 fiscal year. -- The White House

VERSUS

The projected that the United States deficit would top $1 trillion annually over the next 10 years, reaching $1.7 trillion in 2030 .— The Congressional Budget Office
11. Collins admits comments about Trump learning a lesson are 'aspirational'
Sen. Susan Collins (R-ME) acknowledged that her stated belief that President Trump had learned a lesson from impeachment was "aspirational," saying that she "may not be correct on that." https://thehill.com/homenews/senate/481782-collins-admits-comments-about-trump-learning-a-lesson-are-aspirational
12. From MEDIA MATTERS (They watch Fox News so you don't have to)
After Trump concluded his lie-filled and demagogic State of the Union on Tuesday night, Pelosi tore up her copy of his speech as she stood behind him on the House dais. A cynical chorus erupted from right-wing circles, with pundits -- whose boot-licking praise of Trump has never been forestalled by his rhetoric -- lashing out at Pelosi for her breach of decorum. Some mainstream reporters joined in, demonstrating a shameful commitment to "both sides" civility policing which has failed at every turn to inform their audiences of the fundamental asymmetries of modern American politics. https://www.mediamatters.org/fox-news/fox-trump-feedback-loop-powering-gaetzs-dumb-pelosi-attack

An internal Fox News document detailing the Ukrainian disinformation campaign which helped trigger President Donald Trump's impeachment reportedly reveals the network knew that host Sean Hannity had been the campaign's focal point. But the network failed to take action against Hannity for his transgressions -- in fact, it rewarded him, sending the Fox star and sometime presidential adviser to interview Trump at the Super Bowl earlier this month. https://www.mediamatters.org/fox-news/leaked-memo-shows-fox-knew-hannitys-show-pushed-ukraine-disinformation-did-nothing

Right-wing media outlets, led by Trump allies at Infowars and Fox News, have waged a months-long campaign to interfere with criminal proceedings against Roger Stone. Now that Stone has been convicted of seven felonies and is facing the possibility of significant jail time, his conservative and far-right media defenders are drumming up support for President Donald Trump to pardon him. https://www.mediamatters.org/roger-stone/inside-right-wing-media-campaign-rig-justice-system-protect-roger-stone-and-donald 

Trump gives Rush Limbaugh The Medal of Freedom for career of hate during his State of the Union address. In doing so, Trump conferred one of the nation's great civilian honors upon a man who has trafficked in hate and is responsible for some of the most vile degradations of the nation's political discourse. Limbaugh's history makes it all the more ironic that the medal and ribbon were conferred upon him on the spot by first lady Melania Trump, who heads up the purported "Be Best" initiative. https://www.mediamatters.org/rush-limbaugh/trump-gives-rush-limbaugh-medal-freedom-career-hate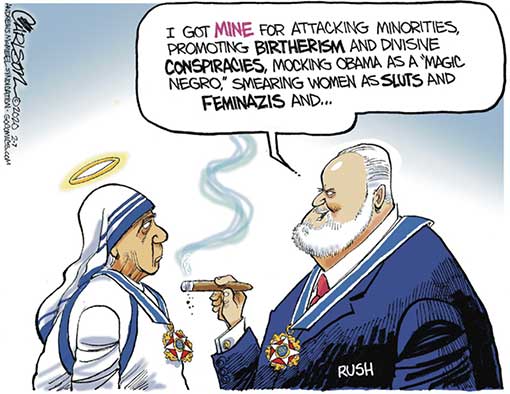 13. As Louisiana GOP censures Mitt Romney, David Duke laughs
The same Louisiana Republican Party that 30 years ago refused to censure former Ku Klux Klan leader David Duke decided last Saturday to censure Sen. Mitt Romney, its own recent presidential standard-bearer for voting his conscience
The Republican State Central Committee, the elected body that controls the internal governance of the state party, essentially said Romney for too long has been mean to poor, defenseless President Trump. https://www.washingtonexaminer.com/opinion/columnists/as-louisiana-gop-censures-mitt-romney-david-duke-laughs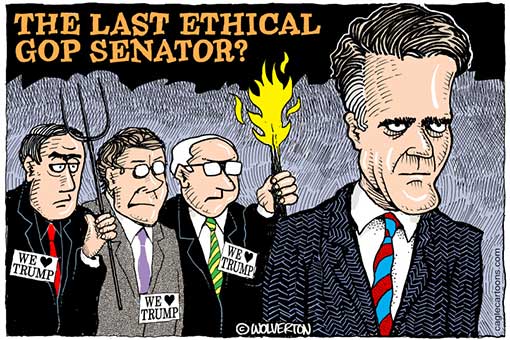 14. Trump Looks to Kill Student Loan Forgiveness Program
As student debt continues to climb, President Trump on Monday released a budget for 2021 that would slash many of the programs aimed at helping borrowers. https://www.cnbc.com/2020/02/10/trump-proposes-end-to-student-loan-forgiveness-program.html
15. Amazon wants to question Trump after losing $10 billion Pentagon cloud contract
Amazon is seeking to depose President Donald Trump, Defense Secretary Mark Esper and former Defense Secretary James Mattis over a $10 billion Pentagon cloud contract awarded to Microsoft.
In court documents unsealed and filed Monday, Amazon's cloud computing arm said it's looking to depose seven "individuals who were instrumental" in the JEDI source selection and "played pivotal roles" in the ultimate awarding of the contract. Aside from Trump, Mattis and Esper, Amazon Web Services is also seeking to depose the Defense Department's chief information officer, Dana Deasy, and the source selection authority, which awarded the contract to Microsoft, as well as the chairpersons of the SSA, according to the documents.
A spokesperson for AWS told CNBC in a statement: "President Trump has repeatedly demonstrated his willingness to use his position as President and Commander in Chief to interfere with government functions – including federal procurements – to advance his personal agenda. The preservation of public confidence in the nation's procurement process requires discovery and supplementation of the administrative record, particularly in light of President Trump's order to 'screw Amazon.' The question is whether the President of the United States should be allowed to use the budget of the DoD to pursue his own personal and political ends." https://www.cnbc.com/2020/02/10/amazon-wants-to-depose-president-trump-over-jedi-cloud-contract-loss.html
16. Sheldon Adelson to donate $100m to Trump and Republicans
Sheldon Adelson, an ardent pro-Israel conservative, is expected to donate at least $100m to boost Donald Trump's 2020 re-election efforts and Republican congressional candidates this fall. https://www.theguardian.com/us-news/2020/feb/10/sheldon-adelson-trump-donation-republicans-congress
17. Jonathan Chait: Trump Insists Real Photo Revealing His Fake Tan Is Fake
Last night, an especially grotesque photo of President Trump began to circulate online. The image, taken by photographer and apparent Trump enthusiast William Moon, showed the sunset-lit president with the wind sweeping his hair back, revealing an especially striking contrast between whatever fake tan or coloration he uses and the ghostly pallor of the skin bordering his hair. https://nymag.com/intelligencer/2020/02/trump-real-photo-orange-tan-skin.html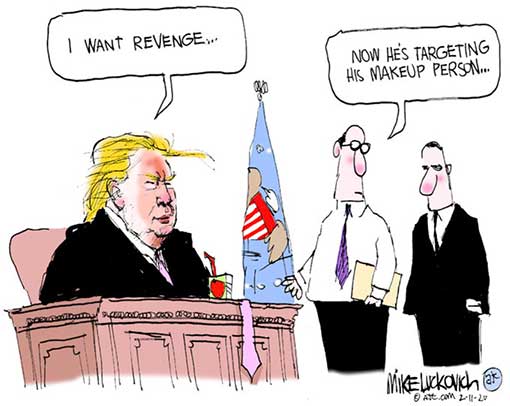 18. Giuliani storms back into Ukraine investigation with Hunter Biden documentary
Giuliani and his production team, led by veteran California Republican fixer Tim Yale, have been conducting interviews for the documentary… They have also approached potential investors in the film, showing them trailers with footage of former Vice President Joe Biden and actors portraying Hunter Biden and Ukrainian officials. https://news.yahoo.com/giuliani-storms-back-into-ukraine-investigation-with-hunter-biden-documentary-163027638.html
19. The President Tweets and the Justice Department Complies
Corruption of the justice system has two major elements. The first—at issue in the Ukraine scandal—is the use of state power to go after one's enemies. The other is the ability to restrain government power to reward one's friends and allies.
A dramatic display of this latter power took place when the U.S. Department of Justice, having articulated in court its view of an appropriate sentence for President Trump's associate Roger Stone—convicted recently on multiple felony counts—confronted an angry presidential tweet and then meekly reversed course in a second filing. https://www.lawfareblog.com/president-tweets-and-justice-department-complies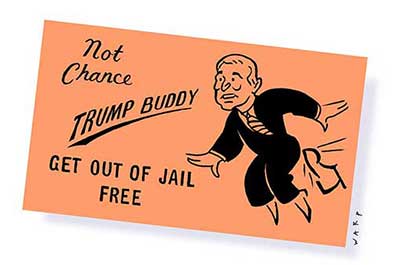 20. Navy Secretary Pushed Out by Trump Says He'll Endorse Bloomberg
The Navy secretary ousted by President Trump said Thursday that he would endorse Michael R. Bloomberg for president, a high-profile defection that Mr. Bloomberg's allies hope will convince Democratic voters that their best chance of defeating Mr. Trump is the former mayor of New York," the New York Times reports.
Richard Spencer, who was ousted as Navy secretary in November after he publicly disagreed with Mr. Trump's intervention in an extraordinary war crimes case involving a member of the Navy SEALs, is a lifelong Republican. https://www.nytimes.com/2020/02/06/us/politics/navy-secretary-trump-bloomberg.html
21. From the Late Shows
Weekend Update: Trump Acquitted - SNL: https://youtu.be/JDlguuL0yEs

New Hampshire Democratic Debate Cold Open - SNL: https://youtu.be/qLz6ydbq3D8

The Late Show with Stephen Colbert: Trump Proves He Hasn't Changed In Two Aggressive, Bizarre Speeches: https://www.youtube.com/watch?v=_V3nmRDLQ7E

The Late Show with Stephen Colbert: A Vengeful Trump Strikes Out At His Enemies, Fires Vindman & Sondland During "Friday Night Massacre: https://youtu.be/Vi_myA9vKcc
1. Greg Sargent: Trump's latest viral attack on Romney exposes Trumpism's ugly core
The retribution has been swift and severe. Sen. Mitt Romney (R-Utah), who heretically placed his oath of office before his higher duty to defend President Trump, is now taking brutal incoming from all corners, including GOP elected officials and leading figures in Trump's propaganda network.
This enforcement of loyalty will also have an important purpose going forward, in ways that might not at first be apparent.
Many attacks on Romney have been built on the simple premise that Romney is a loser, and Trump is a winner. As the White House press secretary suggested, Romney, who gave a powerful speech explaining his vote to convict Trump for abuse of power, was driven by bitterness, as a "failed Republican presidential candidate."
But there's a darker undercurrent to this trope, one displayed in the video Trump tweeted. Watch the whole thing at https://twitter.com/realDonaldTrump/status/1225203837226700800
So the brutalization of Romney is also about telegraphing what awaits Republicans who express any such misgivings.
At the core of Trumpism is the idea that any qualms about doing what it takes to win — no matter how corrupt — are for losers who deserve the savage Romney treatment we're now witnessing. https://www.washingtonpost.com/opinions/2020/02/06/trumps-latest-viral-attack-romney-exposes-trumpisms-ugly-core/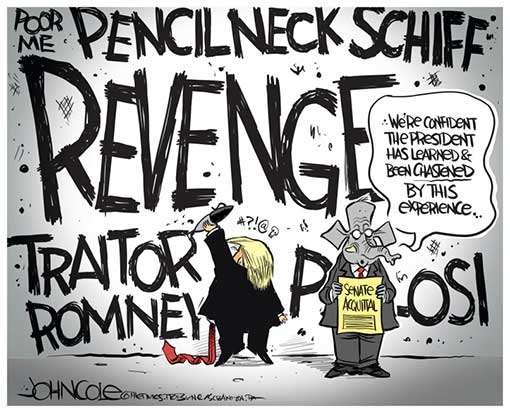 2. John Stoehr: Acquittal Affirms Trump's Illegitimacy
The United States Senate acquitted the president Wednesday of a couple of House indictments alleging that Donald Trump abused the power of his office for personal political gain and that he obstructed the constitutional authority of the US Congress.
Today, the president is celebrating, even brandishing this morning's edition of USA Today, in which the banner headline is "Acquitted." His press secretary accused the Democrats of treating her boss "horribly" and "maybe people should pay for that."
The president will have his revenge. That much we can count on. But revenge, when it comes, should be seen as more evidence demonstrating his illegitimacy. And the more he seeks vengeance, the more protective the Republicans will be. The pattern will be like all the others illustrating the party's abandonment of democracy and republican principles. That's valuable information for a citizenry heading into an election year. https://stoehr.substack.com/p/acquittal-affirms-trumps-illegitimacy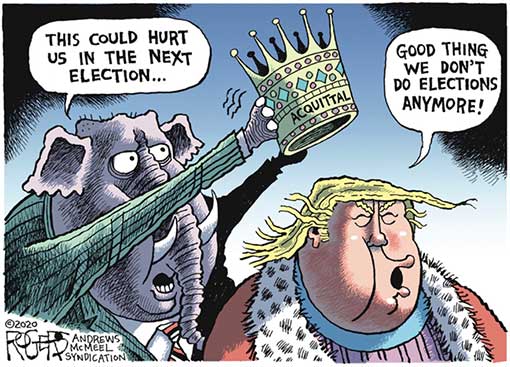 3. Peter Beinart: Impeachment Hurt Somebody. It Wasn't Trump
When Trump called Volodymyr Zelensky on July 25, he was trying to pressure the Ukrainian president into investigating Biden. Biden's son Hunter had served on the board of Burisma Holdings, a Ukrainian gas company. Trump saw an opportunity to create an aura of corruption around the former vice president and threatened to withhold military aid to Ukraine unless Zelensky announced an investigation. Whether the investigation occurred or not was immaterial; Trump just wanted the announcement. But when a U.S. government staffer exposed the call, Trump was forced to release the aid—and the impeachment drive began.
Yet, ironically, the impeachment effort and the Republican counterattack against it have largely accomplished Trump's goal. By keeping Hunter Biden's business dealings in Ukraine in the news, they have turned them into a rough analogue to Hillary Clinton's missing emails in 2016—a pseudo-scandal that undermines a leading Democratic candidate's reputation for honesty. The Trump campaign and the Republican National Committee last fall launched a $10 million advertising blitz aimed at convincing Americans that Joe Biden's behavior toward Ukraine was corrupt. After Trump's lawyers devoted much of their energy in the Senate impeachment trial to demanding that Biden be investigated for corruption, Republican Senator John Barrasso of Wyoming crowed that the attacks would be politically "harmful" to the former vice president "in November if he's the nominee and I think even in terms of getting the nomination."
Barrasso was right. Although Trump and his allies have proved no wrongdoing, the Ukraine story, according to an October Investor's Business Daily poll, made 23 percent of Americans less likely to vote for Biden, and only 8 percent more likely to vote for him. A Hill-HarrisX poll that same month found that 54 percent of independents—and even 40 percent of Democrats—considered "Hunter Biden's business dealings in Ukraine an important campaign issue that should be discussed." https://www.theatlantic.com/ideas/archive/2020/02/impeachment-gave-trump-exactly-what-he-wanted/606172/
4. McKay Coppins: The Billion-Dollar Disinformation Campaign to Reelect the President
After the 2016 election, much was made of the threats posed to American democracy by foreign disinformation. Stories of Russian troll farms and Macedonian fake-news mills loomed in the national imagination. But while these shadowy outside forces preoccupied politicians and journalists, Trump and his domestic allies were beginning to adopt the same tactics of information warfare that have kept the world's demagogues and strongmen in power.
Every presidential campaign sees its share of spin and misdirection, but this year's contest promises to be different. In conversations with political strategists and other experts, a dystopian picture of the general election comes into view—one shaped by coordinated bot attacks, Potemkin local-news sites, micro-targeted fearmongering, and anonymous mass texting. Both parties will have these tools at their disposal. But in the hands of a president who lies constantly, who traffics in conspiracy theories, and who readily manipulates the levers of government for his own gain, their potential to wreak havoc is enormous.
The Trump campaign is planning to spend more than $1 billion, and it will be aided by a vast coalition of partisan media, outside political groups, and enterprising freelance operatives. These pro-Trump forces are poised to wage what could be the most extensive disinformation campaign in U.S. history. Whether or not it succeeds in reelecting the president, the wreckage it leaves behind could be irreparable. https://www.theatlantic.com/magazine/archive/2020/03/the-2020-disinformation-war/605530/
5. Susan Glasser: The Wrenching Truth About Mitt Romney's Vote Is That It Doesn't Matter
Of course, I am glad the trial is over. How could one not be? Ever since 10 a.m. on September 25th, when Trump released the White House record of his call with the Ukrainian President, Volodymyr Zelensky, demanding that he "do us a favor though" and investigate Joe Biden, we were headed to this moment. It has been a long march to something this inevitable. The broad outlines of what Trump did were quickly evident. So, too, was the fact that Republicans were largely willing to excuse it. The public knew it, too. Phones were not ringing off the hook in Senate offices during the impeachment trial; the streets outside the Capitol were not clogged with protesters. "It's like watching a game that you've recorded and intend to watch but then someone blurts out who won and what the score was, and you decide not to go back and just watch the replay," Chris Coons, a Democratic senator from Delaware, reflected to me the other day.
The trial was more fake than even the disinterested public could have anticipated—the first impeachment trial in the Senate's history not to call a single witness. Its end is a relief. At least we will not have to hear any more bogus speeches about the Founding Fathers or pabulum about the sanctity of the process. We are spared the faux horror of Alaska's Lisa Murkowski, who chided Congress for its abdication of responsibility but didn't want to hear the former national-security adviser John Bolton testify under oath about grave wrongdoing by the President. We are saved from the absurd rationalizations of Maine's Susan Collins and Ohio's Rob Portman, who reproved the President for his "wrong" and "inappropriate" conduct but insisted that Trump had learned his lessons and should not face any consequences. This, along with Romney's last-minute declaration exposing their hollow pretense, is what passed for suspense in the trial.
But it was all misleading, a distraction, as pointless as their votes turned out to be. Trump's Washington is not their Washington of embarrassed hair-splitting, of awkward rationalizations made by the defeated relics of the old order. His is the Washington of Rand Paul, who went to the Senate floor on Tuesday to please Trump by reading aloud the name of the alleged intelligence-community whistle-blower whose complaint triggered the impeachment investigation. It is the Washington of Trump haters turned sycophants, like Lindsey Graham, and of partisan vengeance from the Senate-committee chairmen who announced, as soon as the trial ended, that they had issued requests for information about Biden's son and his dealings in Ukraine.https://www.newyorker.com/news/letter-from-trumps-washington/the-wrenching-truth-about-mitt-romneys-vote-is-that-it-doesnt-matter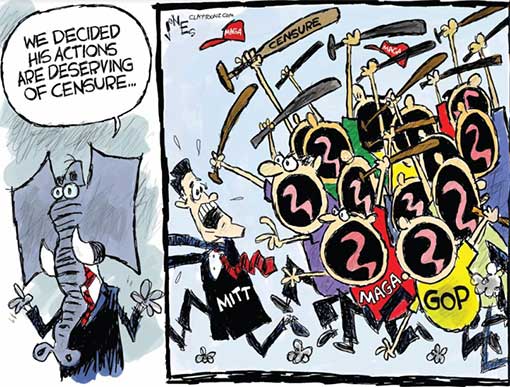 6. Jonathan Chait: If You Think It's Bad for Mainstream Democrats Now, Just Wait
So it is entirely possible that, following South Carolina, Sanders will have won three or all four of the contests. If nobody has emerged as a viable alternative by then, Michael Bloomberg's campaign will be stepping in. It is extremely hard to estimate the probability of success of a candidate who has skipped the first four races. FiveThirtyEight's model currently gives Bloomberg less than a one percent chance of winning.
To be sure, if Bloomberg is the last Democrat standing against Sanders, he may well attract substantial support from Democratic elected officials and put up a strong fight. Still, he would face enormous opposition from the left. This is, after all, a billionaire who endorsed George W. Bush in 2004. And while the left has previously whipped itself into an angry frenzy against, successively, O'Rourke, Biden, Harris, and Buttigieg, the rage against Bloomberg would reach a new level.
At that point, the victory scenario would involve a long, bloody struggle all the way to the convention, with the Sanders movement claiming at every step of the way that the party is rigging the race against them, culminating in a convention where his enraged supporters will again try to shout down the proceedings. Unless one of the non-Bloombergs can somehow get off the mat and defeat Sanders, this is probably the best-case scenario for liberals at this point. It seems more probable that Sanders crushes the field and brings his historically unique suite of liabilities to the ticket.
At the moment, the party is melting down over a vote-reporting fiasco in Iowa. In time, we liberals may look back at this moment as a high point. https://nymag.com/intelligencer/2020/02/democratic-primary-biden-bernie-sanders-buttigieg-klobuchar-bloomberg-liberal.html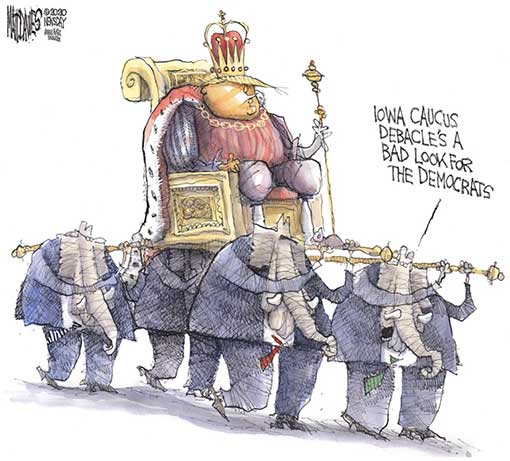 7. Eric Lutz: Republicans Suddenly Concerned With Decorum After Nancy Pelosi Ripped Speech
On a night when the president gave the nation's highest civilian honor to a guy who has called college students "sluts," made racist jokes about Barack Obama, and mocked Michael J. Fox's Parkinson's disease, the thing Republicans got the most worked up about was Nancy Pelosi tearing up a copy of Donald Trump's State of the Union speech after he finished it. "That was pitiful," Senator Ted Cruz told Politico of Pelosi's act of defiance. "It was disgraceful."
Given all that, and the fact that the president declined to shake her hand at the onset of his speech, Pelosi tearing up his address could be seen as a footnote. And yet Republicans were outraged. "Disappointed to see [Pelosi] rip up the speech that mentioned lives we've lost and heroes we celebrated at the SOTU," Nikki Haley wrote on Twitter. "No matter how you feel or what you disagree with, remember others are watching. This was unbecoming of someone at her level in office." The White House, too, disingenuously suggested that Pelosi was making a statement about various heroes the president referenced Tuesday, and not about the president himself. https://www.vanityfair.com/news/2020/02/republicans-suddenly-concerned-with-decorum-after-nancy-pelosi-ripped-speech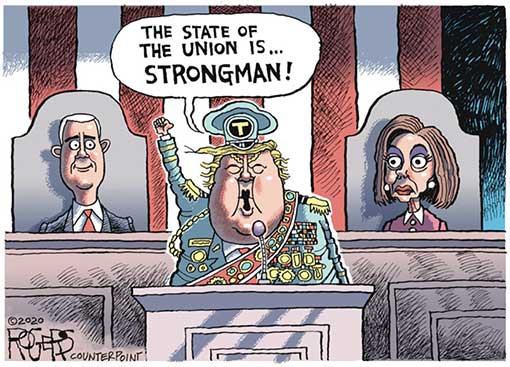 8. Bess Levin: The Most Deranged Moments From Trump's Post-Acquittal Press Conference
As many Americans have come to understand over the past three years, Donald Trump is clinically insane.
In an alternate universe, a president who had just been acquitted on charges of abusing his power and obstructing Congress might have held a brief press conference to say that he was pleased to be moving forward and getting back to the business of running America for all Americans, or something similarly somber and unifying like that; in the Trumpian world we live in, however, that was never going to happen. Instead, on Thursday, the president gathered his most fervent supporters in the White House East Room for a post-impeachment victory lap that was fully deranged even by his own standards.
Signaling that he would just be ad-libbing the whole thing, and voicing whatever unrelated thoughts came into his head no matter the relevance, Trump kicked things off by telling the crowd, "This is really not a news conference, it's not a speech. It's not anything.... [I]t's a celebration." Then, over the course of more than an hour, he:
Smeared a decorated war veteran
Praised himself for using a prayer breakfast to trash the Speaker of the House, among others
Pretended his adult children don't profit off the presidency on a daily basis
Praised himself for using a prayer breakfast to trash the Speaker of the House, among others
Slandered a slew of public servants
Shouted out Ivanka "Daddy, give Jared his top secret security clearance, and give it to him now"
Trump as a beacon of righteousness
Explained what the NCAA is
Explained what combination of letters sounds nice in his head
Described a female member of Congress like he was judging the Miss Universe pageant
Likened himself to George Washington, waxed nostalgic for the days of Abraham Lincoln
Suggested—not for the first time!—that a lot of women wouldn't have cared if their husbands had been shot
Kept talking about baseball (Steve Scalise was shot at baseball practice)
Asked loyalists to publicly praise him, as any good dictator would
Claimed his wildly incriminating phone call with Ukraine president Volodymyr Zelensky was perfect for approximately the 928,311,509th time
Acknowledged that Barron Trump is part of his family

https://www.vanityfair.com/news/2020/02/donald-trump-impeachment-press-conference
9. T.A. Frank: Bernie's Pinkish Brand And The Coming War Over Socialism
Many Democrats seem to think the main problem with Sanders is not that he has bad policy proposals but that he has a bad brand, because socialism is poison in the voting booth. They don't hate what he'd do in the Oval Office. They hate that he'd lose in trying to get there. And on this front the data are ambiguous. Socialism doesn't appear to have the stigma that it once did. In 1942, only 25% of Americans thought that socialism would be a good thing for the country, according to Gallup. In 2019, that number was 43%. (Despite this shift, 51% of Americans still believe it would be a bad thing.) Another is that Bernie Sanders, for all his socialist baggage, beats Trump in national polls and in polls of swing states like Michigan. None of this is to say that the label of socialism helps Sanders more than it hurts him in the general election. But it does suggest that it's far from disqualifying.
If Sanders were to win the nomination, his biggest problem wouldn't be that he calls himself socialist. It would be that he's running against Donald Trump, who, for all his titanic faults, is looking stronger than at any point since his inauguration. A job approval rating of 49% isn't something most presidents would celebrate, but in Trump's case it represents a high in an upward trend. It may also conceal a higher level of support, since even Trump voters often disapprove of their man. (You can disapprove of someone but view him as the lesser evil.) Worst for Sanders, perhaps, may be that voters already took a gamble on radical change in 2016. Whatever discontent they may feel over the outcome, they are unlikely to push for yet another lurch, this time in the opposite direction, especially with an economy that is robust. Would nominating someone like Amy Klobuchar make that problem go away and pose a genuine threat to Trump? That's the debate that lurks beneath. We'll take the party down whole, warns John Kerry on one side. "We choose the safe nominee and we lose," says Michael Moore on the other. So goes the fight over Bernie's socialism. Democrats will have to decide whether a socialist is the risk they can't afford to take or a risk they can't afford to forego. https://www.vanityfair.com/news/2020/02/bernies-pinkish-brand-and-the-coming-war-over-socialism
10. Eric Levitz: The Insane Criminal President Held a Party Today
On Thursday, the president celebrated his newly confirmed immunity from both legal and constitutional accountability. "This is really not a news conference, it's not a speech," the president informed a room full of gray-haired, white-skinned men who dutifully complied with his every tacit request for laughter or applause. "It's not anything, it's just — we are sort of — it's a celebration."
The most powerful government official on planet Earth went on to say that the the investigation into his alleged obstruction of justice had been "bullshit" — and, also, that if he hadn't fired the FBI director who was overseeing an investigation into his campaign, he might no longer be in power. "Had I not fired James Comey," he said, "it's possible I wouldn't even be standing here right now."
At points, the man with unilateral authority over America's 4,000-plus nuclear weapons became too disgusted by the very thought of congressional oversight to keep his expressions of contempt confined to proper syntax. "It was evil," he said. "It was corrupt. It was dirty cops. It was leakers and liars." He praised a congresswoman for being "downright nasty" and "mean" in his defense. He described the world-historic persecution he had endured at the hands of his ever-scheming enemies in cryptic terms and at improbable length. He sounded like nothing so much as a bus-stop crank making unrequited conversation with a crowd of increasingly unnerved and impatient commuters.
But he was actually the president of the United States speaking before a room full of federal lawmakers who responded to his paranoid ravings with an admixture of feigned and genuine delight.
ffgRepublics don't keep forever. Someone flip over that Constitution and double-check the expiration date. Something tells me it's already passed. https://nymag.com/intelligencer/2020/02/trump-if-i-hadnt-fired-comey-i-might-not-be-president-bullshit.html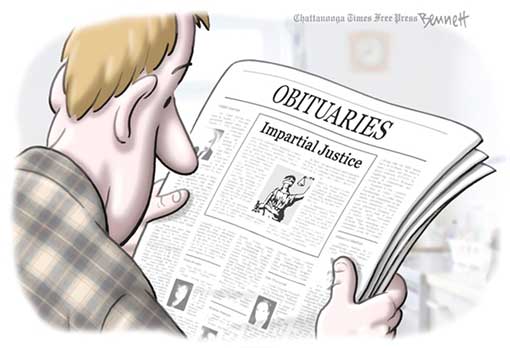 11. Judge Andrew Napolitano: Despite his impeachment trial acquittal, Trump clearly guilty of a high crime
Isn't it odd that a president who clamors for exoneration, who claimed loud and long that he committed no crime and did no wrong, who insisted that his request to the Ukrainian president to seek dirt on Biden in return for American financial assistance was "perfect," would command the members of his own party to block testimony adverse to him – rather than hear it, cross-examine it, challenge it and thereby obtain the exoneration on the merits that he seeks?
Do innocent people behave this way?
If Trump really believes he did not commit any crimes and any impeachable offenses, why would he orchestrate blocking evidence? And who – having taken an oath to do "impartial justice" – would close their eyes to the truth? How could such a marathon of speeches possibly be considered a trial?
Trump will luxuriate in his victory. But the personal victory for him is a legal assault on the Constitution. The president has taken an oath to preserve, protect and defend the Constitution. Instead, he has trashed it.
How? By manipulating Senate Republicans to bar firsthand evidence and keep it from senatorial and public scrutiny, Trump and his Senate collaborators have insulated him and future presidents from the moral and constitutional truism that no president is above the law.
Somewhere, Richard Nixon is smiling. https://www.foxnews.com/opinion/judge-andrew-napolitano-despite-his-impeachment-trial-acquittal-trump-clearly-guilty-of-a-high-crime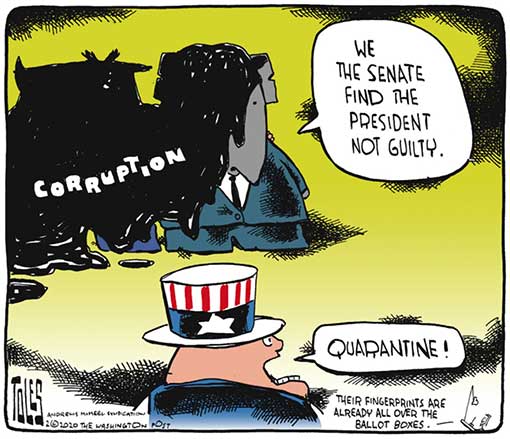 12. LA Times Editorial: Trump's acquittal is a stain on American history and a dangerous marker of what's to come
Instead of taking seriously their oath to consider this historic case impartially according to the Constitution and the laws of the land, senators — led by Majority Leader Mitch McConnell (R-Ky.) — voted cravenly, and largely along party lines, to acquit the president. They ignored overwhelming evidence, disregarded undisputed facts, refused to hear additional witnesses, and thereby gave their imprimatur to Trump's abuse of office.
Even some Republican senators who were willing to acknowledge that what Trump did was wrong refused to follow the logic of that conclusion and administer the necessary punishment. Sen. Lamar Alexander of Tennessee, for instance, said Trump's "inappropriate" actions didn't justify his removal from office. He suggested that the question was whether the Senate or the American people "should decide what to do about what he did."
But what Trump did wasn't just "inappropriate"; it was the sort of egregious abuse of power that the framers of the Constitution had in mind when they provided for impeachment. And they entrusted the decision on whether to impeach and remove the president to Congress, not the voters.
Just as he falsely claimed to have been exonerated by special counsel Robert S. Mueller III, Trump is now likely to portray his acquittal as vindication of his conduct, and proof that Democrats engaged in a partisan "witch hunt" to nullify the 2016 election. We fear that, with this acquittal in hand, he might feel freer to in the upcoming election or to otherwise violate the norms, rules and laws that have historically constrained self-dealing by the president. If he does, the senators who winked at his wrongdoing will be co-conspirators.
A more reasonable reaction from a more reasonable president would be to feel shame at the historic rebuke he has received. Only two previous presidents have been impeached since the founding of the republic nearly two and a half centuries ago. That reproach is not to be taken lightly. We hope voters will remember it, along with the president's many other grievous shortcomings, when they vote in November. https://www.latimes.com/opinion/story/2020-02-05/editorial-senate-acquittal-of-trump-shocking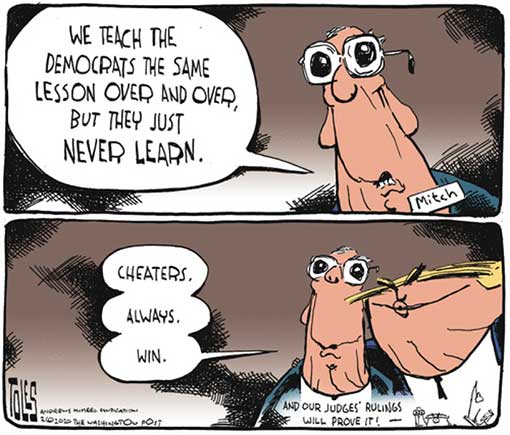 13. John Stoehr: Trump's Revenge Started Last Year
Just one day after the Senate failed to convict him, the president made fools of allies and defenders Thursday during the annual National Prayer Breakfast. Before Donald Trump took the stage, host Arthur Brooks asked attendees to love their enemies and forgive them their trespasses. Trump said thanks but—yeah, seriously—no thanks.
"I don't know if I agree with you," the president said to the host. "I don't know if Arthur is going to like what I'm going to say." Trump proceeded to lob volleys of venom at congressional Democrats, House Speaker Nancy Pelosi and Mitt Romney (the only Republican senator to vote to convict on the first article of impeachment).
"We've been going through this now for over three years," Trump said. "It was evil. It was corrupt. It was dirty cops. It was leakers and liars. And this should never, ever happen to another president, ever." James Comey is "a sleazebag," he said. Romney is "corrupt." Pelosi is "a horrible person." Two high-profile FBI agents are "top scum."
In short, he said at the National Prayer Breakfast, "It was all bullshit."
The president showed no remorse. He showed no contrition. He showed no humility. This was not the international leader who had "learned his lesson," as Susan Collins assured us before acquitting him. This is not the follower of Jesus dedicated to turning the other cheek, as Brooks implored. If anything, Trump seemed bent on vengeance.
The president is using the administrative power of the federal government to not only shield himself. He's weaponizing it against his enemies, real and perceived. While he once needed Giuliani and his henchmen to do his dirty work in Ukraine, he now has the GOP Senate not only acquitting him of the charge of abuse of power but enabling him to continue committing the very same crime against the US Constitution. https://stoehr.substack.com/p/trumps-revenge-started-last-year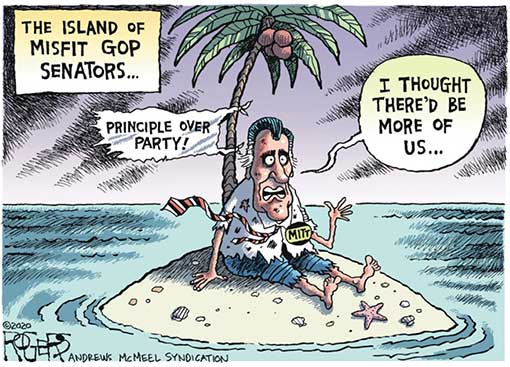 14. Maureen Dowd: The Don Strikes Back
Democrats: The only thing you have to fear is Trump himself.
A lot of you told me, with expletives, that while you were watching President Trump's carnival-barking this past week, you were thinking, "We're going to freaking lose."
Trump hollowed out the hallowed, Apprenticing one of Washington's most august traditions on Tuesday night, showing in the State of the Union how he has figured out how to use the levers of the presidency to amplify his flair for the dramatic.
There has always been political theater; now there's Trump political theater, as he perfects the black art of turning Democrats into mincemeat.
What could be more flamboyantly offensive than the anti-bullying advocate, Melania, hanging a Presidential Medal of Freedom around the neck of one of the biggest bullies and hate preachers of all time, Rush Limbaugh? Talk about the bully pulpit.
The president even finally managed to send his classy nemesis, Nancy Pelosi, over the edge, as she became so agitated that she was driven to Trumpian tactics to rebut his lies.
The acquittal put an exclamation point on two facts: Trump has subsumed the Republican Party, except for the sole Republican lawmaker whose base would not kill him if he voted to throw the president out of office. And he has forged one of the most cynical and darkly productive alliances of all time with the poker-faced Mitch McConnell, sending his personal approval rating to an all-time high.
Democrats should be scared to death watching the president play to thuggish type, re-enacting the chilling final payback scenes of "The Godfather," when Michael Corleone took out all his enemies.
It's not business. It's strictly personal. https://www.nytimes.com/2020/02/08/opinion/sunday/trump-vindman-sondland.html?referringSource=articleShare
15. James Comey: As usual, Trump called me a sleaze. But the audience reaction to his rant was more upsetting.
The most important thing that happened during President Trump's post-impeachment rant at the White House didn't happen at the lectern.
Yes, as usual, he called me a sleaze and scum and a dirty cop and said he likely would no longer be president if he hadn't fired me. Although I still can't follow the logic of that last bit, it doesn't matter.
The important thing was what happened in the audience, where there were plenty of intelligent people of deep commitment to religious principle. They laughed and smiled and clapped as a president of the United States lied, bullied, cursed and belittled the faith of other leaders. That was the deeply disturbing part of the East Room moment, and should challenge us all.
That's the scary lesson of the East Room rant. There were good people in that White House on Thursday. And they went along.
We have passed through the legal and constitutional trials of the Trump era. They were painful, but we now face our greatest trial, because it is about each of us, alone. And especially about those who were, or are, Republicans. Will they assert personal, core values in the face of a powerfully human temptation to surrender them? Or will they still those inner voices, smile tightly in places like the East Room, and drift with the crowd? We will know in just nine months. https://www.washingtonpost.com/opinions/james-comey-as-usual-trump-called-me-a-sleaze-but-the-audience-reaction-to-his-rant-was-more-upsetting/2020/02/07/1c421146-49d8-11ea-b4d9-29cc419287eb_story.html
16. Molly Jong-Fast: Donald Trump Definitely Learned His Lesson
Trump's victory lap was, as usual, terrifying.
And when he's riffing, you get the Full Trump, which is peak insane-boomer-internet-commenter Trump. All of his many Trumpism were in full display. It's like watching Lou Dobbs, minus a couple dozen IQ points.
It started out like a "normal" Trump rally speech. Then things devolved. (You may have noticed that this is a thing which happens a lot.) The president of the United States said "bullshit" on network television, in the middle of the day. Then it was on to Bob Mueller, poor broken-brained Devin Nunes, polls from the 2016 election, the Steele dossier, open borders, sanctuary cities, Democrats wanting to raise your taxes, Bob Mueller, Lisa Page and Peter Strzok, Russia, Russia, Russia, Alabama, Hillary Clinton, the DNC, and crazy Debbie Lesko.
In a funny way, it's probably just as fruitful to examine Trump's East Room remarks by looking at the negative space: Who didn't Trump thank in his bizarro-world Oscar speech?
He thanks his lawyers. He thanked many of the less-intellectually vigorous members of Congress. He thanked his third wife and his daughter, Ivanka. He thanked the New York Post.
Anyone who has spent five minutes studying the life of Donald Trump knows that every time he dodges a bullet, he becomes more, not less, reckless.
Which means that the lesson he was destined to take from impeachment was that he can get away with everything and anything. Trump learned that he owns the Republican party, that they will do whatever he wants, that they will sign off on all his criming.
Trump learned a lesson this week, he learned that he is our mad king and nothing and no one can stop him. And the sad thing is: He's right. https://thebulwark.com/donald-trump-definitely-learned-his-lesson/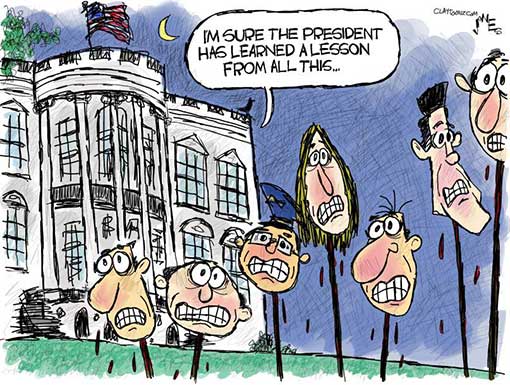 17. Robert Costa and Philip Rucker: 'Tempted to despair': Trump's resilience causes Democrats to sound the alarm
Anxiety is coursing through the Democratic Party as President Trump emerges from his impeachment proceedings as a potent threat for reelection, with party leaders and activists uncertain about how to beat the incumbent and worried about a nominating race that remains crowded and is growing more acrimonious.
While Democrats see Trump as a corrosive figure and a threat to the nation, they also see the president and his well-funded campaign tailoring a reelection bid around the strong economy and visceral appeals to his ardent supporters.
Trump's robust political standing came into view this past week, as he claimed vindication from his acquittal in his Senate trial despite damaging House testimony about his conduct with Ukraine — and set off on a path of retribution by ousting some officials who were witnesses. At the same time, his Gallup approval rating ticked up to 49 percent, its highest point yet.
The developments have generated convulsions of angst among Democrats, who watched their first-in-the-nation Iowa presidential caucuses conclude in a chaotic fiasco and deliver an inconclusive result. Many in the party are now sounding the alarm that denying Trump a second term could be far more difficult than they had calculated. https://www.washingtonpost.com/politics/tempted-to-despair-trumps-resilience-causes-democrats-to-sound-the-alarm/2020/02/08/8301b71a-4906-11ea-b4d9-29cc419287eb_story.html
18. George Conway: Trump is right. We might have to impeach him again.
Jjust as we had Nixon's enemies list, so we have had three years of Trump's use of presidential power for vindictive ends. Long before the Vindmans and Sondland, the firing of James B. Comey as FBI director. Trump's alleged directive to the Pentagon to "screw Amazon," whose chief executive owns this newspaper, which, frankly, ought by itself to have been an impeachable offense. So, too, his threats against Google, Facebook and Twitter. His obvious punishment of Puerto Rico for its politicians' criticisms of him. His attacks on a British ambassador who dared assess him critically. The Ukraine scandal itself, indeed, was partially an effort to attain vengeance for wrongs — Ukrainian "interference" — Trump imagines were done to him in 2016. He'll use whatever means he has at his presidential disposal to redress his bottomless pit of grievances.
And he'll only get worse. Narcissistic leaders such as Trump always do. As we've now seen, his rage leads to retribution and misconduct, which beget more criticism, and more investigation, and even more rage, retribution and misconduct. Over and over again.
So America beware: The state is Trump, and he's very, very angry. We might, indeed, have to do it again. https://www.washingtonpost.com/opinions/2020/02/10/trump-is-right-we-might-have-impeach-him-again/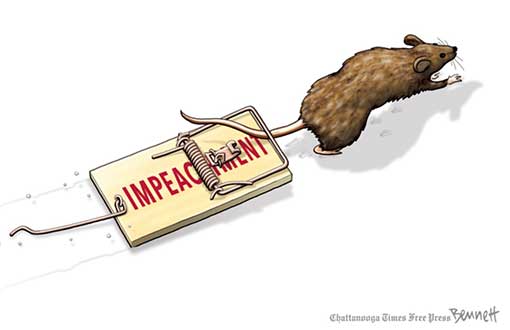 19. Michael Kruse: Is It Bernie's Party Now?
Bernie, a man who has spent most of his life spurning and disparaging the Democratic Party, who is only semi-nominally even a member of the party and who is reviled by some of its biggest names, could be by summer its titular head is a prospect few would believe possible. That is, if they hadn't seen Trump do something similar in 2016: The ultimate anti-establishment outsider, the almost ridiculous choice in fact becoming the choice.
The seriousness of Sanders' chances can be measured in relation to the apoplexy he's started to generate among stalwart operatives. Bernie Sanders? "Having him for president of the United States?" longtime Democratic strategist James Carville said when we talked last week. "Are you f**king kidding me?" https://www.politico.com/news/magazine/2020/02/10/bernie-sanders-new-hampshire-2020-campaign-profile-112173
20. Eliot Cohen: In the Long Run, Romney Wins
Political speeches derive their power and durability from authenticity, from the way in which phrases and sentences seem to emanate directly from a personality and its vision. That is why Lincoln's speeches will never lose their force: They captured the dignity, simplicity, and courage of the man who made them. Romney is no Lincoln, but he wrote the speech, and the voice is his.
Yet more is at work here than the powerful words. The speech contained all the elements of drama: the man of quiet faith, whose presidential campaign underplayed his charitable works; the handsome politician, whose political career involved both high office and the failure to achieve it; the public figure, who briefly became a hero to opponents who had shamefully vilified him seven years earlier; the successful businessman, who returned repeatedly to public affairs; the patriarch of a large and loving family, whose own niece repeatedly yielded her conscience to the man he rightly condemned. Comparing Romney with the grifter president and his venal clan yields an instructive contrast. https://www.theatlantic.com/ideas/archive/2020/02/mitt-romneys-remarkable-speech/606307/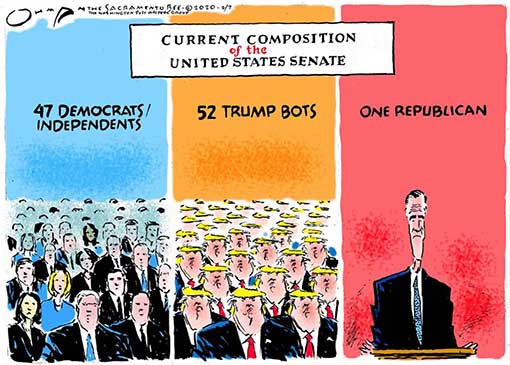 21. Paul Krugman: How Trump Got Trickled Down
One thing many people forget about the 2016 election is that as a candidate, Donald Trump promised to be a different kind of Republican. Unlike the mainstream of his party, he declared, he would raise taxes on the rich and wouldn't cut programs like Social Security, Medicare and Medicaid that ordinary Americans rely on. At the same time, he would invest large sums in rebuilding America's infrastructure.
He was lying.
Trump's only major legislative achievement, the 2017 Tax Cut and Jobs Act, was absolutely standard modern Republicanism: huge tax cuts for corporations, plus tax breaks that overwhelmingly benefited the wealthy. The only unconventional aspect of the legislation was the variety of new tax scams it made possible, like the benefits for investors in "opportunity zones," which were supposed to help poor communities but have actually enriched billionaire real estate developers.
Trump also came very close to passing a health care "reform" that would have imposed savage cuts on Medicaid, eliminated protections for those with pre-existing conditions and taken away health insurance from more than 30 million Americans.
The Trump administration's repeated proclamations of "Infrastructure Week" have become a running joke. https://www.nytimes.com/2020/02/10/opinion/trump-budget-2020.html
22. Michael Hiltzik: Trump's budget proposal shreds Social Security and Medicaid benefits
In accordance with the old adage that budgets are political documents, President Trump's budgets are windows into his political id.
Trump's proposed $4.8-trillion budget for the 2021 fiscal year makes his intentions crystal clear: He means to shred the federal safety net for the poor and the sick.
The budget proposal released Monday calls for drastic cuts in Social Security and Medicaid benefits, as well as in a program protecting defrauded student loan borrowers.
Calling his $844-billion healthcare cut over 10 years the "President's health reform vision allowance" is hands down winner for the make-the-Soviet-propagandists-blush award.
Medicare spending will also be cut, although the extent to which the reductions would affect benefits is unclear.
These cuts all are presented under the heading, "Restrain spending to protect and respect American taxpayers." Who are the taxpayers Trump is talking about? The wealthy, whose take from the 2017 tax cuts won't be affected one whit. https://www.latimes.com/business/story/2020-02-10/trump-budget-shreds-the-federal
23.  Peter Baker: Trump's War Against 'the Deep State' Enters a New Stage
This is an unsettled time in Mr. Trump's Washington. In the days since he was acquitted in a Senate trial, an aggrieved and unbound president has sought to even the scales as he sees it. Colonel Vindman was abruptly marched by security out of the White House, an ambassador who also testified in the House hearings was summarily dismissed, and senior Justice Department officials on Tuesday intervened on behalf of Mr. Trump's convicted friend, Roger J. Stone Jr., leading four career prosecutors to quit the case.
More axes are sure to fall. A senior Pentagon official appears in danger of losing her nomination to a top Defense Department post after questioning the president's suspension of aid to Ukraine. Likewise, a prosecutor involved in Mr. Stone's case has lost a nomination to a senior Treasury Department position. A key National Security Council official is said by colleagues to face dismissal. And the last of dozens of career officials being transferred out of the White House may be gone by the end of the week.
The war between Mr. Trump and what he calls the "deep state" has entered a new, more volatile phase as the president seeks to assert greater control over a government that he is convinced is not sufficiently loyal to him. With no need to worry about Congress now that he has been acquitted of two articles of impeachment, the president has shown a renewed willingness to act even if it prompts fresh complaints about violating traditional norms. https://www.nytimes.com/2020/02/11/us/politics/trump-vindman.html
24. Sheryl Gay Stolberg: Moderate Democrats Fear Bernie Sanders Could Cost Them the House
As Bernie Sanders emerges as the leader in the race for the Democratic presidential nomination, his rise is generating fears among centrist Democrats that the apparent leftward shift of their party could cost them not only a chance to retake the White House, but also their hold on the majority in the House of Representatives and their shot at winning the Senate.
The anxiety is particularly acute on Capitol Hill among a small but politically important group of freshman Democrats who helped their party win control of the House in 2018 by flipping Republican seats in districts that President Trump won in 2016. Now, they fear that having a self-declared democratic socialist at the top of the ticket could doom their re-election chances in November.
Members of the group of about three dozen — often called "front-liners" or "majority-makers"— have toiled to carve out political identities distinct from their party's progressive base, and most are already facing competitive re-election challenges from Republicans who bill them as radicals who have empowered a far-left agenda in Congress. https://www.nytimes.com/2020/02/12/us/politics/democrats-fear-bernie-sanders.html