October 22, 2020
ON THE RECORD. . .
"All I have to do is call up the head of every Wall Street firm, the head of every major company, the head of every major energy company. 'Do me a favor, send $10 million for my campaign.' 'Yes sir.' They say, 'The only thing is, why didn't you ask for more, sir?' I would be — I would take in more money, but you now what? I don't want to do that. Because if I do that, I'm totally compromised." — Trump calling himself the "greatest fundraiser in history" at the rally in Arizona on Monday

"Joe Biden is a criminal, and he's been a criminal for a long time, and you're a criminal in the media for not reporting it." -- Trump calling reporter Jeff Mason and the media "a criminal" for not reporting on Hunter Biden's lap top.

"She's always been terrible & unfair, just like most of the Fake News reporters, but I'll still play the game. The people know! How's Steve Scully doing?" — Trump trying to pressure and intimidate NBC's debate moderator, Kristen Welker.

"I just switched over from the Trump to Biden town halls and it's like switching from 'Ancient Aliens' to PBS NewsHour." — Bloomberg's Ryan Teague Beckwith.

"The president's unwillingness to denounce an absurd and dangerous conspiracy theory last night continues an alarming pattern: politicians and parties refuse to forcefully and convincingly repudiate groups like antifa, white supremacists and conspiracy peddlers." — Sen. Mitt Romney (R-UT) on Trump's refusal to condemn QAnon during the NBC town hall.

Kamala? Kamala? Kamala-mala-mala? I don't know. Whatever." -- Sen. David Perdue (R-GA) mocking his Senate colleague Kamala Harris.

"Rudy Giuliani Is My Father. Please, Everyone, Vote for Joe Biden and Kamala Harris.We are hanging by a single, slipping finger on a cliff's edge, and the fall will be fatal. If we remove ourselves from the fight, our country will be in freefall. Alternatively, we can hang on, elect a compassionate and decent president, and claw our way back onto the ledge. If I, after decades of despair over politics, can engage in our democracy to meet this critical moment, I know you can too. — Caroline Rose Giuliani.

"During his 36 years in office, McConnell has made it perfectly clear that his only passion is the pursuit of power, his own and that of the Republican Party. For that reason alone, we would endorse his opponent." — The Lexington Herald-Leader, one of Kentucky's largest newspapers, endorsing Democrat Amy McGrath, for the state's senate seat. 

"The depths of his dishonesty is just astounding to me. The dishonesty, the transactional nature of every relationship, though it's more pathetic than anything else. He is the most flawed person I have ever met in my life." — Former White House chief of staff John Kelly on Donald Trump.

"They are getting tired of the pandemic, aren't they? You turn on CNN, that's all they cover. 'Covid, Covid, Pandemic, Covid, Covid.' You know why? They're trying to talk everybody out of voting. People aren't buying it, CNN, you dumb bastards." -- Trump, at a campaign rally in Arizona.

"The Life of Adolph Hitler" - "Rise of the Demon" — Newsmax preempted their schedule to broadcast the president's rally but apparently didn't think it important to change the title of the programming.

Just checking in to see how the story on Hunter dropping off an incriminating laptop in DE while living in CA to a Trump-fan shop owner whose security footage was wiped and who def saw Hunter but is legally blind, written by Hannity's producer w/ info from Giuliani is holding up. — Brian Tyler Cohen

"I'll make this prediction right now: If for any reason the election is stolen from, or in some sort of way Joe Biden is declared the winner, Trump will announce he's going to run for re-election in 2024. You're not going to see the end of Donald Trump." — Steve Bannon

"If I listened totally to the scientists we would right now have a country that would be in a massive depression, instead of, we're like a rocket ship, take a look at the numbers." — Trump, comparing himself to Joe Biden who said "he'll listen to the scientists" during the coronavirus pandemic.

"They've set up an Iron Curtain so you can't get out the New York Post story which I happened to know is 100 percent accurate. But even if it isn't accurate, the American people are entitled to know it." — Rudy Giuliani to a North Dakota radio station , saying athat the American public deserved to the story base on material from Hunter Biden's laptop "even if it isn't accurate."

"It's just crazy. I saw Shifty Schiff get up yesterday and say this is Russia. He's a sick man. He is so sick. We went through two and a half years of that, plus. This guy, he ought to be put away, or he ought to be, you know, something should happen with him." — Donald Trump calling for House Intelligence Committee Chairman Adam Schiff (D-CA) to be "put away" for saying the Hunter Biden laptop stories are part of a smear campaign that originated as part of Russian disinformation.

SINCLAIR'S ERIC BOLLING: "With COVID, is there anything that you think you could have done differently, if you had a mulligan or a do-over on one aspect of the way you handled it, what would it be?"
TRUMP: Not much. Look, it's all over the world. You have a lot of great leaders, a lot of smart people. It's all over the world. It came out of China. China should have stopped it.

"You could literally have 10 monkeys with flamethrowers go after the money, and they wouldn't have burned through it as stupidly." — GOP strategist Mike Murphy on Trump's campaign money.

"When you look at insane conspiracy theories like  seeping into the mainstream of the Republican Party, what that tells you is that there are no more guardrails within that media ecosystem." -- Barack Obama referring to the baseless conspiracy theory that suggests top Democratic officials and Hollywood celebrities are Satanic worshipers complicit in child sex-trafficking rings.

------------------------------------------

Donald Trump's rise is a scary moment in America. Watch: https://youtu.be/drWh6vBa45k

Weekend Update: Trump Rallies | SNL: https://www.youtube.com/watch?v=gC7lm4Ng5KM

Weekend Update: Eric, Donald Jr. and Tiffany Trump on the 2020 Election | SNL: https://youtu.be/Sd73-sYv90s
---
IN THIS ISSUE
FYI
OPINION
1. The Borowitz Report: New Poll Shows Trump Losing to Hunter Biden
With less than two weeks until the election, a new poll of likely voters shows Donald J. Trump losing badly to Hunter Biden.

Though Hunter Biden holds a commanding lead over Trump nationally, the poll reveals that he also trounces the President in such key swing states as Michigan, Wisconsin, and Pennsylvania.

Voters preferred Hunter Biden over Trump when asked who would do a better job of "handling the pandemic," "creating jobs," and "caring about people like me."

In the most ominous news for the President, if Hunter Biden were somehow prosecuted, convicted, and locked up, voters would still choose him over Trump by a double-digit margin. https://www.newyorker.com/humor/borowitz-report/
2. Trump ups pressure on Barr to probe Bidens as election nears
Donald Trump on Tuesday called on Attorney General William Barr to immediately launch an investigation into unverified claims about Democrat Joe Biden and his son Hunter, effectively demanding that the Justice Department muddy his political opponent and abandon its historic resistance to getting involved in elections.
With just two weeks to go before Election Day, Trump for the first time explicitly called on Barr to investigate the Bidens and even pointed to the nearing Nov. 3 election as reason that Barr should not delay taking action. Trump has been leveling accusations of corruption against Biden without verified evidence for months, but is stepping up the pressure in the final days of the campaign.
"We've got to get the attorney general to act," Trump said in an interview on "Fox & Friends." "He's got to act, and he's got to act fast. He's got to appoint somebody. This is major corruption, and this has to be known about before the election." https://apnews.com/article/election-2020-joe-biden-donald-trump-william-barr-elections-20fd56b64801dd83b1657c630a1ebdfa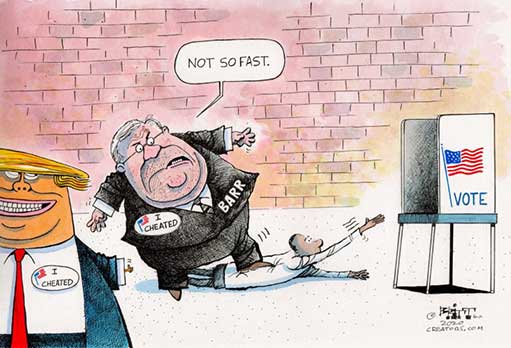 3. Lawyers say they can't find the parents of 545 migrant children separated by Trump administration
Lawyers appointed by a federal judge to identify migrant families who were separated by the Trump administration say that they have yet to track down the parents of 545 children and that about two-thirds of those parents were deported to Central America without their children, according to a filing Tuesday from the American Civil Liberties Union. https://www.nbcnews.com/politics/immigration/lawyers-say-they-can-t-find-parents-545-migrant-children-n1244066
4. NBC Town Hall: Savannah Guthrie gets answers from Trump by setting a fast pace and following up.
Savannah Guthrie spent most of the NBC News town asking Trump a series of quick-paced, conversational questions that put him on the spot and successfully revealed his evasions in a way that few of his interlocutors have managed. VIDEOS:
The President provides a strange defense of his retweeting of a Seal Team Six conspiracy theory: https://twitter.com/Acyn/status/1316898954194239488

Trump refusing to denounce QAnon: https://twitter.com/atrupar/status/1316898607157706752

Trump defending retweeting insane conspiracy theories: https://twitter.com/atrupar/status/1316899310236217345

Trump trying to make it seem like owing more than $400 million is a totally normal thing: https://twitter.com/atrupar/status/1316906070892314627

"That's a statutory number" -- Trump's weird explanation for only paying $750 in federal taxes in 2016: https://twitter.com/atrupar/status/1316902598423810050

Guthrie: You retweeted it. (An article alleging "Biden and Obama may have had Seal Team 6 killed," posted by a QAnon account and written by "an ex-Community Organizer and Homeschool Mom.")
Trump: That was an opinion of somebody and that was a retweet. I'll put it out there.
Guthrie: I don't get that. You're the president. You're not like someone's crazy uncle who can retweet whatever: https://twitter.com/therecount/status/1316896674992836614
5. Republican Voters Take a Radical Conspiracy Theory Mainstream
Though there has been little public polling, there is growing anecdotal evidence that QAnon followers now make up a small but significant minority of Republicans. Adherents are running for Congress and flexing their political muscles at the state and local levels. The movement's growth has picked up pace since the onset of the pandemic in March, and its potency is clear on social media — before Facebook banned QAnon content earlier this month, there were thousands of dedicated Facebook groups with millions of members The phenomenon can be seen at Trump rallies, where people wearing QAnon shirts and hats are commonplace." https://www.nytimes.com/2020/10/19/us/politics/qanon-trump-republicans.html
NOTE: A new Yahoo News/YouGov poll finds that 50% of President Trump's supporters think that Democrats are involved in elite child sex-trafficking rings, while 33% aren't sure.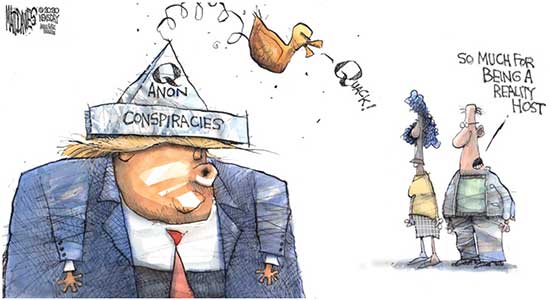 6. White House was warned Giuliani was target of Russian intelligence operation to feed misinformation to Trump
U.S. intelligence agencies warned the White House last year that President Trump's personal lawyer Rudolph W. Giuliani was the target of an influence operation by Russian intelligence, according to four former officials familiar with the matter.
The warnings were based on multiple sources, including intercepted communications, that showed Giuliani was interacting with people tied to Russian intelligence during a December 2019 trip to Ukraine, where he was gathering information that he thought would expose corrupt acts by former vice president Joe Biden and his son Hunter.
The intelligence raised concerns that Giuliani was being used to feed Russian misinformation to the president, the former officials said, speaking on the condition of anonymity to discuss sensitive information and conversations. https://www.washingtonpost.com/national-security/giuliani-biden-ukraine-russian-disinformation/2020/10/15/43158900-0ef5-11eb-b1e8-16b59b92b36d_story.html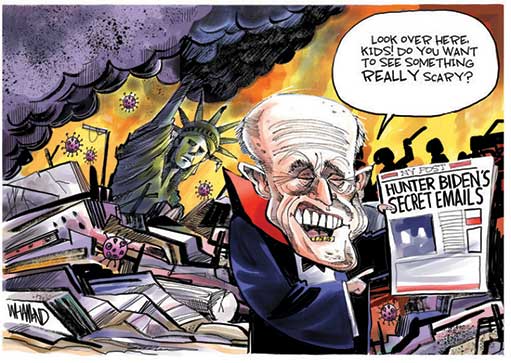 7. State Department signals it will keep most details of its spending at Trump's properties hidden until after election
The State Department says it has about 450 pages of records showing government spending at President Trump's properties. But this week, it signaled that it plans to release only two of those pages before the November election — leaving voters in the dark about the full scope of taxpayer payments to the president's company.
The State Department announced the decision to release just the two pages late Thursday in an email to The Post, which had filed a public-records lawsuit earlier this year, seeking any records showing State Department payments to Trump properties.
The State Department pays for hotel rooms and other expenses when foreign leaders visit Trump properties, and when federal employees, such as Secret Service agents, follow Trump and his family to the president's overseas clubs. But it's impossible to tell how much the department has spent in total, because it has released detailed records for only the first few months of Trump's presidency.
The Post's lawsuit asked for a fuller accounting, requesting records of those payments over several years of Trump's term.
In response, the State Department had said in a legal filing it would try to release up to 300 pages of the remaining records on Thursday. Instead, it sent the two pages — the receipts of a single hotel bill from Trump's Irish golf course, involving security for Trump's daughter-in-law and campaign adviser Lara Trump. https://www.washingtonpost.com/politics/state-department-signals-it-will-keep-most-details-of-its-spending-at-trumps-properties-hidden-until-after-election/2020/10/16/83372f30-0f21-11eb-8074-0e943a91bf08_story.html
8. Administration officials alarmed by White House push to fast track lucrative 5G spectrum contract, sources say
Senior officials throughout various departments and agencies of the Trump administration tell CNN they are alarmed at White House pressure to grant what would essentially be a no-bid contract to lease the Department of Defense's mid-band spectrum -- premium real estate for the booming and lucrative 5G market -- to Rivada Networks, a company in which prominent Republicans and supporters of President Donald Trump have investments.
The pressure campaign to fast track Rivada's "Request for Proposal" (RFP) by using authorities that would preclude a competitive bidding process intensified in September, and has been led by White House chief of staff Mark Meadows, who was acting at Trump's behest, sources with knowledge tell CNN. To push his case, Meadows has sometimes used as his proxy an individual identified by sources in the telecommunications industry as a top financial management official in the US Army.
Sources tell CNN that Trump was encouraged to help Rivada by Fox News commentator and veteran GOP strategist Karl Rove, a lobbyist for, and investor in, Rivada.
Untold billions are at stake. A government auction of 70 megahertz of spectrum in August went for more than $4.5 billion. The Rivada bid would be for 350 megahertz of spectrum -- five times that amount. https://www.cnn.com/2020/10/20/politics/white-house-5g-spectrum-no-bid-contract-rivada/index.html
9. Trump leans into fear tactics in bid to win Midwest states
Donald Trump leaned into fear tactics Saturday as he accused the left of trying to "destroy the American way of life" in a late reelection pitch to voters in Michigan and Wisconsin.
Trump accused the left of wanting to "erase American history" and "purge American values." He claimed, with no basis, that Democratic rival Joe Biden would put communities at risk.
As he tries to energize his base and keep on-the-fence voters from turning against him, Trump sought to paint Democrats as "anti-American radicals" and said moderates had "a moral duty" to join the Republican Party.
"The Democrat (sic) Party you once knew doesn't exist," he said. It was the same on issue after issue, as he claimed in hyperbolic terms that Biden's election would spur "the single biggest depression in the history of our country" and "turn Michigan into a refugee camp."
Addressing the coronavirus crisis, Trump warned that Biden would "shut down the country, delay the vaccine and prolong the pandemic." Public health experts say the nation would be in far better shape had Trump's administration taken more aggressive action early on. https://apnews.com/article/election-2020-virus-outbreak-joe-biden-donald-trump-wisconsin-a2105a35e4dc66508e68ecbfd6f24b8b
10. Twitter removes tweet from Trump's COVID adviser claiming masks do not work
Twitter took down a tweet from one of President Trump's most visible coronavirus task force members, Scott Atlas, that claimed widespread use of face masks does not help slow the spread of COVID-19. https://www.axios.com/scott-atlas-tweet-coronavirus-3c08c26a-da07-4e2b-9a28-0cac122f359b.html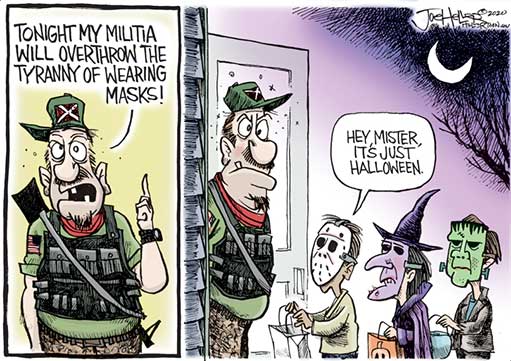 11. Fearing a 'Blood Bath,' Republican Senators Begin to Edge Away From Trump
For nearly four years, congressional Republicans have ducked and dodged an unending cascade of offensive statements and norm-shattering behavior from President Trump, ignoring his caustic and scattershot Twitter feed and penchant for flouting party orthodoxy, and standing quietly by as he abandoned military allies, attacked American institutions and stirred up racist and nativist fears.
But now, facing grim polling numbers and a flood of Democratic money and enthusiasm that has imperiled their majority in the Senate, Republicans on Capitol Hill are beginning to publicly distance themselves from the president. The shift, less than three weeks before the election, indicates that many Republicans have concluded that Mr. Trump is heading for a loss in November. And they are grasping to save themselves and rushing to re-establish their reputations for a coming struggle for their party's identity. https://www.nytimes.com/2020/10/16/us/politics/republican-senators-trump.html
12. HHS lawyer: Trump's drug cards could violate election law
The health department's top lawyer is warning in an internal memo that President Donald Trump's plan to give seniors $200 discount cards to buy prescription drugs could violate election law, according to three officials with knowledge of those legal concerns.
The lawyer's objection, coupled with his advice to seek approval from the Department of Justice, is a significant blow to Trump's hope to promote the hastily devised plan before Election Day. https://www.politico.com/news/2020/10/16/hhs-lawyer-trump-drug-cards-election-law-429989
13. If Past Is a Guide, Arctic Could Be Verging on Permafrost Collapse
Buried in frozen soil across the Arctic, billions of tons of carbon lies trapped in the ground. Just a few degrees of warming could unleash it into the atmosphere.
A new study, published Friday in the journal Science Advances, looks back 27,000 years into Arctic history. On at least three occasions, the study finds, periods of rapid climate change caused huge swaths of permafrost—a layer of carbon-rich frozen soil widespread in the Arctic—to quickly thaw or collapse.
As a result, huge volumes of carbon dioxide poured into the air.
Today, the planet is once again enduring a period of rapid climate change—this time caused by human emissions of greenhouse gases. In fact, research suggests, the Earth is warming at one of its fastest rates in millions of years.
If the past is any lesson for the future, that could mean a little more warming may trigger yet another massive destabilization of Arctic permafrost.
It's a red flag scientists have been waving for years. https://www.scientificamerican.com/article/if-past-is-a-guide-arctic-could-be-verging-on-permafrost-collapse/
14. Tapes Show Neo-Nazis Trying to Recruit Soldiers
Secret recordings of a militant neo-Nazi organization called The Base reveal that the group is recruiting people with military expertise in the U.S. and Canada to train in military operations and prepare to take advantage of what they believe is impending societal collapse.
The audio recordings are from calls between the leader of The Base and more than 100 prospective recruits using the encrypted app Wire. The Southern Poverty Law Center, or SPLC, which monitors hate groups, says that it obtained more than 80 hours of audio recorded starting in November 2018 and that the recordings are featured in a new three-part podcast titled "Baseless" that is being released as part of the SPLC's "Sounds Like Hate" podcast series. https://www.nbcnews.com/news/us-news/secret-tapes-show-neo-nazi-group-base-recruiting-former-members-n1243395
15. Vote Like the Planet Depends on It—Because It Does
To understand the planetary importance of this autumn's presidential election, check the calendar. Voting ends on Nov. 3—and by a fluke of timing, on the morning of Nov. 4, the United States is scheduled to pull out of the Paris Agreement.
Trump announced during a Rose Garden speech in 2017 that we would abrogate our Paris commitments. But under the terms of the accords, it takes three years to formalize the withdrawal. So on Election Day it won't be just Americans watching: The people of the world will see whether the country that has poured more carbon into the atmosphere than any other over the course of history will become the only country that refuses to cooperate in the one international effort to do something about the climate crisis. https://www.yesmagazine.org/opinion/2020/09/22/vote-presidential-election-climate-change/
16. Trump's advisers brace for loss, point fingers
The Trump campaign is filled with internal blaming and pre-spinning of a potential loss, accelerating a dire mood that's driven by a daily barrage of bleak headlines, campaign and White House officials tell me.
"A lot of this is the president himself," one adviser said. "You can't heal a patient who doesn't want to take the diagnosis." https://www.axios.com/trump-advisers-brace-for-loss-02d6b688-4d15-46f8-a28c-efdf2a5640c3.html
17. A Regulatory Rush by Federal Agencies to Secure Trump's Legacy
Facing the prospect that President Trump could lose his re-election bid, his cabinet is scrambling to enact regulatory changes affecting millions of Americans in a blitz so rushed it may leave some changes vulnerable to court challenges.
The effort is evident in a broad range of federal agencies and encompasses proposals like easing limits on how many hours some truckers can spend behind the wheel, giving the government more freedom to collect biometric data and setting federal standards for when workers can be classified as independent contractors rather than employees.
In the bid to lock in new rules before Jan. 20, Mr. Trump's team is limiting or sidestepping requirements for public comment on some of the changes and swatting aside critics who say the administration has failed to carry out sufficiently rigorous analysis. https://www.nytimes.com/2020/10/16/us/politics/regulatory-rush-federal-agencies-trump.html
18. Trump, Citing Pandemic, Moves to Weaken Environmental Protections
The Trump administration, in twin actions to curb environmental regulations, moved on Thursday to temporarily speed the construction of energy projects and to permanently weaken federal authority to issue stringent clean air and climate change rules.
Trump signed an executive order that calls on agencies to waive required environmental reviews of infrastructure projects to be built during the pandemic-driven economic crisis. At the same time, the Environmental Protection Agency has proposed a new rule that changes the way the agency uses cost-benefit analyses to enact Clean Air Act regulations, effectively limiting the strength of future air pollution controls.
Together, the actions signal that Mr. Trump intends to speed up his efforts to dismantle environmental regulations as the nation battles the coronavirus and a wave of unrest protesting the deaths of black Americans in Georgia, Minnesota and Kentucky. They will also help define the stakes in the 2020 presidential election, since neither effort would likely survive a Democratic victory.
By changing the way the government weighs the value of the public health benefits, Andrew Wheeler, the E.P.A. administrator, would allow the agency to justify weakening clean air and climate change regulations with economic arguments. https://www.nytimes.com/2020/06/04/climate/trump-environment-coronavirus.html
19. Donald Trump Has At Least $1 Billion In Debt, More Than Twice The Amount He Suggested
No aspect of Donald Trump's business has been the subject of more speculation than his debt load. Lots of people believe the president owes $400 million, especially after Trump seemed to agree with that figure on national television Thursday night. In reality, however, he owes more than $1 billion. 
The loans are spread out over more than a dozen different assets—hotels, buildings, mansions and golf courses. Most are listed on the financial disclosure report Trump files annually with the federal government. Two, which add up to an estimated $447 million, are not.
The president's liabilities are spelled out in dozens of documents, published at https://www.forbes.com/sites/danalexander/2020/10/16/donald-trump-has-at-least-1-billion-in-debt-more-than-twice-the-amount-he-suggested/#46b5b9a14330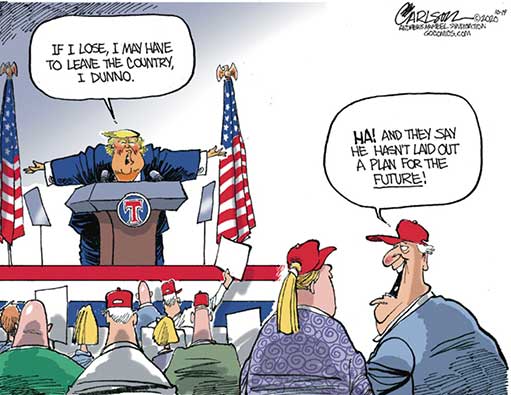 20. Trump Will Have $900 Million Of Loans Coming Due In His Second Term If He's Reelected
Whether or not Donald Trump wins the election, lenders will expect his businesses to pay back an estimated $900 million in the next four years, an alarmingly accelerated timetable that involves more than twice as much debt as the president previously indicated. In order to emerge unscathed, Trump will likely have to engage in a series of high-stakes, big-money transactions—deals that could produce arguably the biggest conflicts of interest that an American president has ever had to face.
About half of the debt coming due from the start of 2021 to the end of 2024 is secured against assets that the president and his children own outright. He will have to pay back loans against his hotel in Washington, D.C., his golf resort in Miami and his tower in Chicago. He'll also have to sort out the debt against Trump Tower and Trump Plaza in New York City. https://www.forbes.com/sites/danalexander/2020/10/19/trump-will-have-900-million-of-loans-coming-due-in-his-second-term-if-hes-reelected/#645332945f37
21. Facebook suspends account of Ukrainian politician working with Giuliani
Facebook has suspended the account of the Ukrainian politician Andrii Derkach, who has been accused by the U.S. government of being a Russian agent and trying to meddle in the presidential election.
"We removed this account and this Page for violating our policy against the use of our platform by people engaged in election-focused influence operations," Facebook said in a statement Monday.
Derkach, a member of the Ukrainian parliament, has been working with President Donald Trump's personal lawyer Rudy Giuliani to try to gather derogatory information about Democratic presidential nominee Joe Biden and his son Hunter. https://www.nbcnews.com/tech/tech-news/facebook-suspends-account-ukrainian-politician-working-giuliani-n1243899
22. Barrett Was Trustee at School with Anti-Gay Policies
Supreme Court nominee Amy Coney Barrett served for nearly three years on the board of private Christian schools that effectively barred admission to children of same-sex parents and made it plain that openly gay and lesbian teachers weren't welcome in the classroom.
The policies that discriminated against LGBTQ people and their children were in place for years at Trinity Schools Inc., both before Barrett joined the board in 2015 and during the time she served. https://apnews.com/article/south-bend-only-on-ap-amy-coney-barrett-minnesota-virginia-a8bbabea9ee4d2fb13c6079c09f2f075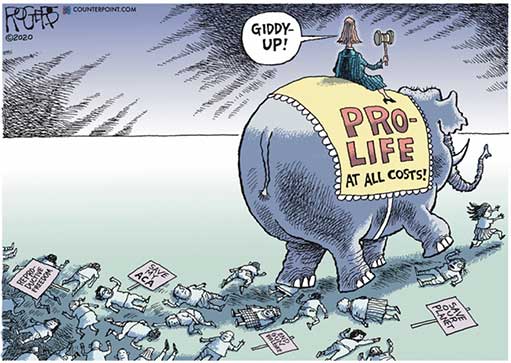 23. Trump is ending the census count early. It's a feat of profound political cynicism
A Supreme Court ruling this week allowed the Trump administration to end the 2020 census two weeks early, risking an undercount of members of the population who are difficult to reach – particularly immigrants, transients, and the poor. From the beginning, the administration has attempted to meddle with what is usually a scrupulously non-partisan process in order to advance its goal of disenfranchising and immiserating parts of the country which do not vote Republican. And following this court ruling, it is on track to get away with it.
Even by Trump's own standards of naked partisanship and self-dealing, the weaponization of the census has been cynical and alarming. By deliberately attempting to produce an undercount in certain parts of the country, and by trying to seize control of the process whereby the census is used to allocate seats in the House of Representatives and Electoral College, the administration is leaving behind a tainted legacy. https://www.theguardian.com/commentisfree/2020/oct/15/trump-is-ending-the-census-count-early-its-a-feat-of-profound-political-cynicism
24. Ohio's quarter-mile early-voting lines? That's what voter suppression looks like
In-person early voting started in Ohio this week, and in the state's largest cities, it was a total mess. In Columbus, the line stretched for a quarter of a mile. In Cuyahoga county, the hours-long wait began before polls even opened.
All of this was entirely predictable. Thanks to an Ohio state law passed in 2006 by a Republican-controlled legislature and signed by a Republican governor, the number of in-person early voting sites is limited to just one per county. That means Vinton County, a Republican stronghold in the state's southeast that's home to just 13,500 Ohioans, has approximately 97 times more polling-places-per-voter than Franklin County, the deep-blue bastion with a population of more than 1.3 million. https://www.theguardian.com/commentisfree/2020/oct/15/ohio-us-election-voter-suppression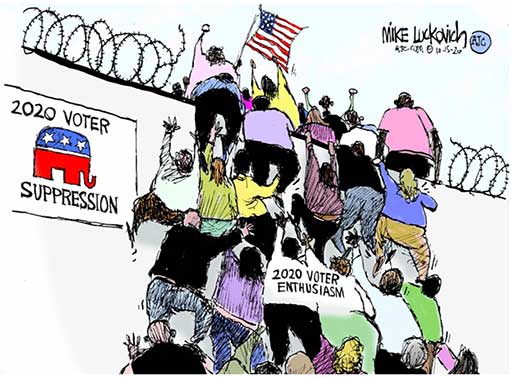 25. 8 Million Have Slipped Into Poverty Since May as Federal Aid Has Dried Up
After an ambitious expansion of the safety net in the spring saved millions of people from poverty, the aid is now largely exhausted and poverty has returned to levels higher than before the coronavirus crisis, two new studies have found.
The number of poor people has grown by eight million since May, according to researchers at Columbia University, after falling by four million at the pandemic's start as a result of a $2 trillion emergency package known as the Cares Act.
Using a different definition of poverty, researchers from the University of Chicago and Notre Dame found that poverty has grown by six million people in the past three months, with circumstances worsening most for Black people and children.
Significantly, the studies differ on the most recent month: While the Columbia model shows an improvement in September, the Chicago and Notre Dame analysts found poverty continued to grow.
"These numbers are very concerning," said Bruce D. Meyer, an economist at the University of Chicago and an author of the study. "They tell us people are having a lot more trouble paying their bills, paying their rent, putting food on the table."
The recent rise in poverty has occurred despite an improving job market, an indiction that the economy has been rebounding too slowly to offset the lost benefits. The Democratic House has twice passed multitrillion-dollar packages to provide more help and to stimulate the economy, but members of a divided Republican Senate, questioning the cost and necessity, have proposed smaller plans. President Trump has alternately demanded that Congress "go big" before the elections and canceled negotiations. https://www.nytimes.com/2020/10/15/us/politics/federal-aid-poverty-levels.html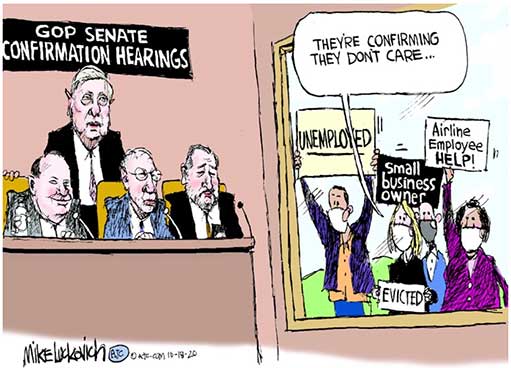 26. Trump's Tweets on Troop Withdrawals Unnerve Pentagon
Trump's surprise tweet last week that he would pull all U.S. troops from Afghanistan by Christmas is not the only important military mission he may abruptly shrink or end as Election Day nears.
Even senior military commanders have sought to distance themselves from their commander in chief's troop withdrawal forecasts, which have caught them off guard. And critics say that in seeking to fulfill a campaign pledge to bring American troops home from "endless wars," the president is exposing the country to even greater national security risks.
"There's no strategy; there's just electioneering," said Kori Schake, who directs foreign and defense policy studies at the American Enterprise Institute. https://www.nytimes.com/2020/10/15/us/politics/trump-troop-withdrawals.html
27. Trump appears to earnestly share satirical website's take on Twitter
Donald Trump on Friday shared a story from a known news satire website seemingly in earnest, using the fake report to blast Twitter's handling of dubious allegations against Democratic presidential nominee Joe Biden.
The story tweeted by the president early Friday morning was published by The Babylon Bee — which bills itself online as "the world's best satire site" — and stated that Twitter had "shut down its entire social network" Thursday to stop the spread of negative news about Biden.
Trump appeared to take the report seriously when he tweeted it from his account, writing: "Wow, this has never been done in history. This includes his really bad interview last night. Why is Twitter doing this. Bringing more attention to Sleepy Joe & Big T." https://www.politico.com/news/2020/10/16/trump-apparently-fooled-by-satirical-websites-twitter-story-429776
28. Meadows Says Trump Didn't Intend to Declassify Probe
Chief of staff MEADOWS tells a court that Trump didn't mean it when he said he was ordering the declassification of all Russia-probe documents.
Trump was just referring to his delegation of declassification authority to AG Barr, Meadows says. https://twitter.com/kyledcheney/status/1318581098859892736
29. Joe Biden Goes After President Donald Trump's Edge on the Economy—And It's Working
In the final weeks of the presidential campaign, Joe Biden has taken aim at one of President Donald Trump's longstanding strengths with a closing message that he would be a better steward of a shaky American economy.
In a series of speeches in battleground states, Biden has consistently touted his "Build Back Better" platform to create millions of jobs through government spending, his plans to repeal Trump's tax cuts on the wealthy and big corporations, and his ideas for creating a 21st century workforce by investing in green jobs and a caregiving workforce. It's a message designed to cut into Trump's longstanding edge with voters on the question of who they trust to manage the economy—a core issue in every election, but especially in the midst of a pandemic-driven recession.
It appears to be working. In a CNN poll released Oct. 6, Biden and Trump were in a statistical dead heat on the question of who would better handle the economy: 50% of likely voters said Biden, while 48% said Trump. When CNN asked the same question to registered voters in May, Trump led by 12 points. https://time.com/5900603/joe-biden-economy/
30. Justice Dept. Says Trump's Denial of Rape Accusation Was an Official Act
The Justice Department said on Monday that President Trump should not be sued personally for having denied a rape allegation because he made the statement while acting in his official capacity as president. https://www.nytimes.com/2020/10/19/nyregion/jean-carroll-trump-rape-lawsuit.html
31. Time's up: After a reprieve, a wave of evictions expected across U.S.
Unless Congress and the Trump administration move past their deadlock over the contours of a new COVID-19 relief package and include financial relief for tenants and landlords, January will bring a surge in displacement and homelessness "unlike anything we have ever seen," said John Pollock, a Public Justice Center attorney and coordinator of the National Coalition for a Civil Right to Counsel.
The Democrat-controlled House passed a relief package that included $50 billion in emergency renter and homeowner assistance funds and a new ban on evictions and foreclosures for 12 months; the Republican-controlled Senate's proposal contains no similar provisions. https://www.reuters.com/article/us-usa-housing-eviction-insight/times-up-after-a-reprieve-a-wave-of-evictions-expected-across-u-s-idUSKBN27415U
32.  The Foxconn project has succeeded in manufacturing an endless supply of wonderful things for the President to promise his supporters
In 2017, President Donald Trump and the Wisconsin GOP struck a deal with Foxconn that promised to turn Southeastern Wisconsin into a tech manufacturing powerhouse.
"In exchange for billions in tax subsidies, Foxconn was supposed to build an enormous LCD factory in the tiny village of Mount Pleasant, creating 13,000 jobs."
Three years later, the factory — and the jobs — don't exist, and they probably never will. https://www.theverge.com/21507966/foxconn-empty-factories-wisconsin-jobs-loophole-trump
33. Trump Is Taking Down Names as Republicans Begin Jumping Ship on His 'Totally Off the Rails' Campaign
Over the past few weeks, Donald Trump and his allies have kept close tabs on prominent conservatives the president believes are gearing up to throw him under the bus in the event he loses his bid for re-election.
Two individuals who have spoken to Trump say the president has expressed suspicion that members of his own party believe he will be defeated by Joe Biden. That sense of paranoia has been fed by the president's aides and confidants, who have flagged news coverage for him of Republican politicians either openly criticizing his conduct or else trying to distance themselves from a looming possible electoral bloodbath.
According to one of the sources with direct knowledge, the president is already contemplating retribution.
https://www.thedailybeast.com/trumps-taking-down-names-as-republicans-like-mitch-mcconnell-susan-collins-start-jumping-ship
34. 'Our house is on fire': Suburban women lead charge vs. Trump
Trump has tried to appeal to "the suburban housewives of America," as he called them. Embracing fear and deploying dog whistles, he has argued that Black Lives Matter protesters will bring crime, low-income housing will ruin property values, suburbs will be abolished. Campaigning in Pennsylvania last week, he begged: "Suburban women, will you please like me?"
There's no sign all this is working. Some recent polls show Biden winning support from about 60% of suburban women. In 2016, Democrat Hillary Clinton won 52%, according to an estimate by the Pew Research Center. https://apnews.com/article/suburban-women-trump-biden-michigan-6e0e7217e86929c46f729c4127341340
35. Why do conspiracy theories about pedophilia hold such sway with some conservatives?
In 2016, Democrats' imagined penchant for child predation was manifested in the made-up charge that Hillary Clinton presided over a child sex-trafficking ring. Adherents of this fiction spun an elaborate online fantasy that the presidential candidate — along with her husband, former President Clinton, and other prominent Democrats — was running such an enterprise from a nonexistent network of tunnels beneath a real-life pizza joint in Washington.
Clinton lost the election, but the fabricated charge that a secret cabal of pedophiles rules the Democratic Party remained a central feature of the QAnon conspiracy theory. Its adherents are allied with President Trump, the man they see as leading the charge against these "deep state" elites.
Now similar fictions are being aimed at Joe Biden, the current Democratic presidential nominee.
The hashtag #PedoBiden has been on the rise in recent months, and Trump gave it a boost by retweeting a video from an anonymous Twitter account that purported to show Biden in the act. The issue came up in Trump's Thursday night town hall, when the president refused to repudiate QAnon and commended its adherents for being "strongly against pedophilia."
Some researchers have gathered evidence that conspiracy theories involving pedophilia tend to exert a stronger and more enduring hold on people who identify as conservative or embrace policy positions strongly identified with American conservatism.
In an influential 1964 article, Columbia University political scientist Richard Hofstadter described a particular strain of American partisans who employed "heated exaggeration, suspiciousness and conspiratorial fantasy" in their discourse. These people — a group typified by Sen. Joseph McCarthy, who initiated a range of investigations to root out suspected communists in the federal government — "believe themselves to be conservatives and usually employ the rhetoric of conservatism," he wrote. https://www.latimes.com/science/story/2020-10-16/why-do-conspiracy-theories-about-pedophilia-hold-such-sway-with-some-conservatives
36. The DAILY GRILL
"The United States now regularly sells out our allies under his leadership, the way he treats women, spends like a drunken sailor. The ways I criticize President Obama for that kind of spending; I've criticized President Trump for as well. He mocks evangelicals behind closed doors. His family has treated the presidency like a business opportunity. He's flirted with white supremacists." — Sen. Ben Sasse (R-NE) eviscerating President Trump during a phone call with constituents in which he accused the president of cozying up to dictators, mistreating women, flirting with white supremacists and irresponsibly handling the coronavirus pandemic.

VERSUS

The least effective of our 53 Republican Senators, and a person who truly doesn't have what it takes to be great, is Little Ben Sasse of Nebraska, a State which I have gladly done so much to help.
@SenSasse was as nice as a RINO can be until he recently won the Republican Nomination to run for a second term. Then he went back to his rather stupid and obnoxious ways. Must feel he can't lose to a Dem. Little Ben is a liability to the Republican Party, and an embarrassment to the Great State of Nebraska. Other than that, he's just a wonderful guy! — Donald Trump

 

"I made it very clear, yes, that I did not think there should be a vote prior to the election. And if there is one, I would oppose the nominee not because I might not support that nominee under normal circumstances, but we're simply too close to the election." -- Sen. Susan Collins (R-Maine)

VERSUS

There is a nasty rumor out there that @SenatorCollins of Maine will not be supporting our great United States Supreme Court Nominee. Well, she didn't support Healthcare or my opening up 5000 square miles of Ocean to Maine, so why should this be any different. Not worth the work! -- Trump tweet

 

When Biden was spearheading the 1994 crime bill, he called African Americans "super-predators, and they've never forgotten it." — A claim Trump made repeatedly.

VERSUS

Actually, that was a phrase famously uttered by Hillary Clinton, not Biden. -- Factcheck.org

 

In the tweet, Trump, who is currently campaigning for his father's reelection, shared the image of the home in Wilmington, Delaware, with the message "the salary of a U.S. Senator is $174,000 per year. This is Joe Biden's house.... seems legit." -- Eric Trump tweeted a picture of a sprawling property he claimed is owned by Joe Biden, evidence of corruption by the Democratic presidential nominee. 

VERSUS

"Biden hasn't owned the property for 24 years, and had bought it for a bargain price of $185,000 in 1974 when it was derelict." -- Fact-checking site Snopes 
37. From MEDIA MATTERS (They watch Fox News so you don't have to)
Trump propagandists are spreading a debunked conspiracy theory about the source of Joe Biden's income. A Lou Dobbs segment sparked speculation that a quick rise in Biden's income was due to his son's alleged illicit activities, even though the Bidens have publicly released tax returns showing that their income is from book deals and speaking engagements. https://www.mediamatters.org/lou-dobbs/trump-propagandists-are-spreading-debunked-conspiracy-theory-about-source-joe-bidens

Right-wing media question integrity of Pennsylvania's election by conflating mail-in ballot applications with mail-in ballots. 372,000 applications for mail-in ballots were reportedly rejected in Pennsylvania. Most of those requests were from people who already signed up to receive mail-in ballots. ProPublica reported that one voter submitted 11 requests to vote by mail -- not that anyone received 11 ballots. https://www.mediamatters.org/voter-fraud-and-suppression/right-wing-media-question-integrity-pennsylvanias-election-conflating
1. NY Times Editorial: The Case Against Donald Trump
THE VERDICT
Donald Trump's re-election campaign poses the greatest threat to American democracy since World War II.
Mr. Trump's ruinous tenure already has gravely damaged the United States at home and around the world. He has abused the power of his office and denied the legitimacy of his political opponents, shattering the norms that have bound the nation together for generations. He has subsumed the public interest to the profitability of his business and political interests. He has shown a breathtaking disregard for the lives and liberties of Americans. He is a man unworthy of the office he holds.
The editorial board does not lightly indict a duly elected president. During Mr. Trump's term, we have called out his racism and his xenophobia. We have critiqued his vandalism of the postwar consensus, a system of alliances and relationships around the globe that cost a great many lives to establish and maintain. We have, again and again, deplored his divisive rhetoric and his malicious attacks on fellow Americans. Yet when the Senate refused to convict the president for obvious abuses of power and obstruction, we counseled his political opponents to focus their outrage on defeating him at the ballot box.
Nov. 3 can be a turning point. This is an election about the country's future, and what path its citizens wish to choose. https://www.nytimes.com/interactive/2020/10/16/opinion/donald-trump-worst-president.html
2. Rolling Stone Editorial: Joe Biden for President
We've lived for the past four years under a man categorically unfit to be president. Fortunately for America, Joe Biden is Donald Trump's opposite in nearly every category: The Democratic presidential nominee evinces competence, compassion, steadiness, integrity, and restraint. Perhaps most important in this moment, Biden holds a profound respect for the institutions of American democracy, as well as a deep knowledge about how our government — and our system of checks and balances — is meant to work; he aspires to lead the nation as its president, not its dictator. The 2020 election, then, offers the nation a chance to reboot and rebuild from the racist, authoritarian, know-nothing wreckage wrought by the 45th president. And there are few Americans better suited to the challenge than Joe Biden.
It is no exaggeration to say that the American experiment hangs in the balance in the November election. Four years of Trump have left 215,000 of us and counting dead from a serious but preventable public-health crisis, tens of millions out of work or underemployed, a cataclysmic climate crisis ignored, our democratic institutions in disrepair, and the public's faith in its elected representatives at an all-time low.
Is America capable of stepping back from this precipice? Of turning away from the politics of resentment to rebuild our country based on a shared idea of American progress? That remains to be seen, but electing Biden is the first step. Despite the multiple crises at hand, Biden envisions a revival anchored in unity. "We have too bright a future to have it shipwrecked on the shoals of anger and hate and division," Biden said in an October address near the battlefield at Gettysburg. https://www.rollingstone.com/politics/politics-news/joe-biden-president-endorsement-1074513/
3. Susan Glasser: The Presidential Town Halls Were Mister Rogers Versus Nasty Uncle Trump
I do not know who will win the election less than three weeks from now. But I do know this: if Trump does lose, he's right that his sheer unlikability will be a major contributing factor. He's a bully and a boor. He's overbearing, self-absorbed, impossible to shut up, and especially patronizing to women, which, of course, is one of the reasons why those suburban moms he is begging to vote for him are telling pollsters that they are decidedly against him.
Trump was certainly no nice guy in his Thursday-evening town hall, on NBC, offering those who tuned in a repeat of his harsh performance in his first debate against Joe Biden. This time, Trump's foil was not Biden, because Trump had refused to debate him on the terms set by the Commission on Presidential Debates, but Savannah Guthrie, the NBC News moderator. Guthrie seemed to infuriate Trump with her quick questions and real-time fact-checking of some of his most egregious whoppers. The President was loud, and increasingly red in the face, as he struggled to respond. He berated Guthrie and refused to answer questions. He offered a sarcastic aside about how something she said was "so cute." He lectured her on how "underlevered" he was. None of that seemed likely to win over suburban women. https://www.newyorker.com/news/letter-from-trumps-washington/mister-rogers-versus-nasty-uncle-trump
4. Zolan Kanno-Youngs: Delayed Homeland Security Report Warns of 'Lethal' White Supremacy
The administration's treatment of white supremacy re-emerged as an issue last week, when Mr. Trump failed to condemn white racist violence during the presidential debate, even after Christopher A. Wray, the F.B.I. director, affirmed to Congress the lethal threat of the racist extremists.
Now, the Homeland Security Department has done so in the assessment.
"This threat assessment confirms two things: that white supremacist extremists are the top domestic threat to the homeland, and they are often inspired by President Trump's rhetoric," said Representative Bennie Thompson, Democrat of Mississippi and the chairman of the House Homeland Security Committee. https://www.nytimes.com/2020/10/06/us/politics/homeland-security-white-supremacists-russia.html
5.  Trip Gabriel, Zolan Kanno-Youngs and Katie Benner: As Trump's Language Grows More Heated, Fears Rise of Political Violence
"It's so concerning the president just doesn't seem to have any kind of guard rails between what he thinks at the spur of the moment and what he says or writes," said Janet Napolitano, the former secretary of homeland security. "We've seen it in the rise of these right-wing militia groups and it's almost as if implicitly he's giving them permission to take whatever action they want up to and including kidnapping a sitting governor."
Gov. Gretchen Whitmer of Michigan, who was a reported kidnapping target of the suspects arrested by the F.B.I. last week, said over the weekend that extremists found "comfort and support" in Mr. Trump's language, and in the president's failure to condemn them.
Two of the 13 men arrested had brandished military-style rifles in the gallery of the Michigan State Capitol in April to protest the governor's lockdown to fight the spread of the coronavirus. The men had talked of starting a civil war, according to the authorities, who linked them to the Wolverine Watchmen, a far-right militia. https://www.nytimes.com/2020/10/15/us/politics/trump-election-violence.html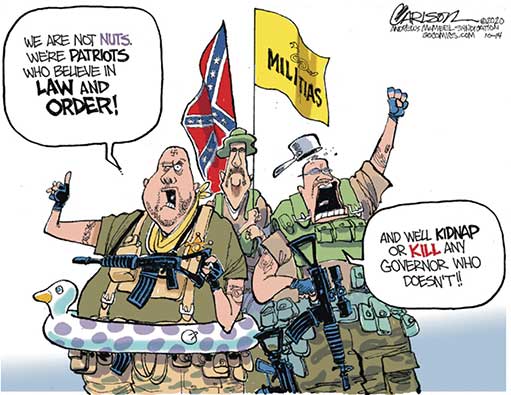 6. Geoffrey Kabaservice: Trump Has Failed the QAnon Test
Trump has flirted with the convoluted QAnon conspiracy theory for months. Last week, he gave a full embrace to its followers, telling reporters that its believers are patriots "who love our country." Over 70 QAnon supporters have run for Congress as Republicans this year.
At least one of them, Marjorie Taylor Greene of Georgia, will probably join the House next year. Despite her QAnon advocacy and a history of racist and Islamophobic rants on social media, Mr. Trump hailed her as a "future Republican star."
Most people refer to QAnon as a fringe movement. But that no longer makes sense: Under Mr. Trump, it has become part of the Republican mainstream — and that has troubling implications for the party's future.
The QAnon movement routinely deploys racist and anti-Semitic tropes; it has even been identified as a potential domestic terrorism threat by the F.B.I. Yet a majority of Republican leaders have refrained from criticizing the president for legitimizing it. They do not seem bothered that the conspiracists, without a shred of proof, declare Democrats to be part of a "deep state" cabal of satanic, child-molesting cannibals and call for the president to imprison and execute them.
QAnon presents the same kind of threat to the Republican Party that the far-right John Birch Society did in the late 1950s and '60s. The Birchers trafficked in similar concepts of an evil elite corrupting and betraying the country. The society's founder, the retired candy-maker Robert Welch, considered even President Dwight Eisenhower, a Republican, to be "a conscious, dedicated" Communist agent.
Birchers were never more than a small fraction of Republicans. But in some key states like California, they made up a sizable share of the party's primary voters, donors and activists — what we now would call "the base." Barry Goldwater became the 1964 Republican presidential nominee in part thanks to their efforts.
If Mr. Trump loses in November and takes Republican control of the Senate down with him, the party's leaders may rethink the path that led them to defeat. Perhaps they will remember the broad popularity the party enjoyed for decades after it resisted earlier versions of QAnon extremism and the ways in which that legacy has been squandered. https://www.nytimes.com/2020/08/25/opinion/trump-qanon-birchers.html
7. Mark S. Zaid: The U.S. government can't sue someone just for making Melania Trump look bad
The U.S. government, on behalf of every citizen of the nation, has filed an unprecedented lawsuit against a former friend of first lady Melania Trump for publishing a scathing tell-all book last month. This is just the latest move by the Trump family to try to turn the Justice Department into its own private law firm to silence those who speak critically of the Trumps. Not only does this effort violate the First Amendment to the U.S. Constitution, but it further slides our country from the democracy it was created to be back toward the monarchy we escaped. The government can pursue people for disclosing classified information, but it can't stop them from publishing books just because they might make the president's family look bad. https://www.washingtonpost.com/outlook/2020/10/15/melania-trump-book-lawsuit/
8. Richard North Patterson: How Trump Sealed the GOP's Suicide
Before Trump, the GOP's better angels were already enfeebled. In 2016 he killed them off.
It is barely possible now to imagine the GOP had Trump been different. He came without ideology, propelled by a gift for embodying a potent but undefined populism. He might have become an agent of constructive reinvention, eschewing racism and xenophobia in favor of offering embattled middle-class and blue-collar workers genuine economic uplift. He could have reinstated fiscal responsibility by disdaining tax cuts for the wealthy. He might even have taken steps—if not to drain the swamp—at least to reform it.
But that would have required real talent, sustained attention, and a genuine interest in governance. Instead this irredeemably vicious, vacant, and narcissistic demagogue unleashed white identity politics and the endless overreach of Republican donors. This leads inexorably to the deadest of ends—a demographic death knell for his party and, for our democracy, the most grievous of wounds. https://thebulwark.com/how-trump-sealed-the-gops-suicide/
9.  Jamelle Bouie: Which Constitution Is Amy Coney Barrett Talking About?
On Tuesday, Judge Amy Coney Barrett took a few minutes during her confirmation hearing to discuss her judicial philosophy, best known as originalism. It means, she explained, "that I interpret the Constitution as a law, I understand it to have the meaning that it had at the time people ratified it. That meaning doesn't change over time and it is not up to me to update it or infuse my policy views into it."
Barrett's Constitution is the Constitution of 1787, written in Philadelphia and made official the following year. That's why her formulation for originalism rests on ratification, as she states at the outset of a paper she wrote called "Originalism and Stare Decisis."
Originalism maintains both that the constitutional text means what it did at the time it was ratified and that this original public meaning is authoritative. This theory stands in contrast to those that treat the Constitution's meaning as susceptible to evolution over time.
Many Americans think the same, identifying the Constitution with the document drafted by James Madison to supplant the Articles of Confederation and create more stable ground for national government. But there's a strong argument that this Constitution died with the attack on Fort Sumter on April 12, 1861.
The Civil War fractured an already divided country and shattered the constitutional order. What came next, Reconstruction, was as much about rebuilding that order as it was about rebuilding the South. The Americans who drafted, fought for and ratified the Thirteenth, Fourteenth and Fifteenth Amendments did nothing less than rewrite the Constitution with an eye toward a more free and equal country. "So profound were these changes," the historian Eric Foner writes in "The Second Founding: How the Civil War and Reconstruction Remade the Constitution so that the amendments should not be seen simply as an alteration of an existing structure but as a "second founding," a "constitutional revolution," in the words of Republican leader Carl Schurz, that created a fundamentally new document with a new definition of both the status of blacks and the rights of all Americans.
Whereas the Constitution of 1787 established a white republic in which the right to property meant the right to total domination of other human beings, the Reconstruction Constitution established a biracial democracy that made the federal government what Charles Sumner called the "custodian of freedom" and a caretaker of equal rights. To that end, the framers of this "second founding" — men like Thaddeus Stevens, Lyman Trumbull and John Bingham — understood these new amendments as expansive and revolutionary. And they were. Just as the original Constitution codified the victories (and contradictions) of the Revolution, so too did the Reconstruction Constitution do the same in relation to the Civil War. https://www.nytimes.com/2020/10/16/opinion/amy-coney-barrett-originalism.html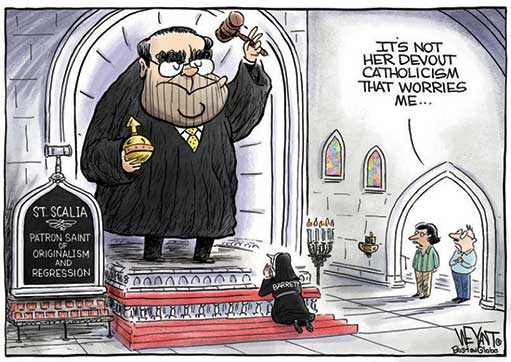 10. Jonathan V. Last: Revenge of the Vichycons. The Republican civil war is coming

.

Over the last couple of weeks we've seen some green shoots in the post-Trump Republican-conservative ecosystem as a handful of politicians and writers have tried to inch out in front of what they believe is a coming landslide / tsunami / meteor strike / take your pick.

If Donald Trump loses, there is going to be a civil war inside the Republican party and the conservative movement. On one side will be the Trumpists, who believe all of white nationalism and authoritarian stuff. On the other side will be the Vichycons, who never liked Trump, but who went along with Trumpism because they were partisans first, last, and always. (There will also be a tiny third fraction made up of actual Never Trumpers and people who tried to stay neutral, but never really liked the Never Trumpers. These substrata will be largely irrelevant to the intra-party fight.)

Here is how the civil war will play out.

The Vichycons will have the magazines and op-ed pages, and a handful of elected Republicans. The Trumpists will have an active former president of the United States, his family, Fox, Facebook, Qanon, and a floor of probably 30 million voters.

I know which side I would bet on.

And I know that, if the Trumpers win the fight for the heart and soul of the Republican party, the Vichycons will, grudgingly—or not so grudgingly—go along.

Again.  https://thetriad.thebulwark.com/p/revenge-of-the-vichycons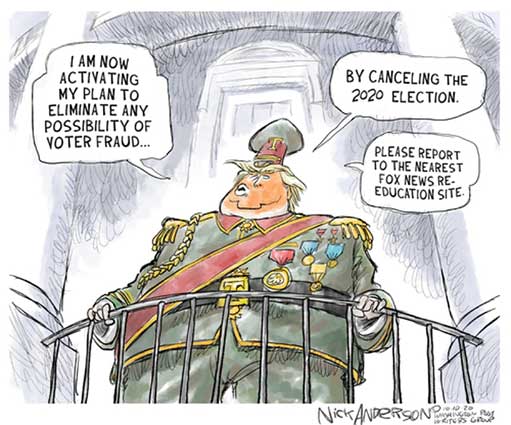 11. Colbert I. King: When it comes to suppression of Black votes, it's the 19th century all over again
The voter suppression tactics of 2020 don't involve the KKK's night rides, it's true, but they are equally focused on controlling Election Day outcomes that favor folks who disfavor folks of color.
Thus, we witness today's purges of voter rolls in Black communities; onerous voter-ID and witness-signature laws; changes to the terms and requirements of voter registration; limitations on polling places; curtailed early voting; and the disenfranchisement of people with felony convictions — even after other voters have affirmed their right to vote.
True, those attacks on voting haven't led to emergency rooms or cemeteries. If allowed to stand, however, such restrictions can be just as effective at stripping electoral power from Black Americans and other people of color.
Voting vandalism is not all that voters of a darker hue must contend with this year. Staring them in the face is the "army" of supporters that President Trump wants to see descend upon polling places to "monitor" voter behavior. The prospect of Trump's unofficial army of thugs lurking around voting precincts may be intimidating enough to scare off some Democratic voters. A depressed turnout among Black voters would spell victory for voter suppression. https://www.washingtonpost.com/opinions/when-it-comes-to-suppression-of-black-votes-its-the-19th-century-all-over-again/2020/10/16/68e22f1e-0f07-11eb-8a35-237ef1eb2ef7_story.html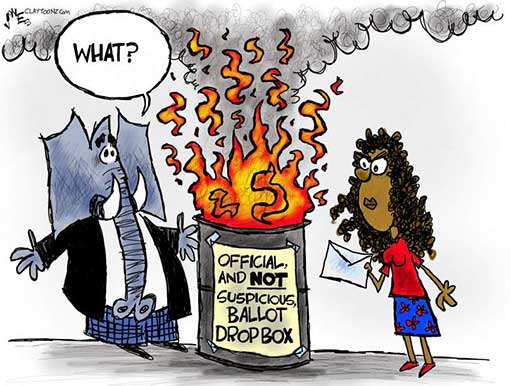 12. Greg Sargent: Trump's rage at the NBC town hall exposes an ugly truth about 2020
President Trump is often at his most revealing when he's angry, and his appearance at the NBC town hall was notable for his repeated flashes of barely suppressed rage. And in this case, a common thread ran through those moments on Thursday night, one that captures an essential truth about how he has approached his entire reelection campaign.
It's this: Trump is in a fury because he isn't being permitted to wage this campaign in his own manufactured universe, a universe that's almost entirely fictional.
Trump just issued a barrage of tweets that spun new fictions about his performance: He claimed he has received "very good reviews" and that his poll numbers are "very strong." In fact, Trump trails by double digits in national polls, and by anywhere from four to seven points in the five or six states that will decide the election.
Paradoxically enough, Trump's anger at the town hall — whatever "reviews" he received — neatly demonstrated why he's losing. Consider what, in particular, got him angriest: the exchanges over white supremacy and QAnon.
Trump grew particularly incensed when moderator Savannah Guthrie pressed him on whether he'd denounce white supremacy. He insisted this question is unfair, and said, "I denounce white supremacy," but then abruptly pivoted to denouncing "antifa" and the "people on the left that are burning down our cities."
The pivot itself is the thing. Trump is angry that the campaign isn't being waged in the universe he tried to manufacture for it, one in which the most serious threat to civil society right now is organized violent left-wing terrorism. https://www.washingtonpost.com/opinions/2020/10/16/trumps-rage-nbc-town-hall-exposes-an-ugly-truth-about-2020/
13. Charlotte Alter: How a Road Trip Through America's Battlegrounds Revealed a Nation Plagued by Misinformation
For every two people who offered a rational and informed reason for why they were supporting Biden or Trump, there was another–almost always a Trump supporter–who offered an explanation divorced from reality. You could call this persistent style of untethered reasoning "unlogic." Unlogic is not ignorance or stupidity; it is reason distorted by suspicion and misinformation, an Orwellian state of mind that arranges itself around convenient fictions rather than established facts.
At its most acute, unlogic manifested as a belief in dangerous falsehoods, from the cult of QAnon to the conviction that COVID-19 is a hoax. But the milder forms of unlogic were more pervasive: believing that most reports about the President were fabricated by lying reporters (they aren't) or that Biden is a socialist (he isn't) or that the coronavirus is no worse than the flu, as Trump keeps insisting (it's far more deadly). Unlogic erupted on the left after Trump's COVID-19 diagnosis, with liberals online speculating that Trump is faking his illness (he isn't).
With so many voters ignoring the headlines, it became increasingly hard to tell where most Americans fall on the continuum from reason to unlogic. In the absence of agreed-upon facts, the possibility of consensus itself seemed to be disappearing, and the effect was unsettling. https://time.com/5897887/swing-states-2020-election/
14. Lisa Lerer and Jennifer Medina: The 'Rage Moms' Democrats Are Counting On
The pandemic is the spark but the backlash against Mr. Trump has been burning since the day after his inauguration, when millions of women joined protests across the country. Their fire has endured through #MeToo, waves of teachers' strikes led by predominantly female unions, the outcry against school shootings, and Black Lives Matter demonstrations, a movement started largely by female racial justice activists. For the second election cycle in a row, a record-breaking number of female candidates are running for federal office. Mr. Biden's selection of Ms. Harris was widely seen as a nod to the energy women have given the Democratic Party during the Trump era.
"Women are mobilized on a bigger scale than we've seen in a generation at least," said Annelise Orleck, a historian at Dartmouth College who studies women's political activism. "Women are organizing all across the spectrum."
The activism is diffuse and multiracial, reflecting political battles that working class women have long waged for better health care, schools and child care. In some ways, more affluent suburban women are simply waking up to the untenable choices poorer women and women of color have faced for generations.
While the anger is loudest on the left, Democrats hope to capitalize on indications that the rage reaches across party lines. The rebellion by white college-educated women against Mr. Trump helped Democrats win key swing districts in 2018, giving the party control of the House. In recent weeks, support for Mr. Trump has begun to drop among white non-college educated women and older women — two more ideologically moderate groups that bolstered his winning coalition four years ago. The gender split among suburbanites is striking: In a recent Washington Post/ABC News poll, Mr. Biden leads by 24 points among suburban women and just four points among suburban men, a statistical dead heat.
"I am so full of rage," said Alida Garcia, the vice president of Fwd.us, an immigration advocacy group and mother of 1-year-old twins. "We are exhausted." https://www.nytimes.com/2020/08/17/us/politics/democrats-women-voters-anger.html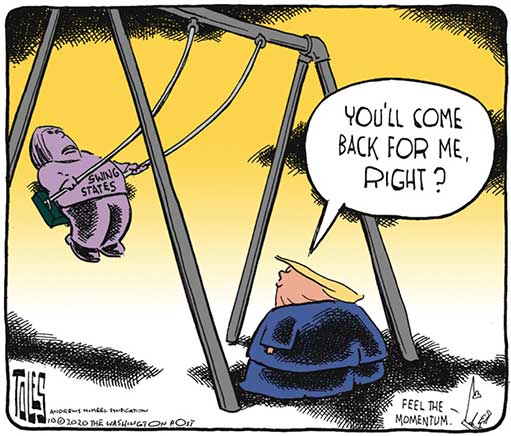 15. Max Boot: As one of Trump's conspiracy theories bites the dust, he moves on to new pseudo-scandals
Sen. John Cornyn (R-Tex.) called General Flynn's unmasking a bigger scandal than Watergate. Sen. Ted Cruz (R-Tex.) claimed this was an event "unprecedented in the 243 years of our nation's history." Sen. Rand Paul (R-Ky.) tweeted that "the Obama/Biden administration unmasking" was far worse than Trump walking into the White House without a mask while still contagious with covid-19. The Wall Street Journal editorial page, National Review, the Federalist, Fox "News" — all the usual super-spreaders of right-wing conspiracy theories — took up the hue and cry. As Emily Litella might say: never mind.
On Tuesday, The Post reported that "the federal prosecutor appointed by AG William P. Barr to review whether Obama-era officials improperly requested the identities of individuals whose names were redacted in intelligence documents has completed his work without finding any substantive wrongdoing." When not even Barr's Justice Department, heavily politicized as it is, could find anything wrong, you know the whole story was a nothingburger to begin with.
If Trump, Cornyn, Cruz, Paul, Nunes, Grenell and all the others who shamelessly flogged this faux scandal had a modicum of honesty or decency they would publicly recant and apologize to all of the Obama officials they reviled with no evidence. Dream on. None of the scandalmongers have admitted they were wrong. Many have simply moved on to pushing other phony scandals.
The strategy is, as former Trump strategist Stephen K. Bannon once said, to "flood the zone with shit" to distract attention from Trump's real wrongdoing. The real scandal is that Trump and his cult followers hurl so many insane accusations — and never recant or apologize. While claiming to be a victim of McCarthyism, Trump is, in fact, its foremost modern practitioner. His mentor, Joseph McCarthy's henchman Roy Cohn, would be proud of him. https://www.washingtonpost.com/opinions/2020/10/14/one-trumps-conspiracy-theories-bites-dust-he-moves-new-pseudo-scandals/
16. James Hohmann: Trump's attacks on Gretchen Whitmer help explain his struggles with women and in Michigan
The crowd started chanting "Lock her up!" on Saturday night in Muskegon, Mich., as Trump attacked Gov. Gretchen Whitmer (D) for imposing too many coronavirus safety restrictions and not fully reopening schools. Trump made no effort to stop this. Instead, he egged on the sea of red hats. "Lock 'em all up," he said.
Many Americans have grown disconcertingly numb to this president advocating the imprisonment of his political opponents over policy disagreements. But this episode touched a nerve, coming just over a week after FBI agents foiled what they described as an advanced domestic terror plot to kidnap Whitmer because of their anger over Michigan restrictions to slow the spread of covid-19. Prosecutors say that these anti-government paramilitaries were training, conducting surveillance and experimenting with explosives with the intent of acting against the governor before Election Day. These men allegedly planned to try Whitmer for treason and then execute her.
"Ten days after that was uncovered, the president is at it again – inspiring and incentivizing and inciting this kind of domestic terrorism," Whitmer said Sunday on NBC's "Meet the Press." "It is dangerous, not just for me and my family, but for public servants everywhere who are doing their jobs and trying to protect their fellow Americans. People of good will on both sides of the aisle need to step up and call this out and bring the heat down. This is the United States of America. We do not tolerate actions like he is giving comfort to." https://www.washingtonpost.com/politics/2020/10/19/daily-202-trumps-attacks-gretchen-whitmer-help-explain-his-struggles-with-women-michigan/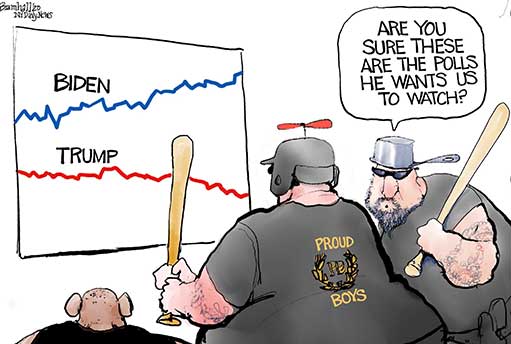 17. R. Douglas Fields: Neuroscience and Psychology Suggest No Surprise Victory for Trump This Time
Another surprise victory is unlikely to happen again if this election is looked at from the same perspective of neuroscience that I used to account for the surprising outcome in 2016. Briefly, that article explained how our brain provides two different mechanisms of decision-making; one is conscious and deliberative, and the other is automatic, driven by emotion and especially by fear. In the 2016 election, undecided voters were influenced by the brain's fear-driven impulses—more simply, gut instinct—once they arrived inside the voting booth, even though they were unable to explain their decision to pre-election pollsters in a carefully reasoned manner.
In 2020, Trump continues to use the same strategy of appealing to the brain's threat-detection circuitry and emotion-based decision process to attract votes and vilify opponents.
"Biden wants to surrender our country to the violent left-wing mob…. If Biden wins, very simple, China wins. If Biden wins, the mob wins. If Biden wins, the rioters, anarchists, arsonists and flag-burners, they win," Trump declared at his Wisconsin campaign rally on September 17, 2020, offering new alleged threats to our nation as his 2016 bogeymen of rapist immigrants and foreign terrorists have lost potency.
As Trump invokes threats of anarchy and street violence, any tangible rise in violence at political assemblies will benefit the Trump strategy of generating fear. Trump supporters have reacted by brandishing and sometimes using firearms at public demonstrations. In the 2016 campaign, Trump egged his supporters on to commit violence, suggesting that an assassination of Hillary Clinton by gun rights advocates could be used to prevent her from picking Supreme Court justices. The president has inflamed the atmosphere surrounding large protests by calling to the scene military and unidentified federal security agents, even as local officials object.
But fear-driven appeals will likely persuade fewer voters this time, because we overcome fear in two ways: by reason and experience. Inhibitory neural pathways from the prefrontal cortex to the limbic system will enable reason to quash fear if the dangers are not grounded in fact. The type of street violence Trump rails against now was not the norm during the Obama and Biden years. Nor was fear that Biden would turn the U.S. into a socialist state an issue even a year ago. On the contrary, Biden defeated the self-described "democratic socialist" candidate Bernie Sanders in the presidential primaries. https://www.scientificamerican.com/article/neuroscience-and-psychology-suggest-no-surprise-victory-for-trump-this-time/
18. Bess Levin: White Women Apologize For Saddling Nation With Donald Trump In 2016
"I just want to apologize to the world. I feel so guilty for If you've had the unfortunate opportunity to watch one of Donald Trump's rallies of late, you've probably noticed a strange, recurring bit in which he begs suburban women to like him. "Suburban women, will you please like me," he asked the crowd in Pennsylvania last week.
"Suburban women," he said in Georgia on Friday, "I heard they like my policy, but they don't like my personality. I said, 'They don't care about my personality, they want to be safe.'" "I saved your suburbs," he lectured women in Michigan over the weekend. "Women—suburban women, you're supposed to love Trump."
This specific appeal to a certain subset of the population is happening, with increasing desperation, because in 2016 white women—specifically white suburban women—propelled Trump into the White House. And this time around, polls show that the president is not only behind with white people in general, who he won by 20 points four years ago, but white women in particular. That's a problem in a number of key states, but especially in Pennsylvania, which could decide the election. And unfortunately for Trump, his pleas are not working, which probably has something to do with the fact that they're coupled with rank misogyny, in addition to the whole ignoring COVID-19 and calling for his enemies to be arrested thing. https://www.vanityfair.com/news/2020/10/white-women-sorry-about-trump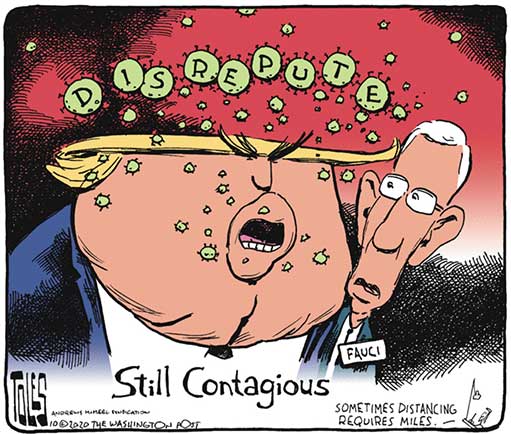 19. George F. Will: Trump will end his presidency as he began it: Whining
As the Donald Trump parenthesis in the republic's history closes, he is opening the sluices on his reservoir of invectives and self-pity. A practitioner of crybaby conservatism — no one, he thinks, has suffered so much since Job lost his camels and acquired boils — and ever a weakling, Trump will end his presidency as he began it: whining.
His first day cloaked in presidential dignity he spent disputing photographic proof that his inauguration crowd was substantially smaller than his immediate predecessor's. Trump's day of complaining continued at the CIA headquarters, at the wall commemorating those who died serving the agency. His presidency that began with a wallow in self-pity probably will end in ignominy when he slinks away pouting, trailing clouds of recriminations, without a trace of John McCain's graciousness on election night 2008:
Just 12 years separate the nation from this tradition of political competition bounded by banisters of good manners. Subsequently, the Republican Party has eagerly surrendered its self-respect. And having hitched its wagon to a plummeting cinder, the party is about to have a rendezvous with a surly electorate wielding a truncheon. The party picked a bad year to invite a mugging, a year ending in zero: Approximately 80 percent of state legislative seats will be filled this year, and next year the occupants, many of them Democrats wafted into office by a wave election, will redraw congressional districts based on the 2020 Census.
Analyst Charlie Cook asks: "In 2016, 87 percent of Trump's vote came from whites. For congressional Republicans in the 2018 midterms, it was 86 percent. Is this sustainable?" You have to admire Republicans' jaunty, if suicidal, wager that it is. https://www.washingtonpost.com/opinions/trump-will-end-his-presidency-as-he-began-it-whining/2020/10/20/1a4eee30-130a-11eb-ad6f-36c93e6e94fb_story.html
20. Trump, stirring up more chaos in final stretch, may be exhausting the voters he needs
In the final throes of an increasingly daunting reelection campaign, President Trump is revving up his rally schedule and whipping his supporters into a frenzy with the type of nonstop outrage that helped make him the most polarizing political figure of his time.
He suggested the governor of Michigan, already the target of an alleged kidnapping plot, should be jailed. He blasted the nation's top infectious disease expert as "a disaster." He baselessly called former Vice President Joe Biden a "criminal" and urged his attorney general to investigate him.
And on Tuesday he abruptly ended an interview with CBS' "60 Minutes," the most-watched newsmagazine on TV, and then tweeted that it was "FAKE and BIASED" and threatened to post the video himself.
To Trump, turning the volume up to 11 is an instinct, and a near guarantee he will be the center of attention. But to the rest of the country, particularly voters he needs to close a 10-percentage-point polling gap, there is growing evidence of exhaustion that may cost him crucial votes.
Undoubtedly the most camera-conscious president in history, Trump has used every trapping of the presidency, including the Oval Office and Air Force One, as a backdrop to his monologues, constantly churning the news cycle and reacting to television coverage in a self-perpetuating cyclone of both ephemeral and consequential controversy.
"He's watching his own presidency like a TV show. He's the No. 1 fan of his presidency, as a fan. He wants to kind of call in or text in for his favorite policy as opposed to kind of leading, governing, doing the heavy-duty research," said Miranda Banks, an associate professor in the School of Film and Television at Loyola Marymount University.
The question now is whether the Trump show has worn thin. As real crises have engulfed the country, the president, in his continued pursuit of validation from his supporters and irate vocalizations of his own personal grievances, looks more and more like he's lost the plot. https://www.latimes.com/politics/story/2020-10-20/trump-stirring-up-more-chaos-in-final-stretch-may-be-exhausting-the-voters-he-needs