July 6, 2023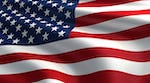 To subscribe to this FREE weekly newsletter simply email jellison@san.rr.com with "subscribe" as the subject.
THE WEEK'S BEST QUOTES. . .
"This is not a normal court." — President Biden, commenting on the Supreme Court's ruling against affirmative action.
https://twitter.com/jeffmason1/status/1674462432981397504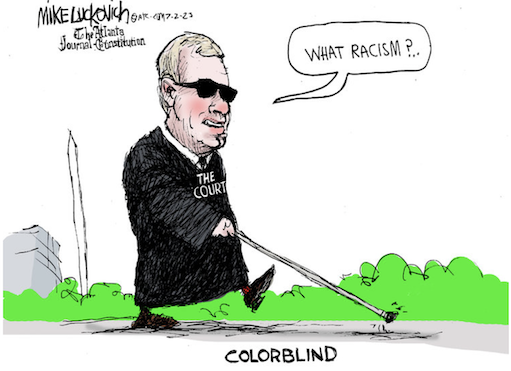 "Ron DeSantis is the worst candidate I've ever seen. It's like he's been assembled from the discarded spare parts of Bobby Jindal, Bill deBlasio, Rick Perry, and Scott Walker." — Veteran GOP political strategist Jeff Timmer.
https://twitter.com/jefftimmer/status/1674243780617306117
"I think we see a pretty consistent pattern of him wishing he was a dictator, wishing he could be Putin in America. That's what's dark to me about it. That's what he really wants. He wants to be a dictator. — Chris Christie, speaking to the Financial Times about Donald Trump.
https://www.ft.com/content/8e70ab9b-a0e9-459f-b6e5-7fe0975791d3
"It is a teenage, you know, food fight between Ron DeSantis and Donald Trump, and I don't think that's what leaders should be doing. It certainly doesn't make me feel inspired as an American, on the Fourth of July weekend, to have this type of back-and-forth going on at all, and it's wrong to be doing it, and it's narrowing our country, and making us smaller." — Chris Christie lamenting what he calls the teenage 'food fight' between Donald Trump and Ron DeSantis over LGBTQ rights.
https://www.cnn.com/2023/07/02/politics/chris-christie-2024-trump-desantis-food-fight-cnntv/index.html
'I can't lie to get access to a microphone. I'm not going to support Donald Trump. I recognize the impact that has on my ability to get access to the debate stage, but I can't lie." — Republican presidential candidate Will Hurd.
https://www.cnn.com/2023/07/02/politics/will-hurd-republican-debate-pledge-cnntv/index.html
Pay attention America!!!
France has strict gun control laws and they are under siege of a radical Islamic violent uprising destroying France and overwhelming their police.
Muslims migrated to France over the past two decades and France took them in while making it difficult for the people of France to own guns for self protection.
We need strict immigration laws and strong borders and always defend our great second amendment rights.
Do not import criminals and religious radicals and strip your citizens of their God given right to defend themselves.
Beware of taking in snakes!
— Rep. Marjorie Taylor Greene, comparing Muslim immigrants to reptiles in the incendiary post. https://twitter.com/RepMTG/status/1675868829602271238
Donald Trump celebrated Independence Day by sharing a late-night meme that read "F*ck Biden" on social media in the early hours of July 4th.
https://www.mediaite.com/trump/trump-starts-independence-day-by-sharing-fck-biden-meme-on-social-media-at-2am/
"This is the most conservative Supreme Court we've known .…  the "conservative" victories were enormous. Gutting race-based affirmative action in higher education, recognizing for the first time that certain business owners have a First Amendment right to refuse to provide services to members of groups whose behavior they oppose, tossing President Joe Biden's student loan debt relief program in a ruling that will make it easier for anyone going forward to challenge a dizzying array of federal policies, and the list goes on." — Steve Vladeck
https://www.msnbc.com/opinion/msnbc-opinion/2023-supreme-court-judges-are-conservative-think-rcna92248
VIDEOS ...
Mark Fiore: Alito's Theory of Ethics and Living Well:
https://markfiore.substack.com/p/alitos-theory-of-ethics-and-living
Mike Pence cites the college experiences of his 3 children to make a case that there is no longer a need for affirmative action. I'm glad Pence's kids didn't experience racial discrimination.— Aaron Rupar.
https://twitter.com/atrupar/status/1674447133297065992
"We would do education, commerce, energy, and the IRS. If Congress won't go that far, I'm going to use those agencies to push back against woke ideology…" — Ron DeSantis lists agencies he wants to eliminate.
https://twitter.com/Acyn/status/1674143045661360130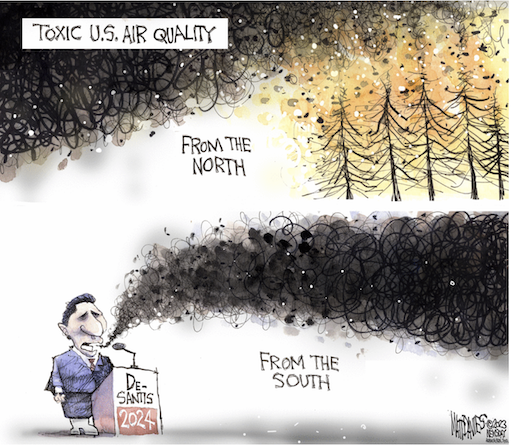 Fox News host Steve Doocy: "I heard you (Rep. James  (R-KY)) yesterday refer to them (the Bidens) as a crime family, and this was organized crime,. So make it easy for us. What was the crime?"
Comer: "Well, the crime is trading policy for money."
Doocy pressed: "Which policy?" .
Comer: "Well, we're going to get into that," before offering policies that he could not connect to foreign money sources. https://www.rawstory.com/james-comer-biden-china/
"With let-them-eat-cake obliviousness, today, the majority pulls the ripcord and announces 'colorblindess for all' by legal fiat. But deeming race irrelevant in law does not make it so in life. And having so detached itself from this country's actual past and present experiences, the Court has now been lured into interfering with the crucial work... institutions of higher learning are doing to solve America's real-world problems." —  Justice Jackson n her dissent accusing the court of treating racism as an ancient relic rather than something that still harms people of color to this day
https://www.rawstory.com/ketanji-brown-jackson-2662035895/
Lindsey Graham cuts it short and runs off stage to a chorus of boos after being booed and heckled nonstop by the Pickens, South Carolina Trump supporters.
https://twitter.com/RonFilipkowski/status/1675210126171537409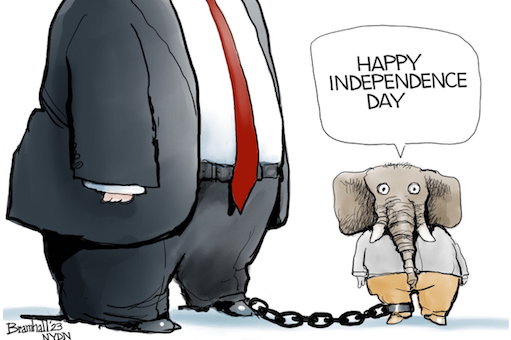 "Donald in the John With Boxes." - A Randy Rainbow Song Parody. https://www.youtube.com/watch?v=_zDXVw0aatQ
---
IN THIS ISSUE
IN THE NEWS
OPINION
Andy Borowitz: Americans Shocked by Audiotape Appearing to Prove Trump Capable of Reading
Americans are expressing astonishment and disbelief after the release of an audiotape that seems to prove that Donald J. Trump is capable of reading.
On the tape, in which Trump is showing associates a series of classified documents, the former President appears to demonstrate reading comprehension at a rudimentary level, decoding letters as they combine to form words and sentences.
This implausible performance dumbfounded many Americans, like Carol Foyler, who resides in Akron, Ohio. "This defies everything I thought I knew about Donald Trump," she said. "If he can read, what else is he capable of?"
But Harland Dorrinson, who lives in Nashua, New Hampshire, had a more cautious reaction. "Let's not rush to judgment," he said. "Any tape of Trump being able to read could be a hoax." 
https://www.newyorker.com/humor/borowitz-report 
As Trump faces criminal charges, here are 27 people he's previously said should be indicted or jailed
Not too long ago, Donald Trump said both Joe Biden and Barack Obama should be in jail for 50 years. He also wondered why Democratic Sen. Tim Kaine and Republican Sen. Marco Rubio hadn't faced criminal charges yet.
They are among at least 27 of Trump's apparent political foes that, since launching his 2016 campaign for president, Trump has explicitly stated or otherwise suggested should be indicted or jailed.
Not one of them has been charged with any crimes.
https://abcnews.go.com/US/trump-faces-criminal-charges-27-people-previously-indicted/story
DeSantis's stalling campaign: how to lose friends and alienate people
By almost every measure, the rightwinger has had another lackluster week on the campaign trail, with "clumsy" missteps in New Hampshire, Texas, California and New York. Now, barely one month after his glitch-ridden launch on Twitter, DeSantis finds himself sinking in the polls, closer to the large field of optimists below him than the twice-indicted, twice-impeached former president who retains a stranglehold over the Republican party.
https://www.theguardian.com/us-news/2023/jul/02/ron-desantis-campaign-2024-republicans
The Pentagon policy bill's next big stumbling block for Kevin McCarthy
Speaker Kevin McCarthy could throw a major wrench into negotiations over the National Defense Authorization Act if he caves to conservatives by "letting them load up the bill with provisions that strip Biden-era personnel policies out of the military," Politico reports.
The dilemma underscores the balance GOP leaders must strike between lawmakers on their right, many of whom rarely vote for the defense bill, and the Democrats they'll ultimately need for any bill to become law.
https://www.politico.com/news/2023/07/02/pentagon-policy-ndaa-kevin-mccarthy-00104466
The first GOP debate is at risk of losing its draw
The GOP primary debate seemed originally like it could result in political fireworks. But with less than two months to go, it is veering toward something far less crowded and consequential.
The party's rigid donor criteria stands to limit the number of GOP candidates that debate in Milwaukee this August. Its polling requirements could trip up campaigns, too. Several candidates are openly mocking the Republican National Committee's idea of a loyalty pledge requirement to participate. The leading candidate, Donald Trump, is downplaying the idea that he will show up at all.
https://www.politico.com/news/2023/07/02/gop-debate-2024-00104501
Delaware House approves bill allowing business entities to vote in town's municipal elections
Lawmakers in the Delaware House of Representatives have approved legislation authorizing a small town in the southern part of the state to allow business entities, including corporations and limited liability companies, to vote in municipal elections.
https://apnews.com/article/local-elections-voting-corporate-entities-c9d0e49f5e475b45cb957fbec110d3e7
The man named in the Supreme Court's gay rights ruling says he didn't request a wedding website
A Colorado web designer who the U.S. Supreme Court ruled Friday could refuse to make wedding websites for gay couples cited a request from a man who says he never asked to work with her.
The request in dispute, from a person identified as "Stewart," wasn't the basis for the federal lawsuit filed preemptively seven years ago by web designer Lorie Smith, before she started making wedding websites. But as the case advanced, it was referenced by her attorneys when lawyers for the state of Colorado pressed Smith on whether she had sufficient grounds to sue.
Smith named Stewart — and included a website service request from him, listing his phone number and email address in 2017 court documents. But Stewart said he never submitted the request and didn't know his name was invoked in the lawsuit until he was contacted this week by a reporter from The New Republic, which first reported his denial.
"I was incredibly surprised given the fact that I've been happily married to a woman for the last 15 years," said Stewart, who declined to give his last name for fear of harassment and threats. He added that he was a designer and "could design my own website if I need to" — and was concerned no one had checked into the validity of the request cited by Smith until recently.
https://apnews.com/article/supreme-court-gay-rights-lgbtq-website-385ec911ce0ca2f415966078eddb66da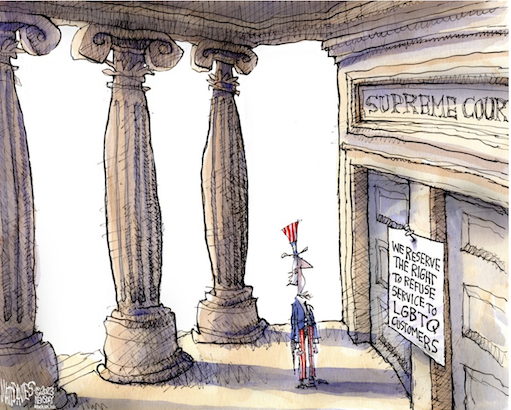 Covid-19, 'Woke' Complaints Hold Up Biden's Ambassador Picks
A pair of Republican senators have thrown up roadblocks to the confirmation of dozens of U.S. ambassadors, marking the latest effort by lawmakers to delay President Biden's nominees until their demands are addressed.
Sens. J.D. Vance (R-OH) and Rand Paul (R-KY)—citing concerns about progressive political ideology and Covid-19 research records respectively—have put holds on State Department appointees, primarily career foreign-service officers.
https://www.wsj.com/articles/covid-19-woke-complaints-hold-up-bidens-ambassador-picks-b95e73e9
Russian Bank Executive Falls to Her Death
The glamorous vice-president of a Russian bank has reportedly plunged to her death after falling from the window of her Moscow apartment in latest mysterious fatality involving country's top execs.
https://www.dailymail.co.uk/news/article-12247271/Vice-president-Russian-bank-falls-death-Moscow-apartment-latest-mysterious-fatality.html
The Wildcard for 2024
History and recent polling suggest a third-party candidate has little chance of winning and could tip the election to Trump, the Republican former president who No Labels itself says is too dangerous to return to the White House.
A No Labels candidate could swing the race in critical states or help ensure no candidate gets to 270 electoral votes, which would let state delegations in the House pick the winner, likely favoring the GOP." 
https://www.wsj.com/articles/a-mysteriously-financed-group-that-could-upend-a-biden-trump-rematch-d34ebaea
Trump once said a president under felony indictment would grind the government to a halt and create a constitutional crisis
Former President Donald Trump said in 2016 that a president under indictment would "cripple the operations of our government" and create an "unprecedented constitutional crisis" – years before he himself was indicted on federal charges while running for a second term as president.
Trump made the comments nearly seven years ago about Hillary Clinton during the 2016 presidential campaign.

"We could very well have a sitting president under felony indictment and ultimately a criminal trial," Trump said during a November 5, 2016, campaign rally in Reno, Nevada. "It would grind government to a halt."

Now, Trump finds himself under the exact situation he repeatedly described after he was charged in early June with 37 federal counts related to retention of classified documents and conspiracy to obstruct justice. https://www.cnn.com/2023/07/03/politics/kfile-trump-president-indictment-halt-government/index.html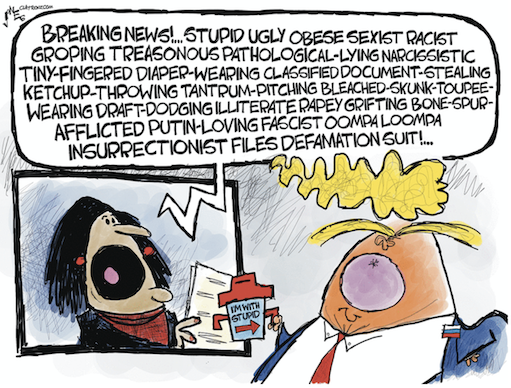 Judge rejects Trump's 'presidential immunity' defense in second E. Jean Carroll case
A federal judge on Thursday sharply rejected Donald Trump's claim of 'presidential immunity' to fend off a defamation lawsuit from the writer E. Jean Carroll, ruling that Trump's disparaging comments about Carroll in 2019 had no legitimate connection to his duties as president. https://www.politico.com/news/2023/06/29/trump-carroll-defamation-immunity-ruling-00104306
Democrats Take Aim At Legacy Admissions After Court Rulings
Democrats are taking aim at the common practice of giving a leg up to the children of alumni and donors in the college admissions practice as a key plank of their response to the conservative Supreme Court's decision to eliminate affirmative action in college admissions.
The party seems to be coalescing behind the elimination of legacy admissions as it looks for a way to respond to the ruling. Representatives of the influential Congressional Black Caucus, Congressional Hispanic Caucus and Congressional Asian Pacific American Caucus all endorsed the idea on a call with reporters on Thursday afternoon, and Sen. Jeff Merkley (D-Ore.) and Rep. Jamaal Bowman (D-N.Y.) are set to introduce legislation eliminating the practice soon. https://www.huffpost.com/entry/democrats-take-aim-at-legacy-admissions-after-court-rulings_n_649de5b2e4b028e6472fba0c
Koch Network Raises Over $70 Million for Push to Sink Trump
The political network established by the conservative industrialists Charles and David Koch has raised more than $70 million for political races as it looks to help Republicans move past Donald Trump, a Federal Election Commission filing will show, the New York Times reports.
With this large sum to start, the network plans to throw its weight into the G.O.P. presidential nominating contest for the first time in its history. The network spent nearly $500 million supporting Republican candidates and conservative policies in the 2020 election cycle alone.
https://www.nytimes.com/2023/06/29/us/politics/koch-network-trump-2024.html
Supreme Court right to reject radical independent state legislature theory
With the 2024 election campaign already underway, the U.S. Supreme Court last week wisely rejected a pernicious legal theory that could have made it even easier for partisan majorities in state legislatures to achieve an unfair advantage in congressional elections.
The 6-3 decision in a case from North Carolina dealt a serious blow to the so-called independent state legislature doctrine, under which state supreme courts would be powerless to review gerrymandered congressional maps or other aspects of congressional elections.
https://www.pressherald.com/2023/07/03/another-view-supreme-court-right-to-reject-radical-independent-state-legislature-theory/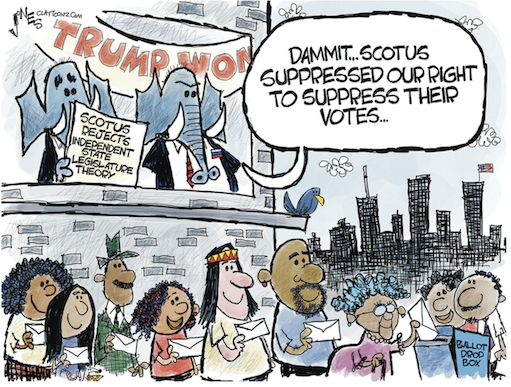 DeSantis Agency Sent $92 Million to Donor-Backed Project
The administration of Florida Gov. Ron DeSantis (R) steered $92 million last year in leftover federal coronavirus stimulus money to a controversial highway interchange project that directly benefits a top political donor, according to state records.
The decision by the Florida Transportation Department to use money from the 2021 American Rescue Plan for the I-95 interchange at Pioneer Trail Road near Daytona Beach fulfilled a years-long effort by Mori Hosseini, a politically connected housing developer who owns two large tracts of largely forested land abutting the planned interchange. The funding through the DeSantis administration, approved shortly after the governor's reelection, expedited the project by more than a decade, according to state documents.
https://www.washingtonpost.com/politics/2023/06/28/desantis-hosseini-interstate-covid-money/
Prosecutors are prepared to hit Trump and his allies with new charges, sources say
The Department of Justice is prepared to seek indictments against multiple figures in former president Donald Trump's orbit and may yet bring additional charges against the ex-president in the coming weeks, The Independent reports.
According to sources familiar with the matter, the department has made preparations to bring what is known as a 'superseding indictment' — a second set of charges against an already-indicted defendant that could include more serious crimes — against the ex-president, and could do so in a number of different venues, depending on how prosecutors feel the case they have brought against him in a Florida federal court is proceeding.
Prosecutors are now prepared to 'stack' an 'additional 30 to 45 charges' on top of the 37-count indictment brought against Mr Trump on June 8. They would do so using evidence against the ex-president that has not yet been publicly acknowledged by the department, including other recordings prosecutors have obtained which reveal Mr Trump making incriminating statements.
https://www.independent.co.uk/news/world/americas/us-politics/trump-giuliani-more-charges-b2366597.html
Nikki Haley says Republicans 'absolutely should' impeach President Biden
Nikki Haley said House Republicans absolutely should impeach President Biden over whistleblower allegations that there was improper meddling in the investigation of his son Hunter.
https://www.nbcnews.com/politics/joe-biden/nikki-haley-calls-biden-impeachment-hunter-biden-allegations-rcna91976
Sotomayor calls affirmative action decision 'devastating'
In her nearly 20-minute dissent, Justice Sonia Sotomayor railed against Justice Clarence Thomas and Chief Justice John Roberts, mentioning both of them by name several times. She said it was profoundly wrong and devastating to see the court overrule 50 years of precedent.
"Today the court stands in the way and rolls back decades of precedent and progress," Sotomayor said.
Sotomayor said this decision boils down to the idea that a person's skin color may play a role under U.S. law when they are under suspicion, but it cannot play a role in admission to a learning environment.
"Pursuit of diversity will go on, despite the court," Sotomayor said.
She ended by quoting Martin Luther King Jr: "We shall overcome."
https://www.nbcnews.com/politics/supreme-court/live-blog/supreme-court-decisions-live-updates-rcna91671#rcrd15107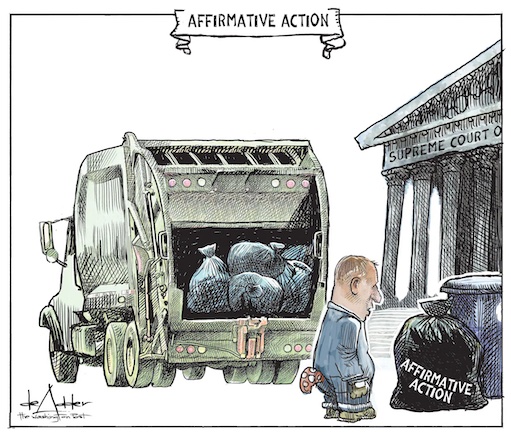 Ron DeSantis faces one setback after another in battle against LGBTQ rights
Multiple federal court decisions have frozen key portions of Ron DeSantis' campaign against lesbian, gay, bisexual and transgender rights in recent weeks, complicating the Florida governor's efforts to present himself as a conservative champion with a track record of winning cultural battles over LGBTQ causes.
In the last week alone, the DeSantis administration faced setbacks in three legal battles over LGBTQ rights. Judges rejected state efforts to block transgender adults' access to gender-affirming care under Medicaid, bar transgender children from accessing puberty blockers, and ban minors from certain types of live entertainment at restaurants — legislation widely interpreted as a proposal to target drag shows.
DeSantis' agenda has hit other roadblocks, with judges blocking portions of his plans to control teaching and training on gender identity in schools and workplaces. The governor also faces ongoing litigation over his efforts to ban transgender athletes from competing on sports teams of their declared gender and to restrict access to school books, including those with LGBTQ themes.
https://www.miamiherald.com/news/politics-government/article276865458.html
Conservatives go to red states and liberals go to blue as the country grows more polarized
Americans are segregating by their politics at a rapid clip, helping fuel the greatest divide between the states in modern history.
The split has sent states careening to the political left or right, adopting diametrically opposed laws on some of the hottest issues of the day. In Idaho, abortion is illegal once a heartbeat can be detected in a fetus — as early as five or six weeks — and a new law passed this year makes it a crime to help a minor travel out of state to obtain one. In Colorado, state law prevents any restrictions on abortion. In Idaho, a new law prevents minors from accessing gender-affirming care, while Colorado allows youths to come from other states to access the procedures.
https://apnews.com/article/polarization-republicans-democrats-abortion-gender-colorado-idaho-406b5a841d4d47c8a08cf054c38bb2a0
Judge blocks U.S. officials from tech contacts in First Amendment case
A federal judge on Tuesday blocked key Biden administration agencies and officials from meeting and communicating with social media companies, in an extraordinary injunction in an ongoing case that could have profound effects on the First Amendment.
The injunction came in response to a lawsuit brought by Republican attorneys general in Louisiana and Missouri, who allege that government officials went too far in their efforts to encourage social media companies to address posts that they worried could contribute to vaccine hesitancy during the pandemic or upend elections. The Trump-appointed judge's move could upend years of efforts to enhance coordination between the government and social media companies."
Judge Doughty's order comes as social media companies recently have begun to unwind some of the programs created to address disinformation. Under Elon Musk's ownership, Twitter has made steep cuts to its Trust and Safety division and has increased its reliance on Community Notes, its program of crowdsourced fact checks on tweets. Meta, the parent company of Facebook and Instagram, has laid off staff working on content moderation amid financial pressure.
https://www.washingtonpost.com/technology/2023/07/04/biden-social-lawsuit-missouri-louisiana/
Record for hottest day ever recorded on Earth broken twice in a row
We have just experienced the hottest day ever recorded on Earth – for the second day in a row. The average global air temperature recorded 2 metres above Earth's surface hit 62.92°F on 4 July, according to data from the National Oceanic Atmospheric Administration (NOAA) and compiled by the University of Maine.
The two consecutive days of record-breaking global heat confirms scientists' warnings that 2023 is likely to be one of the hottest years on record, as the twin effects of climate change and a warming El Nino climate pattern drive temperatures to new highs. https://www.newscientist.com/article/2381069-record-for-hottest-day-ever-recorded-on-earth-broken-twice-in-a-row/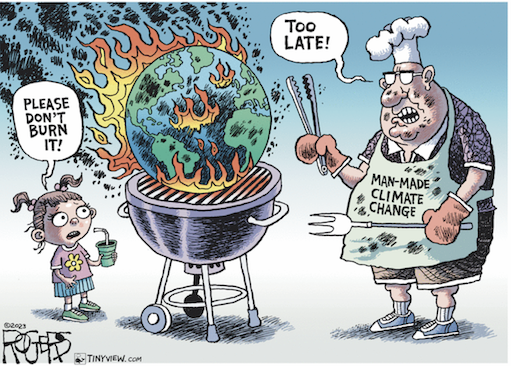 Colin Allred Raises $6.2 Million in Two Months
Rep. Colin Allred (D-TX) raised nearly $6.2 million in roughly the first two months of his campaign against Sen. Ted Cruz (R-TX).
https://www.texastribune.org/2023/07/05/texas-colin-allred-ted-cruz/
THE DAILY GRILL ...
"Patrick Henry: 'It cannot be emphasized too strongly or too often that this great nation was founded, not by religionists, but by Christians; not on religions, but on the Gospel of Jesus Christ. For this very reason, peoples of other faiths have been afforded asylum, prosperity, and freedom of worship here.'" — Sen. Josh Hawley (R-MO) took to Twitter to celebrate that great American patriot Patrick Henry. https://www.kansascity.com/opinion/editorials/article277023863.html

VERSUS

"The problem? Henry never said that. The quote is false. Made up." https://www.kansascity.com/opinion/editorials/article277023863.html
Sue Halpern: What Is No Labels Trying to Do?
No Labels bills itself as a bipartisan grassroots movement of over 1 million Americans who are tired of extremes on the left and the right; it is currently co-chaired by the former Democratic Senator Joe Lieberman, the former N.A.A.C.P. executive director Benjamin Chavis, and Larry Hogan, the Republican former governor of Maryland. The group was launched in 2010, when Republicans in Congress were united in an effort to block all of President Obama's legislative initiatives; nonetheless, the group's founder and C.E.O., Nancy Jacobson, a former Democratic National Committee finance chair, along with its co-founder Mark McKinnon, a Republican strategist, argued that congressional gridlock stemmed from the capture of both parties by politicians at either end of the ideological spectrum who had no interest in compromise. No Labels vowed to support lawmakers who were willing to meet in the middle, irrespective of their party affiliation.
The fundamental fallacy at the heart of the No Labels effort is that there is no difference between the Republican and Democratic parties—that both favor extremists. Everything we know from recent history demonstrates that this is not true. This feigned evenhandedness disguises what seems to be an inevitable effect of No Labels' insurance policy: a paving of the way for a candidate who will not challenge the current constellation of wealth and power. 
https://www.newyorker.com/news/daily-comment/what-is-no-labels-trying-to-do
Aaron Rupar and Thor Benson: Twitter's threat to the 2024 election is coming from inside the house
Since Elon Musk took over Twitter, content moderation has been weaponized against the left. Purveyors of misinformation have been empowered, including directly by Musk, who began his tenure as the platform's owner by spreading homophobic lies about Paul Pelosi.
This is good news for bad faith actors, but grim stuff for the rest of us. Musk is degrading his platform at a time when it's becoming much easier to generate realistic deepfakes of people saying or doing things they never said or did. We've already started to see political deepfakes spread on Twitter, and it's likely to get worse as technology advances and people test the limits of what they can get away with. Text-to-video is already in the works and will make it so anyone can produce a quality deepfake. 
https://www.publicnotice.co/p/elon-musk-empowers-twitter-misinformation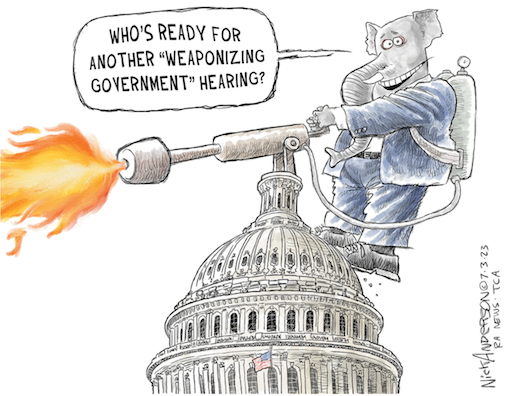 Susan B. Glasser: Why Donald Trump Was So Mad at Mark Milley That He Confessed to a Crime
With the sounds of papers rustling in the background, Trump is heard complaining about General Mark Milley, the chairman of the Joint Chiefs of Staff. "He said that I wanted to attack Iran—isn't it amazing?" Trump told his visitors, who included book advisers to his former chief of staff, Mark Meadows. A few days earlier, I had reported about Milley's concerns in the final months of Trump's Presidency that Trump might provoke a military conflict with Iran as part of his effort to remain in power, despite losing the 2020 election. This, Milley told others, was one of the "nightmare scenarios" that he was working to prevent. At Bedminster, Trump apparently brandished the Pentagon's attack plan—which he claimed had been presented to him by Milley. "This totally wins my case," Trump said. "You know, except, like, it is highly confidential." He added, "See, as President, I could have declassified it; now I can't, but this is classified. . . . it's so cool." The tape ends with a line that was not included in the federal indictment: Trump asking, "Bring some Cokes in, please?" The whole exchange was happening, in other words, not in some top-secret facility but with someone standing by to fetch drinks, in Trump's office, right near the pool at his country club.
The damning evidence against Trump would not exist if not for his rift with Mark Milley, a remarkable feud between the Commander-in-Chief and the nation's top general that had been a secret backdrop to the public drama that played out after the 2020 election. At the time the tape was made, in the summer of 2021, Trump was apoplectic that Milley's fears about him were becoming public. Two recently published books—one by the journalists Carol Leonnig and Phil Rucker of the Post, and the other by Michael Bender, then of the Wall Street Journal—had reported new details about Milley's efforts, including regular "land the plane" phone calls with Meadows, the White House chief of staff, to prevent Trump from drawing the military into his quest to overturn the 2020 election. Milley was even quoted fretting about Trump and his supporters staging a "Reichstag moment"—a fear that seemed eerily prescient on January 6, 2021, when a violent mob of Trump supporters stormed the U.S. Capitol, seeking to block congressional certification of Trump's defeat. Trump, in turn, publicly denounced Milley and said that he had only picked him as chairman in 2018 to spite James Mattis, his soon-to-quit Defense Secretary at the time.
https://www.newyorker.com/news/letter-from-bidens-washington/why-donald-trump-was-so-mad-at-mark-milley-that-he-confessed-to-a-crime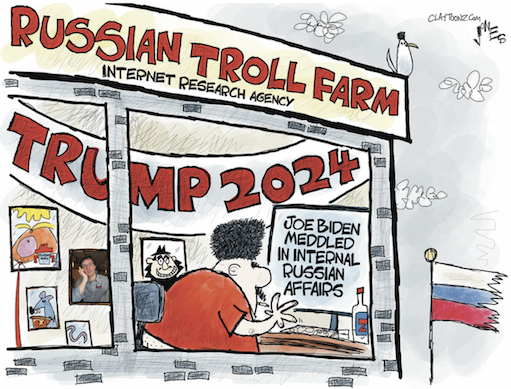 Matt Lewis: Win or Lose, Chris Christie Is Running the Best Campaign Against Trump
Christie is the only contender who actually realizes the 2024 election is about one question and one question only: Trump or not Trump.

This is to say, the 2024 GOP primary is not about who has the best 10-point policy plan or who is the most anti-woke. It's simply about whether or not Republicans want Trump again.

Christie is the only candidate whose strategy and message suggest he accepts this reality—and is acting accordingly.

What this means is that Christie can get on TV at any time he wants because Trump is always in the news. https://www.thedailybeast.com/win-or-lose-chris-christie-is-running-the-best-campaign-against-trump
Alexandra Petri: Supreme Court: Stop penalizing people who never had to overcome adversity!
People should only be judged on things they can control, like how much tutoring they have been able to access, and whether or not someone spotted them at a young age and said, Yes, Tripp will excel at lacrosse. Character, merit, that's what I insist upon! (Yes, there are still legacy admissions, but those judge you on important aspects of your character, like if your character is related to other characters who also went to your university.) Thanks to my efforts, a day of perfect justice is coming, a time when people who aren't being rained on are offered precisely as many umbrellas as people who are. When no one, no matter who his father is, or his grandfather was, is denied an additional favor, simply because he is already brimming with favors. Then, we can approach something like the equality the Founders dreamed of. Then, finally, I can stop and rest.
https://www.washingtonpost.com/opinions/2023/06/30/supreme-court-affirmative-action-discrimination-satire/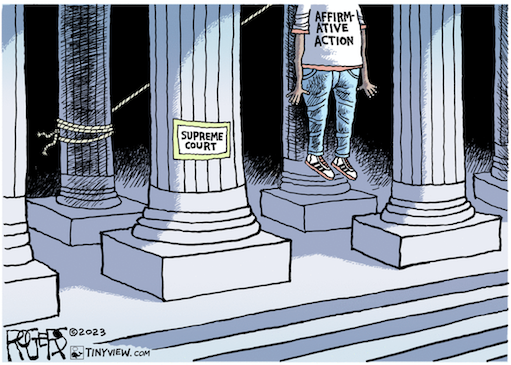 Abbe David Lowell, Counsel for Robert Hunter Biden. Message to the GOP Chair of the House Ways and Means Committee
Hunter Biden's lawyer sent a blistering letter Friday to the Representative Jason Smith, chair of the House Ways and Means Committee concerning the "Ways & Means June 22 Release of Transcripts and Proposed Actions" The letter begins:
Since taking the majority in 2023, various leaders of the House and its committees have discarded the established protocols of Congress, rules of conduct, and even the law in what can only be called an obsession with attacking the Biden family. Your recent actions and joint statement with Chairmen Comer and Jordan make clear that you have joined this ignoble group, adopting their irresponsible tactics as your own. In fact, yesterday's press release by the three of you seeking the testimony of a dozen law enforcement personnel based on the unsworn and slanted statements of the IRS agents is now the proverbial card castle—something that looks real but has no foundation.

Releasing the transcripts of and exhibits from interviews of self-styled IRS "whistleblowers" who may be claiming that title in an attempt to evade their own misconduct was an obvious ploy to feed the misinformation campaign to harm our client, Hunter Biden, as a vehicle to attack his father. It is no secret these interviews were orchestrated recitations of mischaracterized and incomplete "facts" by disgruntled agents who believed they knew better than the federal prosecutors who had all the evidence as they conducted their five-year investigation of Mr. Biden.

Let me be specific: (a) your release of material violated the spirit, if not the letter, of the tax laws and federal rules governing investigations; (b) your attempt to protect the IRS agents was a transparent effort to provide cover to those with a bias and an axe to grind so deep and sharp as to have allowed them to avoid answering for their own conduct under oath; and (c) you then choreographed the dissemination of incomplete half-truths, distortions, and totally unnecessary details about Mr. Biden. https://www.documentcloud.org/documents/23865332-20230630_letter_to_chairman_smith_re_ways___means_june_22_
release_of_transcripts_and_proposed_actions
Jonathan Weisman: Supreme Court Decisions on Education Could Offer Democrats an Opening
Ever since President Bill Clinton advised "mend it, don't end it," affirmative action has had an uneasy place in the Democratic coalition, as omnipresent as the party's allegiance to abortion rights and its promises to expand financial aid for higher education — but unpopular with much of the public.
Now, in striking down race-conscious college admissions, the Supreme Court has handed the Democrats a way to shift from a race-based discussion of preference to one tied more to class. The court's decision could fuel broader outreach to the working-class voters who have drifted away from the party because of what they see as its elitism.

The question is, will the party pivot?

"This is a tremendous opportunity for Democrats to course-correct from identity-based issues," said Ruy Teixeira, whose upcoming book "Where Have All the Democrats Gone?" looks at the bleeding of working-class voters over the last decade. "As I like to say, class is back in session."

Conservative voters have long been more animated by the Supreme Court's composition than liberals have. But the last two sessions of a high court remade by Donald J. Trump may have flipped that dynamic. Since the court overturned Roe v. Wade in 2022, energized Democratic voters have handed Republicans loss after loss in critical elections. https://www.nytimes.com/2023/07/01/us/politics/supreme-court-affirmative-action-student-loans-democrats-2024.html
Charlie Warzel: Elon Musk Really Broke Twitter This Time
Twitter may have just had its worst weekend ever, technically speaking. In response to a series of server emergencies, Elon Musk, the Twitter owner and self-professed free-speech "absolutist," decided to limit how many tweets people can view, and how they can view them. This was not your average fail whale. It was the social-media equivalent of Costco implementing a 10-items-or-fewer rule, or a 24-hour diner closing at 7 p.m.—a baffling, antithetical business decision for a platform that depends on engaging users (and showing them ads) as much as possible. It costs $44 billion to buy yourself a digital town square. Breaking it, however, is free.
First, Twitter set a policy requiring that web users log in to view tweets—immediately limiting the potential audience for any given post to people who have Twitter—and later, Musk announced limits to how many tweets users can consume in a day, purportedly to counter "extreme levels of data scraping & system manipulation." Although these measures will supposedly be reversed, as others have been during Musk's tenure, they amount to a sledgehammering of a platform that's been quietly wasting away for months: Twitter is now literally unusable if you don't have an account, or if you do have an account and access it a lot. It is the clearest sign yet that Musk does not have his platform under control—that he cannot deliver a consistently functional experience for what was once one of the most vibrant and important social networks on the planet.

The extreme, even illogical nature of these interventions led to some speculation: Is Twitter's so-called rate limit a technical mistake that's being passed off as an executive decision? Or is it the opposite: a daring gambit of 13-dimensional chess, whereby Musk is trying to plunge the company into bankruptcy and restructuring? The situation has made conspiracy theorists out of onlookers who can't help but wonder whether Musk's plan has been to slowly and steadily destroy the platform all along.
I've reported on Musk for the past five years, speaking with dozens of employees in the process to try to understand his rationales. The takeaway is clear: His motivations are frequently not what they seem, and chaos is a given. His money and power command attention and his actions have far-reaching consequences, but his behavior is rarely befitting of his station.https://www.theatlantic.com/technology/archive/2023/07/twitter-outage-elon-musk-user-restrictions/674609/
Martha S. Jones: Why Republicans Keep Calling for the End of Birthright Citizenship
On Monday, Florida Governor Ron DeSantis, looking to advance his presidential campaign, promised to reverse more than a century and a half of law and policy and, as he put it in a statement, "end the idea that children of illegal aliens are entitled to birthright citizenship if they are born in the United States." A few days later, a spokesperson for another GOP presidential candidate, Nikki Haley, said she "opposes birthright citizenship for those who enter the country illegally," and the entrepreneur Vivek Ramaswamy's campaign said he would reform birthright by adding new citizenship requirements. Having lived through more than one such outburst in recent years—the first in 2018, when then-President Donald Trump proposed to do away with birthright—I know that any promise to transform our citizenship scheme is sure to set off a debate.
But what, we should ask, is that debate really about? Why does it keep coming up? When we talk about birthright citizenship, we are talking about democracy—its fundamental component that grants equal status to every person born in this country and affords them all the same rights of citizenship.

When Trump first promised to undo birthright, I was primarily concerned about how immigrants and their U.S.-born children would be harmed by such a change. Today, this worry still figures importantly in my mind, but my concerns have grown broader. Calls to undo birthright, though couched in terms of immigration reform, ultimately aim to undo a key precept of our democracy: equitable access to citizenship. Birthright sets an even bar when it comes to being a citizen—all those born here are subject to the same threshold test, no matter whom they descended from. It ensures that, for those born in the United States, citizenship will not be conferred depending on their politics, race, faith, culture, gender, or sexuality. Birthright safeguards those born here from political leaders who would mete out citizenship as a reward or withhold it as a punishment.

The wielding of citizenship as a weapon is precisely what the Fourteenth Amendment was designed to prevent. In 1868, birthright undid the Dred Scott decision. It ensured that the right of Black Americans to belong to this nation was neither open to debate nor susceptible to shifting political whims. Since its ratification, the Fourteenth Amendment has guaranteed the belonging of some of the most vulnerable among us, including generations of children born to immigrant parents. It has protected marginalized, despised, and unpopular people who, when born here, do not need to fear exile or banishment. Birthright citizenship has always been a solution rather than a problem, and our democracy depends on it remaining just that. https://www.theatlantic.com/ideas/archive/2023/07/birthright-citizenship-trump-desantis-2024/674583/