June 22, 2017
ON THE RECORD. . .
"If the president says, 'I can shoot somebody on Fifth Avenue and nobody would care,' when you have somebody say, 'Beat them up and I'll pay their legal fees,' when you have all the assaults that are made on Hillary Clinton," the California representative said in her weekly news conference. "For them to be so sanctimonious is something that I really am almost sad that I had to go down this path with you because I don't think it's appropriate for us to have the fullest discussion of it." -- House Minority Leader Nancy Pelosi (D-Calif.)
"The fact that you've got the top guy saying 'Well, I wish I could hit you in the face, and if not, why don't you and I'll pay your legal fees?' that's bizarre. We ought to call it as such. And what I've said back home, when some of these people have been frankly weird and different in a town hall meeting, I've said 'What is going on?' And they'll say 'Look, if the guy at the top can say anything to anybody at any time, why can't I?'" -- Rep. Mark Sanford (R-SC) pinning "partial" blame for the highly charged political climate in the United States on President Donald Trump. JUNE 15, 2017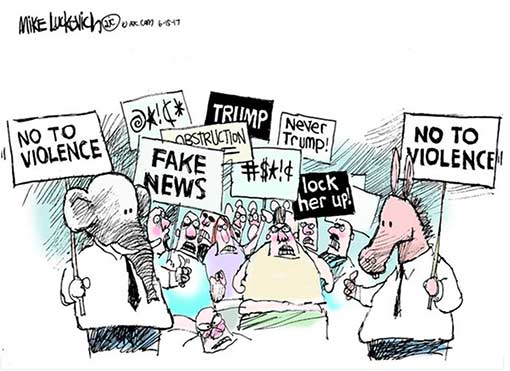 "Why do we have a Second Amendment? It's not to shoot deer. It's to shoot at the government when it becomes tyrannical!" — Senator Rand Paul @RandPaul
Kamala Harris is every working woman who has ever earned a position of power and has not been afraid to use it. She is an inspiration. The way she approaches her career reminds us women that we need not carry the weight of men who have not learned to see us as equals. We cannot allow them to hold us back, or silence us into self-doubt. For me, Harris represents every woman who's ever decided to stand up and be heard, no matter how large or small our platform. She is Sen. Maxine Waters and Michelle Obama. She is Arianna Huffington and Hillary Clinton. She is me. And she is you. -- Roxanne Jones on CNN.
"The state the nation is today will not be sustained by the American people. We are better than this." — Former VP Joe Biden
"The fact that the president can fire someone for good cause and can fire someone for no cause, doesn't mean he can fire someone for malicious cause," -- Rep. Adam Schiff (D-CA) 
"Look, we've been dealing with this issue for seven years. It's not a new thing." — Sen. Mitch McConnell (R-KY) defending the secrecy surrounding the GOP health care bill while adding there have been "gazillions of hearings on this subject" over the years. JUNE 15, 2017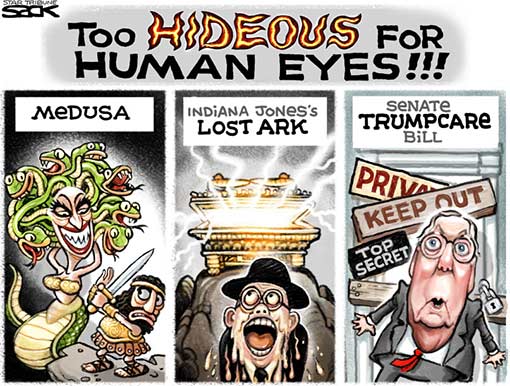 "All the signals are suggesting he is already cooperating with the FBI, and may have been for some time." — Sen. Sheldon Whitehouse (D-RI) on former national security adviser Michael Flynn. 
---
IN THIS ISSUE
FYI
OPINION
1. The DAILY GRILL
You are witnessing the single greatest WITCH HUNT in American political history - led by some very bad and conflicted people! #MAGA!" -- Donald J. Trump@realDonaldTrump

VERSUS

"It's not a witch hunt, no. You know, I think that he's (Special Counsel Bob Mueller) got a job to do. I think we all understand that. And I think it's in everybody's best interest if we let him do his job, and we do ours." -- Sen. John Thune (R-SD)

 

Under @POTUS Donald Trump, we will rescue the American people from the disaster of ObamaCare. #VPinWI -- Vice President Pence @VP  

VERSUS

I'm gonna say it - there is some real evil in claiming that 23m losing health care to pay for a $600b millionaire tax cut is a "rescue". -- Chris Murphy ✔@ChrisMurphyCT

 

I am being investigated for firing the FBI Director by the man who told me to fire the FBI Director! Witch Hunt. -- Donald J. Trump @realDonaldTrump

VERSUS

"Let me be clear here. The president is not and has not been under investigation for obstruction." - Jay Sekulow, a member of the president's legal team
2. From MEDIA MATTERS (They watch Fox News so you don't have to)
Fox contributor baselessly claims special counsel Robert Mueller is leaking to the press https://www.mediamatters.org/video/2017/06/16/fox-contributor-baselessly-claims-special-counsel-robert-mueller-leaking-press/216942

Pro-Trump media push conspiracy theory that acting FBI director is a "ringleader" in plot to take down Trump https://www.mediamatters.org/blog/2017/06/16/Pro-Trump-media-push-conspiracy-theory-that-acting-FBI-director-is-a-ringleader-in-plot-to/216944

"A soft coup is underway" against Trump with "sinister forces quickly aligning" https://www.mediamatters.org/video/2017/06/20/sean-hannity-soft-coup-underway-against-trump-sinister-forces-quickly-aligning/216982
3. From the Late Shows
The Late Show with Stephen Colbert: Robert Mueller's Dream Team Is Giving Trump: Nightmares: https://youtu.be/ZQc5yNUyLvc

Last Week Tonight with John Oliver: Coal: https://youtu.be/aw6RsUhw1Q8
4. Late Night Jokes for Dems
This morning Donald Trump tweeted: "They made up a phony collusion with the Russian story, found zero proof, so now they go with obstruction of justice on the phony story. Nice." Donald Trump is the first president to make regular use of the sarcastic "nice," isn't he? You never heard FDR go, "This is a date which will live in infamy. Nice." -- James Corden

The real question is: Why is Donald Trump still tweeting about Hillary? Seriously, Donald Trump is that guy who swears he's over his ex, but then spends the entire night telling you exactly how over her he is. -- James Corden

The Washington Post reports that President Trump is being investigated for obstruction of justice, which could wind up costing him the presidency. Trump was like, "OK, now give me the bad news." -- JimmyFallon

Fox News is dropping its slogan "fair and balanced." Instead, it will be replaced with the more appropriate slogan "blondes and Hannity." -- JimmyFallon

The Senate today passed a bill that imposes new sanctions on Russia and allows Congress to stop President Trump from repealing them. Wow, even Congress doesn't trust him. He's like a 15-year-old kid who still gets a babysitter. -- Seth Meyers

Yesterday we learned that the president is being investigated by a special counsel led by Robert Mueller for possible obstruction of justice. So this morning at 7:57 a.m., Trump tweeted, "You are witnessing the single greatest witch hunt in American political history led by some very bad and conflicted people. #MAGA." He's even making witch hunts great again! -- Jimmy Kimmel

Dennis Rodman is in the middle of what is planned to be a four-day trip in North Korea and he brought gifts on this trip for his BFF Kim Jong Un. He brought a variety of soaps wrapped in cellophane. He brought a mermaid jigsaw puzzle. Two nondescript number 91 jerseys. This is like a sad yard sale or terrible flea market. -- Jimmy Kimmel

Vladimir Putin has offered asylum to former FBI Director James Comey. When she heard, Melania Trump said, "Hey, what about me?" -- Conan O'Brien

President Trump is under investigation for obstruction of justice. That was confirmed today when President Trump said he is NOT under investigation for obstruction of justice. -- Conan O'Brien
5. Robert Mueller's Investigatory Dream Team
From the list of hires, it's clear, in fact, that Mueller is recruiting perhaps the most high-powered and experienced team of investigators ever assembled by the Justice Department. June 15, 2017 https://www.wired.com/story/robert-mueller-special-counsel-investigation-team
6. Republicans Make a Risky Bet for 2018
Scandals have typically operated as a cloud over a president's agenda. But the Russia-related legal challenges swirling around President Trump are functioning more like a cloak for his joint agenda with congressional Republicans. That difference captures the GOP's decision to govern in a manner aimed almost entirely at stoking their hard-core base—a critical calculation that could determine their fate in the 2018 election, and possibly the 2020 contest, as well."
In the week since fired FBI Director James Comey leveled his explosive charges at the president, Capitol Hill Republicans have followed a two-track response. With virtual unanimity, they have insisted that even if Trump did everything Comey alleged, the behavior does not warrant criminal action or impeachment.
As Trump's presidency careens through increasingly turbulent waters, congressional Republicans are lashing themselves ever more tightly to its mast." June 15, 2017 https://www.theatlantic.com/politics/archive/2017/06/gop-trump-congress/530340/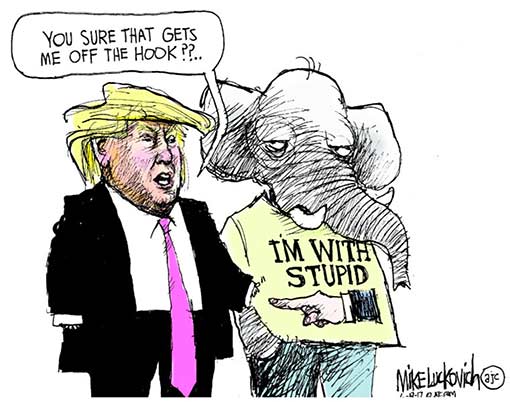 7. CEOs Say Trump Is Failing
A stunning 50% of the CEOs, business execs, government officials and academics surveyed at the annual Yale CEO Summit give Trump an 'F' for his first 130 days in office. June 15, 2017 http://money.cnn.com/2017/06/15/investing/ceos-give-trump-f-yale-survey/index.html
8. Searching for Conscience in Trump's Cabinet
If you didn't watch the opening of the president's first full Cabinet meeting the other day, then you should, because it really was something.
Normally, Cabinet meetings start with some informal banter and maybe a few words from the president, while reporters and photographers record the moment for history. Trump started his meeting with a recitation of his accomplishments, which included a claim that he had "passed more legislation" and "done more things" than almost any president in history, with the possible exception of Franklin Roosevelt.
Since Trump has passed exactly no significant legislation to this point, we can read this only one of two ways: Either the 71-year-old Trump lives in Faraway Land and all this talk about the 25th Amendment isn't as wishful as it seems, or he knows the cable networks would carry him live even if he were in a coma, and he's deliberately laying out a completely fabricated reality for voters who distrust the media or don't have time to consume it.
I'm going with that last one.
But then Trump opened the floor to the members of his Cabinet, who for roughly 10 minutes went around the room praising and thanking the president, while he beamed and nodded like a dog owner watching his Yorkie show off at obedience school. June 15, 2017 https://www.yahoo.com/news/searching-conscience-trumps-cabinet-090040420.html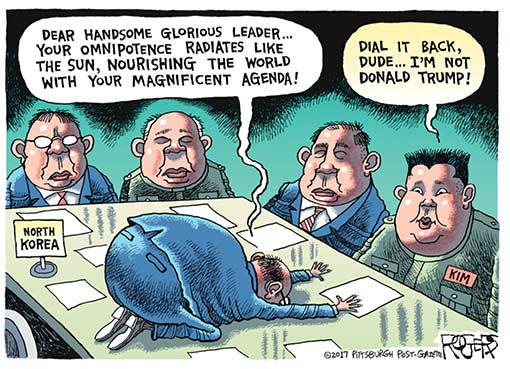 9. Most Say Trump Has No Respect for Democratic Traditions
A new AP-NORC poll finds 65% of Americans think President Trump "doesn't have much respect for the country's democratic institutions and traditions or has none at all. Just a third of Americans, or 34%, thinks he has a great deal or even a fair amount of respect for them.
Overall, 64% disapprove and just 35% approve of his job performance. https://apnews.com/024824c4f6ce4eddae98f4156e36553e
10. Polls
Republicans Less Satisfied with Direction of Country: A new Gallup survey finds just 41% of Republicans say they are satisfied with the way things are going in the U.S., down 17 percentage points since last month. Overall U.S. satisfaction dropped to 24%, down seven percentage points. http://www.gallup.com/poll/212252/seventeen-point-drop-satisfaction-among-republicans.aspx

Majority Of Americans Think Trump Meddled In Russia Probe: A clear majority of Americans believe President Donald Trump has tried to interfere with the investigation into whether Russia meddled in the 2016 election and possible Trump campaign collusion, a new AP-NORC poll shows. Just one in five support his decision to oust James Comey from the FBI. JUNE 15, 2017 http://talkingpointsmemo.com/news/trump-russia-probe-meddle-poll-americans-believe

Trump's Approval Down By Double Digits Among GOPers Since 100th Day: Trump's approval rating has dropped by 11 points among Republicans since his 100th day in office, according to a poll by CBS News released Tuesday. Overall, 36 percent of respondents approved of the job Trump is doing, in the President's lowest rating in CBS News polls since his inauguration. http://talkingpointsmemo.com/polltracker/trump-approval-down-among-republicans

61% of Americans think Trump has tried to obstruct Russia investigation: The June 2017 AP-NORC Center Poll found that 61% of Americans surveyed believe the president has  tried to obstruct or impede the investigation into whether his campaign colluded with Russia during the 2016 election cycle. Another 37% said they don't think Trump has done this. Only 2% said they didn't know, and 1% skipped or refused to answer the question. https://www.usatoday.com/story/news/politics/onpolitics/2017/06/15/poll-61-americans-think-trump-has-tried-obstruct-russia-investigation/102884748/

Opposition to GOP health bill is on the rise: Only 35% of voters surveyed approve of the Republican health bill passed by the House last month. Nearly half of voters, 49%, disapprove of the bill. The other 16% don't know or don't have an opinion according to a new POLITICO/Morning Consult poll. 6/21/17 http://www.politico.com/story/2017/06/21/poll-health-care-bill-obamacare-239784
11. Trump's Business Ties in Persian Gulf Raise Questions About His Allegiances
President Trump has done business with royals from Saudi Arabia for at least 20 years, since he sold the Plaza Hotel to a partnership formed by a Saudi prince. Mr. Trump has earned millions of dollars from the United Arab Emirates for putting his name on a golf course, with a second soon to open.
He has never entered the booming market in neighboring Qatar, however, despite years of trying.
Now a feud has broken out among these three crucial American allies, and Mr. Trump has thrown his weight firmly behind the two countries where he has business ties, raising new concerns about the appearance of a conflict between his public role and his financial incentives. JUNE 17, 2017 https://www.nytimes.com/2017/06/17/world/middleeast/trumps-business-ties-in-persian-gulf-raise-questions-about-his-allegiances.html
12. Prospect of Trump firing Mueller keeps becoming more untenable
A person who spoke with Trump on Tuesday told the New York Times that the president was pleased by the intentional ambiguity of his position on firing Robert S. Mueller as special counsel, 'and thinks the possibility of being fired will focus the veteran prosecutor on delivering what the president desires most: a blanket public exoneration.'"
"If the president truly believes this, he fundamentally misunderstands what motivates the former FBI director – who has stood up to previous administrations and never swayed under political pressure."
"Just as almost every previous effort at damage control has made Trump's Russia-related headaches worse, keeping the door open to firing Mueller earlier this week has now backfired. Key figures on Capitol Hill and in the conservative legal firmament have now gone on the record to warn that ousting the special counsel would trigger a constitutional crisis. That would make it much harder for Trump to go that route down the road." June 16, 2017 https://www.washingtonpost.com/news/powerpost/paloma/daily-202/2017/06/16/daily-202-prospect-of-trump-firing-mueller-keeps-becoming-more-untenable/5942f946e9b69b2fb981dd36/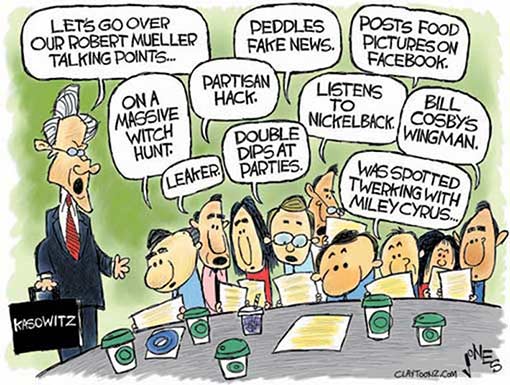 13. Trump Picks Party Planner to Oversee Housing Programs
She's arranged tournaments at Trump golf courses, served as the liaison to the Trump family during his presidential campaign, and even arranged Eric Trump's wedding."
"Now President Trump has appointed longtime loyalist Lynne Patton — who has zero housing experience and claims a law degree the school says she never earned — to run the office that oversees federal housing programs in New York. June 16, 2017 http://www.nydailynews.com/news/politics/trump-chooses-family-event-planner-run-n-y-housing-programs-article-1.3251314
14. Another Message for Donald Trump from Former Mexican President Vicente Fox
https://www.youtube.com/watch?v=iYZKrn7Bbl8&feature=youtu.be
15. Trump said foreign leaders wouldn't laugh at the U.S. Now they're laughing at him
Two weeks ago in the Rose Garden, President Trump declared that under his leadership, foreign leaders won't be 'laughing at us anymore.'
"Since then, he's been the butt of jokes in capitals around the world."
"Far from being cowed by Trump's vow to achieve 'peace through strength,' fellow world leaders appear emboldened to poke fun at him as a way to bolster their political standing. To a degree, the strategy is similar to one employed by Democrats, celebrities and some Republicans who have calculated that mocking Trump can boost their popularity." June 15, 2017 https://www.washingtonpost.com/politics/trump-said-foreign-leaders-wouldnt-laugh-at-the-us-now-theyre-laughing-at-him/2017/06/15/de82a340-51da-11e7-be25-3a519335381c_story.html
16. Lobbyist for Russia Says He Attended Sessions Dinners
An American lobbyist for Russian interests who helped craft an important foreign policy speech for Donald Trump has confirmed that he attended two dinners hosted by Jeff Sessions during the 2016 campaign, apparently contradicting the attorney general's sworn testimony given this week. June 15, 2017 https://www.theguardian.com/us-news/2017/jun/15/lobbyist-russian-interests-jeff-sessions-testimony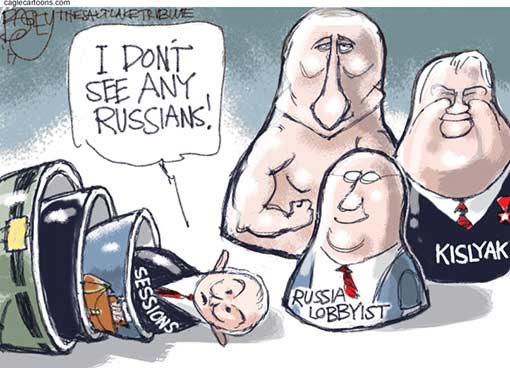 17. GunFAIL CCXLI
133 guns were found in carry-on luggage by TSA agents at airports throughout the country during the two-week period from April 3-16, 2017.
The week of April 9-15. A fairly typical week, by the numbers. Sixteen people accidentally shot themselves, eleven people were killed in gun accidents, nine kids were accidentally shot, six people accidentally fired guns they claimed they were cleaning or otherwise "inspecting," four people were accidentally shot during their target practice (one more just couldn't wait to get to the range, and was accidentally shot in the car on the way there), four people accidentally fired their weapons into neighboring properties (plus one more incident in which a passerby in golf cart was struck by a stray round), three people accidentally shot family members or significant others, and two people accidentally fired their weapons while shopping at neighborhood Walmart stores. More at http://www.dailykos.com/stories/2017/6/14/1652695/-I-wonder-what-would-happen-if-we-all-went-turkey-hunting-disguised-as-turkeys-GunFAIL-CCXLI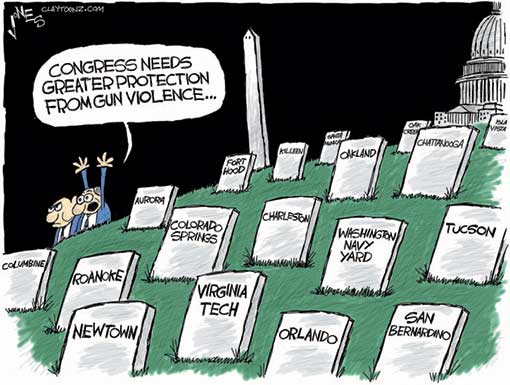 18. Study: Political Uncertainty Driving Two-Thirds Of 2018 O'Care Premium Increases
The bulk of the premium increases in the Affordable Care Act exchanges expected next year can be blamed on the political uncertainty driven by the Trump administration, a report by an actuarial firm found this week.
Experts at Oliver Wyman estimated that two-thirds of the rate increases in the 2018 plan year will be due to the White House's refusal to say whether it will continue paying out key Obamacare subsidies to insurers, as well as the ambiguity as to whether the law's individual mandate will be enforced next year. JUNE 16, 2017 http://talkingpointsmemo.com/dc/obamacare-2018-rate-increases-political-uncertainty
19. Trump Slaps His Name on Obama's Jobs Program, Then Makes It Impossible
It should come as no surprise that Trump's workforce-development plan, unveiled Thursday with Trumpian pomp, wasn't something he built. Instead, he took something that already existed, took out some pieces, reassembled it, and called it his. For good measure, he threw in some magical math.
Progeny shouldn't matter when it comes to policy, but in this case, the president's attempted claim for credit is puzzling. Trump has proposed $95 million be earmarked for apprenticeships this year. That's $5 million more than a bipartisan Obama-era effort laid out.
Separately, the president has called for slashing federal workforce-development funds by 40 percent and cutting the Department of Labor by about one-fifth. 6.16.17 http://www.thedailybeast.com/trump-slaps-his-name-on-obamas-jobs-program-then-makes-it-impossible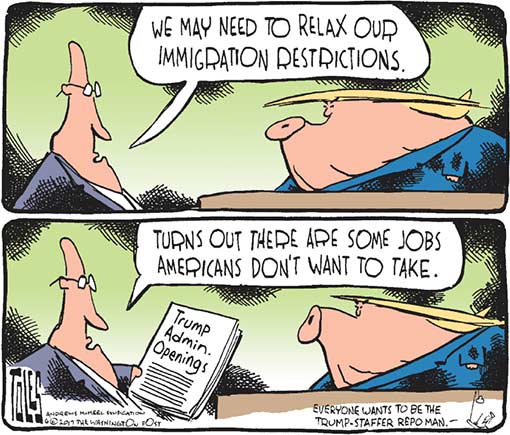 20. Republican secrecy faces mounting criticism as GOP senators work behind closed doors to repeal Obamacare
Senate Republicans are facing increasing criticism for ducking public scrutiny as they craft legislation to roll back the Affordable Care Act with little input from outside experts, patients, physicians and others most affected by healthcare legislation.
The GOP's secretive process marks a sharp departure from the traditional way the Senate has developed large, complex bills, which are often debated for years with multiple committee hearings to ensure broad input and careful analysis.
The closed-door approach, which is even more opaque than the process used earlier this year in the House, is all the more remarkable given the bill's likely impact on tens of millions of Americans, many of whom could see their health insurance protections substantially scaled back or eliminated altogether. 6/16/17 http://www.latimes.com/politics/la-na-pol-republicans-obamacare-secrecy-20170616-story.html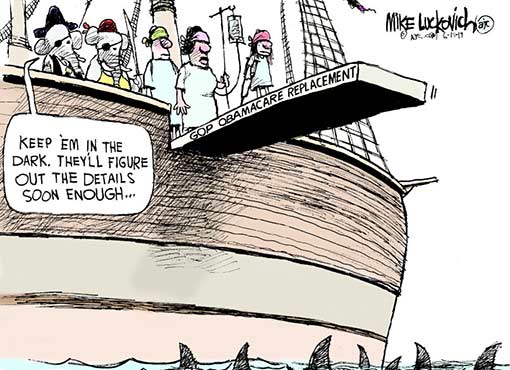 21. Mark Fiore cartoon: Meanwhile, besides Russia
1. Andrew Rosenthal; Jeff Sessions Gives a Master Class in Dissembling
If the testimony on June 8 by the former F.B.I. director, James Comey, was a startling example of candor in Washington, the appearance on Tuesday by Attorney General Jeff Sessions before the Senate Intelligence Committee was a master class in bamboozling, blustering and butt-covering.
Sessions said with outrage that any suggestion that he might have done anything wrong, especially colluding with the Russian government to influence the 2016 election, was an "appalling and detestable lie." That was a moment of clarity. But it came in his opening statement and was not repeated during the rest of the hearing.
Sessions said at the outset that he would "respond to questions as fully as the Lord enables me to do," by which he apparently meant not very fully.
As soon as he got questions that made him uncomfortable, Sessions stopped citing the Almighty and instead relied on supposedly long-standing Department of Justice rules against talking about private communications in public.
Sessions's appearance on Tuesday cleared up almost nothing, but it did showcase his political skills. At the end of his opening statement, he said "this president wants to focus on the people of this country to ensure they are treated fairly and kept safe" and suggested that some people have "different agendas." Then he launched into a tirade about opioid addiction and violent crime.
Reporters covering the late Nelson Rockefeller used to call that bomfog — when Rockefeller lost track of what he was saying or ran into trouble, he'd give the people a few minutes of "brotherhood of man, fatherhood of God."
The sad thing is how often that works. JUNE 14, 2017 https://www.nytimes.com/2017/06/13/opinion/jeff-sessions-gives-a-master-class-in-dissembling.html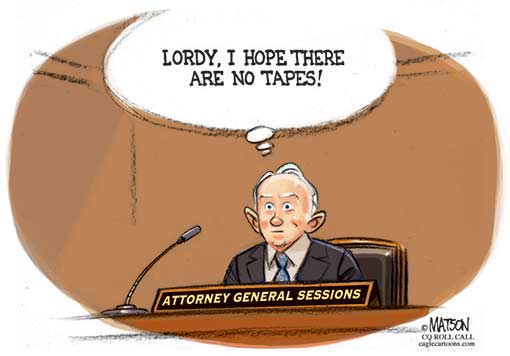 2. Eric Levitz: If the President Is Innocent, Then He Is Insane
Trump, for months, has bristled almost daily about the ongoing probes. He has sometimes, without prompting, injected. "I'm not under investigation" into conversations with associates and allies. He has watched hours of TV coverage every day — sometimes even storing morning news shows on his TiVo to watch in the evening — and complained nonstop… Just as he has done publicly on Twitter, Trump has told friends and associates that the investigation is a "witch hunt" and that others are out to get him. "It's basically all he talks about on the phone," said one adviser who has spoken with Trump and his top aides.
Trump's actions in the months before James Comey's firing — his attempts to interfere in the FBI's investigation of Michael Flynn, and to commandeer America's senior intelligence officials as his own political operatives — were impossible to explain without assuming the president's guilt or his idiocy.
By now, he has had ample opportunity to learn that federal law enforcement is supposed to operate independent of the president. And this epiphany did not change his behavior in any way.
Either the president is acting erratically, due to a rational fear of what Mueller's probe may reveal, or else he is suffering from an obsessive disorder that renders him helplessly self-destructive. Trump has stomped all over the naïveté defense. All that remains is the insanity plea. To plausibly deny that the president is a criminal, Republicans must stipulate that he's out of his mind.
Which is to say: There is no credible explanation for Trump's conduct that is compatible with the idea that he is fit for high office. http://nymag.com/daily/intelligencer/2017/06/if-the-president-is-innocent-then-he-is-insane.html
3. Jonathan Chait: Trump's Cover-up May Be Worse Than the Crime, But the Crime Seems Pretty Bad
Now that the Washington Post has reported, and President Trump himself confirmed, that special counsel Robert Mueller is investigating Trump for obstruction of justice, Trump's defense has begun to emphasize the unfairness of the process. "They made up a phony collusion with the Russians story, found zero proof, so now they go for obstruction of justice on the phony story," tweeted the president. The supposed lack of evidence for any underlying crime for Trump to obstruct has become an article of faith on the right. Andrew McCarthy's column in the Journal of American Greatness, large portions of which are italicized for emphasis, sarcastically notes, "All that was lacking was—wait for it—actual evidence of collusion."
What, you might wonder, would count as evidence of Trump colluding with Russian election interference? How about one of his campaign advisers having advance knowledge of the Russian hacking operation? Because that exists. If that's not enough to count as evidence, what if I told you Donald Trump asked Russia to hack his opponent's email system and publicize the results in order to help Trump, and it was on video? Because that exists, too.
So the evidence for collusion in the email hacking lies right out in the open — just like evidence that Trump fired James Comey to obstruct the Russia investigation, which the president confessed to in an NBC News interview. (Sometimes it seems like this investigation doesn't even need a special counsel, just a video-montage editor.) But the collusion is almost surely not limited to the planning of the email hack. It seems to run much deeper, into a web of financial ties between Vladimir Putin's regime and Trump and his closest advisers.
We know to a near certainty that Putin tried to corrupt the American political system. What the investigations will reveal is not whether but how thoroughly he succeeded through the Trump campaign. http://nymag.com/daily/intelligencer/2017/06/trumps-cover-up-worse-than-crime-but-the-crime-seems-bad.html
4. LA Times Editorial: A shooting in Alexandria brings gun violence directly to those best situated to act
Certainly American political discourse is too vituperative. Anger leads to resentment and stubbornness, and away from reasoned discussion and rational compromise. That's bad for the country and bodes unfavorably for the years ahead. Let's tone it down by all means. But there's a difference between even the most rancorous and impassioned speech, and violence.
When Giffords was shot in 2011 (and six other people died), calls went out for more rigid gun control measures. The injured congresswoman, who supports the right to own firearms, now devotes significant time and energy to strengthening gun control laws and limiting access to firearms. But little has been gained. Since 2011, more than 100 bills seeking to control access to guns — from tougher background checks to banning magazines holding more than 10 rounds to closing the "gun show loophole" — have failed to pass, primarily because of the cozy relationship between the gun lobby and Republican lawmakers.
We fervently hope that the victims of today's shooting recover fully. We also hope that the next time National Rifle Assn. lobbyists visit Capitol Hill with their guns-for-everyone agenda, Republican members of Congress greet them with more probing skepticism than they have in the past. But we're not optimistic. Even after getting shot at, Brooks remained steadfast Wednesday in his pro-gun, pro-2nd Amendment rhetoric, describing the incident as "one of the bad side effects of someone not exercising those rights properly."
Unfortunately, such "side effects" are daily occurrences. The Republicans who run Congress need to learn from the awful incident in Alexandria and drop their cynical posturing on behalf of the NRA. It's time to take a stand against gun violence. http://www.latimes.com/opinion/editorials/la-ed-congress-shooting-baseball-gun-violence-gun-control-20170614-story.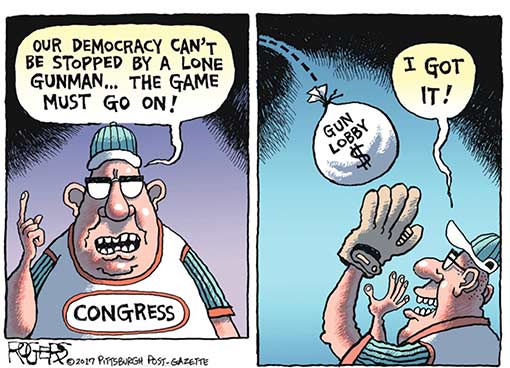 5. Paul Waldman: Trump is used to breaking the rules with impunity. That will be his undoing
Trump is used to breaking the rules with impunity. That will be his undoing
Being rich is more pleasant than not being rich for many reasons, one of which is that the more money you have, the less society's rules and obligations weigh on you. You slide through life using your wealth and connections to avoid the hassles and complications that occupy ordinary people, seldom having your choices impeded by what others or even the government demand of you. In theory the rules apply to everyone, but in practice there are almost always ways around them that are only available to a few.
A wealthy person with a powerful conscience and moral foundation can avoid having that fact turn them into a jerk, the kind of person who would look down with contempt on the plebes shuffling through their modest lives without ever knowing the rush that comes from shooting an exotic animal while on safari or evicting a poor family from their home. President Trump, however, is not possessed of such a conscience.
In fact, his entire life has been defined by the fact that the rules haven't applied to him. So on those rare occasions when he finds himself constrained by rules, he loses control. He becomes erratic, petulant, self-pitying, and begins to undermine himself and his goals. And that's what's happening now.
You can almost understand it, if you think about Trump's life experience. When have the rules ever applied to him? He grew up rich, cheated on his wives, evaded financial disaster through multiple bankruptcies (always leaving someone else holding the bag), consorted with sketchy characters, cheated vendors, scammed regular people, and basically lied his way through seven decades on Earth. And then what happened? He ran for president, obeying none of the rules people told him he'd have to adhere to in order to win, yet win he did — with an entire party of bootlickers standing behind him to nod their heads and defend every dirtbag thing he did. And now he's supposed to tolerate some two-bit judge or prosecutor telling him that he broke the rules? 6/16/17 http://theweek.com/articles/706156/trump-used-breaking-rules-impunity-that-undoing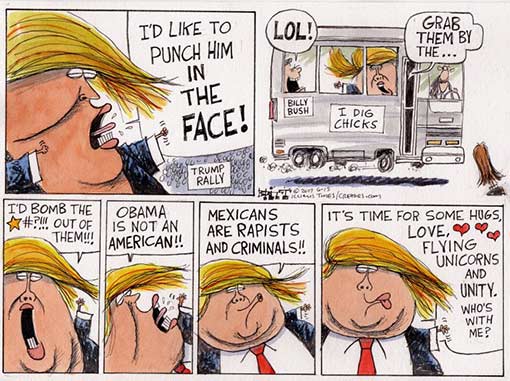 6. E.J. Dionne: Gutting the Health Care Law in Darkness
Senate Majority Leader Mitch McConnell once had passionate views about how carefully Congress should consider sweeping changes to the health-care system.
"Fast-tracking a major legislative overhaul such as health care reform or a new national energy tax without the benefit of a full and transparent debate does a disservice to the American people. Democrats using such means, he added, "would make it absolutely clear they intend to carry out their plans on a purely partisan basis." McConnell said in 2009, referring to the two big issues of the moment.
Republican hypocrisy is now so rampant that it's typically ignored or, worse, granted the political class's all-purpose form of absolution: "Everybody does it."
But everybody doesn't do it. McConnell is trying to eviscerate the Affordable Care Act using methods completely at odds with how the law was originally brought to life in the early Obama administration. The ACA was debated for more than a year and went through an elaborate hearing and amendment process that included some changes urged by Republicans. June 15, 2017 https://www.realclearpolitics.com/articles/2017/06/15/gutting_health_care_in_darkness_134201.html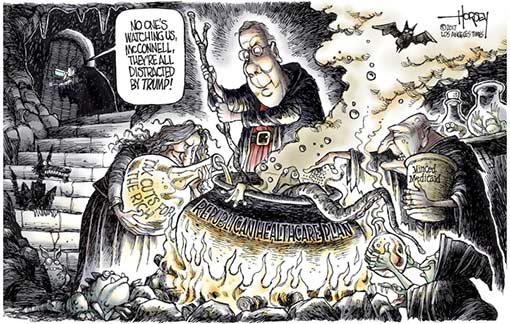 7. Mark Joseph Stern: Mueller Is Coming for Trump
hat you don't know can hurt you very badly, and there is a great deal that Republicans do not know about Donald Trump. From shady business dealings to questionable tax schemes to potential Russian collusion, the president is dogged by scandals whose depth and significance remain unclear. With few exceptions, Republicans are eager to protect Trump from serious inquiries, running interference where they can while pushing through their legislative agenda as quickly and secretively as possible. The GOP isn't quite sure what it's helping Trump to cover up—but as long as he promises to sign its bills, the party will condone his outrageous misdeeds.
This strategy now appears poised to backfire spectacularly. On Wednesday, both the New York Timesand the Washington Post reported that special counsel Robert Mueller is investigating Trump's inner circle for financial crimes. This aggressive shift toward Trump associates' personal dealings is disastrous news for the president, his allies, and his enablers. At long last, federal investigators will probe Trump's sprawling network for wrongdoing, picking up where reporters left off, only this time with subpoena power. And Trump can only stop them by firing Mueller—a blatant obstruction of justice that would likely be more damaging than any crime the president may have committed in the past.
That is the dilemma that Trump faces: Answer for his old crimes, or commit a new one. Neither option will allow him to get to the business of governing; both pave the way to impeachment if the GOP grows frustrated by the lack of legislative progress. Mueller's deepening dragnet has greatly increased the likelihood the president will face real consequences for his actions. We don't yet know what those consequences look like. But they seem to be fast approaching. http://www.slate.com/articles/news_and_politics/jurisprudence/2017/06/
robert_mueller_s_probe_will_reveal_loads_of_dirt_from_trump_s_financial.html
8. Andrew Sullivan: Trump's Derangement Deepens
Let me put this as simply as I can. After firing FBI Director James Comey for investigating the Trump campaign's contacts with Russians, the president is now openly smearing and threatening to fire his successor as most prominent investigator, special counsel Robert Mueller. There is no question about the motive behind all this, because Trump has told anyone within hearing distance or access to a television that he fired Comey to kill a vital and important investigation into Russian interference in our elections, which yesterday Putin all but admitted: "They meddle in all other countries' affairs, what did they expect?" For good measure, Trump is now openly arguing through surrogates that Mueller is acting in bad faith, pursuing a "witch hunt," and should be fired if his investigation gets anywhere near the president.
Every now and again, you have to take a moment, stop being distracted by the constant breaking news, and let all this sink in.
This is now a slow-moving version of Nixon's Saturday Night Massacre — but graver. It's graver because the original crime — the Kremlin's attempt to hack our elections in possible cahoots with some on the Trump campaign — has so much wider ramifications than an office break-in. It's an act of virtual war by a foreign adversary that came close to rigging the voting machines, for Pete's sake. If it was in any way abetted by an American connected to Trump, we absolutely need to find out. And this crisis is more dangerous because the president has not only been trying to prevent or rig any such investigation for months — demanding personal loyalty from the FBI director, pressuring national intelligence officials to exonerate him before the inquiry is finished — but also continues to boast about this obstruction of justice as if there were nothing wrong with it at all. http://nymag.com/daily/intelligencer/2017/06/andrew-sullivan-trumps-derangement-deepens.html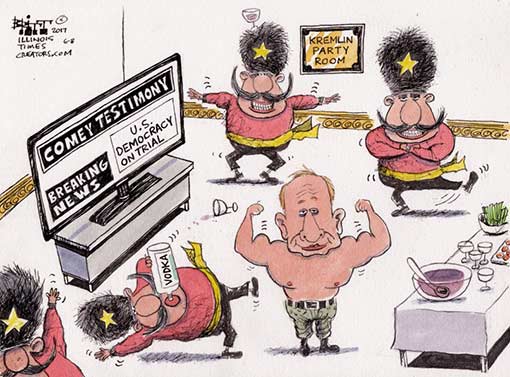 9. David Remnick: Who in the White House Will Turn Against Donald Trump?
The yearning in the character of Donald Trump for dominance and praise is bottomless, a hunger that is never satisfied. Last week, the President gathered his Cabinet for a meeting with no other purpose than to praise him, to note the great "honor" and "blessing" of serving such a man as he. Trump nodded with grave self-satisfaction, accepting the serial hosannas as his daily due. But even as the members declared, Pyongyang-style, their everlasting gratitude and fealty to the Great Leader, this concocted dumb show of loyalty only served to suggest how unsustainable it all is.
The reason that this White House staff is so leaky, so prepared to express private anxiety and contempt, even while parading obeisance for the cameras, is that the President himself has so far been incapable of garnering its discretion or respect. Trump has made it plain that he is capable of turning his confused fury against anyone in his circle at any time. In a tweet on Friday morning, Trump confirmed that he is under investigation for firing the F.B.I. director James Comey, but blamed the Deputy Attorney General, Rod Rosenstein, for the legal imbroglio that Trump himself has created. The President has fired a few aides, he has made known his disdain and disappointment at many others, and he will, undoubtedly, turn against more. Steve Bannon, Kellyanne Conway, Jared Kushner, Jeff Sessions, Sean Spicer­—who has not yet felt the lash?
Trump's egotism, his demand for one-way loyalty, and his incapacity to assume responsibility for his own untruths and mistakes were, his biographers make plain, his pattern in business and have proved to be his pattern as President.
Veteran Washington reporters tell me that they have never observed this kind of anxiety, regret, and sense of imminent personal doom among White House staffers—not to this degree, anyway. These troubled aides seem to think that they can help their own standing by turning on those around them—and that by retailing information anonymously they will be able to live with themselves after serving a President who has proved so disconnected from the truth and reality. http://www.newyorker.com/news/news-desk/who-in-the-white-house-will-turn-against-donald-trump
10. LA Times Editorial: Trump just reopened the Cold War with Cuba. His excuse was completely disingenuous
Consistent with that amoral approach, human rights wasn't on the agenda when Chinese President Xi Jinping, whose regime has engaged in a years-long crackdown on dissidents, visited President Trump at Mar-a-Lago two months ago. The subject went unaddressed when Egypt's authoritarian president, Abdel Fattah Sisi, visited the White House earlier in April. Sisi's government, which receives $1.3 billion a year in military aid from the U.S, is accused of killing, jailing or torturing thousands of dissidents. Trump has also praised President Rodrigo Duterte for doing an "unbelievable job on the drug problem" in the Philippines — a campaign that has involved, according to human rights monitors, the extrajudicial executions by police and vigilantes of more than 7,000 suspected addicts and dealers.
Now Trump decides to draw a line at Cuba's human rights policies? He could at least try to make a fake excuse a little more believable.
What's really happening is that Trump has let the anti-Castro sect in Congress take the wheel on this issue, no doubt for cynical political reasons.
Trump has said he wants to help the Cuban people "begin their journey toward prosperity and liberty." He can't do that, though, by reverting to the ineffective policies that caused so much pain for so many years. A better outcome, for the U.S. and Cuba, would be reached through normalized relations, diplomacy and the exercise of soft power. http://www.latimes.com/opinion/editorials/la-ed-trump-cuba-obama-20170616-story.html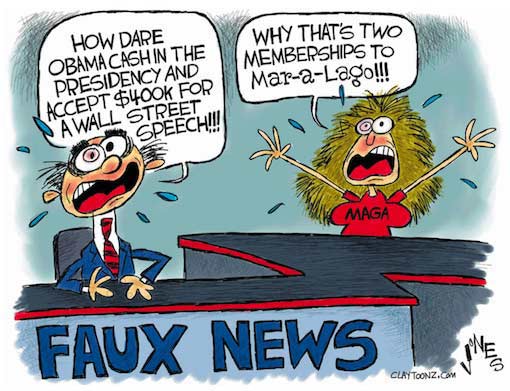 11. Maureen Dowd: Trump, Uber and the Hazards of Broism
President Trump has no intention of working on a Donald 2.0. His paranoia about the Deep State seems to be feeding the Deep State's ability to corral him. His angry and reckless tweets have time and again led to self-incrimination.
It was his taunting tweet suggesting that he may have taped his conversations with James Comey that caused the former F.B.I. director to prompt the appointment of a special counsel by giving a memo to a friend to share with a reporter.
After a brief flirtation with being classy, as he reacted to the grisly shootout at the congressional baseball game practice here Wednesday, Trump returned to form early Thursday morning, tweeting: "They made up a phony collusion with the Russians story, found zero proof, so now they go for obstruction of justice on the phony story. Nice."
So much for the notion that Melania moving into the White House would restrain the president.
It seems to have just occurred to Trump that while he bizarrely shrugs off proven Russian interference in the election and sulks about Jeff Sessions recusing himself, Mueller is building a top-flight team of investigators. Turns out Mueller is the one building infrastructure: He has hired 13 lawyers and plans to bring on more. (And Trump's personal lawyer has hired a lawyer, too.)
If you investigate Donald Trump with a dream team, nightmares are bound to follow. Remember how a failed Clinton real estate deal led to Monica Lewinsky?
It doesn't take a Brostradamus to predict that, even for the most driven bros, there is some stuff you can't brazen out. 6/17/16 https://www.nytimes.com/2017/06/17/opinion/sunday/trump-uber-and-the-hazards-of-broism.html
12. Jonathan Chait: Trumpcare Might Pass, But the Conservative Health-Care Agenda Is Dead
The Senate Republican plan to unveil a health-care bill, then race it to the floor without hearings, has inspired an archival outpouring of vintage 2010 Republican complaints over the allegedly secretive passage of Obamacare (which in fact was developed in public, with dozens of hearings).
The current Senate Republican plan is to introduce a bill next Tuesday and vote on it Thursday. "By all accounts," summarizes health-care reporter Dylan Scott, "Senate Majority Leader Mitch McConnell (R-KY) is agnostic about the actual policy of the bill his chamber is drafting." The Republicans' notion of taking their time and getting it right, rather than rushing to meet an arbitrary deadline, has been turned on its head. Why did Republicans suddenly decide to get health care done fast, not right? There is a larger point here than hypocrisy and broken promises. A short period of examination yielded the same conclusion in the Senate as the House: Republicans have realized their party is constitutionally incapable of writing a satisfactory health-care law. Whether the Republican health-care law passes or fails, an entire policy agenda has died in the process. http://nymag.com/daily/intelligencer/2017/06/trumpcare-might-pass-but-conservative-health-care-is-dead.html