January 14, 2021
ON THE RECORD. . .
Almost 20 years after 9/11 we are living through another failure of imagination — the failure to account for the damage that can be done to our nation by a president who incites violence, congressional leaders who fan the flames, and social media platforms that sear conspiracy theories into the minds of Trump's supporters. Unless we confront the threats we face, we risk ensuring that last week's events are only a prelude to an even greater tragedy. — Hillary Clinton

When the base of the party is not booing you, but chanting hang you, that's a bad sign." — Former GOP strategist Stuart Stevens.

"Recently, I was offered the opportunity to receive the Presidential Medal of Freedom, which I was flattered by out of respect for what the honor represents and admiration for prior recipients,. Subsequently, the tragic events of last week occurred and the decision has been made not to move forward with the award."  — New England Patriots coach Bill Belichick

I called and texted my closest contact at the White House to urge that the president immediately tell the rioters to stop their violence and go home. But President Donald Trump completely undercut that message by repeating his grievances and telling the rioters that he knew how they felt. This was terrible, especially since he incited them in the first place. — Sen. Susan Collins (R-Maine) while she was in a "secure location" underneath the Capitol building.

"We have a country to save and this doesn't help anyone. It should be a message to all the Republicans who have not been willing to actually fight, the people who did nothing to stop the steal. This gathering should send a message to them: This isn't their Republican Party anymore. This is Donald Trump's Republican Party." — Donald Trump Jr. calling for "total war." 

The stuff I've heard in the last 72 hours—from members of Congress, law enforcement friends, gun shop owners, MAGA devotees—is absolutely chilling. We need to brace for a wave of violence in this country. Not just over the next couple of weeks, but over the next couple of years. — Tim Alberta, chief political correspondent for @POLITICO

Trump has violated his oath of office to preserve, protect and defend the Constitution of the United States. He is a clear and present danger to American democracy and the national security of the United States. He has disqualified himself from continuing to serve out even his few remaining days as president, as well as from ever again holding, according to the Constitution, "any Office of honor, Trust or profit under the United States." We urge members of the House of Representatives to conduct a speedy impeachment and the Senate to hold a prompt trial as the Constitution stipulates. — 300 Historians and constitutional scholars statement on the 2nd Impeachment of Donald Trump.

"I heard at least 3 different rioters at the Capitol say that they hoped to find Vice President Mike Pence and execute him by hanging him from a Capitol Hill tree as a traitor. It was a common line being repeated. Many more were just talking about how the VP should be executed." — Jim Bourg, Reuters News

"Get the firing squads ready. Pence goes FIRST." — Pro-Trump lawyer Lin Wood on Parler.

"Twitter employees have coordinated with the Democrats and the Radical Left in removing my account from their platform, to silence me — and YOU, the 75,000,000 great patriots who voted for me." — Trump on his official White House Twitter account.

Americans have had enough of Trumpism and the two-faced, lying, populist politicians who embraced it. Hawley's presidential aspirations have been flushed down the toilet because of his role in instigating Wednesday's assault on democracy. He should do Missourians and the rest of the country a big favor and resign now. — St. Louis Post-Dispatch Editorial Board

I have been asked and have agreed to cooperate with multiple government agencies to provide testimony on the wrongdoing by #Trump and the #TrumpFamily. I am doing this in large part as #Trump and family have tried, and thankfully failed, to destroy America's democracy. — Michael Cohen

"Donald Trump caused this insurrection with lies and conspiracy theories about the election being rigged against him. The election was not stolen but this madness was fomented by the president and his top advisers." — Scott Jennings, a former aide to President G.W. Bush.

'Those who call others unpatriotic for simply taking a knee in silent protest, for those who wonder why we need to be reminded that Black lives matter at all, yesterday made it painfully clear that certain Americans are, in fact, allowed to denigrate the flag and symbols of our nation. They've just got to look the right way. What do all these folks have to say now?" — Former first lady Michelle Obama

Even in the wake of a Trump-inspired violent and desecratory takeover of the national Capitol building, more than 100 Republican legislators continued to vote for the seditious attempt to reject a legitimate election. Anti-democratic forces are at the center of the Republican Party's politics. In a two-party system, this is a devastating development. We haven't failed entirely, but were perilously close to failure." — Lilliana Mason, associate professor of government at the University of Maryland

As this was unfolding on television, Donald Trump was walking around the White House confused about why other people on his team weren't as excited as he was as you had rioters pushing against Capitol Police trying to get into the building. — Sen. Ben Sasse (R-NE), citing conversations with senior White House officials.

The water is churning with rats from this sinking ship. And it is alternately glorious and terrifying to see. — Charlie Sykes

"Invaders came in for the first time since the war of 1812. They desecrated these halls." And, for the most part, they walked in here free. A lot of them walked out free. And there wasn't a person watching at home who didn't know why that was: because of the way that they look." — Rep. Conor Lamb (D-Penn), referring to the apparent leniency that the mostly white mob had been afforded by law-enforcement officers in the course of an attempt to violently undo the election.

The president told some aides he regretted the video from last night where he called for unity and acknowledged a new administration coming in. He queried advisers about what they thought of it today, looking for affirmation. — Maggie Haberman @maggieNYT

"I don't care if it's one hour left, let's impeach him." — House Majority Whip Jim Clyburn (D-SC)

"I have three million followers on Parler. Tonight, I will no longer be able to communicate with those people." — Rep. Devin Nunes (R-CA) complained on Fox News that "Republicans have no way to communicate" now that the Twitter alternative Parler has been effectively taken down by Apple, Google, and Amazon Web Services for refusing to adequately monitor its content for incitement of violence.

"If they do not resign, the Senate must expel them." — Sen. Sherrod Brown (D-OH) joining calls on for Republican Sens. Josh Hawley (R-MO) and Ted Cruz (R-TX)) to resign after they supported objections to the 2020 Electoral College results on Wednesday.

"My observations about his character and his conduct certainly have been validated, unfortunately, with people's lives being lost. And our country appearing to be run by a tin pot dictator to people around the world. — Former Sen. Bob Corker (R-TN)

"Since 2015, we've been warning about the dangers he posed. Not because of the policies he advocated, but because of the threats he posed to American democracy…Here's another warning: This isn't over. Maybe there will be more violence between now and Joe Biden's inauguration, maybe not. But the forces that created Wednesday's violence are still very much active and pose a significant threat to American democracy. The next time this crops up, let's not say this can't happen here. It already has, and it's still happening." — Seth Masket 

Republicans got our butts kicked in Georgia on Tuesday. A 33-year-old with no accomplishments and a smooth-talking preacher wiped the floor with us. The idea that Georgia, of all places, could elect two communists to the United States Senate was ridiculous. — Kristi Noem, the governor of SD in a speech to the RNC.

"Part of this reckoning is: How did we get here? How were we so easily fooled by conspiracy theories? We need to make clear who we are. And our allegiance is to King Jesus, not to what boasting political leader might come next." — Ed Stetzer, head of the Billy Graham Center at Wheaton College, has a message for his fellow evangelicals: It's time for a reckoning.

"I have been a Republican for 62 years. I have been a Goldwater conservative, a Reagan conservative, and a W conservative. And I have now left the Republican party. A party that has been at the center of my entire adult life. A party that defined me to others and to myself. It has become the opposite of what it was. It has become a cult idolizing a ruler, a trasher of institutions of democracy driven by falsehoods and hatreds. … I've left the Republican party. I will not be going back."— Former Rep. Mickey Edwards (R-OK)

VIDEOS

Watch from inside the crowds as the Trump rally turned into the Capitol riot: https://www.washingtonpost.com/video/opinions/us-capitol-riot-what-we-saw-inside-the-insurrection-opinion/2021/01/12/a7146251-b076-426e-a2e3-8b503692c89d_video.html

Inside the 'Million MAGA March': Hate groups, families and false claims of election fraud: https://www.washingtonpost.com/video/opinions/opinion-inside-the-million-maga-march-hate-groups-families-and-false-claims-of-election-fraud/2020/11/18/2890875a-6909-4371-85e9-39735c33f216_video.html

Former California Gov. Arnold Schwarzenegger (R) saying that Wednesday was America's Kristallnacht, and those who urged it on are complicit like the former Nazi soldiers he knew in Austria growing up. https://youtu.be/x_P-0I6sAck

Who do you believe? #TeleprompterTrump or this one | The Lincoln Project: https://twitter.com/ProjectLincoln/status/1347348887560998916

Trump Treason | Meidas Touch: https://youtu.be/9k49327U4xM

As their mob formed and prepared to assault our democracy, they danced. | The Lincoln Project: https://www.facebook.com/thelincolnproject.us/videos/685320205487796

We will remember the Republicans responsible for the Capitol attack. Every. Damn. One. Of. Them.
| The Lincoln Project: https://www.facebook.com/thelincolnproject.us/videos/3733117323393085
---
IN THIS ISSUE
FYI
OPINION
1. Andy Borowitz: Deranged Trump Orders Eric and Don, Jr., to Hand Out Flyers with His Tweets on Them
Driven over the edge by his expulsion from Twitter, a deranged Donald J. Trump ordered his two adult sons to hand out flyers with his tweets on them.

The incident occurred at three o'clock Sunday morning, when Trump, wide awake and in a state of extreme agitation, had an idea for a tweet but no platform on which to broadcast it.

Wearing his bathrobe, he summoned his adult sons to the Oval Office and scrawled his tweet on a piece of paper with one of the Sharpies that had served him well in the past.

Reportedly, Trump then commanded Eric and Don, Jr., to go to the nearest copy shop and order ten thousand flyers containing his tweet to hand out on street corners.

According to Trump's plan, supporters desiring to retweet his tweet would also go to copy shops and hand out flyers, a system he claimed was "better than Twitter."

Witnesses to the early-morning meeting said that the two Trump sons left the Oval Office looking sullen and beleaguered.

"Only nine more days of this shit," Eric Trump reportedly muttered. https://www.newyorker.com/humor/borowitz-report/deranged-trump-orders-eric-and-don-jr-to-hand-out-flyers-with-his-tweets-on-them
2. Extremists move to secret online channels to plan for Inauguration Day in D.C.
Right-wing extremists are using channels on the encrypted communication app Telegram to call for violence against government officials on Jan. 20, the day President-elect Joe Biden is inaugurated, with some extremists sharing knowledge of how to make, conceal and use homemade guns and bombs.
The messages are being posted in Telegram chatrooms where white supremacist content has been freely shared for months, but chatter on these channels has increased since extremists have been forced off other platforms in the wake of the Jan. 6 siege of the U.S. Capitol by pro-Trump rioters. https://www.nbcnews.com/politics/congress/extremists-move-secret-line-channels-plan-inauguration-day-d-c-n1253876
3. Six hours of paralysis: Inside Trump's failure to act after a mob stormed the Capitol
Hiding from the rioters in a secret location away from the Capitol, House Minority Leader Kevin McCarthy (R-Calif.) appealed to Jared Kushner, President Trump's son-in-law and senior adviser. Sen. Lindsey O. Graham (R-S.C.) phoned Ivanka Trump, the president's daughter.
And Kellyanne Conway, a longtime Trump confidante and former White House senior adviser, called an aide who she knew was standing at the president's side.
But as senators and House members trapped inside the U.S. Capitol on Wednesday begged for immediate help during the siege, they struggled to get through to the president, who — safely ensconced in the West Wing — was too busy watching fiery TV images of the crisis unfolding around them to act or even bother to hear their pleas. https://www.washingtonpost.com/politics/trump-mob-failure/2021/01/11/36a46e2e-542e-11eb-a817-e5e7f8a406d6_story.html
4. The End of the GOP
Like its financial counterpart, moral bankruptcy happens two ways: gradually, then suddenly. In 2016, I wrote that the likely outcome of a Trump presidency would be the end of the Republican Party as we had known it. And so it ends for the Grand Old Party: From abolition to anarchy, from republicans to rabble, a bloody-minded, homicidal gang in thrall to the very democracy John Adams warned us about. A dog in this condition would be put to sleep. It would be a piece of mercy. https://www.nationalreview.com/the-tuesday/the-end-of-the-gop/
5. Trump's disastrous end to his shocking presidency
Donald Trump is leaving America in a vortex of violence, sickness and death and more internally estranged than it has been for 150 years.
The disorientating end to his shocking term has the nation reeling from a Washington insurrection. The FBI warned Monday of armed protests by pro-Trump thugs in 50 states, which raise the awful prospect of a domestic insurgency. Health officials fear 5,000 Americans could soon be dying every day from the pandemic Trump ignored. Hospitals are swamped and medical workers are shattered amid a faltering rollout of the vaccine supposed to end the crisis."
It took 200 years for the country to rack up its first two presidential impeachments. Trump's malfeasance has led the country down that awful, divisive path twice in just more than a year. https://www.cnn.com/2021/01/12/politics/donald-trump-legacy-joe-biden/index.html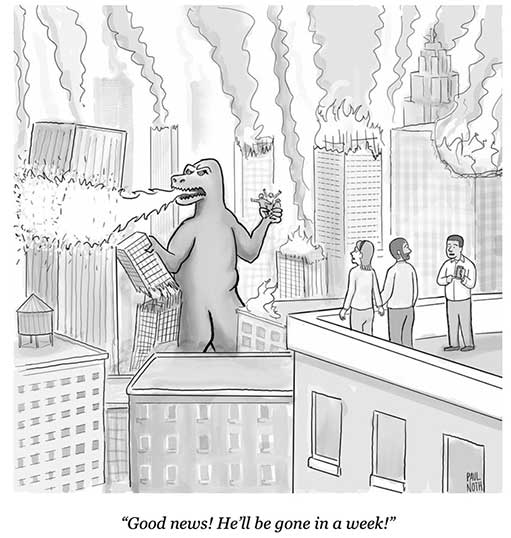 6. Business titans pull back from GOP after Capitol insurrection
The breakup between the business world and the Republican Party is rapidly accelerating in the wake of last week's deadly pro-Trump riot at the Capitol, posing a serious financial threat to the party just as it's being stripped of power in Washington.
Ten major companies so far, including some of the biggest corporate givers in politics, have decided to withhold contributions to Republican lawmakers who objected to the certification of the Electoral College votes, and dozens more are stopping all of their political donations after the riots. https://www.politico.com/news/2021/01/11/business-titans-gop-capitol-insurrection-457901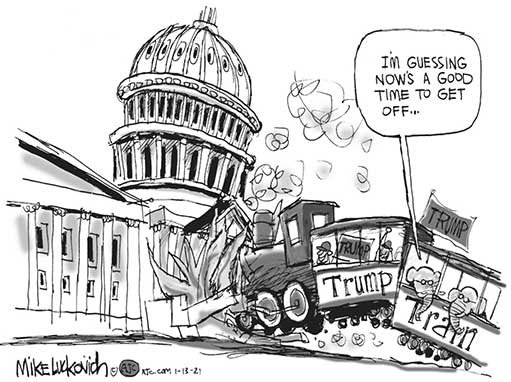 7. Deutsche Bank cuts ties with Trump after Capitol attack
Deutsche Bank, one of President Donald Trump's main lenders, plans to distance itself from its best-known client in the wake of last week's Capitol insurrection, creating a new threat to Trump's finances once he leaves office.
The German bank will no longer do business with Trump or his company going forward, according to a person familiar with the matter. Trump owes the bank more than $300 million.
Separately, New York's Signature Bank said it is closing Trump's personal accounts and calling for his resignation. The bank is pledging to no longer do business with any members of Congress who objected to the certification of President-elect Joe Biden's election last week.
"To witness a rioter sitting in the presiding chair of the U.S. Senate and our elected representatives being told to seek cover under their seats is appalling and an insult to the Republic," Signature Bank said in a statement. "We witnessed the President of the United States encouraging the rioters and refraining from calling in the National Guard to protect the Congress in its performance of duty." https://www.politico.com/news/2021/01/12/deutsche-bank-cuts-ties-trump-458193
8. Democrats Unveil Legislation To Abolish The Federal Death Penalty
Sen. Dick Durbin, D-Illinois, the incoming chair of the Senate Judiciary Committee, and Rep. Ayanna Pressley, D-Mass., are unveiling legislation that would seek to end federal capital punishment, putting a focus on the issue as their party prepares to take over complete control of Congress, along with the White House. https://www.npr.org/2021/01/11/955693696/democrats-unveil-legislation-to-abolish-the-federal-death-penalty
9. Article of Impeachment
A PDF version of this document is at: https://int.nyt.com/data/documenttools/articles-impeachment-trump-xml/b0422e292cebafda/full.pdf
10. Trump's DOJ, GOP Senate Block October 2020 Bill Targeting White Supremacists
The Justice Department won't fully explain why it's opposed to a bill that would enhance its ability to combat white supremacist violence, adding to concerns that the agency under President Donald Trump is continuing to downplay or ignore the threat of far-right terror. 
Senate Republicans prevented a vote on the Domestic Terrorism Prevention Act. The bill, which passed the House unanimously, would establish offices in the Justice Department, the Department of Homeland Security and the FBI dedicated to combating the rising threat of far-right extremist violence.
The bill's rejection in the Senate comes amidst years of the Trump administration promoting white supremacist talking points, condoning right-wing extremist violence, and downplaying domestic terror threats. https://www.huffpost.com/entry/domestic-terror-bill-white-supremacists-blocked-justice-department-gop-ron-johnson_n_5f7ca205c5b6e5aba0d0efd2?hc7
11. Ted Cruz's last chance to ingratiate himself to Trump blew up in his face
Sen. Ted Cruz (R-TX) did irreparable damage to whatever hopes he might have had about rising above being a U.S. senator when he tried to ingratiate himself to Donald Trump and inherit his following by making the case that the president was denied re-election due to voter fraud.
Cruz, along with Sen. Josh Hawley (R-MO), has come under withering criticism for attempting to subvert the Congressional certification of the Electoral College votes on Jan. 6th prior to a pro-Trump mob storming the U.S. Capitol.
While the president, his son Don. Jr. and former New York Mayor Rudy Giuliani have been accused of inciting a riot with their words that day, Cruz has been swept up in the criticism and seen the collapse of his political fortune as critics call for his resignation. https://www.rawstory.com/ted-cruz-2649874920/
12. An Urgent Reckoning for the Trump Brand
The mob attack on Congress last week by Mr. Trump's supporters has spurred a reckoning for the Trump Organization by businesses and institutions, at a scale far greater than his previous polarizing actions.
And the Trump brand, premised on gold-plated luxury and a super-affluent clientele, may not fully recover from the fallout of his supporters violently storming and vandalizing the U.S. Capitol, hospitality analysts say and some people close to the business acknowledge. Other companies linked with the Trumps, including Deutsche Bank, the president's largest lender, and Signature Bank, are also seeking distance from him and his business. https://www.nytimes.com/2021/01/11/business/trump-brand-capitol-mob.html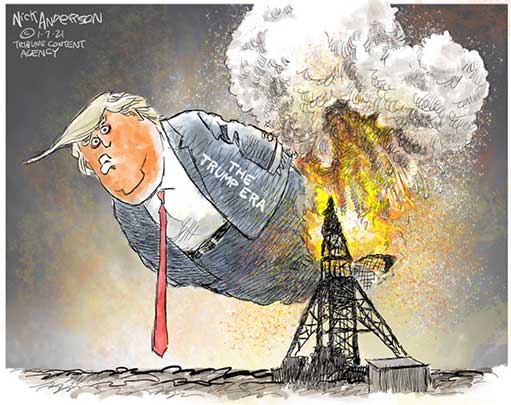 13. Supreme Court grants Trump administration request to limit access to abortion drug
The Supreme Court on Tuesday granted the Trump administration's request to reinstate long-standing restrictions for patients seeking to obtain a drug used for abortions early in pregnancy -- with the three liberals dissenting in a potential preview of a new chapter in the court's rulings on the procedure.
The order's timing was a surprise, coming after close of business in the waning days of the Trump administration and ahead of Wednesday's possible House impeachment vote. https://amp.cnn.com/cnn/2021/01/12/politics/supreme-court-medication-abortion/index.html
14. 'He's on his own': Some Republicans begin to flee from Trump
The insurrection on the heels of a bruising election loss in Georgia accomplished what other low points in Trump's presidency did not: force Republicans to fundamentally reassess their relationship with a leader who has long abandoned tradition and decorum. The result could reshape the party, threatening the influence that Trump craves while creating a divide between those in Washington and activists in swaths of the country where the president is especially popular. https://www.nbcnews.com/politics/donald-trump/he-s-his-own-some-republicans-begin-flee-trump-n1253626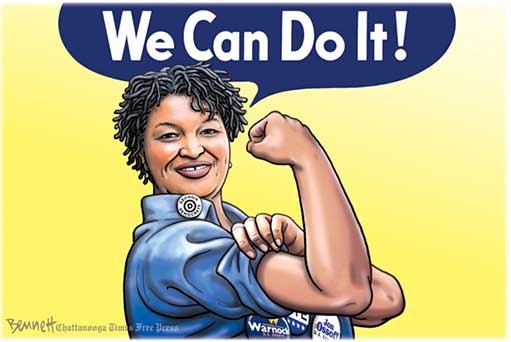 15. GOP prepares for battle with new archvillain
Fractured in the aftermath of Trump's defeat and a riot the president helped incite at the Capitol, the GOP found a unifying foil in the social media platform's erasure of the president — elevating Big Tech's status in the culture wars from an annoying foe to archvillain.
For whatever war the GOP does have with Big Tech, pinning the subject to Trump's Twitter ban will not come without risk, largely because the stated reason for the ban — the concern that he would perpetuate more violence — is a reminder of the Trump-inspired, deadly insurrection at the Capitol. https://www.politico.com/news/2021/01/10/gop-trump-twitter-ban-big-tech-456866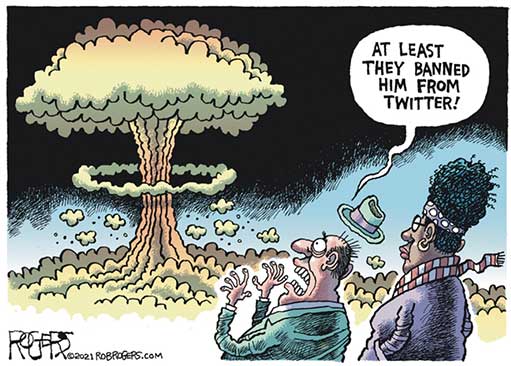 16. POLL: After Capitol siege, majority of Americans say Trump should be removed from office before term ends
A majority of the country believes President Donald Trump should be removed before President-elect Joe Biden is sworn in on Jan. 20 and two-thirds hold him accountable for the violent insurrection on Capitol Hill, according to an ABC News/Ipsos poll released Sunday.
In the new survey, which was conducted by Ipsos in partnership with ABC News using Ipsos' Knowledge Panel, 56% of Americans think the sitting commander-in-chief should be removed from office before the official transfer of power in less than two weeks, while 43% say he should not. Among those who say Trump should not be removed immediately, nearly half (45%) nevertheless say his actions this week were wrong.
Ousting the current president before his term expires splits Americans along partisan lines, with 94% of Democrats and only 13% of Republicans supporting the move. A majority of independents -- 58% -- also back removing him. https://abcnews.go.com/US/capitol-siege-majority-americans-trump-removed-office-term/story
17. Liberty University, the lone holdout after every other college strips Trump of honorary degrees
"Donald Trump has been granted five honorary degrees in his lifetime - from Lehigh University in 1988, from Wagner College in "Donald Trump has been granted five honorary degrees in his lifetime - from Lehigh University in 1988, from Wagner College in 2004, from Robert Gordon University in Scotland in 2010, and from Liberty University, which granted honorary degrees to Mr. Trump on two occasions - 2012 and 2017," Forbes reported Saturday. "But as of today, only one of those institutions - Liberty University - has not revoked the honorary degrees originally granted to Mr. Trump." https://www.rawstory.com/falwell-trump/
18.Trump went 'ballistic' after being tossed off Twitter
Trump has many prized possessions. But few seemed to inspire as much personal joy as his Twitter feed. Trump routinely boasted of the social media bullhorn he possessed. He credited it with launching his political trajectory. And he used it as a tool to lacerate his foes.
Trump entered office boasting of how he was the "Hemingway of 140 characters" and crediting Twitter in particular for powering his political ascent. More than 56,000 tweets later, he leaves it amid a futile game of Whac-A-Mole with the tech moguls he despises, exiled to the outer provinces of the internet.
If this is how Trump's presidency closes out, it will be a remarkable endnote. As a candidate for office, he was — at times — ubiquitous: posting outrageous takes on Twitter, calling into cable news shows, and grabbing the camera's attention even when the podium on which he was set to hold a campaign rally was empty. Now, he's increasingly isolated and receding from the spotlight. His favorite bullhorn is gone; oh, and the presidency is too. https://www.politico.com/news/2021/01/08/trump-reacts-to-twitter-ban-456785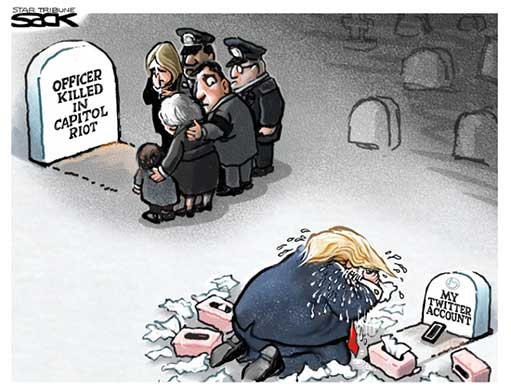 19. Dominion sues pro-Trump lawyer Sidney Powell, seeking more than $1.3 billion
Dominion Voting Systems on Friday filed a defamation lawsuit against lawyer Sidney Powell, demanding more than $1.3 billion in damages for havoc it says Powell has caused by spreading "wild" and "demonstrably false" allegations, including that Dominion played a central role in a fantastical scheme to steal the 2020 election from President Trump.
For weeks, Powell has claimed that Dominion was established with communist money in Venezuela to enable ballot-stuffing and other vote manipulation, and that those abilities were harnessed to rig the election for former vice president Joe Biden.
In a 124-page complaint filed in the U.S. District Court for the District of Columbia, Dominion said its reputation and resale value have been deeply damaged by a "viral disinformation campaign" that Powell mounted "to financially enrich herself, to raise her public profile, and to ingratiate herself to Donald Trump." The defendants named in the lawsuit include Powell, her law firm and Defending the Republic, the organization she set up to solicit donations to support her election-related litigation. https://www.washingtonpost.com/politics/dominion-sues-pro-trump-lawyer-sidney-powell-seeking-more-than-13-billion/2021/01/08/ebe5dbe0-5106-11eb-b96e-0e54447b23a1_story.html
20. Census Bureau Stops Work On Trump's Request For Unauthorized Immigrant Count
The U.S. Census Bureau has halted all work on President Trump's directive to produce a state-by-state count of unauthorized immigrants that would have been used to alter a key set of census numbers, NPR has learned.
Senior career officials at the bureau instructed the internal team assigned to carry out Trump's presidential memo to stand down and cease their work immediately on Tuesday night, according to a bureau employee who spoke to NPR on the condition of anonymity out of fear of retaliation in the workplace for speaking out. https://www.npr.org/2021/01/13/956352495/census-bureau-stops-work-on-trumps-request-for-unauthorized-immigrant-count
21. Simon & Schuster Cancels Plans for Senator Hawley's Book
Simon & Schuster said on Thursday that it would cancel the publication of an upcoming book by Senator Josh Hawley, one of several members of Congress who tried to overturn the results of the presidential election.
Mr. Hawley, a Missouri Republican and Trump ally, has been criticized for challenging the results and accused of helping incite the mob that stormed the Capitol on Wednesday. His book, "The Tyranny of Big Tech," was scheduled to be published in June.
"We did not come to this decision lightly," Simon & Schuster said in a statement. "As a publisher it will always be our mission to amplify a variety of voices and viewpoints: At the same time we take seriously our larger public responsibility as citizens, and cannot support Senator Hawley after his role in what became a dangerous threat." https://www.nytimes.com/2021/01/07/books/simon-schuster-josh-hawley-book.html#click=https://t.co/K4OMHIYh8W
22. Rep. Castro Wants to Prevent Buildings Named for Trump
Rep. Joaquin Castro (D-TX) is preparing legislation that would prohibit any federal building or property from being named after President Donald J. Trump. https://twitter.com/JoaquinCastrotx/status/1347360159442591746
23. The DAILY GRILL
"What transpired yesterday was tragic and sickening. While I have consistently condemned political violence on both sides of the aisle, specifically violence directed at law enforcement, we now see some supporters of the President using violence as a means to achieve political ends. This is unacceptable. The President and all elected officials should strongly condemn the violence that took place yesterday." — Acting Homeland Security Secretary Chad Wolf, who vowed to stay in his position until President-Elect Joe Biden takes office.

VERSUS

Just hours after Sec. Wolf's statement, the White House issued a release saying Wolf's nomination had been withdrawn.

 

This impeachment is causing tremendous anger. And you're doing it, and it's really a terrible thing that they're doing. For Nancy Pelosi and Chuck Schumer to continue on this path, I think it's causing tremendous danger to our country, and it's causing tremendous anger. I want no violence. — Trump insisting that impeaching him for inciting his supporters to commit violence would merely incite them to commit more violence.

VERSUS

Tump wants no violence. He's just giving the sort of friendly warning a gangster might give a shopkeeper. Nobody wants violence. Give the man what he demands, and there won't be any. -- NY Magazine.
1. NY Times Editorial: Impeach Trump Again
President Trump's efforts to remain in office in defiance of democracy cannot be allowed to go unanswered, lest they invite more lawlessness from this president or those who follow.
The attack on the Capitol on Wednesday was not a spontaneous eruption of violence. It was the culmination of a campaign waged by the president of the United States and his allies in Congress and the right-wing media to overturn the results of a free and fair election that began even before the ballots began to be counted on Election Day.
That campaign involved a barrage of lies about the integrity of the voting process from the president, his allies and other elected Republicans. It included farcical legal challenges that were laughed out of court even as they sowed doubt in the minds of a majority of Republicans about whether Joe Biden won fairly. It involved the president and his allies strong-arming state election officials to change the vote count outright. When it all failed, the president held a rally on the National Mall and sent the angry crowd to march on the Capitol and stop Congress from declaring Mr. Biden the winner of the presidency. The riot came at the cost of at least five lives and shook the confidence of the nation and the world in the stability of American democracy.
Each of these efforts amounts to an unprecedented assault on the rule of law. Taken together, they constitute a crime so brazen that it demands the highest form of accountability that the legislature can deliver. As regrettable as this moment is for the nation, there is no other option but to vote to impeach the president for a second time. https://www.nytimes.com/2021/01/11/opinion/trump-impeachment.html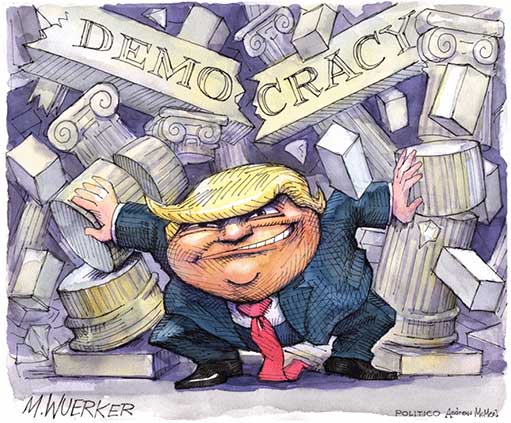 2. Drew Harwell, Isaac Stanley-Becker, Razzan Nakhlawi and Craig Timberg: QAnon reshaped Trump's party and radicalized believers. The Capitol siege may just be the start.
The siege on the U.S. Capitol played out as a QAnon fantasy made real: The faithful rose up in their thousands, summoned to Washington by their leader, President Trump. They seized the people's house as politicians cowered under desks. Hordes wearing T-shirts emblazoned with the "Q" symbol and toting Trump flags closed in to deliver justice, armed with zip-tie handcuffs and rope and guns.
The "#Storm" envisioned on far-right message boards had arrived. And two women who had died in the rampage — both QAnon devotees — had become what some were calling the first martyrs of the cause.
The siege ended with police retaking the Capitol and Trump being rebuked and losing his account. But the failed insurrection marked a grim milestone in how the paranoid conspiracy theory QAnon has radicalized Americans, reshaped the Republican Party and gained a forceful grip on right-wing belief.
Born in the Internet's fever swamps, QAnon played an unmistakable role in energizing rioters during the real-world attack on Jan. 6. A man in a "Q" T-shirt led the breach of the Senate, while a shirtless, fur-clad believer known as the "Q Shaman" posed for photographers in the Senate chamber. Twitter later purged more than 70,000 accounts associated with the conspiracy theory, in an acknowledgment of the online potency of QAnon.
The baseless conspiracy theory, which imagines Trump in a battle with a cabal of deep-state saboteurs who worship Satan and traffic children for sex, helped drive the day's events and facilitate organized attacks.  https://www.washingtonpost.com/technology/2021/01/13/qanon-capitol-siege-trump/
3. Nina Khrushcheva: Even A Squashed Coup Can Set The Course For Authoritarianism
Joe Biden insists that "the scenes of chaos at the Capitol do not represent who we are" but "a small number of extremists dedicated to lawlessness." This is a form of American delusion—of those who claim that Trumpism is "not us." There is a side of American life that has an authoritarian streak, not unlike Putin's nationalism. It feeds off searching for enemies everywhere and creating conspiracies to cover up its own shortcomings. It accepts torturing prisoners in "black sites" around the world, tolerates racist killings, or approvingly cites Hitler as Congresswoman Mary Miller did at a rally last week. Trump has masterfully stoked resentment within the white population against "the other," often tweeting statements that look a lot like incitements to violence—long before his mobs stormed the Capitol. By constantly "saying the quiet part out loud," he has given millions of Americans who have white nationalist views a license to act on their most nativist, despotic, and extreme impulses. What's worse, many Republican politicians condoned this behavior with the Bolshevik thinking that any method putting the party on top will do.
Every nation has the government it deserves. With America's self-assigned credo of being a shining city upon a hill, many people in the country—most of them white—tend to think of it as infallible and superior. Trump is this America's son, although he has taken this idea of U.S. dominance to an entirely new and fictional level, essentially declaring that he is America.
His millions of supporters live in the realm of might and fight that he constructed for them. Refusing to recognize Biden's victory, they will not be pacified by soothing speeches about America's "moving on" without holding the guilty to account, and with members of their own party, the GOP, leading the way.  https://www.vanityfair.com/news/2021/01/even-a-squashed-coup-can-set-the-course-for-authoritarianism-just-ask-russia
4. Keeanga-Yamahtta Taylor: The Bitter Fruits of Trump's White-Power Presidency
The spectacular violence in the Capitol on January 6th was the outcome of Donald Trump's yearslong dalliance with the white-supremacist right. Trump all but promised an attack of some kind as he called for his followers to descend on Washington, D.C., for a "wild" protest to stop the certification of Joe Biden's Electoral College victory. In a speech inciting his supporters to lay siege to the Capitol, he told them, "We will never give up. We will never concede." He encouraged them to "fight like hell," saying that otherwise they would lose their country, and dispatched them to the Capitol. He promised that he would be with them. But, like a lazy coward, Trump went home to watch the show on TV.
The white right-wing assault on the Capitol, with a Confederate flag in the building and gallows on the lawn, was alarming yet wholly predictable as Trump's frantic efforts to hold on to power faltered. Not only did Trump clearly incite violence with his speech, but his Administration also paved the way for the violence through its deliberate neglect of the rising threat of white extremism. The Center for Strategic and International Studies found that attacks by far-right perpetrators more than quadrupled between 2016 and 2017. Yet even as the threat of white-supremacist violence grew, it commanded little interest or acknowledgment from the Trump Administration. The Department of Homeland Security's Office of Targeted Violence and Terrorism Prevention, which was restructured and renamed in 2019, is dedicated to investigating extremism and domestic terrorism. Between 2017 and 2019, its operating budget was cut from twenty-one million dollars to less than three million, and the number of its full-time employees dwindled from forty to fewer than ten.
Instead of investigating white supremacists, the Trump Administration has surveilled the Black Lives Matter movement and other minority activists. According to New York University Law School's Brennan Center for Justice, eighty-five percent of "countering violent extremism" grants under Trump have targeted marginalized and oppressed minority groups. In April of 2019, the F.B.I. announced a reduction in the number of categories used to catalogue acts of racially motivated violence, eliminating the specific category for white supremacists and introducing a vague one called "racially motivated extremism." https://www.newyorker.com/news/our-columnists/the-bitter-fruits-of-trumps-white-power-presidency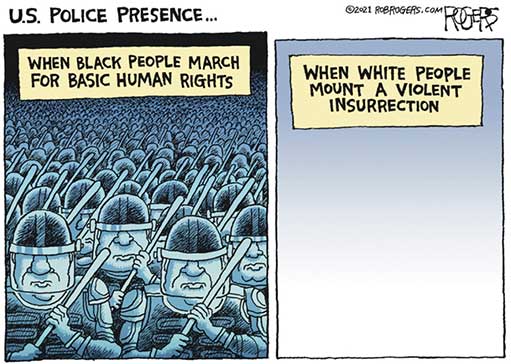 5. John F. Harris: Trump's Effort To Overturn The Election Should Be Investigated Like 9/11
What exactly has happened within top levels of the United States government since the presidential election of Nov. 3, 2020?
Once the transfer of power to President-elect Joseph Biden is complete on Jan. 20, the immediate crisis will pass. But the questions about the actions of President Donald Trump and his surrogates in what now counts as one of the two or three most dangerous transitions in U.S. history will remain.
No previous transition has raised similar doubts about whether the executive branch, including the military, is being run with a clear and lawful chain of command, with a psychologically competent individual at the top.
importantly, a commission could highlight recommendations for reforms. The Trump transition has magnified subjects that have long seemed indefensible, such as the abuse of the pardon process to help cronies and contributors, or the dangerous Cold War policy of presidential sole authority to launch nuclear weapons. The exercise needn't be simply a cudgel against Trump. Perhaps there would be recommendations on how to increase public confidence in elections during major outside events like a pandemic or war.
Another reason for a commission is because many of the events of the past ten weeks are ripe targets for being mythologized in distorted ways. The terrorists who bombed a federal building in Oklahoma City in 1995 believed they were righteously avenging the government's catastrophic effort to end a siege at a Waco cult compound two years before.
The grievances and malice that animate national politics aren't going away, but their most noxious expressions can be mitigated by establishing a clear and credible record of how this presidential transition went off the rails. https://www.politico.com/news/magazine/2021/01/10/trump-election-overturn-investigated-911-457269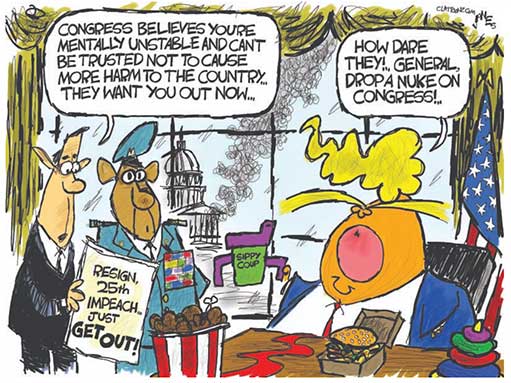 6. Fiona Hill: Yes, It Was a Coup. Here's Why.
Since last Wednesday, people have been arguing what to call what happened at the U.S. Capitol — was it a riot? An uprising? An insurrection? I've been public in calling it a coup, but others disagree. Some have said it's not a coup because the U.S. military and other armed groups weren't involved, and some because Donald Trump didn't invoke his presidential powers in support of the mob that broke into the Capitol. Others point out that no one has claimed or proved there was a secret plan directed by the president, and that Trump's efforts to overturn the outcome of the 2020 presidential election could never have succeeded in the first place.
These observations are based on the idea that a coup is a sudden, violent seizure of power involving clandestine plots and military takeovers. By contrast, Trump's goal was to keep himself in power, and his actions were taken over a period of months and in slow motion.
But that doesn't mean it wasn't a coup attempt. Trump disguised what he was doing by operating in plain sight, talking openly about his intent. He normalized his actions so people would accept them. I've been studying authoritarian regimes for three decades, and I know the signs of a coup when I see them. https://www.politico.com/news/magazine/2021/01/11/capitol-riot-self-coup-trump-fiona-hill-457549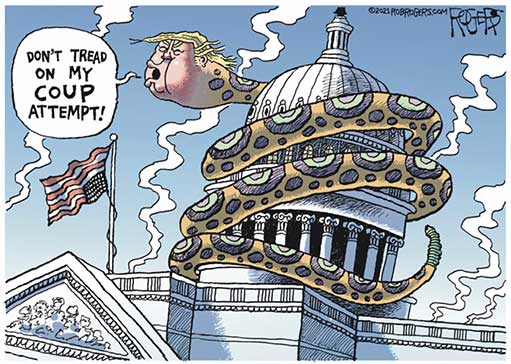 7. Jonathan Chait: Trump Authoritarianism Denial Is Over Now
In the end, Trump was unable to overturn an election defeat. But more revealing than his failure is how close he came to succeeding. Had the race been just a few tenths of a point closer, it could have fallen into the range where his challenges to late-arriving mail ballots — challenges the Supreme Court appeared open to supporting — might have proven decisive. His pressure campaign to force Georgia to "find" the necessary votes to flip the state foundered on Brad Raffensperger's unusual willingness to sacrifice his political ambitions for principle. Trump's January 6 mob was never going to occupy and hold the Capitol, but it came within seconds, and perhaps a wrong turn, of placing militant fanatics in the same room as defenseless members of congressional leadership.
The danger posed by Trump's contempt for democratic values was one of probabilities. The worst possible outcomes did not transpire. Even so, the minds that spent four years dismissing the danger, often to justify giving Trump even more power, hardly look any better for it. We entrusted a sociopathic instinctive authoritarian with the most powerful office in the world. What did we think would happen? https://nymag.com/intelligencer/article/trump-authoritarianism-capitol-insurrection-mob-coup.html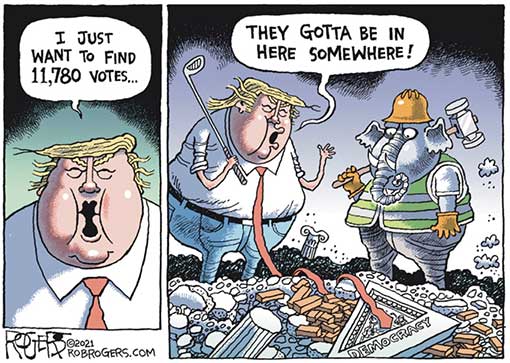 8. Richard Haass: Present at the Destruction
From the beginning, the essence of the Trump foreign policy has been disruption of arrangements and policies that largely served the United States well for three-quarters of a century—something I argued last year in a Foreign Affairs essay titled "Present at the Disruption." President Donald Trump's abrupt withdrawal from long-standing agreements and organizations, his attacks on allies, his embrace of authoritarian rulers and disregard of human rights violations, his habit of announcing policy changes on Twitter with little or no consultation: all of this, I explained, would result in a marked decline in U.S. influence, to the benefit of China, Iran, and Russia and the detriment of global efforts to address climate change, infectious disease, nuclear proliferation, and cyberthreats.
But the damage wrought by the events in Washington on January 6—the lawlessness and violence at the U.S. Capitol and the refusal, by Trump and dozens of Republican members of Congress, to accept the results of the November presidential election—will be even greater, on U.S. foreign policy as well as on U.S. democracy. We have gone from "present at the disruption" to "present at the destruction." What took place last week was a distinctly American failure, but the consequences go far beyond American shores. A post-American world, one no longer defined by U.S. primacy, is coming sooner than generally expected—less because of the inevitable rise of others than because of what the United States has done to itself. https://www.foreignaffairs.com/articles/united-states/2021-01-11/present-destruction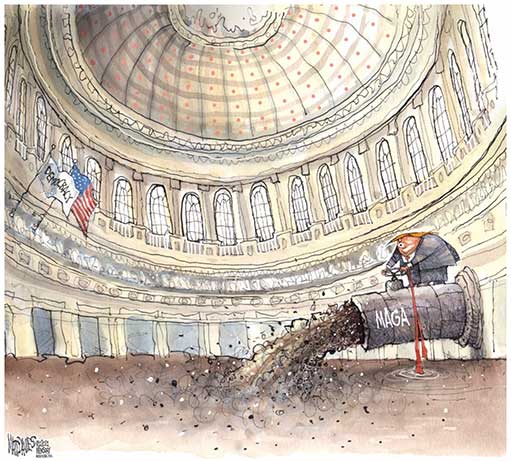 9. Ann Hornaday: The Trump cult has obliterated the line between citizenship and fandom, with deadly results
When the rioters were interviewed on Wednesday, many of them inevitably invoked the language of "our freedoms" and "history being made." But beneath the justifications for their criminality lay the ugly truth that their passions reside not in policy differences and governmental priorities but a cult of personality. Just hours before, Donald Trump Jr. and Rudy Giuliani urged thousands of rallygoers to "fight for Trump" and engage in "trial by combat." Like an all-powerful auteur yelling "Action," Trump declared that "You will never take back our country with weakness" and sent his bit players to improvise a juicy cliffhanger and third-act twist.
As the world-builder behind a subculture of vigilantism and comic-book cosplay, Trump has proved to be a master of the riff, delivering off-handed threats and dehumanizing remarks throughout his four years in office, whether encouraging violence against the media or praising white supremacists as "very fine people." After watching the carnage he instigated on television Wednesday, he finally sent a video out on Twitter, urging the rioters to go home — but not before telling them, "We love you, you're very special," in tones reserved for Dr. Frankenstein reassuring his misunderstood monster. (According to a close adviser quoted in a Washington Post article on Thursday, Trump wasn't quite as proud when he watched TV coverage and was "turned off" by the "low-class" costumed rabble that was defending his honor.) https://www.washingtonpost.com/entertainment/trump-riots-politics-entertainment/2021/01/08/c2e18e22-51b7-11eb-83e3-322644d82356_story.html
10. Margaret Sullivan The pro-Trump media world peddled the lies that fueled the Capitol mob. Fox News led the way.
"Fair and balanced" was the original Fox News lie, one of the rotten planks that built the foundation for Wednesday's democratic disaster.
Over decades, with that false promise accepted as gospel by millions of devotees, Fox News radicalized a nation and spawned more extreme successors such as Newsmax and One America News.
Day after day, hour after hour, Fox gave its viewers something that looked like news or commentary but far too often lacked sufficient adherence to a necessary ingredient: truth.
Birtherism. The caravan invasion. Covid denialism. Rampant election fraud. All of these found a comfortable home at Fox.
In the Trump era, the network — now out of favor for not being quite as shameless as the president demands — was his best friend and promoter. So to put it bluntly: The mob that stormed and desecrated the Capitol on Wednesday could not have existed in a country that hadn't been radicalized by the likes of Sean Hannity, Tucker Carlson and Laura Ingraham, and swayed by biased news coverage. https://www.washingtonpost.com/lifestyle/media/fox-news-blame-capitol-mob-media/2021/01/07/f15f668a-50ee-11eb-b96e-0e54447b23a1_story.html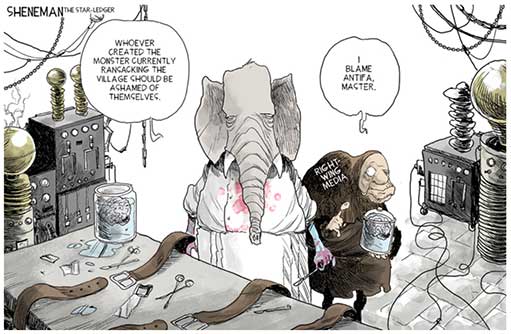 11. WSJ Editorial: Donald Trump's Final Days
In concise summary, on Wednesday the leader of the executive branch incited a crowd to march on the legislative branch. The express goal was to demand that Congress and Vice President Mike Pence reject electors from enough states to deny Mr. Biden an Electoral College victory. When some in the crowd turned violent and occupied the Capitol, the President caviled and declined for far too long to call them off. When he did speak, he hedged his plea with election complaint.
This was an assault on the constitutional process of transferring power after an election. It was also an assault on the legislature from an executive sworn to uphold the laws of the United States. This goes beyond merely refusing to concede defeat. In our view it crosses a constitutional line that Mr. Trump hasn't previously crossed. It is impeachable. https://www.wsj.com/articles/donald-trumps-final-days-11610062773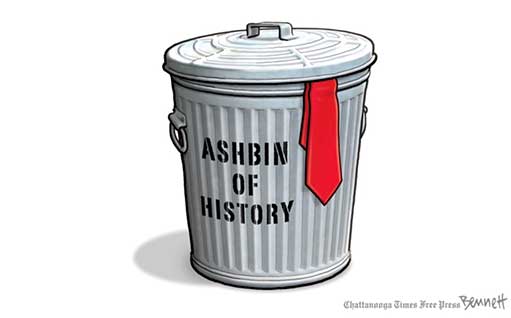 12. George F. Will: Trump, Hawley and Cruz will each wear the scarlet 'S' of a seditionist
The three repulsive architects of Wednesday's heartbreaking spectacle — mobs desecrating the Republic's noblest building and preventing the completion of a constitutional process — must be named and forevermore shunned. They are Donald Trump, and Sens. Josh Hawley and Ted Cruz.
Trump lit the fuse for the riot in the weeks before the election, with his successful effort to delegitimize the election in the eyes of his supporters. But Wednesday's explosion required the help of Hawley (R-Mo.) and Cruz (R-Tex.).
Hawley announced his intention to object to the certification of some states' electoral votes, for no better reason than that there has been an avalanche of "allegations" of election irregularities, allegations fomented by the loser of the election. By doing so, Hawley turned what should have been a perfunctory episode in our civic liturgy of post-election civility into a synthetic drama. He turned this moment into the focus of the hitherto unfocused fury that Trump had been stoking for many weeks.
Sen. Ted Cruz (R-Tex.) spoke from the Senate floor on Jan. 6, before the process to certify electoral college votes was disrupted by a mob of Trump supporters. (The Washington Post)
And Cruz, by organizing support for Hawley among other Republican senators and senators-elect gave Hawley's grotesque self-promotion an ersatz cloak of larger purpose. Shortly before the mob breached the Senate chamber, Cruz stood on the Senate floor. With his characteristic unctuousness, he regretted the existence of what he and kindred spirits have not only done nothing to refute but have themselves nurtured — a pandemic of suspicions that the election was "rigged."
"I want to take a moment to speak to my Democratic colleagues," said Cruz. "I understand your guy is winning right now." Read those weasely words again. He was not speaking to his "colleagues." He was speaking to the kind people who were at that instant assaulting the Capitol. He was nurturing the very delusions that soon would cause louts to be roaming the Senate chamber — the fantasy that Joe Biden has not won the election but is only winning "right now."
The Trump-Hawley-Cruz insurrection against constitutional government will be an indelible stain on the nation. They, however, will not be so permanent. In 14 days, one of them will be removed from office by the constitutional processes he neither fathoms nor favors. It will take longer to scrub the other two from public life. Until that hygienic outcome is accomplished, from this day forward, everything they say or do or advocate should be disregarded as patent attempts to distract attention from the lurid fact of what they have become. Each will wear a scarlet "S" as a seditionist. https://www.washingtonpost.com/opinions/trump-hawley-and-cruz-will-each-wear-the-scarlet-s-of-a-seditionist/2021/01/06/65b0ad1a-506c-11eb-bda4-615aaefd0555_story.html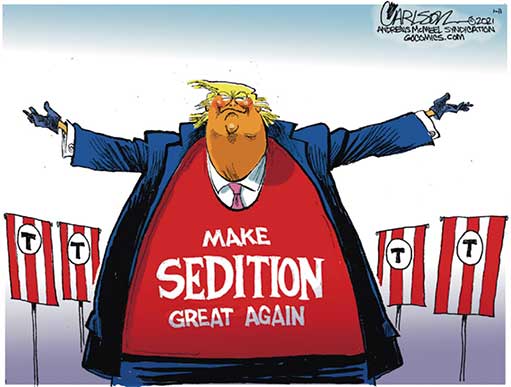 13. Nathaniel Rakich, Kaleigh Rogers and Geoffrey Skelley: Trump Helped Take Extremist Views From The Fringes Of Society To A Mob Attacking The Capitol
Faith in the integrity of the presidential election has been concerningly low for months — in large part because of President Trump's repeated false claims that the election was stolen from him. And on Wednesday, we saw an extreme example of the consequences of that mistrust when pro-Trump extremists briefly but violently occupied the U.S. Capitol.
This was undoubtedly a historic and disturbing moment. But it's important to remember that it did not happen in a vacuum, which we can see from polling on topics related to Wednesday's breach — faith in the election, support for the president, trust in institutions — as well as a comparison with the most analogous event in recent U.S. history: the 2017 Unite the Right rally in Charlottesville, Virginia. Taken together, these suggest that the attack on the Capitol shows how right-wing extremist views have become palatable to more members of an increasingly isolated and angry Trump base, even as they shock the rest of the country. https://fivethirtyeight.com/features/trump-helped-take-extremist-views-from-the-fringes-of-society-to-a-mob-attacking-the-capitol/
14. Jonathan V. Last. It Could Have Been Worse
Let's close this awful week with one optimistic thought: What happened on Wednesday could have been a lot worse.
Many of the insurrectionists storming the house were wearing body armor and helmets. A few were carrying zip ties. We have no idea how many of them were armed. These people built a forking gallows outside the Capitol.
You think this was spontaneous? Someone just happened to carrying around some 4x4's and hardware and another guy had plywood and some third patriot had rope and it was all serendipity?
And I want to say a word about the Capitol police—not the police leadership, who failed miserably—but the men and women on the ground: Heroes.
The leadership left the officers on the ground in an incredibly vulnerable position. They were tragically under-manned and under-prepared. The Capitol complex is almost impossible to defend to begin with, because there are so many entrances, the buildings all connect, and the interiors are basically a warren. Once the structure was breached, defending it was going to be awfully hard.
But the Capitol cops protected the people who were working for our democracy and the fact that only one of the insurrectionists was killed through the use of deadly force is a damn miracle.
I saw a lot of people complaining about the restraint shown by the Capitol police with something like "Hey, if these were BLM protestors they would all have been shot." That's exactly the wrong way to view this. The answer isn't that we want cops to use excessive force on everyone, all the time. It's that we want law enforcement to show restraint whenever possible. We want them exercising good judgment and not being aggressive bullies who escalate violence and make confrontations worse.
If the Capitol police on scene had reacted the way we saw many big city police departments react to protests this summer, then Wednesday would have been a bloodbath and the consequences for our nation would have been unimaginably worse. https://thetriad.thebulwark.com/p/it-could-have-been-worse
15. Steve Lopez: Fear, fealty and failure: a presidency's final days
We finally have a test of President Trump's claim that he could "stand in the middle of Fifth Avenue and shoot somebody, and I wouldn't lose any voters, OK?"
After Trump incited a rampage Wednesday in Washington and at least five people ended up dead, I reached out to Trump supporters I've corresponded with in the past to get their take.
They were all doing Tammy Wynette impressions, standing by their man.
"How do I feel about Trump?" asked my pen pal Steven. "Nothing's changed for me. He's been so unfairly treated by the corrupt left and you the media mob."
Trump was propped up for four years by Fox News, through all the lies, the hypocrisy, the policy failures. Day after day the network normalized the ugliest, most divisive and abominable behavior ever seen in an American president.
I nearly gagged Wednesday night when I switched to Fox and saw the "talent" wondering how the Duck Dynasty attempt to take over the Capitol could have possibly happened.
Maybe because Trump tore down civility and faith in American institutions for four years while Fox cheered him on?
And let's not forget that Fox, in the end, was shunned by Trump because it wasn't loyal enough to him and didn't embrace every preposterous conspiracy theory perpetrated by the goofball fringe of right-wing propaganda machines.
As for political leaders sharing the blame, let's start with Rep. Kevin McCarthy (R-Bakersfield), who has been so tightly affixed to Trump's backside the last four years that you would have needed the Jaws of Life to pull him free.
On Wednesday, McCarthy was shocked, shocked at what was happening in the Capitol, where he and other lawmakers had to take cover in their offices because Trump acolytes, juiced by the president, seemed ready to burn down the building.
"This is so un-American," McCarthy said on a phone call with Fox News. "I condemn any of this violence. I could not be sadder or more disappointed with the way our country looks right now."
Really? It took a marauding band of white zealots taking over the Capitol for McCarthy to open his eyes and realize the horror he and others have wrought by serving as apologists for a bully, a despot, a liar, a hypocrite and a bigot?
"This is not the American way," McCarthy went on.
Well, it is now. And it may be here to stay for years to come because McCarthy didn't have the decency, the humanity, the spine, to stand up to all the abuses of Donald Trump.
The unrest in D.C. was fueled by a sore loser of a president who can't accept the irrefutable evidence that in four years, he lost the House of Representatives, the Senate and the presidency.
I was driving south on the 5 Freeway on Wednesday when a six-wheeled white pickup truck the size of Staples Center merged onto the highway with U.S. and Trump flags flying. The occupants wore MAGA hats, and a sign on the window read: "It's Not Over."
Yeah, it kind of is, for now.
Thank heaven. https://enewspaper.latimes.com/infinity/article_share.aspx?guid=56aec0ef-1e7f-4d36-801d-a953fd1a3285
16. Houston Chronicle Editorial: Resign, Senator Cruz. Your lies cost lives
In Texas, we have our share of politicians who peddle wild conspiracy theories and reckless rhetoric aiming to inflame.
Think U.S. Rep. Louie Gohmert's "terror baby" diatribes or his nonsensical vow not to wear a face mask until after he got COVID, which he promptly did.
This editorial board tries to hold such shameful specimens to account.
But we reserve special condemnation for the perpetrators among them who are of sound mind and considerable intellect — those who should damn well know better.
None more than U.S. Sen. Ted Cruz.
We're done with the drama. Done with the opportunism. Done with the cynical scheming that has now cost American lives.
Resign, Mr. Cruz, and deliver Texas from the shame of calling you our senator. https://www.houstonchronicle.com/opinion/editorials/article/Editorial-Resign-Senator-Cruz-Your-lies-cost-15857293.php
17. Seth Masket: We Freaking Warned You
Well, political scientists warned you about Donald Trump. Since 2015, we've been warning about the dangers he posed. Not because of the policies he advocated, but because of the threats he posed to American democracy.
We warned you that he had no commitment to democratic values or norms. We warned you about the dangers of a leader that abused federal law enforcement to investigate his enemies and to pardon his allies. We warned you that he was undermining the peaceful transfer of power, perhaps the most sacred and stabilizing tradition in American politics. We warned you that Trump's lies about election results would erode faith in elections. We warned you that his embrace of authoritarianism would degrade American democracy for decades to come. We warned you that putting someone like Trump in the White House is how democracies die.
We warned you that his baseless and cruel attacks on reporters threatened the freedom of the press. We warned you that he was seeking to undermine the independence of the judiciary. We warned you that his racist nationalistic attacks challenged American traditions of citizenship.
We warned you that he was dangerous and that his presence made policymaking and governing harder. We warned you that his use of Twitter was death to policymaking and productive politics. We warned you that he was functionally a toddler.
We warned you that he was undermining science and harming America's response to the greatest public health crisis it has faced in a century.
We warned you that the two major parties were becoming increasingly divergent in their commitment to democracy, that Republicans were increasingly comfortable with minority government while appealing to whites who wanted to burn institutions down, and that Trump was hastening this trend.
This week, we have seen the fulfillment of our concerns about Trump's indifference to democracy.
Here's another warning: This isn't over. Maybe there will be more violence between now and Joe Biden's inauguration, maybe not. But the forces that created Wednesday's violence are still very much active and pose a significant threat to American democracy. The next time this crops up, let's not say this can't happen here. It already has, and it's still happening. https://www.mischiefsoffaction.com/post/we-freaking-warned-you
18. Washington Post Editorial: The ugly booby traps Pompeo is setting for Biden
SECRETARY OF State Mike Pompeo has been engaged in an unseemly campaign of grandstanding on his way out of office, littering his official Twitter account with political slogans and boasts of his accomplishments. Now, his self-serving theatrics are threatening to turn lethal. Over the weekend, Mr. Pompeo unveiled a flurry of 11th-hour measures eliminating decades-old restrictions on diplomatic contacts with Taiwan and slapping terrorism designations on Cuba and Yemen's Houthi rebels.
All three actions will create messes for the incoming Biden administration to clean up — but none more so than the Yemen measure, which international aid officials say could tip the war-torn country into famine. The Houthis control the northern part of the country, including the capital of Sanaa and the port of Hodeidah. A disastrous intervention by Saudi Arabia and the United Arab Emirates beginning in 2015 has failed to dislodge them, while pushing the Houthis into alliance with Iran. Meanwhile, the invasion helped create what the United Nations says is the world's worst humanitarian crisis. Almost half of Yemen's 28 million people are suffering high levels of food insecurity, and four-fifths are dependent on humanitarian aid. Pockets of famine already exist in the countryside.
The U.S. designation of the Houthis could greatly complicate the delivery of aid, by threatening with sanctions organizations that do business with the group. Mr. Pompeo said waivers and licenses would be granted to those involved in aid delivery. But as The Post's John Hudson and Missy Ryan reported, those exemptions have yet to be finalized. And they may not be enough for banks or other private companies that finance or supply the operations. https://www.washingtonpost.com/opinions/global-opinions/the-ugly-booby-traps-pompeo-is-setting-for-biden/2021/01/12/115a7ac6-5435-11eb-a08b-f1381ef3d207_story.html