September 22, 2022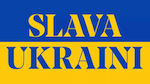 If you have a friend, family member, or neighbor who would like to subscribe to this FREE weekly newsletter they should simply email jellison@san.rr.com with "subscribe" as the subject.
THE WEEK'S BEST QUOTES. . .
DeSantis has taken it to a new low, lying to people in the way that he's lied to them. It really says a whole lot more about what … a soulless human being he is. You know the people who frequently like to have scripture on the lips and hate in their heart? He reminds me of them. —
Rep. Veronica Escobar (D-TX)
https://www.axios.com/2022/09/15/desantis-marthas-vineyard-border-democrats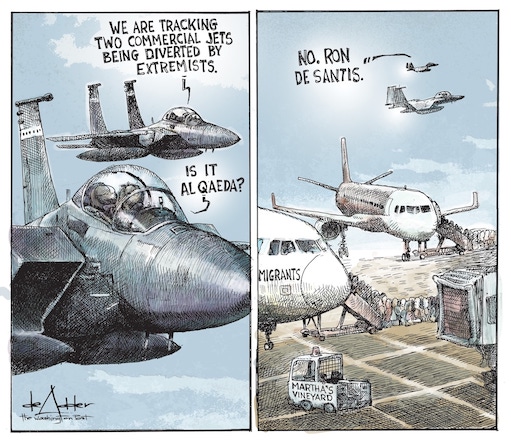 Exploiting vulnerable people for political stunts is repulsive and cruel. Islanders and people across Massachusetts have joined together to assist migrants that have arrived. … This is something we can do — work together, remember our values, put aside the politics and support the people who need our help. —  
Sen. Elizabeth Warren
https://www.politico.com/newsletters/massachusetts-playbook/2022/09/16/marthas-vineyard-f

allout-00057155
If you don't support John McCain's funeral, when you die, the public will come to your grave and piss on it. —
White House chief of staff John Kelly
, quoted in the new book The Divider, telling Donald Trump he had to lower the flag when Sen. John McCain died.
https://www.amazon.com/Divider-Trump-White-House-2017-2021-ebook/dp/B09NXMBG5S
Playing politics with people's lives is what governors like George Wallace did during segregation.
Ron DeSantis is trying to earn George Wallace's legacy
. -- Representative Seth Moulton, a Democrat from Massachusetts, referring to the reverse freedom rides of 1962, when segregationists used false promises of jobs and housing to trick Black Southerners into moving north.
https://www.npr.org/sections/codeswitch/2020/02/29/809740346/the-cruel-story-behind-the-reverse-freedom-rides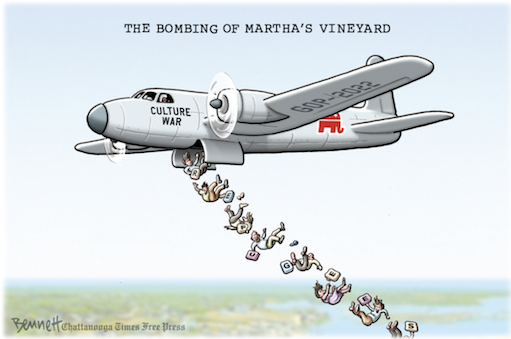 Your entire general class, they're left-wing politicians at this point. It's very hard to become a general without being some kind of left-of-center politician. I would love to see all the generals get fired. You take the most conservative colonels, you promote them to general. Not because the ideology is important, but because the conservative colonels will be able to leave the ideology aside. They just care about an effective fighting force. —
Blake Masters, the Republican nominee for Senate in Arizona
repeatedly said the U.S. should clean house on the senior ranks of the military, pushing the claim that all the generals and admirals are 'woke' and 'left-wing' losers who've never won a war.
https://www.vice.com/en/article/dy7xp7/blake-masters-military-generals-conservatives
Trump shared a photo of a man leaning over a buffet with the caption: Chris Christie at a Roy Rogers at 11 PM in the evening trying to console himself. —
Donald Trump
making fun of former Gov. Chris Christie over his weight.
https://truthsocial.com/@realDonaldTrump/posts/109009299566785023
Hey Ron, clearly you're struggling, distracted, and busy playing politics with people's lives. Since you have only one overriding need — attention — let's take this up & debate. I'll bring my hair gel. You bring your hairspray. Name the time before Election Day. — 
Gov. Gavin Newsom
challenging his Florida counterpart, Ron DeSantis, to a televised debate, escalating his criticism of Republican governors' mass transport of migrants to liberal bastions as 'reprehensible' and possibly illegal.
https://www.latimes.com/california/story/2022-09-16/newsom-desantis-debate-challenge-marthas-vineyard-migrant-flights
We can't afford to tiptoe around this ugly truth. Words matter. MAGA is a domestic terrorist movement. It threatens our national security. That reality must have consequences. —
Laurence Tribe
https://twitter.com/tribelaw/status/1571154808077275137
"J.D. is kissing my ass. Of course he wants my support." —
Trump
mocking venture capitalist J.D. Vance, his pick in Ohio's U.S. Senate race.
https://www.latimes.com/politics/story/2022-09-17/trump-rally-ohio-vance
GOPers know Trump's already an albatross: His "stolen election" derangement in late 2020 is why Dems control the Senate now, and his endorsements in this year's primaries have helped saddle Republicans with enough weak Senate candidates this year that retaking the chamber seems increasingly out of reach. —
Editorial from Rupert Murdoch's NY Post
.
https://nypost.com/2022/08/30/republicans-must-move-beyond-trump-to-keep-the-focus-on-bidens-disasters/
"Now that primary season is over there is a simple test for voters, especially Republicans and independents: If you care about the future of America, democracy and your own rights, don't vote for Republicans. Any of them." --
Jill Lawrence @ USA Today
https://www.usatoday.com/story/opinion/columnists/2022/09/18/dangerous-2022-elections-abortion-voting-democracy/10368442002/
California Governor Gavin Newsom
is "undeniably, unequivocally" planning to run for president in 2024 if President Biden chooses not to seek a second term. — A leading California fundraiser with close ties to the Newsom family.
https://www.thewrap.com/gavin-newsom-2024-presidential-run-joe-biden-kamala-harris/
Trump's Youngstown rally
ticked a lot of boxes on the
fascism checklist
:
• Talk of an "invasion" of foreigners
• Warning that "sicko leftists" are "indoctrinating" and "destroying our youth"
• Fear-mongering about "skyrocketing" crime
• Denying the legitimacy of political opponents
• Turning political rivals into enemies and existential threats to be destroyed
• Seizing upon the collective fears & anxieties of the crowd, then transforming them into mass disdain for immigrants, trans folks, leftists, & others.
• Denying the legitimacy of elections
• Portraying the US as a crime-ridden, immoral nation in decline — and offering himself as the only one who can save it.
• Attacking the press as the "enemy of the people"
• Attacking the FBI, the DOJ, the J6 Committee, and other institutions designed to hold power accountable.
• Attacking our public education system
• Claiming that Democrats "hate America" and want to "destroy it"  https://twitter.com/RVAwonk/status/1571716342297796610
"It was 'ransacked,' and in far different condition than the way I left it. Many Agents — and
they didn't even take off their shoes in my bedroom
. Nice!!!" —
Trump
using Truth Social to complain about the FBI's raid of Mar-a-Lago.
https://www.businessinsider.com/trump-raid-fbi-not-removing-shoes-room-2022-9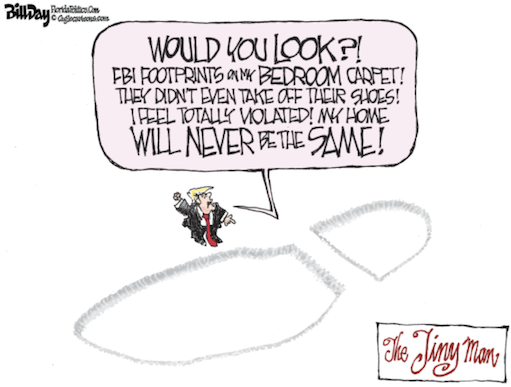 "No, in some regard because it's hard for me to imagine someone that dumb being speaker of the House."—
Rep. Ruben Gallego (D-AZ)
about the prospect of working in a House led by Kevin McCarthy.
https://www.vox.com/the-highlight/23323231/ruben-gallego-arizona-latino-voters
"What business is it of the court" to decide whether a document is classified.  At last, someone is applying the law! Classification is a core function of the executive branch, not the judiciary. If gov says it is classified, it is classified. —
Judge Dearie
https://twitter.com/BarbMcQuade/status/1572290357844647936
"I think we should have a law at the federal level that would say, after 15 weeks, no abortion on demand except in cases of rape, incest or to save the life of the mother.And that should be where America is at." —

Sen. Lindsey Graham (R-S.C.)

https://www.washingtonpost.com/politics/2022/09/13/abortion-graham-republicans-nationwide-ban/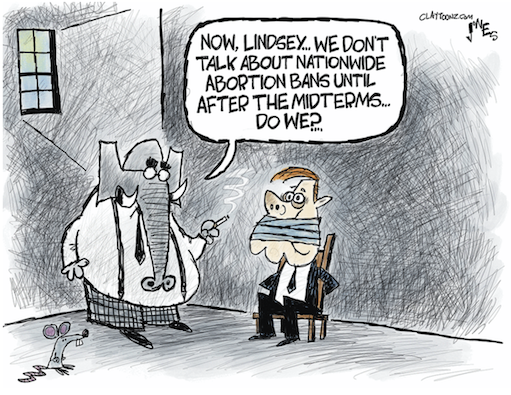 VIDEOS
Extreme Warning

: This is a member of congress. https://twitter.com/SWinstonWolkoff/status/1570929244435533824

Video thread about

Trump's cult-like Youngstown rally

.  https://twitter.com/atrupar/status/1571310340247281665

"I'm a country boy. I'm not that smart. He's a preacher. He is smart and wears these nice suits. So, he is going to show up and embarrass me at the debate Oct. 14th, and I'm just waiting to show up and I will do my best." —

Georgia U.S. Senate candidate Herschel Walker

. https://www.savannahnow.com/story/news/politics/elections/state/2022/09/17/herschel-walker-raphael-warnock-debate-savannah-georgia-united-states-senate-candidates/10397540002/

"They go in to people that know me, and they threaten them with jail time. They go in, and they take good people, and they say 'you're going to jail for ten years, you're going to jail for five years unless you say something bad about Trump, in which case you won't have to go to jail." —

Trump

claiming without evidence that January 6 witnesses are being blackmailed by the government into saying bad things about him. https://twitter.com/atrupar/status/1571287399480676355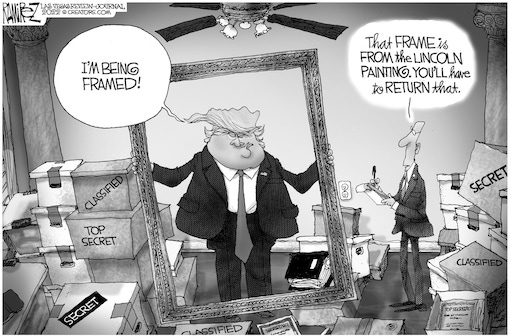 "Put your right hand in the air … America will have a new birth of liberty." —

PA MAGA Gov nominee Doug Mastriano

. https://twitter.com/RonFilipkowski/status/1571567482049298432
LITIGATION TRACKER
Pending Criminal and Civil Cases Against Donald Trump
. 
https://www.justsecurity.org/75032/litigation-tracker-pending-criminal-and-civil-cases-against-donald-trump/
---
IN THIS ISSUE
IN THE NEWS
OPINION
Andy Borowitz: F.B.I. Believes MyPillow Guy Committed Crimes Beyond Selling Shitty Pillows
The Federal Bureau of Investigation has seized the cell phone of Mike Lindell, better known as the MyPillow guy, in the belief that he may have committed crimes beyond selling shitty pillows, an F.B.I. spokesman has confirmed.

Although the F.B.I. took custody of Lindell's phone, they did not seize any of his pillows. Nobody wanted those, the spokesman said.

Shortly after the seizure, Republicans claimed that the Attorney General, Merrick Garland, was acting out of a personal vendetta because he had purchased a MyPillow and had been upset by how shitty it was.

I did not purchase a MyPillow, Garland clarified in a prepared statement. However, I have heard that they suck.

Lindell received vehement support from another Republican luminary, Don Bolduc, the G.O.P. nominee for U.S. Senate in New Hampshire. This is a rigged witch hunt, Bolduc said. The MyPillow guy has never sold a pillow.
https://www.newyorker.com/humor/borowitz-report/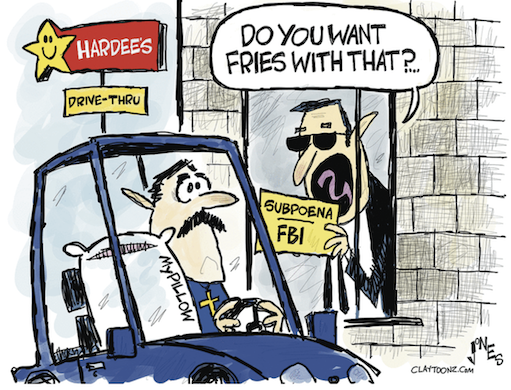 Every day feels like something else is piling on': Trump world bears down
Trump's allies and aides have been left angry and a bit shaken this week over the Department of Justice's issuance of some 40 subpoenas targeting people in Trump's inner orbit over their efforts to overturn the results of the 2020 presidential election and their connections to events on Jan. 6. Cell phones were confiscated from at least four people. A few trusted text chains among Trump vets were ignited with speculation about shoes soon to drop, while others went quiet.

Gone, for most in Trump World, was the bravado that this probe too would pass and that the 45th president would emerge stronger. Instead, there was growing anxiety about what could be next, as well as fears that those in the inner circle may flip on their friends to save themselves. https://www.yahoo.com/news/every-day-feels-something-else-083000205.html
Pennsylvania is a lesson in how Republicans are blowing 2022
The mainstream media's fixation with our supposedly 'polarized' politics obscures what has been going on. While Democrats have remained relatively stable in their center-left outlook, the darlings of the MAGA movement endorsed by their cult leader are so extreme that, in the case of Mastriano, he is losing 20 percent of Republicans. https://www.washingtonpost.com/opinions/2022/09/15/pennsylvania-midterms-oz-mastriano-republicans/
Former top FBI official involved in Trump-Russia investigation under scrutiny by federal prosecutors for his own ties to Russia
A former high-level FBI agent who was involved in the investigation into the Trump campaign's contacts with Russia during the 2016 election has himself come under scrutiny by federal prosecutors for his ties with Russia and other foreign governments.

Late last year, US attorneys secretly convened a grand jury that examined the conduct of Charles McGonigal, the former head of counterintelligence at the FBI field office in New York City… A witness subpoena seems to indicate that the government, in part, was looking into McGonigal's business dealings with a top aide to Oleg Deripaska, the billionaire Russian oligarch who was at the center of allegations that Russia colluded with the Trump campaign to interfere in the 2016 election. https://www.businessinsider.com/exclusive-fbi-charles-mcgonigal-trump-russia-grand-jury-oleg-deripaska-2022-9
DeSantis gave GOP donors a glimpse of plans for migrant flights
Florida Gov. Ron DeSantis told the Republican Party's top donors last weekend he was considering transporting migrants to places like Martha's Vineyard — just days before he secretly started the flights to the Massachusetts island, the Washington Post reports.

The 51-minute speech to the donor retreat gave a clear outline of how he might sell himself to Republican base voters during a potential 2024 presidential bid. The remarks were full of grievance and culture war pugilism, casting the nation's political future as a battle against a conspiracy by leftists to impose their ideology and turn dissenters into 'second-class citizens.' His message, according to the people in the room, was that America should become more like Florida — and that he would be a culture warrior. https://www.washingtonpost.com/politics/2022/09/15/desantis-migrants-donors/
Overturning Roe remains as unpopular as ever — despite GOP hopes
Nearly three months later after the Supreme Court overturned Roe, that move remains as unpopular as the polls have long suggested; indeed, it appears to be one of the court's most unpopular decisions in modern history.

Despite Republicans emphasizing the idea of sending of the issue 'back to the states,' Americans still oppose overturning Roe by around a 2-to-1 margin. And crucially, they still strongly oppose it even when told that the court's decision means states can now decide the issue for themselves. https://www.washingtonpost.com/politics/2022/09/15/roe-unpopular-republicans/
Georgia 2020 election inquiry may lead to prison sentences, prosecutor says
The prosecutor investigating efforts by Donald Trump and his allies to challenge the 2020 election results in Georgia said this week that her team has heard credible allegations that serious crimes have been committed and that she believes some individuals may see jail time.

Said Fani Willis: The allegations are very serious. If indicted and convicted, people are facing prison sentences. https://www.washingtonpost.com/national-security/2022/09/15/fani-willis-georgia-prison/
CA governor rents billboards in red states to tout abortion access
California Gov. Gavin Newsom's (D) reelection campaign has rented billboards in six states with abortion bans, escalating the Democrat's battle with conservative Republican governors and courting a First Amendment fight with Mississippi. https://www.washingtonpost.com/politics/2022/09/15/gavin-newsome-abortion/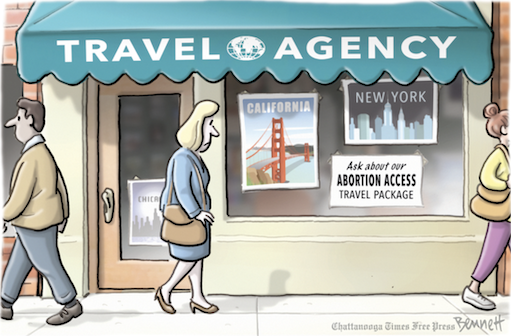 Reality Winner Sees Irony in Trump Taking Classified Docs
Reality Winner, a former intelligence contractor who served more than four years in prison for leaking a classified report on Russian interference in the 2016 presidential election, says she finds the allegations that former President Donald Trump mishandled secret government documents as an incredibly ironic predicament given that it was his administration that sought to aggressively prosecute her. https://www.nbcnews.com/politics/donald-trump/reality-winner-imprisoned-leaking-classified-report-calls-case-trump-i-rcna46683
Trump's Team of Lawyers Marked by Infighting and Possible Legal Troubles of Its Own
Two members of the Trump legal team working on the documents case, Mr. Corcoran and Christina Bobb, have subjected themselves to scrutiny by federal law enforcement officials over assurances they provided to prosecutors and federal agents in June that the former president had returned all sensitive government documents kept in his residence and subpoenaed by a grand jury.

That assertion was proved to be untrue after the search of Mar-a-Lago in August turned up more than 100 additional documents with classification markings.

Investigators are seeking information from Ms. Bobb about why she signed a statement attesting to full compliance with the subpoena, and they have signaled they have not ruled out pursuing a criminal inquiry into the actions of either Ms. Bobb or Mr. Corcoran. https://www.nytimes.com/2022/09/16/us/politics/trump-lawyers-herschmann.html
The GOP's Abortion Problem Is Real and Big
A new New York Times/Siena poll finds 62% of registered voters oppose the Supreme Court's decision overturning Roe v. Wade, while 30% support it. Similarly, it finds that 62% of voters favor keeping abortion legal, versus only 31% who think it should be illegal.

But drilling down, it's the intensity of this opposition that should really worry Republicans.

Specifically, 52% of voters strongly oppose overturning Roe, as compared to just 19% who strongly support it. The poll also found that 57% of women strongly oppose overturning Roe, as compared to just 15% who strongly support it.

More worrisome for Republicans is that abortion rights has seemingly energized these women to get out and vote. https://www.nytimes.com/interactive/2022/09/16/upshot/september-2022-times-siena-poll-crosstabs.html
Biden aides are quietly assembling a 2024 campaign as they await a final decision on his political future
President Joe Biden's top aides have been quietly building a 2024 campaign effort, with increasing discussions about who might manage the operation, potential themes and structure.

The current plan is for a Biden re-election effort to rely heavily on the resources of the Democratic National Committee and only have a small campaign staff, a cost-saving configuration that follows the model of then-President Bill Clinton's re-election bid and dramatically differs from then-President Barack Obama's campaign.

Biden and his top advisers also are using the homestretch to November's midterm elections to test possible 2024 themes. https://www.nbcnews.com/politics/joe-biden/biden-aides-are-quietly-assembling-2024-campaign-await-final-decision-rcna48005
Lies, Politics and Democracy
In a two-hour documentary FRONTLINE examines how officials fed the public lies about the 2020 presidential election and embraced rhetoric that led to political violence. https://www.pbs.org/wgbh/frontline/documentary/lies-politics-and-democracy/
Trump's 2024 triumph
Amid his legal peril, former President Trump emerges from the midterm primary season with two trophies that show the extent to which he has reshaped the Republican Party in his image — and toward his obsessions.

In 24 states, across the map, Republicans are fielding 2020 presidential election deniers as November standard-bearers for statewide office — governor, secretary of state or attorney general. These candidates — nearly 1 in 3 GOP statewide candidates, according to AP — backed Trump's push to overturn the election or spread lies about results. https://www.axios.com/2022/09/19/mypillow-ceo-mike-lindells-lawsuit-smartmatic-voting-machine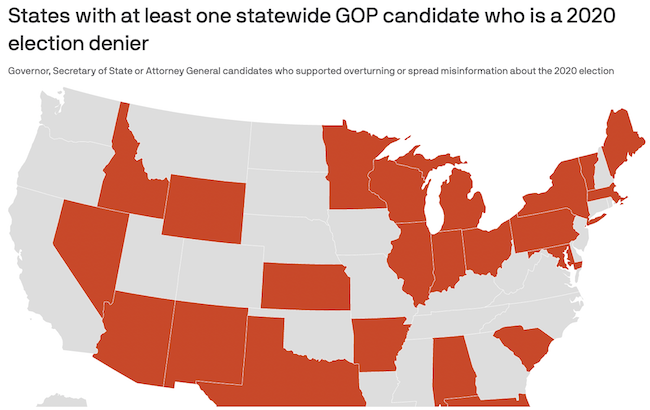 'Huge mistake': DeSantis' migrant transports could undercut support in South Florida
Gov. Ron DeSantis' decision to transport mostly Venezuelan migrants to Martha's Vineyard earlier this week could hurt the Republican governor in November with a key constituency that the GOP has sought to win over.

The move by DeSantis dominated the radio and television airwaves in South Florida — where large swaths of Hispanic voters live. One Spanish radio host loudly denounced the move and even compared DeSantis' actions to that of deceased Cuban dictator Fidel Castro, who relocated Cubans in the early '60s. https://www.politico.com/news/2022/09/17/desantis-migrant-transports-south-florida-00057337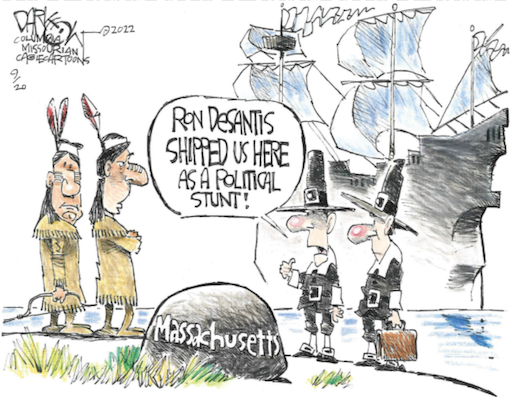 Majority of Latino Voters Out of GOP's Reach
It has been nearly two years since Donald Trump made surprising gains with Hispanic voters. But Republican dreams of a major realignment of Latino voters drawn to G.O.P. stances on crime and social issues have failed to materialize, according to a new poll by The New York Times and Siena College.

The poll

,

one of the largest nonpartisan surveys of Latino voters since the 2020 election — found that Democrats had maintained a grip on the majority of Latino voters, driven in part by women and the belief that Democrats remained the party of the working class. Overall, Hispanic voters are more likely to agree with Democrats on many issues — immigration, gun policy, climate. They are also more likely to see Republicans as the party of the elite and as holding extreme views. And a majority of Hispanic voters, 56 percent, plan to vote for Democrats this fall, compared with 32 percent for Republicans.

But the survey also shows worrying signs for the future of the Democratic message. Despite that comfortable lead, the poll finds Democrats faring far worse than they did in the years before the 2020 election. Younger male Hispanic voters, especially those in the South, appear to be drifting away from the party, a shift that is propelled by deep economic concerns. Weaknesses in the South and among rural voters could stand in the way of crucial wins in Texas and Florida in this year's midterms. https://www.nytimes.com/2022/09/18/us/politics/latino-vote-polling.html
Former KGB Officer Says Donald Trump Has Been a Russian Asset Since 1987
In his new book, "American Kompromat," reporter Craig Unger interviewed Yuri Shvets,  a former KGB spy, who told him that the KGB manipulated Trump with simple flattery. "In terms of his personality, the guy is not a complicated cookie," he said, "his most important characteristics being low intellect coupled with hyperinflated vanity. This makes him a dream for an experienced recruiter." https://www.politicalflare.com/2022/09/former-kgb-officer-says-donald-trump-has-been-a-russian-asset-since-1987/
Trump Was Warned Late Last Year of Potential Legal Peril Over Documents
A onetime White House lawyer under President Donald Trump warned him late last year that Mr. Trump could face legal liability if he did not return government materials he had taken with him when he left office.

The lawyer, Eric Herschmann, sought to impress upon Mr. Trump the seriousness of the issue and the potential for investigations and legal exposure if he did not return the documents, particularly any classified material.

The account of the conversation is the latest evidence that Mr. Trump had been informed of the legal perils of holding onto material that is now at the heart of a Justice Department criminal investigation into his handling of the documents and the possibility that he or his aides engaged in obstruction. https://www.nytimes.com/2022/09/19/us/politics/trump-herschmann-documents.html
DNC registration effort targets college students 'where they are'
The Democratic National Committee is launching a new voter registration effort targeting younger voters — including at college football games in two key states. https://rollcall.com/2022/09/20/dnc-registration-effort-targets-college-students-where-they-are/
Ad spending shows Dems hinging midterm hopes on abortion
Democrats are pumping an unprecedented amount of money into advertising related to abortion rights, underscoring how central the message is to the party in the final weeks before the November midterm elections.

With the most intense period of campaigning only just beginning, Democrats have already invested more than an estimated $124 million this year in television advertising referencing abortion. That's more than twice as much money as the Democrats' next top issue this year, "character," and almost 20 times more than Democrats spent on abortion-related ads in the 2018 midterms. https://apnews.com/article/2022-midterm-elections-abortion-health-congress-4be6df000de67933fcdabcd6f7b56a3d
'F–k If I Know': Trump's Embrace of QAnon Baffles Allies
This summer, Donald Trump is taking something that began during his presidency to a whole new level. His dalliance with content connected to QAnon — the deranged pro-Trump conspiracy theory that features tales of powerful Democrats running a pedophilic secret society — has gone from a game of footsie to what appears to be an open embrace.

But if you ask members of the ex-president's inner orbit why this is happening now, you get a mix of responses, including abject confusion. https://www.rollingstone.com/politics/politics-news/trump-embracing-qanon-truth-social-1234596381/
THE DAILY GRILL
Like a driver making a screeching U-turn Don Bolduc, the Republican Senate nominee in New Hampshire, pivoted on Thursday from his primary race to the general election, saying he had 'come to the conclusion' that the 2020 presidential election 'was not stolen,' after he had spent more than a year claiming it was. https://www.nytimes.com/2022/09/15/us/politics/don-bolduc-nh.html
POLLS ...
A new Politico/Morning Consult poll finds President Biden's approval rating has ticked up to 46%, the first time it has reached that level since December 2021. In the generic congressional ballot, Democrats now lead Republicans 46% to 41%. https://www.politico.com/f/?id=00000183-5ea1-d6cb-a593-ffb75f810000
A new Marquette Law School Poll in Wisconsin finds Sen. Ron Johnson (R) just ahead of challenger Mandela Barnes (D), 49% to 48%. In the governor's race, Gov. Tony Evers (D) leads challenger Tim Michels (R), 47% to 44%. https://law.marquette.edu/poll/
A new Quinnipiac poll in Georgia finds Sen. Raphael Warnock (D) leading challenger Herschel Walker (R), 52% to 46%. In the governor's race, Gov. Brian Kemp (R) leads challenger Stacey Abrams (D), 50% to 48%. https://poll.qu.edu/poll-release
A new Emerson College poll in New Hampshire finds Sen. Maggie Hassan (D-NH) with an 11-point lead over newly-nominated Donald Bolduc (R), leading 51% to 40%. https://emersoncollegepolling.com/new-hampshire-2022-senator-hassan-leads-freshley-nominated-bolduc-by-11/

No race for governor has been more surprising than Oregon, which we last shifted into the competitive column at the end of July, moving it from Likely to Lean Democrat. Now, we are changing our race rating once again into the Toss Up column. https://www.cookpolitical.com/analysis/governors/oregon-governor/oregon-governor-moves-toss
A Minneapolis Star Tribune poll finds Gov. Tim Walz (D) leading challenger Scott Jensen (R), 48% to 41%. https://www.startribune.com/minnesota-poll-gov-tim-walz-scott-jensen-governor-biden-job-approval-voter-confidence/600207082/

A new Dallas Morning News poll in Texas finds Gov. Greg Abbott (R) has gained on challenger Beto O'Rourke (D) in the high-stakes race for Texas governor and now has a 9-point cushion, 47% to 38%. https://www.dallasnews.com/news/politics/2022/09/19/texas-gov-greg-abbott-widens-lead-on-beto-orourke-in-new-poll/

A new New York Times/Siena poll finds Joe Biden leading Donald Trump in a possible 2024 rematch, 45% to 42%. https://scri.siena.edu/wp-content/uploads/2022/09/NYT-Siena-National-PR-9-19-22-FINAL.pdf

"Democrats have pulled even with Republicans ahead of November's midterm elections, fueled by six-in-10 voters who disapprove of the decision to overturn Roe v. Wade, by President Joe Biden's approval rating improving to its highest mark since October and by Donald Trump's favorability rating dropping to its lowest level in more than a year." https://www.nbcnews.com/meet-the-press/first-read/poll-abortion-trump-boost-midterm-prospects-democrats-rcna48173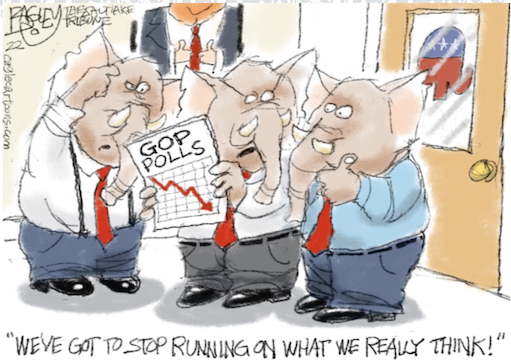 New New York Times/Siena College poll — one of the largest nonpartisan surveys of Latino voters since the 2020 election — found that Democrats had maintained a grip on the majority of Latino voters, driven in part by women and the belief that Democrats remained the party of the working class. Overall, Hispanic voters are more likely to agree with Democrats on many issues — immigration, gun policy, climate. They are also more likely to see Republicans as the party of the elite and as holding extreme views." https://www.nytimes.com/2022/09/18/us/politics/latino-vote-polling.html

A new Spectrum News/Siena College poll in Wisconsin finds Mandela Barnes (D) leading Sen. Ron Johnson (R) in the U.S. Senate race, 48% to 47%. In the Governor's race, Gov. Tony Evers (D) leads Tim Michels (R), 49% to 44%. https://www.scribd.com/document/595537708/Exclusive-Spectrum-News-Siena-College-poll-results

The Economist's forecast model shows Democrats with an 82% chance of retaining control of the U.S. Senate and a 35% chance of retaining control of the U.S. House.

A new Marist poll in Ohio finds J.D. Vance (R) barely ahead of Tim Ryan (D) in the U.S. Senate race, 46% to 45% with 9% still undecided. https://maristpoll.marist.edu/polls/the-2022-elections-in-ohio/
Bess Levin: Wonton Killings, Gazpacho Police, Peach Tree Dishes: Lauren Boebert And Marjorie Taylor Greene Make The Case For Congressional IQ Minimums
Lauren Boebert and Marjorie Taylor Greene haven't been in Congress very long, but they've made big names for themselves so far. As cartoon villains who vote against bills that benefit cancer patients. As bigots who vilify transgender people and want to criminalize transgender medical care.As bat-shit crazy lunatics who believe that Democrats are part of a satanic cult of pedophiles who eat children and that California wildfires are caused by Jewish space lasers. As people in charge of making laws who nevertheless say things like "gazpacho police," when referring to the gestapo, "peach tree dish," when they mean petri, and "wonton killings," when the word they were likely looking for was "wanton."
The latest instance of food-related linguistic terrorism came on Tuesday when Boebert — who is "tired of the this separation of church and state junk" and wants  "biblical citizenship training" in schools — read a passage from the Bible about "wanton killings" but pronounced it like the Chinese dumpling. At no point did she appear to realize the error, and in fact seemed to suggest she'd be reading up on what "wonton killings" entail. Are they murders that occur over dim sum? Is it when someone is suffocated with dough and then buried under a pile of ground pork? Has Law & Order: Criminal Intent ever done an episode about them? Hopefully the representative from Colorado will do her own research and let us know. https://www.vanityfair.com/news/2022/09/lauren-boebert-marjorie-taylor-greene-wonton-killings-gazpacho-police
Dana Milbank:  Hey QAnon! Republicans are playing your song
At a Trump rally in Ohio on Saturday, the former president closed his speech to the strains of a melody widely associated with the QAnon conspiracy movement, which holds that the government is run by a secret cabal of satanic pedophiles.

En masse, audience members fully extended their right arms and pointed their index fingers as Trump proclaimed them to be "one movement," apparently echoing the name of the song they were hearing, "WWG1WGA" — an abbreviation of the QAnon slogan "where we go one, we go all."

Trump had used the same theme song earlier at a rally in Pennsylvania, and in a campaign video. He reposted an image of himself on his social media site in which he wore a "Q" lapel pin under the QAnon slogan, "The Storm is Coming" — one of dozens of QAnon-themed posts he has done lately.

He's continuing to do this despite clear evidence that the paranoid madness (the QAnon fantasy ends in Trump's opponents being executed) inspires violence. In Michigan this month, a man allegedly shot and killed his wife and dog and injured his daughter. Another daughter told the Detroit News that her father's mental health had deteriorated as he fell deeper into "crazy ideas," including QAnon, since the 2020 election.

Trump, even before the QAnon melody and salute at his rally Saturday, treated his fans to a full range of delusionary conspiracy notions.
"The FBI colluded with Russia."
"We have a president who is cognitively impaired."
"We won the election by a lot."
"They spy on my campaign."

Positively everybody was conspiring in the "persecution of the MAGA movement." The "deep state." "Racist" (that is, Black) prosecutors. "Menacing forces." The "enemy-of-the-people" media. FBI agents who "break into" his home.
"A vile group of corrupt, power-hungry globalists, socialists and liberal extremists in Washington has been waging war on the hardworking people of Ohio," Trump told them. "Our biggest threat remains the sick, sinister and evil people from within our country."
QAnon, he's playing your song. https://www.washingtonpost.com/opinions/2022/09/19/qanon-song-trump-rally-republicans/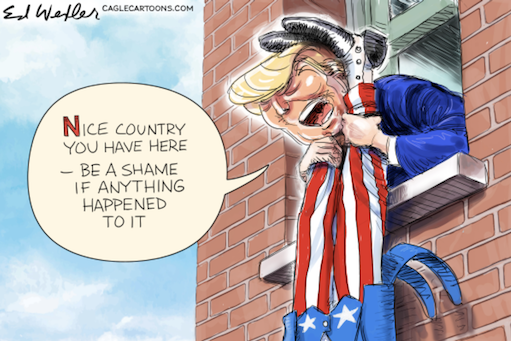 Maureen Dowd: How Low Can They Go?
Donald Trump will be remembered for many things.
He injected obscenities into The New York Times's White House coverage. He turned conspiracy theory into Republican orthodoxy. And he cut out the middleman on ugliness, happily doing the political wet work himself.
Trump dispensed with the idea that the candidate was above it all. He was excited to show he was beneath it all — the naked id of the Republican Party.
His soulless followers, like Ron DeSantis and Greg Abbott, are happy to mud-wrestle and perform Grand Guignol as well.
In some ways, it's easier to battle racism, sexism, xenophobia and fakery when the principals are gleefully spewing it. You can fight back on the record and in real time.
In other ways, however, having it all out in the open sends a foul stench through American politics, intensifying the brutish and bleak mood of the country.
Politicians who purport to be guardians of American "values" are rewarded for being inhumane. The nastier, the better. Republican pols have gone from kissing babies and rope-line handshakes to full-on viciousness.

It can be amusing to mock elites. But there's something exceedingly creepy — and blatantly opportunistic — about DeSantis chartering two planes to send some 50 migrants, mostly Venezuelan, from San Antonio to Martha's Vineyard. The lawyers for some migrants said that they were deceived about their destination, and Martha's Vineyard officials said they had no notice. Abbott sent two busloads of migrants to Vice President Kamala Harris's home at the Naval Observatory.

This caper to expose the hypocrisy of Democratic elites ended up being compared to human trafficking. The Republicans are exploiting people's misery for a political game. The migrants simply want to work, which a bunch of Americans don't want to do anymore.

With their pre-midterm publicity stunts, as with their draconian push to outlaw abortion, the Republicans are increasingly letting politics take precedence over people. https://www.nytimes.com/2022/09/17/opinion/desantis-border-immigration.html
Mona Charen: Don't Blame the Immigrants. It's Our Laws That Are Criminal
America needs more immigrants, but we seem determined to shoot ourselves in the foot.
Those who believe the propaganda that immigration is destroying America should ponder our neighbor to the north. Is Canada a hellscape? The proportion of foreign born there is 21 percent, compared to the American average of 13.7 percent.
In truth, the vast majority of would-be immigrants have done absolutely nothing wrong. It is our own laws that are the problem. Because our political system is so steeped in bile and demagoguery, we can't adapt to changing circumstances. We desperately need workers, yet the wait for legal immigration options is years long. People ask, "Why can't illegal immigrants wait in line?" But there is no line. We resolutely decline to accept guest workers in large numbers, who could fill jobs and return home (without affecting voting patterns, by the way). And so the only way to gain entry is to put feet on American soil and ask for asylum. Clearly, not all of those pleading for asylum meet the criteria (a well-founded fear of persecution based on being a member of a subgroup), but the system is short of courts and judges and wait times for hearings are very long. Some never show up for their hearings. And so the word has gone out around the world that if you can manage to get to the United States and present yourself to a border guard, you have at least a shot of remaining in the country either because your asylum claim will be granted or you will melt into the country and avoid deportation.

We are fortunate that so many hard-working people want to come here. If we had our act together, we would reform our laws to take many more legal immigrants (who would begin the application process in their home countries) and hire more immigration judges to hear asylum claims while clarifying that only severe cases will be eligible for that status (not economic migrants). We are an aging population with a declining birth rate. Our national spirit needs the infusion of energy and dynamism that immigrants provide.
If our laws are clear, we can reduce the crush of hopefuls at the border. With more legal immigrants, our economy will thrive. Our tax receipts will increase. We'll have the nurses, truckers, teachers, cooks, train conductors, and construction workers we desperately need. And we will be thanked and strengthened by people whose lives we save. https://www.thebulwark.com/dont-blame-the-immigrants-its-our-laws-that-are-criminal/
John Cassidy: Why Is Trump Openly Embracing QAnon Now?
Over the weekend, the New York Times and the Washington Post published lengthy articles on the threat to American democracy posed by election deniers and an increasingly unrepresentative electoral system. Both pieces were well worth reading, but they didn't focus on a more immediate threat to democratic values and the rule of law: Donald Trump's apparent attempts to publicly intimidate federal prosecutors who are investigating efforts to overturn the 2020 election and his failure to return classified documents to the National Archives and Records Administration.
At a campaign rally in Youngstown, Ohio, on Saturday night, for the Republican Senate candidate J. D. Vance, Trump played background music that the Times described as "all but identical" to a song associated with the QAnon right-wing conspiracy movement. Many people in the crowd responded with a one-armed salute, with their index finger raised, that reminded some observers of Nazi rallies. Will Bunch, a columnist for the Philadelphia Inquirer, said the rally "should terrify you." And it came days after Trump had reposted on his social-media platform, Truth Social, a doctored image of himself wearing a Q lapel pin overlaid with the words "THE STORM is COMING"—a QAnon meme that refers to a moment when Trump supposedly returns to power and punishes his enemies. This reposting wasn't a one-off. According to an analysis conducted by the Associated Press and published last week, "Of nearly 75 accounts Trump has reposted on his Truth Social profile in the past month, more than a third of them have promoted QAnon by sharing the movement's slogans, videos or imagery."
What's going on? One possibility is that Trump has finally lost what remained of his judgment and gone full tilt to a place where many leading Democrats are Satan-worshipping pedophiles, the coronavirus is a Chinese bioweapon, and J.F.K., Jr., is alive. A more likely theory, put forward by the Post's Philip Bump, is that Trump is effectively asking QAnon to "stand back and stand by" for his 2024 election campaign, just as, during a September, 2020, Presidential debate, he asked the Proud Boys to "stand back and stand by." That sounds plausible. But it seems at least equally possible that Trump is motivated by a more immediate concern—the multiple state and federal investigations of his conduct—and that he's signaling to prosecutors that he won't go quietly, so they had better beware. https://www.newyorker.com/news/our-columnists/why-is-trump-openly-embracing-qanon-now
Tom Nichols: Trump's New Recruits
Trump rallies can often seem ridiculous, not least because Trump himself is inherently a ridiculous person. He grips the podium and shouts, his sweaty angst giving rise to a reddish tinge apparent even under the thick layer of orange-hued chemicals he slathers on his face. In these moments, stock phrases and gimmicky asides pop out of his mouth like lottery numbers churning to the top of a Powerball machine.
But Saturday night's Ohio rally was not a typical Trump carnival, and it was not just ridiculous—it was dangerous. His embrace of the QAnon conspiracy theorists represents a new expansion not only of Trump's cult of personality, but of his threats to sow violence.
Despite his seeming inability to remember anything from one thought to the next, Trump has a kind of lizard-brain awareness of danger—only to himself, of course—that guides him when he's faced with threats. His reflex in such situations is to do whatever it takes to survive, including bullying, lying, threatening, and allegedly breaking the law. He is in political and legal jeopardy now, and he has decided to escalate his war against the rule of law, the American system of government, and the American people by embracing and potentially weaponizing QAnon.
The QAnon movement might seem as ridiculous as Trump, but it is tragic and hazardous. As my friend Rob Tracinski wrote recently, it is "an online grift that got out of hand and became a worldview, and millions of people now believe that there "is a global network of pedophiles who secretly run the world and control our politics so that they can abuse children. This is no ordinary conspiracy theory about commies fluoridating the water; the emotional punch of threats to children has already led to near tragedies and, in some cases, disastrous outcomes involving unstable and violent people.
https://www.theatlantic.com/newsletters/archive/2022/09/trumps-new-recruits/671480/
Susan B. Glasser: So Many Trump Scandals, So Little Time
Outrage has steadily lost its power in American politics throughout the past few years. Among Donald Trump's many political weapons, his ability to brazen his way through scandals that would derail other politicians has long been perhaps his strongest asset. His signature move is to displace talk of one mind-blowing violation by committing yet another mind-blowing violation—a habit that has now produced numerous investigations of him and once again led the former President to dominate our daily discourse. It's easy to forget about the last controversy because, with Trump, you're always onto the next one.

Even now, nearly two years after he left office, this familiar debilitating dynamic applies. There are currently multiple serious, ongoing inquiries into Trump and his associated entities, ranging from investigations of the former President's business to his role in fomenting the January 6th insurrection at the Capitol. Trump has so many legal problems that he is employing no fewer than nineteen lawyers to represent him, Politico found—a full law firm's worth of legal D-listers. There's the Georgia probe into his efforts to pressure state election officials not to certify Joe Biden's victory, and, as last month's F.B.I. search of Mar-a-Lago made public so dramatically, a Justice Department criminal investigation of his refusal to turn over reams of classified information after he left the White House. Which one to focus on?

This past Tuesday, the Washington Post revealed that Trump apparently left office with classified information about another country's nuclear secrets and kept it at his Mar-a-Lago country club in an unsecured storeroom. Some of the classified documents that the F.B.I. found there were so secret that even many senior national-security officials were not cleared to have access to them, the Post reported. This, surely, is an outrage worth dwelling on. Yet, by Thursday, the Trump news cycle had moved on to reports of a new wave of federal grand-jury subpoenas into Trump's fund-raising operation after the 2020 election, in which his Save America pac raised more than a hundred million dollars by spreading baseless lies about widespread voter fraud.

Trump may not now, and may not ever, face the legal reckoning that so many of his critics have craved for so long. If nothing else, he remains an expert at running out the clock. It's worth remembering, however, that Trump's record suggests a political comeuppance is possible—even if the spectacle of him being hauled away in handcuffs is still hard to imagine. He is already, after all, the first incumbent President since Herbert Hoover to lose the White House, Senate, and House in just four years. If Democrats manage to defy history and hold one or both houses of Congress this November, you can bet the fear of the former President's return will be a major factor. That's why both the forty-fifth and the forty-sixth Presidents want the upcoming elections to be all about Trump, Trump, Trump. https://www.newyorker.com/news/letter-from-bidens-washington/so-many-trump-scandals-so-little-time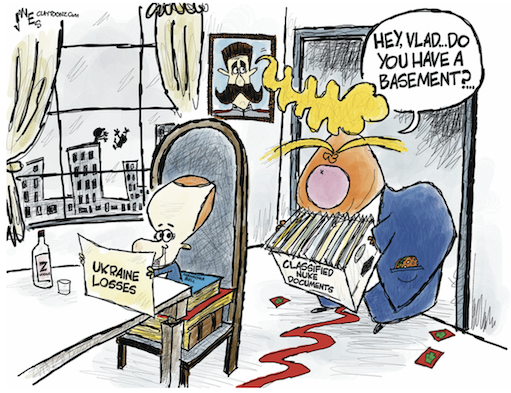 Bess Levin: Trump All But Calls For Another January 6 If He's Indicted Over Classified Documents
Something you might have noticed over the last several years is that Donald Trump is a big fan of violence. Not directly getting involved in violence—he'd never dirty his hands in that way—but inciting people to engage in it on his behalf, the most famous example being the time he incited an insurrection at the US Capitol that left multiple people dead. Which is why it was more than a little disturbing when he warned on Thursday that there would be big problems if he were indicted for hoarding top secret government documents at his house.
In an interview with conservative radio host Hugh Hewitt, Trump said that he didn't believe the people of the United States would stand for charges against him from the Justice Department, adding that such charges would lead to problems in this country, the likes of which perhaps we've never seen before. Asked exactly what he meant by problems, Trump continued to use coded language that few would find difficult to parse. I think they'd have big problems. Big problems, he said. I just don't think they'd stand for it. They will not sit still and stand for this ultimate of hoaxes.
Obviously, at no point in the interview did Trump literally tell his supporters to engage in violent acts if he is prosecuted, but that's probably because he knows he doesn't have to. While Trump's allies have insisted that he never explicitly told people to attack the Capitol on January 6, many of the rioters interpreted as much from his speech, as the ex-president encouraged his supporters to fight like hell. Asked by Hewitt how he would respond to legacy media calling him out for inciting violence this time around, Trump said: That's not inciting. I'm just saying what my opinion is. I don't think the people of this country would stand for it.
Trump, of course, had a long history of inciting violence even before January 6. In addition to telling rallygoers to knock the crap out of anyone who showed up to one of his events holding a tomato, he'd also previously instructed police officers to let suspects' heads knock against the side of their squad cars; told supporters, in reference to a protester who'd been ejected from an event, I'd like to punch him in the face; fantasized about Second Amendment people preventing the appointment of liberal judges; and endorsed the assault of reporters. https://www.vanityfair.com/news/2022/09/donald-trump-classified-documents-charges-big-problems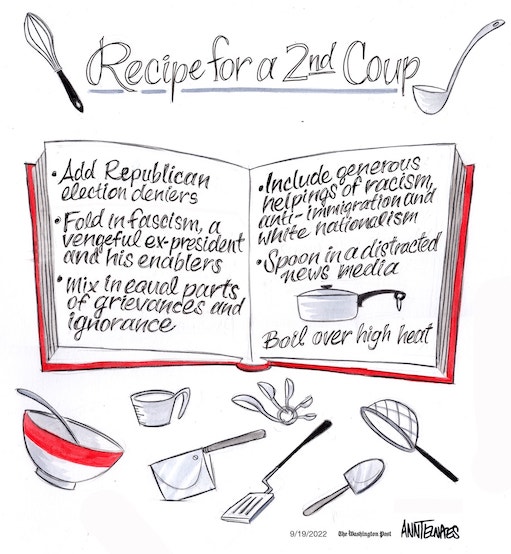 Eric Lutz: From Martha's Vineyard To Kamala Harris's Home, Republican Governors Escalate Anti-Immigrant Political Stunts
Republicans are ramping up their use of grotesque, anti-immigrant political stunts. After months of busing migrants to the nation's capital and other sanctuary cities as a kind of depraved protest against President Joe Biden's immigration policies, Texas Governor Greg Abbott on Thursday said he sent two more buses of over 100 migrants to Vice President Kamala Harris's home in Washington, D.C.
We're sending migrants to her backyard to call on the Biden Administration to do its job & secure the border, Abbott wrote in a tweet Thursday morning, as videos emerged showing a large group of migrants standing outside the United States Naval Academy.
The move from Abbott came a day after Florida's Ron DeSantis took credit for sending two planes of migrants to Martha's Vineyard. About 50 people were on the planes, according to a local state senator, who said Massachusetts officials were apparently given no warning. The island scrambled to respond, Democrat Julian Cyr told CNN, adding that officials set up shelter within hours on Wednesday and quickly provided the migrants with meals and COVID tests. We have the governor of Florida…hatching a secret plot to send immigrant families like cattle on an airplane, Dylan Fernandes, another state senator representing Martha's Vineyard, told NPR. It is an incredibly inhumane and depraved thing to do.
For months, Abbott and Arizona Governor Doug Ducey have been busing migrants from the border to Washington, D.C. That, along with what local organizers describe as a lack of support from Democratic Mayor Muriel Bowser, has forced everyday citizens to accommodate the influx of immigrants and refugees. We're crowdfunding a resettlement effort, as one local organizer told me in August. Other sanctuary cities, including New York City and Chicago, have also received buses in recent weeks. Illinois Governor J.B. Pritzker on Wednesday issued an emergency declaration to access additional resources for the hundreds of migrants who have arrived in the state and accused Abbott of failing to collaborate with his administration. While other states may be treating these vulnerable families as pawns, Pritzker said, here in Illinois we are treating them as people.
In a statement Wednesday, the Florida governor's office blasted sanctuary states for incentivizing illegal immigration. However, many of the migrants GOP governors have sent to sanctuary cities or states are not in the country illegally; a significant swath are legal asylum-seekers fleeing desperate situations, only to find themselves being used as political pawns by the GOP. It may be true that border crossings have surged this year, but the reasons for that are complex, as The Wall Street Journal reported last month: Some of the uptick appears to have stemmed from the apparent leniency of Biden's border policies relative to his predecessor. But the spike in border crossings is also COVID-related, as the Journal notes: Latin America suffered more under the pandemic than any other region, leading migrants to seek opportunity in the U.S., where the economy has recovered more quickly. Moreover, Donald Trump's still-active Title 42 rules — the pandemic-era policy that Biden has sought to end — appear to have contributed to a rise in repeat crossings, according to the Journal.
Needless to say, while it's true that the federal government has treated immigration reform as something of a political hot potato, what's driving the uptick in border crossings is more complicated than Biden's policies or sanctuary cities, despite what Abbott, Ducey, and DeSantis claim. And though sanctuary cities like Chicago and Massachusetts should open their arms to the migrants, bussing them to such safe havens without advance notice — and little to no coordination — is dangerous and inhumane. Even for Ron DeSantis, this is a new low, Florida Democratic Chair Manny Diaz said of the governor in a statement. There is nothing that DeSantis won't do, and nobody that he won't hurt, in order to score political points.
Unsurprisingly, the governors' stunts — which harken back to ugly Civil Rights-era tactics — have earned plaudits among conservative lawmakers and pundits on Fox News. But they have also thrust an already vulnerable population into greater uncertainty. I don't know what is going to happen to us, a migrant told NPR after arriving in Martha's Vineyard on Wednesday. The truth is I am worried…We're here now and there's nothing we can do. https://www.vanityfair.com/news/2022/09/gop-governors-ramp-up-anti-immigration-stunts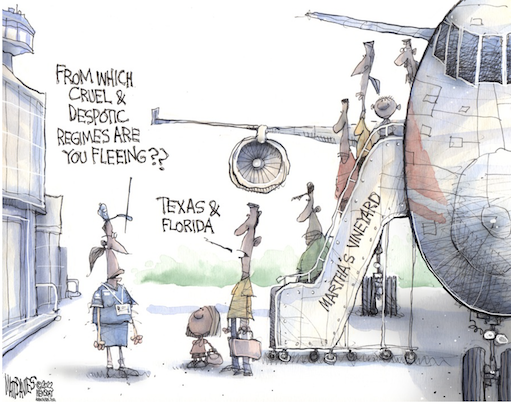 Jonathan V. Last: Ron DeSantis Has Learned Trump's Most Important Insight
Ron DeSantis is, supposedly, a Christian: Here's DeSantis last February, talking to the Very Fine Kids at Hillsdale College:
Put on the full armor of God. Stand firm against the left's schemes. You will face flaming arrows, but if you have the shield of faith, you will overcome them, and in Florida we walk the line here. And I can tell you this, I have only begun to fight.
Asked about his religious commitments, DeSantis's press secretary told the Tampa Bay Times, "The governor is a Christian and there is absolutely no issue with him sharing his values or utilizing them in his decision-making as a leader."
Let's put aside the theology of immigration. Let's pretend, just for a moment, that Jesus would have nothing to say about whether or not the state should seek to discourage undocumented migrants as a high-level matter of government policy.
Those planes were filled with actual human beings. People with dignity. People with hopes and dreams, problems and challenges. People with names and families.
And this Christian man used them as props. He didn't clothe the naked or feed the hungry. He literally did the opposite: Evicted them—and not because he felt that he had to, because it was a requirement of the law. But because he saw that he could use them as a means to the ends of his personal ambition.
I'm trying—really trying—not to get too hot here. But Christians should look at this act and be revolted. They should be horrified.
Because using vulnerable human beings for your personal gratification is evil. Full stop.
One of the early truths we learned about Trumpism was that the cruelty was the point.
In previous eras, when a political actor pursued a policy that was useful but cruel, he would make excuses. He would pretend that actually the policy was okay. That no one would really get hurt. Or that, if someone was going to get the short end, that tough choices had to be made because there was no alternative. So sorry.
One of Trump's political innovations was to realize that his followers wanted cruelty. They didn't care about abstract ideas, like the free market or liberalism. They had various subsets of Americans whom they hated. What they wanted was a strongman who would target these othered peoples and hurt them. They wanted cruelty; policy TBD.
That lesson has been absorbed by Trump's children, DeSantis first among them.
This episode is one more data point in support of the thesis that Christian nationalism is nationalism first and foremost. In this formulation, "Christian" is not a modifier so much as a marker, useful only to distinguish one nationalist tribe from another. https://thetriad.thebulwark.com/p/ron-desantis-has-learned-trumps-most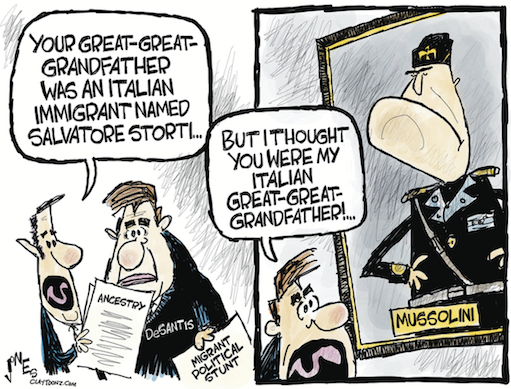 David Brooks: Why Is There Still No Strategy to Defeat Donald Trump?
One of the stunning facts of the age is the continued prominence of Donald Trump. His candidates did well in the G.O.P. primaries this year. He won more votes in 2020 than he did in 2016. His favorability ratings within his party have been high and basically unchanged since late 2016. In a range of polls, some have actually shown Trump leading President Biden in a race for re-election in 2024.

His prominence is astounding because over the past seven years the American establishment has spent enormous amounts of energy trying to discredit him.

Those of us in this establishment correctly identified Trump as a grave threat to American democracy. The task before us was clear. We were never going to shake the hard-core MAGA folks. The job was to peel away independents and those Republicans offended by and exhausted by his antics.

Many strategies were deployed in order to discredit Trump. There was the immorality strategy: Thousands of articles were written detailing his lies and peccadilloes. There was the impeachment strategy: Investigations were launched into his various scandals and outrages. There was the exposure strategy: Scores of books were written exposing how shambolic and ineffective the Trump White House really was.

The net effect of these strategies has been to sell a lot of books and subscriptions and to make anti-Trumpists feel good. But this entire barrage of invective has not discredited Trump among the people who will very likely play the most determinant role. It has probably pulled some college-educated Republicans into the Democratic ranks and pushed some working-class voters over to the Republican side. https://www.nytimes.com/2022/09/15/opinion/strategy-defeat-donald-trump.html
John Cassidy: DeSantis's Heartless Migrant Stunt Provides a Preview of 2024
A couple of weeks back, The Economist published a long cover story on "The Disunited States of America," detailing how, on issues such as abortion, guns, voting rights, and immigration, America's red and blue states are engaged in a "new politics of confrontation." As if on cue, Ron DeSantis, the Florida governor who often seems as if he is campaigning to succeed Donald Trump as the nation's Provoker-in-Chief, staged his latest political stunt: using Florida taxpayers' money to charter two planes to fly about fifty undocumented migrants, mostly Venezuelan, to Martha's Vineyard. DeSantis was not even relocating the group from his own state—the flights originated in Texas.

Of course, DeSantis isn't the only Republican governor to have dispatched undocumented migrants from red states to blue states. He seems to have got the idea from Texas's Greg Abbott and Arizona's Doug Ducey, both of whom have been sending busloads of migrants to Chicago, New York, and Washington, D.C. On Thursday morning, two buses dropped off about a hundred migrants outside Vice-President Kamala Harris's official residence. Fox News reported that they, too, were mostly Venezuelan and had been picked up in the Texas border city of Eagle Pass.

In discussing the recent escalation in tensions between red America and blue America, The Economist noted "echoes here of the tussles between southern and northern states" in the final years of the antebellum era. But the magazine also stated flatly, "America is not going to have another civil war, as some feverish pundits speculate." That is a debate for another day. But what is abundantly clear is that the migrant stunt has provided a preview of the 2024 Presidential campaign, in which DeSantis is likely to feature prominently.

In trying to position himself as a viable conservative alternative to Donald Trump, DeSantis is using emotive issues such as immigration and abortion and school curriculums to raise his national profile as a culture warrior. His strategy reflects the makeup of today's Republican Party. As my colleague Benjamin Wallace-Wells pointed out in a piece earlier this week, on the midterms, focussing on culture-war issues enables the G.O.P. to energize its electoral base of white voters without college degrees, and also to gloss over the growing chasm in the Party between those actively supporting Donald Trump and his Big Lie about the 2020 election, and those trying to maintain some semblance of independence. With Trump's latest legal troubles dominating the news, and with the Supreme Court's ruling overturning Roe v. Wade having detonated a bomb under what was left of the Republicans' old base—affluent suburbanites—this strategy doesn't seem to be working very well this year, but DeSantis will almost certainly run with it again in 2024. https://www.newyorker.com/news/our-columnists/desantiss-heartless-migrant-stunt-provides-a-preview-of-2024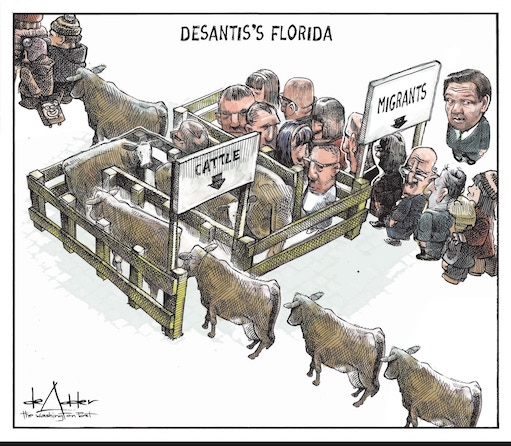 Dana Milbank  Putting the 'big lie' to bed — in plush, luxurious comfort
Finally, the Justice Department is going to the mattresses with Mike Lindell, the MyPillow  magnate. FBI agents pinned his vehicle while he awaited his order in a Hardee's drive-through this week and proceeded to arrest my phone, as Lindell put it. (He didn't say whether the confiscated device was read its rights.)

The feds seized his phone in a probe into Trump allies' breach of voting machines in Colorado, which state authorities are also investigating. In case you've been hitting the snooze button for the past two years, Donald Trump super-fan Lindell is also facing lawsuits by voting-technology companies Dominion Voting Systems and Smartmatic. His phone records were subpoenaed by the House Jan. 6 committee. And his own defamation suits against Dominion and Smartmatic were dismissed as frivolous.

He has also spent a self-reported $35 million promoting Trump's election lie in movies, social media and conferences, and he's a popular warm-up act at Trump rallies.

There is something exquisite about a former professional gambler, recovering crack cocaine addict, showy evangelical (Lindell often wears a cross outside his collar, like an amulet) and pillow kingpin organizing the undoing of democracy. Then consider the assortment of strange bedfellows involved with him in the Colorado scheme: a former professional surfer who claims to be a data expert, a county clerk who used to sell nutritional supplements, an owner of a hair and makeup business, and a high school math teacher who claims to have a secret algorithm.

Once more, we are left to marvel at how all these misfits and grifters find each other — and how they are inevitably drawn, by powerful oddball magnetism, to the charlatan in chief, who has bamboozled tens of millions. This full-employment plan for kooks and hucksters gives new meaning to featherbedding.

Since embracing Trump in 2016, Lindell has made conspiracy craziness his business model. His election lies have lost him tens of millions of dollars in business with respectable retailers such as Walmart, Kohl's and Bed Bath & Beyond. So he's recasting himself as niche pillow purveyor to the MAGA right, marketing on Fox News, Newsmax, talk radio and Trump-friendly social media outlets. https://www.washingtonpost.com/opinions/2022/09/16/mike-lindell-phone-seized-mypillow/