July 13, 2023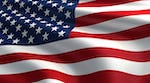 To subscribe to this FREE weekly newsletter simply email jellison@san.rr.com with "subscribe" as the subject.
THE WEEK'S BEST QUOTES. . .
"Let's not tie it to the skin color and say that the skin color determined that." — Oklahoma State Superintendent Ryan Walters ® arguing that teachers shouldn't mention race when teaching about the infamous
1921 Tulsa Race Massacre
.
https://newrepublic.com/post/174168/oklahoma-superintendent-brazenly-claims-tulsa-race-massacre-not-race
"Does anybody really believe that the COCAINE found in the West Wing of the White House, very close to the Oval Office, is for the use of anyone other than Hunter & Joe Biden. But watch, the Fake News Media will soon start saying that the amount found was "very small," & it wasn't really COCAINE, but rather common ground up Aspirin, & the story will vanish. Has Deranged Jack Smith, the crazy, Trump hating Special Prosecutor, been seen in the area of the COCAINE? He looks like a crackhead to me!" — Donald J. Trump
https://truthsocial.com/@realDonaldTrump/posts/110663249322897070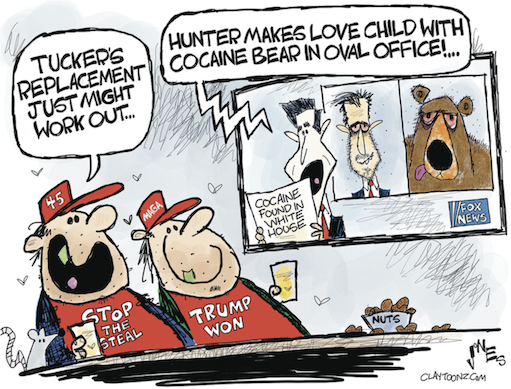 "So, that was a low point." — Sen. Bob Casey (D-PA), remembering when the Philadelphia Inquirer compared him to oatmeal. https://themessenger.com/news/bob-casey-hears-you-comparing-him-to-oatmeal-he-thinks-boring-wins

"This is the problem with someone who doesn't think about this country and its citizens first. They wind up doing things like this, whether it was intentional or inadvertent, what it shows is a lack of responsibility, a lack of accountability for what you're saying." — Chris Christie slammed former President Donald Trump for sharing the Obamas' purported DC address on social media, a post that prosecutors alleged was followed up by a deranged and armed January 6 defendant staking out their house. https://www.businessinsider.com/chris-christie-trump-posting-obama-address-irresponsible-conduct-2024-2023-7

"Behind the deadly front lines where Ukrainian and Russian soldiers are locked in combat, a less-noticed life-or-death battle is raging to keep troops supplied with arms and ammunition. The side that loses that fight is the one that will lose the war. It is a lesson Washington is relearning." — WSJ. https://www.wsj.com/articles/the-west-again-learns-that-war-needs-industry-33c8ca88

"Thank you for all of your extraordinary work for keeping the public informed." — Robert F. Kennedy Jr. to James Corbet, a Sandy Hook and 9/11 conspiracy theorist who has claimed that Hitler was a Rothschild and Hitler and the Nazis were one hundred percent completely and utterly set up … by the international banking community and the international crony capitalists. https://www.mediamatters.org/diversity-discrimination/robert-f-kennedy-jr-and-his-group-are-fans-fringe-streamer-who-claimed

"It's hard for me to understand how so many can remain blind to the fact that Communism, not Nazism was, and still is, the biggest threat to American freedom… wake up and see the real enemy. After all, who do you think has been pushing this Nazi boogeyman narrative all these years?" — Mark Robinson, the GOP frontrunner for governor of North Carolina, In a series of previously unreported social media posts, repeatedly minimizing Nazi atrocities and promoting conspiracy theories about Hollywood and the media using Yiddish ethnic slurs, among other incendiary assertions. https://jewishinsider.com/2023/07/north-carolina-gop-mark-robinson-racism-antisemitism/

"When I return to office, the travel ban is coming back even bigger than before and much stronger than before. We don't want people blowing up our shopping centers. We don't want people blowing up our cities and we don't want people stealing our farms. So it's not gonna happen." — Donald Trump. https://www.cbsnews.com/news/trump-bring-back-travel-ban-muslim-countries/

"I just think that it's important that you're judged by the company you keep." — North Dakota Gov. Doug Burgum (R) saying that he would not conduct business with Donald Trump, his fellow GOP primary opponent for the 2024 presidential election. https://thehill.com/homenews/campaign/4087494-burgum-says-he-wouldnt-do-business-with-trump/

"The life expectancy in the South and they're not expanding Medicaid and prenatal care and providing child care? It's jaw-dropping. How they all continue to get reelected is beyond me. Infant mortality? You care about life, and you look at life expectancy? You care about life, and you have kids that are gunned down by weapons of war? Spare me. All in the name of freedom, as you're banning books?" — California Governor Gavin Newsom on Texas Governor Greg Abbott and other Republicans be known. https://twitter.com/EdKrassen/status/1678372551158910976

"I think I won the last time. I think I won both times. This is a state that is disgraceful." — Donald Trump, courting voters in an interview with the Nevada Globe. https://thenevadaglobe.com/articles/the-globe-interview-president-donald-j-trump/

"He didn't build the wall in Mexico. He built 47 miles of wall and guess what—we paid for every nickel of it, we don't have the first peso from Mexico." — Chris Christie, slamming Donald Trump on Fox News. https://www.mediaite.com/tv/chris-christie-shuts-down-fox-news-anchors-gushing-about-trumps-immigration-policies-mexico-hasnt-given-us-one-peso-for-the-wall/

"I really wish Christie well — I'm glad he's making the run. I hope he endorses Biden after Trump wins the nomination." — William Kristol about former Gov. Chris Christie's presidential campaign. https://www.washingtonpost.com/lifestyle/2023/07/12/chris-christie-2024-campaign-against-trump/
VIDEOS ...-
Putin's Crisis: With Vladimir Putin facing down a mutiny, FRONTLINE examines how the Russian leader reached this moment of crisis. Veteran filmmaker Michael Kirk and his team examine the story of Putin's rise, his clashes at home and abroad, and how his troubled Ukraine war led to the greatest threat yet to his grip on power.
https://www.pbs.org/wgbh/frontline/documentary/putins-crisis/
"And remember, Florida's easier than other places, you have the ocean and you have the sun. There's something about that that works. But – you have the sun, too, but you don't have the ocean, I can tell. You definitely don't have the ocean. Maybe someday you'll have the ocean, you never know." — Trump at a Las Vegas rally.
https://twitter.com/Acyn/status/1677838942438322176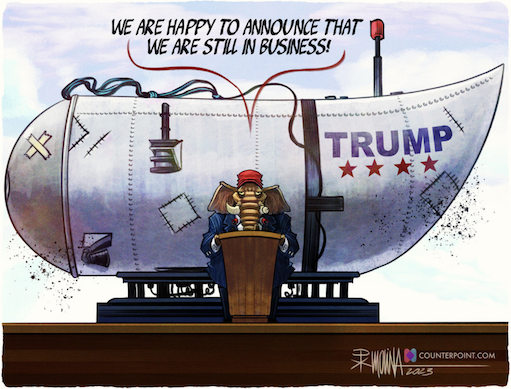 "Give it a fucking rest, Jordan. I'm at the gym." — Governor Katie Hobbs to Gateway Pundit reporter chasing her and asking election denier questions. https://twitter.com/patriottakes/status/1677437702801616897

"I'm running for the U.S. Senate to fight back against the systems that have left so many Texans behind. Ted Cruz abandoned Texas long before he left us to die in the winter storm. Uvalde happened because Republicans neglected the systems in this state that are supposed to keep us safe. It's time we turn frustration into action! If you want to make a better Texas, this campaign is for you. — TX State Senator Roland Gutierrez, who is entering a primary in which US Rep. Colin Allred, a former NFL player and Obama administration housing official, is seen as the front-runner. https://twitter.com/RolandForTexas/status/1678364212677029888

"The 60-second ad features a former Trump supporter named John sitting on his front porch steps and describing Trump as a losing bet for Republicans." —  A new super PAC aligned with the conservative Club for Growth ad, part of their $3.6 million advertising campaign. https://www.bloomberg.com/news/articles/2023-07-10/trump-is-unelectable-says-3-6-million-ad-campaign-linked-to-conservative-group
Rep. @AOC endorses President Joe Biden. https://twitter.com/PodSaveAmerica/status/1677107963864154113 Listen to the full interview at http://go.crooked.com/XDjMdJ
"I don't really buy into the rich need to pay their fair share." — Mike Pence, campaigning in Iowa. https://twitter.com/American_Bridge/status/1676643909391228950
---
IN THIS ISSUE
IN THE NEWS
OPINION
The Republican Party's Debate Rules Make It Impossible for Trump to Lose
Some of the party's requirements clearly function to establish viability. For instance, candidates must register support of at least 1 percent in select national and early primary state polls, and they must count at least 40,000 unique campaign donors in at least 20 U.S. states and territories.
But other rules are less about interest among the voting public and more about partisan discipline: Candidates will be barred from the stage unless they sign two pledges, one to support whomever the GOP eventually nominates for president, and the other to refuse to participate in any general election debate organized by the Commission for Presidential Debates…
These demands—as well as the party's indication that it may select smaller, more right-wing outlets like Newsmax to host, rather than major networks like NBC—may seem like they create a level playing field for candidates. After all, they'll all face the same moderators, whichever outlets host. And they'll all have to meet the same numeric baselines and sign the same pledges.
But in practice, across the board, these conditions will be uniquely favorable for one contender: Trump.
https://www.thedailybeast.com/gops-debate-rules-make-it-impossible-for-trump-to-lose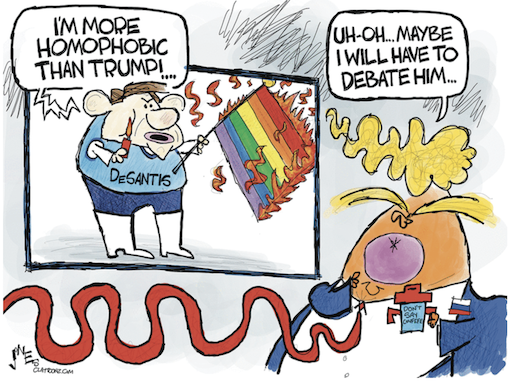 Twitter Blue Accounts Fuel Ukraine War Misinformation
False and misleading posts about the Ukraine conflict continue to go viral on major social media platforms, as Russia's invasion of the country extends beyond 500 days, the BBC reports.
Some of the most widely shared examples can be found on Twitter, posted by subscribers with a blue tick, who pay for their content to be promoted to other users.
https://www.bbc.com/news/world-europe-66113460
Supreme Court was drawn into last four elections, and likely again in 2024
Chief Justice John Roberts has fought an increasingly losing battle over the past seven years at keeping the Supreme Court out of the political arena, with pleas that have fallen largely on deaf ears, the Washington Post reports.
Instead of his nonpolitical vision for the nine men and women in black robes, all signs point toward a new normal in which partisans will use the justices as pawns in their elections.
After decades of advantage for Republicans on the issue, recent elections have shown a growing margin for Democrats that could prove critical in close elections. In addition, conservative voters are showing signs of being politically satiated and losing interest in the courts as a voting issue.
https://www.washingtonpost.com/politics/2023/07/08/supreme-court-2024-liberals/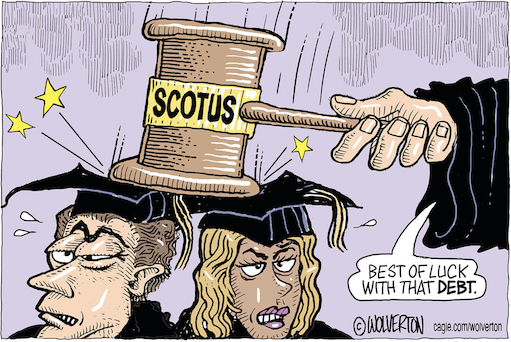 Tucker Carlson Will Host First GOP Presidential Forum
In a tweet, Blaze Media said the event will take place July 14 and will be live-streamed on BlazeTV and their YouTube channel. The forum will be at the Family Leadership Summit in Des Moines, Iowa.
Five GOP candidates currently in the race – Florida Gov. Ron DeSantis, former South Carolina Gov. Nikki Haley, businessman Vivek Ramaswamy, sitting U.S. Senator Tim Scott of South Carolina, and former Vice President Mike Pence – will be attending. Most notably missing from the lineup is former Tucker Carlson favorite Donald Trump.
The forum is expected to take place just weeks before the Republican National Committee's first official debate on August 23 in Milwaukee, Wisconsin. 
https://themessenger.com/politics/tucker-carlson-to-host-first-gop-presidential-forum-of-the-cycle
House Freedom Caucus Roils NDAA Fight
The National Defense Authorization Act, the annual bill setting Pentagon priorities and policies, has been signed into law 60 years straight. But this year, it's looking shakier than ever before.
At issue is whether the House will take up hard-right floor amendments this week that could decimate the broad, bipartisan support the bill won last month in the House Armed Services Committee — and lawmakers are deeply worried that partisan battles could break the six-decade streak.
Rep. ADAM SMITH, the top Armed Services Democrat, told Playbook last night that he wasn't "remotely" confident the bill will pass this week. Without the controversial amendments, Smith (D-Wash.) predicted, well over 300 House members would vote for the bill. With them, "you lose most, if not all, Democrats," he said — and possibly enough centrist Republicans to tank the bill.
The stakes extend beyond the fate of the $886 billion Pentagon budget to a more profound question: Have the culture wars fatally infected one of Congress's strongest bastions of bipartisanship — showering the Pentagon with taxpayer money?
https://www.politico.com/newsletters/playbook/2023/07/11/how-the-nato-deal-got-done-00105566
DeSantis Says No Thanks to $377 Million in Federal Energy Funds
Florida Republican Governor and 2024 presidential contender Ron DeSantis quietly rejected hundreds of millions of dollars in federal energy funding, as the Biden administration touts the benefits of its marquee climate law on the campaign trail in battleground states.
The funding, totaling about $377 million, included hundreds of millions of dollars for energy-efficiency rebates and electrification as part of the Inflation Reduction Act, as well as money from the bipartisan infrastructure legislation that became law in 2021.
https://www.bloomberg.com/news/articles/2023-07-11/desantis-says-no-thanks-to-377-million-in-federal-energy-funds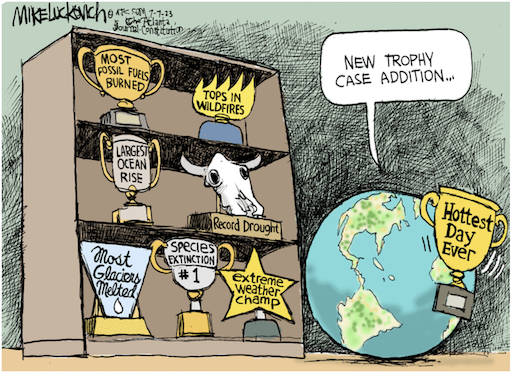 Republican Eyes Sweet Home for New FBI Headquarters in Alabama
Republicans have a new idea for how to take Washington politics out of the FBI: Take the FBI out of Washington and send it to Huntsville, Ala.  
House Judiciary Committee Chairman Jim Jordan (R., Ohio), who has accused the bureau of overzealously investigating former President Donald Trump and his allies, wants to strip the bureau of funding for a new headquarters unless it relocates to the midsize Alabama city a 700-mile drive from the nation's capital.
The Huntsville proposal, which Jordan included in a list of recommendations Tuesday to the Appropriations Committee writing funding legislation for next year, is unlikely to become law but marks Republicans' latest effort to force changes to the Federal Bureau of Investigation. It comes as the bureau is inching closer to moving from its current headquarters, a brutalist, concrete behemoth blocks from the White House, to the city's suburbs. In recent weeks, Republicans have threatened to obstruct funding for a new facility as part of a broader swipe at the FBI, with some going so far as saying the agency should be dismantled.
https://www.wsj.com/articles/republican-eyes-sweet-home-for-new-fbi-headquarters-in-alabama-479b19d8
Biden's "grandfatherly appeal" may enhance U.S. credibility and moral authority
While the draw of the American presidency transcends administrations for many world leaders, Mr. Biden's mix of old-school politicking and familial flair with his counterparts forms the backbone of his foreign policy in a way that is unique among recent U.S. leaders. Diplomats and foreign policy experts suggest this personal and nostalgic approach is not only distinctive but also strategic, enhancing U.S. credibility and moral authority, especially in the wake of the Trump administration.
"For Europe, he represents a nostalgia for the 20th century, which was based on shared values, when the West was strong and the relations were clear with the Cold War," said Liana Fix, European fellow at the Council on Foreign Relations. "President Biden is the old, great trans-Atlanticist."
Honed over decades in the Senate and eight years as vice president, the president's personal appeal has emerged as one of his strongest assets on the world stage, allowing him to smooth ruffled feathers and lead a coalition of allies that has managed to remain remarkably united in its response to the Russian invasion of Ukraine.
https://www.cbsnews.com/news/president-joe-biden-age-asset-nato-allies/
Lawyers Paid Clarence Thomas Aide
Several lawyers who have had business before the supreme court, including one who successfully argued to end race-conscious admissions at universities, paid money to a top aide to Justice Clarence Thomas, according to the aide's Venmo transactions. The payments appear to have been made in connection to Thomas's 2019 Christmas party.
https://www.theguardian.com/us-news/2023/jul/12/clarence-thomas-aide-venmo-payments-lawyers-supreme-court
Biden is quietly reversing Trump's sabotage of Obamacare
Slowly but surely, President Biden is repairing the U.S. health-care system, reversing Trump-era sabotage and ensuring millions more Americans get access to affordable coverage.
The latest of these efforts came on Friday, in a little-noticed but significant decision to protect Americans from junk health insurance.
https://www.washingtonpost.com/opinions/2023/07/11/biden-obamacare-junk-insurance-trump/
US House hardliners step up spending pressure as showdown looms
More than 20 U.S. House Republican hardliners warned Speaker Kevin McCarthy on Monday that they will try to block their party's fiscal 2024 appropriations bills unless spending levels are cut below levels that McCarthy and Democratic President Joe Biden agreed to in May.
The hardliners, including members of the House Freedom Caucus, also called on McCarthy to delay appropriations votes in the House of Representatives until all 12 government funding bills have been finalized and can be subjected to a side-by-side review.
The threat comes in the face of a looming showdown between the Republican-controlled House and Democratic-led Senate, potentially complicating efforts to avoid a government shutdown after the current fiscal year ends on Sept. 30.
https://www.reuters.com/world/us/fresh-spending-showdown-looms-us-congress-returns-washington-2023-07-10/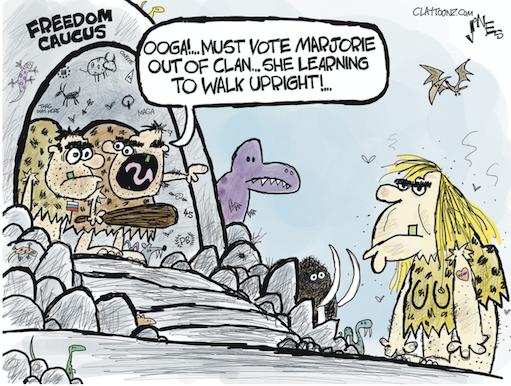 They opposed the infrastructure law. Now, some in the GOP court its cash.
Nearly two years after Congress finalized the first in a series of measures to improve the nation's aging infrastructure and combat climate change, some of the GOP lawmakers who originally tried to scuttle the spending are now welcoming it.
They have privately courted newly available federal money to improve their local roads, bridges, pipes, ports and internet connections, and publicly celebrated when their cities and states have secured a portion of the aid. The dynamic has created some uncomfortable contrasts, since those same GOP lawmakers still maintain that President Biden's legislative agenda has served as a drag on the nation's economy, worsening inflation.
https://www.washingtonpost.com/business/2023/07/09/gop-spending-infrastructure-ira-biden/
Steve Bannon ordered to pay nearly $500,000 in legal fees to firm that represented him in subpoena fight
 A New York judge has ordered Steve Bannon to pay his former attorneys nearly $500,000 in unpaid legal fees for work on various legal matters, including his fight against a subpoena by the congressional committee investigating the January 6, 2021, US Capitol attack, CNN reports.
The law firm Davidoff Hutcher & Citron LLP sued Bannon in February alleging he failed to pay his legal bills for work the lawyers did for him on the congressional investigation as well as criminal investigations into his efforts to crowdfund a wall along the southern US border.
https://www.cnn.com/2023/07/10/politics/steve-bannon-legal-fees/index.html
Right-Wing Websites Connected to Former Trump Lawyer Are Scamming Loyal Followers With Phony Celebrity Pitches
Scam ads have proliferated on right-wing websites worldwide in the past eight months. They use fake endorsements from celebrities including Winfrey, country music singers Dolly Parton and Reba McEntire, Twitter and Tesla owner Elon Musk, actor Ryan Reynolds, Canadian prime minister Justin Trudeau and former German chancellor Gerhard Schröder to promote dubious medicines and cryptocurrency frauds. Conservative publishers make money from each click on a deceptive ad, exploiting their like-minded readers.
The prevalence of scam ads on AdStyle and its many partnerships with right-wing sites around the world exemplify how conservative publishers, politicians and operatives profit from fleecing their fellow right-wingers — and how some players take the strategy global. Even the editorially conservative National Review has acknowledged 'the right's grifter problem.'
https://www.propublica.org/article/right-wing-websites-scam-readers-phony-celebrity-pitches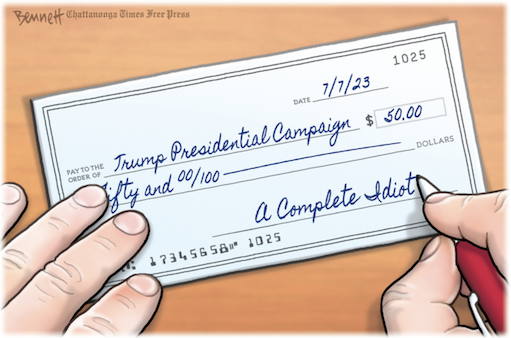 Why a sudden surge of broken heat records is scaring scientists
A remarkable spate of historic heat is hitting the planet, raising alarm over looming extreme weather dangers — and an increasing likelihood this year will be Earth's warmest on record.
There was record-breaking heat on nearly every continent during the month, according to independent climate statistician Maximilian Herrera. Along with the deadly late June heat in Mexico and the South-central United States, extreme readings have been widespread in remote Siberia, with hundreds of daily heat records, including readings higher than 95° Fahrenheit close to the Arctic Circle. The heat will just get worse, he posted on Twitter.  
https://arstechnica.com/science/2023/07/june-extremes-suggest-parts-of-climate-system-are-reaching-tipping-points/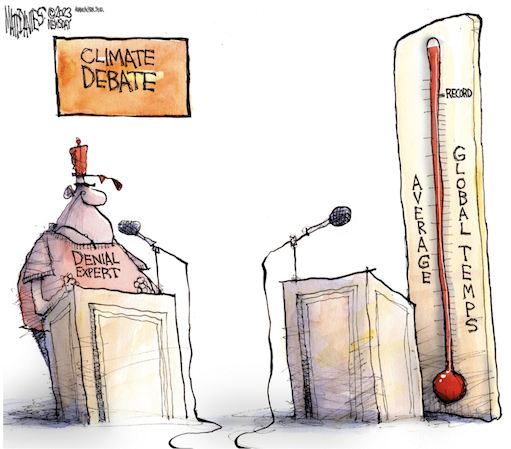 Florida GOP will require DeSantis, Trump to sign loyalty pledge to make primary ballot
Ron DeSantis and Donald Trump are finding that the price to make the 2024 Florida primary ballot is going up.
All GOP candidates will have to pledge their loyalty to the eventual Republican nominee to make the March 19 primary, a contest that could tip the balance of the crowded race since Florida's contest is a winner-take-all primary.
https://www.politico.com/news/2023/07/05/desantis-trump-florida-2024-gop-primary-loyalty-00104819
Ramaswamy closing in on DeSantis
A new Echelon Insights poll finds Donald Trump leading the Republican presidential field with 49%, followed by Ron DeSantis at 16% and Vivek Ramaswamy at 10%.
https://thehill.com/homenews/campaign/4082220-ramaswamy-closes-in-on-desantis-as-trump-dominates-in-gop-poll/
Trump pulled in more than $35 million in the second quarter
Donald Trump nearly doubled his fundraising during the second quarter of 2023 — an indication that his legal troubles are propelling his campaign financially.
Trump's joint fundraising committee raked in more than $35 million, over twice the $18.8 million the committee raised during the first quarter of the year. 
https://www.politico.com/news/2023/07/05/trump-pulled-in-35-million-in-the-second-quarter-00104768
Secretive Russian Security Force Targets Americans
For years, a small group of American officials watched with mounting concern as a clandestine unit of Russia's Federal Security Service covertly tracked high-profile Americans in the country, broke into their rooms to plant recording devices, recruited informants from the U.S. Embassy's clerical staff and sent young women to coax Marines posted to Moscow to spill secrets.
On March 29, that unit, the Department for Counterintelligence Operations, or DKRO, led the arrest of Wall Street Journal reporter Evan Gershkovich, according to U.S. and other Western diplomats, intelligence officers and former Russian operatives. DKRO, which is virtually unknown outside a small circle of Russia specialists and intelligence officers, also helped detain two other Americans in Russia, former Marines Paul Whelan and Trevor Reed.
https://www.wsj.com/articles/fsb-evan-gershkovich-russia-security-force-dkro-e9cf9a49
Trump Asked About I.R.S. Inquiry of F.B.I. Officials, Ex-Aide Says Under Oath
John F. Kelly, who served as former President Donald J. Trump's second White House chief of staff, said in a sworn statement that Mr. Trump had discussed having the Internal Revenue Service and other federal agencies investigate two F.B.I. officials involved in the investigation into his campaign's ties to Russia.
Mr. Kelly said that his recollection of Mr. Trump's comments to him was based on notes that he had taken at the time in 2018. Mr. Kelly provided copies of his notes to lawyers for one of the F.B.I. officials, who made the sworn statement public in a court filing.
https://www.nytimes.com/2023/07/07/us/politics/trump-kelly-irs-fbi-strozk-page.html?referringSource=articleShare
With Trump in trouble, Republicans step up assault on DoJ and FBI
When Merrick Garland was nominated to the US supreme court by Barack Obama, Republicans refused to grant him a hearing. Now that Garland is the top law enforcement official in America, the party seems ready to give him one after all – an impeachment hearing.

Republicans on Capitol Hill are moving up a gear in a wide-ranging assault on the justice department and the Federal Bureau of Investigation that would have been unthinkable before the rise of Donald Trump. The party that for half a century claimed the mantle of law and order has, critics say, become a cult of personality intent on discrediting and dismantling institutions that get in Trump's way. https://www.theguardian.com/us-news/2023/jul/08/republicans-trump-assault-doj-fbi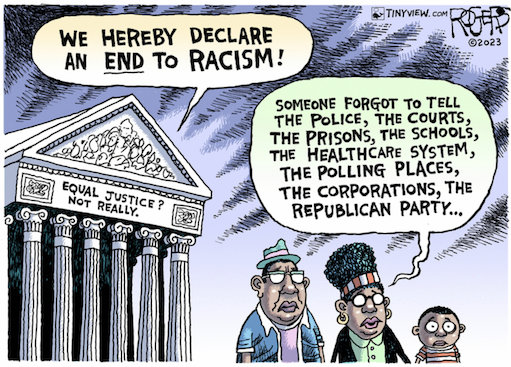 THE DAILY GRILL ...
"Gal Luft is a very credible witness on Biden family corruption, provided incriminating evidence to six officials from the FBI and the DOJ in a meeting in Brussels in March 2019." — Rep. James Comer (R-Ky.), chairman of the Oversight Committee  https://twitter.com/RepJamesComer/status/1677414170411560962

VERSUS

Gal Luft, the "missing" witness long-touted by Republicans in Congress as the missing link to their probe into alleged Biden family corruption, was accused Monday of being an unregistered foreign agent for China and an international arms trafficker while violating U.S. sanctions on Iran and lying to investigators, among a laundry list of other federal charges. https://www.thedailybeast.com/gops-missing-biden-probe-witness-gal-luft-faces-laundry-list-of-federal-charges



"The more time has passed, now it's been 2.5 years, it becomes really obvious that core claims they made about January 6th were lies...It was not an insurrection. And to put Jacob Chansley, an American citizen, a Navy veteran, in jail for years after he was let into the Senate chamber by uniformed Capitol Hill police officers and then I play that and I'm the bad guy? F*ck you!" — Tucker Carlson. https://twitter.com/TheChiefNerd/status/1677377668696666112

VERSUS

"Interesting." — Elon Musk. https://twitter.com/elonmusk/status/1677378782343094290



Sen. Tommy Tuberville (R-AL) interviewed by Kaitlin Collins on CNN:

TUBERVILLE: My opinion of a white nationalist… it's an American. If that white nationalist is a racist, I'm totally against them.
COLLINS: White nationalist is racist.
TUBERVILLE: That's your opinion. https://twitter.com/acyn/status/1678579616376651777

VERSUS

"White nationalists are racists." — Sen. Tommy Tuberville (R-AL), facing a barrage of criticism over a Monday night television interview in which he refused to say white nationalists are racists, relented Tuesday afternoon, acknowledging to reporters on Capitol Hill that they in fact are. https://www.washingtonpost.com/politics/2023/07/11/tuberville-military-racists-white-nationalist/
Bess Levin: Trump Says Hunter Biden Should've Gotten the Death Penalty for Not Paying His Taxes on Time
Last month, Hunter Biden, son of President Joe Biden, reached a deal with prosecutors to plead guilty to two misdemeanor tax charges stemming from paying his taxes late in 2017 and 2018. (As part of the deal, he also agreed to be charged, but not prosecuted, for purchasing a handgun at a time when he was using drugs, which is contingent on him never owning a firearm again and remaining drug-free for two years.) Naturally, this deal enraged conservatives, who have insisted for some time now that president's son is the most corrupt person to walk the face of the earth, that his dad is just as bad, and that as punishment, both Hunter and Joe should be sent to Guantánamo Bay in a deal that also involves Donald Trump being installed as president for life.
Obviously, that whole Guantánamo Bay/Trump-as-emperor is merely a parody of the things Republicans have said about the Biden Boys; while it's pretty close, no one has actually called for them to be sent to the notorious detention camp known for housing terrorists. But as of Tuesday, at least one person had suggested that Biden the Younger should have been sentenced to death for his crimes, and you can probably take a guess as to who that person was.
Yes, that's former a U.S. president and current presidential candidate raging on
Truth Social
that federal prosecutor David Weiss did not give Hunter Biden "a death sentence" for his aforementioned crimes, which, as a reminder, were paying his taxes late two years in a row and buying a gun when he was using drugs.
https://www.vanityfair.com/news/2023/07/donald-trump-says-hunter-biden-shouldve-gotten-the-death-penalty-for-not-paying-his-taxes-on-time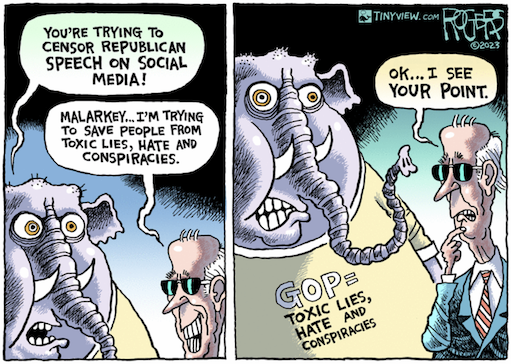 Kate Cohen: Meet the Republicans voting no on anti-trans laws
Here in the legislative lull of summer, looking back on the smog cloud of anti-LGBTQ+ bills just passed, I picture Republican legislators across the country engaging in some mass hazing ritual — except instead of chugging a bottle of vodka, they vote to deny health care to children. And instead of risking their own lives to join the fraternity of reelectable Republicans, they risk the lives of transgender teens.

Twenty states now have laws banning gender-affirming care for trans children. In the face of such senseless, lockstep cruelty, it would be easy to despair. In fact, given the Supreme Court's apparent intention to wink at whatever discrimination right-wing Christianity favors, it would be smart to despair.

But I want to hope. So I'd like to spend a little time thinking about the Republicans who voted against trans health-care bans — proof that common sense and compassion can still trump party loyalty. https://www.washingtonpost.com/opinions/2023/07/10/republicans-vote-no-anti-trans-laws/
Geoffrey Skelley: No Labels Is Chasing a Fantasy
It's too early to evaluate whether No Labels's candidate could be a spoiler for the Democratic nominee, but the group's belief that it could mount a victorious campaign rests on several misconceptions about contemporary politics. First and foremost, the share of the electorate made up by independent moderates isn't large enough to win a presidential election. Secondly, despite distaste for Biden and Trump, each remains well-liked by his party, reducing the potential draw of a No Labels candidate. Meanwhile, the group's aim of markedly increasing turnout over 2020's record-high mark will require the difficult task of getting even more low-propensity voters to turn out.
Lastly, finding a candidate who could maximize No Labels's appeal won't be easy because there's nobody named 'moderate independent' who embodies the varied preferences held by voters disenchanted by the idea of another Biden-Trump matchup.
https://fivethirtyeight.com/features/no-labels-is-chasing-a-fantasy/
David Remnick: The Alternative Facts of RFK Jr.
Kennedy's habits of mind are MAGA-adjacent, but his manner differs from that of his Republican doppelgänger. Donald Trump is a bully—rude, swaggering, out to flatten his questioner under an avalanche of lies and volume. Kennedy is not rude. Rather, he is serenely convinced of his virtue and his interlocutor's pitiful susceptibility to conventional wisdom.
The experience of interviewing him and listening to his previous interviews, I found, was like settling in for a long train ride with a seemingly amiable stranger in the next seat. You ask a straightforward question and, an hour later, as you race by Thirtieth Street Station, in Philadelphia, he is still going on about the fraud of COVID vaccines and how he was unfairly 'deplatformed' for spouting conspiracy theories.
By the time you've pulled into Wilmington, he might be talking about how drugs known as poppers helped cause the AIDS epidemic, or how 'toxic chemicals' might contribute to 'sexual dysphoria' in children. As you head south, he is talking about being 'censored' by Instagram, the F.B.I., and the Biden White House. New technologies like 5G towers and digital currencies are totalitarian instruments that could 'control our behavior.' Wi-Fi causes 'leaky brain.' After a while, you begin to wonder why you bought a ticket. But it's too late. You're pinned into the window seat.
https://www.newyorker.com/news/q-and-a/the-alternative-facts-of-robert-f-kennedy-jr
Eugene Robinson: As hard-right House radicals dig in, prepare for a summer of obstruction
We're about to find out just how crazy and dysfunctional this slim House Republican majority really is. If I were a betting man, I'd take the over. The next couple of months could be an epic dumpster fire.
Members of the far-right House Freedom Caucus, outraged at the notion of meeting anyone halfway about anything, are trying to renege on the spending targets set in the debt ceiling deal and instead force much deeper cuts. They don't have the power to get what they want, since all the other actors (Biden, House Democrats, a bipartisan majority in the Senate) are determined to honor the terms of the agreement. But looney-bin GOP radicals can make McCarthy's life miserable and perhaps even oust him as speaker. And there is a good chance they can force a government shutdown at the end of September.
Pulling such a stunt would be dumb and self-defeating. The historical record is clear: When Republicans force a shutdown, they end up hurting their own party politically and helping the Democrats. But logic and pragmatism no longer appear to be getting through to the outer-planet far right in the House.
Meanwhile, prominent House Republicans are busy performing such vital legislative tasks as investigating Hunter Biden; investigating the Justice Department investigation of Hunter Biden; threatening to impeach Attorney General Merrick Garland; threatening to impeach Homeland Security Secretary Alejandro Mayorkas; threatening to fire FBI Director Christopher A. Wray, who was appointed by Donald Trump; complaining about woke capitalism, as if they think Wall Street has somehow repealed the profit motive; and now, in a weekend flurry of official statements and Fox News appearances, vowing to get to the bottom of who left a small bag of cocaine at the White House.
Amid all this nonsense, however, the House Appropriations Committee is working on spending bills for the fiscal year beginning Oct. 1 with funding levels about $119 billion less than those set in the Biden-McCarthy compromise. This attempt at changing the rules midgame was blessed by McCarthy after Freedom Caucus members staged a tantrum, blocking the House from getting any work done, to protest the debt ceiling deal.
I do know one thing: It's going to be a long, hot summer on Capitol Hill.
https://www.washingtonpost.com/opinions/2023/07/10/house-republican-radicals-extreme-dysfunction/
Dan Pfeiffer: How DeSantis is Making Trump Look More Electable
The largest drivers of electoral outcomes are beyond anyone's control — the mood of the country, the state of the economy, world events, etc. There are two factors, however, that a candidate can ostensibly control — their performance on the stump and their campaign strategy. I spend a lot of time in this newsletter and on Pod Save America, gleefully documenting Ron DeSantis's shortcomings as a candidate. He lacks charisma, presence, humanity, and oratory skills. The Florida governor is the political equivalent of a baseball player who cannot throw, catch, or bat. In other words, what does Ron DeSantis bring to the table?
Sometimes, good candidates run bad campaigns. Other times, candidates are so lacking in talent that even an incredible strategy executed perfectly is insufficient. Ron DeSantis is a bad candidate running a very bad campaign. In fact, his campaign seems designed in a lab to make Donald Trump more electable.
https://www.messageboxnews.com/p/does-ron-desantis-want-trump-to-win
Linette Lopez: Welcome to 'Zombie Twitter'
It's been less than a year since he bought it, and Elon Musk's Twitter is already well on its way to suffering a fate worse than death — irrelevance.
The platform, which Musk promised to turn into a free-speech, bot-free haven, is glitchier, bottier, and spammier than ever. In May, when Gov. Ron DeSantis of Florida announced his presidential candidacy on Twitter, a parade of malfunctions turned what should have been a historic moment for the company into a mess. Twitter hasn't even been able to hold it together during the news-making events it's known for — such as while Rihanna was performing at the Super Bowl halftime show. And pretty much every new "feature" that Musk rolls out — from an increase in the length of tweets to the now infamous "rate limit" that prevents users from seeing more than a set number of tweets a day — has made the product worse.
And now there is growing competition. On Thursday — a couple of weeks after Musk challenged him to a cage fight — Mark Zuckerberg's Meta launched Threads, a social-note site fused with Instagram. In less than 24 hours, Threads had over 30 million users, including Rep. Alexandria Ocasio-Cortez, Jennifer Lopez, and Steph Curry. For Musk, this should be more embarrassing than getting wrecked in the ring. Clearly in some kind of mood over Threads' overnight success, he wrote on Twitter: "It is infinitely preferable to be attacked by strangers on Twitter, than indulge in the false happiness of hide-the-pain Instagram."
https://www.businessinsider.com/elon-musk-killed-twitter-irrelevant-meta-threads-debt-mark-zuckerberg-2023-7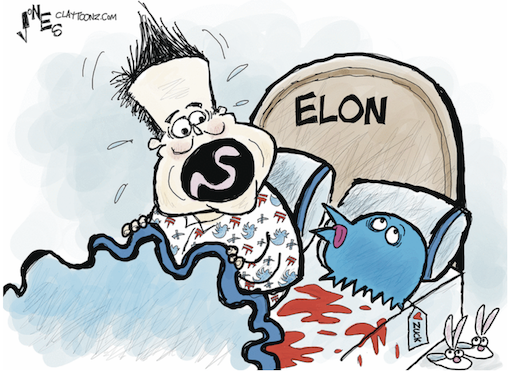 Yair Rosenberg: There's No Such Thing as an RFK Jr. Voter
Robert F. Kennedy Jr. is a man of many misguided ideas. He thinks that vaccinations are harmful, that Wi-Fi radiation causes cancer, and that chemicals in the water supply are producing gender dysphoria. Most political commentators do not share these ideas, but they have implicitly adopted another of the presidential hopeful's questionable notions: that Kennedy's voters care about Kennedy's ideas and are supporting him because of them.

Some assume that Kennedy is polling in double digits because his personal positions are resonating with the electorate. But this is a mistake. Although some voters do share Kennedy's skepticism of the COVID-19 vaccines, they are predominantly Republicans; few Americans of either party oppose all childhood vaccinations, as he does. In reality, Kennedy's popularity comes not from his odd ideas, but from his anti-establishment affect. He has not unearthed a new constituency for banning wireless internet and immunizations; he has tapped into a very old one that fundamentally repudiates the American political system and its official options. Kennedy's campaign is a protest movement, not an intellectual argument, and seeking to rebut his specific stances misunderstands his appeal and dignifies his fringe fantasies with respect they do not command among voters.

Populist insurgents like Kennedy point to their polling as evidence of the popularity of their ideas.
But in actuality, those numbers reflect the real but limited popularity of their anti-establishment posture. In American politics, there is always a market for someone calling to burn down the entire edifice; the specific kindling is beside the point. https://www.theatlantic.com/ideas/archive/2023/07/rfk-jr-2024-election-anti-establishment-voters/674588/
Frank Bruni: Ron DeSantis Is Running One Freaky Campaign
The version of most politicians that we need to worry about is the one that they don't want us to see. That's why campaign reporters dog them; they're waiting for the veil to slip.
But the version of Ron DeSantis that we need to worry about is the one that he proudly shows us. He embraces his meanness. He luxuriates in his darkness. Let other politicians peddle the pablum of inspiration. He prefers to ooze the toxin of contempt.
That's one of the morals of a provocative anti-gay, anti-trans video that the DeSantis campaign shared late last week. The campaign's promotion of it prompted accusations of homophobia even from some Republicans, and justly so: In an attempt to smear Donald Trump, the video doesn't just accuse him of coddling L.G.B.T.Q. Americans. It revels in DeSantis's vilification of them.
Initially distributed by a Twitter account called Proud Elephant, it presents a bizarre montage that's superficially an anti-woke battle cry, pitting a truculent DeSantis against a scourge of degenerates.
But while his viciousness comes through precisely as planned, so does something unintended: an undercurrent of homoerotic kink. Up pops a shirtless hunk with a ripped chest. Here's a glowering Brad Pitt in his Troy drag. Are honchos with a Homer fetish some new thing? I need to get out more.
But the perversely purposed beefcake is less striking than the way in which the video exultantly spotlights DeSantis's biggest critics and celebrates their harshest criticism, treating the words with which they've described him and his initiatives as the best measures of his mettle. Most extreme becomes a trophy, horrifying a crown and evil a sash.
The Florida governor is running one freaky and unsettling presidential campaign. He's more focused on putting certain Americans in their places than on lifting others to new heights. He's defined by the scores he pledges to settle instead of the victories he promises to achieve. He casts himself as someone to fear rather than revere. That video actually flashes an image of Christian Bale in American Psycho as a flattering DeSantis analogue.
DeSantis mistakes spite for spiritedness, bullying for strength. I hope voters don't do likewise.
https://www.nytimes.com/2023/07/06/opinion/ron-desantis-presidential-campaign.html
Michael Hiltzik: Bidenomics has been a boon for working class voters. Why don't they give him credit?
No one doubts that the fiscal buzzword of the moment is Bidenomics. The question at hand is whether President Biden will be able to wear it proudly as a badge, or his Republican adversaries will hang it around his neck like an albatross.
President Biden himself plainly sees it as a net positive. During his appearance in Chicago on June 28 to talk up his economic message, the term was emblazoned on the podium and on bunting draped around the hall.
It's fair to say that the economy hasn't yet recovered the strength it needs to produce the tide that lifts all boats. Many Americans still feel the pain of higher prices and narrowed employment opportunity; where one stands on the economy depends as much as always on where one sits.
But generally speaking, Biden's approach to economic policy has been to push it in the direction of favoring ordinary Americans through initiatives such as infrastructure spending, regulatory policies, and the effort to reduce the burden of student debt (blocked by a far-right Supreme Court). That's a big change from the Trump years, when the GOP's most significant legislative achievement was an enormous tax cut for corporations and the wealthy.
Accepting the label of Bidenomics for economic policies may be a political risk for Biden. But it may be an encouraging sign that he's leaning into a label that the GOP has tried to turn into a dirty word, since he does have a lot to brag about. It should be remembered that the Republicans tried to turn public discontent with the Affordable Care Act into a millstone for Democrats by calling it Obamacare.
https://www.latimes.com/business/story/2023-07-06/column-bidenomics-has-been-a-boon-for-the-working-class-so-why-isnt-the-working-class-giving-biden-credit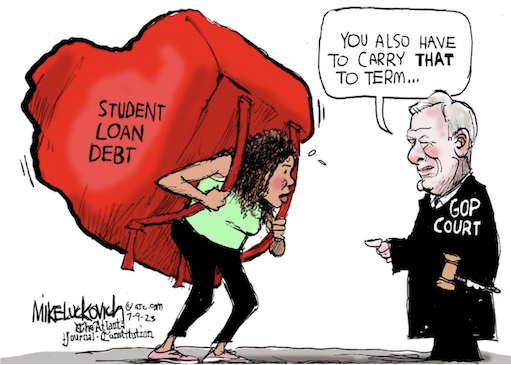 Jonathan Chait: GOP's Bombshell Anti-Biden Witness Has a Wee Credibility Problem. Why does this keep happening?
The Republican party, unable to handle the reality that Joe Biden is a very normal American politician who happens to have one extremely messed-up son, has instead constructed a lurid alternate reality in which the president of the United States has masterminded a long-running global scheme to pocket millions while betraying his country.
The most recent accusation of criminality centers around an allegation that Biden accepted bribes from China in cooperation with his son Hunter. Back in May, James Comer, the chairman of the House Oversight Committee, claimed he had a witness who would testify to Joe Biden's involvement. Then, several days later, Comer said on Fox News that he had lost touch with the witness. "Well, unfortunately we can't track down the informant. We are hopeful the informant is still there," he told Maria Bartiromo.
Last week, the New York Post identified Comer's star witness as Gal Luft, executive director of the Institute for the Analysis of Global Security. And as recently as Sunday, Comer was insisting the informant was extremely credible. "He's very credible and the people on MSNBC who made fun of me when I said we had an informant that was missing, they should feel like fools right now," he boasted. "And this is their worst nightmare. Again, this is a credible witness that the FBI flew all the way to Brussels to interview."
Now it turns out Luft is being charged by the Justice Department with working as an unregistered foreign agent on behalf of China, violating the Arms Export Control Act by trying to broker secret arms deals to multiple countries, and conspiring to violate U.S. sanctions by purchasing and selling Iranian oil.
Note that none of these charges involve doing anything illegal with Joe Biden. The first charges involve giving payments to an advisor to Donald Trump.
Republicans have a habit of imputing all of Donald Trump's crimes to Trump's opponents, but this is really on the nose.
https://nymag.com/intelligencer/2023/07/gal-luft-gop-biden-witness-charged-china-justice-department-comer.html
Edward Luce: The Great Ron DeSantis Train Wreck
It was often said that when Bill Clinton walked into a room, each person thought he noticed them in particular. Clinton was the ultimate retail politician: he liked people and they knew it. When Ron DeSantis shows up, even those who want to support him feel that he harbors a special dislike for them. Being a black hole in terms of charisma is not automatically fatal to a candidate's prospects. When your target is the diabolically charismatic Donald Trump, however, you are working at a big disadvantage.
The story of how DeSantis went from being the favorite, or near-favorite, Republican nominee for the 2024 presidential race to America's most rapidly falling meteor in years, tells us a lot about the mindset of US conservatism.
https://www.ft.com/content/966af78d-2294-4156-b8b3-fa363b466b13