June 9, 2022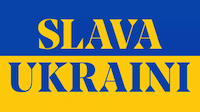 If you have a friend, family member, or neighbor who would like to subscribe to this FREE weekly newsletter they should simply email jellison@san.rr.com with "subscribe" as the subject.
THE WEEK'S BEST QUOTES. . .
"He's a one-man crime wave." — Rep. Jaime Raskin (D-MD), in an interview about Donald Trump.

"We are not in a situation where former president Trump has expressed any sense of remorse about what happened. We are, in fact, in a situation where he continues to use even more extreme language, frankly, than the language that caused the attack. And so, people must pay attention. People must watch, and they must understand how easily our democratic system can unravel if we don't defend it." — Rep. Liz Cheney (R-WY).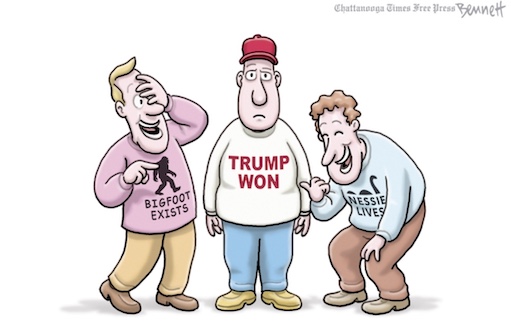 "Did anyone notice that Fox News went lame (bad!) when weak RINO Paul Ryan, who is despised in the Great State of Wisconsin for being 'a pathetic loser,' went on the Fox Board" — Trump after former House Speaker Paul Ryan said that more House Republicans would have voted to impeach Trump if they'd had the "guts." https://www.businessinsider.com/trump-paul-ryan-pathetic-loser-fox-news-2022-6 

"My newest client! So honored and proud!" — Kristin Davis, the Manhattan Madam, after being hired to do public relations for former NY City Mayor Rudy Giuliani.

"Lots of luck on his trip to the moon." — President Biden brushing off Tesla CEO Elon Musk's "super bad feeling" about the U.S. economy, while praising some of Musk's competitors for expanding their investments in electric vehicles.

"Republicans have no answers. There's no economic agenda. Where's their jobs plan for the last 10 years? Where the hell is their health care plan? They don't have one. They're bankrupt as a party. And, in addition to that, they accommodate and embrace these loopy theories and racist theories about how we should live our lives starting with Q-Anon." — Sen. Bob Casey (D-PA).

"If you're a Republican, you can't even lie to Congress or lie to an FBI agent or they're coming after you." — Rep Louie Gohmert after Peter Navarro's indictment for contempt of Congress.

"While genuine differences of opinion or ideology are part of a healthy society, increasingly we are hearing, reading and seeing outlandish statements and pronouncements propped up by deliberate distortions of reality. Fabrications, conspiracy theories and outright lies are becoming commonplace from radical fringe groups as well as from people who you would hope would know better — and you know who they are." — Dr. Anthony Fauci taking a barely veiled swipe at former President Donald Trump and Republicans during a NYC college commencement speech.

"As somebody who just bought my first electric vehicle, I'm driving by the pump. And I won't tell you the motion I'm making when I drive by." — Sen. Debbie Stabenow (D-MI).

The AR-15 is "a gun of choice for killing raccoons before they get to our chickens." — Rep. Ken Buck (R-CO).

Rep. Matt Gaetz (R-FL) said he supports voters arming themselves when headed to the polls in an effort to protect against intimidation.

"To the people of the United States, do not get used to this war. ... Otherwise, we are risking a never-ending war ... Don't get used to our pain." — Ukrainian first lady Olena Zelenska.

"The United States seems to have a not-so-secret death cult that believes that the angry god known as the Second Amendment must be periodically propitiated through ritual child sacrifice." — Bret Stephens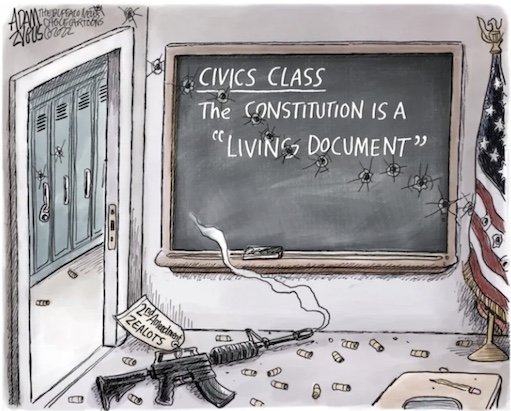 "We've become a country of cowards, so terrified of the unholy power of gun worship that no sacrifice of young blood is too great to appease it." — Maureen Dowd.

The Second Amendment "has been the subject of one of the greatest pieces of fraud, I repeat the word fraud, on the American public by special interest groups that I have ever seen in my lifetime." — Former conservative Chief Justice Warren Burger.

"I used to say in Barack's administration: 'Everything landed on his desk but locusts.' Well, they landed on my desk." — President Biden.

it's "Black people, frankly." — Arizona U.S. Senate hopeful Blake Masters' (R)  theory about why United States has a gun violence problem.

"I believe Trump intended to incite an insurrection as a pretext for declaring some form of marshal law (sic). He mused about invoking the Insurrection Act YEARS before Jan 6 — calling it a 'magic power' — in convos I witnessed and was briefed on." — Miles Taylor, a former Homeland Security official in the Trump administration.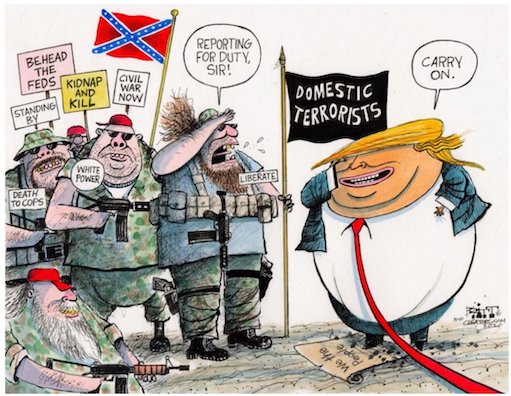 "The fact of the matter is ... this was an attempted coup; this was an attempt to overthrow democracy. It was an attempt to stop, dead in its tracks, on Jan. 6, the peaceful transition of power — and that's a coup. It was a multi-faceted criminal conspiracy led by the president of the United States to stop — by whatever means necessary — the proper counting of electoral votes under the 12th Amendment,"  — Conservative attorney George Conway, husband of Trump's one-time White House aide Kellyanne Conway.

Carl Paladino (R), whose new campaign for a House seat in New York has the endorsement of Rep. Elise Stefanik (R-NY), shared a Facebook post claiming the recent mass shootings in Buffalo and Uvalde were false flags and "the Texas shooter was receiving hypnosis training" apparently under the CIA's direction. 

As Texans were dying due to a power grid failure in the middle of a storm, Ted Cruz fled to Cancun. As 19 children and 3 adults were being buried after a massacre at a Texas elementary school, Ted Cruz was bragging about the "ridiculous fun" he had playing poker on TV. — MeidasTouch

"Airplanes were used that day, as the weapon to kill thousands of people and to inflict terror on our country. There wasn't a conversation about banning airplanes." — House Minority Whip Steve Scalise (R-LA) opposing gun control in response to mass shootings because the country did not ban airplanes after they were used in the attacks of Sept. 11, 2001. 

"Before we pass anything new, let's enforce the laws we already have. Let's start with Hunter Biden." —Sen. Ron Johnson when asked about waiting periods for gun sales to buyers under 21.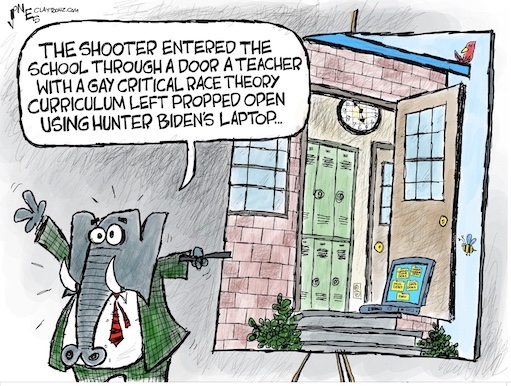 VIDEOS
"When I was growing up in Springfield, you had one or two murders a year. Now we have two, three, four a week in Springfield, Missouri, so something has happened to our society and I go back to abortion. When we decided it was okay to murder kids in their mother's wombs, life has no value to a lot of these folks." --
Rep. Billy Long (R-MO)
 blaming abortion for gun violence .
"Right now, you know what, I'm gonna say something I probably shouldn't. Do you know right now, I have something that can bring you into a building that would clean you from Covid as you walk through this dry mist. As you walk through the door, it will kill any Covid on your body. When you leave, it will kill the virus as you leave. This here product — they don't want to talk about that. They don't want to hear about that." --
Sen. Raphael Warnock (D-GA)
ad showing challenger Herschel Walker talking to conservative pundit Glenn Beck about Covid-19.
"We have "preliminary evidence" that Brian Kemp (73%) stole the Governor's election from Kandiss Taylor (3%)." —
MyPillow CEO Mike Lindell
after "careful deliberation and objective analysis of the Georgia Republican Primary."
Jordan Klepper vs. Iowans Who Think Trump Won - Throwback |
The Daily Show
LITIGATION TRACKER
Pending Criminal and Civil Cases Against Donald Trump. 
https://www.justsecurity.org/75032/litigation-tracker-pending-criminal-and-civil-cases-against-donald-trump/
---
IN THIS ISSUE
IN THE NEWS
OPINION
Andy Borowitz: Fox News Unable to Air January 6th Hearings Owing to Reruns of Benghazi Hearings
Fox News will not air the January 6th hearings in prime time, owing to the network's decision to air reruns of the 2015 Benghazi hearings instead.

Speaking for Fox News, Tucker Carlson announced that, although other news outlets will air hearings about the insurrection at the United States Capitol, Fox will run Hillary Clinton's eleven-hour testimony about Benghazi in its entirety.

When her testimony concludes, Carlson said, the network will show it again, on a continuous loop.

The Fox News host explained that the network had made the decision to skip January 6th coverage because "our responsibility to our viewers, first and foremost, is to keep them up to date on what's going on with Benghazi."

Carlson indicated that there was one scenario in which the network would cut away to the January 6th hearings. "If, in the course of those hearings, new details emerge about Hillary Clinton's role in Benghazi, Fox News will be there," he said. https://www.newyorker.com/humor/borowitz-report/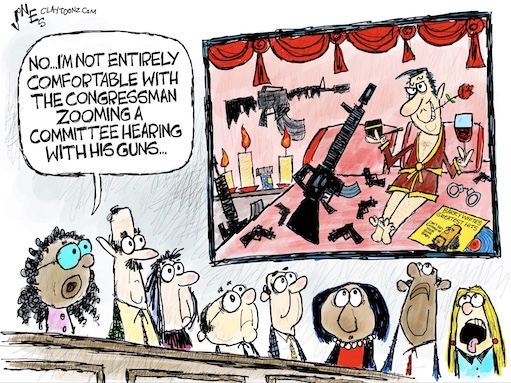 TRUMP ON TRIAL: A Guide to the January 6 Hearings and the Question of Criminality
The Brookings Institution has released a 
comprehensive guide
to this week's hearings by the January 6 Committee.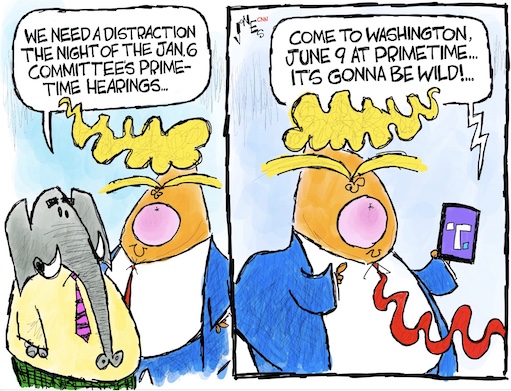 The Wildest Revelations From the January 6 Committee
Court documents and press reports stemming from the investigation have already brought to light plenty of disturbing and shocking information about Donald Trump's effort to steal the 2020 election — and some details that are just plain embarrassing. Here are the wildest revelations so far:
Ginni Thomas repeatedly urged the White House to overturn the election.
Don Jr. shared a plan for declaring dad the winner while votes were still being counted.
Sean Hannity literally took orders from the White House.
Trump was ready to seize voting machines.
Trump said maybe Pence should be hanged.
Fox News hosts sent Meadows panicked texts during the Capitol riot.
Meadows burned sensitive documents in a White House fireplace.
Trump flushed sensitive documents down a White House toilet.
Trump may have engaged in a "criminal conspiracy."
it's far, far too early to envision Trump being led from a courtroom in leg-irons. The filing only stipulates potential criminal charges; the January 6 committee has no power to bring them, and at most could refer evidence to the Department of Justice, which would make its own decisions about prosecuting — or, more likely, not prosecuting — the scofflaw ex-president and his cronies. https://nymag.com/intelligencer/article/january-6-committee-news-wildest-revelations.html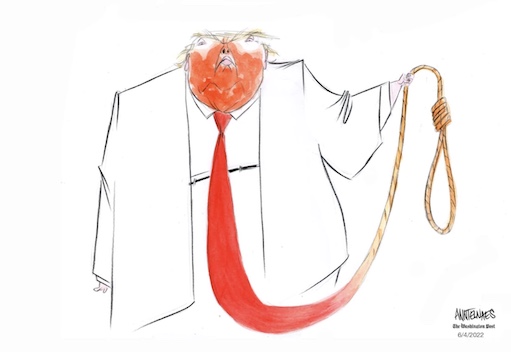 Less Than Half Think Trump Responsible for Capitol Riot
Just 45% of Americans say Donald Trump is 'solely' or 'mainly' responsible for the rioters who overtook the U.S. Capitol during the Jan. 6 attack, versus a combined 55% who say the former president is only somewhat responsible or not really responsible, according to a new NBC News poll.

That's a shift from the Jan. 2021 NBC poll — taken days after the attack — when 52% said Trump was either solely or mainly responsible, compared with 47% who disagreed." https://www.nbcnews.com/meet-the-press/first-read/fewer-americans-now-say-trump-responsible-jan-6-nbc-news-poll-finds-rcna32074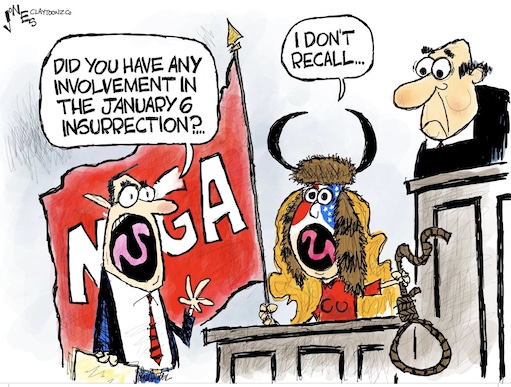 4 in 10 Republicans think mass shootings are 'unfortunately something we have to accept as part of a free society': CBS/YouGov poll
A new CBS News poll asked respondents if they feel that mass shootings are "unfortunately something we have to accept as part of a free society" or "something we can prevent and stop if we really tried."

In response, 44% of Republicans said mass shootings are inevitable "as part of a free society." Meanwhile, 85% of Democrats and 73% of Independents said mass shootings are preventable "if we really tried." https://www.insider.com/poll-4-in-10-gop-accept-mass-shootings-free-society-2022-6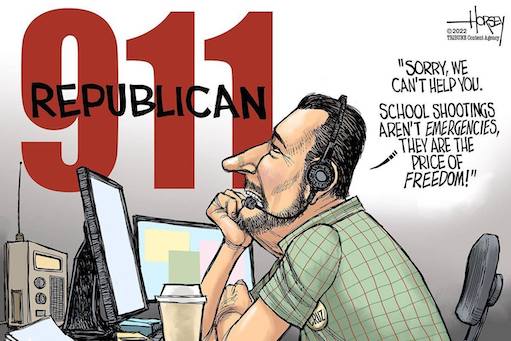 Jared Kushner Now Under Congressional Investigation for Landing Sketchy Saudi Investment
A $2 billion investment by a Saudi Arabian wealth fund in Jared Kushner's private equity firm is the subject of an investigation by the House Committee on Oversight and Reform, according to a letter the committee sent to former President Trump's son-in-law and White House adviser. The New York Times reported the investigation on Thursday.
In a letter requesting documents, committee chair Rep. Carolyn Maloney (D-N.Y.) writes to Kushner that the government wants to know "whether your personal financial interests improperly influenced U.S. foreign policy" during the Trump administration. The letter requests that Kushner turn over any communications he had with Crown Prince Mohammed bin Salman, who controls the Saudi Arabia Public Investment Fund (PIF).
"Your close relationship with Crown Prince bin Salman, your pro-Saudi positions during the Trump Administration, and PIF's decision to fund the lion's share of your new business venture — only six months after the end of your White House tenure — create the appearance of a quid pro quo for your foreign policy work during the Trump Administration," the letter states.
The committee has given Kushner two weeks to respond to its requests.
https://www.rollingstone.com/politics/politics-news/jared-kushner-congressional-investigation-saudi-arabia-1362257/
The NRA talks big on school safety, spends very little
Today, the NRA website says the School Shield program makes the NRA "America's Leading Charitable Organization Helping to Protect Our Children." According to the website, "NRA School Shield® is committed to generating the funding necessary to sustain a consistent and accessible source of financial support made available to schools across America."

NRA financial documents leaked to The Reload, a conservative publication that focuses on firearms issues, tell a very different story. The documents reveal that in the first eight months of 2021, the NRA — which had total revenues of $282 million last year — spend just $13,900 on School Shield. The NRA estimated that less than $20,000 would be spent on the program for all of 2021. In other words, the NRA spent about 0.007% of its 2021 revenue on school safety issues.

To put that level of spending into perspective, LaPierre spent $39,000 on designer suits during one visit to Zegna in Beverly Hills and billed it to the NRA. Between 2004 and 2017, LaPierre spent $274,695.03 at Zegna, according to correspondence released during a legal dispute with the NRA's former ad agency. The NRA defended the expense to the Wall Street Journal, saying "LaPierre's clothing expenses were justified due to his many public appearances." LaPierre could afford to purchase his own clothes. In 2019, the latest data available, LaPierre was paid more than $1.8 million by the NRA, which is a tax-exempt non-profit organization. https://popular.info/p/the-nra-talks-big-on-school-safety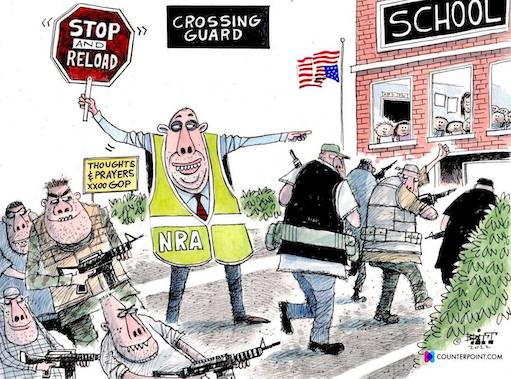 Michigan widens probe into voting system breaches by Trump allies
State police in Michigan have obtained warrants to seize voting equipment and election-related records in at least three towns and one county in the past six weeks, police records show, widening the largest known investigation into unauthorized attempts by allies of former President Donald Trump to access voting systems.
https://www.reuters.com/world/us/exclusive-michigan-widens-probe-into-voting-system-breaches-by-trump-allies-2022-06-06/
Trump mobilizing his MAGA allies to defend him ahead of January 6 hearings
Donald Trump has made it clear he is looking for cover from his closest allies around the upcoming public hearings by the House select committee investigating the January 6 insurrection – and some prominent names in Congress and the Republican Party are answering the call.
Trump's team has communicated to some of his most loyal acolytes on Capitol Hill that the former President wants people vigorously defending him and pushing back on the select committee while the public hearings play out, according to GOP sources familiar with the request. 
https://www.cnn.com/2022/06/05/politics/donald-trump-preparations-january-6-hearing/index.html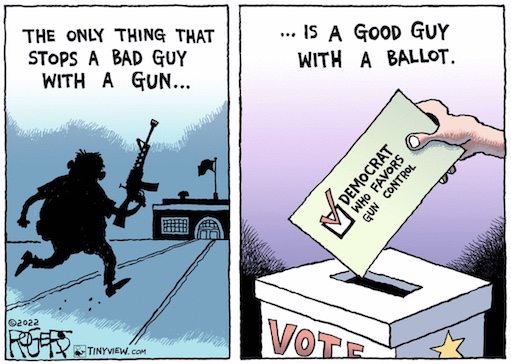 DeSantis Vetoes $35M After Team's Gun-Control Tweets
Florida Gov. Ron DeSantis (R) has vetoed the state budget's $35 million that would have funded a new training facility and youth complex for the Tampa Bay Rays after the baseball team tweeted its support for gun control.
https://www.foxnews.com/sports/exclusive-gov-ron-desantis-veto-35-million-tampa-bay-rays-polarization-shootings
'Pro-Choice' Identification Rises to Near Record High in U.S.
  A Gallup poll conducted mostly after the draft of a Supreme Court decision addressing abortion rights was leaked finds a marked shift in public attitudes over the past year. After a decade in which Americans' identification as "pro-choice" varied narrowly between 45% and 50%, the percentage has jumped six points to 55% in the latest poll, compared with the prior measure a year ago.

Pro-choice sentiment is now the highest Gallup has measured since 1995 when it was 56% -- the only other time it has been at the current level or higher -- while the 39% identifying as "pro-life" is the lowest since 1996. https://news.gallup.com/poll/393104/pro-choice-identification-rises-near-record-high.aspx
Washington 'election integrity' group and lawyer fined for meritless vote fraud lawsuit
A Washington state nonprofit group and its attorney have been fined more than $28,000 by the state Supreme Court for making legally meritless claims alleging widespread vote fraud.

The Washington Election Integrity Coalition United was ordered to pay nearly $9,600, and its Sequim-based attorney, Virginia Shogren, was ordered to pay nearly $18,800 for suing Gov. Jay Inslee in October.

Those fines were imposed last month and announced Wednesday by Attorney General Bob Ferguson's office, which defended Inslee in the case. Ferguson said his office also intends to file a bar complaint against Shogren.

The sanctions were the latest defeat for the "Stop the Steal" movement stoked by former President Donald Trump's false claims that the 2020 election was stolen from him. Those claims have been rejected in dozens of lawsuits and audits across the country and in Washington.  https://www.seattletimes.com/seattle-news/politics/washington-election-integrity-group-and-lawyer-fined-for-meritless-vote-fraud-lawsuit/
Huge Majority Back Age Limits for Assault Weapons
89% of Americans think an automatic rifle should either never be legal, or only legal for individuals 21 or older. 39% of respondents think automatic rifles should be outlawed altogether.

Even among Republicans, 84% think automatic rifles should either be illegal or only available to those over 21.

Among those who think automatic rifles should ever be legal, the median preferred minimum age to own one is 23 years.

Preferred minimum ages for automatic rifle ownership vary by party: 28 years is the median minimum age for Democrats, with Republicans giving a median response of 21 years. https://firearms-attitudes-results.verasight.io/
There have been over 200 mass shootings so far in 2022
Mass shootings, where four or more people — not including the shooter — are injured or killed, have averaged more than one per day so far this year. Not a single week in 2022 has passed without at least four mass shootings.
Mass shootings have been on the rise in recent years. In 2021, almost 700 such incidents occurred, a jump from the 611 in 2020 and 417 in 2019. Before that, incidents had not topped 400 annually since the Gun Violence Archive started tracking in 2014. 
https://www.washingtonpost.com/nation/2022/06/02/mass-shootings-in-2022/
U.S. Gun Policy: Global Comparisons
Amid the COVID-19 pandemic, 2021 is on track to be the United States' deadliest year for gun violence in two decades. How do other countries regulate firearms and respond to mass shootings? https://www.cfr.org/backgrounder/us-gun-policy-global-comparisons
The DAILY GRILL
Today I'm investigating Twitter for potentially misleading Texans on the number of its "bot" users. I have a duty to protect Texans if Twitter is misrepresenting how many accounts are fake to drive up their revenue.  — Texas Attorney General Ken Paxton

VERSUS

19 kids were killed in their elementary school in Texas and the state's AG is investigating Twitter bots. — Brian Tyler Cohen
Woodward and Bernstein thought Nixon defined corruption. Then came Trump.
President George Washington, in his celebrated 1796 Farewell Address, cautioned that American democracy was fragile. "Cunning, ambitious, and unprincipled men will be enabled to subvert the power of the people and to usurp for themselves the reins of government," he warned.

Two of his successors — Richard Nixon and Donald Trump — demonstrate the shocking genius of our first president's foresight.

As reporters, we had studied Nixon and written about him for nearly half a century, during which we believed with great conviction that never again would America have a president who would trample the national interest and undermine democracy through the audacious pursuit of personal and political self-interest.

And then along came Trump.

The heart of Nixon's criminality was his successful subversion of the electoral process — the most fundamental element of American democracy. He accomplished it through a massive campaign of political espionage, sabotage and disinformation that enabled him to literally determine who his opponent would be in the presidential election of 1972.

With a covert budget of just $250,000, a team of undercover Nixon operatives derailed the presidential campaign of Sen. Edmund Muskie of Maine, the Democrats' most electable candidate.

Nixon then ran against Sen. George McGovern, a South Dakota Democrat widely viewed as the much weaker candidate, and won in a historic landslide with 61 percent of the vote and carrying 49 states.

Over the next two years, Nixon's illegal conduct was gradually exposed by the news media, the Senate Watergate Committee, special prosecutors, a House impeachment investigation and finally by the Supreme Court. In a unanimous decision, the court ordered Nixon to turn over his secret tape recordings, which doomed his presidency.

These instruments of American democracy finally stopped Nixon dead in his tracks, forcing the only resignation of a president in American history.

Donald Trump not only sought to destroy the electoral system through false claims of voter fraud and unprecedented public intimidation of state election officials, but he also then attempted to prevent the peaceful transfer of power to his duly elected successor, for the first time in American history.

By legal definition this is clearly sedition — conduct, speech or organizing that incites people to rebel against the governing authority of the state. Thus, Trump became the first seditious president in our history.

Both Nixon and Trump have been willing prisoners of their compulsions to dominate, and to gain and hold political power through virtually any means. In leaning so heavily on these dark impulses, they defined two of the most dangerous and troubling eras in American history.

As Washington warned in his Farewell Address more than 225 years ago, unprincipled leaders could create "permanent despotism," "the ruins of public liberty," and "riot and insurrection."  https://www.washingtonpost.com/outlook/2022/06/05/woodward-bernstein-nixon-trump/
Frank Bruni: Gov. Greg Abbott Has a Lot of Nerve
Gov. Abbott's most impassioned, pained moment after the elementary-school blood bath came on the same day as his Wizard-of-Oz convention appearance, when he declared at a news conference in Uvalde: "I am livid about what happened."
Livid! But he wasn't talking about the killings per se. About the pileup of tiny corpses. He was talking about the slow response of law enforcement officers on the scene that day, about his initial misimpression that they'd acted more heroically and about his out-of-the-gate praise of them along those lines.
"The information I was given turned out, in part, to be inaccurate, and I am absolutely livid about that," he said. Yes, Governor Abbott, that's the most infuriating aspect of — and salient takeaway from — this ordeal.
He has no right whatsoever to be livid. He forfeited it when, less than a year ago, he signed a law that gives Texans the green light to carry handguns without a license or training. He forfeited it when he signed a law that allows hotel guests in Texas to store their firearms in their rooms.
He forfeited it by signing law after law sending the message to Texans that what they should fear most isn't all the killing done by guns but big, bad federal restrictions that might affect how quickly they can get their hands on more guns or how many places they can brandish those guns or how much caution they must muster around those guns.
He forfeited it when, less than two months ago, he cut more than $200 million from the Texas commission that oversees mental health services in the state, which, according to the 2022 State of Mental Health in America report, ranks fourth in the nation in terms of the prevalence of mental illness, but last in access to mental health care.
Unbowed by that distinction, Abbott spoke after the massacre about the importance of dealing with mental illness. Other Republican leaders spoke about arming teachers and essentially turning schools into fortresses — which, I'm sure, would be wonderfully conducive to learning.
What Abbott didn't speak about was reducing the glut — and regulating the types — of deadly firearms in a broken country that stands out, not so coincidentally, for both how many guns it contains and the number of people killed by them yearly.
I'm livid about that.
Abbott and other Republican leaders claimed to have heavy hearts. What they should have is haunted consciences. What they do have is a lot of nerve.
https://www.nytimes.com/2022/06/02/opinion/greg-abbott-uvalde.html
Scott Turow: Chaos In John Roberts's Court
To engage in a debate about the framers intentions is to fall prey to the most detestable aspects of originalism that allow the dead hand of a disreputable past to place a choke hold on citizens today. It is preposterous to apply the thinking of 1788—or even 1868, when the 14th Amendment was ratified—to contemporary times. In the 18th and 19th centuries, American women were still unable to vote, their rights to own property were still not recognized in much of the country, and consensual sex outside of marriage was a crime called "fornication." Moreover, contemporary notions of family planning did not exist because of the lack of reliable means of contraception. To let that worldview guide our modern society obstructs us from adopting a more enlightened understanding of those freedoms that we deem fundamental and beyond control by executive or legislative whims.
Abortion will always remain a complex moral issue. But the core holding of Roe, that a woman, as a matter of right, possesses the liberty to decide whether or not to continue a pregnancy while a fetus remains part of her body and incapable of living on its own, is one that makes deep philosophical, moral, and legal sense. The Roe holding, rooted in the rights reserved to all Americans under the Ninth Amendment, strikes a delicate balance, recognizing that women have the freedom to shape their own lives until the moment that a carried fetus is capable of being a person, independent of its mother, and thus earns governmental protection.
As important, the rights Roe has guaranteed are also essential if we are ever to be sincere as a nation about fulfilling the ideal of female equality. What kind of equal status is it if a woman can be ordered by a state to carry a child to term, or if she has to endure that indignity based solely on where she happens to reside? Our laws tolerate no comparable invasion of the bodily autonomy of men. In fact, if you look to Justice Gorsuch, even the minimal intrusion of wearing a mask to protect the health of colleagues is evidently unacceptable—all while he agrees, in essence, that it's constitutional to tell a woman that her body is not her own.
We can only hope that when the Dobbs decision is actually released that Chief Justice Roberts will have persuaded his other conservative colleagues to veer from Alito's draft in important ways, and that Roberts's moderating influence might prevent those justices from striking down other important precedents they just don't care for, such as the Court's decision deeming marriage equality a constitutional right. But if the far-right members of the Court continue to behave as if a scepter came with their robes, we will know that functionally this is no longer a Court headed by John Roberts, but rather by Antonin Scalia's ghost.
https://www.vanityfair.com/news/2022/06/chaos-in-john-robertss-court
Dana Milbank: Bill Barr's reign of innuendo — unmasked
In fulfilling Donald Trump's demands to investigate the Russia investigators and those who allegedly "unmasked" Flynn, Barr wasn't seeking justice. He now admits that trying to make a case that the FBI acted in bad faith against Trump — as Republicans allege — would have been "onerous" and "a herculean case" and a "very hard thing to prove."
Barr was giving Justice cover to the reckless allegations being made by Trump and his allies. Barr made sure the lies had a lengthy head start to leave lasting impressions before any corrective could be issued.
Barr made space for Sen. Marco Rubio (R-Fla.) to predict "one of the biggest political scandals in American history"; for Sen. John Cornyn (R-Tex.) to proclaim a scandal "bigger than Watergate"; for Sen. Rand Paul (R-Ky.) to claim there was a "smoking gun found"; for Rep. Michael Turner (R-Ohio) to declare "a threat to democracy itself"; and for Rep. Devin Nunes (R-Calif.) to allege that Obama officials "were unmasking anyone and everyone so that they could leak information to a press that was willing to take that illegal information."
Now we know Trump's DOJ, in its own words, had "not found evidence" of inappropriate unmasking. And we see Durham's claim of wrongdoing in the Russia probe ending in swift acquittal.
Barr, unmasked, now claims the federal jurors in Durham's failed case violated their oaths by following political biases. "A D.C. jury," he said, "is a very favorable jury for anyone named Clinton and the Clinton campaign. Those are the facts of life. … There are two standards of the law, and we have had to struggle with that."
So, now, Barr is trying to discredit the centuries-old American jury system. It's just one more "story" he tells to replace the rule of law with the reign of innuendo.
https://www.washingtonpost.com/opinions/2022/06/03/barr-unmasking-durham-probes-bogus/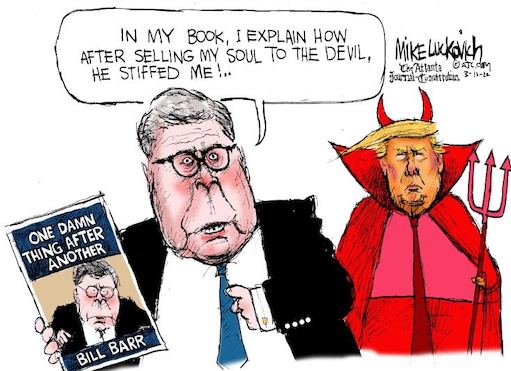 Timothy Caulfield: Dr. Oz Shouldn't Be a Senator—or a Doctor
While holding a medical license, Mehmet Oz, widely known as Dr. Oz, has long pushed misleading, science-free and unproven alternative therapies such as homeopathy, as well as fad diets, detoxes and cleanses. Some of these things have been potentially harmful, including hydroxychloroquine, which he once touted would be beneficial in the treatment or prevention of COVID. This assertion has been thoroughly debunked.
He's built a tremendous following around his lucrative but evidence-free advice. So, are we surprised that Oz is running as a Republican for the U.S. Senate in Pennsylvania? No, we are not. Misinformation-spouting celebrities seem to be a GOP favorite. This move is very on brand for both Oz and the Republican Party.
Oz has few ties to Pennsylvania, a weakness that could impede his campaign. But even so, in these bunk-filled times, Oz the conservative—and inexplicably still-licensed—medical misinformation machine is an unsurprising GOP candidate. Someone who has spent decades as a profiteer of woo might fare well on the campaign trail. Truth? Bah.
https://www.scientificamerican.com/article/dr-oz-shouldnt-be-a-senator-or-a-doctor/
Maureen Dowd: America's Human Sacrifices
Children having their tomorrows taken away. Small sacrifice if we can keep our guns. Why not let every deranged loner buy an assault weapon?
America is not a mythical kingdom ruled by fickle gods or black magic. Our fate is not in the stars. It is in ourselves. It is within our power to stop schools from becoming killing fields.
We have simply decided not to do it.
"Most Republicans in the Senate represent deeply conservative states where gun ownership is treated as a sacred privilege enshrined in the Constitution, a privilege not to be infringed upon, no matter how much blood is spilled in classrooms and school hallways around the country," Carl Hulse wrote in The Times.
Republicans throw up a fog of nonsensical suggestions. Before speaking to the N.R.A. on Friday, Ted Cruz said schools should have only one entry point, with an armed guard. Guns don't kill people. Doors do. During his speech at the N.R.A., Trump suggested turning schools into virtual jails and letting teachers pack pistols in class.
"Meaningful policy discussions over guns or voting or public health have left the room," said my colleague Elizabeth Williamson, the author of the new book "Sandy Hook: An American Tragedy and the Battle for Truth." "Spewing conspiracy theories and bench-clearing nonsense around mass shootings, elections and coronavirus is becoming a tribal signifier for some on the right."
The Republicans are doing everything they can to stop women from having control over their own bodies and doing nothing to stop the carnage against kids; they may as well change the party symbol from an elephant to an AR-15.
America is stuck in a loop on guns — and it's a fatal one. This country always cherished its frontier image, Gary Cooper in "High Noon," shooting it out with the bad guys. But now when the bad guys start shooting, lawmakers just shrug.
We've become a country of cowards, so terrified of the unholy power of gun worship that no sacrifice of young blood is too great to appease it.
https://www.nytimes.com/2022/05/28/opinion/americas-human-sacrifices.html
Jessica Winter: Seeing America, Again, in the Uvalde Elementary-School Shooting
Nineteen children and two adults were murdered in Texas. This is the country that gun-rights advocates have chosen.
Mitch McConnell, the Senate Minority Leader—who once said, following a school shooting in his home state of Kentucky, "I don't think at the federal level there's much that we can do other than appropriate funds" for school safety officers and counselling—tweeted that he was "horrified and heartbroken" by the tragedy at Robb Elementary School. Ted Cruz, the junior senator for Texas—who once ran a campaign ad that boasted, "After Sandy Hook, Ted Cruz stopped Obama's push for new gun-control laws"—tweeted that he and his wife were "fervently lifting up in prayer the children and families in the horrific shooting." Governor Greg Abbott—who last year signed seven pieces of gun-rights legislation into law, including one that permitted Texans to carry handguns without a license and another exempting the state from future federal gun restrictions—said that he and his wife "mourn this horrific loss and we urge all Texans to come together to show our unwavering support to all who are suffering."
Politicians like these are routinely criticized for their hypocrisy and empty gestures—their "thoughts and prayers." But, if only for the sake of rhetorical hygiene, we should go a step further. Republicans, as we know, get what they want. It is their best feature. They have vacuumed up the state legislatures, gerrymandered much of the country, stacked the Supreme Court and the federal judgeships, turned back the clock on L.G.B.T.Q. rights, paralyzed entire school districts with engineered panics over critical race theory and "grooming," ended (or so it seems) reproductive rights as a constitutionally guaranteed freedom, and blocked all attempts at gun-control legislation. If the leaders of this political movement, which in Texas managed to ban most abortions and criminalize health care for trans kids in the space of a school year, took real offense to murdered children, they would never simply accept their deaths as the unfortunate cost of honoring the Founding Fathers' right to take up muskets against hypothetical government tyranny. They would act. If America were not afraid to know itself, we could more readily accept that gun-rights advocates are enthralled with violent sorrow. This is the America they envisaged. It is what they worked so hard for. Their thoughts and prayers have been answered.
https://www.newyorker.com/news/daily-comment/seeing-america-again-in-the-texas-elementary-school-shooting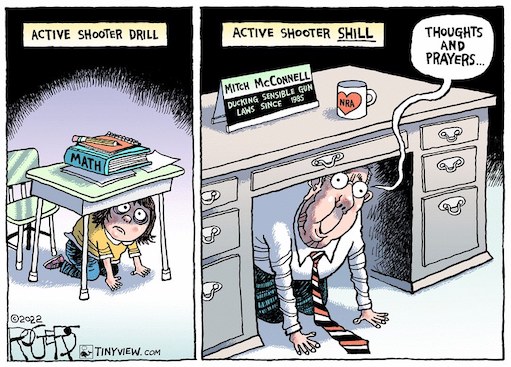 E.J. Dionne Jr. The Jan. 6 committee has a narrow but priceless opening
The task before the House committee investigating the Jan. 6, 2021, attack on the Capitol this week is to demonstrate that day's viciousness was not some spontaneous outbreak of mayhem but an organized, radical and dangerous assault on democracy itself.
And members of the committee must make clear that Donald Trump intentionally and criminally orchestrated these events to hold on to power in defiance of the will of American voters.
When the committee holds the first in a series of public hearings in prime time on Thursday, its members will be fighting uphill against the short attention span of our political and media system. They will also be battling a concerted campaign of distraction by Trump's supporters and the vast majority of Republican politicians — no matter their real view of Trump — who want to make the threat to our democracy disappear as a public issue.
The particularly chaotic flow of news lately is not in the committee's favor. The mass killings made possible by our disgracefully weak gun laws, the cost of gas and groceries, Russia's ongoing assault on Ukraine, and the overreach of an out-of-control Supreme Court majority all vie for public concern.
Yet our ability to deal with all these issues and many others rests on safeguarding a democratic system in which politicians who lose elections cede office and do not resort to violence to impede the popular will. Nothing less than this is at stake this week.
Lies about the 2020 election are an animating force for an entire faction of the GOP and have been mobilized as a pretext for corrupting the electoral system to smooth the way for a more successful assault on majority rule in the next presidential election. Even in the face of all our other challenges, protecting democracy is our nation's most important task. The Jan. 6 committee has a narrow but priceless opening to sound the call to battle.
https://www.washingtonpost.com/opinions/2022/06/05/jan-6-committee-hearings-high-stakes/
Steve Coll: How Will Trump's Primary Messages Affect the Midterms?
According to a poll from last year by the University of Massachusetts at Amherst, well more than half of Republican voters nationwide believe Trump's Big Lie that Biden's victory was rigged. Trump's grip on Trumpism may be loosening a little, but the malignancy he has seeded in American politics cannot be eradicated anytime soon. His talking points about corrupt elections resound daily across right-wing media. Republican leaders and candidates embrace his isolationism and his mobilization of white-grievance politics. If Mastriano is elected, or if like-minded allies take control of election machinery in other swing states, the stage could be set for another constitutional crisis around voting results in 2024, whether Trump is the Republican Presidential nominee or not.

Trump apparently feels no compunction, as a former President, about questioning the legitimacy of the nation's courts or the rule of law. "Our Legal System is corrupt, our Judges (and Justices!) are highly partisan, compromised or just plain scared," he recently wrote on Truth Social. His new platform may look like a cynical way to make money—the regulatory filing warned investors of many potential hazards, citing the examples of Trump Plaza and Trump Castle, among other past failures. But Trump's abuse of Truth as a business brand is trivial compared with his ongoing vandalism in the public square. In November, his name won't be on ballots, but voters will have to decide once more whether to endorse his hold on our faltering democracy.  https://www.newyorker.com/magazine/2022/06/13/how-will-trumps-primary-messages-affect-the-midterms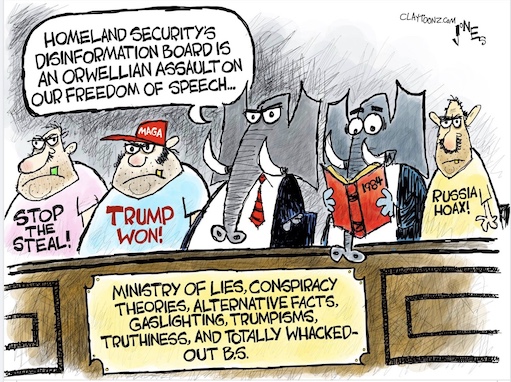 Fredrick W. Kagan: The New Russian Offensive Is Intended to Project Power It Cannot Sustain
The fight for Severodonetsk is a Russian information operation in the form of a battle. One of its main purposes for Moscow is to create the impression that Russia has regained its strength and will now overwhelm Ukraine. That impression is false. The Russian military in Ukraine is increasingly a spent force that cannot achieve a decisive victory if Ukrainians hold on.
Russian President Vladimir Putin is therefore trying to turn his invasion of Ukraine into a brutal contest of wills. He's betting his army on breaking Ukrainians' collective will to fight on in their country. His own won't likely break. Fortunately, Ukraine doesn't need it to. If Ukrainians can weather the current Russian storm and then counterattack the exhausted Russian forces they still have every chance to free their people and all their land.
Putin amassed the wreckage of Russian combat forces into a lethal amalgam around the cities of Severodonetsk and Lysychansk in Ukraine's eastern Luhansk Oblast. That amalgam is crawling forward using massive artillery barrages to obliterate everything in its path allowing Russia's demoralized and frightened soldiers to walk into the rubble. ... 
Neither Ukrainians nor their friends around the world must give in to Putin or be deluded by the current mirage of Russian success and power he is presenting in the Battle of Severodonetsk. For mirage it is. Russia's drive in Luhansk is the desperate gamble of a dictator staking the last of the offensive combat power he can scrape together in hopes of breaking his enemies' will to continue the fight. and let him claim that he's taken all of Luhansk Oblast. ... https://time.com/6184437/ukraine-russian-offensive/
Max Boot: Is there a sickness in U.S. culture? Yes: The GOP gun cult.
It has been only two weeks since the school shooting in Uvalde, Tex., that left 19 children and two adults dead. Since then, the United States has seen at least 34 more mass shootings along with numerous individual shootings, gun suicides and even a political assassination. This is what happens when you live in a country with more guns than people — and where many teenagers can purchase a military-style assault weapon before they can legally buy a drink.
Yet, as if denying that heavy rain causes flooding, Republicans continue to insist that the prevalence of guns has nothing do with the prevalence of shootings. They blame doors, video games, mental illness, "emasculated" men, family breakdown, demons, the lack of prayer in schools, Ritalin, antidepressants, social media, social isolation — anything and everything except the weapons used in these crimes.
All such explanations ignore the obvious rejoinder that our culture is pretty similar to those of Canada, Australia, Britain and other countries that don't have anywhere close to the same levels of gun violence. We don't have a monopoly on mental illness, family breakdown or video games. Americans are actually far more religious than adults in other wealthy nations, so we are not suffering from a prayer deficit.
But Republicans do have a point about American culture — just not the one they're trying to make. There is a sickness in America. It's our gun cult, which has no counterpart in any other advanced democracy. Republican politicians, the gun lobby and gunmakers — the unholy trinity — are complicit not only in weakening gun laws but also in glorifying firearms and encouraging their sale. After every mass shooting, Republicans inspire more gun sales by warning that Democrats are planning to confiscate guns. By increasing the number of firearms in circulation, that makes the next mass shooting more likely.
Guns have overtaken flags as an obligatory accessory in Republican campaign commercials, and people who have used guns allegedly for self-protection, such as Kyle Rittenhouse, have become Republican folk heroes. Gun ownership has become a mark of tribal identity in red America. More than twice as many Republicans as Democrats own guns, and by far the most popular reason for buying one is personal protection.
Here is the truth that Republicans never tell their constituents: Owning firearms makes you less, not more, safe. As the Trace, a website devoted to gun news, notes: "Having a gun in the home increases the chance for accidental injury, homicide, and suicide, all of which have been shown to outweigh the potential protective benefits of firearms." Researchers have found that guns are used for self-defense in less than 1 percent of all crimes, the Trace reports, and that "having a gun in the home was linked with nearly three times higher odds that someone would be killed at home by a family member or intimate acquaintance."
There is another important truth that Republicans deny: Gun control works. A 2016 research project, which analyzed 130 studies in 10 countries, found that strict limits on gun purchases and ownership were followed — no surprise — by reductions in gun deaths. The same dynamic is evident within the United States. While Texas has been loosening gun laws, California has been tightening them. In 2020, California had 40 percent fewer gun deaths per 100,000 population than Texas.
Republicans are contributing to the bloodbath engulfing America by blocking gun-safety laws while promoting gun ownership. The result is that in 2020, guns became the leading cause of death among children. Unless the gun cult fades on the right, children — and adults — will continue to die needlessly.
https://www.washingtonpost.com/opinions/2022/06/07/republican-gun-cult-america-sickness-myths-conspiracy/