December 27, 2018
ON THE RECORD. . .
"State of play: @realDonaldTrump is unfit to run a charity in New York State but fit to control nuclear weapons that could destroy the world several times over." — Jeffrey Toobin, tweeted this message shortly after Underwood announced the agreement to shutter the Trump foundation
"Senior officials across the administration agree that the President's decision-by-tweet will recklessly put American and allied lives in danger around the world, take the pressure off of ISIS -- allowing them to reconstitute -- and hand a strategic victory to our Syrian, Iranian and Russian adversaries." — A senior administration official on the President's decision to withdraw US troops from Syria.
Trump's views on a border wall and immigration are "simplistic" and "absurd and almost childish." — Incoming White House acting-chief of staff Mick Mulvaney in a 2015 interview uncovered by CNN. Mulvaney added he believed Trump's emotional appeals and cavalier attitude might prompt him to try going around the Constitution.
"Who's living that they're not going to make it to the next paycheck?" — Rep. Scott Perry (R-PA) scoffing at the idea that a federal worker would need their next paycheck to make ends meet.
"Okay, Republicans. How much longer are you going to let this farcical 'presidency' continue? At a time of such political, economic, and geo-strategic turbulence—both nationally and globally—are you waiting for a catastrophe to happen before acting? Disaster looms!" — Former CIA Director John Brennan, on Twitter.
"We are headed toward a series of grave policy errors which will endanger our nation, damage our alliances & empower our adversaries." — Sen. Marco Rubio, R-Fla., tweeted after Mattis' resignation.
"Everyone knew yesterday, long before the House vote, that the president's wall lacked 60 votes in the Senate. It has proven to lack even 50 votes. It will never pass the Senate. Not today, not next week, not next year." — Senate Minority Leader Chuck Schumer (D-NY).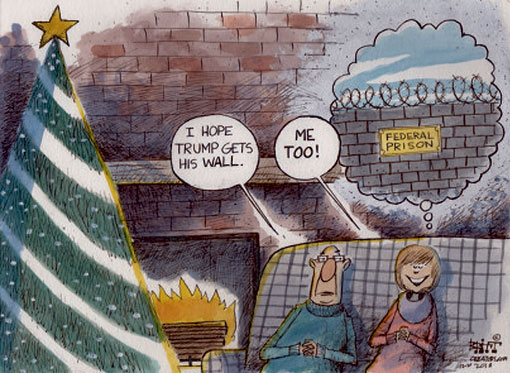 The President is uninterested in information that contradicts his own beliefs, such as evidence that North Korea is continuing to build nuclear weapons or that Saudi Arabia's crown prince sanctioned the murder of the journalist Jamal Khashoggi. Well over a hundred thousand people—bright and gifted people—are trying to describe reality as best we know how. … and he's just not interested." — A former senior U.S.intelligence official.
"I'm prepared to make sure we do everything possible so that the public has the advantage of as much of the information as it can." — Rep. Adam Schiff (D-CA), the incoming chairman of the House Intelligence Committee, saying that Democrats will subpoena special counsel Robert Mueller's report if Donald Trump tries to invoke executive privilege to keep it secret.
"When people get older, they become more and more convinced of the fact that what they're doing is the right thing and it becomes harder to convince them otherwise." — Former New Jersey Gov. Chris Christie ®, saying that Donald Trump is like a "72-year-old relative."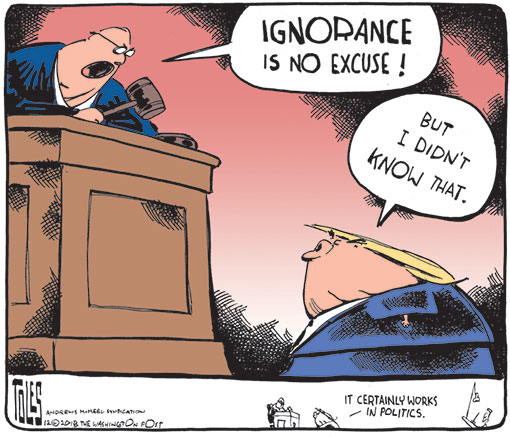 "My concern for the country goes beyond the immediate pain and dysfunction that this shutdown will cause. Beyond even ensuring that this President is held accountable. What's happening now is part of a larger threat to us all." — Rep. Beto O'Rourke (D-TX) warning about what he sees as the threat Donald Trump poses to American democracy.
"The end of 2018 makes clearer every day that the president himself represents a fundamental problem for America's economy and national security alike. Trump's erratic behavior and weak leadership have unsettled Wall Street and Washington alike — and there's every reason to expect things will get worse." — John Harwood, CNBC
---
IN THIS ISSUE
FYI
OPINION
1. Andy Borowitz: Trump Named Man of the Year by ISIS
Capping an extraordinary 2018, Donald J. Trump announced on Thursday that he had been named Man of the Year by the terrorist organization known as ISIS.

Trump made the announcement after receiving the news from the leader of ISIS, Abu Bakr al-Baghdadi, whom Trump called "a terrific, fabulous guy."

"I got along great with him, and he said a lot of nice things about me," Trump said. "He said ISIS didn't even consider anyone else."

Trump, who is expecting to receive an official Man of the Year plaque from ISIS in the next few weeks, said that the award "came as a total surprise to me."

"It's a particularly impressive honor when you consider ISIS was co-founded by Hillary and Obama," he said. https://www.newyorker.com/humor/borowitz-report/
2. Putin backs Trump's move to withdraw U.S. troops from Syria
Russian President Vladimir Putin praised President Trump's decision to withdraw U.S. troops from Syria, describing the American presence there as illegitimate and the Islamic State as largely defeated on the ground. 
Putin told journalists at his annual year-end news conference that the Islamic State has suffered "serious blows" in Syria. 
"On this, Donald is right. I agree with him," Putin said.  https://www.washingtonpost.com/world/europe/putin-warns-expiration-of-nuclear-arms-control-pact-would-be-bad-for-humanity/2018/12/20/f9d51136-0391-11e9-958c-0a601226ff6b_story.html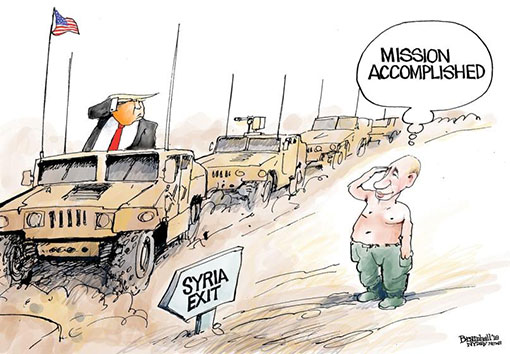 3. 7,546 False or Misleading Claims In 700 Days
The numbers are astonishing. In the first eight months of his presidency, President Trump made 1,137 false or misleading claims, an average of five a day. In October, as he barnstormed the country holding rallies in advance of the midterm elections, the president made 1,205 claims — an average of 39 a day," the Washington Post reports.
Combined with the rest of his presidency, that adds up to a total of 7,546 claims through Dec. 20, the 700th day of his term in office, according to The Fact Checker's database that analyzes, categorizes and tracks every suspect statement uttered by the president. https://www.washingtonpost.com/graphics/politics/trump-claims-database/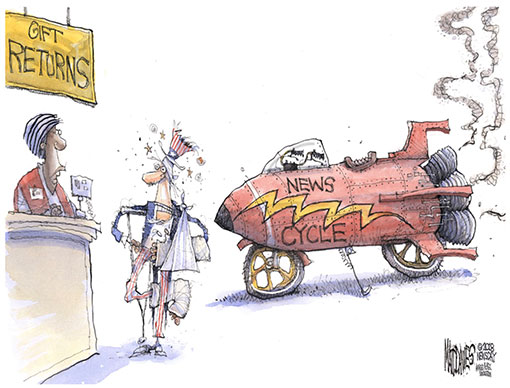 4. Inside Bernie-world's war on Beto O'Rourke
Forces loyal to Vermont Sen. Bernie Sanders are waging an increasingly public war against Texas Rep. Beto O'Rourke, the new darling of Democratic activists, as the two men weighwhether to seek the party's presidential nomination in 2020.
The main line of attack against O'Rourke is that he isn't progressive enough — that he's been too close to Republicans in Congress, too close to corporate donors and not willing enough to use his star power to help fellow Democrats — and it is being pushed almost exclusively by Sanders supporters online and in print.
It's been the first flashpoint in what promises to be a politically bloody primary — one that has drawn responses from foot soldiers in the Obama and Clinton wings of the party — as Democrats begin to focus on who has the best chance to deny President Donald Trump a second term in the Oval Office.
O'Rourke's ability to connect with younger and progressive white voters — Sanders' source of strength in his losing 2016 primary against Hillary Clinton — puts him in direct competition with the Vermont senator. https://www.nbcnews.com/politics/2020-election/inside-bernie-world-s-war-beto-o-rourke-n951016
5. Republicans Face 2020 Repeat on Health Care
When a district judge in Texas ruled ObamaCare unconstitutional last week in a case brought by Republican states, it gave Democrats another opportunity to box in GOP lawmakers on protections for people with pre-existing conditions — a line of attack that Democrats credit with helping them win back the House. 
With an appeal of the decision certain, and a possibility it will reach the Supreme Court, the case could haunt Republicans defending their seats in 2020, when Democrats hope to take back the Senate and the White House. https://thehill.com/policy/healthcare/422535-republicans-face-2020-repeat-on-health-care
6. Russians Boosted Jill Stein to Help Trump Win
Two days before the 2016 presidential election, an Instagram account called @woke_blacks posted a message in support of long-shot Green Party candidate Jill Stein," NBC News reports.
Said the post: "The excuse that a lost Black vote for Hillary is a Trump win is bs. It could be late, but y'all might want to support Jill Stein instead.
According to a report commissioned by the Senate, the account was a fake, part of the Russian campaign to sway the 2016 presidential election in favor of Donald Trump. The report was one of two that leaked this week saying the Russian effort to disrupt the election specifically targeted black voters and harnessed America's top social media platforms. But the reports contained another finding that was largely overlooked — the Russians also focused on boosting Stein's candidacy through social media posts like the one from @woke_blacks. https://www.washingtonpost.com/politics/2018/12/21/president-trump-has-made-false-or-misleading-claims-over-days/
7. How Russian Money Saved Trump's Business
As late as 2003, Trump was in such desperate financial trouble that at a meeting with his siblings following his father's death he pressed them to hurriedly sell his father's estate off, against the late Fred Trump's wishes, the New York Times reported in an investigation of Trump family finances in October. And his businesses kept failing: In 2004, Trump Hotels and Casino Resorts filed for bankruptcy with $1.8 billion dollars of debt.
But Trump eventually made a comeback, and according to several sources with knowledge of Trump's business, foreign money played a large role in reviving his fortunes, in particular investment by wealthy people from Russia and the former Soviet republics. This conclusion is buttressed by a growing body of evidence amassed by news organizations, as well as what is reportedly being investigated by Special Counsel Robert Mueller and the Southern District of New York. It is a conclusion that even Trump's eldest son, Donald Trump Jr., has appeared to confirm, saying in 2008—after the Trump Organization was prospering again—that "Russians make up a pretty disproportionate cross-section of a lot of our assets."   https://foreignpolicy.com/2018/12/21/how-russian-money-helped-save-trumps-business/
8. Democrats announce a dozen 2020 presidential debates starting in June
"Democratic presidential candidates will meet in June for the first of at least 12 planned primary debates of the 2020 election cycle under a plan released Thursday by party officials who said they were determined to create large debate audiences with broad candidate participation," the Washington Post reports.
A ticket to the early debate stages will be determined by a combination of polling, grass roots financial support and other factors, in an effort to include candidates who are not registering nationally in public opinion surveys. https://www.washingtonpost.com/politics/democrats-announce-a-dozen-2020-presidential-debates-starting-in-june/2018/12/20/effcf2e4-046a-11e9-9122-82e98f91ee6f_story.html
9. The DAILY GRILL
"This is such an important issue, and it's something that all of America wants to see happen. And, frankly, Americans want to be protected. . . . We can't be a sovereign country if we don't have borders and we don't have protection of American citizens." — Press secretary Sarah Sanders on "Fox & Friends" about President Trump's push for a wall on the border with Mexico.

VERSUS

American voters oppose building a wall on the Mexican border 54 - 43 percent and say 54 - 44 percent the wall is not necessary to improve border security, according to a Quinnipiac University National Poll released today. -- Quinnipiac University poll

 

"I am proud to shut down the government for border security ... I'm not going to blame you for it. -- Trump to Nancy Pelosi and Chuck Schumer in the Oval Office just 11 days ago,

VERSUS

"The Democrats now own the shutdown!" — Trump tweeted on Friday.

 

GoFundMe: We The People Will Fund The Wall

VERSUS

GoFundMe: Ladders to Get Over Trump's Wall
10. From MEDIA MATTERS (They watch Fox News so you don't have to)
How Fox's anti-Mueller squad is coping with the demolition of their Flynn theory. Several key players in Fox News' pro-Trump effort to undermine special counsel Robert Mueller's investigation are struggling to explain to their audiences why, contrary to their predictions, the federal judge in former Trump national security adviser Michael Flynn's case did not throw out his guilty plea and lay the Mueller probe to waste. https://www.mediamatters.org/blog/2018/12/19/how-fox-s-anti-mueller-squad-coping-demolition-their-flynn-theory/222362

Fox News host: "One of the big threats" from asylum seekers is that "they become criminals. You can't trust them." Julie Banderas: "Obviously these are lawless immigrants. They don't care about laws." https://www.mediamatters.org/video/2018/12/21/fox-news-host-one-big-threats-asylum-seekers-they-become-criminals-you-cant-trust-them/222386

Fox correspondent: "The most immediate threat right now to security" is "asylum seekers." https://www.mediamatters.org/video/2018/12/21/fox-correspondent-most-immediate-threat-right-now-border-security-asylum-seekers/222385

Amid steady losses, Lou Dobbs declares, "This market has gone from being the Trump market to the Powell market." https://www.mediamatters.org/video/2018/12/20/amid-steady-losses-lou-dobbs-declares-market-has-gone-being-trump-market-powell-market/222378
11. Russian Agents Sought Secret US Treasury Records On Clinton Backers During 2016 Campaign
US Treasury Department officials used a Gmail back channel with the Russian government as the Kremlin sought sensitive financial information on its enemies in America and across the globe.
The extraordinary unofficial line of communication arose in the final year of the Obama administration — in the midst of what multiple US intelligence agencies have said was a secret campaign by the Kremlin to interfere in the US election. Russian agents ostensibly trying to track ISIS instead pressed their American counterparts for private financial documents on at least two dozen dissidents, academics, private investigators, and American citizens. https://www.buzzfeednews.com/article/anthonycormier/russian-agents-sought-us-treasury-records-on-clinton-backers
12. Barr Criticized Mueller Probe In Memo to Justice Dept
William Barr, President Trump's choice for attorney general, sent an unsolicited memo earlier this year to the Justice Department that excoriated special counsel Robert Mueller's inquiry into potential obstruction of justice by Mr. Trump, saying it is based on a 'fatally misconceived' theory that would cause lasting damage to the presidency and the executive branch.
The 20-page document provides the first in-depth look at Mr. Barr's views on the special counsel's Russia investigation, which he would likely oversee if confirmed. https://www.wsj.com/articles/trumps-attorney-general-pick-criticized-an-aspect-of-mueller-probe-in-memo-to-justice-department-11545275973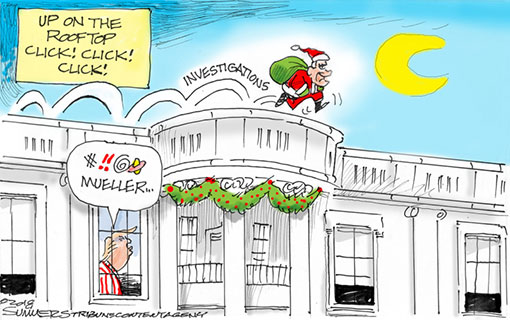 13. From the Late Shows
The Late Show with Stephen Colbert: White House Christmas Message Featuring Melania Trump https://youtu.be/2e1lXW1QHBo

Jimmy Kimmel's Children's Book "How the Trump Saved Christmas": https://youtu.be/lTu-x364_3E

The Late Show with Stephen Colbert: The TV Is Telling The President What To Do: https://youtu.be/GF0CHEdvQCc
14. Supreme Court denies Trump administration request to immediately enforce new asylum rules
The Supreme Court on Friday denied the Trump administration's request that it be allowed to immediately enforce a new policy of denying asylum to those who illegally cross the U.S.-Mexico border, a change that lower courts declared possibly illegal.
Four justices — Clarence Thomas, Samuel Alito Jr., Neil Gorsuch and Brett Kavanaugh — would have granted the administration's request to let the order go into effect. https://www.washingtonpost.com/politics/courts_law/supreme-court-denies-trump-administration-request-to-immediately-enforce-new-asylum-rules/2018/12/21/e9cdaf32-03c8-11e9-b6a9-0aa5c2fcc9e4_story.html
15. 'A tailspin': Under siege, Trump propels the government and markets into crisis
Inside the Oval Office on Thursday, Trump was in what one Republican close to the White House described as 'a tailspin,' acting 'totally irrationally' and 'flipping out' over criticisms in the media. The president's decisions and conduct have led to a fracturing of Trump's coalition. Hawks condemned his sudden decision to withdraw U.S. troops from Syria. Conservatives called him a 'gutless president' and questioned whether he would ever build a wall. Political friends began privately questioning whether Trump needed to be reined in."
Said one former Trump administration official: "There's going to be an intervention. Jim Mattis just sent a shot across the bow. He's the most credible member of the administration by five grades of magnitude. He's the steady, safe set of hands. And this letter is brutal. He quit because of the madness. https://www.washingtonpost.com/politics/a-tailspin-under-siege-trump-propels-the-government-and-markets-into-crisis/2018/12/20/e30347e0-046b-11e9-b6a9-0aa5c2fcc9e4_story.html
1. Washington Post Editorial: Trump's shutdown stunt is an act of needless stupidity
"IT'S ACTUALLY part of what you do when you sign up for any public service position." So said Rep. Mark Meadows (R-N.C.) when asked about the hundreds of thousands of federal workers who will have to work without pay or be furloughed without pay over the holidays in a partial government shutdown. You won't get any argument from us about the willingness of those who go into public service to make sacrifices. But they do so hoping to accomplish some good for their fellow citizens, not to be pawns in pointless political gamesmanship.
As it became apparent Friday that no agreement could be reached on a stopgap spending measure, President Trump warned that a shutdown would "last for a very long time." Affected is about a third of the government workforce — about 800,000 employees — in key departments, including Homeland Security, State and Justice. Because of the weekend and upcoming Christmas holidays, the impacts of a shutdown may not immediately be felt, but there should be no mistake that curtailment of these government agencies will impose costs across Washington and the country.
That seemed to be of little matter to Mr. Trump, who last week boasted he would be "proud" to shut down the government, glad to "take the mantle. I will be the one to shut it down." He changed his tune on Friday in trying to shift the blame to Democrats for not going along with his demand for money to build a border wall he once promised would be financed by Mexico. Nothing better illustrates the needless stupidity of the shutdown than Mr. Trump's claim to be taking a stand for border security when one of the agencies being caught up is Customs and Border Protection.
Any doubt that it is politics — not principle — driving Mr. Trump was erased when he flip-flopped this week on the stopgap spending bill. He signaled he would sign on to a measure, passed by both House and Senate, without wall funding, but then buckled to criticism from the conservative media. Instead of standing up to him — and doing their job of keeping the government running — House Speaker Paul D. Ryan (R-Wis.) and Senate Majority Leader Mitch McConnell (R-Ky.) — went along, once again enabling the worst instincts of a bad president. https://www.washingtonpost.com/opinions/trumps-shutdown-stunt-is-an-act-of-needless-stupidity/2018/12/21/5567582c-0551-11e9-b6a9-0aa5c2fcc9e4_story.html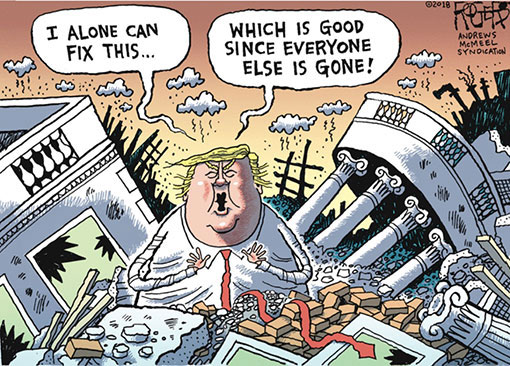 2. Paul Krugman: The Ghost of Trump Chaos Future. Sorry, investors, but there is no sanity clause.
Two years ago, after the shock of Donald Trump's election, financial markets briefly freaked out, then quickly recovered. In effect, they decided that while Trump was manifestly unqualified for the job, temperamentally and intellectually, it wouldn't matter. He might talk the populist talk, but he'd walk the plutocratic walk. He might be erratic and uninformed, but wiser heads would keep him from doing anything too stupid.
In other words, investors convinced themselves that they had a deal: Trump might sound off, but he wouldn't really get to make policy. And, hey, taxes on corporations and the wealthy would go down.
But now, just in time for Christmas, people are realizing that there was no such deal — or at any rate, that there wasn't a sanity clause. (Sorry, couldn't help myself.) Put an unstable, ignorant, belligerent man in the Oval Office, and he will eventually do crazy things.
To be clear, voters have been aware for some time that government by a bad man is bad government. That's why Democrats won a historically spectacular majority of the popular vote in the midterms. Even the wealthy, who have been the prime beneficiaries of Trump policies, are unhappy: A CNBC survey finds that millionaires, even Republican millionaires, have turned sharply against the tweeter in chief. https://www.nytimes.com/2018/12/24/opinion/trump-economy-stock-market.html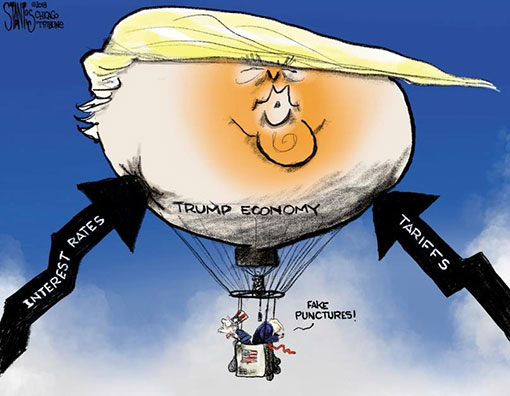 3. Elizabeth Goitein: What the President Could Do If He Declares a State of Emergency
In the weeks leading up to the 2018 midterm elections, President Donald Trump reached deep into his arsenal to try to deliver votes to Republicans.
Most of his weapons were rhetorical, featuring a mix of lies and false inducements—claims that every congressional Democrat had signed on to an "open borders" bill (none had), that liberals were fomenting violent "mobs" (they weren't), that a 10 percent tax cut for the middle class would somehow pass while Congress was out of session (it didn't). But a few involved the aggressive use—and threatened misuse—of presidential authority: He sent thousands of active-duty soldiers to the southern border to terrorize a distant caravan of desperate Central American migrants, announced plans to end the constitutional guarantee of birthright citizenship by executive order, and tweeted that law enforcement had been "strongly notified" to be on the lookout for "ILLEGAL VOTING."
These measures failed to carry the day, and Trump will likely conclude that they were too timid. How much further might he go in 2020, when his own name is on the ballot—or sooner than that, if he's facing impeachment by a House under Democratic control?
More is at stake here than the outcome of one or even two elections. Trump has long signaled his disdain for the concepts of limited presidential power and democratic rule. During his 2016 campaign, he praised murderous dictators. He declared that his opponent, Hillary Clinton, would be in jail if he were president, goading crowds into frenzied chants of "Lock her up." He hinted that he might not accept an electoral loss. As democracies around the world slide into autocracy, and nationalism and antidemocratic sentiment are on vivid display among segments of the American populace, Trump's evident hostility to key elements of liberal democracy cannot be dismissed as mere bluster. https://www.theatlantic.com/magazine/archive/2019/01/presidential-emergency-powers/576418/
4. NY Times Editorial: A Gutted I.R.S. Makes the Rich Richer
The nation's tax collector today is an enfeebled enforcer. Its budget has been bled dry by a Republican Congress in service to wealthy donors and businesses aggressively pursuing tax avoidance, leaving uncollected 18 percent to 20 percent of potential tax revenues annually. That's the conclusion in articles by the journalism site ProPublica, co-published by The Atlantic and The Times.
Loopholes are beyond the means of most Americans who earn salaries or are paid hourly wages, and are exploited by those who derive significant income from investments or business revenue. Although we'd all like to pay less, relative to most developed nations our tax burden is a pretty good deal.
It's an even better deal for the richest Americans, who have benefited the most from President Trump's tax cuts. The rich are different: They're more likely to cheat, according to one study of I.R.S. data. And the I.R.S. has about as many auditors now as it did 60 years ago, when there were half as many Americans. The undermining of the I.R.S.'s enforcement capability coincides nicely with the Republican playbook: Enrich wealthy individuals and corporations with tax giveaways that balloon the deficit, justifying spending cuts for health care, education and infrastructure, then amplify the process by not holding high-end taxpayers accountable for the amounts they owe. https://www.nytimes.com/2018/12/25/opinion/editorials/irs-audits-rich.html
5. Jonathan Chait: Trump Is Building a Team of Lackeys to Go to War With Mueller
Questions about Trump's basic fitness for office, and even his loyalty, that laid partially submerged, are rising to the surface. Is Trump too beholden to hidden financial interests to look after the public good? Is he mentally capable of understanding politics and policy well enough to make competent decisions? Is his worldview even compatible with democratic values?
Republican professionals had hoped to stagger through four years without fully confronting these questions. Mattis's resignation letter is mild by the standards of public commentary, but scorching by the standards of a cabinet official. He paints Trump as indifferent or even hostile to the free world, and attracted to the "authoritarian model" of Russia and China.
For all his mental limitations, Trump does have a mobster's talent for identifying character (or, more precisely, the lack of it). Trump is surrounding himself with lackeys who are untroubled by his corruption and immorality. And Trump grasps that he cannot win a fight like this without the rabid support of his ethnonationalist base and its media. For all the childish emotions that surround his actions, we can discern in them a pattern — a survival strategy. http://nymag.com/intelligencer/2018/12/trump-building-a-team-of-lackeys-to-go-to-war-with-mueller.html
6. John Cassidy: What the Collapse of the Trump Foundation Tells Us About Donald Trump
Just when you're getting ready to wrap it up for the holidays and take some time off from anything Donald Trump-related, up pops another story to remind you what sort of man is occupying the Oval Office. On Tuesday, Trump's lawyers reached an agreement with the New York attorney general, Barbara Underwood, to shut down the Donald J. Trump Foundation, an entity that officially had charitable status but was perhaps best known for its purchase of a life-size portrait of Donald J. Trump—or, possibly, for the seven dollars it donated to the Boy Scouts of America, in 1989.
According to David Fahrenthold, the Washington Post journalist who won a Pulitzer for his dogged and devastating reporting about the foundation during the 2016 Presidential campaign, the seven bucks was used to pay the Boy Scouts registration fee for Donald Trump, Jr., who was then eleven years old. The portrait cost considerably more: Trump agreed to pay twenty thousand dollars for it during a 2007 fund-raiser at his Mar-a-Lago resort, in Florida, but it was the foundation that ended up footing the bill.
At least this money went to a reputable charity. Fahrenthold procured a copy of a 2007 check from the foundation for twenty thousand dollars that was made out to "childrens place at home safe," an organization in South Florida that provides shelter and care to victims of child abuse and domestic violence. But some of the foundation's cash didn't go to charities at all. It went to entities and persons that Trump knew or owed money to. In a statement announcing the agreement to close the foundation, Underwood said that her office had found a "shocking pattern of illegality involving the Trump Foundation—including unlawful coordination with the Trump presidential campaign, repeated and willful self-dealing, and much more. This amounted to the Trump Foundation functioning as little more than a checkbook to serve Mr. Trump's business and political interests." https://www.newyorker.com/news/our-columnists/what-the-collapse-of-the-trump-foundation-tells-us-about-donald-trump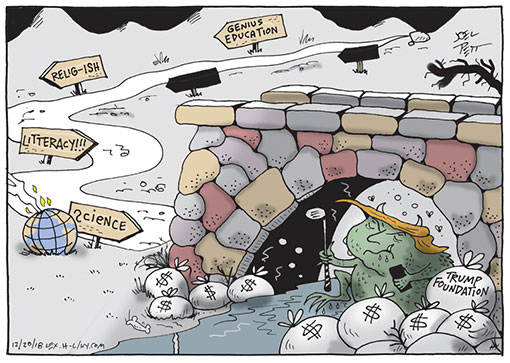 7. Victoria Nuland: In a single tweet, Trump destroys U.S. policy in the Middle East
With his decision to withdraw all U.S. forces from Syria, President Trump hands a huge New Year's gift to President Bashar al-Assad, the Islamic State, the Kremlin and Tehran. He also guarantees the reversal of U.S. military gains there and extinguishes any leverage Secretary of State Mike Pompeo and his special envoy for Syria, James Jeffrey, may have to drive a diplomatic settlement that meets the administration's own goals of keeping the Islamic State and Iran out. Most important, Trump falls into the same trap that President Barack Obama did when he withdrew all U.S. forces from Iraq in 2011. Trump's decision virtually ensures that security will disintegrate further, that the Islamic State and Iran will surge again, and that the United States will be compelled to come back into Syria at even greater military cost and in more adverse conditions than if we had stayed.
Everything about this mercurial decision imperils U.S. national interests as defined by Trump himself. First, the Islamic State is far from gone in Syria. Just six months ago, the Pentagon estimated that 20,000 to 30,000 fighters remained active in Syria and Iraq. The Islamic State may no longer control vast swaths of Syrian territory, but its fighters are hiding in ungoverned pockets in the east and in the back alleys of Idlib. As soon as the United States withdraws, the Islamic State will make three moves. It will claim victory over the U.S. infidels, turbocharging a recruiting binge across the Middle East and South Asia. It will pour fresh fighters into eastern Syria. And it will come out of the shadows to retake territory across eastern Syria from the U.S.-supported Syrian Democratic Forces (SDF), which can't hold Raqqa or any other cleared territory without continued U.S. help.
Iran will also flood the zone the United States is abandoning. Tehran has likely already given orders for some of the tens of thousands of Hezbollah militias it controls in western and southern Syria to turn east. Just three months ago, national security adviser John Bolton pledged that the United States would stay in Syria until every last Iranian fighter had been driven out. With one tweet Wednesday, the president has instead invited Tehran to deepen its military, political and economic grip on this vital piece of the Middle East. In the process, Iran will also gain control of the major oil fields in Deir al-Zour protected by U.S. forces and the SDF, allowing it to self-finance its land grab.
Moscow is celebrating, too. After years of pretending to negotiate a diplomatic solution to the Syria crisis with Washington, Russian President Vladimir Putin can ignore the entreaties of Trump's envoys because the United States will have no military skin in the game to back its diplomacy. The Kremlin will proceed as it has long planned, consolidating control over the rest of Syria for Assad until 2021 and then rigging an election for a new figurehead. Moscow will be too smart to expand its own ground presence in Syria, and will instead broaden its tacit support for the Iranian-backed militias that already serve as de facto local police forces in western Syria. Maybe it will allow Tehran to split the spoils from the Deir al-Zour oil fields; maybe all that cash will go back to Moscow. https://www.washingtonpost.com/opinions/in-a-single-tweet-trump-destroys-us-policy-in-the-middle-east/2018/12/19/eb423434-03da-11e9-b5df-5d3874f1ac36_story.html
8.  Bess Levin: Wilbur Ross Isn't Even Pretending To Follow The Law Anymore.
When Donald Trump hired Wilbur Ross to serve as his commerce secretary, it was as though the president had placed an ad for a character actor to play the most stereotypical out-of-touch fat cat the world has ever seen—one that counts his money each night, and would screw over his mother for a dollar; thinks the "rules" are for the lower-class; and feels at home in a top hat and a three-piece suit—and Ross more than delivered! Prior to joining the administration, the private-equity investor chaired a Wall Street "fraternity" whose motto is "What happens at the St. Regis stays at the St. Regis," and during a memorable appearance on Bloomberg TV, suggested that the unwashed masses quit their bitching about income inequality and leave the the 1 percent alone. Since joining Team Trump, the financier has shown up to events wearing $500 velvet smoking shoes; praised the lack of protesters in a country where protesters are executed; described the bombing of Syria as "after-dinner entertainment" for the Mar-a-Lago crowd (where he's naturally a member); been accused of financial-crisis-era insider trading, cheating his former colleagues, and lying about his net worth; and called people "evil" for alleging that he hid his investment in a Russian shipping company with ties to Vladimir Putin.
All of which is to say: the news that Ross has a habit of claiming to have sold off stock holdings —when actually he didn't sell them at all—shouldn't come as a surprise in the slightest. Federal ethics agreements are for plebes! https://www.vanityfair.com/news/2018/12/wilbur-ross-isnt-even-pretending-to-follow-the-law-anymore
9.  David Nakamura: "He takes no ownership — that's just Trump': President eschews responsibility for a shutdown he once craved
In 2014, Donald Trump sued to have his name taken off a pair of Atlantic City casinos he built three decades earlier that had gone bankrupt.
It took the president just 10 days this month to remove his name from something else he once proudly owned but that wasn't going great — the federal government shutdown.
After threatening a shutdown for months over border wall funding and vowing last week that he would "take the mantle" of responsibility, Trump tried to shift the blame Friday, just hours before a government funding bill expired at midnight.
"The Democrats now own the shutdown!" he wrote on Twitter.
That was news to Democrats. "You own the shutdown," Senate Minority Leader Charles E. Schumer (D-N.Y.) responded in a tweet, adding a video clip of his meeting with Trump and House Minority Leader Nancy Pelosi (D-Calif.) in the Oval Office in which the president declared: "I will be the one to shut it down. I'm not going to blame you for it."
"Yep, you said that," wrote Rep. Ted Lieu (D-Calif.), an enthusiastic Trump antagonist. "There are tapes."
'I'm a tough guy. Don't think I can't handle the heat,' Lawrence O'Donnell said. "The fact is, he can't handle it." https://www.washingtonpost.com/politics/he-takes-no-ownership--thats-just-trump-president-eschews-responsibility-for-a-shutdown-he-once-craved/2018/12/21/f2590b7c-0541-11e9-b6a9-0aa5c2fcc9e4_story.html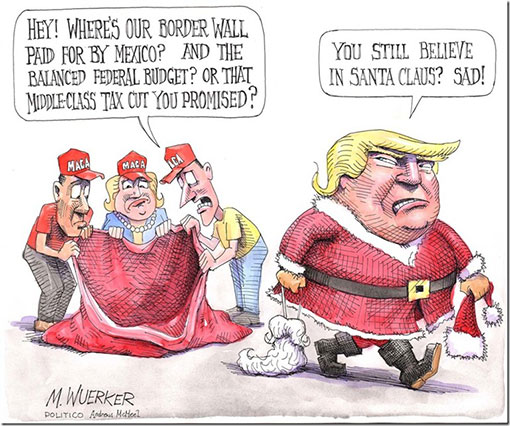 10. Joel Mathis: Trump has the government teetering on the edge of chaos. Is anyone surprised?
In the 21st century tech era, "disruption" has become a buzzword. We've been trained to think of disruption as unambiguously positive — messy, maybe, but always done in the service of upending staid and outdated approaches best left behind. Reality, though, is more complex: Disruption can have good or bad consequences; often, it's a mix of both. Disruption is often painful, and the people who feel the most pain are usually not the instigators of the chaos. If done for its own sake, without a larger vision to guide, the forces of disruption can be likened to a toddler knocking over a pile of blocks just to see what happens — briefly interesting, but ultimately kind of pointless.
That brings us, naturally, to President Trump.
The United States has reached a moment of high, extreme disruption: a stock market in free fall, a government poised to shut down, and a national security establishment in uproar. Each of these developments is at least partly the result of the president's actions: The already-nervous markets are being made even more jittery by the ongoing budget fight. That fight seems likely to lead to a shutdown since Trump, under pressure from his right wing, has announced he won't sign a budget bill that doesn't include his border wall funding. And Defense Secretary Jim Mattis resigned in protest over the president's decision to withdraw U.S. troops from Syria.
All of this, and Special Counsel Robert Mueller is still lurking out there, somewhere.
We were promised that America would be made greater. Instead it seems like the country and its governance are teetering on the edge of chaos. https://theweek.com/articles/814076/trump-government-teetering-edge-chaos-anyone-surprised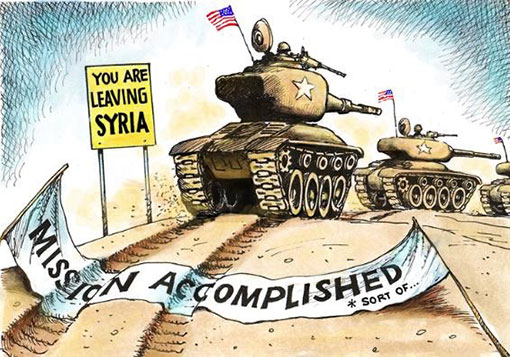 11. John Cassidy: Donald Trump's Survival Strategy: Chaos, Diversions, and Lily-Livered Republicans
Trump isn't a conventional President, and these are anything but conventional times. At this point, his only goal is immediate survival. NBC News recently reported that Trump has told friends that he is alarmed about the prospect of impeachment. But he probably believes that, if he can get through the next few weeks and months, and the delivery of the Mueller report, he can regroup for the start of the 2020 election campaign, when he could have dozens of duelling Democratic primary candidates to feast on.
Wishful thinking, maybe. But, as long as Trump can maintain his high approval ratings among Republican voters, he has reason to doubt that the G.O.P. leadership will ever abandon him. He has the tactical advantage that he doesn't recognize many of the moral, legal, and historical constraints that hemmed in other Presidents. And he lives by Steve Bannon's maxim that the way to counter his critics in the media and elsewhere is to "flood the zone with shit."
When there is a disturbing new headline every few hours, it can be hard to know which ones really matter, or even to remember them. (In a look back at the year in Trump freakouts, my colleague Susan B. Glasser stresses this point.) Last week, it was the announced departure of John Kelly, the White House chief of staff, and the incriminating court filings from Mueller and the U.S. Attorney's Office for the Southern District of New York. This week, it is the swoon in the stock market, the shuttering of the Trump Foundation, the Mattis resignation, and the Trump-induced spending-bill deadlock. At ten-thirty this morning, the great Orwellian shit spreader was back on Twitter, where he announced, "The Democrats now own the shutdown!" https://www.newyorker.com/news/our-columnists/donald-trumps-survival-strategy-chaos-diversions-and-lily-livered-republicans
12. Philip Rucker: 'A rogue presidency': The era of containing Trump is over
For two years, they tried to tutor and confine him. They taught him history, explained nuances and gamed out reverberations. They urged careful deliberation, counseled restraint and prepared talking points to try to sell mainstream actions to a restive conservative base hungry for disruption. But in the end, they failed.
For President Trump, the era of containment is over.
One by one, the seasoned advisers seen as bulwarks against Trump's most reckless impulses have been cast aside or, as Defense Secretary Jim Mattis did Thursday, resigned in an extraordinary act of protest. What Senate Foreign Relations Committee Chairman Bob Corker (R-Tenn.) once dubbed an "adult day care center" has gone out of business.
Trump will enter his third year as president unbound — at war with his perceived enemies, determined to follow through on the hard-line promises of his insurgent campaign and fearful of any cleavage in his political coalition.
So far, the result has been disarray. The federal government is shut down. Stock markets are in free fall. Foreign allies are voicing alarm. Hostile powers such as Russia are cheering. And Republican lawmakers once afraid of crossing this president are now openly critical. https://www.washingtonpost.com/politics/a-rogue-presidency-the-era-of-containing-trump-is-over/2018/12/22/26fc010e-055b-11e9-b5df-5d3874f1ac36_story.html