April 15, 2021
ON THE RECORD. . .
I don't beat anybody up, it's not really my style, except that jerk." — Former House Speaker John Boehner on Sen. Ted Cruz.

"Please get vaccinated so our nutcase of a governor will have less reasons for mindless restrictions!" — Jerry Falwell Jr., offering a unique rationale for getting vaccinated.

"I hope that at the end of the day this resolves quickly for Matt (Gaetz) because I don't want him to miss the prom." — Michael Cohen.

"There would be more voters if we made it easier to vote, and there would be more doctors if we didn't require a license to practice medicine. The fact that we believe unqualified doctors to be a public menace but act as though unqualified voters were just stars in the splendid constellation of democracy indicates how little real esteem we actually have for the vote, in spite of our public pieties." — Kevin Williamson writes in support of making it harder to vote because "the republic would be better served by having fewer — but better — voters."

"Donald Trump is responsible for the events of 1/6. So are every man and woman who took it upon themselves to be a part of that insurrection that day. Tucker Carlson might give them a reprieve but the courts will not." — Former GOP Congressman David Jolly

"Democrats have successfully captivated the institutions, y'know, pop culture, Hollywood, our education institutions, and now our corporations into their own woke agenda. This is fascism. They use culture as a tool to impose their fascism on us."" — Rep. Dan Crenshaw (R-TX-2)

"What happened on January 6th was, to me, the Reichstag fire happening all over again in America. Democrats use it to consolidate power and to trample over the civil rights of half of the country, because they want to make sure that they have no political adversaries going forward." — Right-wing provocateur Candace Owens comparing the Capitol insurrection to the Reichstag fire.

"My warning, if you will, to corporate America is to stay out of politics. It's not what you're designed for. And don't be intimidated by the left into taking up causes that put you right in the middle of America's greatest political debates."— Sen. Mitch McConnell (R-KY).

"If we had a real leader instead of Mitch, who is a total stone cold loser, if we had a real leader, he would have never, ever accepted the results of that election." -- Trump

"The Democratic Party is trying to replace the current electorate, the voters now casting ballots, with new people, more obedient voters from the Third World If you change the population, you dilute the political power of the people who live there. So every time they import a new voter, I become disenfranchised as a current voter." — Tucker Carlson

"Republicans don't care whether or not a border wall is built, or who would have (theoretically) paid for it. They don't care about whether or not the government fails to manage a global pandemic, killing hundreds of thousands of their fellow citizens. They don't care if unemployment is up—or down. They don't care about stimulus checks. Or the national debt… Republican voters—a group distinct from Conservatism Inc.—no longer have any concrete outcomes that they want from government. What they have, instead, is a lifestyle brand." — Jonathan Last

"With leaders like Mitch McConnell, they are helpless to fight.  He didn't fight for the Presidency, and he won't fight for the Court. If and when this happens, I hope the Justices remember the day they didn't have courage to do what they should have done for America." — Trump on increasing the number of Supreme Court justices.

VIDEOS

Matt Gaetz: The Lincoln Project: https://youtu.be/N6Yn29053_o

Minnesota News Cold Open - SNL: https://youtu.be/5H_ZdnvMJnE

Weekend Update: Matt Gaetz Venmo Sex Scandal - SNL: https://youtu.be/mVo6fnHJaHU

Jordan Klepper Debunks The "Good Guy with a Gun" Argument | The Daily Show: https://youtu.be/PDkEFX52r9M
REMINDER: Just Security is continuing to track every pending criminal and civil case against Donald Trump.
---
IN THIS ISSUE
IN THE NEWS
OPINION
Andy Borowitz: Biden Tells Putin He Must Return His Oval Office Keys
In a phone conversation that the White House characterized as "frank," President Biden told the Russian President, Vladimir Putin, that he had to return his Oval Office keys.

Putin, who reportedly has had the keys since 2017, was taken aback by Biden's demand, sources said.

"Look, pal, if you want to have a summit meeting, you're gonna have to give back the keys," Biden reportedly told the Russian. "Those are the rules of the road."

Despite Putin's response, which was described as "frosty," sources indicated that Biden refused to give ground.

"Don't get all mopey now, champ," Biden said. "You had a good run." https://www.newyorker.com/humor/borowitz-report/
White House Releases State-by-State Fact Sheets to Highlight Nationwide Need for the American Jobs Plan
On Monday the White House released state-by-state fact sheets that highlight the urgent need in every state across the country for the investments proposed by President Biden in the American Jobs Plan. The fact sheets highlight the number of bridges and miles of road in each state in poor condition, the percentage of households without access to broadband, the billions of dollars required for water infrastructure, among other infrastructure needs. 
Individual fact sheets for each of the 50 states, the District of Columbia and Puerto Rico are linked at https://www.whitehouse.gov/briefing-room/statements-releases/2021/04/12/white-house-releases-state-by-state-fact-sheets-to-highlight-nationwide-need-for-the-american-jobs-plan/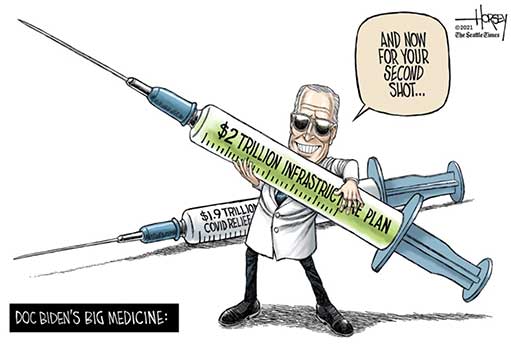 A quarter of the country won't get the coronavirus vaccine. Half of them trust Trump's medical advice.
About a quarter of adults hold the view that they won't be vaccinated when eligible. That's equivalent to about 64 million Americans.
Who are they? In the Economist poll. Respondents were asked whose medical advice they trusted. Among those who say they don't plan to get the vaccine, half say they trust Trump's advice a lot or somewhat — far more than the advice of the Centers for Disease Control and Prevention or the country's top infectious-disease expert Anthony S. Fauci. https://www.washingtonpost.com/politics/2021/04/12/quarter-country-wont-get-coronavirus-vaccine-half-them-trust-trumps-medical-advice/
Biden Pollster Urges Blunt Tax Talk
The top pollster for Joe Biden's presidential campaign is advising the White House to do something that often makes Democrats nervous: Talk loudly and proudly about raising taxes on the rich.
John Anzalone tells Axios his extensive polling and research has found that few issues receive broader support than raising taxes on corporations and people earning more than $400,000 a year. https://www.axios.com/biden-polling-tax-corporations-wealthy-34576e4e-d2d9-47ef-a67e-14429770c649.html
Hawley hauls in $3M after attempting to block election results
Sen. Josh Hawley raised more than $3 million during the first three months of the year, underscoring how the Missouri Republican converted his high-profile opposition to the certification of the 2020 election into big fundraising support.
The freshman senator drew widespread attention for leading the Jan. 6 effort to block the acceptance of the Electoral College results, a controversial stand that liberals and some Republicans claim undermined faith in the political system. But he won plaudits from loyalists of former President Donald Trump, who opened their wallets. https://www.politico.com/news/2021/04/12/josh-hawley-fundraising-480920
Former In-Law of Trump Executive Gives Prosecutors Boxes of Documents
Investigators for Manhattan district attorney, Cyrus R. Vance Jr., acting on a grand jury subpoena, collected several boxes of documents and a laptop from the Upper West Side apartment of Jennifer Weisselberg, who was married to a son of the longtime Trump executive Allen H. Weisselberg.
The handover of the documents offered the latest suggestion that prosecutors looking into possible fraud by Mr. Trump and his company are stepping up pressure on Mr. Weisselberg, the company's chief financial officer, who has for decades looked after the Trump Organization's finances and could provide essential insider knowledge to investigators. https://www.nytimes.com/2021/04/08/nyregion/trump-investigation-weisselberg.html
Republican-led states secretly spending huge sums on execution drugs
Documents obtained by the Guardian reveal the full extent of the spending blitz that American death penalty states have embarked upon as they try to restart executions delayed by the pandemic. The findings show that Republican leaders are not only willing to run roughshod over their own state and federal laws, but are also prepared to spend lavishly in the process.
The most jaw-dropping outlay has been made by Arizona, a state in which Republicans hold both chambers of the legislature and the governor's mansion. A single-page heavily redacted document obtained by the Guardian records that last October the department of corrections ordered 1,000 vials of pentobarbital sodium salt, each containing 1g, to be shipped in "unmarked jars and boxes".
At the bottom of the document, the record states: "Amount paid: $1,500,000." https://www.theguardian.com/world/2021/apr/09/revealed-republican-led-states-secretly-spending-huge-sums-on-execution-drugs
Texas GOP recruiting 'army' to fight voter fraud in largely minority areas of Houston
Texas Republicans are working to recruit a "army" of 10,000 poll workers and watchers to fight voter fraud in Houston, leaked video of a Harris County Republican Party presentation reveals.
"We're trying to build an army here — 10,000 people in Harris County," a man who identifies himself as an official with the county Republican Party said in the video, released by advocacy group Common Cause Texas.
The official said he is seeking volunteers from the suburbs where he lives "that will have the confidence and courage to come down here in these areas," he said, pointing to Houston's diverse urban center on a map of voting precincts. https://www.nbcnews.com/politics/elections/texas-gop-recruiting-army-fight-fraud-largely-minority-areas-houston-n1263624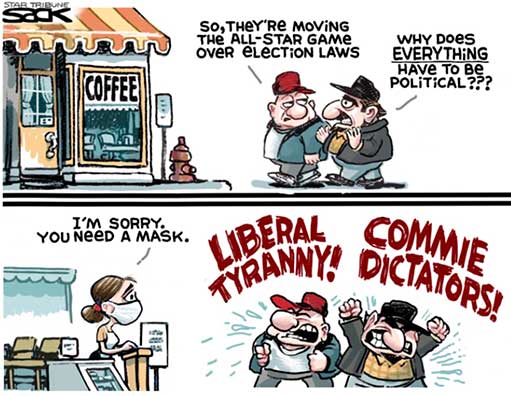 Venmo
The Biden White House media doctrine: Less can be more
Three months in, Joe Biden's White House has settled on a firm press strategy: First, do no self-harm.
The president is not doing cable news interviews. Tweets from his account are limited and, when they come, unimaginably conventional. The public comments are largely scripted. Biden has opted for fewer sit down interviews with mainstream outlets and reporters. He's had just one major press conference — though another is coming — and prefers remarks straight to camera for the marquee moments. The White House is leaning more heavily on Cabinet officials to reach the audiences that didn't tune into his latest Rose Garden event.
It's the Hippocratic Oath for engagement with the fourth estate. And if it means criticism from the press and opponents about Biden's availability, so be it. https://www.politico.com/news/2021/04/12/biden-white-house-press-strategy-480930
How right-wing media keeps smearing George Floyd with the racist 'no angel' narrative
In an appalling bit of shorthand, the riveting courtroom drama in Minneapolis has come to be called "the George Floyd trial."
Floyd died in police custody last spring and is obviously not the one on trial. It was a Minneapolis police officer, Derek Chauvin, who knelt on his neck for more than nine unrelenting minutes, who now faces second- and third-degree murder and second-degree manslaughter charges.
But some in right-wing media keep doing their utmost to make this tragedy about Floyd's drug use and troubled life, in what seems like an attempt to absolve Chauvin long before the jury reaches a verdict. In effect, they are putting Floyd on trial.
It feels all too familiar. This is the "well, he was no angel" narrative, obliquely blaming the victim for his fate. It's a narrative all too often applied to Black men who die at the hands of police. https://www.washingtonpost.com/lifestyle/media/george-floyd-right-wing-media/2021/04/07/db58716c-9796-11eb-a6d0-13d207aadb78_story.html
Capitol riot defendant flips to help prosecutors against Proud Boys
At least one of the Capitol riot defendants has flipped against the Proud Boys, agreeing to provide information that could allow the Justice Department to bring a more severe charge against the group's leadership, according to an attorney involved in the case.
The development is the first indication that people charged in the insurrection are cooperating against the pro-Trump extremist group. Federal prosecutors have made clear they are focused on building conspiracy cases against leadership of the Proud Boys and paramilitary groups like the Oath Keepers. https://amp.cnn.com/cnn/2021/04/07/politics/capitol-riot-flip-proud-boys/index.html?__twitter_impression=true
Fox News under fire after egregiously airing explicit images of alleged Hunter Biden sex tape
Tucker Carlson and Josh Boswell, the Daily Mail senior reporter who released the publication's latest report detailing "what WASN'T in Hunter Biden's book," aired explicit images that allegedly capturing President Biden's son ,Hunter Biden, engaging in sexual acts. Here are some of the responses on Twitter:
So now Fox News' Tucker Klansman and Sean Hannity start focusing on Hunter Biden as a deflection from Matt Gaetz story. This is how the right works. — (((DeanObeidallah))) @DeanObeidallah https://twitter.com/DeanObeidallah/status/1380491158049193987

I won't post it but @seanhannity is straight up airing revenge porn to shame Hunter Biden's sex life. I am without words — Bradley P. Moss @BradMossEsq https://twitter.com/BradMossEsq/status/1380343797666680836

Fox News has released stolen Hunter Biden laptop photos-there is nothing incriminating or illegal, they are just embarrassing. Imagine if someone took all of your personal photos and published them...this is not a partisan issue-everyone should be speaking out against this. -- Amee Vanderpool @mamasreallyrule https://twitter.com/mamasreallyrule/status/1380489110599708675

So I'm a bit late to this, but it appears Tucker Carlson and Fox News, with an assist from the Daily Mail, tonight broadcast images stolen from Hunter Biden's laptop that amount to revenge porn (I'm not sharing the actual images). -- Aaron Rupar@atrupar https://twitter.com/atrupar/status/1380379731753893890
Marjorie Taylor Greene's incredible fundraising haul reveals what the GOP is really about
The very actions that got Greene kicked off her committee assignments and drew the ire of House Democrats helped boost her national name recognition — and led to a great deal of coverage in conservative media. Greene's popularity among Republicans went up 11 percentage points in the days following the vote, with 30 percent of GOP voters viewing her favorably, according to a Politico/Morning Consult poll conducted from February 5 to 7. Her recognition among national voters increased by 14 percentage points. She's aligned herself strongly with Trump, who remains popular in Republican circles.
Ultimately, Green's big fundraising haul is a reminder that gaining notoriety on conservative media — rather than making efforts to pass meaningful legislation — is what holds real value in the modern Republican Party. https://www.vox.com/22372051/marjorie-taylor-greene-campaign-donations-republican-primary-midterms
Trump relaunches his fundraising machine after months of quiet
The screaming, all-caps texts and emails are returning. The red "Make America Great Again" hats are back in stock.
Former President Donald Trump is reigniting his small-dollar fundraising operation for the first time since leaving the White House, part of his political ramp-up to stake out an outsize role in the 2022 midterm elections and expand his financial network ahead of a potential 2024 comeback bid.
Trump's email and text messaging machine — which blasted out thousands of fundraising appeals during the 2020 election — has been largely dormant since he left the White House. For weeks, the former president's top political advisers, including Gary Coby and Brad Parscale, have been working behind the scenes to stand up his financial apparatus.
The effort illustrates how Trump is trying to capitalize on his considerable small-dollar base to establish a massive war chest, bolster like-minded candidates and grow his database of supporters. https://www.politico.com/news/2021/04/07/trump-fundraising-relaunch-479724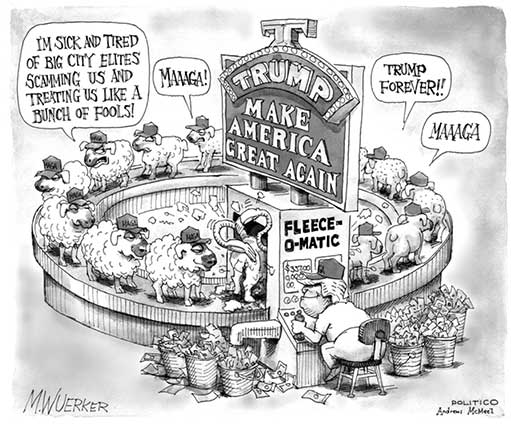 Georgia Governor Suggests Voters Waiting In Long Lines Order Uber Eats
Georgia Gov. Brian Kemp said Tuesday voters waiting in line in Georgia could order food from Grubhub or UberEats after a new state law criminalized offers of free food and water near polling stations. 
"They can order a pizza," Kemp said on the conservative cable news network Newsmax. "They can order Grubhub or UberEats, right?"
A new law in the state, pushed by Republicans who have echoed former President Donald Trump's false assertions of widespread voter fraud in the 2020 elections, makes sweeping changes to election rules in Georgia. Among the law's provisions is a rule barring anyone other than election workers from offering food or water to voters within 150 feet of a polling place. 
That provision, which makes it a misdemeanor to hand out food or water, has become a symbol of Democratic complaints about the law's broader provisions, which make it more difficult to vote absentee; curtail voting access in Democratic-learning urban and suburban counties while promoting it in rural areas that favor the GOP; and give Republican politicians sweeping power over the state's elections.  https://www.huffpost.com/entry/georgia-governor-suggests-voters-waiting-in-long-lines-order-uber-eats_n_606df616c5b6c70eccad0776
How the Senate parliamentarian could reshape the Biden agenda
Senate parliamentarian Elizabeth MacDonough's preliminary decision on using budget reconciliation opens the door to potentially giving Democrats the chance to move a total of six pieces of legislation with just 51 votes before the end of this Congress. https://www.cnn.com/2021/04/06/politics/senate-parliamentarian-biden-agenda/index.html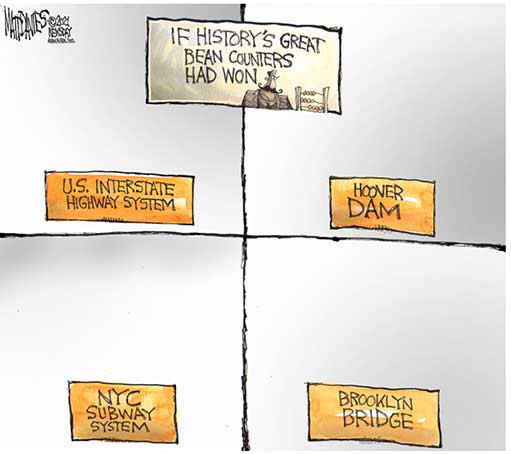 Dianne Feinstein signals she's open to abandoning Senate filibuster for voting rights
A senior staffer to Sen. Dianne Feinstein (D-Calif.) signaled Tuesday that the senator would support circumventing the long-standing filibuster rule to enact a voting rights bill with only 50 votes in the Senate.
Feinstein "believes that the leadership of the Senate will come up with a path that allows this bill to go forward with 50 Democratic votes," her state director Jim Lazarus told a San Francisco group from the liberal activist group Indivisible, according to a video of his comments. She "will make this the No. 1 bill that has to get through over the next month or two. https://www.latimes.com/politics/story/2021-04-06/dianne-feinstein-senate-filibuster-rules-voting-rights-change
Share of Democrats in US spikes after Biden win
A new poll conducted since President Donald Trump left office shows a 9-point gap between the number of Americans who identify as Democrats or lean Democratic, compared to those aligned with the Republican Party, the largest gap in almost a decade.
A Gallup poll conducted from January to March showed that 49% of respondents consider themselves Democrats or leaning that way, while 40% consider themselves Republicans or lean that way.
Gallup said the jump comes mostly from Republicans leaving the party at the end of President Donald Trump's tenure. Only 25% of U.S. adults firmly identify with the Republicans, down from 29% late last year. https://www.bakersfield.com/ap/news/share-of-democrats-in-us-spikes-after-biden-win-poll-shows/article_61e5cb82-b3fa-57c2-bf22-70e30fc5cd7b.html
Manhattan district attorney seizes evidence from Trump executive's former daughter-in-law
Investigators from the Manhattan District Attorney's Office, acting on a grand jury subpoena, took possession of financial records Thursday morning from the apartment of Jennifer Weisselberg, the former daughter-in-law of a top Trump Organization officer.
Jennifer Weisselberg was married to Barry Weisselberg — the son of Trump Organization Chief Financial Officer Allen Weisselberg — from 2004 to 2018. She has previously said that she had seven boxes of financial records from both her ex-husband and his father, some of which were obtained through divorce litigation. On Thursday, she loaded three boxes and a laptop computer onto a valet cart and wheeled them from her building to a black Jeep with dark-tinted windows that was waiting outside. https://www.washingtonpost.com/national-security/allen-weisselberg-jennifer-weisselberg-trump-investigation/2021/04/08/53e2cd62-97ec-11eb-a6d0-13d207aadb78_story.html
Capitol Police Told to Hold Back on Riot Response on Jan. 6, Report Finds
The Capitol Police had clearer advance warnings about the Jan. 6 attack than were previously known, including the potential for violence in which "Congress itself is the target." But officers were instructed by their leaders not to use their most aggressive tactics to hold off the mob, according to a scathing new report by the agency's internal investigator. https://www.nytimes.com/2021/04/13/us/politics/capitol-police-riot-report.html
Leading House Democrat sues Donald Trump under a post-Civil War law for conspiracy to incite US Capitol riot
Former President Donald Trump and attorney Rudy Giuliani are being accused of conspiring with the far-right groups Proud Boys and Oath Keepers to incite the January 6 insurrection in a civil lawsuit filed Tuesday in federal court by the Democratic chairman of the House Homeland Security Committee. The suit cites a post-Civil War law designed to combat violence and intimidation by the Ku Klux Klan.
The lawsuit, filed by Mississippi Democratic Rep. Bennie Thompson in his personal capacity, is the first civil action filed against the former President related to the attack at the US Capitol and comes days after the Senate acquitted Trump in his impeachment trial.
If the suit proceeds it would mean the former President and others would be subject to discovery and depositions, potentially exposing details and evidence that weren't released during the Senate impeachment trial. https://www.cnn.com/2021/02/16/politics/capitol-lawsuit-trump-giuliani-proud-boys-oath-keepers/index.html
Biden Creating Commission to Study Expanding the Supreme Court
President Biden on Friday ordered a 180-day study of adding seats to the Supreme Court, making good on a campaign-year promise to establish a bipartisan commission to examine the potentially explosive subjects of expanding the court or setting term limits for justices.
The president acted under pressure from activists pushing for more seats to alter the ideological balance of the court after President Donald J. Trump appointed three justices, including one to a seat that Republicans had blocked his predecessor, Barack Obama, from filling for almost a year.
The result is a court with a stronger conservative tilt, now 6 to 3, after the addition of Mr. Trump's choices, including Justice Amy Coney Barrett, who was confirmed to replace Justice Ruth Bader Ginsburg just days before last year's presidential election. https://www.nytimes.com/2021/04/09/us/politics/biden-supreme-court-packing.html
IRS chief says $1 trillion in taxes goes uncollected every year
Rettig told the Senate Finance Committee that the "tax gap" -- the difference between taxes legally owed and revenue collected -- has grown substantially since the last official estimate of a $441 billion annual average from 2011 to 2013.
New sources of wealth arising since then, such as trading in cryptocurrencies, were escaping taxation, he said, as was rising foreign-sourced income and abuses of business income passed
Rettig said the agency is "outgunned" by increasingly sophisticated tax avoidance schemes, while years of budget cuts have left it with about 17,000 fewer revenue enforcement staff than it had a decade ago. https://www.reuters.com/article/us-usa-treasury-irs-idUSKBN2C0255
What's really behind the GOP's attacks on transgender athletes
This week that effort found a new and ugly front, as Arkansas became the first state in the nation to ban transgender kids from receiving gender-affirming health care. Twenty other states have similar efforts under way. In North Carolina, a particularly pernicious bill that was just introduced would ban gender-affirming treatment for anyone up to the age of 21 -- and require public employees, including public school teachers or counselors, to notify a parent "in writing" if the child displays any signs of gender nonconformity.
All of which indicates that, rather than seeing the end of Donald Trump's presidency as a chance to move on from a hateful anti-equality agenda, the GOP is doubling down, continuing the dramatic descent of a party struggling for definition. Adrift from their traditional foundations -- open markets, limited spending, small government -- they have found a powerful new organizing principle: victimhood.
They routinely warp the power dynamics of some of society's most crushing injustices, attempting to convince voters that victims of discrimination, oppression and hate are in fact perpetrators of some larger wrong against everyone else. https://www.cnn.com/2021/04/10/opinions/whats-behind-gops-attacks-on-transgender-athlete-kennedy/index.html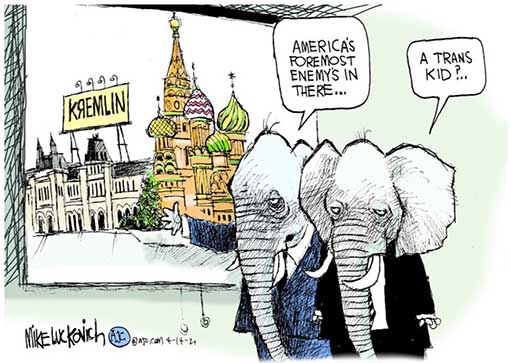 Politicians dread the sting of #KHive, the fervent online fans of Kamala Harris
When Rep. Ro Khanna started pressing Vice President Kamala Harris to use her procedural power to push a national minimum wage hike he found had aroused the wrath of the KHive, Harris' extensive, loose-knit and fiercely loyal fanbase, which celebrates and defends the vice president with equal fervor. Members of KHive, a riff on Beyoncé's loyal fanbase known as the Beyhive, sometimes use the hashtag #KHive in their social media posts, and many mark their allegiance in their Twitter profiles with yellow hearts and bee emojis.
They share videos of Harris stepping off Air Force Two, make offline friendships, and wear socks and hoodies bearing her name and likeness. They organize virtual "cooking Sunday" parties and offer support to other hive members.
But it's not all sweetness. Almost any politician, activist or reporter who has questioned Harris has felt the group's sting. https://www.latimes.com/politics/story/2021-04-08/politicians-dread-sting-khive-fervent-online-fans-of-kamala-harris
America's biggest boom since 1946?
America's financial titans are coming to a consensus: We are on the early edge of the biggest economic boom since World War II, with the promise of years of growth after the privation of the pandemic. 
They might be wrong, but all point to the same data — this expansion will be kickstarted by trillions in spending from presidents Trump and Biden, the Fed's easy money, and piles of cash that consumers and companies accumulated during the COVID shutdown.
This is likely to be a global phenomenon: Biden administration spending will have ripple effects around the world, and overseas bank accounts also have grown during COVID.  https://www.axios.com/global-economy-boom-growth-100e317f-2c0e-4465-8c18-2b13c2c1353d.html
Gaetz Paid Accused Sex Trafficker, Who Then Venmo'd Teen
In two late-night Venmo transactions in May 2018, Rep. Matt Gaetz sent his friend, the accused sex trafficker Joel Greenberg, $900. The next morning, over the course of eight minutes, Greenberg used the same app to send three young women varying sums of money. In total, the transactions amounted to $900. https://www.thedailybeast.com/gaetz-paid-accused-sex-trafficker-who-then-venmod-teen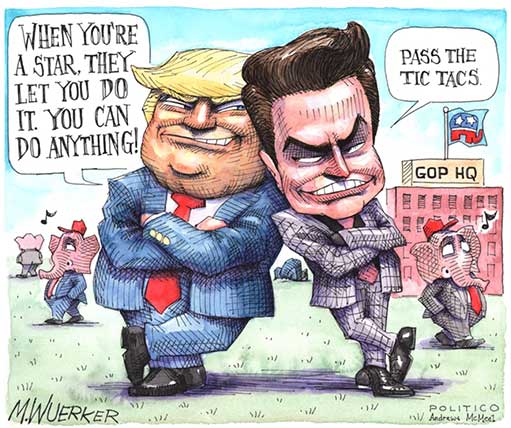 In New Book, Boehner Says He Regrets Clinton Impeachment
Former Speaker John Boehner, Republican of Ohio, says in a new memoir that he regrets supporting the impeachment of President Bill Clinton, calling it a partisan attack that he now wishes he had repudiated.
In his book "On the House: A Washington Memoir," a copy of which was obtained by The New York Times, Mr. Boehner blames Representative Tom DeLay of Texas, then the No. 2 Republican, for leading a politically motivated campaign against Mr. Clinton over his affair with Monica Lewinsky, a White House intern.
The Republican-led House voted to impeach Mr. Clinton on two counts in 1998. He was acquitted by the Senate.
"In my view, Republicans impeached him for one reason and one reason only — because it was strenuously recommended to us by one Tom DeLay," Mr. Boehner writes. "Tom believed that impeaching Clinton would win us all these House seats, would be a big win politically, and he convinced enough of the membership and the G.O.P. base that this was true.
"I was on board at the time," Mr. Boehner went on. "I won't pretend otherwise. But I regret it now. I regret that I didn't fight against it." https://www.nytimes.com/2021/04/08/us/politics/boehner-clinton-impeachment.html
Trump officials celebrated efforts to change CDC reports on coronavirus, emails show
Trump appointees in the Department of Health and Human Services last year privately touted their efforts to block or alter scientists' reports on the coronavirus to more closely align with President Donald Trump's more optimistic messages about the outbreak, according to newly released documents from congressional investigators.
The documents provide further insight into how senior Trump officials approached last year's explosion of coronavirus cases in the United States. Even as career government scientists worked to combat the virus, a cadre of Trump appointees was attempting to blunt the scientists' messages, edit their findings and equip the president with an alternate set of talking points. https://www.washingtonpost.com/health/2021/04/09/cdc--political-interference/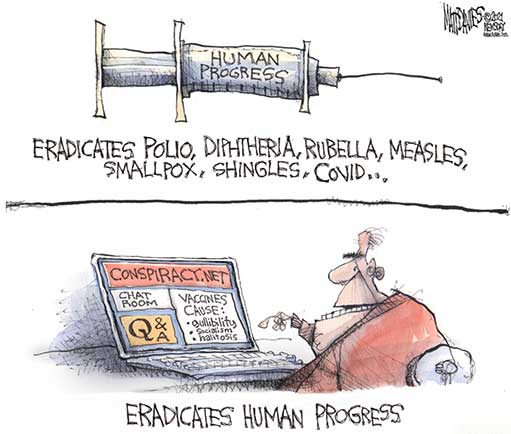 The DAILY GRILL
-- "I wish my name was Hunter Biden. I could go abroad and make millions off my father's presidency. I'd be a really rich guy." .…"If I was doing the same thing that that family was doing, I'd be in jail." — Don Jr on TV in October 2019.

-- "Why is it that every family goes into politics and enriches themselves? We're the only family—we stopped doing deals when my father became [president]…. — Eric complaining to Jeanine Pirro around the same time.

VERSUS

Don and Eric, who have spent nearly their entire adult lives working for the Trump Organization, which was cofounded by their grandfather and is owned by their dad. Yes, Don and Eric, who are reportedly both worth approximately $25 million apiece—virtually all of which can be attributed to their father's company." -- Vanity Fair
Catherine Rampell: Republicans are learning that there's more to capitalism than tax cuts
For a long time, the Republican Party had what it believed was a tacit deal with corporate America. Companies donated enormous sums to GOP campaigns and aligned groups, and in exchange, Republicans delivered tax cuts: on corporate profits, capital gains, estates. Whatever other agenda items Republicans pursued — on immigration, civil rights or anything else — corporate America would generally keep its mouth shut. So long as the tax cuts kept flowing, the only "speech" that corporations engaged in came from their wallets, which in turn were fattened by those tax cuts.
But recently, something funny happened. Democrats, having achieved unified control of government, are threatening to reverse the major corporate tax cut Republicans passed in 2017. Yet corporate America is criticizing Republicans, and for something unrelated: legislation in Georgia, Texas and other states that threatens to strip Americans of their voting rights.
"I found it completely discouraging to find a bunch of corporate CEOs getting in the middle of politics," Senate Minority Leader Mitch McConnell (R-Ky.) whined Monday. He fumed on Tuesday that his "warning, if you will, to corporate America is to stay out of politics." Then he hastened to add: "I'm not talking about political contributions."
McConnell wasn't the only politico suggesting that companies should butt out of politics (except when it comes to contributions, of course) if they wanted to continue reaping fiscal benefits. Georgia legislators were more explicit about what corporations need to do to keep the tax-cut gravy train rolling. https://www.washingtonpost.com/opinions/republicans-unexpected-rupture-with-corporate-america/2021/04/08/5f1ceb32-989a-11eb-962b-78c1d8228819_story.html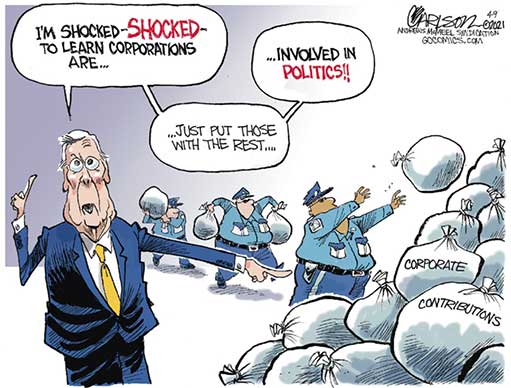 Nate Cohn: Georgia's New Law, and the Risk of Election Subversion
Beyond any provisions on voting itself, the new Georgia election law risks making election subversion easier. It creates new avenues for partisan interference in election administration. This includes allowing the state elections board, now newly controlled by appointees of the Republican State Legislature, to appoint a single person to take control of typically bipartisan county election boards, which have important power over vote counting and voter eligibility.
The law also gives the Legislature the authority to appoint the chair of the state election board and two more of its five voting members, allowing it to appoint a majority of the board. It strips the secretary of state of the chair and a vote. https://www.nytimes.com/2021/04/06/upshot/georgia-election-law-risk.html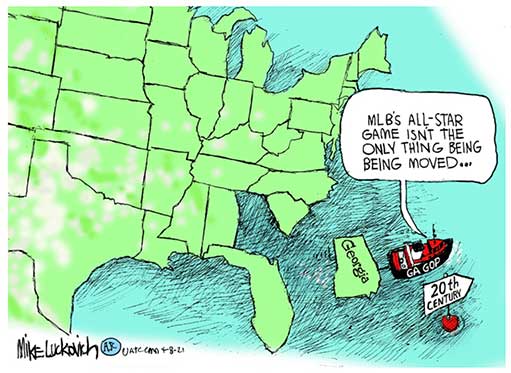 Max Boot: The GOP can't be saved. Center-right voters need to become Biden Republicans
It's possible to oppose Biden's plans on fiscal conservative grounds, but Republicans have no standing left on that issue after supporting Trump's $1.9 trillion tax cut during an economic expansion. Likewise, Republicans have lost all credibility on free trade by supporting Trump's trade wars and on foreign policy by backing Trump's neo-isolationism. What do they have left? Scare-mongering rhetoric (every Democratic initiative is a sign of "socialism") and culture wars (Dr. Seuss, Major League Baseball) to distract their base.
But while Biden hasn't gotten any GOP votes in Congress for his agenda yet, he has won broad approval from the country at large. At 53.1 percent, Biden's approval rating is higher than Trump's ever was. Polls show that 73 percent approve of Biden's handling of the coronavirus and 60 percent of his handling of the economy. There is also broad support for his infrastructure plan, with 64 percent backing tax hikes on corporations to pay for it.
Biden is governing from the "new center," while Republicans are increasingly catering to the far right with shrill, divisive rhetoric and antidemocratic actions such as bills to restrict voting. Under those circumstances, those of us on the center-right can't afford a third-party flirtation. We need to become Biden Republicans. https://www.washingtonpost.com/opinions/2021/04/07/gop-cant-be-saved-center-right-voters-need-become-biden-republicans/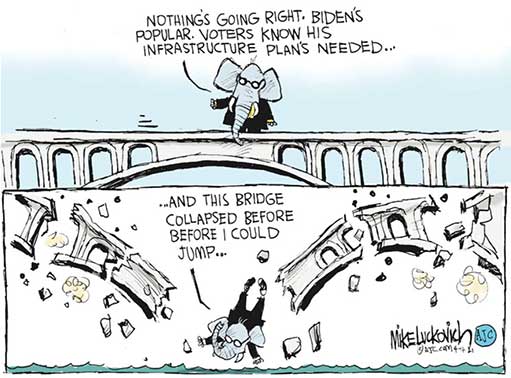 Somini Senguptaz: How Debt and Climate Change Pose 'Systemic Risk' to World Economy
How does a country deal with climate disasters when it's drowning in debt? Not very well, it turns out. Especially not when a pandemic clobbers its economy.
Take Belize, Fiji and Mozambique. Vastly different countries, they are among dozens of nations at the crossroads of two mounting global crises that are drawing the attention of international financial institutions: climate change and debt.
They owe staggering amounts of money to various foreign lenders. They face staggering climate risks, too. And now, with the coronavirus pandemic pummeling their economies, there is a growing recognition that their debt obligations stand in the way of meeting the immediate needs of their people — not to mention the investments required to protect them from climate disasters.
The combination of debt, climate change and environmental degradation "represents a systemic risk to the global economy that may trigger a cycle that depresses revenues, increases spending and exacerbates climate and nature vulnerabilities," according to a new assessment by the World Bank, International Monetary Fund and others, which was seen by The Times. It comes after months of pressure from academics and advocates for lenders to address this problem. https://www.nytimes.com/2021/04/07/climate/debt-climate-change.html
David Brooks: The Heart and Soul of the Biden Project
It's a daring revival of "the American System."
Bidenomics is a massive bid to promote economic dynamism. It's not only the R&D spending and the green energy stuff; it's also the massive investment in kids and human capital.
If, as expected, Biden's American Family Plan includes universal pre-K education and free community college, that would mean four more years of free schooling for millions of young Americans. As Rahm Emanuel said to me, when was the last time we achieved something as big as that?
It's also a unifying agenda. For the past several decades the economy has funneled money to highly educated people who live in large metro areas. That has created a ruinous class rift that divides the country and fuels polarization. The Biden measures would funnel money to the roughly two-thirds of Americans without a bachelor's degree — who work on road crews, in manufacturing plants, who care for the elderly and are disproportionately unemployed.
It's kind of interesting to me that the Democrats, the party of the metro educated class, are promoting policies that would send hundreds of billions of dollars to, well, Trump voters.
Because the Biden plan owes more to Hamilton than to socialism, it's not only progressives who love it, but moderates, too. Jim Kessler, an executive vice president at the moderate Democratic group Third Way, sent me an email this week with the subject line, "Why Mods Love Biden Jobs Plan."
Sometimes you take a risk to shoot forward. The Chinese are convinced they own the future. It's worth taking this shot to prove them wrong. https://www.nytimes.com/2021/04/08/opinion/biden-economic-plan.html
Alexandra Petri: We must get everyone in America a yacht to protect them from violence!
Well, I am the fool. The National Rifle Association's Wayne LaPierre testified this week during his organization's bankruptcy hearing that there was a good reason he spent so much time on a friend's 108-foot yacht, called Illusions.
Illusions was "the one place that I hope I could feel safe," he said, "where I remember getting there going, 'Thank God I'm safe, nobody can get me here.'" And you know what? I believe him. The only detail of this story that is frustrating is the thought that he knew a solution that would guarantee absolute safety, and he was keeping it so quiet.
Here he was sitting on the holy grail that the United States has been searching for for so long — and he said nothing! He should have been shouting this "security retreat" from the rooftops. In the United States, we have reached a point of numbness and despair where gun violence gets treated as something akin to bad weather, a grim condition of living in this country, to be planned around but never prevented. Yet all this time, Wayne LaPierre had the antidote! Yachts! https://www.washingtonpost.com/opinions/2021/04/09/we-must-get-everyone-america-yacht-protect-them-gun-violence/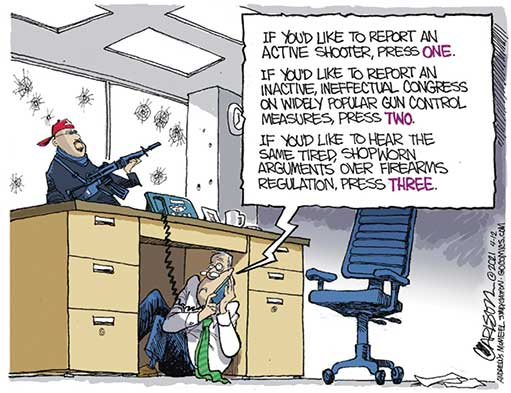 Jonathan Martin and Nicholas Fandos: How a Defeated Trump Is Making a Muddle of the G.O.P.
Republican lawmakers are passing voting restrictions to pacify right-wing activists still gripped by former President Donald J. Trump's lie that a largely favorable election was rigged against them. G.O.P. leaders are lashing out in Trumpian fashion at businesses, baseball and the news media to appeal to many of the same conservatives and voters. And debates over the size and scope of government have been overshadowed by the sort of culture war clashes that the tabloid king relished.
This is the party Mr. Trump has remade.
As G.O.P. leaders and donors gather for a party retreat in Palm Beach this weekend, with a side trip to Mar-a-Lago for a reception with Mr. Trump on Saturday night, the former president's pervasive influence in Republican circles has revealed a party thoroughly animated by a defeated incumbent — a bizarre turn of events in American politics.
Barred from Twitter, quietly disdained by many Republican officials and reduced to receiving supplicants in his tropical exile in Florida, Mr. Trump has found ways to exert an almost gravitational hold on a leaderless party just three months after the assault on the Capitol that his critics hoped would marginalize the man and taint his legacy. https://www.nytimes.com/2021/04/09/us/politics/trump-republicans-issues.html
Margaret Sullivan: How right-wing media keeps smearing George Floyd with the racist 'no angel' narrative
In an appalling bit of shorthand, the riveting courtroom drama in Minneapolis has come to be called "the George Floyd trial."
Floyd died in police custody last spring and is obviously not the one on trial. It was a Minneapolis police officer, Derek Chauvin, who knelt on his neck for more than nine unrelenting minutes, who now faces second- and third-degree murder and second-degree manslaughter charges.
But some in right-wing media keep doing their utmost to make this tragedy about Floyd's drug use and troubled life, in what seems like an attempt to absolve Chauvin long before the jury reaches a verdict. In effect, they are putting Floyd on trial.
It feels all too familiar. This is the "well, he was no angel" narrative, obliquely blaming the victim for his fate. It's a narrative all too often applied to men who die at the hands of police.
In a recent opinion piece for Town Hall titled "Derek Chauvin, Human Sacrifice," outrage-stoker Ann Coulter went so far as to misrepresent the basic facts. "The chief medical examiner's report establishes that, however else Floyd died, it wasn't from Chauvin's knee," she wrote.
Simply untrue: The Hennepin County medical examiner ruled Floyd's death a homicide, as did a private autopsy. The county called the cause of his death "cardiopulmonary arrest complicating law enforcement subdual, restraint, and neck compression."
The "no angel" narrative, and its variations, are racist smears. Unlike George Floyd, they deserve to die. https://www.washingtonpost.com/lifestyle/media/george-floyd-right-wing-media/2021/04/07/db58716c-9796-11eb-a6d0-13d207aadb78_story.html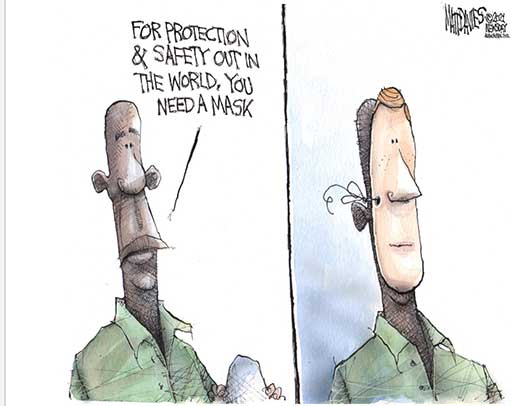 Greg Sargent: How Trump's toxicity continues to poison the Republican Party
To an underappreciated degree, the battle between the GOP and corporate America over voting rights reflects a deeper GOP failure: The party's refusal to fully renounce a certain former president's big lie that the 2020 election was stolen from him.
The latest front in this battle is in Texas. GOP lawmakers are pushing numerous efforts to make voting harder, leading Texas-based companies like American Airlines to sharply condemn the measures as a threat to voting rights.
Lt. Gov. Dan Patrick has now issued a pointed warning to such companies. "Stay out of things you don't know anything about," Patrick said, claiming they're taking a "risk" that in the "next session," they might "have a bill they want us to pass for them. Good luck!"
Notably, Patrick also claimed the new measures are needed because "a large percentage of Americans do not believe" in the 2020 "outcome." This widespread GOP line — limiting voting is needed to restore voter "confidence" — comes after Republicans themselves stoked this situation by propping up Donald Trump's lie for weeks.
In short, the GOP refusal to fully renounce that lie — the refusal to tell voters the plain truth that they should have absolute confidence in the 2020 result — is the toxin coursing through the bloodstream of this new standoff. It is fueling GOP voter suppression everywhere, which is pushing big companies into a condemnatory posture, which is sparking an angry GOP backlash. https://www.washingtonpost.com/opinions/2021/04/07/texas-dan-patrick-voting-laws-trump-poison-republicans/
Will Bunch: Joe Manchin beats his chest for D.C. elites while struggling W. Va. waits for help
"We have roads in this state  that are impassible or down to one lane, and we have communities that haven't had potable drinking water for years" because of environmentally abusive mining practices, Jeanne Peters said. Problems like that — along with a lack of broadband internet, an opioid-abuse crisis, and one of America's highest rates of poverty — have West Virginia's progressives like Peters baffled about why their Democratic senator, Joe Manchin, hasn't become a revival-tent evangelist for President Biden's game-changing $2 trillion-plus infrastructure plan.
Manchin — a political survivor as his state embraced Trumpism — has voiced support for going "big" on infrastructure. But then he stunned both Washington and folks back home by instead spending his hard-earned political capital on a full-throated embrace of the filibuster that will block the Biden agenda and a call for bipartisanship that's more hallucinatory than the "brown acid" at Woodstock — even casting doubt that he'll support using the 51-vote "reconciliation" process that is the only realistic way to get the $2 trillion plan passed.
But his hard-to-take-back vow to save the filibuster means the Democrats won't pass voting rights bills, which could allow Republicans to use suppression to regain Congress in 2022 and ensure that any new New Deal that helps West Virginians will be very short-lived. It's hard to believe, but if the Biden agenda mostly fails because of Manchin's weird worship of the filibuster and his bipartisanship delusions, he will harm more Americans than the Red-baiting of Sen. Joseph McCarthy. For now, all West Virginia can do is wait. https://www.inquirer.com/opinion/commentary/joe-manchin-filibuster-bipartisanship-west-virginia-poverty-20210411.html