February 23, 2023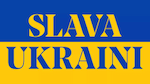 February 23,

2023 Edition
To subscribe to this FREEweekly newsletter simply email jellison@san.rr.comwith "subscribe" as the subject.
THE WEEK'S BEST QUOTES. . .
"President Zelenskyy and all Ukrainians remind the world every day what courage is.
They remind us that freedom is priceless.
And worth fighting for.
For as long as it takes." — President Biden @POTUS
https://twitter.com/POTUS/status/1627703401940131847

"Now and then, he does something I agree with and I consider laudatory. His trip to Kyiv to be with President Zelensky and to stand firm for the principle of liberty is something which I salute. It was courageous and the right thing to do, and I appreciate him doing that and recognizing that the people of the United States of America stand on the side of liberty." — Sen. Mitt Romney (R-UT). https://www.sltrib.com/news/politics/2023/02/21/mitt-romney-says-marjorie-taylor/

"No one can keep Putin from waging his war. But Biden can — and will — keep him from winning it." — Eugene Robinson https://www.washingtonpost.com/opinions/2023/02/20/biden-kyiv-ukraine-visit-courage-resolve/

"President Biden's secret visit to wartime Kyiv is an example of America in its finest tradition ... This trip took guts" — The National Review, a conservative publication very critical of President Biden, weighs in on the president's surprise visit to Ukraine. https://www.nationalreview.com/corner/bidens-secret-trip-to-kyiv-took-guts/

"Putin thought Ukraine was weak and the West was divided. He's counting on us not sticking together. He was counting on the inability to keep Nato united. He was counting on us not to be able to bring in others to the side of Ukraine. He thought he could outlast us. I don't think he's thinking that right now." — President Biden. https://www.bbc.com/news/live/world-europe-64702090

"I think that's absurd. We are fighting racism, we're fighting sexism, we're fighting homophobia, I think we should also be fighting ageism." — Sen. Bernie Sanders (I-Vt.) about Nikki Haley's suggestion that politicians over the age of 75 should face "competency tests." https://thehill.com/homenews/sunday-talk-shows/3865332-sanders-says-haleys-call-for-competency-test-abusrd/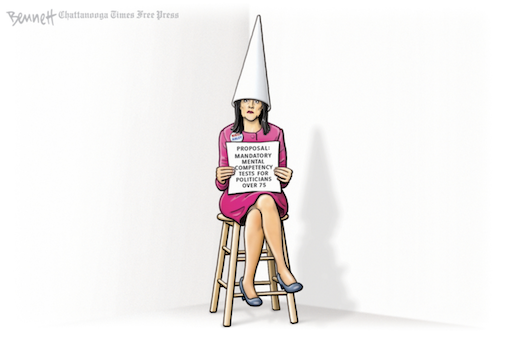 "Please get her fired. Seriously… What the fuck? It's measurably hurting the company. The stock price is down. Not a joke." -- Text from Carlson to Hannity and Ingraham trying to get Fox News reporter Jacqui Heinrich fired for fact-checking a Trump tweet about Dominion and noting that there was no evidence of votes being destroyed. https://www.politico.com/newsletters/playbook/2023/02/17/fox-news-split-screen-spills-into-view-00083407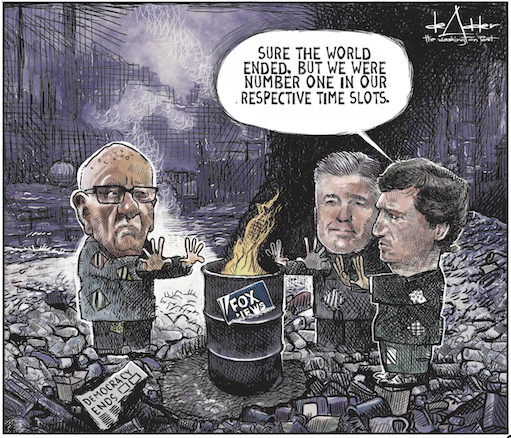 "He's done a good job as the governor of Florida. I don't think anybody can argue with that, but that's very different than running for president of the United States. None of us really know what he'll be like on the national stage. If he decides to run, I'll be interested to watch and compete with him. I'm still waiting for President Jeb Bush and President Scott Walker from '16 and none of that happened. I'm sure as heck not going to worry about what Ron DeSantis is going to do or not do, because none of us really know who he is outside of Tallahassee, Florida." — Former Gov. Chris Christie (R) saying that Gov. Ron DeSantis' (R) strong early polling numbers in a Republican presidential primary aren't worth much. https://thedispatch.com/newsletter/dispatch-politics/christie-on-desantis-none-of-us-really-know-who-he-is/

"I'm glad she's running. I want her to follow her heart — even though she made a commitment that she would never run against who she called the greatest president of her lifetime. She should do what she wants to do and not be bound by the fact that she said she would never do it." — Donald Trump on Nikki Haley running for the 2024 GOP presidential nomination. https://www.foxnews.com/politics/trump-welcomes-nikki-haley-2024-race-more-merrier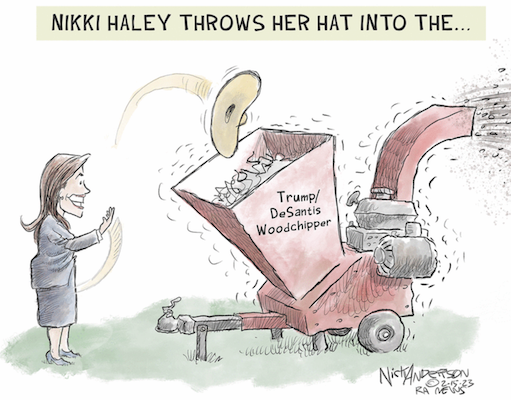 "God isn't backing Trump in the 2024 election this time, We need to watch Ron DeSantis. Because the Lord is going to use him in a powerful way." — Charlie Shamp, a self-proclaimed Christian prophet who backed Donald Trump in 2020. https://www.rollingstone.com/politics/politics-news/evangelicals-trump-desantis-2024-prophecy-1234680986/

"Bartender, I'll have whatever he's having." — Jack E. Smith responding to Trump's message to the  Georgia Special Grand Jury thanking them for their patriotism and courage and for their "total exoneration." https://twitter.com/7Veritas4/status/1626341342128349184

"If you jump on the Putin train now, you're dumber than dirt. It would be like buying a ticket on the Titanic after you saw the movie. Don't do this. The most catastrophic thing that could happen to the U.S.-China relationship, in my opinion, is for China to start to give lethal weapons to Putin in his crime against humanity." — Sen. Lindsey Graham (R-SC). https://www.politico.com/newsletters/playbook/2023/02/19/what-two-new-party-chairs-reveal-about-the-gop-00083581
VIDEOS ...
"I think we can replace the New Deal with a better deal." — Former Vice President Mike Pence, the latest prominent Republican to propose sunsetting Social Security and Medicare.  https://twitter.com/atrupar/status/1626308636451430403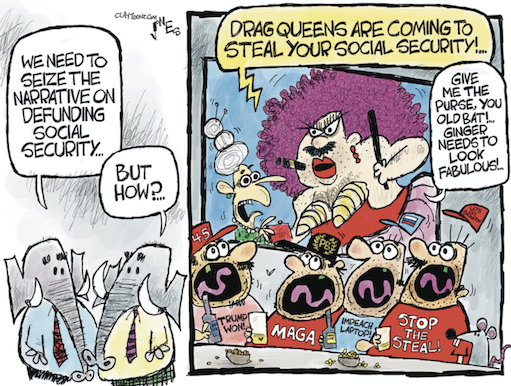 "I'm gonna try to help explain to the American people that defeating the Russians in Ukraine is the single most important event going on in the world right now… there should be a bipartisan support for this." — Sen. Mitch McConnell (R-KY). https://twitter.com/atrupar/status/1626244170917478400

"You can live there and you can work there, but you don't get to bring your values." — Marjorie Taylor Greene suggesting that if Democrats move to a red state they shouldn't be allowed to vote for five years. https://twitter.com/AccountableGOP/status/1628114501064134658

"I'm going to support whoever the nominee ultimately is." — Mitch McConnell, despite Trump's describing him as "a dour, sullen, and unsmiling political hack lacking in political insight, wisdom, skill, and personality" and an "old broken-down crow" and calling his wife, former Transportation secretary Elaine Chao "crazy." https://twitter.com/Acyn/status/1625576734631526402

LITIGATION TRACKER
Pending Criminal and Civil Cases Against Donald Trump

.

https://www.justsecurity.org/75032/litigation-tracker-pending-criminal-and-civil-cases-against-donald-trump/
---
IN THIS ISSUE
IN THE NEWS
OPINION
Andy Borowitz: Tucker Carlson Fears That Leaked Texts of Him Telling Truth Will Kill His Brand
Newly surfaced texts showing Tucker Carlson telling the truth threaten to damage his brand irrevocably, the Fox News host fears.
After publication of the texts, which indicate that Carlson knew Donald J. Trump's claims of widespread election fraud were false, the anchor, concerned that his reputation for mendacity had been permanently tainted, spiralled into despondency.
Tucker is in a very dark place right now, a Fox News colleague said. To be unmasked as an honest person is literally his worst nightmare.
In an emotional appearance on Fox, Carlson begged his viewers not to rush to judgment based on a few ill-advised texts that give off the unfortunate appearance of accuracy.
A couple of years ago, in a moment of weakness, I slipped and told the truth, Carlson, choking back tears, said. I plead with you not to judge me by this shameful episode but by my entire body of work.Businessman, economist, cop, international sex crimes expert?
https://www.newyorker.com/humor
/borowitz-report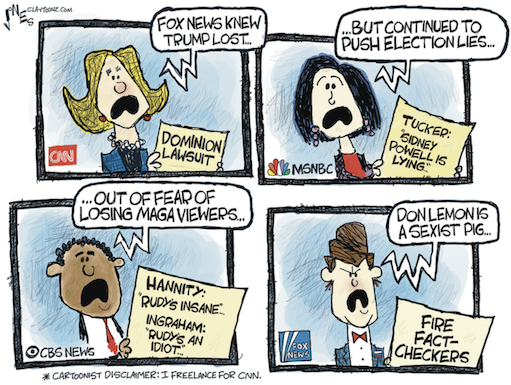 Trump's White House accomplishments aren't so easy to sell on the campaign trail
Operation Warp Speed, the public-private partnership that developed a coronavirus vaccine in record time and which Trump once called a 'miracle,' has become vilified among a group of conservatives. And the toppling of Roe v. Wade by Trump-appointed Supreme Court justices has turned into a political Rorschach test for Republicans.
Navigating those twin achievements from his time in office could become tricky to handle over the course of a potential primary and general election run. Trump has begun taking steps to try and maneuver that political landscape.
https://www.politico.com/news/2023/02/20/trumps-white-house-campaign-trail-00083541
Ron DeSantis' use of government power to implement agenda worries some conservatives
Florida Gov. Ron DeSantis has made freedom his calling card, but some conservatives have become skeptical of how liberally the Republican leader is using government power to impose his will, CNN reports.
Among GOP donors, leading conservative voices and even some supporters, there is a growing concern that DeSantis has overstepped in his fight against 'wokeness' as he seeks to shore up conservative support ahead of a highly anticipated 2024 campaign for president. Several potential rivals for the GOP nomination have seized on DeSantis' brash approach and top-heavy governing style to draw sharp contrasts with the popular Republican.
https://www.cnn.com/2023/02/19/politics/ron-desantis-conservatives-florida-2024/index.html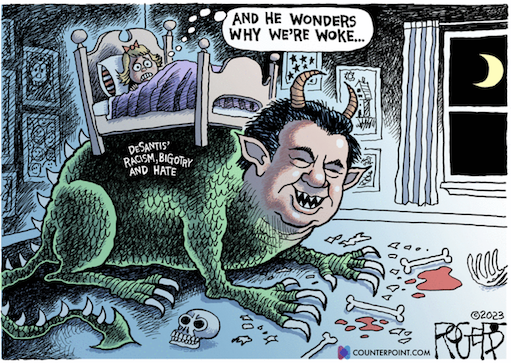 John Bowden Kevin McCarthy gives trove of unreleased Jan 6 footage to Tucker Carlson
Fox News host Tucker Carlson, a leading purveyor of disinformation about the 2020 election at his network, will have access to a massive trove of unreleased footage from surveillance cameras around the US Capitol taken during the January 6 insurrection.
It's a clear move by Speaker Kevin McCarthy to mend ties with the far right; Mr Carlson has long sought to minimize the severity of the attack on Congress and this effort will come as the Department of Justice considers whether to charge Donald Trump or his associates with obstruction of an official proceeding or other crimes.
Mr Carlson has long denounced the efforts of the January 6 select committee in the House as lies and has referred to the riot at the Capitol, which led to the deaths of several Capitol Police officers and the temporary delay of the certification of the 2020 election, as forgettably minor.
https://www.independent.co.uk/news/world/americas/us-politics/kevin-mccarthy-jan-6-footage-tucker-carlson-b2285892.html
Trump lawyers try to ban 'Access Hollywood' tape from trial
Attorneys for Donald Trump want to ban from his upcoming civil rape trial the Access Hollywood tape in which the former president boasts graphically about how celebrities can molest women.
https://www.independent.co.uk/news/donald-trump-lawyers-access-hollywood-tape-trial-b2284663.html
Biden's Trip to Ukraine Sent a Message to China
Biden's visit had the effect of supporting statements made by Secretary of State Blinken in the wake of conversations with his Chinese counterpart on the edges of the Munich conference. Blinken stated that China was considering providing lethal support to Russia to aid in its invasion of Ukraine and warned that such action would have serious consequences.
Biden's trip sent an important reminder to Beijing just how high a priority Ukraine is for the U.S. and the West and presenting the war in the context of Russia's violations of international law will emphasize to the Chinese that directly supporting Russia's attack and serial war crimes would make China an accessory to those crimes. The sanctions China would endure and the rift such a step would incur with the international community would be devastating for China, particularly given the fragility of its economy at the moment.
If there was yet another audience for Biden's trip, it was naturally, the American people. Biden, in going to Kyiv, offered the clearest possible reminder of his stance against Russian aggression from the first moments of his presidency. It illustrated that he did not hesitate to support Ukraine when it was imperiled and that his leadership among our allies worldwide has been one of the signature triumphs of his first term in office.
https://www.thedailybeast.com/bidens-trip-to-kyiv-is-the-ultimate-humiliation-for-putinand-trump
Biden Drawing Up a 2024 Playbook That Looks a Lot Like 2020's
Forget the Wilmington basement. This time he will have a Rose Garden. And Air Force One and a big white mansion and all the other advantages of incumbency in a year when he is not forced by a pandemic to stick to streaming from downstairs.
But as President Biden prepares to run for a second term, his team is mapping out a strategy for 2024 that in many other ways resembles that of 2020. Whether he ultimately faces Donald J. Trump again or another Republican trying to be like Mr. Trump, the president plans a campaign message that still boils down to three words: Competent beats crazy.
https://www.nytimes.com/2023/02/19/us/politics/biden-2024-campaign.html
More states scrutinizing AP Black studies after Florida complaints
At least four more states (Arkansas, Virginia, North Dakota and Mississippi ) will review the new Advanced Placement African American studies course to see if it conflicts with their policies or laws restricting the teaching of race, an indication that the controversy swirling around the class in Florida could spiral.
The course, which covers a wide range of Black history and cultural topics, is being piloted in about 60 classrooms nationwide this year. The pilot will continue this fall, and the class will be widely available in fall 2024 — unless states block their schools from offering it. In many states, no class can count toward graduation unless it is granted a state-issued course code.
https://www.washingtonpost.com/education/2023/02/18/states-review-ap-african-american-studies-class/
A Czar with No Empire
President Vladimir Putin likes to portray himself as a new czar like Peter the Great or Ivan III, the 15th-century grand prince known as the 'gatherer of the Russian lands,'.
But Putin's year-long war in Ukraine has failed so far to secure the lands he aims to seize, and, in Russia, there is fear that he is leading his nation into a dark period of strife and stagnation or worse.
Some in the elite also say the Russian leader now desperately needs a military victory to ensure his own survival.
https://www.washingtonpost.com/world/2023/02/20/putin-czar-with-no-empire-needs-military-victory-his-own-survival/
'Crazy.' 'Nuts.' Some of the revelations from the Fox News defamation case
Fox News has maintained that its coverage of Trump's claims were newsworthy, despite being false, and therefore protected under the 1st Amendment. In a statement, the network criticized Dominion's brief — which is based on depositions and discovery for the case — saying the company mis-characterized the record, cherry-picked quotes stripped of key context, and spilled considerable ink on facts that are irrelevant under black-letter principles of defamation law. The network is filing its motion in response to Dominion's allegations on Feb. 27.
In nine instances, Fox News hosts and executives use the word nuts when describing the unsubstantiated Dominion charges and the people who spread them.
Crazy gets 29 mentions. Most of the time, the adjectives describe Sidney Powell, Trump's attorney who was responsible for making the most outrageous false claims, alongside fellow lawyer Rudy Giuliani.
https://www.latimes.com/entertainment-arts/business/story/2023-02-18/crazy-nuts-six-wild-revelations-from-the-fox-news-defamation-case-dominion-voter-fraud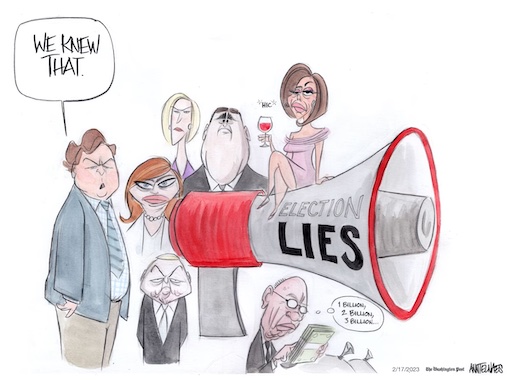 Top Putin Official Plunges 160-Feet to Her Death
Marina Yankina, a high-ranking Russian defense official in the war against Ukraine, was found dead Wednesday after falling from a high-rise window in an apartment building, the New York Post reports
Earlier this week, Russian Ministry of the Interior Maj. Gen. Vladimir Makarov, 72, died of an apparent suicide in a Moscow suburb.
https://nypost.com/2023/02/16/top-putin-war-official-marine-yankina-plunges-to-her-death/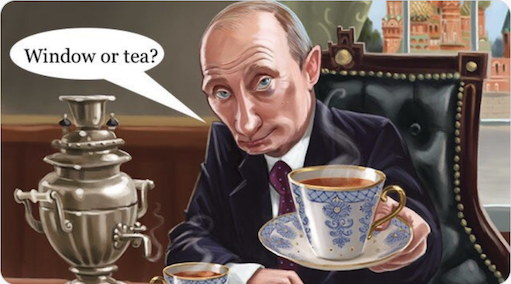 GOP Operative Sentenced for Funneling Russian Money to Trump Campaign
A federal judge in Washington, DC sentenced veteran GOP operative Jesse Benton to 18 months in prison for funneling $25,000 from a Russian businessman to Donald Trump's 2016 campaign.
https://www.motherjones.com/politics/2023/02/jesse-benton-donald-trump/
Biden says GOP plans would drive US debt up by $3 trillion
President Joe Biden plans to go on the offensive against Republicans, saying in effect that their policies would add $3 trillion to the national debt, the AP reports.
From Biden's prepared remarks: If you add up all the proposals that my Republican friends in Congress have offered so far, they would add another $3 trillion to the debt over 10 years. You'll see that my budget will invest in America, lower costs and protect and strengthen Social Security and Medicare, while cutting the deficit by $2 trillion over 10 years.
https://apnews.com/article/biden-politics-district-of-columbia-us-republican-party-kevin-mccarthy-744d501534e43e8823fee135faf6d46e
Republicans take aim at food stamps in growing fight over federal debt
Top House Republicans are exploring significant changes to the nation's food stamps program, including benefit cuts and stricter work requirements, as some in the new majority scramble for ways to slash government spending this year.
The early discussions have come in the context of the budget, as GOP leaders look to deliver on their promise to eliminate the federal deficit over the next decade. But their policy decisions could carry great consequences for the roughly 41 million people who receive monthly food aid — and find themselves scrounging in the face of high bills. https://www.washingtonpost.com/us-policy/2023/02/16/food-stamps-gop-proposed-cuts/
Leaked document shows how Russia plans to take over Belarus
A leaked internal strategy document from Vladimir Putin's executive office and obtained by Yahoo News lays out a detailed plan on how Russia plans to take full control over neighboring Belarus in the next decade under the pretext of a merger between the two countries. The document outlines in granular detail a creeping annexation by political, economic and military means of an independent but illiberal European nation by Russia, which is an active state of war in its bid to conquer Ukraine through overwhelming force.

"Russia's goals with regards to Belarus are the same as with Ukraine," Michael Carpenter, the U.S. ambassador to the Organization for Security and Cooperation in Europe, told Yahoo News. "Only in Belarus, it relies on coercion rather than war. Its end goal is still wholesale incorporation." https://news.yahoo.com/russia-belarus-strategy-document-230035184.html
Russia's Top Paramilitary Chief Accuses Army Command of Treason
The head of Russia's Wagner mercenary group accused the country's defense minister and its most senior general of treason on Tuesday, intensifying the most high-profile dispute in the Russian forces since the invasion of Ukraine began.
Wagner's founder, Yevgeny Prigozhin, who has been taking aim at military leaders in a series of increasingly hostile audio messages on social media this week, accused the "chief of the general staff and minister of defense" of withholding ammunition and supplies from his fighters to try to destroy Wagner, "which can be equated to treason."
"A bunch of military-related officials have decided that it is their country, that it is their people," Mr. Prigozhin said in one profanity-laden audio message published by his press service on Tuesday. "They have decided that these people will die when it is convenient to them, when they feel like it."
Russia's Defense Ministry denied Mr. Prigozhin's claims, and raised the stakes by indirectly accusing the Wagner leader of damaging the war effort.
https://www.nytimes.com/2023/02/21/world/europe/wagner-russia-military-prigozhin.html
Trump's Ohio Visit Puts Spotlight on Rail-Safety Rules He Ended
The visit to the former battleground state that Trump easily won twice is also casting light on one of the former president's regulatory rollbacks: The repeal of new braking requirements for certain trains hauling highly hazardous freight put in place by the Obama administration.
The braking requirement, put in place in 2015 as part of a suite of new safety rules following a number of fiery high-profile crude oil train derailments, required railroads to install more responsive electronic braking systems on trains carrying hazardous materials.
https://www.bloomberg.com/news/articles/2023-02-22/trump-s-ohio-visit-prompts-review-of-his-own-rail-safety-record
Poll: Biden's standing improves, while Trump slumps with Republican voters
President Biden is seeing his highest approval ratings in almost a year, while former President Donald Trump, who is hoping to take the job back, is getting his worst scores among potential Republican voters in years, according to the latest NPR/PBS NewsHour/Marist poll.
https://www.npr.org/2023/02/22/1158538798/poll-bidens-standing-improves-while-trump-slumps-with-republican-voters
Donald Trump Has Been Lying About Trump Tower For Decades
A new Forbes investigation finds:
Property records show that Donald Trump has been lying about the financial performance of Trump Tower since it first opened in 1983.

Tax and lending documents indicate that Trump lied about the square footage of the office and retail space at the base of the property (not to be confused with his lying about size of the penthouse atop the building, which Forbes previously exposed).

Portions of a 2015 audio recording, released here for the first time, prove that Trump was personally involved in the efforts to lie about the value of Trump Tower's commercial space.
Combined with earlier reporting and stacks of documents now in prosecutors' hands, all point to a simple conclusion: The Trump Organization lied about the value of its properties to lenders for years, and although multiple people inside the firm participated in those efforts, the person at the center of the deceit was Donald Trump.
https://www.forbes.com/sites/danalexander/2023/02/22/donald-trump-has-been-lying-about-trump-tower-for-decades/
Russian propagandists are buying Twitter blue-check verifications
Accounts pushing Kremlin propaganda are using Twitter's new paid verification system to appear more prominently on the global platform, another sign that Elon Musk's takeover is accelerating the spread of politically charged misinformation.
https://www.washingtonpost.com/technology/2023/02/22/russian-propagandists-said-buy-twitter-blue-check-verifications/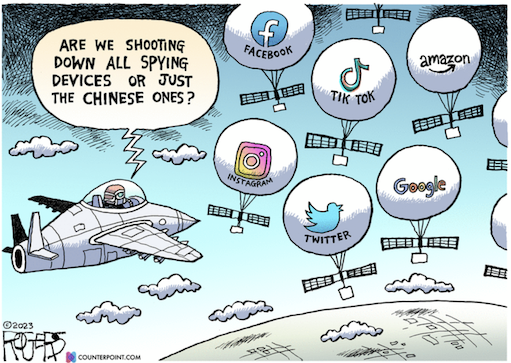 Biden builds a new economic team to carry him across landmines
All bring particular skills suited to Biden's desire for experienced hands to help steer the economy away from a possible recession, according to half a dozen White House advisers and people close to the president who were granted anonymity to talk about personnel matters. Brainard and Bernstein also have credibility on the left at a time when the president may be forced to make some tough tradeoffs with House Republicans.
Biden, who consistently gets dismal marks from the public on his handling of the economy, has voiced frustration to his team that they haven't done enough to convey the administration's accomplishments, particularly on cable news, which he regularly watches. He's counting on the new aides to help resolve that issue.
https://www.politico.com/news/2023/02/22/biden-economic-team-00083855
Older Voters Balk at Nikki Haley's Competency Test
Interviews with more than a dozen attendees at Haley's first campaign events in recent days — all but three in their 60s, 70s and 80s — revealed a GOP primary electorate open to a younger standard-bearer but sharply divided over the insinuation that someone their age might be lacking in mental aptitude. Seven said they opposed the call for applying mental acuity tests to elderly politicians.
https://www.politico.com/news/2023/02/21/older-voters-nikki-haley-competency-test-00083859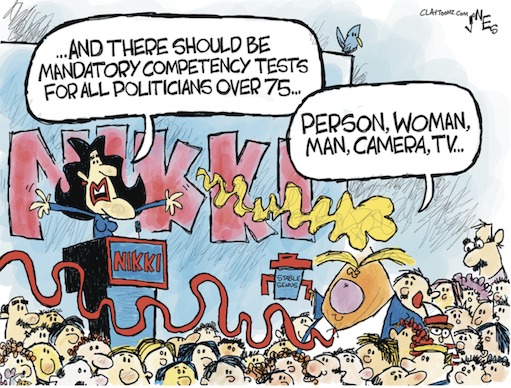 Biden may not run — and top Dems are quietly preparing
People in the president's orbit say there is no hard deadline or formal process in place for arriving at a launch date decision. According to four people familiar with the president's thinking, a final call has been pushed aside as real-world events intervene. His cloak-and-dagger trip to Kyiv over the holiday weekend took meticulous planning and the positive reaction to it was seen internally as providing him with more runway to turn back to domestic politics.
While the belief among nearly everyone in Biden's orbit is that he'll ultimately give the all-clear, the delay has resulted an awkward deep-freeze across the party — in which some potential presidential aspirants and scores of major donors are strategizing and even developing a Plan B while trying to remain respectful and publicly supportive of the 80-year-old president.
https://www.politico.com/news/2023/02/22/bidenworld-joe-may-not-run-2024-00083905
Republican leaders wrestle with GOP splinter on Ukraine aid on Capitol Hill
As the one-year anniversary of the war in Ukraine approaches, the Republican Party finds itself bitterly divided on Capitol Hill over whether the US should continue aiding Ukraine – a dispute that is only expected to intensify in the months ahead even as GOP leaders have sought to downplay it.
https://www.cnn.com/2023/02/22/politics/ukraine-aid-republican-leaders/index.html
Alaska state Rep. David Eastman (R) sparked outrage after asking whether there could be economic benefits from the death of abused children.
Eastman said that he had heard an argument, on occasion, that when child abuse is fatal, it could economically benefit a society.
.
Said Eastman: It can be argued, periodically, that it's actually a cost savings because that child is not going to need any of those government services that they might otherwise be entitled to receive and need based on growing up in this type of environment.
https://www.adn.com/alaska-news/2023/02/21/rep-eastman-sparks-outrage-after-asking-about-the-potential-economic-benefits-of-the-deaths-of-abused-alaska-children/
THE DAILY GRILL
● This is incredibly insulting. Today on our President's Day, Joe Biden, the President of the United States chose Ukraine over America, while forcing the American people to pay for Ukraine's government and war. I can not express how much Americans hate Joe Biden. — Rep. Marjorie Taylor Greene
https://twitter.com/RepMTG/status/1627649971343458304
● The U.S. support for war in Ukraine has been like a U.S. proxy war with Russia.
But now it's becoming more like a U.S.- China war through the Ukraine - Russia war. End it now! — Rep. Marjorie Taylor Greene
https://twitter.com/RepMTG/status/1627710790936539136
● People are absolutely fed up and disgusted with left wing insanity and disaster America Last policies. National divorce is not civil war, but Biden and the neocons are leading us into WW3, while forcing corporate ESG and gender confusion on our kids. Enough! — Rep. Marjorie Taylor Greene
https://twitter.com/RepMTG/status/1627723317657337860
● "Biden didn't go to East Palestine, Ohio on President's Day. He went to Ukraine, a NON-NATO nation, whose leader is an actor and is apparently now commanding our United States military to world war. We must impeach this America Last fool before it's too late." — Rep. Marjorie Taylor Greene (R-GA).
https://twitter.com/RepMTG/status/1627658906418745346
VERSUS
On the day of Biden's historic visit to Kiev, one of greater MAGA's most flamboyant useful idiots, MTG, calls for an American Brexit, a dissolution of the United States. Remarkable how often MAGA finds itself parroting Kremlin talking points, and on this day, President's Day. — Simon Rosenberg @SimonWDC
https://twitter.com/SimonWDC/status/1627809787340550144

"We need a national divorce.
We need to separate by red states and blue states and shrink the federal government.
Everyone I talk to says this.
From the sick and disgusting woke culture issues shoved down our throats to the Democrat's traitorous America Last policies, we are done." — Marjorie Taylor Greene @mtgreenee. https://twitter.com/mtgreenee/status/1627665203398688768

VERSUS

"Let's review some of the governing principles of America, @mtgreenee: Our country is governed by the Constitution. You swore an oath to support and defend the Constitution.
Secession is unconstitutional. No member of Congress should advocate secession, Marjorie." — Liz Cheney. https://twitter.com/Liz_Cheney/status/1627758909019639822


"First @SecretaryPete was m.i.a. on the derailment..Then he lies to media claiming my 2021 letter calling for more track inspections was a letter calling for deregulation. He is an incompetent who is focused solely on his fantasies about his political future & needs to be fired." — Marco Rubio @marcorubio https://twitter.com/marcorubio/status/1628125490966892574

VERSUS

"The facts don't lie. The 2021 letter you signed was obviously drafted by railroad industry lobbyists. It supports waivers that would reduce visual track inspections. Now: will you vote to help us toughen rail safety accountability and fines, or not? "— Secretary Pete Buttigieg @SecretaryPete. https://twitter.com/SecretaryPete/status/1628133840391704592


"It's not a war about Ukraine; this is about a war on freedom, she told an audience member last week in Exeter, N.H. Because if Russia takes Ukraine, they said Poland and the Baltics are next, and we're looking at a world war. And if Russia wins, you can bet China's gonna take Taiwan, Iran's gonna get the bomb. — Nikki Haley. https://www.washingtonpost.com/politics/2023/02/21/desantis-haley-ukraine-2024/

VERSUS

"I don't think it's in our interest to be getting into a proxy war with China, getting involved over things like the borderlands or over Crimea: It's important to point out the fear of Russia going into NATO countries and all of that and steamrolling that is not even coming close to happening. I think they've shown themselves to be a third-rate military power." — Florida Gov. Ron DeSantis (R) .https://www.washingtonpost.com/politics/2023/02/21/desantis-haley-ukraine-2024/
Brian Stelter: I Never Truly Understood Fox News Until Now
The basic story of Fox News and the 2020 election is well understood. Fox's relatively small news operation covered the vote count accurately; this coverage infuriated President Donald Trump, the MAGA base, and Fox's opinion stars; some viewers temporarily flipped to further-right outlets, such as Newsmax; and Fox panicked…
Some of Fox's top shows began broadcasting a better story, one that its viewers did want to watch: a conspiracy-laden tale about crooked Democrats stealing an election. Dominion is arguing that Fox knew full well that Trumpworld's voter-fraud allegations were bunk but promoted the lies anyway. Whether or not Dominion prevails in court, and many experts believe it will, the lawsuit is already forcing an ethical reckoning over Fox's disrespect of its audience. Hour after hour, day after day, Fox stars kept signaling to viewers that Trump might still win the election not because they thought he would, but because they were worried about their ratings. And we all witnessed the consequences on January 6.
https://www.theatlantic.com/ideas/archive/2023/02/fox-news-dominion-voting-lawsuit-2020-election-conspiracy/673111/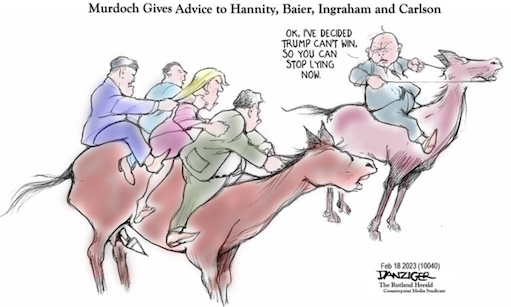 Tom Nichols: Putin's Desperate Hours
Vladimir Putin gave his annual address to the Russian Federal Assembly on Tuesday, and it was a farrago of paranoia and lies; meanwhile President Joe Biden humiliated the Kremlin by walking the streets of Kyiv in broad daylight. The Russian president knows he is losing.
Putin has put himself and his country in a desperate situation, and he has run out of options, including nuclear threats. This is not to say that the risk of nuclear conflict has evaporated and there is still plenty of room for Putin to do something foolish and set a terrible chain of events in motion. But after a year, it seems that the Russian president's plan—if it can even be called that—is to consign more of his young men to the Ukrainian abattoir while hoping that the West somehow tires of the whole business. As the Atlantic contributing writer Eliot Cohen pointed out yesterday, however, Biden's visit to Kyiv and his pledge of "unwavering and unflagging commitment" had to be a "gut punch" to Putin, dashing any hopes that the Free World will give up on Ukraine.
The Russian president is still counting on Kyiv and its armies to collapse, or perhaps on an election to remove Biden, or for Europe to lose its nerve, or for China, perhaps, to come to Moscow's rescue (which would be both a balm and a deep humiliation). But he also knows that time may be running out at home: After a year of war, there are only so many young men left to kill and only so many generals left to blame.
https://www.theatlantic.com/newsletters/archive/2023/02/putins-desperate-hours/673150/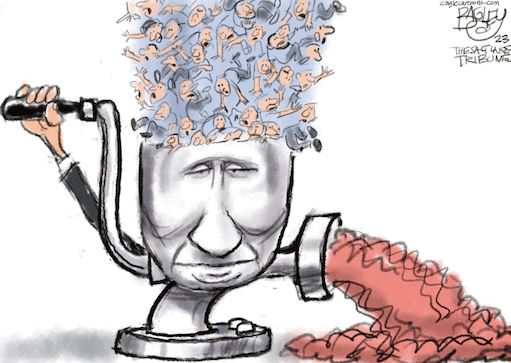 David Remnick: A Year of Putin's Wartime Lies
Russian propagandists (much like the propagandists of the G.O.P.) refer to President Biden as a doddering hack, incapable of making it through a coherent sentence, let alone putting up an effective resistance to the Russian armed forces. Yet, in the past year, Biden has conducted a foreign policy of competence and moral clarity, skillfully balancing strength, diplomacy, and restraint. After having publicly predicted Putin's intention to invade, Biden won congressional support to send nearly thirty billion dollars in assistance to Ukraine, supplying its armed forces with crucial air-defense systems, mobile multiple-rocket launchers, and, most recently, M1 Abrams tanks. Biden has recognized and advertised the immense stakes of the conflict, but he has taken pains not to provoke a direct conflict with Russia. The Europeans have acted with similar determination. The opposition in Congress to supporting the Ukrainian cause has so far been limited mainly to the right wing of the Republican Party, with an assist from its attendant media outlets.
Although the anniversary of Putin's invasion is a moment to pay solemn tribute to the dead and to celebrate the astonishing resilience of Ukraine, it cannot be one of heedless overconfidence. This is a war that could go on for a very long time. As Dara Massicot, an expert on the Russian military, writes in the latest issue of Foreign Affairs, "The Russian armed forces are not wholly incompetent or incapable of learning." Her article deftly anatomizes Russia's failures, but also goes into alarming depth about how the military leadership can call on hundreds of thousands of recruits, and better exploit the resources of a vast country to inflict greater pain on Ukraine. Crucially, Putin seems not to care about casualties in his ranks. Just recently, hundreds of his soldiers were, according to a leading Russian officer, killed "like turkeys at a shooting range" in the town of Vuhledar, in eastern Ukraine. Putin responded laconically to the debacle. His 155th Marine Brigade, he said, was "performing as it should."
One of the many gifts that Zelensky and the Ukrainian people have provided in the past year is the example of their valor and their sanity. In the most heroic terms, they have drawn the line against delusion. Putin told Ukraine that it is not a nation. Ukraine has given its response. As Orwell wrote in his novel, "There was truth and there was untruth, and if you clung to the truth even against the whole world, you were not mad." 
https://www.newyorker.com/magazine/2023/02/27/as-ukraine-marks-a-grim-anniversary-what-has-vladimir-putin-achieved
Susan B. Glasser: The Ukraine Crackup in the G.O.P.
For nearly a full year, President Biden and a deeply divided U.S. Congress have responded to the horror of Russia's invasion of Ukraine with a strikingly bipartisan resolve. This near-unanimity held through an election year, and produced so many billions of dollars in military assistance—nearly fifty and counting—that, had one predicted such unprecedented sums a year ago, it would have seemed impossible. The united front for Ukraine has been a rare exception to the capital's polarized politics and, along with his successful rallying of nato allies to defend that country, perhaps Biden's signal foreign-policy accomplishment. Whenever he speaks on the war, the President emphasizes this. We are united, Biden said last week, in announcing that the United States now planned to send Abrams tanks to Ukraine. America is united and so is the world.
Except, of course, it's not really. Support for Biden's approach to the war is ebbing, particularly among Republicans. The new House Speaker, Kevin McCarthy, has warned there will be no blank check for Ukraine going forward, and a recent survey by the Pew Research Center found that forty per cent of Republicans and Republican-leaning independents think the U.S. is providing too much support to Ukraine, up from just nine per cent who thought that last March. Over all, the share of adults in both parties who believe the U.S. is doing too much for Ukraine has gone up nineteen points since the war began, a year ago. On Fox News, Tucker Carlson harps on this theme night after night. In the House, vocal McCarthy supporter Marjorie Taylor Greene, who has decried the neo-Nazis in Ukraine, blustered, after the G.O.P. won the House in November, that not another penny would go to their cause.
And speaking of bluster, there's Donald Trump, who has lately grown louder and louder on the subject of a Russian war that he initially praised as an act of genius by Vladimir Putin. In recent days, as he opens his official campaign to return to the White House, Trump has trashed Biden's handling of the war and criticized the decision to send the tanks. He's labelled Americans suckers for providing the bulk of aid to Ukraine. He's insisted he could negotiate an end to the conflict within twenty-four hours. He calls Biden weak while opposing Biden's efforts to send the weapons that make Ukraine stronger.
In a campaign e-mail this week, Trump even seemed to suggest that the American tanks—which will take many months to reach Ukraine—were somehow already responsible both for destroying Ukrainian cities and putting the world on the brink of nuclear war. Joe Biden is doing what he said ten months ago would cause World War III, sending American tanks into Ukraine, the statement quoted Trump as saying. Such a tragic waste of human life, when you look at all that's happening there. Those cities are obliterated. First, come the nukes. Then, come the tanks.
The statement, like a lot of Trump's Mar-a-Lago stylings, makes no sense if you try to actually understand what he is saying: Does he mean that nukes will be used in Ukraine, or perhaps that they already have been? How is it that the tanks are going to roll in after the nuclear apocalypse? It's all so confusing. An accompanying video from Trump has the tanks coming first, then the nukes. Whatever.
It would be easy to dismiss the pro-Russia, anti-Ukraine statements that so frequently emanate from the former President as the incoherent ramblings of a Florida retiree with a weird Putin fixation, if it weren't for two inconvenient facts: 1) Trump remains the front-runner for the 2024 Republican nomination; and 2) there is an increasingly empowered group of his acolytes on Capitol Hill and in the far-right media who agree with him. Also, he won't shut up about it. 
https://www.newyorker.com/news/letter-from-bidens-washington/the-ukraine-crackup-in-the-gop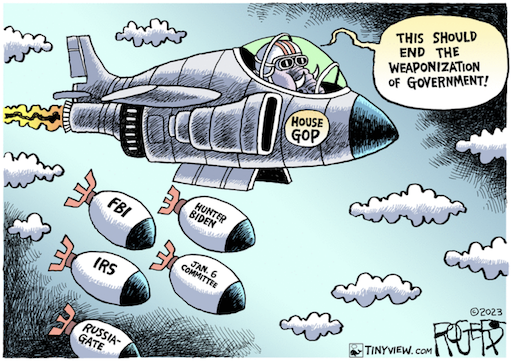 David Ignatius: What a year of war has revealed of three leaders
War reveals the essential traits of human character that shape events. Who could have imagined that a Ukrainian comic actor named Volodymyr Zelensky would prove to be the first truly heroic leader of the 21st century. Who would have bet that Putin, the canny and cynical ex-KGB officer, would grossly misread both intelligence and history and ransom his country to what amounted to a fairy tale about the oneness of Russia and Ukraine.
Perhaps most surprising of all, who would have bet that an 80-year-old U.S. president, a man who was garrulous, sentimental and sometimes appeared senescent, would turn out to the most undervalued American leader in modern times. President Biden's brave visit Monday to Kyiv was a defining moment in his presidency. Even conservative commentators who make a living trashing him had to be stirred by the sight of him standing in St. Michael's Square while air raid sirens wailed.
https://www.washingtonpost.com/opinions/2023/02/21/ukraine-war-anniversary-zelensky-biden-putin/