December 10, 2020
ON THE RECORD. . .
"They have not earned your vote. Don't you give it to them. Why would you go back and vote in another rigged election for god's sake! Fix it! You gotta fix it!" — Lin Wood, an Atlanta attorney who supports Trump, telling Georgia Republicans NOT to vote for Kelly Loeffler and David Perdue next month. VIDEO

"I just learned of absolute incontrovertible evidence of North Korean boats delivering ballots through a harbor in Maine, the state of Maine. If this checks out, if law enforcement looked into that and it turned out to be true, it would be proof of foreign involvement in the election." — Former Trump adviser Roger Stone

 So, for the president or anyone else to go out and allege widespread fraud and say the election is rigged, and the election was stolen, that obviously strikes at the very foundation of democracy here, and around the world for that matter. People watch America. If we can't have a free and fair election, how can they have it in other nations of the world?" — Sen. Mitt Romney (R-UT)

Trump must be ready "to immediately declare a limited form of Martial Law, and temporarily suspend the Constitution and civilian control of these federal elections, for the sole purpose of having the military oversee a national re-vote." — Former national security advisor Michael Flynn

"I hope you're watching Matt (Rep. Matt Gaetz) — you are not welcome in New Jersey, and frankly I don't ever want you back in this state." —New Jersey Gov. Phil Murphy (D) in a press briefing Friday after the congressman traveled to New Jersey for a Young Republicans event, in which no one was social distancing and no masks were in sight.

"If I lost, I would be a very gracious loser. If I lost, I would say 'I lost,' and I would go to Florida, and I would take it easy, and I would go around, and I would say I did a good job. But you can't ever accept when they steal, and rig, and rob. You can't accept it." — " Donald Trump at a campaign rally, a month after his 2020 election loss, to an energetic crowd in Georgia.

The Trump campaign had uncovered no significant fraud or irregularities and none of the states where Trump lost were close enough that a recount could plausibly change the results of the election. But the lawsuits keep coming and coming. They make much more sense when one thinks of them as about grift and delegitimizing the upcoming Biden presidency. — Rick Hase

The great divide in American political life right now is not between the left and right but between the hinged and the unhinged. The great divide in the American media are between those willing to call out the unhinged and those who want to pretend they don't exist. — Mehdi Hasan

"Why don't you guys jump and salute Ted Cruz and say, 'Yes, we want you on the team' now? My God, this is not a time for internecine nonsense on the part of the Republican Party, which is watching its blood drain into the streets because they're gutless!" — Fox Business host Lou Dobbs attacking WH adviser Stephen Miller for not doing enough to help Trump overturn the election.

I am willing to give my life for this fight. — Ali #StopTheSteal
He is. Are you? —Arizona Republican Party asking supporters if they are willing to give their lives in support of Trump's fight over the results of the election.
 

"Frankly, I don't know, and frankly, I'm staying out of this. I can't comment. I literally don't know."— Moncef Slaoui, the chief scientist of the Trump administration's Operation Warp Speed was unable to explain Trump's latest executive order, which aims to prioritize shipment of the coronavirus vaccine to Americans over other countries.

"Madness. This is madness. We have a process. Recounts are appropriate. Going to the court is appropriate. Pursuing every legal avenue is appropriate. But trying to get electors not to do what the people voted to do is madness." — Sen. Mitt Romney (R-UT), on Republican efforts to challenge the electoral vote.

Deadliest days in American history:
1. Galveston Hurricane – 8,000
2. Battle of Antietam – 3,675
3. Battle of Gettysburg – 3,155
4. September 11 – 2,977
5. Last Thursday – 2,861
6. Last Wednesday – 2,762
7. Last Tuesday – 2,461
8. Last Friday – 2,403
9. Pearl Harbor – 2,403

VIDEOS

Since Nov. 4, President Trump has repeatedly claimed his election loss as a result of massive fraud. The following is a roundup of his claims. https://wapo.st/3oj8e61

The Grinches of Georgia | Meidas Touch https://youtu.be/oDwZZZqCwR8

Michigan Hearings Cold Open - SNL: https://youtu.be/34-JCkVuKJ8

Weekend Update: Trump Loses Election Lawsuits - SNL: https://youtu.be/xkICrjAPDaY

Compilation of Sen. Kelly Loeffler saying "Radical Liberal Raphael Warnock" during Sunday's debate. https://twitter.com/martin_samoylov/status/1335824066666770433
---
IN THIS ISSUE
FYI
OPINION
1. Andy Borowitz: MyPillow Guy Joins with Trump to Promote MyPardon
In a limited-time offer to current and former White House staffers, Mike Lindell, better known as the MyPillow Guy, is joining forces with Donald J. Trump to promote a new product called MyPardon.

For $69.98, the price of a MyPillow, Trump associates will receive a preëmptive pardon rendering them immune from prosecution for all federal crimes.

Unlike MyPillow, which comes with a ten-year warranty, MyPardon is guaranteed for life, Lindell said.

"People wonder how someone who worked for Donald Trump can sleep at night," Lindell said. "With MyPardon, you'll sleep like a baby." https://www.newyorker.com/humor/borowitz-report/
2. Federal judge restores DACA, orders DHS to accept first-time applications from immigrants
U.S. District Judge Nicholas G. Garaufis in Brooklyn said he was fully restoring the eight-year-old Deferred Action for Childhood Arrivals, or DACA, program to the days before the Trump administration tried to end it in September 2017. He ordered the Department of Homeland Security to post a public notice by Monday to accept first-time applications and ensure that work permits are valid for two years. https://www.washingtonpost.com/immigration/daca-restored-dreamers/2020/12/04/37254908-367a-11eb-8d38-6aea1adb3839_story.html
3. The RNC Shelled Out $300K for Don Jr.'s New Book
The RNC paid more than $300,000 in October to a company owned by Donald Trump Jr. to purchase copies of his new, self-published book, "Liberal Privilege." https://www.thedailybeast.com/the-republican-national-committee-shelled-out-dollar300k-for-don-jrs-new-book
4. Florida governor suppressed Covid information before 2020 election to help Trump
FLA Governor Ron DeSantis - a stalwart ally of Donald Trump - reportedly tried to suppress negative information about the status of the state's coronavirus pandemic between early September and the 3 November general election.
The newspaper found that Mr DeSantis used his influence to direct a state's department of health to stop issuing public statements regarding Covid-19 between 3 September and 3 November.

The investigation alleges that Mr DeSantis's actions "suppressed unfavorable facts, dispensed dangerous misinformation, dismissed public health professionals, and promoted the views of scientific dissenters" who supported Mr DeSantis' response to the virus. https://news.yahoo.com/florida-governor-suppressed-covid-information-233841421.html
Ron DeSantis fired Rebekah Jones for telling the truth about the state's COVID numbers and refusing to juice the numbers. Then he sent armed police to her house to point guns at her and her family and confiscate her research. If you want to know what country Florida is in, well, we do too. More at https://amp.tallahassee.com/amp/6482817002
5. Trump fires Pentagon advisory board members, installs loyalists
Trump removed nine members of the Pentagon's Defense Business Board on Friday and installed people loyal to President Donald Trump in their place, including presidential allies Corey Lewandowski and David Bossie.
The firings marked the latest effort by the Trump administration to clean out the Defense Department in the final weeks of the president's term.
The firings came as a shock to the board members, who had not received any negative feedback or warning prior to their termination. One former board member lamented the move, noting that the board "has never been political, ever."
"You are talking about 15, 20 executives, business leaders, government leaders, who are giving their time to serve the nation and not even a thank you note," said the person, who asked not to be named. "It's just about simple gratitude and appreciation for people." https://www.politico.com/news/2020/12/04/pentagon-fires-business-advisory-board-members-442892
6. Voting rights groups alarmed after Cobb County cuts half of its early-voting sites for Ga. Senate runoffs
A decision by elections officials in Georgia's third-largest county to drastically reduce the number of early-voting sites for the crucial U.S. Senate runoffs has drawn the ire of several civil rights and voting rights groups.
Cobb County, which borders Atlanta on the west, will offer five polling sites when early voting begins Dec. 14. For the Nov. 3 general election, it had 11 locations to serve the county's more than 537,000 voters. https://www.washingtonpost.com/politics/2020/12/07/voting-rights-groups-alarmed-after-cobb-county-reduced-early-voting-sites-ga-senate-runoffs/#click=https://t.co/oIoDl2r4vi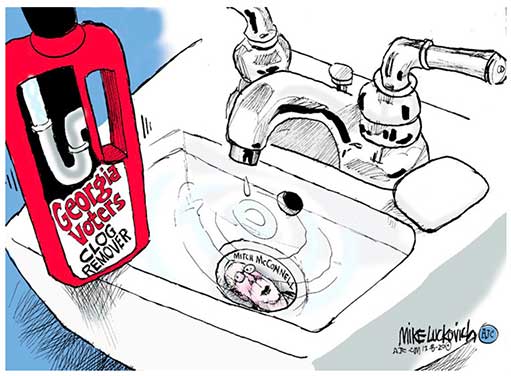 7. Trump Takes One Last Shot at Nature
Trump has long wanted to sell off drilling rights in America's public land and waters. In the 2018, the administration moved to open most coastal waters to drilling; though the proposal was later shelved, it aptly illustrates the president's commitment to exploiting nature for profit. The Arctic National Wildlife Refuge drilling plan has also been in the works for years. Trump's decision to rush ahead with it now, in the latter days of his presidency, is a direct challenge to President-elect Joe Biden — and to liberal activists.
Biden, who opposes plans to drill in the refuge, may find there's little he can do to reverse what Trump has set in motion. NPR reports that any sale finalized before Inauguration Day might be "difficult to revoke." That would be a fitting end to a one-term presidency marked by destruction, corruption, and wanton profiteering. https://nymag.com/intelligencer/2020/12/trump-has-the-arctic-national-wildlife-refuge-in-his-sights.html
8. Trump Pentagon nominee spreads debunked conspiracies and tweets suggesting Trump declare martial law.
Scott O'Grady, a former fighter pilot and Trump loyalist, repeatedly retweeted tweets that falsely stated Trump won the election in 'landslide fashion' and that millions of votes were stolen from the President. … O'Grady shared other debunked election conspiracies and … also degraded top military and intelligence officials.
In a radio interview, he called former President Barack Obama and military generals 'sworn socialists,' and advocated that the military justice system should bring back treason charges. He retweeted a tweet that called former Defense Secretary James Mattis a 'traitor.' … O'Grady was nominated by the White House to become an assistant secretary of defense for international security affairs at the Pentagon, a key position within the Department of Defense's policy shop. https://www.cnn.com/2020/12/04/politics/trump-nominee-pentagon-martial-law/index.html
9. The Extensive New Scale of David Perdue's Shady Stock Trading Revealed
Georgia Republican David Perdue has faced intense scrutiny over the last year for trading stocks while in office, including allegations that he used information that he gleaned in Senate hearings to buy pharmaceutical shares and sell others in live entertainment before the shutdown occurred. Now, a New York Times analysis published Wednesday reveals the scale of his stock trading as a senator, adding more examples of questionable dealing in office.
According to the report, Perdue has made up close to a third of all Senate trades reported since 2014, the year he came into office. He traded stocks, bonds, and funds about 2,600 times in six years — equal to the combined trading volume of the next five most-active traders in the Senate. While there's no evidence that Perdue traded on nonpublic information, which is a potential crime, there are new ethical questions surrounding his decision to trade where he legislates.
In addition to the DOJ investigation and the increased scrutiny over the very idea of senators being able to hold individual stocks, the post-election revelations could hurt both Perdue and fellow Georgia senator Kelly Loeffler as they face runoffs in January that will decide control of the Senate. https://nymag.com/intelligencer/2020/12/extent-of-david-perdues-shady-stock-trading-revealed.html
10. Trump's grievances feed menacing undertow after the election
The last throes of Donald Trump's presidency have turned ugly — even dangerous.
Death threats are on the rise. Local and state election officials are being hounded into hiding. A Trump campaign lawyer is declaring publicly that a federal official who defended the integrity of the election should be "drawn and quartered" or simply shot.
Neutral public servants, Democrats and a growing number of Republicans who won't do what Trump wants are being caught in a menacing postelection undertow stirred by Trump's grievances about the election he lost.
"Death threats, physical threats, intimidation — it's too much, it's not right," said Gabriel Sterling, a Republican elections official in Georgia who implored Trump to "stop inspiring people to commit potential acts of violence."
Trump in response only pressed his groundless case that he lost unfairly, neither discouraging trouble nor explicitly calling for it. https://apnews.com/article/election-2020-donald-trump-georgia-state-elections-elections-d928eb8507518e622114481a54216d73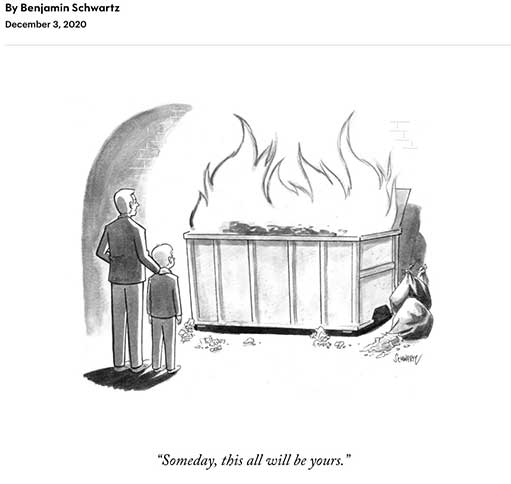 11. Trump escalates baseless attacks on election with 46-minute video rant
Escalating his attack on democracy from within the White House, President Trump on Wednesday distributed an astonishing 46-minute video rant filled with baseless allegations of voter fraud and outright falsehoods in which he declared the nation's election system "under coordinated assault and siege" and argued that it was "statistically impossible" for him to have lost to President-elect Joe Biden.
Standing behind the presidential lectern in the Diplomatic Reception Room and flanked by the flags of his office and of the country whose Constitution he swore an oath to uphold, Trump tried to leverage the power of the presidency to subvert the vote and overturn the election results. https://www.washingtonpost.com/politics/trump-election-video/2020/12/02/f6c8d63c-34e8-11eb-a997-1f4c53d2a747_story.html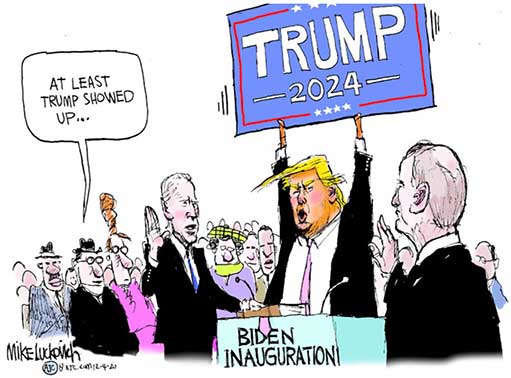 12. Politics Is Now the Trump Family Business
"Trump and his family are looking to cement their hold on the Republican Party with a series of moves aimed at putting themselves in influential places inside conservative circles," Business Insider reports.
"Donald Trump Jr. and his tight-knit team have been pondering taking control of the NRA. Jared Kushner has discussed developing a media outlet. Lara Trump is looking at running for Senate in North Carolina. And even Kimberly Guilfoyle could find a home at NewsMax." https://bluedelaware.com/2020/12/04/the-political-report-12-4-2020/
13. Trump campaign committees spent $1.1 million at Trump properties in the last days of his losing campaign
Trump's campaign and its affiliated committees spent more than $1.1 million at Trump's own properties in the last weeks of the 2020 campaign — continuing a pattern of self-enrichment in which Trump has converted $6.7 million from his campaign donors into revenue for his businesses since taking office, new campaign finance filings show. https://www.washingtonpost.com/politics/2020/12/04/trump-spending-properties/
14. Trump's bid to exclude immigrants from the 2020 census appears doomed
President Trump's determined effort to exclude undocumented immigrants from the 2020 census has been thwarted at every turn — by the courts, the coronavirus, the Constitution, and now by the clock.
Census Bureau documents released Wednesday by Democrats on the House Oversight Committee suggest that the final apportionment count won't be delivered to the president until at least Jan. 23, three days after President-elect Joe Biden takes office, because of at least 15 data anomalies affecting more than a million census records. Biden opposes Trump's proposed exclusion of non-citizens. https://theweek.com/speedreads/953049/trumps-bid-exclude-immigrants-from-2020-census-appears-doomed
15. Florida attorney under investigation after saying he is moving to Georgia to vote
Georgia officials tell Fox News they are investigating a Florida attorney for attempting to vote illegally in the state's Jan. 5 Senate runoff, after a video emerged of him stating his intent to move to Georgia temporarily and encouraging others to use his relative's address to do the same. https://www.foxnews.com/politics/florida-attorney-under-investigation-moving-to-georgia-to-vote
16. Christopher Krebs, a fired Trump official, sues the campaign and the lawyer who said he should be shot
In late November, one day after Christopher Krebs, the former head of the government's cybersecurity agency, went on "60 Minutes" to dispute President Trump's claims of fraud in the election, one of Mr. Trump's lawyers threatened him on television.
"He should be drawn and quartered," the lawyer, Joseph diGenova, said of Mr. Krebs on the conservative TV outlet Newsmax. "Taken out at dawn and shot."
On Tuesday, Mr. Krebs, who was fired by Mr. Trump last month, filed a lawsuit against Mr. diGenova accusing him and the Trump campaign of defamation and the infliction of emotional distress.
The lawsuit, which seeks monetary damages and the removal of the threatening video from the Newsmax archives, also made a far more extraordinary claim: that Mr. Trump, members of his legal team and Newsmax have been engaging in "a calculated and pernicious conspiracy" to defame and injure not just Mr. Krebs but other members of the Republican Party who have stood up against the president's baseless claims of fraud. https://www.nytimes.com/2020/12/08/briefing/chris-krebs-defamation-lawsuit.html
17. Bill Barr Just Set a Time Bomb for President Biden
Trump falsely labeled Special Counsel Robert Mueller's Mueller's investigation a "witch hunt." It wasn't. If you want to see what a real political witch hunt looks like, just look to lame duck AG/personal fixer Bill Barr's appointment this week of a special counsel meant to probe Joe Biden's administration before it even begins.
While Barr's order appointing Connecticut U.S. Attorney John Durham as special counsel is focused on any crimes connected to the opening of the FBI's investigation into Donald Trump's 2016 campaign, you're kidding yourself if you think it necessarily stops here. As a reminder, special prosecutor Kenneth Starr was appointed in August 1994 to investigate Clinton's real estate dealings ("Whitewater"), well over a year before Clinton even met then White House intern Monica Lewinsky and we saw how that worked out. https://www.usabreakingnews.net/2020/12/bill-barr-just-set-a-time-bomb-for-president-biden/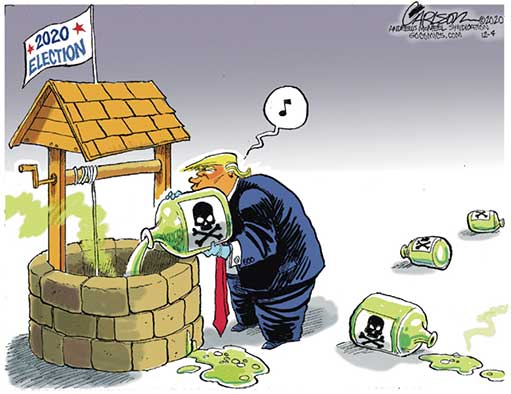 18. Disgraced Republican lawmaker planted no-party candidate in key Florida state Senate race, sources say
The confession came on election night.
Over drinks at an Irish pub in Seminole County, as television screens began to show the latest election results for key state Senate races, former Miami state Sen. Frank Artiles was getting excited.
Miami Republican Ileana Garcia, a first-time candidate, was leading Democratic incumbent Sen. Jose Javier Rodriguez in the race to represent Miami-Dade's Senate District 37. It was tight, but she was winning. And Artiles wanted to brag.
"That is me, that was all me," Artiles told a crowd at Liam Fitzpatrick's restaurant in Lake Mary, where state Sen. Jason Brodeur was holding his election night party, according to a person who was there and who asked to remain anonymous out of fear of retaliation.
Artiles boasted that he planted a no-party candidate in the Miami-Dade Senate race, which Garcia won after a three-day recount by just 32 votes out of more than 215,000 cast. Artiles recruited Alexis "Alex" Rodriguez, a longtime acquaintance and Facebook friend.
The no-party candidate with the same surname as the incumbent Democrat had been a registered Republican until just before his qualifying papers were filed to make him a candidate for the Florida Senate. He received 6,382 votes in the election.
Orchestrating the political play of recruiting no-party or third-party candidates to run in key races is a strategy that has been long used to influence elections. It is both one that Artiles has shared with others in the past and that prominent Florida Republicans have openly acknowledged to be part of their playbook. https://tribunecontentagency.com/tns_articles/disgraced-republican-lawmaker-planted-no-party-candidate-in-key-florida-state-senate-race-sources-say/
19. NY AG Letitia James vows to continue Trump investigation
New York Attorney General Letitia James has vowed to continue her office's investigation into President Donald Trump's businesses that are based in the state.
James issued a statement following a speech made by Trump at the White House Wednesday in which he quoted James without providing a source for the quotes attributed to her and blasted investigations into his business affairs.
Because some of Trump's businesses are in New York they fall under James' jurisdiction. Manhattan Distrct Attorney Cyrus Vance Jr. also has been conducting an investigation into Trump's business affairs. https://westfaironline.com/130755/ny-ag-james-vows-to-continue-trump-investigation/
20. Trump asks Pennsylvania House speaker for help overturning election results, personally intervening in a third state
Trump called the speaker of the Pennsylvania House of Representatives twice during the past week to make an extraordinary request for help reversing his loss in the state, reflecting a broadening pressure campaign by the president and his allies to try to subvert the 2020 election result.
The calls, confirmed by House Speaker Bryan Cutler's office, make Pennsylvania the third state where Trump has directly attempted to overturn a result since he lost the election. He previously reached out to Republicans in Michigan, and on Saturday he pressured GA Gov. Brian Kemp (R) to try to replace that state's electors.
The president's outreach to Pennsylvania's Republican House leader came after his campaign and its allies decisively lost numerous legal challenges in the state in both state and federal court. Trump has continued to press his baseless claims of widespread voting irregularities both publicly and privately. https://www.washingtonpost.com/politics/trump-pennsylvania-speaker-call/2020/12/07/d65fe8c4-38bf-11eb-98c4-25dc9f4987e8_story.html
21. Just 27 congressional Republicans acknowledge Biden's win
Just 27 congressional Republicans acknowledge Joe Biden's win over President Trump a month after the former vice president's clear victory of more than 7 million votes nationally and a convincing electoral-vote margin that exactly matched Trump's 2016 tally.
Two Republicans consider Trump the winner despite all evidence showing otherwise. And another 220 GOP members of the House and Senate — about 88 percent of all Republicans serving in Congress — will simply not say who won the election. https://www.washingtonpost.com/politics/survey-who-won-election-republicans-congress/2020/12/04/1a1011f6-3650-11eb-8d38-6aea1adb3839_story.html
22. Trump's Possible 2024 Bid Leaves Other GOP Candidates in a Bind
Trump's public and private musings about running again in 2024 are scrambling the calculus for the large field of fellow Republicans considering bids.
Most hopefuls have been quick to show deference. But it's unclear whether Mr. Trump, who refuses to concede his loss to President-elect Joe Biden, will follow through, and rivals either way will likely seek ways to remain viable.
Prospective GOP candidates don't want to risk alienating Mr. Trump's base by appearing to push him aside, but they also don't want to be left unprepared if he decides not to run. https://www.wsj.com/articles/trumps-possible-2024-bid-leaves-other-gop-candidates-in-a-bind-11607259600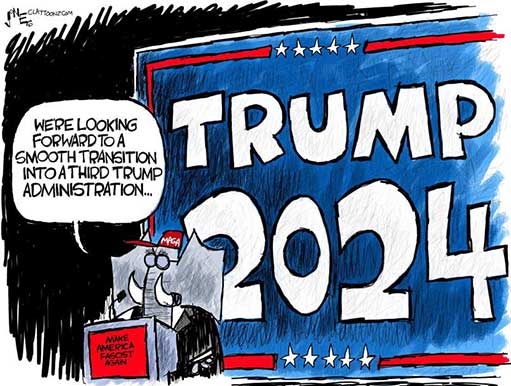 23. Trump's wild Inauguration Day exit
Trump is considering a made-for-TV grand finale: a White House departure on Marine One and final Air Force One flight to Florida for a political rally opposite Joe Biden's inauguration.
The former network star is privately discussing using his waning powers as commander in chief to order up the exit he wants after dissing Biden by refusing to concede the election, welcome him to the White House or commit to attending his inauguration. https://www.axios.com/trump-biden-inauguration-florida-rally-78b56134-54ae-4113-ad0a-ae29cd5c7be1.html
24. In new, Texas contests election results in Georgia, Wisconsin, Michigan, Pennsylvania
"Texas Attorney General Ken Paxton (R) is suing four battleground states — Georgia, Michigan, Pennsylvania and Wisconsin — whose election results handed the White House to President-elect Joe Biden.
In the suit, he claims that pandemic-era changes to election procedures in those states violated federal law, and asks the U.S. Supreme Court to block the states from voting in the Electoral College. https://www.texastribune.org/2020/12/08/texas-ken-paxton-election-georgia/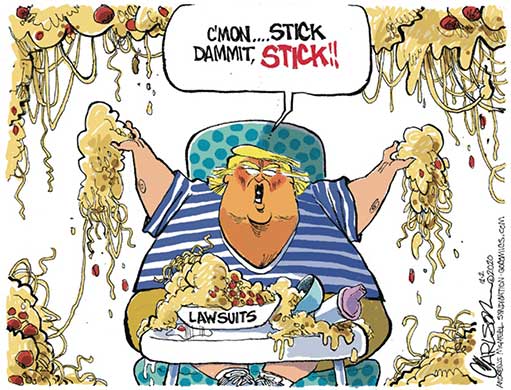 25. Trump administration officials passed when Pfizer offered months ago to sell the U.S. more vaccine doses.
Before Pfizer's coronavirus vaccine was proved highly successful in clinical trials last month, the company offered the Trump administration the chance to lock in supplies beyond the 100 million doses the pharmaceutical maker agreed to sell the government as part of a $1.95 billion deal months ago.
But the administration, according to people familiar with the talks, never made the deal, a choice that now raises questions about whether the United States allowed other countries to take its place in line. https://www.nytimes.com/live/2020/12/07/world/covid-19-coronavirus#trump-administration-officials-passed-when-pfizer-offered-in-late-summer-to-sell-the-us-more-vaccine-doses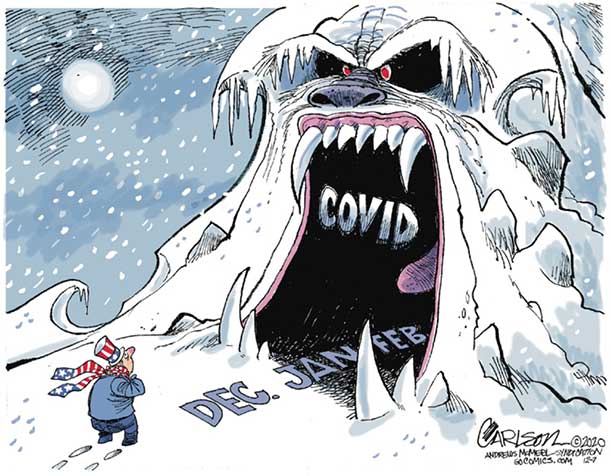 26. Trump ratchets up pace of executions before Biden inaugural
As Donald Trump's presidency winds down, his administration is ratcheting up the pace of federal executions despite a surge of coronavirus cases in prisons, announcing plans for five starting Thursday and concluding just days before the Jan. 20 inauguration of President-elect Joe Biden.
If the five go off as planned, it will make 13 executions since July when the Republican administration resumed putting inmates to death after a 17-year hiatus and will cement Trump's legacy as the most prolific execution president in over 130 years. He'll leave office having executed about a quarter of all federal death-row prisoners, despite waning support for capital punishment among both Democrats and Republicans. https://apnews.com/article/donald-trump-death-penalty-legacy-838932ac2b665b42373309336d130f56
27. Trump's false fraud claims are laying groundwork for new voting restrictions, experts warn
Even before the final votes in the 2020 election were tallied, President Donald Trump sent his attorneys to court alleging voter fraud.
When it became clear that he had lost to President-elect Joe Biden, his claims — and his campaign's court filings — accelerated. Trump attacked cities with large shares of Black voters, who had come out in force for Biden, while his lawyers baselessly alleged a global conspiracy and filed dozens of suits in six states.
The legal strategy failed in court after court — not a single incident of voter fraud has been proven in the lawsuits — but experts warn the narrative is laying the groundwork for disenfranchisement of voters across the country. https://www.nbcnews.com/politics/elections/trump-s-false-fraud-claims-are-laying-groundwork-new-voting-n1250059
28. Find Your Place in the Vaccine Line
The New York Times has a very cool interactive tool. https://www.nytimes.com/interactive/2020/12/03/opinion/covid-19-vaccine-timeline.html
29. The DAILY GRILL
"To date, we have not seen fraud on a scale that could have effected a different outcome in the election." — Attorney General Bill Barr

VERSUS

● "For the attorney general of the United States to make that statement — he is either a liar or a fool or both." — Fox Business host Lou Dobbs

● Barr had revealed himself as "totally deaf, dumb and blind." Barr's masquerade as someone opposed to the criminality of the Deep State" had been "exposed as a venal lie. You either fix the damn corrupt system or we will abandon you...Our days of tolerating betrayal are over." — The Gateway Pundit.

● "And you, Mr. Barr, are so deep in the swamp, you can't see beyond your fellow reptiles. And you are not the exceptional leader needed at this exceptional time in history." --Fox News host Jeanine Pirro

 

TRUMP, on Dominion Voting Systems electoral software used in many states: "When you look at who's running the company, who's in charge, who owns it — which we don't know — where are the votes counted — which we think are counted in foreign countries, not in the United States — Dominion is a disaster."

VERSUS

THE FACTS: Servers that run Dominion software are in local election offices, not in foreign countries. Claims that the company has foreign servers or ties to Germany or Venezuela are false.
 

I'm incredibly proud to have worked w/ @SecretarySonny to ensure ALL Americans have access to nutritious, fresh food grown on small farms. -- Ivanka Trump tweet.

VERSUS

A minor detail Ivanka failed to add: The Trump administration tried to strip approximately 700,000 people of their SNAP benefits in the midst of a global pandemic. And that the only reason it didn't end up doing so was because a judge intervened to these sick ghouls back in October. -- Vaniity Fair
30. From MEDIA MATTERS (They watch Fox News so you don't have to)
The staggering cost of the Scott Atlas debacle

Dr. Scott Atlas resigned from his post on the White House's coronavirus task force on Monday, ending an experiment in governance by Fox News that has caused skyrocketing COVID-19 cases, hospitalizations, and deaths, with even darker weeks ahead. 

Atlas' appointment in August represented the purest example of the disastrous impact of the feedback loop between President Donald Trump and Fox's propaganda. An unqualified ideologue launched to power because the president liked his Fox hits, under his guidance Trump oversaw a predictable and horrifying surge in the virus that repeatedly reached the White House itself. 

It was bad enough that Atlas' uninformed commentary was influencing Fox's viewers. But the situation was particularly dangerous because the president of the United States was one of those viewers. Atlas' Fox appearances, which validated Trump's impulse not to care about the virus, reportedly caught his eye, and the president began consulting him informally over the summer. Trump named him to the coronavirus task force in August, giving him a position alongside the nation's foremost public health experts.

The result proved nightmarish. https://www.mediamatters.org/coronavirus-covid-19/staggering-cost-scott-atlas-debacle
1. Susan Glasser: The President Is Acting Crazy, so Why Are We Shrugging It Off?
Since Trump's defeat, the MAGA revolution has begun devouring its own. As it does, some conservatives are discovering the downsides of having a president who spreads malicious conspiracy theories, subverts faith in democracy and turns the denial of reality into a loyalty test. As the internet meme goes, people voted for the Leopards Eating People's Faces Party, and now the leopards are turning on them.
Historically the American left, more than the right, was known for circular firing squads and excommunications. By turning the Republican Party into a cult of personality, Trump changed that. As the archconservative Jeff Sessions learned years ago, even a lifetime of ideological service is no defense when you've displeased Dear Leader.
People and institutions that get involved with Trump often end up diminished or disgraced. Since the election, this is happening faster than ever. The president is reportedly thinking of firing Attorney General Bill Barr because, for all Barr's obsequious toadying, he has declined to repeat Trump's fantasies about widespread electoral cheating. Much of the MAGA-verse has turned on Fox News, because its news programs aren't pretending that Trump won. https://www.newyorker.com/news/letter-from-trumps-washington/the-president-is-acting-crazy-so-why-are-we-shrugging-it-off
2. Peter Baker: Trump's Final Days of Rage and Denial
The final days of the Trump presidency have taken on the stormy elements of a drama more common to history or literature than a modern White House. His rage and detached-from-reality refusal to concede defeat evoke images of a besieged overlord in some distant land defiantly clinging to power rather than going into exile or an erratic English monarch imposing his version of reality on his cowed court.
And while he will leave office in 46 days, the last few weeks may only foreshadow what he will be like after he departs. Mr. Trump will almost certainly try to shape the national conversation from his Mar-a-Lago estate in Florida and his relentless campaign to discredit the election could undercut his successor, President-elect Joseph R. Biden Jr. Although many Republicans would like to move on, he appears intent on forcing them to remain in thrall to his need for vindication and vilification even after his term expires.
At times, Mr. Trump's railing-against-his-fate outbursts seem like a story straight out of William Shakespeare, part tragedy, part farce, full of sound and fury. Is Mr. Trump a modern-day Julius Caesar, forsaken by even some of his closest courtiers? (Et tu, Bill Barr?) Or a King Richard III who wars with the nobility until being toppled by Henry VII? Or King Lear, railing against those who do not love and appreciate him sufficiently? How sharper than a serpent's tooth it is to have a thankless electorate.
"This is classic Act V behavior," said Jeffrey R. Wilson, a Shakespearean scholar at Harvard who published the book "Shakespeare and Trump" this year. "The forces are being picked off and the tyrant is holed up in his castle and he's growing increasingly anxious and he feels insecure and he starts blustering about his legitimate sovereignty and he starts accusing the opposition of treason." https://www.nytimes.com/2020/12/05/us/politics/trump-presidency-election-loss.html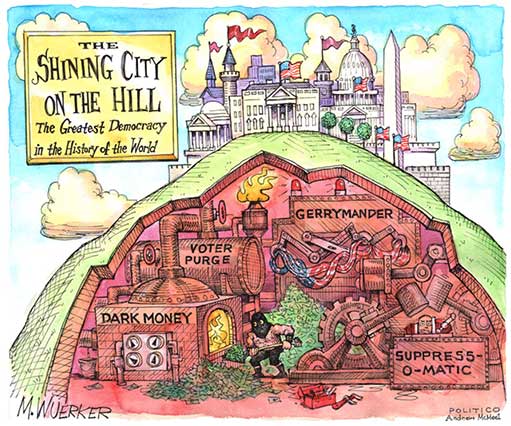 3. Chris Megerian: Trump's going out as he entered: Amid self-induced chaos
Trump is spending his final weeks in the White House much like he spent his first — indulging in delusions and spreading chaos.
He has threatened to veto the annual defense spending bill, which includes pay raises for troops and other essential funding, unless Congress includes an unrelated provision to punish social media companies that he claims are biased against him. He's planning a string of pardons even as newly unsealed court records reveal that federal authorities are investigating an alleged cash-for-pardons bribery scheme. He's refusing to back down from his faltering attempts to overturn Joe Biden's election victory, and reportedly considering firing his attorney general for not backing him up.
"He thinks that he won," said a source close to Trump who requested anonymity to discuss private conversations. Trump's unprecedented behavior as a lame-duck president is a final rebuttal to the persistent hopes of some supporters — and even some detractors — that he would grow into the world's most powerful job. Instead he's replaced the lies about the crowd size at his inauguration with lies about his votes for reelection, and this time undermined many Americans' faith in the democratic process.
"There is still plenty of time to certify the correct winner of the election, and that's what we're fighting to do," he said. https://www.latimes.com/politics/story/2020-12-02/trump-self-induced-chaos
4. Molly Jong-Fast: Fox News Is No Longer Insane Enough for Fox Viewers
For the last few years, Fox News' opinion shows have managed to skirt the edges of reality, pumping everything from insane conspiracy theories to white nationalist talking points. Who could forget when a Trump-appointed judge noted of Tucker Carlson, with regard to Carlson's ranting about Trump accuser Karen McDougal, that "whether the Court frames Mr. Carlson's statements as 'exaggeration,' 'non-literal commentary,' or simply bloviating for his audience, the conclusion remains the same—the statements are not actionable." But while the courts might consider Tucker too wacky to be believed, millions of Fox viewers consider his word to be gospel. This terrible disinformation clearinghouse wasn't a problem for Fox news until it was.
You see, Fox News created the perfect feedback loop, from their opinion hosts to their viewers. And one of those viewers was, theoretically at least, "the leader of the free world." For a while this worked beautifully for Fox (though less well for America as a whole). The president used his millions of Twitter followers to spread Fox News messaging. It was actually rather seamless. Of course there was this little problem that much of Fox News' news was highly exaggerated or just untrue, but that didn't bother Trump because Fox echoed (and perhaps created) a lot of these RNC talking points. Brian Stelter pointed out in his book Hoax that, "At 9 o'clock sharp, the president is watching Hannity deliver the talking points that they have already discussed."
The feedback cycle relied on Fox and Trump sharing the same reality. Which largely they did. Until they didn't.
Now, Fox News is having trouble keeping up with the unhinged product being peddled on other far right networks like One America News and Newsmax. Newsmax has leaned in to this, airing a commercial with Mike Huckabee. A voiceover says, "Fake news is a real problem, that's why millions turn to Newsmax," as a parade of right-wing faces, including Huckabee's, dances across the screen. This is, as Beast writer Justin Baragona points out, "a shameless play for Trump loyalists disenchanted with Fox News having called the election for President-elect Joe Biden and largely dismissed President Donald Trump's baseless allegations of a 'stolen'  election." https://www.thedailybeast.com/fox-news-is-no-longer-insane-enough-for-fox-viewers
5. Kim Wehle: The Trump Pardon Spree
Donald J. Trump is trashing even more of the Constitution on his way out the door. This time, it's Article II's pardon power.
No surprise there: Trump has long shown his eagerness to pardon his cronies. His pardon spree began, controversially, with Joe Arpaio, the former sheriff of Arizona's Maricopa County, who was convicted of criminal contempt for violating a court order directing him to halt his immigration roundup policy. Trump pardoned Arpaio in 2017. This past July, Trump commuted the sentence of his pal Roger Stone on seven felony counts.
Most recently, Trump gave a sweeping pardon to his former National Security Advisor Michael Flynn, who pleaded guilty twice to making false statements to the FBI and is implicated in a number of other potential no-no's, including secretly lobbying on behalf of Turkey.
Over the past couple of days, we learned that his "lawyer" Rudy Guiliani reportedly discussed a preemptive pardon with Trump; that Trump has floated pardons of his three eldest children; and that since August, the Department of Justice has been investigating a potential pardon-for-pay bribery scheme that it inadvertently uncovered in conducting a sweep of materials obtained through an unrelated subpoena.
Trump is likely to get away with this pardon spree, as well. The difference is that he could cement a precedent that converts the pardon power into a presidential license to commit federal crimes while in office. Although scholars mostly agree that the pardon power is vast and virtually limitless, there is no doubt that the Framers anticipated some measure of accountability for presidential crimes. The problem is that, these days, the other means of holding presidents accountable—including formal processes like congressional investigations and oversight, impeachment, and possibly even indictments, and also informal processes like political backlash and tarnished reputations—have become nullities.
Hamilton thus assumed that presidents would mostly do the right thing, and that additional checks are unnecessary. Sadly, history has proven him wrong. https://thebulwark.com/the-trump-pardon-spree/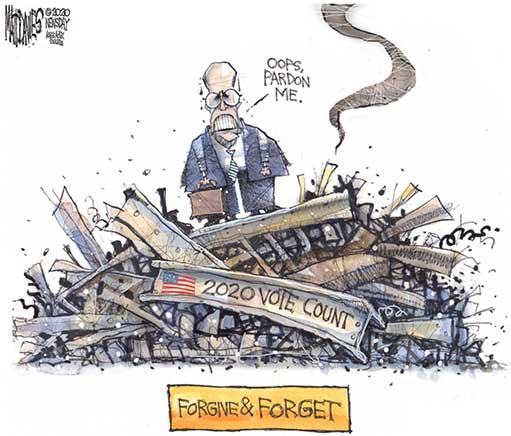 6. David Brooks: The Winter Mitch McConnell Created
If we can't get a -19 relief package through Congress in the next week or two, we're sunk. It means we have a legislative branch so ideologically divided it can't address even our most glaring problems. It means we have representatives so lacking in the willingness and ability to compromise that minimally competent government will be impossible, even under a President Joe Biden.
The problems a basic relief measure would address couldn't be more obvious. Under current law, up to 12 million Americans could lose their jobless benefits by year's end — a wretched Christmastime for millions of families, which could spawn a wave of depression, morbidity, family breakdown and suicide.
Millions of people could be evicted from their homes. Thousands more businesses may close during the long winter months before a vaccine is widely available. These are not failing, unproductive businesses. These are good, strong businesses that would have provided jobs and opportunity for millions of Americans for decades if they hadn't been hit by the pandemic. https://www.nytimes.com/2020/12/03/opinion/covid-relief-mitch-mcconnell.html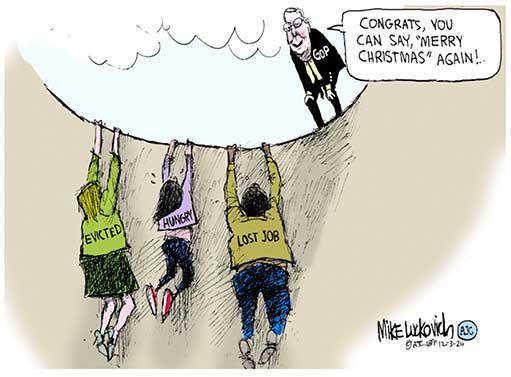 7. Virginia Heffernan: Who will Trump be when he leaves office?
What about the earnest concerns that Trump will keep Trumping when out of office? He no doubt will. But it's a lot easier to tune out a sadistic has-been in his late 70s holding court for last-gaspers on a fascist website than it is to ignore a belligerent commander in chief who sits on the country's nuclear arsenal and hands down catastrophic executive orders that have material consequences for everyone.
Trump, too, will soon be an emperor of nothing. Just as rappers divined from the start, he was only ever useful as a set of metaphors. And the memes that coalesced around him when he entered politics — including "MAGA," "perfect physical specimen" and "stable genius" — lose all potency when no longer backed by the real power of Ft. Knox, the U.S. military and the nuclear codes.
To say that Trump will sputter out like a pop idol is not to take away from the damage he's done, nor to ignore the cruelty in American culture that he has exploited. But it is to say that the outcome of last month's election is far from insignificant. The American people voted decisively to remove a dangerous driver from the extremely heavy machinery he has operated for far too long. That makes us winners. Trump without the office of the presidency is just Trump the meme — and a name that rappers have been rhyming with "slump" and "chump" for decades. https://www.latimes.com/opinion/story/2020-12-04/column-who-will-trump-be-when-he-leaves-office
8. Bess Levin: You'll Never Believe It but Trump and Kushner Businesses Got Millions in PPP Loans
Nearly four years after Donald Trump moved into the White House, there are a number of things we've come to expect from the administration, whose incompetence, chaos, and self-dealing is actually quite predictable. We can expect that the president will spend a significant portion of his day tweeting incomprehensible attacks on people deemed disloyal. We can expect that Stephen Miller will actively hatch unique ways to make immigrants' lives hell. And we can expect that, given the opportunity, Trump and his children will do everything they can to profit off the presidency, no matter how transparently shady and corrupt.
So, really, it was only a matter of time before we learned that businesses owned by Trump and by his son-in-law's family received millions of dollars in pandemic relief loans. Or that, despite the fact that the money was in large part meant to keep employees from being laid off, only a handful of employees at Trump and Kushner–owned companies were kept on the payroll. Per NBC News:
Over 25 PPP loans worth more than $3.65 million were given to businesses with addresses at Trump and Kushner real estate properties, paying rent to those owners. Fifteen of the properties self-reported that they only kept one job, zero jobs, or did not report a number at all.
Trump, of course, chose not to divest from his company upon becoming president, and continues to profit from it—profits that have gotten a nice boost thanks to his insistence on hosting foreign leaders at his properties, gouging the Secret Service, and charging taxpayers for water he drinks at Mar-a-Lago, among other things. Kushner, along with Ivanka, made at least $36 million last year, largely through his stake in his family's real estate firm. (In 2017, the duo reported income of at least $82 million, so times are obviously tough.)
In addition to revealing the loans to the Trump and Kushner businesses, the PPP data showed ridiculous mismanagement of the program, with over 100 loans going to companies with no name listed and other companies appearing to game the system for loans as high as $10 million through their subsidiaries.
"Many months and broken promises later, the court-ordered release of this crucial data while the Trump administration is one foot out the door is a shameful dereliction of duty and flagrant mismanagement of a program that millions of workers and small businesses needed to get through this pandemic," Kyle Herrig, president of Accountable.US, an accountability watchdog, said in a statement. https://www.vanityfair.com/news/2020/12/trump-and-kushner-businesses-got-millions-in-coronavirus-ppp-loans
9. Peter Baker: Trump's Final Days of Rage and Denia
The final days of the Trump presidency have taken on the stormy elements of a drama more common to history or literature than a modern White House. His rage and detached-from-reality refusal to concede defeat evoke images of a besieged overlord in some distant land defiantly clinging to power rather than going into exile or an erratic English monarch imposing his version of reality on his cowed court.
On Saturday night, Mr. Trump took his unreality show to Georgia for his first major public appearance since the Nov. 3 election. A rally to support two Republican senators in a runoff next month offered a high-profile opportunity to vent his grievances and promote his false claims that he was somehow cheated of a second term by a vast conspiracy.
"You know we won Georgia, just so you understand," he told supporters in a state that he lost by 12,000 votes, adding that he actually won other states where in fact he lost too. "They cheated and they rigged our presidential election, but we will still win it," he declared as he pressured Republican state officials to overturn the results. "We just need somebody with courage to do what they have to do."
At times, Mr. Trump's railing-against-his-fate outbursts seem like a story straight out of William Shakespeare, part tragedy, part farce, full of sound and fury. Is Mr. Trump a modern-day Julius Caesar, forsaken by even some of his closest courtiers? (Et tu, Bill Barr?) Or a King Richard III who wars with the nobility until being toppled by Henry VII? Or King Lear, railing against those who do not love and appreciate him sufficiently? How sharper than a serpent's tooth it is to have a thankless electorate. https://www.nytimes.com/2020/12/05/us/politics/trump-presidency-election-loss.html
10. Michael Hiltzik: Republicans are complaining (again) about the budget deficit
In the time-world of political hypocrisy, you can set your watch by how quickly after the election of a Democrat as president the Republican congressional caucus starts whining about the federal budget deficit.
This phenomenon has surfaced already, a mere month after the election.
As political scientist Daniel Drezner of Tufts University has observed,, "It has been a truism in American politics for the past 30 years that: a) when the GOP does not control the executive branch they are very concerned about deficits (see: Contract With America, tea party); and b) that deep distress about deficits magically evaporates once a Republican is elected president (see: Bush 43, Trump)."
Republicans have seldom even tried to conceal the cynicism of their deficit concerns. The year after passing a tax cut that blew a hole of more than $1.5 trillion in the federal budget, Senate Majority Leader Mitch McConnell (R-Ky.) was claiming that "entitlements" — Social Security, Medicare and Medicaid — were "the real drivers of the debt" and had to be adjusted "to the demographics of the future."
It's proper, then, to drill down through GOP rhetoric about the sin of higher deficits to unearth the real underlying goals.
They don't really care about deficits — they just want to raid the treasury to provide more money for their rich patrons, at the expense of ordinary Americans who genuinely need help. Any policymaker, journalist or pundit who fails to see through this charade needs to find another line of work. https://www.latimes.com/business/story/2020-12-04/republicans-budget-deficit
11. Helaine Olen: Joe Biden's 'Groundhog Day' moment
Once again, a new president is coming onto the scene as the country faces a dire economic crisis. Millions of Americans are losing jobs through no fault of their own. State and municipal revenues are cratering, leading to further layoffs. In place of the foreclosure crisis, the nation is now on the brink of an eviction crisis, as moratoriums are set to expire at the end of the year.
The economy is rapidly shifting, and many Americans could possibly face long-term unemployment, even after the original crisis (in 2008, a financial one, in 2020, a medical catastrophe) has passed. Instead of one long downturn, it's quite possible the nation is on the brink of a double-dip recession.
And Republicans, once again, are in no mood to cooperate. In fact, they are are actively making a bad situation worse. The leadership — with Senate Majority Leader Mitch McConnell (Ky.) in a repeat role — makes the right noises but doesn't actually do anything to make legislation happen. Instead of complaining about "losers" who expected to be bailed out by their neighbors when they bought homes they could not afford, the popular meme this go-round is about people who would rather collect unemployment than work for a living. https://www.washingtonpost.com/opinions/2020/12/05/joe-bidens-groundhog-day-moment/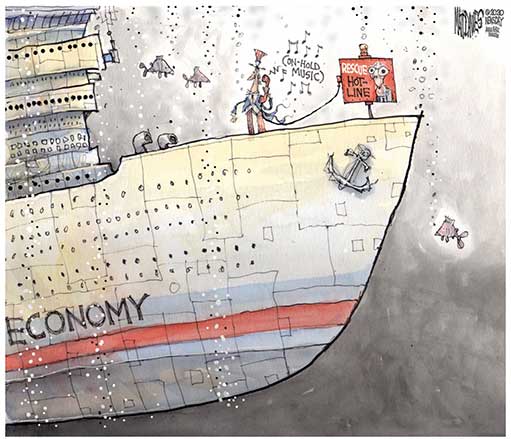 12. James Fallows: How Biden Should Investigate Trump
As he prepares to occupy the White House, President-elect Joe Biden faces a decision rare in American history: what to do about the man who has just left office, whose personal corruption, disdain for the Constitution, and destructive mismanagement of the federal government are without precedent.
Human beings crave reckoning, even the saintliest among us. Institutions based on rules and laws need systems of accountability. People inside and outside politics have argued forcefully that Biden should take, or at least condone, a maximalist approach to exposing and prosecuting the many transgressions by Donald Trump and his circle—that Biden can't talk about where America is going without clearly addressing where it has been. 
Chronicling what went wrong under Trump has already generated tens of millions of words—and has barely begun. Works in this genre may eventually rival Civil War histories in their volume and their depictions of barely avoided national ruin. Daniel Dale, of the Toronto Star and then CNN, compiled a master list of false statements from Trump's speeches, tweets, and other utterances, until he found, just before the 2020 election, when his list numbered almost 10,000, that he could no longer keep up. Last September, a nonprofit group called Citizens for Responsibility and Ethics in Washington released a compilation of 3,400 instances of corruption or conflicts of interest involving Trump and his family, any handful of which would have been considered scandalous and disqualifying in other administrations. The disproportion between Trump offenses and past political scandals may seem like a tired point, but it has been "normalized" enough by its fire-hose nature that the sense of outrage inevitably fades. https://www.theatlantic.com/magazine/archive/2021/01/how-biden-should-investigate-trump/617260/
13. Former federal judge J. Michael Luttig: No, President Trump can't pardon himself
The pardon clause's language is broad indeed, unambiguously allowing the president to pardon seemingly any other person convicted for any federal criminal offense. But its language does not unambiguously include the president himself. Had the Framers intended to give the president such broad power, we would expect them to have clearly said so. After all, the new nation was in the process of rejecting a monarchical government in favor of a democratic republic.
Instead, the words they chose to confer the pardon power on the president contemplate his granting of reprieves and pardons only to persons other than himself. The word "grant" connotes a gift, bestowal, conferral or transfer by one person to another — not to himself. That would have been the understanding of this word at the time of the Constitution's drafting, and it is how the term "grant" was understood and is used elsewhere in the Constitution. https://www.washingtonpost.com/opinions/no-president-trump-cant-pardon-himself/2020/12/07/774c7856-38d9-11eb-98c4-25dc9f4987e8_story.html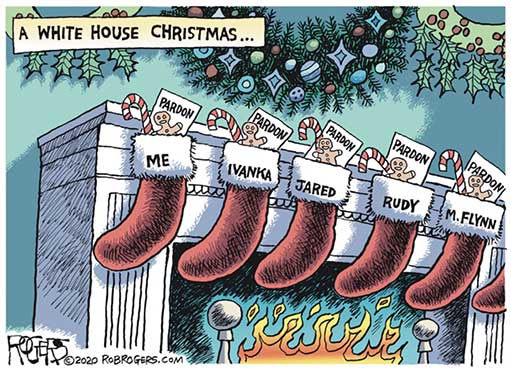 14. Sarah Jones: Trump Is Killing People on His Way Out of the White House
At this time of year, most people are making holiday plans. Donald Trump will mark the season a different way: by killing people. The Associated Press reported on Monday that Trump's administration will ramp up federal executions ahead of departing the White House. The Justice Department plans to execute five people in federal prison sentenced to death before President-elect Joe Biden assumes office on January 20. If all five executions take place, the administration will have killed 13 people since July alone. That would "cement Trump's legacy as the most prolific execution president in over 130 years," the AP observed.
It's difficult to imagine a more fitting epitaph for the Trump presidency. To Trump and his enablers, the lives of others were never worth much. When migrants died in ICE custody, the administration remained silent. The COVID-19 dead he barely acknowledges and, indeed, really can't, as long as he wants to pretend that the pandemic isn't so bad. But a handful of deaths could matter. When Trump needed proof of the innate criminality of immigrants, he turned to Angel Moms, the parents of children killed by undocumented immigrants.
Death has another use for Trump, and it's to prove his mettle as a law-and-order president. But his administration's approach to capital punishment may further undermine arguments in its favor. Trump's intense commitment to the death penalty reveals the risks inherent in granting the state the power to kill. At both the state and federal levels, the application of capital punishment is "capricious," as Intelligencer's Zak Cheney-Rice wrote earlier this year. The fickle qualities of this form of justice were advertised as soon as the Trump administration resumed federal executions in July after a 17-year hiatus. https://nymag.com/intelligencer/2020/12/trump-cranks-up-executions-on-his-way-out-of-the-white-house.html