September 8, 2022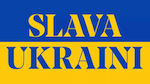 If you have a friend, family member, or neighbor who would like to subscribe to this FREE weekly newsletter they should simply email jellison@san.rr.com with "subscribe" as the subject.
THE WEEK'S BEST QUOTES. . .
The ranked choice voting system "is a scam to rig elections." --
Sen. Tom Cotton (R-AR)
after Mary Peltola (D) defeated Sarah Palin (R) in Alaska's special election.
https://twitter.com/tomcottonar/status/1565139540834222080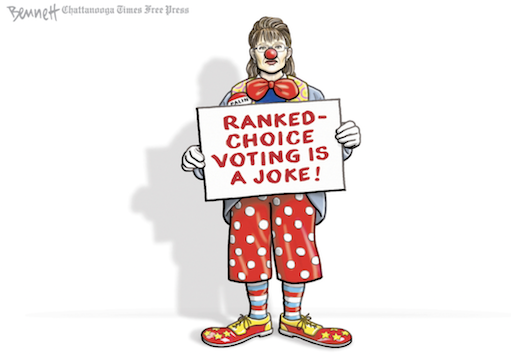 "It seems to me they were driven by concern about highly sensitive information being strewn all over a country club, and it was taking them almost two years to get it back. Trump's request for an independent review of the material: "I think it's a crock of shit. I don't think a special master is called for." —

Former Attorney General William Barr

dismissing Donald Trump's call for an independent review of materials seized from his Florida home. https://www.nytimes.com/2022/09/02/us/politics/barr-trump-special-master.html

"Wow! Fox News is really pushing the Democrats and the Democrat agenda. Gets worse every single day. So many Dems interviewed with only softball questions, then Republican counterparts get creamed." —

Donald Trump

  https://truthsocial.com/@realDonaldTrump/posts/108942350257255290

Rep.-elect Mary Peltola's (D-AK) first television ad of the general election is all about the Supreme Court's repeal of Roe v. Wade, framed in libertarian language about "personal privacy rights" and government intrusion. https://www.youtube.com/watch?app=desktop&v=lL9jELg4FSo

"Trump is attacking law enforcement and yet again using language he knows will provoke violence. Only one group of Americans has a chance to diminish this danger — Republicans. If my fellow Republicans fail to step up to stop this, they will share the blame for all that follows." — Rep. Liz Cheney (R-WY). https://twitter.com/Liz_Cheney/status/1566449013011783680

South Carolina state Rep. Doug Gilliam (R) claimed that a 12-year old rape victim still "had choices" to get an abortion despite a new abortion ban, noting "the morning after pill was available… that's available in Walmart." When asked, "If her dad rapes her and she's carrying the child, who drives her to get the morning after pill?" Gilliam responded: "The ambulance." https://twitter.com/phillipjford/status/1565786564805988353

"I've got to know a lot of the foreign leaders, and let me tell you, unlike our leader, they're at the top of their game. President Xi rules with an iron fist, 1.5 billion people, yeah I'd say he's smart. Wouldn't you say he's smart? Putin, "fierce" and "smart." —  Donald Trump praising Russian President Vladimir Putin and Chinese President Xi Jinping during a rally in Pennsylvania - but, unsurprisingly, not mentioning the Ukraine president, Volodymyr Zelenskyy.
https://twitter.com/Acyn/status/1566227176617394177
A Jan. 6 rioter turned in by his ex-girlfriend after he called her a "moron" because she didn't believe Donald Trump's lies about the 2020 election was sentenced to nine months in federal prison on Tuesday.
https://www.nbcnews.com/politics/justice-department/jan-6-defendant-turned-ex-called-moron-gets-nine-months-prison-rcna46501
District Court Judge Aileen Cannon's decision to grant Donald Trump's request to appoint a special master to review the evidence seized from Mar-a-Lago undermines the work of all the other judges who have tried to adhere to their oath to "administer justice faithfully and impartially." Her ruling is untethered to the law and presents a skewed recitation of the facts.
Her actions make the question 'Who appointed the judge?' a sadly relevant one in evaluating a judicial opinion.
—
Andrew Weissmann
https://www.theatlantic.com/ideas/archive/2022/09/judge-cannon-trump-mar-a-lago-special-master/671349/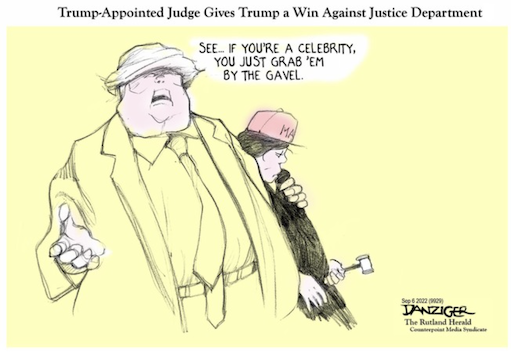 Just to be clear, this is not a controversial statement: Judge Cannon has ruled that the attorney general of the United States may not look at lawfully seized fruits (nobody says otherwise) of a criminal investigation. That itself is a breathtaking overreach. -- Harry Litman https://twitter.com/harrylitman/status/1566969153021706240

"I can't believe we're still talking about this, but my emails… The fact is that as Trump's problems continue to mount, the right is trying to make this about me again. There's even a "Clinton Standard. The fact is that I had zero emails that were classified." — Hillary Clinton  https://twitter.com/HillaryClinton/status/1567164268172173315

VIDEOS

Trump claims without evidence that "John Fetterman supports taxpayer-funded drug dens and the complete decriminalization of illegal drugs, including heroin, cocaine, crystal meth, and ultra lethal fentanyl. By the way, he takes them himself." — Donald Trump. https://twitter.com/atrupar/status/1566228387391311873

"Most Republican candidates don't want anything to do with Donald Trump in this general election. They want this to be about Joe Biden and the Democrats, but to the extent Trump inserts himself into this conversation, he's giving the Democrats a major gift right now." — Former Rep. Charlie Dent (R-PA). https://thehill.com/homenews/campaign/3628906-former-gop-rep-trump-gave-democrats-major-gift-with-speech-in-pennsylvania/

Ted Cruz knew. Lindsey Graham knew. Marco Rubio knew. Rand Paul knew. Kellyanne Conway knew. Mike Pompeo Knew. Nikki Haley knew. Glenn Beck knew. Rick Perry knew. Susan Collins knew. They all knew!! -- Nov, 2020 Video https://twitter.com/dnwgta/status/1331250125071667205
Inflation affects women more than men because "they gotta buy groceries." -- U.S. Senate candidate Herschel Walker (R). https://twitter.com/patriottakes/status/1565101157185474560

Gov. Greg Abbott dismissed discussions about raising the age to buy assault-style weapons from 18 to 21, arguing that doing so has already been ruled unconstitutional. https://twitter.com/chron/status/1565375689641152512

"I believe people should just, just be ready to get out on the streets with pitchforks and torches with how low the liberal media has become.  — Wisconsin gubernatorial candidate Tim Michels (R), who was endorsed by Donald Trump. https://apnews.com/article/abortion-2022-midterm-elections-entertainment-health-donald-trump-79e3632493fb8c30a1edeb5e53844992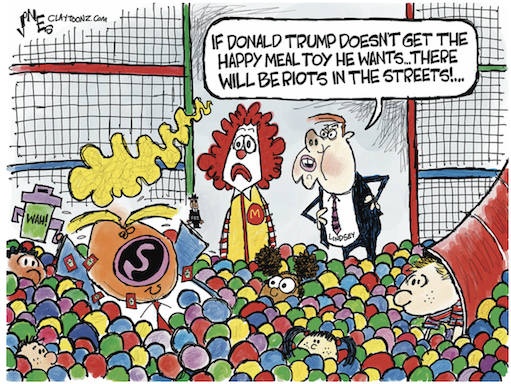 "This may be a paperwork issue." —

Jared Kushner

offered up a new explanation to Sky News for why Donald Trump had top secret documents at Mar-a-Lago. https://twitter.com/KayBurley/status/1565588802462261248
Meanwhile in Russia: watch these highlights from today's state TV shows. The Kremlin's pet propagandists hate America, love Trump, find him "incredible," say they place all of their hope in him and Russia should continue to support "its candidate." https://twitter.com/JuliaDavisNews/status/1567001382648963073
LITIGATION TRACKER
Pending Criminal and Civil Cases Against Donald Trump
. 
https://www.justsecurity.org/75032/litigation-tracker-pending-criminal-and-civil-cases-against-donald-trump/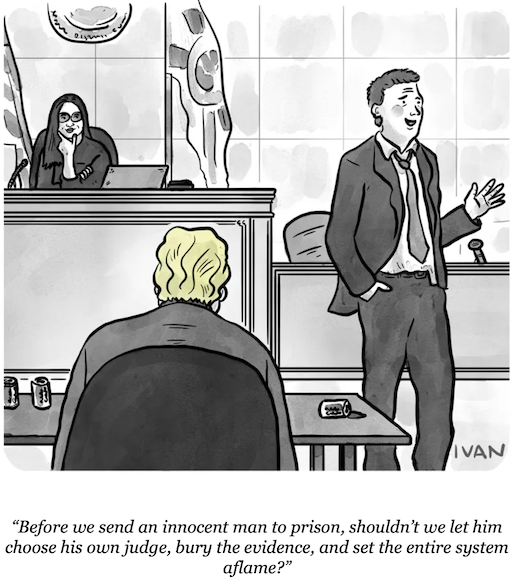 ---
IN THIS ISSUE
IN THE NEWS
OPINION
Andy Borowitz: Nation's Armed Insurrectionists Say Biden's Speech Hurt Their Feelings
Calling President Biden's recent prime-time address "deeply offensive and upsetting," a group representing the nation's armed insurrectionists has complained that the speech hurt their feelings.

The group, the National Society of Heavily Armed Insurrectionists, is one of the most prominent associations of insurrectionists and rioters in the country, experts say.

Harland Dorrinson, the executive director of the N.S.H.A.I., said that insurrectionists across the country watched Biden's speech "in a state of profound distress."

"Insurrectionists felt that Biden was really singling them out and bullying them," he said. "The entire speech was extremely triggering from an insurrectionist point of view."

Dorrinson said that he hoped that, in the future, Biden would "choose his words more carefully" and avoid saying things that might sadden America's heavily armed insurrectionists.

"The media has offered a very distorted view of us," he said. "They relentlessly show us storming the Capitol, using flagpoles to smash windows, and vandalizing congressional offices. But insurrectionists have feelings, too." https://www.newyorker.com/humor/borowitz-report/
Elected officials, police chiefs on leaked Oath Keepers list
The names of hundreds of U.S. law enforcement officers, elected officials and military members appear on the leaked membership rolls of a far-right extremist group that's accused of playing a key role in the Jan. 6, 2021, insurrection at the U.S. Capitol, according to a report released Wednesday.
The Anti-Defamation League Center on Extremism pored over more than 38,000 names on leaked Oath Keepers membership lists and identified more than 370 people it believes currently work in law enforcement agencies — including as police chiefs and sheriffs — and more than 100 people who are currently members of the military.
It also identified more than 80 people who were running for or served in public office as of early August. The membership information was compiled into a database published by the transparency collective Distributed Denial of Secrets.
The data raises fresh concerns about the presence of extremists in law enforcement and the military who are tasked with enforcing laws and protecting the U.S. It's especially problematic for public servants to be associated with extremists at a time when lies about the 2020 election are fueling threats of violence against lawmakers and institutions. https://apnews.com/article/oath-keepers-leaked-membership-rolls-2ca4195ed3a10e45dd189bf98f3e5a26Divergent
Realities Challenge Biden's Defense of Democracy
The Republicans' reaction to Mr. Biden's speech was remarkable. For years, they stood quietly by as Mr. Trump vilified and demonized anyone who disagreed with him — encouraging supporters to beat up protesters; demanding that his rivals be arrested; accusing critics of treason and even murder; calling opponents "fascists"; and retweeting a supporter saying "the only good Democrat is a dead Democrat." But they rose up as one on Thursday night and Friday to complain that Mr. Biden was the one being divisive. https://www.nytimes.com/2022/09/02/us/politics/trump-biden-democracy.html
Biden has tamped down talk of a primary challenge, for now
Many of the voices urging — or nudging —Biden to step aside seem to have quieted, at least for now. After a string of legislative and policy wins applauded especially by liberals, along with dropping gas prices and rising poll numbers, more Democrats are accepting that Biden will likely be the party's standard-bearer for one more presidential election. https://www.washingtonpost.com/politics/2022/09/02/biden-primary-challenge-fades/
What the F.B.I. Seized From Mar-a-Lago
A court filing unsealed on Friday included a detailed inventory of the material that the F.B.I. removed in its Aug. 8 search of former President Donald J. Trump's office and storage area at Mar-a-Lago, his residence and private club in Florida. Among the items seized, according to the list, were 18 documents marked as top secret, 54 marked as secret, 31 marked as confidential and 11,179 government documents or photographs without classification markings. Forty-eight empty folders marked as having contained classified information were also taken, though the list did not specify whether that information was recovered. https://www.nytimes.com/interactive/2022/09/03/us/fbi-mar-a-lago-documents.html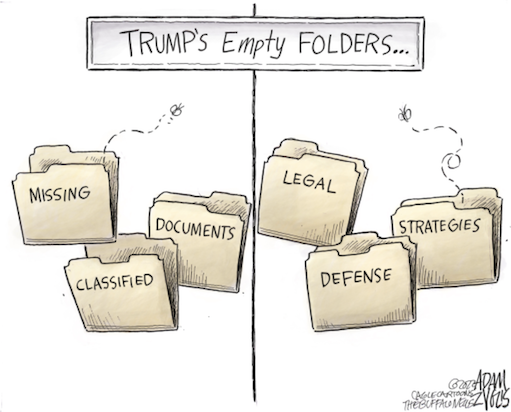 White House seeks $47 billion for covid, monkeypox, Ukraine and floods
The Biden administration on Friday asked Congress to approve more than $47 billion in new emergency funds this fall to combat the coronavirus, secure new monkeypox vaccines, bolster Ukraine's defenses and respond to devastating floods in Kentucky.

The official request sets up a fierce fight on Capitol Hill, where warring Democrats and Republicans face a looming, end-of-September deadline by which they must fund the government — or risk a catastrophic shutdown weeks before the midterm elections. https://www.washingtonpost.com/us-policy/2022/09/02/white-house-emergency-supplemental-funding/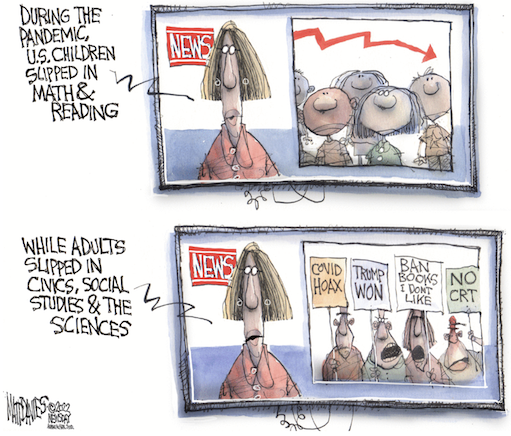 Veterans Affairs to Provide Abortion Services for Health Dangers, Rape and Incest
The Department of Veterans Affairs, for the first time in its history, will provide abortion services and counseling to veterans in cases of health dangers, rape and incest, including at federal facilities in states that have outlawed the procedure.

The department, whose healthcare reach spans the country and U.S. territories, announced the policy in an interim final rule Friday that it said allows for immediate implementation of the new policy.

Pregnant veterans and VA beneficiaries deserve to have access to world-class reproductive care when they need it most, VA secretary Denis McDonough said. That's what our nation owes them, and that's what we at VA will deliver.

The policy is the latest signal that the Biden administration is aiming to challenge states that have banned or heavily restricted abortion since the Supreme Court's decision in June that overruled Roe v. Wade and ended the constitutional right to the procedure.

The VA said that if clinicians face legal action in states where abortion has been outlawed, the Justice Department will step in. If it ever becomes necessary, VA will work with DOJ to ensure the full strength of the federal government is available to defend eligible VA employees, a VA spokesman said. https://www.wsj.com/articles/veterans-affairs-to-provide-abortion-services-for-health-dangers-rape-and-incest-11662135780
Trump vows pardons, government apology to Capitol rioters if elected
Former president Donald Trump said he would issue full pardons and a government apology to rioters who stormed the U.S. Capitol on Jan. 6, 2021, and violently attacked law enforcement to stop the democratic transfer of power.

Said Trump: I mean full pardons with an apology to many.

He added: I am financially supporting people that are incredible and they were in my office actually two days ago, so they're very much in my mind. It's a disgrace what they've done to them. What they've done to these people is disgraceful. https://www.washingtonpost.com/national-security/2022/09/01/trump-jan-6-rioters-pardon/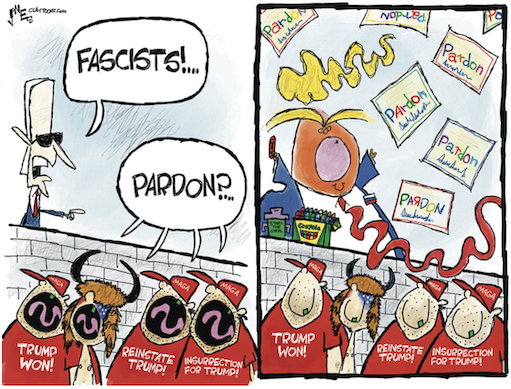 Figuring out how many 'MAGA Republicans' there actually are
Philip Bump does the math and finds that about 10% of the U.S. population — plus or minus a few percentage points — favor of the positions of what President Biden called MAGA Republicans.

If one agrees with Biden that this group poses a threat to American democracy, it is reassuring that it constitutes a tenth of the public — and not, as Biden's detractors had it — half. https://www.washingtonpost.com/politics/2022/09/02/trump-republicans-biden-maga/
Lawmakers warn of potential political violence in campaign's homestretch
National leaders are warning of the potential for political violence as campaign rhetoric heats up, fueled by an FBI investigation into Donald Trump's handling of classified documents that has generated a furious backlash from him and his supporters.

With less than 10 weeks to go before the midterm elections, the political climate is increasingly volatile, experts who study extremism say. Federal agencies like the IRS, FBI and National Archives are beefing up security as they become targets of the right. Lawmakers are disclosing threats and openly predicting violence; one even says that it has become too dangerous to hold public events and that she feels the need to shield her family from harm. https://www.nbcnews.com/politics/2022-election/lawmakers-warn-potential-political-violence-campaigns-homestretch-rcna45625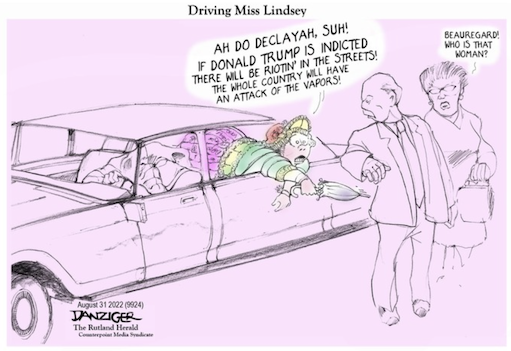 Lukoil Chairman Ravil Maganov is the 8th Russian energy executive to die suddenly this year
The death of Ravil Maganov, chairman of Russian oil giant Lukoil, at a hospital in Moscow appears to mark the eighth time this year that a Russian energy executive has died suddenly and under unusual circumstances.

Maganov died Thursday after falling out of a window of the capital's Central Clinical Hospital, according to the Russian state-sponsored news outlet Interfax. The circumstances of Maganov's death were confirmed by Reuters, citing two anonymous sources. The oil company, and its chairman, had been critical of the Ukraine war, expressing disapproval in a statement on March 3. https://www.cnbc.com/2022/09/01/lukoil-chairman-ravil-maganov-is-the-8th-russian-energy-executive-to-die-suddenly-this-year.html
Wis. activist who said voter fraud is easy to commit faces election charges
Prosecutors brought voter fraud charges Thursday against a man who ordered absentee ballots in the names of two others to bolster his claims that breaking election laws is easy.

On Thursday, Wisconsin Assistant Attorney General Susan Happ charged Wait with two felony counts for the unauthorized use of personally identifiable information and two misdemeanor counts of election fraud. If found guilty on all charges, Wait could face a maximum of 13 years in prison and $22,000 in fines.  https://www.washingtonpost.com/politics/2022/09/01/harry-wait-wisconsin-voter-fraud/
Campaigns Using Fake Electors
Brian Kemp's Running Mate Is a Fake Elector
. Georgia Republican Governor Brian Kemp
stands shoulder-to-shoulder with one of the state's top election deniers. That man is his running mate, the GOP candidate for lieutenant governor, Burt Jones. https://www.thebulwark.com/brian-kemps-running-mate-is-a-fake-elector/
Ron Johnson Has Fake Elector on His Campaign Payroll
. For months, Sen. Ron Johnson has drawn scrutiny for his office's role in attempting to deliver false packets of electors to former Vice President Mike Pence on Jan. 6.
While Johnson continues to downplay his office's connection to the effort one of Wisconsin's false electors has been working on Johnson's reelection campaign. https://www.nytimes.com/2022/08/31/us/politics/biden-trump-republicans.html
GOP's midterm fear: Referendum on Trump
Top Republicans' biggest private fear — that November's midterms will turn on public opinion about former President Trump, not inflation and crime — is unfolding across the political landscape.

Trump is dominating the news, picking Trump-like candidates in primaries — and shaping the views and rhetoric of elected officials, and those hoping to become one.

That's why Senate Minority Leader Mitch McConnell is telling people his party is blowing a golden opportunity to win the Senate. It's also why Republicans no longer feel so confident of a landslide in the House. https://www.axios.com/2022/09/01/trump-midterms-gop-mcconnell
DOJ Is Likely to Wait Past Midterms to Reveal Any Trump Charges
Federal prosecutors are likely to wait until after the November election to announce any charges against Donald Trump, if they determine he broke laws, according to people familiar. https://www.bloomberg.com/news/articles/2022-08-31/doj-is-likely-to-wait-past-election-to-reveal-any-trump-charges
Ginni Thomas pressed Wisconsin lawmakers to overturn Biden's 2020 victory
Virginia 'Ginni' Thomas, the conservative activist and wife of Supreme Court Justice Clarence Thomas, pressed lawmakers to overturn Joe Biden's 2020 victory not only in Arizona, as previously reported, but also in a second battleground state, Wisconsin, according to emails obtained under state public-records law, the Washington Post reports.

The wife of a Supreme Court justice trying to subvert the U.S. Constitution is problematic on many levels. https://www.washingtonpost.com/investigations/2022/09/01/ginni-thomas-wisconsin-bernier-tauchen/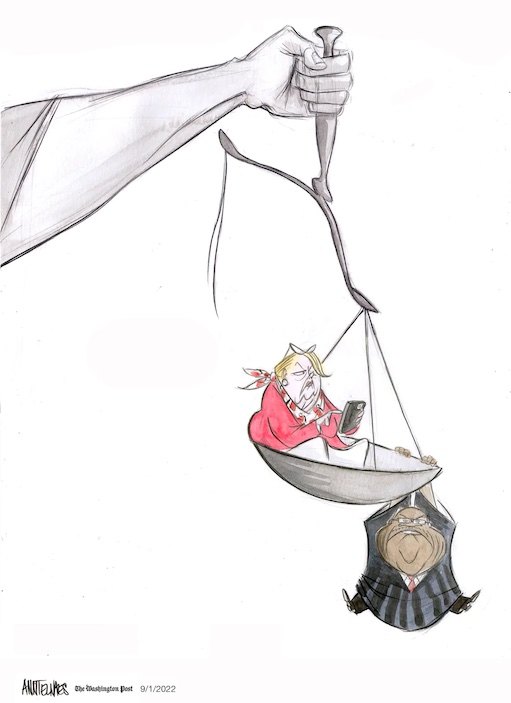 Climate change overtakes U.S. flood maps
Flood maps used by the Federal Emergency Management Agency are out of date and understate the risks to homes and businesses from flooding and extreme rain triggered by climate change, FEMA Director Deanne Criswell said.

Those risks are in focus after flooding in Jackson, Miss., overwhelmed the city's main water treatment plant a week ago, leaving more than 150,000 residents of the region without safe water.

The water crisis in Jackson illustrates how America's water systems were built for a climate that no longer exists. The majority-Black city has also been plagued by a combination of underinvestment, crumbling infrastructure and more extreme weather. https://www.arkansasonline.com/news/2022/sep/05/climate-change-overtakes-us-flood-maps/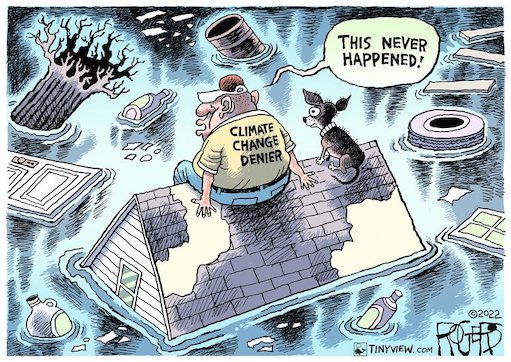 56 Percent of Young People Think Humanity Is Doomed
A major study of 10,000 young people across 10 different countries lays bare the scale of climate crisis-related anxiety felt around the world.

According to what its authors say is the world's largest ever study into young people's fears about the climate crisis, 45 percent of 16-25-year-olds said climate-related anxiety and distress is affecting their daily lives and ability to function normally.

Almost 60 percent of the 10,000 young people surveyed across 10 countries attributed this to their national governments, who they said were "betraying" them and future generations through their inaction. Fifty-six percent of people surveyed said they agreed with the statement that humanity is doomed, while 75 percent said they believed the future was frightening.

Liz Marks, a senior lecturer from the University of Bath and co-lead author of the study, said it was "shocking to hear how so many young people from around the world feel betrayed by those who are supposed to protect them. "Now is the time to face the truth, listen to young people, and take urgent action against climate change," she added. https://www.vice.com/en/article/88npnp/fifty-six-percent-of-young-people-think-humanity-is-doomed
Labor Secretary Walsh:
Lack of US Workers Is 'Bigger Threat' Than Inflation
Labor Secretary Marty Walsh said the US will eventually need to overhaul the nation's immigration system, calling the lack of available workers to fill jobs a "bigger threat" to the economy than inflation.

"We don't have enough workers in the United States of America to fill all the job openings that are out there," Walsh said Tuesday in an interview with MSNBC. "It's a bigger threat to our economy than inflation is at this point, than a recession, because we need to fill these jobs."

Walsh pointed to immigration reform as a long-term solution to the issue. Lawmakers need to develop additional legal pathways for immigrants to apply for visas, and focus on how to use immigration "in a positive manner," he said. https://www.bloomberg.com/news/articles/2022-09-06/lack-of-workers-in-us-bigger-threat-than-inflation-walsh-says
POLLS ...
A new Wall Street Journal poll finds that the Supreme Court's overturning of Roe v. Wade has made 83% of Democrats likelier to vote in November, compared to just 31% of Republicans. The poll also shows support for legalizing abortion ticking up: Sixty percent of voters think the procedure should be legal most or all of the time (up from 55% in March), while just 6% want a complete ban without exceptions (down from 11%). https://www.wsj.com/articles/support-for-legalized-abortion-grows-since-dobbs-ruling-wsj-poll-shows-11662210020

In a Wall Street Journal poll released on Thursday, 52 percent agreed with the statement that the search was "part of a legal and proper investigation" to determine if Trump wrongfully held classified documents at his Florida residence. Another 41 percent said they viewed the FBI search as part of an "endless witch hunt" against the former president, according to the poll. Views of the search break down sharply along partisan lines, with 80 percent of Republicans characterizing the search as a "witch hunt." Only 5 percent of Democrats agreed with that sentiment. https://thehill.com/blogs/blog-briefing-room/3623865-most-in-new-poll-say-fbi-search-of-trump-home-was-appropriate/

This week, the Cook Political Report moved four suburban Democratic-held seats into safer categories. AL: Peltola - Likely R to Toss Up, AZ-04: Stanton - Lean D to Likely D, MD-06: Trone - Lean D to Likely D, NY-03: OPEN - Toss Up to Lean D , VA-07: Spanberger - Toss Up to Lean D. https://www.cookpolitical.com/analysis/house/house-overview/house-rating-changes-five-races-move-democrats-direction-including

A new Detroit News/Glengariff Group poll in Michigan finds Gov. Gretchen Whitmer's (D) lead over challenger Tudor Dixon (R) has expanded to 13 percentage points with two months remaining before Election Day, 48% to 35%. https://www.detroitnews.com/story/news/politics/2022/09/07/gov-gretchen-whitmers-lead-over-tudor-dixon-grows-fall-campaign-begins-poll-finds/8002088001/

President Biden's average approval rating is now 43% — the highest it's been since mid-March. https://projects.fivethirtyeight.com/biden-approval-rating/

A new Yahoo News/YouGov poll finds Democrats are heading into the homestretch of the 2022 midterm campaign with a lead over Republicans among registered voters, 45% to 40%, as well as those who say they "definitely will vote" this year, 48% to 45%. https://www.scribd.com/document/592546731/20220906-Yahoo-Tabs-Politics
The DAILY GRILL ...
"Ladies and gentlemen, we can't be pro-insurrectionist and pro-American. They're incompatible. We can't allow violence to be normalized in this country." -- President Joe Biden https://www.latimes.com/opinion/story/2022-09-02/biden-speech-maga-republicans-democracy-insurrection



VERSUS



"He's an enemy of the state if you want to know the truth. The enemy of the state is him and the group that control him, which is circling around him. Do this, do that, Joe. How'd you like the red lighting behind him like the devil?"—  Donald Trump. https://www.mediaite.com/tv/trump-calls-biden-enemy-of-the-state-at-first-rally-since-fbi-raid-accuses-him-of-delivering-most-hateful-speech-ever-by-a-president/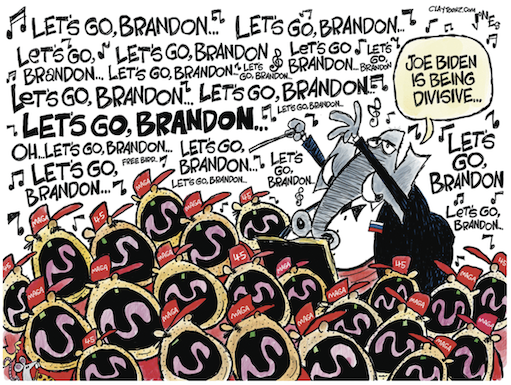 Charles C.W. Cooke: Donald Trump Is Still a Lunatic
On Truth Social this week, Donald Trump, in response to the news that the FBI had disgracefully put pressure on Facebook to suppress the true story of Hunter Biden's laptop, insisted that he must be immediately reinstalled as president of the United States. "REMEDY: Declare the rightful winner," Trump wrote. "Or, and this would be the minimal solution, declare the 2020 Election irreparably compromised and have a new Election, immediately!"

Well, then.

It is increasingly tempting to ignore these outbursts of constitutionally illiterate election-trutherism as a distraction. Certainly, if one wishes to, one can write them off as a mere sideshow — as the detached and irrelevant ravings of an unemployed septuagenarian has-been. At this point, one might say, Trump is just another Crazy Uncle with a social-media account. And, besides, instead of parsing what he says on the Internet, shouldn't we be focused on the FBI's continuing self-abasement, which occasioned the flare-up in the first instance?

But the thing is: None of that is really true, is it? Donald Trump has been talking like this for 18 months now. He is not some Crazy Uncle; he is the most likely person to be the next Republican nominee for president — and, for that matter, the next president. And while I strongly agree that the FBI needs wholesale reform — if not outright abolition — that does not change the fact that what Trump is saying in response on his failing social-media platform is nuts. https://www.nationalreview.com/2022/09/donald-trump-is-still-a-lunatic/amp/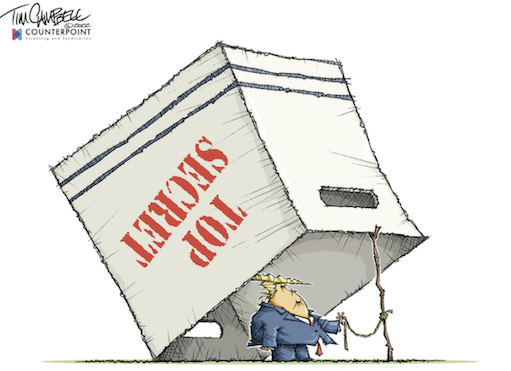 David Graham: Trump Can't Hide From the Mar-a-Lago Photo
As the great American philosophers Ralph Waldo Emerson and Omar Little each expressed in their own ways, if you go after the king, you can't make a mistake.

The Department of Justice now finds itself in just such a can't-miss scenario in its legal battle with Donald Trump over documents he took with him to Mar-a-Lago. Given the delicate political calculation, any error could strengthen the former president, weaken the rule of law, and imperil the Constitution. But so far, the federal government has been a step ahead of Trump at every turn.

The latest demonstration came in a filing on August 30th, in which prosecutors dramatically swept away the most recent excuses from Trump and his allies, who have insisted that the former president cooperated with the government and acted in good faith. The filing provides evidence that Trump and his team not only didn't hand over all classified materials, but actively sought to conceal them by misleading the FBI. And a striking photograph, showing cover sheets with bold red block letters reading TOP SECRET // SCI, preempts any claim that Trump might simply not have realized the documents were classified. https://www.theatlantic.com/ideas/archive/2022/08/doj-mar-a-lago-trump/671294/?scrolla=5eb6d68b7fedc32c19ef33b4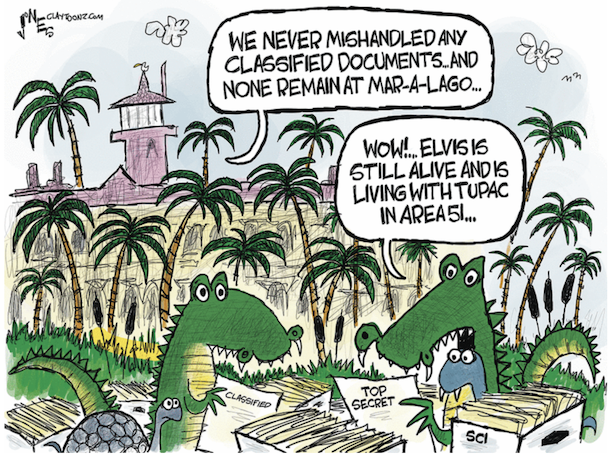 Joe Conason: How Many of Hillary's Emails Were Actually Classified?
As more and more evidence of the former president's reckless and potentially criminal misconduct comes to light, he and his defenders keep pointing to 'her emails.' They insist that because the Justice Department declined prosecution of former Secretary of State Hillary Clinton after a long and thorough probe of how she handled allegedly classified information, there should be no investigation, let alone indictment or conviction of Trump.

But while we don't yet know the extent or nature of Trump's abuse of classified documents, we can determine how many were found by investigators, after exhaustive searches, among Clinton's thousands of State Department emails.

The accurate and definitive answer is zero – although few if any news outlets have informed the public of that startling fact. Moreover, it is a fact that the Trump administration itself confirmed three years ago. https://www.nationalmemo.com/hillary-clinton-emails-2658142483
Jonathan Alter: Biden at the Barricades
"You are either with us, or with the terrorists."

That's how President George W. Bush framed the challenge just after 9/11. Bush went on to make some terrible decisions, including to invade a country—Iraq—that had nothing to do with the terrorist attack on the United States. But at the time, the clarity of those words was bracing.

Now, 21 years later, President Biden has done something similar in response to today's threat. He has properly framed the great political challenge of our time, not just for the 2022 and 2024 elections but through at least the middle part of the 21st Century, when Donald Trump's cult followers will still be roaming the land.

Biden was basically saying, You are either with the Declaration of Independence and the Constitution that were written just behind me—that's "us"—or you are with the political terrorists who use fear and threats of violence to get their way. There's no middle ground.

When Biden first started calling Trumpsters "MAGA Republicans," I thought it was too soft and abstract. I was wrong. The term simultaneously recognizes that the threat will last longer than Trump himself and leaves room for respecting patriotic Republicans. It will live in the American political lexicon forever. https://oldgoats.substack.com/p/biden-at-the-barricades
Tom Bonier: Women Are Fired Up to Vote!
In my 28 years analyzing elections, I've never seen anything like what's happened in the past two months in American politics: Women are registering to vote in numbers I've never witnessed. I've run out of superlatives to describe how different this moment is, especially in light of the cycles of tragedy and eventual resignation of recent years. This is a moment to throw old political assumptions out the window and to consider that Democrats could buck historic trends this cycle.

With over two months until Election Day, uncertainty abounds. Election prognostication relies heavily on past precedent. Yet there is no precedent for an election centered around the removal of a constitutional right affirmed a half-century before. Every poll we consume over the closing weeks of this election will rely on a likely voter model for which we have no benchmark.

Whether the coming elections will be viewed as a red wave, a Roe wave or something in between will be decided by the actions of millions of Americans — especially, it seems, American women. As Justice Samuel Alito wrote in the majority decision in Dobbs: "Women are not without electoral or political power." He was right about that. Republicans might soon find out just how much political power they have. https://www.nytimes.com/2022/09/03/opinion/women-voters-roe-abortion-midterms.html
Robin Abcarian: Boo hoo. Fascist MAGA Republicans are miffed
Last week, the president set off a torrent of Republican outrage when, during a fundraiser in Maryland, he described the tenets of Trump's MAGA movement as "semi-fascism."

Biden is unquestionably correct to use the word "semi-fascism" to describe the MAGA movement.

"Well before Jan. 6, 2021, Trump had already established key pillars of fascism," Federico Finchelstein, a fascism scholar and New School history professor, wrote in the Washington Post last week.

Among the behavior he cited was Trump's militarization of politics, as demonstrated by his use of security forces to clear protesters so he could stride across Lafayette Square near the White House holding a Bible for a photo op; his xenophobia; his use of totalitarian propaganda techniques such as calling true accounts of his behavior and policies "fake news" ("Lügenpresse" in the original German); his nonstop lies and the demonization of anyone perceived as getting in his way.

"Trumpism was only missing dictatorship," wrote Finchelstein. "And then the insurrection happened."

MAGA Republicans' flirtation with fascism is dangerous, but I have faith that our democratic ideals will prevail. Especially — fingers crossed — if our former president finds himself under indictment or, better yet, behind bars. https://www.yahoo.com/entertainment/abcarian-boo-hoo-fascist-maga-100557250.html
Paul Waldman: A Trump judge's appalling Mar-a-Lago order signals a grim future
"Nutty. Crazy." "Twisting the law into a pretzel." "A poorly sewn-together fabric of factual misstatements and legal BS." "Laughably bad." "So bad it's hard to know where to begin. … Frankly, any of my first-year law students would have written a better opinion."
Those were some of the reactions from legal experts to U.S. District Judge Aileen M. Cannon's decision to grant Donald Trump's request for a special master to review documents seized from the former president's Mar-a-Lago estate in an August search that turned up boxes full of classified, secret and top-secret information. The request could push resolution of the case past the 2024 election.
That this judge would give Trump whatever he wanted was, sadly, not a surprise. She was appointed by Trump and confirmed after his defeat but before Democrats took control of the Senate in 2021. We've come to expect that if that's how someone got on the bench, they'll likely show themselves to be a Trumpist political operative in a robe, rather than an objective jurist.
This is our new reality. Nearly every political controversy will include a vital legal component, in which Republicans find a friendly Trump judge to grant whatever preposterous request they make, injecting the courts in place after place they have little or no business meddling.
In some cases (including this one) it might merely slow things down, giving the GOP time to press its advantage or avoid disaster. In other cases it will give Republicans an outright victory, on their policy goals or the procedures that help them win more elections. But we're now in an era in which the courts are more political than ever.
This is not an accident, and while it suits Trump perfectly, it was not his design. He was the vehicle of a transformation planned and executed by the Federalist Society, the wider conservative legal movement, and Senate Minority Leader Mitch McConnell (R-Ky.). The plan was not just to install as many conservative judges as possible, but to politicize the courts in an unprecedented way.
https://www.washingtonpost.com/opinions/2022/09/06/trump-judge-mar-a-lago-documents-grim-future/