August 8, 2019
ON THE RECORD. . .
"You don't really believe this?" — Trump when asked by ABC News about special counsel Robert Mueller's warning that Russia is continuing to interfere with U.S. elections.

"The question is no longer whether the House should vote to proceed with a formal impeachment inquiry. The inquiry has already begun." — Rep. Ted Deutch (D-FL)

"A government that is meant to be mighty, a superpower on the world stage, is scared of an interview with our foreign minister. All the pillars of the White House tremble at the words of a person who's an academic, a diplomat who is devoted and is shrewd." — Iran's President Hassan Rouhani, a day after the U.S. announced it would sanction Iran's top diplomat Mohammad Javad Zarif. Zarif, who was Iran's lead negotiator in the multipower nuclear accord.

"The president without — and this comes as no surprise — really doesn't know what he's talking about. But maybe he could ask his son-in-law, who's a slumlord." — Nancy Pelosi, who was born in Baltimore and whose father and brother were both mayors of the city. 

"Just between us, and the readers of this magazine—there's zero chance." — Michelle Obama on whether there was even a one percent chance she might run for president.

"In time, we will learn exactly what drove the suspect to carry out today's mass shooting, but what we know for sure is the United States finds itself in the midst of a domestic white nationalist terrorism crisis." — Sydney Morning Herald

"My question for is… we're city number 250, how many cities have to go through mass shootings before somebody does something to change the law?" — Dayton Mayor Nan Whale.

"I think my rhetoric brings people together. Our country is doing really well." — Trump before leaving the White House to visit two cities that experienced mass shootings last weekend.

"America is under attack by lethal, violent, white nationalist terrorism. The President of the United States is condoning white nationalism. White nationalism is one of the evils that is motivating and inspiring at least some to go kill Americans." — Mayor Pete Buttigieg, the wake of the's deadly shooting in El Paso.

"Listening to the president. Such a bullshit soup of ineffective words." —Sen. Cory Booker reacting to President Trump's remarks on last weekend's mass shootings.

What do you think? You know the s**t he's been saying. He's been calling Mexican immigrants rapists and criminals. I don't know, like, members of the press, what the f**k? I mean, connect the dots about what he's been doing in this country. He's not tolerating racism, he's promoting racism. He's not tolerating violence, he's inciting racism and violence in this country. So, uhm, you know, I just… I don't know what kind of question that is." — Beto O'Rourke responding to a reporter who asked if there was anything that the president could do after the latest two mass shootings.

White nationalist terrorism and Trump-style conservatism both lie along a continuum of thought. Both share the crucial belief that immigration from Mexico poses an existential threat to American society requiring radical and violent response. Trump has used lurid depictions of crime committed by unauthorized immigrants to stoke fear. ("We cannot let this butchery happen in America.") — Jonathan Chait

"White supremacy isn't a real problem in America. This is a hoax, just like the Russia hoax. It's a conspiracy theory used to divide the country and keep a hold on power… I've lived here 50 years and I've never met anybody, not one person who ascribes to white supremacy. I don't know a single person who thinks that's a good idea." — Tucker Carlson

"Trump offers no moral leadership; no interest in unifying the nation, no evidence the presidency has awakened his conscience in the least. Instead we have a president with a toxic tongue who has publicly and unapologetically embraced a political strategy of hate, racism, and division. So it's up to us. We're living through a rare moment in this nation's history. Where our president isn't up to the moment. Where our president lacks the moral authority to lead. Where our president has more in common with George Wallace than George Washington. We are almost 330 million Americans who have to do what our president can't. Stand together. Stand against hate. Stand up for what — at our best — this nation believes." — Joe Biden linking Trump to the mass shooting in El Paso.
---
IN THIS ISSUE
FYI
OPINION
1.  Andy Borowitz: Link Found Between Gun Violence and Cowardly Politicians
There is a "significant link" between gun violence and cowardly politicians, a new study from the University of Minnesota asserts.

The study, which is raising eyebrows with its startling conclusions, finds that the most reliable predictor of gun violence is the "prevalence of quiveringly fearful politicians in positions of power."

As part of the study's methodology, researchers examining gun violence compared countries ruled by non-cowards with those ruled by gutless toadies.

"In countries ruled by non-cowards, such as New Zealand, gun violence is virtually nonexistent," the study claims.

While the study's authors paint a bleak picture of nations with "coward-rich" leadership, they offer a recommendation to remedy this dire state of affairs.

"While censoring movies or video games would have no measurable effect on gun violence, major strides can be made by replacing cowards in government with non-cowards," the study suggests, noting that this theory could be tested as early as 2020. https://www.newyorker.com/humor/borowitz-report/
2. The El Paso Shooting and the Virality of Evil
White-supremacist terrorism is nothing new, but this sickeningly specific instantiation of it—lone shooter, assault rifle, online manifesto, a link to a live stream—appears to be contagious. Thirteen hours after the massacre in El Paso, a shooter opened fire outside a bar in Dayton, Ohio.
On Saturday, 8chan users passed around a Google spreadsheet listing some of these shootings: date, location, number of kills. Anders Breivik and Dylann Roof, who are commonly referred to on 8chan as "martyrs," were at the top of the list. The El Paso shooter was at the bottom. It's hard to imagine that this list won't keep growing. https://www.newyorker.com/news/news-desk/the-el-paso-shooting-and-the-virality-of-evil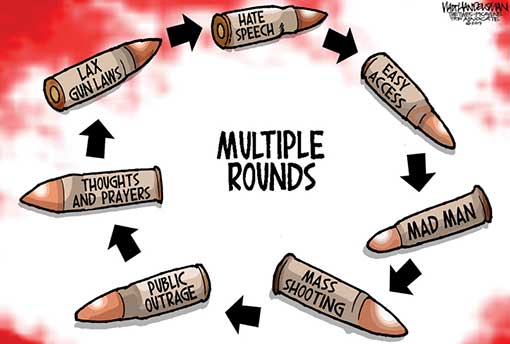 3. 'How the hell is this not inciting violence?' Gun store erects billboard with minority lawmakers' faces
Alright my fellow Infidels for Trump...due to OVERWHELMING demand...you may come by the shop (next week) and get your very own FOUR HORSEMEN COMETH STICKER...simple...eat a piece of bacon...tell us you're voting for Trump in 2020...then get your limited edition bumper sticker!! (While supplies last!) Snowflakes and Liberals are not eligible...sorry...
 The sign warns of the "4 Horsemen" — typically a reference to biblical imagery symbolizing the end of the earth: conquest, war, famine and death.
But the North Carolina billboard that went up over the weekend does not depict horsemen. It shows photos of the freshman congresswomen also known as "the Squad": Rashida Tlaib of Michigan, Alexandria Ocasio-Cortez of New York, Ilhan Omar of Minnesota and Ayanna Pressley of Massachusetts. The billboard calls the progressive Democratic members of Congress "idiots" and is signed by "the Deplorables."
Cherokee Guns, a Murphy, N.C., gun shop about a mile away from the sign, took responsibility for the billboard. An image shared to the shop's Facebook page Sunday went viral this week and drew a sharp rebuke from the women pictured, as well as anti-gun-violence advocates.
"Threats against members of Congress, particularly minority members are [trending upward] and it is driven by the president's racial rhetoric," the group wrote. "This is dangerous!!!" https://thehill.com/homenews/house/455320-north-carolina-gun-shop-puts-up-4-horsemen-billboard-to-slam-progressive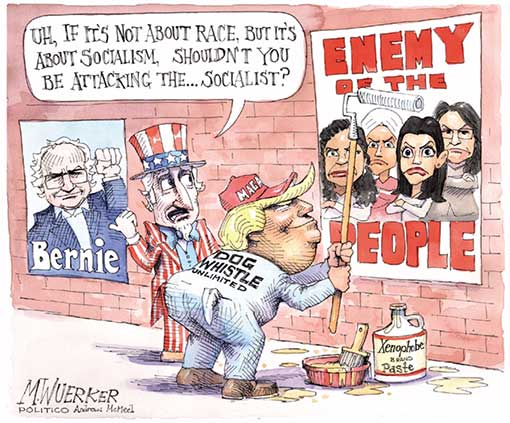 4. How the Trump Campaign Used Facebook Ads to Amplify His 'Invasion' Claim
President Trump's re-election campaign has harnessed Facebook advertising to push the idea of an 'invasion' at the southern border, amplifying the fear-inducing language about immigrants that he has also voiced at campaign rallies and on Twitters.
Since January, Mr. Trump's re-election campaign has posted more than 2,000 ads on Facebook that include the word 'invasion' — part of a barrage of advertising focused on immigration, a dominant theme of his re-election messaging." https://www.nytimes.com/2019/08/05/us/politics/trump-campaign-facebook-ads-invasion.html
5. How the hottest month in recorded history unfolded around the globe
On Monday, scientists officially pronounced July 2019 the warmest month the world has experienced since record-keeping began more than a century ago.
How hot was it?
Wildfires raged across millions of acres in the Arctic. A massive ice melt in Greenland sent 197 billion tons of water pouring into the Atlantic Ocean, raising sea levels. And temperature records evaporated, one after another: 101.7 degrees Fahrenheit in Cambridge, England, and 108.7 in Paris. The same in Lingen, Germany. https://www.washingtonpost.com/climate-environment/2019/08/05/heres-how-hottest-month-recorded-history-unfolded-around-globe/
6. Fear and gloating in Cincinnati
"You had to suffer for a long time," Trump said around Minute 38, "until I came along." He was referring to the previous administration's policy toward fossil fuels. His people nodded and applauded, as many miles away the Greenland ice sheet continued its historic melt: 197 billion tons of water, swept into the Atlantic Ocean over the past month, which scientists attribute to climate change's growing impact on the Arctic.
But in this arena, among the believers, the future was rosy. Over an hour into his speech, the president declared that he would end the AIDS epidemic "shortly" and cure childhood cancer "very shortly." There was moderate applause. The crowd was thinning; it had been a long day. But then, seconds later, he mentioned "the right to keep and bear arms." Thunder. Rafter-shaking cheers. Standing. Screaming.
"Americans won the race to the moon," Trump also said, "and we will now win the race to Mars."
hA new world. Sometimes it feels like we're already there.
https://www.washingtonpost.com/lifestyle/style/fear-and-gloating-in-cincinnati/2019/08/02/a6055256-b51f-11e9-8949-5f36ff92706e_story.html
7. China confirms it is suspending agricultural product purchases in response to Trump's new tariffs
"China confirmed reports that it was pulling out of U.S. agriculture as a weapon in the ongoing trade war," CNBC reports.
A spokesperson for the Chinese Ministry of Commerce said Chinese companies have stopped purchasing U.S. agricultural products in response to President Trump's new 10% tariffs on $300 billion of Chinese goods. https://www.cnbc.com/2019/08/05/china-confirms-it-is-suspending-agricultural-product-purchases-in-response-to-trumps-new-tariffs.html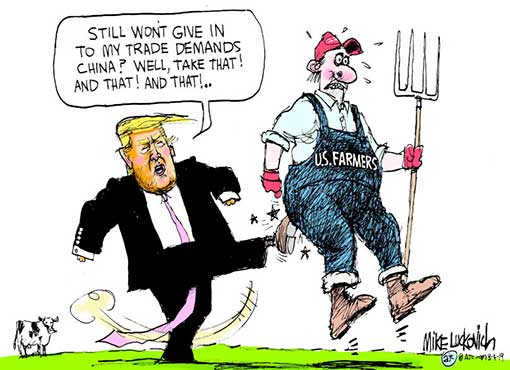 8. 'Moscow Mitch' McConnell is now a Ben Folds song
The nickname "Moscow Mitch," given to Senate Majority Leader Mitch McConnell for blocking an election security bill, has become a favorite term for those who oppose the Kentucky senator. Now singer-songwriter Ben Folds has turned it into a new song. https://youtu.be/sU1KeX6lvxE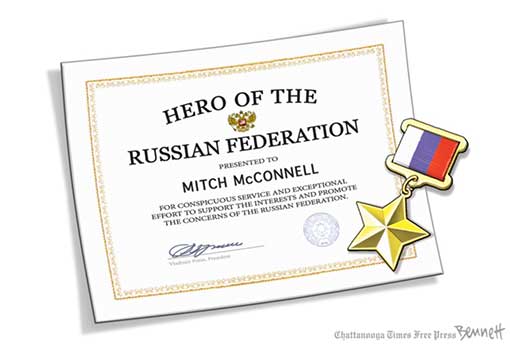 9. The DAILY GRILL
Really bad news! The Baltimore house of Elijah Cummings was robbed. Too bad! — Donald J. Trump @realDonaldTrump

VERSUS

In less than a week, the president has called a House chairman a "racist" a "bully" whose district is a "disgusting, rat and rodent infested mess" and "dangerous" and "filthy" - while saying "no human being would want to live there." Today, gloating about a burglary at his home. -- Manu Raju@mkraju

 

Rep. Will Hurd (R-TX), who announced his retirement from Congress last night, told the Washington Post that there's a real chance Democrats can win Texas in the 2020 presidential election.

VERSUS

"Will Hurd is the Future of the GOP." -- Tim Alberta writing in Politico two years ago.

 

"Remember this, our country is taking in billions and billions of dollars from China,. We never took in 10 cents from China. And out of that many billions of dollars, we're taking a part of it and giving it to the farmers because they've been targeted by China. The farmers, they come out totally whole." — Trump claiming"the tariffs are not being paid for by our people" but "by China" because "of devaluation and because they're pumping money in." -- Trump

VERSUS

"I don't know where to begin here. But just to be clarifying, China isn't paying these tariffs. You are. You know, indirectly and sometimes directly. It's passed along to you through American distributors and their counterparts in the United States that buy this stuff from the Chinese and then have to pay these surcharges. Not the Chinese government or China in particular." — Fox News' Neil Cavuto fact-checking Donald Trump's latest claims about the tariffs his administration has imposed on China.

 

"The media is infamous for fake news." -- The El Paso shooter wrote in his screed.

VERSUS

The Media has a big responsibility to life and safety in our Country. Fake News has contributed greatly to the anger and rage that has built up over many years. — Trump two days later

 

Republicans and Democrats must come together and get strong background checks, perhaps marrying....this legislation with desperately needed immigration reform. We must have something good, if not GREAT, come out of these two tragic events!" — Trump

VERSUS

THE IDEA of twinning immigration reform and tighter gun laws is far-fetched. The two parties are miles apart on immigration reform, and throwing gun laws in the mix won't help. Pairing two complicated issues does not make either of them easier. — Politico

 

"We are not helpless here. And until all of us stand up and insist on holding public officials accountable for changing our gun laws, these tragedies will keep happening." -- Barack Obama

VERSUS

Trump on Tuesday attacked former President Barack Obama over the latter's statement on the weekend's mass shootings in Texas and Ohio, tweeting edited quotes from Fox News hosts to make his point and again claiming he is 'the least person' in the world.

 

"Beto (phony name to indicate Hispanic heritage) O'Rourke, who is embarrassed by my last visit to the Great State of Texas, where I trounced him, and is now even more embarrassed by polling at 1% in the Democrat Primary, should respect the victims & law enforcement – & be quiet!" — Trump 

VERSUS

"22 people in my hometown are dead after an act of terror inspired by your racism. El Paso will not be quiet and neither will I." — Beto O'Rourke responds
10. From MEDIA MATTERS (They watch Fox News so you don't have to)
Fox hosts shout down colleague Juan Williams when he notes that Trump's racism is a fact.
Greg Gutfeld: "That's called an opinion Juan, it's not a fact. I could keep saying it, he won't listen" https://www.mediamatters.org/video/2019/08/01/fox-hosts-shout-down-colleague-juan-williams-when-he-notes-trumps-racism-fact/224377

The FBI calls QAnon a domestic terror threat. Trump has amplified QAnon supporters on Twitter more than 20 times. https://www.mediamatters.org/research/2019/08/01/The-FBI-calls-QAnon-a-domestic-terror-threat-Trump-has-amplified-QAnon-supporters-on-Twitt/224373

When Rep. Will Hurd, the only Black Republican in the House, announced he will not seek reelection. Fox News covered it for 20 seconds. https://www.mediamatters.org/fox-news/only-black-republican-house-announced-he-will-not-seek-reelection-fox-news-covered-it-20

Fox & Friends touts Trump's "connections to Ohio" without noting they involve housing discrimination. Trump worked at a Cincinnati housing complex owned by his father, who was sued for not renting units to Black people. https://www.mediamatters.org/fox-friends/fox-friends-touts-trumps-connections-ohio-without-noting-they-involve-housing

After declining a CNN appearance, Texas Lt. Gov. Dan Patrick goes on Fox & Friends to blame El Paso mass shooting on games. Patrick failed to discuss access to firearms or the spread of white nationalism, but he did condemn Call of Duty and call for prayer in public schools. https://www.mediamatters.org/fox-friends/after-declining-cnn-appearance-texas-lt-gov-dan-patrick-goes-fox-friends-blame-el-paso
11. From the Late Shows
The Late Show with Stephen Colbert: Marianne Williamson: Peacebuilders Will Have a Seat At the Table of Power. https://youtu.be/G7TZe8_nYp8

Jimmy Kimmel: Trump Can't Even Spell His Own Name: https://youtu.be/lz-PRvxYIvo

The Late Show with Stephen Colbert: America's Gun Culture Is Melting Down: https://youtu.be/8dMgEwQYdog
12. Trump orders lawyers' achievement awards revoked in Navy SEAL murder case
President Trump on Wednesday ordered the Navy's top leaders to rescind awards given to military lawyers who prosecuted a war crimes case in which the commander in chief took personal interest.
Navy SEAL Edward Gallagher was acquitted this month of charges he murdered a wounded Islamic State fighter two years ago in Iraq. Trump had intervened on Gallagher's behalf, having him removed from solitary confinement in March while awaiting trial.
As the military news site Task & Purpose reported Tuesday, members of the prosecution team were quietly presented with Navy Achievement Medals on July 10 for their work on the case. In tweets Wednesday, Trump said the decorations were "ridiculously given."
"Not only did they lose the case," Trump wrote on Twitter, "they had difficulty with respect to information that may have been obtained from opposing lawyers and for giving immunity in a totally incompetent fashion. I have directed the Secretary of the Navy Richard Spencer & Chief of Naval Operations John Richardson to immediately withdraw and rescind the awards. I am very happy for Eddie Gallagher and his family!" https://www.washingtonpost.com/politics/trump-orders-lawyers-achievement-awards-revoked-in-navy-seal-murder-case/2019/07/31/11a74d2c-b3cf-11e9-951e-de024209545d_story.htm
13. Leningrad Lindsey
The South Carolina Democratic Party is taunting Sen. Lindsey Graham (R-SC) by selling "Leningrad Lindsey" gear. https://secure.actblue.com/donate/leningradlindsey
14. Trump Golf Costs Top $110 Million — More Than For All Of Obama's Travel
Conservative group Judicial Watch criticized Obama for spending $106 million for travel over his two full terms. Trump's golf tab surpassed that in just 30 months. https://www.huffpost.com/entry/trump-obama-golf_n_5d45c72de4b0acb57fcd4eb8
15. Trump Made It Easier for Mentally Ill to Get Guns
Trump responded to the El Paso and Dayton mass shootings by insisting that 'mental illness pulls the trigger not the gun,' but shortly after taking office he quietly rolled back an Obama-era regulation that would have made it harder for people with mental illness to buy guns.
Trump did so without any fanfare. In fact, the news that Trump had signed the bill was at the bottom of a White House email that alerted the media to other legislation signed by the president.
And it came after the House and Senate, both of which were Republican-controlled at the time, passed a bill, H.J. Res 40, which revoked the Obama-era regulation. https://www.nbcnews.com/news/us-news/president-trump-made-it-easier-mentally-ill-get-guns-when-n1039301
16. Trump Blames Everything But His Own Words for hate in America
He did blame violent video games, mental illness, the internet and a culture that promotes violence for helping to foster white nationalism and hatred behind at least one of the shootings that shocked the country.
He did not acknowledge the fact that he often traffics in some of the same language as white supremacists like the one who killed 22 people in El Paso.
Reading from a teleprompter at the White House, the President sounded nothing like the Trump who goes off-script when he tweets or is whipping up crowds of political supporters at campaign rallies. That's why many are laying some blame for the shooting at the feet of the nation's leader. https://www.cnn.com/2019/08/05/politics/trump-rhetoric-el-paso/index.html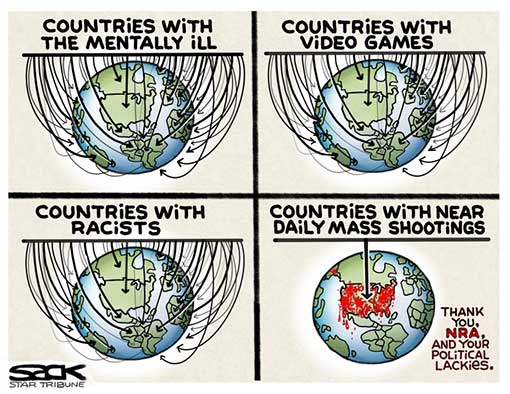 17. El Paso says Donald Trump still owes $569,204 for his February rally
According to Laura Cruz-Acosta, communications manager for the El Paso city manager's office, the president has an outstanding bill of $569,204.63 for police and public safety services associated with his February campaign rally.
"The city staff have followed the process and procedures as it relates to any invoicing that we provide, and we will continue to do so accordingly as per city and state policies," Cruz-Acosta said. She said that Trump owed an initial fee of $470,417.05 but that the city tacked on a 21% one-time late fee in June — 30 days after the campaign failed to pay the initial amount owed. https://www.texastribune.org/2019/08/05/donald-trump-campaign-el-paso-shooting/
18. Trump aide submitted drafts of 2016 'America First' energy speech to UAE for edits
When candidate Donald Trump prepared to give a major energy speech during the 2016 campaign, one of his closest advisers provided a pre-speech review to senior United Arab Emirates officials, an unorthodox move that caught the attention of federal investigators, according to emails and text messages uncovered by a House Oversight Committee investigation. https://abcnews.go.com/Politics/trump-aide-submitted-drafts-2016-america-energy-speech/story
19. White Terrorism Shows 'Stunning' Parallels to Islamic State's Rise
Many scholars of terrorism see worrying similarities between the rise of the Islamic State and that of white nationalist terrorism, seen most recently in the carnage in El Paso, Tex.
"The parallels are stunning," said Will McCants, a prominent expert in the field.
And they are growing more notable with each new attack.
Experts say that the similarities are far from a coincidence. White nationalist terrorism is following a progression eerily similar to that of jihadism under the leadership of the Islamic State, in ways that do much to explain why the attacks have suddenly grown so frequent and deadly.
In both, there is the apocalyptic ideology that predicts — and promises to hasten — a civilizational conflict that will consume the world. There is theatrical, indiscriminate violence that will supposedly bring about this final battle, but often does little more than grant the killer a brief flash of empowerment and win attention for the cause. https://www.nytimes.com/2019/08/05/world/americas/terrorism-white-nationalist-supremacy-isis.html
20. Republicans Fear 'Extinction in the Suburbs' Over Gun Control
After two gruesome mass shootings in a 24-hour span, some Republicans are raising alarms that their opposition to new firearm limits is making the party toxic to the suburban women and college graduates who will shape the 2020 election.
"Republicans are headed for extinction in the suburbs if they don't distance themselves from the NRA. The GOP needs to put forth solutions to help eradicate the gun violence epidemic," said Dan Eberhart, a Republican donor and oil-and-gas executive who supports President Donald Trump. https://www.bloomberg.com/news/articles/2019-08-06/republicans-fear-extinction-in-the-suburbs-over-gun-control
21. Nebraska GOP tells Republican lawmaker who said party is 'enabling white supremacy' to register as Democrat
The Nebraska Republican Party called for state Sen. John McCollister (R) to re-register as a Democrat after he accused President Trump and the GOP of enabling white supremacy in the United States. https://thehill.com/homenews/state-watch/456290-nebraska-gop-tells-republican-lawmaker-who-said-party-is-enabling-white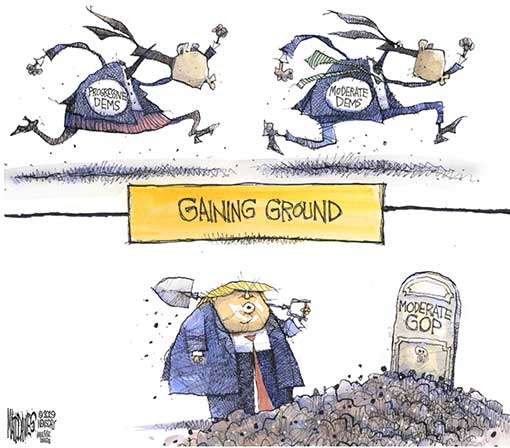 22. The GOP has caught autocratic fever
Five years ago, congressional Republicans blasted President Barack Obama as "Emperor Obama" and compared him to a king for his executive actions, most notably those protecting some undocumented immigrants. Ten years ago, conservative activists launched the tea party movement in large part as a call for a more limited federal government.
Today, conservative Republicans have moved sharply toward embracing a more powerful chief executive with fewer checks and balances. A new Pew Research Center poll finds that a majority of conservative Republicans (52 percent) agree that many problems would be solved "if U.S. presidents didn't have to worry so much about Congress or the courts." That number has doubled since last year (26 percent) and quadrupled from when Barack Obama was president in 2016 (13 percent).
Today, just 41 percent choose the other option, that it "would be too risky to give U.S. presidents more power" to confront problems. https://www.washingtonpost.com/politics/2019/08/07/gop-has-caught-autocratic-fever/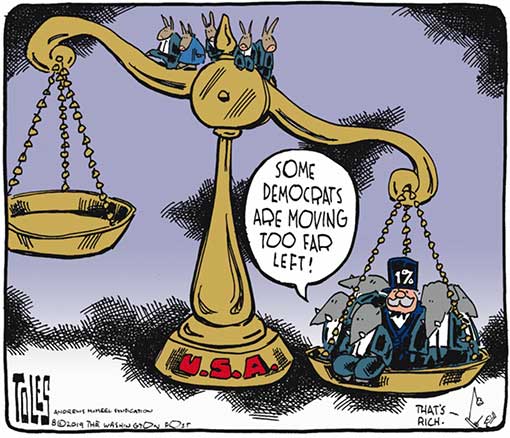 1. Will Bunch: Trump's America unravels in one bloody nightmare weekend. Now it's time to clean house
When things fall apart, they shatter into a million pieces. I can't tell you yet exactly how the bloodshed in El Paso is related to a mass murder in Dayton, or to the social dysfunction right here in Philadelphia that caused someone to spray bullets into a crowd of people shooting a hip-hop video, or into a crowded block party in Brooklyn the night before that. I can't explain why people tweeting about El Paso couldn't use the hashtag #WalmartShooting because it was already in use for a man who'd just murdered two employees at an outlet in Mississippi.
All I know is that it's all starting to feel like the same event — a Great Unraveling of America. The feeling only grew worse when I read that the authorities in El Paso believe some of the wounded may not go to local hospitals … because they're so afraid of our immigration cops. It seemed like one more sign that conditions in this country — the violence, the fear, the embrace of racism and xenophobia from the highest levels, and the long slide into neo-fascism — have become intolerable. And yet — with the blood of El Paso and Dayton not yet dry — far too many are still tolerating this. https://www.inquirer.com/opinion/el-paso-dayton-shootings-blame-impeach-trump-white-nationalism-20190804.html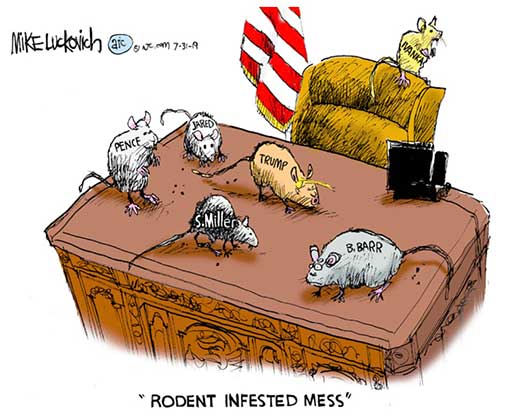 2. Bess Levin: Wall Street Fears Trump May Be Too Dumb To End Trade War Before 2020
If you only got your information about our trade war with China from Donald Trump, you might think that the whole thing was going great—just like, if you only got your information about the president from the president himself, you might also think he was "great-looking", emotionally stable, and fantastic with money, when, of course none of these things are true. Naturally, that hasn't stopped Trump from claiming otherwise, and on Tuesday, he repeated his favorite yarn, the one about how the U.S. is taking in billions of dollars from China, when, in reality, it's American consumers paying the price while U.S. companies pull back on investments out of fear that Trump will drag out his trade war with China indefinitely. And according to Wall Street, the growing consensus is that's exactly what Tariff Man has planned.
In a note to clients sent Monday, Goldman Sachs warned that a trade deal—the one the president lied about having struck last December—may not get done until after the 2020 election. That means that the additional tariffs Trump has threatened to impose on popular consumer goods like iPhones, beginning September 1, could be in place for an awfully long time. "While we had previously assumed that President Trump would see making a deal as more advantageous to his 2020 re-election prospects," the bank's chief economist wrote in the report, "we are now less confident that this is his view." Ed Yardeni, president of investment advisory Yardeni Research, echoed that fear in an interview with CNN Business, saying that "Trump perceives the U.S. economy is strong enough to withstand even 25% tariffs across-the-board on everything we import from China."
Trump also seemingly believes that his trade war is a good way to force the Federal Reserve to give him the rates cuts he's been demanding for a year, since Jerome Powell's rationale for last week's quarter-point cut was to safeguard against "downside risks" like a shitty businessman in the White House whose policies are hurting an otherwise strong economy. And while Goldman predicts that Trump's hostage-taking will pay off in the form of two more rates cuts before the end of the year, experts say it might not be enough to stop a recession of the president's own making.
"Recession odds probably go over even," Mark Zandi, chief economist at Moody's Analytics said last week, "and I think it would be pretty hard to avoid a downturn, regardless of what the Fed does." https://www.vanityfair.com/news/2019/08/donald-trump-trade-war-2020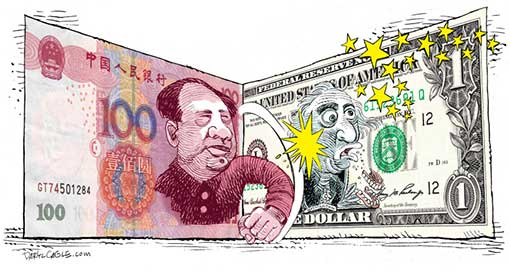 3. Philip Rucker: 'How do you stop these people?': Trump's anti-immigrant rhetoric looms over El Paso massacre
President Trump has relentlessly used his bully pulpit to decry Latino migration as "an invasion of our country." He has demonized undocumented immigrants as "thugs" and "animals." He has defended the detention of migrant children, hundreds of whom have been held in squalor. And he has warned that without a wall to prevent people from crossing the border from Mexico, America would no longer be America.
"How do you stop these people? You can't," Trump lamented at a May rally in Panama City Beach, Fla. Someone in the crowd yelled back one idea: "Shoot them." The audience of thousands cheered and Trump smiled. Shrugging off the suggestion, he quipped, "Only in the Panhandle can you get away with that statement."
On Saturday, a 21-year-old white man entered a shopping center in El Paso, according to police, and allegedly decided to "shoot them." Inside a crowded Walmart in a vibrant border city visited daily by thousands of Mexicans, a late-morning back-to-school shopping scene turned into a pool of blood. Twenty people died, and dozens were wounded.
Since the moment Trump rode down his gold-plated escalator four years ago to start his renegade run for the White House, us-against-them language about immigrants has been a consistent and defining feature of his campaign and now of his presidency. Absent from his repertoire has been a forceful repudiation of the white nationalism taking rise on his watch. https://www.washingtonpost.com/politics/how-do-you-stop-these-people-trumps-anti-immigrant-rhetoric-looms-over-el-paso-massacre/2019/08/04/62d0435a-b6ce-11e9-a091-6a96e67d9cce_story.html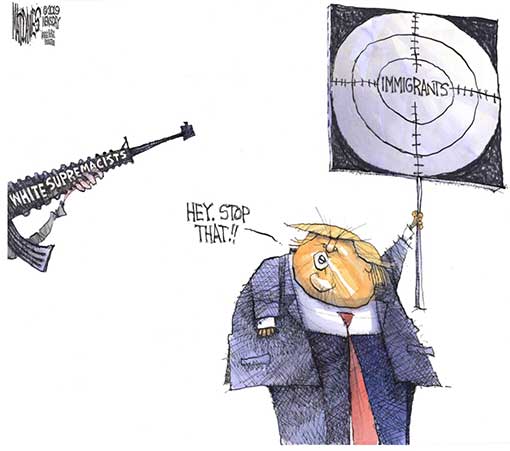 4. Ross Douthat: The Nihilist in Chief
What links Donald Trump to the men who massacred innocents in El Paso and Dayton this past weekend? Note that I said both men: the one with the white-nationalist manifesto and the one with some kind of atheist-socialist politics; the one whose ranting about a "Hispanic invasion" echoed Trump's own rhetoric and the one who was anti-Trump and also apparently the lead singer in a "pornogrind" band.
"Bringing up their differing world views can be a way for Trump-supporting or anti-anti-Trump conservatives to diminish or dismiss the president's connection to these shootings. That's not what I'm doing. I think Trump is deeply connected to what happened last weekend, deeply connected to both massacres. Not because his immigration rhetoric drove the El Paso shooter to mass murder in some direct and simple way; life and radicalism and violence are all more complicated than that. But because Trump participates in the general cultural miasma that generates mass shooters, and having a participant as president makes the problem worse."
The president's bigoted rhetoric is obviously part of this. Marianne Williamson put it best, in the last Democratic debate: There really is a dark psychic force generated by Trump's political approach, which from its birther beginnings has consistently encouraged and fed on a fevered and paranoid form of right-wing politics, and dissolved quarantines around toxic and dehumanizing ideas. And the possibility that Trump's zest for demonization can feed a demonic element in the wider culture is something the many religious people who voted for the president should be especially willing to consider.
But the connection between the president and the young men with guns extends beyond Trump's race-baiting to encompass a more essential feature of his public self — which is not the rhetoric or ideology that he deploys, but the obvious moral vacuum, the profound spiritual black hole, that lies beneath his persona and career. https://www.nytimes.com/2019/08/06/opinion/trump-el-paso-dayton-shootings.html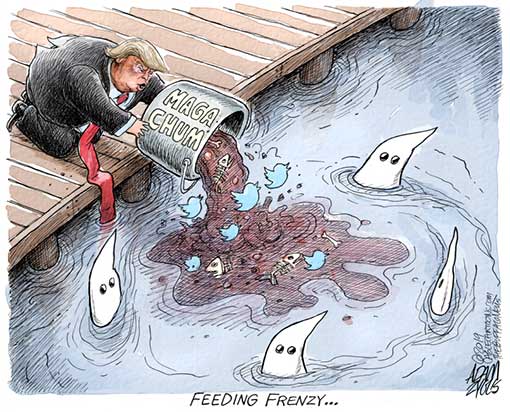 5. Max Boot: Trump is leading our country to destruction
Let me help you out, Mr. President. I suggest that, until we figure out what the hell is going on, you institute a total and complete shutdown of your inciting, racist rhetoric. I also suggest that, until we figure out what the hell is going on, you call for a total and complete shutdown of sales of assault weapons such as the one used by the El Paso killer and for a total and complete regulation of the sale of handguns in America.
That's what you need to do, Mr. President, if you care at all about the well-being of the people of America. Yet you continue to spew hatred. On the very morning of the El Paso attack, you twice retweeted the notorious British hate-monger Katie Hopkins spewing venom against Muslims. Last month, you told congresswomen of color to "go back" to where they come from. And in May, at a rally in Florida, you demanded, "How do you stop these people?" — meaning undocumented immigrants. Someone shouted, "Shoot them." Instead of chastising this hate-monger, you chuckled and said, to loud cheers, "That's only in the Panhandle you can get away with that stuff."
Whether you know it or not, Mr. President, you are recklessly enflaming the sickos of America. The very last line of the manifesto attributed to the alleged El Paso gunman could have come straight out of one of your speeches: "I am honored to head the fight to reclaim my country from destruction."
You also refuse, Mr. President, to address the easy availability of weapons of war in America. Assault rifles are the preferred weapons of mass shooters, and yet you refuse to ask Congress to ban their sale — or, even better, to buy back all of the existing assault weapons, as was done in Australia in 1996 after the worst mass shooting in that country's history. Australia hasn't seen such a massacre since. The United States, by contrast, has had 249 mass shootings just this year.
You will lead our country to destruction, Mr. President, unless you act to curb gun violence — and your own hateful rhetoric. https://www.washingtonpost.com/opinions/2019/08/04/anything-real-say-about-shootings-mr-president/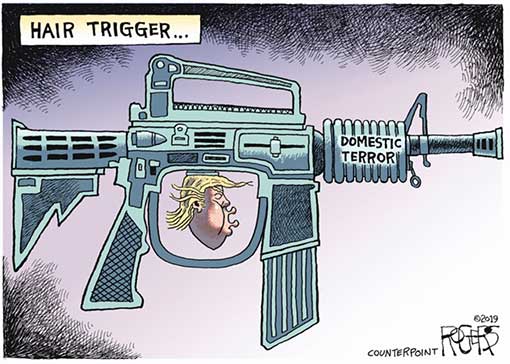 6. Jeffrey Goldberg: He's Getting Worse
This most recent phase of the Trump presidency is the most dangerous so far. He has, of course, encouraged violence, or suggested its efficacy, on many occasions in the past. In March, in an interview with Breitbart News, he made it plain that he was sympathetic to those of his supporters who might feel compelled to become violent on his behalf. "I can tell you I have the support of the police, the support of the military, the support of the Bikers for Trump. I have the tough people, but they don't play it tough—until they go to a certain point, and then it would be very bad, very bad." And he has spoken about the press in such a way as to possibly stimulate thoughts of violence among his more fervent adherents.
But in this latest phase, his rhetoric has become particularly sweeping. Brown people in general have become his targets. And there is no reason to hope that he will reform. His followers reward his radicalism, and his handlers are among the most cynical figures in American political history. His aide Kellyanne Conway tweeted on Sunday, "Working as one to understand depraved evil & to eradicate hate is everyone's duty. Unity. Let's do this." And his daughter Ivanka wrote, in a way that hints at a permanent separation from reality, "White supremacy, like all other forms of terrorism, is an evil that must be destroyed." And, of course, there is no one of any influence in his party who is willing to confront him. https://www.theatlantic.com/ideas/archive/2019/08/trump-getting-worse/595453/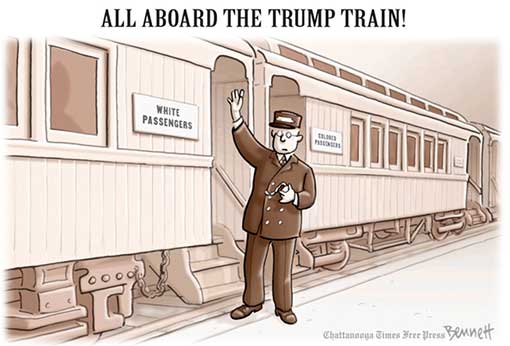 7. CJ Werleman: US in the midst of a white nationalist terrorism crisis
Essentially, the El Paso gunman's alleged manifesto reads as a carbon copy of that espoused by those who carried out the recent and respective attacks on the mosques in Christchurch, New Zealand, and the Tree of Life Synagogue in Pittsburgh.
This is a response to the Hispanic invasion," it reads, according to the FBI. It then goes on to accuse the Democratic Party of "pandering to the Hispanic voting bloc", while also expressing his contempt for "race mixing" and support for "sending them back."
These right-wing extremists are not only channelling neo-Nazi borne "Great Replacement" conspiracy theories, which frame demographic change as a threat to white Europeans, but also taking a cue from the words and policies of President Donald Trump.
It was only two weeks ago when Trump inspired an auditorium full of his supporters to chant "send her back" in reference to the country's first elected black Muslim congresswoman, Ilhan Omar, who was born in Somalia and migrated to the US as the young daughter of refugee parents.
Earlier in the year, Trump smeared all immigrants approaching the US-Mexico border as invaders when he said, "People hate the word 'invasion', but that's what it is."
Trump has also referred to Latin American refugees and asylum seekers as "rapists", "criminals", drug dealers" and "terrorists".
It's worth remembering that when a Rwandan politician described Rwanda's Tutsi minority as "cockroaches" it started a genocide that resulted in the deaths of upwards of one million people in that country.
These are the same flames Trump fans with his dehumanising discourse. It is no coincidence that far-right extremists were responsible for 100 per cent of all terrorist attacks on US soil since the end of 2017, according to the Anti-Defamation League, and why hate crimes against Jews, Muslims, and other minorities are at unprecedented levels.
In time, we will learn exactly what drove the suspect to carry out today's mass shooting, but what we know for sure is the United States finds itself in the midst of a domestic white nationalist terrorism crisis. https://www.smh.com.au/world/north-america/us-in-the-midst-of-a-white-nationalist-terrorism-crisis-20190804-p52do1.html
8.  Jonathan Chait: Russian Election Hacking in 2020 Could Easily Be Much Worse Than 2016
The vulnerabilities of the U.S. voting system certainly furnish Putin with an inviting target. The response, or nonresponse, to the Russian threat by both the administration and the Senate gives us two important pieces of information about a prospective Russian attack. The first is that a hack is more likely to succeed this time around. The insistent passivity of both the administration and the Senate has undermined responses at both the executive and legislative levels.
Government agencies issue warnings all the time about disasters that don't end up happening. What seems clear is that Russia has incentive to act and that such an operation stands at least some chance of succeeding, given that it can go after voting machines almost anywhere and needs to succeed with only a handful of them in order to change the outcome. Every swing state has one or more large cities with a massive concentration of Democratic votes. Tampering with or disabling the vote count in Philadelphia, Detroit, and Milwaukee, for instance, could throw the election to Trump outright or create the conditions for a disputed result. Either outcome would dovetail with Moscow's goals of discrediting the democratic process as a sham and keeping Trump in office. This is the dynamic that has preoccupied most coverage of and commentary about the issue.
Far more revealingly, Republican indifference to the Russian threat gives an indication of how the party would respond in the event of a compromised election. Their support for Trump previews how a disputed vote tally caused by Russian hacking would metastasize into a systemic constitutional crisis.
McConnell defended his obstruction of election-security measures by pointing to his long record of hawkishness on Russia. The problem is not McConnell's loyalty to Russia but his loyalty to the Republican Party. If China or Saudi Arabia or North Korea were trying to help the head of the Republican ticket, McConnell wouldn't get in its way, either. http://nymag.com/intelligencer/2019/08/russian-election-hacking-could-be-much-worse-in-2020.html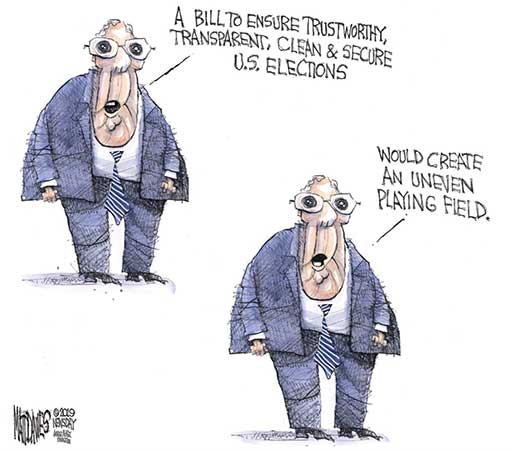 9. Bess Levin: Trump Dares The Fed Not To Stop Him From Starting A Recession
On Wednesday, after a year of unceasing, Fatal Attraction–level conniption fits, the Federal Reserve finally gave Donald Trump the thing he wanted, that he literally spent Christmas Eve—and every day that came before and after it—raging about: an interest-rate cut that experts fear could fuel asset bubbles and leave the Fed with fewer tools to handle a real downturn. In explaining the reason for the first rate cut in more than a decade, Federal Reserve Chairman Jerome Powell said that while the economy is generally doing well, the central bank felt that it needed to safeguard against "downside risks," like the policies of our current president, whose ongoing trade war has caused companies to pull back on spending, out of fear that Trump will drag out his trade war with untill god knows when, or wake up one morning and do something crazy, like slap s on Mexico.
Of course, as a fickle, capricious reality-TV businessman who lost $1 billion over a decade and doesn't actually know what's best for the economy, Trump was not satisfied with the quarter-point cut or the suggestion by Powell that there might not be more in the offing. But you know what would be a great way to nudge the Fed toward more cuts, and juice things up right before the election? Threatening to really tank the economy with more tariffs! https://www.vanityfair.com/news/2019/08/donald-trump-new-china-tariffs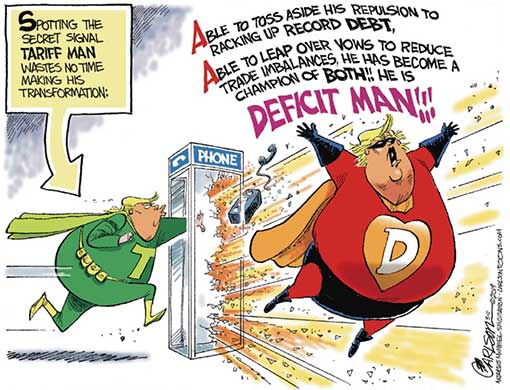 10. David Burke: Are Democrats Overlooking Their Most Electable Candidate? The case for Amy Klobuchar.
If beating Donald Trump is priority number one, Democratic voters should turn their attention to a candidate who hasn't broken out yet—Minnesota Senator Amy Klobuchar.
Klobuchar is also prepared to hit the ground running as president. Last week, she released her plan for more than 100 actions in her first 100 days, including steps to fight climate change, improve access to health care, lower prescription drug costs, and address income inequality. Most importantly, in contrast to other candidates, whose "plans" more closely resemble fantasies, Klobuchar's action items are grounded in reality and can be achieved through executive action or pragmatic legislation. Aside from Joe Biden, no other candidate in the field would be as prepared for the job on day one.
None of that touches on what is arguably Klobuchar's greatest virtue—her electability. She has consistently outperformed other Democrats in red states or districts. In 2018, she won her election in Minnesota by twenty-four points, the same margin Warren won by in Massachusetts. And she has won a majority of counties in every election, including winning counties that Trump won by over twenty points. Her Midwestern appeal means she has the strongest chance of winning the key states of Wisconsin, Iowa, Michigan, and Pennsylvania. Whereas most Democrats would have to sink time and money into Minnesota, Klobuchar could rely on her home state advantage and devote more resources to other states.
Klobuchar has been careful not to tack too far to the left in the Democratic primary, which could pay dividends in the general election. She has legitimate progressive credentials—she has voted with Bernie Sanders 88 percent of the time—but she hasn't adopted some of her colleagues' more extreme positions. She does not advocate for getting rid of private health insurance, which is in step with what most Americans want. Nor does she think we should abolish Immigration and Customs Enforcement (ICE), which also aligns with the majority of voters. It may be easy for Republicans to portray Kamala Harris or Bernie Sanders as socialists who care more about undocumented immigrants than citizens. But they'd have a much tougher time painting Klobuchar with such a broad brush.
I worry that Klobuchar is a victim of bad timing. She is running for president in the social media age. She may be too reasonable to stand out and too composed to go viral. But hopefully Democratic voters can tune out the noise and consider the candidate, because Amy Klobuchar may have the best chance of beating Donald Trump. https://washingtonmonthly.com/2019/07/30/are-democrats-overlooking-their-most-electable-candidate/
11. Baltimore Sun Editorial. The pitiful day a U.S. president used a political rally to mock Baltimore's homicide rate
Slightly more than 15 minutes into his speech at a rally in Cincinnati Thursday night — right after claiming the crowd was record size but bemoaning how local authorities had limited the arena's lawful capacity — Donald Trump set his sights once again upon Baltimore. Basking in the crowd's adulation, he started listing the dangerous countries where the murder rate was, he believed, not as bad as Charm City's. El Salvador, Honduras, Guatemala. Then he sought his supporters' response. " I believe it's higher than ... give me, give me a place that you think is pretty bad," he excitedly announced. "Give me a place. This guy says Afghanistan," he said smiling and pointing to a member of the audience. "I believe it's higher than Afghanistan."
The crowd took it all in appreciatively, smiling, some cheering. They laughed when their leader joked how fact-checkers might contradict him Friday. Like Mr. Trump, they appeared wholly indifferent to people dying in Baltimore.
Every American should watch that tape so they may be spared the delusion that Mr. Trump's criticism of Baltimore comes from a constructive place. He is dancing on graves. He is ridiculing Baltimore along with other big cities for partisan gain. As if the rest of America didn't have housing problems, or crime, or drug abuse. Yes, Baltimore's homicide rate is high compared to other communities, but then so is the rate in the rest of this country compared to other industrialized nations. As a United Nations study has pointed out, the U.S. intentional homicide rate is well above all of Europe and all of Asia. A normal president, a person with the ability to understand the suffering of his fellow humans, would not mock victims or communities he's supposed to be leading.
And what are we to make of an audience that Mr. Trump so often described as "patriotic" yet which views Baltimore with such distaste and indifference? Cincinnati suffers these woes, too. There are murders and trash strewn alleys, overdose deaths and concentrated poverty. Why so little compassion? This was not a game, not the Reds against the Orioles, the Bengals against the Ravens. It was about the carnage on our streets, the 309 people killed here last year, the 197 murdered so far this year. And to reaffirm his own lack of empathy, Mr. Trump had one more trick up his sleeve. When word came out Friday that Rep. Cummings' home had been burglarized last weekend, Mr. Trump tweeted his disingenuous concern shortly before 8 a.m.: "Really bad news! The Baltimore house of Elijah Cummings was robbed. Too bad!"
One could almost hear the laughter. https://www.baltimoresun.com/opinion/editorial/bs-ed-0803-trump-cincinnati-20190802-lkjzouxc2zfxtftjao5wsspouy-story.html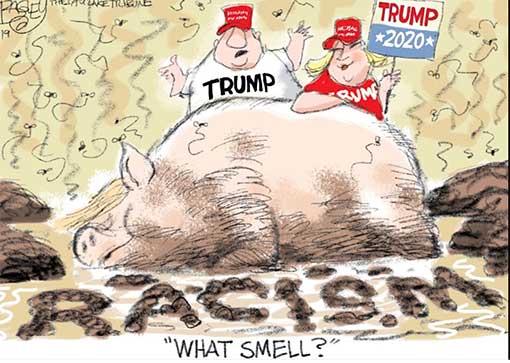 12. Rick Wilson: Of course Trump flips on GOP ideas. He never understood them in the first place.
On Tuesday, Trump blithely tweeted out his support for voter ID legislation and "Paper Ballots as backup (old fashioned but true!)" just a week after Senate Majority Leader Mitch (R-Ky.) killed legislation that included — wait for it — funding for paper ballots.
In one throwaway line, Trump simultaneously reminded us why the election security issue had Washington Post columnist Dana Milbank calling McConnell a "Russian asset" and exposed himself as a simpleton: "old fashioned but true" is a pretty good indicator that in his mind, everything boils down to "newfangled, bad; oldfangled, good."
It's just the latest example in a career of not-even-half-baked utterances that show just how poorly briefed and shallow he is. He was cunning enough to effect a hostile takeover of the Republican Party, but when it comes to articulating anything close to traditional GOP beliefs, he's as likely to sound like the lifelong Democrat he was until Republicans tell him what to think.
Trump's word is now GOP law, even if it contradicts what he said the day before, even if it's patently false, even if it sounds suspiciously like something Sen. Charles Schumer (D-N.Y.) or Speaker Nancy Pelosi (D-Calif.) might say. Privately, plenty of Republicans may not like it, but they've made their choice, and Trump is happy to have fewer Republicans, though not necessarily better ones. But you already knew that, tovarich. https://www.washingtonpost.com/outlook/2019/07/31/course-trump-flips-gop-ideas-he-never-understood-them-first-place/
13. Quinta Jurecic: Look at the Mueller Report as a Detective Story. It Will Blow Your Mind.
As in the metaphysical detective story, the factual gaps raise broader questions about the detective's inability to reconstruct the story of the crime. Put crudely, this is the question of what it means that Robert Mueller can't save the country. It's how to understand the effect on the stability of American democracy of both the president's relative impunity at the end of an investigation that strongly implied he may have committed serious crimes and the nation's inability to come to grips with the fact of interference by a foreign power in an election.
Or to put it another way: Does anything matter?
Mr. Mueller clearly thinks it does. Testifying before the House Intelligence Committee, he became most animated when he spoke about election interference: "I hope this is not the new normal," he said, "but I fear it is."
In this way, the Mueller report may turn out to be more of a film noir than anything else. The detective successfully uncovers the plot, only to discover that the society around him is too rotten to do anything about it. For all the missing pieces in this story, the issue is less whether it can be told and more whether anyone cares to listen. https://www.nytimes.com/2019/08/02/opinion/mueller-report.html
14. Will Bunch: Empty parks, pews, and Mexican restaurants: Trump-fed fear has already changed America
What I didn't see on CNN's ridiculously ornate stage in Detroit, and what was so sorely missed, was a sense of urgency that life in America has already fundamentally changed after just 30 months of Trump's runaway presidency, that the silent streets of the nation's cities are telling a story that is horrific in ways that would have been unthinkable just a few years ago. That immigrant communities like Kennett Square or Sunset Park are hearing the footsteps of a grim past we'd foolishly thought that civilization had buried in the 20th Century's dustbin of history.
The fear in America's immigrant communities has been a slow burn that arguably sparked on that June 2015 day when Trump announced his candidacy with a shot at "rapists" and "drug dealers" from Mexico and a mantra of "Build the wall!" It only intensified with his proposed and now half-realized "Muslim ban" and turned bright orange when Trump and his first attorney general Jeff Sessions "took the shackles off" ICE and unleashed it as a kind of secret state police. Suddenly, federal agents were pursuing immigrants in the places long held sacred -- dropping kids off at school, or coming out of church, or as they testified in a courthouse against actual criminals.
The signs are everywhere. In Houston, an immigration-rights activist went to a church recently that caters to Latinos and reported to Buzzfeed News that the pews were empty, while in nearby supermarkets and a normally crowded Walmart there was not a "brown face" to be seen. Said Anna Núñez: "It breaks my heart because people are failing to realize the long-term damage and ramifications this has on the entire community, not just immigrants."
I was an early jumper on the "abolish ICE" bandwagon -- America functioned very well, thank you, for 226 years without it. But while that may not be politically feasible, the next president does have to promise to end this reign of terror the moment her or his inaugural parade pulls into 1600 Pennsylvania Avenue, hopefully on January 20, 2021. I'd love to see universal health care, but what matters even more is that it happens in an America that's still recognizable as a beacon of hope. https://www.inquirer.com/opinion/trump-ice-raids-immigrant-fear-empty-public-places-20190801.html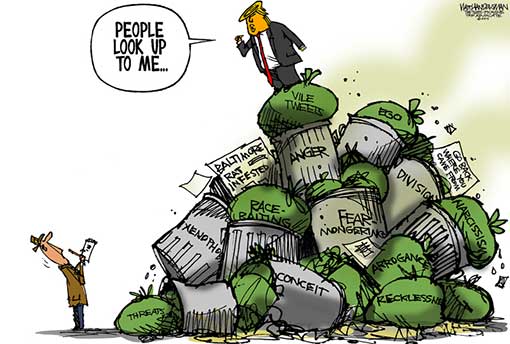 15. Jonathan Chait: Trump Directs Government to Punish Washington Post Owner
When he was running for president, Donald Trump threatened to single out Amazon for retribution. "If I become president, oh do they have problems," he said. "They're going to have such problems."
He is carrying out that threat. The White House has ordered the Defense Department to reexamine a $10 billion cloud-computing contract "because of concerns that the deal would go to Amazon," the Washington Post reports.
It's not yet possible to prove that Trump is directing this decision as punishment for Jeff Bezos's ownership of the Post. And proof may never be found. Trump's Mafia style of management, which the Mueller report chronicles, is designed to avoid leaving a paper trail that would incriminate the boss. (The report shows Trump, among other things, using buffers to carry out his illegal orders and chiding his lawyer for taking notes.)
But Trump is also not smart or subtle enough to leave any doubt about his intentions. He has made it abundantly clear both that the Post is the source of his hatred of Amazon, and that his policy grounds for punishing Amazon are pretexts. http://nymag.com/intelligencer/2019/08/trump-punish-amazon-washington-post-owner-jeff-bezos.html