March 30, 2017
ON THE RECORD. . .
"Move over Teapot Dome. Step aside Watergate. Neither of you involved treason." — GOP strategist John Weaver
"Hey, look, I can't be doing so badly, because I'm President and you're not." — Trump, in an interview with Time.
"The bombshell revelation that U.S. officials have information that suggests Trump associates may have colluded with the Russians means we must pause the entire Trump agenda.  We may have an illegitimate President of the United States currently occupying the White House. Other than allowing routine governmental functions, there must be a total and complete shutdown of any agenda item being pushed by the Trump Administration.  Congress cannot continue regular order and must stop voting on any Trump-backed agenda item until the FBI completes its Trump-Russia collusion investigation." -- Congressman Ted W. Lieu (D | LA County) 
"I personally believe at this moment in time the Republican Party is a disgrace. I'm serious. I am serious. We elected the Republicans who run the House, the Senate, and the White House and the very, very first thing that comes up on the legislative agenda they vote no, they're split. They can't do it. They can't govern. I am really fit to be tied."  -- Fox Business Network host Stuart Varney scolded the GOP on Friday for struggling to repeal and replace ObamaCare despite controlling the House, Senate and White House. 
"Ultimately, the Trumpcare bill failed because of two traits that have plagued the Trump presidency since he took office: incompetence and broken promises. In my life, I have never seen an administration as incompetent as the one occupying the White House today.They can't write policy that actually makes sense, they can't implement the policies they do manage to write, they can't get their stories straight, and today we've learned that they can't close a deal, and they can't count votes. So much for The the Deal." -- Chuck Schumer 3/25/17
"Today was a big win for the president. The 44th president, Barack Obama,. And it was, to put it in Trump-speak, a complete disaster for the current president." -- Lawrence O'Donnell on MSNBC 3/25/17
"I've been in this job eight years, and I'm wracking my brain to think of one thing our party has done that's been something positive, that's been something other than stopping something else from happening. We need to start having victories as a party. And if we can't, then it's hard to justify why we should be back here." — Rep. Tom Rooney (R-FL), quoted by The Atlantic.
"We're not going to sit around and just play patsy and say, 'Hey, go ahead. Lock us in. Do whatever the hell you want … deport … 2 million people, No, we're going to fight, and we're going to fight very hard." -- Gov. Jerry Brown on Donald Trump's plan to deport millions of people and build a wall along the U.S.-Mexico border.
To watch Trump over the 21 months of his political career has been to suffer a kind of nauseous awe as he repeatedly brazened and bluffed his way through scandals, lies and acts of bungling incompetence that would have sunk … well, anybody normal. You had to wonder if the chickens had forgotten how to come home to roost. You had to wonder if gravity still works. -- Leonard Pitts, Jr. 3/23/16
"The problem that he's created is he's gone off on a lark by himself, sort of an Inspector Clouseau investigation." — Sen. Lindsey Graham (R-SC) about House Intelligence Committee Chairman Devin Nunes (R-CA).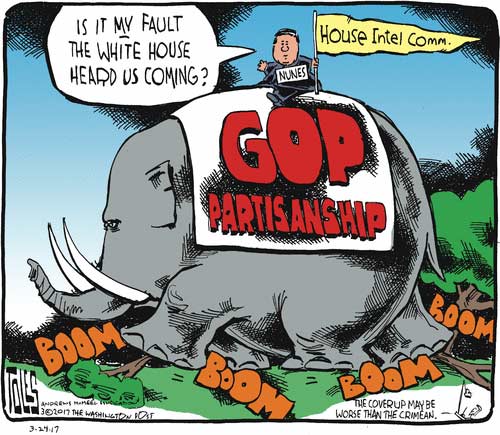 "This is done because the White House wanted it to be done. And this is what a cover-up to a crime looks like. We are watching it play out right now." — Rep. Eric Swalwell (D-CA) on suspicions that House Intelligence Committee Chairman Devin Nunes (R-CA) is coordinating with the White House on the Russia investigation.
"You know there's a little mantra I've been repeating to myself lately. It's a little silly, the kind of thing that pops into your head when you take a lot of long walks in the woods. But as I think about the outpouring of activism we're seeing, despite all the noise and the nonsense, four words keep coming back to me: resist, insist, persist, enlist." -- Hillary Clinton at the Professional Business Women of California Conference 3/29/17
---
IN THIS ISSUE
1. Tracking Trump's Lies
2. The DAILY GRILL
3. Trump Dossier Analysis
4. Voters Oppose Most Trump Budget Cuts
5. From MEDIA MATTERS (They watch Fox News so you don't have to)
6. From the Late Shows
7. FBI's Russian-influence probe includes a look at Breitbart, InfoWars news sites
8. Tax Reform Will Be a Nightmare
9. Russia Story Morphing Into a Big Problem for Trump
10. Cracks In The Republican Party
11. White House Aides Now Fear Government Shutdown
12. Gallup Daily: Trump Job Approval hits new low
13. Andy Borowitz: Nunes Says He Held Russia Hearings Alone In His Apartment And They Went Great
14. Paul Manafort's Puzzling New York Real Estate Purchases
15. Congress May Stiff Trump on Border Wall Funding 
16. Late Night Jokes
17. Trump's business network reached alleged Russian mobsters
1. Nicholas Kristof : Trump's Triumph of Incompetence
2. Charles M. Blow: Birth of the Biggest Lie
3. NY Times Editorial: President Trump's Reckless Shame Game
4. Adele. M. Stan: Congress Must Act: Trump's Russia Ties a Full-Blown Crisis for U.S. Democracy
5. Jonathan Chait: Trump's Defense of His Lies: 'I'm President and You're Not'
6. Graydon Carter: The Trump Presidency Is Already A Joke
7. Frank Bruni: Trump's Trainwreck
8. Andrew Sullivan: Is Political Gravity Finally Sinking Donald Trump?9. Eugene Robinson: Mr. President, the Disgrace Is All Yours 
10. Gabriel Sherman: Why Steve Bannon Might Be the Winner of the GOP's Health-Care Civil War
11. John Cassidy: The Health-care Debacle Was A Failure Of Conservatism
12. McKay Coppins: Nobody Knew Governing Could Be So Complicated
13. Gabriel Sherman: Why Steve Bannon Might Be the Winner of the GOP's Health-Care Civil War
14. LA TimesEditorial: Pretty much the only thing Trump's border wall will block is common sense
15. Eric Levitz: 'Small Government' Conservatism Is Killing Republican Voters 
16. David Rothkopf: The Soul-Sucking, Attention-Eating Black Hole of the Trump Presidency 
17. Jonathan Martin: 2018 Dilemma for Republicans: Which Way Now on Obamacare? 
18. Steven Rattner: Pushing Obamacare Over the Cliff 
19. Jonathan Chiat: Trump's Mindless War on Green Energy
1. Tracking Trump's Lies
Trump has been in office for 64 days. As of day 63 the Washington Post has counted 317 false or misleading claims. See: https://www.washingtonpost.com/graphics/politics/trump-claims/?utm_term=.eeffc669f7c7
Facts and Fiction: Fact Checking Trump's 'Alternative Facts' About Mexico: https://www.yahoo.com/news/fact-checking-trump-alternative-facts-161322567.htmlo
2. The DAILY GRILL
We will immediatly repeal and replace ObamaCare - and nobody can do that like me. We will save $'s and have much better healthcare! 9 Feb 2016 https://twitter.com/realDonaldTrump/status/697182075045179392

VERSUS

ObamaCare will explode and we will all get together and piece together a great healthcare plan for THE PEOPLE. Do not worry! Donald J. Trump @realDonaldTrump 24 Mar 2017

 

This morning @POTUS tweeted: "Watch @JudgeJeanine on @FoxNews tonight at 9:00 P.M." -- Jake Tapper ✔@jaketapper

VERSUS

"Paul Ryan needs to step down as speaker of the house.The reason? He failed to deliver the votes on his healthcare bill." #openingstatement -- Jeanine Pirro ✔@JudgeJeanine
3. Trump Dossier Analysis
See the corroborating evidence for the Trump/Russia Dossier at https://docs.google.com/document/d/1RbpBxJ3QNyvts_w16UcSSGeH7cSrXK9U3wIq0OOq-Xs/preview 2/20/17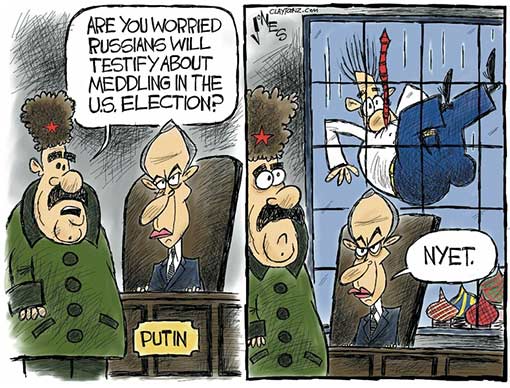 4. Voters Oppose Most Trump Budget Cuts
A new Quinnipiac poll finds American voters oppose the spending cuts listed in President Trump's proposed federal budget, including 70% to 25% against eliminating the Corporation for Public Broadcasting.
By wide margins, however, American voters say other proposed cuts are a bad idea:
87% to 9% against cutting funding for medical research;

84% to 13% against cutting funding for new road and transit projects;

67% to 31% against cuts to scientific research on the environment and climate change;

83% to 14% against cutting funding for after school and summer school programs;

66% to 27% against eliminating the National Endowment for the Arts and the National Endowment for the Humanities;

79% to 17% against eliminating the Low Income Home Energy Assistance Program. 3/24/17 https://poll.qu.edu/national/release-detail?ReleaseID=2444
5. From MEDIA MATTERS (They watch Fox News so you don't have to)
The Press Seemed Amazed By Trump's Wiretapping Lie, But Trump Lies About Everything. The press should apply the same relentless attention and detail to lies are about the travel ban, crime statistics, Obama's birthplace, Jersey City Muslims on 9/11, the unemployment rate, Mexico paying for the border wall, health care for "everybody," the U.S. murder rate, IRS audits, news coverage of terror attacks, the Electoral College, or voter fraud as they do to to those lies as that it has to Trump's wiretapping lie. the https://mediamatters.org/blog/2017/03/23/press-seemed-amazed-trump-s-wiretapping-lie-trump-lies-about-everything/215791

Right-Wing Media Falsely Claim Rep. Nunes Vindicated Trump's Wiretap Lie https://mediamatters.org/research/2017/03/22/right-wing-media-falsely-claim-rep-nunes-vindicated-trump-s-wiretap-lie/215782
6. From the Late Shows
Late Night with Seth Meyers: Trump and GOP Scramble On Health Care Amid Growing Russia Scandal: A Closer Look: https://youtu.be/0uPItQT9m9g

Trevor Noah: Ivanka Trump's 'Possible Conflicts of Incest': http://content.jwplatform.com/previews/WACMFUKR-zVW2T6Gg

The Late Show with Stephen Colbert: Jeff Sessions Tackles Weed And The White House's (Unrelated) Paranoia: https://youtu.be/hzAFOLToeCA
7. FBI's Russian-influence probe includes a look at Breitbart, InfoWars news sites
Federal investigators are examining whether far-right news sites played any role last year in a Russian cyber operation that dramatically widened the reach of news stories — some fictional — that favored Donald Trump's presidential bid, two people familiar with the inquiry say.
Operatives for Russia appear to have strategically timed the computer commands, known as "bots," to blitz social media with links to the pro-Trump stories at times when the billionaire businessman was on the defensive in his race against Democrat Hillary Clinton, these sources said.
The bots' end products were largely millions of Twitter and Facebook posts carrying links to stories on conservative internet sites such as Breitbart News and InfoWars, as well as on the Kremlin-backed RT News and Sputnik News, the sources said. Some of the stories were false or mixed fact and fiction, said the sources, who spoke on condition of anonymity because the bot attacks are part of an FBI-led investigation into a multifaceted Russian operation to influence last year's elections. http://www.mcclatchydc.com/news/politics-government/white-house/article139695453.html
8. Tax Reform Will Be a Nightmare
America's health-care industry is roughly one-sixth of the economy, or about $3 trillion. U.S. federal tax revenue is roughly one-sixth of the economy, or about $3 trillion. Health care is a complex national cross-subsidy, where, for example, the healthy support the sick. Taxes are a national cross-subsidy, where, for example, workers support retirees. With health care, Americans interact with with an amorphous institution, with a maze of entrenched interests, in which they ultimately just want access to an excellent bundle of services at an affordable price. With the federal government, Americans interact with … okay, I think you get the point.
Still, it's possible to sympathize with the White House's enthusiasm for tax reform. After a stinging defeat with the American Health Care Act, President Trump and Republicans are looking for an easy win. But they may soon discover that tax reform is the opposite of easy, and impossible to win. 3/28/17 https://www.theatlantic.com/business/archive/2017/03/tax-reform-will-be-a-nightmare/521034/
9. Russia Story Morphing Into a Big Problem for Trump
The Russia story is going from fishy, to career-ending (Manafort, Flynn), to investigation-worthy, to FBI criminal probe, to a wide, Watergate-like scandal that could bring all of government to a halt.
Watergate was a coverup of a burglary. This could be the coverup of a nuclear-armed U.S. nemesis that infiltrated our politics with the specific aim of disrupting the very foundation of our democracy — a presidential election — and did so, possibly, in a manner that elected its preferred candidate and locked in all party control that could decimate the opposition party for years. 3/23/17 https://www.axios.com/the-russia-story-that-wont-go-away-2326195038.html\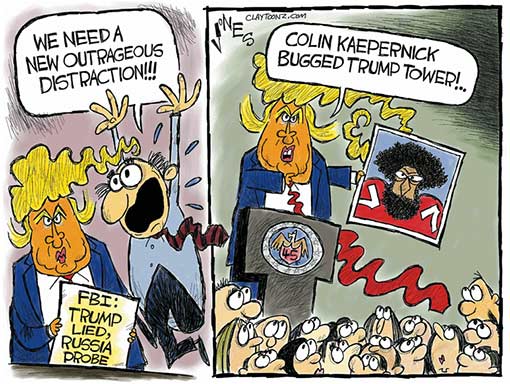 10. Cracks In The Republican Party
The problem for Trump and Ryan now is that there is no way to placate the Freedom Caucus without upsetting more moderate Republican House members. The moderates may be more willing to compromise than the Freedom Caucus, but not if the Freedom Caucus members get everything they want. One remaining question is whether the caucus will start to function like a separate party that is only loosely affiliated with a major party, as the Southern Democrats did for much of the 20th century. Southern Democrats exacted lots of legislative compromises to protect their interests, most notably shaping public policy to preserve segregation and exclude African-Americans from federal programs. Since then, the specific issues and ideas have changed. Freedom Caucus members have a pretty good idea of what kinds of bills they don't like. The question remains what kinds of concessions — if any — can bring them on board. https://fivethirtyeight.com/features/the-two-cracks-in-the-republican-party/
11. White House Aides Now Fear Government Shutdown
Amid high-stakes postmortems that include conversations with President Trump about White House staffing and operations, aides are rewriting their plans for the next legislative fight — with a weakened president and speaker, emboldened House hardliners, and a party at war with itself.
"It's like you're in a room with 2-year- olds, and one side complains about any attention you give the other," a White House official said.
Forget pie in the sky like tax reform or a massive infrastructure package. Now aides fear a government shutdown when the current continuing resolution runs out at the end of April. https://www.axios.com/trump-rewrites-his-playbook-2330735585.html
12. Gallup Daily: Trump Job Approval hits new low
According to Wednesday's Gallup's daily presidential poll, only 35 percent of respondents approved of Trump's performance in office, down from the 36 percent approval published on Monday and Tuesday. Fifty-nine percent of respondents disapproved of his performance, beating the previous high of 57 percent on 3/18. 3/29/17 http://www.gallup.com/poll/201617/gallup-daily-trump-job-approval.aspx
13. Andy Borowitz: Nunes Says He Held Russia Hearings Alone In His Apartment And They Went Great
Representative Devin Nunes, the chairman of the House Intelligence Committee, told reporters on Wednesday that he just spent several days alone in his apartment holding hearings on President Donald J. Trump's ties to Russia and that those hearings "went really great."
"Having concluded several days of hearings on my own in my apartment, I am one hundred per cent satisfied that the President had no involvement with the Russians," Nunes said. "Now it's time to move on."
While Nunes would not reveal who testified at the hearings in his apartment, he called their testimony "credible and productive."
"I didn't know what to expect when the hearings started, but, take my word for it, they were really, really good," he said.
After speaking to reporters, Nunes headed to the White House, where Trump presented him with the Presidential Medal of Freedom.
Read more at http://www.newyorker.com/humor/borowitz-report/
14. Paul Manafort's Puzzling New York Real Estate Purchases
Paul Manafort, the former Trump campaign manager facing multiple investigations for his political and financial ties to Russia, has engaged in a series of puzzling real estate deals in New York City over the past 11 years.
Real estate and law enforcement experts say some of these transactions fit a pattern used in money laundering; together, they raise questions about Manafort's activities in the New York City property market while he also was consulting for business and political leaders in the former Soviet Union. 3/28/17 http://www.wnyc.org/story/paul-manaforts-puzzling-new-york-real-estate-purchases/
15. Congress May Stiff Trump on Border Wall Funding
Congressional Republicans might deliver some more bad news for President Donald Trump, fresh off their embarrassing failure to scrap Obamacare: No new money is coming to build his wall.
Trump hoped to jump-start construction of a massive wall on the U.S.-Mexico border with money in a must-pass government funding bill. But Democratic leaders are vowing to block any legislation that includes a single penny for the wall.
With the GOP consumed by its own divisions, the White House and Hill Republicans will have to rely on Democratic votes to avoid a government shutdown next month in what would be another disaster for Trump's fledgling presidency. 3/28/17 http://www.politico.com/story/2017/03/border-wall-trump-congress-funding-236561
16. Late Night Jokes
The vote on the Republican healthcare bill was delayed today because they didn't have enough votes to pass it. When he heard that, Obama called Trump and said, "Don't worry, Obamacare covers depression. So don't worry about it." -- Jimmy Fallon

It turns out Manafort was paid $10 million to advocate for Putin. Trump was furious. He said, "That's more than he pays me."

Meanwhile, Supreme Court nominee Neil Gorsuch started his confirmation hearings this week, and he said that he has his law students think about their legacies by having them write an obituary about themselves. Yeah. Incidentally, that's also part of the Republican healthcare plan. -- Jimmy Fallon

Trump's kids, Don Jr., Ivanka, and Eric, took their families on a ski trip to Aspen. Which was fun 'til they said, "Wait. If we're all here, who's watching Dad?" "Uh, let's go. Get on a plane right now." -- Jimmy Fallon

In May, President Trump is going to give the commencement address at a Christian university. Trump's speech will be entitled, "If Jesus Is So Great, Why Does He Have a Mexican Name?" -- Conan O'Brien

At this point, it appears the Republican healthcare plan is going to die on the floor of the House. Coincidentally, dying on the floor of the house happens to be the Republican healthcare plan. -- Conan O'Brien

You know, you can see why they thought the health care bill would pass. Winning with less votes worked for Trump in November. -- James Corden

On Sunday, Fox News tweeted out a news alert that Donald Trump was spending the weekend working at the White House. Now this wasn't just news, it was a news ALERT. Like: "This just in, the president is actually doing his job." -- James Corden

Time magazine published an interview with Donald Trump and when they asked if he thought the false statements that he has made have damaged his reputation, Trump replied, "I can't be doing so badly because I'm president and you're not." I'm president and you're not — I told my 2-year-old daughter that, and she was like, "Dude, grow up." -- James Corden

Trump acts like anyone who is not the president is doing badly. I feel like we're all doing pretty well, aren't we? I try to look at the bright side. Yes, we're not the president — but we're also not being investigated by the FBI for treason. -- James Corden

White House Press Secretary Sean Spicer said today that President Trump came to Washington "to get things done." That's why, five minutes into every meeting, he says, "Are we done?" -- Seth Meyers

White House Press Secretary Sean Spicer said yesterday that President Trump is looking to reaffirm America's commitment to NATO. Spicer said, "Trump will do everything in his power to find out what NATO stands for." -- Seth Meyers
17. Trump's business network reached alleged Russian mobsters
To expand his real estate developments over the years, Donald Trump, his company and partners repeatedly turned to wealthy Russians and oligarchs from former Soviet republics — several allegedly connected to organized crime, according to a USA Today review of court cases, government and legal documents and an interview with a former federal prosecutor.
The president and his companies have been linked to at least 10 wealthy former Soviet businessmen with alleged ties to criminal organizations or money laundering. 3/28/17 http://www.usatoday.com/story/news/world/2017/03/28/trump-business-past-ties-russian-mobsters-organized-crime/98321252/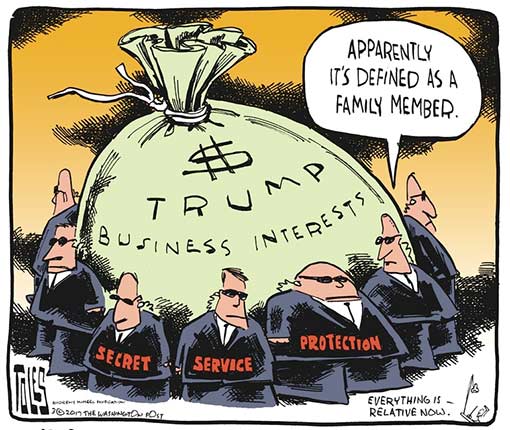 1. Nicholas Kristof: Trump's Triumph of Incompetence
One of President Trump's rare strengths has been his ability to project competence. The Dow Jones stock index is up an astonishing 2,200 points since his election in part because investors believed Trump could deliver tax reform and infrastructure spending.
Think again!
The Trump administration is increasingly showing itself to be breathtakingly incompetent, and that's the real lesson of the collapse of the G.O.P. health care bill. The administration proved unable to organize its way out of a paper bag: After seven years of Republicans' publicly loathing Obamacare, their repeal-replace bill failed after 18 days.
Politics sometimes rewards braggarts, and Trump is a world-class boaster. He promised a health care plan that would be "unbelievable," "beautiful," "terrific," "less expensive and much better," "insurance for everybody." But he's abysmal at delivering — because the basic truth is that he's an effective politician who's utterly incompetent at governing.
It's sometimes said that politicians campaign in poetry and govern in prose. Trump campaigns in braggadocio and governs in bombast.
Of all the national politicians I've met over the decades, Trump may be the one least interested in government or policy; he's absorbed simply with himself. And what we're seeing more clearly now is that he has crafted an administration in his own image: vain, narcissistic and dangerous. 3/24/17 https://www.nytimes.com/2017/03/24/opinion/sunday/trumps-triumph-of-incompetence.html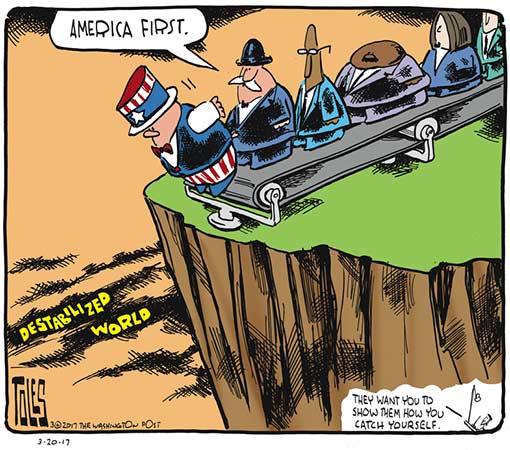 2. Charles M. Blow: Birth of the Biggest Lie
F.B.I. director James Comey confirmed that the investigation into the Trump campaign's ties to the Russians who tampered with our election is not "fake news" manufactured by Democrats stewing over a bitter loss but a legitimate investigation that has been underway for months and has no end in sight.
Individuals who were associated with the president of the United States' winning campaign are under criminal investigation. That is an extraordinary sentence and one that no American can allow to be swallowed up by other news or dismissed by ideologues.
No act of this presidency — good or bad, beneficial or detrimental — can ever be considered without first contextualizing that this presidency itself was conceived in deception and is being incubated under an extraordinary lie.
The Trump presidency is a corruption that flows from corruption. It is damned by its own damned lies. 3/23/17 https://www.nytimes.com/2017/03/23/opinion/birth-of-the-biggest-lie.html
3. NY Times Editorial: President Trump's Reckless Shame Game
President Trump's Homeland Security Department turned its immigration purge — and assault on the Constitution — up a notch this week. It posted the first of what it says will be weekly online reports identifying state and local law enforcement agencies that decline its requests to keep immigrants in jail to give federal agents time to pick them up.
The idea is to name and shame these agencies, accusing them of recklessly loosing dangerous aliens onto the streets. The report, on the Immigration and Customs Enforcement website, trumpets itself as a "Public Safety Advisory." It includes a grim warning from the acting ICE director, Thomas Homan, about the agency's requests, called detainers: "When law enforcement agencies fail to honor immigration detainers and release serious criminal offenders, it undermines ICE's ability to protect the public safety and carry out its mission."
The accusation is dishonest. The report is a sham. And the claim of protecting public safety is ridiculous — dangerously so.
The result: Everybody is afraid. And everybody is less safe. 3/22/17 https://www.nytimes.com/2017/03/22/opinion/president-trumps-reckless-shame-game.html
4. Adele M. Stan: Congress Must Act: Trump's Russia Ties a Full-Blown Crisis for U.S. Democracy
If the United States Congress were doing its job, right now nearly all business before the House and Senate would grind to a halt as leaders addressed a rapidly-unfolding crisis: whether the current administration is acting in the interests of the nation whose Constitution its members have sworn to defend. The nomination hearings of a new Supreme Court justice would be forestalled while national law enforcement and intelligence agencies investigated the current administration's ties to a foreign government that attempted to sway the 2016 presidential election in favor of the president who appointed that nominee. An independent select committee would be quickly convened.
A congressional leadership with a shred of patriotism would take a break from trying to revoke health care from everyday Americans to take up an all-hands-on-deck approach to the question of just which nation the current administration works for. Instead, Republicans are more concerned with who leaked damning information about the administration's interactions with Russian officials.
As Jeff Hauser wrote at Rewire earlier this month, Congress must convene an independent select committee to investigate all of these ties. Truly, nothing less than the integrity and sovereignty of the nation is at stake—not to mention the fate of the republic. 3/22/17 http://prospect.org/article/congress-must-act-trump%E2%80%99s-russia-ties-full-blown-crisis-us-democracy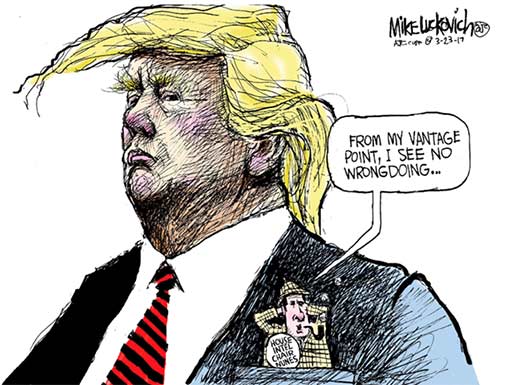 5. By Jonathan Chait: Trump's Defense of His Lies: 'I'm President and You're Not'
It is remarkable — and perhaps praiseworthy — that Donald Trump gave a long and detailed interview on the subject of his being a pathological liar. The interview, with Time's Michael Scherer, covers a wide range of Trump's lies, and features many of his own justifications for them. The truly revealing moment of the interview comes at the end, when Trump gives up the game. "But isn't there, it strikes me there is still an issue of credibility," asks Scherer, referencing Trump's hallucinatory claims to have been surveilled by his predecessor, which his own intelligence officials have refuted. Trump rambles through various talking points, and lands on this conclusion: "I guess, I can't be doing so badly, because I'm president, and you're not."
This small line is an important historical marker of the bizarre and disconcerting reality into which American politics has plunged. Trump is not merely making an attack on truth here. He is attacking the idea of truth. His statement is a frontal challenge to the notion that objective reality can be separated from power.
Trump tells repeated, brazen lies about matters large and small, in the confidence that his supporters have surrendered all independent judgment to him. That is not a democratic relationship between elected official and polity. http://nymag.com/daily/intelligencer/2017/03/trumps-defense-of-his-lies-im-president-and-youre-not.html
6. Graydon Carter: The Trump Presidency Is Already A Joke
Trump's one brief moment of acting presidential—when he read off a teleprompter for 60 minutes and 10 seconds during his address to Congress—served only to show just how low the bar for presidential behavior has plummeted since January. Watching TV commentators applaud him for containing himself for a little over an hour was like hearing a parent praise a difficult child for not pooping in his pants during a pre-school interview. Besides, vintage Trump is not going anywhere anytime soon. A couple of weeks earlier, during a visit by the Japanese prime minister, Shinzō Abe, the president told an acquaintance that he was obsessed with the translator's breasts—although he expressed this in his own, fragrant fashion.
Trump may be a joke, but the chaos and destructive forces around him are not. If he can cause this much havoc during his first few months in office, imagine what the country and the world will look like at the end of four years. Watch him when he walks into a crowd of people. There is a slight grimace, a tightening of the mouth that to me indicates a hesitation, perhaps based on fear. The thing is, if Trump has made any sort of arrangement with the Russians—Kremlin, oligarchs, F.S.B., Mob, or any combination of the four—to drop the Obama-era sanctions in return for past favors, the hoo-ha surrounding his Russian connections now makes that almost impossible to deliver. Whatever support he has received from the Russians over the years presumably came with promises of a payback. If Trump can't follow through on this, he might be in serious trouble.
In the end, proper historians and serious journalists will descend in droves to mop up the lies, the half-truths, and the criminality. Trump's legacy and that of his family could end up in tatters. The self-lauded Trump brand may well wind up as toxic as the once self-lauded brand of another New York-Palm Beach family: the Madoffs. http://www.vanityfair.com/news/2017/03/graydon-carter-trump-presidency-is-already-a-joke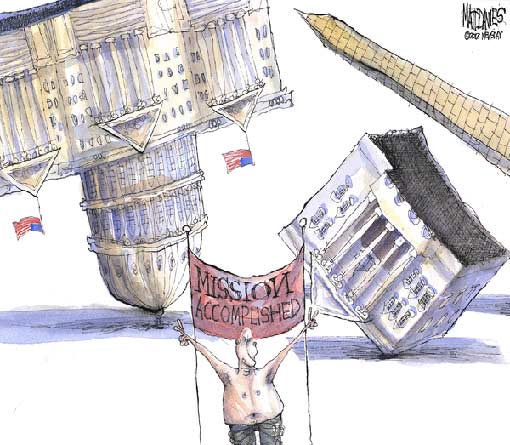 7. Frank Bruni: Trump's Trainwreck
For seven years — seven years — Republicans thundered about the evils of Obamacare, yearned for the day when they could bury it and vowed to do precisely that once the ball was in their hands.
Last week proved that this had all been an emotional and theatrical exercise, not a substantive one. The ball was in their hands, and they had no coherent playbook. No real play. They scurried around the Capitol with their chests deflated and their tails between their legs.
For the entirety of his campaign, Donald Trump crowed about his peerless ability to make deals, one of which, he assured us, was going to be a replacement for Obamacare that would cut costs without leaving any Americans in the lurch.
Last week proved that there was no such swap, that he hadn't done an iota of work to devise one and that he was spectacularly unprepared to shepherd such legislation through Congress. As his promise lay in tatters at his feet, he gave a delusional interview to Time magazine about what an infallible soothsayer he is, then tried to shift the blame to Democrats, who, he said, would soon be the ones hankering for an Obamacare replacement.
Give him a few more days. He'll come up with a scenario — or at least a tweet — that casts Rosie O'Donnell as the culprit. 3/24/17 https://www.nytimes.com/2017/03/24/opinion/sunday/trump-and-ryan-lose-big.html
8. Andrew Sullivan: Is Political Gravity Finally Sinking Donald Trump?
Is he waving or drowning? Swimming or sinking?
I ask this question because we're more than two months in and the trauma has not subsided, but it has, perhaps, bifurcated. Sure, Trump still shows alarming potential as a would-be tyrant, contemptuous of constitutional proprieties, and prone to trashing every last norm of liberal democracy. But he is also beginning to appear simultaneously as a rather weak chief executive, uninterested in competent management or follow-through, bedeviled by divisions within his own party, transfixed by cable news, and swiftly discrediting himself by an endless stream of lies, delusions, and conspiracy theories. Even the editorial page of The Wall Street Journal challenged his credibility last Tuesday. They did this because, at this point, among sane people, he quite obviously has none.
In Washington this week, as his shambolic health-care plan staggered, zombielike, into the House, there was a palpable sense that political gravity may, for the first time, be operational around Trump. http://nymag.com/daily/intelligencer/2017/03/sullivan-is-political-gravity-finally-sinking-donald-trump.html
9. Eugene Robinson: Mr. President, the Disgrace Is All Yours
President Trump called himself "instinctual" this week, but the word he must have been groping for was "untruthful." He lies incessantly, shamelessly, perhaps even pathologically, and his lying corrodes and dishonors our democracy.
Of course we've had presidents who lied -- to name a few, Lyndon Johnson about Vietnam, Richard Nixon about Watergate, Bill Clinton about Monica Lewinsky. But the key word in these examples is "about." Other presidents had comprehensible though illegitimate reasons for lying about specific things. Trump often lies for no discernible purpose other than to pump up his own fragile ego.
He even lies about his own lies. In an interview with Time magazine, he made the "instinctual" claim and portrayed himself as a modern-day Nostradamus. "I predicted a lot of things," he claimed. "Some things that came to you a little bit later. But, you know, we just rolled out a list."
The Wall Street Journal's editorial page, a conservative bastion, had this to say on Tuesday: "If President Trump announces that North Korea launched a missile that landed within 100 miles of Hawaii, would most Americans believe him? Would the rest of the world? We're not sure, which speaks to the damage that Mr. Trump is doing to his presidency with his seemingly endless stream of exaggerations, evidence-free accusations, implausible denials and other falsehoods."
The president's response: "I thought it was a disgrace that they could write that." But no, Mr. Trump, the disgrace is all yours. http://www.realclearpolitics.com/articles/2017/03/24/mr_president_the_disgrace_is_all_yours_133425.html
10. Gabriel Sherman: Why Steve Bannon Might Be the Winner of the GOP's Health-Care Civil War
With hours to go before the House is set to (finally) vote on Paul Ryan's health-care bill, the Trump administration is putting a full-court press on recalcitrant Republicans to rally votes. Last night, the White House sent senior officials including Chief of Staff Reince Priebus, Budget Director Mick Mulvaney, and Chief Strategist Steve Bannon to Capitol Hill to deliver an ultimatum to wavering House members: Pass the bill or Trump is moving on to other priorities. The message was intended to put blame for a failed vote on Congress.
The failure to repeal and replace Obamacare would be a stinging defeat for Trump. But it would be an even bigger defeat for Paul Ryan, who has all but staked his Speakership on passing this bill. And in the hall of mirrors that is Washington, the big winner to emerge out of the health-care debacle could be Steve Bannon. That's because Bannon has been waging war against Ryan for years. For Bannon, Ryan is the embodiment of the "globalist-corporatist" Republican elite. A failed bill would be Bannon's best chance yet to topple Ryan and advance his nationalist-populist economic agenda.
Publicly, Bannon has been working to help the bill pass. But privately he's talked it down in recent days. According to a source close to the White House, Bannon said that he's unhappy with the Ryan bill because it "doesn't drive down costs" and was "written by the insurance industry." While the bill strips away many of Obamacare's provisions, it does not go as far as Bannon would wish to "deconstruct the administrative state" in the realm of health care. Furthermore, Bannon has been distancing himself from the bill to insulate himself from political fallout of it failing. He's told people that Trump economic adviser Gary Cohn — a West Wing rival — has run point on it. (Bannon did not respond to a request for comment.)
Whether or not the bill passes, Ryan has been weakened, the pro-Breitbart Freedom Caucus has been emboldened. It's hard to see how the Republican health-care civil war hasn't been a boon for Bannon. http://nymag.com/daily/intelligencer/2017/03/bannon-health-care-bill.html
11. John Cassidy: The Health-care Debacle Was A Failure Of Conservatism
The larger lesson here is that conservatism failed and social democracy won. After seven years of fulminating against the Affordable Care Act and promising to replace it with a more free-market-oriented alternative, the House Republicans—who are in the vanguard of the modern conservative movement—failed to come up with a workable and politically viable proposal. Obamacare survived, and that shouldn't be so surprising. When it comes to health-care policy, there is no workable or politically viable conservative alternative.
Of course, that isn't how conservative lawmakers, pundits, and policy wonks will spin this. They will argue that Trump and Ryan betrayed free-market principles: if only they had proposed the outright repeal of Obamacare, and put forward a bill that genuinely liberated the health-care industry from federal intervention, everything would have worked out well. That will be the story—and it is a fairy tale.
The fact is that the health-care industry, which makes up about a sixth of the American economy, isn't like the market for apples or iPhones. For a number of reasons (which economists understand pretty well), it is riven with problems. Serious illnesses can be enormously costly to treat; people don't know when they will get ill; the buyers of health insurance know more about their health than the sellers; and insurers have a strong incentive to avoid providing their product to the sick people who need it the most. 3/24/17 http://www.newyorker.com/news/john-cassidy/the-health-care-debacle-was-a-failure-of-conservatism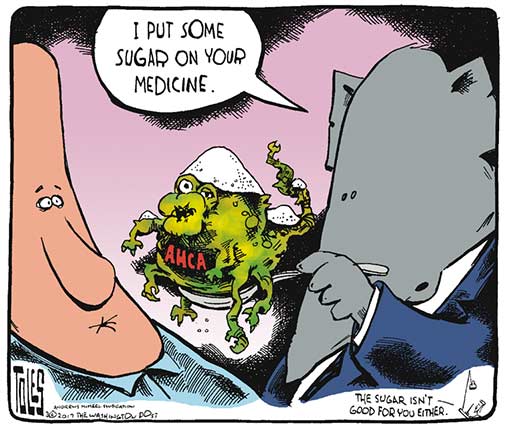 12. McKay Coppins: Nobody Knew Governing Could Be So Complicated
The Republican Party's marquee legislative initiative had just imploded in spectacular, and humiliating, fashion Friday afternoon when Paul Ryan stepped up to a podium on Capitol Hill. The beleaguered house speaker wasted no time in diagnosing the failure of his caucus. "Moving from an opposition party to a governing party comes with some growing pains," he said. "And, well, we're feeling those growing pains today."
Ryan wasn't wrong. The GOP's inability to maneuver a health-care bill through the House this week—after seven years of promising to repeal and replace Obamacare—is, indeed, emblematic of a deeper dysfunction that grips his party. But that dysfunction may not be as easy to cure as Ryan and other GOP leaders believe.
That's because it has been nearly a decade since Washington Republicans were in the business of actual governance. Whether you view their actions as a dystopian descent into cynical obstructionism or a heroic crusade against a left-wing menace, the GOP spent the Obama years defining itself—deliberately, and thoroughly—in opposition to the last president. Rather than engage the Obama White House in a more traditional legislative process—trading favors, making deals, seeking out areas where their interests align—conservatives in Congress opted to boycott the bargaining table altogether. Meanwhile, they busied themselves with a high-minded (and largely theoretical) intra-party debate about what 21st-century conservatism should stand for. They spent their time dealing in abstract ideas, articulating lofty principles, reciting memorized quotes from the Founding Fathers.
In many ways, the strategy paid off: Republicans took back Congress, slowed the progress of an agenda they genuinely opposed, and ultimately seized control of the White House. But it also came at a cost for the GOP—their lawmakers forgot how to make laws.
Indeed, without any real expectation of their bills actually being enacted, the legislative process mutated into a platform for point-scoring, attention-getting, and brand-building. 3/24/17 https://www.theatlantic.com/politics/archive/2017/03/nobody-knew-governing-could-be-so-complicated/520824/
13. Maureen Dowd: Donald, This I Will Tell You
We've known each other a long time, so I think I can be blunt.
You know how you said at campaign rallies that you did not like being identified as a politician?
Don't worry. No one will ever mistake you for a politician.
After this past week, they won't even mistake you for a top-notch negotiator.
You're all about flashy marketing so you didn't notice that the health care bill was junk, so lame that even Republicans skittered away.
You were humiliated right out of the chute by the establishment guys who hooked you into their agenda — a massive transfer of wealth to rich people — and drew you away from your own.
You sold yourself as the businessman who could shake things up and make Washington work again. Instead, you got worked over by the Republican leadership and the business community, who set you up to do their bidding.
That's why they're putting up with all your craziness about Russia and wiretapping and unending lies and rattling our allies.
They're counting on you being a delusional dupe who didn't even know what was in the bill because you're sitting around in a bathrobe getting your information from wackadoodles on Fox News and then, as The Post reported, peppering aides with the query, "Is this really a good bill?"
You got played.
It took W. years to smash everything. You're way ahead of schedule.
And I can say you're doing badly, because I'm a columnist, and you're not. Say hello to everybody, O.K.?
Sincerely, Maureen 3/25/17 https://www.nytimes.com/2017/03/25/opinion/sunday/donald-this-i-will-tell-you.html
14. LA TimesEditorial: Pretty much the only thing Trump's border wall will block is common sense
The Trump administration is accepting proposals from contractors for preliminary designs and prototypes for the first sections of the president's ballyhooed wall along the border with Mexico. If it's built, the project will be a boondoggle of legendary proportions and likely will become the subject of historic ridicule. Why? Because Trump's silly wall can't possibly address much of the problem he seeks to fix.
Trump has milked the melodrama of a border wall, but he ignores the likelihood that it would be ineffectual at stopping people from entering the country without permission. Human migration routes are like rivers: If they hit an obstacle, the flow finds a way around it. So a wall will just lead smugglers to find new routes and methods — planes, boats and 31-foot ladders for a 30-foot wall — even as it is being built, further undercutting confidence in the barrier's effectiveness. Nor would Trump's wall address the growth in illegal immigration from Asia, which outpaces immigration from Latin America.
At some point, the government needs to get honest about what is possible, and what is desirable, in addressing illegal immigration. And taxpayers need to decide how much they're willing to spend for what result, and where the line between reasonable and ridiculous might lie. 3/25/17 http://www.latimes.com/opinion/editorials/la-ed-trump-immigration-border-wall-mexico-20170325-story.html
15. Eric Levitz: 'Small Government' Conservatism Is Killing Republican Voters
In his inaugural address, President Trump vowed that "the forgotten men and women of our country will be forgotten no longer." He then suggested that the government has a responsibility to provide its "righteous people" with "great schools for their children, safe neighborhoods for their families, and good jobs for themselves."
The hedge-fund billionaire who bankrolled Trump's campaign takes a different view. Robert Mercer reportedly believes that "human beings have no inherent value other than how much money they make," and that "society is upside down" because "government helps the weak people get strong, and makes the strong people weak by taking their money away, through taxes."
Thus far, Trump's governing style has been more in keeping with his donor's private views than with his own official ones. The president has backed a health-care plan that finances a tax cut for millionaires by throwing millions of "forgotten" Americans off of Medicaid — while proposing a budget that would slash spending on public housing, food assistance, after-school programs, and development funds for poor rural and urban areas.
These actions represent the "normal" part of the Trump presidency. The fact that the new Republican president is serving as a loyal general in the one percent's class war would be wholly unremarkable, had Trump not campaigned as a populist outsider. But then, if Trump hadn't run as a populist outsider, it's quite possible that there wouldn't be a new Republican president. The mogul's success in the primary and general elections had many causes, but one was likely his avoidance of conservative platitudes about bootstraps and "makers and takers."
The tenets of movement conservatism have always been belied by the lived experience of working people. But this tension is a lot more conspicuous today than it was when Reagan brought morning to America. Since then, the GOP has grown more radically right wing; income has grown more concentrated at the top; and Republicans have grown ever more dependent on the nonaffluent for votes.
Republicans can continue putting the superstitions of misanthropic billionaires above the needs of their downscale voters. But in doing so, they will send more "forgotten men and women" to early graves. And, eventually, the righteous people may take the GOP down with them. http://nymag.com/daily/intelligencer/2017/03/small-government-conservatism-is-killing-republican-voters.html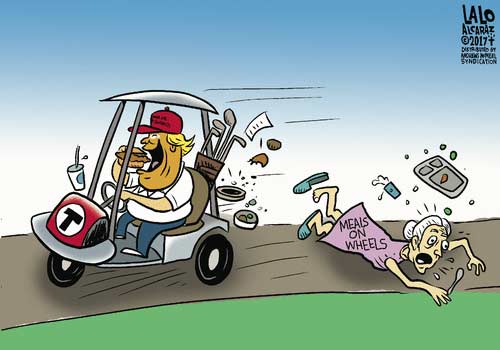 16. David Rothkopf: The Soul-Sucking, Attention-Eating Black Hole of the Trump Presidency
Trump may have thought he would mesmerize us with his glory and his "winning." Instead what has happened is that America has become addicted to the 24-hour-a-day reality television show that is his not-so-slow-motion downfall. Every day, there are lies and gaffes and insults to allies and legislative blunders and awful policies made worse by horrible execution. And then, beyond that there are ethical lapses and an ever-growing hint of something very much like treason in the air. With the FBI acknowledging that they are investigating possible collusion between the Trump campaign and the Russian government to influence the outcome of last year's election — and with senior congressional figures like Rep. Adam Schiff indicating that there is "more than circumstantial" evidence to support the idea of that collusion — it seems this last story is only likely to grow more irresistible in the months ahead.
Indeed, the more we know about the behavior of Trump cronies, family, and cabinet colleagues with respect to their ties to Moscow, the more it seems we are on the verge of a constitutional crisis that may be greater than any faced in the United States since the Civil War. It's a political scandal that may make Watergate seem like small potatoes. And if you think the 24-hour news cycle is sucking away your time and attention today, just imagine what a media spectacle the decline and fall of this American embarrassment might be. 3/24/16 https://www.yahoo.com/news/soul-sucking-attention-eating-black-192347457.html
17. Jonathan Martin: 2018 Dilemma for Republicans: Which Way Now on Obamacare?
That Republicans even find themselves in such a quandary just over two months after Mr. Trump was sworn in is at once extraordinary and not altogether surprising. Republicans who were then in office opposed the Affordable Care Act when it was enacted in 2010, yet they were paralyzed in efforts to undo it.
The paradox is predictable for a party that has been at war with itself since the final years of President George W. Bush's administration. Mr. Trump transcended those divisions last year in his campaign, but congressional Republicans remain riven between their hard-liners and mainstream conservatives.
Perhaps it was inevitable that these factions would clash over an issue as sensitive as remaking the American health care system. The purists — often from politically safe districts — believe the government should play almost no role in providing health insurance to its citizens. Placating them without endangering more pragmatic lawmakers worried about depriving constituents of their health coverage may be an impossible task. 3/28/17 https://www.nytimes.com/2017/03/28/us/politics/2018-dilemma-for-republicans-which-way-now-on-obamacare.html
18. Steven Rattner: Pushing Obamacare Over the Cliff
Republicans may have conceded defeat in their legislative effort to get rid of Obamacare, but their guerrilla war to achieve its demise remains underway.
The stealth battle began on Inauguration Day, when Mr. Trump signed an executive order giving his agencies wide latitude to weaken the law.
Almost immediately, the Department of Health and Human Services scaled back advertising aimed at encouraging people to enroll in a health insurance plan by the Jan. 31 deadline for 2017.
No surprise, then, that sign-ups for this year came in a bit short of expectations.
Next, the Internal Revenue Service announced that it would continue to allow taxpayers to file their returns without indicating whether they had complied with the mandate to have insurance. Assertions to the contrary notwithstanding, this was quickly interpreted to mean that those failing to comply with the health care act's insurance requirement would not be assessed penalties.
Much more seems on the horizon. This month, Tom Price, the secretary of the Health and Human Services Department, tweeted: "There are 1,442 citations in the #ACA where it says. 'The secretary shall …' or 'The secretary may …' @HHSGov, we'll look at every single one."
If the effectiveness of the A.C.A. is diminished — whether by affirmative moves by the Trump administration or passive resistance to needed improvements — rest assured that the Republicans will try to blame Obamacare's supporters. Mr. Trump may not know how to govern, but he's proven his ability to conduct Twitter wars.
Supporters of the A.C.A. — perhaps the greatest single legislative achievement in many decades — need to counter that, informing Americans that any deterioration in their coverage will be the fault of the Trump administration. 3/28/17 https://www.nytimes.com/2017/03/28/opinion/pushing-obamacare-over-the-cliff.html
19. Jonathan Chiat: Trump's Mindless War on Green Energy
To see the vacuousness of Trump's proposal, you don't need to go any farther than its name: the Energy Independence Executive Order. It would make sense if Trump were proposing to replace imported energy with domestic sources. But the entire goal of Trump's panoply of executive orders — enabling more oil and gas development and weakening regulations on carbon emissions — is to prioritize dirty domestic energy sources (oil and coal) over clean domestic energy sources (natural gas, wind and solar). Whatever reasons Trump may have to favor carbon-intensive energy sources over cleaner ones, "energy independence" has literally nothing to do with it whatsoever.
Can Trump do damage to the environment? Yes, he can do a lot of damage. Merely continuing the pace of the green-energy revolution will not be enough to protect the planet from dire effects of climate change. We need to accelerate the pace of decarbonization. Trump's policies will make it difficult, perhaps even impossible, for the world to wring carbon out of its economy at a fast enough pace.
At the same time, he has no plan or policy vision that can displace the one Obama left behind. Wind turbines and solar panels are still going up, coal is declining. The Tesla Model 3, an electric car with a $35,000 sticker price, begins production this summer. Trump's irritable gestures against environmentalists and promises to restore the glories of coal will do more damage to the world than his failed crusade to kill Obamacare. What the two policies have in common is that they are the ultimately doomed effort by a brain-dead party to ignore a problem with which their dogma cannot grapple. 3/28/17 http://nymag.com/daily/intelligencer/2017/03/trumps-mindless-war-on-green-energy.html